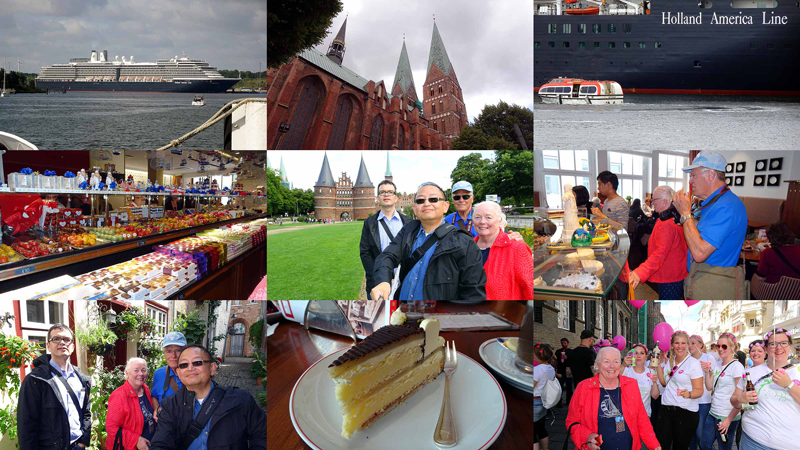 NORWEGIAN JADE 2011 (1)
, Frankfurt, Wien, und nach der
QUANTUM OF THE SEAS 2014
- oft kreuzen sich unsere Wege. Als wir erfahren, dass Linda und Wayne aus den USA mit der ZUIDERDAM in Lübeck-Travemünde sind, machen wir einen Abstecher, um sie wiederzusehen. Meine Eltern und meine Tante wurden bei ihnen zu Hause mit der gleichen Herzlichkeit aufgenommen, die wir ihnen hier erwidern möchten.

NORWEGIAN JADE 2011 (1), Frankfurt, Germany, Vienna, Austria, and after the QUANTUM OF THE SEAS 2014 - often our paths crossed. When we learned that Linda and Wayne from NC would be in Lübeck-Travemünde, Germany on ZUIDERDAM, we made a detour to see them again. My parents and aunt were welcomed at their homes with the same warmth, we would like to reciprocate here.

We were in the middle of the US election campaign, and we also noticed that in Travemünde.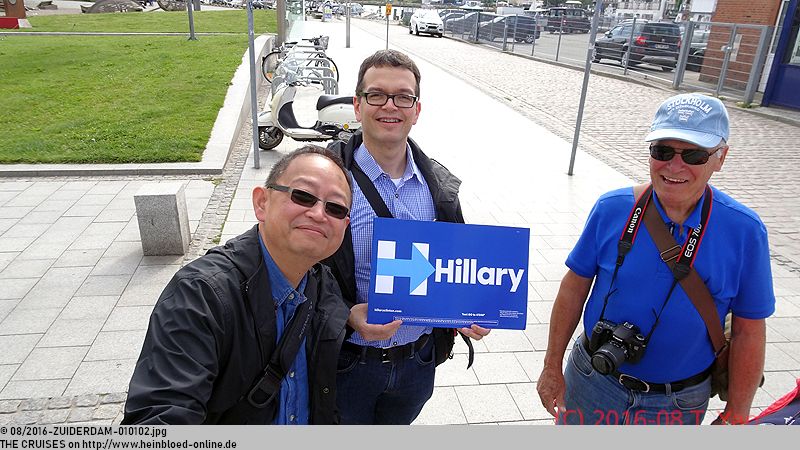 Wir sind mitten im US-Wahlkampf und das merken wir auch in Travemünde.
Unsere Tour starten wir auf der
MS HANSE
von Travemünde nach Lübeck. Es passt sehr gut, dass wir an Bord zu Mittag essen können.

Our tour started on MS HANSE from Travemünde to Lübeck. It fitted very well that we could have lunch on board.

We passed ZUIDERDAM. At EURODAM 2014, we had a great waiter: Hardi. He was also on board. We offered him to join us on our tour. Unfortunately, a life drill for the crew took place in Travemünde. Unfortunately, he was not allowed to come with us.

Vorbei geht es an der ZUIDERDAM. Auf der
EURODAM 2014
hatten wir einen ganz tollen Kellner: Hardi. Er ist auch an Bord. Wir haben ihm angeboten, dass er mit auf unsere Tour geht. Leider findet in Travemünde eine Seenotrettungsübung für die Crew statt. So darf er leider nicht mitkommen.
Wir laufen durch die Altstadt Lübecks. Durch enge Gassen. Vorbei am
Buddenbrook-Haus
. Und Linda erlebt einen Junggesellinnen-Party.

We walked through the old town of Lübeck. Through narrow streets. Passing the Buddenbrook House. And Linda was attending a German bachelorette party.

Indeed, we had to pass the historic town hall.

Natürlich müssen wir am
historischen Rathaus
vorbei.
In den
Lübecker Dom
schaffen wir es nicht, aber im
Niederegger
sehen wir ihn auch aus Marzipan. Berühmtheiten waren schon hier wie Papst Benedikt XVI. oder Königin Elisabeth II. Und nun stehe ich vor
Niederegger
. Im Laden unten ist wieder Sodom und Gomorra, als ob morgen eine Hungersnot ausbricht.

We did not make it to Lübeck Cathedral. But with Niederegger, we also saw it made of marzipan. Celebrities were already here like Pope Benedict XVI. or Queen Elisabeth II. And now I was standing in front of Niederegger. Downstairs in the store, it was again crowded as if a famine would break out the next day.

We went upstairs and found a table to have a piece of cake and a cup of coffee.

Wir gehen nach oben und finden einen Tisch, um hier ein Stückchen Kuchen und eine Tasse Kaffee zu trinken.
Weiter laufen wir am
historischen Salzspeicher
an der Trave.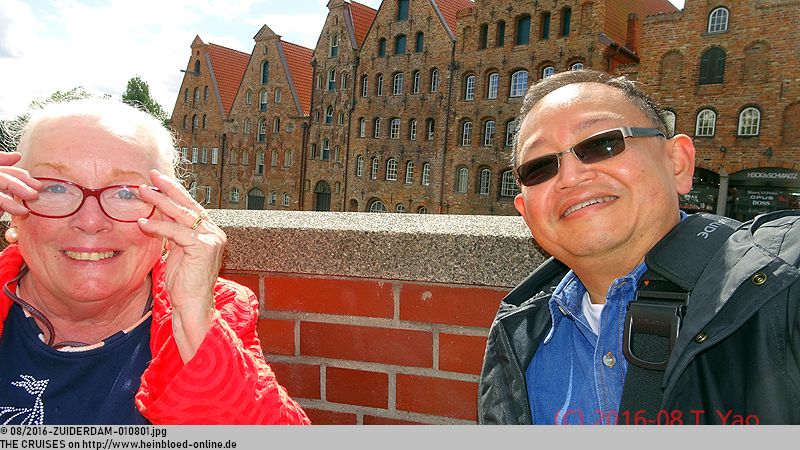 We headed to the historic salt warehouse at the river Trave.

So we made already the halfway to Lübeck Central Station (Hauptbahnhof).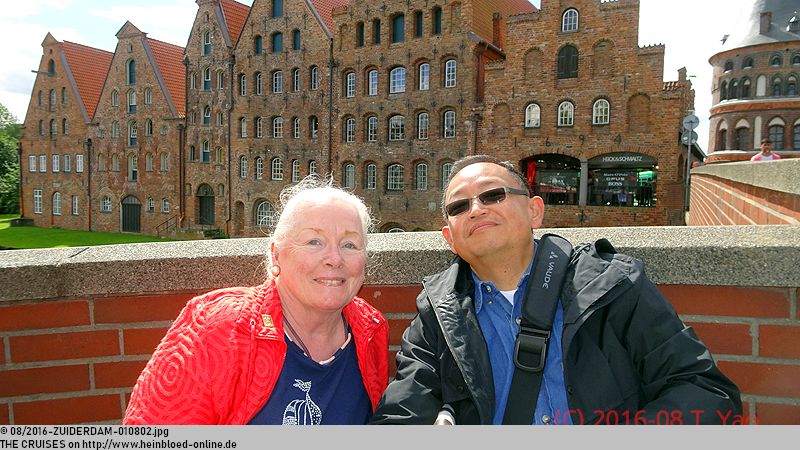 So haben wir den halben Weg zum
Lübecker Hauptbahnhof
geschafft.
Aber ohne Fotostopp am
Holstentor
geht einfach ein Besuch in Lübeck nicht!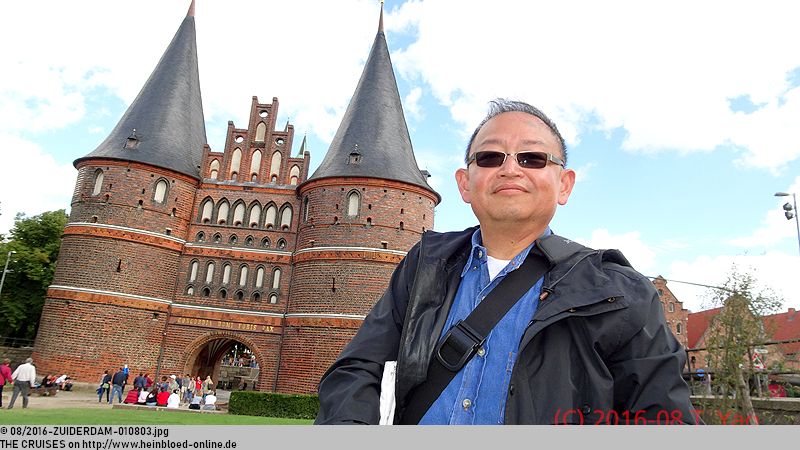 With a photo stopp at Holstentor, you cannot do a visit in Lübeck!

One more nice group picture in front of the Holstentor.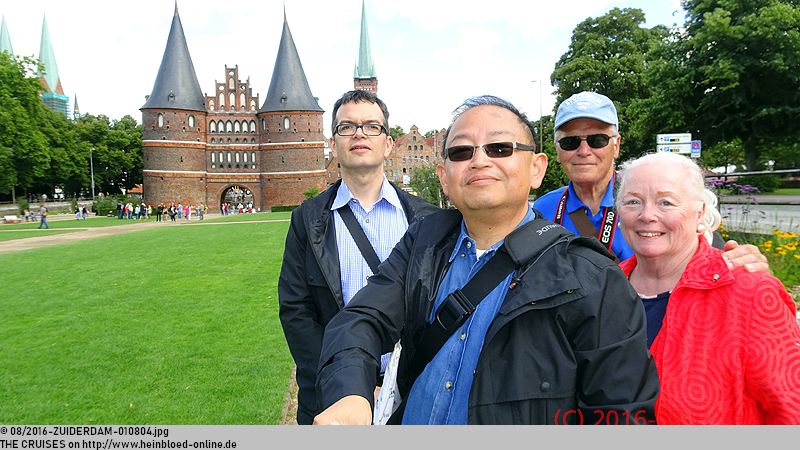 Noch ein schönes Gruppenbild vor dem
Holstentor
.
Und dann geht es mit dem
RE8-Zug
nach
Lübeck-Travemünde Hafen
. Obwohl die ZUIDERDAM am
Skandinavienkai
liegt, darf man nur mit Shuttle zum Schiff. Der Shuttle starte an der
Priwall-Fähre
. Wenn es wie hier passt: Wochenende in einem Hafen "in der Nähe" (hier 6:36 Stunden mit dem Auto = 625 km) und wir wissen es rechtzeitig: dann kommen wir gerne und jemanden wiederzutreffen und herumzuführen.

And then we returned by RE8-train to Lübeck-Travemünde harbor (Hafen). Although ZUIDERDAM was docking at Skandinavienkai, you could get only to the ship by shuttle. The shuttle started at the Priwall ferry. If it would fit like this: a weekend in a port "nearby" (here 6:36 hours by car = 625 km) and we knew it early: then we would like to come, and see and take you around too.
Die anderen Reisen in diesem Blog/
The other voyages in this blog: