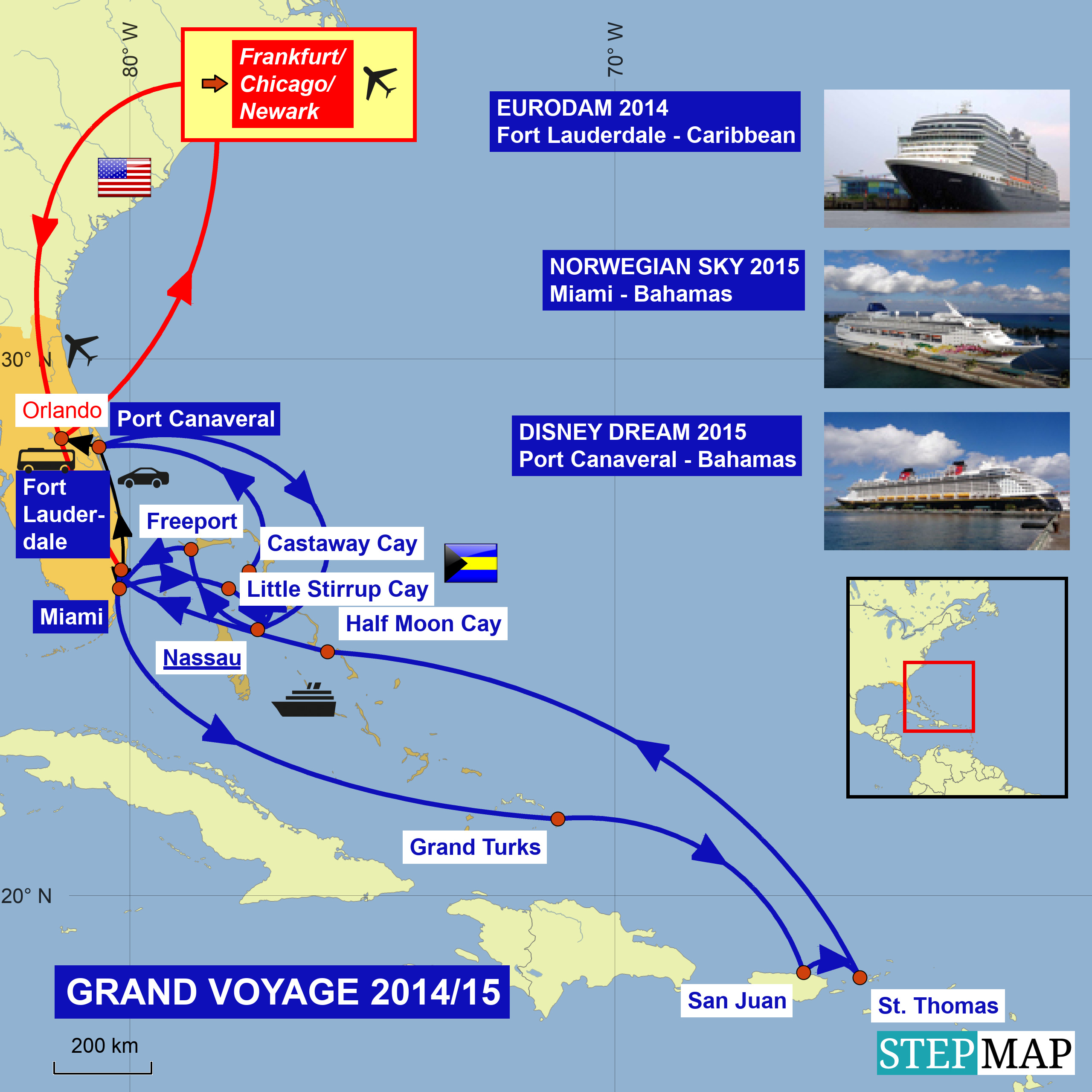 Wir müssen ja daran denken, dass wir bald wieder das Schiff verlassen. Deswegen ist alles gefaltet wichtig: ab in den Koffer... Sonst bekommt man es so wieder und man muss alles selbst falten. Wobei unser Steward hat ja schon mitbekommen, dass wir sehr viele Klamotten neu in Sawgrass Mills gekauft hatten und hat uns zuvor direkt einen Riesensack gebracht, damit wir alles auf einmal in die Wäscherei geben können. Ob wir die Körbe direkt mit einpacken können... Es ist einfach zu schön verpackt! Genauso schön ist immer Post verpackt: Einladung zur Cocktail Party des Kapitäns. Schoki und Handtuchtier: es gehört einfach mit dazu!

We need to consider that we need to leave the ship soon. So everything folded was important: directly to the suitcase... Otherwise, you got it this way back, and you need to fold yourself. Our cabin steward noticed that we obviously many new clothes in Sawgrass Mills and got us a giant bag so we could give all at once to the laundry service. Could we take those baskets directly with us... It was wrapped so nicely! As nice as the mail was always wrapped: Invitation to the Cocktail Party of the Captain. Chocolate and towel animal: were all part of the experience.

The actual day started again with Walk a Mile. Yet as a public event with Imran.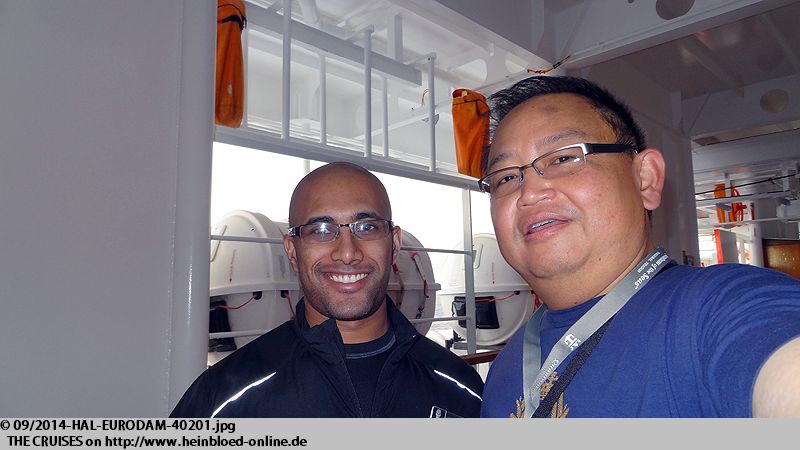 Der heutige Tag fängt wieder mit Walk a Mile an. Heute mal wieder öffentlich mit Imran.
Das T-Shirt von gestern Abend von Recycled Percussion muss ich heute natürlich tragen.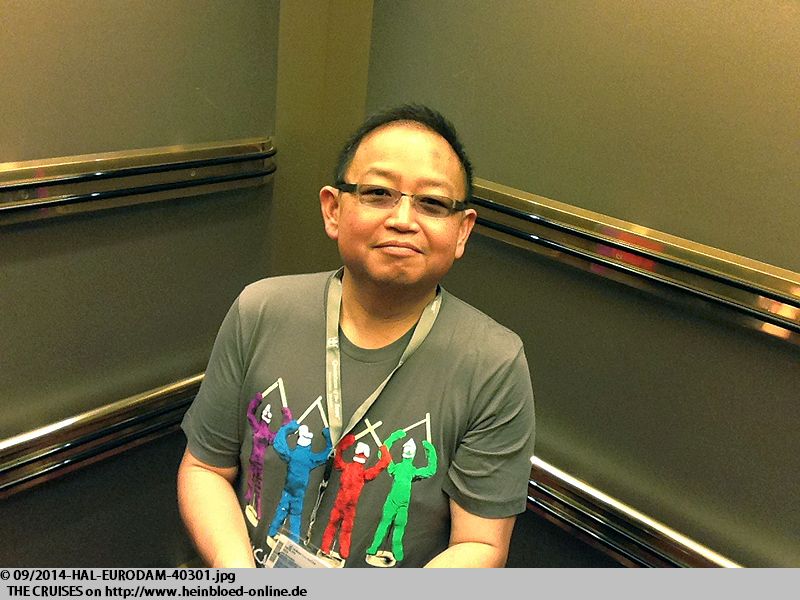 I had certainly to wear the last night's t-shirt of Recycled Percussion.

And I went further: with my new groupie-life an autograph session. They signed directly on my t-shirt. It was clear that I will wear it again so this was the only day to wear. And a mutual selfie needed to be.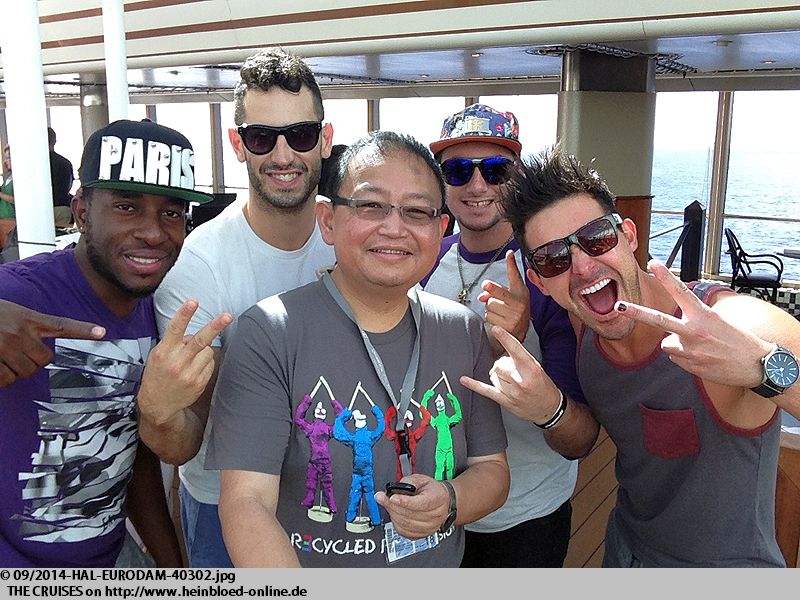 Und ich gehe noch weiter: zu meinem neuen Groupie-Dasein gehört auch hier die Autogrammstunde. Es wird auf dem T-Shirt signiert. Da es nie mehr gewaschen wird, komme ich daher nur heute dazu es anzuziehen. Und ein gemeinsames Selfie muss sein.
Ansonsten gucken wir zu, wie überall das Schiff auf Hochglanz gebracht wird. Und bei HAL bekommst du i. d. R. immer ein freundliches Lächeln und ein "Good Morning Sir", wie hier von Tri, der die Fahrstuhlkabine auf Hochglanz bringt. Leider nicht bei allen Gesellschaften selbstverständlich. Ich erinnere mich gerne an meine allererste Fahrt auf der EURODAM 2008, als ich eine Mitarbeiterin, die gerade knieend einen Fleck auf dem Teppich entfernte, nach dem Weg zur Toilette fragte. Sie stand damals auf und begleitete mich, bis zu der Stelle, bei der ich selbst die Toilettentür sehen konnte. Sie hätte es ja auch machen können, wie viele andere: mir mit dem Bürste den Weg zu deuten. Ein kleiner Grund unter sehr vielen Gründen, was Holland America von anderen unterscheidet und warum ich Holland America so liebe. Und egal wo: du wirst nie als störender Gast empfunden. Wahrscheinlich schon, aber sie lassen es dich nicht spüren. Ich bin ja auch schon mal bei anderen rücksichtslos nassgepritzt worden, weil ich beim Reinigen gestört habe... Gibt es alles...

Otherwise we were looking how the polished the ship everywhere. And with HAL you usually always get a friendly smile and a "Good Morning Sir" like here with Tri who was polishing the elevator. It is not familiar with all cruise lines we knew. I remember very well our very first sailing on EURODAM 2008 when a crew member was on her knees to remove some dirt from the carpets, and I asked her for the way to the restrooms. She stood up and escorted to the place where I could not miss anymore the door of the restroom as I could see it. She could have done it like many others: show me the way with her brush. A little reason under many many reasons what made the difference between Holland America and the others and why I love Holland America. No matter where: you will never be noticed as disturbing guest. Maybe they did, but they will never let you know. With others, I was already wet sprinkled because I was disturbing them with cleaning... You can have everything...

As we call San Juan by noon we used the morning to stay in our cabana. Jayson and Michael got everything for Sigrid's birthday breakfast. They got us everything we loved to have without letting us run by ourselves. So we enjoyed the beautiful weather, the calm morning at a beautiful place where we enjoyed the view. And I was walking around with the signed shirt of Recycled Percussion.

Da wir erst mittags in San Juan anlegen, nutzen wir den Morgen bereits unsere Cabana. Jayson und Micheal haben alles für das Geburtstagsfrühstück von Sigi vorbereitet. Sie besorgen uns alles, worauf wir Lust haben, ohne dass wir selbst laufen müssen. So genießen wir das schöne Wetter, den ruhigen Morgen an einem schönen Ort, wo wir die Aussicht genießen. Und ich laufe heute mit dem signierten T-Shirt von Recycled Percussion herum.
Laktosefreie Milch. Das Versprechen wird gehalten.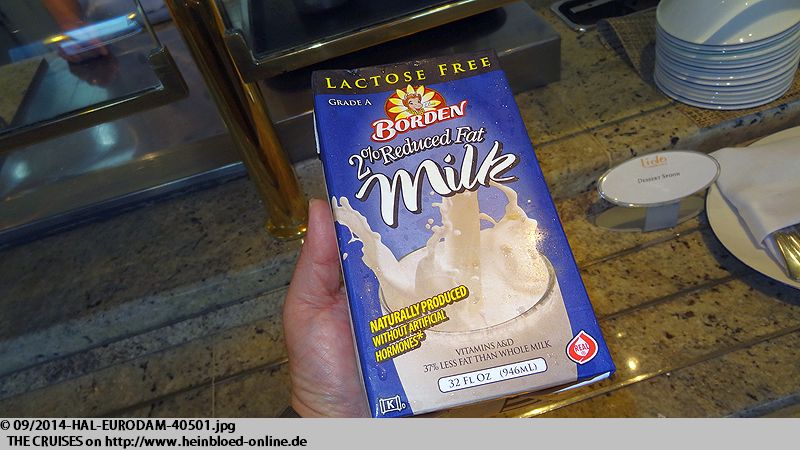 Lactose free milk. They kept their promise.

Afton, Martijn, and Norbert made sure that all of my small wishes became real. They use the morning inspection walk through all bars and restaurants to deliver the milk at the Explorations Café and giving instructions that this milk was just for me.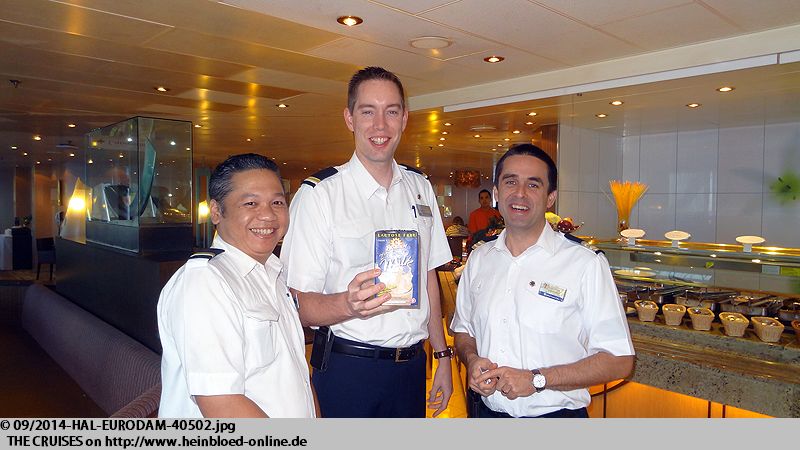 Afton, Martijn und Norbert stellen sicher, dass mir meine vielen kleinen Wünsche erfüllt werden. Ihren morgendlichen Rundgang durch die Bars und Restaurants nutzen sie, um eben die Milch an die Kaffeebar Exploirations Café vorbeizubringen und Anweisungen zu geben, dass die Milch nur für mich reserviert ist.
So werde ich mir jeden Tag meinen laktosefreien Cappucino holen.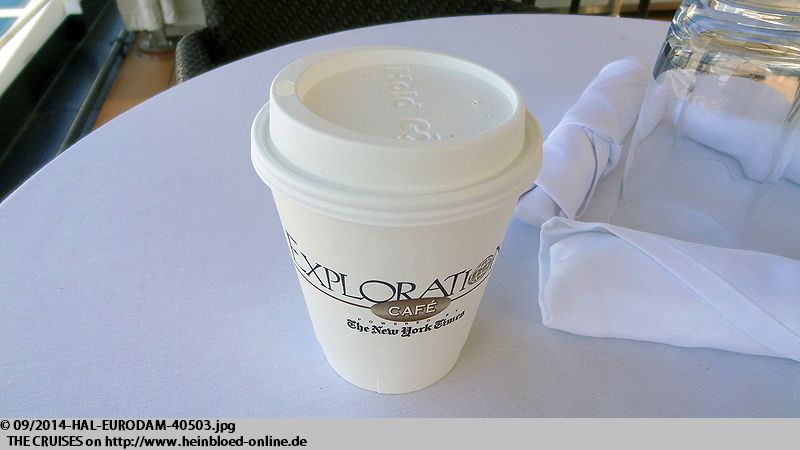 Now I could go and have everyday my lactose free cappucino.

Jayson and Michael brought us the lunch offer in the Lido Restaurant and asked us if we would like to have lunch in our cabana.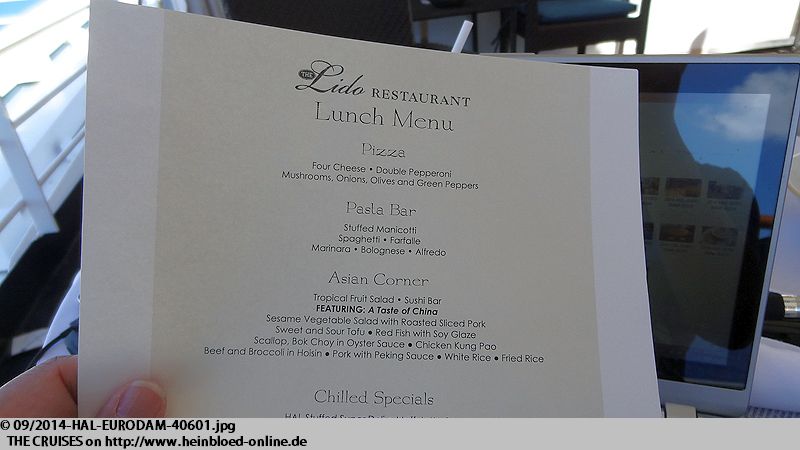 Jayson und Michael bringen uns das Mittagsangebot des Lido Restaurants vorbei und fragt an, ob wir in unserer Cabana essen möchten.
Fast enttäuscht reagieren sie, als wir nein sagen. Das ist eben so die Philosophie von Holland America, die wir erleben. Ich muss nicht nach etwas fragen, sondern mir wird etwas angeboten.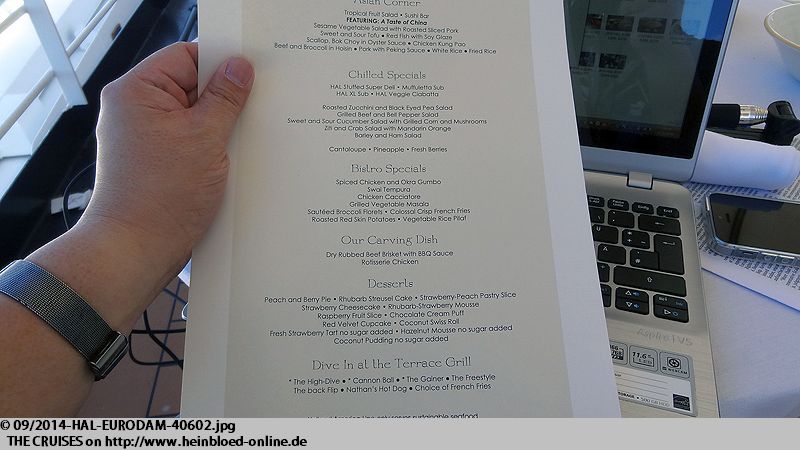 Almost disappointed they reacted when we said no. That was the philosophy of Holland America which we experienced. No need to ask for something but they offered me something.

Arrival in San Juan, PR.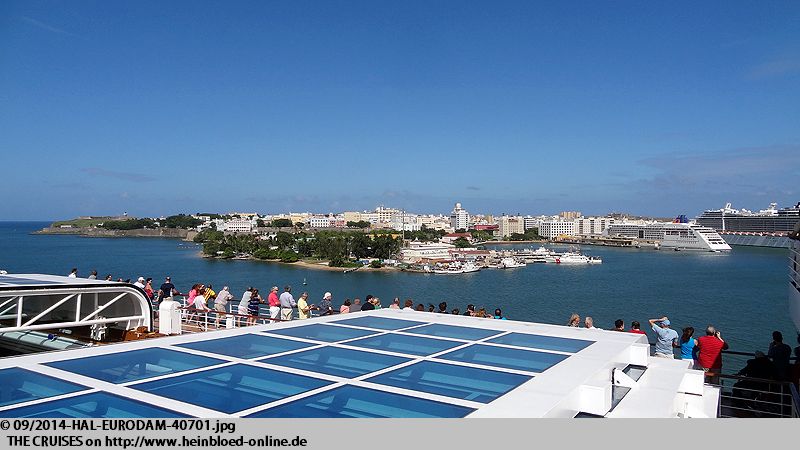 Ankunft in San Juan, PR.
Ein Paradies für Shipspotter. Nur kommen wir am falschen Ende des Hafens an. Wir fahren leider bei der Einfahrt nicht an allen anderen Schiffen vorbei.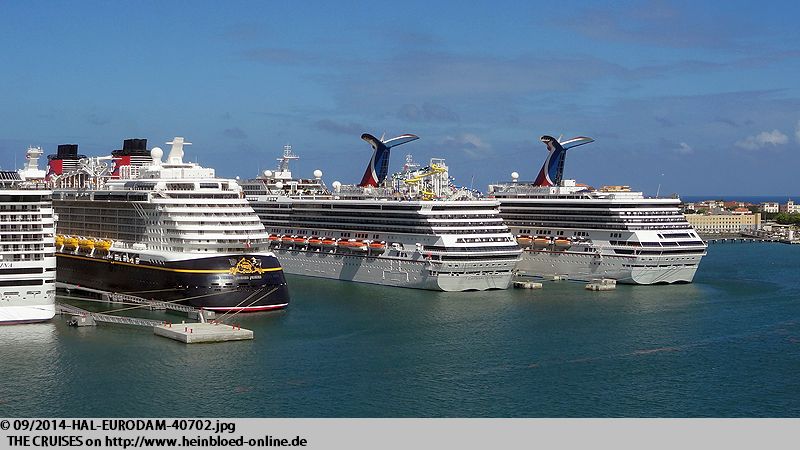 A paradise for ship spotters. But we arrived at the wrong end of the port. Unfortunately, we did not pass all other ships when we arrived.

We visited for lunch Tamarind Grill. It was nice. I have a tense relationship with fusion food. Either Asian or Western. I am too much Asian who appreciates good Asian food - especially Dim Sum. So I could not share the euphoria. But to my surprise, I need to note that they did not offer kale sweet and sour or Chop Suey gratinée Bordelaise style but the starters were quite Chines and the desserts quite Western. Something I could live very well with. We knew Lilis from our RYNDAM-voyage 2013. We got for a reasonable price and had a suite and were allowed to have breakfast in Pinnacle Grill or Neptune Lounge. And with Holland America, you have only waitresses at the bars or in the alternative dining venues. Lilis saw on Facebook that we supposed to go on EURODAM. She is one of the best ambassadors for Holland America on Facebook. Her postings make you want to book a Holland America to see all the places she posted of. She wrote us that we should say hello to her colleagues Riri and Ara and they knew that we were coming. For lunch, you do not get any birthday cakes. But when they heard that Sigrid had the birthday, they decorated her dessert very nicely.

Wir besuchen mittags den Tamarind Grill. Es war sehr nett, aber ich habe ja ein gespaltenes Verhältnis zu Fusion-Speisen. Entweder asiatisch oder westlich. Ich bin da einfach zu sehr Asiate, der einfach gutes asiatisches - vor allem Dim Sum - schätzt. Deswegen kann ich persönlich die allgemeine Euphorie nicht so teilen. Aber zu meinem Erstaunen stelle ich fest, dass es nicht Grünkohl süß-sauer oder Chop Suey à la Bordelaise gibt, sondern die Vor- und Hauptspeisen sind sehr chinesisch und das Dessert sehr westlich. Damit kann ich sehr gut anfreunden. Lilis kennen wir von unserer
RYNDAM-Reise 2013
. Damals hatten wir ja sehr günstige eine Suite erhalten und durften im Pinnacle Grill oder in der Neptune Lounge frühstücken. Und bei Holland America gibt es Kellnerinnen nur in den Bars und in den Zuzahlrestaurants. Lilis hatte auf Facebook gesehen, dass wir auf der EURODAM sind. Sie ist eine der besten Botschafterinnen von Holland America auf Facebook. Ihre Beiträge machen Lust auf Reisen and die Ort mit Holland America, um sie zu sehen. So hat sie uns geschrieben, dass wir ihre Kolleginnen Riri und Ara grüßen sollen und sie wussten auch Bescheid. Mittags gibt es keine Geburtstagstorten, aber als sie erfahren, dass Sigi heute Geburtstag hat, wird ihr Dessert kurzerhand sehr nett garniert.
Im Hafen liegt das beste Schiff der Welt nach Douglas Ward: EUROPA 2. Die Bilder habe ich später auf Hapag-Lloyds Facebook-Chronik veröffentlicht, was Hapag-Lloyd veranlasst hat nachzufragen, wann ich mal wieder mit ihnen mitfahren.

The best ship of the world according to Douglas Ward was in port: EUROPA 2. I posted later on Hapag-Lloyd's Facebook Chronicle the pictures which made Hapag-Lloyd asking when I supposed to go with them again.

MSC DIVINA.

MSC DIVINA.
DISNEY FANTASY. Es geht ja später weiter zur Schwester DISNEY DREAM. Und mit Dumbo als Heck-Gallionsfigur.

DISNEY FANTASY. Later we will head to her sister DISNEY DREAM. And with Dumbo as the Aft-Figure head.

Preventively I took my selfie with her and integrated her into my fleet... You never know... Disney fascinated me. One day I might be with her on tour, and so I should use the chance...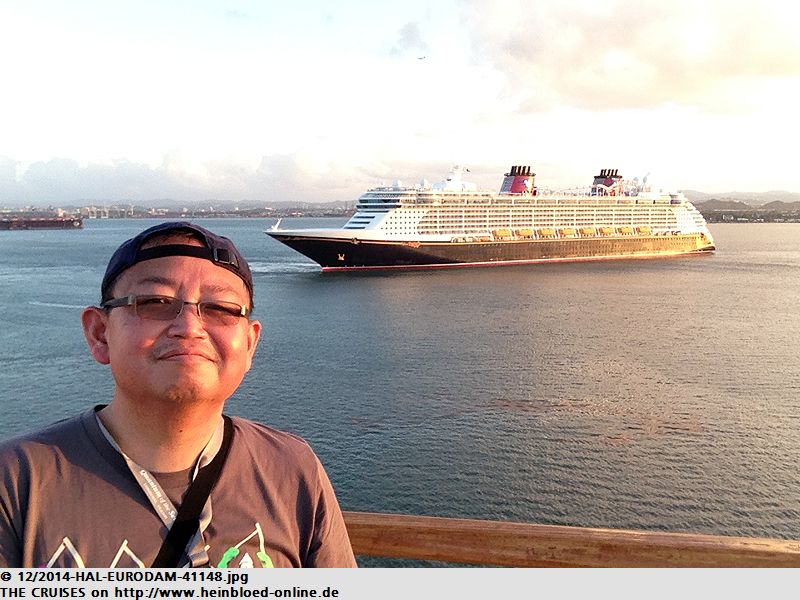 Präventiv nehme ich sie schon mal mit meinem Selfie in meine Flotte auf... Man weiß ja nie. Disney hat mich sehr fasziniert. Und vielleicht bin ich ja mal eines Tages mit ihr auch unterwegs und da sollte ich schon die Chance nutzen...
CARNIVAL SUNSHINE... wie nach dem Umbau heißt... CARNIVAL DESTINY.

CARNIVAL SUNSHINE... how she was named after refurbishing... CARNIVAL DESTINY.

CARNIVAL GLORY.

CARNIVAL GLORY.
Durch einen Schaden liegt etwas weiter weg: INSIGNIA.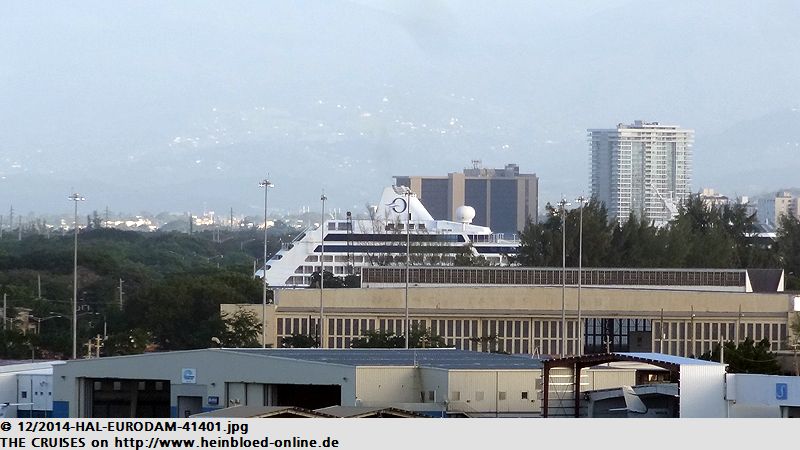 Due to a damage a little more off: INSIGNIA.

Recently she needed to terminate a voyage to get for repair to this place. I could not find out on Google Map if there were any good place to take great pictures. It was New Year's Eve. Fewer taxis were available. They might be more expensive. Hence I left it.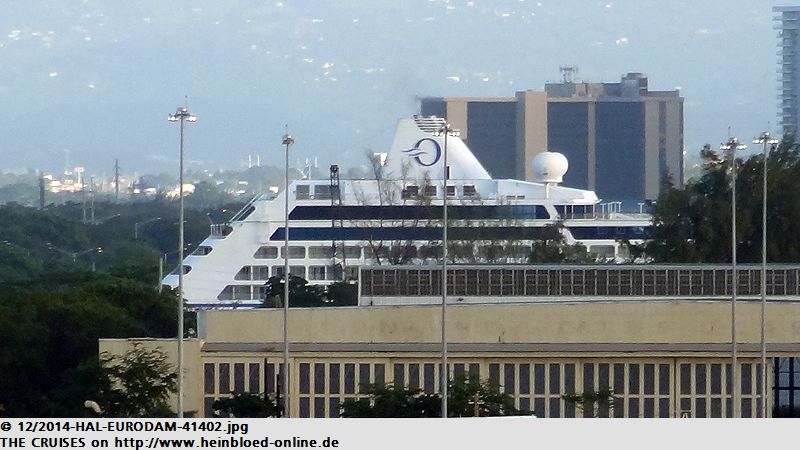 Sie musste vor kurzem ihre Reise abbrechen und zur Reparatur hierher. Aus Google Maps konnte ich nicht wirklich ermitteln, ob es einen vernünftigen Ort gibt, von der man sie noch toll fotografieren kann. Es ist Silvester. Weniger Taxis unterwegs. Die sind bestimmt teurer. Ich lasse es daher.
Offiziell reisen wir ja wieder in die USA ein. Allerdings finden keine Kontrollen statt. Es ist allerdings schon anders, als sonst. Zustände wie bei MSC im Mittelmeer... so kurze Aufenthalte... Nur irgendwie für heute total blöd: viele Geschäfte haben Schilder, dass sie bereits nachmittags schließen! Deswegen laufen wir nur ein wenig in der Altstadt herum und sind froh, dass wir ein Café finden, dass nicht bereits um 16.00 Uhr schließt. Weil mir mein iPhone leider aus der Hand gerutscht ist und gesplittert hat, lass ich es bei einem Straßenhändler, der noch bereit ist, heute es zu machen, ausbessern. Später stellt sich heraus: ein fataler Fehler: Apple nimmt das Gerät nicht mehr in Zahlung (was sie sonst immer machen...) und die Garantie für die Hardware ist erloschen. Einziger Pluspunkt: mein iPhone erscheint noch schwuler aus, als ich selbst.

Officially we re-entered the USA. But there were no checks. But it was different as usual. Conditions like we had with MSC in the Mediterranean Sea... such short calls... But somehow very stupid for the day: many ships displayed that they would close in the afternoon! So we only walked around the old town and were happy to find a café which would not close already at 16.00 hrs. Because my iPhone slid off my hand and shattered, I found a street dealer who was willing to help to fix my problem that special day. Later I had to learn: Apple did not accept it anymore as a downpayment (what they usually do...) and the warranty for the hardware expired. Only good: my iPhone looked gayer but myself.

An officially birthday group picture in San Juan.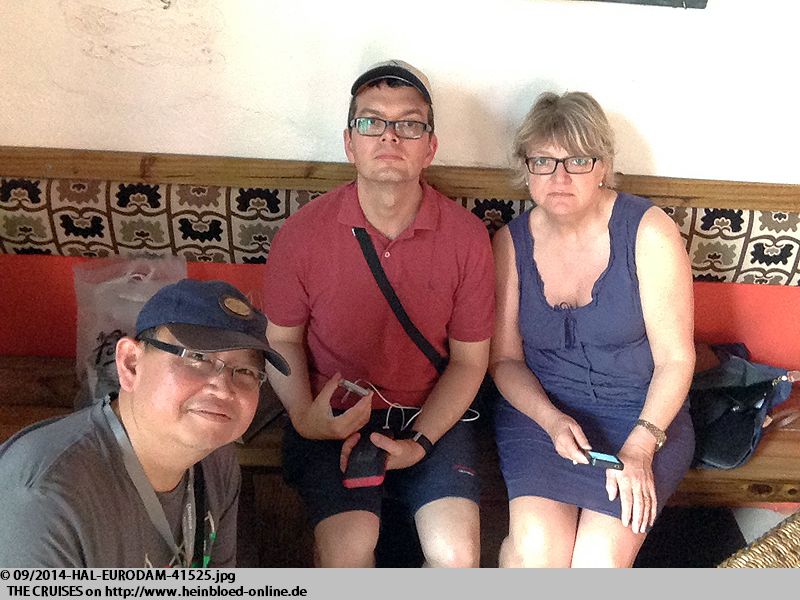 Ein offizielles Geburtstagsrundenfoto in San Juan.
Ganz ehrlich: ausnahmsweise mal ein Halt, bei dem gar nichts passte. So als die ersten Schiffe San Juan verlassen, haben wir die Stadt quasi für uns. Bloß da hatte kaum noch etwas auf. Sogar der CVS will ausnahmsweise mal zwischendurch schließen.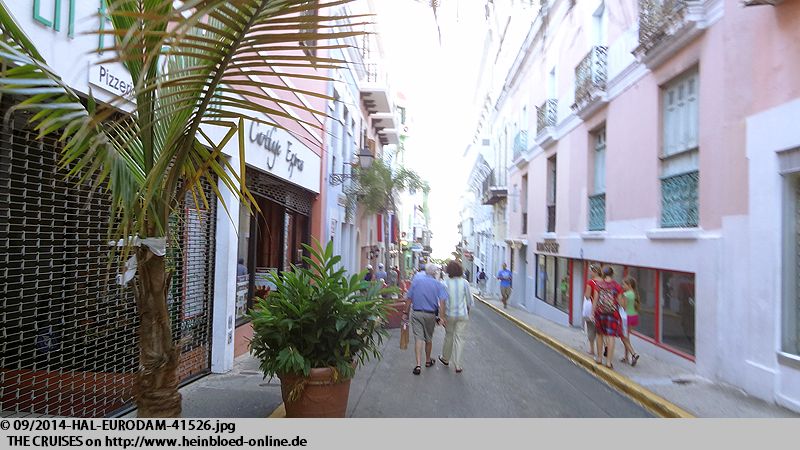 Honestly: by exception a call where nothing fit. So when the first ships left San Juan, we had more or less San Juan for us. But at that time no more shops were open. Even CVS wanted to close temporary that special day.

Even the market in front of the port was closing.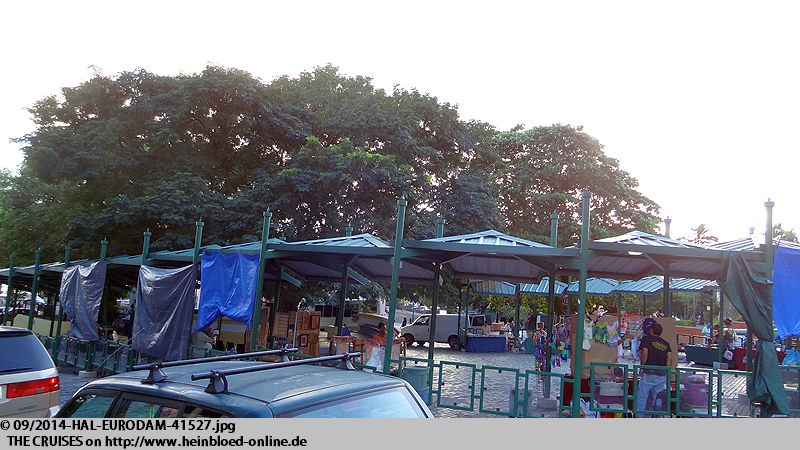 Auch der Markt vor dem Hafen macht langsam zu.
Wobei: wir waren ja schon in Panama Stadt, Cartagena des Indias und irgendwie ist das alles sehr gleich vom Baustil her. Deswegen würde ich vielleicht das nächste Mal eine Kreuzfahrt auwählen, die in San Juan startet, um mehr vorher oder nachher zu entdecken.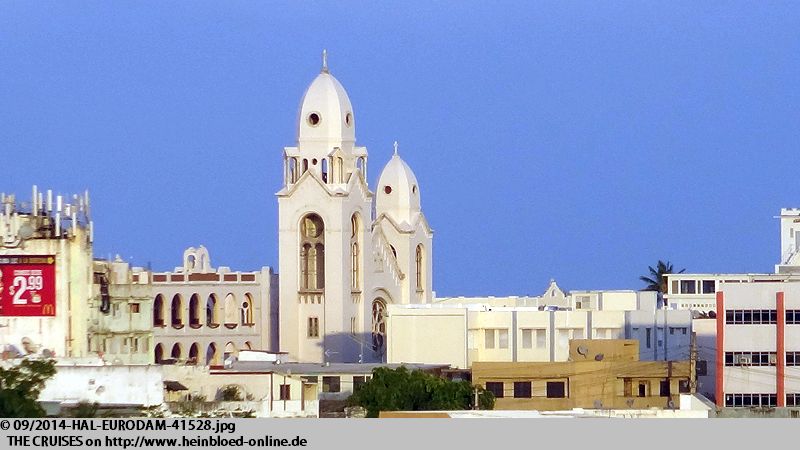 Well: we had been in Panama City, Cartagena des Indias and somehow the architecture style looked same. Maybe I would take next time a cruise which starts in San Juan, so I have time to discover before and after the cruise.

Somehow it was too silent... as if she only lives when cruisers are in town.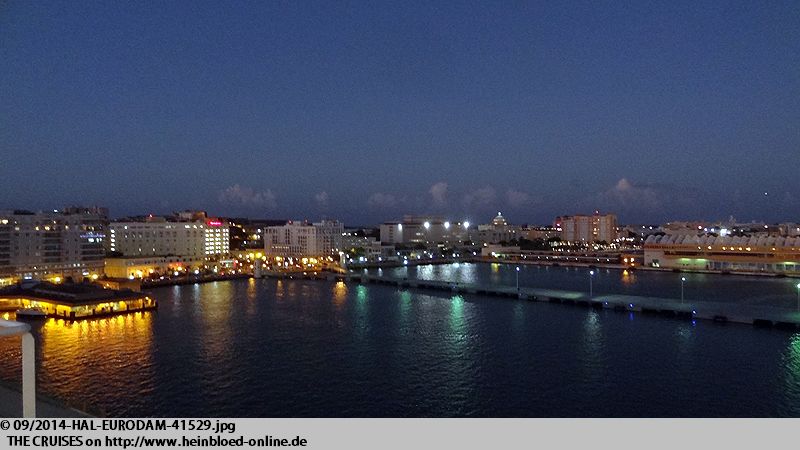 Irgendwie ist es zu still... als ob sie nur lebt, wenn die Kreuzfahrer in der Stadt sind.
Silvester Gala-Dinner im Lido-SB-Restaurant... Eine Suppe muss sein... Und so schlecht ist das Angebot nicht... vieles ist auch auf der Karte im Hauptrestaurant.

New Year's Eve Gala Dinner in the Lido self-service restaurant. A bowl of soup is a must... And the offer was not so bad... many you can find on the menu for the main dining room too.

After a great night in Pinnacle Grill, I already forgot that I wanted to be upset with them because I had different plans for that night. After a great night in Pinnacle Grill, I already forgot that my original ideas were. Did not we have the program anyway to see the Pinnacle Grill? For me who cannot eat any more the way like I used to eat they found a way that I could experience the flavor: like a rib-eye-steak as a burger! For Sigi, it became an unforgettable birthday. For the end of the dinner, we were supplied for New Year's Eve. How ugly! But it was the night it needed to be.

Nach dem tollen Abend im Pinnacle Grill habe ich schon vergessen, dass ich eigentlich sauer auf sie sein wollte, weil es ja anders geplant war. Nach dem tollen Abend im Pinnacle Grill habe ich schon vergessen, was es überhaupt war. Wollte ich nicht eh sofort zum Pinnacle Grill? Für mich, der ja nicht mehr alles essen kann, wie er gerne will, werden Möglichkeiten gefunden, dass ich den Geschmack erlebe: z. B. ein Rib-Eye-Steak als Burger! Für Sigi wird es wie versprochen ein unvergessener Geburtstag. Nur zum Ende des Essens werden wir entsprechend für Silvester ausgestattet. Wie furchtbar! Aber das ist nun mal der Abend, an dem es sein muss.
Vielen Dank an ein tolles Team, das sich als Team versteht. Ich habe niemand gesehen, der versuchte schnell an uns vorbeizukommen, ohne uns den Blick zu bieten "Haben Sie etwas? Sprechen Sie mich ruhig an". Wir erleben ja oft auch in anderen Zuzahlrestaurants anderer Schiffe die Körpersprache "Bitte sprechen Sie mich nicht an und warten Sie, bis dass Ihr eigener Kellner wieder für Sie sichtbar ist" - etwas, dass ich im Pinnacle Grill noch nie erlebt habe. Jeder der leere Hände hat und sieht, das etwas mitgenommen werden kann, nimmt es mit - egal ob sein Tisch oder nicht. Und daher muss ich mich nicht nur bei unseren Kellnern bedanken, sondern bei dem gesamten Team (von links nach rechts): Francisco, Yuni, Toni, Ruru, Ferdi, Joko, Anita, Martijn, Dian, Tobias, Pury -
VIELEN DANK FÜR EINEN UNVERGESSLICHEN ABEND!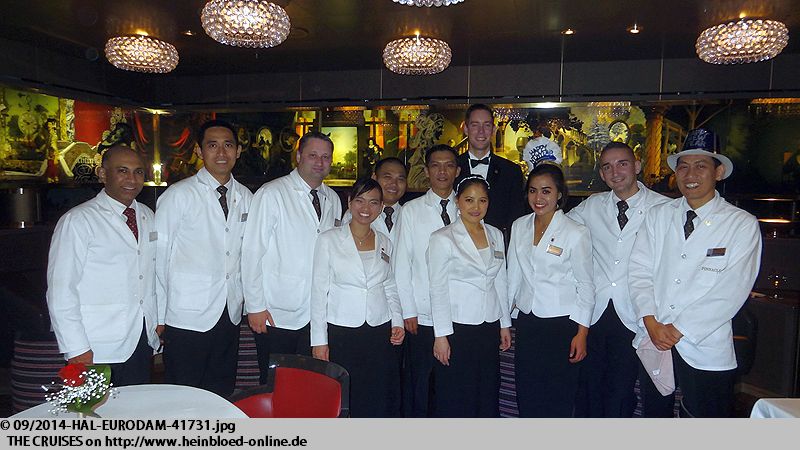 Thank you for a great team which was acting as a team. I had never seen anyone who tried to pass us quickly without facing you with the gesture "Anything I can do? Please tell me". We experienced in many other alternative dining venues of other ships that the body language said "Please do not ask me unless you see your own waiter again" - something I have never experienced in the Pinnacle Grill. Everyone with empty hands and saw that something could be taken away took it - no matter his own table or not. So I did not only have to thank our own waiters but with the complete team (from left to right): Francisco, Yuni, Toni, Ruru, Ferdi, Joko, Anita, Martijn, Dian, Tobias, Pury - THANK YOU FOR AN UNFORGETTABLE NIGHT!

On the ship, they were best prepared for the New Year's party. Outside it was nicely warm, and you could celebrate outdoor.

Auf dem Schiff ist man bestens für die Silvesterfeier gerüstet. Draußen ist es schön warm und so kann man draußen feiern.
Zu viel Sekt - Sigi??? Macht nichts: je oller, desto doller...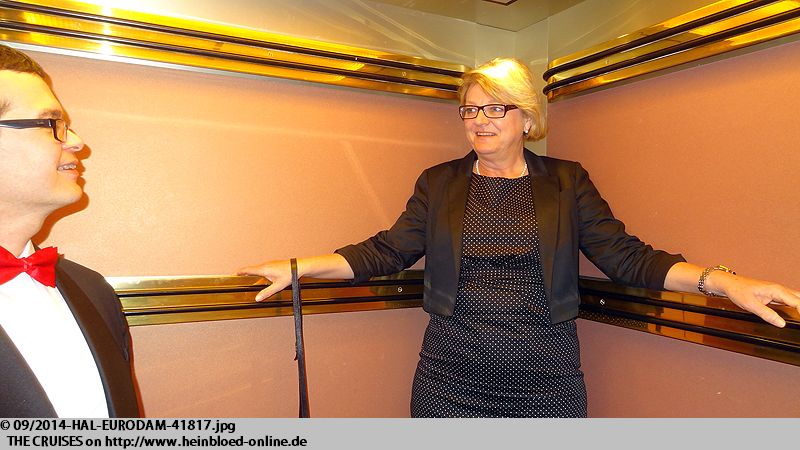 Too much champagne - Sigrid??? Did not matter: the older the more crazy...

The way San Juan presented himself in the afternoon the city presented now at midnight again.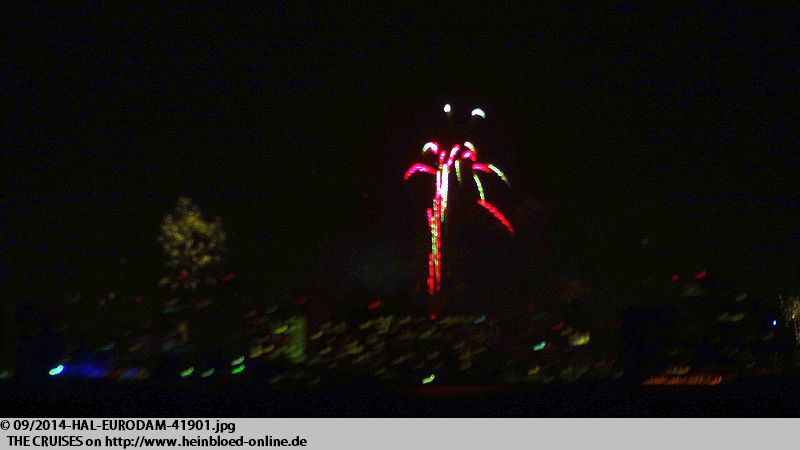 So wie sich San Juan nachmittags präsentiert hat, so präsentiert es sich jetzt um Mitternacht auch.
Ist das alles???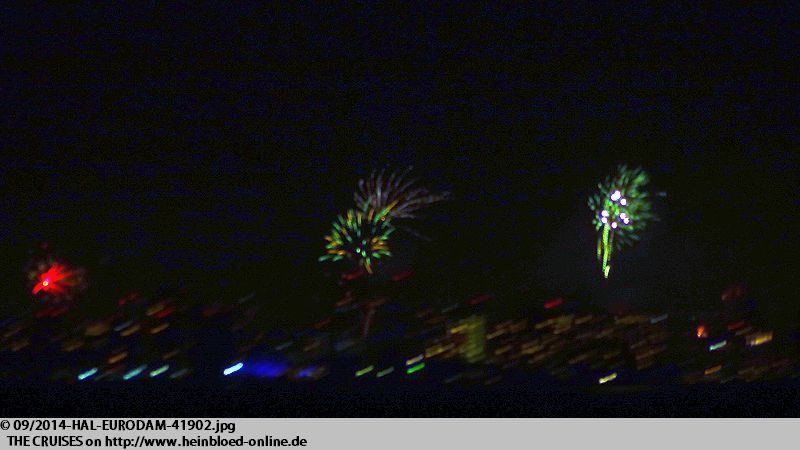 No more???

No - no more!!! Even on DISNEY DREAM, you had more!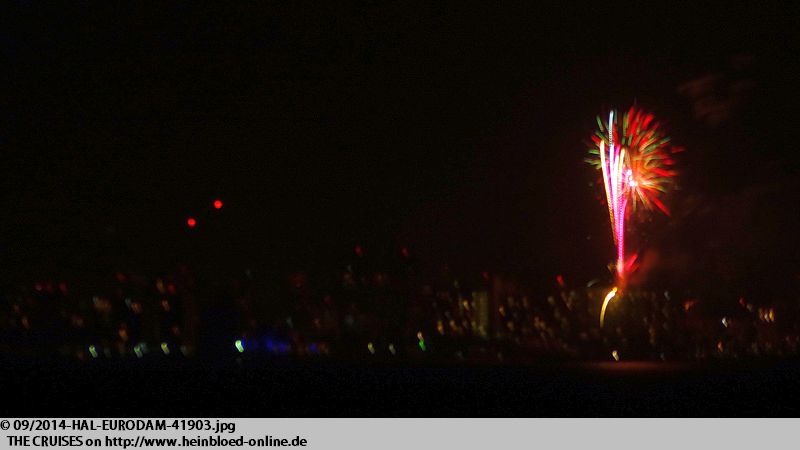 Mehr gibt es nicht!!! Selbst auf der DISNEY DREAM gab es mehr!
Und jetzt??? Es ist 2015. Ein neues Jahr. Ich bin in diesem Moment arbeitslos (eigentlich schon seit 5 Stunden wegen der Zeitverschiebung). Offiziell im genehmigten Urlaub der Agentur für Arbeit, weil ich gesagt habe, dass ich mich gerne bei den Zentralen der Kreuzfahrtgesellschaften in Miami vorstellen möchte. Wir sind ja auf dem Weg nach Miami... offiziell... mit einem kleinen Umweg über U.S. Virgin Island und Half Moon Cay. Also schauen wir mal, was das neue Jahr bringt.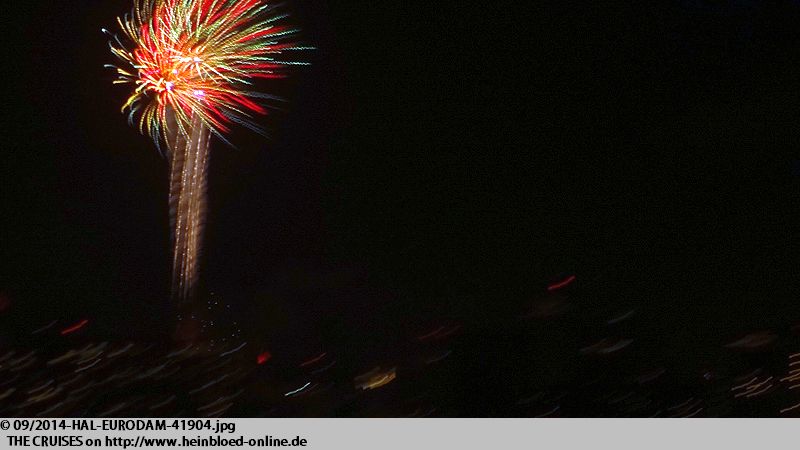 And now??? It was 2015. A new year. At this moment I became unemployed (officially for 5 hours due to time difference). Officially in an approved vacation by employment exchange because I told them that I wanted to present myself with the corporate offices of the cruise companies in Miami. We were on the way to Miami... officially... with a small detour via U.S. Virgin Island and Half Moon Cay. So let us see that the new year will get for me.
Die anderen Reisen in diesem Blog/
The other voyages in this blog: