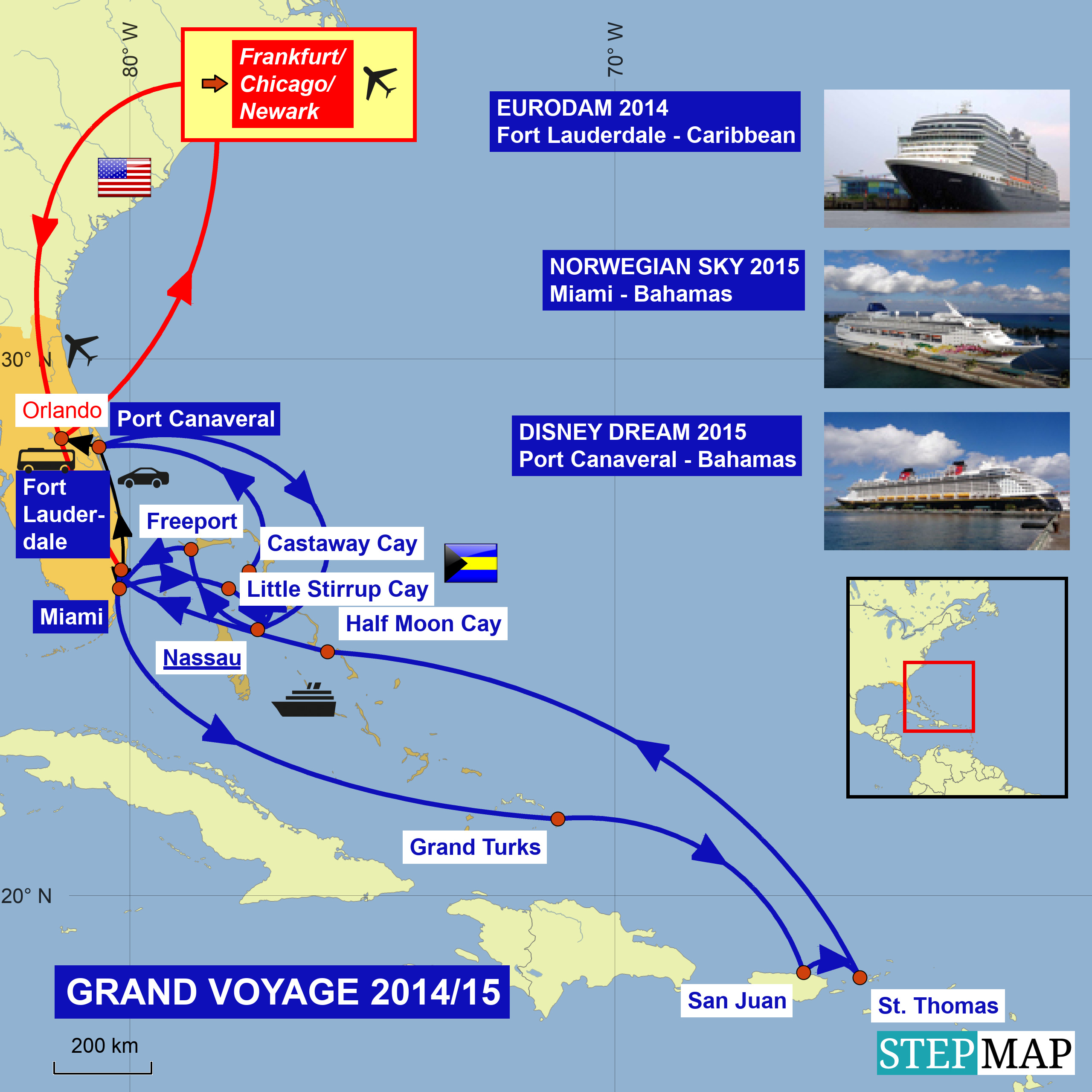 Im Hauptrestaurant wird der Mariner's Lunch angeboten. Sie überzeugen uns wieder sofort, die richtige Auswahl getroffen zu haben.

In the main dining room they offered the Mariner's Lunch. They convinced us immediately that we made the right pick.

We looked around what we could have to eat alternatively (or did not).

Wir gucken uns mal um, was es alternativ zu Essen gegeben hätte (oder auch noch nicht).
Dann gehen wir uns umsehen. Es ist so, als wenn man nach langer Zeit wieder zu Hause ist. Damals das erste Mal
2008
war es Liebe auf den ersten Blick. Damals hatten alle "Experten" gesagt: wie kann man nur? Nur alte Leute! Ich habe mich nicht davon abschrecken lassen und wie gesagt: es war Liebe auf den ersten Blick. Und diese "Experten" gehen heute selbst gerne auf Holland America. Ich zahle mehr, aber ich bekomme sehr viel mehr. Das Verhältnis muss jeder für sich selbst festlegen. Und ich fühle mich auf diesem Schiff einfach sauwohl. Und damals haben uns andere amerikanische Kreuzfahrer mal gesagt: "Wenn wir mit den Kindern unterwegs sind, fahren wir mit anderen. Wenn wir uns etwas gutes tun wollen, dann nehmen wir Holland America: Das ist Kreuzfahren für Erwachsene". Und bevor ich unsere allererste Kreuzfahrt gebucht habe, hatte ich auch einen Holland America-Katalog in der Hand. Aber damals hatte ich noch keine Ahnung vom Kreuzfahrt-Markt und Holland America eine besch...eidene Agentur, die sie auf dem deutschen Markt vertreten hat und vermarktet hat, wie teuer sie sein könnte, aber ohne zu vermitteln, was man mehr bekommt, als bei den anderen. Vor allem bin ich froh, dass ich meinen eigenen Kopf hatte, und mich dafür entschieden hatte, damals Holland America zu buchen, statt auf andere zu hören, die Holland America nicht kannten, aber immer Argumente gegen sie brachten.

Then we started to browse. It was like you came home after a long time. Then the very first time 2008 (only in German - sorry - please use Google Translate). And it was love at first sight. Then all "experts" said: how can you do it? Only old people! Nothing scared off my decision to book and as said before: love at first sight. And those "experts" went later also on Holland America. I pay more, and I get much more. The ratio needed to be set by everyone individually. And I felt perfectly well on this ship. Other American cruisers said to us: "When we are going with our kids we go with others. If we want to do something good to us we take Holland America: It is cruising for adults." And before I booked our very first cruise, I had a brochure of Holland America in my hands. But then I had no idea how the cruise market worked, and Holland America had a very lousy representative on the German market and explained how expensive they were without explaining what you get for your money. Especially I am more than happy that I always my own brain and decided to book and go with Holland America instead of listening to others who did not know Holland America by themselves but able to explain reasons against them.

I love the double funnel.

Ich liebe diesen Doppenschornstein.
Blauer Himmel - HAL Logo - Selfie-Time.

Blue sky - HAL Logo -Selfie-time.

We need to include Sigi in the picture.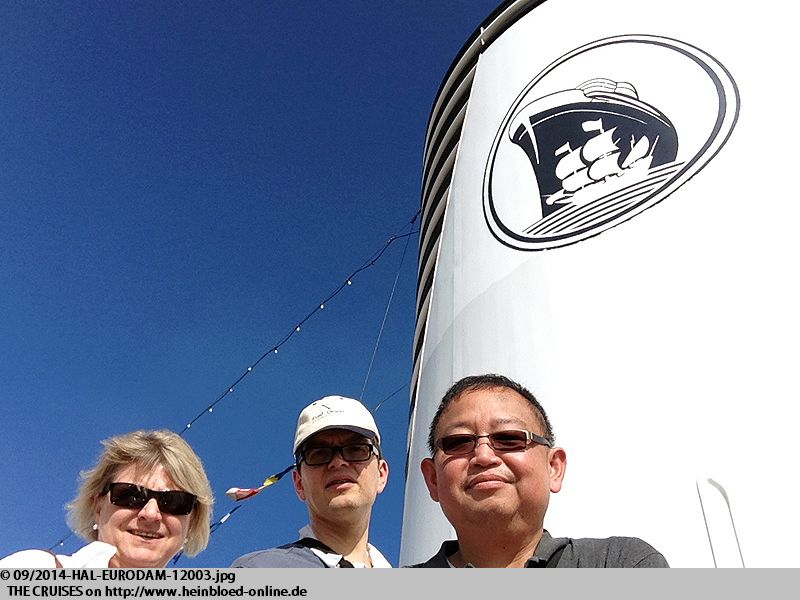 Auch Sigi muss ins Bild.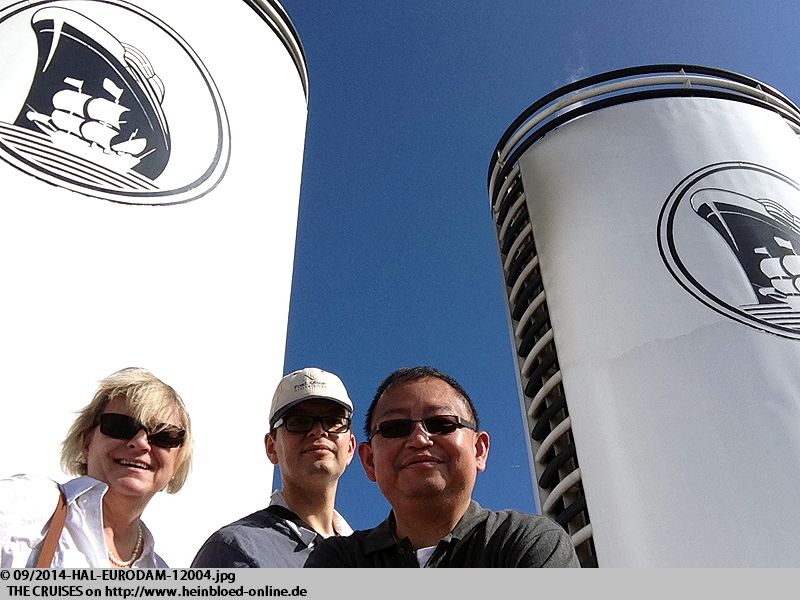 But I also want to have me and MY EURODAM just for myself.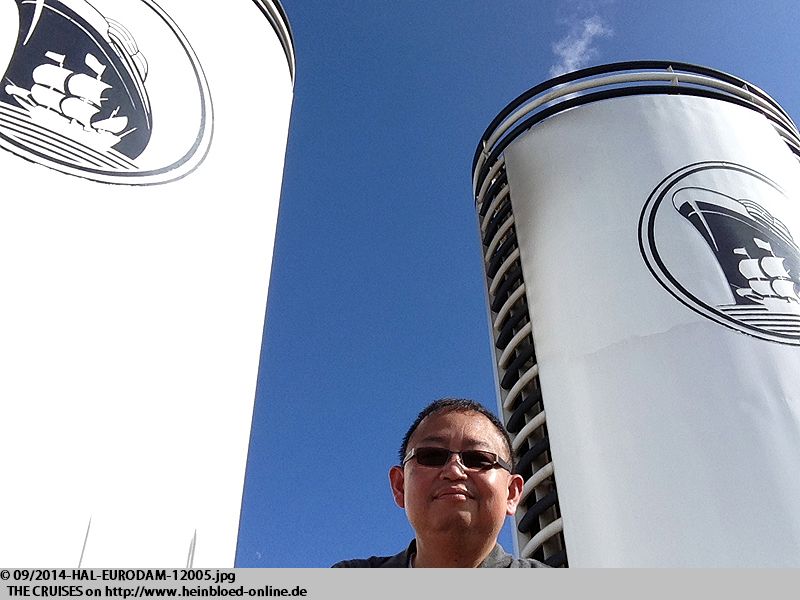 Aber auch ich will mich und
MEINE
EURODAM ganz für mich alleine haben.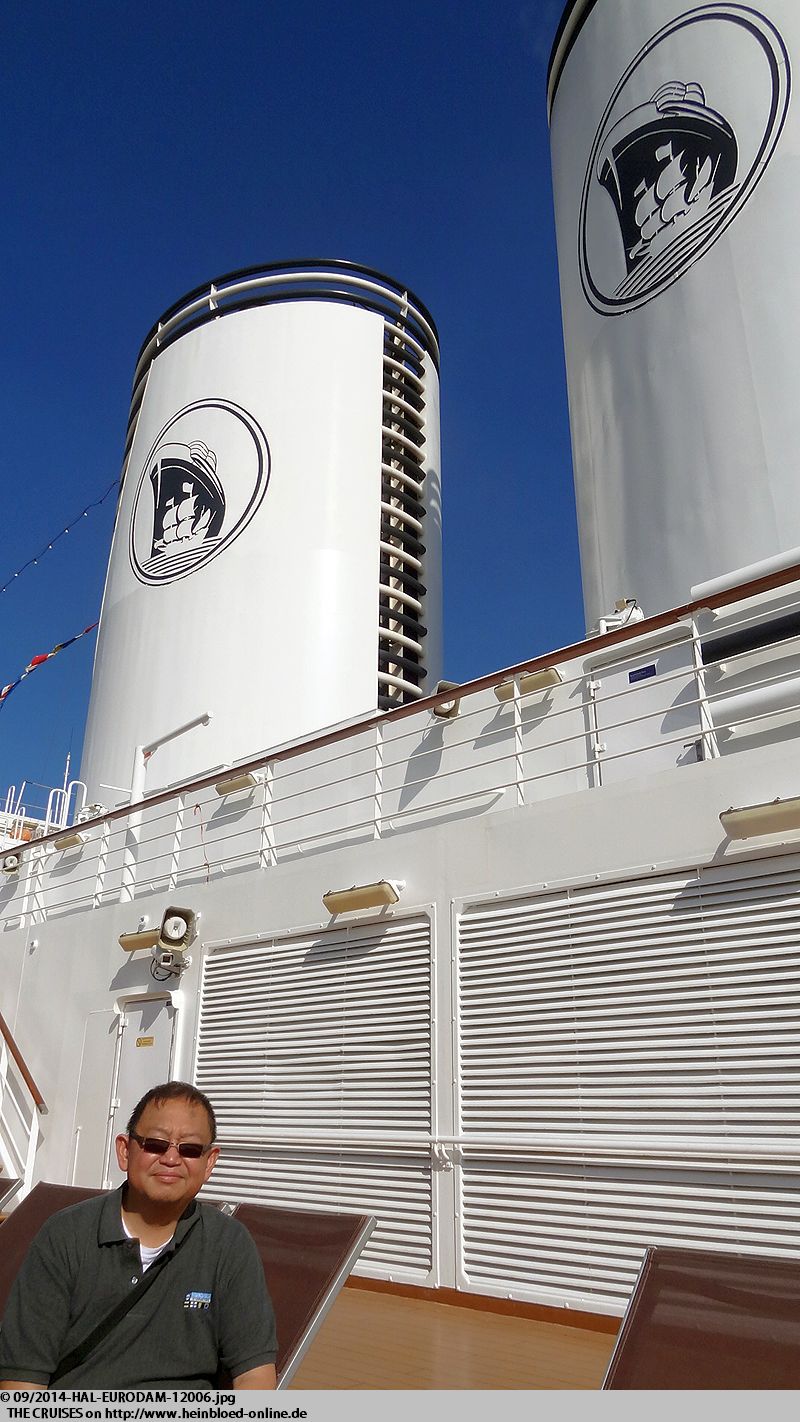 Something I normally would NEVER do: to buy a pig in a poke, i.e., first rent and later having a look on the rental object. But Holland America had a lot of credit with me. So we saw now the cabana we rented for the port days. We only did it because we decided already: no booked tours. We could arrive in peace, and when everyone was off the ship we could also go down and decide spontaneously, and when we were not interested anymore in staying any longer ashore, we could go at any time to our cabana.

Etwas, was sich sonst NIE machen würde: die Katze im Sack kaufen, sprich erst mieten und dann sich das Mietobjekt ansehen. Aber Holland America hat eben sehr viel Kredit bei mir. Und so sehen wir uns jetzt erst die Cabana an, die wir an den Hafentagen gemietet haben. Haben wir auch nur gemacht, weil wir für uns entschieden haben: keine Tour fest gebucht. Wir kommen in Ruhe an und wenn alle von Bord sind, gehen wir runter und entscheiden spontan und wenn wir an Land keine Lust mehr haben, gehen wir wieder in unsere Cabana.
Danach geht es mal kurz in den Spa. Hier gucken wir uns das Angebot an. Und testen alles aus. Bei Bruno gehört der Fitness-Teil mit dazu. Ob die SM-Strom-Spiele mit Strom anbieten??? Elektro-Schock-Folter wie bei James Bond??? Aber mir wird erklärt, dass dieses "harmlos" sei und lediglich etwas zur Stimulation der Muskeln beiträgt. Aber warum man dann in Schlamm dabei liegen muss, habe ich dann nicht mehr weiter erfragt. Aber da wir die Cabana haben und irgendwie das Wetter zu warm ist, verzichten wir auf einen Spa-Pass.

Thereafter we went quickly to the spa. Here we checked their offers. And tested everything. For Bruno, the gym was always part of the inspection. Wondering if they offered SM-play with electric power??? Or electric torture like with James Bond??? But I was told that it was very "harmless" and was only good to stimulate your muscles. But there was a need to stay in the mod I did not ask anymore. But as we had the cabana and somehow the weather was too warm we did not buy the spa-pass.

One of my favorite places: Crow's Nest. A true fell-well oasis to have a forward view: literally. One reason I hate, e.g., Norwegian who moved a lounge to the aft and add new cabins in the front like on NORWEGIAN STAR/NORWEGIAN DAWN. But here not all changes were improvements: no more Barista-coffee machine but a full-automated coffee machine. But I learned that they could secure the same quality across the crew and with a manually operated Barista-machine the quality might vary. I need to say that those arguments were understandable. But honestly spoken I wished they would spend more money to train their crew... But honestly, I need to say that this would apply more to Bruno as I mostly order "chilled coffee", ice tea and VitaminWater... Only the discounted beverage cards which were suitable for all beverages were not offered anymore.

Einer meiner Lieblingsorte: Crow's Nest. Eine echte Wohlfühloase, um nach vorne zu gucken: im wahrsten Sinne des Wortes. Dafür hasse ich beispielsweise Norwegian, die so eine Lounge kurzerhand auf der NORWEGIAN STAR/NORWEGIAN DAWN einfach zu Kabinen umgebaut haben. Aber hier hat sich leider auch nicht alles zum Positiven verändert: es gibt keine Barista-Kaffeemaschine mehr, sondern einen Kaffeevollautomaten. Aber mir wird erläutert, dass man damit crew-unabhängig sicherstellen kann, dass immer eine gleiche Qualität produziert werden kann und bei der manuellen Bedienung der Barista-Maschine konnte die Qualität schon mal schwanken. Ich kann die Argumentation nachvollziehen. Allerdings hätte ich mir lieber gewünscht, dass sie mehr in Ausbildung der Crew gesteckt hätte... Fairerweise muss ich eh sagen, dass Hauptbetroffener eh Bruno wäre und ich mir ja eh nur "kalten Kaffee" und Eistee und
VitaminWater
hole... Nur die rabattierten Getränkewertkarten, die früher für alle Getränke galten, gibt es in dieser Form nicht mehr.
Es geht zur Seenotrettungsübung.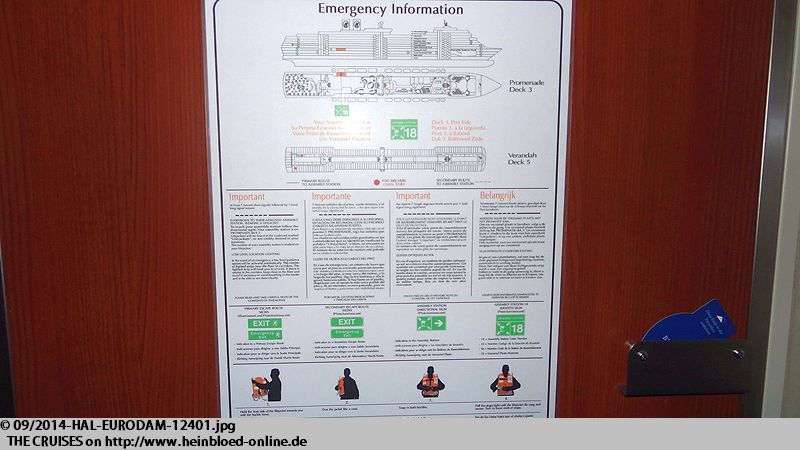 Need to see the life drill.

This is typically conducted with HollandAmerica on the open promenade deck. Precisely at the location where you would board the lifeboats.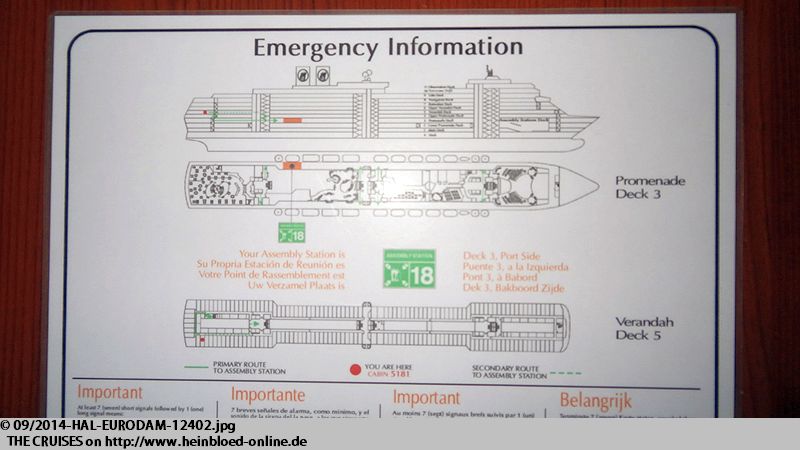 Diese findet bei Holland America grundsätzlich draußen auf dem Promenaden Deck statt. Und zwar dort, wo man später in die Rettungsboote einsteigt.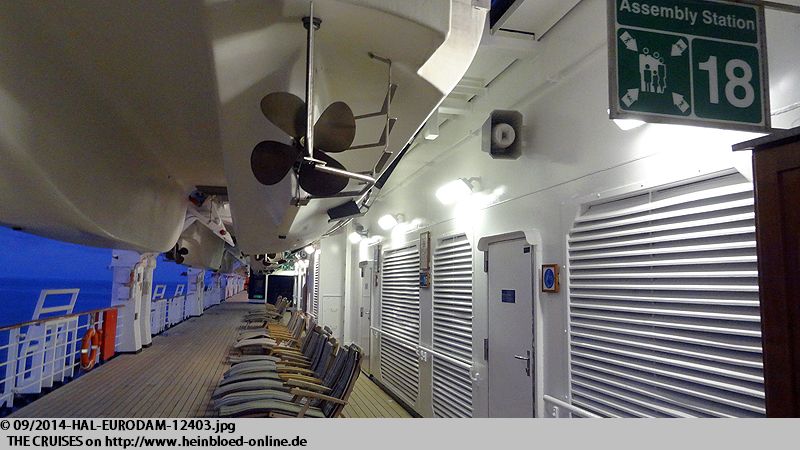 I need to say that I not feel more safe than with Holland America. You could feel that they live safety and it was no annoying side duty. And they integrated the guests. Then on WESTERDAM the Safety Officer himself walked personally around and stood in front of a guest who was making a phone call during the life drill. He was rearing in front of him and stretched out his hand. The guest understood: he hung up and handed his cell phone over. I really would love to tape this scene... but nobody made a phone call, and I had to count that my camera might be confiscated... and Bruno refused to step to the first row to make a phone call just to make me taping. It would not work anyway. They really took attention that tall men were in the back and small women were in the front. Looked like the organ pipes and to repeat it: I did not dare to take pictures there.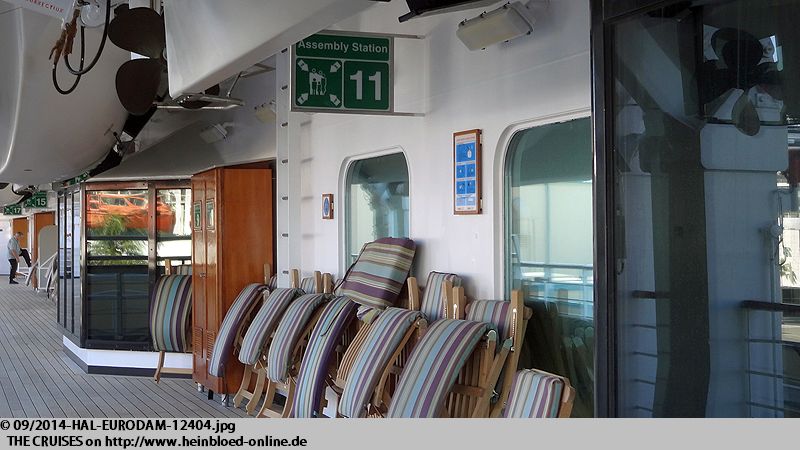 Ich muss sagen, dass ich mich nirgendst sicherer fühle, als bei Holland America. Man merkt, dass man Sicherheit lebt und keine lästige Nebenpflicht ist. Und man bindet die Gäste ein. Damals auf der WESTERDAM ging der Sicherheitsoffizier auch persönlich herum und blieb bei einem Gast stehen, der während der Übung telefonierte. Er stellte sich vor ihm auf und streckte seine Hand aus. Der Gast verstand: auflegen und Telefon übergeben. Dieses Mal hätte ich die Szene gerne gefilmt... aber niemand telefonierte und ich hätte damit rechnen müssen, dass danach meine Kamera mit eingezogen worden wäre... und Bruno weigert sich in die 1. Reihe zu gehen und zu telefonieren, bloß damit ich filmen kann. Außerdem wäre es eh nicht gegangen. Sie haben darauf geachtet, dass die großen Männer hinten stehen und kleine Frauen vorne. Das sah wirklich wie die Pfeifen einer Orgel aus, aber wie gesagt: ich habe mich nicht getraut dort Bilder zu machen.
Sigi hat ja Silvester Geburtstag. Also ich hätte ihr ja einen Piccolo spendiert. Den Louis Roederer Cristal 2005 gibt es weder als Piccolo noch im offenen Ausschank. Also bekommt sie halt Eiswasser! Ist ja kostenlos und eh theratpeutisch besser als Champagner...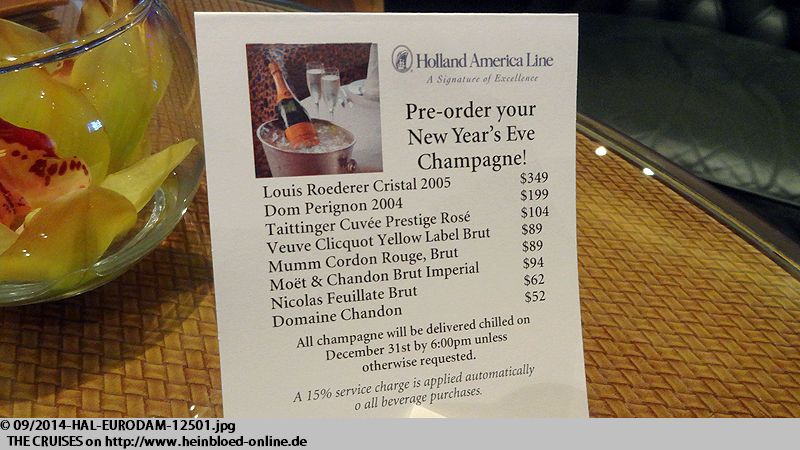 Sigi has birthday on New Year's Eve. So I would buy her a small bottle. They did not need neither a small bottle nor by glass the Louis Roederer Cristal 2005. So we will buy her some ice water! It is free of charge and for therapeutical reason better than champagne.

I just love the details and the ambiance in the bars.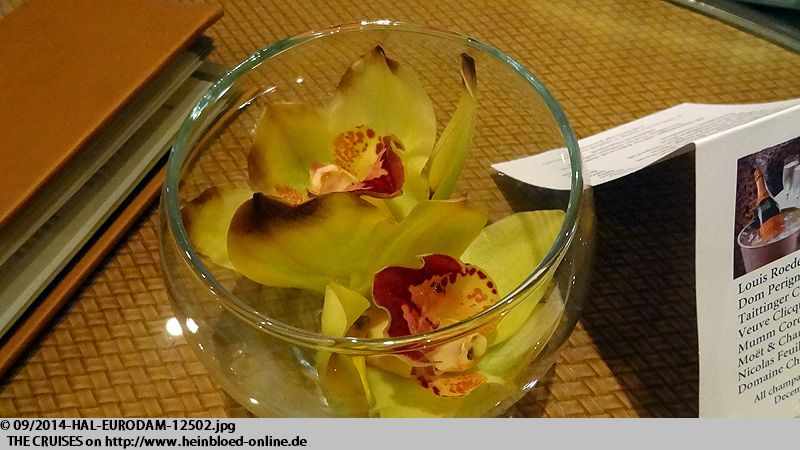 Ich liebe einfach die Details und das Ambiente in den Bars.
Ich liebe es, wie sie auf die Sonderwünsche erfassen. Weniger liebe die 6% lokale Steuer, solange wir die US-Gewässer noch nicht verlassen haben.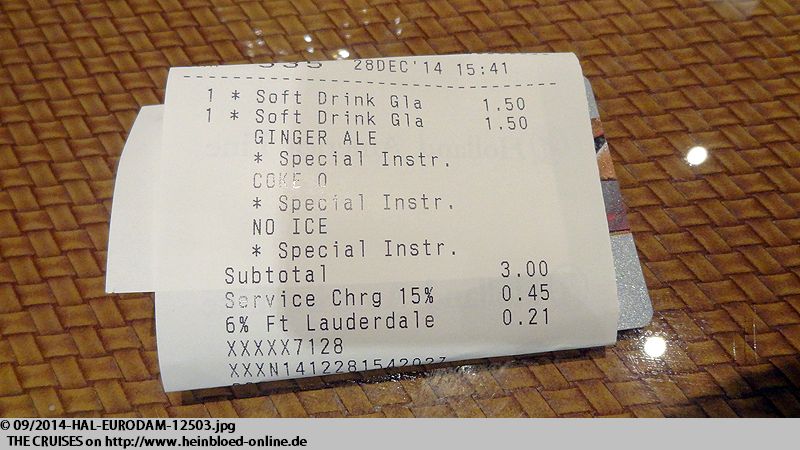 I loved it how they recorded all your special requests. I loved less the 6% local taxes as long as we had not left the US-waters.

What I loved more: I loved the slice of "cold cut" which only kids get when you buy something with a butcher: in a different way like "Dim Sum" to remember you friendly that soon the 1st seating would start and you should join in the dinner feeling.

Was ich umso mehr liebe: Ich bekomme die Scheibe "Schinkenwurst", die sonst nur Kinder an der Wursttheke beim Metzger bekommen: In Form von "Dim Sum" mit der freundlichen Erinnerung, dass bald die 1. Tischzeit beginnt und man sich doch schon mal einstimmen möge.
Nun wird es Zeit zum Shipspotting: Es geht raus und leider liegen wir nicht gut und wir sind die ersten, die fahren: ALLURE OF THE SEAS. Bis nächste Woche.

Now it was again for ship spotting: We went outdoor but our location was not very good, and we were first which set sail ALLURE OF THE SEAS. See you again in one week.

See you again next week too: REGAL PRINCESS.

Ebenfalls bis nächste Woche: REGAL PRINCESS.
NIEUW AMSTERDAM und EURODAM fahren wie eine "8" westliche und östliche Karibik und treffen sich immer zur Einschiffung und Ausschiffung immer in Fort Lauderdale. D.h. NIEUW AMSTERDAM macht jetzt die Runde, die die EURODAM nächste Woche macht: Cozumel, Grand Cayman und noch etwas was mich nicht so sonderlich interessierte. Aber sie liegt so schlecht, dass ich leider keine besseren Bilder von ihr machen kann.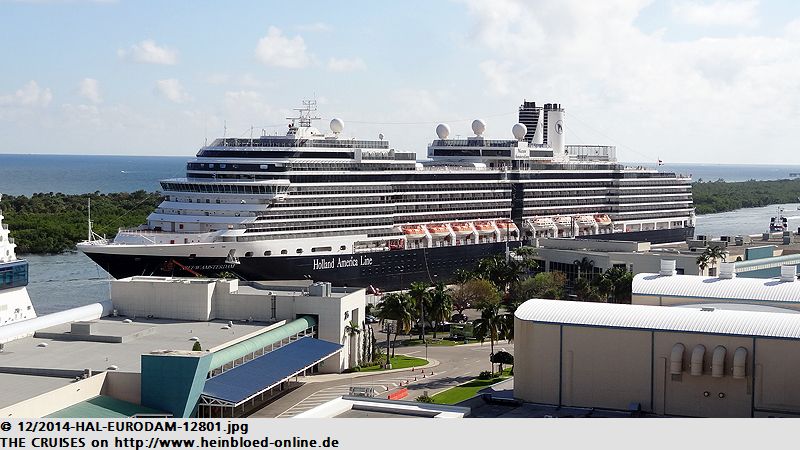 NIEUW AMSTERDAM and EURODAM were going like an "8" Western and Eastern Caribbean and met always for embarkation and debarkation in Fort Lauderdale, FL. I.e., NIEUW AMSTERDAM was doing the itinerary which EURODAM would make the week later: Cozumel, Grand Cayman and something else I was not so much interested to see. But she docked so bad that I had no chance to make any better pictures.

She is the sister-ship of EURODAM within the Signature-Class.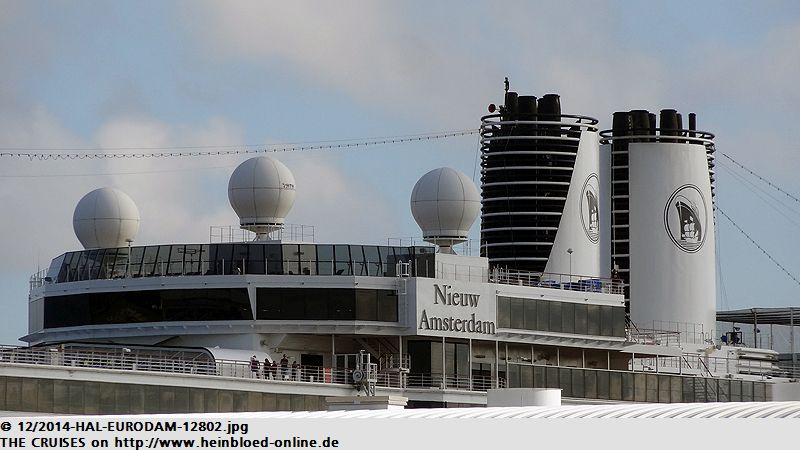 Sie ist ja die Schwester der EURODAM innerhalb der Signature-Class.
Der nachfolgende Neubau KONINGSDAM ist ja wiederum eine neue Schiffsklasse und sieht dann nicht mehr so aus, wie die EURODAM bzw. NIEUW AMSTERDAM.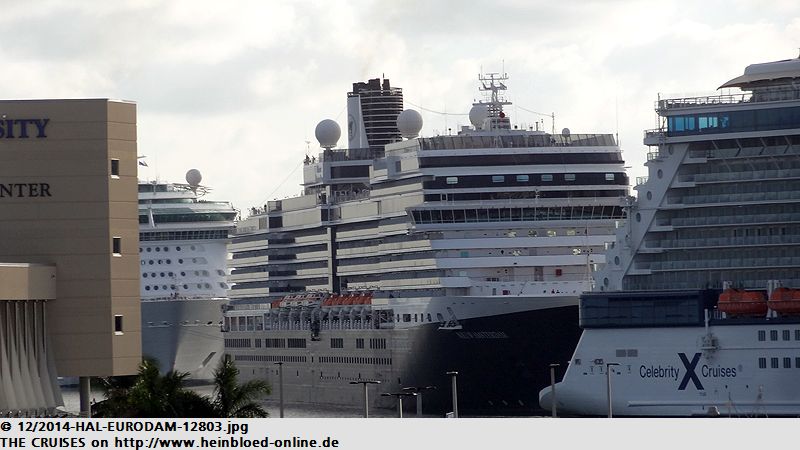 The following newbuild KONINGSDAM is a new shipclass and would not look anymore like EURODAM or NIEUW AMSTERDAM.

Then CELEBRITY SILHOUETTE followed which we would not see anymore in one week since she should join a dry dock.

Danach folgt CELEBRITY SILHOUETTE, die wir allerdings nicht in einer Woche wiedertreffen werden, weil jetzt ein Trockdendock-Aufenthalt bevorsteht.
Auch können keine guten Bilder mehr von der INDEPENDENCE OF THE SEAS beim Auslaufen gemacht werden,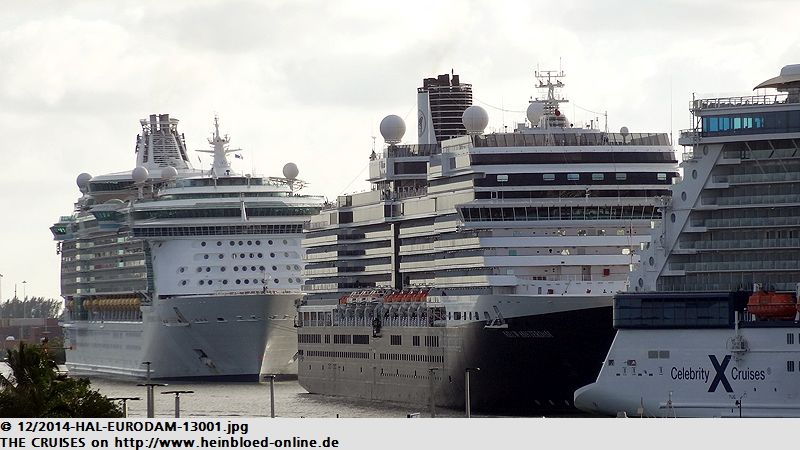 It was also impossible to take good pictures of INDEPENDENCE OF THE SEAS while set sail.

Then Holland America did not respect the need of German guests, but now we got everything in German.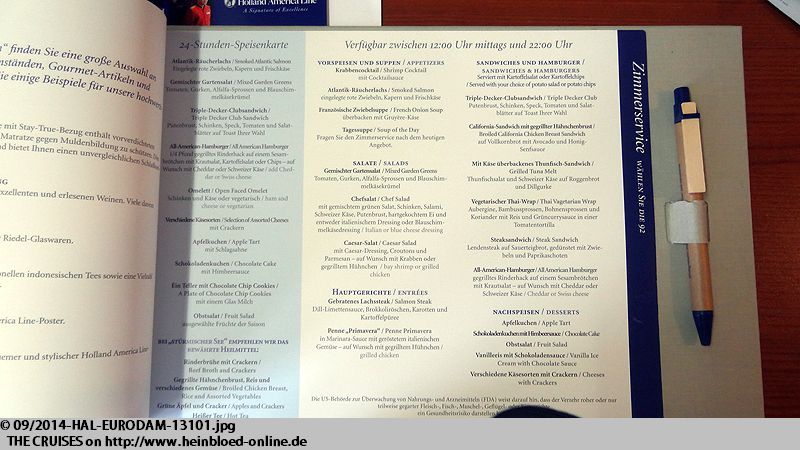 Früher hat sich Holland America auf deutsche Gäste nicht eingestellt, aber jetzt bekommen wir alles auf Deutsch.
Obwohl wir noch keine "stürmische See" haben, will ich trotzdem eine Rinderbrühe haben.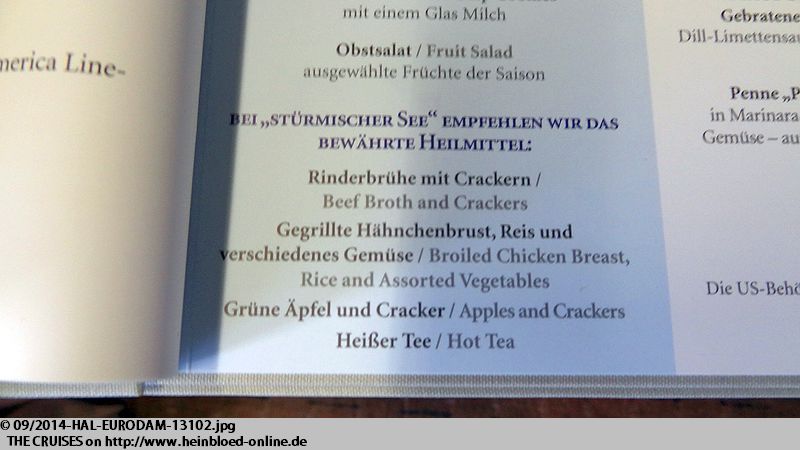 Although we did have "stormy sea" I wanted to have a beef broth.

And everything in a proven way.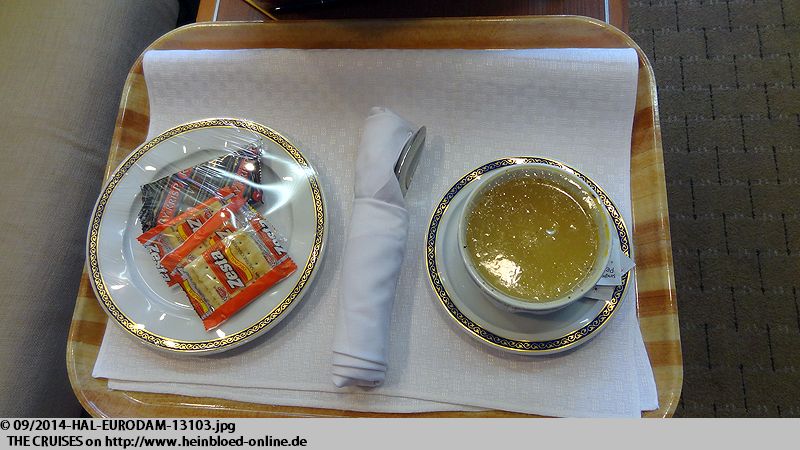 Und alles in bewährter Weise.
Da ja noch Zeit ist, gucke ich mir das Angebot im SB-Restaurant mal an. Das sieht alles auch sehr gut aus.

As now it was still time we had a look at the offer of the self-service restaurant. Looked very well too.

When we arrived at the main dining room, we had a huge surprise. One waiter we knew from RYNDAM remembered us and greeted and welcomed us. We felt being home due to Irwinsyah. For the reason that he reminded us he got the "ungrateful" job that secured that everything was fine with us. During the voyage, he always came by and asked if everything was fine and if there would be anything he could do for us. But there was not so much he could do for us: because we liked it, it was tasty, we received friendly and attentive service. And there were so many little details which made the difference, like the ginger when you left the restaurant.

Als wir ins Hauptrestaurant kommen, erleben wir eine großen Überraschung. Einer unserer Kellner von der RYNDAM erkennt uns wieder und begrüßt uns direkt, um uns willkommen zu heißen: Wir sind zu Hause dank Irwinsyah. Und dafür, dass er uns erkannt hat, bekommt er wohl die "undankbare" Aufgabe sicherzustellen, dass alles in Ordnung bei uns ist. Im Laufe der Reise kommt er immer vorbei und fragt nach, ob alles gut ist und ob er etwas für uns tun kann. Aber viel kann er für uns nicht tun: denn es gefällt uns, es schmeckt uns, wir werden freundlich und aufmerksam bedient. Und wieder sind es die vielen kleinen Details, die den Unterschied machen: wie z. B. der Ingwer beim Verlassen des Restaurants.
Wir gehen noch die Show. Ich mag sie, aber so altbacken, wie früher sind sie gar nicht mehr: So ein wenig Vaudeville... Ob sie ein paar zusätzliche Plätze in der Kältekammer haben, falls jemand während der Show tot umfällt... ist ja nicht so ganz so "brav", wie ich es von früher her mal kannte. Aber es gibt gar nicht so viele ältere Gäste an Bord. Es ist doch sehr bunt gemischt. Kreuzfahrtdirektor Dave macht die Sache sehr gut und souverän.

We went to the show. I loved them but as frumpy as before they were not anymore: A little Vaudeville style... Wondering if they had more capacity in the cold chamber in case someone would drop dead during the show... somehow it was not "well-behaved" anymore I remembered from previous cruises. But there were not so many old guests on board. Very mixed. Cruise Director gave an outstanding and masterful performance.

What was working well subject it worked anyhow: the internet. They changed the service provider. No more internet-manager onboard. I remember the good times when we had a Jacques onboard who set your iPad that it worked best...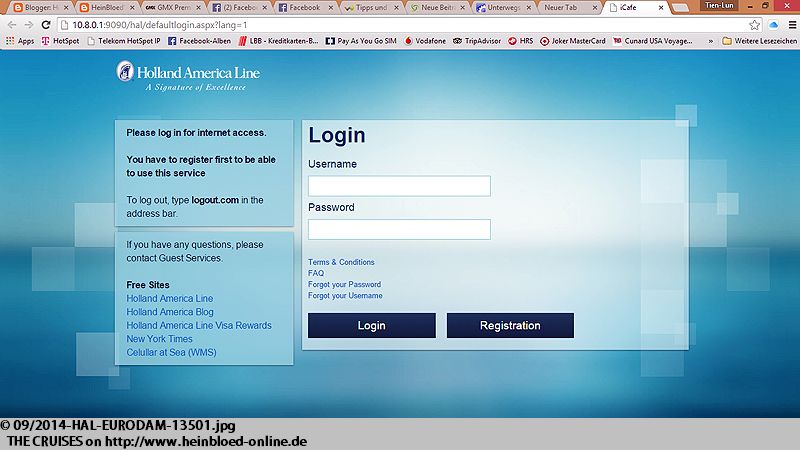 Was auch gut läuft, wenn es läuft: das Internet. Sie haben den Dienstleister gewechselt. Und so gibt es keinen Internet-Manager mehr an Bord. Das waren noch Zeiten als ein Jacques darauf geachtet hat, dass man sein iPad auch so eingestellt hat, dass es bestens läuft...
Die Anmeldung läuft auf jeden Fall und sieht klarer und verständlicher aus, als bei den anderen.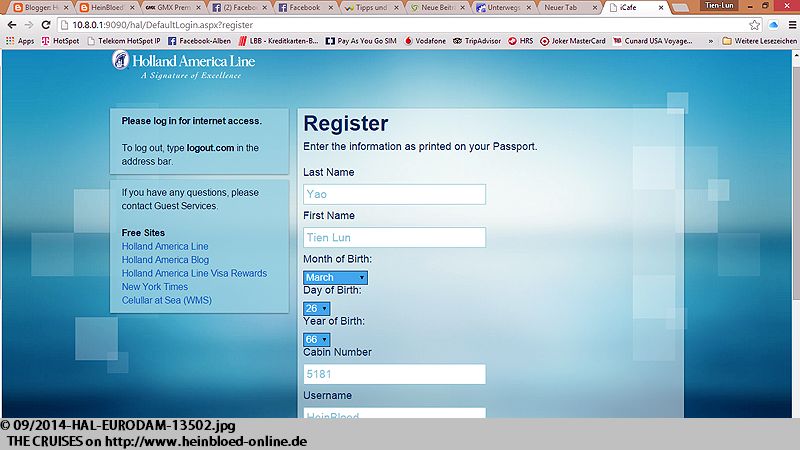 The registration went properly well and looked much more clear and understoodable as with many others.
Die anderen Reisen in diesem Blog/
The other voyages in this blog: