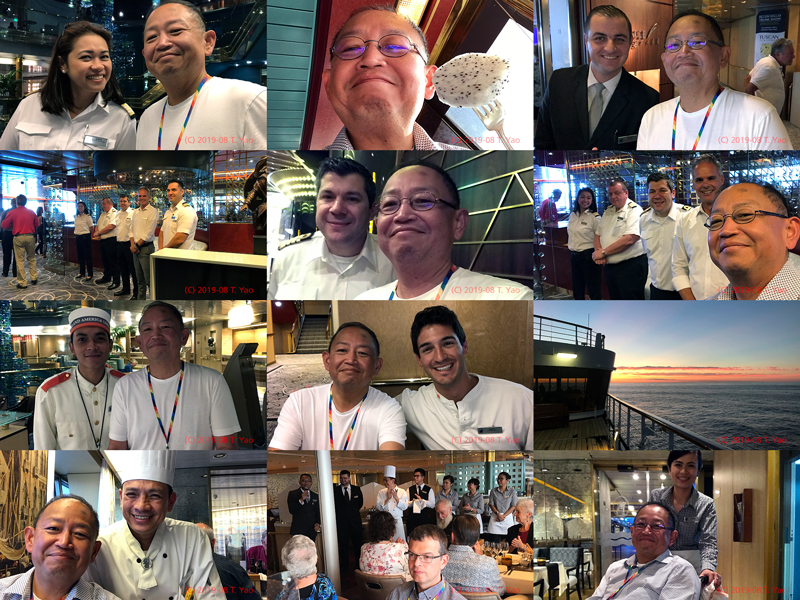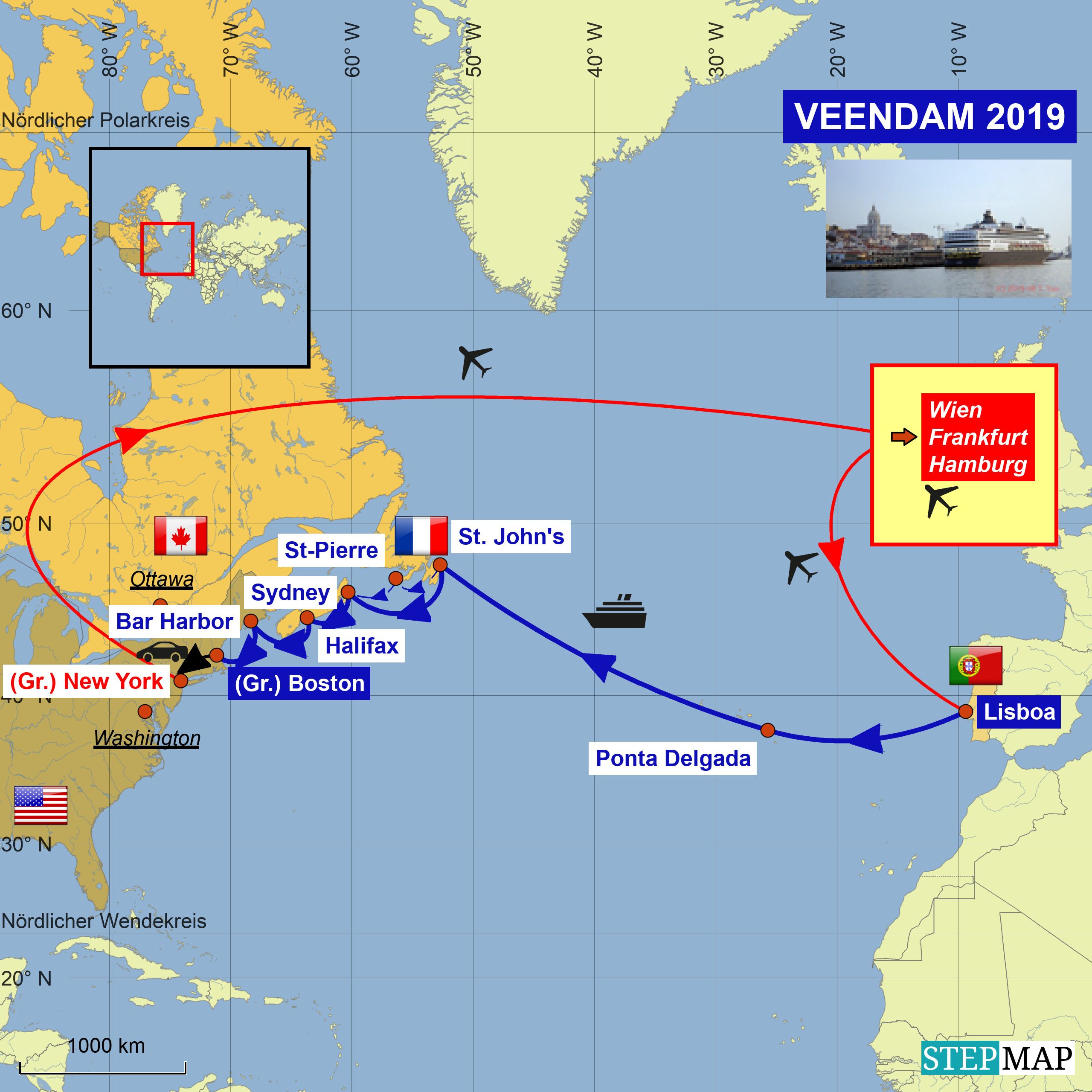 Mir macht es nichts aus, auch mal zu fragen. Aber nicht unbedingt für Sachen, die früher angeboten wurden. Drachenfrucht auf der
ZAANDAM 2012
zu bekommen war kein Problem: sie haben kurzerhand in Asien geladen und es gab an Bord die leckersten Drachenfrüchte: saftig und frisch. Dann haben wir mal irgendwann festgestellt, dass ich sie auch außerhalb Asiens bekommen konnte, wenn ich danach gefragt habe. Also frage ich nach und ich bekomme welche - und jeden Morgen bis zum Ende der Reise! Was ich sehr bei türkischen Freunden schätze: ihre Gastfreundschaft. Man muss eigentlich immer nur sagen, dass man den und den kennt und schon ist man auf einmal um einen Freund reicher. Bei NCL kannten wir einige der türkischen Supervisor, die heute bei HAL sind. Einer davon Mahmut Atar, den wir zuletzt auf der
NORWEGIAN JADE 2014 (2)
getroffen haben. Dort wurden wir zu einem Familienessen eingeladen. Heute ist er bei HAL. Als er liest, dass ich auf der VEENDAM bin, gibt er sofort Bescheid, dass ein guter Freund (auch früher bei NCL) jetzt auf der VEENDAM ist: Koray Pamukcuk.

I did not mind asking. But not necessarily for items that were offered earlier. To get dragon fruit on ZAANDAM 2012 was not a problem: they purchased in Asia, and they had the most delicious dragon fruits on board: juicy and fresh. Then we realized at some point that I could get them outside of Asia if I asked for it. So I asked, and I got some - and every morning until the end of the trip! What I really appreciated with Turkish friends: their hospitality. You always had to say that you know the one and the other, and then you were suddenly richer for a friend. With NCL, we knew some of the Turkish supervisors who were with HAL today. One of them was Mahmut Atar, whom we met last at NORWEGIAN JADE 2014 (2). There we were invited to a family lunch. Nowadays, he was with HAL. When he read that I would be on VEENDAM, he immediately informed me that a good friend (also formerly at NCL) should be now on VEENDAM: Koray Pamukcuk.

They were really fast from the medical center: the bill came very quickly.

Die sind wirklich fix vom Bordhospital: sehr schnell kommt die Rechnung.
Ich klaue keine Handtücher. Meistens. Für zu Hause habe ich zwei unbenutzte Handtücher bestellt, die mir auch in Rechnung gestellt werden.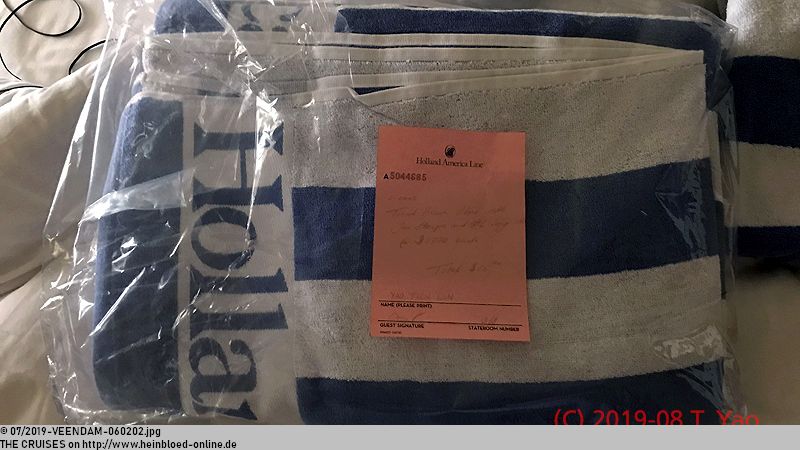 I have never stolen towels. Mostly. For home, I ordered two unused towels, which were also charged to me.

Every day our towel animal waited.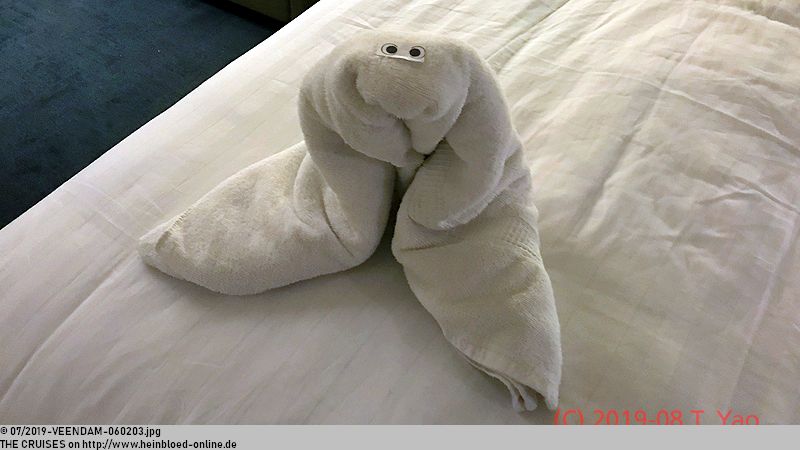 Jeden Tag wartet unser Handtuchtier.
Wieso muss man eigentlich immer beide gegenüberliegende Fahrstühle rufen und können nicht zusammengeschaltet werden. Was ist eigentlich auf Deck 8 so besonders, dass es rot eingefärbt ist? Obwohl ich schon am 6. Tag an Bord bin: ich entdecke immer noch weitere historische Schiffsbilder der HAL-Flotte. Unsere Pässe können wir wieder abholen. Immer ist es noch zu kalt, um Klassik in der Explorer's Lounge zu hören. Ich nehme jetzt auch ein Biscotti mit. Nach der Schokoladenüberraschung frage ich nicht. Mit den Tellern von Rudi Sodamin kann ich mich immer noch nicht anfreunden.

Why did you always have to call both elevators on the opposite sides, and they could not be interconnected. What was so special about Deck 8 that it was colored red? Although I was onboard on the 6th day, I still discovered more historical ship paintings of the HAL fleet. We could collect our passports again. It was always too cold to hear classical music in Explorer's Lounge. I took a biscotti with me also. For the chocolate surprise, I did not ask. I still could not become friends with the plates of Rudi Sodamin.

In the past, the Culinary Arts Center was all about cooking things home that you ate on board. But somehow I got the impression at America's Test Kitchen that this was more like a "coffee sales event". In Germany, you are offering cheap day coach tours, including food, but you will be stuck with the event of a sale and released after revenue was made accordingly. You call them here "coffee sales event". It looked more like an event to sell subscriptions of cooking magazines and cooking basics. I took the recipe cards with me.

Im Culinary Arts Center ging es früher darum, dass man zu Hause Sachen nachkochen kann, die man an Bord auch gegessen hat. Aber irgendwie habe ich bei
America's Test Kitchen
den Eindruck, dass es hierbei um eine Kaffeefahrt-Verkaufsveranstaltung für Kochmagazin-Abonnements und Koch-Basics eher beigebracht werden sollen. Die Rezeptkarten nehme ich mal mit.
Und schon geht es zum Mariner Lunch. Hier werden wir durch Guest Service Manager Joena Gonzalez, Hotel General Manager Frank Ulbricht, Kapitän Mark Trembling, Kreuzfahrtdirektor Tommy Weber und F&B-Manager Ioan Frunza erwartet. Beim Erstellen eines Selfies mit allen, habe ich wohl versehentlich F&B-Manager Ioan abgedrängt. Ein Selfie mit dem HAL-Bellboy Arif muss auch sein, wobei ich die alten Uniformen in rot eigentlich eleganter fand. Für Kapitän Mark habe ich noch ein paar Fotos von seinem allerersten Captain's Toast erstellen lassen.

And then it was time to Mariner Lunch. Here we were expected by Guest Service Manager Joena Gonzalez, Hotel General Manager Frank Ulbricht, Captain Mark Trembling, Cruise Director Tommy Weber, and F&B Manager Ioan Frunza. When creating a selfie with everyone, I probably accidentally pushed away F&B manager Ioan. A selfie with the HAL-Bellboy Arif had to be, but I found the old uniforms in red actually more elegant. For Captain Mark, I ordered and delivered some photos of his very first Captain's Toast.

It was actually a brunch. Back then, at my very first Mariner Brunch on WESTERDAM 2010, they offered even lobster. Especially lovely I found the letter of thanks from Captain Henk Keijer, in which then the tile was wrapped.

Es war tatsächlich mal ein Brunch. Damals bei meinem allerersten Mariner Brunch auf der
WESTERDAM 2010
gab es sogar noch Hummer. Besonders schön fand ich das Dankesschreiben des Kapitäns Henk Keijer, in dem dann die Fliese eingewickelt war.
Auf der
RYNDAM 2013
war es noch ein Brunch. Damals gab es auch noch ein paar freundliche Worte von der Future Cruise Consultant Sheryll S. Tiangco.

It was still a brunch on RYNDAM 2013. At that time, there were also a few kind words from the Future Cruise Consultant Sheryll S. Tiangco.

It was already a lunch-event on KONINGSDAM 2016. But at the end of the lunch, there were still some Petit Fours that were not served anymore now. Or I was eating them so fast that I ate them before I could take pictures. Very rarely happens when it was especially delicious, and I was especially hungry.

Auf der
KONINGSDAM 2016
war es dann bereits ein Lunch geworden, aber zum Ende des Lunches gab es immer noch ein paar Petit Fours, die es jetzt nicht mehr gab - oder war ich so schnell beim Essen, dass ich sie aufgegessen hatte, bevor ich sie fotografieren konnte? Passiert ganz selten, wenn es besonders lecker und ich besonders hungrig war.
Wir sind wieder bei Cisco und hören uns alles zu den beiden Häfen in Nova Scotia an: Sydney und Halifax. Er steht auch jeden Tag vor der Rezeption bereit, und beantwortet Fragen. Er macht das wirklich toll und in dieser Form habe ich bislang noch keine andere Gesellschaft kennengelernt, die das so aufbereitet haben. Das kostet auch eine Kleinigkeit mehr, als nur ein Zettel oder eine Tafel vor der Rezeption, aber wenn man mehr zahlt, sollte man auch mehr bekommen.

We were back with Cisco, listening to the two ports in Nova Scotia, Canada: Sydney and Halifax. He also was available in front of the reception desk every day to answer questions. He did that really great, and in this way, I had yet to find any other company that would prepare this in the same way. The expenses would be higher than just releasing a sheet of paper or a whiteboard in front of the reception, but if you paid more, you should get more.

On NORWEGIAN SUN 2019 trip, my Sony camera broke down due to the high humidity in Iguazu, Brazil/Argentina. New Year's Eve. All the shops, except for the Duty-Free shop on the border were closed. There we could at least buy a new Nikon camera, which, however, could not take selfies. My Sony was repaired for a lot of money because the successor model would be a plastic device, which probably had a lot of bad reviews. Unfortunately, it was probably too humid on the Azores too. The lens can not be moved anymore. A disaster for me.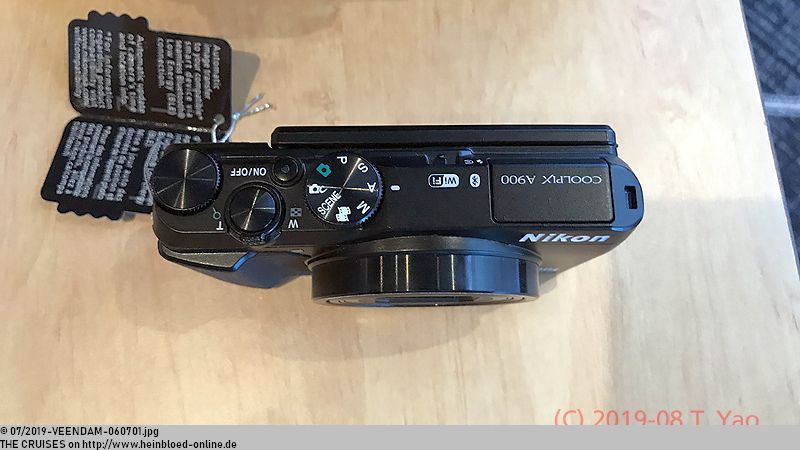 Auf der
NORWEGIAN SUN 2019
-Reise ist ja aufgrund der hohen Luftfeuchtigkeit in Iguazu meine
Sony-Kamera
kaputt gegangen. Silvester. Alle Geschäfte, bis auf den
Duty Free Shop
an der Grenze geschlossen. Dort konnten wir zumindest eine neue
Nikon-Kamera
kaufen, die allerdings keine Selfies konnte. Meine
Sony
war zwischenzeitlich für viel Geld repariert worden, weil das Nachfolgermodell ein Plastikbomber sein musste, der wohl sehr viele schlechte Kritiken hatte. Leider war es wohl auf den Azoren auch wieder zu feucht. Das Objektiv lässt sich nicht mehr ausfahren. Für mich eine Katastrophe.
An Bord haben wir nur die Auswahl zwischen einer
Nikon
A900...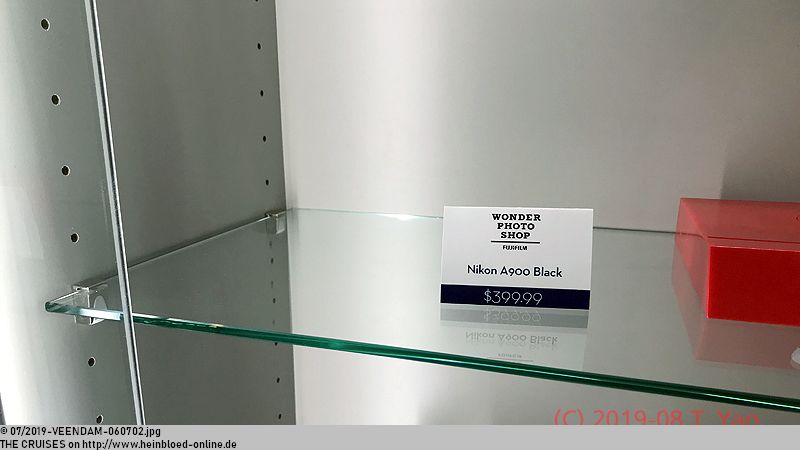 On board we only had the choice between a Nikon A900 ...

Or a Nikon P900. But it looked just as hard as the bridge camera that I bought in Iguazu, Argentina and was at home.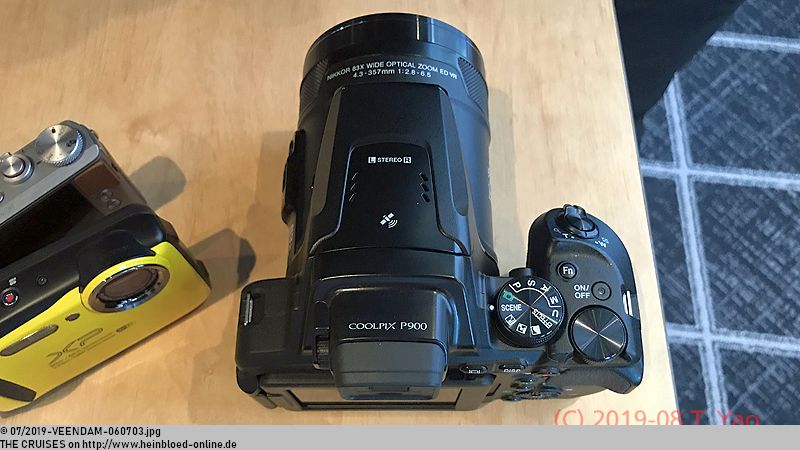 Oder einer
Nikon
P900. Aber die sieht genauso schwer aus, wie die Bridge-Kamera, die ich in Iguazu gekauft habe und zu Hause steht.
Ich bin kein Freund von iPhone Fotos. Da ich alles in 16:9 habe, muss ich aufwändig jedes Bild bearbeiten. An Seetagen geht das, aber bald haben wir keine mehr. Preise und Leistungen überzeugen nicht. Wir versuchen über Amazon eine Kamera nach St. John's zu bestellen, aber Kanada ist so riesig: Selbst mit Amazon Prime bekommt man es nicht so kurzfristig nach St. John's. Da beide Kameras mir nicht zusagen, bleibt es beim Zuschneiden der iPhone-Bilder.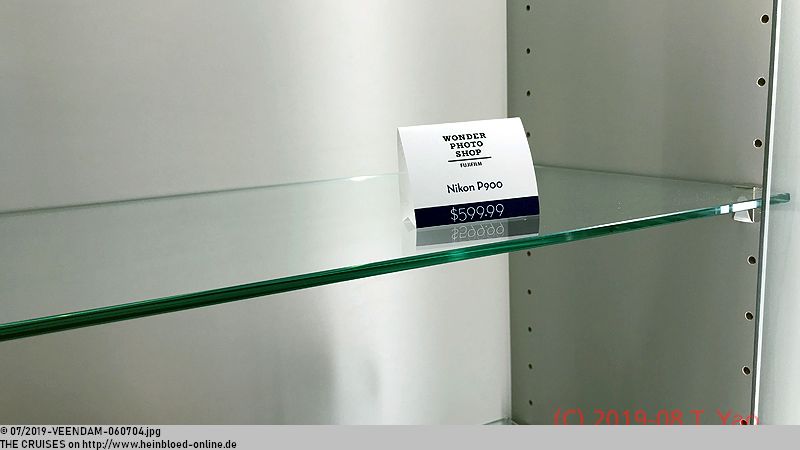 I was not a friend of iPhone photos. Since I had everything at 16:9, I had to edit each picture, which was time-consuming. On the days at sea, it worked, but soon we would not have anymore. Prices and performances were not convincing. We were trying to order a camera to St. John's, NL, Canada through Amazon, but Canada was so huge: even with Amazon Prime, you could not get it to St. John's, NL, Canada on such short notice. Since both cameras did not suit me, it remained when cropping the iPhone images.

The Mariner Lunch was so early (background: there was one for us 1* and 2* and later again for 3*, 4* and 5*) that I go back in Lido and still hungry.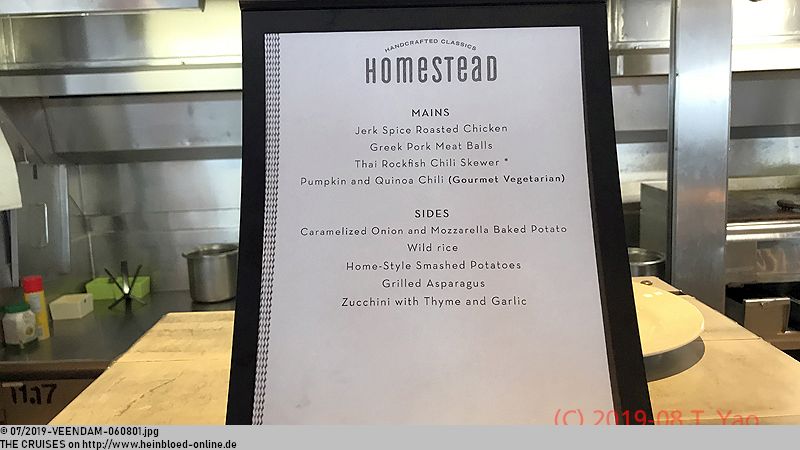 Der Mariner Lunch war ja so früh (Hintergrund: es gab einmal einen für uns 1* und 2* und später nochmals für 3*, 4* und 5*), dass ich nochmals in Lido gehe und wieder Hunger habe.
Die Salatbar ist immer sehr gut. Ich kann dem griechischen Fleischbällchen nichts griechisches abgewinnen...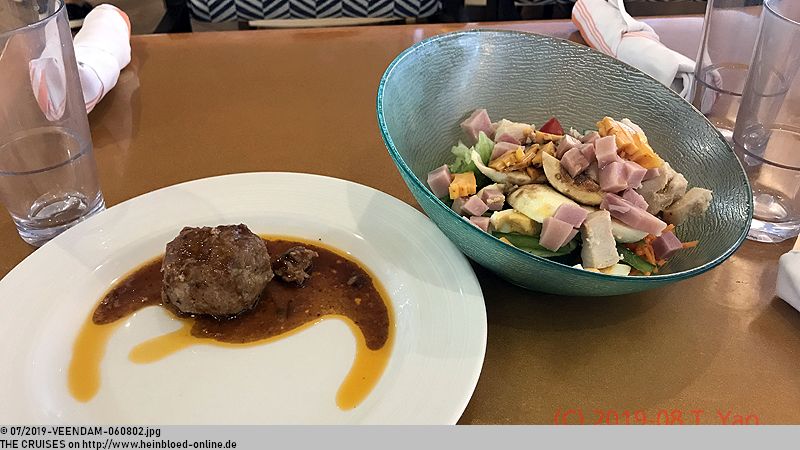 The salad bar was always very good. I could not give the Greek meatball anything Greek...

Since I always got up very early to edit the pictures, I dozed in the cabin. The others enjoyed the sun in front of the cabin.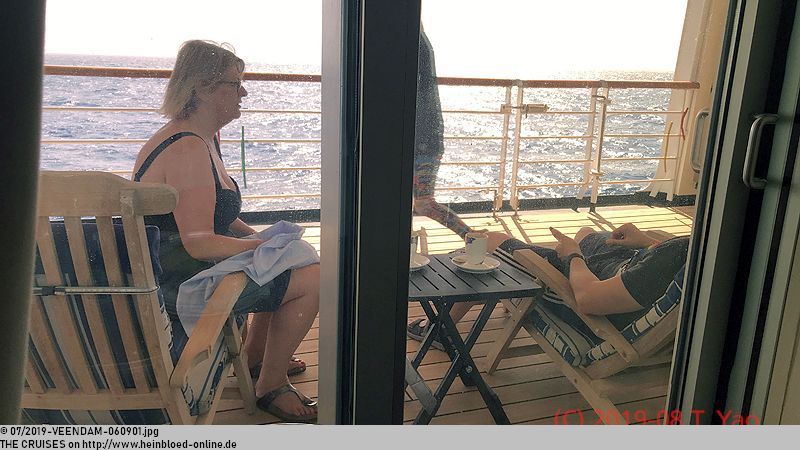 Da ich ja immer sehr früh aufstehe, um die Bilder zurecht zu schneiden, döse ich in der Kabine. Die anderen genießen die Sonne vor der Kabine.
Wir kommen immer weiter in den Norden. Die Wolken ziehen auf. Ist hier nicht in der Nähe die TITANIC gesunken? Wo ist der erste Eisberg?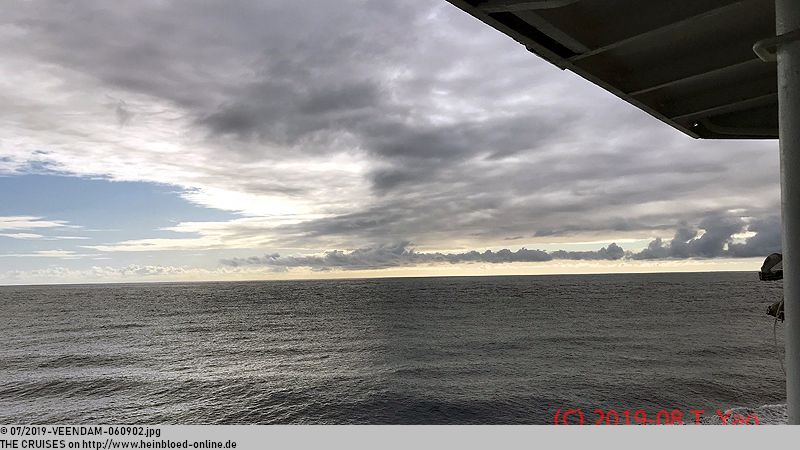 We kept heading North. The clouds were rising. Did not the TITANIC sink here nearby? Where was the first iceberg?

But in the other direction, it looked better.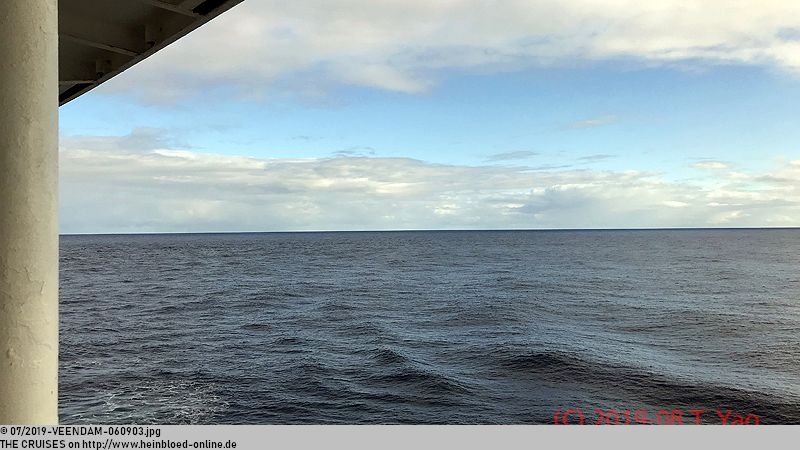 Aber in die andere Richtung sieht es besser aus.
Nochmals wird ein Friends of Dorothy-Treffen im Programm aufgenommen. Aber es kommt keiner mehr, weil niemand damit wohl gerechnet hat. Viele sitzen bereits beim Trivia, um sich für ihre Teams die guten Plätze zu sichern. War mir auffällt: das Sip & Savor-Angebot: es gibt Appetizer? Ich habe jetzt keine Lust extra ein Glas Wein zu bestellen, um zu sehen, was das ist. Früher hat es das mal für jeden Gast gegeben, der in einer Bar um diese Zeit saß.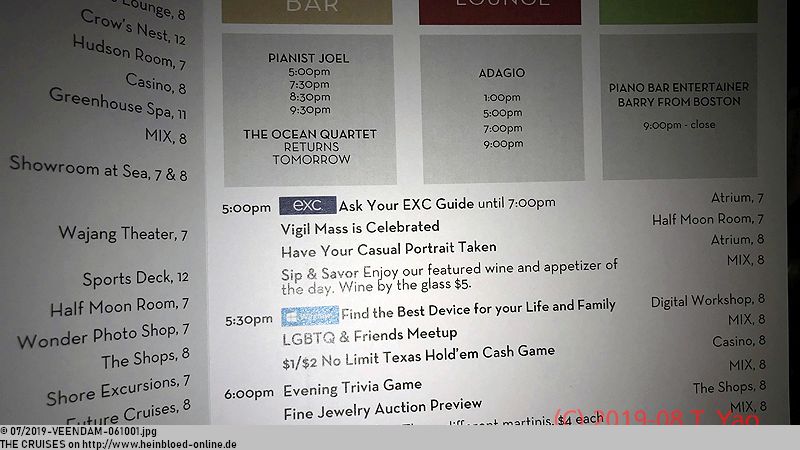 Once again, a Friends of Dorothy meeting was installed in the program. But nobody came anymore because none expected it. Many were already sitting at the Trivia, to secure the good seats for their teams. I noticed: the Sip & Savor offer: they had appetizers? I did not feel like ordering a glass of wine now to see what it would be. It used to be that for every guest who sat in a bar around this time.

The most expensive, but also the best culinary event on board: Cellar Master's Dinner at Canaletto. After my experiences so far, my expectations were not too high. Either for 69.00 USD, including matching wines. Seattle assured, however, that as a non-alcoholic, I would regain the share of wine onboard and that it would not be the regular Canaletto food. It was the surprise of the journey: this was upscale Italian gastronomy! Far from the standard of ordinary Canaletto food. This was food like noble Italian. Only the right uniform was missing. In the end, however, I needed a wheelchair to get back into my cabin: I would burst with every little movement. Many thanks for the excellent performance: Cellar Master Imre as host, Winesteward Vladimir, Maître D' Adi and his team Dewi, Phoebe, and Arisandi, as well as the Chef responsible for the Canaletto Sous Chef Ronie. By the way, onboard, there was a change: where were my single sugar bags? Suddenly, there was brown and white sugar in sugar shakers. But you realized that this was something new: they were filled to the brim, that we had no chance to get something out. So we dd what we always did in Europe in these cases: unscrew and help.

Die teuerste, aber auch die beste kulinarische Veranstaltung an Bord: Cellar Master's Dinner im Canaletto. Nach den bisherigen Erlebnissen sind meine Erwartungen nicht allzu hoch. Auch nicht bei einem Preis von 69,00 USD inkl. passenden Weinen. Seattle versicherte mir aber, dass ich als Nicht-Alkoholiker den Weinanteil an Bord zurückbekomme und dass es nicht das reguläre Essen aus dem Canaletto sei. Es ist die Überraschung der Reise: das ist gehobene italienische Gastronomie! Weit weit weg von dem Standard des normalen Canaletto-Essens. Das ist Essen wie beim Edel-Italiener. Es fehlt nur die passende Uniform. Am Schluss brauche ich allerdings einen Rollstuhl, um wieder in meine Kabine zu kommen: ich platze sonst noch bei jeder kleinen Bewegung. Vielen Dank für die tolle Leistung: Cellar Master Imre als Gastgeber, Weinsteward Vladimir, Maître D' Adi und sein Team Dewi, Phoebe und Arisandi, sowie der zuständige Koch für das Canaletto Sous Chef Ronie. Übrigens an Bord gibt es eine Veränderung: wo sind meine Zuckertütchen hin? Auf einmal stehen hier brauner und weißer Zucker in Zuckerstreuer. Aber man merkt, dass es hier etwas neues ist: sie werden bis oben randvoll befällt, dass wir keine Chance haben, etwas herauszubekommen. Also machen wir das, was wir in Europa in diesen Fällen immer machen: aufschrauben und nachhelfen.
Ein wunderschöner Sonnenuntergang erwartet uns als Dessert nach dem Dessert.

A beautiful sunset awaited us as a dessert after dessert.

We were going to the production show Atlantic Crossing. The theme fitted in perfectly with our transatlantic crossing, exploring the influences of Brit-pop in the US music scene.

Wir gehen noch in die Production Show Atlantic Crossing. Das Thema passt perfekt zu unserer Transatlantik-Überfahrt und befasst sich mit den Einflüssen des Brit-Pops in der US-Musikszene.
Auf 99 Fahrten, die ich vorher gemacht habe, gab es das noch nicht: Wasserabstellung über Nacht. Wenn uns zu Hause unsere Gemeinde über eine solche Maßnahme vorab informiert, können wir uns ganz gut vorbereiten: wir füllen den Wasserkocher, 2-3 Eimer für die Toilettenspülung und noch so einen Kochtopf mit Wasser, um in der Küche damit arbeiten zu können. Wir haben eine Badewanne, die wir füllen könnten, aber eine Toilette an Bord arbeitet ja nicht mit der Schwerkraft, wie zu Hause. Würde also das Vakuum trotzdem ziehen, auch wenn kein Wasser aus der Leitung käme, sondern extern zugeschüttet wird? Diese Frage habe ich auch mal bei
cruisecritic.com
gestellt. Auch hier 50% haben gesagt, dass sie es so handhaben, dass sie am nächsten Morgen abziehen: funktioniert, wenn man über Nacht nur einmal muss. Ich habe aber das Problem, dass ich seit der Magen-OP einen anderen Rhythmus habe und ich muss die Flexibilität haben, jederzeit die Toilette nutzen zu können. Andere werden sehr unsachlich und meinen, dass ich mich eher um die Opfer des Hurricane Dorian Sorgen machen sollte, die gar keinen Zugang zu Wasser hätten. Mir tun die Opfer des Hurricane Dorian Leid, aber das hat nichts mit meiner Frage zu tun. Wenn ich jedoch auf Facebook lese, dass ein mir bekanntes Crewmitglied persönlich Opfer einer Katastrophe geworden ist, habe ich immer noch eine Direktspende an das Crewmitglied geleistet, um es zu unterstützen. Deswegen habe ich kein schlechtes Gewissen, auch während des Hurricane Dorian meine Frage auf
cruisecritic.com
zu stellen. Eine meiner Teilfragen: warum wäre es beispielsweise nicht möglich das in St. John's im Hafen zu machen? Dann könnten diejenigen, die an Bord sind einfach ins Terminal gehen oder man stellt einfach ein paar Dixi-Klos oder einen Toilettenwagen wie beim Oktoberfest auf dem offenen Deck auf. Wenn bis 06:00 Uhr kein Wasser gibt: wie läuft das denn heute Nacht mit der Reinigung an Bord (Wäscherei?) oder in der Galley? Bekommen wir zum Frühstück kein frisches Obst, weil nichts abgewaschen werden kann? Wie gesagt: auf 99 Reisen zuvor, gab es das noch nicht.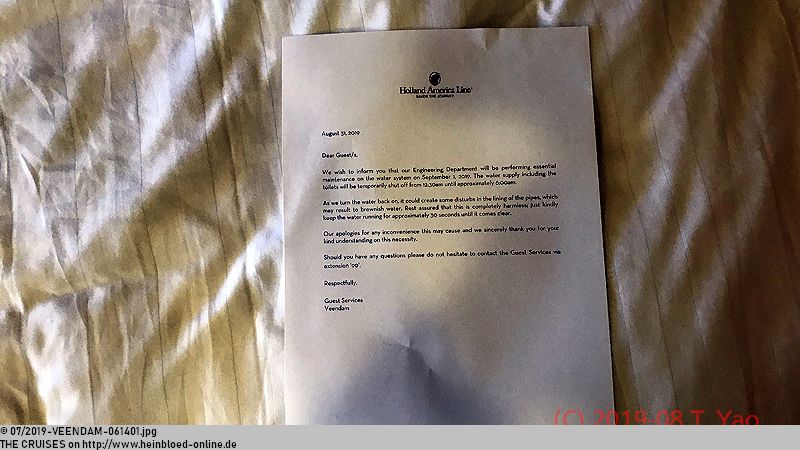 On 99 voyages, which I made before, it did not happen before: water shutdown overnight. If our home community informed us in advance about such a measure, we could prepare very well: we filled the kettle, 2-3 buckets for the toilet flush, and another pot with water to work in the kitchen. In our cabin, we had a bathtub that we could fill, but a toilet onboard would not work with gravity like at home. So would the vacuum still pull, even if no water came from the pipe, but would be filled up externally? I also asked this question at cruisecritic.com. Again, 50% said that they handle it the next morning to pull off. I would work if you only need to see the toilet overnight once. But I had the problem that I had a different rhythm since my gastro surgery, and I need the flexibility to see a toilet at any time. Others become very rude. They said that I should rather worry about the victims of Hurricane Dorian, who had no access to water at all. I was suffering from the victims of Hurricane Dorian. But that had nothing to do with my question. However, when I read on Facebook that a familiar member became a victim of a disaster personally, I still made a direct donation to the crew member to support him. That was why I had no bad conscience asking my question on cruisecritic.com during Hurricane Dorian. One of my subquestions: why would not it be possible to do the works in St. John's, NL, Canada, during the call in the harbor? Then those who would be on board could just go to the terminal or just set up a few mobile toilets or a toilet trolley like the Oktoberfest on the open deck. If there would no water until 06:00 hrs, how would it go to clean tonight (laundry?) Or in the galley? Would we get fresh fruit for breakfast, because nothing could be washed off? As I said: on 99 voyages before, I had no issue like this yet.

I, therefore, looked around at night and found that the public toilets were not affected and open: no sign that you could not use them.

Ich sehe mich daher nachts um und stelle fest, dass die öffentlichen Toiletten nicht betroffen sind und geöffnet sind: Kein Schild, dass man sie nicht benutzen kann.
Ich benutze das Urinal: kein Problem, da es ohne Vakuum betrieben wird.

I used the urinal: no problem, as it operated without vacuum.

And there was also water for washing hands. When I asked at the front desk, I was told that only the passenger decks were affected. Why could not you communicate that public toilets could still be used at night, and added a bathrobe and some slippers to the message! That would be the perfect communication in the matter. For the second time: it was somewhat limited for use, but nothing made aware of alternatives. Somehow I found the information policy onboard terribly wrong. Rule number 1 communication: It would not matter what you said or wrote. What would count and be important was the message which arrived with the recipient: "We inform you that we need to limit your life on board. And you have to find your own way to handle it!"- Holland America would be my hate-love. I could not live with HAL, but I could not imagine a life without HAL. And it still applied: what they did well, they did exceptionally well. What they did evil, they made extremely bad!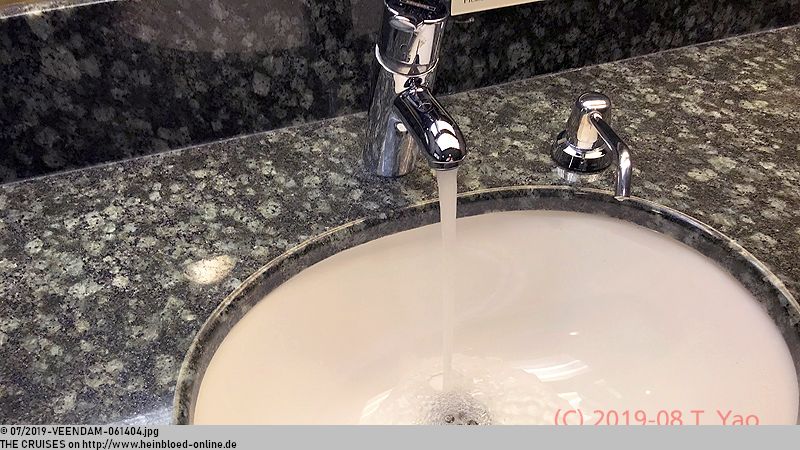 Und es gibt auch Wasser zum Händewaschen. Als ich an der Rezeption nachfrage, sagt man mir, dass nur die Passagierdecks betroffen sind. Warum kann man dann das nicht auch kommunizieren, dass die öffentlichen Toiletten auch weiterhin nachts benutzbar sind und legt zu der Nachricht einen Bademantel und ein paar Schlappen dazu! Das wäre die perfekte Kommunikation in der Sache gewesen. Zum zweiten Mal: es wird etwas eingeschränkt, aber nicht auf Alternativen aufmerksam gemacht. Irgendwie finde ich die Informationspolitik an Bord grottenschlecht. Regel Nummer 1 der Kommunikation: Es ist nicht wichtig, was man sagt oder schreibt. Es ist wichtig, was beim Empfänger der Botschaft ankommt: "Wir teilen Ihnen mit, dass wir Ihr Leben an Bord einschränken müssen. Und Sie müssen sich selbst einen Weg finden, damit klar zu kommen!" - Holland America ist nun mal meine Haßliebe. Ich kann nicht mit HAL leben, aber ich kann mir auch kein Leben ohne HAL vorstellen. Und es gilt noch immer: was sie gut machen, machen sie extrem gut. Was sie schlecht machen, machen sie extrem schlecht!
Die anderen Reisen in diesem Blog/
The other voyages in this blog: