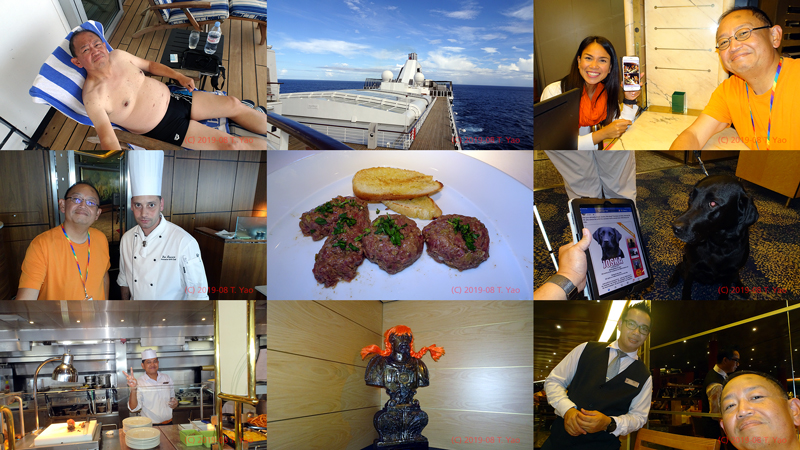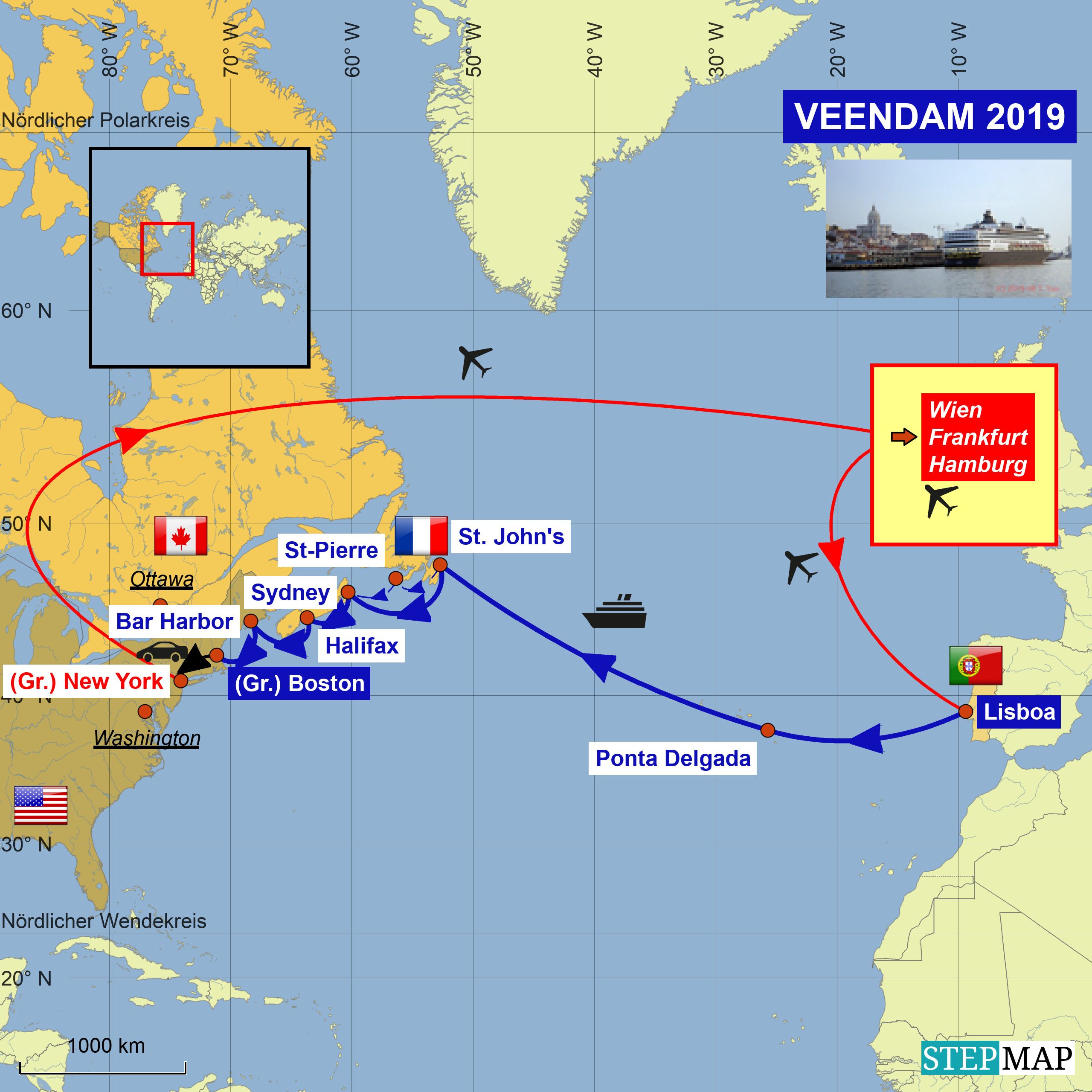 Die anderen nutzen immer Seetag, um morgens auszuschlafen oder Sport zu machen, um spät frühstücken zu gehen. Ich mache i.d.R. auch Sport, aber nicht so intensiv wie die anderen. Mich findet man daher auch schon frühmorgens im Lido Market, damit ich später nicht drängele, dass ich Hunger habe. Ich nehme daher die Chance wahr und nehme schon mal eine Portion Congee.

The others always used the day at sea to sleep longer or to do some sports in the morning, and to have breakfast late. I was usually also doing sports, but not as intense as the others. Therefore I found myself already early in the morning in the Lido Market so that I would not press later that I would be hungry. I, therefore, took the opportunity and taking a portion of the congee.

Buying dishes on vacation: Were not there really no lighter souvenirs that would also be "unbreakable"? Unfortunately, I did not like the plates of Rudi Sodamin at all. With the bread plates of Royal Delft, I could become a friend of.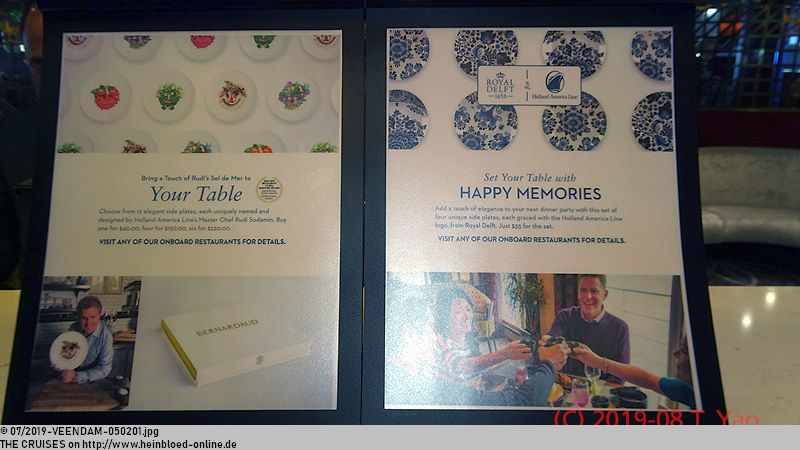 Geschirr im Urlaub kaufen: Gibt es wirklich keine leichteren Souvenirs, die auch "unkaputtbar" sind? Die Teller von Rudi Sodamin gefallen mir leider überhaupt nicht. Mit den Brottellern von
Royal Delft
könnte ich mich anfreunden.
Da ich ja schon Congee im Lido Market hatte, gibt es eine Portion japanisches Frühstück mit gegrilltem Lachs auf Reis, japanisches Omelette Tamago und Miso-Suppe.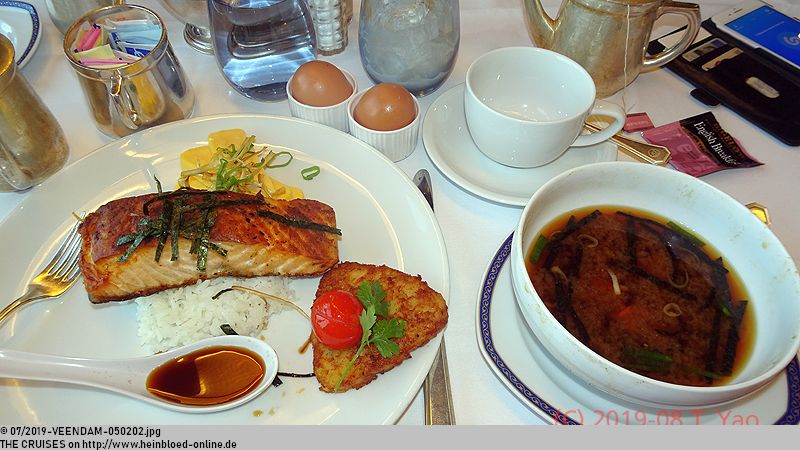 Since I already had congee in the Lido Market, I ordered there some Japanese breakfast with grilled salmon on rice, Japanese omelet Tamago, and miso soup.

My soft-boiled egg was too soft for me.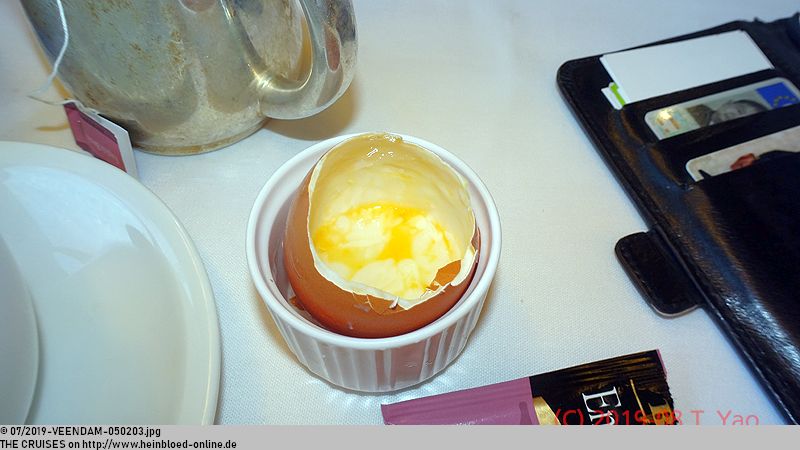 Mein weichgekochtes Ei ist mir zu weich.
Ich nehme das Angebot des Bordarztes an und muss mich als Patient registrieren. In meinem Alter führe ich immer einer Liste meiner Medikamente und Operationen mit mir. Das wird man immer abgefragt.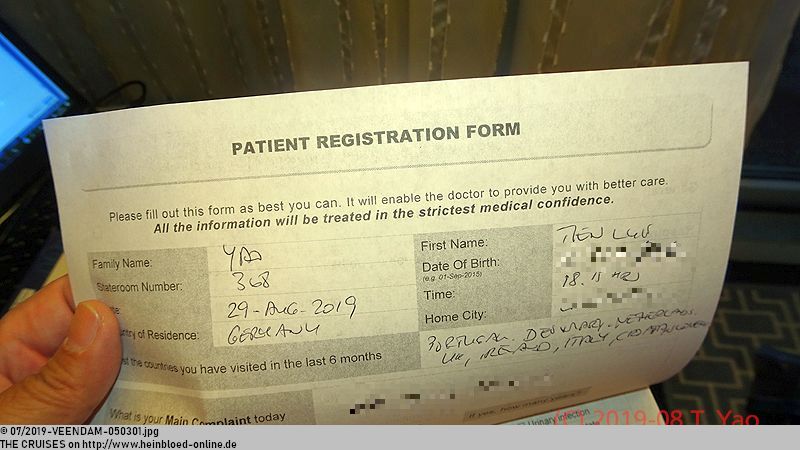 I accepted the offer of the onboard doctor and had to register as a patient. At my age, I always kept a list of my medications and surgeries with me. That was always asked for.

And already the prescription for the agent was sent out.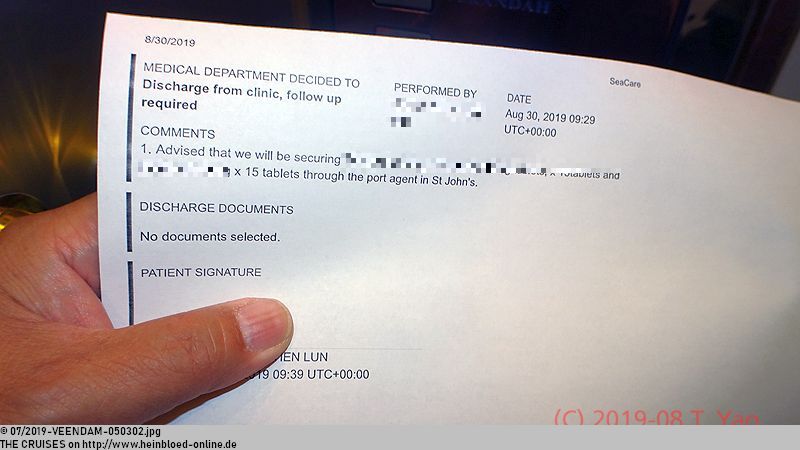 Und schon ist das Rezept für den Agenten rausgeschickt.
Da ich eh schon die Grundgebühren für die Behandlung zahlen muss, lasse ich mir gerade noch eine oberflächliche Wunde ansehen. Ich bekomme hier ein paar Tütchen antibakterielle Wundsalbe, die auch später einzeln berechnet werden!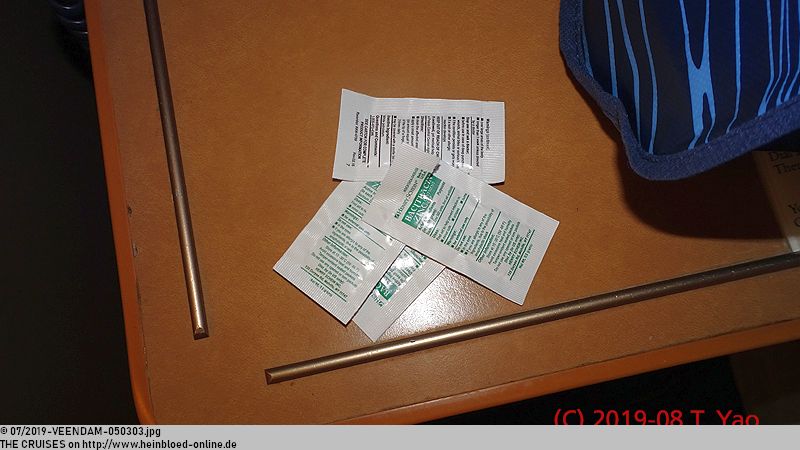 Since I already had to pay the necessary fees for the treatment, I just let them have a look at a superficial wound. I got here a few sachets antibacterial ointment, which would be charged separately later!

Now we got the entry and customs forms for Canada. At least the name of the ship and the number of the cabin were already imprinted so that later they could determine whose cards were missing.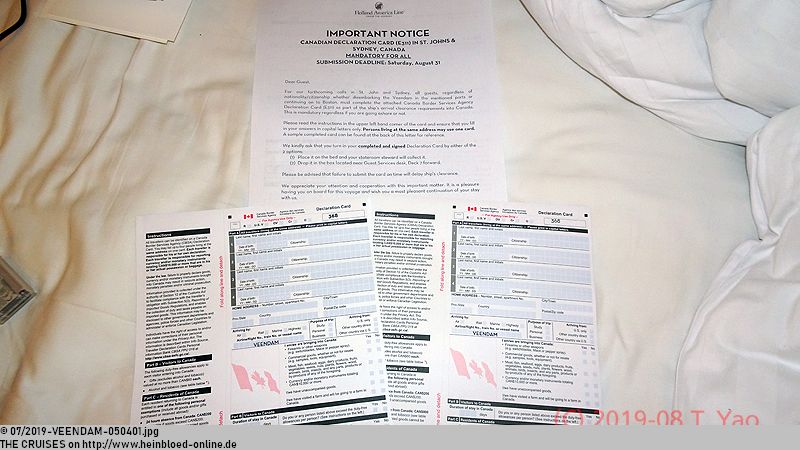 Nun wir bekommen die Einreise und Zollformulare für Kanada. Zumindest ist bereits der Schiffsname und die Kabinennummer eingedruckt, damit sie später feststellen können, wessen Karten fehlen.
Neu für mich: eine Karte für Bruno und für mich, weil wir unter derselben Anschrift leben, ohne dass wir miteinander verwandt, verheiratet oder verpartnert sein müssen.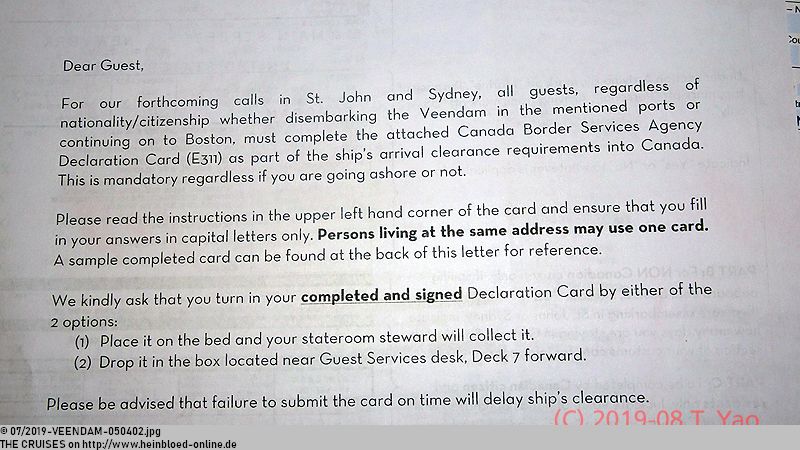 New for me: a card for Bruno and for me, because we were living under the same address, without having to be related, married or partnered.

The invitation to Mariner Lunch was here. Was not that a brunch?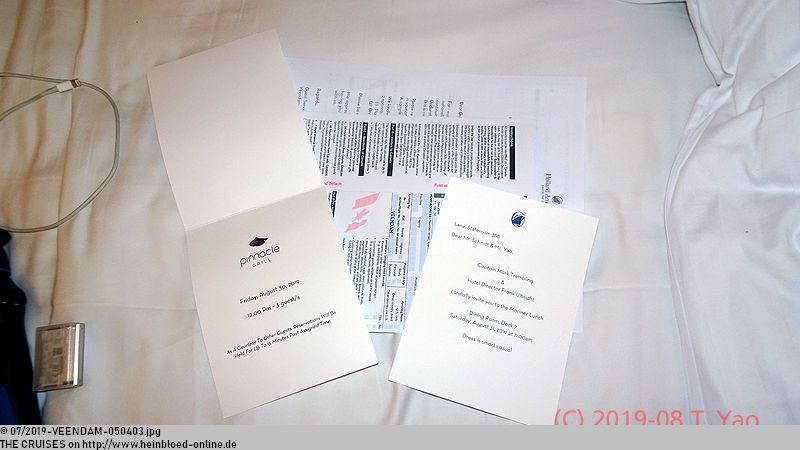 Die Einladung zum Mariner Lunch ist da. War das nicht sonst ein Brunch?
Auch wird für die Buchung an Bord von künftigen Reisen geworben. Ich würde ja wieder eine Anzahlung leisten, aber ich habe keine Lust, deswegen zu den Öffnungszeiten hinzugehen, nur um nach einem Formular zu fragen.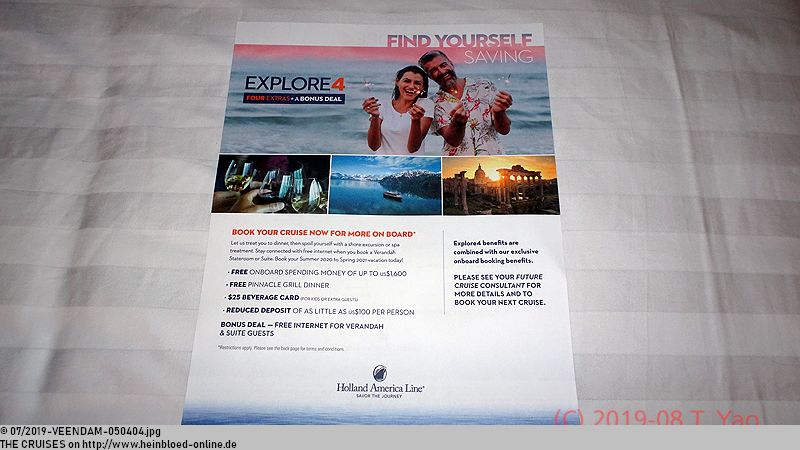 Also, the booking onboard would be advertised for future voyages. I would make a down payment again, but I did not feel like going during the opening hours just to ask for a form.

We went back to Cisco, who explained what should await us in St. John's, NL, Canada, or St-Pierre, French Overseas Territory. He did it top-notch and hit the right words. Perfect infotainment. At the desk of the excursion office, another surprise awaited me: Chris from the reception on EURODAM 2014 worked here. A personal greeting had to be.

Wir gehen wieder zu Cisco, der uns erklärt, was uns in St. John's bzw. St-Pierre erwartet. Er macht das spitzenmäßig und trifft den richtigen Ton. Perfektes Infotainment. Am Schalter des Ausflugsbüros erwartet mich eine weitere Überraschung: Chris von der Rezeption auf der
EURODAM 2014
arbeitet hier. Eine persönliche Begrüßung muss sein.
Heute sind wir mal wieder im Pinnacle Grill: zum Mittagessen. Ist Teil unserer Goodies im Reisepreis. Da unser Voucher ein Wertvoucher über 30,00 USD ist, schlägt man uns vor, dass wir einfach zwei Mal zum Mittagessen kommen. Ein indonesisches Mittagessen, das ich mal auf anderen Schiffen gesehen habe, aber für das ich nie reservieren konnte, weil es auch nie veröffentlicht wurde, wird nicht angeboten - oder sie sagen es nur mir mal wieder nicht. Etwas komisch: ich bin total feucht, als ich meine Arme auf den Tisch auflehne. Sie erklären es mir mit Ihrer Bügeltechnik. So werde ich es in Zukunft auch zu Hause ausprobieren und mich nicht mehr am Bügelbrett darüber ärgern, warum das Bügelbrett so klein ist. Der Pinnacle Grill Chef Jan Laurent macht mir eine riesige Freude: da ich ja vom gestrigen Tartar enttäuscht war und ich ihm auch gesagt habe, dass ich regelmäßig in den Elsass fahre, um Rindstartar zu essen, bekomme ich heute ein Rindstartar, so wie ich es in Frankreich bekommen würde. Niemand weiß es besser als er, da er ja selbst Franzose ist. Meine Idee es als "100" zu formen wird entsprechend umgesetzt. Ich bin im Moment wohl der glücklichste Passagier an Bord und genieße mein Tartar entsprechend. Nichts bleibt übrig. Ich will mehr, aber ich bekomme nicht mehr. Grrrr.... Nächstes Mal werde ich demonstrativ meine
Tupperdosen
auspacken, die ich von der
COSTA FAVOLOSA 2017
-Reise erworben habe. Mal gucken, ob sie das verstehen!!!

Today we were back at the Pinnacle Grill: for lunch. It was part of our goodies in the travel rate. Since our voucher was a value voucher over 30.00 USD, we are offered that we simply could come for lunch twice. An Indonesian lunch that I saw on other ships, but for which I could never reserve because it was never published, was not offered. Or they just did not tell me again. Something funny: I was totally wet, as I was leaning my arms on the table. They explained it to me with their ironing technique. So I would try it in the future at home and no longer annoying me on the ironing board since the ironing board was so small. The Pinnacle Grill Chef Jan Laurent gave me a huge joy: since I was disappointed with yesterday's Tartar and I also told him that I loved to go to Alsace regularly to eat some beef tartar, today I got beef tartar, just like I would get it in France. Nobody knew better than him since he was a Frenchman himself. My idea of ​​forming it as "100" was implemented accordingly. I was probably the happiest passenger on board at the moment and enjoyed my tartar accordingly. Nothing was left. I wanted more, but I could not get more. Grrrr... Next time, I would demonstratively unpack my Tupperware boxes, which I acquired from the COSTA FAVOLOSA 2017 trip. It would be interesting to see if they would understand that!!!

For me, lunch at the Pinnacle Grill would be the best value for money of all the cover charge restaurants on all the ships I knew. For the first time, we were here on ZAANDAM 2012.

Für mich ist das Mittagessen im Pinnacle Grill das beste Preis-Leistungs-Verhältnis aller Zuzahlrestaurants auf allen Schiffen, die ich kenne. Erstmalig waren wir auf der
ZAANDAM 2012
hier.
Ein weiteres Mal dann auf der
RYNDAM 2013
. Damals gab es bereits das Fleischwolf-Problem: Der Wagyu-Burger war damals schon so fein, dass er nicht so richtig saftig mehr war. Wie gesagt: ich mag Hackflesich eben lieber etwas gröber, dass mein Mund es noch als Fleisch erkennt.

Then again on RYNDAM 2013. At that time, there was already the meat grinder problem: The Wagyu burger was already so fine that it was not really juicy anymore. As I said: I loved minced meat just a bit coarser so that my mouth could recognize it as meat.

On EURODAM 2014. I had previously asked for a different disc for my Wagyu burger, and I got it the way I loved it.

Auf der
EURODAM 2014
. Da hatte ich schon vorher darum gebeten, eine andere Scheibe für meinen Wagyu-Burger zu verwenden und ich bekam es so, wie ich es liebe.
Zuletzt waren wir dann auf der
KONINGSDAM 2016
hier. 1/3 der Seetage würde ich hier im Pinnacle Grill verbringen. 1/3 im Hauptrestaurant und 1/3 was sich sonst noch so ergibt...

Last time we were on KONINGSDAM 2016 here. I would spend 1/3 of the days at the Pinnacle Grill here. 1/3 in the main dining room and 1/3 what else would be available...

I knew Ine from the cruisecritic.com-forum. We met her on EURODAM 2008, and later ashore after our voyage on GRAND PRINCESS 2011, and before our sailing on KONINGSDAM 2016.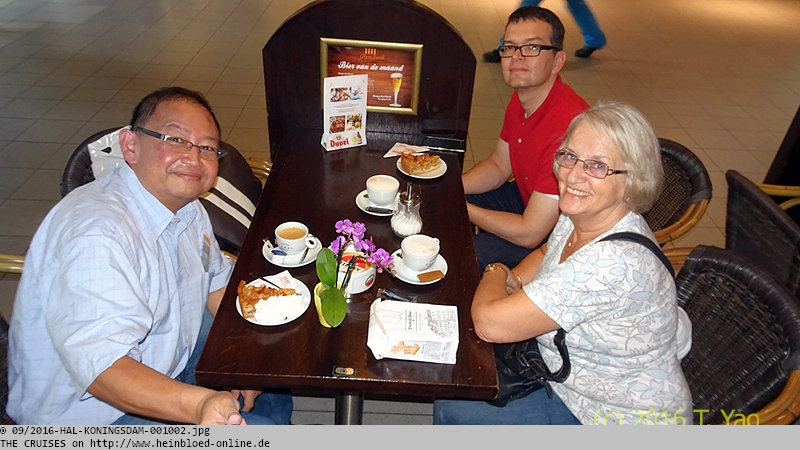 Ine kenne ich aus dem
cruisecritic.com
-Forum und wir sind uns auf der
EURODAM 2008
begegnet und später nochmals an Land nach der
GRAND PRINCESS 2011
und vor der Reise auf der
KONINGSDAM 2016
.
Während der Ausfahrt im Nordseekanal mit der
KONINGSDAM 2016
winkte sie uns zu. Als sie mitbekommt, dass ich aktuell auf der VEENDAM ist, schreibt sie mich an, um mich auf einen Super-VIP an Bord aufmerksam zu machen. Sind etwas
König Willem-Alexander
und
Königin Maxima
an Bord?
Prinzessin Beatrix
? Linda de Mol?
Marijke Amado
? Heintje? Arjen Robben? Ich bin sehr gespannt.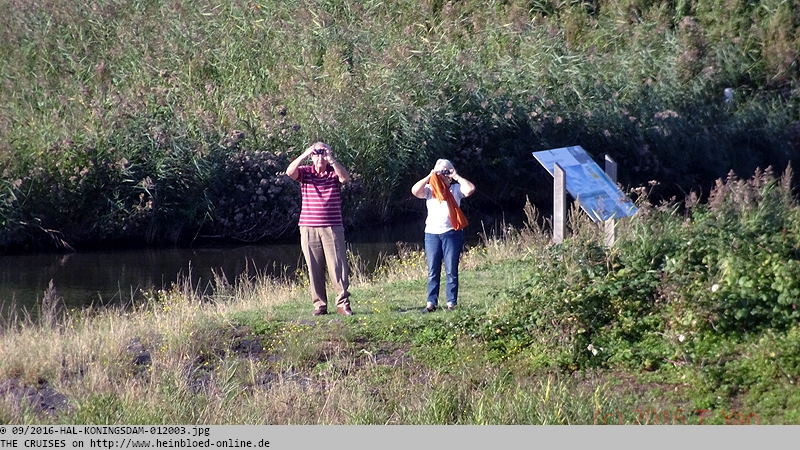 During we left through the North Sea Canal on KONINGSDAM 2016, she waved us to. When she realized that I was currently on VEENDAM, she wrote to me to attract my attention to a super VIP on board. Were King Willem-Alexander and Queen Maxima onboard? Princess Beatrix? TV-Star Linda de Mol? Or Marijke Amado? Kid singer star Heintje? Soccer player Arjen Robben? I was very excited.

The super VIP on board was a dog: Joska (with his own Facebook-side). He was a service dog who would have the chance to be honored at the Mariner Lunch. I showed Joska on my iPad how famous he was.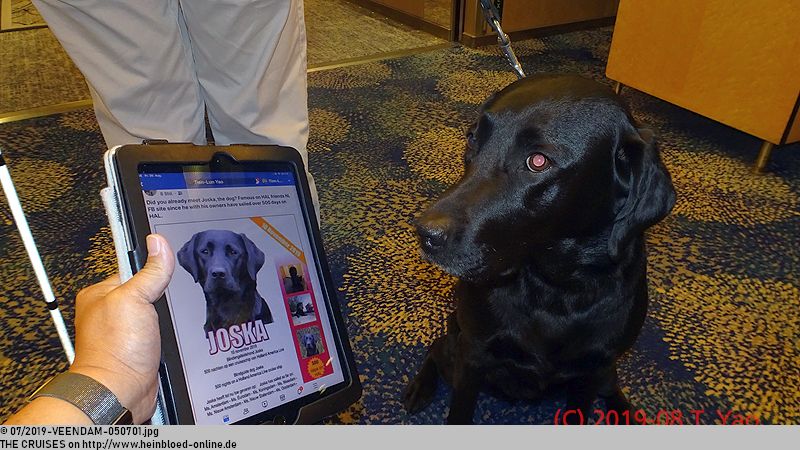 Der Super-VIP an Bord ist ein Hund:
Joska (mit eigener Facebook-Seite)
. Er ist ein Blindenhund, der die Chance hätte, wohl beim Mariner Lunch geehrt zu werden. Ich zeige
Joska
auf meinem iPad, wie berühmt er ist.
Dank meiner Selfies in der Lobby und Ines Post, werden andere Gäste auf den VIP aufmerksam.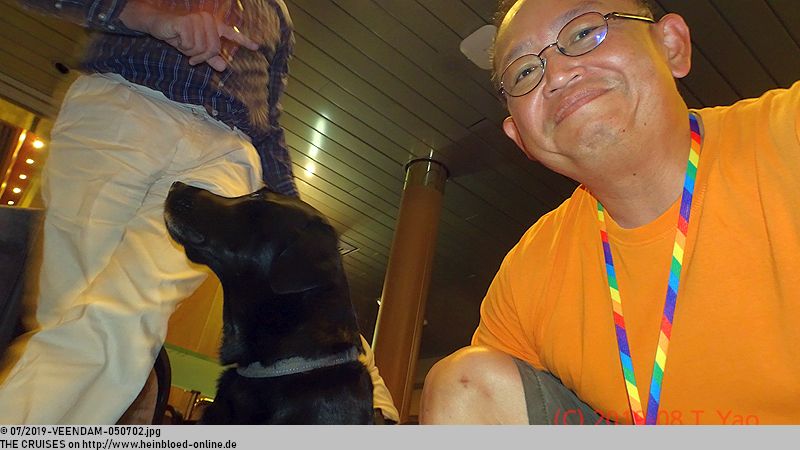 Thanks to my selfies in the lobby and Ine's Post, other guests noticed the VIP.

But he was more interested in his master than in me.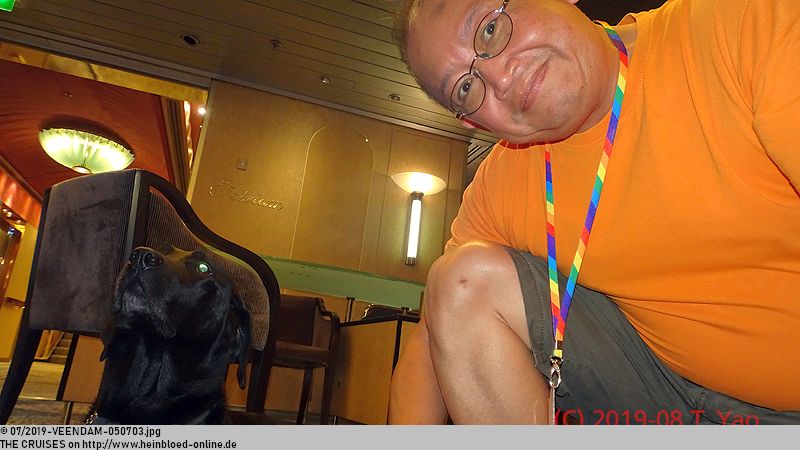 Aber er interessiert sich mehr für sein Herrchen als für mich.
Wieder ein Traumwetter. So hätte es gestern auf den Azoren sein sollen.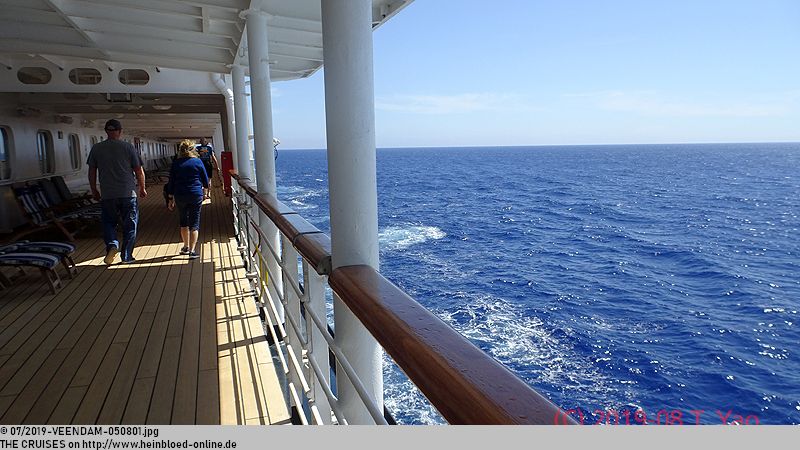 Another dream weather. It should be yesterday on the Azores.

By the way, the "walkers" was a great community. I would like to have them for the entire ship. 99% were very disciplined and went all in the same direction. 99% walked comfortably and did not fall like the "turf and jostle on the highway" on. 99% always greeted friendly, and usually had still some warm words on a subject like weather, swell, etc..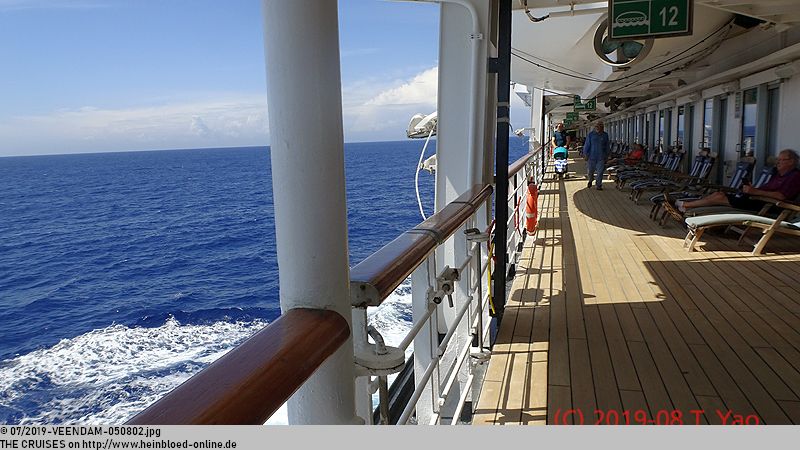 Die "Geher" sind übrigens eine tolle Gemeinschaft, die ich mir für das ganze Schiff wünschen würde. 99% sind sehr diszipliniert und gehen alle in die gleiche Richtung, 99% gehen gemütlich und fallen nicht wie beim "Rasen und Drängeln auf der Autobahn" auf, 99% grüßt immer freundlich und hat meistens immer einen freundlichen Spruch parat zum Thema Wetter, Seegang usw..
Ich laufe mal ein paar Runden mit, oder ich genieße es denen zuzugucken und einfach freundlich zu lächeln oder zu grüßen. Mit jeder Seemeile näher an die amerikanische Küste, desto eher passe ich mich kleidungsmäßig an.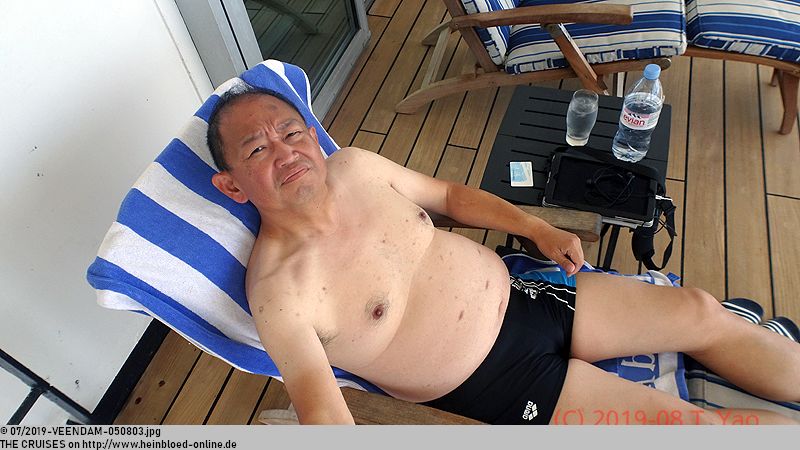 I was going for a few laps, or I was enjoying watching them and just smiling or greeting friendly. With every nautical mile closer to the American coast, the sooner I adapt to my clothes.

It was starting again!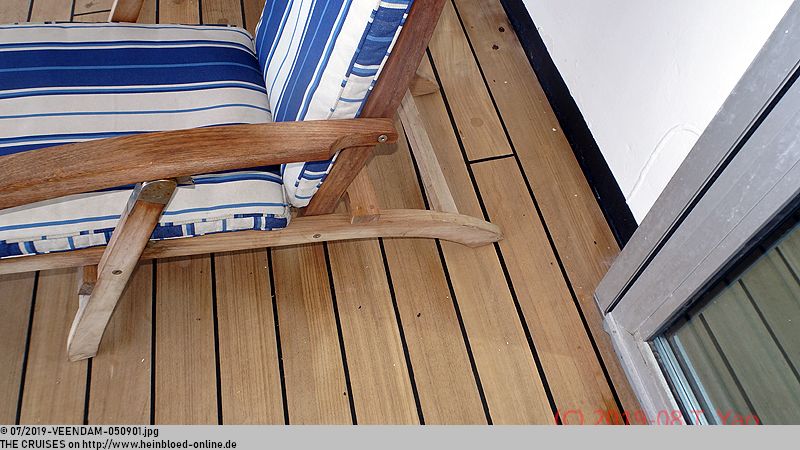 Es geht schon wieder los!
Es nervt! Warum können eigentlich solche Arbeiten nicht an Tagen an Land ausgeführt werden, wenn die meisten Gäste nicht an Bord sind?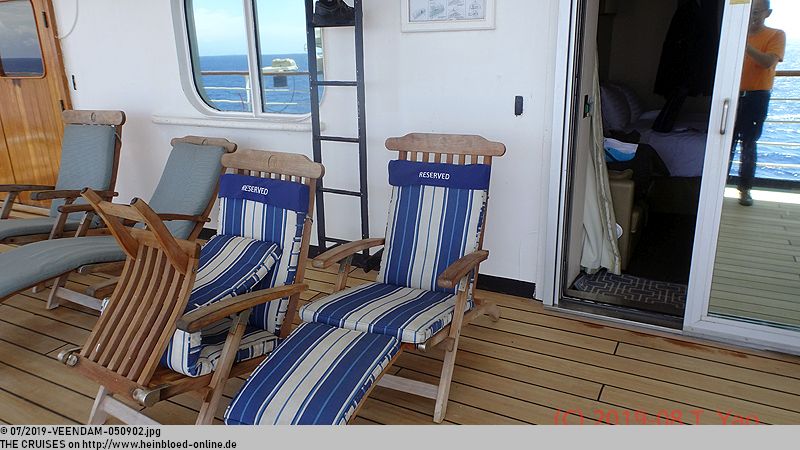 It sucked! Why could not such work be done on port days when most of the guests would not be on board?

And why always with me? Were there not more accesses to the top? Did they have to do that on days at sea? Why did we book a lanai cabin if you could not use it the way you would expect it to?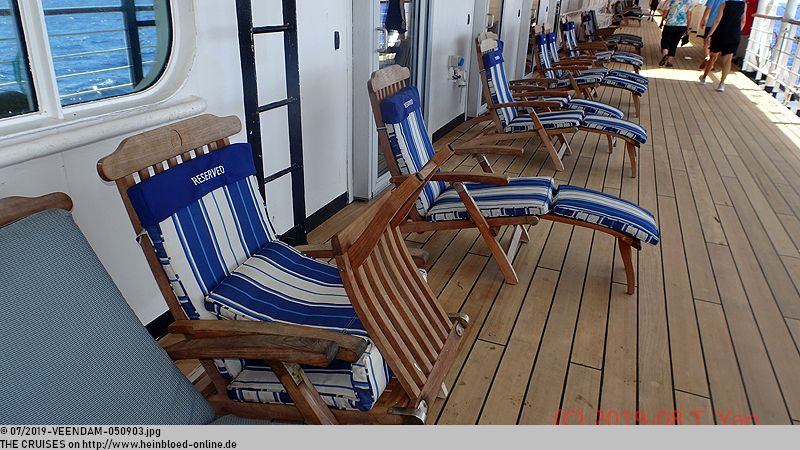 Und warum immer bei mir? Gibt es nicht noch weitere Zugänge nach oben? Muss man das an Seetagen machen? Wozu haben wir eine Lanai-Kabine gebucht, wenn man sie nicht durchgehend so benutzen kann, wie man es erwarten darf?
Wenigstens werden wir jetzt "vorgewarnt", so wie darum gebeten habe: aber erst für morgen und nicht schon für heute. Und wieder ist das für sie selbstverständlich, die Nutzung UNSERES Promenadenteils einzuschränken, für den wir schließlich bezahlt haben!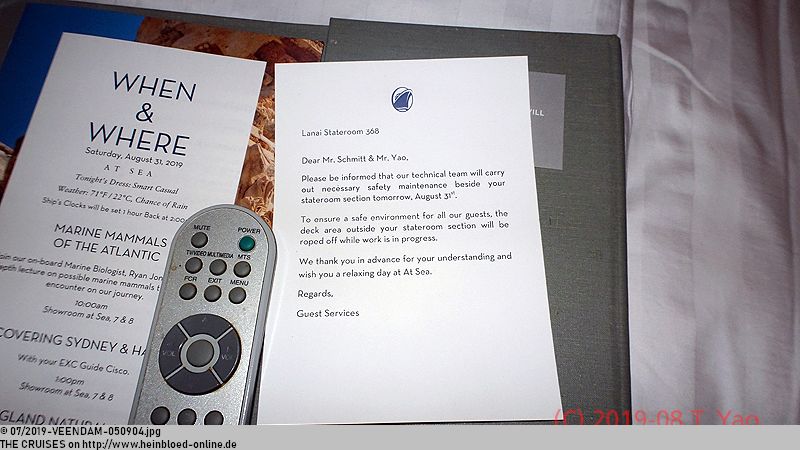 At least now we were "warned in advance" as requested, but only for tomorrow and not today. And once again, it went without saying that they limit the use of OUR promenade part, for which we finally paid for!

I was still looking for cute new logo shirts. But only this thing was offered. I would buy it anyway ... it would be fine to wear on CELEBRITY CONSTELLATION from Dubai, the United Arab Emirates to Civitavecchia, Italy next year.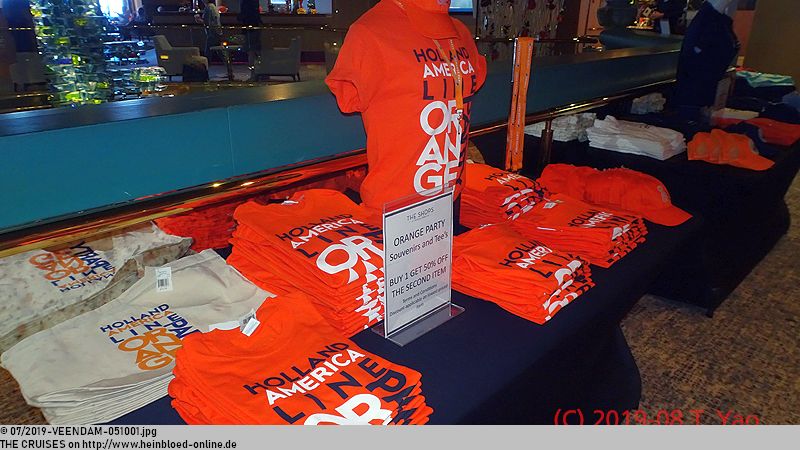 Immer noch bin auf der Suche nach schönen neuen Logo-Shirts. Aber nur dieses Ding wird angeboten. Ich kaufe es trotzdem... lässt sich gut bestimmt auf der CELEBRITY CONSTELLATION von Dubai nach Civitavecchia im kommenden Jahr tragen.
Das schöne Wetter nutze ich auch, um mich noch ein wenig auf den Außendecks umzusehen.

I also used the nice weather to look around the open decks for a while.

We knew New York Pizza from KONINGSDAM 2016.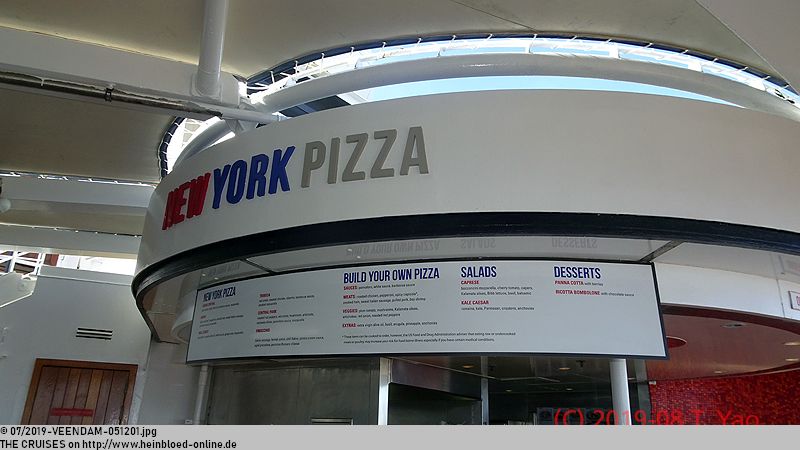 New York Pizza kennen wir von der
KONINGSDAM 2016
.
Aber irgendwie schaffe ich es dieses Mal nicht ein einziges Mal hier zu essen, weil es nur mittags geöffnet ist.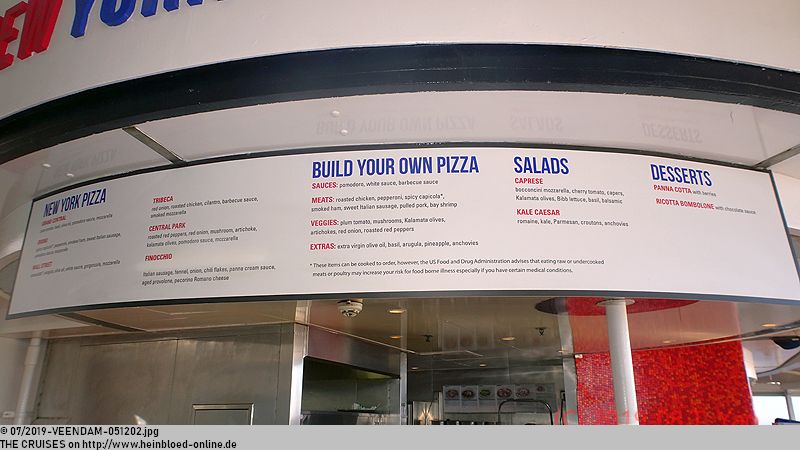 But somehow I did not manage to eat here once, because it was only open for lunch.

On KONINGSDAM 2016 we were able to have a snack here until late in the evening: great freshly made pizza, sandwiches, and salads.

Auf der
KONINGSDAM 2016
konnten wir hier bis spät abends immer eine Kleinigkeit bekommen: tolle frisch gemachte Pizza, Sandwiches und Salate.
Mit Verwunderung stelle ich fest, dass jeden Tag ein Friends of Bill W.-Treffen angeboten wird, aber kein Friends of Dorothy-Treffen mehr. Ich frage bei der Schiffsleitung nach: nur an den ersten beiden Tagen werden Friends of Dorothy-Treffen angeboten, anschließend sollen wir selbst uns zusammenfinden. Was spricht eigentlich dagegen, dass man das Treffen täglich anbietet, so wie Friends of Bill W. auch? Ich stelle diese Frage bei
cruisecritic.com
und stelle leider fest, dass sich auch hier die "Gesellschaft" verändert hat. Man fragt eigentlich, wenn man etwas nicht weiß. 50% der Antworten sind sachliche Aufklärung und 50% sind dann verbale "Angriffe", weil man eben eine Frage stellt, die einem selbst nicht passt, oder man die antworten kennt und man stellt lieber andere als "blöd" dar, statt sachlich zu antworten. Von den 50%, die sachlich und freundlich geantwortet haben, weiß ich nun, dass Alkoholiker zur Kontrolle einen täglichen gleichen strukturierten Ablauf brauchen. Deswegen sind deren Treffen nicht in einer Bar, sondern in einem Konferenzraum ohne Zugang zur Bar. Im Gegensatz zu einem Friends of Dorothy-Treffen geht es dabei nicht um Socializing, sondern darum sich gegenseitig zu unterstützen. Tut mir nun leid, dass ich als Nicht-Alkoholiker (1-2 mal im Jahr ein Gin Tonic und gelegentlich Alkohol beim Kochen) mich bei Friends of Bill W. nicht auskenne und daher nachfragen muss und manche sich gestört fühlen. Ich fühle mich durch die Fragen an geraden Tagen, wie man von Civitavecchia zum Flughafen Fiumicino kommt und an ungeraden Tagen, wie man vom Flughafen Fiumicino nach Civitavecchia kommt, auch genervt. Aber ich mache es einfach: ich überlese diese Fragen und beantworte sie nicht mehr, statt Frager zu entmutigen, gar nichts mehr zu fragen. Dafür gibt es eigentlich Foren wie
cruisecritic.com
.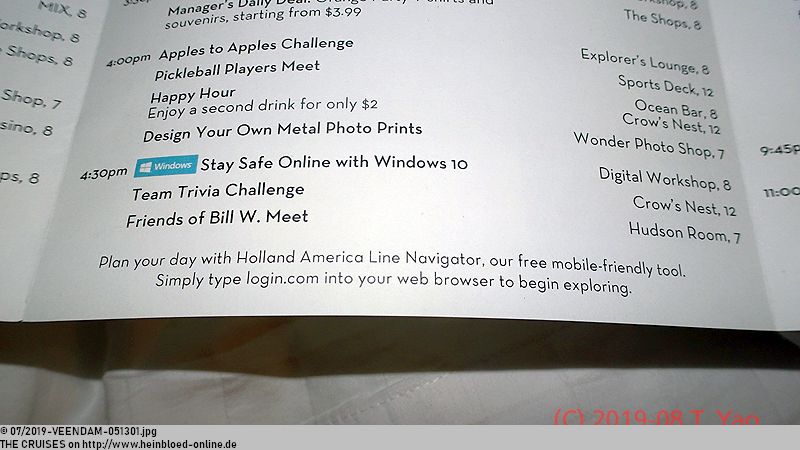 I was astonished to find a Friends of Bill W. meeting every day, but not a Friends of Dorothy meeting. I asked the ship's management: only on the first two days Friends of Dorothy meetings would be offered, then we should meet ourselves. What would be against the fact that one would be provided the meeting daily? Same as Friends of Bill W. too? I asked this question at cruisecritic.com, and unfortunately, I had to notice that here as well, the "society" has changed. You actually asked if you did not know it. 50% of the answers were true enlightenment, and 50% were verbal "attacks". Because you asked a question that did not suit you, or you knew the answers, and you preferred to point out others as "stupid", instead of objectively answering. Of the 50% who had objectively and friendly responses, I learned that alcoholics would need to control the daily same structured process. That was why their meetings would not be in a bar, but in a conference room with no access to the bar. Unlike a Friends of Dorothy meeting, this would not be about socializing. It was about supporting each other. I was sorry that as a non-alcoholic (1-2 times a year a gin and occasionally alcohol while cooking), I did not know the targets of Friends of Bill W.. Therefore, I had to ask, and some felt disturbed. I felt annoyed by the questions on even days, how one could get from Civitavecchia, Italy to Fiumicino airport, Italy, and on odd days, how one could get from Fiumicino airport Italy to Civitavecchia, Italy. But I kept it easy: I overread these questions and no longer answered them, instead of discouraging questioners, asking nothing more. There were actually forums for like cruisecritic.com.

Although I did not watch a movie, I stole a bag of popcorn.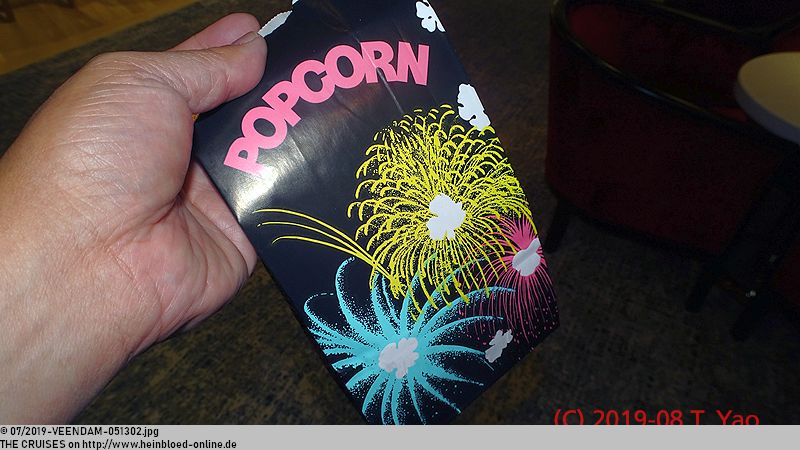 Obwohl ich gar keinen Film gucke, klaue ich mir mal eine Tüte Popcorn.
Ich gehe ja lieber in ein Hauptrestaurant oder ein Zuzahlrestaurant. Dennoch gucke ich mir immer wieder das Angebot an und je nach Planung nehme ich mir auch mal einen Snack. Qualitativ alles in Ordnung. Was mich jedoch nervt: warum muss man eigentlich um 20:00 Uhr das Angebot beenden und erst wieder nach 22:30 Uhr öffnen? Auf der
KONINGSDAM 2016
hätte man jetzt ins New York Pizza gehen können, aber das hat ja nur mittags geöffnet. Wenn man also Hunger hat, muss man jetzt in ein Hauptrestaurant oder in ein Zuzahlrestaurant oder Kabinenservice.

I preferred to go to a main dining room or an alternative dining venue. Nevertheless, I looked at the offer again and again, and depending on the planning, I also took a snack. Qualitatively all right. What annoyed me, however: why did you actually have to end the offer at 20:00 hrs? And only it would open again after 22:30 hrs. On KONINGSDAM 2016, you could go to the New York Pizza, but that was only open for lunch. So if you were hungry, you have to go to the main dining room. Or you needed to see a restaurant on a charge, or you had to make use of the cabin service.

We went to the show. The Sino-American pianist Tian Jiang played. He played well. The selection of pieces did not suit me, because I always had to be in a certain mood, and would not be able to jump back and forth so quickly within the show.

Wir gehen zur Show. Der sino-amerikanische Pianist
Tian Jiang
spielt. Er spielt gut. Die Auswahl der Stücke sagt mir nicht zu, weil ich immer in einer bestimmten Stimmung sein muss, und nicht so schnell innerhalb der Show hin und her springen kann.
Heute Abend genießen wir einen tollen Tisch am Fenster und einen schönen Service von Troy. Genauso wie wir es lieben. Wir buchen keine Tische mehr vor. Irgendwie nervt es mich, dass wir nicht zwischen früh und spät mitten drin gehen können. Allerdings muss dazu sagen: wir haben nie lange warten müssen. Das Essen ist wieder hervorragend. Ich bin ja ein Freund vom Rib-Eye-Steak, aber ich frage mich auch: wieviele Steaks verkaufen sie eigentlich jeden Abend davon? 75,00 USD Zuzahlung für ein 1 kg-schweres Stück - nur weil es das Lieblingsstück des
HAL-Vorsitzenden Orlando Ashford
ist - wer bestellt sich so etwas? Wenn man so etwas anbietet, könnte man ja auch noch den
Louis XIII-Cognac
weiter anbieten.

Tonight we enjoyed a beautiful table by the window and outstanding service by Troy. Just as we loved it. We did not book tables in advance anymore. Somehow it annoyed me that we could not book between early and late in the middle of the dining sessions. However, to say this: we had never to wait long. The food was excellent again. I would be a friend of rib-eye steak, but I also wondered: how many steaks would they sell each night? 75.00 USD supplement for a piece of 36 oz. - Just because it was the favorite piece of HAL chairman Orlando Ashford - who ordered that? If they offered something like that, they could still provide the Louis XIII cognac.

We went to the Oceans Bar. It annoyed me that I had to ask what they had there. The subject of a later conversation with the hotel general manager: why should I wait 20 minutes to the beginning of the Orange Party for Dutch chocolate eclairs when I asked NOW and HERE for my cocktail for snacks like peanuts? Why were the chocolate eclairs served without napkins? Why did I have to ask another waiter for napkins? That has never been a problem with Holland America before. You asked, and you got it right away. You got everything that you did not have to ask for something else later. Sigi used the happy hour offer, but none of us wanted sparkling wine. So she took the bargain alone. Why could not they do it this way: the 2nd cheaper should cost 2.00 USD, and you could combine as you like?

Wir gehen in die Oceans Bar. Mich nervt es, dass ich nachfragen muss, was sie da haben. Gegenstand eines späteren Gespräches mit dem Hoteldirektor: warum soll ich 20 Minuten bis zum Beginn der Orange Party auf holländische Schokoladeneclairs warten, wenn ich JETZT und HIER zu meinem Cocktail nach Snacks wie Erdnüsse frage? Warum werden die Schokoladeneclairs ohne Servietten serviert? Warum muss ich einen anderen Kellner nach Servietten fragen? Das war doch bisher nie ein Problem bei Holland America. Du fragst und du bekommst es sofort. Du bekommst alles, dass du nicht noch nachträglich nach etwas fragen muss. Sigi nutzt das Happy Hour Angebot, allerdings will keiner von uns Sekt. So nutzt sie das Angebot eben alleine. Warum kann man es nicht so machen: das 2. günstigere kostet 2,00 USD und man kann beliebig kombinieren?
Als ich das erste Mal in einer Bar bei Holland America auf der
EURODAM 2008
war, fiel mir die umfangreiche tolle Liste der alkoholfreien Getränke auf. Und heute steht nur "Coca Cola Soft Drinks" in der Karte? Das sind die Momente, die mir auf der Reise nicht zusagen.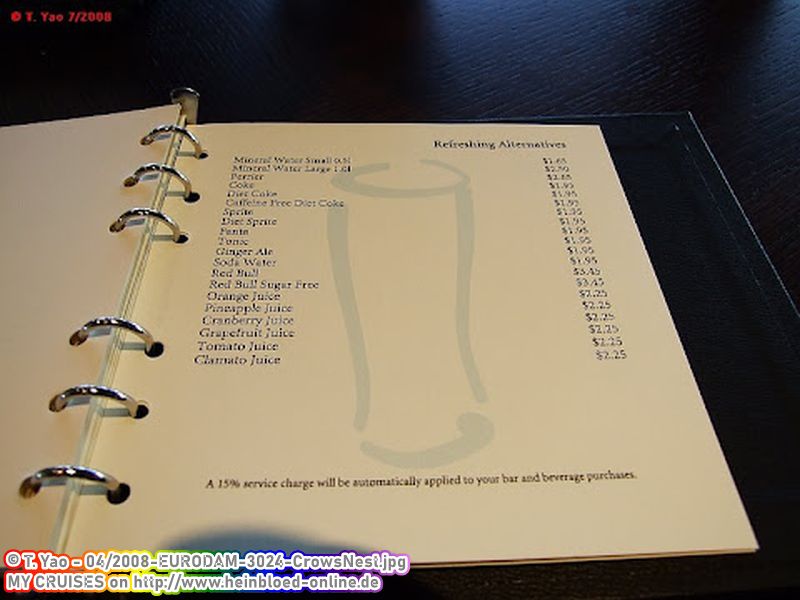 The first time I was in a bar at Holland America on EURODAM 2008, I noticed the extensive wide selection of soft drinks. And today only "Coca Cola Soft Drinks" was on the menu? These were the moments that I disliked on the journey.

Orange party. I personally thought the orange wigs were silly somehow. But I would not the big party-man anyway. It referred to King's Day in the Netherlands, which would be celebrated on April 27. Today was August 30. After a drink, I was gone again.

Orange Party. Ich finde die orangen Perücken persönlich irgendwie albern. Aber ich bin eh nicht der große Partygänger. Man bezieht sich dabei auf den Königstag in den Niederlanden, der am 27.04. gefeiert wird. Heute ist der 30.08.. Nach einem Drink bin ich wieder weg.
Ich kenne es eigentlich nur von der White Hot Party bei NCL. Einmalig habe ich mal kurz auf der
NORWEGIAN SKY 2015
mitgemacht, weil damals Hoteldirektor Jean-Michel die Entschuldigung nicht gelten ließ, dass wir nichts weißes dabei haben.

I only knew it from the White Hot Party at NCL. One time I took part in the NORWEGIAN SKY 2015 for a short time because, at that time, hotel manager Jean-Michel did not accept the apology that we had nothing white with us.

There was a similar event back then at the COSTA FAVOLOSA 2017. Only then did they make an effort to decorate appropriately.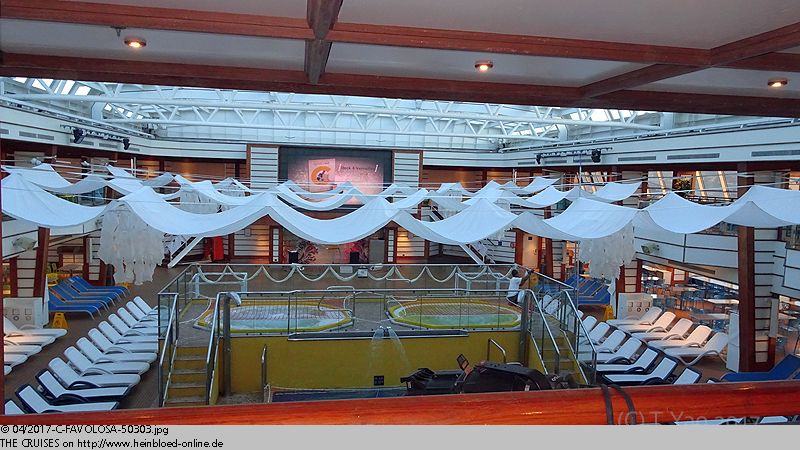 Eine ähnliche Veranstaltung gab es auch damals auf der
COSTA FAVOLOSA 2017
. Nur da haben sie sich bei der Dekoration richtig Mühe gegeben.
Eine White Night Party fand ich jedoch richtig gut und habe auch von der ersten bis zur letzten Minute mitgemacht: auf der
AZAMARA PURSUIT 2019
. Sie haben die richtige Atmosphäre geschaffen. Sie haben die richtige Musikauswahl getroffen. Sie haben es geschafft mich abzuholen und einzusammeln. Ich freue mich auf die nächste White Night Party auf der AZAMARA QUEST 2022 von Callao nach San Antonio.

However, I really enjoyed a White Night Party and also participated from the first to the last minute: on AZAMARA PURSUIT 2019. They created the right atmosphere. They had proper music selection. They managed to pick me up and collect me. I was looking forward to the next White Night Party on AZAMARA QUEST 2022 from Callao, Peru to San Antonio, Chile.
Die anderen Reisen in diesem Blog/
The other voyages in this blog: