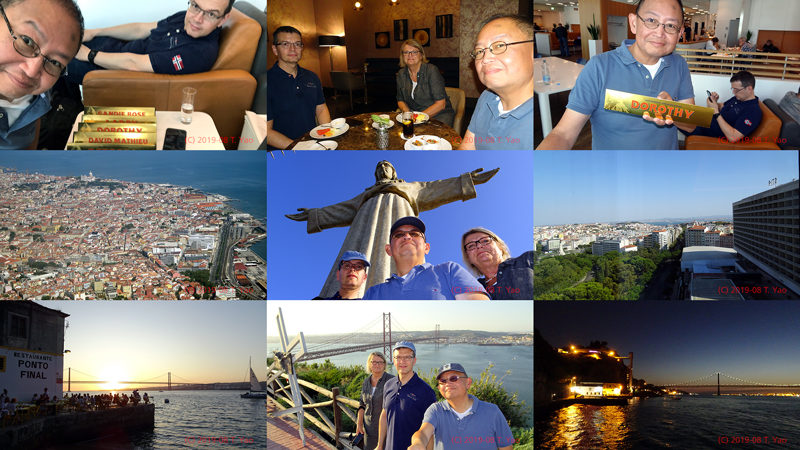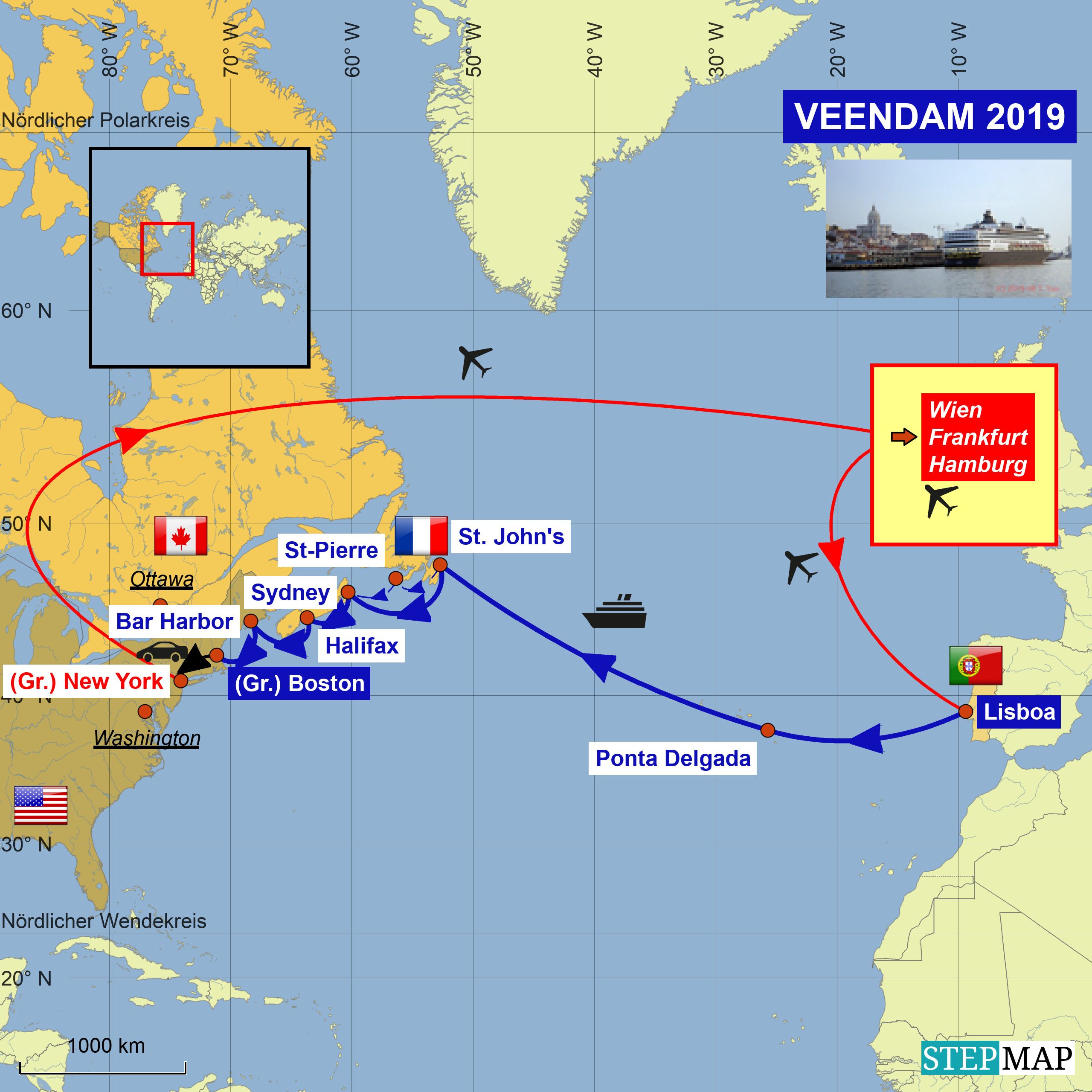 Nach der
Sicherheitskontrolle
im Terminal 1A am
Flughafen Frankfurt
muss man ja durch den
Duty Free Shop
. Dort werden personalisierte
Toblerone
-Schokolade angeboten. Für die Freunde, die wir im Laufe der Reise treffen, lasse ich die Hülle erstellen. Der Drucker ist so langsam, dass ich doch riskiere, den Flug zu verpassen.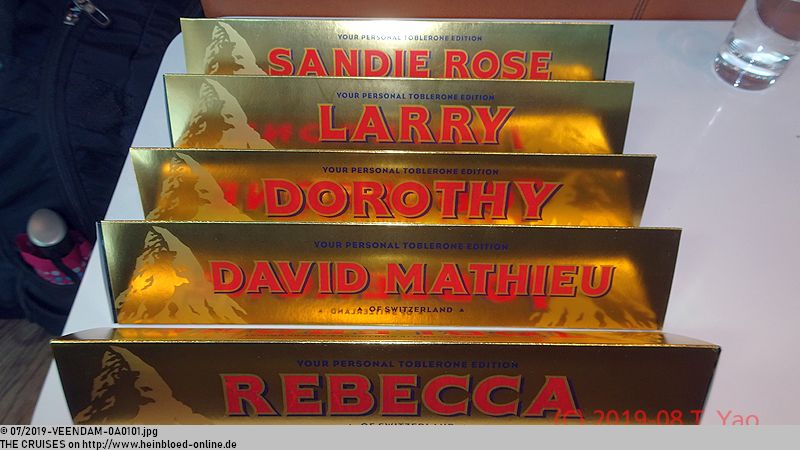 After the security check at Terminal 1A at Frankfurt airport, Germany you had to go through the Duty-Free Shop. They offered personalized Toblerone chocolate. For the friends we would meet in person on our journey, I had the cover created. The printer was so slow that I risked missing the flight.

In the Lufthansa Business Lounge, I showed Bruno my purchases.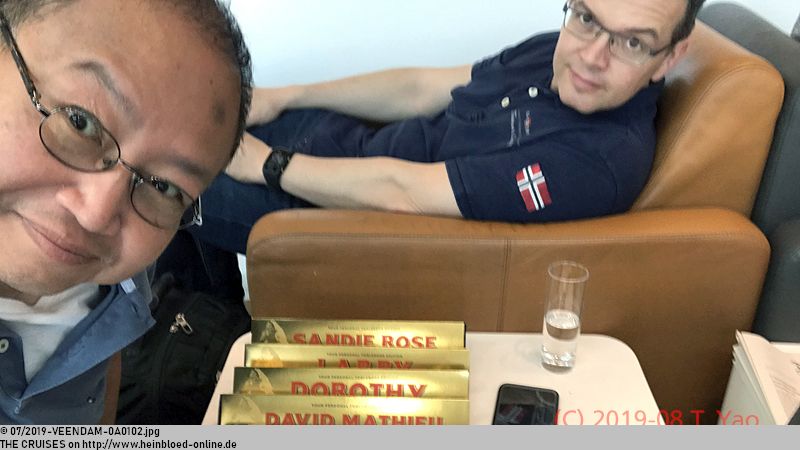 In der
Lufthansa Business Lounge
zeige ich Bruno meine Einkäufe.
Ob
Dorothy
von
Cruise Brothers
das bekommt, weiß ich noch nicht. Das ist doch eigentlich sehr praktisch: man kann die
Toblerone
-Packung diskret zum Friends of Dorothy Meeting mitnehmen und auf den Tisch aufstellen. So erkennen andere Schwule, dass wir zum Treffen gehören. Nur bei Cunard steht ja ein Schild da, damit man sich orientieren kann.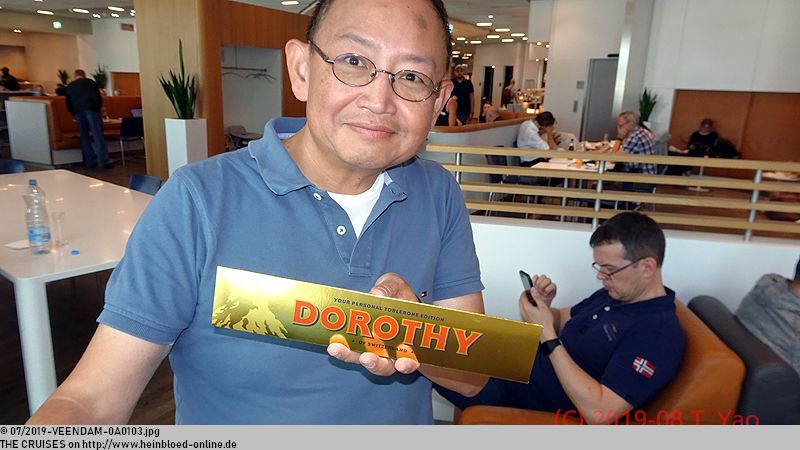 Whether Dorothy from Cruise Brothers would get that, I did not know yet. This would be actually very convenient: you could discreetly take the Toblerone pack with you to the Friends of Dorothy Meeting and could place it on the table. This would be how other gays could recognize that we would belong to the meeting. Only at Cunard, they had a sign, so that you could orientate yourself.

We used the Lufthansa Business Lounge for a while. I always had the impression that it was the trial kitchen of Unilever or Nestlé. Outside was a Boeing 747 in retro painting.

Wir nutzen noch ein wenig die
Lufthansa Business Lounge
. Ich habe irgendwie immer den Eindruck, dass es die Versuchsküche von
Unilever
oder
Nestlé
ist. Draußen steht eine Boeing 747 in Retro-Bemalung.
Ich buche meistens den preiswertesten Sparflug mit Gepäck und Sitzplatzreservierung:
Lufthansa Economy Classic
. Für 420,00 EUR pro Person bietet mir Lufthansa einen sicheren Platz in der
Business Class
an. Ich
biete
lieber! Das Minimum von 120,00 EUR pro Person. Es ist ein 3-Stunden-Flug. Da lohnt es sich schon. Mein
Gebot
wird akzeptiert. So können wir am
Business Class
Schalter das Gepäck aufgeben, aber die Freimenge erhöht sich nicht. Obwohl ein Koffer
über 23 kg
ist: ich muss wieder nichts
nachzahlen
. Ich lerne: schöne Augen machen oder sich auf blöd stellen, bringt nichts mehr! Mir wird erklärt, dass der Computer entscheidet, ob man zahlen muss oder nicht. Und offensichtlich sieht der Computer wohl, dass das eher die Ausnahme bei uns ist, dass wir
zu schwere
Koffer mitführen. Sehr ärgerlich: wir laufen ganz nach hinten im Bereich 1A plus, nach dem ständig der Ausgang geändert wird! Nur damit wir von hier in einen Bus einsteigen. Ich kann verstehen, dass wir ganz nach hinten laufen, um direkt ins Flugzeug einsteigen. Aber beim Bustransfer verstehe ich das nicht, dass man innerhalb des Terminals so weit laufen muss. Der Flug ist sehr angenehm.

I usually book the cheapest savings flight with luggage and seat reservation: Lufthansa Economy Classic. For 420.00 EUR per person, Lufthansa offered me a safe place in Business Class. I preferred to bid! The minimum of 120.00 EUR per person. It should be a 3-hours flight. It was worth it. My bid was accepted. So we could check-in the luggage at the Business Class counter, but the free amount of bags did not increase. Although a suitcase was more than 50 lbs.: No extra charge. I learned: making beautiful eyes or facing stupid would not be helpful! I was told that the computer decided whether you needed to pay or not. And obviously, the computer probably saw that this was more the exception with us, that we would carry overweight suitcases. Very annoying: we walked all the way back in the farthest terminal area 1A plus, after constantly changing the exit! Just to get on a bus from here. I could understand that we had to run all the way back to board the plane. But with the bus transfer, I could not understand that you had to walk so far within the terminal. The flight was enjoyable.

We had a beautiful view. Unfortunately, we could not see Christ the Redeemer Cristo Rei. Or we really flew right over it. I did not discover the Bridge of April 25 either.

Wir haben einen schönen Ausblick. Leider sehen wir nicht die
Christusstatue Cristo Rei
ein. Oder wir fliegen wirklich direkt darüber. Ich habe auch die
Brücke des 25.04.
nicht gesehen.
Wir haben Zeit. Nach der Ankunft in Lissabon gehen wir schnell noch bei
Delta Café
am
Flughafen
einen trinken. Den gab es auf dem Rückflug bei
TAP AirPortugal
von Alicante nach
Lissabon
und
Frankfurt
, als ich in Cartagena war, um die
NIEUW STATENDAM
zu fotografieren. Mir schmeckt er.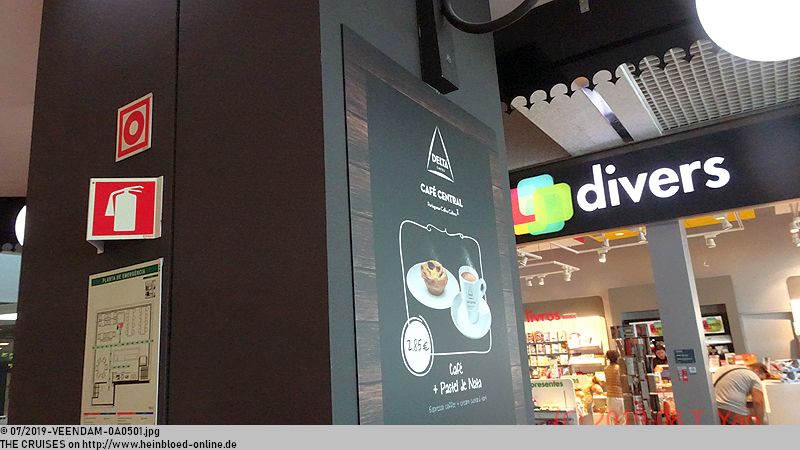 We had time. After arriving in Lisbon, Portugal, we quickly went for a coffee at Delta Café at the airport. I got it on the return flight with TAP AirPortugal from Alicante, Spain, to Lisbon and Frankfurt when I was in Cartagena to photograph the NIEUW STATENDAM. I liked it.

Here, they had Pastéis de Nata - but not Pastéis de Belém.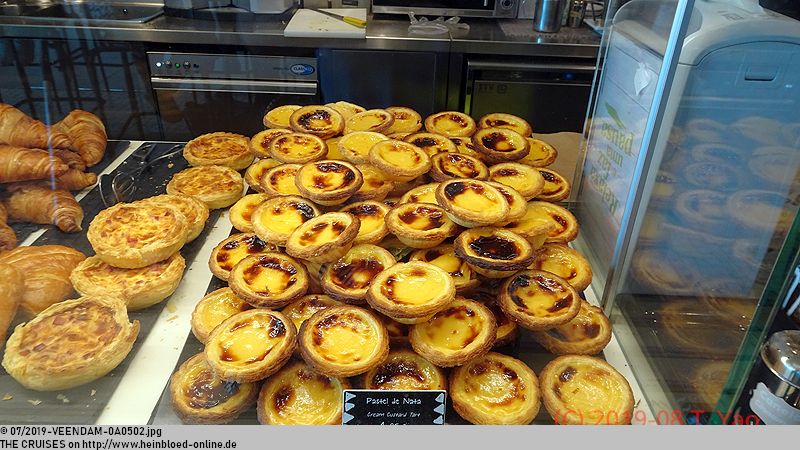 Hier gibt es auch schon Pastéis de Nata - eben nicht
Pastéis de Belém
.
Aber hier welche zu kaufen, und sie mit zum
Hotel
zu nehmen, wäre doch etwas übertrieben.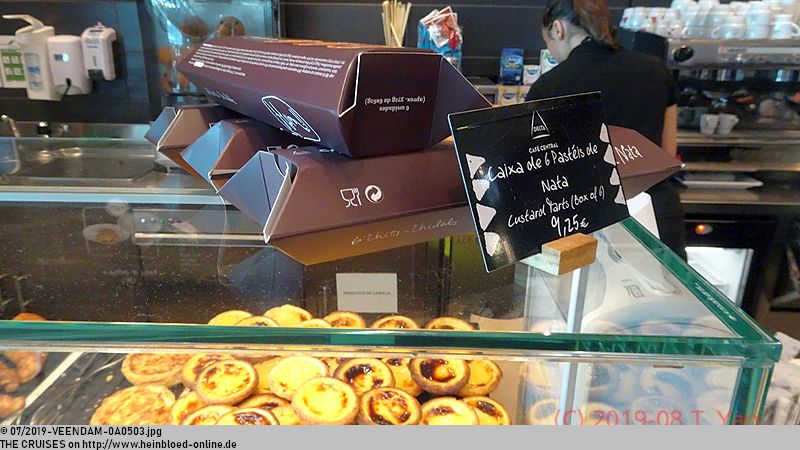 But to buy here some to take it to the hotel, would be exaggerated.

We hoped that our bags would arrive soon.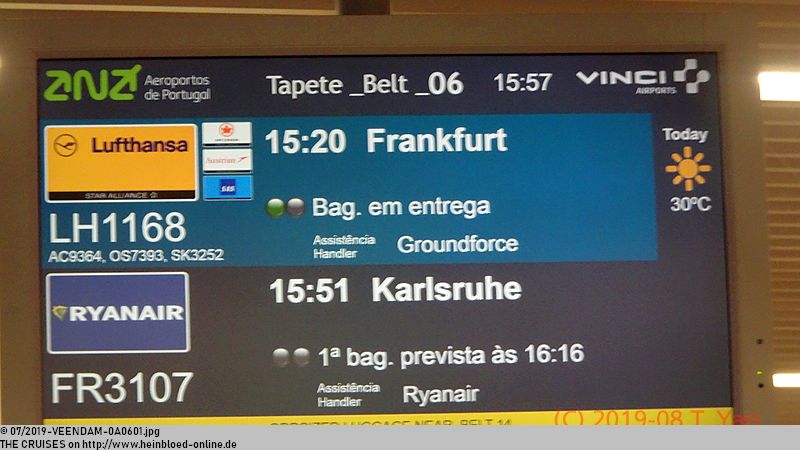 Unser Gepäck kommt hoffentlich bald.
Alles da.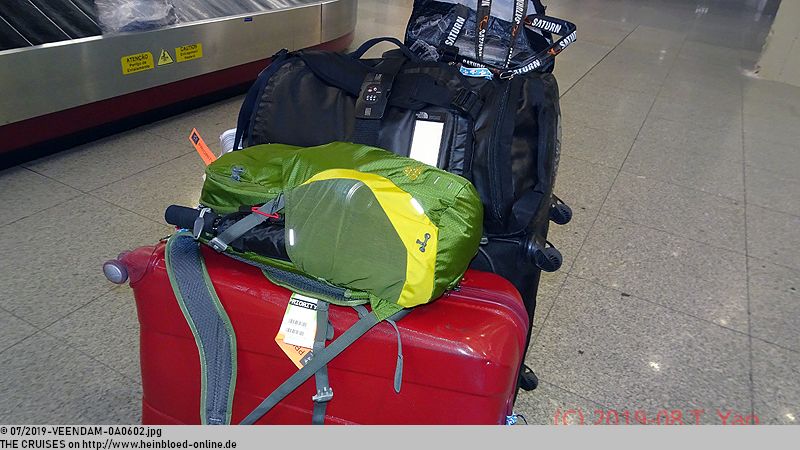 Everything made it.

Obviously, Sigi already landed.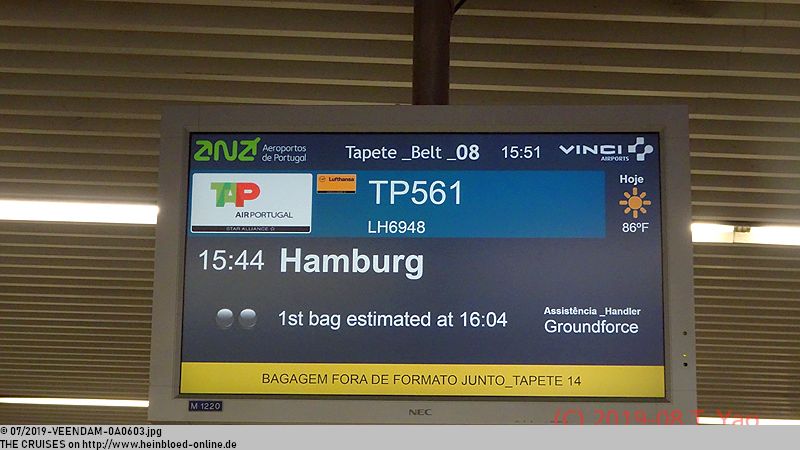 Sigi ist wohl auch schon gelandet.
Ich habe noch nicht mal Zeit schnell auf Toilette zu gehen. Die Toiletten werden hier renoviert und daher geschlossen sind. Ich muss längere Wege laufen. Als ich wieder zurück bin, hat Sigi schon Bruno gefunden. Mit
Uber XL
fahren wir zum
Hotel
.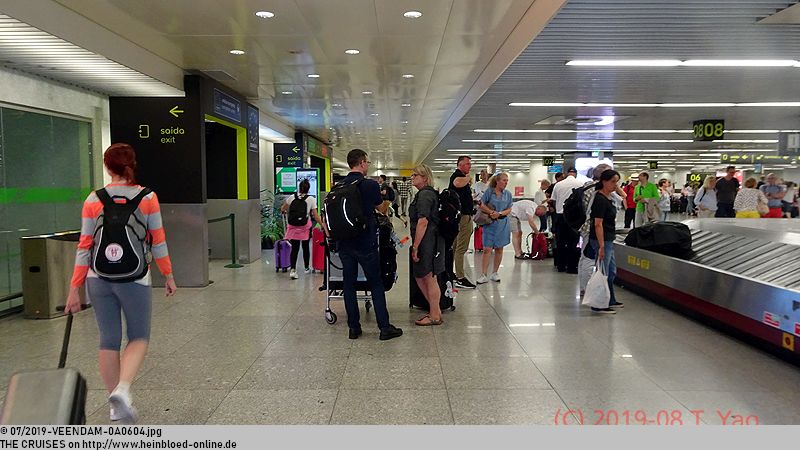 I did not even have time to go to the bathroom quickly. The toilets were renovated here and were therefore closed. I had to walk long distances. When I was back, Sigi found already Bruno. By Uber XL, we went to the hotel.

On the toilet, I greeted myself in the mirror.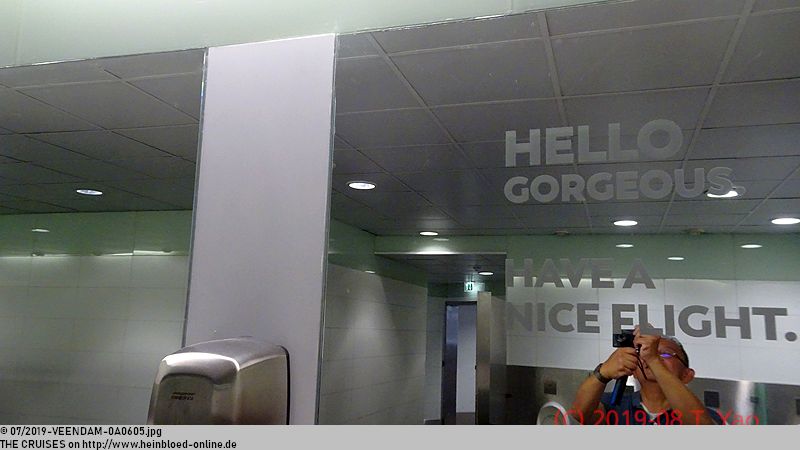 Auf der Toilette begrüße ich mich mal selbst im Spiegel: Hallo Schöner!
Meine Mitgliedschaft als
Ambassador im IHG Rewards Club
erlaubt mir ein Wochenende in einem
InterContinental
, bei dem ich eine Nacht bezahle und
eine Nacht kostenlos
bekomme. Das nutzen wir immer für sehr teure Hotels. So buchen haben wir eine Suite im
InterContinental Lissabon
gebucht, die direkt vor dem
Parque Eduardo VII de Inglaterra
. Es heißt auf Nachfrage, dass es zwei Badezimmer gibt. Aber es gibt nur ein Bad und eine Gäste-WC mit Waschbecken. So muss Sigi immer in unserem Badezimmer duschen. Aber das werden wir auch überleben. Früher haben wir es auch geschafft, wenn wir bei Freunden übernachtet haben. Man muss sich halt absprechen. Allerdings ist das Bad Teil unseres Schlafzimmers. Aus dem Wohnzimmer blicken direkt auf das
Ritz Four Seasons
und auf den Praça Marquês de Pombal.

My membership as an Ambassador at the IHG Rewards Club allowed me to spend a weekend in an InterContinental. I should pay one night and get one night for free. We always used this for costly hotels. We booked a suite at the InterContinental Lisbon, right in front of Parque Eduardo VII de Inglaterra. On request, I was told that there would be two bathrooms. But there was only one bathroom and a guest toilet with a sink. So Sigi always had to take a shower with our bathroom. But we would survive that too. We used to do it when we stayed with friends. You had to coordinate. However, the bathroom was part of our bedroom. The living room overlooked the Ritz Four Seasons and Praça Marquês de Pombal.

The suite met our requirements. I got a tram magnet as a welcome gift. There was even a kitchen in the suite. Somehow, they knew our preferences: we got a big bottle of still mineral water for us, and Sigi got a small bottle of carbonated mineral water. Perfect. From the room, we could even see the Christ the Redeemer Cristo Rei. Only the Ritz Four Seasons obscured our full view.

Die Suite genügt unseren Ansprüchen. Ich bekomme einen Straßenbahn-Magneten als Willkommensgeschenk. In der Suite gibt es sogar eine Küche. Irgendwie kennen sie unsere Präferenzen: wir bekommen eine große Flasche stilles Mineralwasser für uns und Sigi bekommt eine Flasche Mineralwasser mit Kohlensäure. Perfekt. Vom Zimmer aus können wir sogar die
Christusstatue Cristo Rei
sehen. Nur das
Ritz Four Seasons
verdeckt uns den vollständigen Blick.
Ein tolles Marmorbad.

A nice marble bathroom.

We booked a suite with access to Club InterContinental. So during the day, we were allowed to drink non-alcoholic in the lounge for free,having breakfast, getting snacks, tea time, and cocktail hour with complimentary alcoholic beverages. So we could have a few bites now. And here we got Pastéis de Nata again. Just before going to bed, we came back. Since we were already off the cocktail hour, the wine was charged initially. Since it only stayed with a glass of wine, it was taken off the bill later.

Wir haben eine Suite mit Zugang zum
Club InterContinental
gebucht. So dürfen wir tagsüber in der
Lounge
kostenlos alkoholfreie Getränke trinken, frühstücken, Snacks holen, Tee-Time und Cocktail-Stunde mit kostenlosen alkoholischen Getränken genießen
. So können wir jetzt ein paar Kleinigkeiten essen. Und hier bekommen wir wieder Pastéis de Nata. Kurz vor dem zu Bett gehen, kommen wir nochmals wieder. Da wir schon außerhalb
Cocktailstunde
sind, wird der Wein berechnet. Da es aber nur bei einem Glas Wein bleibt, wird er später von der Rechnung genommen.
Mit
Uber
fahren wir über die
Brücke des 25.04.
zur
Christusstatue Cristo Rei
. Da es draußen 30°C und strahlender Sonnenschein ist, fahren alle zur Algarveküste und wir stehen im Stau. Daher dauert es etwas länger, bis dass wir da sind. Die Schlange ist so kurz, dass wir sofort nach oben fahren und die Aussicht von oben genießen.

With Uber we went over the Bridge of April 25 to Christ the Redeemer Cristo Rei. As it was 86° F outside and the sun was shining, everyone headed to the Algarve coast, and we were stuck in traffic. Therefore, it took a bit longer for us to be there. The queue was so short that we immediately went up and enjoyed the view from the top.

By TSL bus 101, we got to Almada. No sooner were we from Germany away from the Deutsche Bahn (German Railways DB), we were already retaken by them: Arriva was a subsidiary of Deutsche Bahn.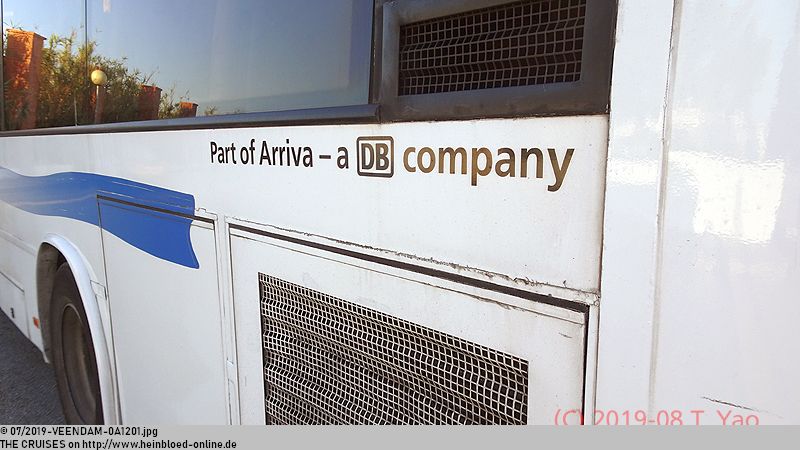 Mit
TSL-Bus 101
fahren wir nach Almada. Kaum sind wir aus Deutschland weg von der
Deutschen Bahn
, schon werden wir wieder von ihr gefahren:
Arriva
ist eine Tochter der
Deutschen Bahn
.
Wir laufen von der Ortsmitte zur Uferpromenade. Entlang des Ufers gibt es viele Bars, Restaurants und auch ein Park, in dem wir das Ende eines Konzertes mitbekommen. Wir nutzen die Treppe statt bequem mit dem Aufzug zu fahren.

We walked from the town center to the waterfront. Along the shore, there were many bars and restaurants. And also, there was a park where we could hear the end of a concert. We used the stairs instead of comfortably using the elevator.

At Ponto Final, we could have the last table in the restaurant, when we arrived around 19:00 hrs or should wait for a table outside until 22:00 hrs. We stayed and went out from time to time to see the sunset. The food was fantastic.

Bei Ponto Final können wir bei Ankunft gegen 19:00 Uhr den letzten Tisch im Restaurant haben oder bis 22:00 Uhr auf einen Tisch draußen warten. Wir bleiben und gehen von Zeit zu Zeit raus, um den Sonnenuntergang zu sehen. Das Essen ist fantastisch.
Wir laufen im Dunkeln zum
Fährterminal Cacilhas
. Man braucht schon eine Taschenlampe. Mit der
TTSL-Fähre fahren wir nach Cais do Sodré
. Die
Einzelkarte
kostet 1,30 EUR (2019). Wir nehmen ein Taxi zurück zum
InterContinental
, weil wir alle müde sind und nicht auf
Uber
warten wollen. Morgen geht es wieder früh raus.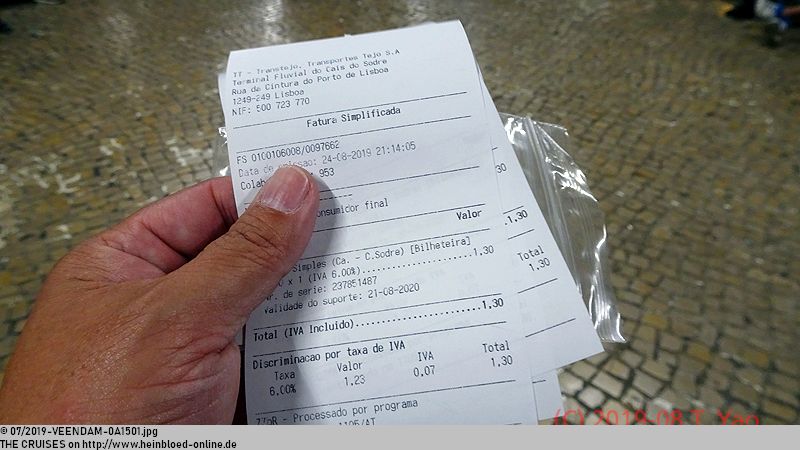 We walked in the dark to the ferry terminal Cacilhas. You already needed a flashlight. We took the TTSL ferry to Cais do Sodré. The single ticket cost 1.30 EUR (2019). We took a taxi back to InterContinental because we were all tired and did not want to wait for Uber. Tomorrow would be an early start again.
Die anderen Reisen in diesem Blog/
The other voyages in this blog: