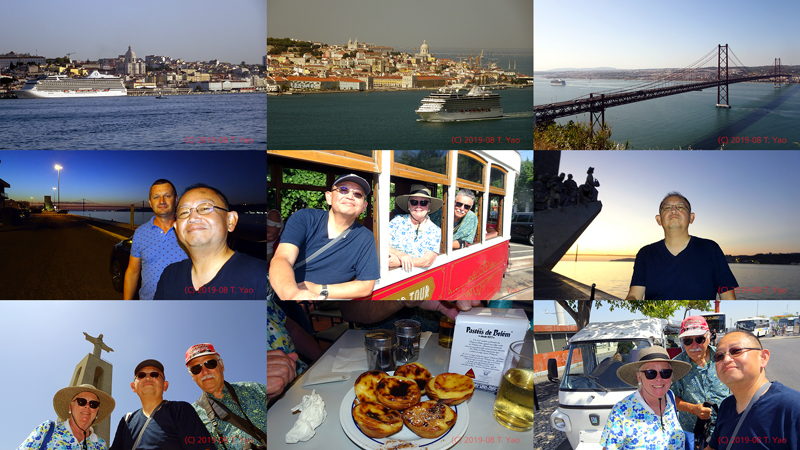 05:00 Uhr morgens ist die perfekte Zeit, um eine Stadt, wie Lissabon, zu besichtigen. Mein Fahrer Igor spricht kein Englisch und ich kein Ukrainisch oder Portugiesisch. Trotzdem erlebe ich mit ihm den perfekten Morgen. Zunächst halten wir an der
Basílica da Estrela (Real Basílica e Convento do Santíssimo Coração de Jesus)
. Danach geht es an aktueller Straßenkunst vorbei: mit Kim Jong-Un, Donald Trump und Vladimir Putin. Weiter geht es nach Belém: zum
Jerónimos-Kloster
, zum
Turm von Belém
, zum Fliegerdenkmal
Monument Gago Coutinho e Sacadura Cabral
, zum Leuchtturm von Belém und zum Seefahrer- und Entdeckerdenkmal
Padrão dos Descobrimentos
. Von hier habe ich einen schönen Blick auf die
Christusstatue Cristo Rei
und
Brücke des 25.04.
(= Datum der Nelkenrevolution 1974 = Ende der Diktatur). Besonders schön: ein wunderschöner Sonnenaufgang über Lissabon.

05:00 hrs in the morning was the perfect time to browse a city, such as Lisbon, Portugal. My driver Igor did not speak English, and I did not speak Ukrainian or Portuguese. Nevertheless, I experienced a perfect morning. First, we stopped at the Basílica da Estrela (Real Basílica e Convento do Santíssimo Coração de Jesus). After that, we saw contemporary street art: with Kim Jong-Un, Donald Trump, and Vladimir Putin. Continue to Belém: to the Jerónimos Monastery, to the Belém Tower, to the aviation Monument Gago Coutinho e Sacadura Cabral, to the lighthouse of Belém and to the seafaring and discovery Monument Padrão dos Descobrimentos. From here, I had a beautiful view of Christ the Redeemer Cristo Rei and Bridge of April 25 (= Date of the carnation revolution 1974 = end of the dictatorship). Especially gorgeous: a beautiful sunrise over Lisbon.

Here she came: RIVIERA. Everything was sleeping. Hardly anyone on the open deck to experience this dreamlike entry into Lisbon. Our non-existent relationship with Oceania was not good. It was not their responsibility from not going to Cuba. We were booked for January 2020. We did not like the new itinerary. Alternatives for staying with Oceania were not offered. Their motto: eat or die. Our slogan too! After our trip on AZAMARA PURSUIT 2019, we felt very comfortable there and already booked for 2022 a South America trip. We would like to see SIRENA again. We thought back to our voyages when she sailed as OCEAN PRINCESS 2010 and OCEAN PRINCESS 2015.

Da kommt sie: RIVIERA. Alles schläft. Kaum jemand auf dem offenen Deck, um diese traumhafte Einfahrt in Lissabon zu erleben. Unser nicht-existierende Verhältnis mit Oceania ist ja nicht gut. Sie können nichts dafür, dass sie nicht mehr nach Kuba fahren dürfen. Wir wären für Januar 2020 dafür gebucht. Die neue Route gefällt uns nicht. Alternativen, damit wir bei Oceania bleiben, werden nicht angeboten. Ihr Motto: Friss oder stirb. Unser Motto auch! Nach unserer Reise auf der
AZAMARA PURSUIT 2019
fühlen wir uns ja dort sehr wohl und haben ja bereits für 2022 eine Südamerika-Reise gebucht. Wir hätten gerne SIRENA wiedergesehen. An die Reisen als
OCEAN PRINCESS 2010
und
OCEAN PRINCESS 2015
denken wir gerne zurück.
Die RIVIERA fährt sehr schnell rein. Die Fahrt auf die
Brücke des 25.04.
ist so kompliziert, dass ich keine Chance habe, weitere Bilder von der Almada-Seite auf dem gegenüberliegenden Ufer mit der Lissaboner Altstadt als Hintergrund zu machen. Um die RIVIERA am
Lisbon Cruise Port
fotografieren zu können, muss ich zum
Fähranleger Terreiro do Paço
. Aber hier fährt nur die
TTSL-Schnellfähre ab Barreiro
.
Barreiro
liegt jedoch auf der anderen Seite der Bucht und daher dauert es sehr lange, bis dass ich da bin. Dort erklärt man mir, dass meine
24-Stunden-Karte
nur auf der
TTSL-Fähre nach Cacilhas
gilt. Für 2,45 EUR (2019) muss ich eine neue
Einzelkarte
kaufen und bekomme eine neue
Viva Viagem-Trägerkarte
.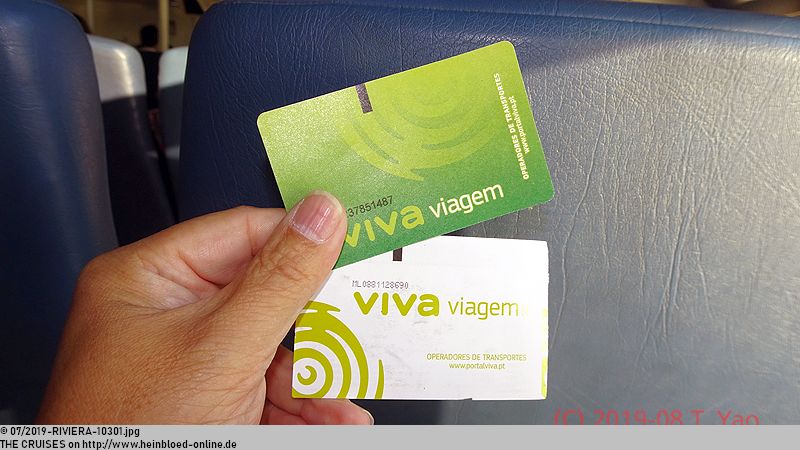 The RIVIERA came in very quickly. The passage on the Bridge of April 25 is so complicated that I had no chance to make more images on the Almada side on the opposite shore with the Lisbon old town as a background. To photograph RIVIERA at the Lisbon Cruise Port, I had to go to the ferry terminal Terreiro do Paço. But to get here, only the TTSL-fast ferry would leave from Barreiro. However, Barreiro was on the other side of the bay, and so it took a long time to get there. There I was told that my 24-hour pass would be valid only on the TTSL-ferry to Cacilhas. For 2.45 EUR (2019), I had to buy a new single ticket and got a new Viva Viagem carrier card.

The ride was on speed ferry boats.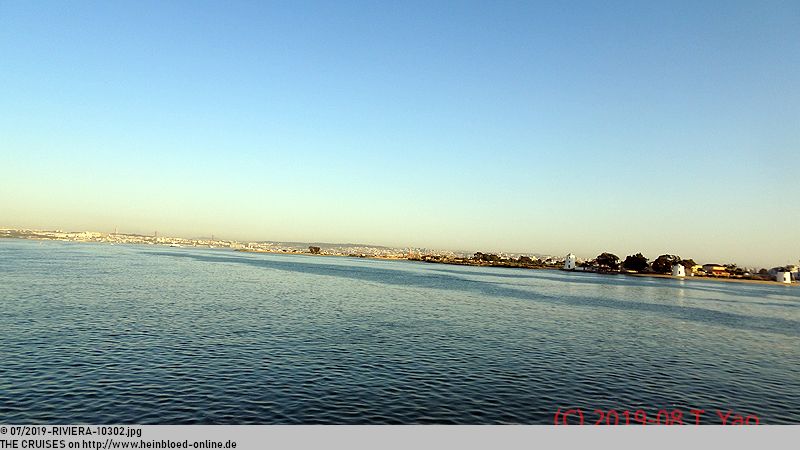 Die Fahrt erfolgt in Schnellbooten.
Leider nur mit sehr kleinen Fenstern.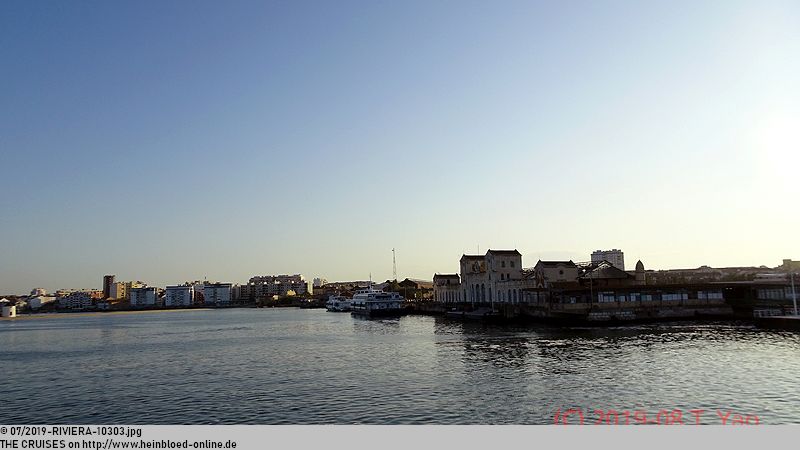 Unfortunately, only with small windows.

The ride was charming.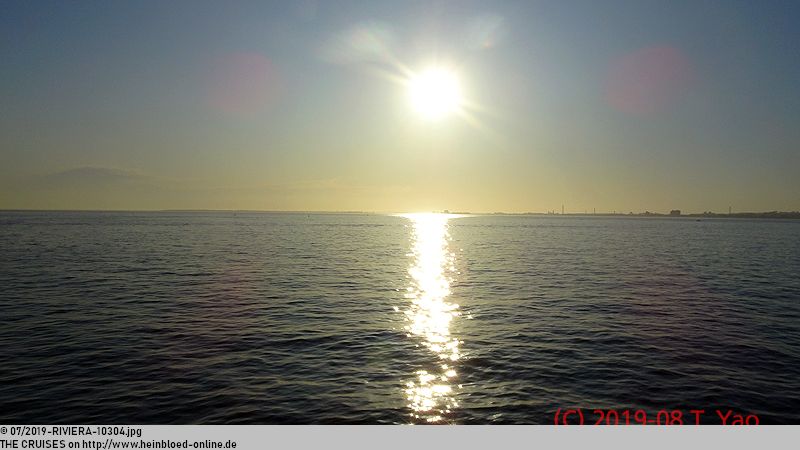 Die Fahrt ist sehr schön.
Bald sind wir auch vor der Lissaboner Altstadt angekommen.

Soon, we arrived in front of the old town of Lisbon.

If you found a suitable window, which you could open, it was possible to take such pictures of RIVIERA at Lisbon Cruise Port in front of Alfama.

Wenn man ein passendes Fenster findet, das sich öffnen lässt, sind Aufnahmen der RIVIERA am
Lisbon Cruise Port
vor dem Hintergrund der Alfama möglich.
NORWEGIAN JADE 2011 (1)
, Frankfurt, Wien,
QUANTUM OF THE SEAS 2014
und
Lübeck
sind die Stationen, auf denen sich die Wege von Linda und Wayne aus den USA, mit unseren gekreuzt haben. Deswegen passt es auch, dass der vierte Koffer für unsere VEENDAM-Reise hierher musste und ich sie gleichzeitig in Lissabon treffen kann. Meine Eltern und meine Tante wurden damals nach unserer
QUANTUM OF THE SEAS 2014
-Reise herzlich bei denen zu Hause aufgenommen - obwohl sie sich vorher noch nie begegnet sind. So komme ich gerne zum
Lisbon Cruise Port
, um sie abzuholen. Sie bekommen ein paar Kleinigkeiten aus Basel. Und ich bekomme wieder etwas ihrem Garten: Pflaumenmus. Leider wird mir das später am
Flughafen
abgenommen, weil ich ohne Aufgabegepäck reise. Mehr als 100 ml. Schade. Ein Grund mehr, wieder in North Carolina vorbeizufahren.

NORWEGIAN JADE 2011 (1), Frankfurt, Germany, Vienna, Austria, QUANTUM OF THE SEAS 2014, and Lübeck, Germany were the stations where the paths of Linda and Wayne from NC crossed with ours. That was why it fitted that the fourth suitcase had to come here for our VEENDAM trip and that I could meet them in Lisbon at the same time. My parents and aunt were warmly welcomed to their homes after our QUANTUM OF THE SEAS 2014 trip. Even though they have never met before. So I liked to come to Lisbon Cruise Port to pick them up. They got a few little things from Basle, Switzerland. And I got something back to her garden: plum jam. Unfortunately, this was taken from me later at the airport because I travel without checked baggage. More than 3 fl. oz.. Pity. One more reason to return to North Carolina.

From Santa Apolónia subway station, we went to Terreiro do Paço. Here there was an escalator that even overcame a landing.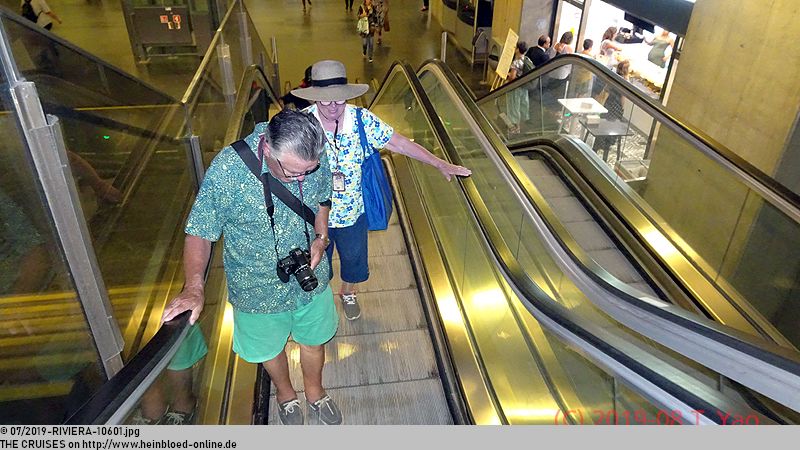 Vom U-Bahnhof Santa Apolónia fahren wir bis Terreiro do Paço. Hier gibt es eine Rolltreppe, die sogar einen Treppenabsatz überwindet.
Am Praça do Comércio nutzt Wayne die Gelegenheit zum Fotografieren. Ich auch.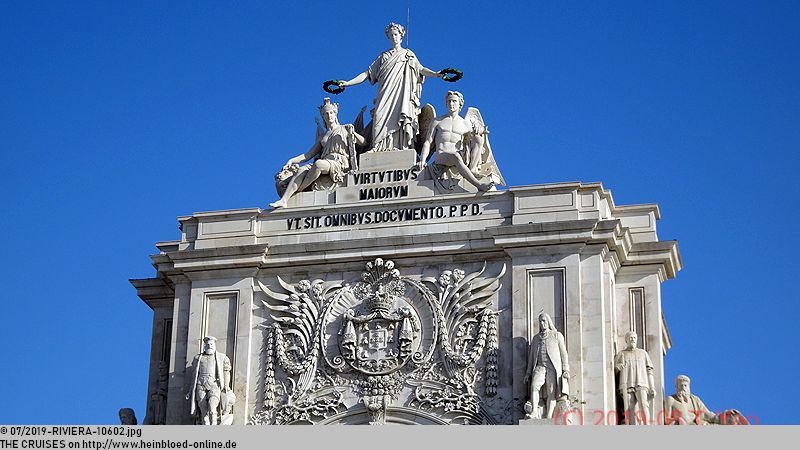 At Praça do Comércio, Wayne took the opportunity to take pictures. Me too.

Linda and I walked already to the tram stop of Hills Tramcar Tour of Yellow Bus Tours.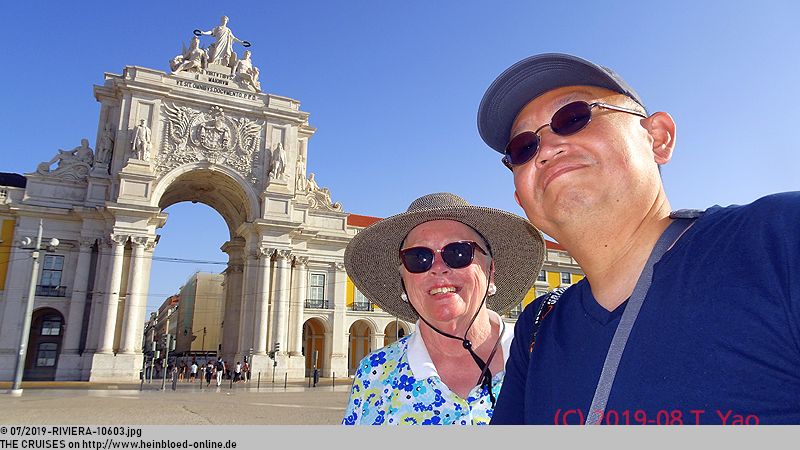 Linda und ich laufen schon zur Straßenbahnhalte der
Hills Tramcar Tour
von
Yellow Bus Tours
.
Ich habe Glück: meine
24-Stunden-Karte
von gestern gilt noch. Auch Linda und Wayne genießen die Fahrt. An der
Basílica da Estrela (Real Basílica e Convento do Santíssimo Coração de Jesus)
steigen wir aus. Den Rückweg zurück Praça do Comércio fand ich gestern etwas langweilig und es ist der westlichste Punkt der Tour. Von hier nehmen wir ein Taxi.

I was lucky: my 24-hour pass from yesterday was still valid. Also, Linda and Wayne enjoyed the ride. At the Basílica da Estrela (Real Basílica e Convento do Santíssimo Coração de Jesus), we got off. The way back back to Praça do Comércio was a bit bored yesterday, and it was the Westernmost point of the tour. From here we took a taxi.

After a few minutes, we arrived in Belém. Through the side entrance, we entered Pastéis de Belém. Here we quickly found a table in the back area. Only the queue before the sales counter was endless. I knew that from our trip on KONINGSDAM 2016. Here I could finally catch up on my breakfast. Linda and Wayne enjoyed the Pastéis de Belém and could watch a bit of their production.

Nach wenigen Minuten sind wir in Belém. Durch den Seiteneingang geht es zu
Pastéis de Belém
. Hier finden wir schnell im hinteren Bereich einen Tisch. Nur die Schlange vor dem Verkauf ist endlos. Ich kannte das ja von unserer Fahrt auf der
KONINGSDAM 2016
. Hier kann ich endlich mein Frühstück nachholen. Linda und Wayne genießen die Pastéis de Belém und können ein wenig bei der
Produktion
zusehen.
Wir laufen ein paar Schritte weiter bis zum
Jerónimos-Kloster
, damit Wayne noch ein wenig fotografieren kann.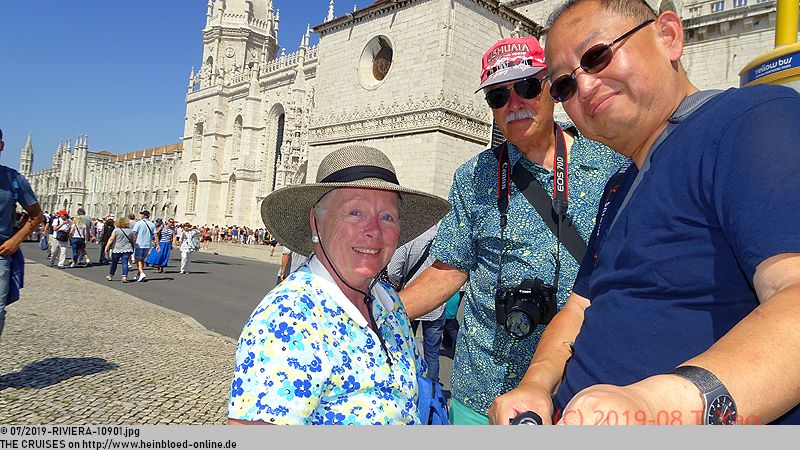 We walked a few steps to the Jerónimos Monastery so that Wayne could still take some photos.

In the light, I went again to the seafarer and explorer monument Padrão dos Descobrimentos.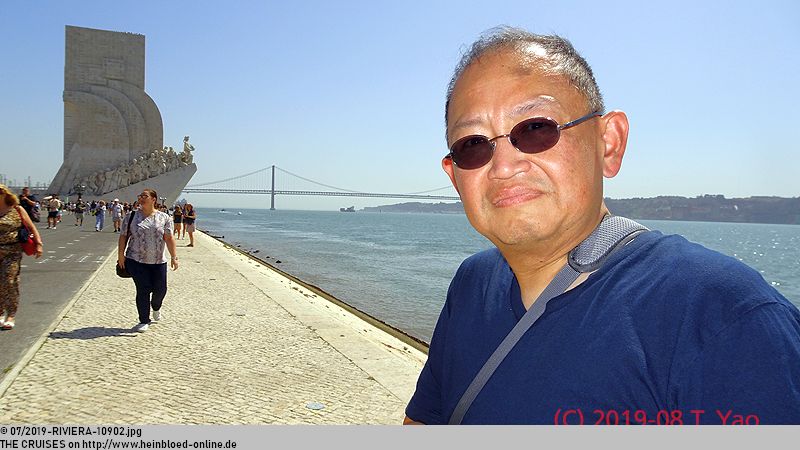 Im Hellen geht es jetzt nochmals zum Seefahrer- und Entdeckerdenkmal
Padrão dos Descobrimentos
.
Nun sind auf einmal so viele Menschen hier.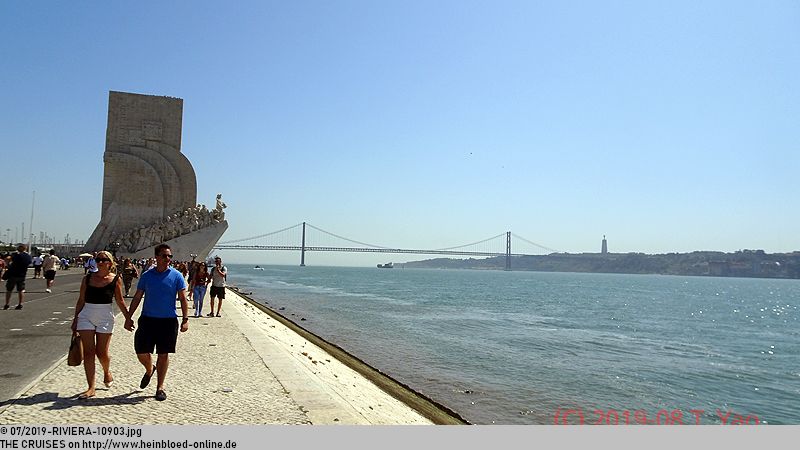 Now, there were so many men around.

Where were all the tourist coming from?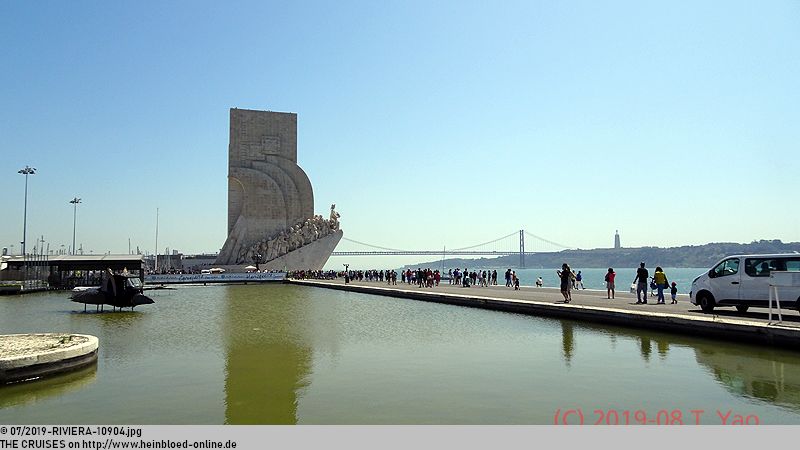 Wo kommen nur die ganzen Touristen auf einmal her?
Vom Tejo-Ufer kann man rüber zum
Jerónimos-Kloster
gucken. Aber die die
CP-Vorort-Bahnlinie
nach Cascais liegt dazwischen.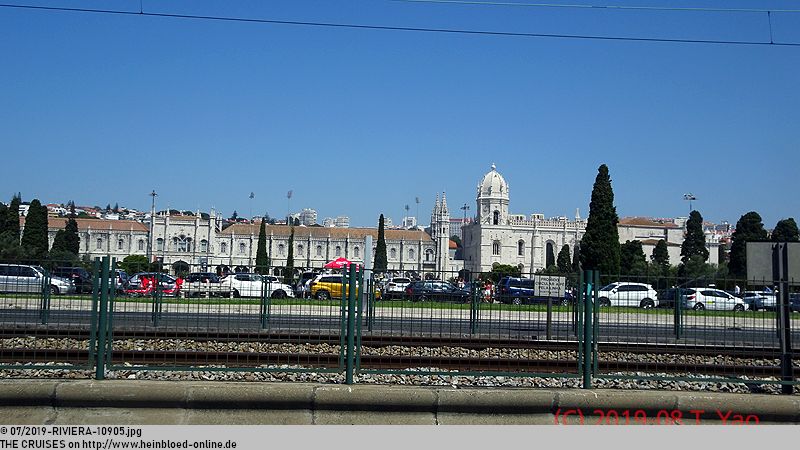 From the Tagus riverbank you could look over to the Jerónimos Monastery. But the CP suburban rail line to Cascais was in between.

We went to Christ the Redeemer Cristo Rei. We renounced the ascent.

Wir fahren wieder zur
Christusstatue Cristo Rei
. Auf den Aufstieg verzichten wir.
Mit einem Tuk-Tuk fahren wir zum
Fähranleger Cacilhas
. Für Linda und Wayne ist es das erste Mal. Wir hatten das Vergnügen schon bei unserer Fahrt auf der
KONINGSDAM 2016
.

With a tuk-tuk we went to the ferry dock Cacilhas. This was the first time for Linda and Wayne. We had the pleasure of already during our trip on KONINGSDAM 2016.

Everywhere, there were freshly grilled sardines. But it was correspondingly smoky there. We found the restaurant Sabores do Tejo around the ferry terminal Cacilhas. There was no sardine grill in front of the restaurant, so we were not smoked here.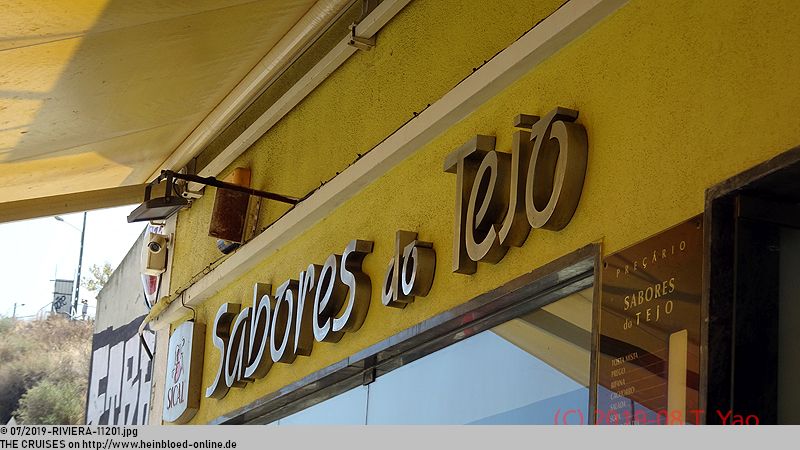 Überall gibt es frisch gegrillte Sardinen. Aber dort ist es entsprechend verraucht. Wir finden rund um den
Fähranleger Cacilhas
das Lokal Sabores do Tejo. Hier gibt es keinen Sardinen-Grill vor dem Lokal, so dass wir hier nicht zugeräuchert werden.
Wir probieren eine Spezialität aus Porto: Bifana.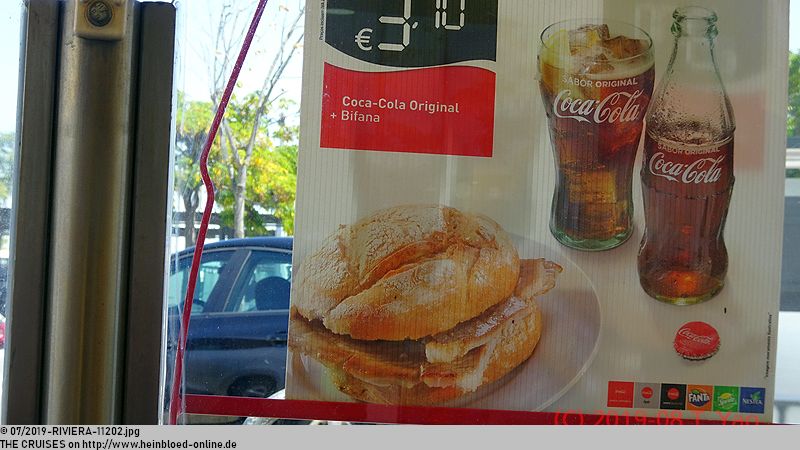 We tried a specialty from Porto: Bifana.

Schnitzel/Escalope sandwich. But the Schnitzel with Figlmüller in Vienna was much better. There, we went for dinner with Linda and Wayne.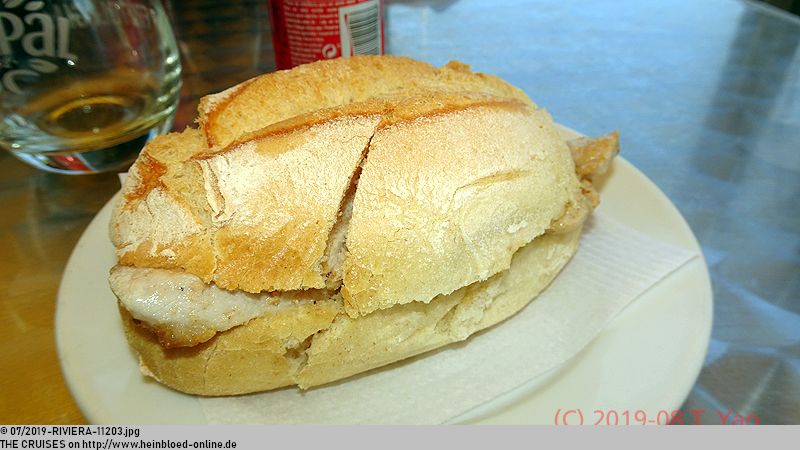 Schnitzelbrötchen. Aber die Schnitzel bei
Figlmüller in Wien
sind doch besser. Dort waren wir ja gemeinsam mit Linda und Wayne dort essen.
Das ganze Brötchen bekomme ich nicht auf. Wayne hat das Segelschiff
FRAGATA D. FERNANDO II E GLÓRIA
entdeckt und ist dort fotografieren, während wir essen.

I could not get the whole bun. Wayne discovered the tall ship FRAGATA D. FERNANDO II E GLÓRIA and was there photographing while we were eating.

We took the TTSL-ferry from Cacilhas to Cais do Sodré. From here, we took bus 728 towards Portela. A friendly gentleman offered Linda a seat next to her and made her get off at the correct stop: five stops to the customs office Alfândega (Cruzeiros terminal). Here you were directly in front of the new cruise terminal Lisbon Cruise Port.

Mit der
TTSL-Fähre fahren wir von Cacilhas nach Cais do Sodré
. Von hier nehmen wir
Bus 728 Richtung Portela
. Ein freundlicher Herr bietet Linda einen Platz neben sich an und sorgt dafür, dass sie an der richtigen Haltestelle aussteigt: fünf Haltestellen bis zur Zollverwaltung Alfândega (Terminal Cruzeiros). Hier steht man direkt vor dem neuen Kreuzfahrtterminal
Lisbon Cruise Port
.
Auf dem Umgebungsplan ist das neue Kreuzfahrtterminal
Lisbon Cruise Port
noch nicht eingezeichnet. Hier sind sie noch Parkplätze ausgewiesen. Man kann sich noch an die Bezeichnung Jardim do Tabaco orientieren. Hier verabschiede ich mich von Linda und Wayne.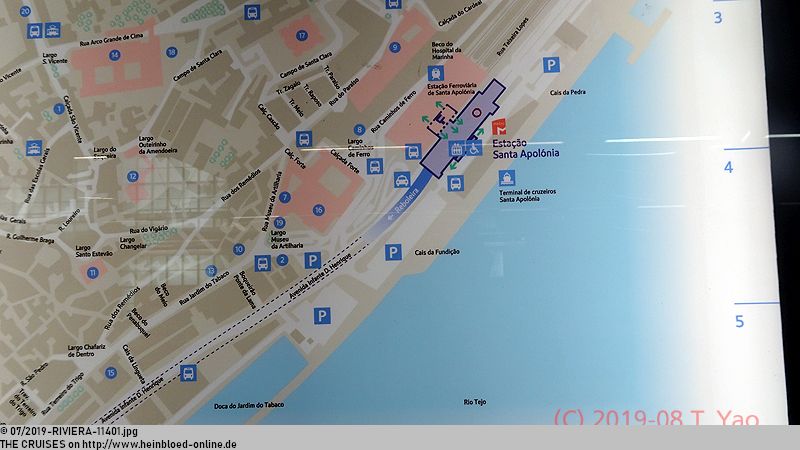 The new cruise terminal Lisbon Cruise Port was not yet added to the map. Here they were still parking indicated. You could still orientate on the name Jardim do Tabaco. Here, I said goodbye to Linda and Wayne.

I went on the blue line by subway back to my hotel Holiday Inn Express Av. Liberdade from Santa Apolónia.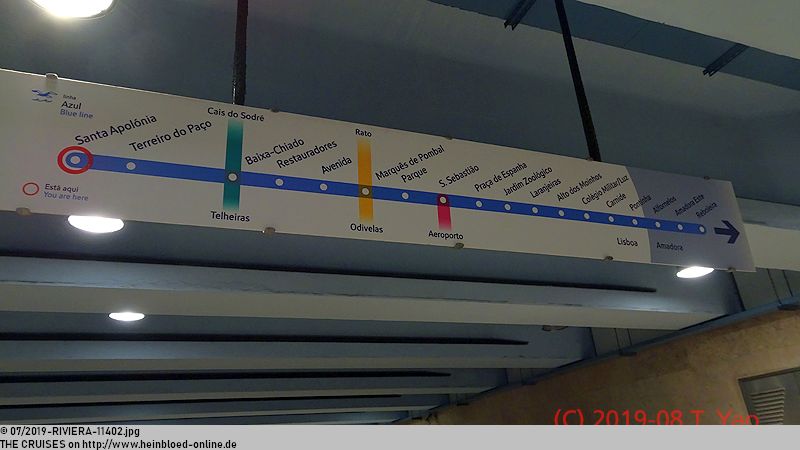 Ich fahre ab Santa Apolónia mit der
blauen Linie
der
U-Bahn
zurück zum
Hotel Holiday Inn Express Av. Liberdade
.
Schade, dass sie nicht statt des Neubaus, das alte
Kreuzfahrtterminal Santa Apolónia
ausgebaut haben. Die Lage über dem
U-Bahn
hof ist schon sehr praktisch.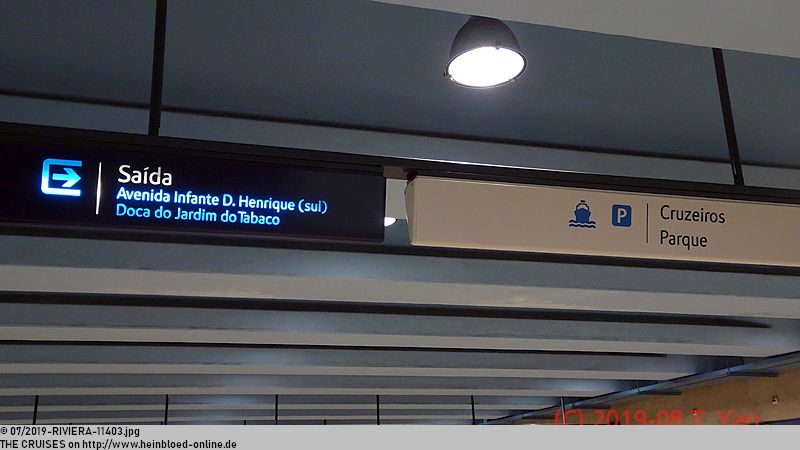 Too bad that they did not replace the new building by refurbishing the old cruise terminal Santa Apolónia. The location above the subway was very convenient.

At least an escalator or an elevator would be helpful to all cruisers. So you had to lift up in the elevator to the Santa Apolónia station and across the street again.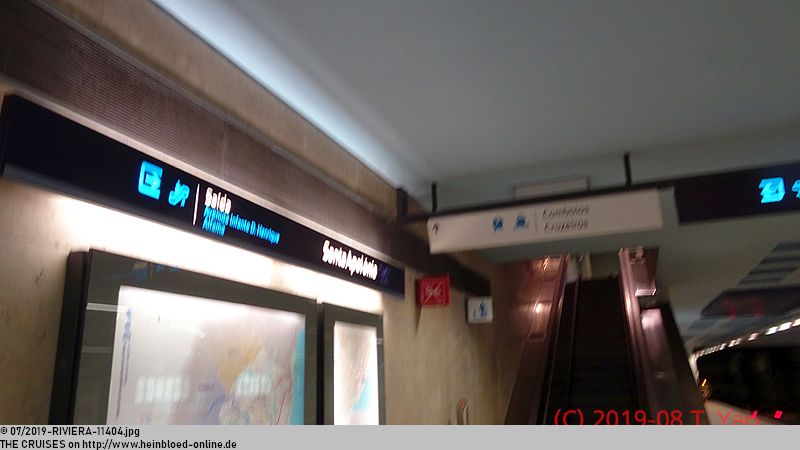 Zumindest eine Rolltreppe oder ein Fahrstuhl wäre hilfreich für alle Kreuzfahrer. So muss man gegenüber im Fahrstuhl zum
Bahnhof Santa Apolónia
hochfahren und wieder über die Straße rüber.
Zum dritten Mal geht es zur
Christusstatue Cristo Rei
. Von der Parkanlage verfolge ich die Ausfahrt der RIVIERA. Und ich kann Linda und Wayne auf dem offenen Deck sehen.

For the third time I was going to Christ the Redeemer Cristo Rei. From the park, I followed the set sail of RIVIERA. And I could see Linda and Wayne on the open deck.

This time, I managed to take the TST bus 101 to the ferry terminal Cacilhas.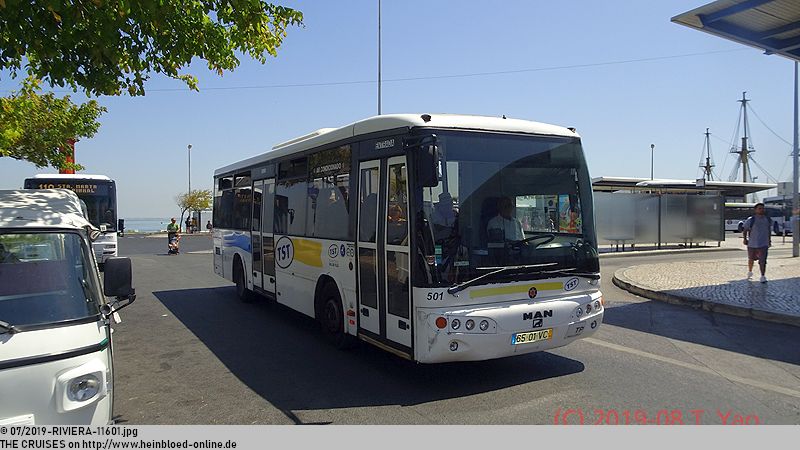 Dieses Mal schaffe ich es mit dem
TST-Bus 101
zum
Fährterminal Cacilhas
zu fahren.
Auch hier gibt es eine Schlange.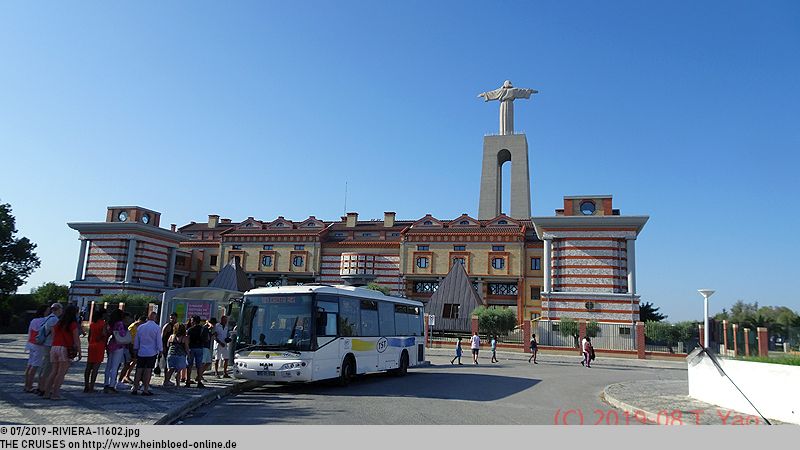 But here was a queue too.

Only a midibus was running. So the bus was relatively full.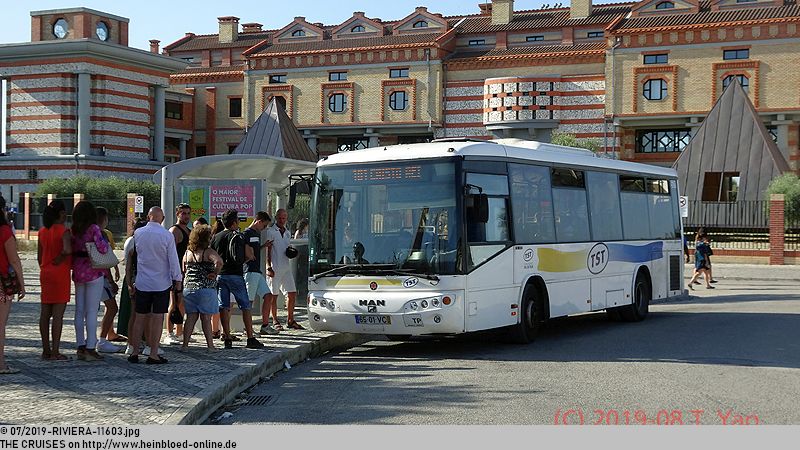 Es fährt nur ein Midibus. Daher ist der Bus recht voll.
Ich orientiere mich schon mal für das nächste Mal.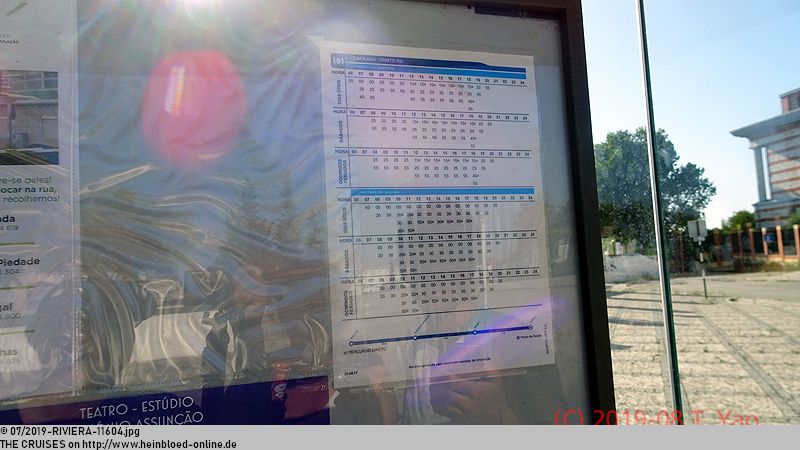 I needed some orientation for the next time.

The crooked sum of 1.45 EUR (2019) for a single ticket in cash at the driver cost time.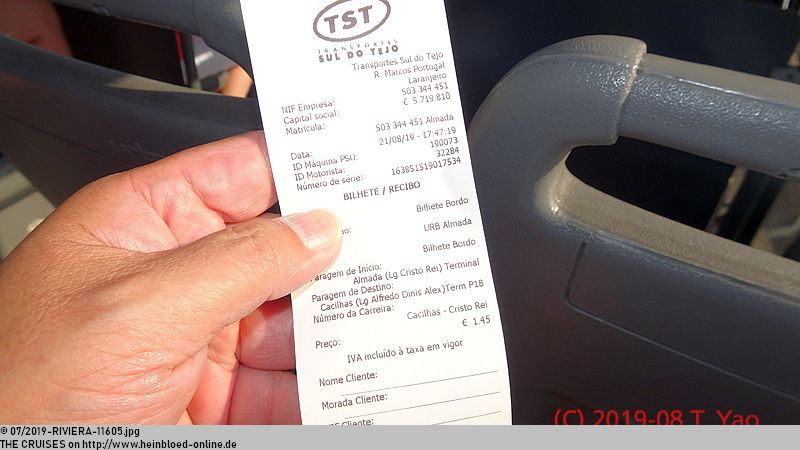 Die krumme Summe 1,45 EUR (2019) in bar für einen
Einzelfahrschein
beim Fahrer kostet Zeit.
In Almada laufe ich ein wenig herum, um schon mal etwas passendes für das Wochenende zu finden.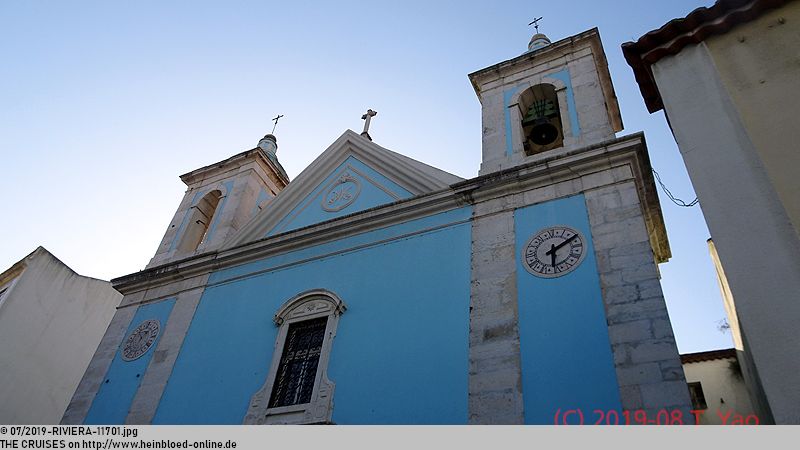 In Almada, I walked around a bit to find something suitable for the weekend.

No more cherries.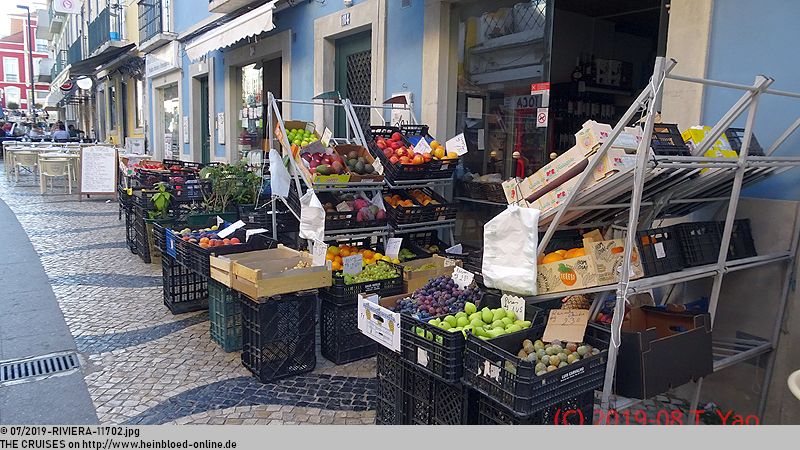 Kirschen gibt es keine.
Viele Lokale sind so früh noch gar nicht geöffnet.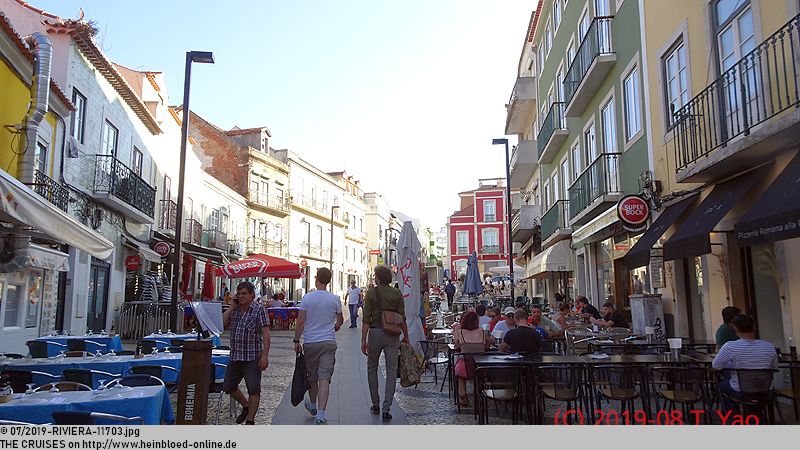 Many restaurants were not open yet at this early time.

Let us see what we would do on Saturday. I definitely liked the neighborhood well. More locals than tourists.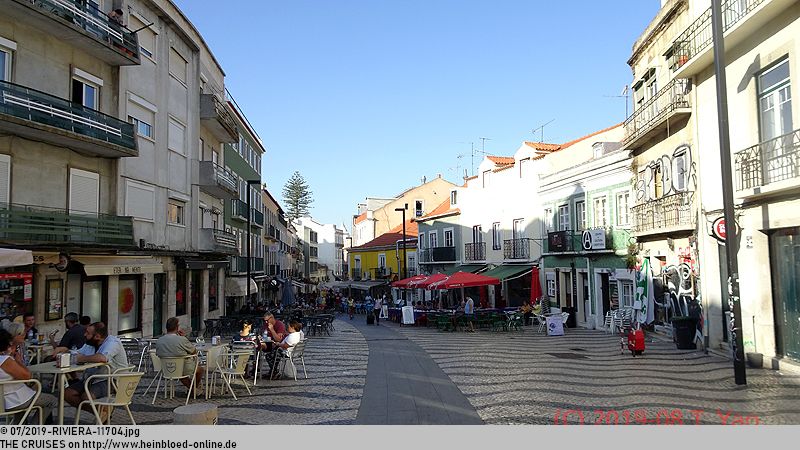 Mal gucken, was wir am Samstag machen. Das Viertel gefällt mir auf jeden Fall gut. Mehr Einheimische als Touristen.
Ich fahre wieder mit der
TTSL-Fähre ab Cacilhas nach Cais do Sodré
.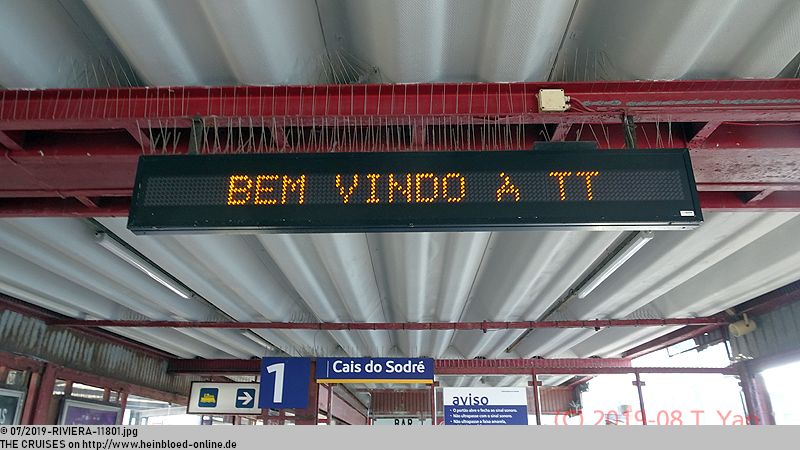 I would take the TTSL-ferry from Cacilhas to Cais do Sodré.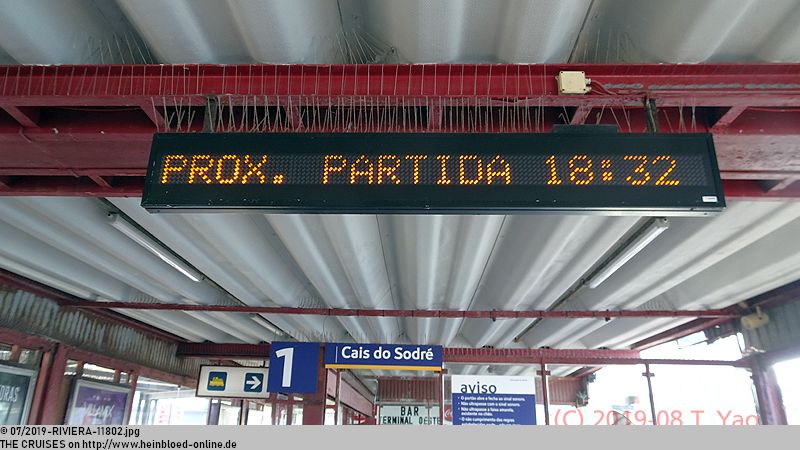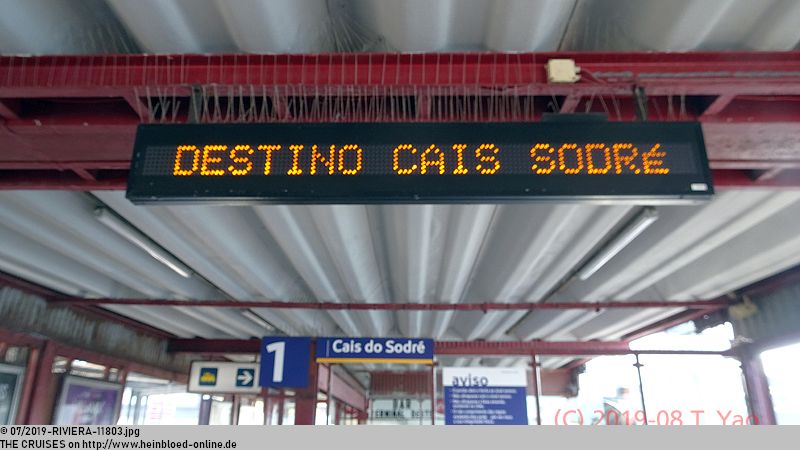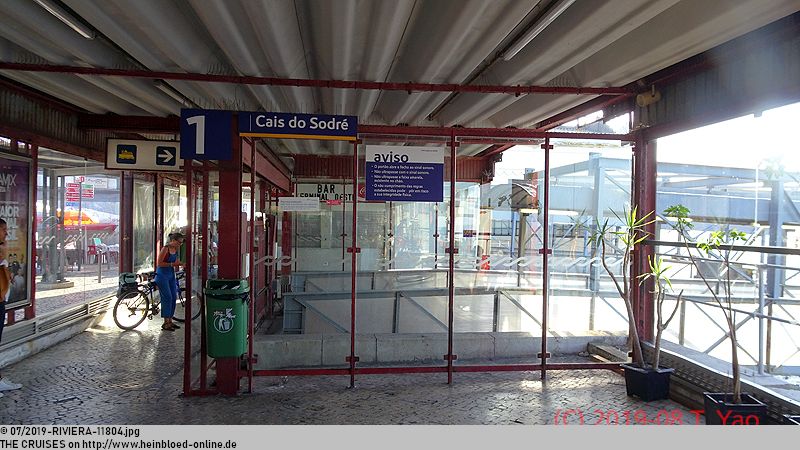 Bei
Jeronymo
im
Bahnhof Cais do Sodré
hole ich meine Kaffeestunde nach. Es gibt wieder Empada - Hühnchen-Pastete.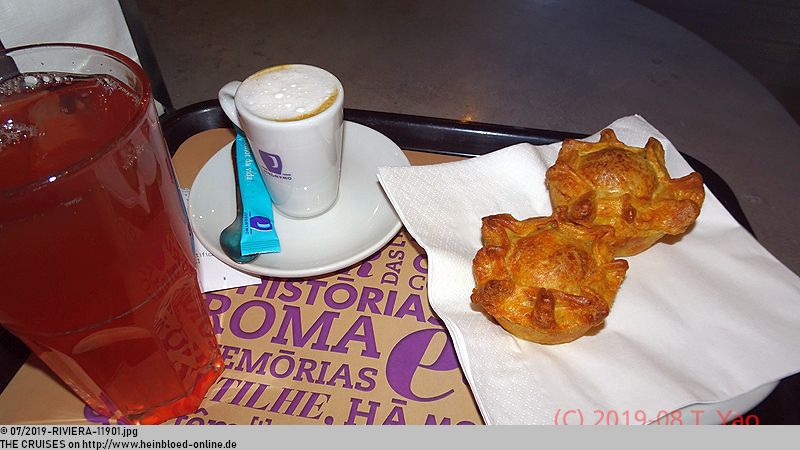 At Jeronymo, Cais do Sodré station, I picked up my coffee hour. They had Empada - chicken pattie again.

Unbelievable! For a coffee only 0.70 EUR (2019).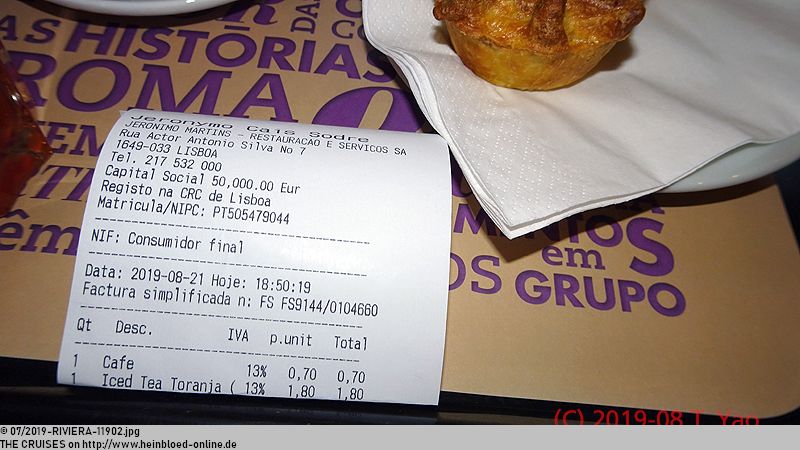 0,70 EUR (2019) für einen Kaffee! Unglaublich.
Abends empfiehlt mir die Rezeption des
Hotels
bei
Dote
essen zu gehen.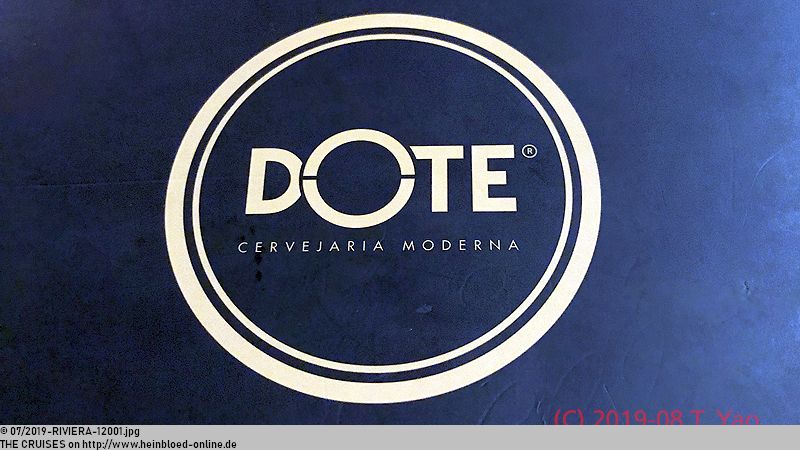 For dinner, the front desk of the hotel recommended to see Dote.

Here, you could only go with your smartphone.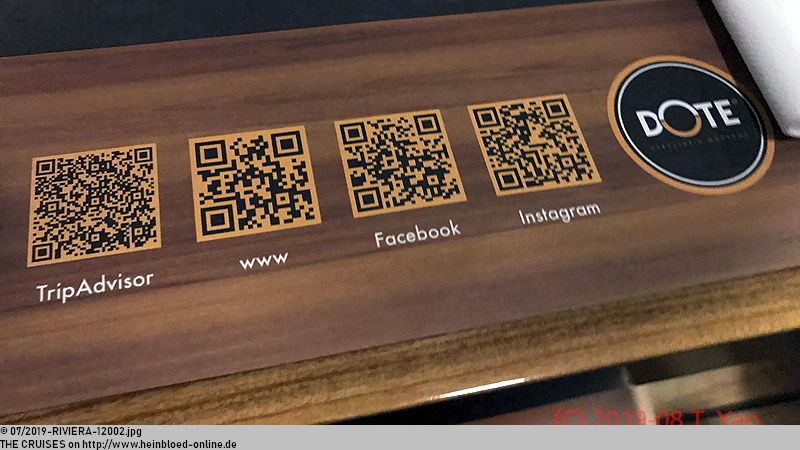 Hier kann man wohl nur mit Smartphone essen gehen.
Auf der Speisekarte sieht man leider nicht, wie groß die Portionen sind.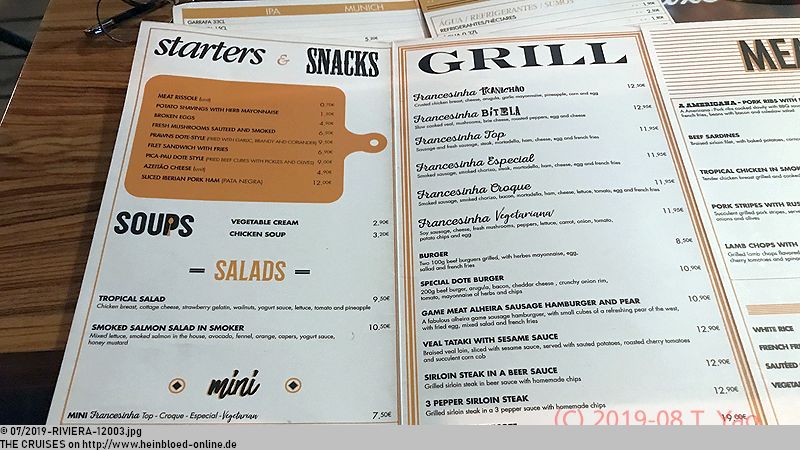 You could not see on the menu the huge size the portions.

10 seconds after I got the menu, they came with ham and cheese. The waitress did not speak English. So I learned later that all this needed to be paid, and they had no single portions. The size of my part was as big as other tables got for a party of six. Unusual: all the tables that came after me, did not get offered. Unfortunately, both were not so tasty, and I felt awful shortly after that. When I went out, I saw that it was not stored refrigerated, unfortunately.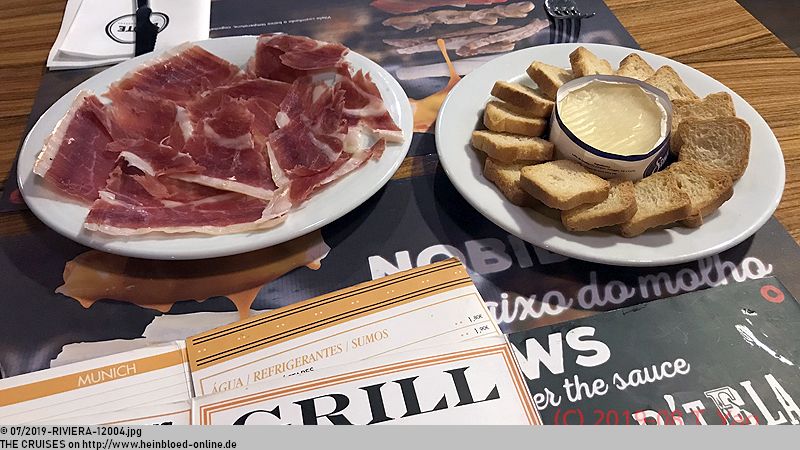 10 Sekunden nach dem ich die Speisekarte bekomme ich Schinken und Käse angeboten. Die Kellnerin spricht kein Englisch. So erfahre ich erst später, dass das alles kostenpflichtig ist und ich als Single Portionen angeboten bekomme, wie andere Tische, die mit 6 Personen sitzen. Ungewöhnlich: alle Tische, die nach mir kommen, bekommen das nicht angeboten. Leider ist beides nicht so lecker und ich fühle mich auch kurz danach richtig schlecht. Beim Rausgehen sehe ich, dass es leider nicht gekühlt gelagert wird.
Die Suppe ist so riesig und schmeckt irgendwie nicht. Ich werde wohl krank. Die Rechnung muss ich nicht begleichen. Ich falle sofort ins Bett und schlafe.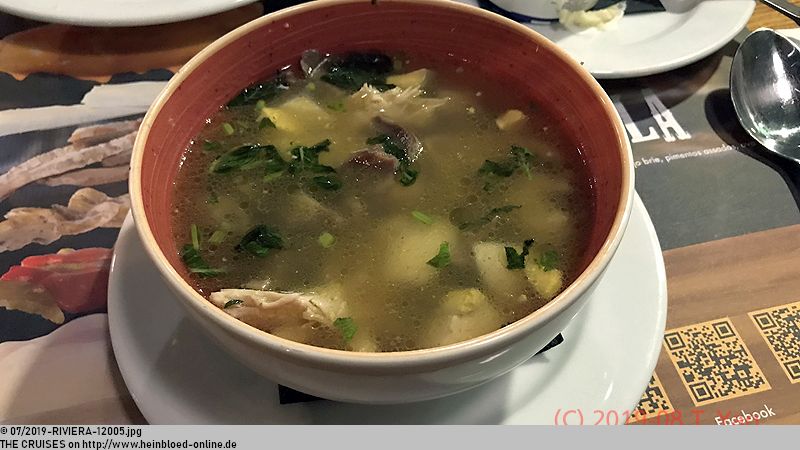 The soup was so huge and did not taste somehow. I was going to get sick. I did not have to pay the bill. I immediately felt to bed and slept in.

My stomach was empty again. I felt good. And I was hungry. Today I had breakfast at my hotel Holiday Inn Express Av. Liberdade. I had to get to the airport early. So I was allowed to take something before the official opening of the breakfast in the basement. Here, everything was still being set up. Lactose-free milk was unavailable, unfortunately, but they immediately asked me for my room number. They offered me that for tomorrow, they would get me some. The butter from the Azores was already further in tune with our trip with VEENDAM next week.

Mein Magen ist wieder leer. Ich fühle mich wohl. Und ich habe Hunger. Heute frühstücke ich im
Hotel Holiday Inn Express Av. Liberdade
. Ich muss früh zum
Flughafen
und darf schon vor der offiziellen Eröffnung des Frühstücks im Keller mir etwas nehmen, während noch alles aufgebaut wird. Laktosefreie Milch ist leider nicht da, aber ich werde sofort nach meiner Zimmernummer gefragt und man bietet mir an, dass man für morgen welche besorgt. Die Butter aus den Azoren ist bereits eine weitere Einstimmung auf unsere Reise mit der VEENDAM in der kommenden Woche.
Ich nehme die
U-Bahn
vom
Hotel Holiday Inn Express Av. Liberdade
zum
Flughafen
. Dieses Mal mit der
blauen Linie
nach São Sebastião, weil hier die
rote Linie
zum
Flughafen
beginnt. So kann ich mit Gepäck in einen leeren Zug steigen. Die
rote Linie
fährt nicht den direkten Weg zum
Flughafen
, so dass es schon ein wenig dauert und viele Berufstätige unterwegs zusteigen.

I took the subway from the hotel Holiday Inn Express Av. Liberdade to the airport. This time with the blue line to São Sebastião, because here the red line to the airport started. So I could go with luggage in an empty train. The red line did not drive the direct route to the airport, so it took a while, and many working people got on their way.

At the airport, the subway station was right in front of the terminal.

Am Flughafen befindet sich der
U-Bahn
hof direkt vor dem
Terminal
.
Ich steige aus.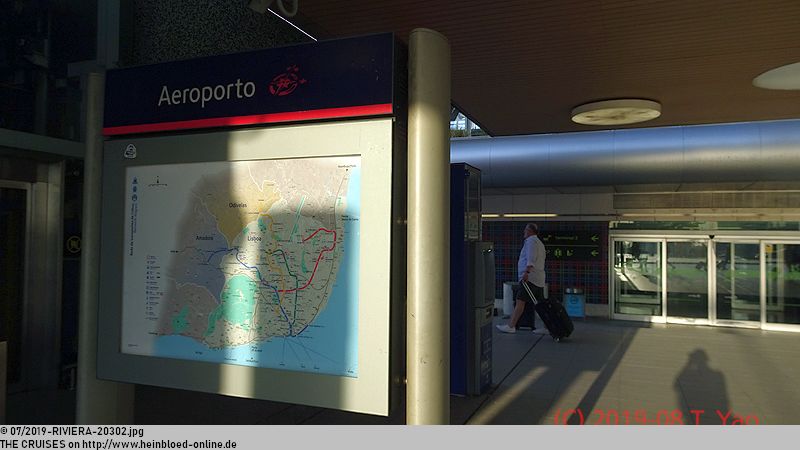 I got off.

Here, it was well explained how to buy a ticket.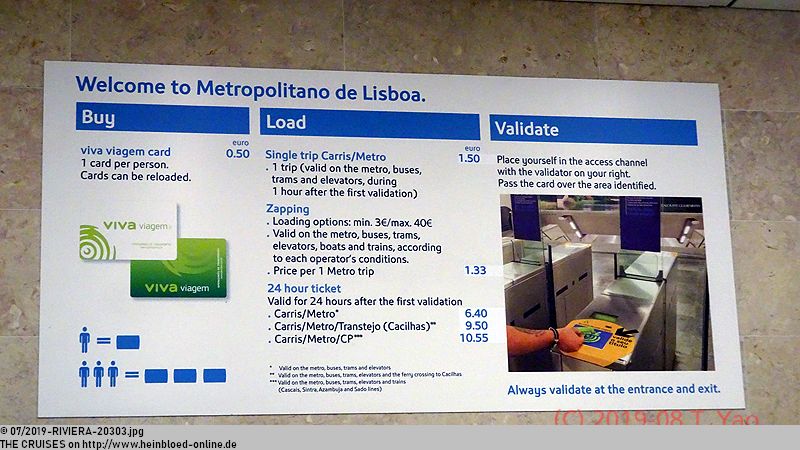 Hier wird auch gut erklärt, wie man
Fahrkarten
löst.
Und eine Menge
Fahrkartenautomaten
stehen bereit.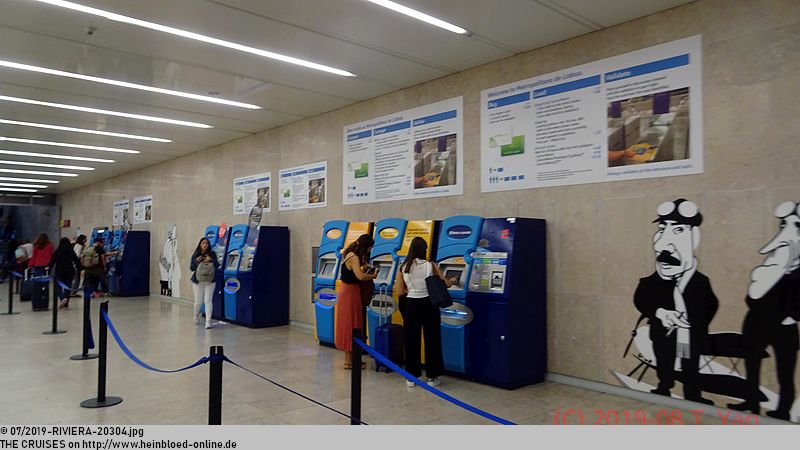 A plenty of ticket machines were available.

Not just the complimentary shuttle would take you from terminal 1 to terminal 2. But also the Aerobus from the city center.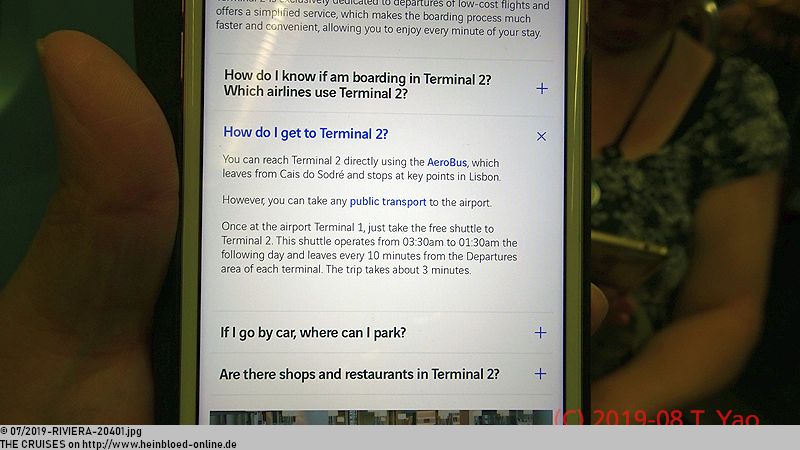 Zum
Terminal 2
führt nicht nur ein
kostenloser Shuttle
vom
Terminal 1
. Sondern auch der
Aerobus
aus der Stadt führt hierher.
Ich hätte auch mit dem
Aerobus Linie 1
vom
Hotel
zum
Flughafen
fahren können, aber dann hätte ich mit Gepäck auf die andere Seite vom Praça Marquês de Pombal laufen müssen. Da ist die
U-Bahn
vom
Hotel
aus näher.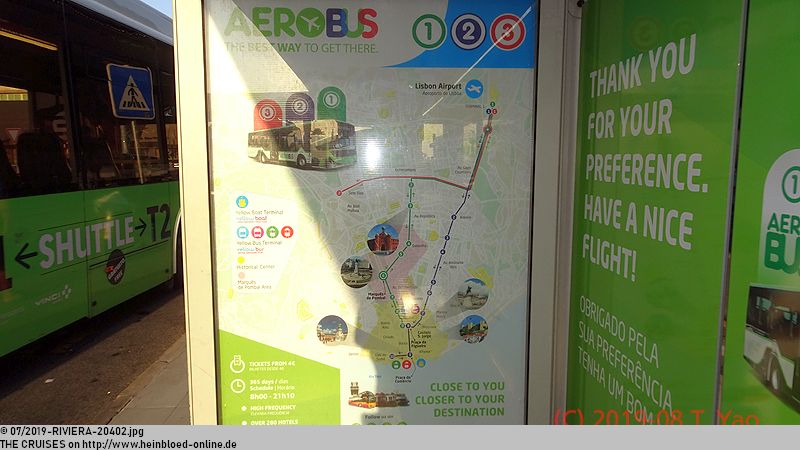 I could take the Aerobus route 1 from the hotel to the airport. But then I would need to walk with luggage to the other side of Praça Marquês de Pombal. The subway was closer to the hotel.

Aerobus route 2 also would take you close to the Lisbon Cruise Port cruise terminal to Praça do Comércio. From there, you could also take the bus 728 to the customs office Alfândega (Terminal Cruzeiros) if you had a lot of luggage with you. Or just about 8-12 minutes walk along the waterfront.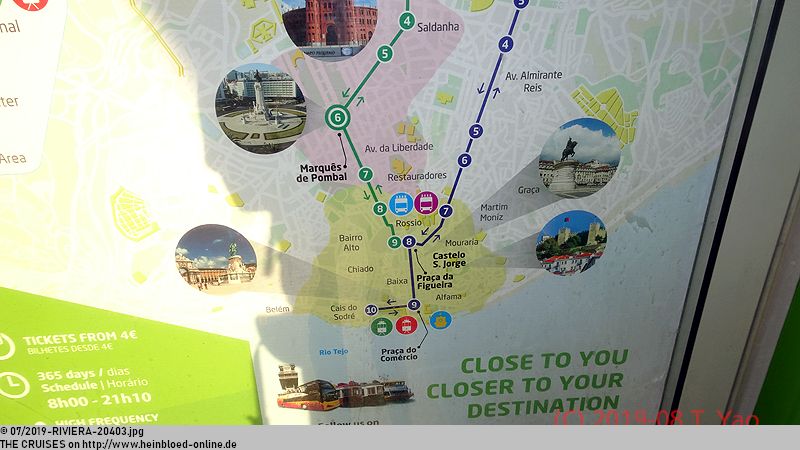 Aerobus Linie 2
führt auch in die Nähe des Kreuzfahrtterminals
Lisbon Cruise Port
zum Praça do Comércio. Von dort könnte man aber auch noch mit dem
Bus 728
nochmals bis zur Zollverwaltung Alfândega (Terminal Cruzeiros) fahren, wenn man viel Gepäck bei sich hätte. Oder eben ca. 8-12 Minuten entlang der Uferpromenade laufen.
Leider gilt meine
Tageskarte für die Hills Tramway Tour
von
Yellow Bus Tours
nicht mehr. Sonst hätte ich die
Aerobusse kostenlos
benutzen dürfen.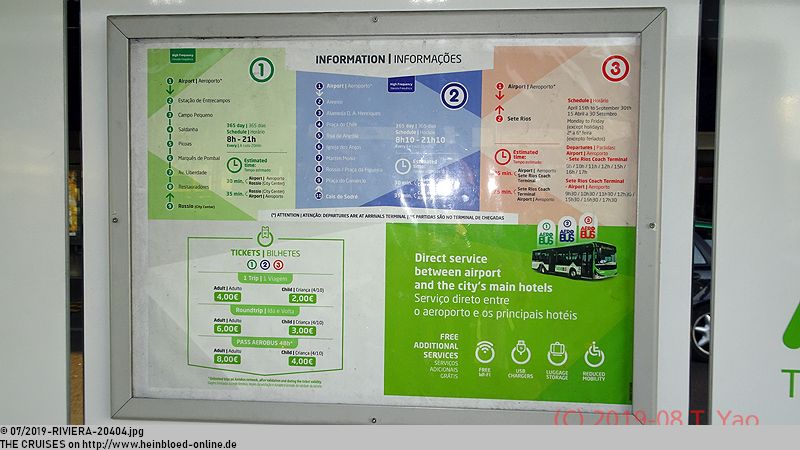 Unfortunately, my day pass for the Hills Tramway Tour from Yellow Bus Tours was no longer valid. Otherwise, I would be allowed to use the Aerobus for free.

The shuttle from Terminal 1 to Terminal 2 departed almost halfway to the Kiss and Fly parking lot for Uber on the departure level. The way seemed familiar to me.

Der
Shuttle
vom
Terminal 1
zum
Terminal 2
fährt quasi auf dem halben Weg zum
Kiss and Fly Parkplatz
für
Uber
auf der Abflugebene ab. Der Weg kommt mir bekannt vor.
Terminal 2
ist perfekt für die Bedürfnisse von Billigfliegern hergerichtet. Kein Bustransfer wie am
Flughafen Frankfurt
. Hier klappt es mit der
Fast Lane
. Man kann sie auch
direkt selbst auf der Homepage
vom
Flughafen Lissabon
buchen.
Priority
Boarding bedeutet dann auch nicht in den Bus als erster einsteigen und warten, bis dass die Fluggäste ohne
Priority
auch einsteigen und man doch nicht als erster das Flugzeug besteigen kann, wie jetzt am
Flughafen Frankfurt
bzw. auch damals am
Flughafen Rom-Fiumicino
nach der Reise auf der
KONINGSDAM 2016
. Hier bedeutet das: du darfst als erster dich draußen in die Schlange zum Boarding anstellen und in der Reihe stehen: überdacht - aber draußen. Und keine Sitzmöglichkeiten. Aber perfekt für die Bedürfnisse von Billigfliegern: man darf dann direkt zu Fuß zum Flugzeug laufen und wenn man nicht schnell ist, wird man auf dem Vorfeld von denjenigen ohne
Priority
überholt.

Terminal 2 was perfectly prepared for the needs of budget airlines. No bus transfer as at airport Frankfurt, Germany. Here it worked perfectly with the Fast Lane. You could also book it yourself on the homepage of Lisbon airport. Priority boarding did not mean getting into the bus first and waiting until the passengers boarded without Priority. You could not be the first to board the plane, as now at Frankfurt airport, or even then at Rome-Fiumicino airport, Italy after our voyage on KONINGSDAM 2016. This meant that you could be the first to queue up outside and stood in line: covered - but outside. And no seating. But perfect for the needs of budget airlines: you could then walk directly to the plane, and if you were not fast, you would be overtaken on the airfield by those without priority.

Even now, I was allowed to take two pieces of cabin luggage into the cabin thanks to a surcharge for Priority.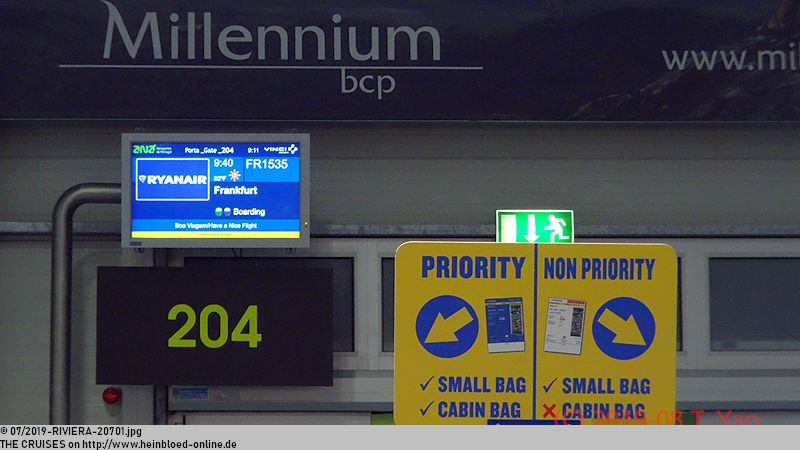 Auch jetzt darf ich wieder
zwei Handgepäckstücke
dank Zuzahlung für
Priority
mit in die Kabine nehmen.
Ich nehme eine Tüte
Tyrrells Chips
für unterwegs.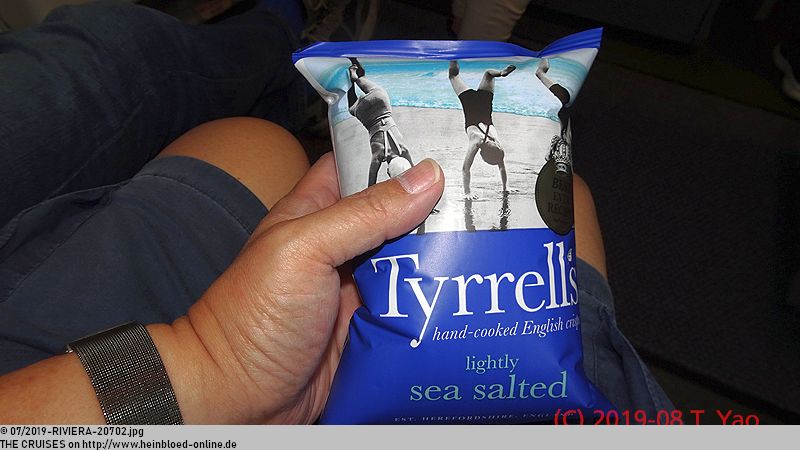 I bought a bag of Tyrrells chips for my way.

Why was the bag under pressure like this?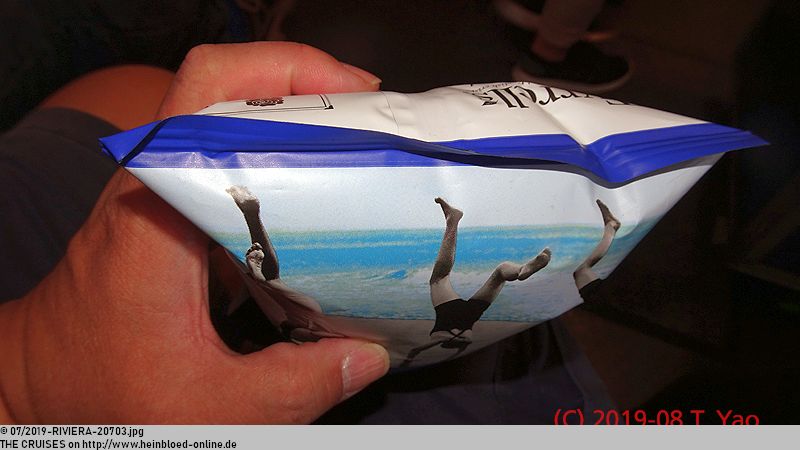 Warum steht die Tüte so unter Druck?
Da ich auch noch für einen
Sitz in Reihe 1
zugezahlt habe, darf ich am
Flughafen Frankfurt
als erster von Bord. Und zu meiner Überraschung: ohne Bus, sondern direkt auf die Brücke!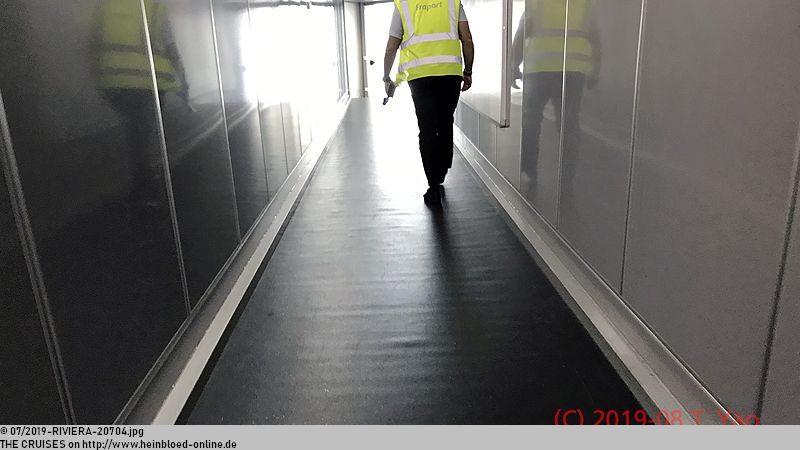 Since I also paid for a seat in row 1, I was allowed to be the first off-board at Frankfurt airport. And to my surprise: without a bus, but directly by jetbridge!

I went directly to the bus back to the Platzhirsch parking garage. This worked well because now it was operated by schedule. On the parking garage toilet, I learned, that now the valet parking was sold under ParkMich. With them, they still offered one-way valet. Going now home and then back to Lisbon for VEENDAM.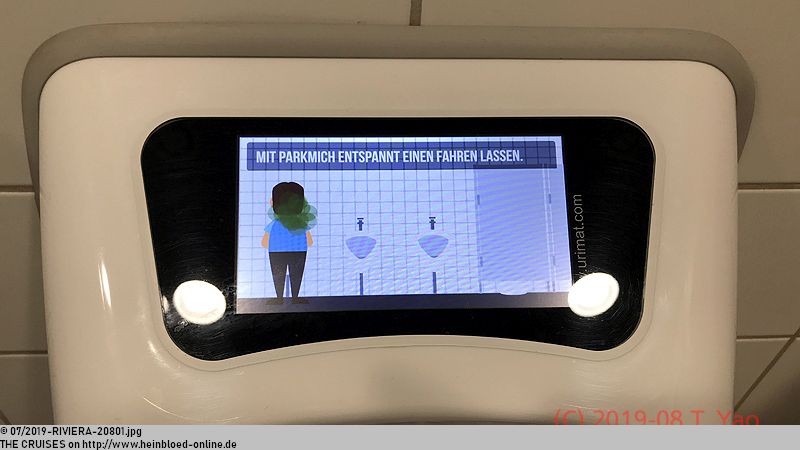 Es geht direkt zum Bus zum
Platzhirsch Parkhaus
zurück. Das klappt gut, da nach
Fahrplan
jetzt gefahren wird. Auf der Toilette lerne ich, dass jetzt das
Valet-Parking unter ParkMich
vermarktet wird. Hierüber wird auch der OneWay-Valet angeboten. Schade. Es geht jetzt nach Hause und dann wieder nach Lissabon zur VEENDAM.
Die anderen Reisen in diesem Blog/
The other voyages in this blog: