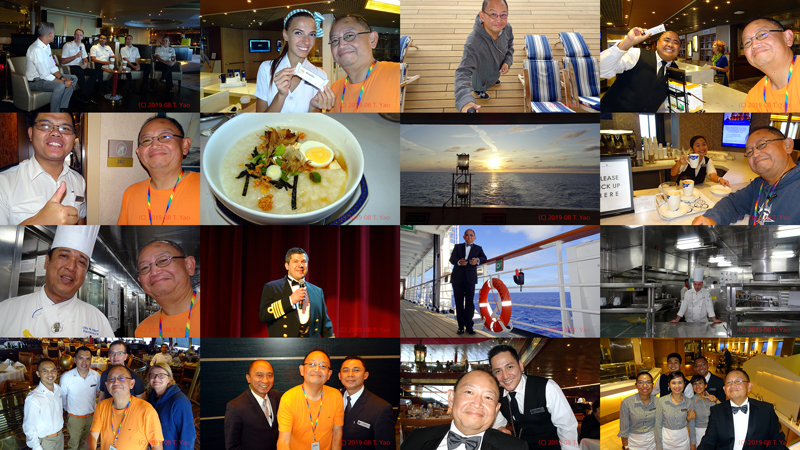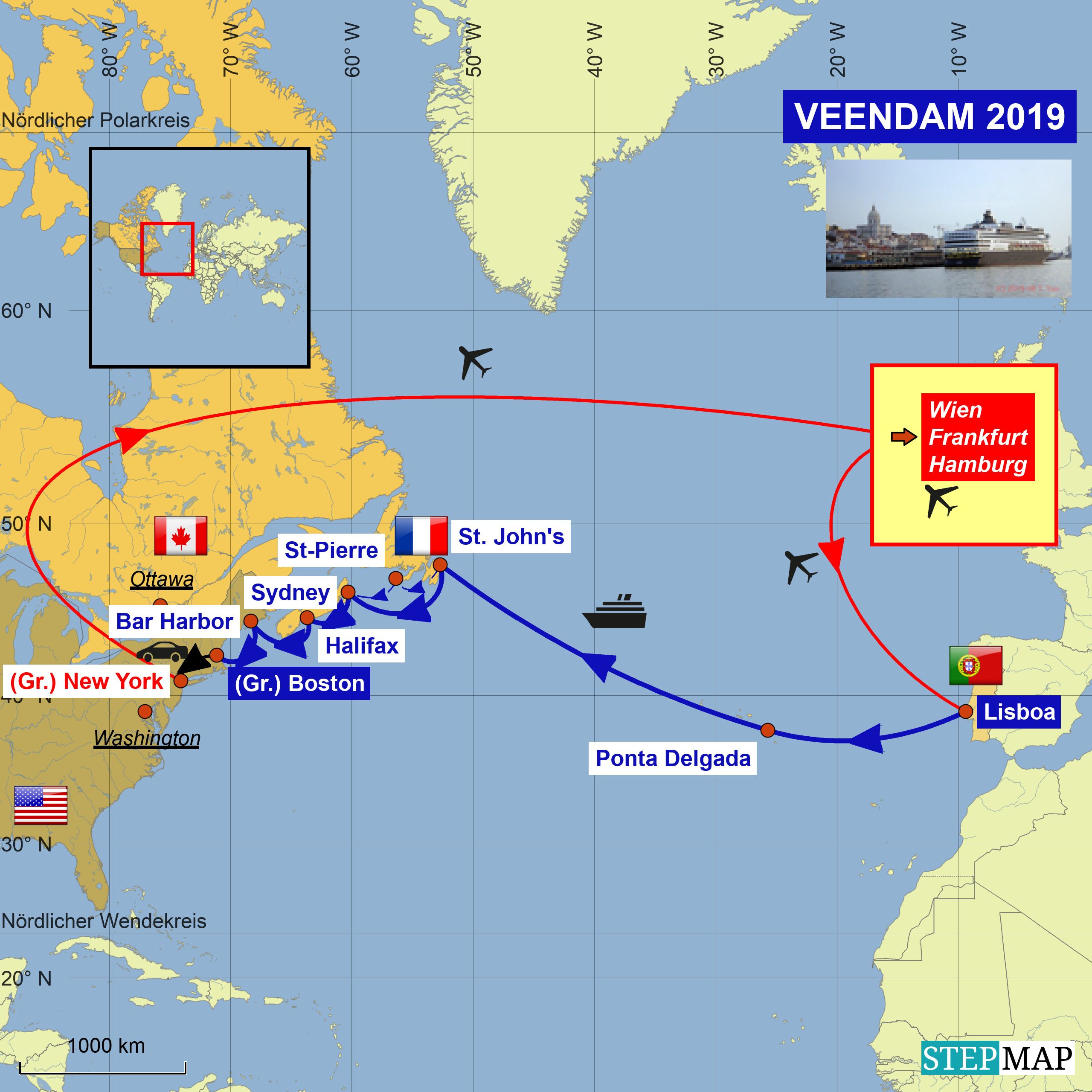 In der Nacht zuvor war ich ja unterwegs. Deswegen bemerke ich jetzt: jemand "klopft" zwischen 04:00 Uhr und 05:00 Uhr an unserem Ausgang zum Promenadendeck. Mit einem Wasserschlauch wird der Deck gereinigt und jeden Morgen hören wir, wenn das Wasser an unsere Türe aufprallt. So werden auch die Farbreste von gestern entfernt. Fast entfernt. Auch gehen mitten in der Nacht die Arbeiten über unseren Außendeckabschnitt los. Jemand klettert schon hoch. Ansonsten genießen wir unsere Lanai-Liegestühle und lassen es uns gutgehen. Da es sich um die Holland America Line handelt, die ja Holland und Amerika im Namen hat und wir noch in Europa sind, ziehe ich meinen
Speedo
an. Ich denke an den Kreuzfahrtdirektor Stuart von der
CARNIVAL SPIRIT 2011
zurück, der ja damals meinte, dass man das ruhig an Bord machen solle: man würde die Mitreisenden eh nie wieder sehen und es sollte einem egal sein, was andere über einen denken. Was andere über mich denken, hätte ich schon gerne gefilmt, aber ich lasse es. Solange wir noch in Europa sind, belasse ich es bei der
Speedo
. Wir haben Backbordseite und damit immer die Sonnenseite.

The night before, I was browsing onboard. That was why I noticed now: someone "knocked" between 04:00 hrs and 05:00 hrs at our exit to the promenade deck. With a water hose, the deck was cleaned, and every morning we heard when the water bounced on our door. This was how the paint remnants of yesterday were removed. Almost removed. Also, in the middle of the night, work on our outer deck section started. Someone was already climbing. Otherwise, we enjoyed our lanai sunbeds and let us going well. Since we went on Holland America Line, which had Holland and America in its name and we were still in Europe, I put on my Speedos. I thought back to the cruise director Stuart on CARNIVAL SPIRIT 2011, who said at the time that you should do it quietly on board: you would never see your fellow travelers again anyway, and you should not care what others think about you. I would love to film what others thought about me, but I left it alone. As long as we were still in Europe, I left it with my Speedos. We had portside and thus always the sunny side.

As usual, there were no announcements in our cabin. We were already asked on day 3, how we would like to leave the ship again. For Canada, our passports would be needed after our call on the Azores. With our two cabin stewards, it worked very well. That was what I let their supervisor Indra know. Was he now seven years old or was with Holland America for seven years or occupied a supervising function for seven years? I did not see the number of years on any name tag before.

In unserer Kabine gibt es wie üblich keine Ansagen. Wir werden am Tag 3 schon gefragt, wie wir gerne das Schiff wieder verlassen möchten. Für Kanada werden unsere Pässe nach dem Aufenthalt auf den Azoren benötigt. Mit unseren beiden Kabinenstewards klappt sehr gut. Das lass ich auch deren Supervisor Indra wissen. Ist der nun sieben Jahre alt oder schon seit sieben Jahren bei Holland America oder seit sieben Jahren in der Führungsfunktion. Die Anzahl der Jahre habe ich bislang auf keinem Namensschild zuvor gesehen.
Natürlich nutze ich den schönen Morgen für Walk a Mile und erlebe einen fantastischen Sonnenaufgang.

Of course, I used the beautiful morning for Walk a Mile and experienced a fantastic sunrise.

I was curious if even more money would be invested in this ship. Again, instead of putting money in the renovation of this ship, but in a giant newbuild.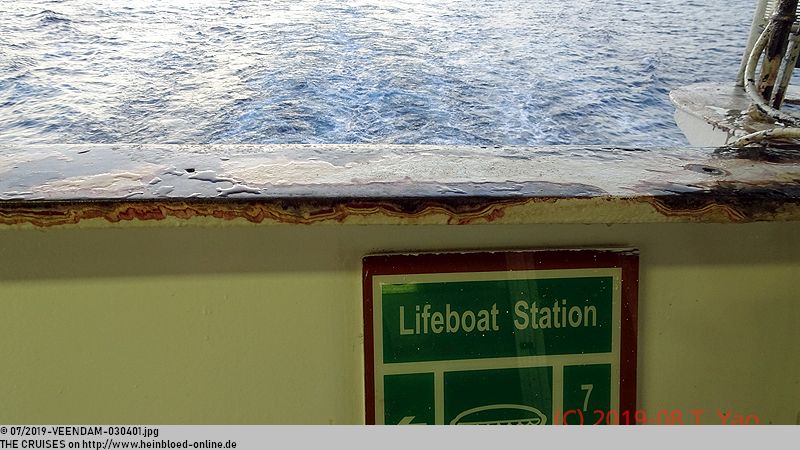 Ich bin mal gespannt, ob für dieses Schiff noch mehr Geld investiert wird. Nochmals: lieber das Geld in die Renovierung dieses Schiffes reinstecken, als in einen neuen Riesenbau.
Unsere Kabinen liegen in einer Sektion in dem sich keine Rettungs- bzw. Tenderboote darüber befinden. Das hat den Vorteil: wir können unseren Deckabschnitt vor unserer Kabine auch nutzen, wenn getendert wird. Über uns sind die Rettungskapseln für die Crew. D. h. über uns ist eine Decke, die über die Railing hinausragt. Das hat den Nachteil: bei uns ist es immer schattiger als bei den anderen. Mit sovielen feinen Unterschieden hätte ich nicht mit gerechnet.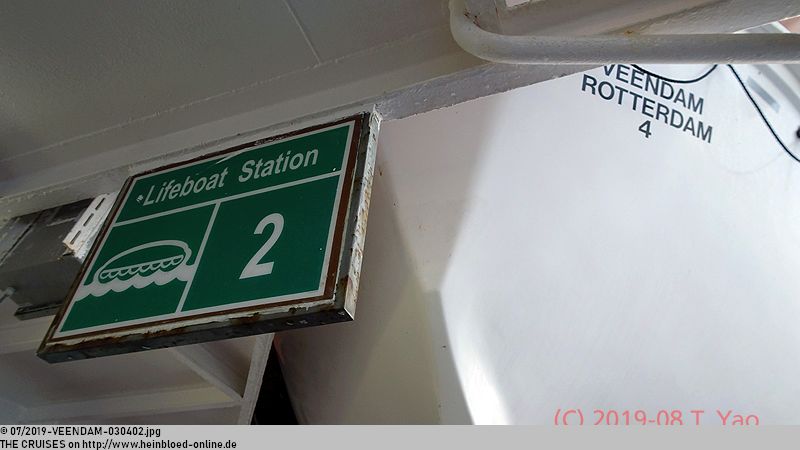 Our cabins were located in a section in which there were no life or tender boats above it. This had the advantage: we could also use our deck section in front of our cabin when we were tendering. Above us were the rescue capsules for the crew. I.e., above us was a ceiling that jutted out over the railing. This had the disadvantage: with us, it was always shadier than with the others. With so many subtle differences, I would not expect.

For my run, they set up the lawn, so I could relieve myself in between... Brave lifting my leg. But did we even have dogs on board? So far none attracted my attention.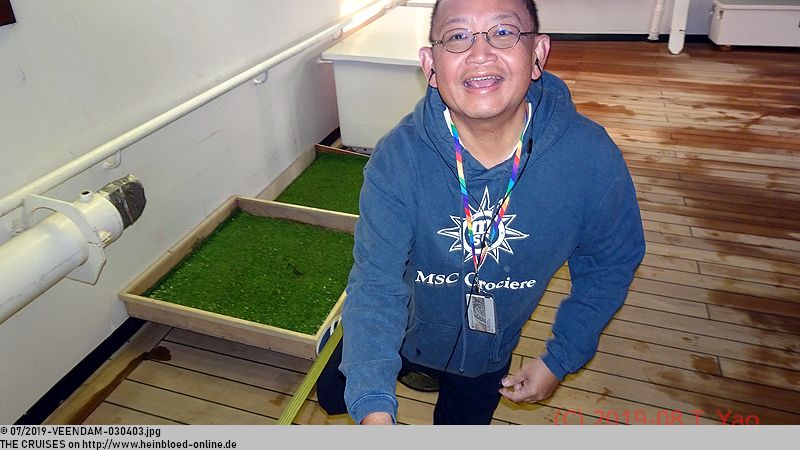 Für meinen Lauf haben sie extra etwas Rasen aufgestellt, damit ich zwischendurch mich erleichtern kann... Brav hebe ich mein Beinchen. Aber haben wir überhaupt Hunde an Bord? Bislang ist mir noch keiner aufgefallen.
Später scheint richtig schön die Sonne. Wie man hier nochmals sieht: die Decke über uns ragt weiter hinaus als die Rettungsboote.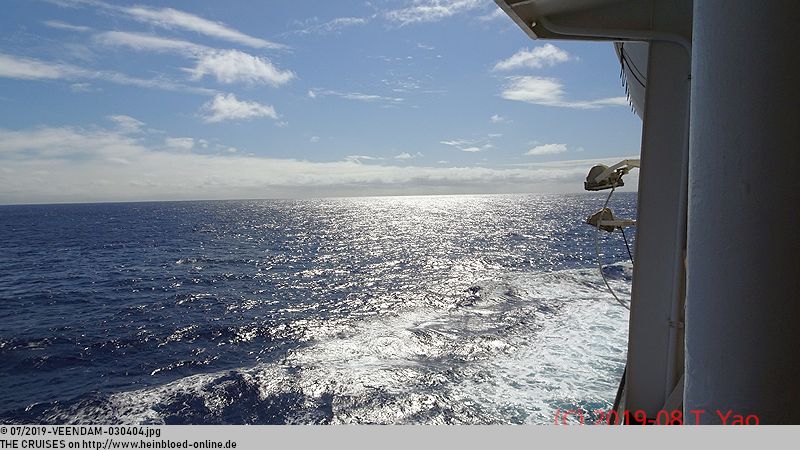 Later, the sun shined really nice. As you could see here again: the ceiling above us rose further than the lifeboats.

There were no lifeboats to the front, but there were other obstructions there, which I would come back to in another future chapter.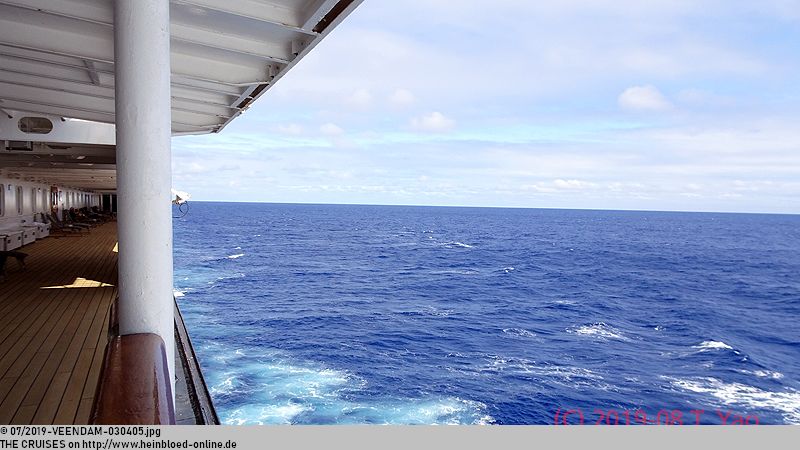 Nach vorne gibt es keine Rettungsboote mehr, allerdings gibt es dafür dort andere Einschränkungen, auf die ich in einem anderen späteren Kapitel zurückkomme.
Es geht wieder ins Explorations Café. Hier werden wir auf dieser Reise durch Caryl bedient.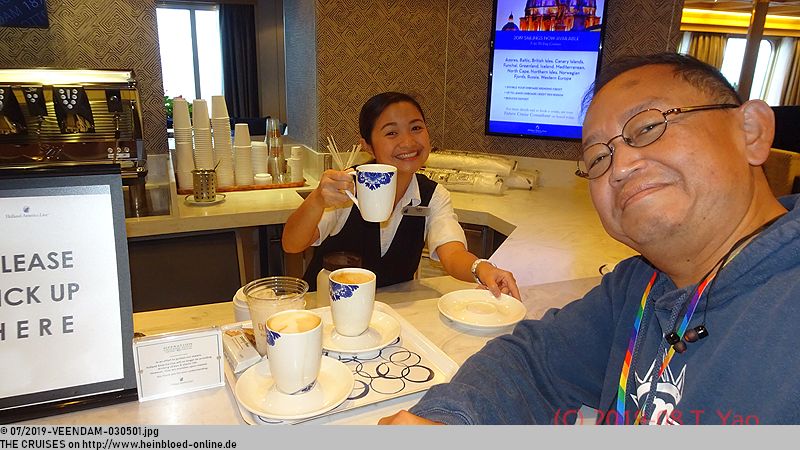 I went back to the Explorations Café. Here we were served on this voyage by Caryl.

We always carried our tray with us and still took the dishes back later.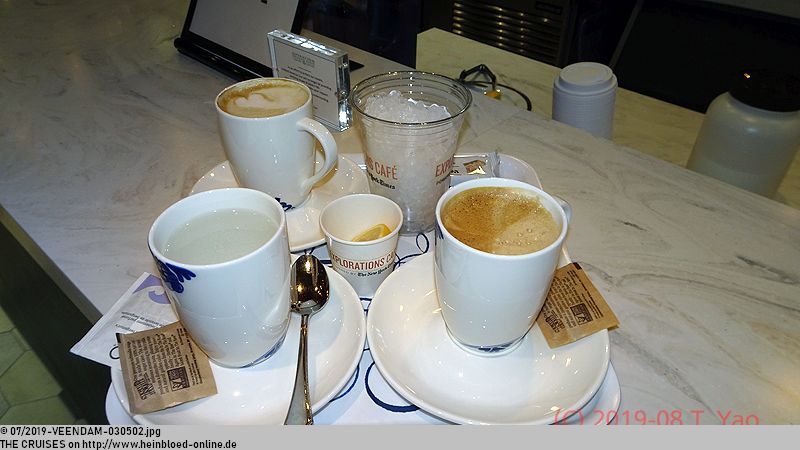 Immer führen wir unser Tablett mit und immer bringen wir auch später auch wieder das Geschirr wieder zurück.
Caryl wird zwischendurch durch Daryl abgelöst. Caryl und Daryl. Ein Traumpaar an der Explorations Café.

Caryl was replaced in between by Daryl. Caryl and Daryl. A couple of dream at the Explorations Café.

Too bad: here on board there were, unfortunately, no mini fruit salad bowls, as on KONINGSDAM 2016 and unfortunately not my favorite flavor of Glaceau VitaminWater: dragon fruit.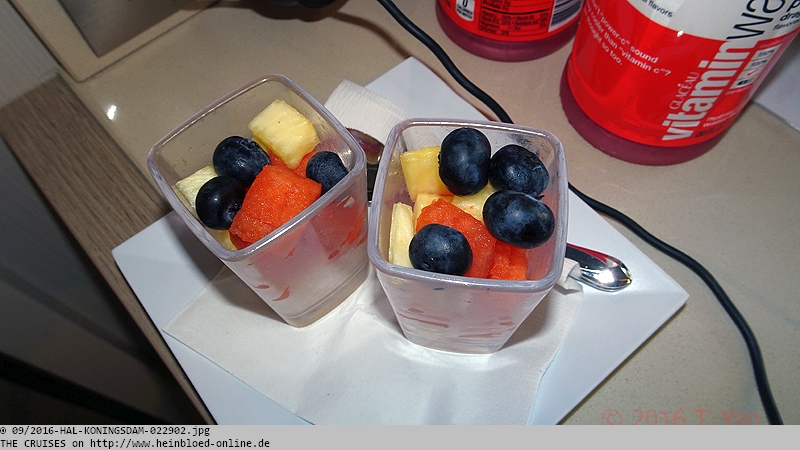 Sehr schade: hier an Bord gibt es leider keine Mini-Fruchtsalat-Schälchen, wie damals auf der
KONINGSDAM 2016
und leider auch nicht meine bevorzugte Sorte vom
Glaceau VitaminWater: Drachenfrucht
.
Auf zum Frühstück ins Hauptrestaurant.
Thomas
statt
Rosenthal
bzw.
Thomas
und
Rosenthal
. Die Wassergläser erinnern an die Gläser aus Murano, die ich damals auf unserer
NORWEGIAN JADE 2011 (2)
-Reise in Venedig gekauft habe. Ich bestelle mein Congee und bin glücklich. Nur sie haben leider nicht mehr den allerbesten Blueberry-Muffin auf hoher See. Der war schon mal sehr viel besser.

Heading for breakfast in the main dining room. Thomas instead of Rosenthal or Thomas and Rosenthal. The water glasses were reminiscent of the glasses from Murano, Italy, which I bought then on our NORWEGIAN JADE 2011 (2) trip out of Venice, Italy. I ordered my congee, and I was happy. Unfortunately, they no longer had the very best blueberry muffin on the high seas. It was much better before.

On KONINGSDAM 2016, everything was still from Rosenthal. Now some parts were from Thomas. But that could also be due to Rosenthal because Thomas was a more youthful brand of Rosenthal. You should know that as a former porcelain seller from the noble department store KaDeWe Berlin, Germany, and because we were using Thomas dishes at home. So they just did it to make us feel home. But it felt more elegant to eat on Rosenthal: was just the nobler brand.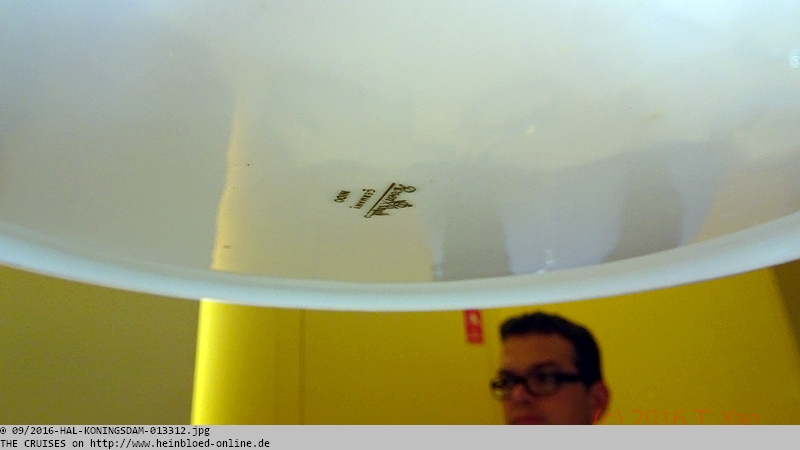 Auf der
KONINGSDAM 2016
war noch alles von
Rosenthal
. Jetzt ist ein Teil von
Thomas
. Das kann aber auch an
Rosenthal
liegen, weil
Thomas
eine jugendlichere Marke von
Rosenthal
ist. Das muss ich als ehemaliger Porzellanverkäufer vom
KaDeWe Berlin
noch wissen und weil wir selbst zu Hause
Thomas
Geschirr nutzen. Sie haben es also nur gemacht, damit wir uns wie zu Hause fühlen. Aber es fühlt sich eleganter an, auf
Rosenthal
zu essen: ist eben die edelere Marke.
In der Ocean Bar findet jeden Morgen eine kleine Talkrunde statt. Sehr liebevoll angerichtet: mit Kaffee und Frühstücksgebäck. Kapitän Mark ist gar nicht dabei. Später stellt sich heraus, dass er mal aus der Ferne geguckt hat und wohl bemerkt hat, dass Staff Captain Keith und sein Team es wunderbar alleine es hinbekommen, sich den Fragen der Gäste zu stellen. Staff Captain Keith erzählt, dass er selbst in Erwägung gezogen hat, sich an Bord trauen zu lassen. Ich frage in eigener Sache nach. Aber niederländische Kapitäne dürfen auf niederländischen Schiffen keine Trauungen vornehmen. Deswegen gibt es bei Holland America nur die Arrangements an Land. Für eine gleichgeschlechtliche Ehe bleiben daher nur die Schiffe der Konkurrenz. Es ist auch toll, dass sie einen weiblichen Offizier von der Brücke mit zur Runde mitgebracht hat, die Rede und Antwort steht. Da erwähnt wurde, dass Kapitän Mark kurzfristig für unsere Reise das Kommando übernommen hat und sonst auf der KONINGSDAM ist, interessiert es mich natürlich, wie er für diese eine Reise geschult wurde. Oder ob ein Kapitän, dass auf der Pinnacle-Klasse sonst unterwegs ist, automatisch ohne weitere Schulungen ein Kommando auf einem Schiff der anderen Klassen Signature, Vista, R- oder S-Klasse übernehmen darf. Es wird erklärt, dass es nicht so läuft, wie in der Luftfahrt und der Kapitän sein Team hat, die jedes Detail des Schiffs kennen und er der Manager des Teams ist. Eine der Wachen nennt sich die sog. "Hundewache". Ich frage nach, ob daher das Stück Rasen für die betroffenen diensthabenden Offiziere ist. Es ist ja ganz vorne an der Spitze des Buges - genauso wie die Brücke!

Every morning, a small talk show took place in the Ocean Bar. Very lovingly prepared: with coffee and breakfast pastries. Captain Mark was not there. Later, it turned out that he was watching from afar, realizing that Staff Captain Keith and his team were wonderfully able to face the guests' questions by themselves. Staff Captain Keith mentioned that he considered being married on board. On my own behalf, I asked. But Dutch captains were not allowed to conduct weddings on Dutch ships. That was why Holland America only offered arrangements ashore. For same-sex marriage, therefore, only the ships would remain from the competition. It was also great that they had a female officer from the bridge to the round to give answers. Since it was mentioned that Captain Mark took over the command for our trip at short notice and would be otherwise on the KONINGSDAM, I was, of course, interested in how he was trained for this one voyage. Or whether a captain, who was otherwise on the Pinnacle-class, automatically could take over without further training command on a ship of the other classes Signature, Vista, R, or S-class. It was stated that it did not work as in aviation, and the captain has his team, who knew every detail of the ship, and he would be the manager of the team. One of the shifts was called the "dog watch". So I asked if that piece of lawn would be for the officers on duty. It was at the very front of the bow - just like the bridge!

A galley tour was offered. First of all, we had to fill in the health form before we could go to the galley. Actually, I was often through it, but I always found it exciting. Here I met Chef Orly. The chef of the Pinnacle Grill Jan was just waiting for us to leave and finally get starting. I should get to know him later.

Eine Galleytour wird angeboten. Zunächst müssen wir den Gesundheitsbogen ausfüllen, bevor wir in die Galley dürfen. Eigentlich habe ich sie schon oft mitgemacht, aber ich finde es immer wieder spannend. Hier treffe ich auf Chefkoch Orly. Der Chef des Pinnacle Grill Jan wartet nur darauf, dass wir wieder weg sind, um dann endlich loslegen zu können. Ihn lerne ich später kennen.
Unterwegs treffe ich auf Yulia, die eine kleine Aufmerksamkeit von mir abbekommt.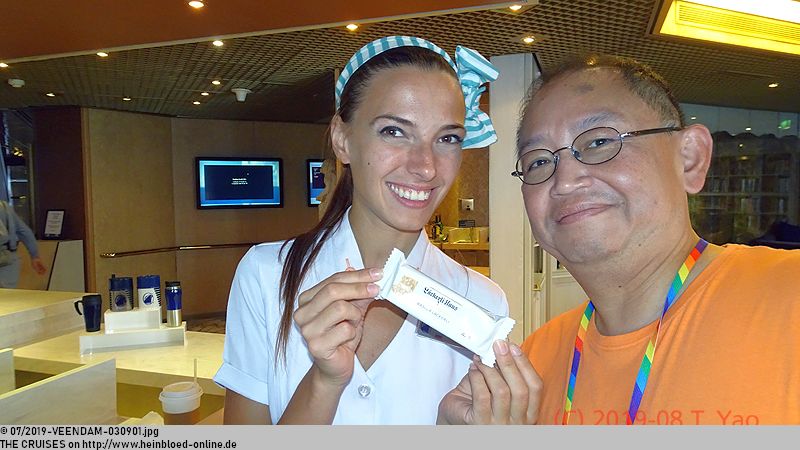 On the way I met Yulia, who got a little attention from me.

There was the possibility on board to meet the officers on a screen. The photo wall, like the others, did not exist. But "Know Your Officers" was not working. I told the receptionist and did not really expect anything to improve until the end of the journey. That was why I just did not know for sure whether it was the captain, who was watching from afar at the event because I still could not assign a face.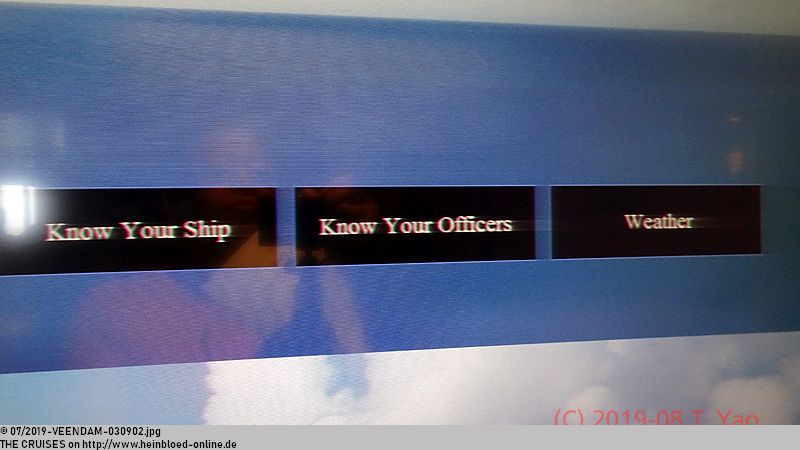 Es gibt an Bord die Möglichkeit die Offiziere an einem Bildschirm kennenzulernen. Die Fotowand wie bei den anderen gibt es nicht. Aber "Know Your Officers" funktioniert nicht. Ich teile es der Rezeption mit und erwarte eigentlich nicht, dass sich etwas bis zum Ende der Reise verbessert. Deswegen wusste ich vorhin auch nicht mit Sicherheit, ob es wirklich der Kapitän war, der vorhin bei der Veranstaltung aus der Ferne zugeguckt hat, weil ich noch kein Gesicht zuordnen konnte.
Komisch: gar keine Friends of Dorothy-Meeting? An einem Seetag? Schwule müssen i.d.R. keine Kinder finanzieren, sind oft Besserverdiener und können viel Geld an einer Bar ausgeben. Und für sie gibt es keinen Treffen mehr? Was ist das für ein Onboard-Revenue-Manager an Bord?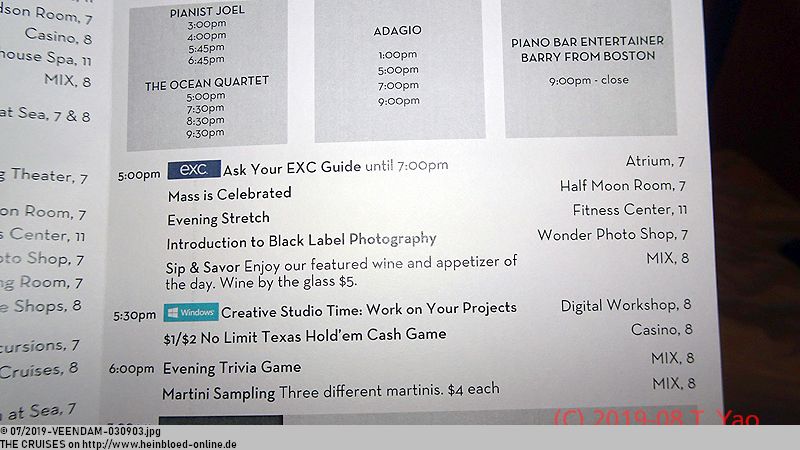 Funny: no Friends of Dorothy meeting? On a day at sea? Usually, gays must not finance children, were often better earners, and could spend a lot of money at a bar. And there was no meeting for them? What kind of Onboard Revenue Manager was on board?

We met a few others from the group by co-incidence.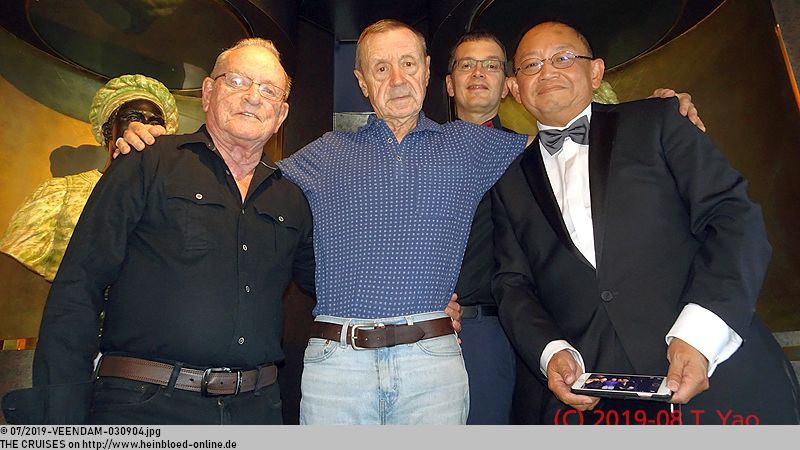 Wir treffen ein paar andere aus der Gruppe zufällig.
Im Shop habe ich gestern Logo-Hoodies mit 100% Baumwolle entdeckt. Und mit einem Reißverschluss. Nur die Taschen dürften etwas größer sein, damit die Kamera passt. Leider nur in L. Wieder ein Mini-Kleid. Aber auch nach zwei Runden 90°C und zwei Runden Extratrocken im Wäschetrockner bleibt es ein Mini-Kleid. Der Hoodie landet doch beim Schneider.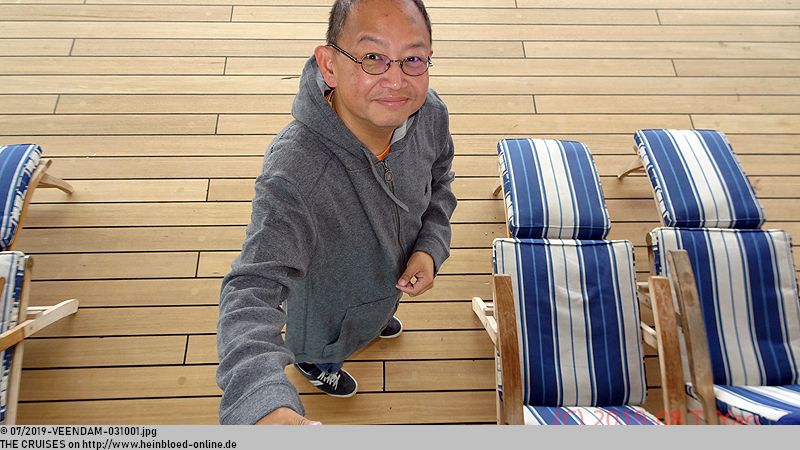 In the shop yesterday I discovered logo hoodies with 100% cotton. And with a zipper. Only the pockets should be slightly larger so that the camera would fit. Unfortunately only in L. Again a mini dress. But even after two cycles at 194°F and two extra dry laps in the tumble dryer, it remained a mini dress. The hoodie ended up at the tailor.

Greetings to Dufry in Basle, Switzerland.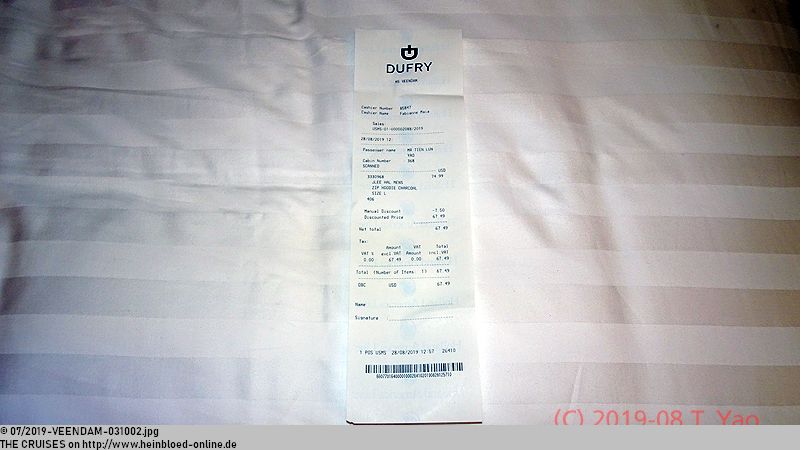 Gruß nach Basel zu
Dufry
.
Größe L. Für amerikanische Verhältnisse ist dann doch eher XL bei uns in Europa. Aber ich bekomme 10% Rabatt mit meinen zwei Sternen aus dem
Mariner Society Programm
.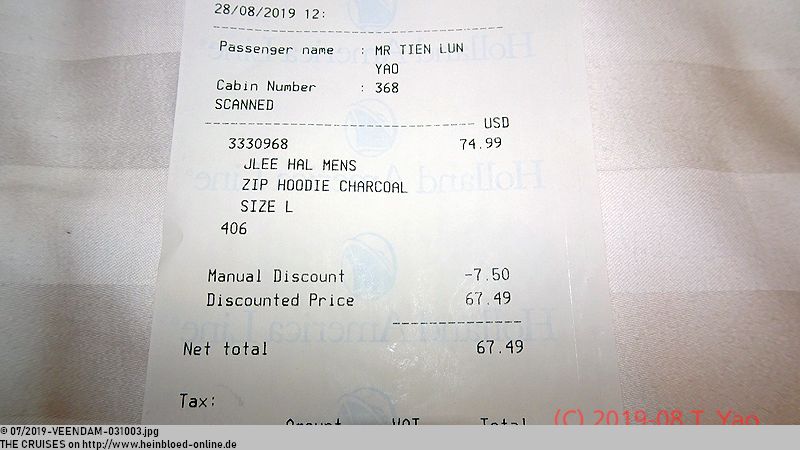 Size L. For American sizes but in Europe it would be more XL. But I got a 10% discount with my two stars in the Mariner Society program.

Usually, you differentiated in the main dining room between good tables at the window and less useful tables apart from the window. Two more k.o. criteria were added on VEENDAM: There were louder seats under particularly loudspeakers, and there were seats under the ventilation. Here it was often cold and breezy. The service offered by Purwono and Dony, and Deputy Maître D 'Eko and Restaurant Host Oka were, as always, attentive, reserved, friendly - simply excellent. I saw now that there were several samples of the bread plates of Royal Delft. Not ever, I immediately discovered the Holland America logo on the plate. But it was on each pattern. I really liked the way they serve the soups in the main dining room: they toppled the liquid into the bowl with the soup condiments.

Normalerweise unterscheidet man im Hauptrestaurant zwischen guten Plätzen am Fenster und weniger guten Plätzen nicht am Fenster. Auf der VEENDAM kommen zwei weitere k.o.-Kriterien hinzu: Es gibt Plätze unter Lautsprechern, die besonders laut sind und es gibt Plätze unter der Lüftung. Hier ist es oft kalt und es zieht. Der Service, den uns Purwono und Dony, und der stellvertretende Maître D' Eko und Restaurant Host Oka bieten, ist wie immer aufmerksam, zurückhaltend, freundlich - einfach erstklassig. Ich sehe jetzt erst, dass mehrere Muster der Brotteller von
Royal Delft
gibt. Nicht immer entdecke ich sofort das Logo von Holland America auf dem Teller. Es ist aber auf jedem Muster drauf. Die Art, wie sie die Suppen auch jetzt im Hauptrestaurant servieren gefällt mir außerordentlich gut: Sie kippen die Flüssigkeit in die Schale mit der Suppeneinlage.
Abends richten wir uns für den ersten formellen Abend her. Ich habe mal wieder Lust Smoking zu tragen. Beim Suchen nach passenden Hintergründen finde ich im Fotostudio unser Einschiffungsbild. Man bekommt es jetzt auf dem Handy ausgeliefert, wenn man kein Papierbild will!

In the evening we should prepare for the first formal evening. I once again wanted to wear a tuxedo. When looking for suitable backgrounds, I found in the photo studio our embarkation photo. You got it now on your phone if you did not want a paper picture!

It was the first formal night. Someone thought Bruno had to lose weight. He got a menu with food with 0 calories. Instead of the hoped-for lobster, there were only shrimp again. Otherwise, it was delicious. Wine Steward Arturo treated me to my can of Coke as good as a guest who ordered an expensive wine. Salt and pepper shakers, like in a cheap American diner?

Es geht zum ersten formellen Abend. Sie finden, dass Bruno abnehmen muss. Er bekommt eine Speisekarte mit Speisen mit 0 Kalorien. Statt des erhofften Hummer gibt es wieder nur Shrimps. Ansonsten ist es sehr gut. Wine Steward Arturo behandelt mich mit meiner Dose Cola genauso wie einen Gast, der einen teuren Wein bestellt hat. Salz- und Pfefferstreuer, wie in einem billigen amerikanischen Diner?
Ein bisschen mehr Chic dürften sie schon haben, wie damals auf der
KONINGSDAM 2016
.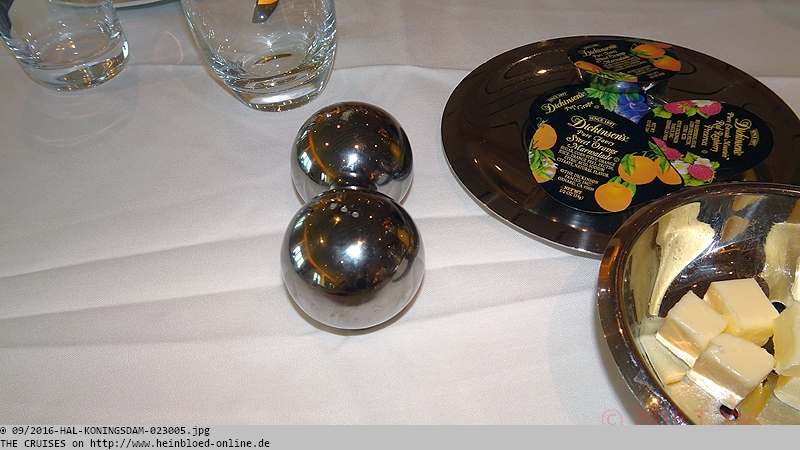 They should already have a bit more chic, as they did on KONINGSDAM 2016.

And on KONINGSDAM 2016, they still came by with the pepper mill and asked if everything was alright and offered us freshly ground pepper from the mill: unfortunately, it was also dropped. It was a pity that someone tried to abolish the elegance and the special all that made Holland America more lovely by others.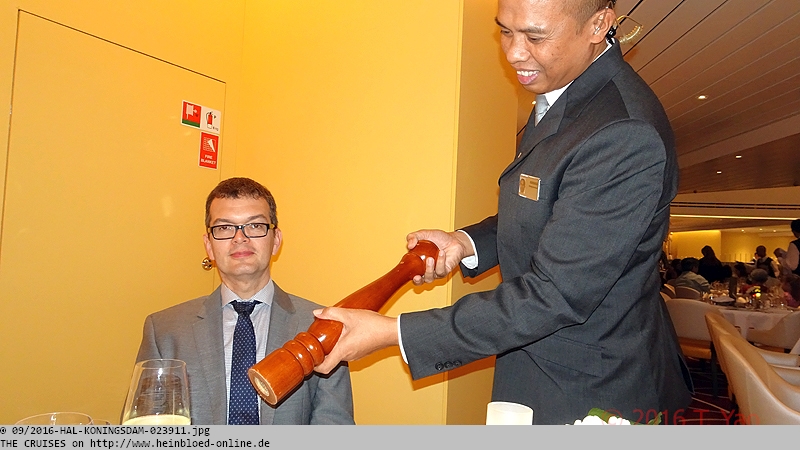 Und auf der
KONINGSDAM 2016
sind sie immer noch mit der Pfeffermühle vorbeigekommen und haben nachgefragt, ob alles in Ordnung ist und uns nochmals frisch gemahlenen Pfeffer aus der Mühle ausgeboten: leider auch weggefallen. Echt schade, dass man versucht die Eleganz und das Besondere alles abzuschaffen, was Holland America von anderen schöner gemacht hat.
Damals auch noch die Uniformen zum Abendessen auf der
EURODAM 2014
. Hier laufen die Kellner herum, als ob wir in einem Business Meeting wären.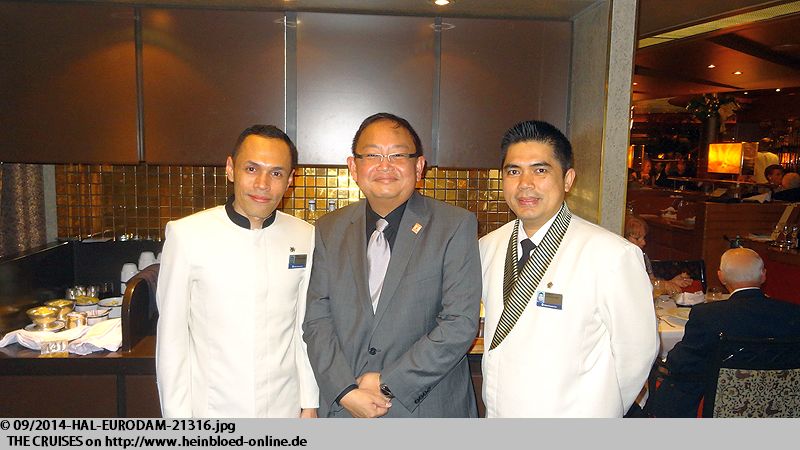 At that time also the uniforms for dinner at the EURODAM 2014. Here the waiters walked around as if they were in a business meeting.

On RYNDAM 2013, not only did the waiters put on elegant attire, but also the guests, and for those without a jacket, they had jackets on them. It was a pity that Holland America released the adolescent mania and made it x-arbitrary.

Und zur
RYNDAM 2013
hat man nicht nur Wert darauf gelegt, dass die Kellner elegant angezogen sind, sondern auch die Gäste und für diejenigen ohne Jacket hatte man Jackets bereitgehalten. Wirklich schade, dass man Holland America dem Jugendwahn freigibt und x-beliebig macht.
Wir gehen zur Production Show Dance. Gefällt mir außerordentlich gut. So wie ich es von Holland America gewohnt bin.

We went to the Production Show Dance. I liked it very much. As I was used to from Holland America.

It was still Wednesday. This was always very convenient on sea days that you did not lose sight of the day of the week.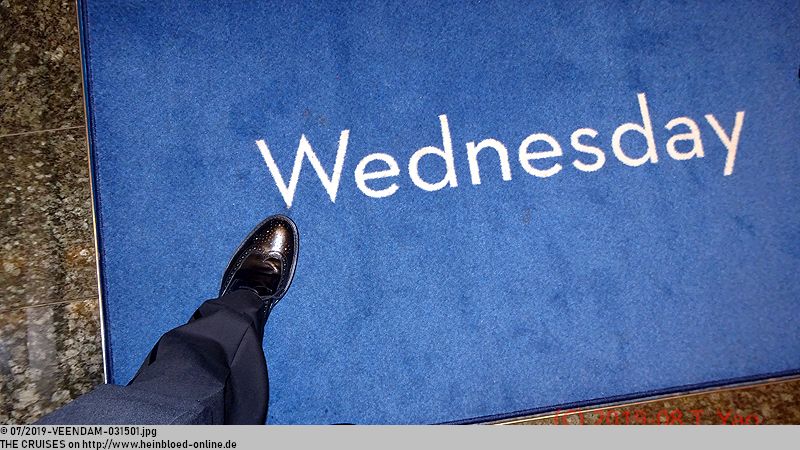 Noch ist Mittwoch. Das ist immer sehr praktisch an Seetagen, dass man nicht den Wochentag aus den Augen verliert.
Am ersten Abend war ich so fertig, dass ich kein Bild von dem Canaletto-Team gemacht habe. Das hole ich nach. Frauen arbeiten ja bei Holland America nur in den Zuzahl- und SB-Restaurants. An Bord gibt es nur zwei Zuzahlrestaurants. Und im Pinnacle Grill gibt es keine. Also die einzigen Kellnerinnen, die uns am Platz bedienen.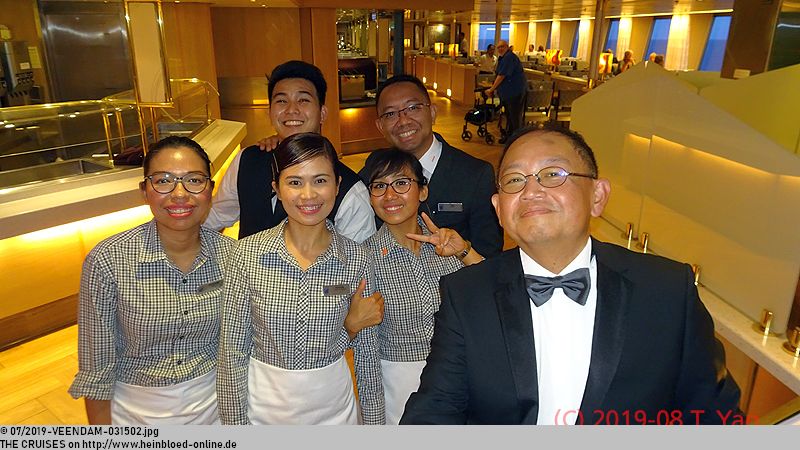 The first night I was so exhausted that I did not get a picture of the Canaletto team. I wanted to catch up. Women work at Holland America only in the alternative and self-service restaurants. Onboard, there were only two alternative restaurants. And there were none in the Pinnacle Grill. So the only waitresses who served us at the table.

Many thanks to Dewi, Phoebe, Arisandi, Maître D 'Adi and Wine Steward Vladimir for the excellent service on the first night.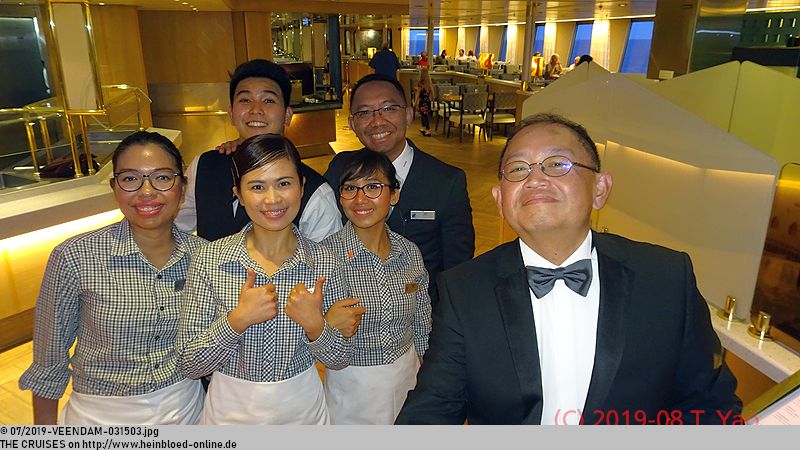 Vielen Dank an Dewi, Phoebe, Arisandi, Maître D' Adi und Wine Steward Vladimir für den tollen Service am ersten Abend.
Es geht noch zum Captain's Toast, der von Kreuzfahrtdirektor Tommy moderiert wird. Auf der Bühne Kapitän Mark Trembling. Da es sein erster und vielleicht vorerst sein einziger Auftritt in dieser Funktion auf der VEENDAM ist, lasse ich für ihn einige Bildabzüge erstellen. Insgesamt absolviert er seinen Auftritt mit sehr nettem Charme.

We went to the Captain's Toast, which was hosted by cruise director Tommy. On stage, Captain Mark Trembling. Since it was his first and perhaps his only appearance in this function on VEENDAM, I ordered some prints for him. Overall, he completed his appearance with a very nice charm.

It was a pity that Captain Mark stood alone on the stage next to cruise director Tommy. On EURODAM 2014 we had the opportunity to get to know the senior officers on stage and the confetti bang from the Magnum bottle was saved.

Es ist ja schon schade, dass Kapitän Mark neben Kreuzfahrtdirektor Tommy alleine auf der Bühne steht. Auf der
EURODAM 2014
hatten wir ja zumindest hier die Gelegenheit die Senioroffiziere auf der Bühne kennenzulernen und der Konfetti-Knall aus der Magnum-Flasche ist auch weggespart.
Die anderen Reisen in diesem Blog/
The other voyages in this blog: