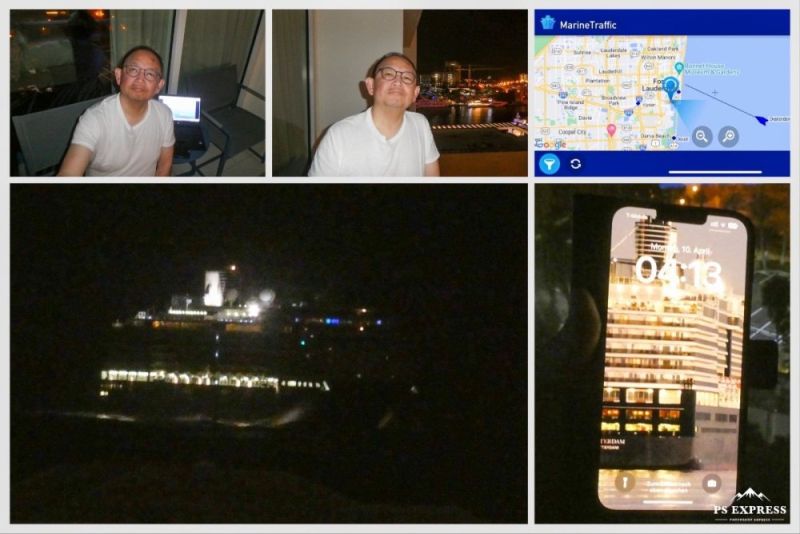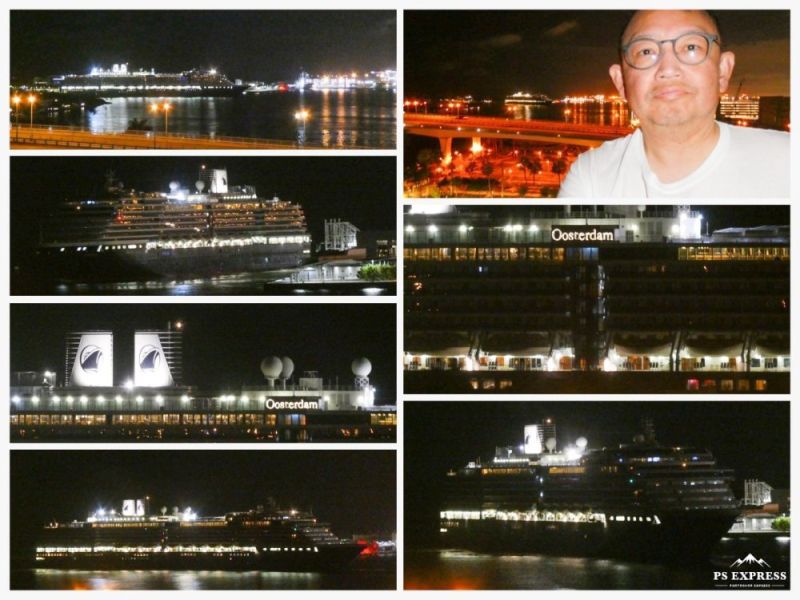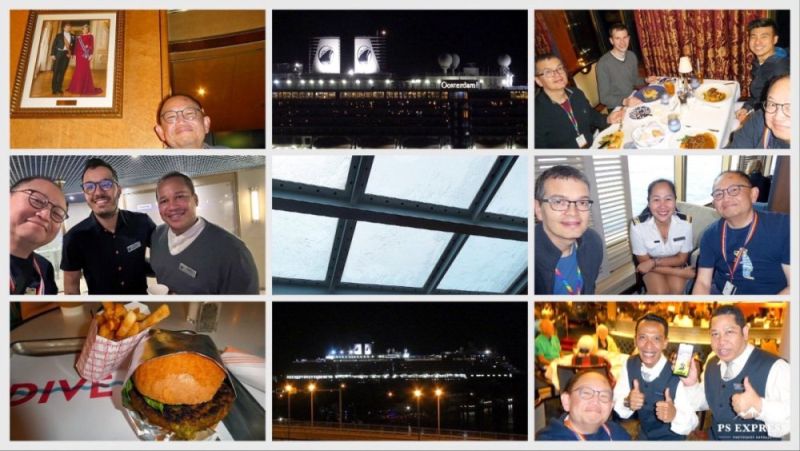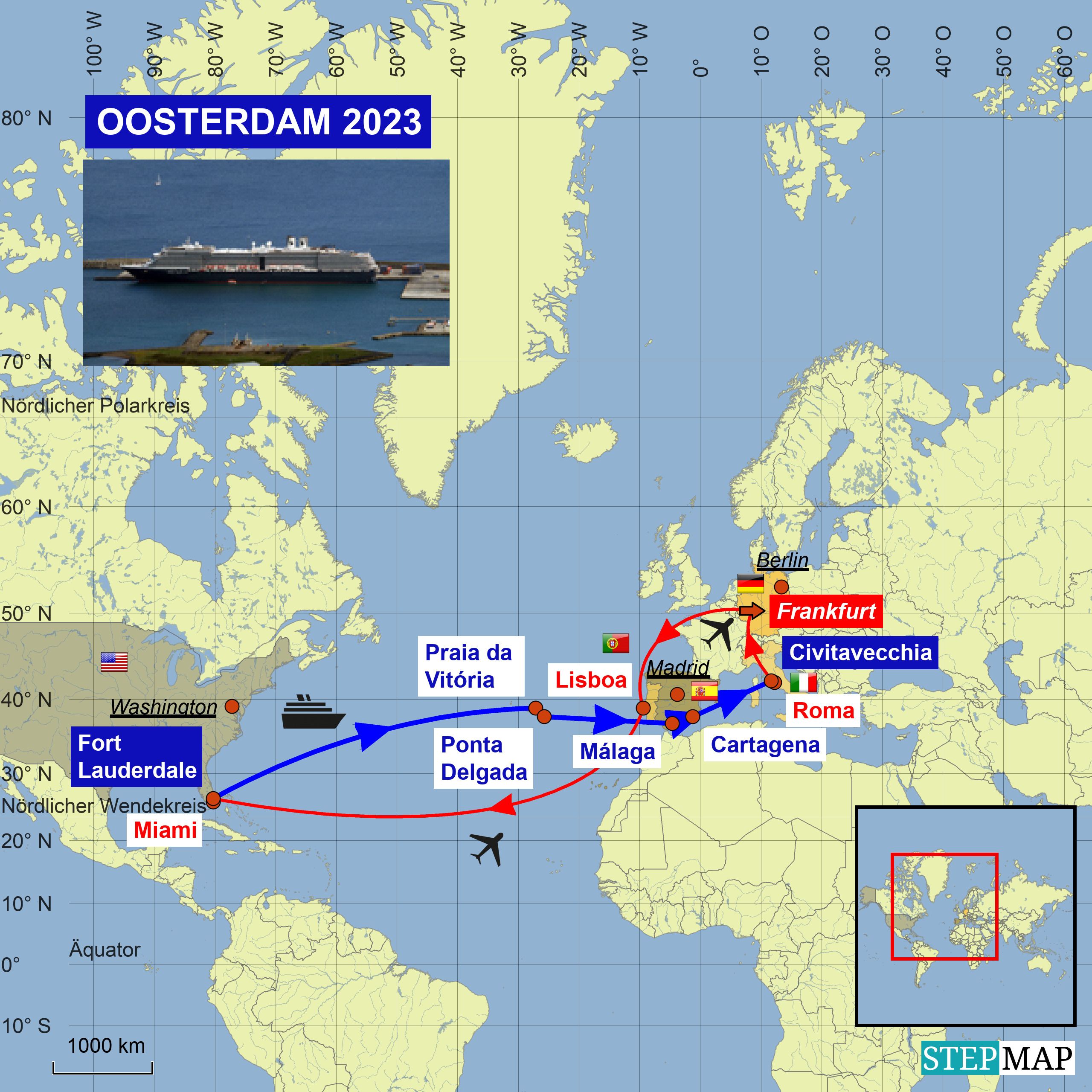 Es gibt Mitreisende, die ungeprüft und ohne eigene Zweifel alle Informationen, weitergeben. Es ist schließlich die
offizielle App des Hafenbetreibers
. Ich hatte damals Zweifel angemeldet, dass alle Schiffe immer erst nach 07:00 Uhr morgens eintreffen. Sie werden zwar kurzfristig aktualsiert, aber dann warte ich doch lieber ab, bis dass die Zeiten glaubhafter sind, bevor ich erst mal anderen schreibe, dass das Schiff nach 07:00 Uhr kommt. Ich bin nicht zum ersten Mal hier und freue mich, dass ich recht behalte: die Schiffe kommen sehr viel früher rein und ich habe meine Hausaufgaben gemacht. Ich bin so rechtzeitig auf, um unsere OOSTERDAM beim Einlaufen zuzusehen. Bereits kurz nach 04:00 Uhr läuft sie ein. Ich kaufe mir die 24-Stunden-Zugänge auf
marinetraffic.com
und damit liege ich i.d.R. richtig. Für heute wurden sie später korrigiert. Aber für die kommenden Abfahrten: Im Leben nicht! Für einen Shipspotter sind diese Informationen nicht nützlich, zumal auch immer ein "Kreuzfahrtschiff" JAUME II angezeigt wird. Aber die finde ich nicht im Hafen. Die Liste nehme ich deshalb nur als Orientierung.

Some fellow travelers pass on all information unchecked and without their own doubts. After all, it is the port operator's official app. I had doubts that all ships always arrive after 07:00 in the morning. They will be updated at short notice, but I'd rather wait until the times are more believable before I write to others that the ship is coming after 07:00 hrs. It's not my first time here, and I'm glad I'm right: the ships come in much earlier, and I've done my homework. I'm up in time to watch our OOSTERDAM arrive. It arrives shortly after 04:00 hrs. I buy the 24-hour access to marinetraffic.com, and I'm usually right about that. They were later corrected for today. But for the upcoming descents: not in real life! This information is not helpful for a shipspotter, especially since a "cruise ship" JAUME II is always displayed. But I need help finding them in the port. So I only use this list as a guide.

LIBERTY OF THE SEAS arrives next.

Als nächstes trifft die LIBERTY OF THE SEAS ein.
Am Schluss noch die VISION OF THE SEAS. Sie macht aber kaum Manöver vor meinem Balkon, so dass auch nur wenig Bilder entstehen. Später regnet es Bindfäden, als die VISION OF THE SEAS vor uns den Hafen verlässt. Nach dem Verlust der Kamera vor der Fahrt auf der
NORWEGIAN SUN 2019
wegen Feuchtigkeitsschaden, mache ich mich nicht auf die Suche nach einem trockenen überdachten Platz bei uns an Bord.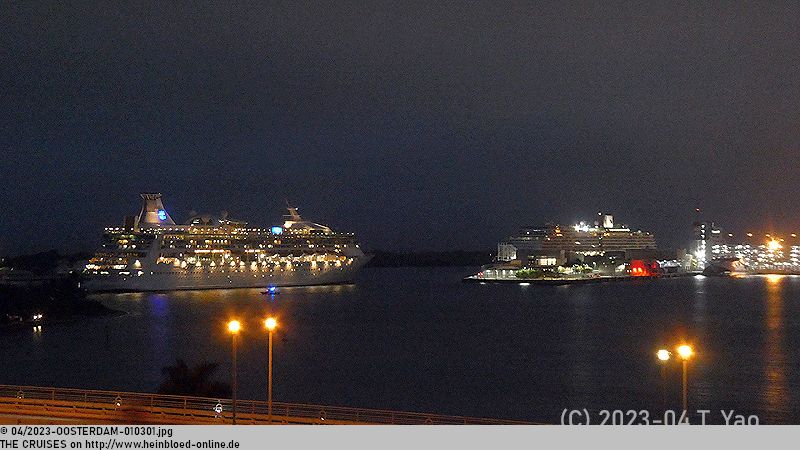 Finally, VISION OF THE SEAS. But she hardly maneuvers in front of my balcony, so only a few pictures are taken. Later it rains cats and dogs as the VISION OF THE SEAS leaves the harbor before us. After losing the camera before sailing on NORWEGIAN SUN 2019 due to moisture damage, I'm not looking for a dry, covered place on board.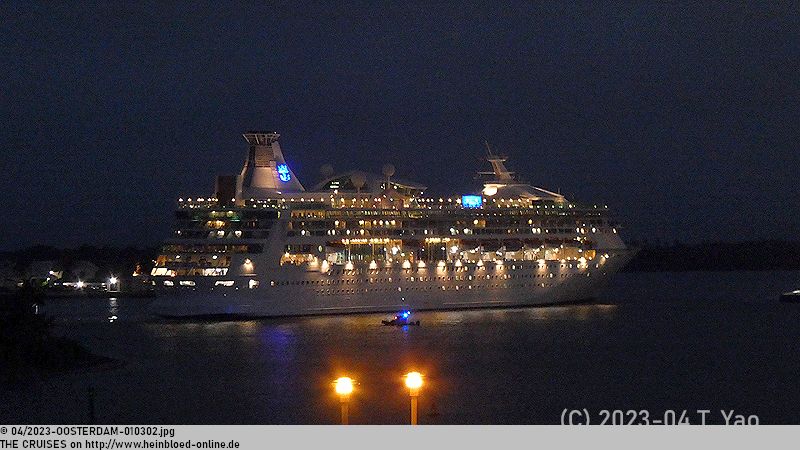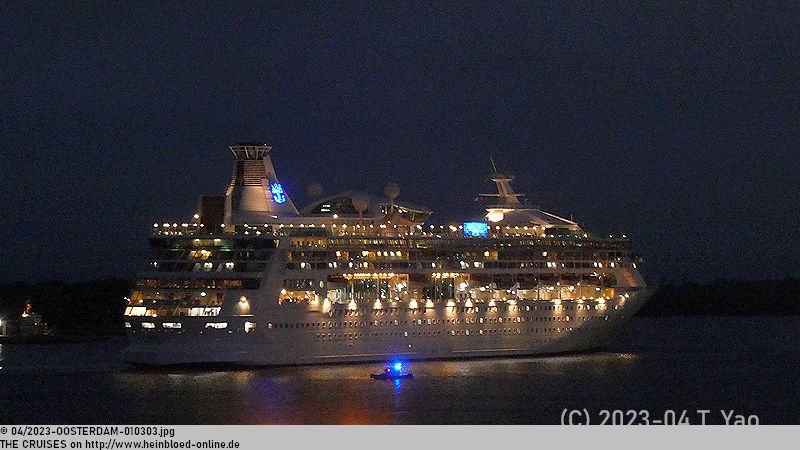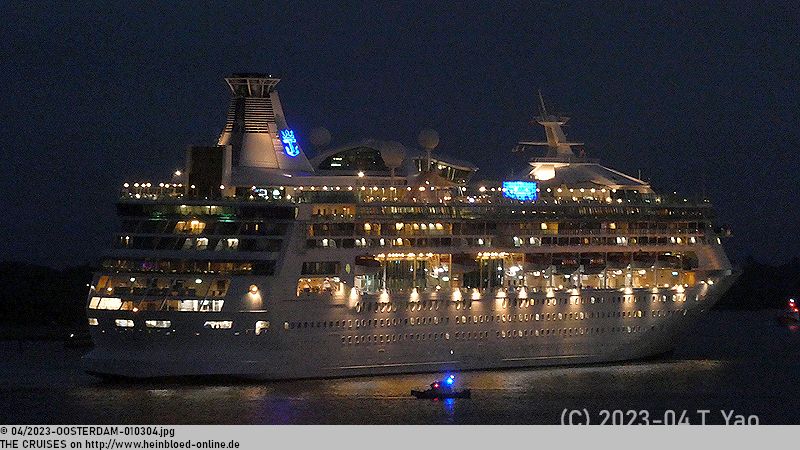 Ich habe mit Punkten gebucht und musste noch Resort Fee bezahlen. Dafür bekam ich aber 20 USD Essensguthaben. Weil ich
Gold-Mitglied
bin, noch zusätzlich 30 USD Essensguthaben. Zum allerersten Mal checke ich nicht an der Rezeption aus, sondern vertraue der Hilton App. Das geht allerdings schief: Es klappt mit den Essensguthaben nicht. Als Entschädigung bekomme ich 10.000 Punkten. Das ist gut... es reicht dann wieder für das Hotel beim nächsten Mal. Worüber kann ich mich noch beschweren?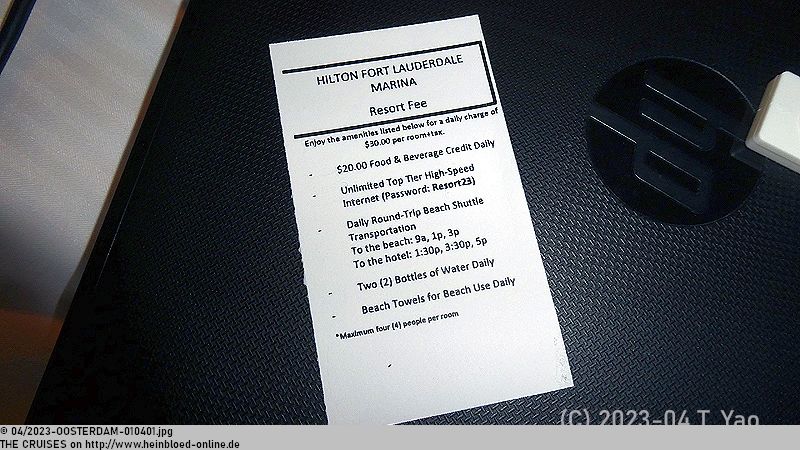 I booked with points and still had to pay the resort fee. I got a 20 USD meal credit for that. Because I'm a Gold member, an additional 30 USD dining credit. I don't check out at the front desk for the first time, but I trust the Hilton app. But that goes wrong: It doesn't work with the meal credits. As compensation, I get 10,000 points. That's good... it'll be enough for the hotel next time. What else can I complain about?

The meal credit is not only valid in the restaurant. We quickly buy something in the café and take it to the room. So we can get ready and, at the same time, bite off something in between. We have to go to Miami and pick up Gil and Martin, so we have more flexibility with our departure. We have agreed on a later check-out because we are not supposed to embark until 13:00 hrs. We have been written that all embarkation and departure times will be two hours later: The OOSTERDAM has the US Coast Guard inspection on board. They had previously written to us that we would leave an hour earlier.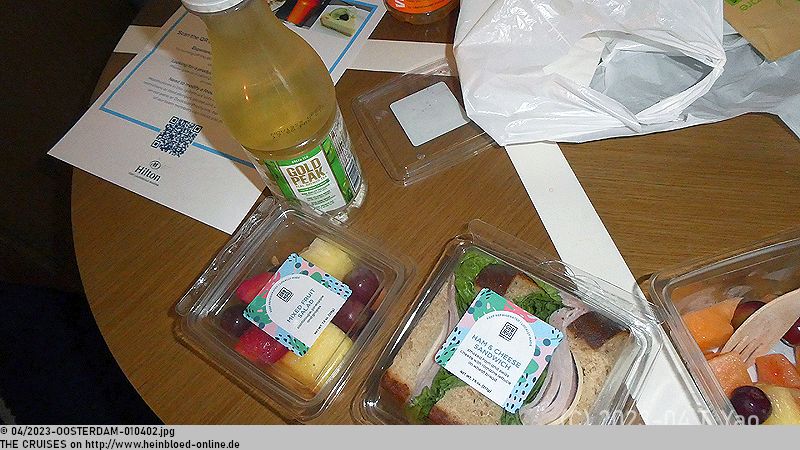 Das Essensguthaben gilt nicht nur im Restaurant. Wir kaufen kurzerhand etwas im Café und nehmen es aufs Zimmer mit. So können wir uns fertigmachen und gleichzeitig immer zwischendurch etwas abbeißen. Wir müssen nach Miami und Gil und Martin abholen und so sind wir flexibler mit unserer Abfahrt. Ein späteres Check-Out haben wir vereinbart, weil wir ja erst um 13:00 Uhr einschiffen sollen. Wir wurden angeschrieben, dass alle Einschiffungszeiten und Abfahrtszeit sich zwei Stunden nach hinten verschieben: Die OOSTERDAM hat die Inspektion der US Coast Guards an Bord. Zuvor hatten sie uns angeschrieben, dass wir schon eine Stunde früher abfahren würden.
Wir fahren nach Miami. Vor dem Hotel von Gil und Martin steht ein Auto mit deutschem Autokennzeichen. Zwar nur ein Fun-Schild, aber ich erkenne sofort, dass es aus Deutschland ist. Ich werde von
Custom Cruise Wear
daran erinnert, dass ich in meinem Hotel in Miami meine T-Shirts noch nicht abgeholt habe. Komisch, dass ich beim Check-In nicht angesprochen wurde. Später war klar: genauso wie nach der
GRAND PRINCESS 2018
in Las Vegas. Das Hotel nimmt nichts für Gäste an und man muss es in dem
FedEx Office
im Hotel abholen. Und sie geben es nur heraus, wenn ich dafür bezahle. Die T-Shirts für unsere CARNIVAL PRIDE Reise im Juli sind zwar selbst günstig, aber es kam jetzt soviel an Expresszuschlägen für den Auftrag, für den Versand usw. darauf: es wäre wohl insgesamt preiswerter gewesen, es nach Deutschland schicken zu lassen und die Einfuhrumsatzsteuer zu bezahlen. Während wir nach Fort Lauderdale fahren, schaffen wir es gerade noch im Trockenen unser Gepäck (bis auf eines) aufzugeben. Diese Gepäckstücke schaffen es auch trocken in unsere Kabine. Danach fängt es an in Strömen zu regnen. Tage später werden sogar die Flughäfen in Fort Lauderdale und Miami wegen Überflutung gesperrt. Von der Crew erfahren wir, dass sie wohl auf dem Weg zum Schiff nach Tampa bereits umgeleitet wurden und mit dem Bus nach Fort Lauderdale gebracht werden mussten. Ein Gepäckstück, dass wir später nachträglich übergeben, steht wohl eine Zeitlang im Regen. Darin war aber sowieso nur die Kleidungsstücke, die zuvor bereits nass waren und die sowieso nur in den Wäschesack sollten. Ich mache mir daher nicht die Mühe den Schaden anzeigen. Die Crew wird sowieso genug Ärger mit mir haben. Ich gewähre denen noch einen zeitlichen Aufschub, um mich zum schwierigsten Gast an Bord zu wählen. Wir tanken, essen noch etwas und geben das Auto bei
Budget
ab. Sie bieten einen kostenlosen Shuttle ein. Weil es in Strömen regnet und andere Reisende nicht auf die Idee kommen zunächst mit Mietwagen in den Hafen zu fahren und dann den Wagen abzugeben, staut es sich unter dem Vordach. Wir müssen im strömenden Regen aussteigen. Der Rücknahmeagent hat auch keine Lust bei dem Regen meine Abrechnung fertig zu machen und meinen Wagen einzuchecken. Er ist unverschämt und berechnet mir den vollen Tank, obwohl der Wagen vollgetankt ist.
Hertz
hätte allerdings für die Einwegmiete 150 USD zusätzlich genommen. Es hat ewig gedauert, bis dass der Shuttle kommt. Zwischenzeitlich hatte ich Erwägung gezogen, sogar nochmals
Lyft
zu rufen und den Transfer selbst zu zahlen. Von
Budget
habe ich daher die Nase voll, nach dem ich dann die Quittung vom Tanken nachreichen musste.

We're going to Miami. A car with a German license plate is parked in front of Gil and Martin's hotel. It's only a fun sign, but I can tell immediately that it's from Germany. I'm being reminded by Custom Cruise Wear that I still need to pick up my shirts from my Miami hotel. Strange that I was not addressed at check-in. Later it was clear: just like after GRAND PRINCESS 2018 in Las Vegas. The hotel accepts nothing for guests; you must collect it from the FedEx Office. And they only give it out if I pay for it. The T-shirts for our July CARNIVAL PRIDE trip are cheap, but there were so many express surcharges for the order, for shipping, etc.: it would have been cheaper overall to have it sent to Germany and the import sales tax to pay. While driving to Fort Lauderdale, we just checked in our luggage (except for one) in the dry. These pieces of luggage also make it to our cabin dry. After that, it starts to rain heavily. Days later, even the Fort Lauderdale and Miami airports are closed due to flooding. We learn from the crew that they were probably already diverted on the way to the ship in Tampa and had to be taken to Fort Lauderdale by bus. A piece of luggage we handed over later must have been left in the rain for a while. In any case, only the clothes were already wet, which should only be put in the laundry bag anyway. So I don't bother reporting the damage. The crew will have enough trouble with me always. I'll give them a reprieve to vote me the most challenging guest on board. We fill up, eat something and hand the car over to Budget. They offer a free shuttle. Because it's pouring rain and other travelers don't think of first driving to the port with a rental car and then returning it, it builds up under the canopy. We have to get out in the pouring rain. The redemption agent also doesn't want to finish my statement and check in my car in the shower. He's rude and charges me for the full tank even though the vehicle is complete. However, Hertz would have set an additional 150 USD for the one-way rental. It took forever for the shuttle to come. In the meantime, I had even considered calling Lyft again and paying for the transfer myself. So I'm fed up with Budget, after which I had to hand in the receipt from the gas station.

We got enough tips in cash again. Lots of 2 USD bills too. Some crew members are delighted because they see the 2 USD bills as good luck charms. Another group tries to exchange them for 1 USD bill in the finance office on board because they think they are counterfeit money — your choice to trade or keep. We continue getting the 2 USD bills because I don't feel like carrying twice as many. However, in the future, at the end of the trip, I will ask if there are enough at the main cash desk that I can swap them back for my next trip. If you don't want an additional tip, say no. We already pay 18% on the beverage sales, and we usually also pay the service fee. We like the crew and want to let them know, but if they don't want to, we have no problem not paying extra cash tips.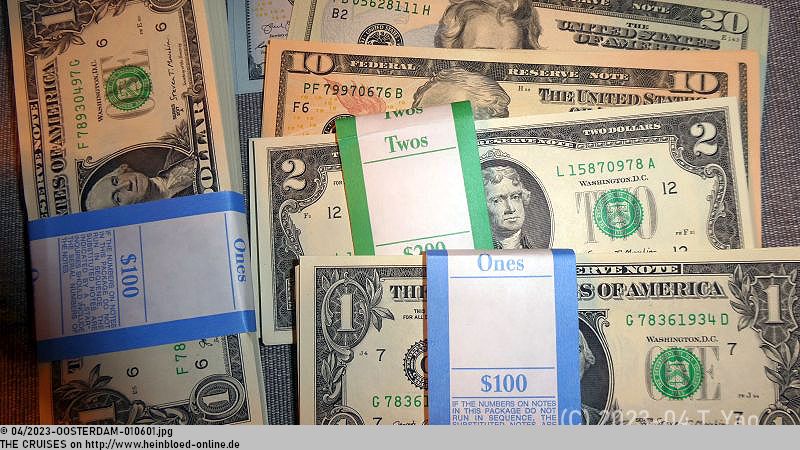 Wir haben wieder genügend Trinkgeld in bar beschafft. Auch jede Menge
2-USD-Noten
. Ein Teil der Crew freut sich sehr darüber, weil sie die
2-USD-Noten
als Glücksbringer. Ein anderer Teil versucht sie an Bord im Finanzbüro gegen 1-USD-Noten umzutauschen, weil sie sie für Falschgeld halten. Ihre Entscheidung, ob sie sie eintauschen oder behalten. Wir besorgen auch weiterhin die
2-USD-Noten
, weil ich wiederrum keine Lust habe, die doppelte Menge an Scheinen mitzuführen. Allerdings werde ich künftig am Ende der Reise nachfragen, ob soviele an der Hauptkasse aufgetaucht sind, dass ich sie wieder für meine nächste Reise zurücktauschen kann. Wer kein zusätzliches Trinkgeld möchte, braucht nur nein zu sagen. Wir zahlen ja schon 18% auf den Getränkeumsatz und das Servicegeld zahlen wir normalerweise auch. Wir mögen die Crew und wollen denen es zeigen, aber wenn sie es nicht wollen: wir haben damit keine Schwierigkeiten, kein zusätzliches Trinkgeld in bar zu zahlen.
Bei HAL muss man immer oft prüfen. Zunächst haben wir die Reise für 1899 USD/Person (netto) gebucht.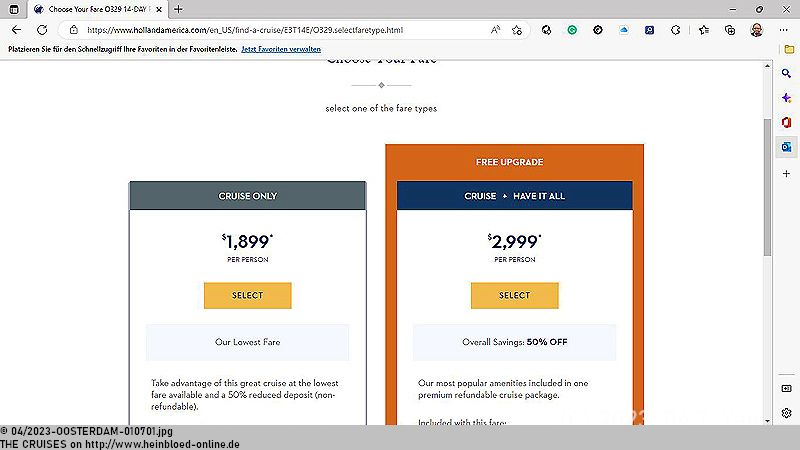 With HAL, you always have to check often. First, we booked the 1899 USD/person (net) trip.

We can't do anything with just have-it-all, and we don't drink alcohol. We never make boat trips. Even when we can book it with 50 USD/night*person: it is interesting for us without a service charge included. So we had to pay 1400 USD for HIA plus a service charge of 448 USD. So we pay later on board 1400 USD including the service charge and our purchases on board. So we're better off with that.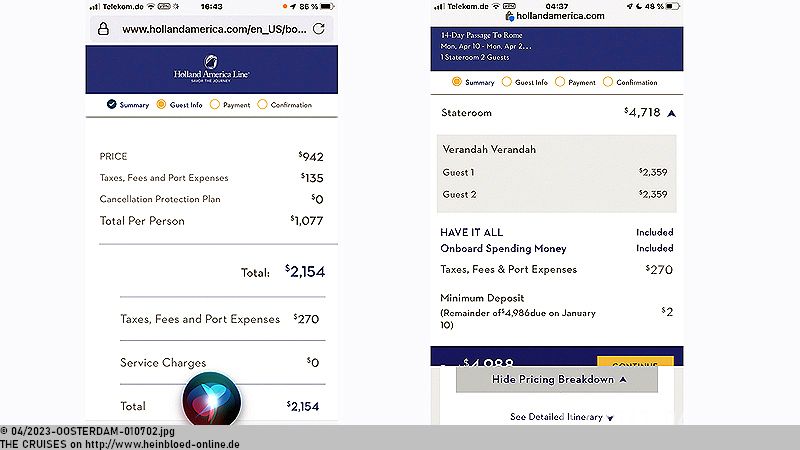 Nur mit Have-it-all können wir nichts anfangen. Wir trinken keinen Alkohol. Wir machen nie Schiffsausflüge. Auch als wir es mit 50 USD/Nacht*Person buchen können: ohne Service Charge inkludiert ist es für uns interessant. Wir hätten also 1400 USD für HIA plus Service Charge 448 USD zahlen müssen. So zahlen wir an Bord später 1400 USD inkl. Service Charge und unsere Einkäufe an Bord. Wir stellen uns also damit besser.
Irgendwann bekommen wir die Kabine für 2500 USD und 1 USD Anzahlung. Deswegen: der Verlust ist verkraftbar.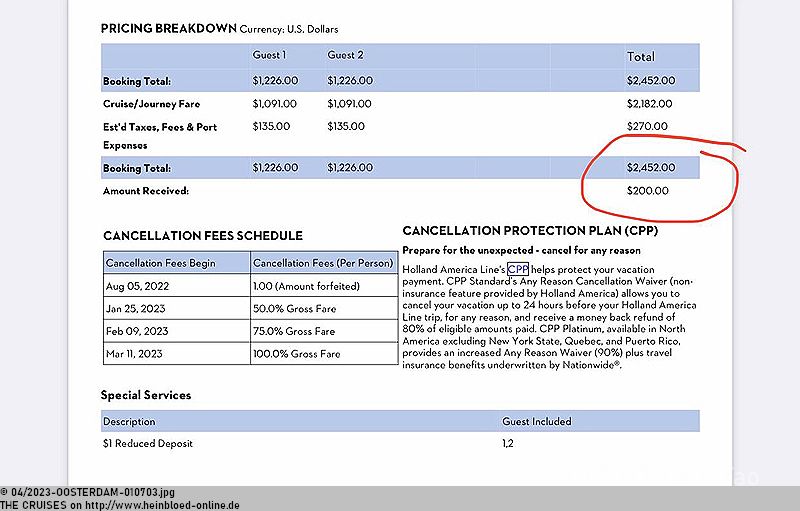 Eventually, we get the cabin for 2500 USD and a 1 USD deposit. Therefore: the loss is manageable.

After this super promo, the prices will only go up.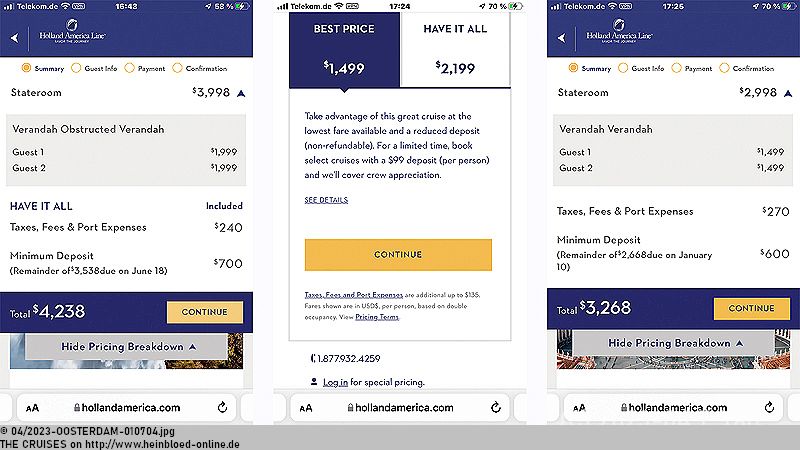 Nach dieser Super-Promo gehen die Preise nur noch nach oben.
Wir bekommen 11:00 Uhr für die Einschiffung zuteilt. Wir haben
Club Orange
dazugekauft und so haben wir Priority Embarkation. Ein Gast
Club Orange
darf bei der Einschiffung einen Nicht-Club Orange Gast mitnehmen. So dürfen Gil und Martin bereits bei uns mit einschiffen.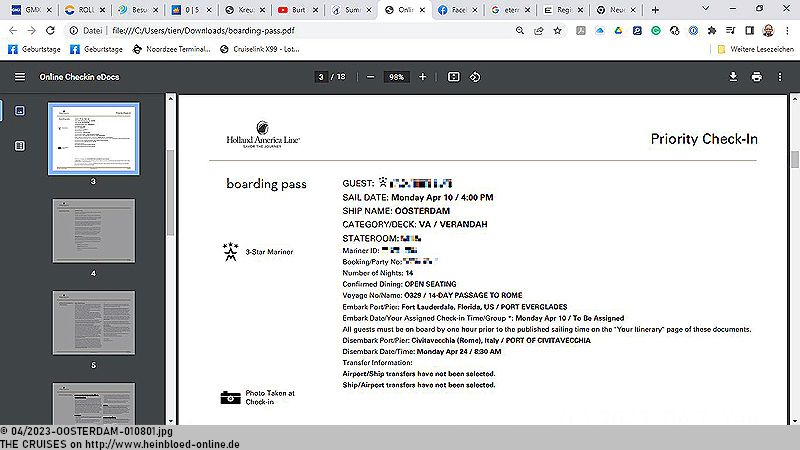 We are allotted 11:00 hrs for embarkation. We added Club Orange, so we have Priority Embarkation. A Club Orange guest may take a non-Club Orange guest with him upon embarkation. So Gil and Martin are already allowed to embark with us.

But we are informed to come two hours later that they start embarkation at 13:00 hrs.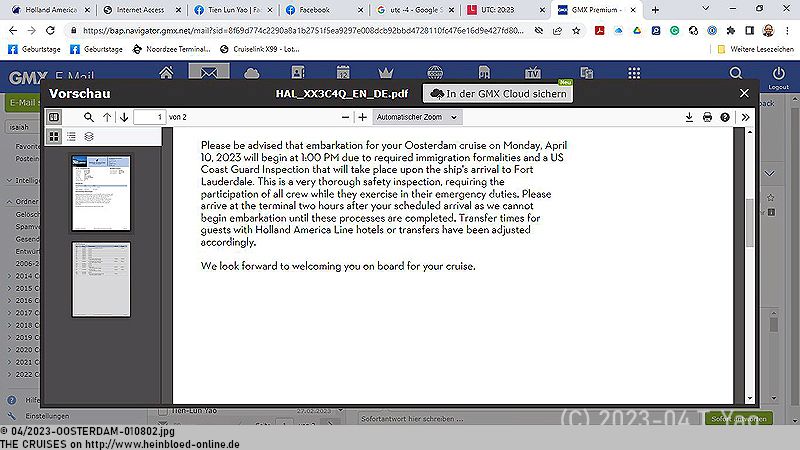 Aber wir werden informiert, dass wir zwei Stunden später kommen sollen, dass sie erst um 13:00 Uhr mit der Einschiffung beginnen.
Aber die Dokumente werden nicht aktualisiert.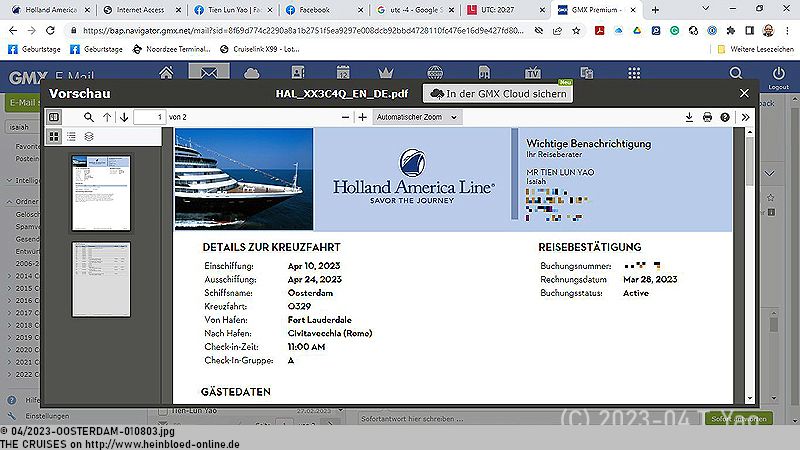 But the documents still need to be updated.

Better safe than sorry. We do not want to expose ourselves, the crew, and our fellow travelers to any unnecessary danger: we are Covid-19 negative before embarkation.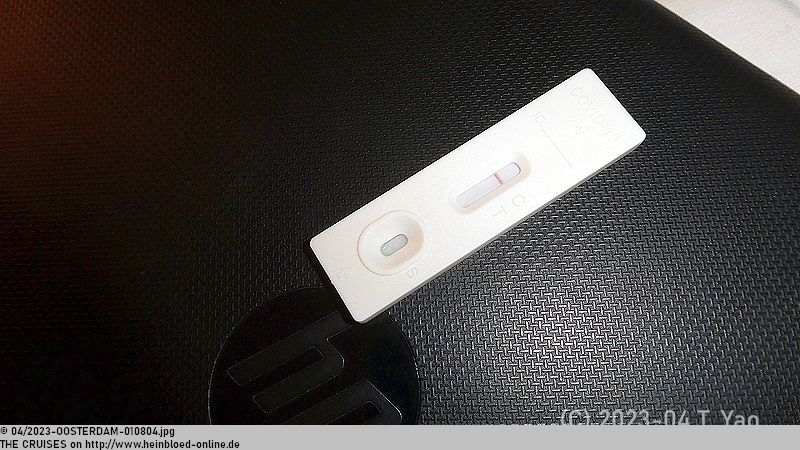 Sicher ist sicher. Wir wollen uns, die Crew und unsere Mitreisenden keiner unnötige Gefahr aussetzen: vor Einschiffung sind wir Covid-19-negativ.
Es ist alles Mist! Es sind noch lange keine 13:00 Uhr. Die Einschiffung läuft bereits. Viele posten auf Facebook, dass sie wohl längst an Bord sind. Das ist garantiert das letzte Mal, dass mich Mails von Holland America interessieren, wenn etwas verschoben wird. Diejenigen, die sich daran halten, werden wie immer "bestraft" und diejenigen, die sich nicht daran halten und solche Mails ignorieren, werden "belohnt", weil sie vor mir an Bord sind. Der Status
Club Orange
verschafft uns einen Vorteil von gefühlt 5 Minuten Einsparung: wir dürfen eine frühere Rolltreppe nutzen und kommen danach in die Schlange zurück, die künstlich auf einem längeren Weg geführt wird.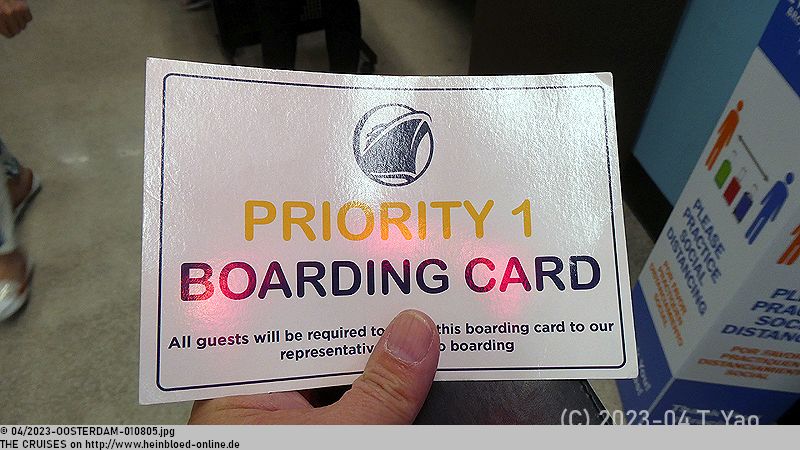 It's all crap! It's still far from 13:00 hrs, and Embarkation is already underway. Many posts on Facebook that they have been on board for a long time. This is guaranteed to be the last time I care about emails from Holland America when something is postponed. As always, those who comply will be "punished", and those who don't comply and ignore such emails will be "rewarded" for getting on board before me. The Status Club Orange gives us the advantage of saving 5 minutes: we can use an earlier escalator and then return to the queue artificially routed along a longer route.

I feel like I need to be more welcome on board. Something was missing: The bell boy in the historic Holland America uniform, as last seen on VEENDAM 2019. It is part of the embarkation!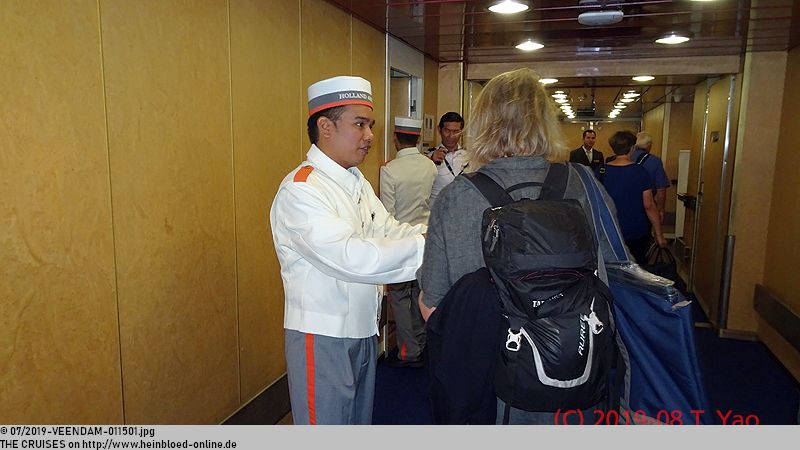 So richtig willkommen fühle ich mich an Bord nicht richtig. Es fehlte etwas: Der Bell Boy in der historischen Holland America Uniform, wie zuletzt auf der
VEENDAM 2019
. Der gehört zur Einschiffung mit dazu!
Ich war so froh, um 11:00 Uhr an Bord sein zu können. Ich wäre so gerne zum Mittagessen für die Mariners ins Hauptrestaurant gegangen. So wie bei jeder Reise bisher. Zuletzt noch mit eigenem Menü auf der
KONINGSDAM 2016
. Und das ging jetzt nicht mehr, da wir erst nach der Mittagsöffnung an Bord kommen sollen.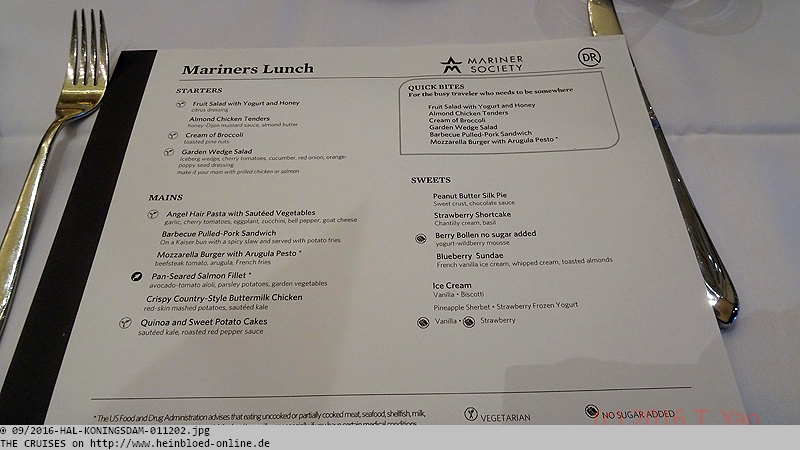 I was so glad to be on board at 11:00 hrs. I would have loved to have gone to the main restaurant for lunch for the Mariners. Just like every trip so far. Most recently, with our menu on the KONINGSDAM 2016. And that was no longer possible because we were only supposed to come on board after the lunchtime opening.

Our cabin is ready.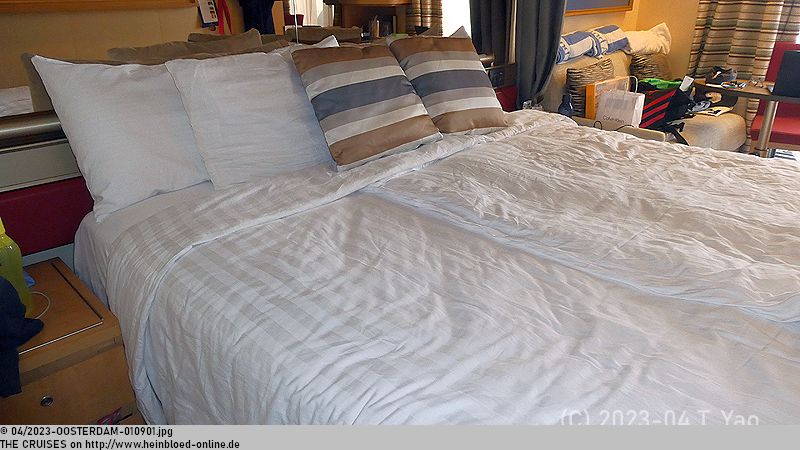 Unsere Kabine ist fertig.
Eine große Bettdecke. Das müssen wir noch ändern lassen.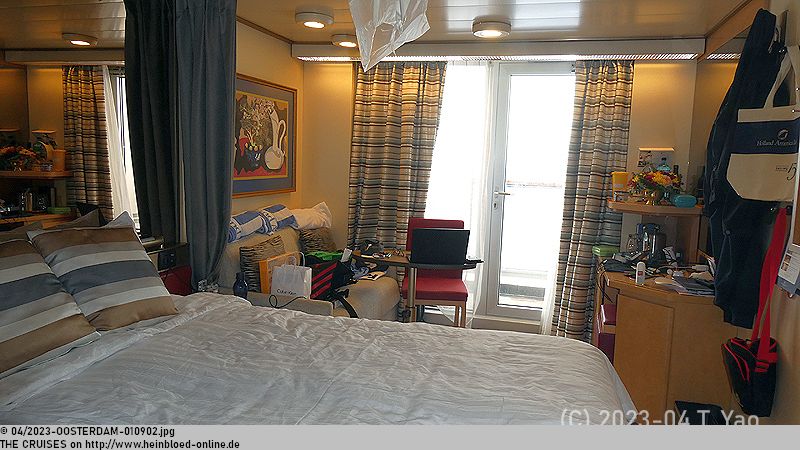 A big duvet. We still have to change that.

We should fill in how we would like it to be filled out. Among other things, the question comes up whether we want a second service in the evening. Yes, we want that. Instead of papers, I have to read through, I'd rather have a secretary who serves me everything bite-sized. Good are the USB outputs, which are distributed in the cabin. We can keep our 2-way connector for two devices with two USB outputs. This is practical because it allows us to use the US power output well. Using them side by side is often impossible because one power supply is blocking the other socket. It is also good that there is still a seat where we can use the interior space. This is where the 3 kg of chocolate we want to distribute to the crew and tour guides during the cruise comes in. Then they can send the money to their families and still have something to do something good for themselves. The fridge is stocked with a selection, but it will be helpful if we clear out some of the stuff. There is a bedside table with two drawers for everyone by the beds. Not necessarily a matter of course. So this is what the bathrobes for Club Orange look like. Nevertheless, there needs to be more space. There are still drawers under the beds at the foot end, but these are not for the guest's exclusive use. What I learned from the MSC fan group: Heavy-duty magnetic hooks. They're damn heavy but beneficial: you can use them to store extra jackets, bags, and trousers on the wall. After these realizations, I left the group again. I've never seen so much jealousy in a Facebook group when someone from the Yacht Club posts. They have to T. Apologies that they can afford Yacht Club. I left the group after posting from a grand hotel (inexpensive with a free shuttle to the airport - super great view and reasonably new!): It had no sight of a ship and therefore had no place in the forum. Then I got too stupid. But the idea with the heavy-duty hooks is a good one. Why didn't we already have them on the last 112 trips?

Wir sollen ausfüllen, wie wir es gerne hätten. U.a. kommt die Frage, ob wir einen zweiten Service abends wollen. Oh ja: den wollen wir. Statt der Papiere, die ich mir durchlesen muss, hätte ich lieber eine Sekretärin, die mir alles mundgerecht serviert. Gut sind die USB-Ausgänge, die in der Kabine verteilt sind. Unseren 2-fach-Stecker für zwei Geräte mit zwei USB-Ausgängen, dürfen wir behalten. Der ist praktisch, weil wir so den US-Stromausgang sinnvoll nutzen können. Oft kann man sie nicht nebeneinander nutzen, weil irgendein Netzteil die andere Steckdose blockiert. Gut ist auch, dass es immer noch den Sitz gibt, bei dem wir den Innenraum nutzen können. Hier kommen die 3 kg Schokolade rein, die wir im Laufe der Kreuzfahrt an die Crew und Tourguides verteilen wollen. Dann können sie gerne das Geld zu ihren Familien schicken und haben trotzdem etwas, womit sie sich selbst etwas Gutes tun können. Der Kühlschrank ist mit einer Auswahl gefüllt, aber für uns ein wenig nutzlos, wenn wir nicht ein Teil der Sachen ausräumen. Hier gibt es an den Betten für jeden einen Nachttisch mit zwei Schubladen. Nicht unbedingt eine Selbstverständlichkeit. So sehen also die Bademäntel für
Club Orange
aus. Trotzdem ist wenig Platz. Es gibt noch Schubladen unter den Betten am Fußende, aber die sind nicht für die exklusive Nutzung durch den Gast vorgesehen. Was ich von der MSC Fangruppe gelernt habe: Schwerlast-Magnethaken. Die sind verdammt schwer, aber sehr nützlich: damit kannst du noch zusätzliche Jacken, Taschen und Hosen an der Wand unterbringen. Nach diesen Erkenntnissen habe ich die Gruppe wieder verlassen. Ich habe noch nie in einer Facebook-Gruppe so viel Neid erlebt, wenn jemand aus dem Yacht Club postet. Die müssen sich z. T. dafür entschuldigen, dass sie sich Yacht Club leisten können. Ich selbst habe die Gruppe verlassen, nach dem ich aus einem geilen Hotel (preiswert mit kostenlosem Shuttle zum Flughafen - supertoller Blick und ziemlich neu!) gepostet habe: es hätte keinen Ausblick auf ein Schiff und hätte daher im Forum nichts zu suchen. Mir wurde es dann zu blöd. Aber die Idee mit den Schwerlast-Haken ist gut. Warum hatten wir sie nicht schon längst bei den letzten 112 Fahrten dabei?
Was auf den alten R- und S-Klassen-Schiffen gut fand, wie zuletzt auf der
VEENDAM 2019
: Schubladen!!!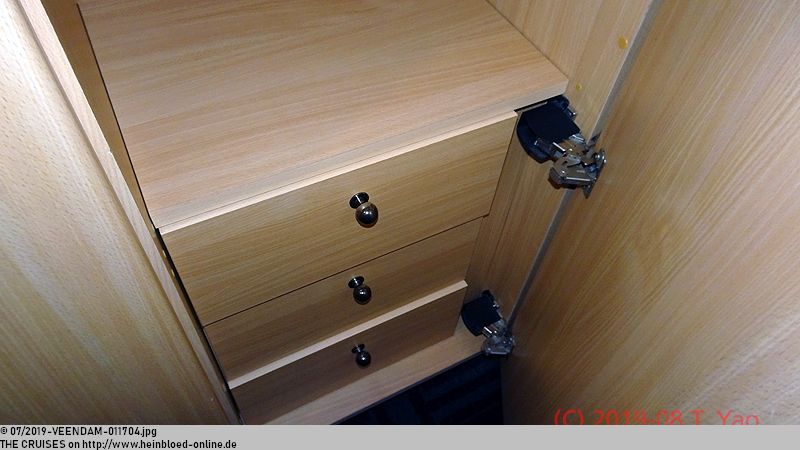 What was good on the old R and S class ships, like last time on the VEENDAM 2019: drawers!!!

A lot has changed. The many minor differences that make HAL better, more distinguishable, unique, and stand out from others have been abolished. Always with the reason: pandemic. But in the meantime you should do it differently: what is an advantage for us guests remains abolished or now costs money. And what is beneficial to HAL remains. Unfortunately, the competition with others degenerates into a price war and, unfortunately, no longer into a product war in which one is also willing to pay a higher price for more services — for example, the fruit basket, like here at ZAANDAM 2012.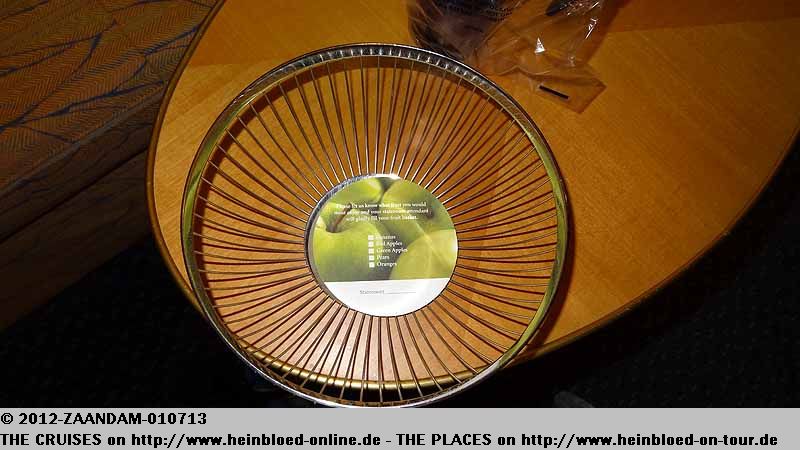 Es hat sich einiges verändert. Die vielen kleinen Unterschiede, die HAL besser, unterscheibarer, einzigartig, von anderen hervorheben, wurden abgeschafft. Immer mit der Begründung: Pandemie. Aber mittlerweile sollte man das nicht so machen: was für uns Gäste von Vorteil ist, bleibt abgeschafft oder kostet nun Geld. Und was vorteilhaft für HAL ist, bleibt weiterhin bestehen. So verkommt leider der Konkurrenzkampf mit anderen zu einem Preiskampf und leider nicht mehr zu einem Produktkampf, bei dem man auch bereit ist, für mehr an Leistungen auch einen höheren Preis zu bezahlen. Z. B. der Obstkorb, so wie hier auf der
ZAANDAM 2012
.
Das gab es nur bei HAL: Obst nach Wunsch in der Kabine.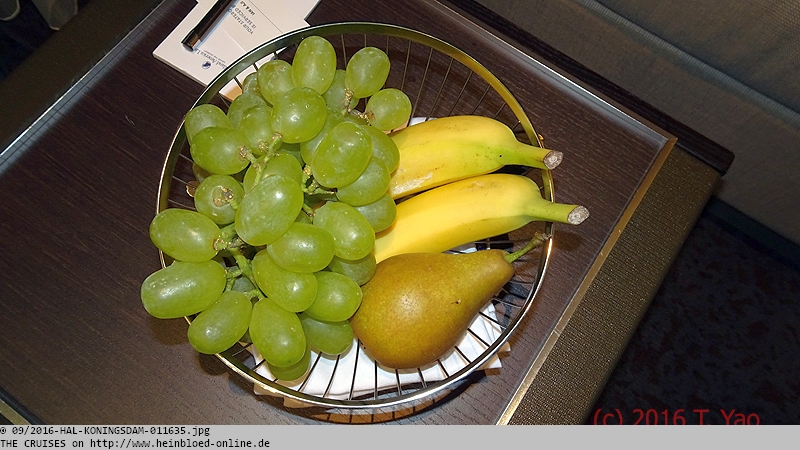 That was only available from HAL: the fruit of your choice in the cabin.

It seemed classier when you returned to the stateroom in the evening and found everything like that. The chocolate is only available on gala evenings; three were announced, and there will be only two in 14 days. It's cheaper: you can feed the guests a more "standard" day.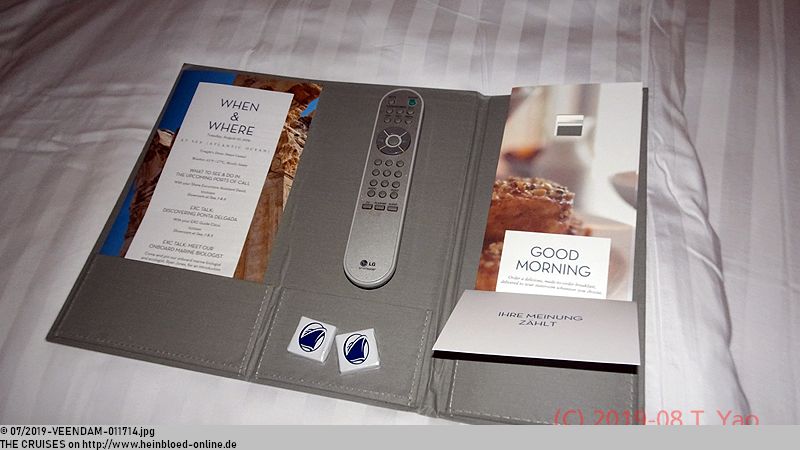 Das wirkte einfach edler, wenn man abends in die Kabine zurückkam und alles so vorgefunden hat. Die Schokolade gibt es nur noch an Galaabenden. Drei waren angekündigt. Tatsächlich werden es aber nur zwei in 14 Tagen. Ist halt billiger: kann man ein Tag mehr "normal" die Gäste abfüttern.
Die App von heute ersetzt keinesfalls gleichwertig den Voyage Planner von der
VEENDAM 2019
.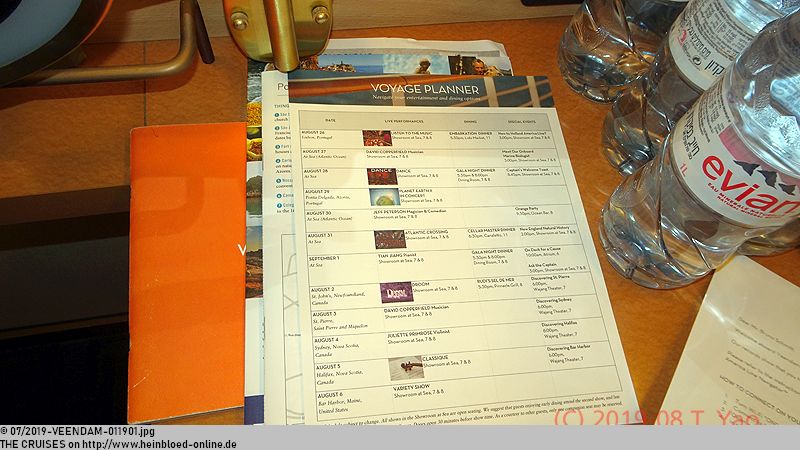 Today's app in no way replaces the Voyage Planner from VEENDAM 2019.

We could also plan because someone took the trouble to provide all the information.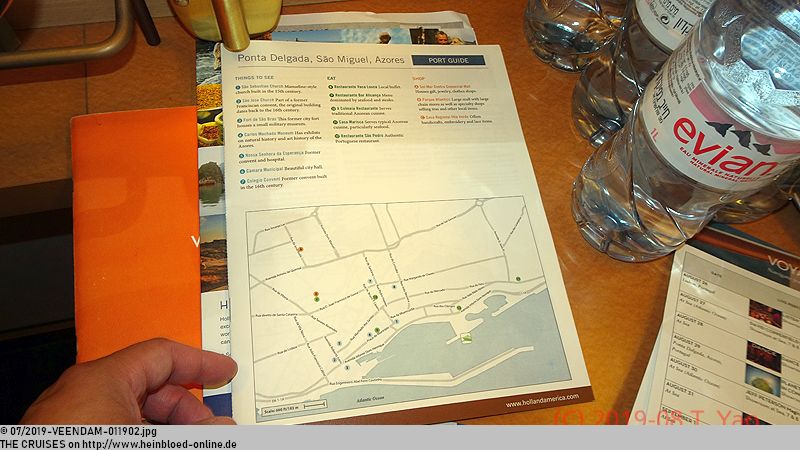 Auch konnten wir planen, weil sich jemand die Mühe gemacht hat, alle Informationen bereitzustellen.
Und es gab Postkarten - kostenlos, wie hier zuletzt auf der
VEENDAM 2019
.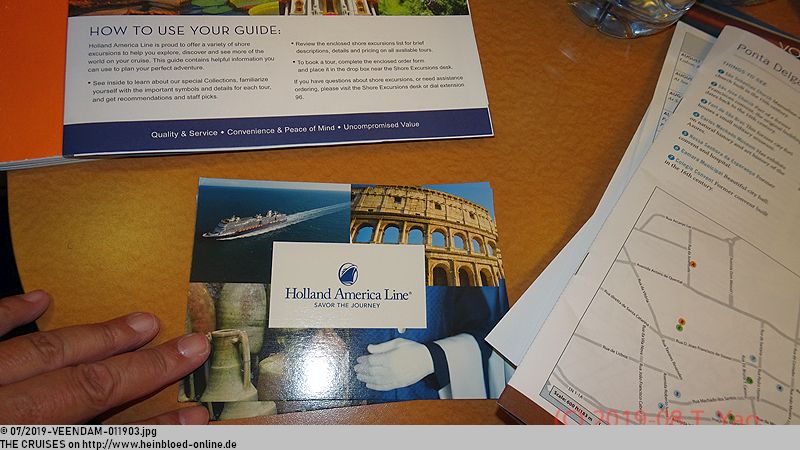 And there were postcards - free of charge, like here last time on VEENDAM 2019.

Our balcony stateroom 5095 with an obstructed view: we could see the horizon. Just different from what happened at the pier or how the pilot gets on or off our ship.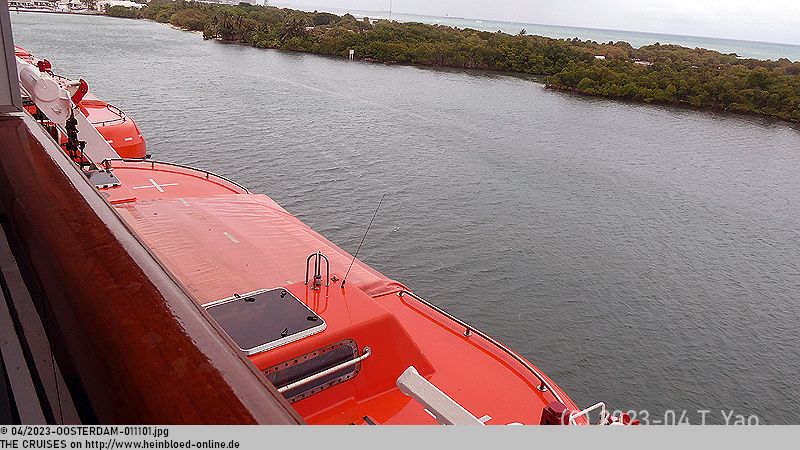 Unsere Balkonkabine 5095 mit eingeschränkter Sicht: Den Horizont konnten wir sehen. Nur nicht, was am Pier passierte oder wie der Lotse unser Schiff betritt oder verlässt.
Die Aufzüge neben an störten nicht. Wir haben einigen Leuten zu gewunken und andere haben uns zugewunken. Wir haben ja kein FKK auf dem Balkon gemacht. Die Nähe war äußerst praktisch: wir waren überall sehr schnell. Die Nähe zum Treppenhaus und den Fahrstühlen führte nicht zu einer nennenswerten Ruhestörung. Allerdings treffen hier zwei "tektonische Platten" des Schiffes aufeinander (zwei Sektionen des Schiffes). Immer wenn es unruhig wurde, hatte man den Eindruck, dass wir mit einem anderen Schiff "Autoscooter" auf einer Kirmes oder besser "Schiffsscooter" gefahren sind und sie ständig ineinander gekracht sind. Wir haben uns aber das Geräusch gewöhnt. Und ohne diesen Lärm fiel uns am Schluss auch schon das einschlafen schwer...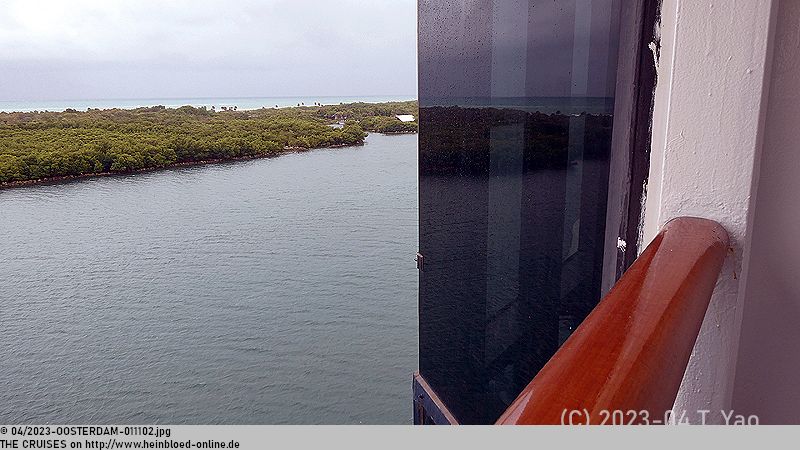 The elevators next door didn't bother us. We waved to some people, and others waved to us. We didn't do nudism on the balcony. The proximity was convenient: we were everywhere very quickly. The proximity to the stairwell and the elevators did not lead to a significant disturbance of the peace. However, two "tectonic plates" of the ship meet here (two sections of the ship). Whenever things got agitated, one had the impression that we were driving "bumper cars" at a fair or rather "bumper ships" with another ship, and they constantly crashed into each other. But we got used to the noise. And without this noise, it was difficult for us to fall asleep at the end...

The only thing we noticed in the bathroom was that we had a bathtub instead of a shower. These were only available in the suites, I thought.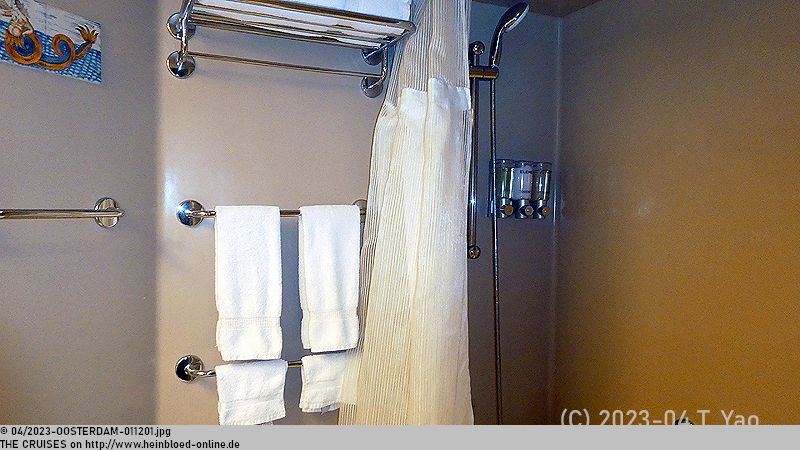 Im Bad fiel uns nur auf, dass wir keine Dusche, sondern eine Badewanne hatten. Da dachte ich eigentlich, dass es diese nur bei den Suiten gibt.
Mittlerweile ist alles auf Spender umgestellt. Also muss ich mir wohl doch mal ein Leergebinde-Set bei
dm
kaufen...
Elemis
bekommt man gut in Deutschland gekauft. Wenn ich also meine Reise auf der OOSTERDAM zu Hause unter der Dusche "verlängern" will, brauche ich nur zum nächsten
Douglas
zu fahren.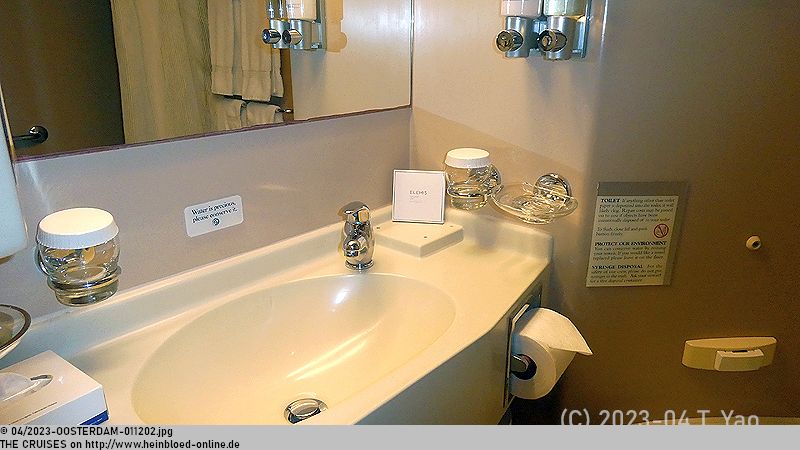 In the meantime, everything has been switched to dispensers. So I have to buy an empty container set from CVS... Elemis is easy to buy in Germany. So if I want to "extend" my trip on OOSTERDAM at home in the shower, I only have to drive to the nearest Bath & Body Works.

Gil and Martin are interested in the spa. Bruno for the gym. And I'm interested in the yoga classes. The yoga classes are all before getting up again. We have nine days at sea! Do you have to start the courses at 07:30 hrs??? The sauna would be free, but only separately, and not particularly well equipped (no alternating baths for the feet and no relaxation room). I found out later: Americans also like to use the sauna naked, and the fun passes were thrown "afterward" during the trip. It's probably worth not buying them right away. It's too small for me, and I don't like that you can only stand when all the stone loungers are occupied. But I also hear that only one of the three steam baths runs appropriately.

Gil und Martin interessieren sich für den Spa. Bruno für das Fitnessstudio. Und ich interessiere mich für die Yoga-Kurse. Die Yoga-Kurse sind wieder alle vor dem Aufstehen. Wir haben neun Seetage! Muss man dann die Kurse um 07:30 Uhr starten??? Die Sauna wäre kostenlos, allerdings nur getrennt und nicht besonders gut ausgestattet (keine Wechselbäder für die Füße und kein Ruheraum). Später habe ich erfahren: auch Amerikaner nutzen die Sauna gerne nackt und die Spapässen wurden im Laufe der Fahrt "hinterher" geworfen. Es lohnt sich wohl, sie nicht sofort zu kaufen. Mir ist das zu klein und ich habe keine Lust, dass man dann nur stehen kann, wenn alle Steinliegen besetzt sind. Ich höre aber auch, dass wohl von den drei Dampfbädern nur eines vernünftig läuft.
Es regnet immer stärker. Nach der
NORWEGIAN SUN 2019
-Reise gehe ich nicht mehr bei jedem Wind und Wetter raus, um meine Kamera wieder zu ruinieren. Aufgrund der starken Winde nützt mir auch unser überdachter Balkon nichts. Außerdem sehe ich kaum die Mündung des Flusses Stranahan. Es ist zu dunkel. Dafür kann ich wohl jeden Regentropfen fotografieren. Die ausfahrende VISION OF THE SEAS sehe ich kaum.

It's raining harder and harder. After the NORWEGIAN SUN 2019 trip, I no longer go out in any wind and weather to ruin my camera again. Due to the strong winds, our covered balcony could be more beneficial to me, too. Also, I barely see the mouth of the Stranahan River, and it is too dark. But I can photograph every drop of rain. I hardly see the departing VISION OF THE SEAS.

Always practical: so that you keep track of things, the day of the week can be read along the carpet.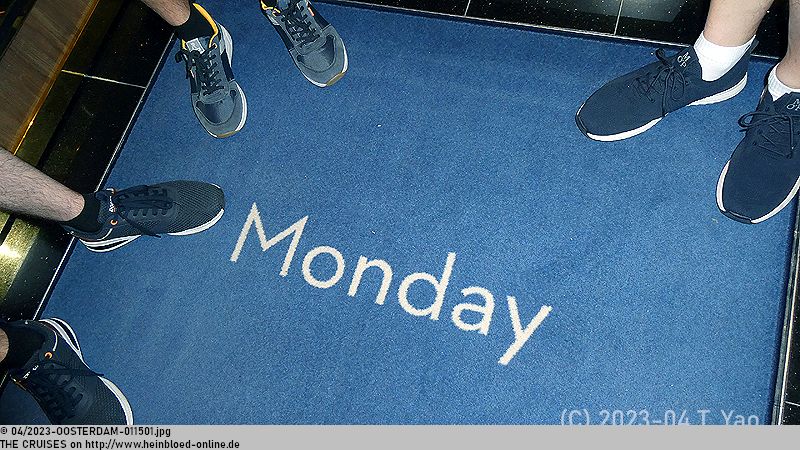 Immer praktisch: damit man die Übersicht nicht verliert, gibt es den Wochentag im Teppich zum Mitlesen.
Es geht am
Lincoln Center
Stage vorbei. Im Programm finden wir nichts. Keine einzige Veranstaltung. Es gibt später bei den Fragen an den Kapitän zweimal großen Aplaus: einmal bei einer Frage von mir, zu der ich mich später äußere. Und die andere Frage: warum es kein klassisches Musikprogramm gibt, weil es genügend Gäste gibt, die deswegen bewusst Holland America buchen. Ich habe auch zwischendurch nachgefragt: man bekommt nur standardisierte, unbefriedigende "Textbausteine" als Antworten. Sie hätten einfach offen damit umgehen und gestehen sollen: es sind keine Klassikmusiker an Bord.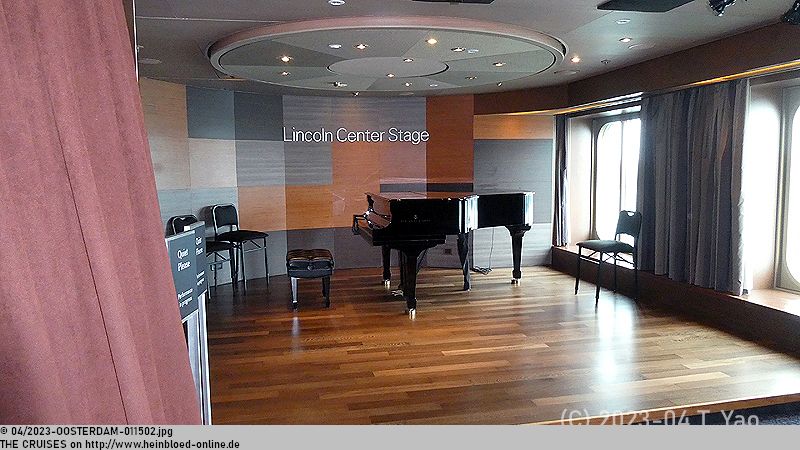 We pass the Lincoln Center Stage and can't find anything in the program. No events. Later, when the captain was asked questions, there was twice a round of applause: once when I asked a question, which I will comment on later. And the other question: why is there no classical music program, because there are enough guests who book Holland America consciously. I also asked in between, you only get standardized, unsatisfactory "text modules" as answers. They should have just been open about it and admitted: there are no classical musicians on board.

There would also be no BBC Planet Earth presentation without classical musicians, like back then on VEENDAM 2019.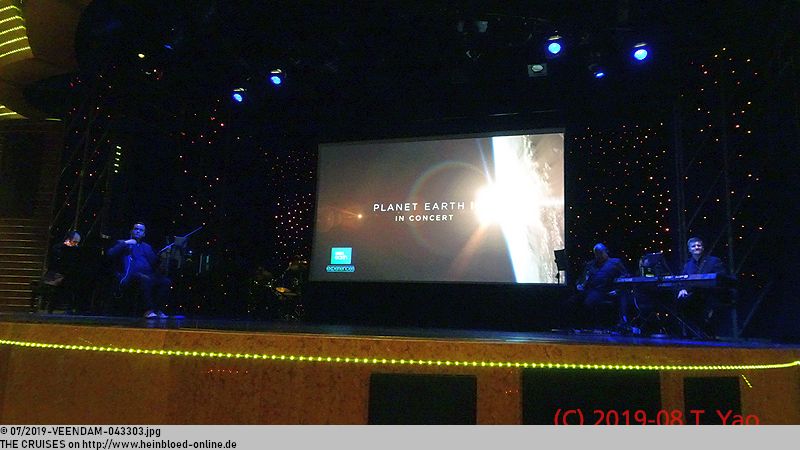 Ohne Klassik Musiker auch keine
BBC Planet Earth
Präsentation, wie damals auf der
VEENDAM 2019
.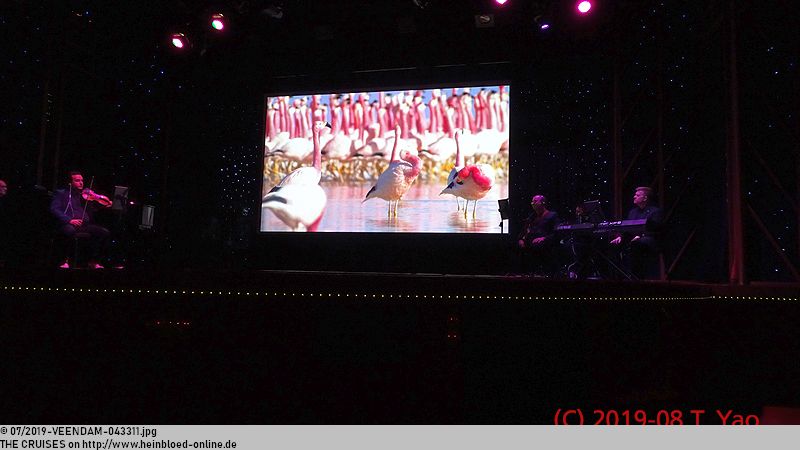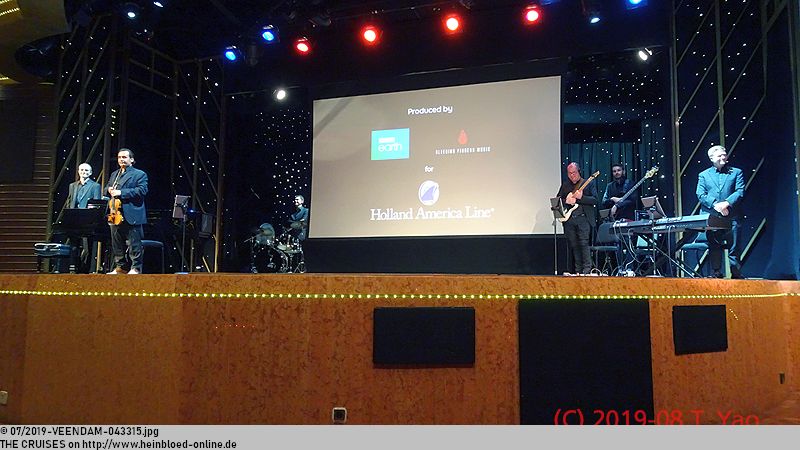 Das Angebot auf der
Lincoln Center
Stage war schon sehr gut, wie damals auf der
KONINGSDAM 2016
.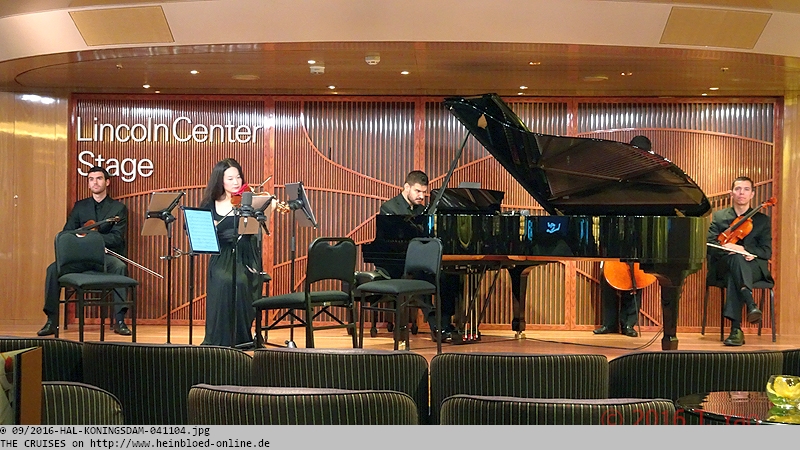 The offer on the Lincoln Center Stage was already terrific like it was on KONINGSDAM 2016.

But even without the Lincoln Center Stage, there was a great offer, like back then on ZAANDAM 2012. I'm still in contact with three of the four musicians today. And if an opportunity arises and they're performing near us, we'll meet for dinner. Her musical performance from back then is unforgettable.

Aber auch ohne
Lincoln Center
Stage, gab es ein tolles Angebot, wie damals auf der
ZAANDAM 2012
. Mit drei der vier Musiker bin ich auch noch heute in Verbindung. Und wenn sich eine Gelegenheit ergibt und sie hier in unserer Nähe Auftritte haben, treffen wir uns zum Essen. Ihre musikalische Darbietung von damals ist unvergessen.
Natürlich brauche ich ein Selfie mit dem niederländischen König Willem Alexander und seiner Maxima. Aber so klein und so in der Ecke eingepfercht?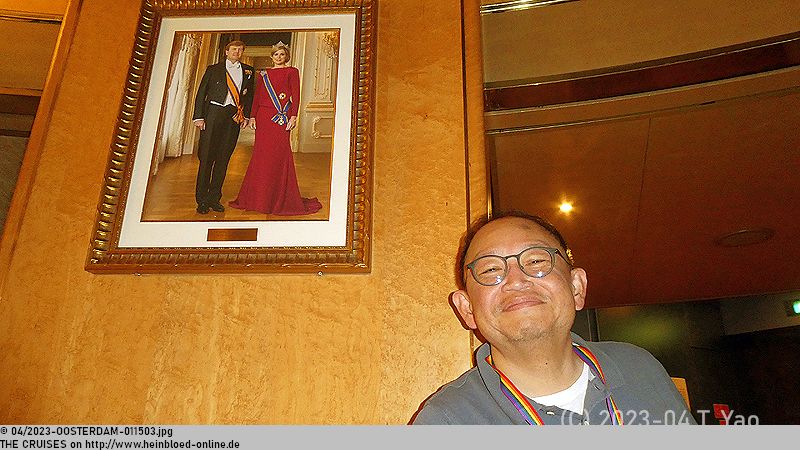 Of course, I need a selfie with the Dutch King Willem Alexander and his Maxima. But so small and so crammed into the corner?

I'm hungry in the afternoon. Holland America has limited dining options between meals. You don't have to starve, but others offer more. But I could also use the cabin service for that. So I stopped by the dive-in and got a hamburger and some fries. It was very delicious.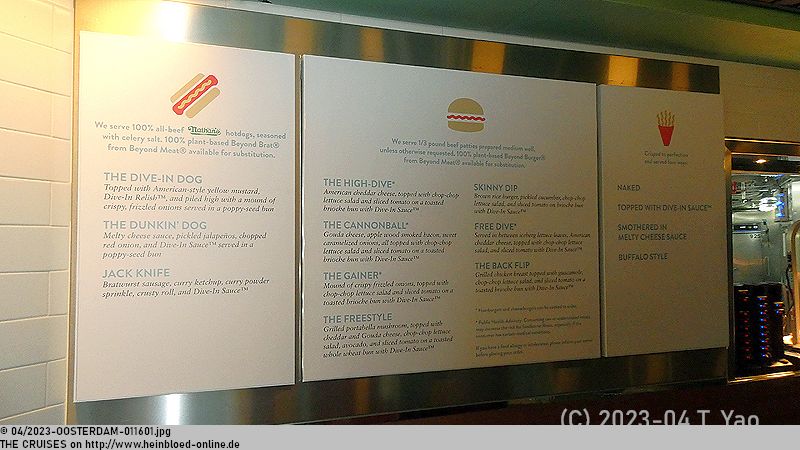 Nachmittags habe ich Hunger. Bei Holland America besteht zwischen den Mahlzeiten nur ein eingeschränktes Essensangebot. Man muss nicht verhungern, aber andere bieten mehr. Dafür könnte ich aber auch den Kabinenservice nutzen. Also gehe ich beim Dive-In vorbei und besorge mir einen Hamburger und ein paar Pommes Frites. Es war sehr lecker.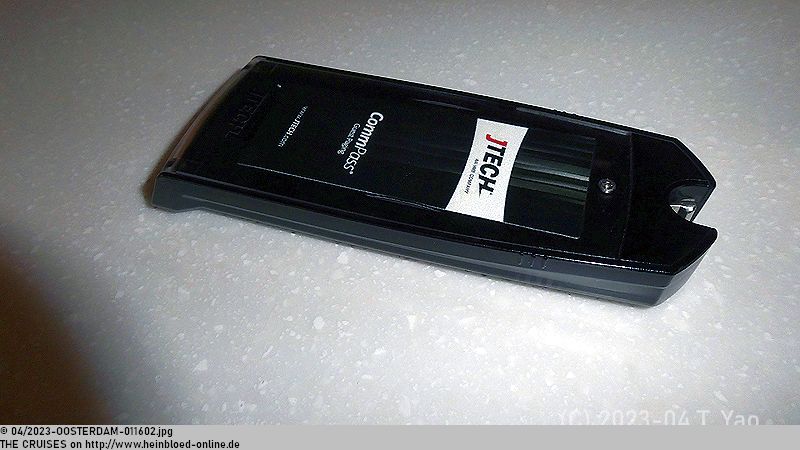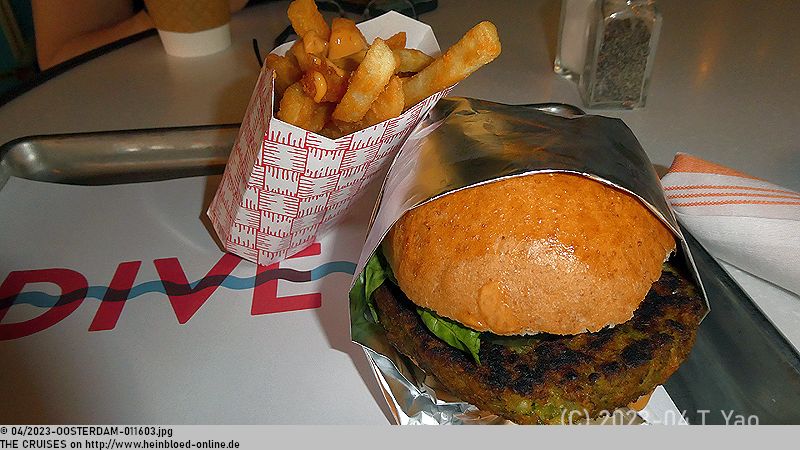 Wir brauchen etwas zu Trinken. Mit Beginn unserer Reise wurden die Preise an Bord erhöht. Wir werden darauf hingewiesen, dass 7% Mehrwertsteuer anfallen, solange wir uns in der 12-Meilen-Zone befinden.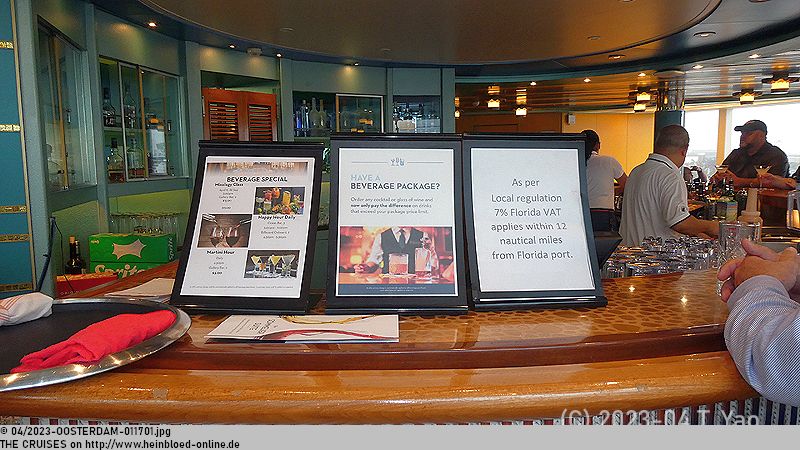 We need something to drink. At the beginning of our journey, the prices on board were increased. We are advised that as long as we are within the 12-mile zone, 7% VAT will apply.

I'll get a list of the drink packages. It is the only complete listing of all beverages available on board, and only the costly drinks still need to be included.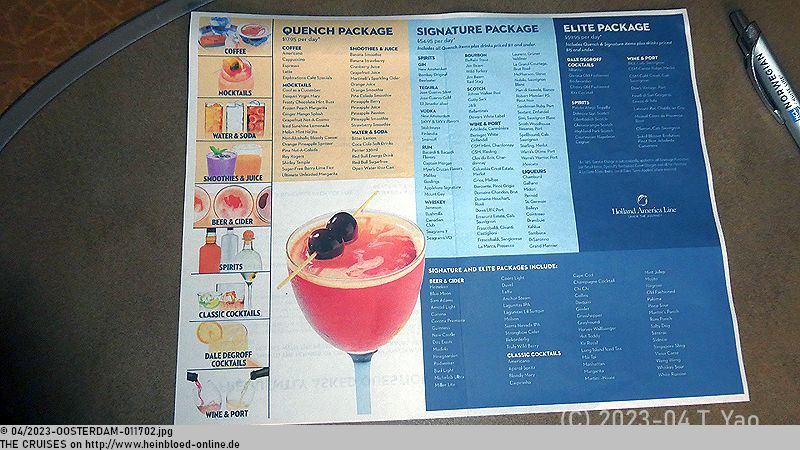 Ich besorge mir eine Aufstellung der Getränkepakete. Es ist die einzige vollständige Aufstellung aller verfügbaren Getränke an Bord. Nur die sehr teuren Getränke fehlen.
Die Barkarten sind absolut spartanisch gehalten. Es wird mir "nichts" (alkoholfreie Getränke und Cocktails), sondern ich muss fragen. Das hängt dann vom Wohlwollen und Merkfähigkeiten des Stewards ab, ob ich alles genannt bekomme. Und dann hängt es von meiner Merkfähigkeit ab, um meine Entscheidung zu treffen. Später macht es mir ein Steward einfacher: ich soll mir einfach einen Cocktail aus und sie würden ihn mir alkoholfrei zuzubereiten. Das würde voraussetzen, dass ich zunächst einmal eine Übersicht der Cocktails bekomme.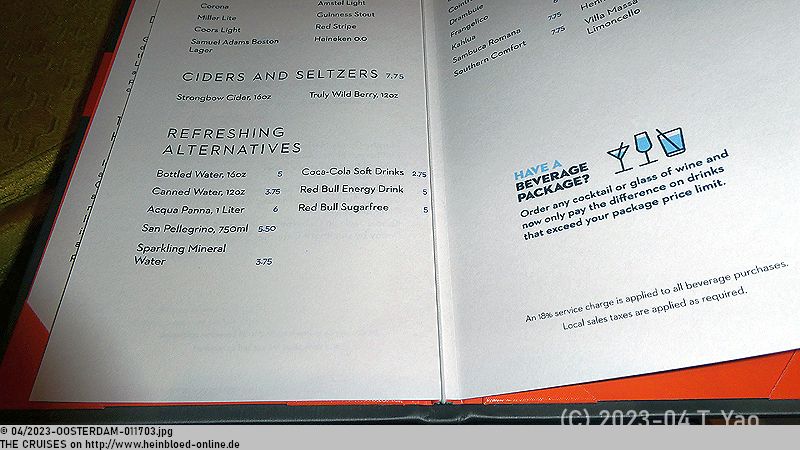 The bar menus are absolutely spartan. I get "nothing" (soft drinks and cocktails), but I must ask. It then depends on the steward's goodwill and memory skills as to whether I get everything mentioned. And then it depends on my memory to make my decision. Later, a steward made it easier for me: I should choose a cocktail, and they would make it non-alcoholic for me. That requires first getting an overview of the cocktails.

That was love at first sight! EURODAM 2008: they have the most beautiful mocktail card - black on white. I can read in peace and get involved.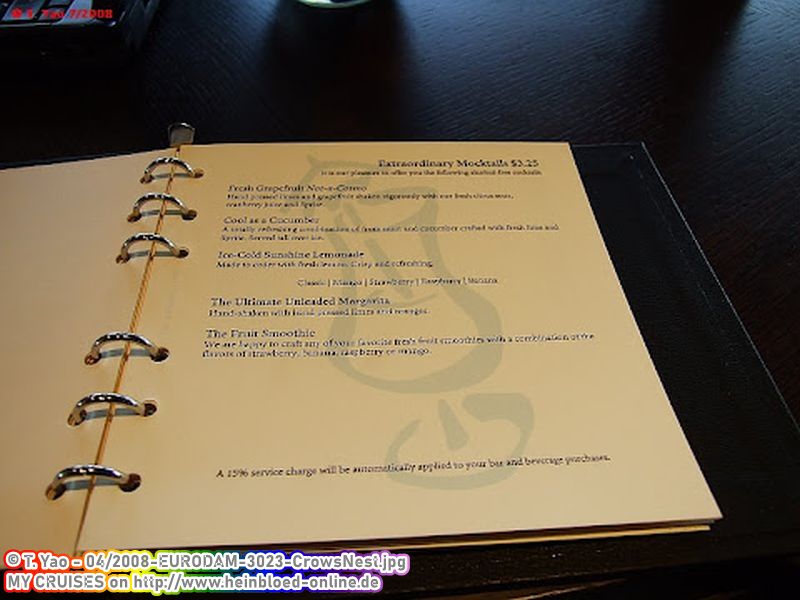 Das war Liebe auf den ersten Blick!
EURODAM 2008
: sie haben die schönste Mocktail-Karte - schwarz auf weiß. Ich kann in Ruhe lesen und mich darauf einlassen.
Sie haben die beste Auwahl an alkoholfreien Getränken. Keine hatte eine so große Liste, wie damals auf der
EURODAM 2008
. Und jetzt muss ich fragen, fragen, fragen. Heute, am Tag der Einschiffung gibt es nicht mal mehr Coca Cola light an Bord. Es ist ausgegangen und sie müssen sie erst im Lager wiederfinden und auspacken und die Bars bestücken.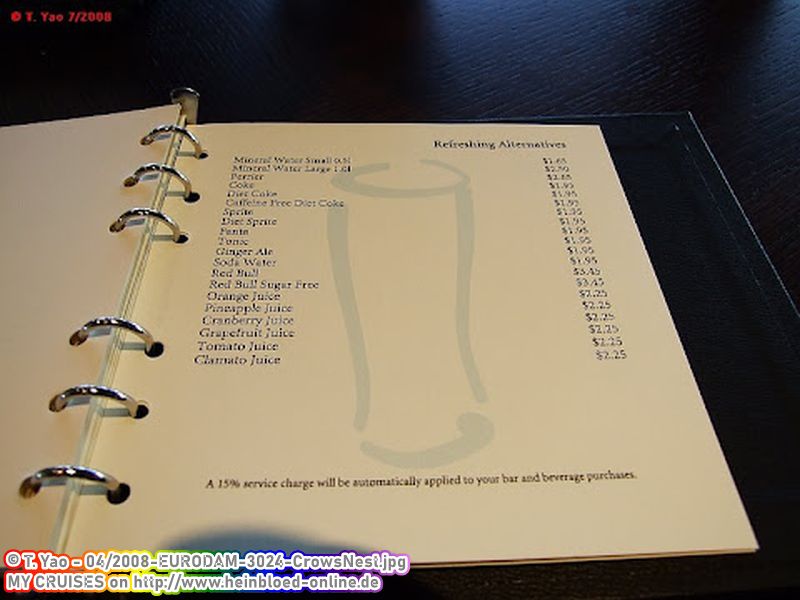 They have the best selection of soft drinks. None had such an extensive list as at EURODAM 2008. And now I have to ask, ask, ask. Today, on the day of embarkation, there isn't even a Diet Coke on board, and it's gone, and they have to find it back in storage, unpack it, and load the bars.

A new event for mariners on embarkation day. A drink. For this purpose the Crows Nest is "closed". The sale of "Coffee to go" now takes place at the bar of the Explorations Café. You go there to buy something, but you are not allowed to sit and linger.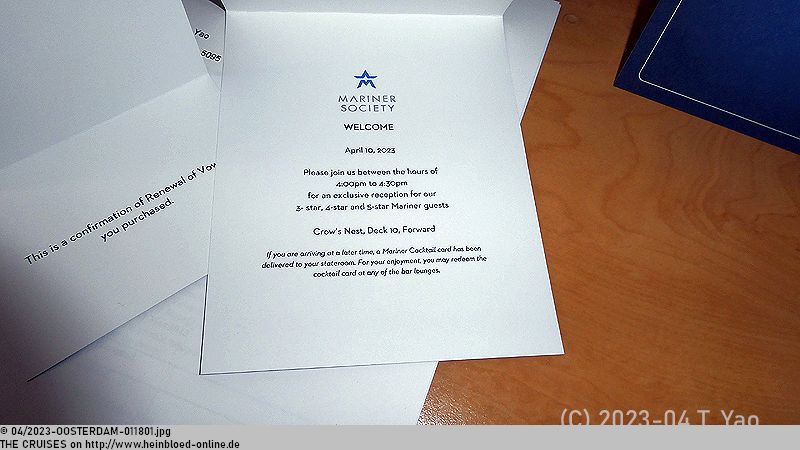 Neu ist eine Veranstaltung für Mariner am Einschiffungstag. Ein Umtrunk. Zu diesem Zweck wird das Crows Nest "geschlossen". Der Verkauf von "Coffee to go" findet jetzt an der Bar des Explorations Café statt. Man kommt dahin, um sich etwas zu kaufen, aber man darf nicht sich hinsetzen und sich aufhalten.
Sehr nett: wir bekommen einen Coupon für einen Mariners Cocktail, damit wir nicht bei der Veranstaltung da sein müssen, um den Cocktail zu bekommen. Den Mariners Cocktail gibt es nur am Tag der Einschiffung. Danach gilt er für jeden Cocktail bis zum Preis von 11 USD. Später muss ich noch einen zweiten Coupon besorgen: wir sind schließlich zwei Mariners in der Kabine.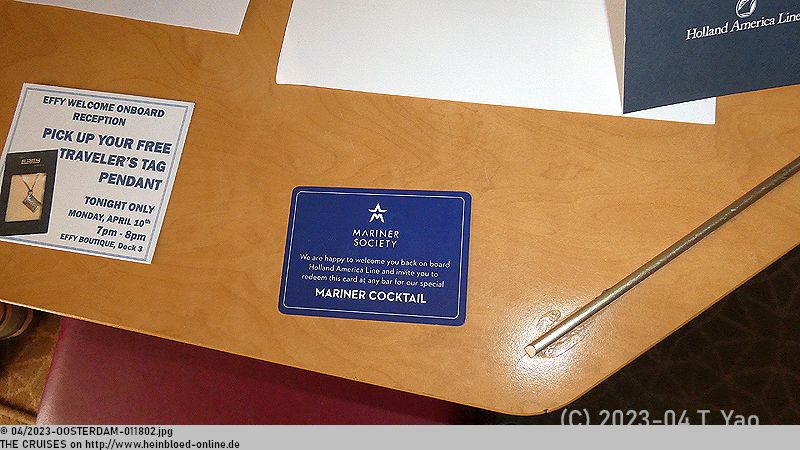 Very lovely: we get a coupon for a Mariner's cocktail, so we don't have to be there at the event to get the cocktail. The Mariners Cocktail is only available on embarkation day, and after that, it applies to any cocktail priced up to 11 USD. I'll have to get a second coupon later: there are two Mariners in the cabin, after all.

We see Roxy here for the first time, who has already introduced herself in the letters and on the phone. She handles our cruisecritic.com meeting and the renewal of the vow and is a first-class ambassador for HAL.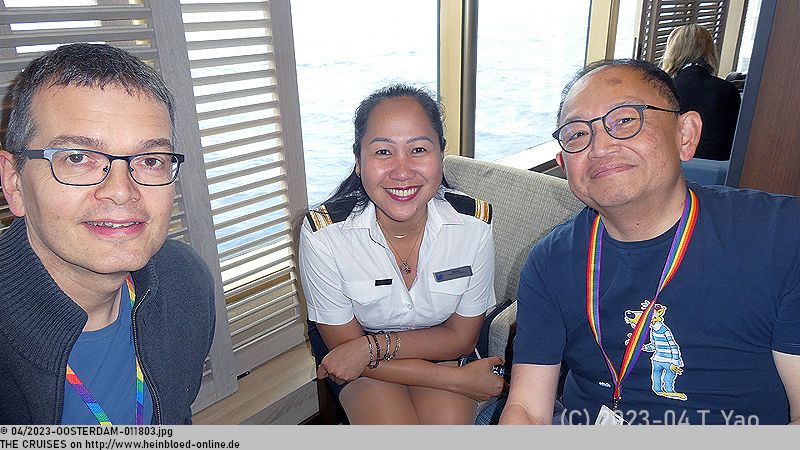 Wir sehen hier Roxy erstmalig, die sich schon auf den Briefen und am Telefon vorgestellt hat. Sie kümmert sich um unser
cruisecritic.com
-Meeting und Erneuerung unseres Versprechens. Sie ist eine erstklassige Botschafterin für HAL.
Es geht zum PRIDE Meetup. Im
Billboard
onboard. Nur total blöd: an den Pianos üben die Musiker. Und 30 Minuten später beginnt ein Trivia und die meisten Sitze sind bereits belegt, damit sie die besten Sitze für das Trivia haben. Es ist daher sehr ungemütlich. So richtig kann ich mich auf das Meeting nicht konzentrieren.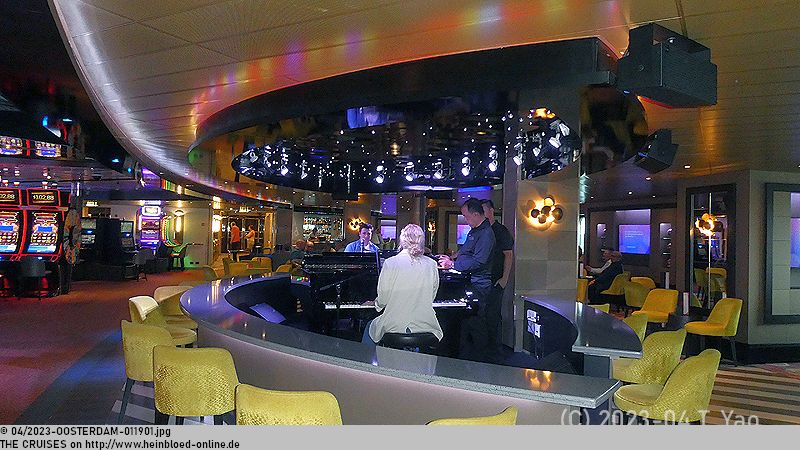 It's going to the PRIDE Meetup at Billboard onboard. Just stupid: the musicians practice on the pianos. And 30 minutes later, a trivia starts, and most of the seats are already taken, so they have the best seats for the trivia. It is, therefore, very uncomfortable, and I can't concentrate on the meeting.

Same as on VEENDAM 2019. Erick and Jo-Jo only stop by on the first evening to welcome us. However, the appointment now appears again every day in the daily program. On VEENDAM 2019, we should arrange to meet for the follow-up meetings. That was big crap. But we should move because the group is much more significant: we can stay here for 30 minutes, and the event will soon be transferred to the Explorations Café.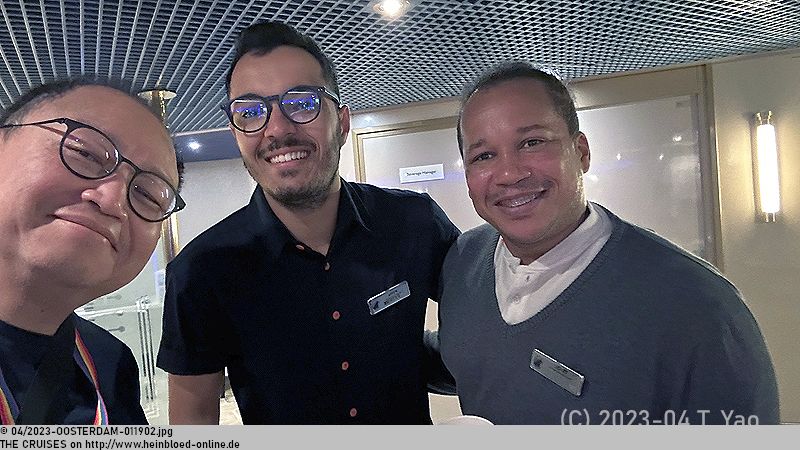 Wie bereits auf der
VEENDAM 2019
. Erick und Jo-Jo kommen nur am ersten Abend vorbei, um uns willkommen zu heißen. Nun erscheint der Termin jedoch wieder jeden Tag im Tagesprogramm. Auf der
VEENDAM 2019
hieß es, dass wir uns selbst für die Folgetreffen verabreden sollten. Das war großer Mist. Wir sollen aber umziehen, weil die Runde doch sehr viel größer ist: hier können wir max. 30 Minuten bleiben und bald soll dann die Veranstaltung ins Explorations Café verlegt werden.
Wir gehen zum Abendessen und gehen direkt zum
Club Orange
Schalter. Sofort bekommen wir einen Tisch. Das funktioniert schon mal sehr gut. Die Speisekarten sind in der Tat schwächer von der Auswahl geworden. Hochwertige Speisen kosten zusätzlich Geld. Ich erfahre später, dass es kostenlosen Hummer nur einmal pro 30-tägiger Reise gibt. Für
Club Orange
Gäste gibt es ein Essen mehr. Da ich es nicht nehme, nimmt es Martin. Es kommt ein Kinderteller. Zu wenig, damit ein erwachsener Mann satt wird. Unsere ersten Kellner sind Gede und Panji. Wir erleben schon mal einen erstklassigen Service, so wie wir es von Holland America gewohnt sind.

We go to dinner and go straight to the Club Orange counter. We get a table immediately. That already works very well. The menus need to improve in selection. High-quality food costs extra money. I later learn that free lobster is only available once per 30-day trip. There is one more dish for Club Orange guests. Since I don't take it, Martin takes it. A children's menu is coming. Not enough to feed a grown man. Our first servers are Gede and Panji. We experience first-class service, as we have come to expect from Holland America.

Gede and Panji ask where we are from. We always answer: From Germany but far away from Warnemünde and Kiel (both at the Baltic Sea). We mention that we know a former maître who probably always had pictures of Franz Beckenbauer (famous German soccer player) with him because he once met him, his name was football and his name is also Franz and today he trains the new servers in Indonesia: you know immediately who I am from speak: Franz Sebutiadi and Gede even have a photo of him on his smartphone.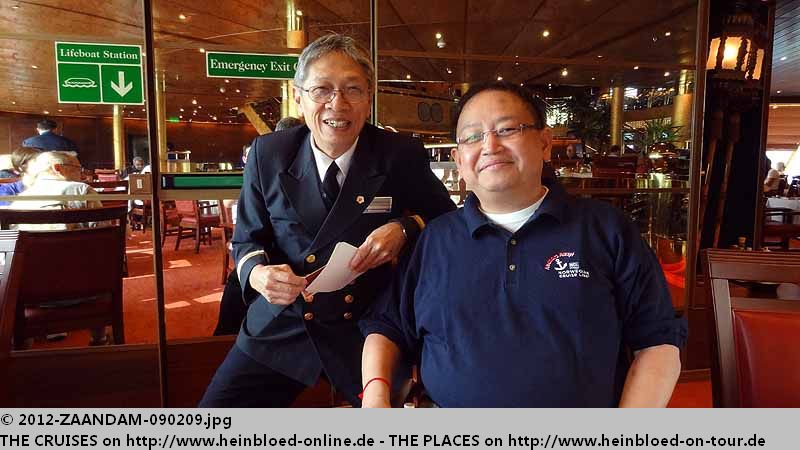 Gede und Panji fragen woher wir kommen. Wir antworten immer: Aus Deutschland aber weit weg von Warnemünde und Kiel. Wir erwähnen, dass wir einen ehemaligen Maître kennen, der wohl immer Bilder von Franz Beckenbauer mit sich führte, weil er ihn mal getroffen hat, selbst Fussball hieß und auch Franz heißt und heute in Indonesien die neuen Kellner ausbildet: sie wissen sofort von wem ich spreche: Franz Sebutiadi und Gede hat sogar ein Foto von ihm auf seinem Smartphone.
Wir haben ihn zuletzt auf der
ZAANDAM 2012
getroffen: und als wir damals nachfragten, hat er sofort die Bilder von ihm und Franz Beckenbauer geholt und uns mit Stolz gezeigt.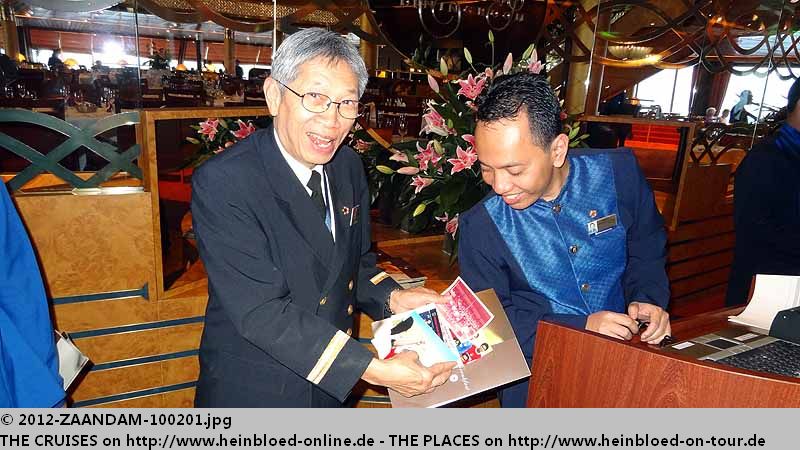 We last met him on ZAANDAM 2012: and when we asked him back then, he immediately got the pictures of him and Franz Beckenbauer and proudly showed them to us.

I miss the servers' old uniforms; they still look elegant, and today I feel like I'm in a business meeting.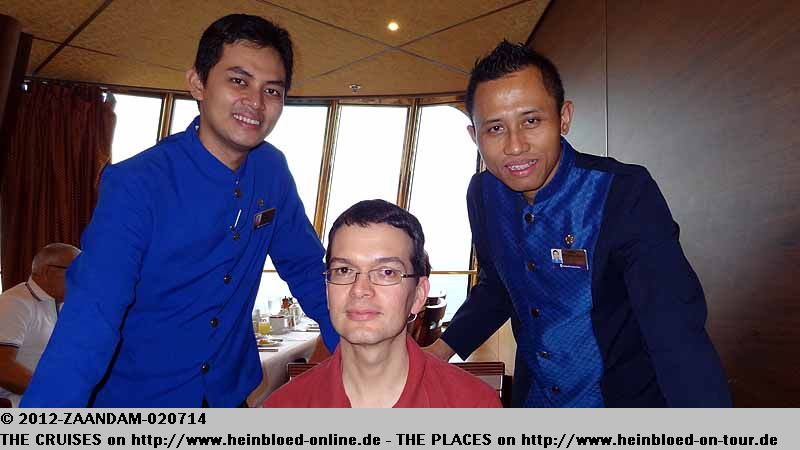 Ich vermisse die alten Uniformen der Kellner. Sie wirken noch elegant. Heute komme ich mir vor, wie in einem Business Meeting.
Damals gab es noch den Pfeffermühlen-Service UNGEFRAGT mit der großen Pfeffermühle - wie hier auf der
ZAANDAM 2012
in der Gala-Uniform.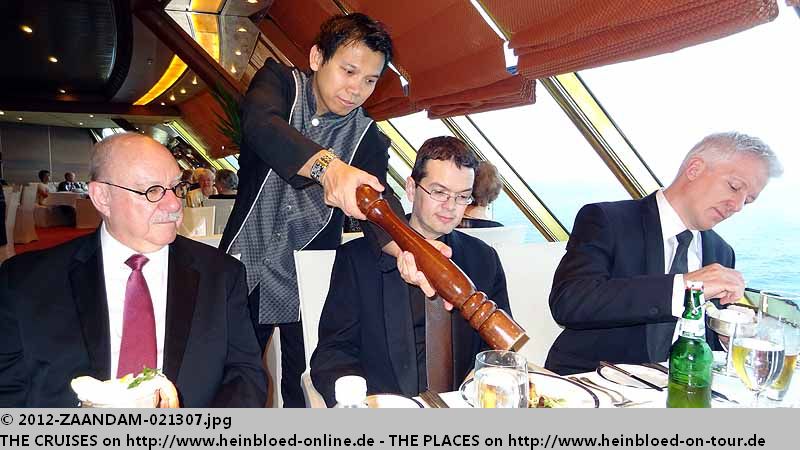 At that time, there was still the unsolicited pepper mill service with the large pepper mill - like here on ZAANDAM 2012 in the gala uniform.

And then the menus, in which people were happy to show they were pleased to offer something. Many things need to be displayed these days: the main thing is that the guest doesn't ask.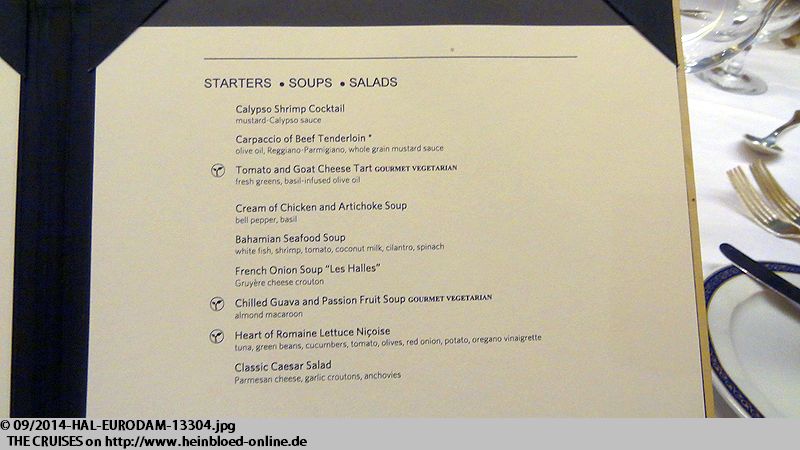 Und damals die Speisekarten, in denen auch gerne gezeigt wurde, dass man gerne etwas anbietet. Vieles wird heute gar nicht angezeigt: Hauptsache der Gast fragt nicht.
Es war eine schöne Auswahl.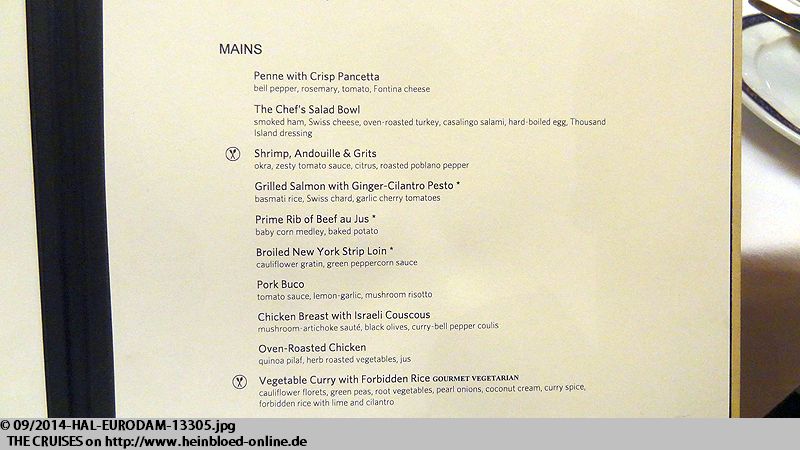 It was an excellent choice.

And I could only decide what I wanted after the main course and didn't have to say anything when ordering the starters and main courses. At that time still like on EURODAM 2014.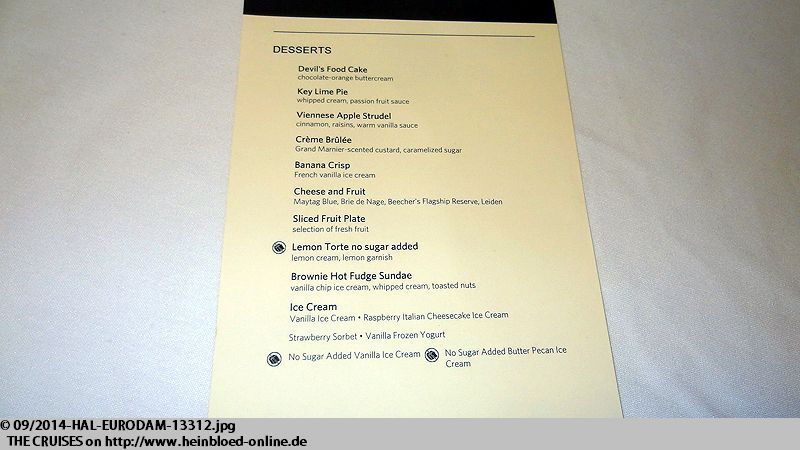 Und ich konnte mich immer erst nach dem Hauptgang entscheiden, was ich will und muss mich nicht schon bei der Bestellung der Vor- und Hauptspeisen äußern. Damals noch wie auf der
EURODAM 2014
.
Last not least: der Trolley mit den Goodies ist weg. Zuletzt auf der
VEENDAM 2019
.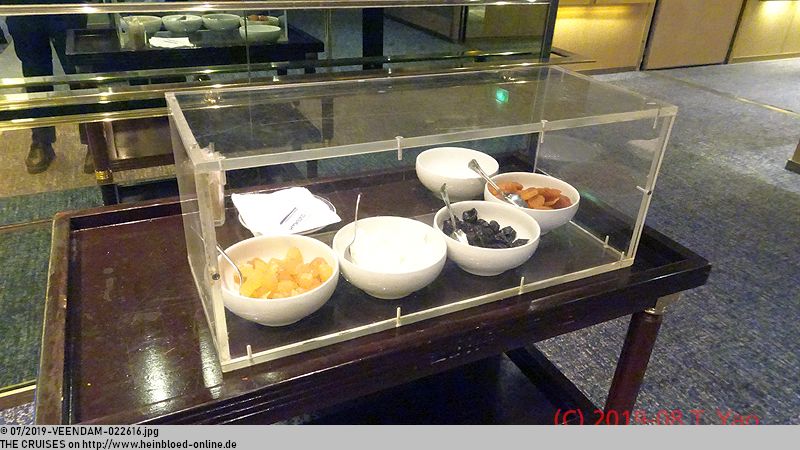 Last but not least: the trolley with the goodies is gone. Most recently, on VEENDAM 2019.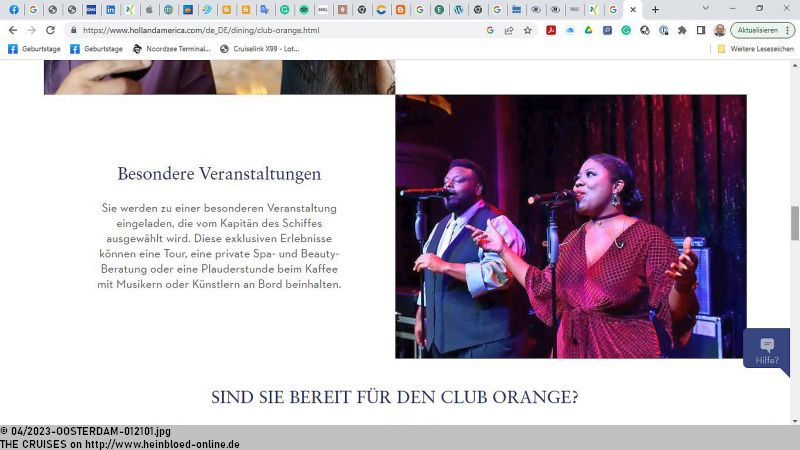 Für den
Club Orange
haben wir 250 USD pro Person bezahlt. Die besonderen Veranstaltungen mit dem Kapitän oder mit den Musikern oder Tänzern gab es nicht.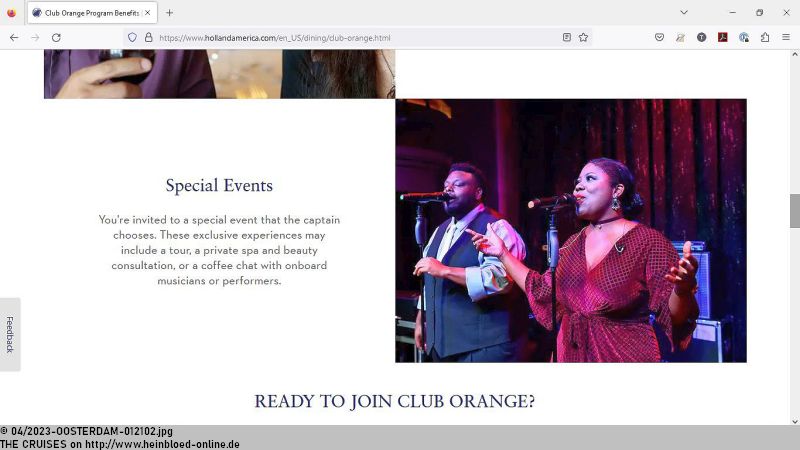 For Club Orange, we paid 250 USD per person. There were no special events with the captain or musicians, or dancers.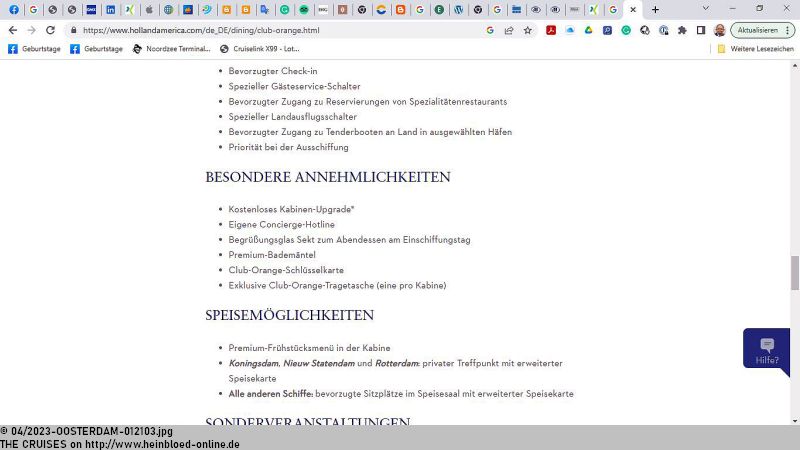 Zu den Vorteilen: zum Check-In habe ich mich schon geäußert. Der Extra-Schalter an der Rezeption lohnt sich. Schon alleine die Gesichter zu sehen, die in der Schlange stehen und sich aufregen, dass ich sofort drankomme, ist das zusätzliche Geld Wert. Es hängt dann aber davon ab, wer an der Rezeption steht. Ein Teil lässt mich warten, bis dass derjenige, der gerade berechtigt oder unberechtigt am
Club Orange
Schalter steht, zu Ende bedient wird, und nimmt mich dann erst dran. Ein anderer Teil sagt einem Kollegen Bescheid, dass ich erst drankäme. Bevorzugter Zugang zu Zuzahlrestaurants gibt es nicht: wenn keine Tische mehr da sind, dann sind keine Tische mehr da. Wir haben es drei Mal als Walk-Ins im Canaletto versucht. Beim dritten Mal hat man mir angeboten, dass wir an einen großen Tisch könnten. Kurzerhand suche ich noch drei weitere Mitesser und wir haben einen der tollsten Abende an Bord. Schiffsausflüge interessieren mich nicht und wir haben nirgends getendert. Mit der Ausschiffung hat es gut geklappt. Da wir unsere Kabine behalten wollten, verzichten wir ein Kabinenupgrade. Zu dem Concierge Service unten. Den Sekt am Einschiffungstag zum Abendessen gab es nicht, aber wir haben ihn nicht vermisst, weil wir ihn ja auch nicht getrunken hätten. Den Bademantel probiere erst in ein paar Tagen aus und kann dann erst etwas dazu sagen. Die Schlüsselkarte haben wir erhalten. Eine exklusive
Club Orange
-Tragetasche haben wir nicht bekommen. Dafür gab es die 150-Jahre-HAL-Tasche. Die
Club Orange
-Frühstückskarte im Hauptrestaurant unterscheidet sich nicht und der regulären Frühstückskarte. Sie sieht nur anders aus und die Gerichte sind anders angeordnet.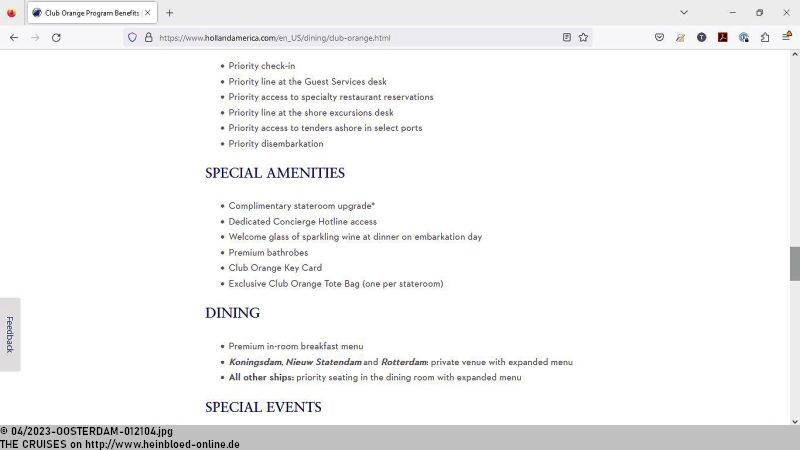 As for the advantages: I have already commented on the check-in. The extra counter at the reception is worth it. Seeing the faces waiting in line and getting upset that I'm getting in right away is worth the extra money. But it depends on who is at the reception. Sometimes I have to wait until the person standing at the
Club Orange
counter, authorized or not, has been served before taking my turn. Another part tells a colleague that it's my turn first. There is no preferential access to additional restaurants: if there are no more tables, there are no more tables. We tried three times as walk-ins at Canaletto. The third time they offered me to sit at a large table. Without further ado, I look for three more blackheads, and we have one of the most fantastic evenings on board. I'm not interested in ship tours; we have yet to tend anywhere. The disembarkation went well. Since we wanted to keep our cabin, we decided against a cabin upgrade. Regarding the concierge service, see below. There was no sparkling wine for dinner on embarkation day, but we didn't miss it because we wouldn't have drunk it. I'll try the bathrobe in a few days, and then I can say something about it. We received the key card. We didn't get an exclusive
Club Orange
tote bag. That's what the 150-year HAL bag was for. The
Club Orange
breakfast menu in the main restaurant does not differ from the regular breakfast menu. It just looks different, and the dishes are arranged differently.

On EURODAM 2009, the exclusive telephone concierge service was described: Nina was our telephone concierge back then. Here, however, only the front desk answered the phone. Sometimes you waited "hours".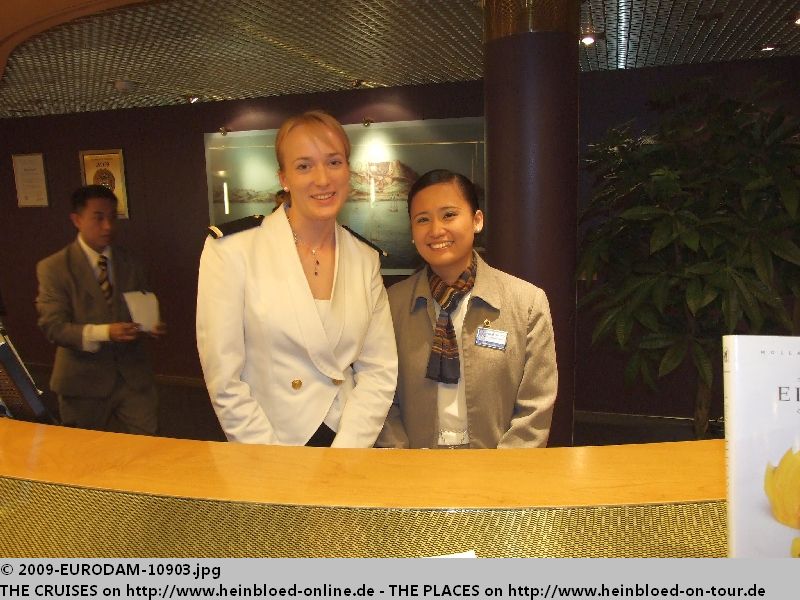 Auf der
EURODAM 2009
gab es noch den beschriebenen exklusiven Telefon-Concierge Service: Nina war damals unser Telefon-Concierge. Hier hat sich jedoch immer nur die Rezeption am Telefon gemeldet. Z. T. wartete man doch "Stunden".
Die anderen Reisen in diesem Blog/
The other voyages in this blog: