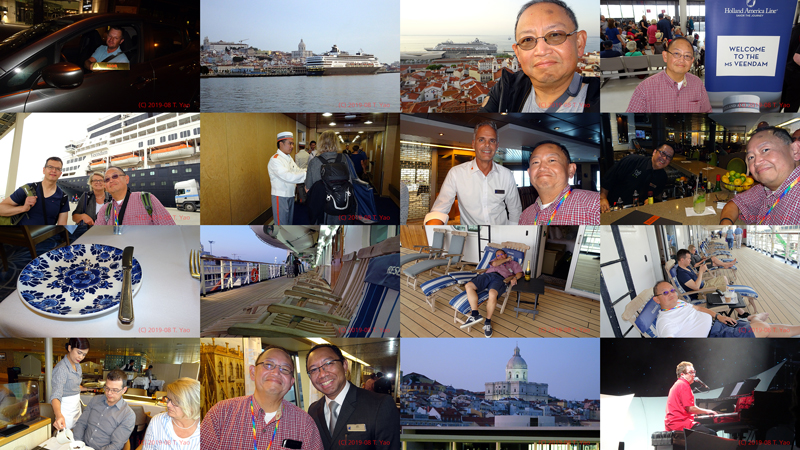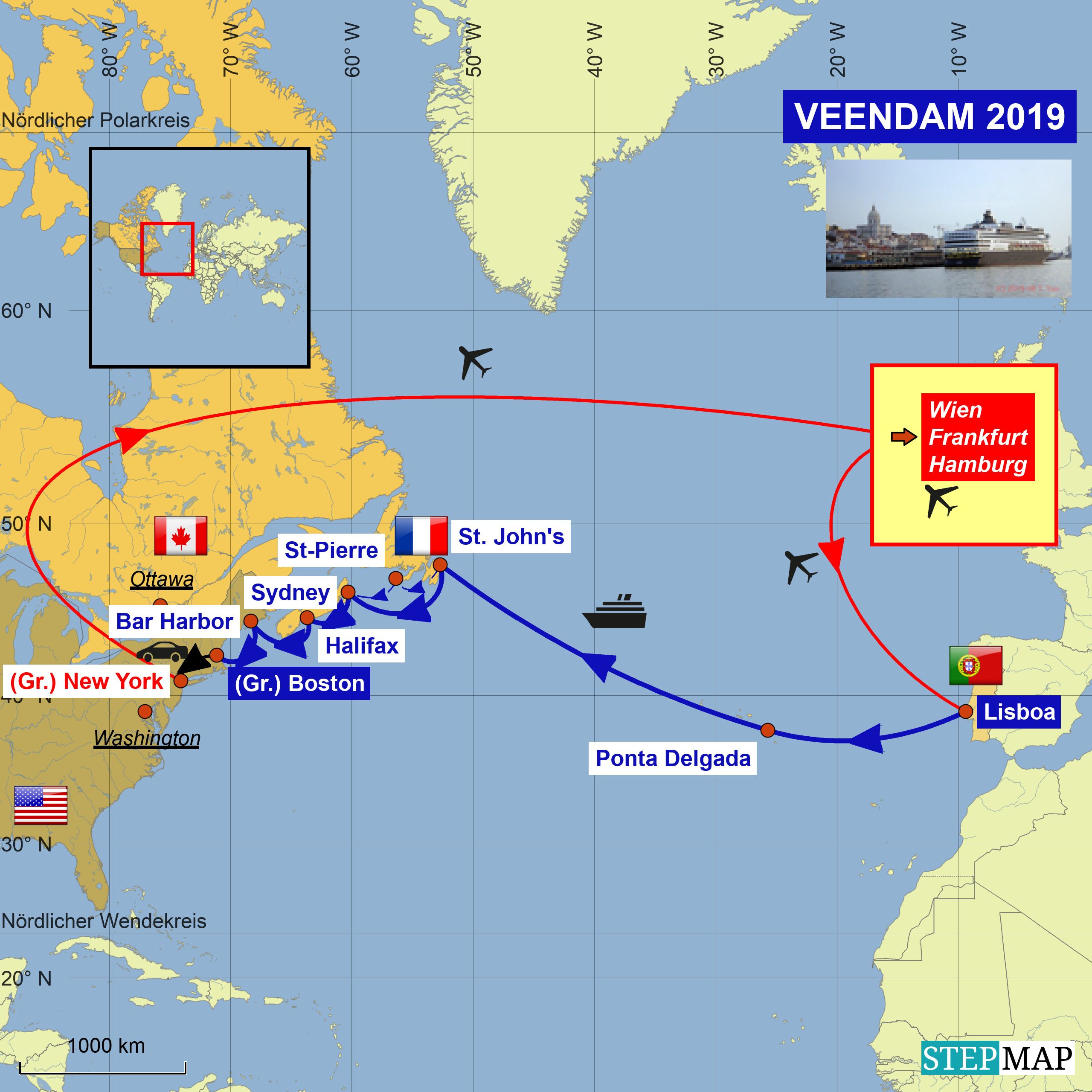 Nach einem Beitrag im Fernsehen hatte Bruno den Wunsch geäußert, die Azoren sehen zu wollen. So waren wir ursprünglich auf der NIEUW STATENDAM gebucht. Warum auch immer: auf einmal stand diese Reise im Angebot mit dieser Traumroute: Azoren und Nordostküste USA/Kanada. Ich musste sie sofort buchen, als noch feststand, dass es sich um ein kleines Schiff mit Lanai handelt. Reisewünsche meiner (ehemaligen) Mitarbeiter im gleichen Zeitraum wurden vorsorglich zum Zeitpunkt der Buchung bereits abgelehnt.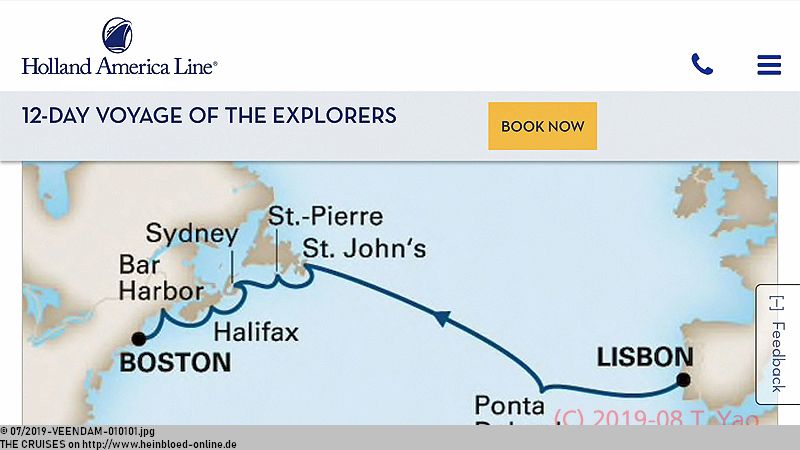 After watching a feature on television, Bruno had expressed the wish to see the Azores. So we were originally booked on NIEUW STATENDAM. Whatever the reason: suddenly, this trip was on sale with this dream route: Azores and Northeast Coast USA / Canada. I had to book it immediately when it was clear that it would be a small ship with Lanai. Vacation requests of my (former) employees for the same period were already rejected. Just as a precaution at the time of booking.

Interestingly, however, was the price trend. It was ups and downs. And sometimes there was a free item that makes it incomparable: benefits included, cancellability, the refund of deposits. But I always liked to book as flexible as possible. And you could apparently only book that rate at a very early date. But Dorothy from Cruise Brothers sorted out the best for us again and adjusted our prices so long that we could make the trip very cheap: 164.92 USD/night per person in a lanai cabin with 100% refundable deposit and permission to rebook. For me, it was an excellent offer from Holland America. Anyway, I did not like any surprises and liked to pick the location of the cabin myself. For me, it was a perfect offer. About any additional goodie like onboard credit, etc., I would be pleased. But the base price was definitely right for me.

Interessant ist jedoch die Preisentwicklung. Es ist ein Auf und Ab. Und manchmal gibt es etwas dazu, was die Sache nicht mehr vergleichbar macht: eingeschlossene Leistungen, Stornierbarkeit, Rückzahlung der Stornierungen. Ich buche aber immer am liebsten möglichst flexibel. Und das kann man anscheinend nur zu einem sehr frühen Zeitpunkt buchen. Aber
Dorothy von Cruise Brothers
hat wieder das Beste für uns herausgeholt und unsere Preise so lange angepasst, dass wir sehr günstig die Reise machen konnten: 164,92 USD/Nacht pro Person in einer Lanai-Kabine bei 100% Rückzahlung der Anzahlung und Umbuchbarkeit halte ich für ein sehr gutes Angebot von Holland America. Zumal mag ich keine Überraschungen und lege sehr gerne die Lage der Kabine selbst fest. Für mich ist ein perfektes Angebot. Über jedes Zusatz-Goodie wie Bordguthaben usw. freue ich mich. Aber der Grundpreis stimmt auf jeden Fall für mich.
Auf geht es zum Shipspotting. Ich kaufe wieder auf
Marinetraffic
den 24-Stunden-Pass um über die aktuelle Schiffsposition unterrichtet zu sein.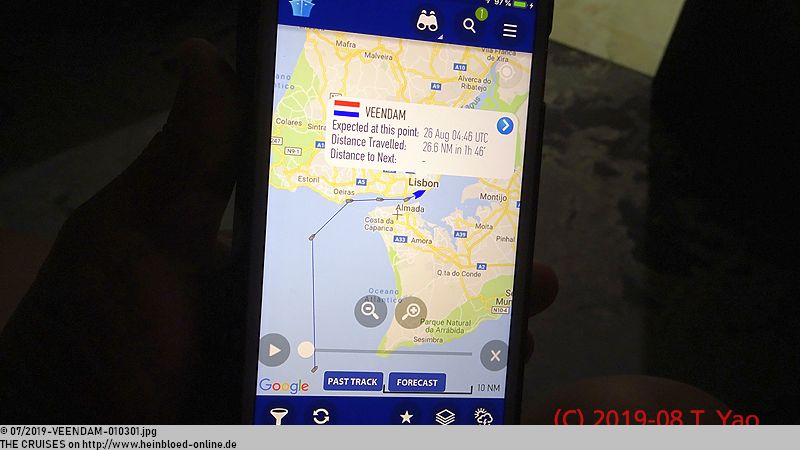 Heading for shipspotting. I bought again on Marinetraffic the 24-hour pass to be informed about the current ship position.

Igor already knew my quirks from my RIVIERA 2019 shipspotting campaign a few days ago. Although I did not speak Portuguese or Ukrainian and he did not speak English or German, he took me everywhere so well that I was good at spotting marsupials. So he was standing by for me this morning. For his willingness to be ready from 03:30 hrs, he also got from me some Toblerone chocolate.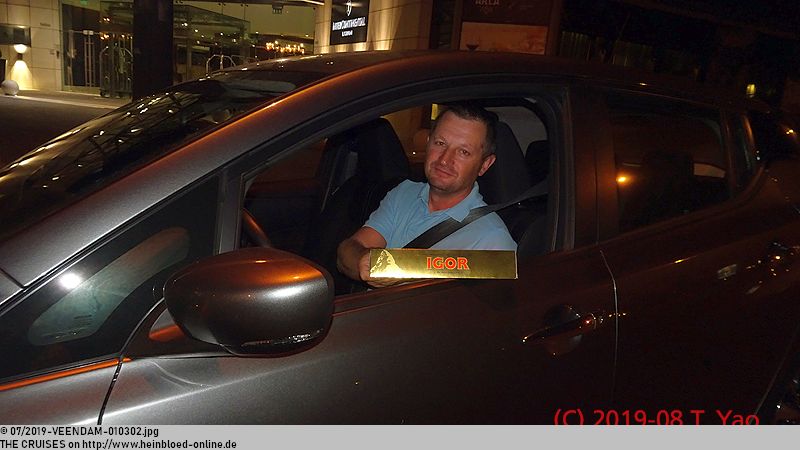 Igor kennt bereits von meiner Shipspotting-Aktion von der
RIVIERA 2019
vor wenigen Tagen meine Marotten. Obwohl ich kein Portugiesich oder Ukrainisch spreche und er kein Englisch oder Deutsch, hatte er mich so überall hingebracht, dass ich gut Shipspotten konnte. So steht er auch heute Morgen für mich bereit. Für seine Bereitschaft ab 03:30 Uhr stand-by zu stehen, bekommt auch er von mir eine
Toblerone-Schokolade
.
Da es dunkel ist, verzichte ich auf Aufnahmen in Belém. Es geht direkt nach Cacilhas. Lissabon schläft noch, aber es dennoch sehr schön beleuchtet.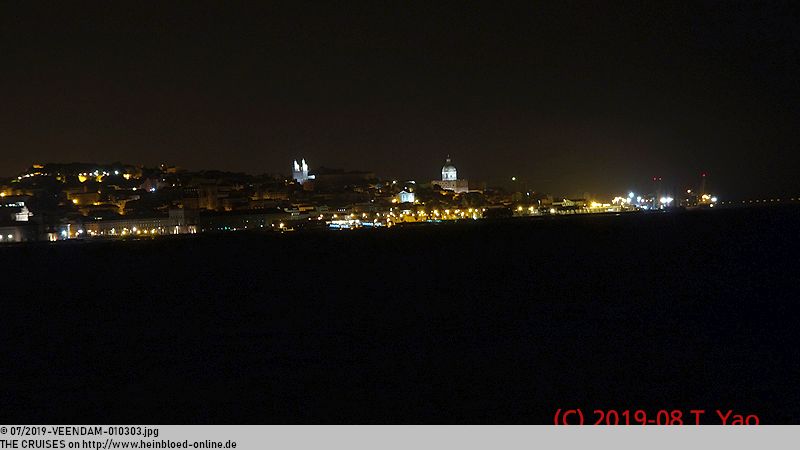 Since it was dark, I did not take pictures in Belém. It went directly to Cacilhas. Lisbon was still sleeping, but it was very well illuminated.

I had to wait around 30 minutes here because the predictions on Marinetraffic did not take into account that the ships from Tagus estuary would reduce the speed.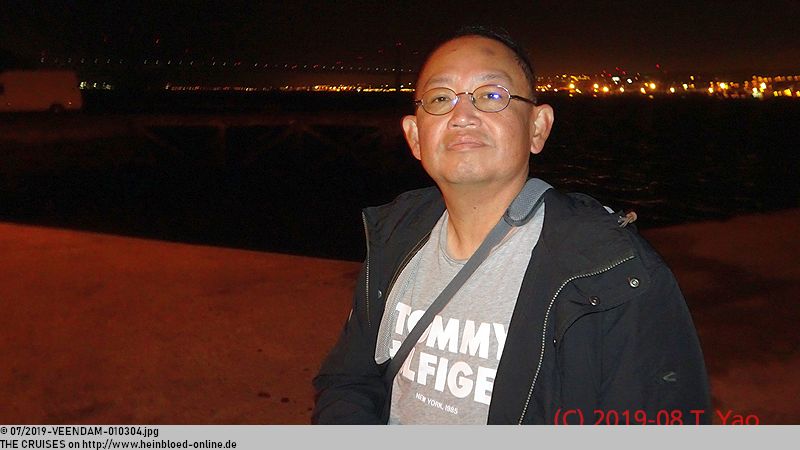 Ich muss ca. 30 Minuten hier ausharren, weil die Prognosen auf
Marinetraffic
nicht berücksichtigen, dass die Schiffe ab Tejo-Mündung die Geschwindigkeit reduzieren.
Es ist zu dunkel, um schöne Aufnahmen zu machen. Dennoch bin ich sehr beeindruckt.

It was too dark, to make beautiful shots. But still, I was quite impressed.

Since I was already on the south bank of the river Tagus, I let him take me to Barreiro. I actually could make an arrival right on time in Lisbon to catch VEENDAM at sunrise. Only a few minutes separated me from my plan because the TTSL fast ferry to Terreiro do Paço was implemented, and we thus all have to walk to another pier. Therefore we left a little later. But I was quick enough to get hold of a window seat, where I could also take pictures.

Da ich ja bereits am Südufer des Tejo bin, lasse ich mich nach
Barreiro
bringen. Ich müsste eigentlich dann in Lissabon eine Punktlandung schaffen, um die VEENDAM mit Sonnenaufgang zu erwischen. Nur wenige Minuten trennen mich von meinem Plan, weil die
TTSL-Schnellfähre nach Terreiro do Paço
umsetzt wird und wir dadurch alle zu einem anderen Pier laufen müssen. Wir fahren daher etwas später ab. Aber ich bin schnell genug, um noch einen Fensterplatz zu ergattern, bei dem ich auch rausfotografieren kann.
Die VEENDAM am
Lisbon Cruise Port
am Jardim do Tabaco am Fuß der Alfama ist schon ein toller Anblick.

VEENDAM at the Lisbon Cruise Port at Jardim do Tabaco at the foot of the Alfama was a magnificent sight.

It was such a beautiful morning that I took advantage of the time and let him drive me up to Alfama. For a few minutes, I had the viewpoint Miradouro das Portas do Sol around Largo Portas Sol and Largo Santa Luzia for me all by myself.

Es ist so ein schöner Morgen, dass ich die Gunst der Stunde nutze und mich zur Alfama hochfahren lasse. Für wenige Minuten habe den Aussichtspunkt Miradouro das Portas do Sol rund um Largo Portas Sol und Largo Santa Luzia für mich ganz alleine.
So feiere ich alleine für mich die Ankunft der VEENDAM und freue mich auf die nächsten zwölf Tage.

So I was celebrating just for myself the arrival of VEENDAM, and I was looking forward to the next twelve days.

A little video from this gorgeous outlook.

Ein kleines Video von diesem wunderschönen Aussichtspunkt.
Auch wenn Sigi und Bruno mit dem Frühstück auf mich warten müssen. Es wäre eine Schande, diese Chance zu verpassen: nochmals zum Aussichtspunkt Miradouro da Graça. Noch einmal die
Christusstatue Cristo Rei
, die
Brücke des 25.04.
, unser
Hotel InterContinental
, die Innenstadt von Lissabon. Neben Estoril und Cascais steht auch endlich die Festung
Castelo de São Jorge
auf meiner Liste der Attraktionen, die dich beim nächsten Mal sehen will. Wobei ich fest damit rechne: je nach Anzahl eingehender und abgehender Schiffe ist bestimmt die
Christusstatue Cristo Rei
noch ein paar Mal mit dabei!

Even if Sigi and Bruno needed to wait for me with breakfast. It would be a shame to miss this opportunity: again to the lookout Miradouro da Graça. Once again, the Christ the Redeemer Cristo Rei, the bridge of April 25, our hotel InterContinental, and the city center of Lisbon. In addition to Estoril and Cascais, Castelo de São Jorge would be finally on my list of attractions that would like to see you next time. And I would reckon with that: depending on the number of incoming and outgoing ships, Christ the Redeemer Cristo Rei would be attended a few more times again!

And also a little video from this spot.

Und auch von hier ein Video.
Nach dem ich schnell im
Hotel
geduscht habe, geht es auch schon im
Club InterContinental
wieder zum Frühstück.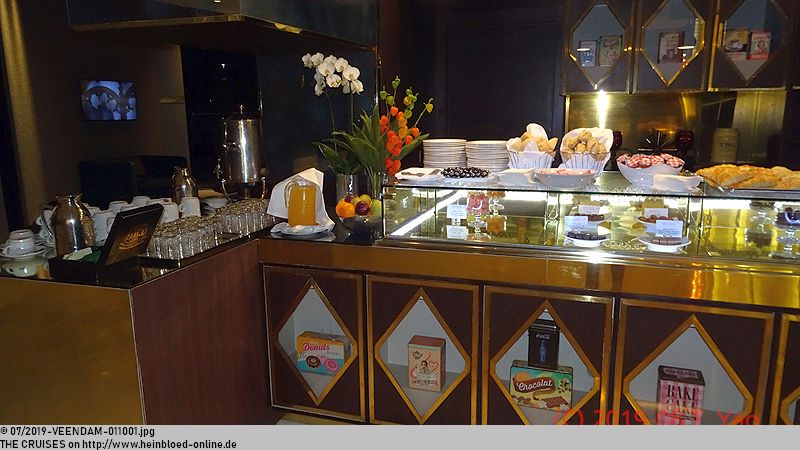 After I took quickly a shower in the hotel, we went again to Club InterContinental to have our breakfast.

Freshly squeezed orange juice, and a cherry yogurt.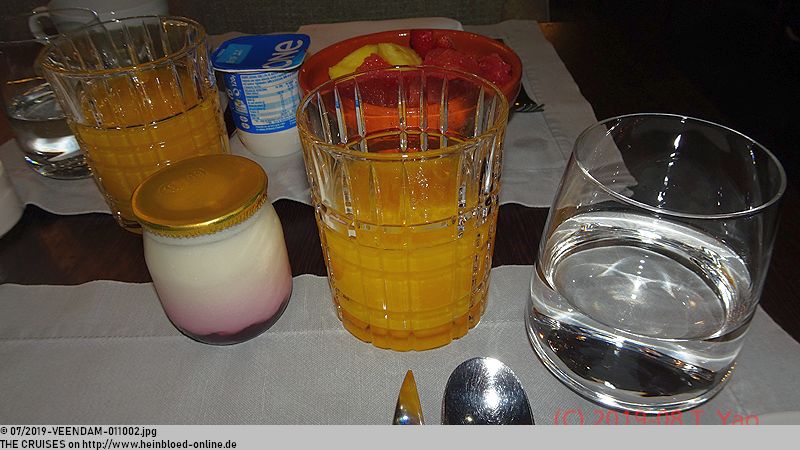 Frisch gepresster Orangensaft und ein Kirschjoghurt.
Für ein "abgespecktes" Angebot im
Club InterContinental
ist aber trotzdem fast alles da, was das Herz begehrt. Für alles Warme genügt ein Blick in die Karte. Und ansonsten fragt man einfach.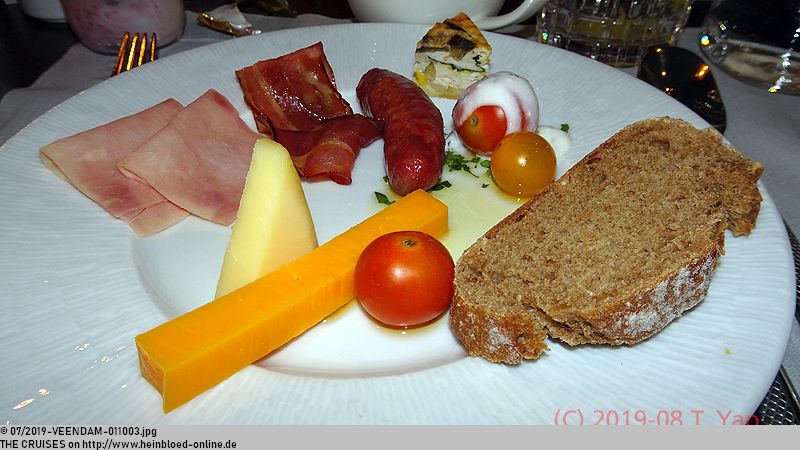 For a "downsized" offer in Club InterContinental almost everything was there what your heart desired. For all the hot items, you just need to have a look at the menu. And otherwise, you just asked.

But here too, the boiled eggs were served again couple-wise.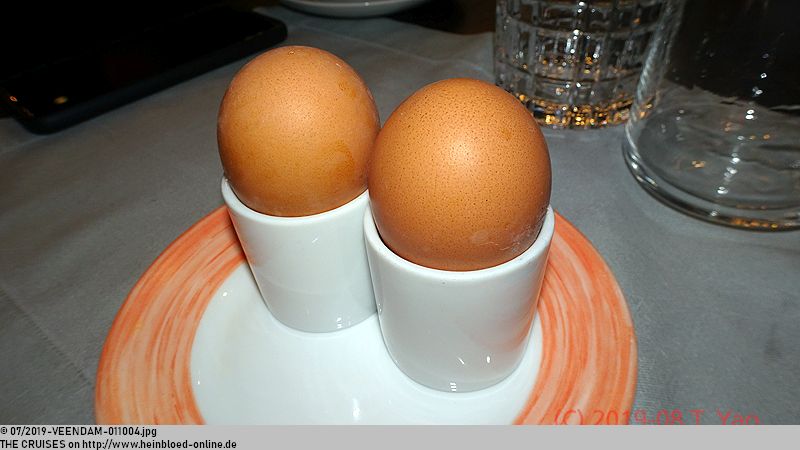 Aber auch hier kommen die gekochten Eier nur paarweise.
Mein Omelette wird frisch zubereitet.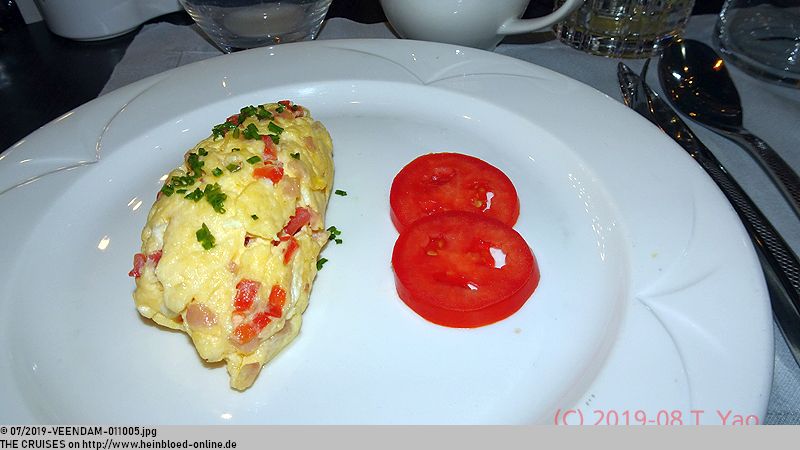 My omelet was freshly prepared.

The bellboy also thought that we would be on a multi-week trip around the world for the next time. By Uber XL we went to the cruise terminal Lisbon Cruise Port.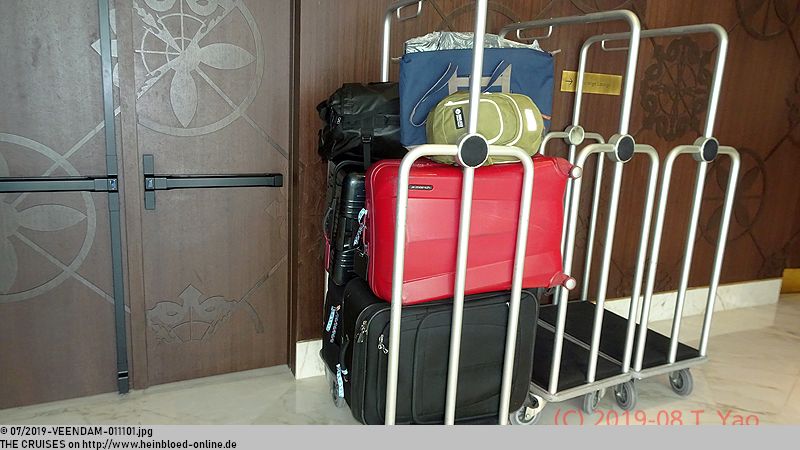 Der Page denkt auch, dass wir eine mehrwöchige Weltreise vor uns haben. Mit
Uber XL
geht es zum Kreuzfahrtterminal
Lisbon Cruise Port
.
Drinnen ist es sehr schön gestaltet. Nur den Check-In-Bereich haben sie so weit nach hinten gepackt, dass sich die Wege kreuzen. Wir warten geduldig. Es dauert ein wenig, aber nicht übermäßig lang. Es gibt keine Einschiffungsnummern. Ich gönne mir noch ein
Pure Leaf Eistee
und ein paar
Fritos
. Die Plattform am Pier zwischen Kaimauer und Schiff dient auch als Schutz: falls später etwas von einem Laufband fällt.

Inside, it was beautifully designed. Only the check-in area they packed back so far that the paths intersected. We waited patiently. It took a while, but not overly long. There were no embarkation numbers. I treated myself to a Pure Leaf ice tea and a few Fritos. The platform at the pier between the quay wall and the ship also served as protection: if something would fall from a conveyor belt later.

Almost at our destination. They did not let us go onboard yet.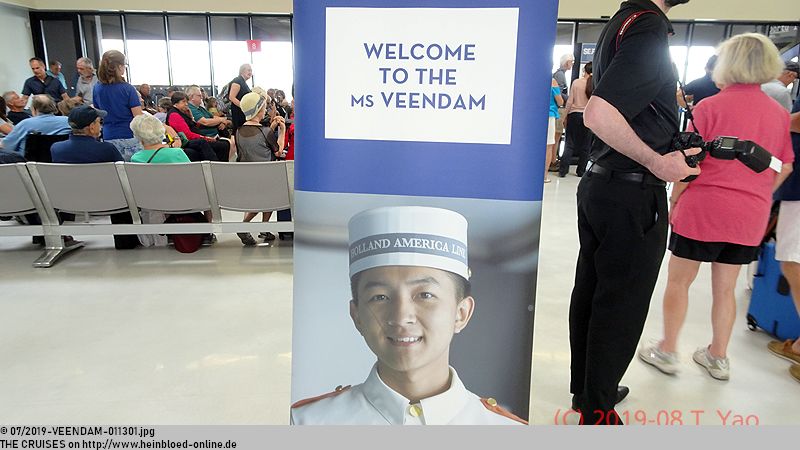 Fast am Ziel. Noch werden wir nicht an Bord gelassen.
Also noch Zeit für ein Selfie.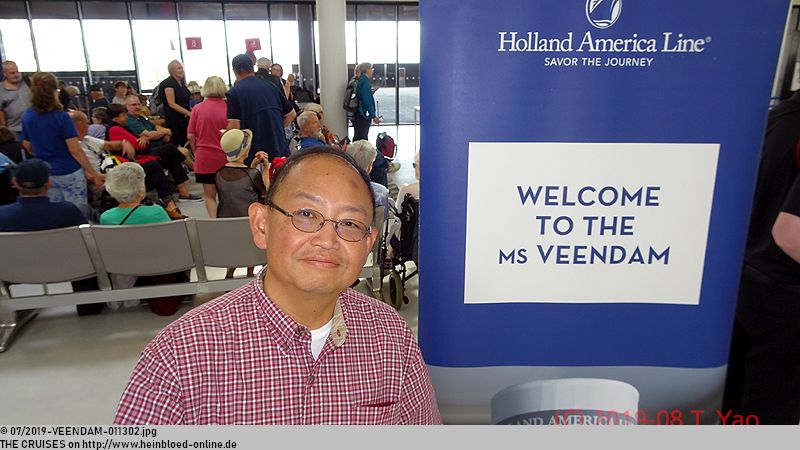 So we had still time for a selfie.

We were waiting. The check-in worked quite fast. But we still were not allowed to embark.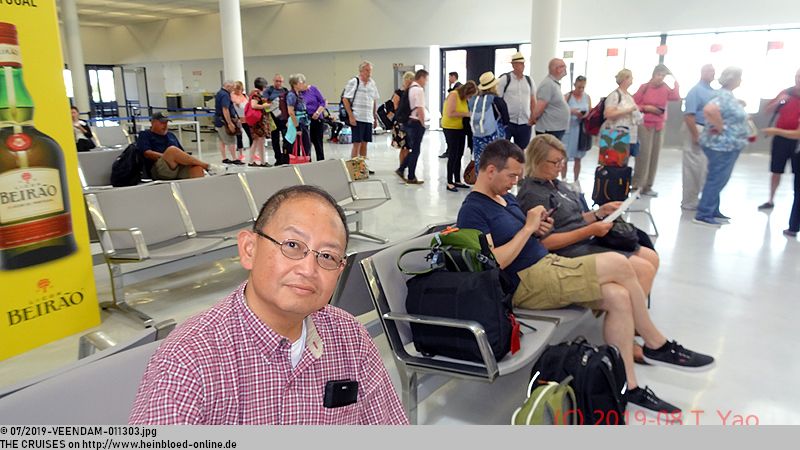 Wir warten. Das Check-In geht sehr schnell. Aber wir dürfen noch nicht an Bord.
So schmökern wir schon mal, was uns heute erwartet. Etwas ist neu und führt später zu Irritationen: Einsparungen in jedem Bereich - sogar bei der Druckerfarbe!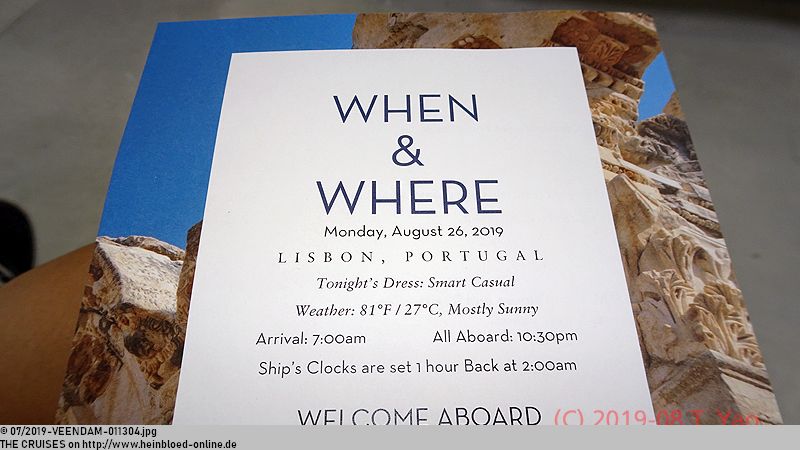 This was how we browsed what awaited us today. Something was new and led to irritation later: Savings in every area - even with the printer ink!

"DAILY NAVIGATOR" = 14 characters. "WHEN & WHERE" = 10 characters. Saving 28.6% less ink! Many pennies make a dollar! On KONINGSDAM 2016 trip, there was a separate program for embarkation guests. The daily program started with embarkation at 11:30 hrs. I liked that: I did not have to sort out what applied to me. And transit guests got their own version, and they did not have to sort out what applied to them as transit guests. Here and now, there was only one joint issue for passengers and transit guests. However, "Ship's Clocks are set 1 hour back at 2:00 am" directly on the cover page (ship's clocks were reset one hour at 02:00 hrs in the morning). I would do that later too ... because I assumed that you should do that when you go to bed in the evening. Usually, the procedure is: you get the program for the next day in the evening, and before you would go to bed, you would change your clock. Here you just had to think differently: would I be a starter, or would I be a transit traveler... But more about that in the next chapter. So then (still on the trip on KONINGSDAM 2016), for example: "The Ship's clocks will be set BACK 1 hour at 2:00 am between Monday night and Tuesday morning." It was clear when exactly the time change took place. Saving potential: "The" = 3 characters, "are" instead of "will be" = 3, "BACK" in capital letters instead of "Back" = 1 1/2, "between xxxday night and xxxday morning." without xxx = 29 + xxx. xxx = shortest Sun / Mon = 6 or Wednes / Thurs = 11. It might be a bit exaggerated, but unfortunately, it was like that: everywhere onboard on the entire journey you noticed: little things, everything a little bit nicer, clearer, more pleasant, different, have done better than other companies, had often been deleted and gone.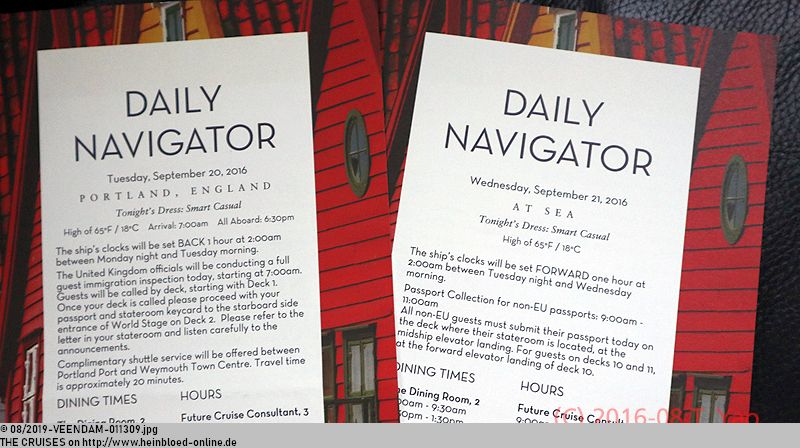 "DAILY NAVIGATOR" = 14 Zeichen. "WHEN & WHERE" = 10 Zeichen. Einsparung 28,6% weniger Druckerfarbe! Kleinvieh macht auch Mist! Auf der
KONINGSDAM 2016
-Reise gab es noch ein eigenes Programm für Zusteiger. Das Tagesprogramm begann mit der Einschiffung um 11:30 Uhr. Das mag ich: ich muss nicht aussortieren, was mich als Zusteiger betrifft. Und Transitgäste bekommen ihre eigene Version und sie müssen nicht aussortieren, was sie als Transitgäste betrifft. Hier und jetzt gibt es nur eine gemeinsame Ausgabe für Zusteiger und Transitgäste. Allerdings steht direkt auf dem Deckblatt "Ship's Clocks are set 1 hour Back at 2:00 am" (Schiffsuhren werden eine Stunde um 02:00 Uhr morgens zurückgestellt). Das mache ich auch später... weil ich davon ausgehe, dass man das machen soll, wenn man abends zu Bett geht. Üblicherweise ist der Ablauf: man bekommt abends das Programm für den nächsten Tag und bevor man zu Bett geht, stellt man seine Uhr um. Hier muss man eben anders denken: bin ich Zusteiger oder bin ich Transitreisender... Aber mehr dazu im nächsten Kapitel. Also früher (noch bei der
KONINGSDAM 2016
-Reise) stand beispielsweise: "The Ship's clocks will be set BACK 1 hour at 2:00 am between Monday night and Tuesday morning." Damit war eindeutig, wann genau die Zeitumstellung erfolgt. Einsparungspotential: "The" = 3 Zeichen, "are" statt "will be" = 3, "BACK" in Großbuchstaben statt "Back" = 1 1/2, "between xxxday night and xxxday morning." ohne xxx = 29 + xxx. xxx = kürzestes Sun/Mon = 6 bzw. Wednes/Thurs = 11. Es mag jetzt etwas überspitzt sein, aber leider ist so: überall an Bord auf der kompletten Reise merkt man: Kleinigkeiten, die alles etwas schöner, klarer, angenehmer, anders, besser als bei anderen Gesellschaften gemacht haben, sind oftmals gestrichen worden und verschwunden.
Am Besten finde ich es übrigens auf der
QUEEN MARY 2 2015
: Ein Hinweis am Vorabend: die Uhren werden in der kommenden Nacht umgestellt. Und am nächsten Tag: in der vergangenen Nacht wurden die Uhren umgestellt. Noch besser ist es übrigens auf einer Transatlantik auf der
QUEEN MARY 2 2014
und
QUEEN MARY 2 2017
: Mittags um 12:00 Uhr wird umgestellt und alle bekommen das aktiv mit. Auf der Transatlantik auf der
QUEEN VICTORIA 2008
wurde übrigens auch in der Nacht umgestellt. Ich finde das mittags an Seetagen sehr charmant. So hat man immer die gleichen Stundenzahl an Schlaf.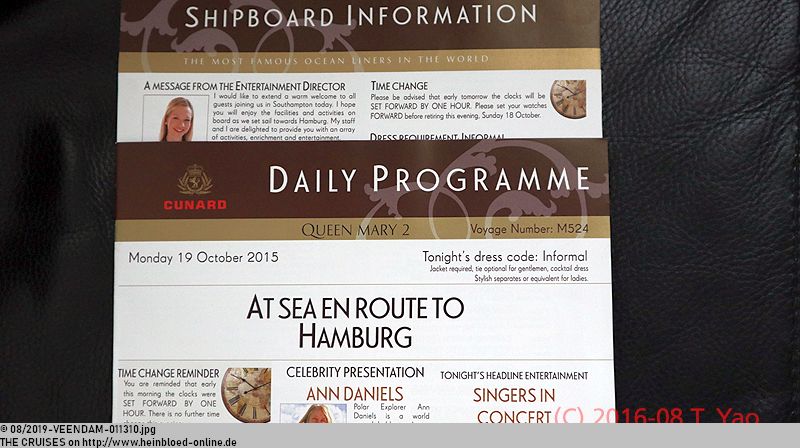 I found the best way to do it, incidentally, on QUEEN MARY 2 2015: A note on the evening ahead: the clocks will be changed in the coming night. And the next day: last night, the time was changed. Incidentally, it was even better on a transatlantic crossing on QUEEN MARY 2 2014 and QUEEN MARY 2 2017: At high noon, the time was being changed over, and everyone was actively taking part. Incidentally, the Transatlantic on QUEEN VICTORIA 2008, the time was also changed during the night. I fond this at noon on a day at sea very charming. So you always had the same number of hours of sleep.

The music selection for tonight. I was already curious.

Das musikalische Angebot heute Nacht. Ich bin mal gespannt.
189 USD/12 = 15,75 USD/Nacht... geht... 229 USD/12/2 = 9,54 USD/Nacht und Person... ist eigentlich ein Super Angebot. Aber bei den "wenigen" Seetagen relativiert sich das wieder.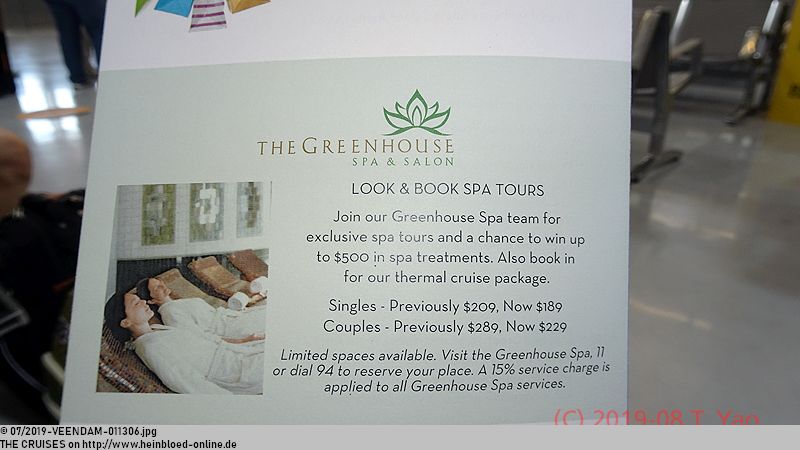 189 USD/12 = 15.75 USD/night... o.k.... 229 USD/12/2 = 9.54 USD/night and person... Actually it was a super offer. But with the "few" days at sea this was relativized again.

Back then, on WESTERDAM 2010, when it was said: "As a hotel manager, I am only there for my crew and would have too much work if I have to take care of the concerns of the guests!". And today: At least in the daily program was displayed: I would be there for the guests.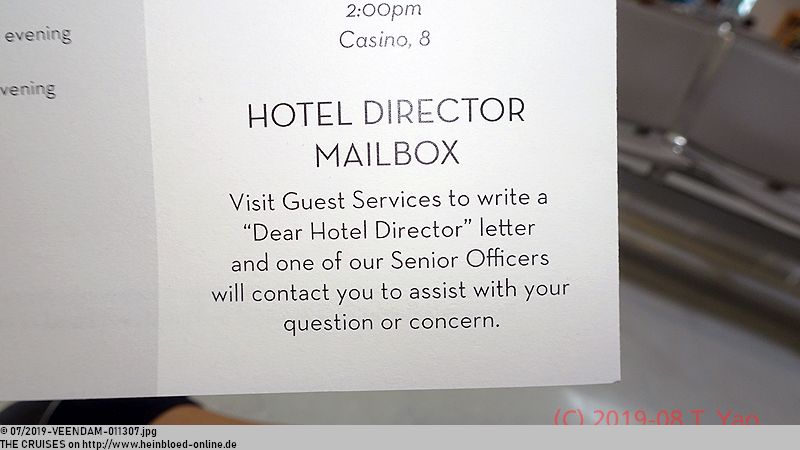 Damals noch auf der
WESTERDAM 2010
, als es hieß: "Ich bin als Hoteldirektor nur für meine Mitarbeiter da und hätte ja viel zu tun, wenn ich mich um die Anliegen der Gäste kümmern müsste!". Und heute: Zumindest im Tagesprogramm wird signalisiert: ich bin für die Gäste da.
Mein neues Lanyard, damit ich "diskret" signalisiere, dass ich auch ein Friend of Dorothy bin. Also kann
Dorothy
doch die
Toblerone
bekommen.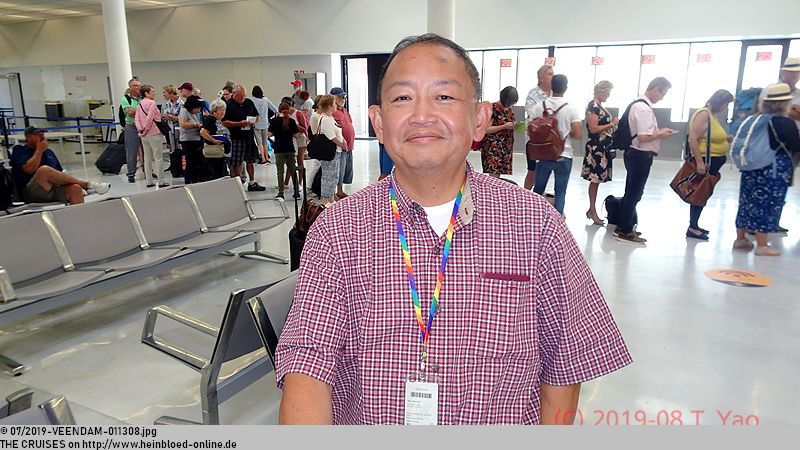 My new lanyard. So I could signal "discreetly" that I would be a Friend of Dorothy too. So Dorothy could get the Toblerone chocolate.

And finally, we made it.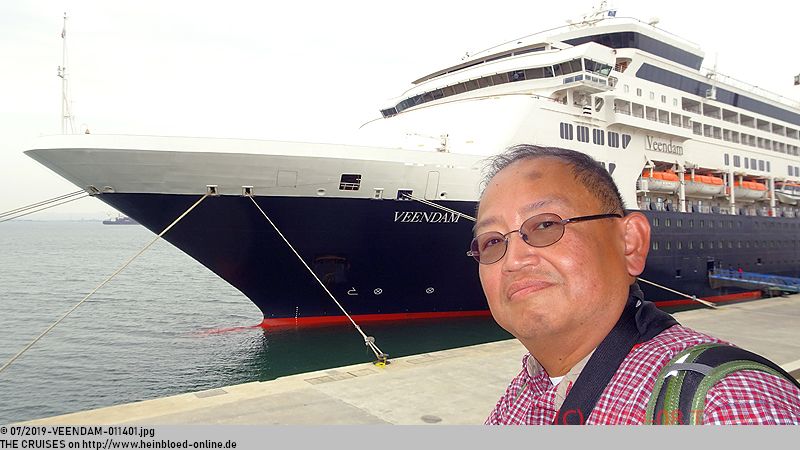 Und endlich haben wir es geschafft.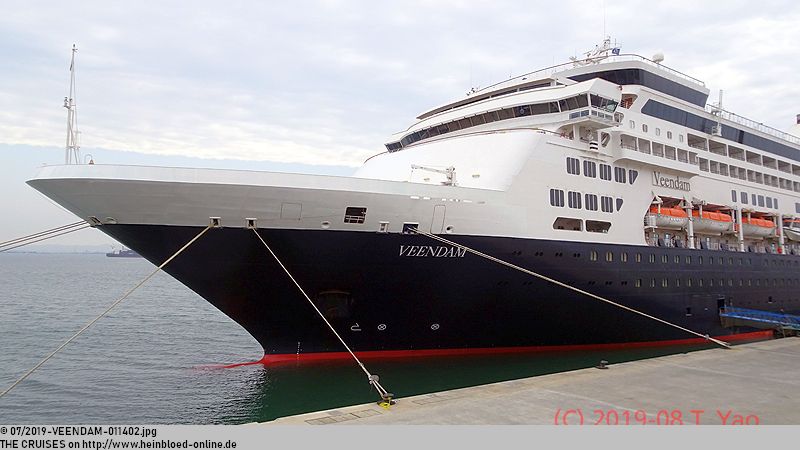 The terminal had a shore-side bridge and we walked in here. Later, someone explained that the passengers did not represent the problem and could run well on it. But then it would be possible for the luggage and the provisions too steep. That was why the platform was in between.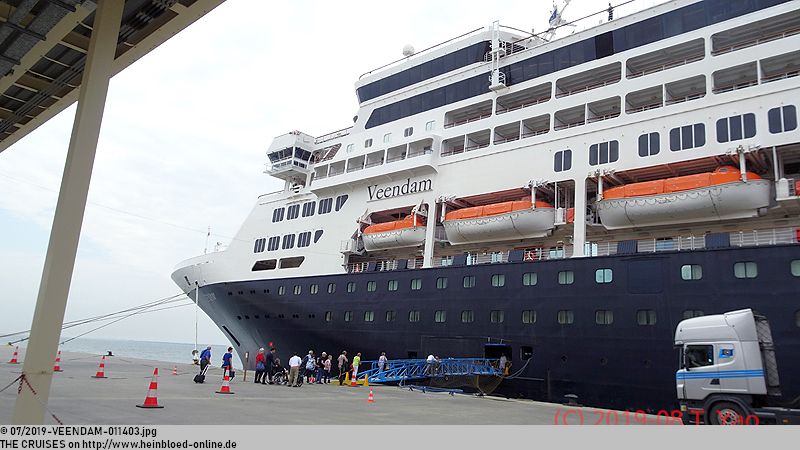 Das Terminal hat eine landseitige Brücke und wir laufen hier rein. Später erklärt man, dass die Passagiere nicht das Problem darstellen und hätten gut darüber laufen können. Aber dann wäre es u. U. für das Gepäck und den Proviant zu steil geworden. Deswegen auch die Plattform dazwischen.
Unser zu Hause für die nächsten zwölf Tage.

Our home for the next twelve days.

Welcome onboard!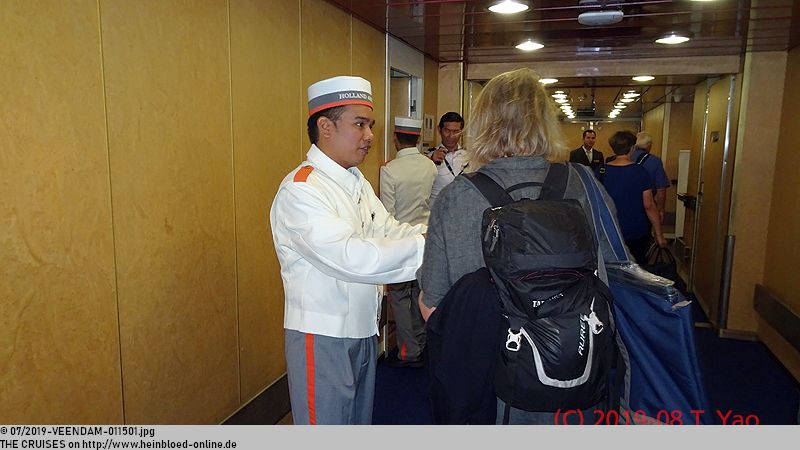 Willkommen an Bord!
An die Schilder kann ich mich gar nicht auf den Reisen auf der
ZAANDAM 2012
oder
RYNDAM 2013
erinnern. Sehr praktisch: man kann die Pfeilrichtung verändern.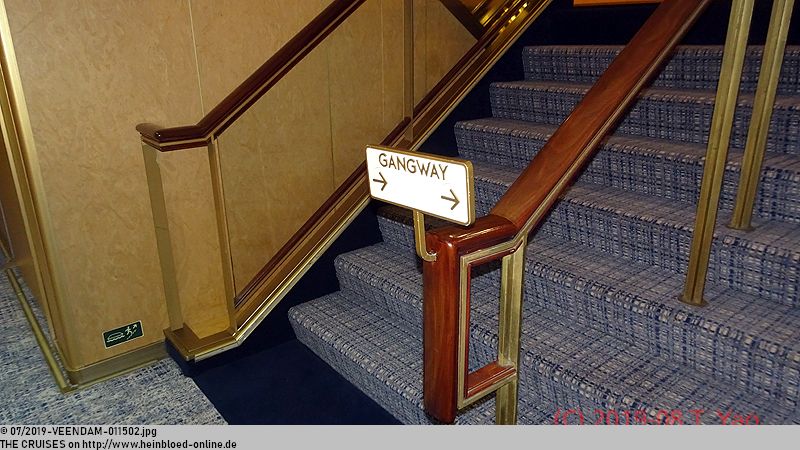 I could not remember the signs when traveling on ZAANDAM 2012, or RYNDAM 2013. Very handy: you could change the direction of the arrow.

I did not know that yet. At each staircase, this direction could be found in the carpet. So there were a few small improvements as well.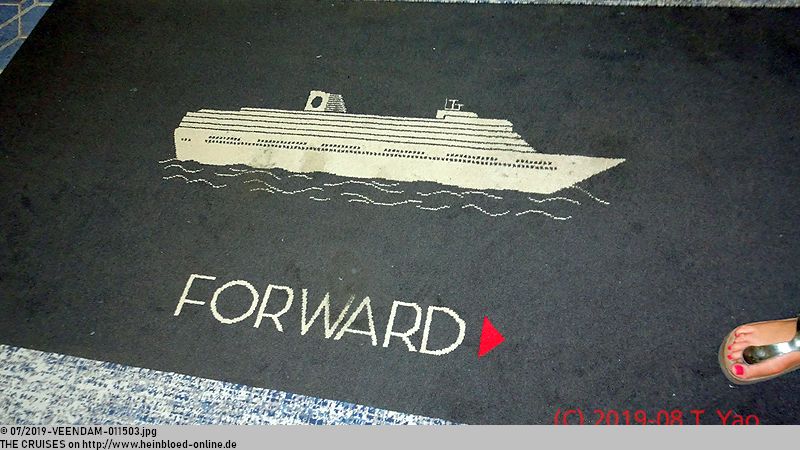 Das kenne ich bislang auch nicht. An jedem Treppenhaus findet sich im Teppich dieser Hinweis. Es gibt also auch ein paar kleine Verbesserungen.
Lanai-Kabine 368 auf dem unteren Promenadendeck.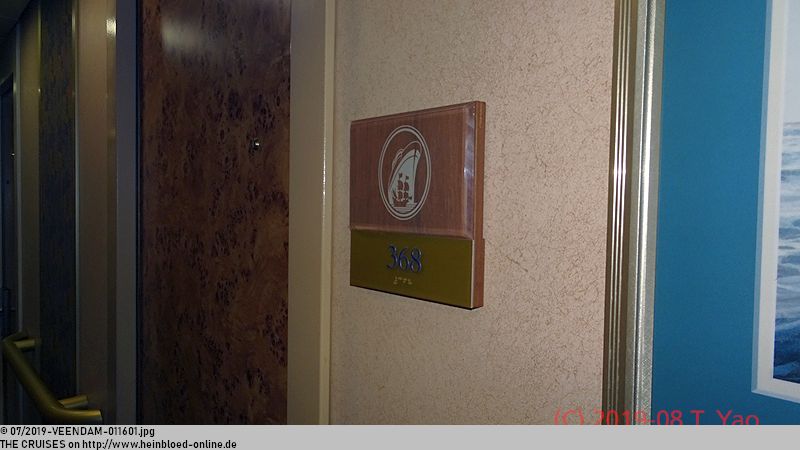 Lanai-cabin 368 on the lower promenade deck.

That was a little sad that the bed configuration was not requested when we did the online check-in. So we had to ask our cabin stewards, to change it later.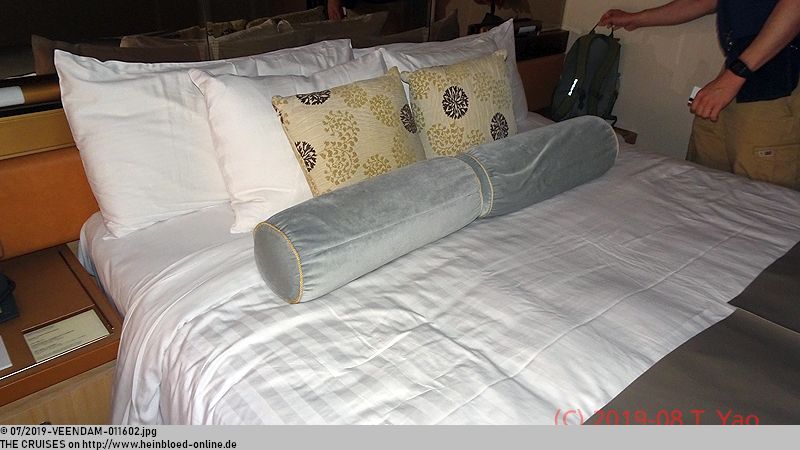 Das ist ein wenig schade, dass die Bettkonfiguration beim Online Check-In nicht abgefragt wird. So müssen wir unsere Stewards darum bitten, das später wieder zu ändern.
Die Details in unserer Kabine. Neu sind die Taschen, die wir bekommen. Es gibt sowohl US- als auch Eurosteckdosen. Ich liebe ja das Platzangebot in den Schränken und Schubladen auf den R- und S-Klasse-Schiffen von Holland America Line, als noch jemand im Interesse der Passagiere das Kabinenleben entworfen hat.

The details in our cabin. New were the bags we got. There were both US and Euro sockets. I loved the space in the shelves and drawers on Holland America Line's R and S class ships when someone designed the cabin life for the sake of passengers.

Lanai - Hawaiian verandah. Here: making a virtue out of necessity. Because R and S-class ships had too few balcony cabins, the old windows were unceremoniously removed and replaced by a veranda sliding door to the promenade. From public space (= promenade deck) became a semi-private space. For us, it was said that we would not need to design towels for reserving the sunbeds because the editions were already marked as reserved. Personally, I expected that we would meet passengers who would ignore that. But to my surprise: there was no problem with the journey. There were other types of issues that would discover later. As long as no light burned with us, you could not see us. We could come out quickly. To get in, there was a separate card, which would cost 10.00 USD (2019) even in case of loss. Because we preferred fresh sea air in the cabin, we usually left the verandah door open. This only led to problems if someone wanted to get in at the same time: like our cabin steward or someone of us. In a later discussion on cruisecritic.com, I was attacked. Supposedly, I would put by leaving the door open the air conditioning of the ship out of service. I would like to comment on this as follows: Balconies or here patio doors, which could be opened, had the function to allow the climate in the cabin to be determined. If it really would occur to such a big problem, I would be sure that we would find a BOLD hint in addition to the card for the veranda door that the door must be kept locked at all times. But there was nothing in the letter! Incidentally, it would be the first time on 100 voyages that I would be able to put the ship's air conditioning out of service. I would get a lot of trouble on the 99 trips just because I left a balcony door open to get fresh sea air in the cabin. I did not like what I saw on the ceiling above the promenade. The holes and the rust were already bigger and older.

Lanai - hawaiianische Veranda. Hier: aus der Not eine Tugend zu machen. Weil R- und S-Klasse-Schiffe zu wenige Balkonkabinen haben, wurden kurzerhand die alten Fenster ausgebaut und durch eine Veranda-Schiebetür zur Promenade ersetzt. Aus öffentlichem Raum (= Promenadendeck) wird ein halbprivater Raum. Für uns heißt es, dass wir keine Handtücher zum Reservieren der Liegestühle auslegen müssen, weil die Auflagen bereits als reserviert gekennzeichnet sind. Persönlich hätte ich damit gerechnet, dass wir auf Passagiere stoßen, die das ignorieren. Aber zu meinem Erstaunen: damit gibt es auf der Reise kein Problem. Es gibt dafür Probleme anderer Art, die noch später festgestellt werden. Solange kein Licht bei uns brennt, kann man bei uns nicht reingucken. Wir kommen ohne weiteres raus. Zum Reinkommen gibt es eine separate Karte, die auch im Falle eines Verlustes 10,00 USD (2019) kostet. Weil wir lieber frische Seeluft in der Kabine haben, lassen wir i.d.R. die Verandatür offen. Das führt lediglich zu Problemen, wenn jemand vom Schiffsinneren gleichzeitig rein will: z. B. Kabinensteward oder wir selbst. In einer späteren Diskussion auf
cruisecritic.com
werde ich deswegen angegriffen. Angeblich würde ich damit die Klimaanlage des Schiffes außer Betrieb setzen. Dazu möchte ich wie folgt Stellung nehmen: Balkone bzw. hier Verandatüren, die man öffnen kann, dienen durchaus dazu, dass man selbst das Klima in der Kabine bestimmen kann. Würde es tatsächlich zu so einem großen Problem führen, bin ich mir sicher, dass wir neben der Karte für die Verandatür einen
FETTEN
Hinweis gefunden hätten, dass die Tür ständig verschlossen bleiben muss. Aber auf dem Brief ist gar nichts! Es wäre übrigens auf 100 Reisen das erste Mal, dass ich es schaffen würde, die Klimaanlage eines Schiffes außer Betrieb zu setzen. Ich hätte bestimmt auf den 99 Reisen zuvor jede Menge Ärger bekommen, nur weil ich eine Balkontür offen stehen lasse, um frische Seeluft in der Kabine zu bekommen. Weniger gefällt mir, was ich eben so auf der Decke über der Promenade sehen. Die Löcher und der Rost sind ja schon größer und älter.
Ich muss mal den Papierkram durchsehen: Immer noch sehr gut bei Holland America: alle Informationen zu den Häfen bekommen wir am Anfang der Reise. Und im Gegensatz zur
KONINGSDAM 2016
, bekommen wir auch alle Häfen korrekt. Damals bekamen wir Information zu Cartagena, Kolumbien statt Cartagena, Spanien. Dieses Mal haben wir keine Information zu Sydney, Australien oder St. John, New Brunswick, Kanada bekommen, sondern Sydney, Nova Scotia, Kanada und St. John's, Neufundland, Kanada. Dazu gibt es passend das Ausflugsangebot, das wir jedoch nicht nutzen. Noch gibt es kostenlos Postkarten. Wir werden darauf hingewiesen, dass es einen deutschsprachigen Gästebetreuer an der Rezeption gibt. Auch sehr gut: wir wissen schon vorab für die gesamte Reise: wann finden Produktion Shows (und andere Shows), die Galaabende und Besondere Essensangebote (dazu später mehr in den Kapiteln zu den Tagen 3, 6, 7 und 8). Und auch besondere Veranstaltungen, die man nicht verpassen sollte. Außerdem werden alle vorab getätigten bezahlten Einkäufe, die wir vorab online getätigt haben, nochmals bestätigt. Auch unser unbegrenztes Wäschepaket währed der gesamten Kreuzfahrt wird bestätigt. Das ist gut: die SB-Waschmaschinen gibt es nicht mehr. Sehr schade. Wieder etwas gestrichen.

I had to go through the paperwork: Still very good with Holland America: we got all the information about the ports at the beginning of the journey. And unlike KONINGSDAM 2016, we also got all ports correct. At that time we got information about Cartagena, Colombia instead of Cartagena, Spain. This time we did not get any information about Sydney, Australia, or St. John, New Brunswick, Canada, but Sydney, Nova Scotia, Canada, and St. John's, Newfoundland, Canada. There were matching the excursion offer, which we did not use. There were still free postcards. We were advised that there was a German-speaking guest representative at the reception. Also very good: we knew in advance for the entire trip: when production shows (and other shows), the gala evenings and special dining events (more on that later in the chapters on the days 3, 6, 7 and 8). And particular highlights that should not be missed. Besides, all pre-paid purchases that we made online in advance, we got confirmed again. Also, our unlimited laundry package during the entire cruise was reconfirmed. That was not good: the self-service laundrettes were gone. A pity. Again something good was withdrawn.

In the bathroom, there were STILL the Elemis products that I loved. Let us see when they would see next time a drugstore and get a supply of their own brand ... but thankfully, there was rarely a mega drugstore in cruise terminals.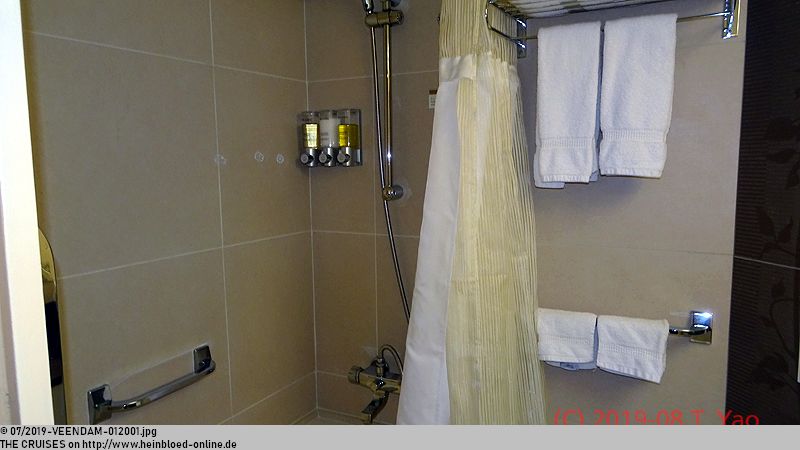 Im Bad gibt es NOCH die
Elemis
-Produkte, die ich liebe. Mal gucken, wann sie das nächste Mal bei einem Drogerie-Markt vorbeikommen und eine Eigenmarke nutzen... aber zum Glück ist selten ein großer Drogerie-Markt mit Eigenmarken in den Kreuzfahrtterminals.
Es ist alles da, es ist alles sauber - aber sagen wir mal so: es passt zu dem Schiff (Baujahr 1996). Und damals war Holland America ja eh schon klassisch, dass es schon "Vintage" wirkt, was heutzutage ja wieder modern ist. Nur muss ich einfach sagen, dass ich es schon sehr schätze, wenn beispielsweise Badewannen durch moderne größere Duschen ohne Vorhang mit Glaswand ersetzt werden. Wie z. B. auf der
MEIN SCHIFF 2 2012
,
ARTANIA 2014
und
AZAMARA PURSUIT 2019
. Aber ich rechne nicht mehr damit, dass Carnival dafür noch Geld bereit hält. STATENDAM und RYNDAM (S-Klasse) sind ja nicht mehr in der Flotte und Neubauten unterwegs bzw. im Bau. Ich persönlich würde mich darüber freuen, wenn sie statt Geld in weitere Neubauten zu stecken, lieber die verbleibenden R- und S-Klasse Schiffe so modernisieren, dass sie fast wieder wie ein Neubau wirken.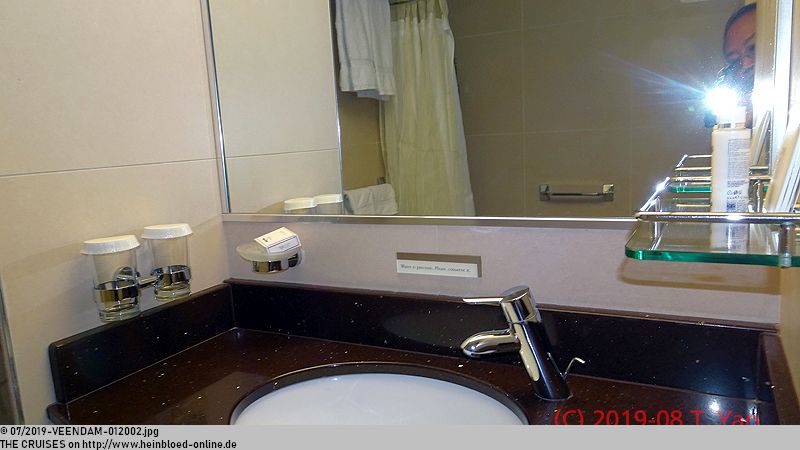 It was all there, it was all clean - but let me put it this way: it fitted in with the ship (built 1996). And at that time Holland America was already a classic, that it looked already "vintage", what would appear modern again today. But I just must say that I appreciated it very much when, for example, bathtubs would be replaced by modern larger showers without curtains with glass walls. Such as for example, on MEIN SCHIFF 2 2012, ARTANIA 2014 and AZAMARA PURSUIT 2019. But I did not expect Carnival to have any money left. STATENDAM and RYNDAM (S-Class) were no longer part of the fleet, and newbuilds were underway or under construction. Personally, I would be happy if instead of putting money into newbuilds, they would rather modernize the remaining R and S-class ships so that they almost would look like a newbuild.

Still in single containers: body lotion. I would be curious to know if they would even spend money on a dispenser.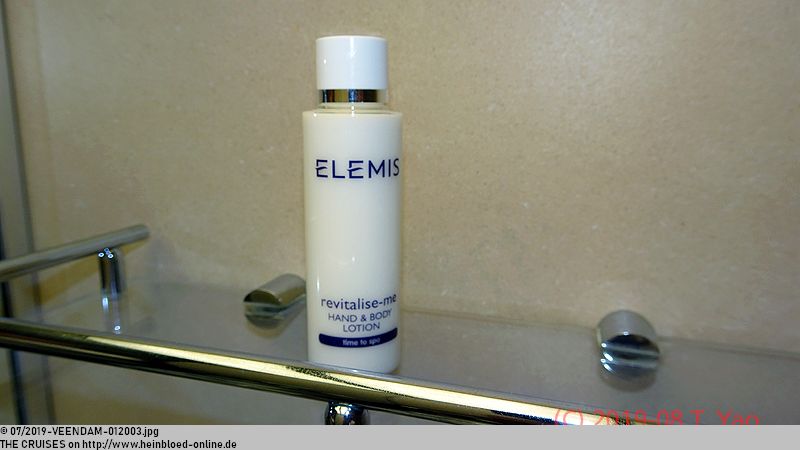 Noch in Einzelflaschen: Körperlotion. Mal sehen, ob sie dafür auch noch einen Spender rausgeben.
Wir trinken stilles Wasser, Cappuccino, ab und zu eine Cola oder Ginger Ale, ab und zu ein Gin Tonic, ab und zu einen alkoholfreien Cocktail, ab und zu einen
Clamato
-Saft. Ein Getränkepaket für alle Getränke inkl. Alkohol (je nach Umfang) läge bei 620,28 USD pro Person (51,69 USD pro Tag - 2019) bzw. 827,28 USD pro Person (68,94 USD pro Tag - 2019). Da wir kaum Alkohol trinken, ist das für uns uninteressant. Es gäbe noch ein alkoholfreies Paket inkl.
Evian
Wasser und die Getränke vom Explorations Café: 247,68 USD pro Person (20,61 USD pro Tag - 2019). Aber wir trinken nicht so viel, dass es sich lohnt. Und nur Coke-Getränke? Immer noch 110,40 USD pro Person (9,20 USD pro Tag - 2019). Aber ich trinke ein bis zwei am Tag. Das lohnt sich nicht. Daher bestelle ich vorab eine Soda Guthabenkarte: Kosten 25,00 USD - Wert 50,00 USD an Bord. Das lohnt sich schon mal. Mein Guthaben reicht fast bis zum Ende der Kreuzfahrt, dass sich eine weitere Karte nicht lohnt. Und wir haben zwölf Flaschen
Evian
bestellt. Aber leider wird es alles auf einmal in die Kabine geliefert. Ich bin ja kein großer Freund von Celebrity Cruises. Aber
Evian
-Flatrate, die wir auf der
CELEBRITY MILLENNIUM 2014
hatten, war schon genial. So hatten wir immer Flaschen für unterwegs, für das Fitness-Studio, in der Kabine und eben am Tisch und an jeder Bar.

We drank still water, cappuccino, occasionally a coke or ginger ale, sometimes a gin and tonic, from time to time a non-alcoholic cocktail, from time to time a Clamato juice. A drink package for all drinks, including alcohol (depending on size), would be 620.28 USD per person (51.69 USD per day - 2019) or 827.28 USD per person (68.94 USD per day - 2019). Since we hardly drank alcohol, that would be of no interest to us. There would be a non-alcoholic package, including Evian water and drinks from the Explorations Café: 247.68 USD per person (20.61 USD per day - 2019). But we would not drink so much that it would worth it. And only Coke drinks? Still 110.40 USD per person (9.20 USD per day - 2019). But I drink one to two a day. Not worth it. Therefore, I order in advance a soda prepaid card: cost 25.00 USD - worth 50.00 USD onboard. That's worth it. My credit goes almost to the end of the cruise that another card is not worthwhile. And we ordered twelve bottles of Evian. But unfortunately, it is delivered all at once to the cabin. I am not a big friend of Celebrity Cruises. But Evian Flatrate, which we had on CELEBRITY MILLENNIUM 2014, was excellent. So we always had bottles everywhere. For the road, for the gym, in the cabin, just at the table, and at every bar.

We went to Mariner's Lunch, which was officially listed as a special feature of the Mariner Society past guest loyalty program. New were the bread plates of Royal Delft! Very beautiful.

Wir gehen zum Mariner's Lunch, das offiziell noch als Besonderheit des Kundenbindungsprogramms Mariner Society geführt wird. Neu sind die Brotteller von
Royal Delft
! Sehr schön.
Mittlerweile haben sich die Zeiten bei Holland America wohl geändert und es läuft so wie bei Norwegian. Wir bekommen die schönen Teller von
Royal Delft
nur zum Angucken! Brötchen werden nicht automatisch gebracht, wie zuletzt auf der
KONINGSDAM 2016
. Man muss nach Brötchen fragen. Es wird einem nicht mehr angeboten. Das gilt für sehr vieles! Man muss jetzt immer danach fragen!!! Es wird mit Lebensmittelverschwendung und Umweltschutz begründet. Das ist grundsätzlich gut so. Auch wenn es es nicht mehr automatisch serviert: Man kann es trotzdem VERBAL anbieten, oder man kommt mit einem großen Korb, und bietet es PHYSISCH an und legt sie einzeln auf die schönen Brotteller von
Royal Delft
. Ich bin mal gespannt: nach dem ja easyCruise vom Markt ist. Vielleicht will ja Holland America diese Lücke füllen.
SAS
war ja auch mal ein Qualitätscarrier und ist heute ein Low-Budget-Carrier.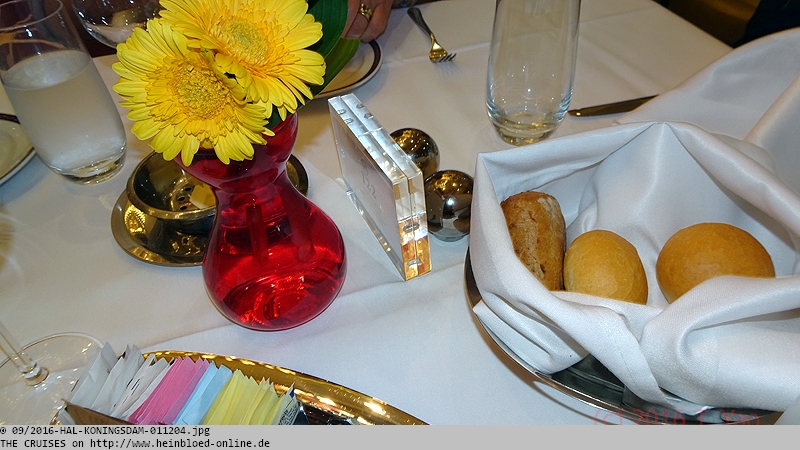 Meanwhile, the times changed with Holland America well and it worked like with Norwegian. We got the beautiful plates of Royal Delft just to look at! Bread rolls were not served automatically, as last time on KONINGSDAM 2016. You had to ask for bread rolls. No longer offered by your waiter. That applied for a lot! You always had to ask for something now !!! It was justified with food waste and environmental protection. That was basically good. Even if they no longer served it automatically: you could still offer it VERBALLY, or you could come with a large basket and offer it PHYSICALLY and put them individually on the beautiful bread plates of Royal Delft. I would be curious: after easyCruise went from the market. Maybe Holland America wanted to fill this gap. SAS was before also a quality carrier and counted nowadays to a low-budget airline.

It was nothing special anymore: 1. It was not checked anyway if you were "eligible" to take part - so it was nothing more exclusive and 2. So far (like last time on KONINGSDAM 2016), I had the feeling that it was something unique, and you could see it on the menu because it was extra on the lunch menu. Today it could be any selection of the regular lunch menu.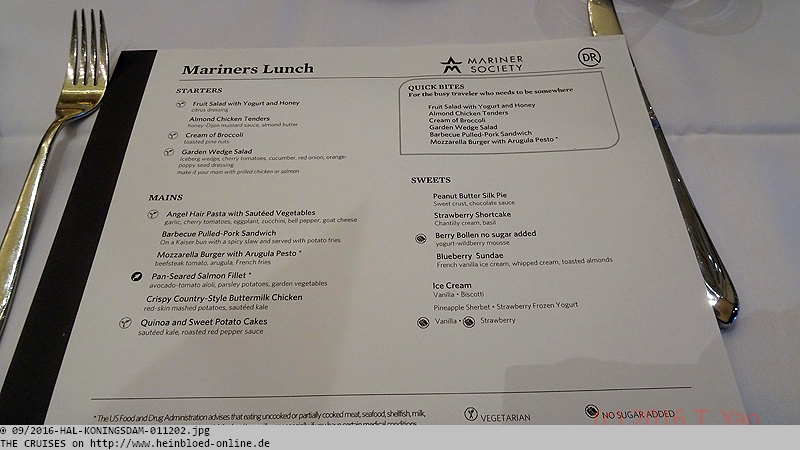 Es ist auch nichts mehr besonderes: 1. es wird sowieso nicht kontrolliert, ob man "berechtigt" ist, dass mal teilnehmen darf - also es ist nichts mehr Exklusives und 2. bisher (wie zuletzt auf der
KONINGSDAM 2016
) hatte ich das Gefühl, dass es etwas Exklusives war und man sah es auch der Speisekarte an, weil es extra auf der Mittagskarte stand. Heute könnte es eine beliebige Auswahl der normalen Mittagskarte sein.
Wir interessieren uns sowieso nur größtenteils für die Kaffeegetränke: ab 07:00 Uhr erst geöffnet. Kann unter Umständen hart werden, speziell an Tagen mit früher Ankunft. Aber heute haben wir Einschiffungstag: da ist es schon um 07:00 Uhr geöffnet, auch wenn kein Gast, der heute einschifft, bereits das Exploration Café nutzen kann.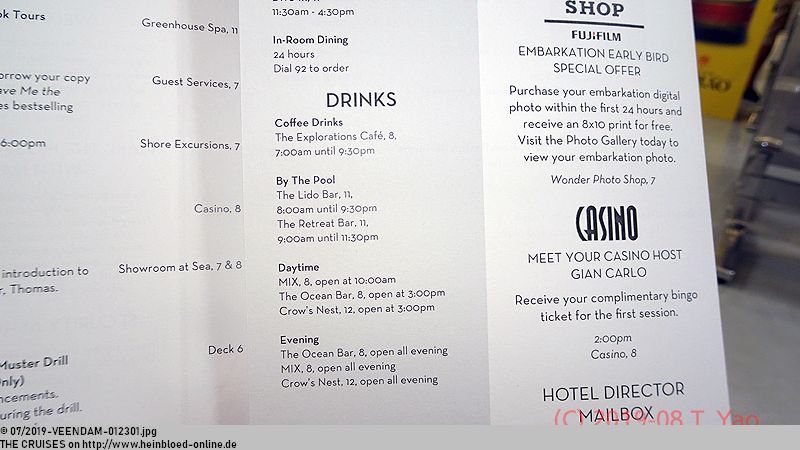 Anyway, we were mostly only interested in the coffee beverages: only open after 07:00 hrs. May get hard, especially on days of early arrival in ports. But today we had embarkation day: it was already open at 07:00 hrs, even though no guest embarking today could already use the Exploration Café.

I was quite happy: cold coffee beverages.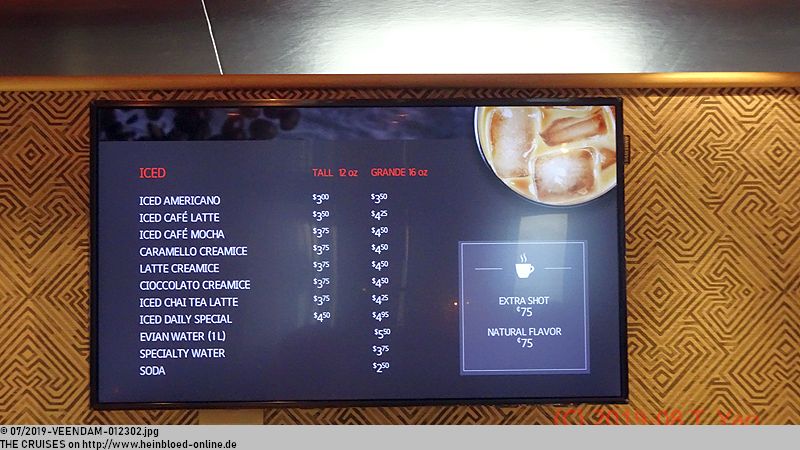 Ich bin schon glücklich: kalte Kaffeegetränke.
Manche mögen es heiß!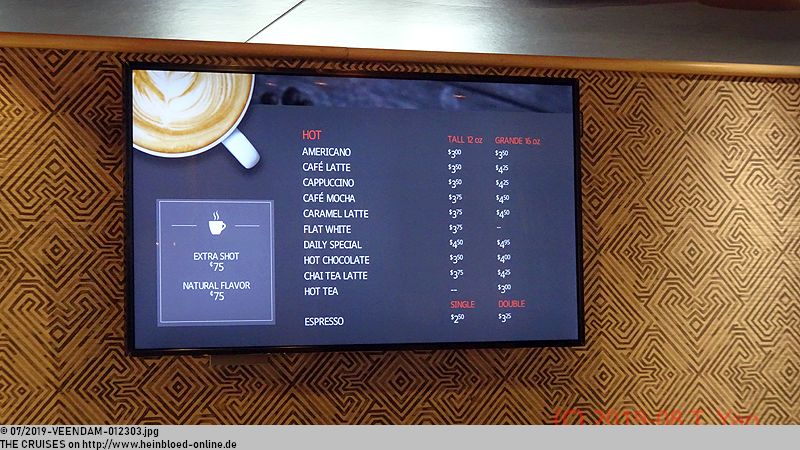 Some like it hot!

We refrained from the use of to-go disposable coffee cups and took everything in porcelain cups. For that, we had our own tray so we could effortlessly get the two decks up and down. We had also dutifully brought the dirty dishes back to the Exploration Café and did not leave it to our cabin stewards to get it back. A perfect thing: during the journey, we became a witness how the plastic cup for my cold coffee drinks would gradually be replaced. The first item that must stay would be the whipped cream. In the meantime, I no longer had to get my exclusive container of lactose-free milk from the Food & Beverage Manager, because the lactose-free milk was already available here.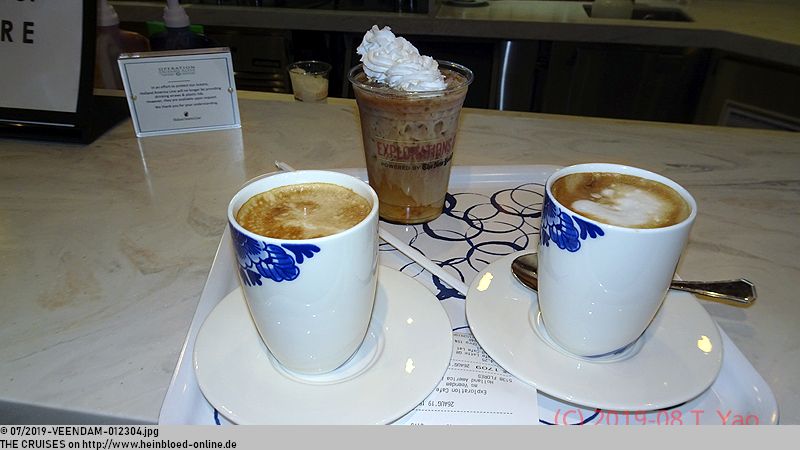 Wir verzichten auf to-go-Einwegkaffeebecher und nehmen alles in Porzellantassen. Dafür haben wir unser privates Tablett mitgebracht, damit wir es mühelos die zwei Decks rauf und runterbekommen. Wir haben auch brav immer das dreckige Geschirr wieder ins Exploration Café zurückgebracht und es nicht unseren Kabinenstewards überlassen, es wieder zurückzuschaffen. Eine sehr gute Sache: wir werden im Laufe der Reise Zeuge, wie der Plastikbecher für meine kalten Kaffeegetränke nach und nach ersetzt wird. Hauptsache die Sahne bleibt. Mittlerweile muss ich auch nicht mehr meine exklusiven Packungen mit laktosefreier Milch mir vom Food & Beverage Manager beschaffen, weil es die laktosefreie Milch schon hier vorrätig ist.
Die üblichen Veranstaltungen des Bar-Bereiches.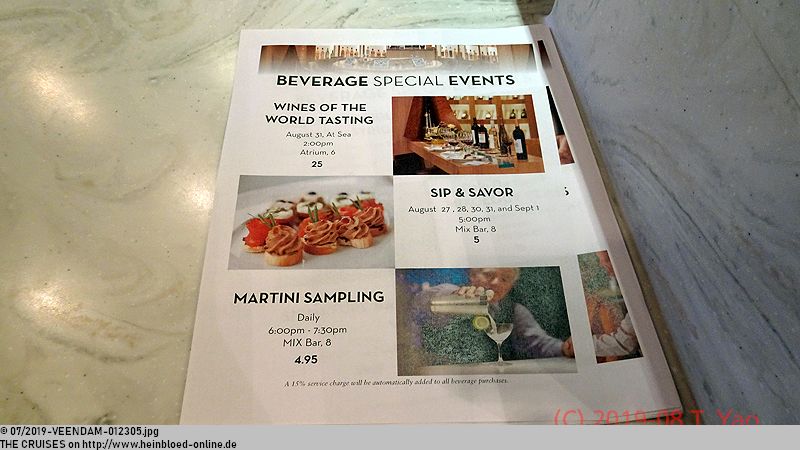 The usual events of the bar department.

Time for the premiere of my folding table. We just enjoyed the promenade in the sunbeds of our Lanai cabins. Why did Sigi get champagne in her stateroom, and we did not? We used to travel with Holland America more often - or they actually had a note in our master data that they could not please us with alcohol.

Zeit für die Premiere meines Klapptisches. Wir lassen es uns auf der Promenade in den Liegestühlen unserer Lanai-Kabinen einfach gutgehen. Warum hat eigentlich Sigi Sekt auf ihrer Kabine und wir nicht? Wir sind ja viel öfters mit Holland America unterwegs gewesen - oder sie haben tatsächlich einen Vermerk in unseren Stammdaten, dass sie uns mit Alkohol keine Freude machen können.
Seenotrettungsübung: wir sollen nicht auf den Sammelstellen auftauchen, bis dass die Ansagen kommen! Da wir erst nachts abfahren, ist die Zeit ungünstig für die Gäste gewählt, die jetzt auch noch etwas von Lissabon sehen wollen.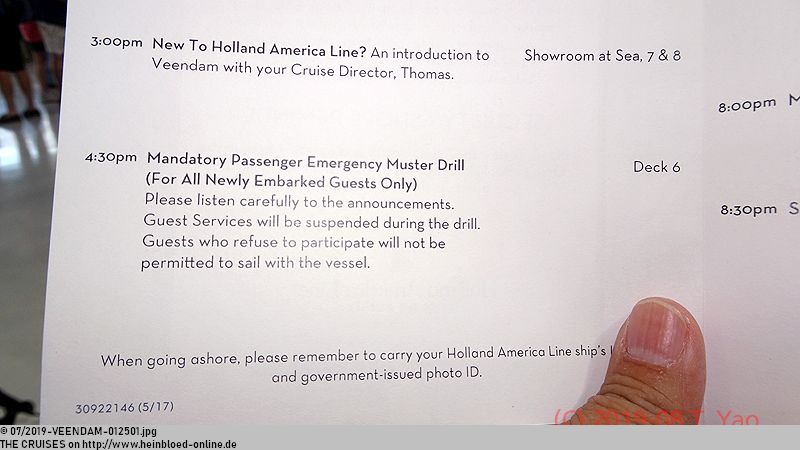 Life drill: we should not appear at the muster station until the announcements came! Since we would leave late at night, the time was unfavorably chosen for the guests, who now wanted to see some attractions of Lisbon.

How did I hate it when, after the life drill, when all guests jostled with lifejackets to the elevators, or they all ran many decks up and down in masses.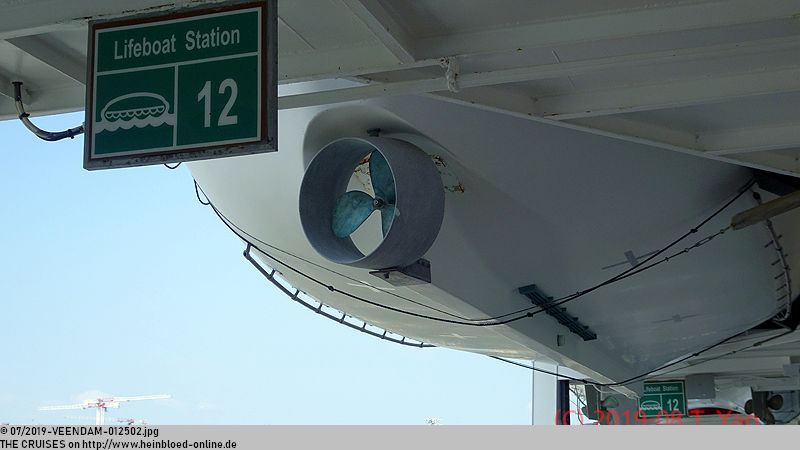 Wie hasse ich es, wenn nach der Seenotrettungsübung alle Gäste mit Rettungswesten sich zu den Fahrstühlen drängeln oder man dann viele Decks in Massen hochläuft.
Aber so bequem werden wir es vielleicht nie wieder haben: einfach mit der Karte rein in unsere Kabine. Für die Dauer der Seenotrettungsübung wurden unsere Liegestühle zusammengefaltet. Wir durften nicht einfach liegend die Seenotrettungsübung mitmachen. Schade. Übrigens auch Gäste mit eingeschränkter Mobilität nicht, die nicht während der Dauer der Seenotrettungsübung auf der Promenade stehen können. Sie werden nach drinnen geschickt, nach dem man sie erfasst hat.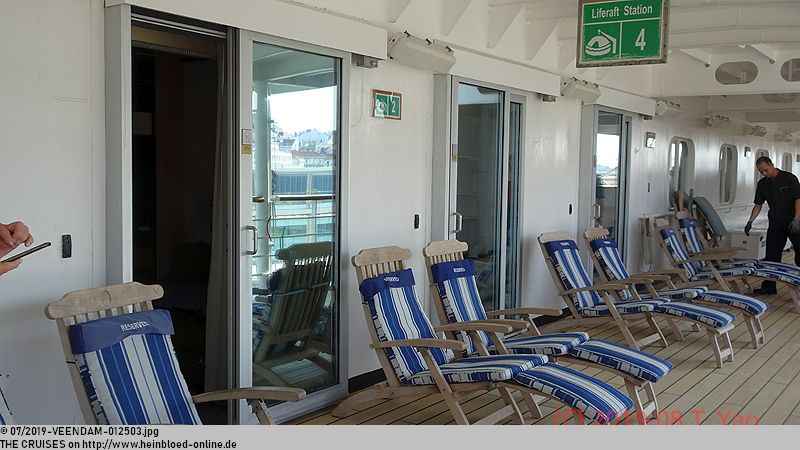 But perhaps we would never have it that comfortable again: just walking into our cabin with the card. For the duration of the life drill, our deckchairs were folded up. We were not allowed to just lie down and took part in the life drill. Too bad. Incidentally, guests with reduced mobility who could not stand on the promenade during the life drill. They were sent inside, after being registered.

For 159.99 USD, we pre-purchased two Internet passports for the duration of the entire voyage. We might also use video streaming services with this. The emphasis was on MIGHT. There were also cheaper packages that would allow only social media or additional e-mail services. The quality of internet connections was, unfortunately, not good enough. However, it was relatively good at uploading hundreds of pictures on Facebook in a session for the performance on a cruise ship, without having to split the images into portions. Onboard, the pass would cost 199.99 USD. Even the communication via the Navigator app worked IF ALWAYS ALL WERE ONLINE AT THE SAME TIME. For later ashore, I still had my Swiss SIM card from Sunrise. 2 GB within one month in Canada and the USA for 14.95 CHF (holiday season 2019). But it did not work so well. So later in the US, I went to T-Mobile again and buy a tourist plan (30,00 USD net plus local taxes for 2 GB in three weeks - 2019 - now sold under the brand Ultra Mobile). Also, the roaming on my domestic provider Telekom worked: but 1 GB for 29.95 EUR (2019). This worked very well, and I must not find a T-Mobile store, and I could start immediately after arrival. Bruno went another way and had a router from GlocalMe. A provider from Hong Kong with a built-in SIM card, where you could book individual countries: 3 GB in North America for 27.50 USD (2019). However, you just had to buy the router yet: currently at Amazon for 99.99 EUR or 159.99 EUR (2019).

Für 159,99 USD haben wir vorab zwei Internet-Pässe für die Dauer der gesamten Reise gekauft. Mit dem DÜRFEN wir auch Videostreaming-Dienste nutzen. Die Betonung liegt auf DÜRFEN. Es gibt auch günstigere Pakete, die auch nur soziale Medien oder zusätzlich E-Mail-Dienste zulassen. Die Qualität der Internetverbindungen reicht dafür leider nicht. Allerdings kann ich verhältnismäßig gut für ein Kreuzfahrtschiff hunderte von Bildern auf Facebook in einer Sitzung hochladen, ohne dass ich die Bilder in Portionen aufteilen muss. An Bord hätte der Pass 199,99 USD gekostet. Auch die Kommunikation über die Navigator-App klappt, WENN IMMER ALLE GLEICHZEITIG ONLINE sind. Für unterwegs habe ich noch meine schweizerische SIM-Karte von
Sunrise
mit. 2 GB innerhalb eines Monats in Kanada und USA für 14,95 CHF (Ferienzeit 2019). Aber so richtig gut klappt es nicht. So dass ich später in den USA nochmals zu T-Mobile gehe und lieber noch einen
Tourist Plan
(30,00 USD netto plus lokale Steuern für 2 GB in drei Wochen - 2019 - neuerdings unter der Marke
Ultra Mobile
) dazukaufe. Auch klappt auch das Roaming über meinen heimischen Anbieter
Telekom
: allerdings 1 GB für 29,95 EUR (2019). Das klappt sehr gut und ich muss keinen Laden von T-Mobile finden und kann sofort nach Ankunft loslegen. Bruno geht einen anderen Weg und hat einen Router von
GlocalMe
. Ein Anbieter aus Hongkong mit einer fest verbauten SIM-Karte, bei denen man Länder einzeln zubuchen kann: 3 GB in Nordamerika für 27,50 USD (2019). Allerdings muss man eben den Router noch dazukaufen: aktuell bei Amazon für 99,99 EUR bzw. 159,99 EUR (2019).
Für unterwegs haben wir uns gut eingedeckt: bei den kanadischen Noten weiß ich nicht, ob uns eine böse Überraschung erwartet, wie damals in Großbritannien, als die 10 GBP-Noten nach der Fahrt auf der
QUEEN VICTORIA 2018
nicht mehr galten. Aber die alten Noten werden anstandslos akzeptiert. Aufgrund der Inflation und weil wir bei Holland America den besonders guten Service schätzen, haben wir einen Bündel 2-USD-Noten bestellt.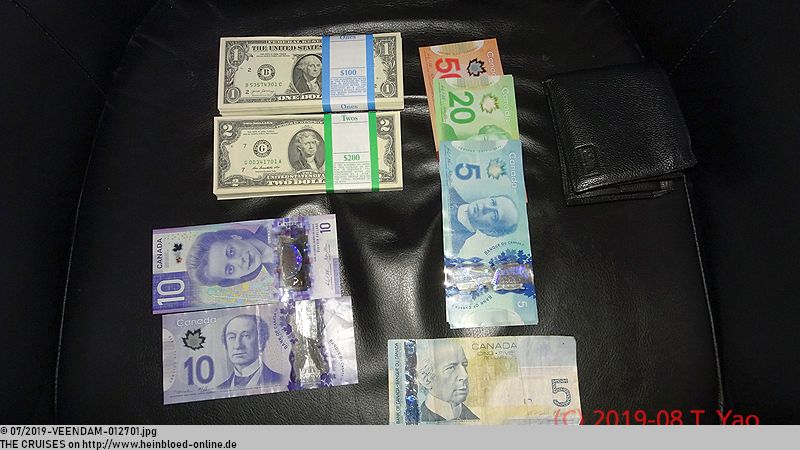 For our way, we set ourselves well: with the Canadian bills I do not know if we should expect a nasty surprise, as in the UK, when the 10 GBP bills were no longer valid after the ride on the QUEEN VICTORIA 2018. But the old bills were accepted without hesitation. Due to the inflation and because with Holland America, we would like to value the excellent service, we ordered a bundle of 2 USD bills.

The first cocktail on board was at the Friends of Dorothy meeting. Or today's politically-correct LGBTQ & Friends Meetup. L = Lesbian, G = Gay, B = Bisexual, T = Transgender, Q = Queer. It would be easier to announce a meeting for non-heterosexuals. I did not understand the difference between a Meetup and a Meeting. Since I had my rainbow lanyard, others assumed that I was the organizer and flocked directly around me. No experience before: Cruise Director Thomas Weber joined in person to greet and welcome us. Very nice was Raul bartender. He prepared a non-alcoholic cocktail for me, which was not listed on the bar menu.

Den ersten Cocktail an Bord gibt es beim Treffen der Friends of Dorothy. Oder heutzutage politisch-korrekter LGBTQ & Friends Meetup. L = Lesbisch, G = Gay/Schwul, B = Bisexuell, T = Transgender, Q = Queer. Es wäre einfacher ein Treffen für Nicht-Heteros auszuschreiben. Ich verstehe nicht so den Unterschied zwischen einem Meetup und einem Meeting. Da ich mein Regenbogen Lanyard umhabe, gehen andere davon aus, dass ich der Organisator bin und scharen sich direkt um mich. Bisher noch nicht erlebt: Kreuzfahrtdirektor Thomas Weber kommt persönlich vorbei, um uns zu begrüßen und willkommen zu heißen. Sehr nett ist Bartender Raul. Er macht mir einen alkoholfreien Cocktail, der nicht in der Karte steht.
Etwas ganz seltenes aus meinem Mund: das war auf der
NORWEGIAN JADE 2017
"besser"... Da gab es noch Geschenke für uns! Jhony vom Entertainment-Team hatte für uns kleine Geschenke mitgebracht...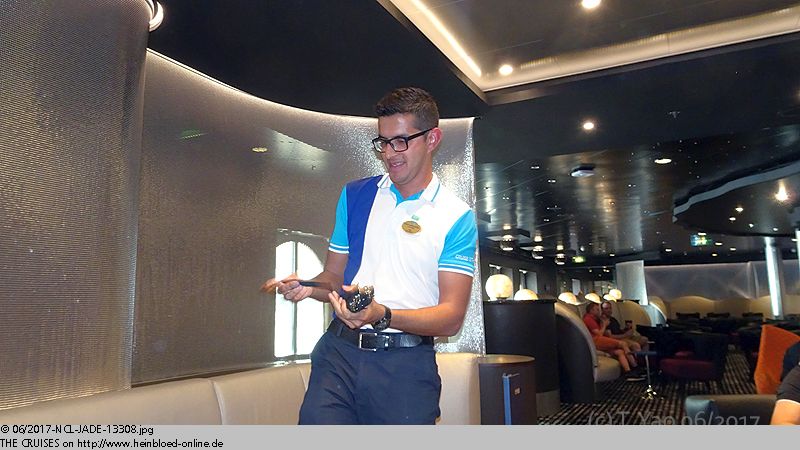 Something very rare out of my mouth: that was "better" on the NORWEGIAN JADE 2017... We got gifts! Jhony from the entertainment team got us small presents for us ...

Personally, I thought it was nice too, like I had last time on QUEEN VICTORIA 2018: A clear sign with a reserved meeting place. It was obviously visible for the participants. And everyone else who sat down there too: when a bunch of non-heterosexuals came, they did not have to get upset that they got themselves into this area. Today was embarkation day, and still, it was quiet.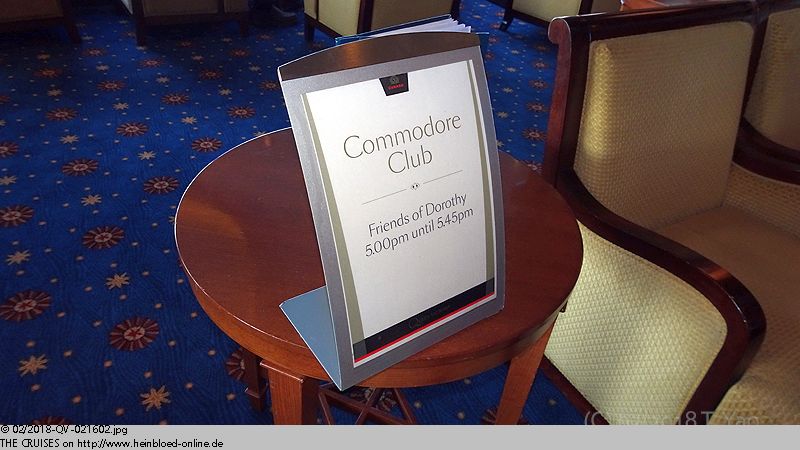 Persönlich finde es ich es auch schön, wie zuletzt auf der
QUEEN VICTORIA 2018
: Ein klares Schild mit einem reservierten Treffpunkt. Ist für die Teilnehmer klar. Und alle anderen, die sich dort hinsetzen auch: wenn ein Haufen Nicht-Heteros kommen, dann müssen die sich nicht aufregen, dass sie sich in diesen Bereich gesetzt haben. Heute ist Tag der Einschiffung und noch ist es ruhig.
Nochmals zurück zum Bartender Raul. Ich muss mal wieder gezielt danach fragen. Zuletzt auf der
KONINGSDAM 2016
gab es in der Barkarte einen tollen Abschnitt mit alkoholfreien Getränken. Holland America hatte bislang die beste Auswahl für Nicht-Alkoholiker. Nun haben sie gar nichts mehr. Und wieder muss ich nach etwas fragen, weil nichts angeboten wird. Das zieht sich leider auf der gesamten Reise hin.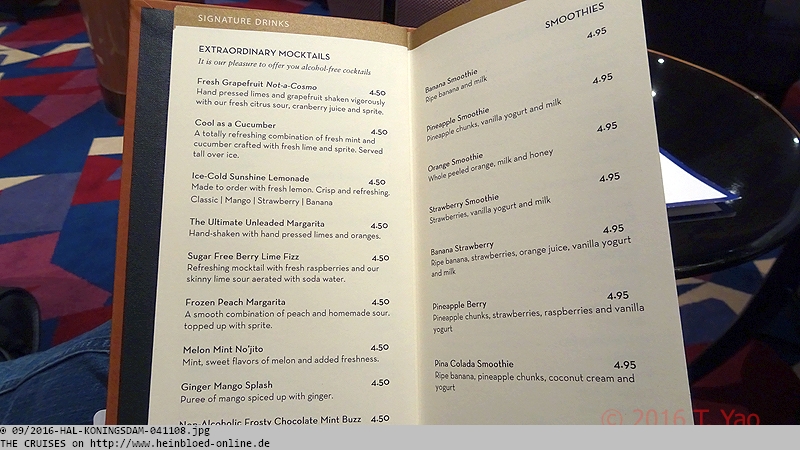 Back to the bartender Raul. I had to ask for something again. Last time on KONINGSDAM 2016, there was a great section of soft drinks on the bar menu. Holland America had the best selection for non-alcoholics so far. Now they had nothing left. And again, I had to ask for something because nothing was offered. Unfortunately, this continued this way on the entire journey.

And somehow it was served on KONINGSDAM 2016 like a lovely cocktail. And not like a long drink.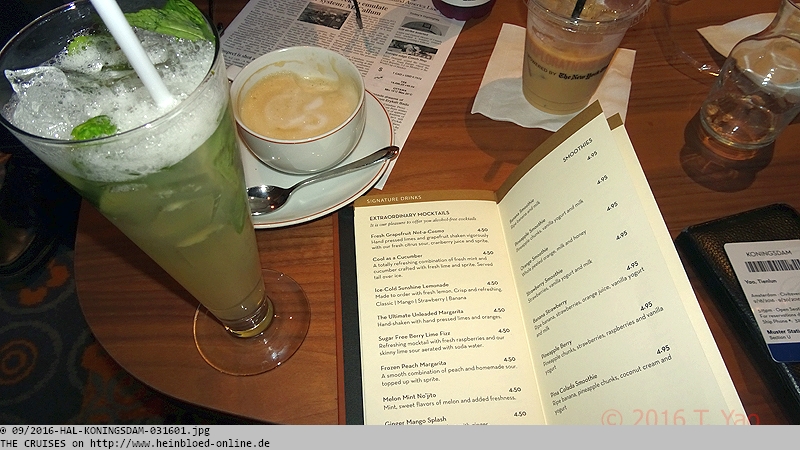 Und irgendwie wurde es damals auf der
KONINGSDAM 2016
auch wie ein schöner Cocktail serviert. Und nicht wie ein Long Drink.
Auf der
WESTERDAM 2010
fielen Brunos Eltern auf, weil sie einen Cognac
Rémy Martin Louis XIII
bestellt haben. Die dreistellige Summe führte zu der Annahme, dass wohl eine Fehlbuchung vorliegt. Aber Brunos Eltern haben dann beschrieben, dass es der beste Cognac war und regelrecht von drei Mitarbeitern (inkl. Beverage Manager) zelebriert wurde und die gesamte Aufmerksamkeit aller umliegenden Gäste auf sich gezogen haben. Brunos Vater sagt auch später, dass es der beste Cognac seines Lebens war. Auf der
RYNDAM 2013
versuchen wir es nachzuvollziehen: 89,95 USD + 15% 13,49 USD = 103,44 USD. Sehr schön: es wird an Bord auch heute nur 15% Servicecharges erhoben, während andere schon bei 18% bzw. 20% liegen. Es ist ehrlicher die Preise zu erhöhen und es bei den 15% zu belassen. Allerdings wird dieser Cognac auf der Karte gar nicht mehr angeboten. Ist das eine weitere Tendenz sich Richtung Norwegian, easyCruise zu entwickeln und eher den Geschmack eines "preissensiblen" Publikums zu treffen? Es wäre ausgesprochen schade, wenn man bei Holland America versuchen würde, eher dem Geschmack eines preiswerten Massenmarktes treffen zu wollen und auf ein exklusives Angebot an Bord zu verzichten. Natürlich entscheidet der Umsatz und die Nachfrage: aber was will bei Holland America? Billig oder preiswert (im wahrsten Sinne des Wortes)?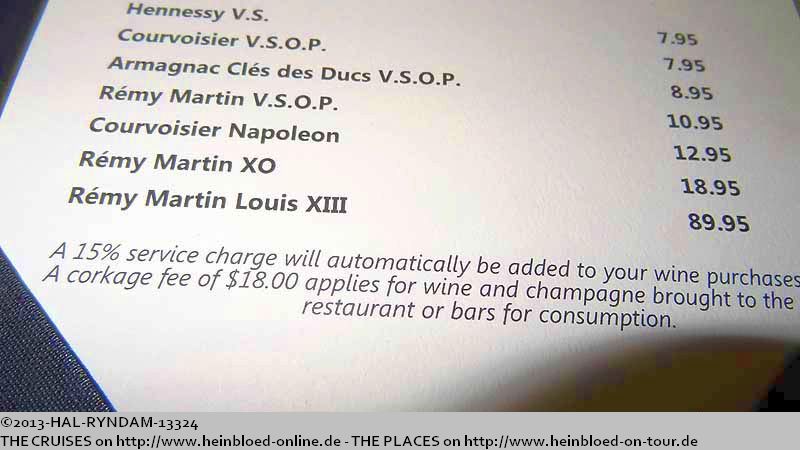 On WESTERDAM 2010, Bruno's parents attracted the attention because they ordered a Cognac Rémy Martin Louis XIII. The three-digit amount led to the assumption that there might be probably a bad booking. But Bruno's parents then described that it was the best cognac and was actually celebrated by three crew members (including Beverage Manager) and attracted the attention of all the present guests around. Bruno's father also later said that it was the best cognac in his life. On RYNDAM 2013 we tried to understand: 89.95 USD + 15% 13.49 USD = 103.44 USD. Very nice: there were actually only 15% service charges on board, while others already keep the level at 18% and 20% respectively. It was more honest to raise prices and keep it at 15%. However, this cognac was no longer listed on the bar menu. Was this another trend towards Norwegian, easyCruise, and more likely to appeal to the taste of a "price-sensitive" guests? It would be a shame if Holland America would try to get the taste of a cheap mass market and to give up an exclusive offer onboard. Of course, the sales and the demand should decide: but what did Holland America want? Cheap or worth the price (in the truest meaning of the words)?

Last time on KONINGSDAM 2016, there were a few goodies at this time, too, to prepare the guests who were in a bar for dinner. Not anymore existing.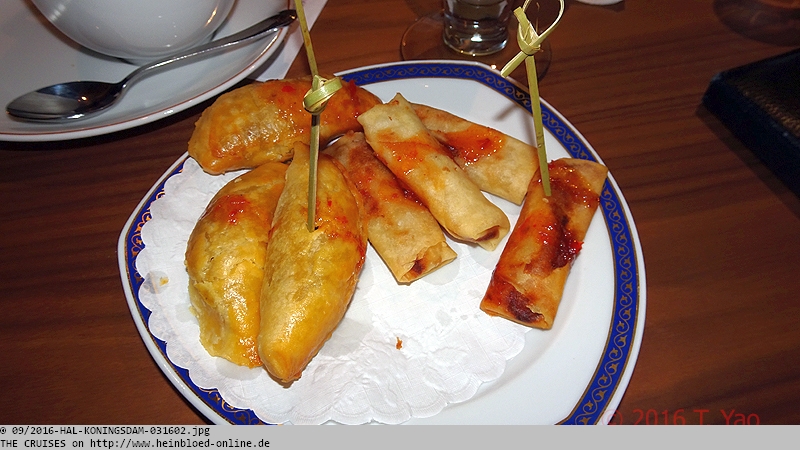 Zuletzt auf der
KONINGSDAM 2016
gab es um diese Zeit auch noch ein paar Goodies, um die Gäste, die in einer Bar waren, auf das Dinner einzustimmen. Das gibt es jetzt alles nicht mehr.
Auch nachts gibt es keine Snacks mehr, wie damals auf der EURODAM 2014. Das hat immer Holland America besonders gemacht, gegenüber anderen Gesellschaften.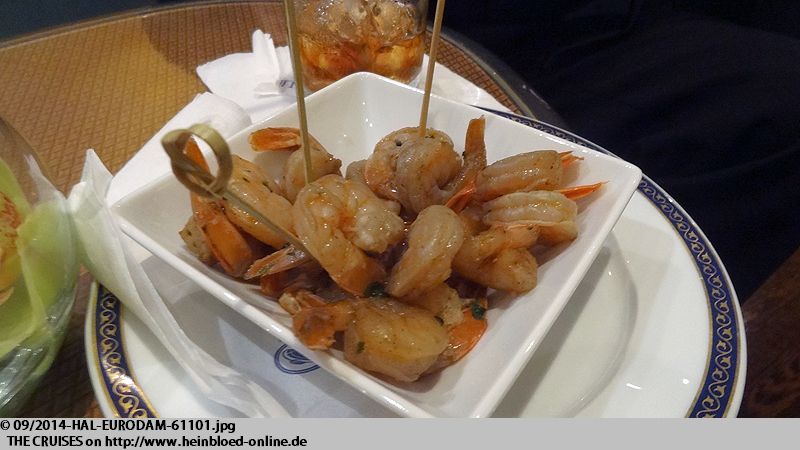 Even at night no more snacks available, like we had on EURODAM 2014. Such treats always made Holland America special, compared to other companies.

I booked dinner at Canaletto on the internet. However, without a reservation, because I wanted to decide on board when it would fit best for us. Our experience was that there was always an onslaught on the embarkation day for the main dining room. By telephone, I could not reserve for tonight. You could always choose only between "early" and "late" reservations. You could flexibly order a table, but you would not get confirmed bookings virtually between the 1st and 2nd table time. Within "early" or "late," options were offered in a 15-minute window. The onslaught they tried to get around, in which today was the dinner in the Lido self-service restaurant as a "special" food that you should definitely see. So it was at least in the itinerary with all gala evenings and the special evenings in other restaurants, where not the standard menu would be offered. Although I had no reservation for today, we got a reservation confirmation for the first night. We had only twelve nights onboard anyway. So we took advantage of it and were the only guests for a long time. Canaletto was a pop-up restaurant. During the day, it was part of the Lido self-service restaurant, and in the evening, part of it would be separated, nicely set, and run as Canaletto. We were again experiencing a new menu and a very charming service. Mainly Phoebe cared about us. I introduced the others on another day. With Adi, I shared my old memories of the Canaletto.

Über das Internet habe ich ein Essen im Canaletto gebucht. Allerdings ohne eine Reservierung, weil ich erst an Bord entscheiden will, wann es am besten passt. Erfahrungsgemäß gibt es am Einschiffungstag immer einen Ansturm auf das Hauptrestaurant. Telefonisch kann ich für heute Abend nichts mehr reservieren. Man kann eh immer nur zwischen "früh" und "spät" reservieren. Man kann zwar flexibel einen Tisch bestellen, aber man bekommt keine Tische quasi zwischen der 1. und 2. Tischzeit. Innerhalb von "früh" oder "spät" werden im 15-Minuten-Zeitfenstern Tische angeboten. Den Ansturm versucht man zu umgehen, in dem man heute das Abendessen im Lido-SB-Restaurant als "besonderes" Essen darstellt, das man unbedingt besuchen sollte. So steht es zumindest im Reiseplan mit allen Gala-Abenden und auch den besonderen Abenden in anderen Restaurants, in denen nicht das Standardmenü angeboten wird. Obwohl ich gar keine Reservierung für heute habe, bekommen wir eine Reservierung für den ersten Abend zugeteilt. Wir haben eh nur zwölf Nächte an Bord. Also nutzen wir es aus und sind lange lange Zeit die einzigen Gäste. Canaletto ist ein Pop-Up-Restaurant. Tagsüber ist es Teil des Lido-SB-Restaurants und abends wird ein Teil abgetrennt, schön eingedeckt und als Canaletto geführt. Wir erleben wieder eine neue Speisekarte und einen sehr charmanten Service. Hauptsächlich kümmert sich Phoebe um uns. Die anderen stelle ich an einem anderen Tag vor. Mit Adi teile ich meine alten Erinnerungen vom Canaletto.
Mit dem Canaletto verbinde ich Aufs und Abs. Zuletzt auf der
KONINGSDAM 2016
hatten wir es gar nicht mehr besucht: 1. weil es so viele Zuzahl-Alternativen gab und 2. weil ich nach vielen Abs die Nase vom Canaletto voll hatte. Als ich das Canaletto damals auf der
EURODAM 2009
kennengelernt hatte, fand ich das richtig gut. Speziell als Antipasti-Fan, habe ich das fliegende Büffet geliebt.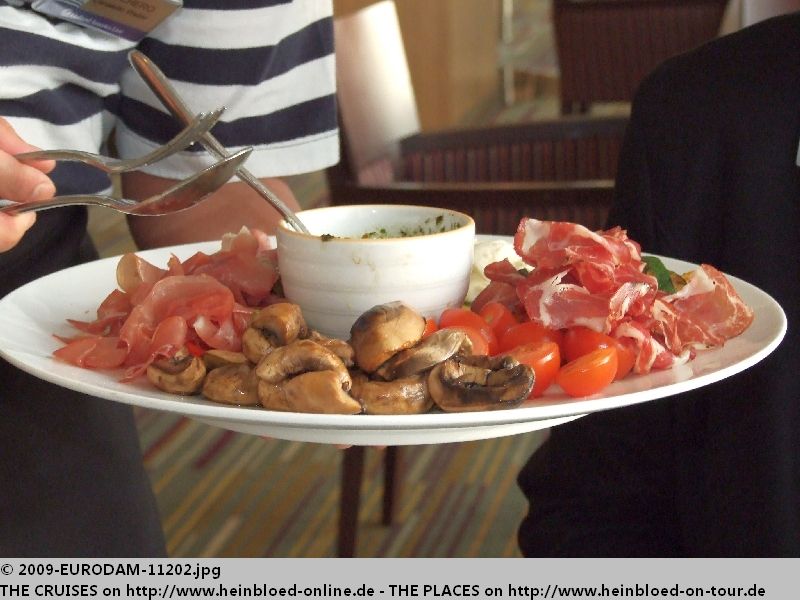 I associated ups and downs with the Canaletto. Recently on KONINGSDAM 2016, we did not even visit it: 1. because there were so many additional alternatives and 2. because after many downs, I was nuts of Canaletto. When I first see the Canaletto on EURODAM 2009, I thought that was really good. Especially as an antipasti fan, I loved the flying buffet.

The absolute lowlight: cotton candy back then on ZAANDAM 2012. It was even the most profound culinary for me.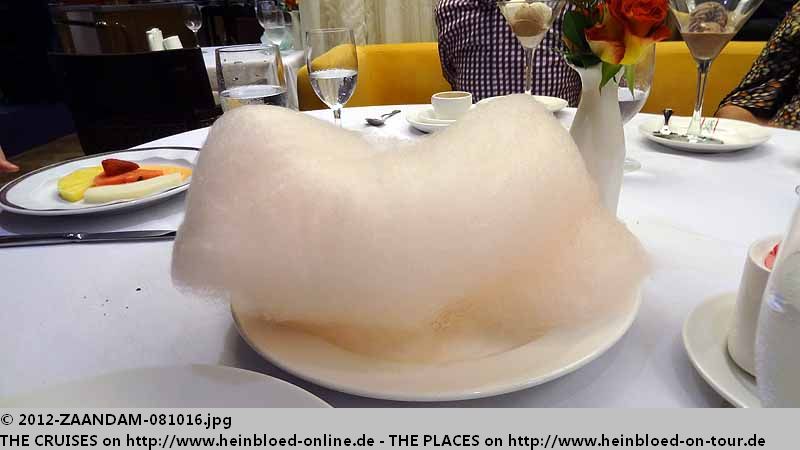 Der absolute Tiefpunkt: Zuckerwatte damals auf der
ZAANDAM 2012
. Noch tiefer ging es für mich kullinarisch nicht mehr.
Als es dann auf der
RYNDAM 2013
hieß: wir haben eine neue Karte und die Zuckerwatte ist abgeschafft worden, hatten wir es nochmals probiert. Ich bin aber nicht der Freund von Spaghetti mit Fleischklößchen. Ich zahle gerne für ein Zuzahlrestaurant, wenn ich eine höherwertige Leistung bekomme, als ohne Zuzahlung. Aber dann sollte es eher in Richtung Nobel-Italiener gehen. Frisch geriebenen Parmesan direkt aus der Mühle finde ich immer gut.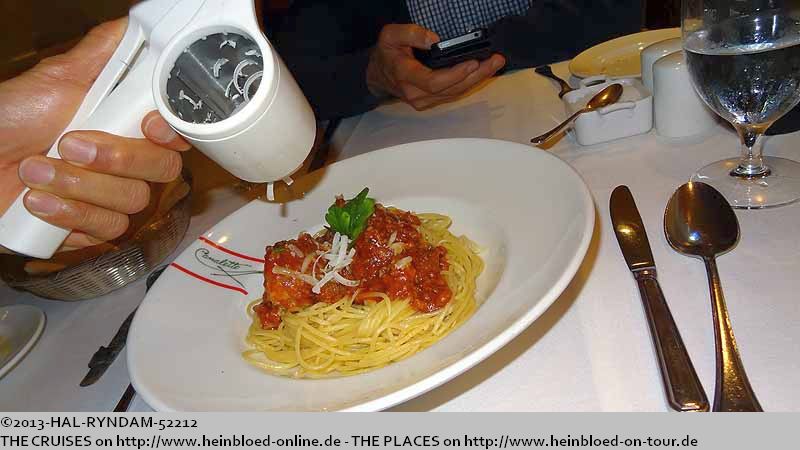 As it was then at the RYNDAM 2013 they told us: they had a new menu, and the cotton candy was abolished, we tried again. But I was not a friend of spaghetti with meatballs. I liked to pay for a cover charge in an alternative restaurant to get a higher-quality service than without additional payment. But then it should instead go in the direction of the upscale-Italian restaurant. Freshly grated Parmesan straight from the mill, I always liked.

Totally awesome: the hand washing machine that I already knew from DISNEY DREAM 2014 and DISNEY DREAM 2015.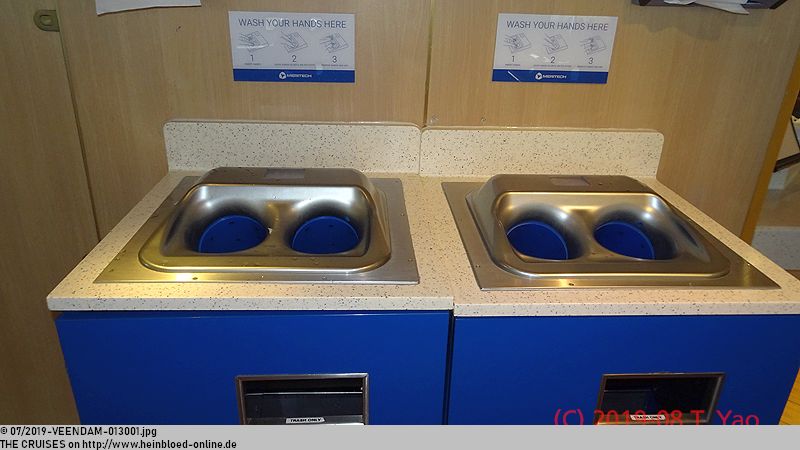 Total genial: die Handwaschmaschine, die ich bereits von der
DISNEY DREAM 2014
bzw.
DISNEY DREAM 2015
kenne.
Ich habe meinen Spaß daran, dass hier auch Erwachsene das benutzen dürfen und nicht nur Kinder.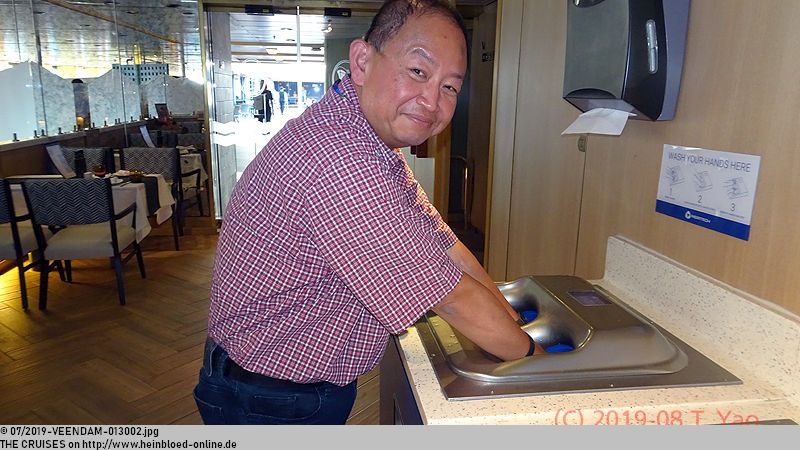 I enjoyed having adults use this, not just children.

We were scheduled to set sail at 23:00 hrs. I could no longer for the set sail experience. Nevertheless, it was beautiful here, because we docked in an exposed location.

Wir legen erst um 23:00 Uhr ab. Die Ausfahrt erlebe ich nicht mehr. Trotzdem ist es schön hier, weil wir doch in exponierten Lage docken.
Es geht noch kurz in die Willkommens-Show "Listen to the Music", in der sich die Gesangs- und Showtruppe des Schiffs mit Kostproben vorstellt. Auch lernen wir schon Sing-A-Long Pianist
Barry from Boston
kennen, sowie das Klassik-Duo Adagio.

We went briefly into the welcome show "Listen to the Music", in which the singing and show cast of the ship presented some samples. We also saw Sing-A-Long pianist Barry from Boston, as well as the classic duo Adagio.
Die anderen Reisen in diesem Blog/
The other voyages in this blog: