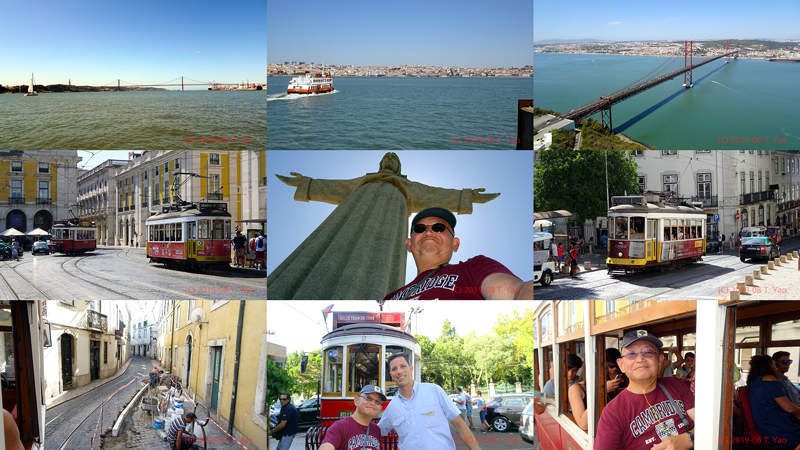 Obwohl wir erst am kommenden Samstag nach Lissabon zur VEENDAM fliegen, muss ich heute schon mal vorab nach Lissabon. Aufgrund eines sehr frühen Abfluges, fängt die Reise in Kelsterbach an. Ich esse mittags in der
Taverna Der Grieche
am Bahnhof in Kelsterbach. Hier gibt es selbstgemachtes Taramas und ein Souvlaki-Pita wie in Athen. Das liebe ich: lecker essen für wenig Geld!

Although we would fly to Lisbon, Portugal, for VEENDAM next Saturday, I had to go to Lisbon in advance. Due to a very early departure, the journey began in Kelsterbach, Germany. I ate lunch in the Taverna "Der Grieche" The Greek at the train station in Kelsterbach. There are homemade taramas (fish eye spread) and a souvlaki pita-sandwich like we had in Athens, Greece. That was what I loved: delicious food for little money!

Since I wanted to stay again as on our trip on AZAMARA PURSUIT 2019 in luxury hotels like Hotel Danieli in Venice, Italy, I had to visit again in a Marriott hotel. I decided on the moxy in Kelsterbach. It had little to do with a classic Marriott and was a bit hard to get used to.

Da ich mal wieder wie bei der Reise mit der
AZAMARA PURSUIT 2019
kostenlos in Luxushotels wie
Hotel Danieli
in Venedig wohnen will, muss ich unbedingt mal wieder in einem
Marriott
-Hotel wohnen. Ich entscheide mich für das
moxy in Kelsterbach
. Es hat wenig mit einem klassischen
Marriott
zu tun und ist doch etwas gewöhnungsbedürftig.
Mich fragt wieder die
Marriott BonVoy
-App, wie es mir gefällt.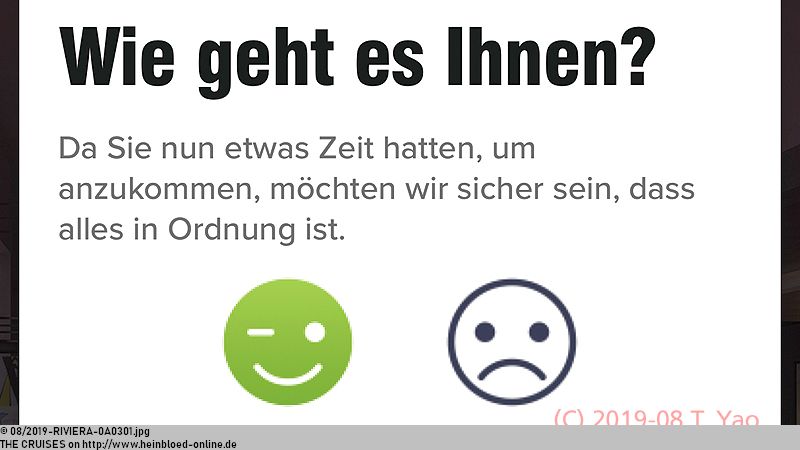 Again, the Marriott BonVoy-App asked me, how I liked it.

But everything was fine. No need for a chat right now.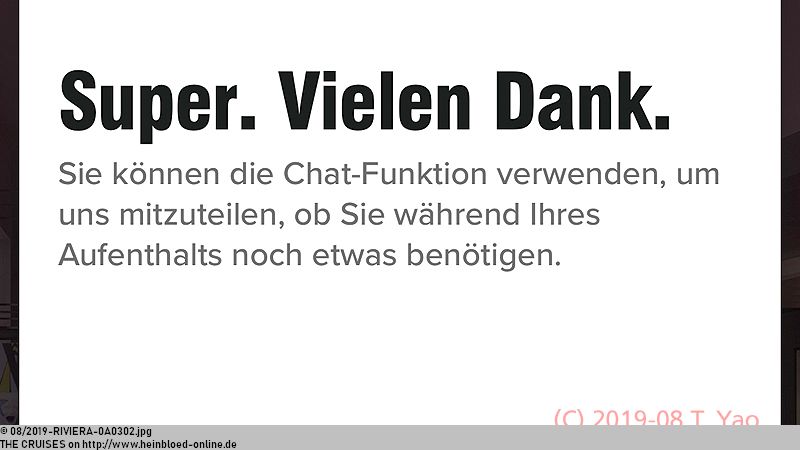 Aber es ist alles in Ordnung.
Ich will endlich ohne Schlüsselkarte meine Tür öffnen.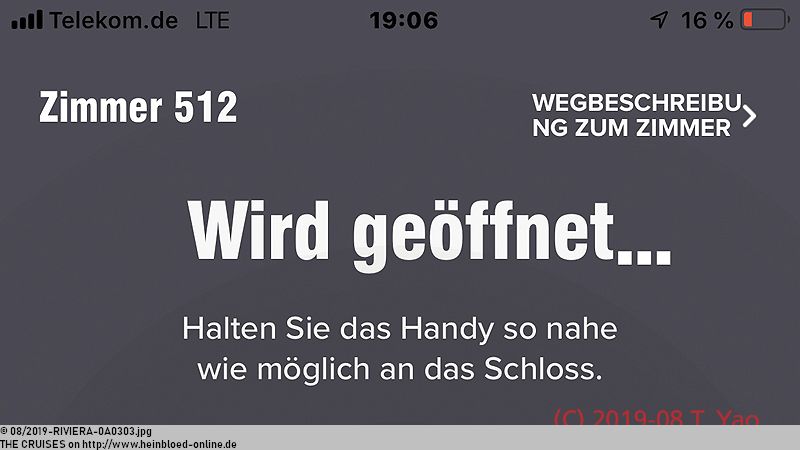 Finally, I wanted to open my door without a key card.

That did not work. I needed a key card. Sorry!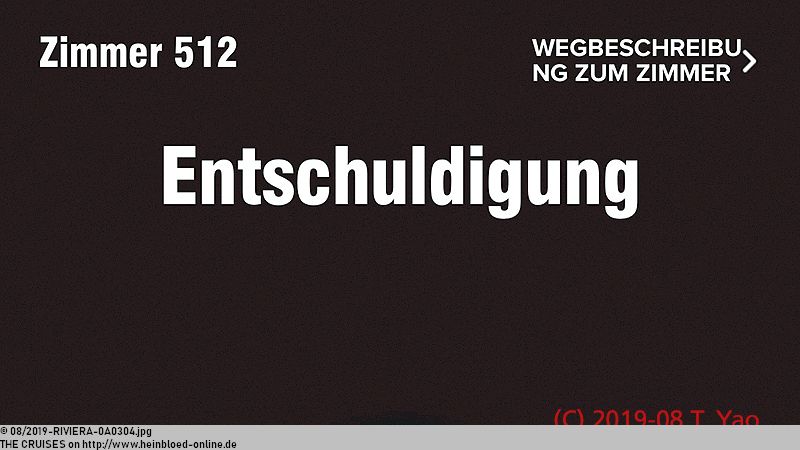 Das klappt aber nicht. Ich brauche doch eine Schlüsselkarte.
Das Zimmer an sich ist ganz nett. Modern und spartanisch (es gibt z. B. kein Telefon, kein Kleiderschrank), aber auch ganz tolle Details, wie eine Bodenlampe unter dem Bett, damit man sich nachts zurecht findet. Kein Problem mit dem Wasser für
Marriott BonVoy
-Mitglieder. Obwohl ich in der Nähe der neuen Landebahn bin: man hört nichts. Nur diese Grafitti-Schmiereien an meinem Spiegel mag ich nicht, auch nicht als persönliche Begrüßung. Ist einfach nicht mein Stil. Ich bin zu alt für das
Hotel
.

The room itself was very nice. Modern and somehow plain (for example, there was no telephone, no wardrobe). But you also found very great details, such as a floor lamp under the bed, so you could get along at night. No problem with the water for Marriott BonVoy members. Although I was near the new runway: you could not hear anything. I just did not like those graffiti smears on my mirror, not even as a personal greeting. It was just not my style. I was too old for the hotel.

A beautiful bathroom.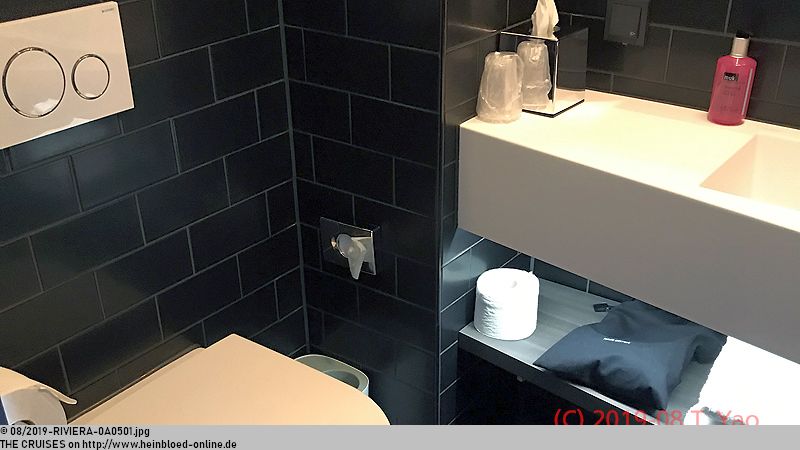 Ein schönes Badezimmer.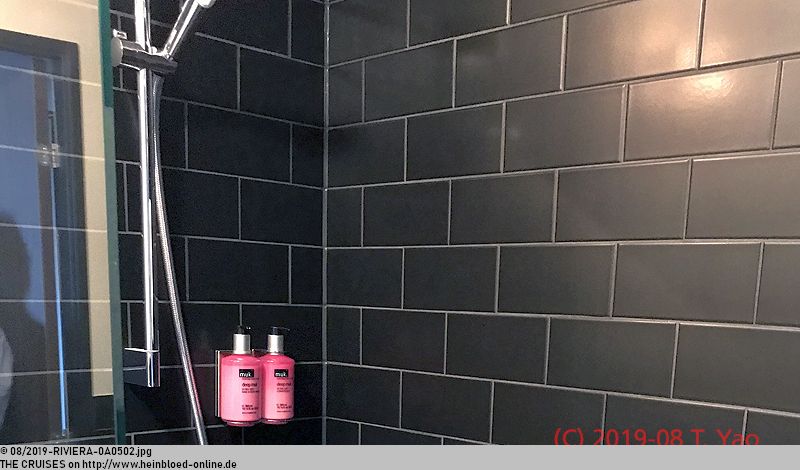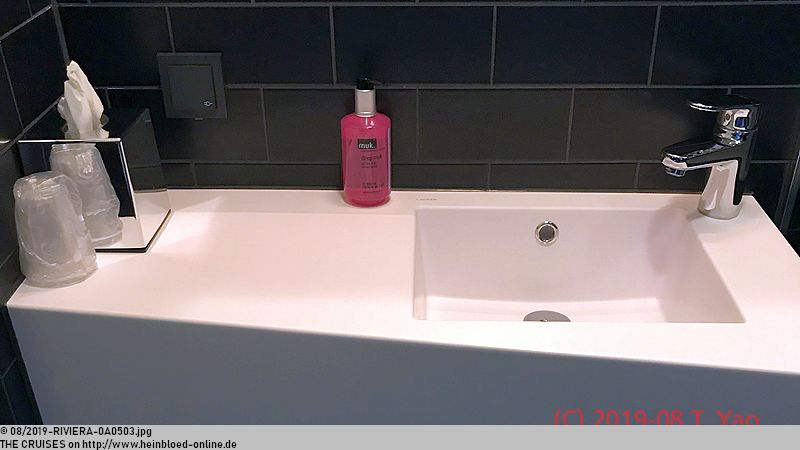 Und auch hier ist unter dem Waschbecken nachts beleuchtet, damit man den Weg im Dunkeln findet.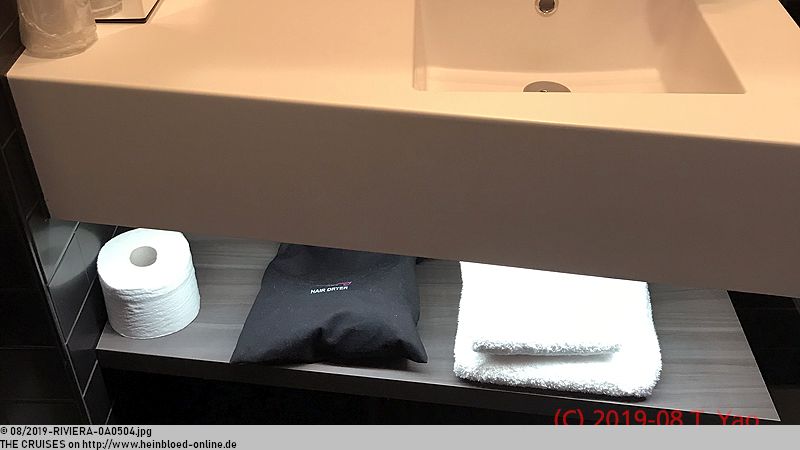 And here was under the sink at night lit, so you could find your way in the dark.

To explain "plain": you only had one waste bin for the entire room in the bathroom.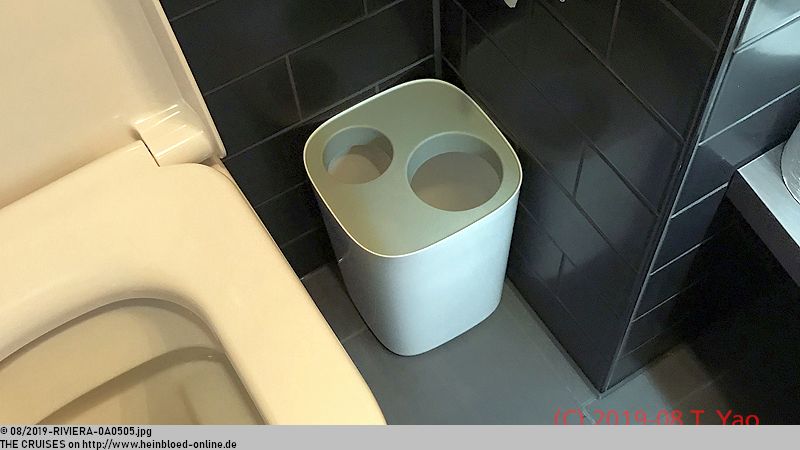 Mit spartanisch ist auch gemeint, dass es nur einen Abfalleimer im Bad für das gesamte Zimmer gibt.
Sehr gut: es gibt schon frühmorgens einen Shuttle um 05:00 Uhr. Das gibt es nur sehr selten und ich habe sehr viel herumtelefoniert. Weniger gut: der
Shuttle
ist in Richtung
Flughafen
kostenpflichtig (3,00 EUR - 2019). Noch weniger gut: zuverlässige Informationen bekommt man nur IM
Hotel
selbst. Die Informationen auf der
Homepage des Hotels Moxy Kelsterbach
, auf der
Homepage des Frankfurter Flughafens
(zwischenzeitlich korrigiert) und an der
Haltestelle selbst am Terminal 1
sind fehlerhaft oder unvollständig oder beides. Deswegen im
moxy Hotel
anrufen und aktuellen Fahrplan anfragen: 06107 989790. Ist am sichersten.

Very good: there was a shuttle early in the morning at 05:00 hrs. This was very rare, and I had to make plenty of phone calls to get this. Not so good: the shuttle was chargeable towards the airport (3.00 EUR - 2019). Even less good: you only get reliable information in the hotel itself. The information on the homepage of the hotel moxy Kelsterbach, on Frankfurt airport's website (meanwhile corrected), and at the bus stop itself at Terminal 1 were faulty or incomplete or both. Therefore, the best would be to call the moxy hotel and to ask for the current timetable: +49 6107 989790. It would be the safest.

I took this opportunity to drive to JingJing in The Squaire at the airport to dine. For a restaurant at the airport, I was amazed by the offer. It attracted a lot of Asians because it was very authentic, and you got food that I could not get in many other Chinese restaurants. I took away the leftovers that I could have breakfast at the hotel the next morning

Ich nutze die Chance und fahre zu
JingJing
in
The Squaire
am
Flughafen
vorbei, um dort zu essen. Für ein Restaurant am
Flughafen
bin ich doch sehr über das Angebot erstaunt. Es lockt sehr viele Asiaten an, weil es sehr authentisch ist und man hier Sachen bekommt, die ich vielen anderen China-Restaurants nicht bekomme. Meine Reste nehme ich mit, dass ich am nächsten Morgen noch im
Hotel
frühstücken kann.
Sicherheitshalber besuche ich auch schon
Ryanair
am
Terminal 2
, um mich für den nächsten Morgen einfacher zu orientieren.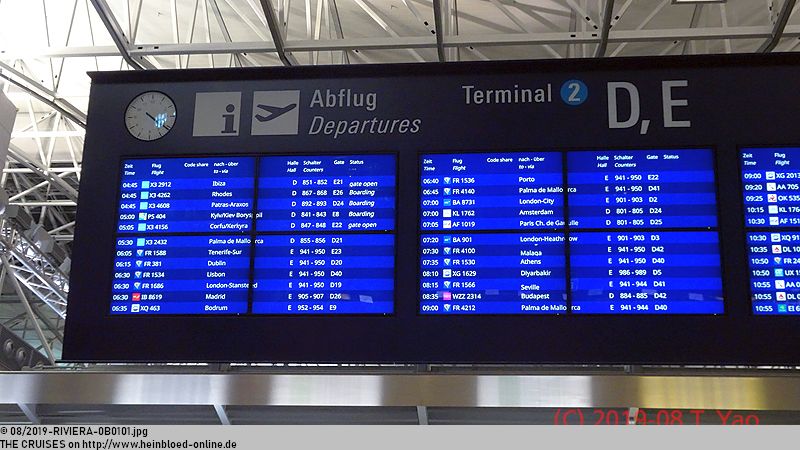 To be safe, I saw around for Ryanair at Terminal 2, so I would have prompt orientation the next morning.

A Ryanair check-in agent told me that I should be here at 05:00 hrs. But at 05:00 hrs, my hotel-shuttle would leave, and then I would need to go from Terminal 1 to Terminal 2. So before 05:30 hrs, I should hardly be there.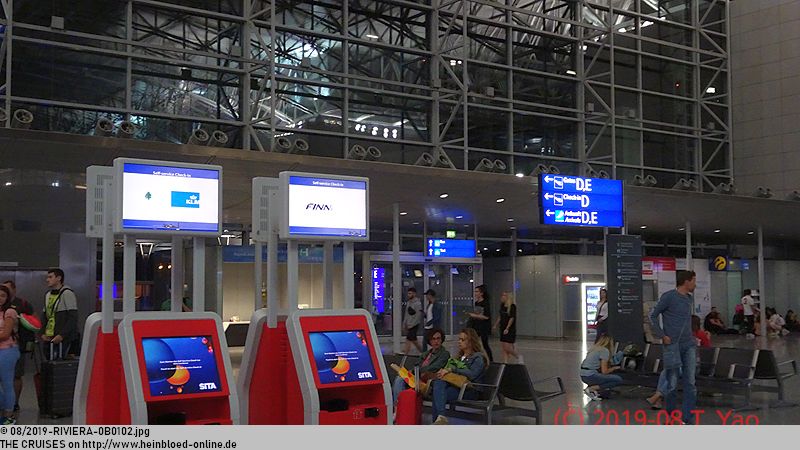 Ein
Ryanair
-Check-In Agent gibt mir den Tipp, dass ich unbedingt schon um 05:00 Uhr morgens hier sein soll, aber um 05:00 Uhr fährt ja erst mein
Hotelshuttle
und dann muss ich noch von
Terminal 1
zum
Terminal 2
. Also vor 05:30 Uhr dürfte ich kaum da sein.
Zum Glück höre ich auf ihn. Als ich dann quasi dran bin, sehe ich, dass mittlerweile die Schlange vor
Ryanair
einmal um den gesamten Check-In Bereich E im
Terminal 2
herumläuft. Nicht nur mein Flug wird jetzt abgefertigt, sondern alle
Ryanair
-Flüge, die alle um die gleiche Zeit herum starten. Übrigens wiegt mein Koffer leicht mehr als 20 kg und rechne mit einer saftigen Nachzahlung, aber es geht doch durch!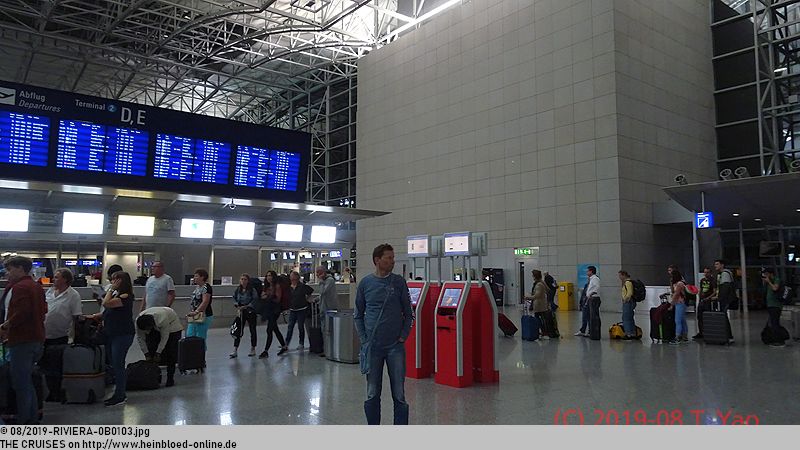 Luckily, I listened to him. When it was my turn, I saw that meanwhile, the queue in front of Ryanair ran around the entire check-in area E in Terminal 2. Not only my flight was handled, but all Ryanair flights. All flights were starting at the same time. Incidentally, my suitcase weighed slightly more than 44 lbs. and expected a hefty additional payment, but it went through!

I needed extra time because I quarreled with an employee at the security check. A non-European employee, who treated me very xenophobic (!!!) and disrespectful, denied me access to the fast lane, for which I paid. Reason: I would not be a guest of Business Class. And he would not care what was on my boarding pass. I explained to him that Ryanair was not offering business-class and that it was a paid extra service. He said that this would not exist. His tone would have fit well into the role of a concentration camp guard in cheap movie production. I asked a colleague to call his supervisor. She supported him and pretended not to find his stored number in the official cell. And she tried to appease me that I should not insist on using the fast lane. Finally, he was reached, and he gave him the instruction to let me pass through the fast lane. However, he noted my name and covered his name on his name tag, so I could not make a note of it. He argued: privacy. An e-mail to the board and data protection officer of Fraport (the managing company of Frankfurt airport) probably led to the fact that they apparently visited him at work. And he had to destroy the note with my name. He was "retrained". Later, Fraport confirmed that there was an agreement between Ryanair and Fraport, and Fraport apologized for the incident. However, there was no station manager of Ryanair at the airport. They only worked with subcontractors who were not interested and therefore could not help.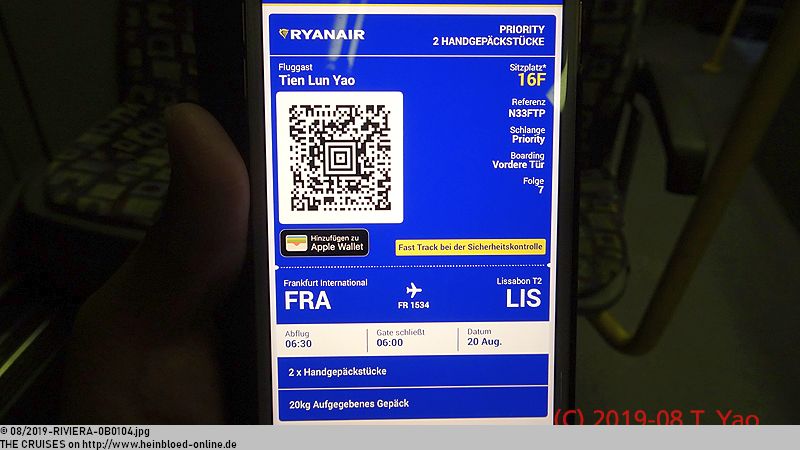 Ich brauche extra Zeit, weil ich mich mit einem Mitarbeiter am Einlass zur Sicherheitskontrolle streite. Ein nicht-europäischer Mitarbeiter, der mich sehr fremdenfeindlich (!!!) und respektlos behandelt, verwehrt mir den Zugang zur
Fast Lane
, für den ich
bezahlt
habe. Begründung: ich wäre kein Gast der Business Class. Und es würde ihn nicht interessieren, was auf meiner Bordkarte steht. Ich erkläre ihm, dass
Ryanair
keine Business Class anbietet und dass es ein
bezahlter Extradienst
ist. Er sagt, dass es das nicht gibt. Sein Ton hätte gut in die Rolle eines KZ-Aufsehers gepasst in einer Billig-Filmproduktion. Ich bitte eine Kollegin seinen Vorgesetzten anzurufen: die hält zu ihm und tut so, als ob sie im Diensthandy seine borprogrammierte Nummer nicht finden würde und versucht mich zu beschwichtigen, dass ich einfach nicht darauf bestehen soll, die
Fast Lane
zu nutzen. Schließlich wird er doch erreicht und er gibt ihm die Anweisung mich durch die
Fast Lane
zu lassen. Dabei notiert er sich jedoch meinen Namen und deckt seinen Namen auf seinem Namensschild ab, damit ich ihn mir nicht notieren kann. Seine Begründung: Datenschutz. Eine E-Mail an den Vorstand und Datenschutzbeauftragten der
Fraport
führt wohl dazu, dass man ihn wohl am Arbeitsplatz aufsucht und er die Notiz mit meinem Namen vernichten muss. Er wird "nachgeschult". Im späteren Verlauf bestätigt
Fraport
, dass es eine Vereinbarung zwischen
Ryanair
und
Fraport
gibt und entschuldigt sich
Fraport
für den Vorfall. Im
Flughafen
gibt es allerdings keinen Stationmanager von
Ryanair
. Sie arbeiten nur mit Subunternehmer, die sich dafür nicht interessieren und daher nicht helfen können.
Außerdem ist es gut, wenn man frühzeitig ankommt: man kann noch in Ruhe sich etwas zu essen kaufen, damit man Bord nichts kaufen muss. Nach handgemachter Liebe schmeckt allerdings auch dieses Sandwich nicht.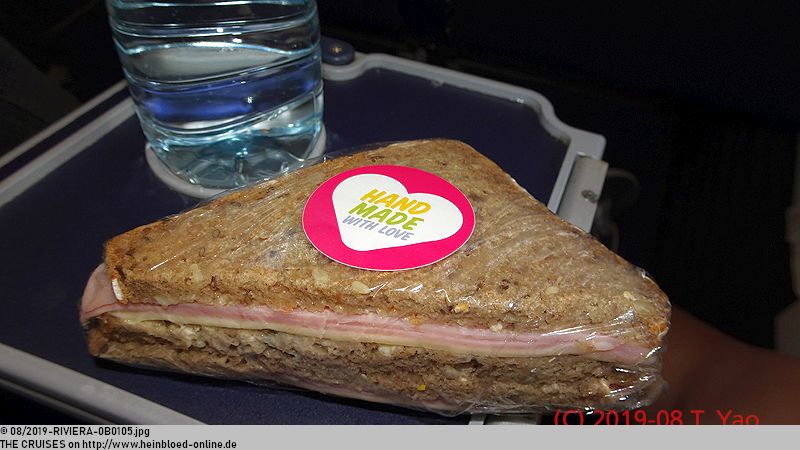 It was also good that I arrived early: I could still buy something to eat in peace. So I must not purchase anything on board. After handmade with love, however, this sandwich did not taste either.

My car was in the parking garage Platzhirsch, which was around the corner from the moxy hotel. My car stayed with me in the hotel car park, and I could start earlier. There were new buses to the terminals with fixed timetables - so no longer on call in minibusses. So I could get directly to Terminal 2 at 05:00 hrs.

Mein Auto steht im
Parkhaus Platzhirsch
, das um die Ecke vom
moxy Hotel
ist. Mein Auto hat mit mir auf dem
Hotelparkplatz
übernachtet und ich kann daher früher losfahren. Es gibt neu Busse zu den
Terminals
mit
festen Fahrplänen
- also nicht mehr auf Zuruf in Kleinbussen. So kann ich bereits um 05:00 Uhr direkt zum
Terminal 2
fahren.
Ich ärgere mich über den Zustand im Flugzeug: inkl. aller Zuzahlungen (
Priority mit zwei Handgepäckstücken
) hätte ich genauso bezahlt, wenn ich eine Stunde später mit
TAP Air Portugal
geflogen wäre. Für eine
Extragebühr bekomme ich einen Sitz am Notausgang
. Hier hat
Ryanair
jedoch die Armlehne an der Flugzeugwand stark verkürzt und damit passt auch der Klapptisch nicht mehr quer über den Sitz. Man kann nur die linke Hälfte des Tisches nutzen. Auch gibt es hier keine Sitztaschen, so dass ich froh bin, dass ich eine Hose mit vielen Taschen anhabe und so vieles in den Taschen unterbringen kann. An Bord kaufe ich auch noch etwas zum Essen und Trinken: Sachen, die ich in Deutschland nicht bekomme: z. B.
J2O
oder
Boxerchips
.

I was annoyed about the condition on the plane. Including all additional payments (Priority with two cabin bags), I would have paid as much if I would have flown an hour later with TAP Air Portugal. For an extra charge, I got a seat at the emergency exit. Here, however, Ryanair shortened the armrest on the wall of the aircraft, and thus the folding table no longer fit across the seat. You could only use the left half of the table. Also, there were no seat pockets, so I was glad that I have pants with many pockets, and so much could accommodate in the pockets. Onboard, I also bought something to eat and drink: things that I could not get in Germany: like J2O or Boxerchips.

The flight itself was beautiful: we flew over Porto, Portugal, in good weather. Remembrance of the journey at KONINGSDAM 2016 came again.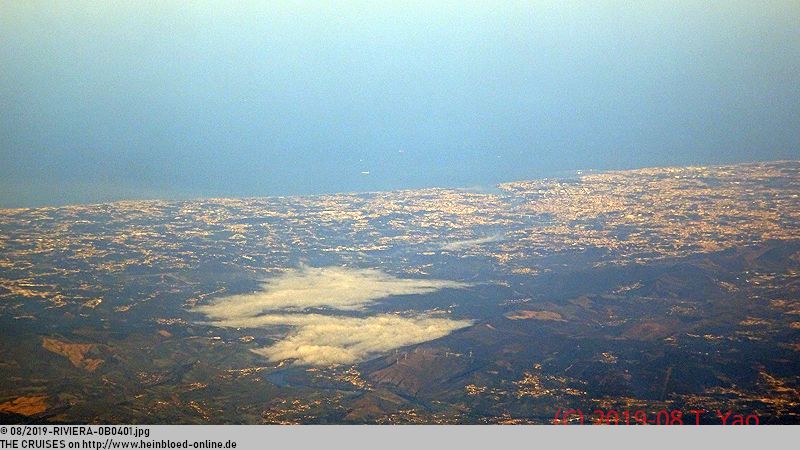 Der Flug selbst, ist sehr schön: wir fliegen bei schönem Wetter über Porto. Erinnerung von der Reise auf der
KONINGSDAM 2016
kommen wieder.
Und dann kommen wir schon in Lissabon an. Auch hier erinnere ich mich an die
KONINGSDAM 2016
. Der Landeanflug erfolgt direkt über der
Christusstatue Cristo Rei
.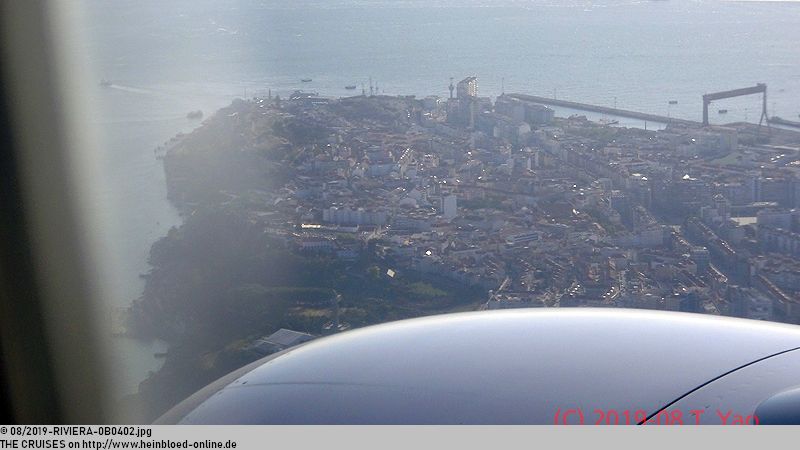 And then we arrived in Lisbon, Portugal. Again, I remembered KONINGSDAM 2016. The landing approach took place directly over the Christ the Redeemer Cristo Rei.

After that, we went straight over the city center of Lisbon.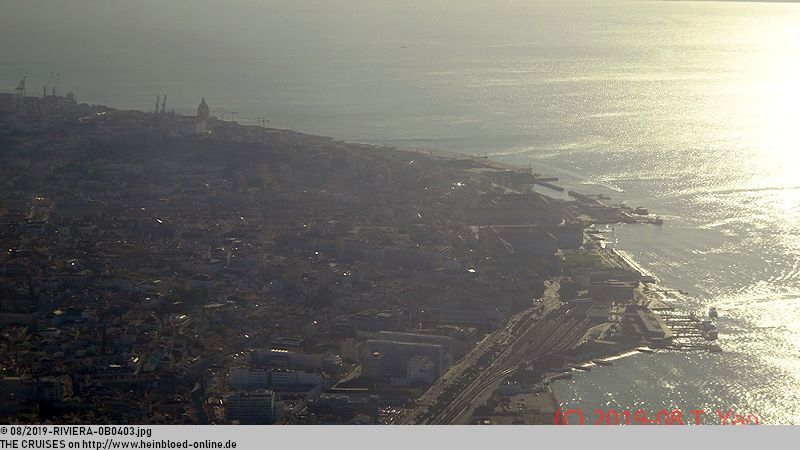 Und danach geht es direkt über die Innenstadt von Lissabon.
Auch kann ich von hier oben das
Kreuzfahrtterminal
sehen.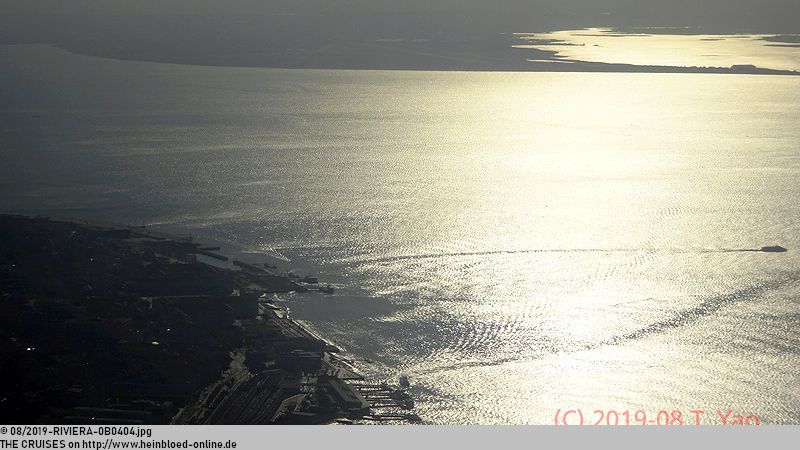 And from here above, you could see the cruise terminal.

All arrivals at Lisbon airport were handled at Terminal 1. But you need to leave from Terminal 2 when you are departing by Ryanair.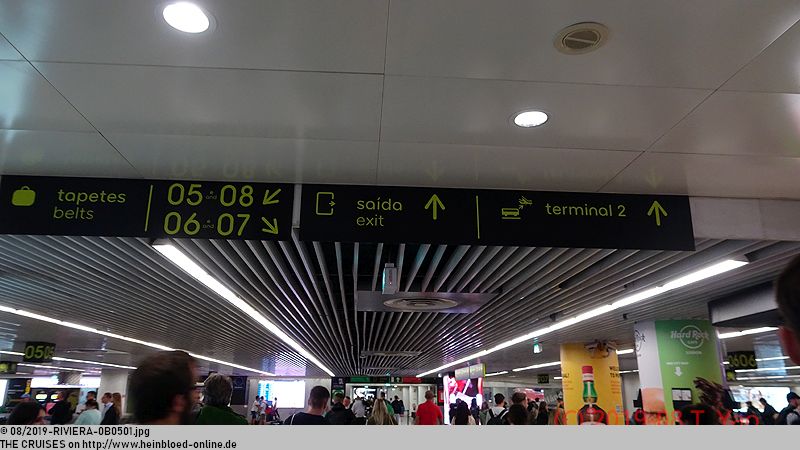 Ankünfte am
Flughafen Lissabon sind alle am Terminal 1
. Ich muss aber dann vom
Terminal 2
mit
Ryanair
abfliegen.
25 Minuten: gar nicht mal so schlecht.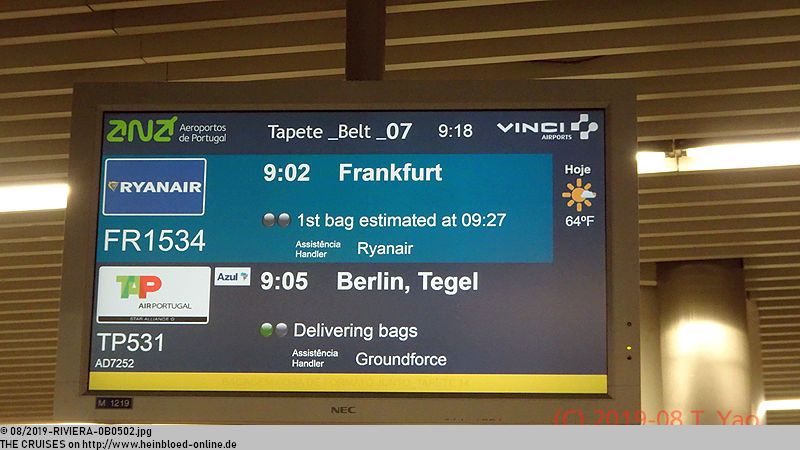 25 minutes: that was not bad at all.

I wanted to go to the hotel with Uber. But you should know: Uber expected you at the departure level: opposite the main entrance under the covered parking (Kiss and Fly). There you had to go. Best up to Terminal 2.

Mit
Uber
will ich zum
Hotel
. Aber dazu muss man wissen:
Uber
erwartet einen auf der Abflugebene:
gegenüber vom Haupteingang ist ein überdachter Parkplatz (Kiss and Fly)
. Dort muss man hin. Am besten hoch Richtung
Terminal 2
.
Ich nutze meine Punkte vom
IHG Rewards Club
, um im
Holiday Inn Express Av. Liberdade
zu übernachten. Ein schönes Haus. Falls man viel Gepäck hat: es gibt einen stufenlosen Nebeneingang. Sehr schön: es werden kleine Sandwiches an der
Hotelbar
angeboten, so dass ich am Abend nicht nochmals extra raus muss, um eine Kleinigkeit zu essen. Ich nutze sofort das
Business Center
(auf einem Flügel!), um
Fraport
zu schreiben.

I used my points of IHG Rewqrds Club to stay overnight at the Holiday Inn Express Av. Liberdade. A beautiful house. Should you have a lot of luggage: there was a side entrance without steps. Very nice: small sandwiches were offered at the hotel bar so that there was no need to go out in the evening to have a small bite. I immediately used the Business Center (on a grand piano!) to write Fraport.

When I finished my mail, the room was ready to move in.

Als ich mit der E-Mail fertig bin, ist auch mein Zimmer schon bezugsfertig.
Auch wieder ein schönes Badezimmer.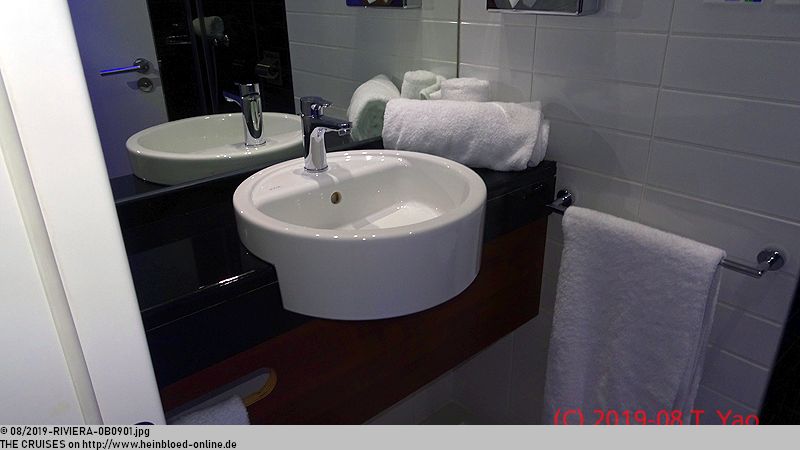 Again, a lovely bathroom.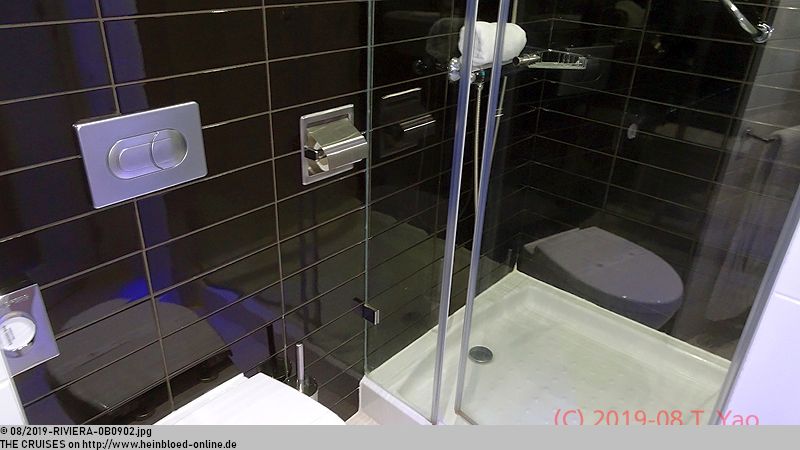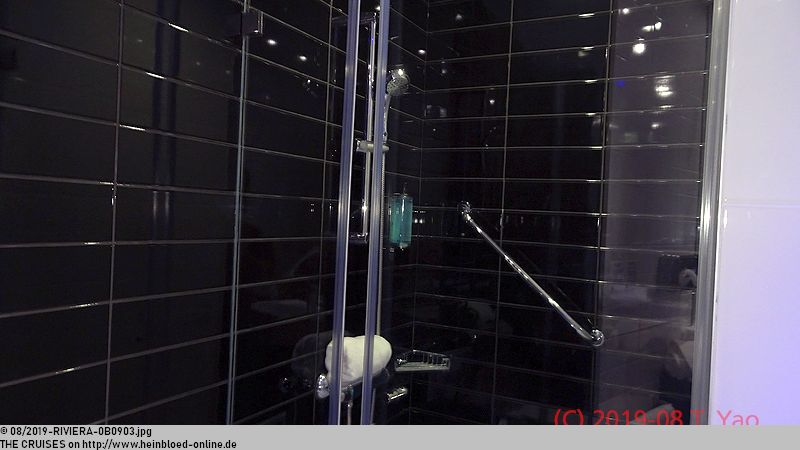 I had some problems with the drainage and with the shower head.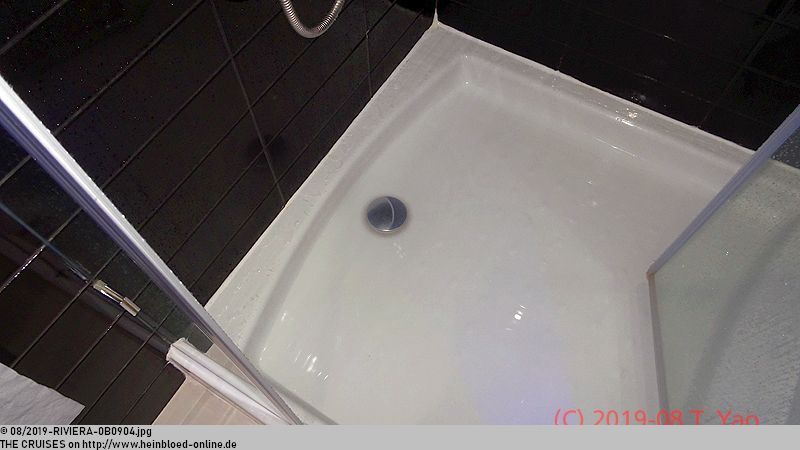 Probleme gibt es dann mit dem Abfluss und mit dem Duschkopf.
Diese melde ich und sie werden sofort behoben.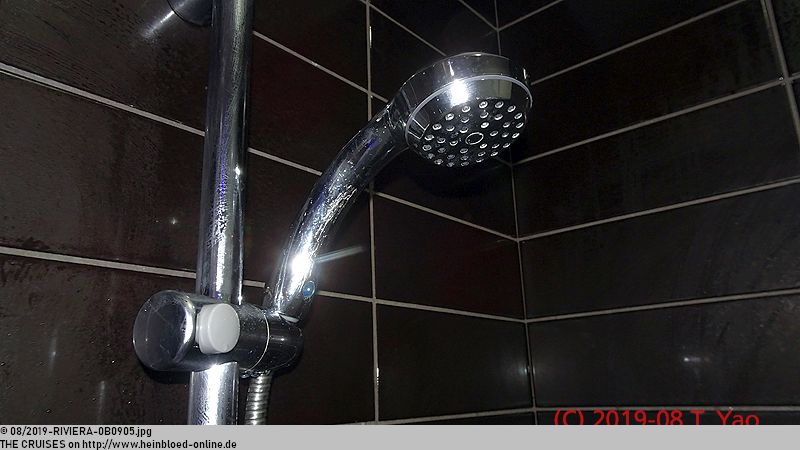 I reported it, and they fixed it immediately.

The location of the hotel was fantastic. Right on the Av. Alexandre Herculano - named after a Portuguese multi-talent. This was just around the corner from the Praça Marquês de Pombal in front of the Parque Eduardo VII de Inglaterra - named after the royal visit from England.

Die Lage des
Hotels
ist fantasisch. Direkt an der Av. Alexandre Herculano - benannt nach einem portugiesischen Multitalent. Das ist um die Ecke vom Praça Marquês de Pombal vor dem
Parque Eduardo VII de Inglaterra
- benannt nach dem königlichen Besuch aus England.
Hier liegt auch die gleichnamige
U-Bahn
-Station. Meine
Viagem-Trägerkarte
von unserer
KONINGSDAM 2016
-Reise gilt nicht mehr. Für 50 Cent (2019) muss ich eine neue kaufen. Zu Kalkulationszwecken bekomme ich eine Aufstellung, ab wann sich eine
Tageskarte
lohnt. Eine
Einzelfahrt
mit der
U-Bahn
oder
Straßenbahn
kostet 1,50 EUR (2019). Alternativ kann man Guthaben aufladen und abfahren: Mininum 3,00 EUR. Dann kostet eine Fahrt nur 1,33 EUR (2019). Die
24-Stunden-Karten
gibt es nur für
U-Bahn
und
Straßenbahn
oder auch mit der
TTSL-Cacilhas-Hafenfähre
oder mit
CP-Vorortzügen nach Sintra und Cascais
. Alles zusammen gibt es nicht. Ich bin an der blauen Linie und muss zur grünen Linie. So fahre ich zunächst Richtung
Santa Apolónia
und steige an der Haltestelle Baixa-Chiado um. Hier geht es nach
Cais do Sodré
. Der schnelle und kurze Umstieg ist nur mit vielen Stufen möglich.

Here was also the metro station with the same name. My Viagem carrier card from our KONINGSDAM 2016 trip was no longer valid. For 50 cents (2019), I had to buy a new one. For calculation purposes, I got a list of when a day pass would be worthwhile. A single trip by metro or tram would cost 1.50 EUR (2019). Alternatively, you could recharge credit and go: Minimum 3.00 EUR. Then a ride would cost only 1.33 EUR (2019). The 24-hour tickets were only available for metro and tram, or TTSL-Cacilhas harbor ferry or CP suburban trains for Sintra and Cascais. There was none version with everything together. I was on the blue line, and I had to go to the green line. First, I went direction Santa Apolónia and got off at the stop Baixa-Chiado. Here I changed to Cais do Sodré. The quick and short change was only possible with many stairs.

Since I bought a corresponding 24-hour pass, I then took the TTSL-ferry to Cacilhas. Unfortunately, without an open deck and, therefore, only limitedly suitable for taking pictures. A few windows could be opened a little.

Da ich die entsprechende
24-Stunden-Karte
gelöst habe, nehme ich dann die
TTSL-Fähre nach Cacilhas
. Leider ohne offenes Deck und daher nur begrenzt zum Fotografieren geeignet. Einige wenige Fenster lassen sich ein wenig öffnen.
Am
Fähranleger von Cacilhas
kann man sehr schön fotografieren. Und das Viertel macht einen sehr netten Eindruck. Weiter suche ich den
TST-Bus 101
zur
Christusstatue Cristo Rei
. Die Haltestelle finde ich irgendwann. Die Pläne zeigen zwar Haltestelle 18, aber in der Tat fährt der Bus ab Haltestelle 22 (2019). Man darf nur in
bar in Fahrkarten (1,45 EUR - 2019) beim Busfahrer
kaufen. Eine Riesenschlange wartet. Es kommt kein Bus.

At the ferry pier of Cacilhas you could take beautiful pictures. And the quarter made a very nice impression. Next, I searched the TST-Bus 101 to Christ the Redeemer Cristo Rei. I could find the stop sometime. Although the maps showed stop 18, in fact, the bus should depart from stop 22 (2019). You could only buy tickets (1.45 EUR - 2019) in cash at the bus driver. A giant queue was waiting. There was no bus coming.

Without further ado, I book a ride over Uber. Only I had to find the vehicle that was right there. I caught the only driver in Lisbon who spoke perfect English. The disadvantage with Uber: you could not specifically request a driver.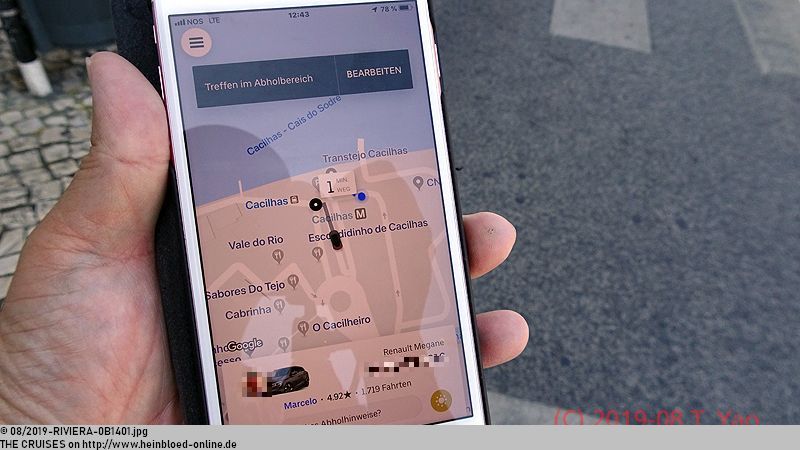 Kurzerhand buche ich über
Uber
eine Fahrt. Nur muss ich das Fahrzeug finden, das gleich da ist. Ich erwische den einzigen Fahrer in Lissabon, der perfekt Englisch spricht. Der Nachteil bei
Uber
: man kann nicht gezielt einen Fahrer anfordern.
Nach dem wir beim ersten Besuch in Lissabon auf der
KONINGSDAM 2016
-Reise es nicht geschafft haben, bin ich endlich hier an der
Christusstatue Cristo Rei
. Der Ausblick von hier ist wunderschön.

We could not make it on our first visit to Lisbon on our KONINGSDAM 2016 trip to Christ the Redeemer Cristo Rei. But now I made it. The view was from here was beautiful.

The queue in front of the ticket office was moderately long. I only had to wait about 40 minutes. The ticket office was unoccupied. That was why an employee at the ticket machine stood for and helped the visitors to buy the right ticket. The entrance fee was 6.00 EUR (2019). Only cash was accepted. You were taken very high up the elevator, but you still had some steps through a narrow staircase. Here, I was thrilled that I weighed now, not as much as at that time on the trip on NORWEGIAN JADE 2014 (2). So I made the steps up to the top of the observation platform. And I could pass on the stairs on the oncoming traffic. The view from the foot of Christ the Redeemer Cristo Rei was already beautiful, but from the observation platform above, even much more excellent.

Die Schlange vor der Kasse ist mäßig lang. Ich muss mich nur ca. 40 Minuten anstellen. Der Kartenschalter ist unbesetzt. Dafür steht eine Mitarbeiterin am Ticketautomaten und hilft einem das richtige Ticket zu kaufen. Der Einlass kostet 6,00 EUR (2019). Es wird nur Bargeld angenommen. Man wird sehr weit nach oben mit dem Fahrstuhl gefahren, aber man muss noch einige Stufen durch ein enges Treppenhaus und hier bin ich sehr froh, dass ich jetzt nicht mehr soviel wiege wie damals noch auf der Reise auf der
NORWEGIAN JADE 2014 (2)
. So schaffe ich die Stufen bis ganz oben auf die Aussichtsplattform und komme auf der Treppe am Gegenverkehr vorbei. Der Ausblick vom Fuß der
Christusstatue Cristo Rei
ist ja schon schön, aber von der Aussichtsplattform oben, noch sehr viel schöner.
Im Eingangsbereich der
Christusstatue Cristo Rei
ist eine kleine Kapelle untergebracht, in der man sich ein wenig ausruhen kann. Es ist schön kühl hier. Mich wundert jedoch die Respektlosigkeit vieler jüngerer Besucher, die nicht bereit sind, Rücksicht auf diejenigen zu nehmen, die hier beten wollen und auch nicht bereit sind, ihre Baseball-Caps abzusetzen.

In the entrance area of Christ the Redeemer Cristo Rei, a small chapel was installed, in which one could rest a little. It was lovely and cold here. However, I was surprised by the disrespect of many younger visitors. They were unwilling to pay attention to those who wanted to pray here and were reluctant to remove their baseball caps.

I walked around a bit on the grounds of Christ the Redeemer Cristo Rei. For shipspotting, it was the perfect place. Unfortunately, the outdoor area would be closed when access to the elevator was closed. A pity.

Ich laufe noch ein wenig in den Außenanlagen der
Christusstatue Cristo Rei
herum. Zum Shipspotting ist es der perfekte Ort. Leider ist die Außenanlage geschlossen, wenn der Zugang zum Fahrstuhl geschlossen ist. Sehr schade.
Für die Fahrt auf der VEENDAM planen wir einige Freunde zu besuchen. Daher haben wir viele Geschenke mit. Außerdem noch einen Klapptisch für die Fahrt. Wir dürfen am Samstag mit
Lufthansa
nur
drei Koffer mitnehmen, da ich Statuskunde bei Lufthansa
bin. Den
vierten
hätten wir bezahlen müssen. Das Geld habe ich eben in die Reise vorab nach Lissabon gesteckt und bringe den vierten Koffer vorab in unser
Hotel
am Wochenende: Das
InterContinental Lissabon
. Es ist auch direkt am
Parque Eduardo VII de Inglaterra
. Die Fahrt mit Uber vom
Holiday Inn Express Av. Liberdade
kostet 2,00 EUR. Aber wäre das
InterContinental
nicht direkt an einem Hang, dann wäre ich auch die Strecke zu Fuß gelaufen. Das gute an
Uber
: der Fahrer weiß ja schon vorher, was ihn erwartet und kann ggfls. auch so eine kurze Fahrt ablehnen. Im
Hotel
spreche ich schon vorab mit dem Leiter des
Club InterContinental
. Mir wird mitgeteilt, dass wir ein Upgrade bekommen. In dieser Suite wären auch zwei Badezimmer. Perfekt für uns. Gegenüber vom
InterContinental
ist das ehemalige
InterContinental
: das heutige
Ritz Four Seasons
. Von außen ein hässlicher Bau aus der Ära der Militärjunta. Von innen muss es wohl ein Traum sein.

For the trip on the VEENDAM we planned to visit some friends. That was why we would have a lot of gifts with us. Also a folding table for the journey. We would be only allowed to take three suitcases because I was status customer with Lufthansa on Saturday. We would need to pay the fourth. The money I just spent on the trip now in advance to Lisbon and took the fourth suitcase in advance to our hotel for the weekend: the InterContinental Lisbon. It was also right in front of Parque Eduardo VII de Inglaterra. The ride with Uber from Holiday Inn Express Av. Liberdade cost 2.00 EUR. But would the InterContinental was not directly on a slope, then I would walk the way. The good thing about Uber: the driver already knew what awaited him and could, if necessary, even refuse such a short trip. In the hotel, I spoke in advance with the head of the Club InterContinental. I was informed that we would get an upgrade. There would also be two bathrooms in this suite. Perfect for us. Opposite the InterContinental was the former InterContinental: today's Ritz Four Seasons. From the outside, it was an ugly building from the era of the military junta. From the inside, it must be a dream.

On the way from the InterContinental to the subway, I passed a small bar on the corner of Parque Eduardo VII de Inglaterra: Corner Quiosque.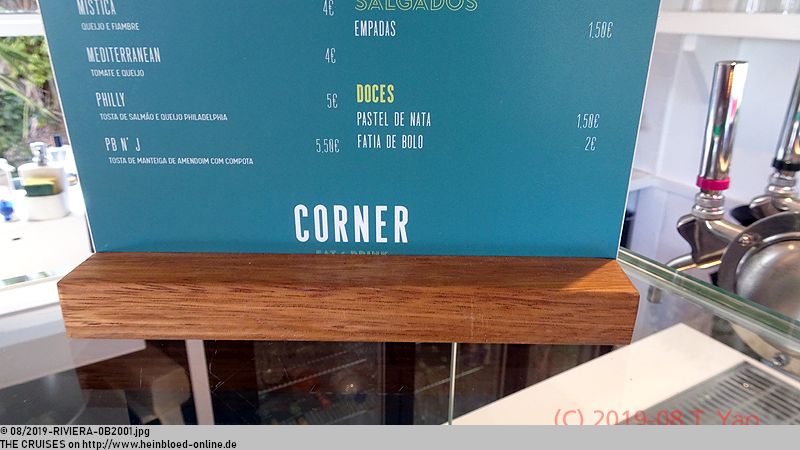 Auf dem Weg vom
InterContinental
zur
U-Bahn
, komme ich an einer kleiner Bar an einer Ecke des
Parque Eduardo VII de Inglaterra
vorbei: Corner Quiosque.
Dort gibt es Empadas für nur 1,50 EUR (2019).

There, they had Empadas for only 1.50 EUR (2019).

It was perfect for me: Chicken pattie. Yummy!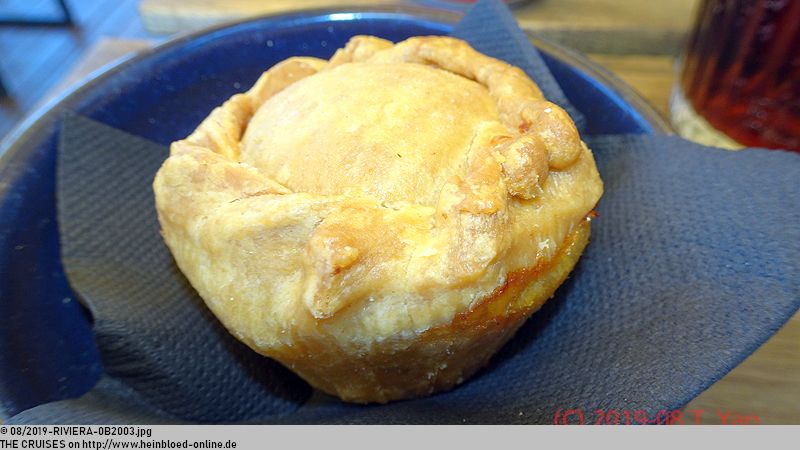 Für mich perfekt: Hühnchenpastete. Lecker!
Ich muss mir mal die Adresse merken.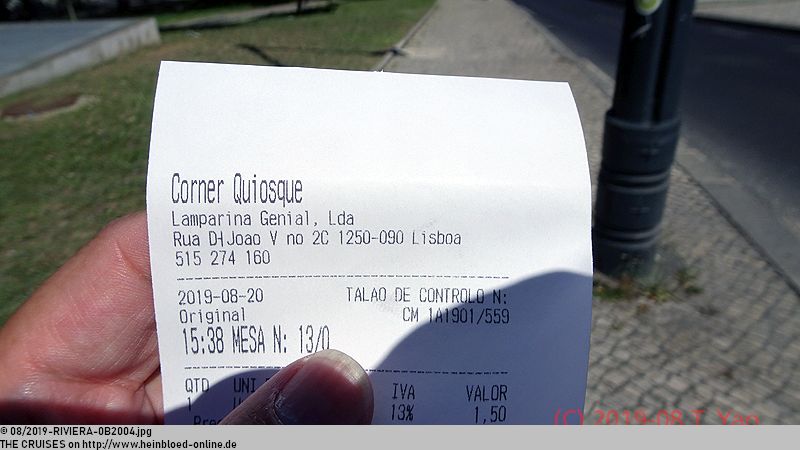 I needed to remember the address.

Something, I loved: having a good meal for little money.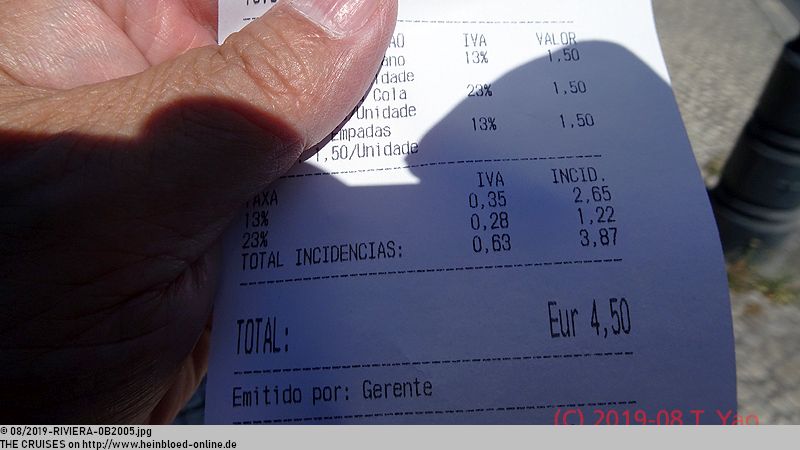 Das gefällt mir: für wenig Geld lecker essen.
Obwohl wir ja schon mit den
Straßenbahnen
auf der
KONINGSDAM 2016
-Reise unterwegs waren: ich fahre nochmals, aber dieses Mal mit der touristischen Version
Hills Tramcar Tours
und steige am Praça do Comércio ein. Da gibt es keine stehende Beförderung und keine lange Schlangen an den Hauptstationen. Die Schlange an der Endstelle Martim Moniz sind wieder endlos. Zeit ist Geld. 1,50 EUR mit
Linie 28
und dafür endlos anstehen und nur stehend fahren ohne Blick nach draußen? Man kann in der roten
Hills Tramcar Tour
schön gucken und fotografieren. Es kostet halt mehr und man bekommt mehr: 20,00 EUR im Barverkauf (2019 - und es wäre als Online-Ticket günstiger gewesen). Das Ticket gilt für 24 Stunden und auch in den regulären
Straßenbahnen
,
Standseilbahnen und Aufzüge
in der Innenstadt von
Carris
. Allerdings nicht für die grüne Linie nach Belém (fährt nicht mehr) und auch nicht für die
städtische Carris-Busse
. Es ist in das Besichtigungsnetzwerk von
Yellow Bus Tours
integriert. Wenn ich weitere Dienste nutzen würde, bekäme ich einen Rabatt bei Vorlage meiner Tageskarte. Die Fahrt gefällt mir sehr gut und ich habe sehr viel Freude dieses Mal. Ich fahre die gesamte Runde mit. Die bewundere die Nerven aus Stahl unseres Fahrers André: so wie die Autos zum Teil in der Altstadt halten, würde ich nur fahren, wenn mir ein Abschleppwagen und das Ordnungsamt direkt hinterher fährt. André fährt einfach daran vorbei. Zum Teil bleiben nur wenige Zentimeter Abstand.

Although we were already on the trams our KONINGSDAM 2016 trip: I went again, but this time with the tourist version Hills Tramcar Tour. I joined on Praça do Comércio. There was no standing during the ride and no long queues at the main tram stop. The queue at the terminus Martim Moniz was endless again. Time was money. 1,50 EUR with line 28, and infinite queue, and only riding without looking outside? You could have a beautiful look and take pictures on the Hills Tramcar Tour. It cost just more, and you would get more: 20.00 EUR in cash (2019 - and it would have been cheaper as an online ticket). The pass was valid for 24 hours and also valid in the regular trams, funiculars, and elevators downtown operated by Carris. However, not for the green line to Belém (no more operation) and for not the Carris city-buses. It was integrated into the Yellow Bus Tours sightseeing network. If I used more services, I would get a discount against the presentation of my day ticket. I really liked the ride, and I had a lot of fun this time. I went to the entire loop. It admired the nerves of steel of our driver André. The way the cars stopped in the old town, I would only drive if a tow truck and the traffic police drove me directly behind. André just drove by. In part, only a few inches remained.

My tour ended Praça do Comércio again. From here I walked along the Av. Infante Dom Henrique towards Santa Apolónia. Everything was redone along the waterfront and looked completely different than on our trip on KONINGSDAM 2016.

Meine Tour endet wieder Praça do Comércio. Von hier laufe ich entlang der Av. Infante Dom Henrique in Richtung Santa Apolónia. Auf der Uferseite ist jetzt alles neu gemacht und sieht ganz anders aus, als auf unserer Reise auf der
KONINGSDAM 2016
.
Und auch das neue Kreuzfahrtterminal steht:
Lisbon Cruise Port
. Es finden sich auch schon Hinweise auf den Anlauf der RIVIERA am nächsten Tag. Die Bauarbeiten an der Dachterrasse sind noch nicht beendet. Auch sind nicht alle Zugänge immer jederzeit verfügbar. Mal geht es die Treppe rauf, mal die Rampe, mal die Rolltreppe und mal den Aufzug.

And also the new cruise terminal was set up: Lisbon Cruise Port. There were already hints on the arrival of RIVIERA the next day. The construction work on the roof terrace was not finished yet. Also, not all accesses were always available at all times. Sometimes it went up the stairs, sometimes the ramp, sometimes the escalator, and sometimes the elevator.

On the first floor of the cruise terminal, they had a public café: Choupana. Unfortunately, it would not be open early in the morning to enjoy a cup of coffee while watching the arrival to the RIVIERA.

Im 1. Stock des
Kreuzfahrtterminals
ist öffentlich zugänglich ein Café untergebracht:
Choupana
. Leider ist es nicht schon frühmorgens geöffnet, um bei einer Tasse Kaffee die Einfahrt der RIVIERA zu beobachten.
In unseren Einschiffungsunterlagen steht, dass wir im
Santa Apolónia Terminal
für die VEENDAM. Aber hier findet nur noch ein Notbetrieb statt, wenn das neue Terminal voll belegt ist. Mir wird erklärt, dass wir definitiv am
Lisbon Cruise Port
einschiffen werden. Da wird wohl einer in Seattle copy+paste gemacht haben, ohne sich über die Änderungen in Lissabon vorher zu informieren. Der Vorteil allerdings am alten Terminal: man kann direkt mit der
U-Bahn
vorfahren. Aber das nützt einmal ja auch nichts, wenn das Schiff nicht von hier fährt. Nach diesen Erkenntnissen fahre ich schnell ins
Hotel
zurück und habe zum Glück noch die Sandwiches, die ich mittags an der
Hotelbar
gekauft habe. Da ich ja seit heute Morgen so früh schon unterwegs bin, freue ich mich auf ein Bett und am nächsten Morgen geht es sehr früh wieder raus: die RIVIERA kommt rein.

Our embarkation documentation stated that we would be in the Santa Apolónia terminal for VEENDAM. But here, only an emergency operation would take place when the new terminal would be fully occupied. I was told that we would definitely embark at Lisbon Cruise Port. As one might probably make in Seattle, WA copy+paste, without being informed about the changes in Lisbon beforehand. The advantage, however, at the old terminal: you could go directly by subway. But that would not help if the ship would not leave here. After these findings, I went back to the hotel quickly and fortunately had the sandwiches which I bought at noon at the hotel bar. Since I was so early this morning already on the road, I was looking forward to a bed. The next morning, I need to get out very early again: the RIVIERA would come in.
Die anderen Reisen in diesem Blog/
The other voyages in this blog: