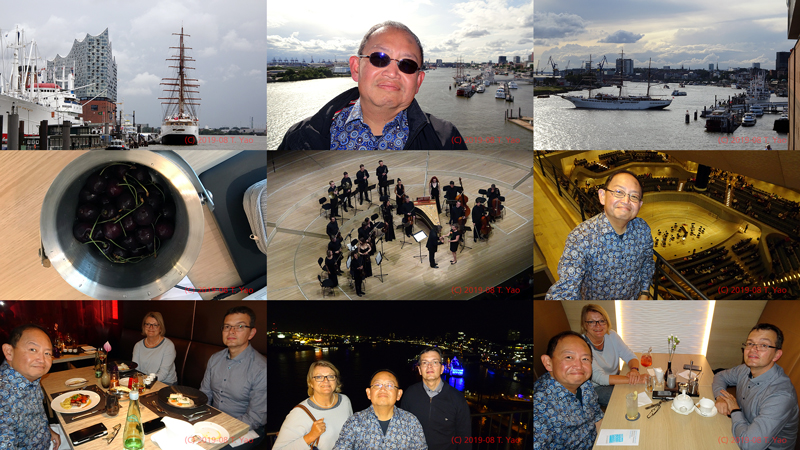 Es geht wieder nach Hamburg. Aufgrund einer Zugbindung beim
Sparpreis
muss ich allerdings in Fulda umsteigen, obwohl es genügend direkte Züge nach Hamburg gibt.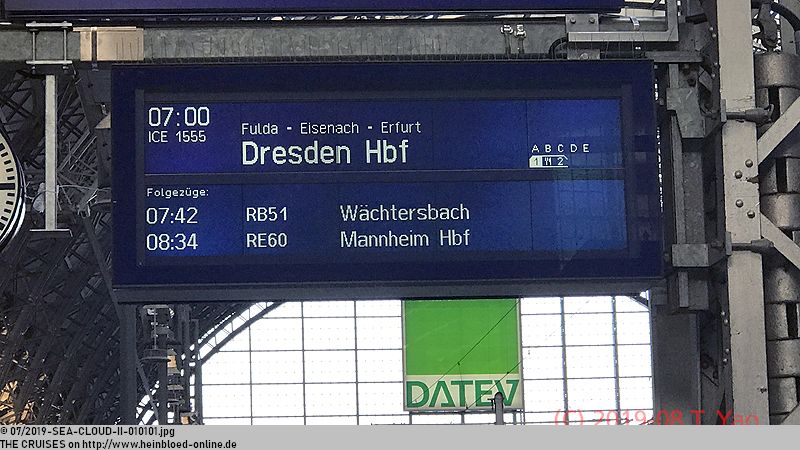 I went back to Hamburg, Germany. Due to a binding train connection with saver fares, I had to change in Fulda, Germany, although there were many direct trains to Hamburg.

And when I was in Frankfurt... a few Frankfurt sausages of Gref-Völsings were compulsory in Frankfurt. Luckily, there was Wursthelden (sausage heroes) in the Frankfurt central station. They just offered original Frankfurter sausages and nothing from a chain that would taste uniform throughout Germany.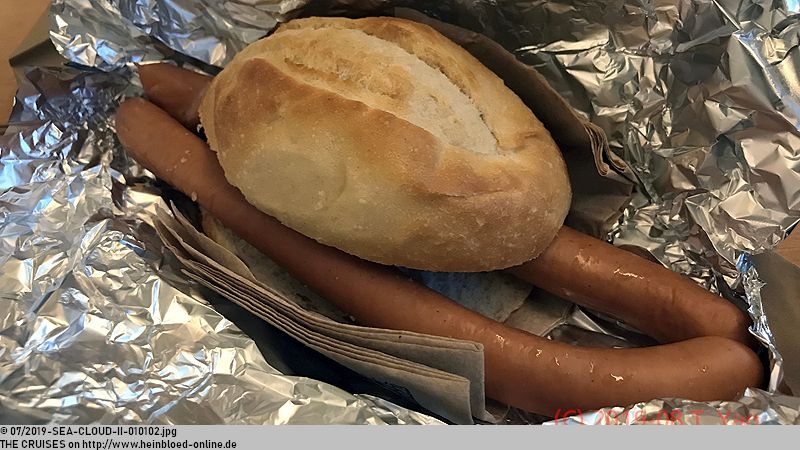 Und wenn ich schon mal in Frankfurt bin... ein paar Frankfurter von
Gref-Völsings
sind in Frankfurt obligatorisch. Zum Glück gibt es
Wursthelden
im
Frankfurter Hauptbahnhof
. Dort gibt es eben Original Frankfurter Würstchen und nicht von einer Kette, die bundesweit einheitlich schmecken.
Mich trifft es mal wieder hart: Ich habe 9 Minuten Verspätung und 8 Minuten Umsteigezeit...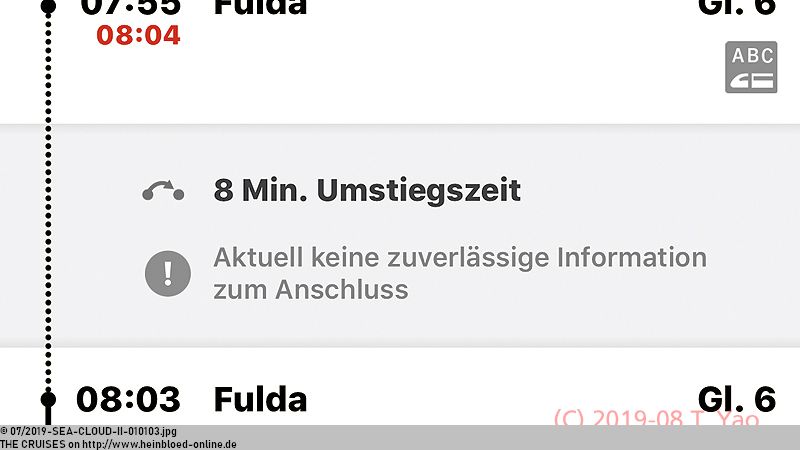 It hurted me again: I had 9 minutes delay, and 8 minutes connection time...

Afterward, it was only 8 minutes late, and my connecting train was not waiting, even though they would stop on the same platform. Those were times to have back the former German BUNDESbahn (the former West German Federal Railways)... THEN YET... there they would wait in any case...

Hinterher sind es nur noch 8 Minuten Verspätung und mein Anschlusszug wartet nicht, obwohl sie am selben Bahnsteig wären. Das waren noch Zeiten, als es die Deutsche BUNDESbahn war... DAMALS NOCH... da hätten sie auf jeden Fall gewartet...
Und wenn es schon so übel läuft, dann erst richtig: mein neuer Anschlusszug hat auch Verspätung. Außerdem schon "eingeplante" Verspätung aufgrund der Baustellen auf der Schnellfahrstrecke zwischen Göttingen und Hannover.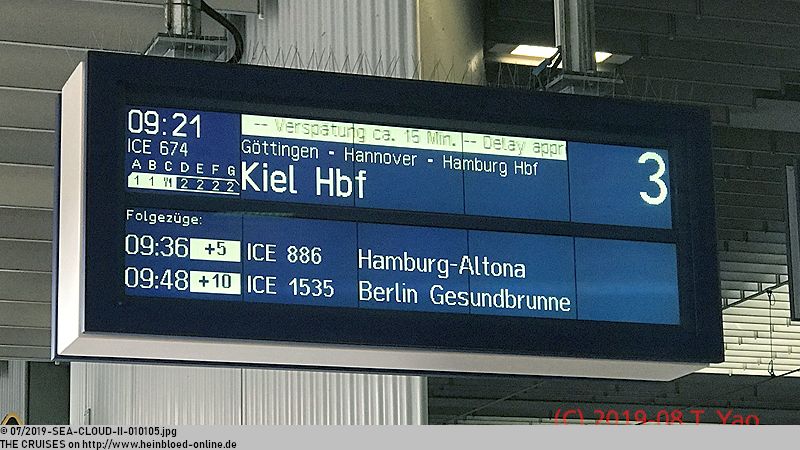 And if it worked bad, it should really work bad: my new connecting train was late too. Furthermore, a "scheduled" delay due to a construction site between Göttingen, Germany, and Hanover, Germany.

I went straight to the hotel. This was located in the Elbphilharmonie building: The Westin. For Hamburg standards, I made an excellent bargain. I was offered an upgrade. With a great view over the HafenCity: Room 1132. Unfortunately, I had to recline: one single mattress and one single blanket that you could not separate: This would be a night-long fight.

Es geht sofort ins Hotel. Das befindet sich in der
Elbphilharmonie
:
The Westin
. Für Hamburger Verhältnisse habe ich ein schönes Schnäppchen gemacht. Man bietet mir ein Upgrade an. Mit tollem Blick über die
HafenCity
: Zimmer 1132. Leider muss ich es ablehnen: eine Matratze und eine Decke, die man nicht trennen kann: Das gibt Sodom und Gomorra.
Daher ziehe ich in das Zimmer 1633.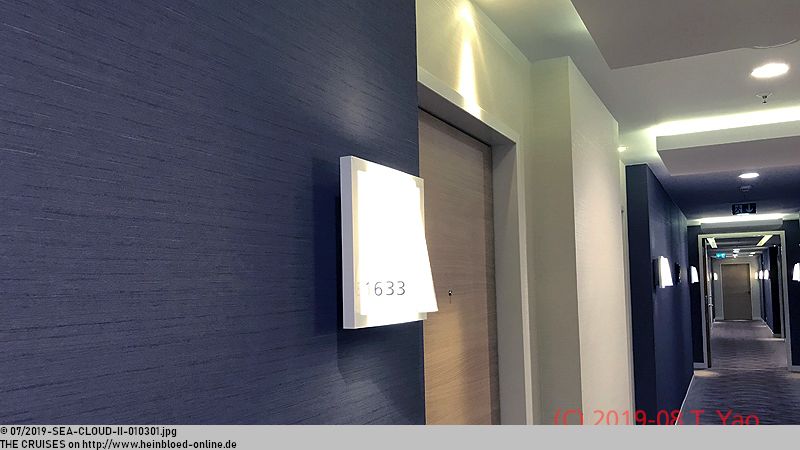 So I moved to room 1633.

Here, I luckily had separate beds, but even no shielding of the bathroom, that you could see the activities of the other in the bathroom. And you would be illuminated in your bed in the night.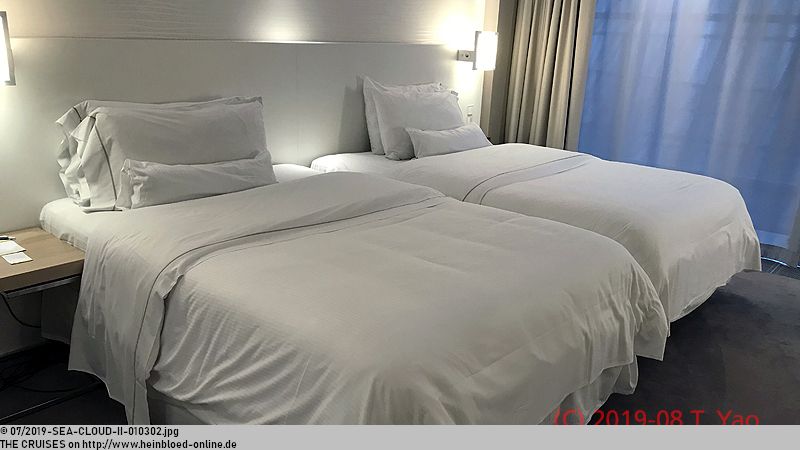 Hier gibt es zum Glück getrennte Betten, aber leider auch keine Abschirmung vom Bad, so dass man immer dem anderen im Bad zugucken kann und man nachts im Bett mit ausgeleuchtet wird.
Schade: direkt vis-à-vis: die Konzerthalle der
Elbphilharmonie
.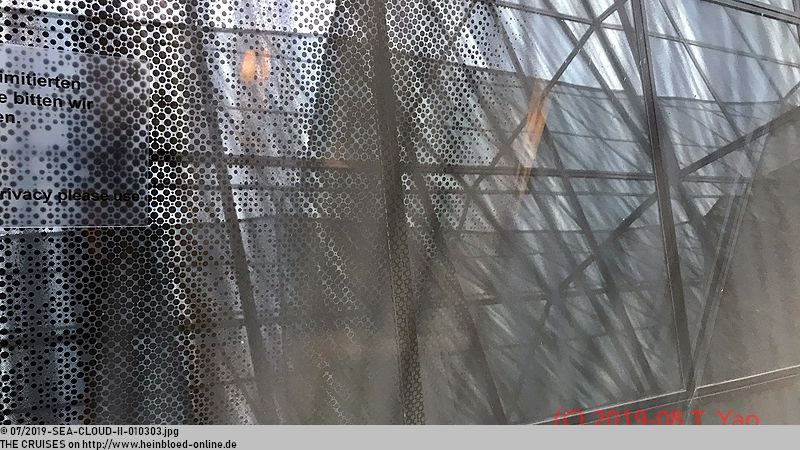 It was a pity, just opposite: the Elbphilharmonie Concert Hall.

For what would you need the extravagant curtain. From the other side, it was impossible to look inside.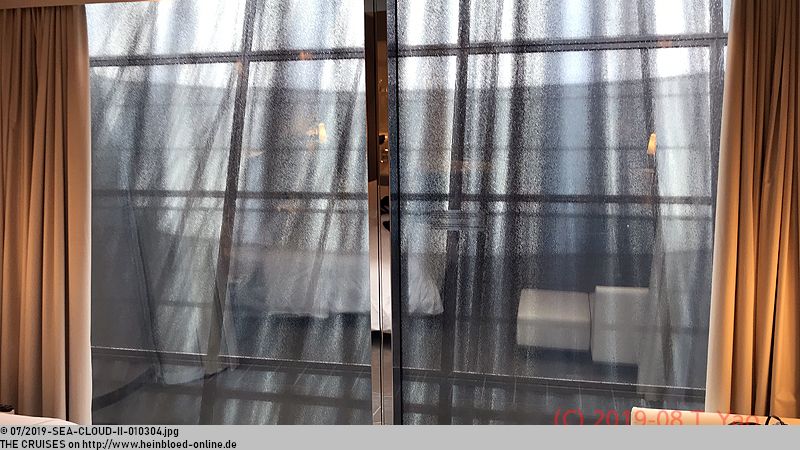 Aber wozu dieser aufwändige Vorhang. Von drüben kann man gar nicht reingucken.
Ansonsten können wir uns über das Zimmer nicht beklagen.

Apart of this, there was no reason to claim on the room.

Generally, it made a great impression.

Insgesamt macht das alles einen sehr guten Eindruck.
Es klopft. Mir wird ein Geschenk überreicht.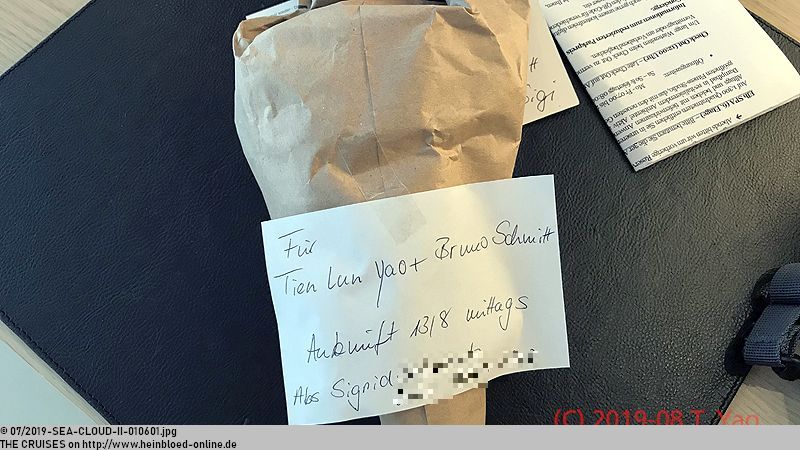 Someone knocked the door. They delivered a gift.

CHERRIES...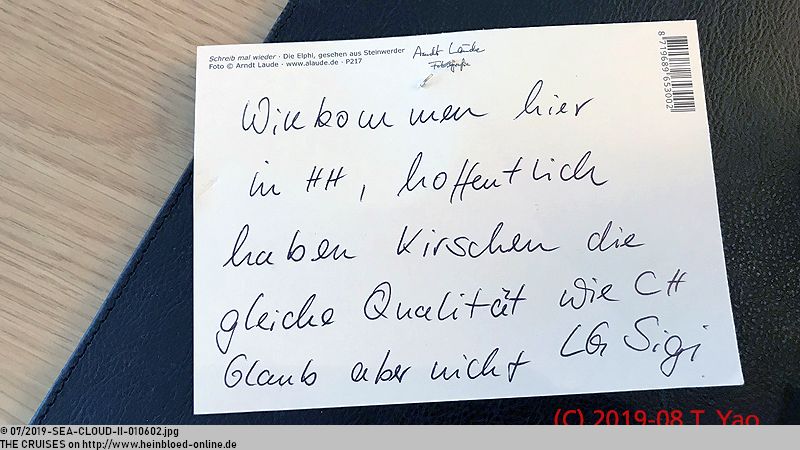 KIRSCHEN...
Meine Welt ist in Ordnung.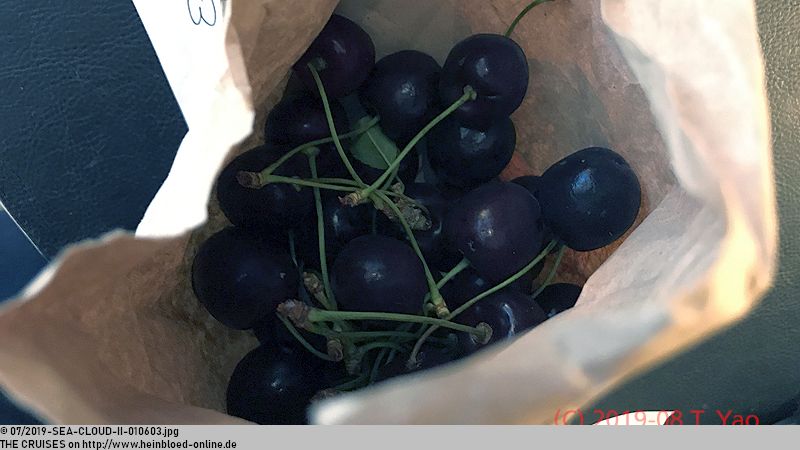 Perfect world for me!

I washed them immediately, and none were left for Bruno.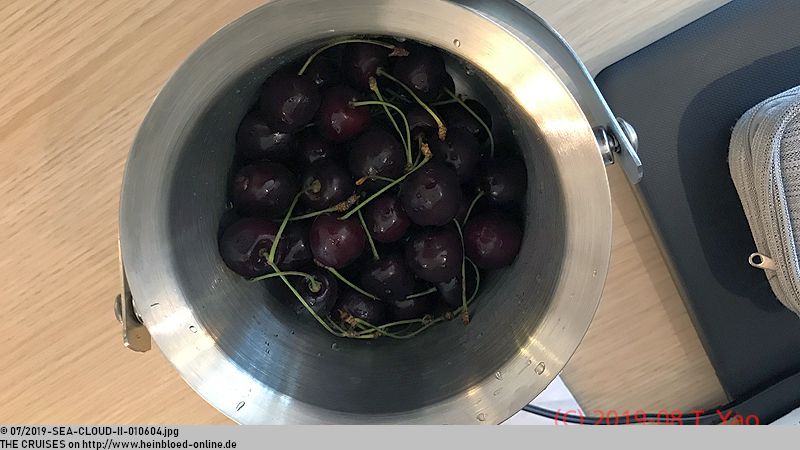 Sie werden sofort gewaschen und für Bruno bleiben keine übrig.
Dort liegt ein Schild, dass hier eigentlich Wasser für mich als
Marriott BonVoy
-Gast stehen müsste... aber nichts da.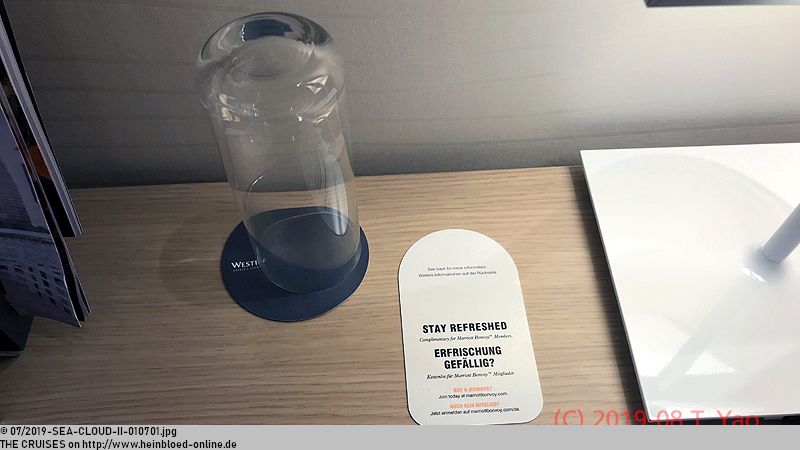 There was a sign, that I should have some water as Marriott BonVoy-guest... but nothing was there.

I asked at the front desk... and they sent 6 3/4 fl. oz. for a party of two... For that, you could leave it... I asked explicitly for some still water, and they delivered some sparkling...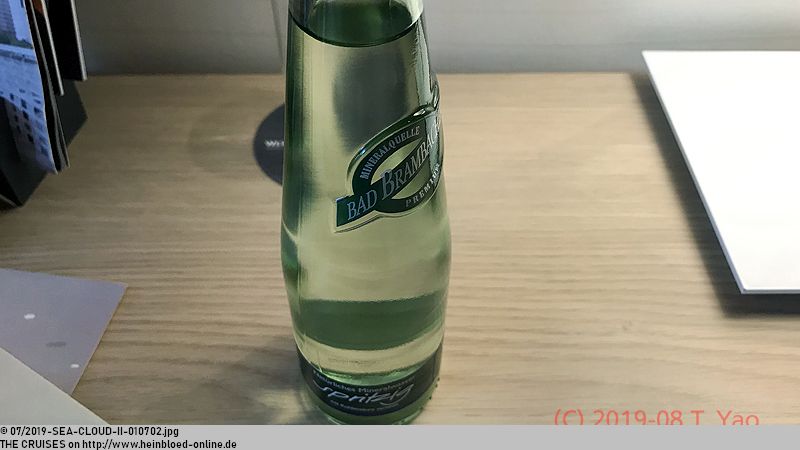 Ich frage an der Rezeption nach... und man schickt mir 200 ml für 2 Personen... dann kann man es eigentlich auch lassen... Ich hatte ausdrücklich darum gebeten, mir stilles Wasser zu geben und sie bringen mir spritzig...
Also bringe ich es runter und bitte um Austausch... Ich bekomme 200 ml still für 200 ml spritzig. Als ich dann doch anmerke, dass das etwas mickrig ist, bekomme ich noch 1.000 ml still nachgeliefert.

So I returned it, and asked for exchange... I got 6 3/4 fl. oz still for 6 3/4 fl. oz. sparkling. When I remarked that it appeared very stingy to me, they sent another 33 4/5 fl. oz. still water.

On Marriott BonVoy App, they asked how I liked it...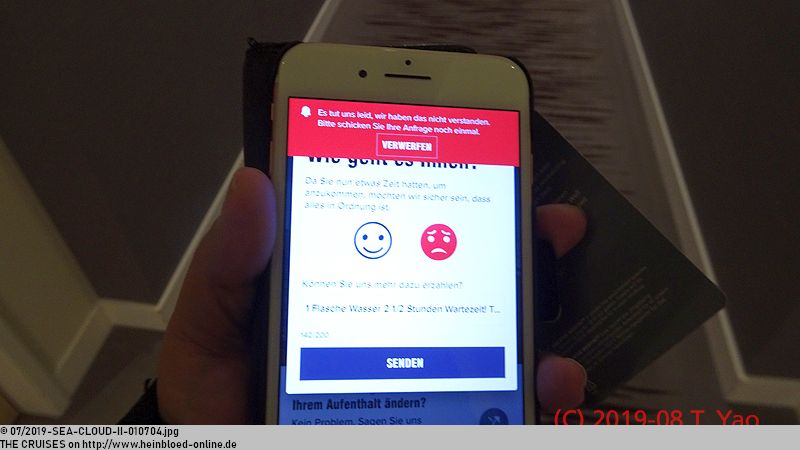 Sie fragen über die
Marriott BonVoy
App nach, wie ich es finde...
Aber meine negativen Äußerungen wollen sie nicht hören. Als Entschädigung für die Unannehmlichkeiten bieten Sie mir wieder ein Upgrade mit Blick auf die
HafenCity
an. Ich lehne es wieder ab.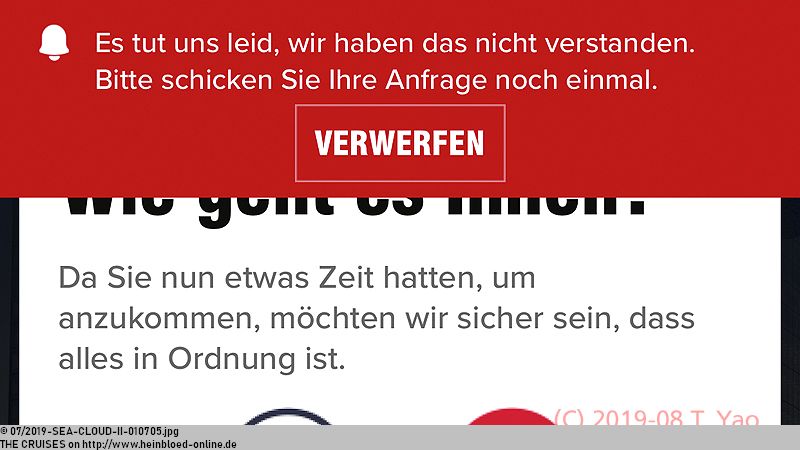 But they did not to hear anything bad. I could not submit my comments. As compensation for all inconvenience, they offered me again an upgrade to a room with a view on HafenCity. I declined it again.

I needed some carbs for my nerves! Sugar for a happy feeling. But I took a sandwich which was yummy for sure before when they prepared it. Unfortunately, the vegetable made all the bread wet, that it was not tasteful anymore. This was removed too on the next day from my final bill.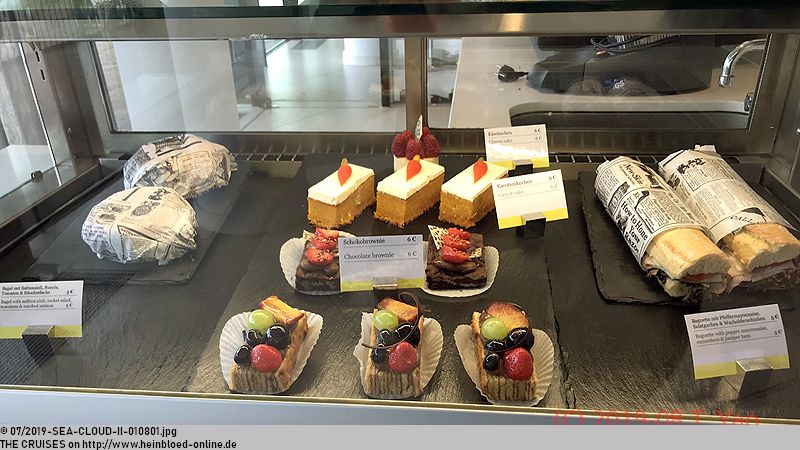 Ich brauche Kohlenhydrate für meine Nerven! Zucker für Glücksgefühle. Ich nehme allerdings ein Sandwich, das sicherlich mal sehr lecker war, als es zubereitet wurde. Leider hat das Gemüse zwischenzeitlich das Brot so durchgematscht, dass es nicht mehr schmeckt. Auch das wird mir am nächsten Tag von der Rechnung genommen.
Oder Shipspotting hilft bei mir für jedes Leiden, damit es mir wieder gut geht: Zum Glück ist die SEA CLOUD II an der
Überseebrücke
. Und alles ist gut, weil vom Restaurant ein Raucherbalkon vorhanden ist: mit perfektem Blick zur
Überseebrücke
.

For every suffering I had, shipspotting was always helpful to make me feel good again. Luckily, SEA CLOUD II was docking at Überseebrücke (Overseas Bridge). And everything was perfect because of the smokers' balcony of the restaurant. This had an excellent view of the Überseebrücke.

I was trying to eat at Oh It's Fresh diagonally opposite the Elbphilharmonie. But the staff there was only interested in getting out of the door as quickly as possible. And to read and write their text messages and smoke outside. That was why they did not notice that I drank neither the cappuccino (too hot milk - did not taste) nor ate the meatball (too dry and dusty). The potato salad with egg was good, however. But for sure, I would definitely not come back again here.

Ich versuche bei
Oh It's Fresh
schräg gegenüber der
Elbphilharmonie
zu essen. Aber die Mitarbeiterinnen dort sind nur daran interessiert, möglichst schnell vor die Tür zu können, um ihre Textnachrichten zu lesen und zu verfassen und nebenbei zu rauchen. Deswegen fällt es denen auch nicht auf, dass ich weder den Cappuccino austrinke (viel zu heiße Milch - schmeckt nicht), noch die Frikadelle aufesse (viel zu trocken und staubig). Der Kartoffelsalat mit Ei ist jedoch gut. Aber nochmals komme ich bestimmt nicht wieder hierher.
Unsere Mitfahrerin Sigi auf der VEENDAM 2019 kommt. Sie war schon mit uns zusammen auf der
NORWEGIAN JADE 2014 (1)
,
EURODAM 2014
,
NORWEGIAN SKY 2015
,
DISNEY DREAM 2015
,
KONINGSDAM 2016
,
QUEEN MARY 2 2017
,
NORWEGIAN JADE 2017
,
NORWEGIAN SPIRIT 2018
,
QUEEN MARY 2 2018
,
VENTURA 2018
und
NORWEGIAN SUN 2019
unterwegs. So essen wir gemeinsam im hoteleigenen Restaurant The Saffron (heute
Fang und Feld)
das Theatermenü. Nicht billig, aber preiswert. Das Essen hat auf jeden Fall die Klasse wie in einem Zuzahlrestaurant auf den Schiffen. Dafür können wir ohne Mantel an und wieder aus, ganz einfach rüber später zur
Elbphilharmonie
ins Konzert.

Our fellow-cruiser Sigi would join us on VEENDAM 2019. She was with us together on NORWEGIAN JADE 2014 (1), EURODAM 2014, NORWEGIAN SKY 2015, DISNEY DREAM 2015, KONINGSDAM 2016, QUEEN MARY 2 2017, NORWEGIAN JADE 2017, NORWEGIAN SPIRIT 2018, QUEEN MARY 2 2018, VENTURA 2018, and NORWEGIAN SUN 2019. So we dined together in the hotel's restaurant, The Saffron (today Fang and Feld), the theater menu. Not cheap, but worth the price. The food definitely had the class like in an alternative restaurant on the ships. For this, we can walk in and out without a coat, quite simply over into the Elbphilharmonie Concert Hall later.

Since we discovered our shared interest in classical music on the cruises, especially on the NORWEGIAN SUN 2019. We were here tonight as her guests in the Elbphilharmonie.

Da wir auf den Kreuzfahrten, vor allem zuletzt auf der
NORWEGIAN SUN 2019
, unser gemeinsames Interesse für klassische Musik entdeckt haben, sind wir heute Abend ihre Gäste hier in der
Elbphilharmonie
.
Es gibt Stücke von Johann Sebastian Bach und Wolfgang Amadeus Mozart im Rahmen einer Veranstaltung des
Schleswig-Holstein Musik Festivals
.
Daniel Lozakovich
,
Alexei Utikin
und das
Moscow Chamber Orchestra
spielen vor ausverkauftem Haus und vor der
Elbphilharmonie
gibt es Public Viewing, so dass auch Zuhörer ohne Eintrittskarten das Konzert verfolgen können.

They played pieces by Johann Sebastian Bach and Wolfgang Amadeus Mozart during an event of the Schleswig-Holstein Music Festival. Daniel Lozakovich, Alexei Utikin, and the Moscow Chamber Orchestra played in front of a sold-out concert. And outside of the Elbphilharmonie Concert Hall, they offered public viewing. So even fans without tickets could follow the show.

I did not expect that we would be able to see the outdoor terrace of the plaza after the concert. So we were able to make another round, and to enjoy beautiful Hamburg by night.

Ich hätte nicht damit gerechnet, dass wir nach Ende des Konzertes nochmals auf das Außengelände der
Plaza
dürfen. So können wir eine Runde drehen und sehr schön Hamburg bei Nacht sehen.
Für das abgelehnte Upgrade bekomme ich stattdessen Gutscheine für zwei Cocktails in der hoteleigenen
The Bridge Bar
. Der Service ist nach Konzertende etwas chaotisch, aber hier oben sitzt es sich sehr schön. Irgendwie ist die marokkanische Pfefferminze ausgegangen. Aber damit ist wohl ein Teebeutel und keine frische Pfefferminze gemeint. Da wir alle bescheiden sind und nicht die teuersten Cocktails wählen, gibt man die drei Getränke für die zwei Cocktail-Gutscheine. Sehr nett. Auch wenn alles etwas chaotisch so weit lief: nett, freundlich und hilfsbereit sind sie hier und daher würde ich bei einem weiteren Konzert hier in der
Elbphilharmonie
auch durchaus hier wieder übernachten.

I got coupons for two cocktails in the hotel's own The Bridge Bar for the declined upgrade. The service was a bit chaotic after the concert, but up here it was very nice. Somehow, the Moroccan peppermint ran out. But that was probably a tea bag and not meant fresh peppermint. Since we were all modest and did not choose the most expensive cocktails, they served the three drinks for the two cocktail vouchers. Very nice. Even if everything went a bit chaotic: they were there nice, friendly, and helpful. For that, I would definitely stay here again at another concert in the Elbphilharmonie.

The next morning at breakfast again in The Saffron (today Fang and Feld): the staff was nice, friendly and helpful, if you had the chance to get them, or they turn up. Everything else was very chaotic: internal often had priority over the wishes of the guests. Many items were not labeled correctly. Many items ran out. Many items were arranged very impractically (Le Creuset lid and swinging lids, which you could not open because they placed under a shelf). You often had to ask specifically (e.g., cappuccino from the barista machine, and not from the fully automatic machine). The fresh peppermint, we missed the night before, we found here at the buffet. Everything was delicious when we found something we could eat.

Am nächsten Morgen beim Frühstück wieder in The Saffron (heute
Fang und Feld
): das Personal ist nett, freundlich und hilfsbereit, wenn man sie mal in die Finger bekommt oder sie mal auftauchen. Ansonsten alles sehr chaotisch: internes hat oft Vorrang vor Wünschen der Gäste. Vieles ist nicht korrekt beschriftet. Vieles ist sehr leer. Vieles ist sehr unpraktisch (
Le Creuset
Deckel und Schwingdeckel, die man nicht öffnen kann, weil sie unter einer Ablage platziert werden), Man muss oft gezielt nachfragen (z. B. Cappuccino von der Barista-Maschine und nicht aus dem Vollautomaten). Die frische Pfefferminze, die wir gestern Abend vermisst haben, finden wir hier am Büffet. Alles ist lecker, wenn etwas da ist, was wir auch essen können.
Wahnsinnig wird man auch bei den Aufzügen: die werden bei Nichtnutzung nicht auf die verschiedenen Ebenen verteilt.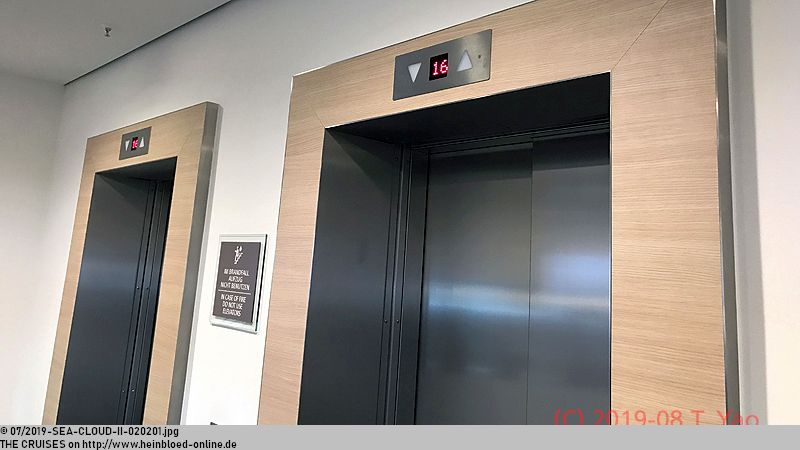 You got mad with the elevators: when they were not in use, they did not distribute them to diverent levels.

We used bus 111 to get to Hamburg-Altona train station. Unfortunately, no ship was docking today at the Altona Cruise Terminal. Otherwise, I would go on HADAG-ferry route 62 from Landungsbrücken (Landing stages) to Dockland. Here at the station, we needed to buy cherries for me and berries for Bruno. All from Altes Land (Old Country - a famous area with a lot of fruit farms).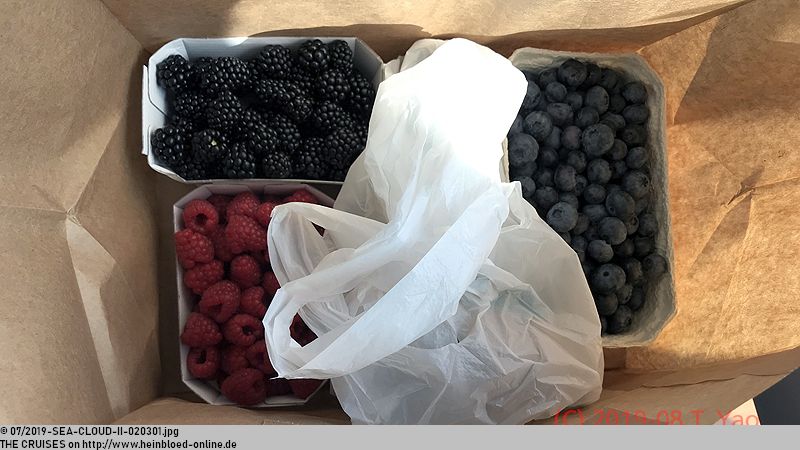 Wir nutzen
Bus 111
um nach
Altona zum Bahnhof
zu fahren. Am
Kreuzfahrtterminal Altona
liegt leider heute kein Schiff, sondern hätte ich noch die
HADAG-Fähre
der Linie 62 zwischen
Landungsbrücken
und
Dockland
genutzt. Hier am
Bahnhof
müssen wir Kirschen für mich und Beeren für Bruno kaufen. Alles aus dem
Alten Land
.
Schon wieder
ICE
77, wie vor wenigen Tagen. Wieso erwische ich immer die Züge in die Schweiz?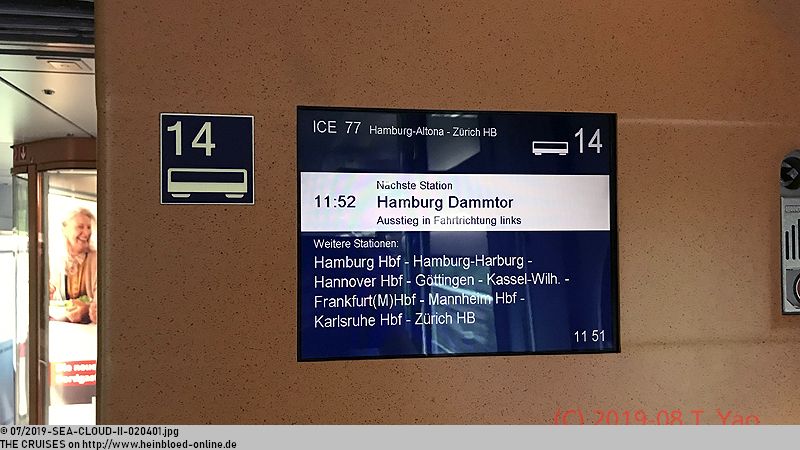 Again, ICE High-Speed-Train 77, like a few days before. How did it come that I always catch a Switzerland-bound train?

For lack of alternatives, I took in the train the chicken breast cubes, which were actually on the salad with French fries. But eating on the train was no fun right now: everything was served in the dog bowl.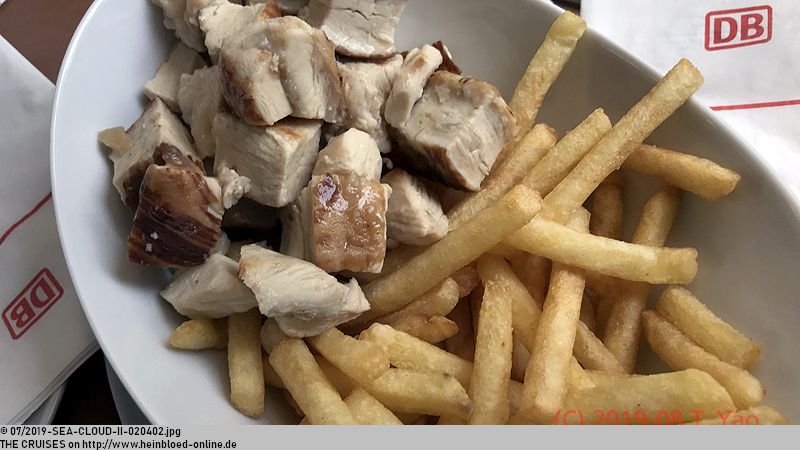 Mangels Alternativen nehme ich die Hühnerbrustwürfel, die eigentlich auf den Salat gehören mit Pommes Frites im Zug. Aber
Essen im Zug
macht im Moment keinen Spaß: alles wird im Hundenapf serviert.
Um einen anderen Geschmack im Mund zu bekommen, nehme ich noch Eis:
Nestlé Schöller
... schon wieder Schweiz...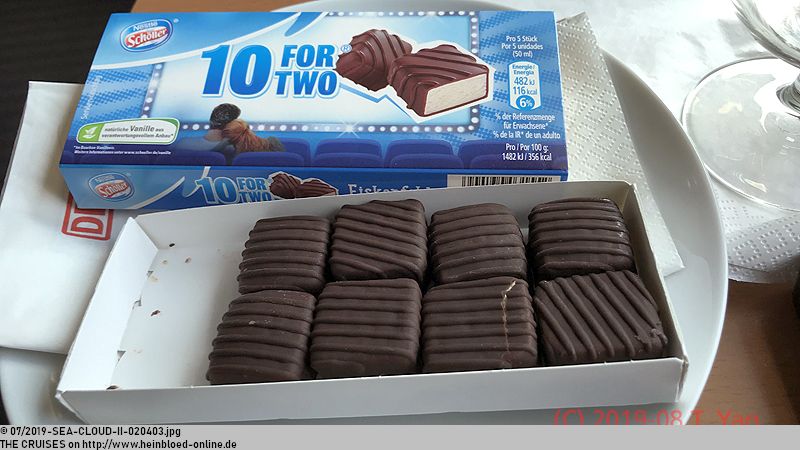 To get a different flavor in the mouth, I took an ice-cream: Nestlé... again Switzerland...
Die anderen Reisen in diesem Blog/
The other voyages in this blog: