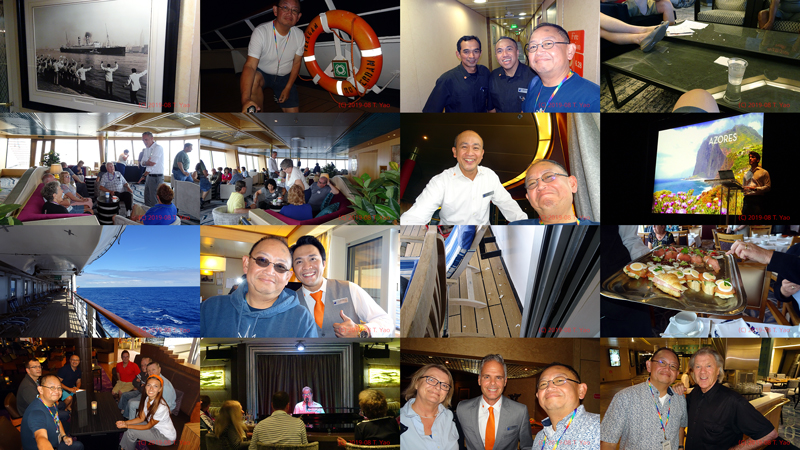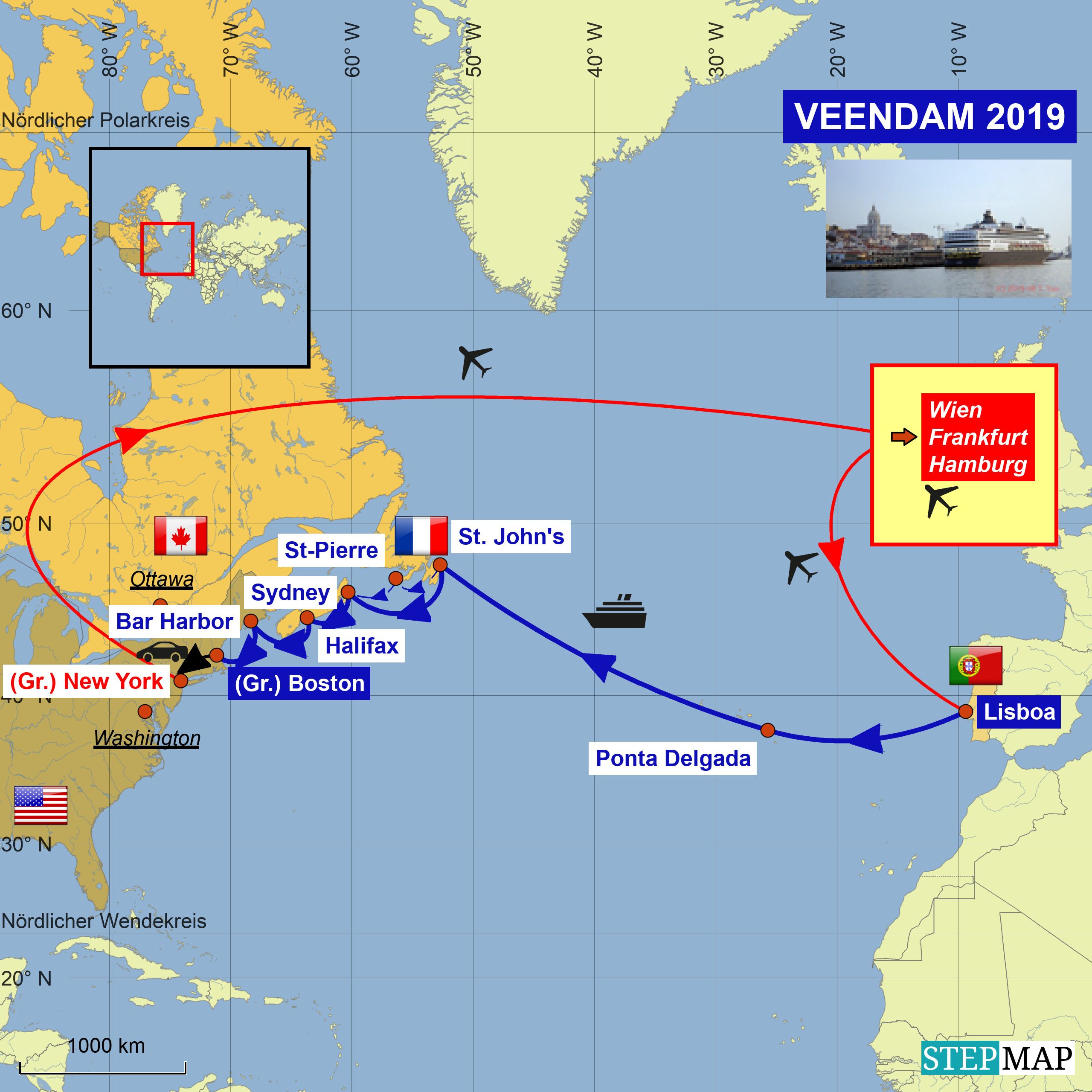 Natürlich muss ich nachts, wenn alles schläft meine erste Runde laufen. Mit Befremden stelle ich jedoch fest, dass die Uhr nicht umgestellt wurde und dass ich wohl auch nicht der einzige Passagier bin, der seine Uhr umgestellt hat. Später sind noch mehr Gäste da, die bereits etwas im Lido SB-Restaurant wollen und noch nichts bekommen. Auch unterscheiden sich die Deckpläne, den man als Passagier bekommt und diejenigen, die in den Treppenaufgängen hängen. Was ist The Oasis und The Loft? Und wie kommt man hin? Auf den meisten Schiffen kann man vom Bug zum Heck laufen entlang eines Ganges laufen und hier ist auf einmal mitten im Gang eine Tür, die man umlaufen muss. Außerdem werde ich nie das System verstehen, wie die Kabinen nummeriert wurden. 001 ist die Pinnacle Suite auf Deck 10. Und wie ist der Rest angeordnet? Wurde in der Werft damals getrunken und gewürfelt?

Of course, I had to run my first lap at night when everybody was sleeping. With surprise, however, I noticed that the time was not changed and that I was probably not the only passenger who had adjusted the time. Later, there were even more guests who already wanted something in the Lido self-service restaurant and still got nothing. Also, the deck plans that you got as a passenger and those that hang in the staircases differed. What were The Oasis and The Loft? And how did you get there? On most ships, you could walk from bow to stern along a corridor, and here was suddenly in the middle of the corridor a door that you had to by-pass. Besides, I would never understand the system of how the cabins were numbered. 001 was the Pinnacle Suite on Deck 10. And how was the rest arranged? Was someone drunk and diced at the shipyard?

Hmm... I really could not cope with the artwork on board that hanged in the stairwells. Only the paintings with the ships!

Hmm... so richtig kann ich den Kunstwerken an Bord, die in den Treppenhäusern hängen, nichts abgewinnen. Nur die Bilder mit den Schiffen!
Fasziniert bin ich von dem Foto der VEENDAM (II). Wenn wir so eine Büste zu Hause haben, muss ich unbedingt so ein Reinigungsgerät auch haben, um sie in Glanz zu haben.

I was fascinated by the photo of the VEENDAM (II). If we would have such a bust at home, I should have such a cleaning device as well to have it shine.

The wine packages and the expensive cognacs, which were now available on board, were exhibited in the unhosted wine corner. Why did a brandy that cost 11.95 USD per glass deserve such attention? I never noticed in the time that activities were offered here. If so, they would be related to wine and not interested in me. The Explorer's Lounge provided classic entertainment. But it was always so cold here that we walked past it as fast as possible.

Die Weinpakete und die teuren Cognacs, die jetzt an Bord verfügbar sind, werden in der unbetreuten Weinecke ausgestellt. Warum verdient ein Cognac, der 11.95 USD pro Glas kostet, so eine Aufmerksamkeit? Mir ist in der Zeit nie aufgefallen, dass Aktivitäten hier angeboten werden. Wenn dann hätten sie einen Bezug zum Wein gehabt und mich nicht interessiert. In der Explorer's Lounge wird die klasssiche Unterhaltung angeboten. Nur ist es hier immer so kalt, dass wir möglichst schnell daran vorbei laufen.
Die Explorer's Lounge war auf der
ZAANDAM 2012
meine Lieblingslounge, weil dort das klassische Musikangebot war und ich sehr viel Freude hatte. Mit drei der vier Künstler stehen wir auch noch heute über Facebook in Kontakt: Lilian, Cristina und Vahtang.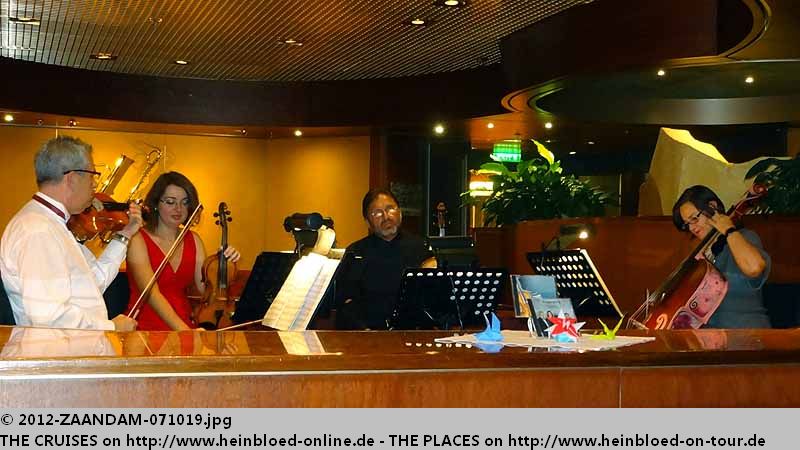 The Explorer's Lounge was my favorite lounge at ZAANDAM 2012 because it was the classic music venue and I really enjoyed it. We were still in touch with three of the four artists via Facebook: Lilian, Cristina, and Vahtang.

Cristina posted on Facebook a sundae from our location. As a result, we learned that for many years each year, they performed here with our place in the summer outdoor venue with an orchestra of the Opera Classica Europa. We just missed that. We used their day off to take them in the Rheingau area and to thank us with a meal for the great entertainment then.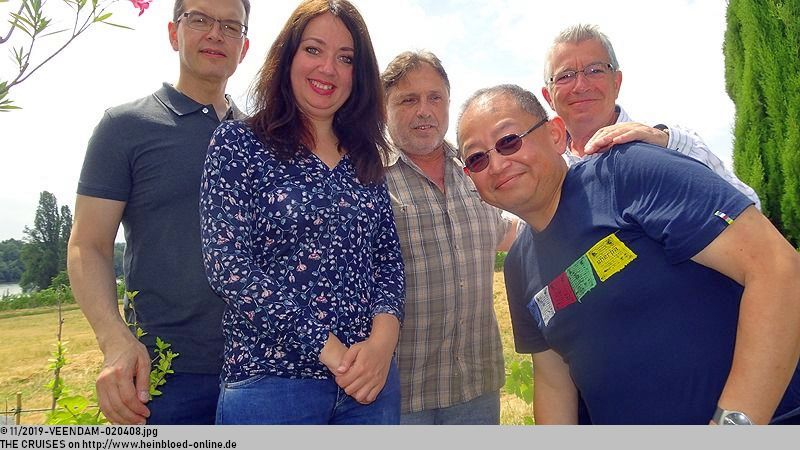 Cristina hat auf Facebook einen Eisbecher aus unserem Ort gepostet. Dadurch haben wir erfahren, dass sie eigentlich seit vielen Jahren jedes Jahr bei uns im Ort im Sommer mit einem Orchester der
Opera Classica Europa
auftreten. Das haben wir nun gerade verpasst. Ihren freien Tag nutzen wir, um sie im Rheingau auszuführen und uns mit einem Essen für die damalige tolle Unterhaltung zu bedanken.
Ein kurzer Blick zum Poolbereich, in den Spa und im Fitness-Studio und im
America's Test Kitchen
. Irgendwie klang Culinary Art Center vielversprechender. Die Neptun-Lounge sehe ich nur hinter Glas. Es war schön sie während unserer
RYNDAM 2013
-Reise zu nutzen.

A quick view of the pool area, the spa and gym, and America's Test Kitchen. Somehow, Culinary Art Center sounded more promising. I only saw the Neptune Lounge behind glass. It was nice to use it on our voyage on RYNDAM 2013.

Hamburgers and hot dogs with sausages from Nathan's.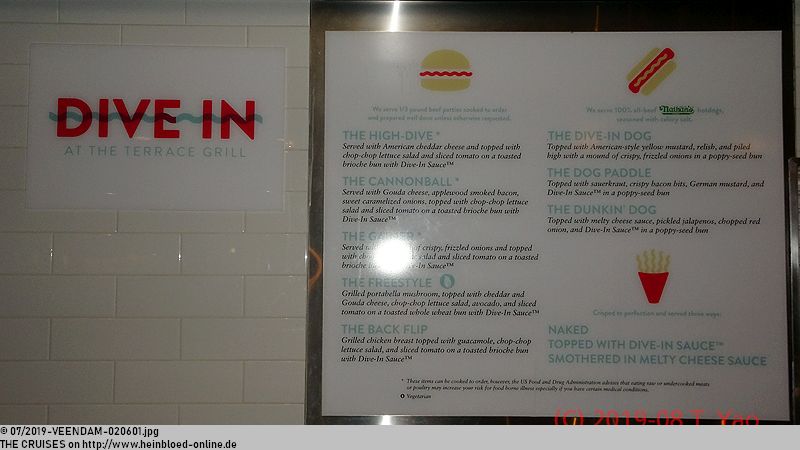 Hamburger und Hot Dogs mit Würstchen von
Nathan's
.
Leider jetzt geschlossen. Schade. Jetzt hätte ich irgendwie Lust darauf.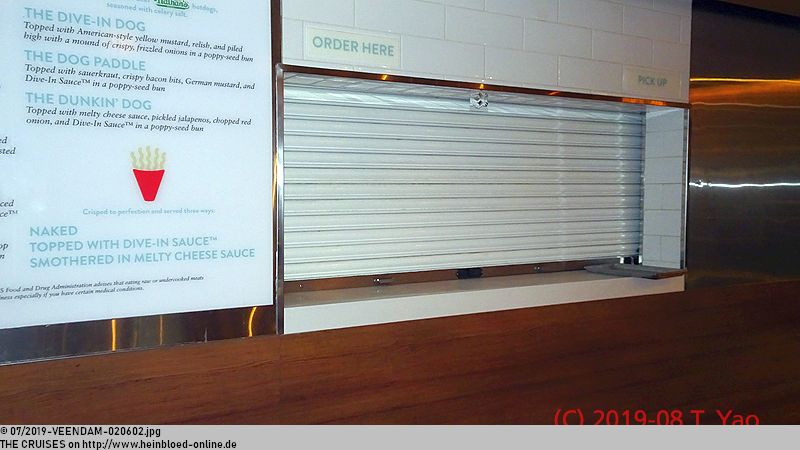 Unfortunately now closed. Too bad. Now I would like to have one like it.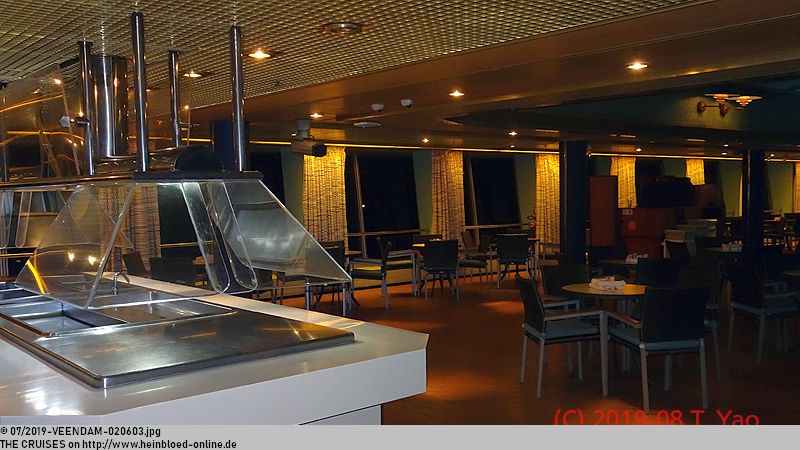 Es gibt hier aber auch andere Fastfood-Gerichte als "Bausatz".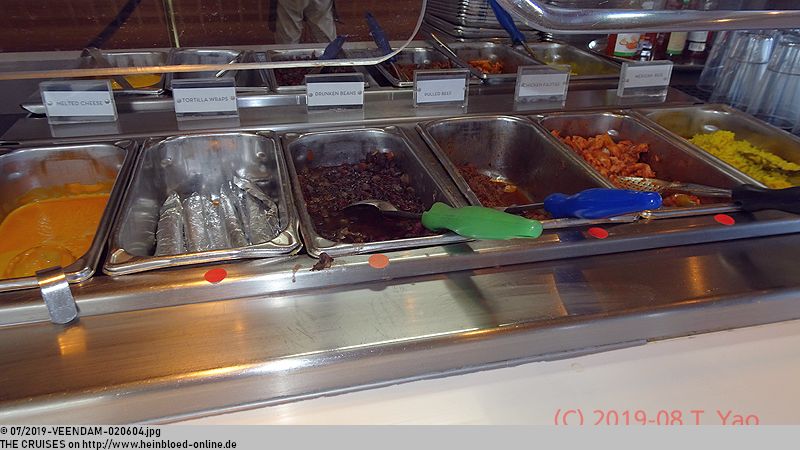 The had also other fast food-dishes like a "construction kit".

So everyone could top the hamburger as he liked it.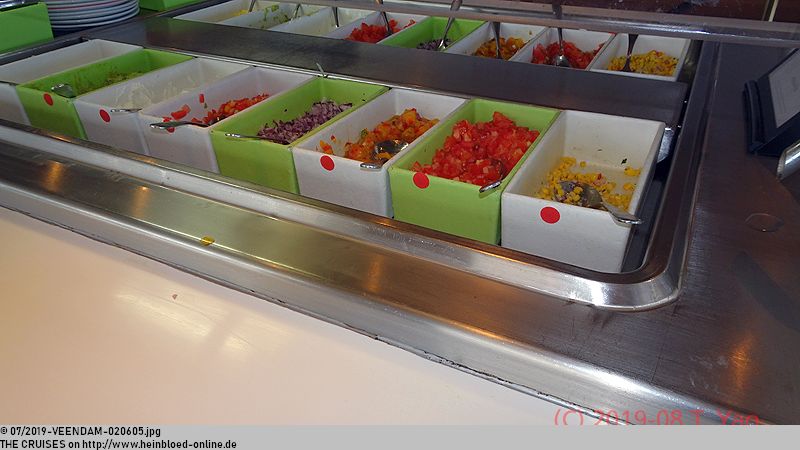 So kann sich jeder den Hamburger so belegen, wie er es mag.
Noch ein wenig am Außendeck entlang.

A little further along the open deck.

I was still looking for The Oasis. The Loft was the teenager's part of the kids' paradise at Club HAL. It sounded somehow more promising than a teen club.

Ich bin immer noch auf der Suche nach The Oasis. The Loft ist der Teil für Teenager im Kinderparadies vom Club HAL. Es klingt irgendwie vielversprechender als ein Teenager-Club.
Im Casino entdecke ich die Lotto Rubbelkartenlose. Gibt es auch bei
Ryanair
. Also liege wohl mit meiner Annahme richtig, dass Holland America auf dem Weg zu easyCruise (gibt es in der Form nicht mehr!) ist.
Ryanair
hatte ja nie eine Kreuzfahrtlinie wie Konkurrentin
easyJet
. Auf dem Bildschirm entdecke ich viele bekannte Gesichter. Nur eines kann ich nicht zuordnen. Nur mir haben sie noch nie so einen tollen Scheck überreicht.

In the casino I discovered the lottery scratch card tickets. It was synonymous with Ryanair. So, with my assumption correct, Holland America was on the way of becoming easyCruise (does not exist anymore in this shape!). Ryanair never had a cruise line like rival easyJet. On the screen, I discovered many familiar faces. Only one person I could not assign. They never gave me such a great check just for me.

We knew Don Habets from EURODAM 2014 and KONINGSDAM 2016.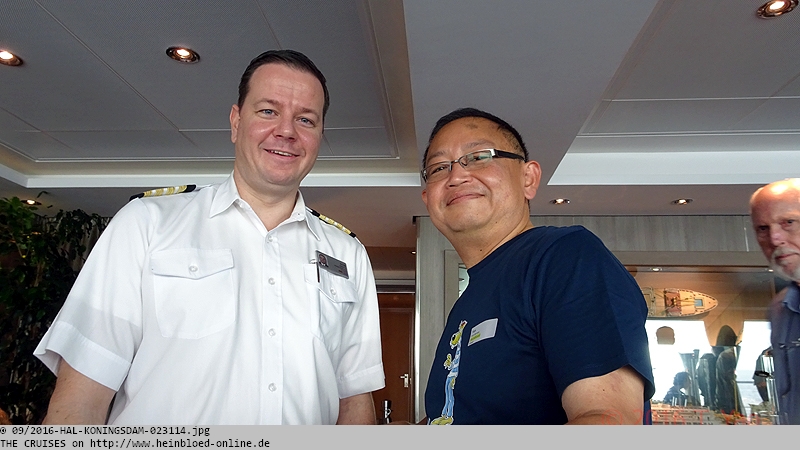 Don Habets kennen wir von der
EURODAM 2014
und
KONINGSDAM 2016
.
Mustafa Gulbahar kennen wir noch von der
NORWEGIAN EPIC 2012
.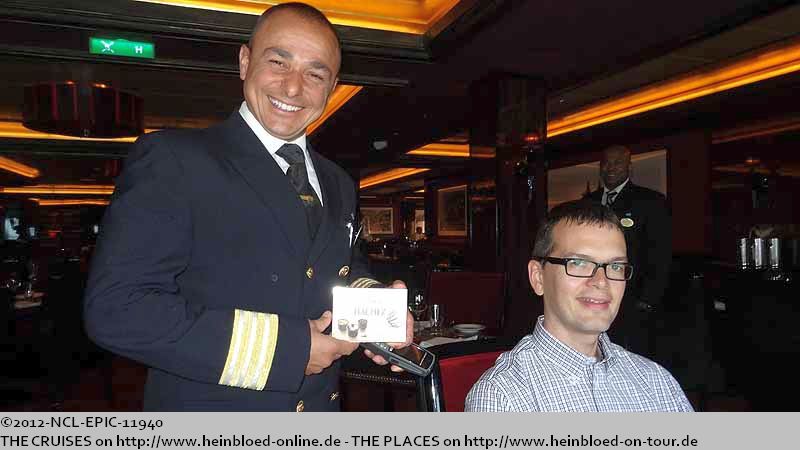 We still knew Mustafa Gulbahar from NORWEGIAN EPIC 2012.

And Errol Nelson from NORWEGIAN ESCAPE 2015. Other great senior crew members were moving from NCL to HAL. But they were not in the pictures where the checks were presented. Was that why HAL got them over from NCL? At NCL, I already experienced the descent from a high cruise line to the mediocre cruise line, and I recognized many parallels on board for me. Every second sentence that I uttered internally starts with, "NCL did the same thing".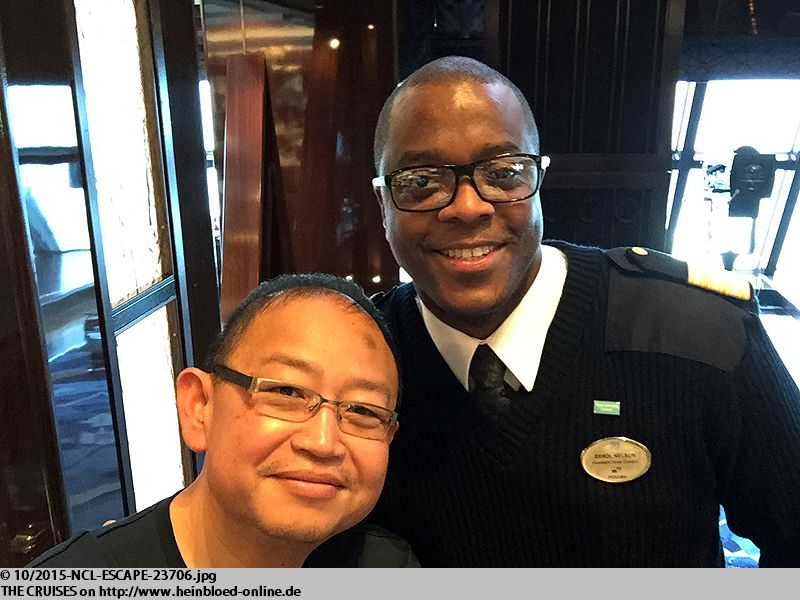 Und Errol Nelson noch von der
NORWEGIAN ESCAPE 2015
. Es sind noch weitere gute leitende Crew-Mitglieder von NCL zu HAL gewechselt. Aber sie sind nicht auf den Bildern, auf denen die Schecks überreicht werden. Ist das der Grund, warum HAL sie von NCL rübergeholt hat? Bei NCL habe ich ja schon den Abstieg von einer tollen Kreuzfahrtlinie zur mittelmäßigen Kreuzfahrtlinie erlebt und ich erkenne für mich viele Parallelen an Bord. Jeder zweite Satz, den ich innerlich ausspreche beginnt mit: "Bei NCL hat es genauso angefangen".
Weiter geht es ins Atrium. Dort ist das Hauptkunstwerk "Jacobs Leiter", das über mehrere Decks hochführt. Immer noch tolle Blumenarrangements. Immer noch ist die
niederländische Königsfamilie
an Bord präsent. Sehr gut: die Projektion von Warnhinweisen auf dem Teppichboden.

I continued to the atrium. There was the main artwork, "Jacob's ladder", which lead up to several decks. Still great floral arrangements. The Dutch Royal Family was still present on board. Very good: the projection of warnings on the carpet.

Users of the Internet were looked after by the reception. As a precaution, the indication that the compounds were terrible. Only we were on an exotic route, which was probably not so well covered by the satellites. I already experienced better internet connections onboard, and I experienced even worse. Video streaming was definitely not possible. But I mainly used it to upload my pictures on Facebook. It was going well for that. So it could be better, but I survived. I could inform myself about current expenses and the daily program. The communication only worked if the others were online or retrieved the messages later.

Nutzer des Internets werden von der Rezeption betreut. Vorsorglich der Hinweis, dass die Verbindungen schlecht sind. Nur sind wir auf einer exotischen Route, die wohl nicht so gut durch die Satelliten abgedeckt sind. Ich habe schon bessere Internetverbindungen an Bord erlebt und ich habe auch schon schlechtere erlebt. Videostreaming ist defintiv nicht möglich. Aber ich selbst nutze es hauptsächlich, um meine Bilder auf
Facebook
zu laden. Dafür läuft es gut. Es könnte also besser laufen, aber ich überlebe. Ich kann mich über laufenden Ausgaben und das Tagesprogramm informieren. Die Kommunikation läuft nur, wenn die anderen auch online sind oder später die Nachrichten abrufen.
Schade. Damals auf der
ZAANDAM 2012
gab es ja noch einen Internet-Manager und eine Bibliothekarin. Jacques und Julie waren damals sehr hilfreich. Aber beide Positionen gibt es nicht mehr. So muss ich mich immer wieder mit Gästen an der Rezeption anstellen, die eben andere Probleme haben.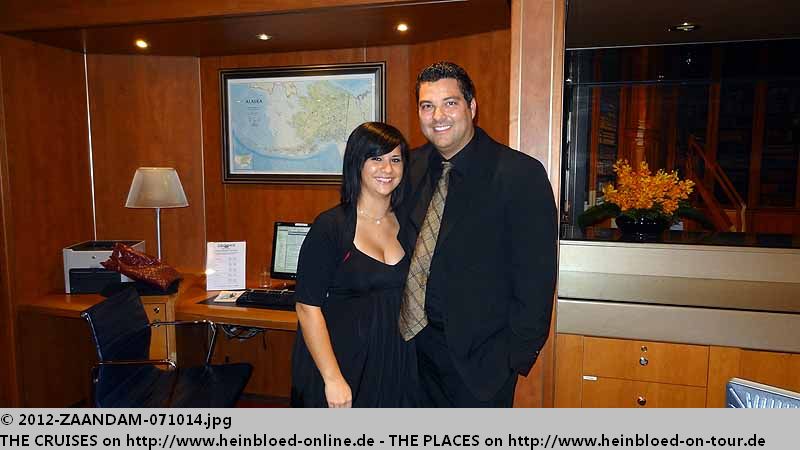 Too bad. Back then, on ZAANDAM 2012, there was still an internet manager and a librarian. Jacques and Julie were accommodating at the time. But both positions are gone. So I had to queue myself again and again with guests at the front desk, who had other problems.

I looked around at the Lido self-service restaurant. Unfortunately, it only opened at 07:00 hrs on sea days. I thought somehow very late. On days with port calls at 06:30 hrs. On ZAANDAM 2012, it was 06:30 hrs or 05:30 hrs. Just then, if the time was set back, you waited an hour longer. On the days, I thought it would be good to take a step towards the passengers, and just offer a few croissants or muffins to bridge the hour.

Ich sehe mich im Lido SB-Restaurant um. Leider öffnet es erst um 07:00 Uhr an Seetagen. Finde ich irgendwie besonders spät. An Tagen mit Landgängen um 06:30 Uhr. Damals auf der
ZAANDAM 2012
war es 06:30 Uhr bzw. 05:30 Uhr. Gerade dann, wenn zuvor die Zeit zurückgestellt wird, wartet man ja eine Stunde länger. An den Tagen fände ich es gut, wenn man so einen Schritt den Passagieren entgegen kommt, um ein paar Croissants oder Muffins einfach hinstellt, um die Stunde zu überbrücken.
Die Auswahl an Egg Benedict Variationen hat Holland America von allen anderen unterscheidbar gemacht. Wie hier auf der
RYNDAM 2013
wurden die Variationen ausgestellt. Heute kann man wieder danach fragen, aber dafür muss man kennen, was mal machbar war. Irgendwie ist es so: Bestandskunden bekommen es wenn sie es kennen und danach fragen. Neue Kunden, die Holland America noch nicht kennen, werden nichts vermissen, weil sie es nicht kennen. So erzieht man sich eine neue Generation von Passagieren, die keine Bedürfnisse nach schönen Sachen an Bord haben.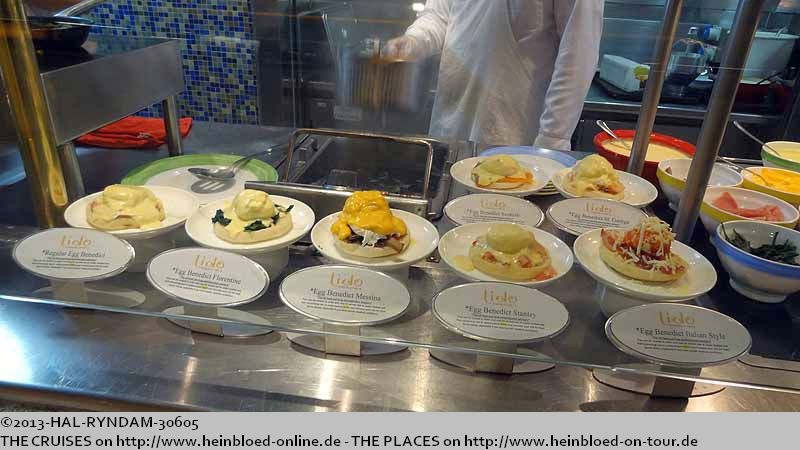 The selection of Egg Benedict Variations made Holland America distinguishable from all others. As here on RYNDAM 2013, the variations were exhibited. Today you could ask again, but you had to know what was feasible. Somehow it was like that: existing customers could get it if they knew it and asked for it. New customers who were new to Holland America would not miss anything because they did not know it. So they educated themselves a new generation of passengers who had no needs for beautiful things on board.

At least, there was still the Exploration Café yet. No coffee chain like Starbucks. Fortunately, there were again barista machines and no fully automatic machines, as in the meantime on KONINGSDAM 2016. So far, I felt particularly comfortable on Holland America, because you always had the impression: the guests had all a particular style. Now a woman (lady would be the wrong expression!) put her shoes on the table. When I asked her, she said that it was "normal" for her. Obviously, we were not only too "old" for Norwegian and "cruise-conservative". But for Holland America, apparently too. My mother would give me a good talking to when I would do that in public. Especially when other guests were eating or drinking at the table. I just did not like an audience that could not behave. Fortunately, we were last on AZAMARA PURSUIT 2019. There I found the fellow travelers all fabulous. A feeling I once had at Holland America too.

Zumindest gibt es noch das Explorations Café noch. Noch keine Kaffeekette wie
Starbucks
. Es gibt zum Glück wieder Barista-Maschinen und keine Vollautomaten, wie zwischenzeitlich auf der
KONINGSDAM 2016
. Bisher habe ich mich auf Holland America besonders wohl gefühlt, weil man immer den Eindruck hatte: die Gäste hatten alle Stil. Nun stellt eine Frau (Dame wäre der falsche Ausdruck!) ihre Schuhe auf den Tisch. Als ich sie darauf anspreche, meint sie, dass es für sie "normal" sei. Offensichtlich sind wir nicht nur für Norwegian zu "alt" und zu kreuzfahrt-"konservativ". Aber für Holland America anscheinend auch. Meine Mutter hätte mir die Ohren lang gezogen, wenn ich das in der Öffentlichkeit gemacht hätte, speziell, wenn andere Gäste am Tisch etwas essen oder trinken. Ich mag eben kein Publikum das sich nicht benehmen kann. Zum Glück waren wir zuletzt auf der
AZAMARA PURSUIT 2019
. Dort fand ich die Mitreisenden alle klasse. Ein Gefühl, das ich früher bei Holland America auch einmal hatte.
Das Wäschepaket zum Flatpreis schätze ich sehr an Holland America. Es erlaubt uns, mit weniger Gepäck zu reisen, weil wir bei zwölf Nächten nicht zwölf Sätze Unterwäsche und T-Shirts mitnehmen müssen. Da wir nicht das Bügelpaket kaufen, nehmen wir daher nur die notwendigen Hemden mit, die wir dreckig mit nach Hause nehmen. 108,00 USD (2019) für die gesamte Reise halte ich nicht für viel.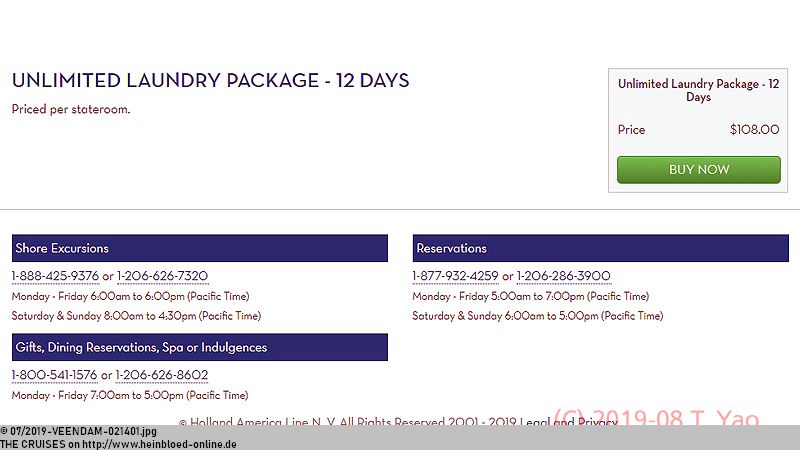 The laundry package at a flat price I really appreciated with Holland America. It allowed us to travel with less luggage because we did not have to take twelve sets of underwear and T-shirts for twelve nights. Since we did not buy the ironing package, we, therefore, took only the necessary shirts, which we took home dirty. 108.00 USD (2019) for the entire trip, I did not think it was too much.

You could also book it for the same amount on board. The ironing package cost 60.00 USD (2019). Each laundry bag would be charged 30.00 USD (2019). However, the laundry bag at Holland America was smaller than with many other companies.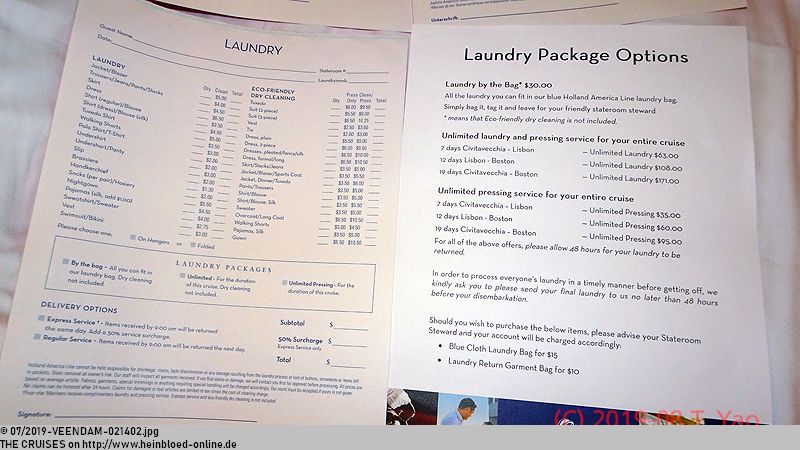 Man kann es auch zum gleichen Betrag an Bord noch buchen. Bügelpaket kostet 60,00 USD (2019). Pro Wäschebeutel wird 30,00 USD (2019) berechnet. Allerdings der Wäschebeutel bei Holland America ist kleiner als bei vielen anderen Gesellschaften.
Zur Orientierung auch die Einzelpreise. Man muss aber auch mit den Pauschalpreisen die Liste ausfüllen. Es wird immer gezählt. Ein kleines Drama: wir wollen gerne die Sachen gefaltet und wir bekommen sie oft auf den Drahtbügeln. Gefaltet könnten wir sie direkt in den Koffer packen.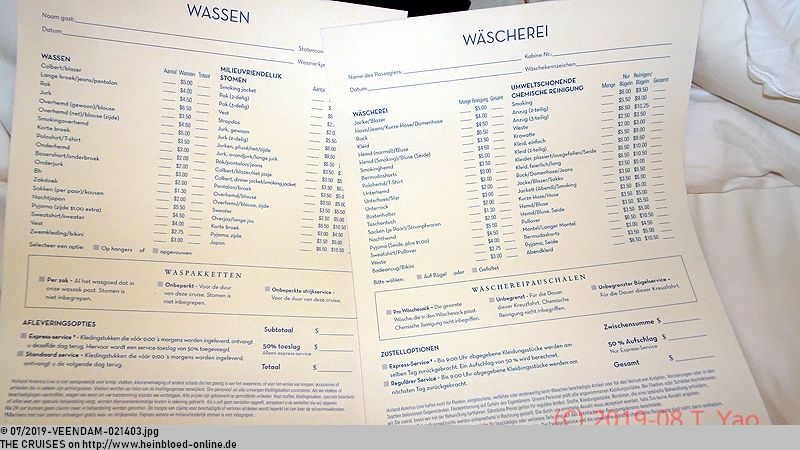 For orientation also the individual prices. But you also had to fill in the list with the flat rates. It was always counted. A little drama: we liked to have items folded, and we often got them on the wire hangers. Folded, we could place them directly in the suitcase.

The self-service launderettes were unfortunately abolished and the signs pasted over.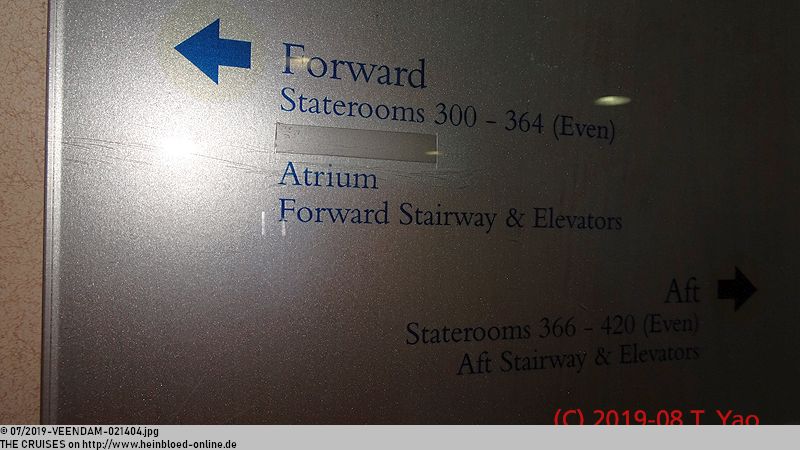 Die SB-Waschsalons sind leider abgeschafft und die Schilder überklebt.
Trotz Flat-Rate-Angebot hat Bruno das Angebot für seine empfindlichen Sportsachen genutzt.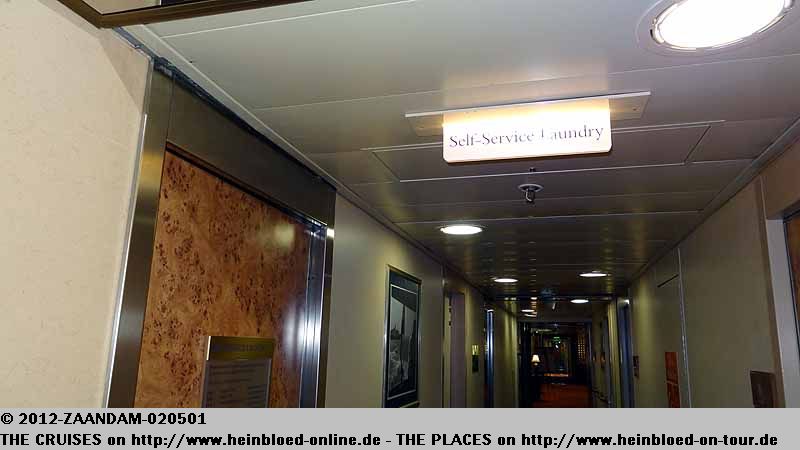 Despite flat-rate offer Bruno used the offer for his sensitive sports equipment.

The problem: the laundry washed and often dried things too hot. They often came one size smaller and one shade fainter.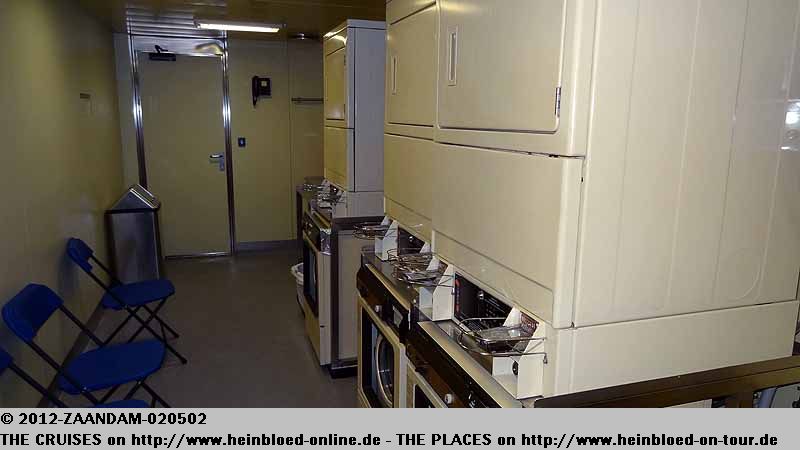 Das Problem: die Wäscherei wäscht und trocknet oft die Sachen viel zu heiß. Sie kommen oft eine Nummer kleiner und ein Farbton blasser zurück.
Hier konnte man auch schnell selbst etwas aufbügeln. Nun muss man für die Dienstleistung bezahlen.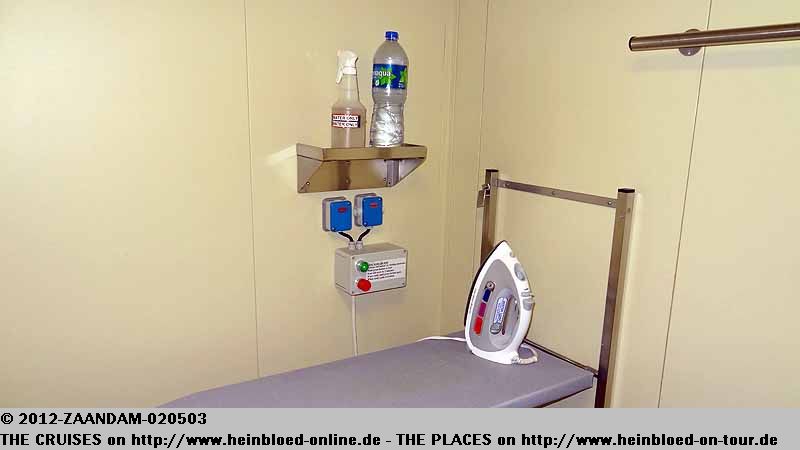 Here you could also quickly iron something yourself. Now you had to pay for the service.

It took a lot of quarters.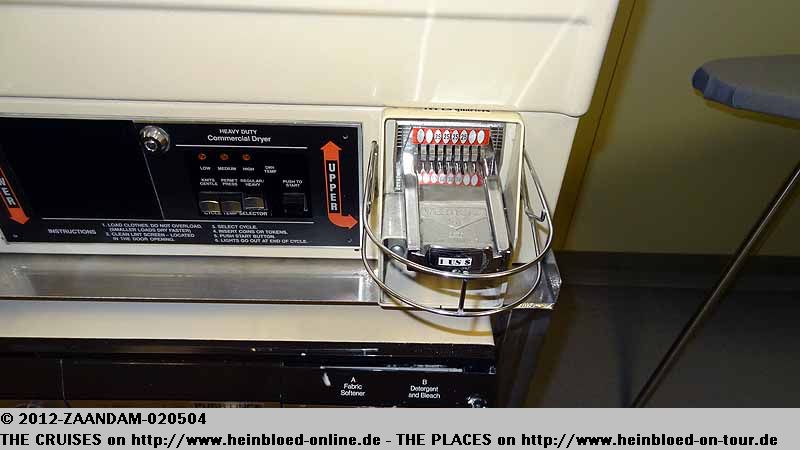 Man brauchte zwar jede Menge Quarters (0,25 USD-Münzen).
Aber dafür war das Waschpulver schon inkludiert.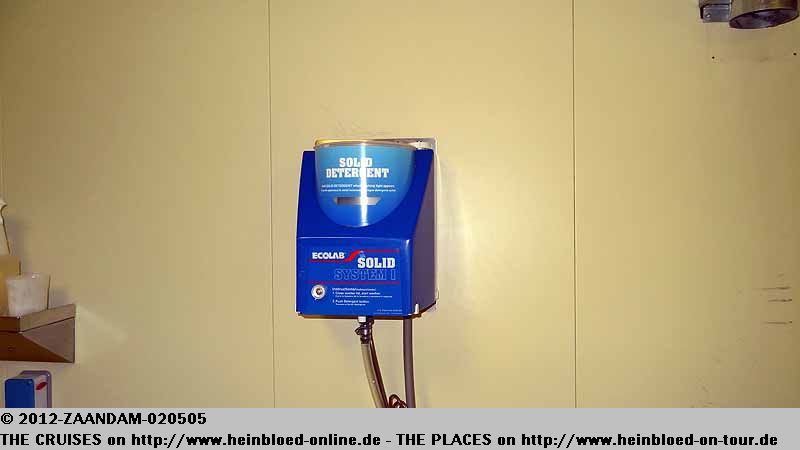 But the detergent was already included.

After another round of sleep, we headed to the Rotterdam Main Dining Room for breakfast. Beautiful as always. Lovely was the flower decoration. The breakfast menu changed again. The Asian breakfast variations were back on top, and even something new. I tried the Indian breakfast, but I preferred to stay at an Indian lunch and dinner in the future. Still, there was the silver jug for the tea, where you burned your finger.

Nach einer weiteren Runde Schlaf, geht es dann zum Frühstück ins Rotterdam Main Dining Room. Schön wie immer. Besonders schön ist die Blumendekoration. Die Karte hat sich wieder verändert. Die asiatischen Frühstücksvariationen stehen wieder drauf, und sogar etwas neues. Ich versuche das indische Frühstück, aber ich bleibe in Zukunft lieber beim indischen Mittag- und Abendessen. Immer noch gibt es die Silberkännchen für den Tee, an denen man sich die Finger verbrennt.
Auf der
KONINGSDAM 2016
gab es zumindest immer noch eine kleine Auswahl an Frühstücksgebäck in einem Korb am Tisch und man musste gezielt nach Sachen fragen, die nicht im Korb waren. Nun muss man immer gezielt bestellen, ohne dass man weiß, was es eigentlich alles gibt.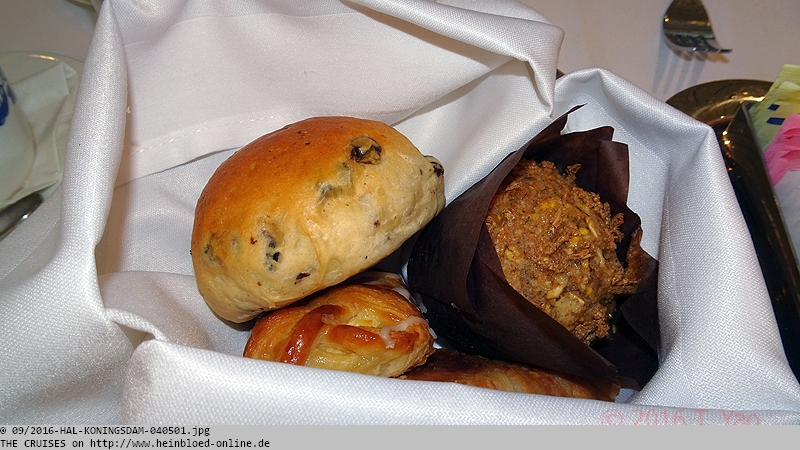 On KONINGSDAM 2016 there was at least a small selection of breakfast pastries in a basket, and you had to specifically ask for items that were not in the basket. Now you had always to order individually, without knowing which items they offered actually.

On EURODAM 2014, someone still came from table to table with a tray of breakfast pastries and offered them. And now, you had to have the picture to specifically ask for single items. That was very familiar to me: the same development as with Norwegian. In the past, there was also the tray, and now you had to ask specifically. You should be a "bad" guest and "beg", instead of just choosing and taking.

Auf der
EURODAM 2014
kam immer noch jemand noch mit einem Tablett mit Frühstücksgebäck von Tisch zu Tisch und bot an. Und jetzt muss man das Bild mitführen, um gezielt nach einzelnen Artikeln zu fragen. Das kommt mir sehr bekannt vor: die gleiche Entwicklung wie bei Norwegian. Früher gab es auch das Tablett und jetzt muss man auch gezielt fragen. Man soll sich als Gast richtig "mies" vorkommen und "betteln", statt nur einfach zuzugreifen.
Ich vermisse die Sektion "Internationale Frühstücksauswahl". Es war immer eine Reise auf der Reise. Vieles gibt es immer noch, aber man muss wieder danach fragen oder es steht unter anderen Rubriken.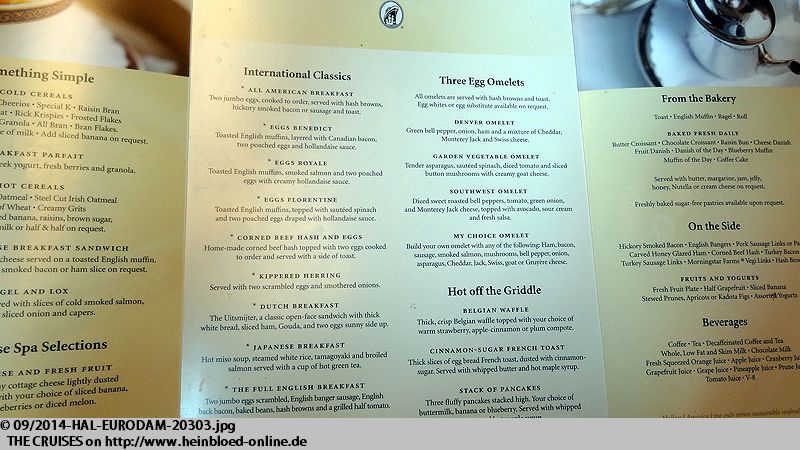 I missed the "International Breakfast" selection. It was always a journey on the journey. There was still a lot, but again you had to ask for it, or it was under other headings.

Unfortunately, one of the most Dutch breakfast options fell away: Uitsmijters. You could still assemble all the individual components yourself. I always ordered it without cheese anyway.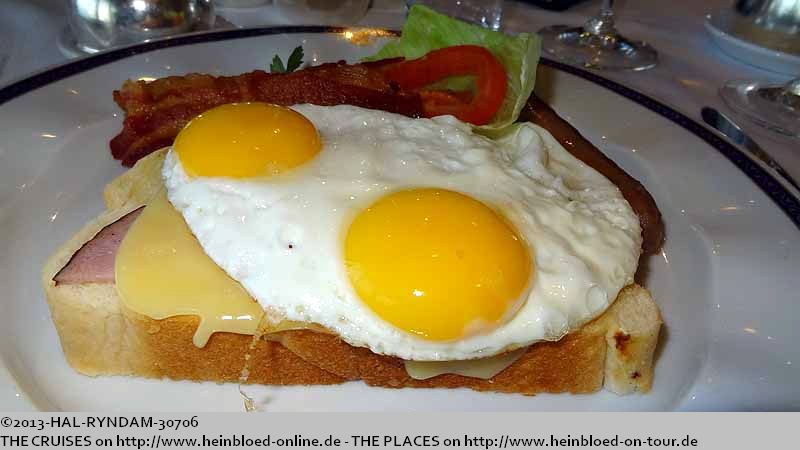 Leider ist einer der holländischsten Frühstücksangebote weggefallen: Uitsmijters. Man kann immer noch alle Einzelkomponenten sich selbst zusammenstellen. Ich habe es sowieso immer ohne Käse bestellt.
Unsere fantastischen Stewards Hartoyo und Ermawan. Immer freundlich, immer mit einem lächeln und wenn sie uns sehen, lassen sie immer alles liegen und stehen und versuchen unser Zimmer vor uns zu erreichen, um uns die Tür zu öffnen.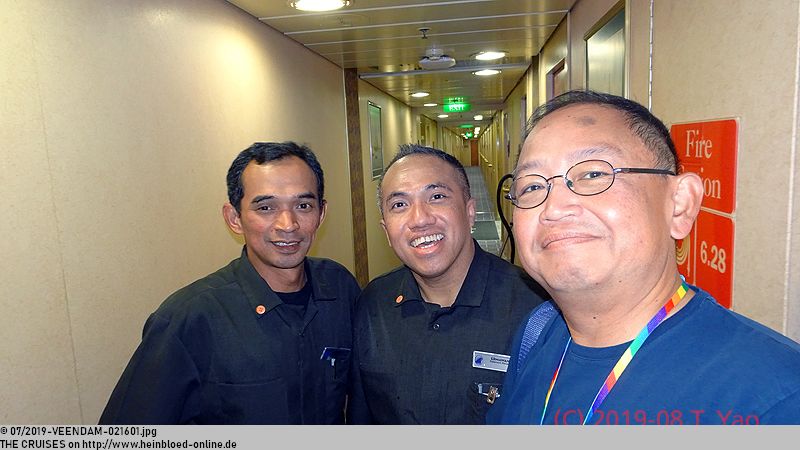 Our fantastic stewards Hartoyo and Ermawan. They were always friendly, always with a smile. And when they saw us, they always left everything behind and came and tried to reach our room before we did to open the door to us.

I was curious to see when the towel animals would be abolished. It just happened with Norwegian. Nice new bags.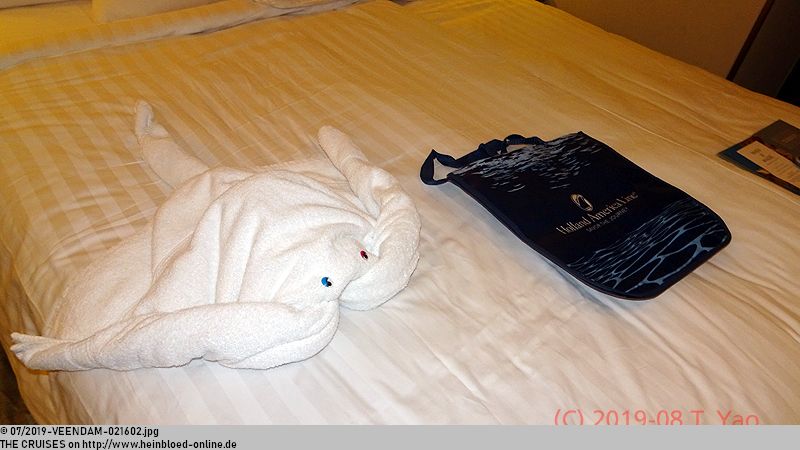 Mal gucken, wann die Handtuchtiere abgeschafft werden. Ist ja gerade bei Norwegian geschehen. Schöne neue Taschen.
Die Betten auseinander stellen bringt hier nicht so viel. Zumindest bekommen wir getrennte Einzeldecken.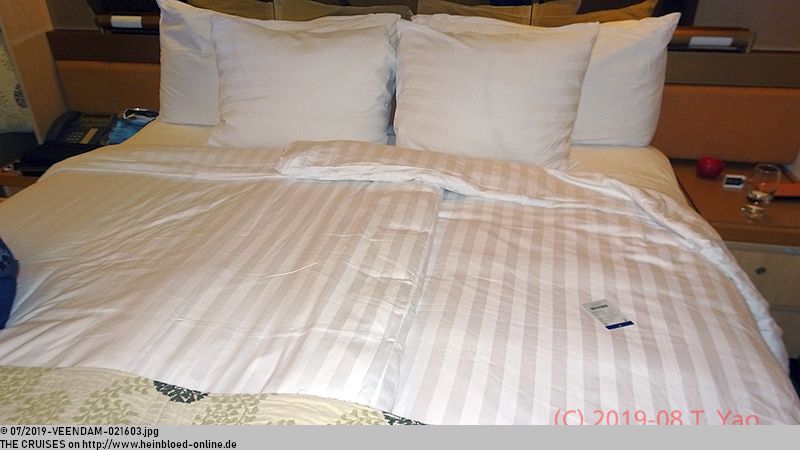 Putting the beds apart would not occur any improvement of space. At least we got separate single duvets.

The next time I would have a sticker for my mailbox from home showing "Please no advertising"!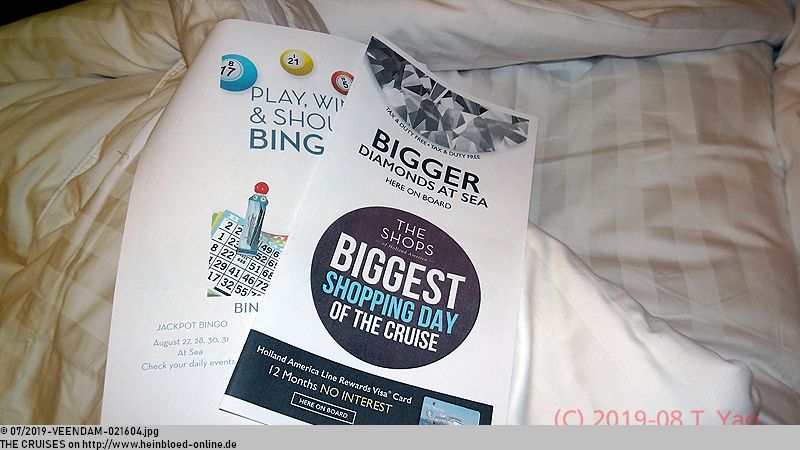 Das nächste Mal bringe ich noch von zu Hause ein Schild mit "Bitte keine Werbung"!
Meet and Greet von
cruisecritic.com
stellen bei Holland America immer eine besondere Herausforderung dar. Nach dem Fiasko auf der
EURODAM 2014
hatte ich keine Lust mehr, welche zu organisieren. Auf meiner nächsten Reise auf der
KONINGSDAM 2016
und auch jetzt habe ich den anderen erklärt, wie man
Holland America anschreibt
. Bei Holland America werden viele Fahrten als back-to-back angeboten: mit eigener Bezeichnung. Technisch gesehen sind es zwei Reisen. Daher ist es komplizierter "seinen" Roll-Call zu finden. Ich hatte den
allerersten Roll-Call für Lissabon - Boston
eingestellt. Später folgte noch ein Roll-Call
Civitavecchia - Lissabon - Boston
. Und theoretisch noch ein weiterer Lissabon - Boston - Montréal (die waren aber schlau genug und hatten keinen back-to-back-Roll-Call eröffnet). Also für den Abschnitt
Lissabon - Boston
müsste man theoretisch drei Roll-Calls folgen. Allerdings steht auch auf
cruisecritic.com
, dass man bitte in solchen Fällen den
Roll-Calls der Einzelreisen folgen sollte
, damit alle so zusammenfinden. Das interessiert jedoch einige nicht, weil sie nur ihre Reise im Fokus haben, die über zwei Reisen in einem Roll-Call gehen. Im Roll-Call von
Civitavecchia - Lissabon - Boston
hatte jemand angeboten die Organisation des Meet and Greet zu übernehmen. Daraufhin haben viele wohl ihr Interesse bekundet. Ich allerdings nicht. Es hat immer irgendeiner geschrieben, was im Roll-Call der anderen gerade aktuell ist. In der Regel wäre der Meet and Greet auf den ersten Seetag nach Einschiffung in Civitavecchia gelegt worden. Wir, mit Zustieg in Lissabon, wären also nicht eingeladen gewesen. Mir persönlich war es egal - irgendwie seit
EURODAM 2014
. Aber still ruhte der See: es wurde weder Zeit noch Ort veröffentlicht und alle Rückfragen blieben unbeantwortet. Es gab dann einige Mitfahrer, die sich geäußert haben, dass es schade wäre, wenn nicht auch ein Meet and Greet nach Lissabon stattfinden würde. Da sich keiner, trotz
Schritt-für-Schritt Anleitung
von mir, bereit gefunden hat,
Seattle anzuschreiben
, habe ich also wieder
in Seattle angefragt
. Allerdings haben mich die Häfen und die Aktivitäten in den Häfen vor Lissabon und nach Boston überhaupt nicht interessiert und fühlte mich als Teil deren Roll-Calls. Daher habe in den back-to-back-Reisen die Termine nicht veröffentlicht. Aber es gab ja immer Mitreisende, die in mehreren Roll-Calls aktiv waren und die die Querverbindungen geschaffen haben.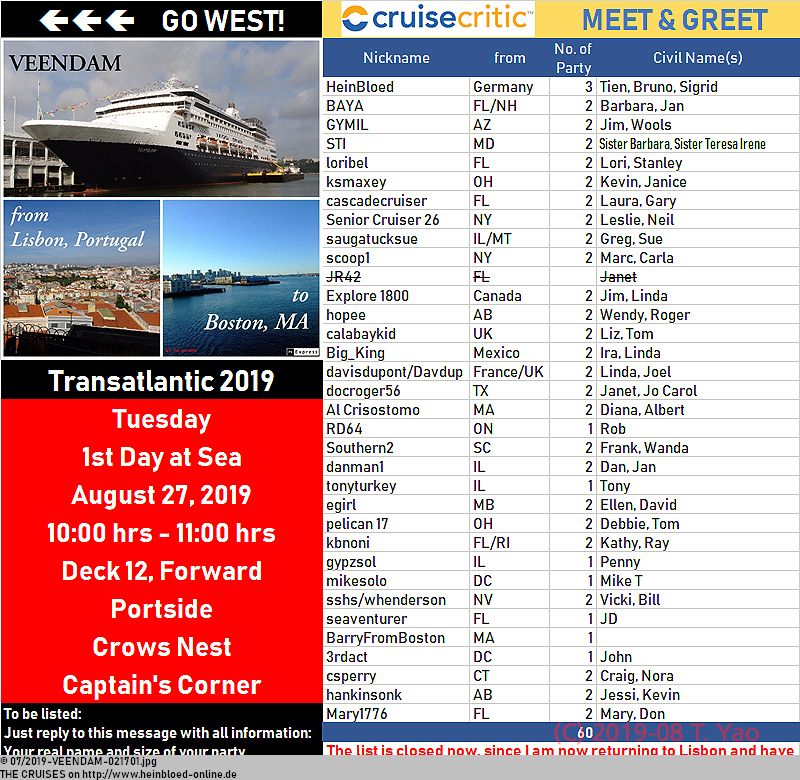 Meet and Greet with cruisecritic.com always presented a special challenge with Holland America. After the fiasco on the EURODAM 2014, I did not feel like organizing anyone anymore. On my next trip on KONINGSDAM 2016 and now, I explained to others how to arrange one with Holland America. At Holland America, many voyages were offered as back-to-back: with their own names. Technically, you had two trips. Therefore, it was more complicated to find "his/her" roll call. I opened the very first roll call for Lisbon, Portugal - Boston, MA. Later, followed by a roll call, Civitavecchia, Italy - Lisbon, Portugal - Boston, MA. And theoretically another Lisbon, Portugal - Boston, MA - Montréal, Canada (but they were smart enough not to open a roll call for the back-to-back cruise). So for the section Lisbon - Boston, you would theoretically have to follow three roll calls. However, it was also on cruisecritic.com, that you should follow in such cases, the roll calls of the single individual voyages so that all exchanges could be together. However, this did not interest some, because they only were focused on their journey over two voyages in one roll call. In the roll call of Civitavecchia, Italy - Lisbon, Portugal - Boston, MA, someone offered to take over the organization of the Meet and Greet. As a result, many probably expressed their interest in joining. But not me. Someone was always keeping us informed, what happened currently in the roll call of others. Usually, the Meet and Greet would be set on the first day at sea after embarkation in Civitavecchia, Italy. We, with embarkation in Lisbon, Portugal, would not be invited. Personally, I did not care - somehow since EURODAM 2014. Peace everywhere! No time or place was published, and all requests remained unattended. There were then some fellow-passengers, who said that it would be a pity if a Meet and Greet would not take place after embarkation in Lisbon, Portugal. Since none, despite step-by-step instructions from me, agreed to contact Seattle, I asked again in Seattle. However, I was not interested in the ports and activities ahead of Lisbon, Portugal, and beyond Boston, MA, and neither I felt to be part of their roll calls. Therefore, in the back-to-back itineraries, I did not publish the dates. But there were always fellow travelers who were active in multiple roll calls and who kept the information exchange running.

Until the beginning of the trip, I always published the weather forecasts for the ports in the roll call. But on the North Atlantic, the weather could change faster than any meteorologist could predict. At least everyone in the group knew to pack rain jackets and warm clothes! I picked out the figures ​​for my packing every day and updated them, so I could publish them for the others as well.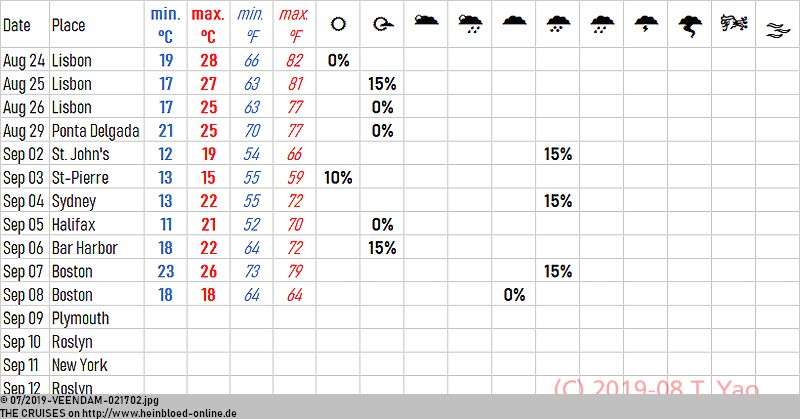 Bis zum Beginn der Reise veröffentliche ich im Roll-Call immer die Wettervorhersagen für die Häfen. Aber auf dem Nordatlantik ändert sich das Wetter schneller als jeder Meteorologe vorhersagen kann. Zumindest wissen alle in Gruppe: Regenjacken und warme Sachen einpacken! Ich suche für meine Packerei die Werte jeden Tag raus und aktualisiere sie, also kann ich sie auch für die anderen veröffentlichen.
Die Namensschilder kommen von mir. Die teuren, die auch an Textilien halten. Die Tische, Getränke und das Gebäck vom Schiff kommen auf die letzte Minute. Die meisten Mitfahrer aus dem Roll-Call machen einen netten Eindruck - sowohl vorher im Forum als auch hier beim Meet and Greet. Zu meiner Überraschung: Keiner von den leitenden Offizieren erscheint. Bei der
Anfrage in Seattle
erklärt man mir: die Entscheidung, ob sie daran teilnehmen, wird kurzfristig an Bord getroffen. Sofern zeitlich möglich wäre, würden sie daran teilnehmen. Deswegen soll einfach Seattle den Zeitpunkt festlegen, wenn es den leitenden Offizieren am Besten passt. An Bord wird mir später erklärt, dass es den leitenden Offizieren verboten sei, an den Meet und Greet von
cruisecritic.com
teilzunehmen und man zeigt mir auch die entsprechende Richtlinie. Nur Kreuzfahrtdirektor Tommy kommt. Aber auch nur, weil ich mich am Tag zuvor von ihm mit "bis morgen" verabschiedet habe, und er nach dem Grund fragte. Man konnte an seiner Reaktion heraushören, dass ich ihn wohl kalt erwischt habe. Um so mehr freue ich mich, dass zumindest er kommt und sich sehr nett den Roll-Call-Teilnehmern vorstellt und doch einer als Anprechpartner seitens der Schiffsführung dabei ist. Das rechne ich Tommy hoch an!

The name tags came from me. The expensive, which also stuck on textiles. The tables, drinks, and biscuits from the ship came at the last minute. Most fellow-cruisers from the roll call made a nice impression - both in the forum before and here during the Meet and Greet. To my surprise: None of the senior officers appeared. When I asked in Seattle, I was told that the decision to participate will be made onboard at short notice. If possible, they would participate. That was why Seattle should simply set the time when it would suit the senior officers best. Onboard I was later told that senior officers were prohibited from attending cruisecritic.com's Meet and Gree-events, and they showed me the appropriate guideline. Only Cruise Director Tommy was coming. But only because I said goodbye to him the day before with "see you tomorrow", and he asked why. You could tell from his reaction that I probably caught him. The more I was pleased that at least he came and presented himself very kindly to the roll call participants, and yet one as a contact person on the part of the ship's management was present. I kept Tommy's presence very high in my memories!

On EURODAM 2014 and also now, some fellow travelers from the roll call were expecting to receive personal written invitations. So they were used to it from Royal Caribbean and Celebrity. There, however, a Meet and Greet had a different status, as they showed on QUANTUM OF THE SEAS 2014! Cruisecritic.com members were appreciated and celebrated! However, you had to register yourself with booking numbers beforehand, and it only would take place when a minimum number of participants would be reached. I did not see the need that I should pay for personal invitations. Those cost money with Holland America. My money! That was why I had no further desire to ask another Meet and Greet in Seattle, WA. The job would be actually simple: keeping an eye on the size of the group, remembering the others to time and place, and communicating with Seattle, WA, two to three times. The biggest challenge was getting Seattle's current registration form and find out who was in charge in Seattle, WA. If you would not have nine hours difference in time and had to pay for the overseas phone call. There were usually fewer problems within the US because there was a maximum of three hours of the time difference, and Holland America could be reached by a toll-free-number.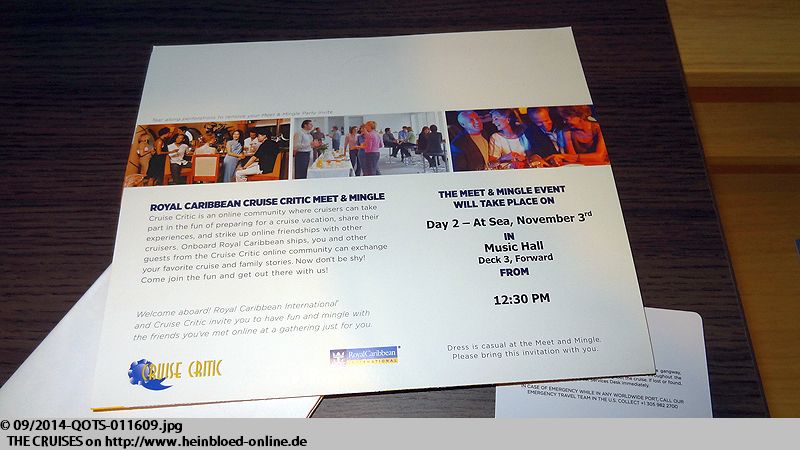 Auf der
EURODAM 2014
und auch jetzt erwarten einzelne Mitreisende aus dem Roll-Call, dass sie persönliche schriftliche Einladungen bekommen. So sind sie es von Royal Caribbean und Celebrity gewohnt. Dort hat aber ein Meet and Greet einen anderen Stellenwert, wie damals auf der
QUANTUM OF THE SEAS 2014
! Da werden
cruisecritic.com
-Mitglieder geschätzt und gefeiert! Allerdings muss man sich selbst vorher mit Buchungsnummern registrieren und es findet erst statt, wenn eine Mindestteilnehmerzahl erreicht ist. Ich sehe nicht ein, dass ich für die persönlichen Einladungen bezahlen soll. Diese kosten bei Holland America Geld. Mein Geld! Deswegen fehlt mir auch die Lust nochmals weitere
Meet und Greet in Seattle anzufragen
. Die Arbeit ist eigentlich einfach: Man muss die Größe der Gruppe im Auge behalten, die anderen and Zeit und Ort erinnern und zwei bis drei Mal mit Seattle kommunizieren. Die größte Herausforderung ist dabei das
aktuelle Anmeldeformular von Seattle
zu bekommen und den
aktuellen Ansprechpartner in Seattle
zu ermitteln. Wenn man nicht gerade neun Stunden Zeitunterschied hat und das Telefongespräch aus Übersee bezahlen muss. Innerhalb der USA normalerweise mit weniger Problemen verbunden, weil hier höchsten drei Stunden Zeitunterschied ist und Holland America kostenlos telefonisch erreichbar ist.
Auf der
AZAMARA PURSUIT 2019
wurde spontan ein Treffen angeboten, obwohl weder Mindestteilnehmerzahl noch Mindestreisedauer erreicht wurde. Und sie kleckern nicht, sondern sie klotzen. Bei den Royal Caribbean-Gesellschaften wollen sie, dass wir der ganzen Welt erzählen, wie toll wir an Bord als
cruisecritic.com
-Mitglieder behandelt werden.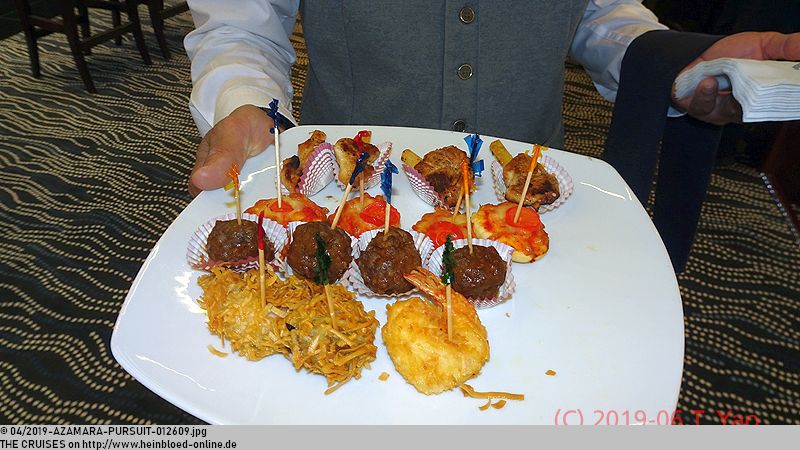 On AZAMARA PURSUIT 2019 a meeting was spontaneously offered, although neither minimum number of participants nor minimum travel duration was reached. And they did not spill, but they dabbed. With the Royal Caribbean companies, they wanted us to tell the whole world how great we were treated on board as cruisecritic.com members.

Only no gifts on AZAMARA PURSUIT 2019 like we had for the maiden voyage on QUANTUM OF THE SEAS 2014.

Nur die Geschenke zur Jungfernfahrt auf der
QUANTUM OF THE SEAS 2014
gab es auf der
AZAMARA PURSUIT 2019
nicht.
Wir hatten trotzdem auf der
AZAMARA PURSUIT 2019
auch viel zu lachen, als wir ein Selfie mit unserer Mini-Gruppe machen. Ich war zu schnell zurück auf der Bühne... Bei mir hat die Art des Umgangs gewirkt: mit CELEBRITY CONSTELLATION geht es 2020 von Dubai nach Civitavecchia und mit AZAMARA QUEST 2022 von Callao nach San Antonio. Bisher gab es für mich eine Riesenlücke zwischen Celebrity und Holland America und ich habe jedem meiner Freude erzählt, dass sie auf Holland America setzen sollten, weil man dort als Gast besser behandelt wird.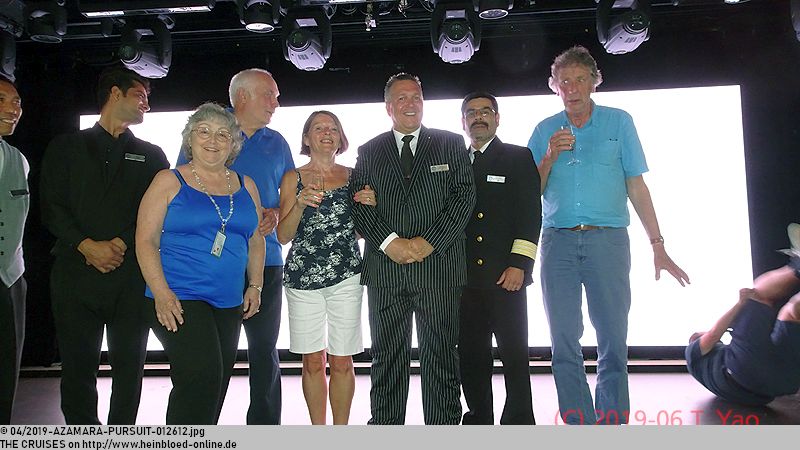 We still had a lot to laugh about on AZAMARA PURSUIT 2019 when we took a selfie with our mini-group. I was back on stage too fast... The way I handled it, would work for me: on CELEBRITY CONSTELLATION in 2020, it would be from Dubai, the United Arab Emirates to Civitavecchia, Italy and on AZAMARA QUEST 2022 from Callao, Peru to San Antonio, Chile. So far, there was a huge gap between Celebrity and Holland America for me, and I told everyone I enjoyed settling on Holland America for being better treated as a guest.

All Carnival brands were doing somehow tricky. But Holland America was still the best! Only on DIAMOND PRINCESS 2016, we were fortunate. Even the captain came to the Meet and Greet-event. It was just a nice gesture to the hardcore cruisers who should let every penny with one company! I did not ask for a dinner for all roll call participants at the Captain's table! Again, the gap between Holland America and Princess became much smaller.

Alle Carnival-Gesellschaften tun sich dabei etwas schwer. Wobei Holland America waren bislang noch die besten! Nur auf der
DIAMOND PRINCESS 2016
hatten wir einmal richtig Glück. Da kam sogar der Kapitän zum Meet und Greet. Es ist einfach eine schöne Geste gegenüber den Hardcore-Kreuzfahrern, die ja möglichst jeden Cent bei einer Gesellschaft lassen sollen! Ich habe ja nicht um ein Abendessen für alle Roll-Call-Teilnehmer am Kapitänstisch gebeten! Auch hier ist die Lücke zwischen Holland America und Princess sehr viel kleiner geworden.
Auch bei Norwegian hat das
cruisecritic.com
-Meet und Greet einen anderen Stellenwert. Nur einmal, als ein Audit an Bord war, sind die leitende Offiziere nicht gekommen. Sonst immer und wir bekommen wie hier auf der
NORWEGIAN JADE 2018
auch immer die direkten Telefonnummern zu den leitenden Offizieren. Sie wollen lieber HIER UND JETZT von uns
cruisecritic.com
-Mitglieder an Bord hören, wenn etwas nicht so läuft, wie man es sich das vorstellt und eben HIER UND JETZT Abhilfe schaffen. Das ist besser als frustriert nach Hause zu fahren und jedem später auf
cruisecritic.com
zu erzählen, dass man nicht zufrieden war. Es ist nicht immer ein Garant für Abhilfe, aber oft ein Weg sich schon an Bord Dampf abzulassen und nicht darauf zu warten, was einer von der Rezeption tun kann.

The cruisecritic.com Meet and Greet also had a different status with Norwegian. Only once, when an audit was taken place on board, none of the senior officers came. Otherwise always and we got like here on NORWEGIAN JADE 2018 always the direct telephone numbers to the senior officers. They rather would like to hear HERE and NOW from us cruisecritic.com members on board, if something would not go the way we would expect. And would like just HERE AND NOW have a remedy. This would be better than going home frustrated and telling everyone later on cruisecritic.com that you were not satisfied. It was not always a remedy, but it way often a way to find a safety valve on board and not being kept waiting for what one of the receptionists might do.

One of my best memories of EURODAM 2014. Thank you again for the following invitation to the VIP party as a small consolation that none of my fellow travelers came to the Meet and Greet. Even the Captain was there!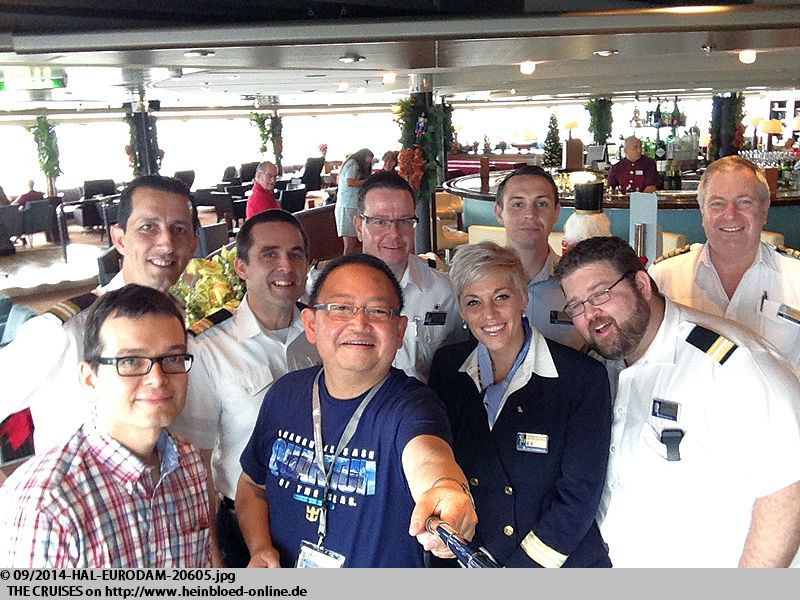 Eine meiner schönsten Erinnerung von der
EURODAM 2014
. Vielen Dank nochmals für die spätere Einladung zur VIP-Party als kleines Trostpflaster dafür, dass keiner meiner Mitreisenden zum Meet und Greet gekommen ist. Dafür war sogar der Kapitän da!
Auf der
KONINGSDAM 2016
kamen einige der leitende Offiziere.

On KONINGSDAM 2016, some of the senior officers came by.

On RYNDAM 2013 we also got to know the senior officers.

Auf der
RYNDAM 2013
haben wir auch die leitende Offiziere kennengelernt.
Ebenso auf der
ZAANDAM 2012
.

Likewise on ZAANDAM 2012.

And also on WESTERDAM 2010. What happened since then, according to the guideline from Seattle, WA, Senior Officers were no longer allowed to participate in cruisecritic.com's Meet and Greet?

Und auch auf der
WESTERDAM 2010
. Was ist seit dem passiert, dass die leitende Offiziere gemäß Richtlinie aus Seattle nicht mehr am Meet and Greet von
cruisecritic.com
teilnehmen dürfen?
Wenn ich ein gutes Lektorenprogramm an Bord möchte, würde ich mich immer wieder für Holland America entscheiden. NOCH haben sie auch Gäste im Fokus, die nicht an Schiffsausflügen teilnehmen und stellen die entsprechenden Häfen SEHR ANSPRECHEND vor. Cisco leistet eine ganz tolle Arbeit, so dass ich alle Präsentationen von ihm besuche. Er präsentiert alles sehr aus der Sicht eines Entdeckers - aus der Sicht eines Passagiers.

If I wanted to have a good lector program onboard I would always choose Holland America again. YET, they also focused on guests who did not book a ship's tour and presented the relevant ports VERY ATTRACTIVE. Cisco did a great job, so I attended all the presentations from him. He gave everything very much from the perspective of a discoverer - from the view of a passenger.

We headed for lunch in the Rembrandt Main Dining Room. Here, we experienced the excellent service we were used to from Holland America. Thanks to Yahya.

Es geht zum Mittagessen in das Rembrandt Hauptrestaurant. Hier erleben wir den schönen Service, den wir von Holland America gewohnt sind. Danke an Yahya.
Leider gibt kaum noch Logo-Hoodies mit 100% Baumwolle. Den letzten und einzigen, den ich damals bekommen habe, war auf der
MSC MUSICA 2007
. Damals hatte ich XXL. Leider wirkt es trotz Änderungen beim Schneider wie ein Mini-Kleid. Aus einem XXL ein M zu machen ist unmöglich. Trotzdem trage ich ihn sehr gerne. Die aktuelle Kollektion gefällt mir nicht so, wie die bisherige. Als Vielfahrer mit mindestens
zwei Sternen
bekommen wir Rabatt.

Unfortunately, there were hardly any logo hoodies with 100% cotton. The last and only one I ever got was on MSC MUSICA 2007. At that time, I had XXL. Unfortunately, it looked like a mini dress despite changes by the tailor. Making an M from an XXL was impossible. Nevertheless, I liked to wear it. I did not like the current collection like the previous one. As a loyal guest with at least two stars, we would get a discount.

I went again to the Lido self-service restaurant and took another bowl of soup. It was just so delicious that I really still wanted another bowl. If I would have a large fridge and a microwave in the cabin, I would smoothly take a whole pot with me to my cabin and would eat a bowl every day until the end of the cruise.

Ich gehe nochmals ins Lido SB-Restaurant und nehme nochmals einen Teller Suppe. Sie ist einfach so lecker, dass ich unbedingt nochmals einen Teller will. Wenn ich einen großen Kühlschrank und eine Mikrowelle in der Kabine hätte, würde ich glatt einen ganzen Topf mit in meine Kabine mitnehmen und jeden Tag einen Teller bis zum Ende der Kreuzfahrt essen.
Der Freibereich vor unserer Kabine ist nicht ohne Probleme. Direkt über mir ist ein Crewzugang zu der Decke. So kommt es immer wieder vor, dass MEIN Platz immer wieder verschoben ist und oft dreckig. Man führt Arbeiten über mir aus und das Loch wird nicht abgedeckt. So habe ich auch Farbreste auf dem Kopf und auf der Kleidung. Nun haben wir ja die Lanai-Kabinen nicht, damit wir woanders liegen, sondern eben direkt vor unserer Kabine mit direktem Zugang. Am 2. Tag der Reise bin ich also schon ziemlich geladen. Ich gehe zur Rezeption und Peter kommt sofort mit, um die Arbeiten sofort zu stoppen. Bei allem Verständnis für die Arbeiten: man kann mich auch vorher informieren, dass sie MEINEN Platz vor MEINER Kabine brauchen und ich ihn nicht nutzen kann und mich entsprechend entschädigen. Beispiel: Trinken Sie soviel Kaffee im Exploration Café - auf unsere Kosten. Und wenn sie dann ein Herz-Kreislauf-Problem haben, weil sie zu viel Kaffee getrunken haben, behandeln wir Sie kostenlos in der Krankenstation. Wenn ich früher wollte, dass meine Schwestern verschwinden, dann haben sie Kinokarten o.ä. bekommen. Macht man es heutzutage nicht mehr so?

The outdoor area in front of our cabin was not free of problems. Directly above me was a hole as crew access to the ceiling. So it happened again and again, that my place was repeatedly moved away and often dirty. They did work above me, and the hole was not covered. So I had paint residues on my head and on my clothes. But now we did not have the lanai cabins, to stay somewhere else, but just in front of our cabin with direct access. On the second day of the voyage, I was pretty upset. I went to the reception and Peter came immediately to stop the work immediately. I would have all the understanding of the necessity of their work. But they could also inform me beforehand that they would need MY space in front of MY cabin. And I would not be able to use it, and they would compensate me accordingly. For example, having so much coffee beverage at the Exploration Café as I want - at their expense. And if I would get a cardiovascular problem because I drank too much coffee, they would treat you to the medical center for free. If I used to want my sisters to disappear, then they got movie tickets or similar. Was that no more common it this way nowadays?

The reception in the middle of the night. The best time to present your issues.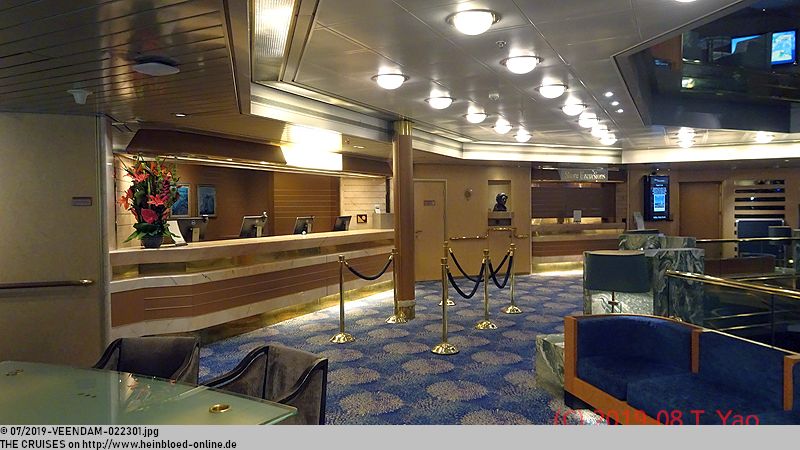 Die Rezeption mitten in der Nacht. Die beste Zeit seine Anliegen vorzutragen.
Auch hier sehr schöne Blumendekoration.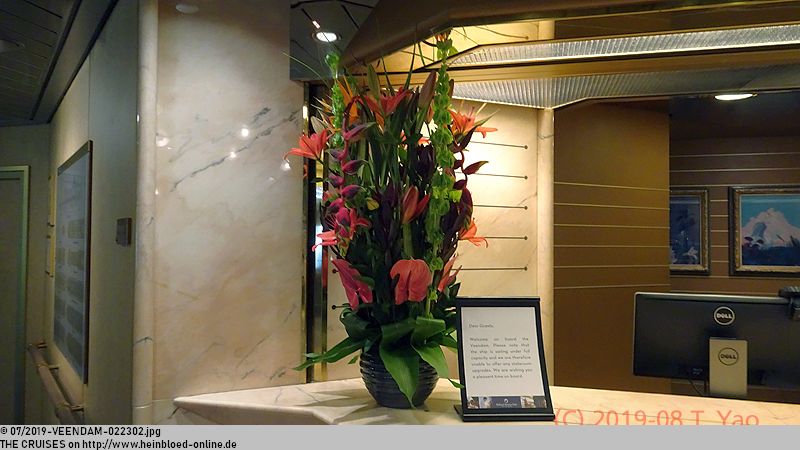 Again very beautiful flower decoration.

Again very beautiful flower decoration.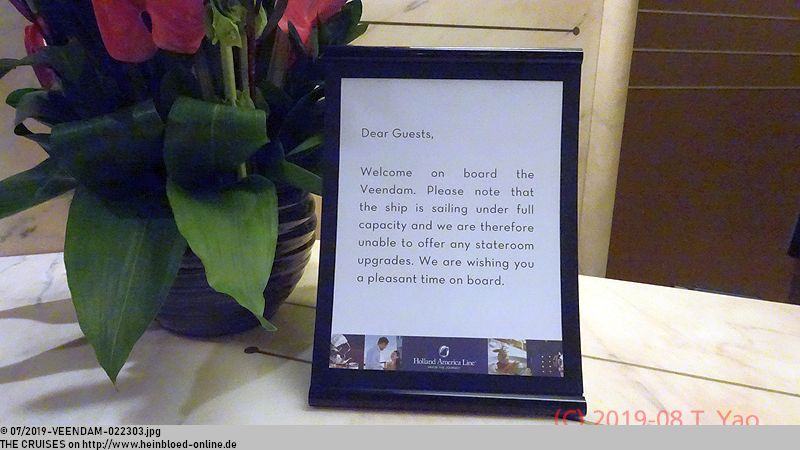 Alles ausgebucht. Keine Upgrades möglich. Aber man hat immer ein paar Kabinen an der Hand, falls etwas passiert und man Gäste umsetzen muss.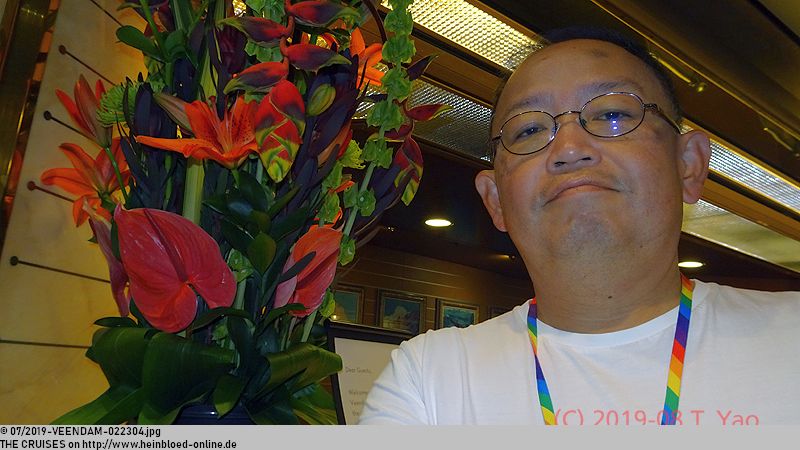 Very quickly I got back my Douglas Ward with the signature of the Captain.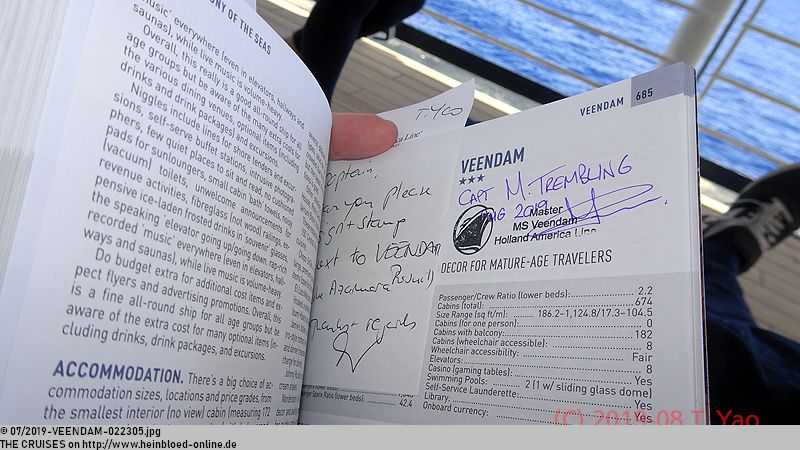 Sehr schnell bekomm ich meinen
Douglas Ward
mit der Unterschrift vom Kapitän zurück.
Zeit für Tea-Time. Aber die Bilder hätten auch bei Cunard oder Princess entstehen mehr können. Zum Ende der Tea-Time wird die Klimaanlage stärker gestellt und die Musik lauter. Der Aufenthalt soll möglichst ungemütlich sein. Mal gucken, wann sie anfangen die Leckereien nicht mehr lecker zu produzieren, um sicherzustellen, dass gar niemand mehr kommt und man die Tea-Time getrost abschaffen kann.

Time for tea time. But the pictures could also be taken with Cunard or Princess. At the end of the tea time, the air conditioning was set stronger, and the music louder. The stay should be made as uncomfortable as possible. I was curious to see when they start to prepare the sweat treats no more delicious to make sure that no one ever would come again, and they could get rid of it confidently.

A picture on QUEEN MARY 2 2018.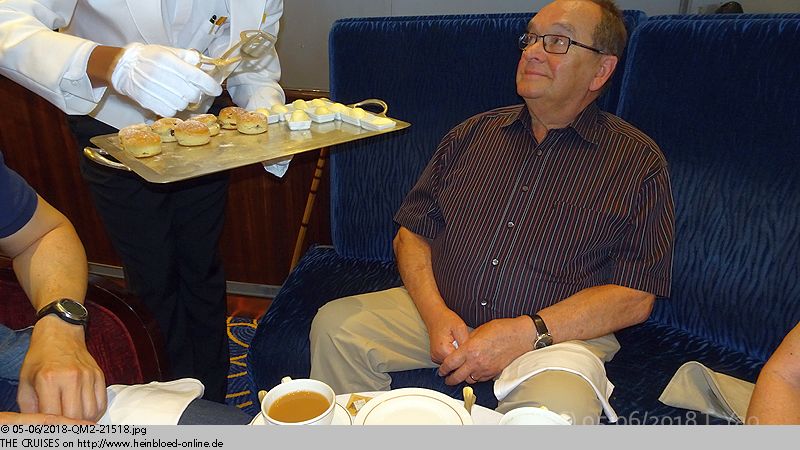 Ein Bild von der
QUEEN MARY 2 2018
.
Ein Bild von der
GRAND PRINCESS 2018
. Mal gucken, wann Carnival, Costa und AIDA Tea-Time einführen, wenn alle Marken einheitlichen Service bieten sollen.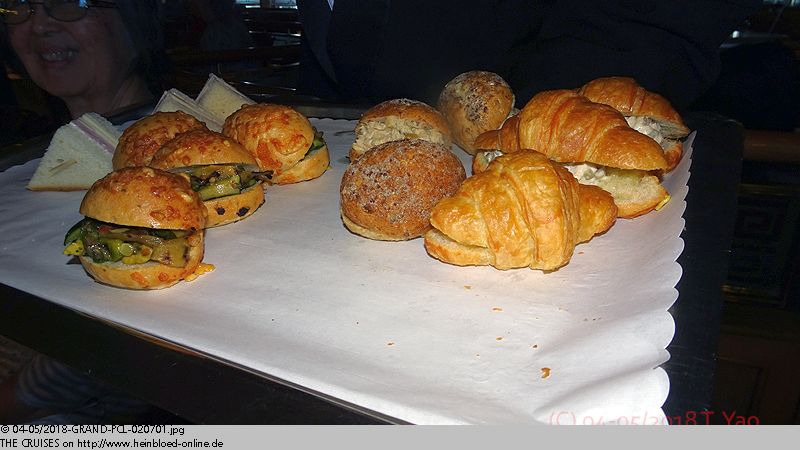 Take a look on GRAND PRINCESS 2018. It would be interesting to see when Carnival, Costa, and AIDA would introduce Tea-Time if all brands would be to offer consistent service.

Last time on KONINGSDAM 2016, there were at least the tier-plates. That was still something special.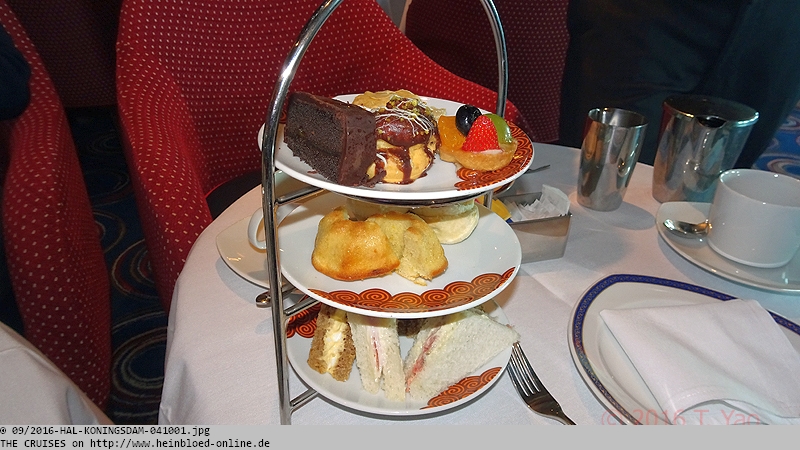 Zuletzt auf der
KONINGSDAM 2016
gab es ja zumindest die Etagièren. Das war immer noch etwas besonderes.
So wie wir es in Schottland auf der Reise auf der
NORWEGIAN SUN 2012
es kennengelernt haben.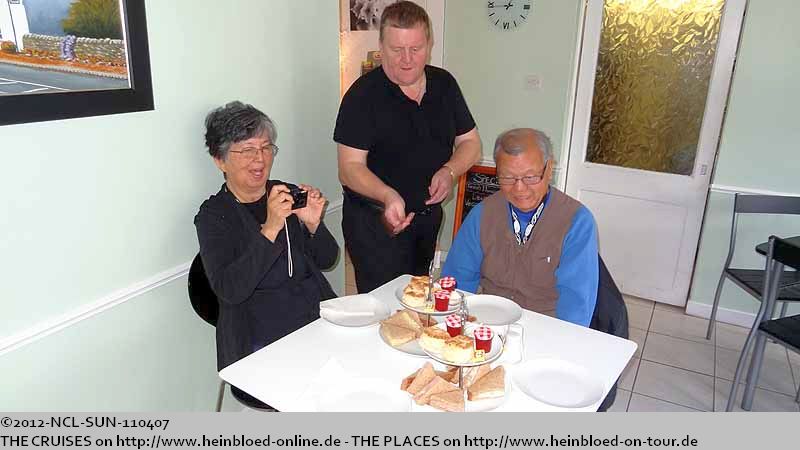 Like we became familiar in Scotland on our voyage on NORWEGIAN SUN 2012.

Or the special tea-time with a cover charge on BRITANNIA 2016.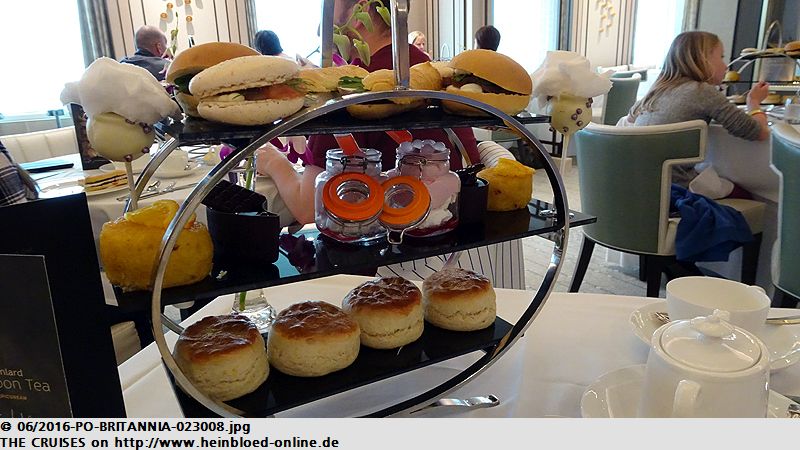 Oder wie hier gegen Zuzahlung die besondere Tea-Time auf der
BRITANNIA 2016
.
Ich vermisse die Dutch High Tea-Time wie zuletzt auf der
EURODAM 2014
.

I missed the Dutch High Tea-Time like we had on EURODAM 2014.

There was even more effort back then on RYNDAM 2013 at the Dutch High Tea-Time.

Noch mehr Mühe gab es damals auf der
RYNDAM 2013
bei der Dutch High Tea-Time.
Und noch die indonesische Tea-Time wie auf der
RYNDAM 2013
. Nur hier haben wir oft eher Kaffee getrunken, weil hier auf Anfrage es auch Java und Sumatra Kaffee in einer Bodum-Kanne gab. Heute muss man auf Weltreise mit Holland America gehen, um das zu erleben.

And even the Indonesian Tea-Time like on RYNDAM 2013. Only here we often drank more coffee, because here on request there was also Java and Sumatra coffee served in a French press. Today you need to go on a world cruise with Holland America to experience it.

Now I looked around in the MIX area. Today, Yulia came by - the assistant of Cruise Director Tommy. Bar singer Barry from Boston also participated in our circle. Something attracted my attention: in the past, you never had a problem to order drinks. Again, you had to ask before you could get something. And in the past, someone came by and offered to you. Was that perhaps related to the beverage packages? The same could also be seen in Norwegian: when you used to pay for each drink, there were always waiters around who made sure you ordered the next glass and made the corresponding revenue. In the age of beverage packages, everything was paid for, and they would not pass anymore so that the beverage package also would pay off for the cruise line.

Nun sehe ich mich im MIX-Bereich um. Heute kommt Yulia - die Vertreterin von Kreuzfahrtdirektor Tommy. Auch Barsänger
Barry from Boston
nimmt an der Runde teil. Was auffällt: früher musste man sich nie selbst um Getränke bemühen. Auch jetzt muss man fragen, bevor man etwas bekommt. Und früher wurde einem immer etwas angeboten. Hängt das vielleicht mit den Getränkepaketen zusammen? Das gleiche ist eben bei Norwegian auch zu sehen: als man früher pro Getränk bezahlt hat, waren ständig Kellner, die sicherstellten, dass man das nächste Glas auch bestellt und entsprechend Umsatz macht. Im Zeitalter der Getränkepakete ist ja alles bezahlt und sie kommen nicht mehr vorbei, damit sich das Getränkepaket für die Kreuzfahrtgesellschaft auch amortisiert.
Es geht zum Abendessen im Rembrandt Hauptrestaurant. Werbung für Lobster zum Preis von 25,00 USD? Werbung für ein Tomahawk-Steak für 75,00 USD (1 kg)? Die 10,00 USD für den 2. Hauptgang wurde ja zum Glück wieder abgeschafft. Die Auswahl ist ansonsten sehr gut.

We went for dinner into the Rembrandt Main Dining Room. Advertising lobster for the price of 25.00 USD? Advertising Tomahawk steak for 75.00 USD (36 oz.)? The 10.00 USD for the second entree was fortunately abolished again. The selection was otherwise excellent.

There were still times when even lobster was advertised free of charge in the self-service restaurant. Like here on KONINGSDAM 2016.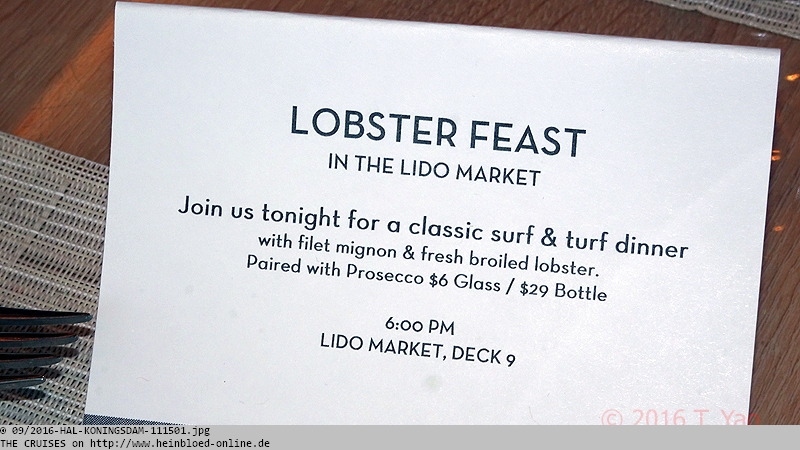 Es gab ja noch Zeiten, als sogar kostenlos Hummer im SB-Restaurant beworben wurde. Wie hier auf der
KONINGSDAM 2016
.
Im Hauptrestaurant gab es bislang ausreichend Hummer, so dass man nie das Bedürfnis hatte, dass man für einen Hummer zuzahlen muss, wie zuletzt auf der
KONINGSDAM 2016
.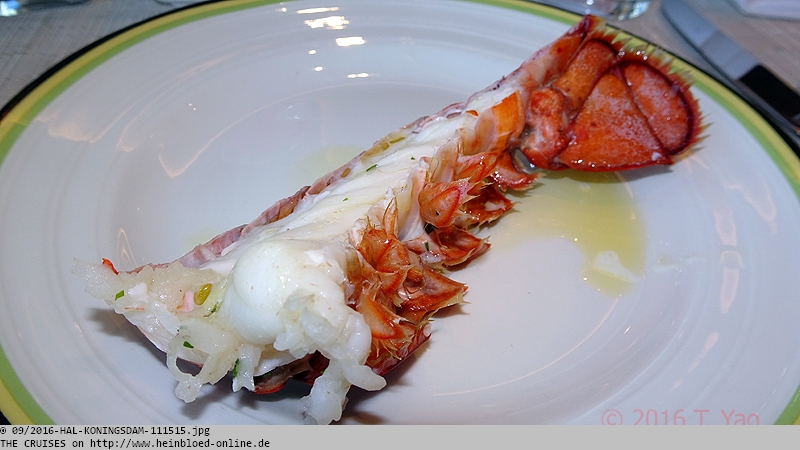 In the main restaurant there was enough lobster so that you never had the need to pay for a lobster, as last time on KONINGSDAM 2016.

Or on RYNDAM 2013.

Oder auf der
RYNDAM 2013
.
Oder auf der
ZAANDAM 2012
.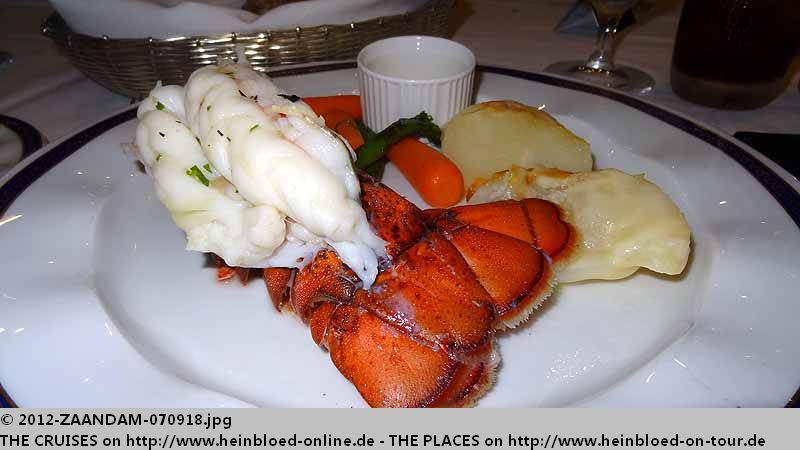 Or on ZAANDAM 2012.

Another time on ZAANDAM 2012.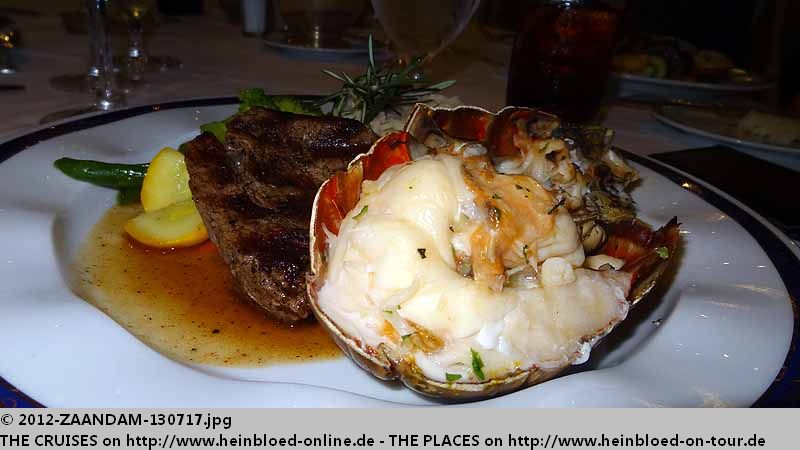 Ein weiteres Mal auf der
ZAANDAM 2012
.
Und auf der
WESTERDAM 2010
.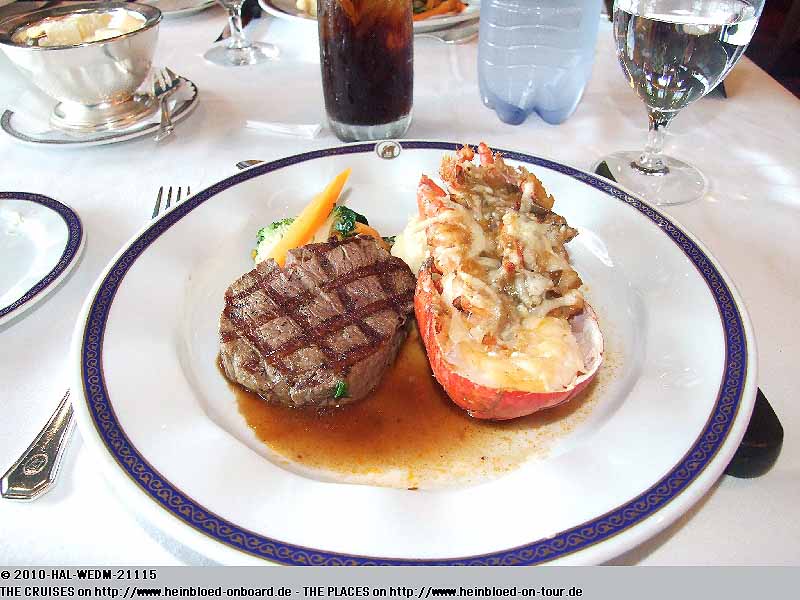 And on WESTERDAM 2010.

And again on WESTERDAM 2010. And that was how it started with Norwegian before it went downhill: there was no lobster anymore because the guests supposedly did not like it. Was it because they preferred to have guests onboard who considered Hamburgers to be the most significant gourmet experience? Lastly, you could not even get a lobster from Norwegian for a fee.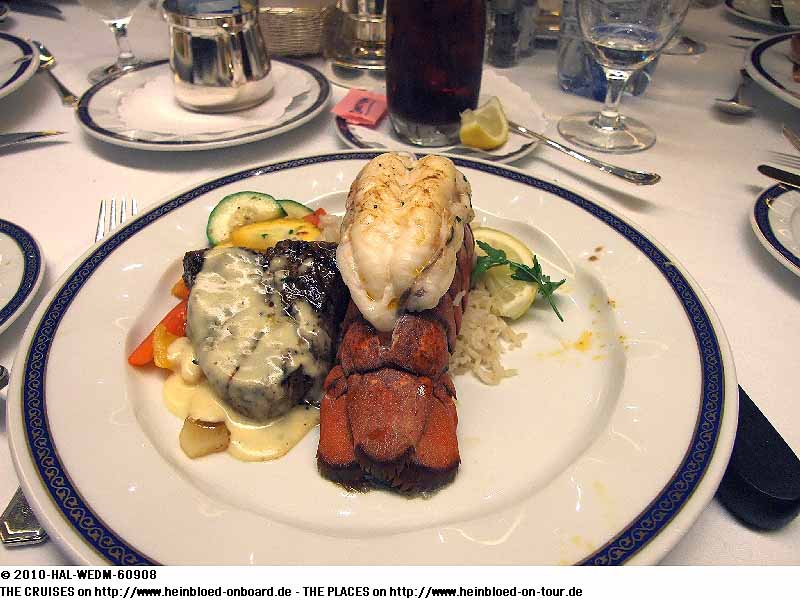 Und ein weiteres Mal auf der
WESTERDAM 2010
. Und genauso hat es bei Norwegian angefangen, bevor es bergab ging: es gab keinen Hummer mehr, weil die Gäste es angeblich nicht mögen würden. Lag es daran, dass man lieber Gäste an Bord hat, die Hamburger für das größte Gourmeterlebnis halten? Zuletzt konnte man ja selbst gegen Bezahlung keinen Hummer mehr bei Norwegian bekommen.
Wir gehen zu
David Copperfield
(Komiker aus Großbritannien). Nicht DER Illusionist
David Copperfield
, der nach unserer Reise auf der
GRAND PRINCESS 2018
im
MGM Grand in Las Vegas
seine Show beworben hat. Ein Namensvetter. Auf dem unteren Promenadendeck ist er Kabinennachbar von uns. Ich sehe ihn oft auf dem Promenadendeck seine Runden laufen und ich sehe ihn auch in einer Kabine von unserem Gang aus verschwinden.

We went to David Copperfield (Comedian from Great Britain). Not THE illusionist David Copperfield, who advertised his show after our voyage on GRAND PRINCESS 2018 at the MGM Grand in Las Vegas, NV. A namesake. On the lower promenade deck, he was a cabin neighbor of ours. I often saw him running on the promenade deck, and I saw him disappearing in a cabin from our hallway.

In the MIX Barry from Boston was playing.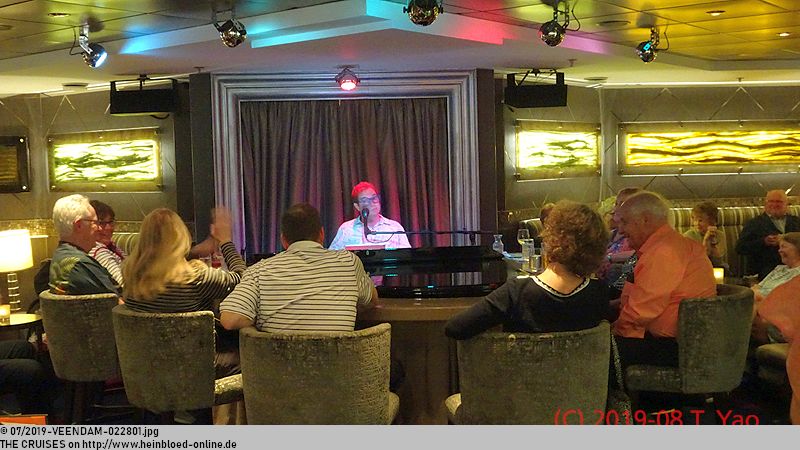 Im MIX spielt
Barry from Boston
.
Aber rund um das Klavier ist alles so voll, so dass wir nur aus der Ferne seinen Gesang miterleben können.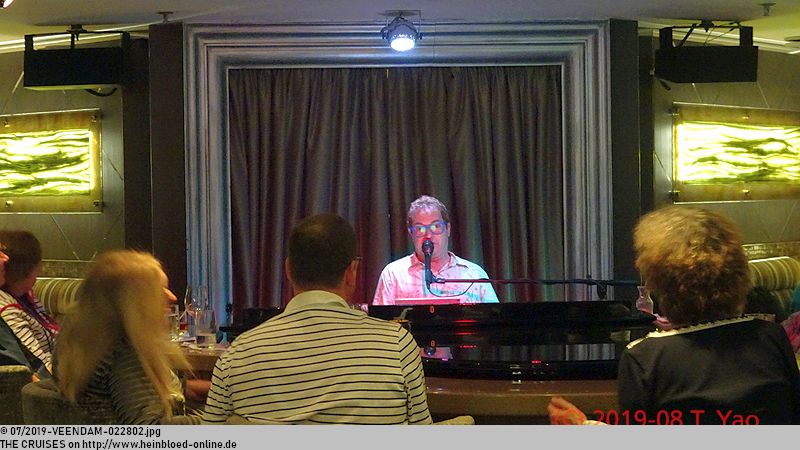 But around the piano, it was mostly so crowded, that we only enjoyed his singing from a distance.

Also in the next few days, we realized: if he should start at 21:00 hrs, the seats were often already taken by 19:30 hrs.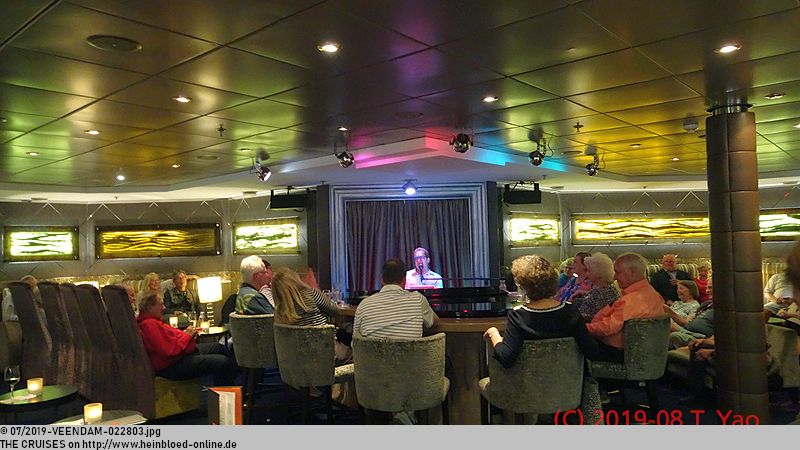 Auch in den nächsten Tagen stellen wir fest: wenn er um 21:00 Uhr beginnt, sind die Plätze oft schon gegen 19:30 Uhr belegt.
Wir sollten doch mal mit Handtüchern arbeiten und Plätze belegen! Wir sind ja schließlich aus Deutschland!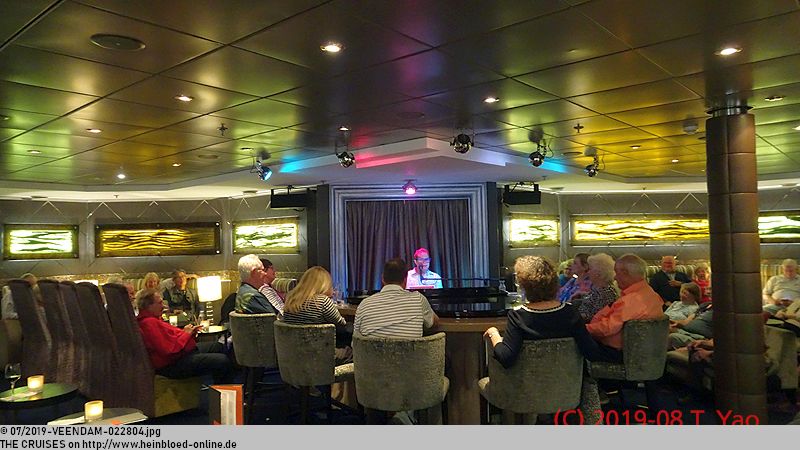 We should work with towels to occupy seats! After all, we were from Germany!

It used to be a matter of course, but we had to ask specifically for nuts or other snacks.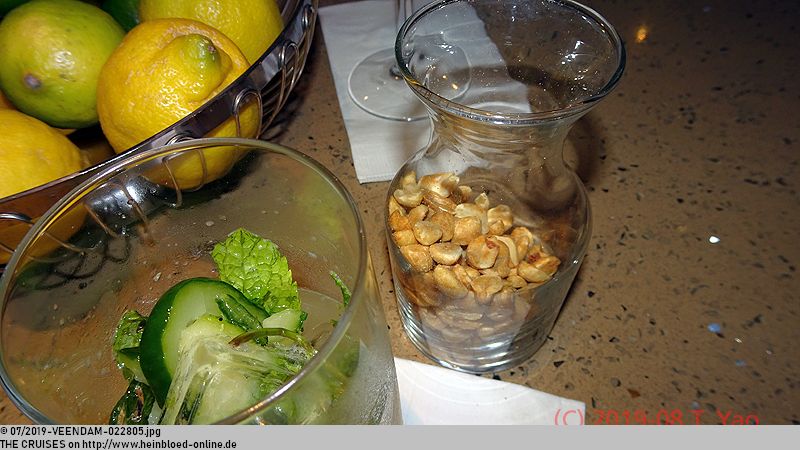 Früher auch eine Selbstverständlichkeit: aber nach Nüssen oder anderen Snacks müssen wir gezielt danach fragen.
Noch ein Blick zum Late Night Snack im Lido SB-Restaurant bevor es zu Bett geht.

A last view to the Late Night Snack in the Lido self-service restaurant before retiring to bed.
Die anderen Reisen in diesem Blog/
The other voyages in this blog: