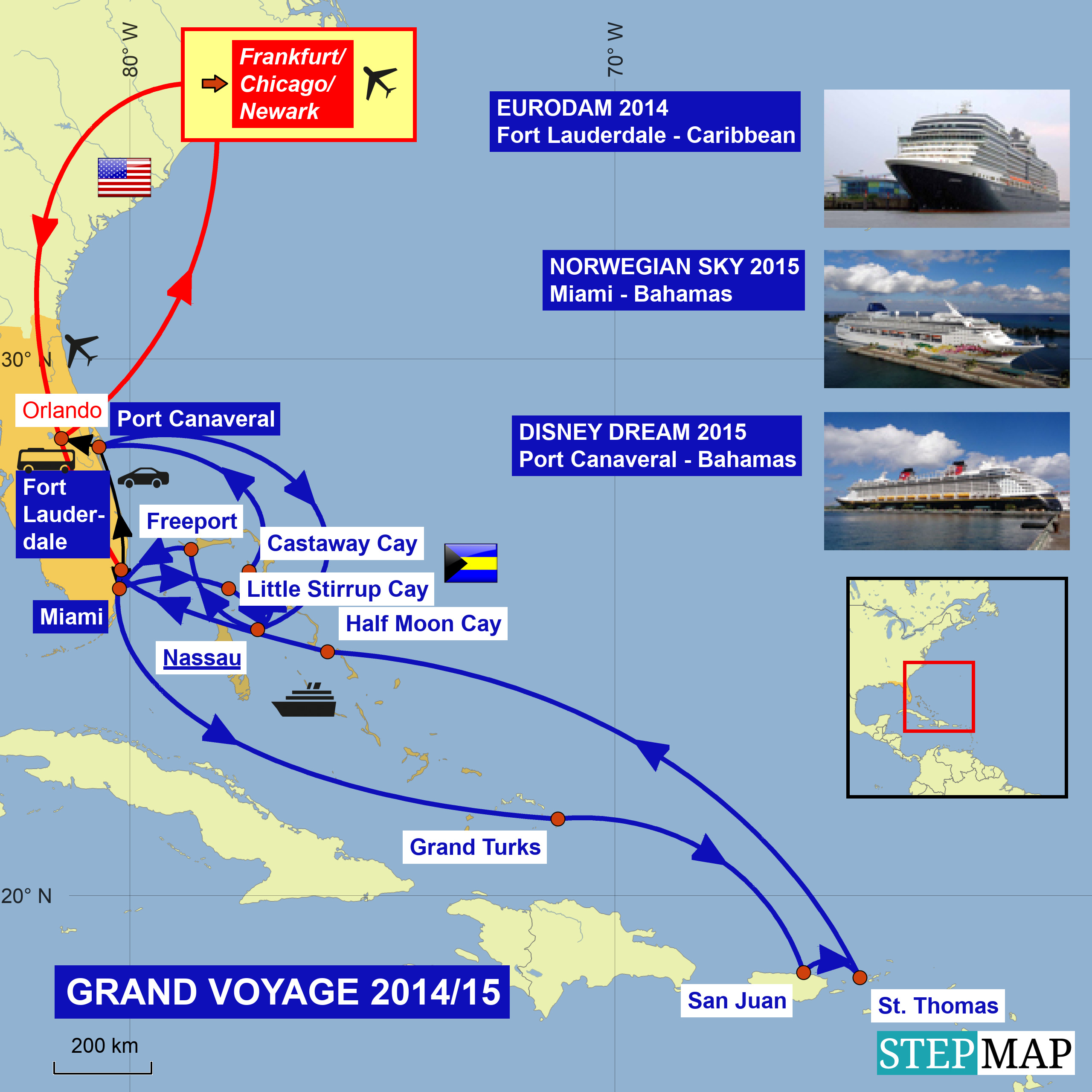 Ich bereite mich mal auf die einkommende Schiffe vor und baue meine Ausrüstung auf dem Balkon auf. So kann ich zwischendurch mal Bilder hochladen.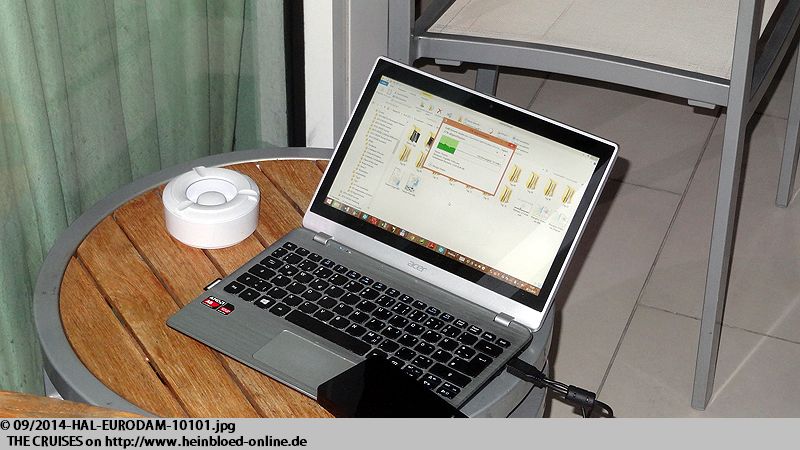 I was preparing myself for the arriving ships and set up my equipment on the balcony. So I was able to upload my pictures in between.

My tripod which I bought in Istanbul.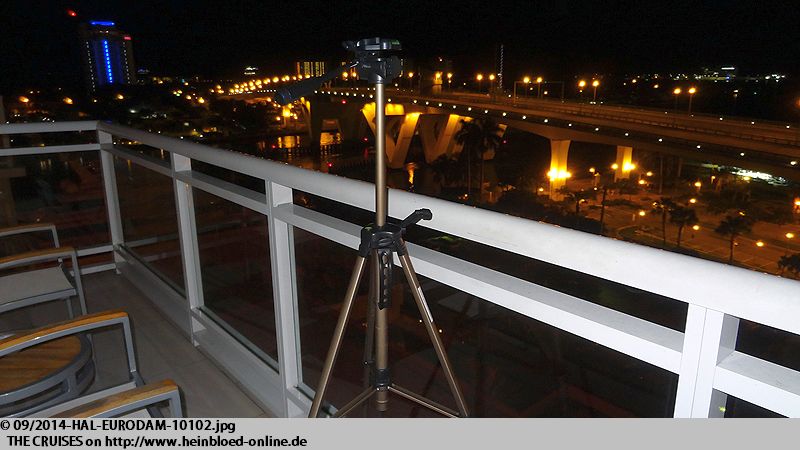 Mein Stativ, das ich in Istanbul gekauft habe.
Da irgendwo kommen die Schiffe rein.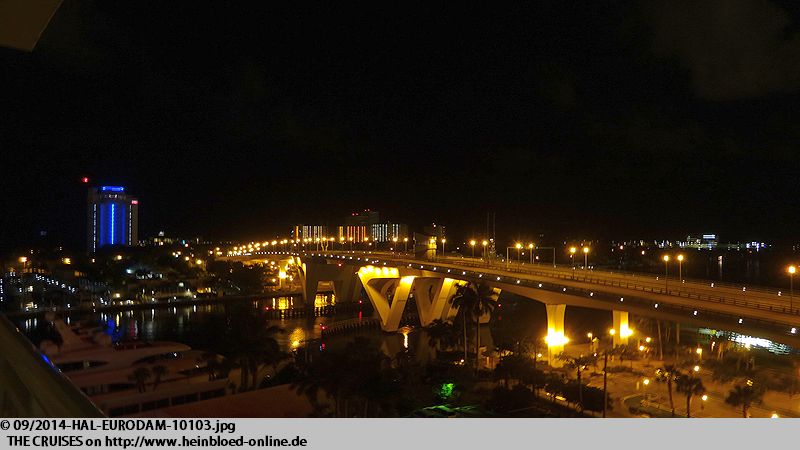 Somewhere over there the ship should coming in.

The perfect view to the port.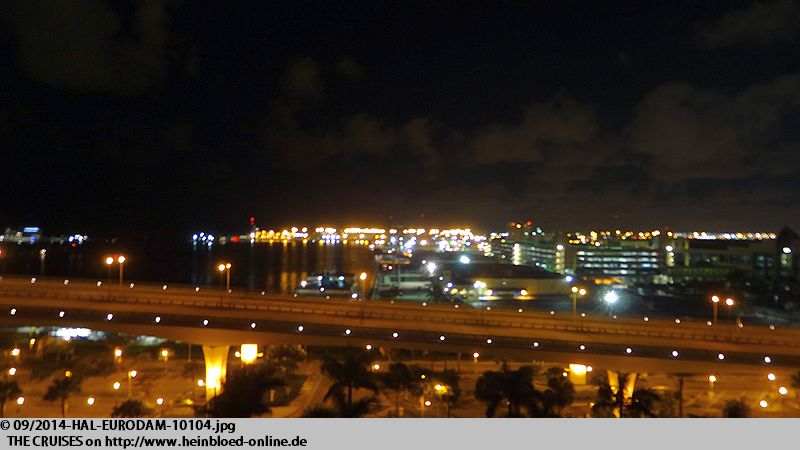 Der perfekte Blick in den Hafen.
Als erste erreicht die INDEPENDENCE OF THE SEAS Fort Lauderdale.

The first which reached Fort Lauderdale: INDEPENDENCE OF THE SEAS.

REGAL PRINCESS arrived next in Port Everglades.

Die REGAL PRINCESS erreicht als nächste Port Everglades.
Mit Neugier wird die ALLURE OF THE SEAS erwartet. Mal gucken, ob ich unsere Kabine entdecke.

With some curiosity ALLURE OF THE SEAS was expected. Wanted to see our cabin.

After all a Holland-America ship: NIEUW AMSTERDAM.

Endlich ein Holland-America-Schiff: die NIEUW AMSTERDAM.
Als nächste Schiff kommt die CELEBRITY SILHOUETTE ein.

Next ship was CELEBRITY SILHOUETTE.

At last MY EURODAM reached the port. We knew her already from two voyages before. One was the very first voyage from Rotterdam, The Netherlands via Hamburg, Germany to Copenhagen, Denmark.

Zum Schluss erreicht
MEINE
EURODAM den Hafen. Wir kennen sie bereits von zwei Fahrten. Davon ihre allererste Fahrt von Rotterdam über Hamburg nach Kopenhagen.
Das Frühstück endete im Chaos. Heute Morgen sind Massen da. Wir haben Glück, dass wir "nur" 15 Minuten warten. Aber nach uns: schätzungsweise eine Stunde... Selbst wenn man das Inklusiv-Continental-Frühstück bekommt: es ist üblich 15% Trinkgeld auf den fiktiven Preis zu hinterlassen.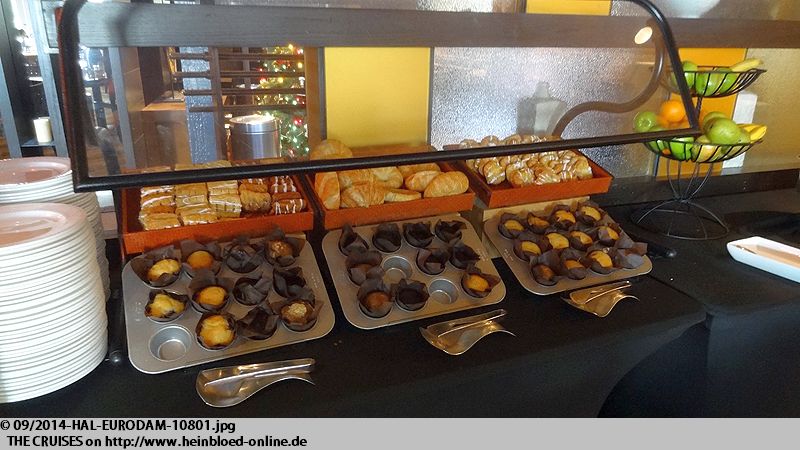 The breakfast ended in a chaos. This morning there were crowds. We had the luck that we "only" had to wait 15 minutes. But after us: estimated one hour... Even you get the included continental breakfast: it is used to leave 15% tips on top of a suggested price.

I need protein, so I ordered an omelet.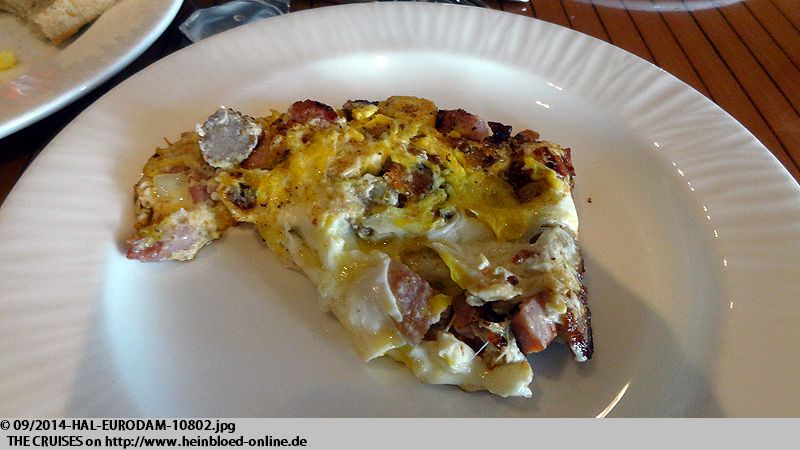 Ich brauche Eiweiß und bestelle mir ein Omelette.
Das Hotel ist Teil der angebotenen Vorarrangements von Holland America. Und es sind ja zwei Schiffe hier. Deswegen gibt es hier auch direkte Kontaktpunkte von Holland America. Logistisch sehr gut: die Abfertigung der Transfergäste findet in einem seperaten Hof statt. Logistisch weniger gut: man muss mit seinem Gepäck durch das volle Restaurant. Daher rufen wir den Bell Captain, damit das Gepäck abgeholt wird. Aber heute Morgen muss man Geduld mitbringen. Wir hatten schon bei
QS Transportation
vorgebucht und brauchen uns nicht an die reservierte Zeit zu halten. Die Busse werden so eingesetzt, wie gerade die Passagiere da sind. Da wir im Moment die einzigen Gäste für EURODAM und NIEUW AMSTERDAM sind und keine weiteren kommen, werden wir alleine hingefahren. So mussten wir nicht darauf warten, wie für 40 Leute das Gepäck eingeladen wird, 40 Leute eingestiegen sind usw. usw.

The hotel is part of the pre-cruise-arrangements of Holland America. Two ships were in town. So they had here a direct point of contact of Holland America. Logistically it was perfect: the handling of the transfer guests was set in a separate court. Logistically less good: you need with all your bags through the busy restaurant. So we called for the Bell Captain to have the bags collected. But this morning you need some patience. We pre-booked our transfers with QS Transportation and did not need to stay until our reserved time. The buses were allocated for those ships where guests were just ready to go. As we were the only guests for EURODAM and NIEUW AMSTERDAM and no other showed up, we were taken just by ourselves. So no need to wait for 40 guests loading their bags and 40 guests boarding etc. etc.

Embarkation no. 11.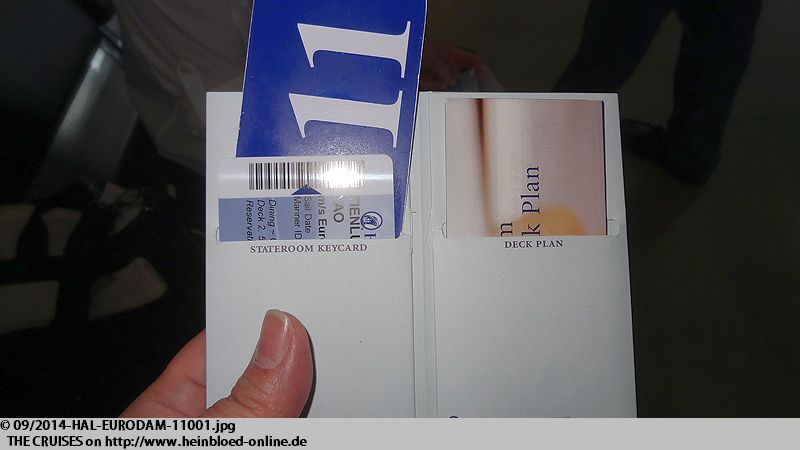 Einschiffungsnummer 11.
Aber die Zeit reicht gerade mal für einen Becher Lemonade.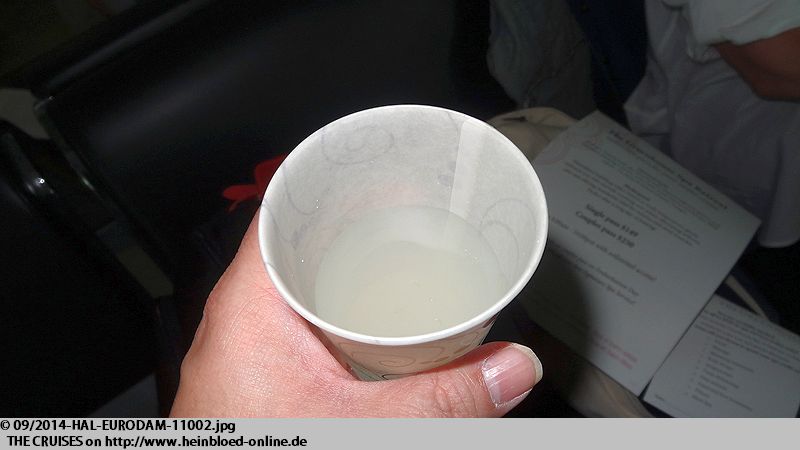 Only time for a cup of lemonade.

The usual "suspects": the specialty restaurants were introduced.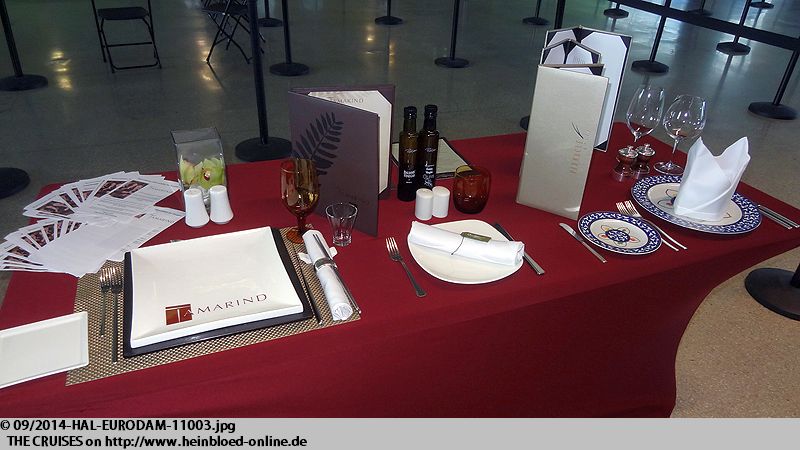 Die üblichen "Verdächtigen": Die Spezialitäten-Restaurants stellen sich vor.
Das Spa-Angebot wird vorgestellt.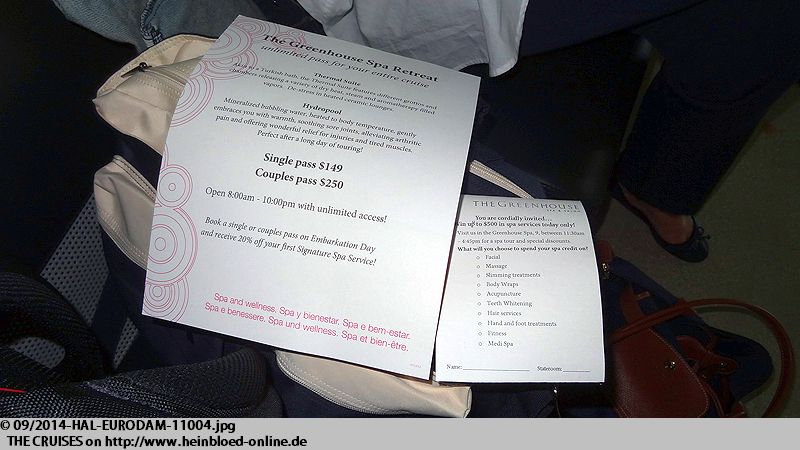 They presented the spa offers.

Also, a beverage package was offered.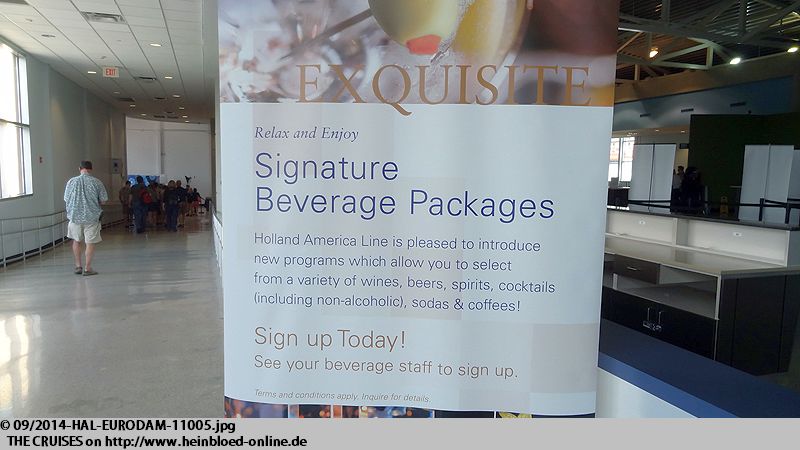 Auch wird das Getränkepakte angeboten.
Wir wollen jedoch noch eine der Cabanas haben. Leider nur noch an den Hafentagen. Aber wir buchen diese Tage, weil wir nicht unbedingt die ganze Zeit an Land verbringen wollen.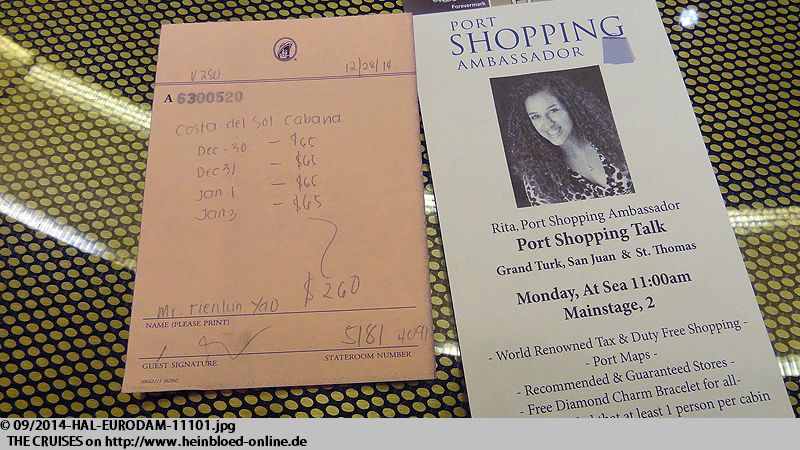 We wanted to have one of the cabanas. Unfortunately only at days in port. So we booked the days because we did not want to spend all the time ashore.

Also, we booked the unlimited laundry package immediately.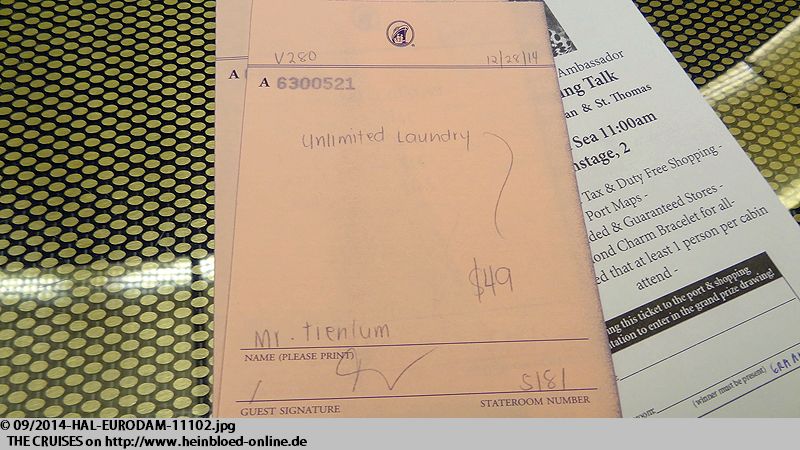 Auch buchen wir direkt das unbegrenzte Wäschepaket.
Sigi haben wir eine Außenkabine mit Sichteinschränkung gebucht. Nachdem das letzte Mal die Bestellung der der Ballons im Fiasko endete, läuft hier alles sehr gut. Außer, dass Sigi lieber einen anderen Wein trinkt. Aber auch das Problem wird schnell gelöst. Aber mit der Cabana lässt es sich gut auch in so einer Kabine aushalten - auch wenn man auf ein Rettungsboot draußen guckt und so seine Ruhe hat, weil ja auch nicht wie beim Promenadendeck man von draußen reingucken kann - normalerweise!

We booked for Sigi a cabin with obstructed view. After the last order of three balloons ended in a complete disaster, it ran quite well here. Except that Sigi preferred to have a different wine. But the problem was quickly solved. But with the cabana it was good to stay even in such a cabin - even you were facing a lifeboat outside, and you had you quite since nobody could see inside like on a promenade deck - normally!

We got a cheap balcony stateroom. Our baggage was already delivered in front of the cabin.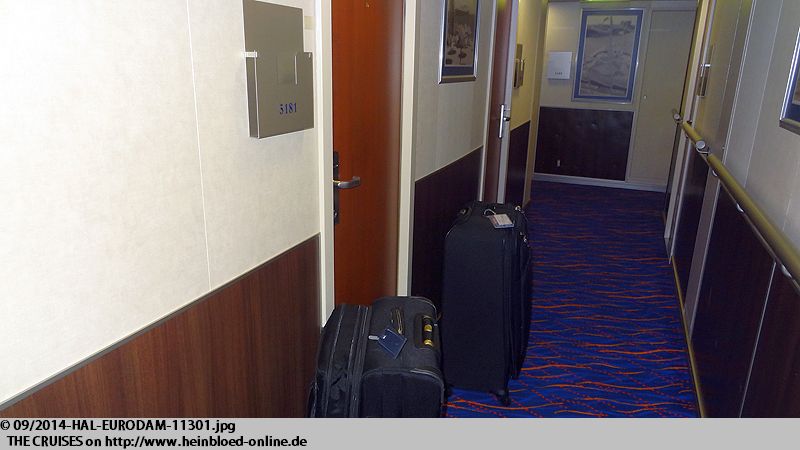 Wir haben eine günstige Balkonkabine. Unser Gepäck steht schon davor.
Soviel Post...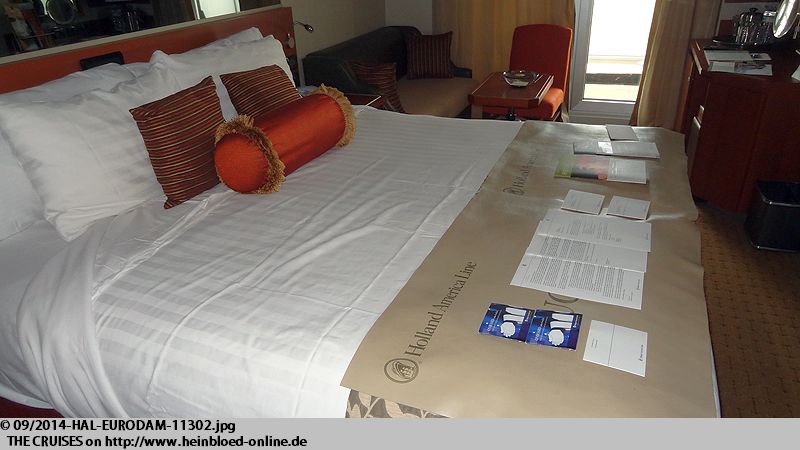 So much mail...

"Only" shower. But that was good with us.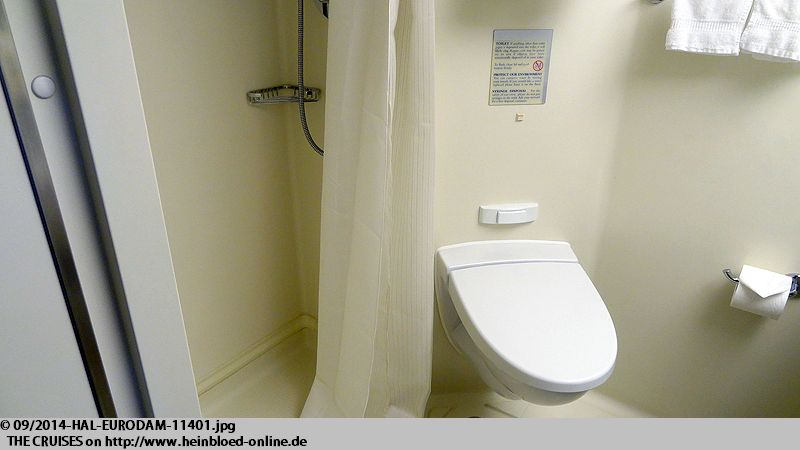 "Nur" Dusche. Vollkommen in Ordnung.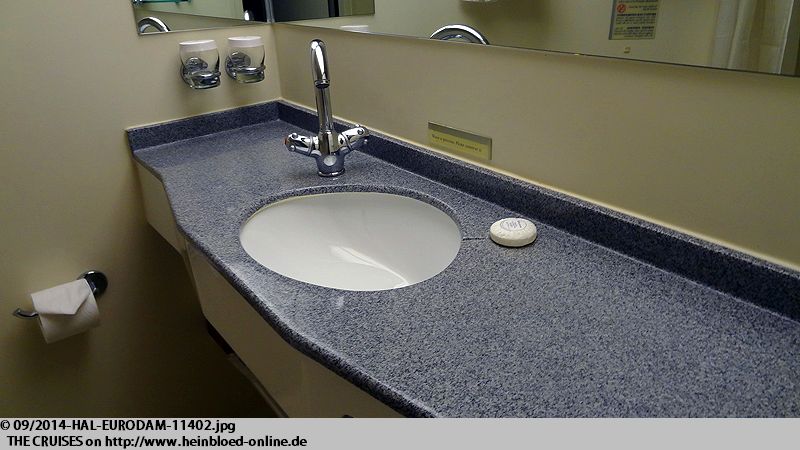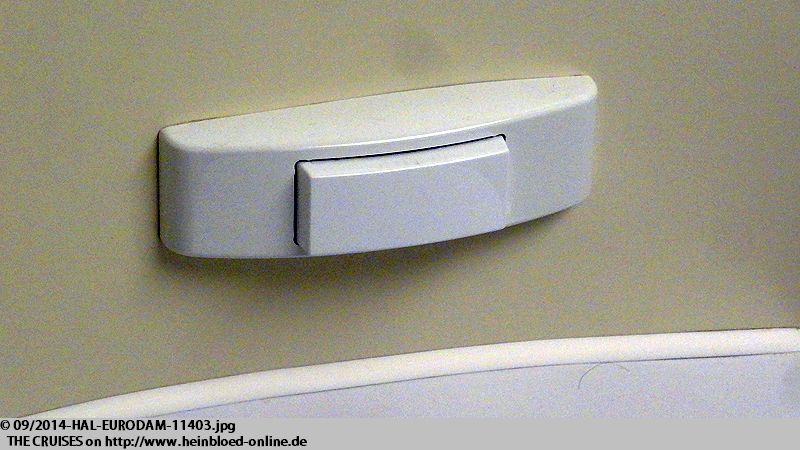 Schöne Balkonmöbel, weniger schöne Balkontür (eine Schiebtür ist bei starken Winden praktischer und sicherer).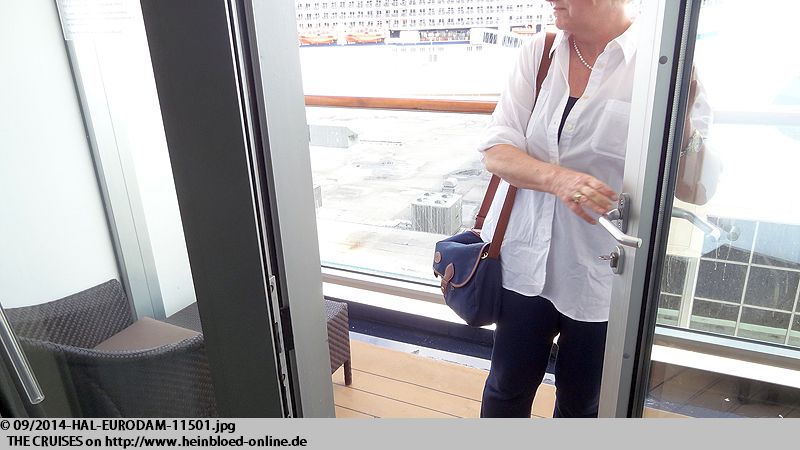 Nice balcony furniture, less nice balcony door (a sliding door is safer and more practical when you have strong winds.)

We love Holland America for many small details: seat with storage options, 100% cotton (not any more natural and I hate polyester!), 230V-European electric power outlet, drawers under the mattresses, 500 USD on-board-credit. But also a minor drop of bitterness. Sigi had December 31 birthday. In the internet they offered for those night De Librije. Booked and paid. The perfect gift. And now onboard we learned that they canceled it. But Holland America had due to their prior concession on all other cruises before such a high credit and the way how they cancel it (with Royal Caribbean you learned when you were onboard by coincidence that your booking was not existing anymore...) and due to their promise that they will make Sigi the night very special and unforgettable. The anger was gone quickly although I was somehow disappointed that I would miss this menu. There was nothing I could do. And it if would not fit your make it fitting. The air condition of Fincantieri was well known by us, and so we were prepared properly. So Bruno just taped single sides of the air outlet.

Wir lieben Holland America für die vielen kleinen Details: Sitz mit Aufbewahrungsmöglichkeit, 100% Baumwolle (nicht mehr selbstverständlich und ich hasse Polyester!), 230V-Eurosteckdose, Schubladen unter den Matratzen, 500 USD On-Board-Credit. Leider auch ein Wermutstropfen. Sigi hat am 31.12. Geburtstag. Im Internet wurde für den Abend
De Librije
angeboten. Gebucht - bezahlt. Das perfekte Geburtstagsgeschenk. Und hier an Bord erfahren wir, dass es abgesagt ist. Nun hat allerdings Holland America durch ihre Vorleistungen auf den anderen Reisen einen so hohen Kredit und durch ihre Art, wie sie absagen (bei Royal Caribbean erfahre ich ja immer an Bord per Zufall, dass meine Buchungen gar nicht mehr existieren...) und durch ihr Versprechen, dass sie dafür sorgen werden, dass der Abend für Sigi unvergesslich sein wird. Der Ärger ist dann auch schnell verflogen, obwohl ich doch irgendwie enttäuscht bin, dass ich das
Menü
verpasse. Ich kann ja eh nichts daran ändern. Und was nicht passt wird passend gemacht. Die Fincantieri-Klimaanlagen kennen wir und sind immer bestens vorbereitet. So klebt Bruno bestimmte Seiten des Luftausgangs ab.
Die anderen Reisen in diesem Blog/
The other voyages in this blog: