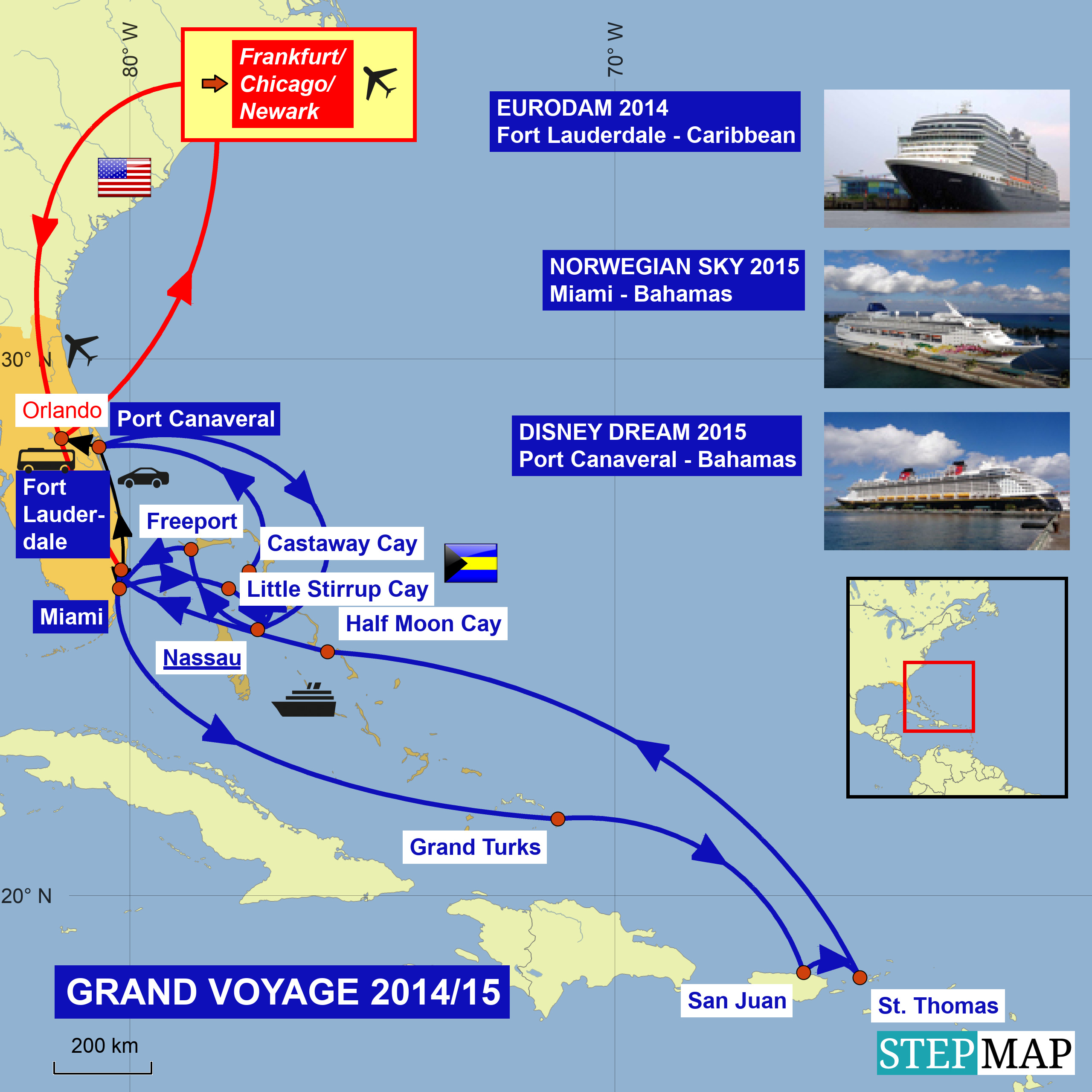 Grand Turk Cruise Center
: Was soll ich sagen? Hmm... ein Einkaufscenter mit den gleichen Geschäften, die wir unterwegs in allen Häfen auch haben. Ein Duty Free Shop, der ziemlich teuer ist, und bei dem es sich nicht lohnt Duty Free zu kaufen: Wasser 2,00 USD steuerfrei / draußen steuerpflichtig 1,00 USD. Ein schöner Strand. Und Lokale, die es auch zu Hause gibt, wie z. B.
Jimmy Buffet's Margaritaville
, das wir später dann auf der NORWEGIAN ESCAPE kennenlernen. Ansonsten sieht man einige Erinnerungsstücke an NASA-Mercury-Mission 1962. Die Kapsel landete hier an der Küste von Grand Turk. Kurz: ein Ort, mit dem ich persönlich absolut nichts anfangen kann. Bruno anscheinend ja: er hat hier kurzerhand seine eigene Ladenkette eröffnet.
Grand Turk Cruise Center: What should I say? Hmm... a shopping center with the same shops which will have in all ports. A Duty-Free Shop which was quite expensive and it was for me not worth to buy there duty-free: Water 2.00 USD tax-free / outside 1.00 USD with tax. A nice beach. And restaurants you had at home too like Jimmy Buffet's Margaritaville which we will later make acquaintance on NORWEGIAN ESCAPE. Apart from that you some memories of the NASA-Mercury-Mission 1962. The Capsule landed here at the coast of Grand Turk. I a nutshell: a place which was not my world. Bruno obviously could. He just started his own business with a chain.

What I found very funny: to have selfies under a clear blue sky under a palm tree or under a Christmas tree.
Was ich allerdings ganz lustig finde: Selfies mit strahlendblauem Himmel unter einer Palme oder lieber unter einem Weihnachtsbaum.
Normalerweise läuft es wie bei "Asterix im Avernerland": ein Stand nach dem anderen, die
Touren
anbieten. Hier wird es aber den Schiffen überlassen und es gibt keine Anbieter privater Touren. So nehmen wir uns ein
Taxi
in die "Stadt", weil es keinen Geldautomat hier gibt. Es gibt allerdings nur Sammeltaxis, wie eigentlich fast überall in der Karibik, die schon älter sind und nicht mehr unbedingt dem heutigen Standard entsprechen. Wir sind wohl in eine Taxi-Tour geraten und die Restplätze werden eben an klassische Fahrgäste wie uns verkauft. So halten wir an jedem Haus, in dem wohl jemand gewohnt hat, der mal eine Berühmtheit auf der Insel war. Deswegen halten wir besonders oft auf dem Weg zur historischen Altstadt. Ich bin auf jeden Fall so genervt, dass ich auf der Rückfahrt dem Fahrer 20,00 USD mehr anbiete, wenn er still ist und nicht auf weitere Fahrgäste wartet, bis dass sein Wagen voll ist. Und er soll bitte kurz am Geldautomaten halten, der 2 Meilen von der Altstadt entfernt ist und noch eine weitere Meile vom Kreuzfahrtterminal liegt.
Normally it works like with "Asterix and the Chieftain's Shield": one booth after the other which offer tours. Here they let the ship do it and no private tour operator was around. So we took a taxi to get in "town" because there was no ATM around. There were only collective taxis available like on most places in the Caribbean which were mostly older and do not apply to the standards of today. We got into a taxi-tour and only the remain seat were sold to classical guests like us. So we stopped at every house where someone lived who was a celebrity of the island. So we had to stop a lot of times on the to the historical old town. I was anyhow so annoyed that I offered the driver 20.00 USD more if he would keep calm and not wait for more guests until the taxi is filled up. And he should stop at an ATM which was apart 2 miles from the oldtown and another mile from the ship.

Well, the last historical oldtown which I saw was Cesky Krumlov - UNESCO World Heritage. And that was the historical oldtown of Cockburn Town.
Nun die historische Altstadt, die ich zuletzt gesehen habe, ist Cesky Krumlov - UNESCO Welterbe. Das ist die historische Altstadt von Cockburn Town.
Es hätte hier kostenloses WLAN und etwas zu essen gegeben. Aber auch diese Karte reißt mich nicht vom Stuhl.
Here we could have free WiFi and some food. But the menu could not convince me.

So only the memories to a clear blue sky remains.
So bleibt nur die Erinnerung an einen tollen blauen Himmel.
Irgendwie bin ich nicht der einzige, der auf die Idee kommt, dass wir ja die Cabana schon jetzt nutzen können. Und gar nicht bis zum Auslaufen warten müssen. Aber von hier können wir die ganzen Vorbereitungen zum Auslaufen verfolgen. Sorry - ich muss mal husten...
Somehow I was not th eonly who thought I we could of use of our cabana right now and not needed to wait until the set sail. But from here we could follow the preparation for the set sai. Sorry - I need to cough...

Our cabana was for 4 persons. We were supplied with water, strawberries with chocolate cover, champagne for set sail and cold towels. Every wish was a command. We were asked so many time if there was something they could do for us. We did not just enjoy the service but also the relaxation, the sea and the view to the horizon. Also for KONINGSDAM: better no balcony cabin but a cabana.
Unsere Cabana ist für 4 Personen. Wir werden mit Wasser, Erdbeeren mit Schokoladenüberzug, Champagner zum Auslaufen und kalten Handtüchern versorgt. Jeder Wunsch ist Befehl. Wir werden so häufig gefragt, ob man uns etwas besorgen kann. Nicht nur den Service genießen wir, sondern auch einfach die Entspannung, das Meer, der Blick auf den Horizont. Auch für die KONINGSDAM: Lieber keine Balkonkabine und dafür die Cabana.
Wir fühlten uns ja nicht mehr wie auf einem Kreuzfahrtschiff, sondern wie im 7. Himmel. Und Jayson und Michael haben uns regelrecht da rauf getragen... Bruno weigert sich zu Hause beharrlich den gleichen Service anzubeiten, wie Jayson und Michael auf der EURODAM.
We did not feel like on a cruise ship but on cloud 9. And Jayson and Michael lifted us up... Bruno refused to provide me same service home like Jayson and Micheal did on EURODAM.

In between, we went for lunch to Pinnacle Grill. It was not open every day so we used the chance. I took the burger of Kobe-beef. On RYNDAM I was somehow a little disappointed because the minced the beef through a very fine blender and it was too dry. Now it was more rough and very juicy and yummy!!!
Zwischendurch gehen wir zum Mittagessen in den Pinnacle Grill. Es hat nicht an jedem Mittag geöffnet, also nutzen wir die Chance. Ich nehme den Burger aus Kobe-Fleisch. Auf der RYNDAM war ich etwas enttäuscht, weil das Fleisch durch die feine Scheibe gedreht wurde und dadurch etwas trocken war. Nun ist das Fleisch gröber durchgedreht und richtig schön saftig und lecker!!!
Und nachmittags gehen wir mal zur Indonesischen Tea-Time gucken, was es so gibt.
And the in the afternoom we check what they offered with Indonesian Tea Time.

But I did want to eat - only taking pictures.
Aber Essen wollte ich nichts - nur fotografieren.
Und später dann zum Abendessen. Irwinsyah ist unser Kellner und wir werden verwöhnt.
And later the dinner. Irwinsyah was our waiter and we were pampered.

To understand what we experienced the night you should see this video.
Um zu verstehen, was wir heute abend erleben, sollte man sich dieses Video ansehen.
Recycled Percussion
tritt normalerweise in Las Vegas auf. Und nun hier auf der EURODAM. Ich kann bloß "Wow" (obwohl es ja eigentlich Royal Caribbean vorbehalten ist) sagen. Adrinalin und Energy-Drinks intravenös!!! Ich fühle mich nach der Show um 20 Jahre jünger und werde zum Groupie.
Recycled Percussion normally performs in Las Vegas. But now also on EURODAM. I could only say "Wow" (although this is reserved for Royal Caribbean). Intravenous adrinalin and engergy-shots!!! I felt 20 years younger after this show and became a groupie.

We had a sneak view to the Culinary Art Center... or Queen's Lounge... or B.B. King's Blues Club
Wir gucken kurz im Culinary Art Center... oder Queen's Lounge... oder
B.B. King's Blues Club
vorbei.
Tolle Stimmen, nur leider total überfüllt.
Great voices but totally overpacked.

So we went to the Crow's Nest and had a drink there before heading to our beds.
Wir ziehen daher ins Crow's Nest und nehmen dort noch einen Drink bevor es ins Bett geht.
Die anderen Reisen in diesem Blog/
The other voyages in this blog: