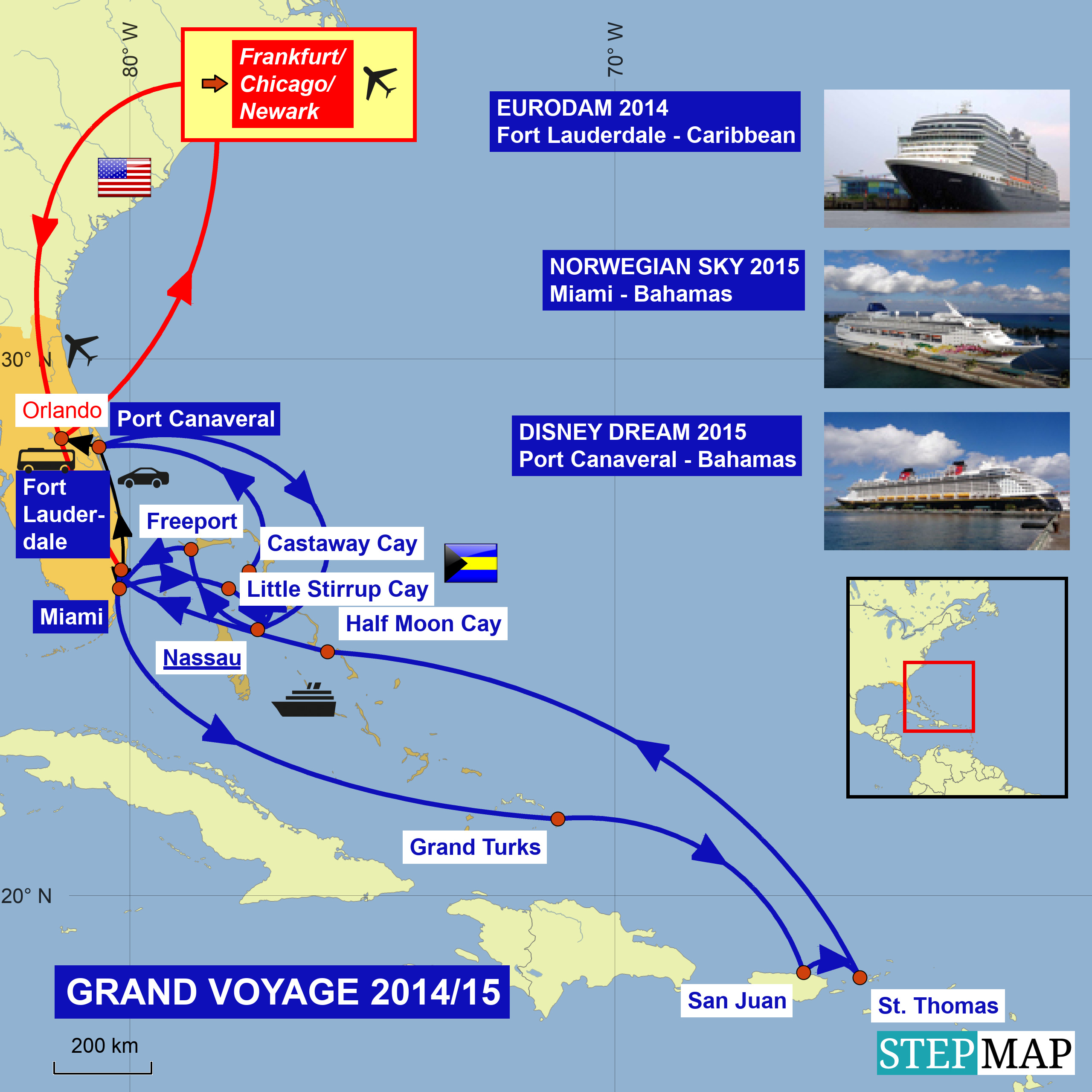 2. Weihnachtstag. Ankunft im Terminal 1 am Frankfurter Flughafen und mein iPhone weiß, dass ich da bin. Hier ist es richtig leer. Zum letzten Mal darf ich als Senator im First Class Bereich einchecken. Wir bekommen von Lufthansa nicht die Bordkarte für den letzten Abschnitt und müssen deswegen noch zusätzlich zu United laufen, die uns dann eine Bordkarte ausstellen. Leider ist die Maschine in Retro-Look leider nicht unsere.

Boxing Day. Arrival at Terminal 1 of Frankfurt Airport and my iPhone knew that I was there. It was quite empty. The very last time I am allowed as Senator to check-in in the First Class area. We did not get all boarding passes for the last section and need to walk back to United who could release the boarding passes. Unfortunately, the aircraft in the retro look was not ours.

As Senator, I could get the seats at the exit for free.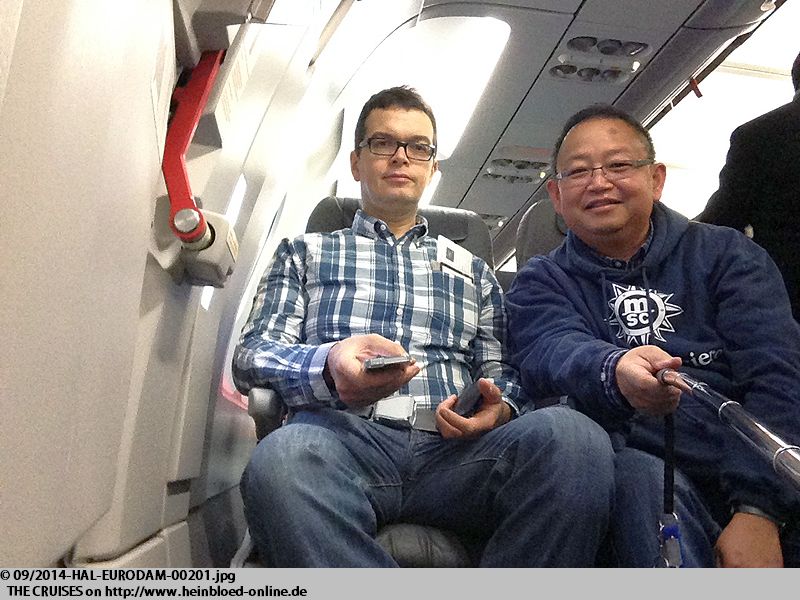 Als Senator bekomme ich kostenlos die Notausgangsplätze.
Künftig nur noch gegen Aufpreis.

In the future only against extra fee.

Es ist so viel Platz, dass wir kurzerhand umziehen und jeder von uns eine eigene Reihe genommen haben, statt auf den Notausgangssitzen sitzen zu bleiben.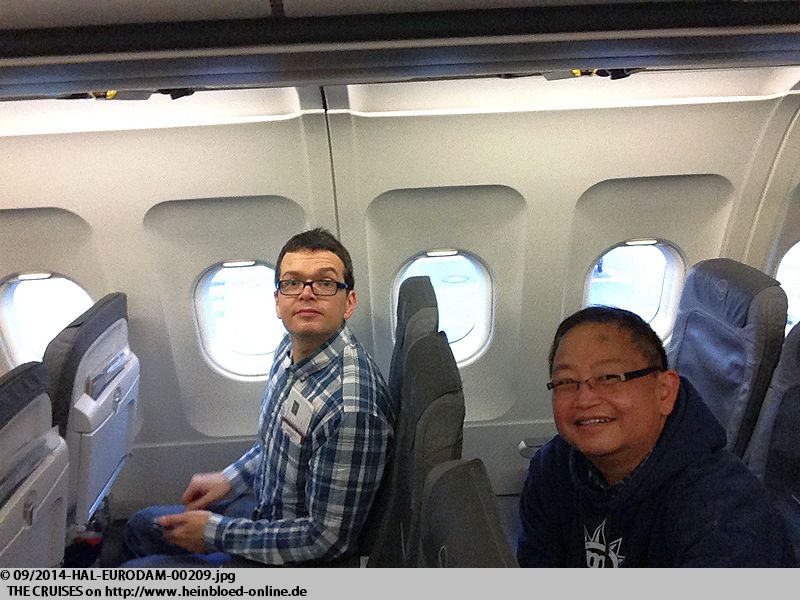 There was so much space that we spontaneously decided to move, so each of us had a row of his own.

In Zurich, Switzerland we went into the Business Lounge. We included so much transit time in our plans just in case we had heavy snowfall and need to go by ICE again.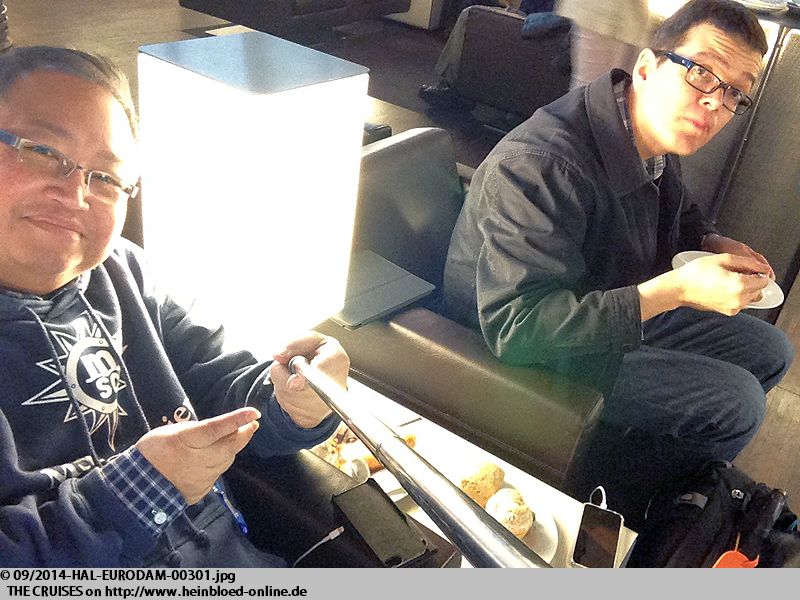 In Zürich gehen wir noch in die Business Lounge. Wir haben sicherheitshalber so viel Umsteigezeit eingeplant, für den Fall es wieder stark schneit und wir wieder mit dem ICE anreisen müssten.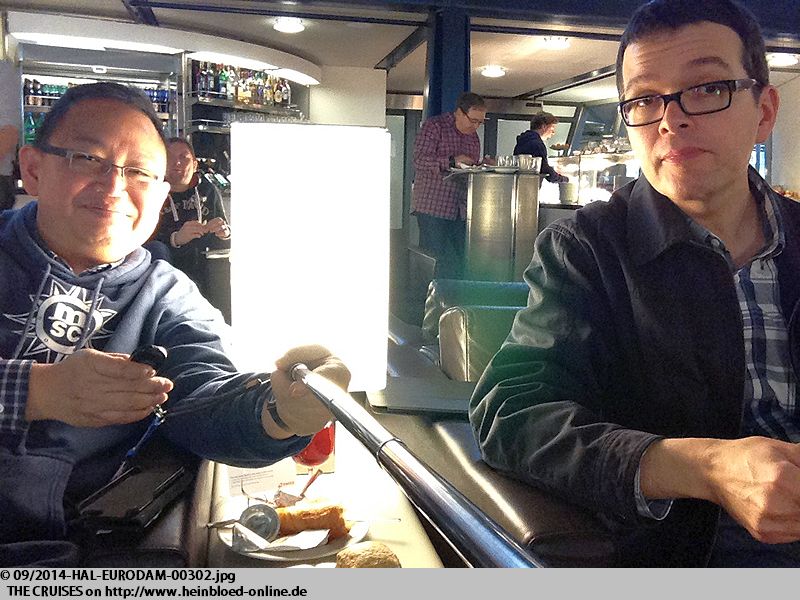 Es geht weiter mit Swiss nach Chicago. Noch ein letztes Mal die Notausgangssitze ohne Zusatzkosten.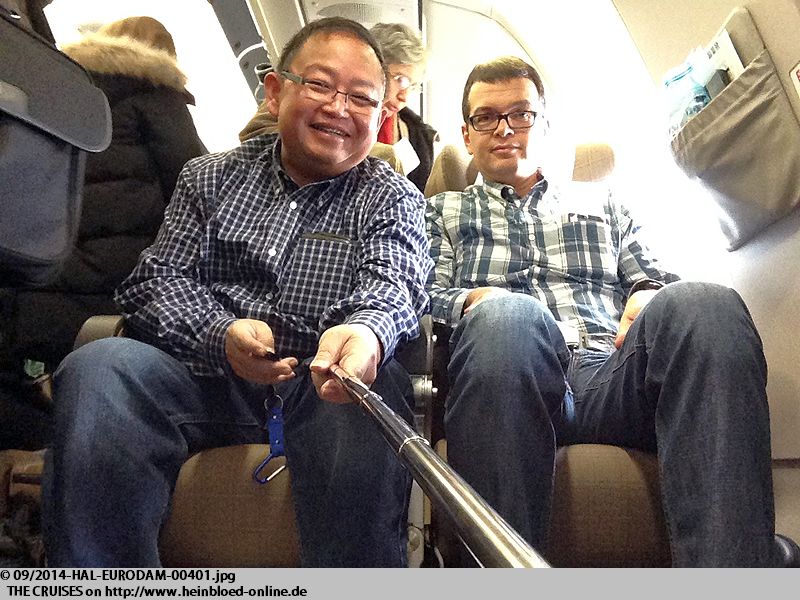 We headed to Chicago by Swiss. A very last time seats at the exit row for free.

A very last time the Maître de Cabine came by to hand me over an amenity kit. Very nice. Bruno took Älplermagronen (baked Swiss noodle dish). Six months later it should become a standard part of my food in our canteen in Switzerland. I ordered for my flight: most soft, most liquid and most protein: And Swiss did it: fantastic.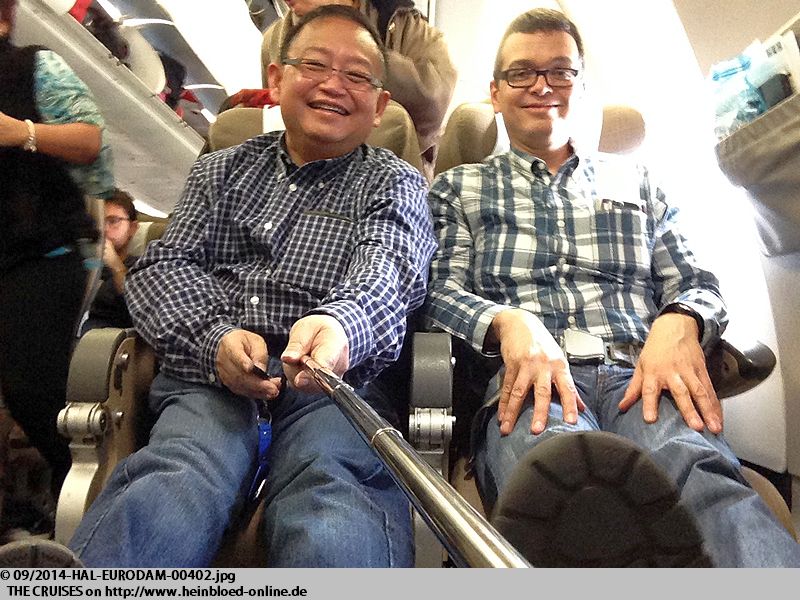 Ein letztes Mal kommt die Maître de Cabine vorbei und übergibt mir ein Amnety Kit. Sehr nett. Bruno nimmt die Älplermagronen. Das wird dann sechs Monate später regelmäßiger Bestandteil meines Essens in der Kantine in der Schweiz. Ich bestelle mir für den Flug: möglichst weich, flüssig und proteinreich: Und Swiss macht es: Fantastisch.

If you change your flight at Chicago O'Hare you have one disadvantage: all international arrivals are at the Terminal 5, and you must leave the terminal (it is roofed) to get by monorail to the other terminals. That could take a while. My record so far 55 minutes (arrival on a Privat Air Business Class flight) to a satellite finger at Terminal 1. But my baggage did not make it. This time we did everything without hassle. Brunot was allocated to an automated lane, and I was invited to join Global Entry Programm. Unfortunately, I must not need to go on business trips so many times anymore to the US, so it is not worth to participate as there is a charge. Again we need to go to the satellite finger, so we had no chance to see the United Club again. Again long ways with some light therapy. Luckily we purchased United Premier Access so we could see the first queue and board. It is not because of the seats but the overhead stowage.

Wenn man in Chicago O'Hare umsteigt, hat man einen großen Nachteil: Alle internationale Ankünfte erfolgen am Terminal 5 und man muss dann außen (zwar überdacht) mit der Monorail zu den anderen Terminals. Das kann schon mal länger dauern. Mein bisheriger Rekord 55 Miinuten (von einer Privat Air Business Flug) zum Außenfinger im Terminal 1. Allerdings hatte es damals mein Gepäck nicht geschafft. Dieses Mal machen wir alles mit der Ruhe. Bruno wird einer automatisierten Spur zugeteilt und ich werde eingeladen am
Global Entry Programm
teilzunehmen. Leider muss ich beruflich nicht mehr in die USA, so dass es sich für mich nicht lohnt, weil die Teilnahme kostenpflichtig ist. Auch jetzt müssen wir wieder direkt zum Ausgang am Außenfinger, so dass wir keine Chance haben in den United Club zu gehen. Wieder lange Wege mit etwas Licht-Therapie. Zum Glück haben wir
United Premier Access
gekauft, so dass wir direkt in die erste Schlange gehen können und sofort einsteigen können. Es geht nicht um den Sitzplatz, sondern um den Stauraum für das Gepäck.
Wir hatten auch
United Economy Plus
für eine Kleinigkeit mehr gebucht: So haben wir mehr Beinfreiheit und sitzen weiter vorne in der Kabine, um schnell rauszukommen.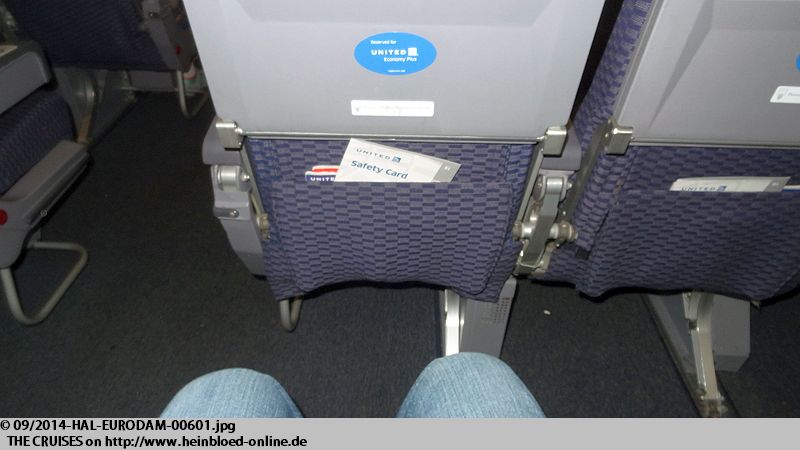 We also booked on a few bucks more United Economy Plus: so we had a little more legroom and sat in the front part of the cabin to get out quickly.

To see movies or tv-shows you need to pay something extra.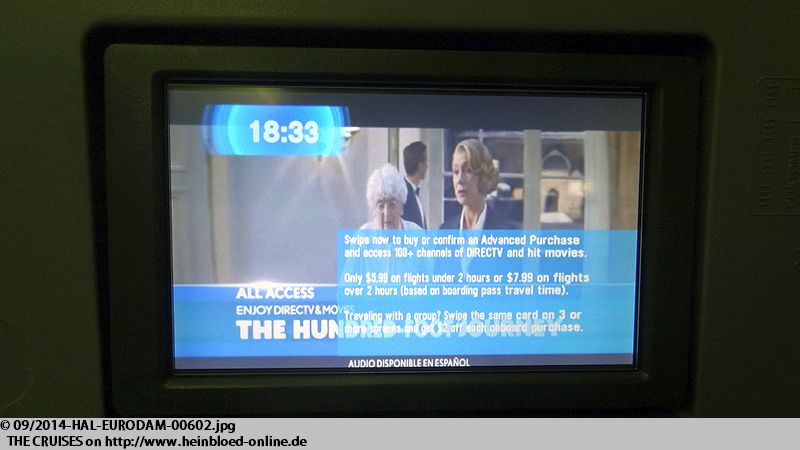 Um Filme oder Fernsehserien zu gucken, muss man etwas zahlen.
Auch für Snacks.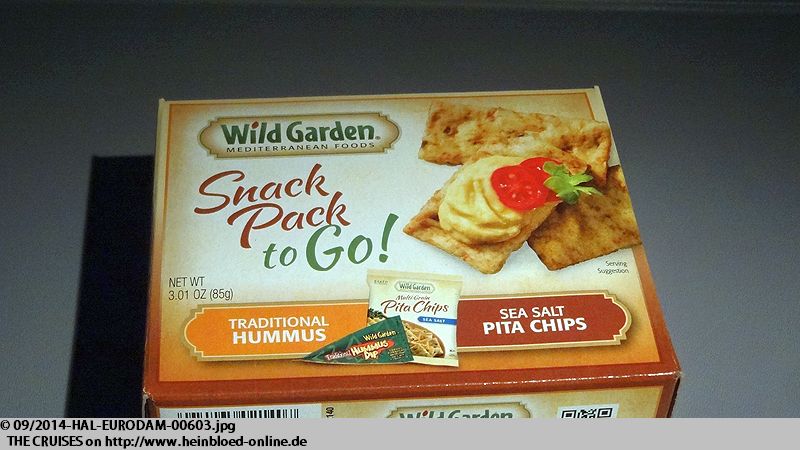 Also for snacks.

But at least I had some of my beloved Stacy's Simply Naked Pita Chips.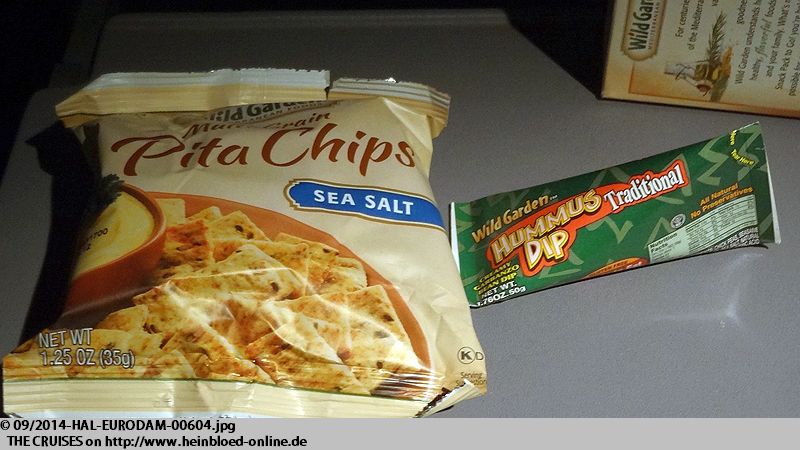 Aber wenigstens gibt es meine geliebten
Stacy's Simply Naked Pita Chips
.
Tomatensaft gibt es noch kostenlos.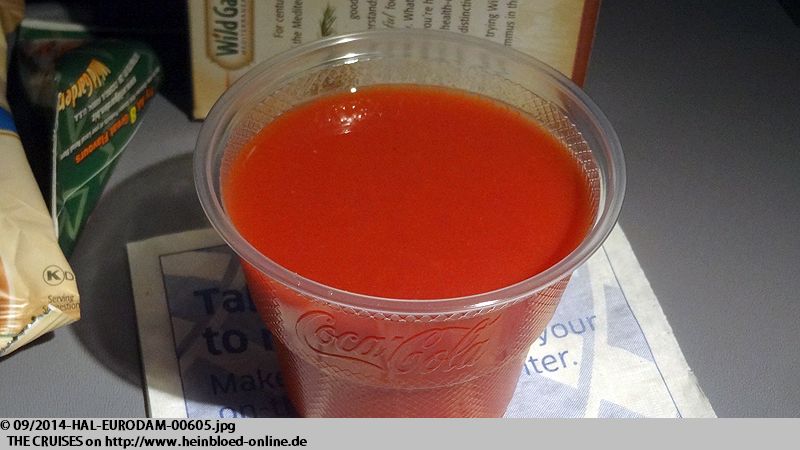 Tomato juice you can still get for free.

We took a cab to the hotel. We booked with Hilton Fort Lauderdale Marina. We informed before arrival the hotel management that I should get a suitable room for a shipspotter. We did online check-in before so we must not queue anymore and just grab the keycard. But at this time of the day when we arrived this service was not offered anymore. Our booked room was taken. So we got 428 which was not suitable for ship spotting because exactly at this level you had the level of the bridge. For the effort that we need to move again (for the next day a room with a suitable view was promised), we got some additional Hilton points, complimentary breakfast, complimentary high-speed internet. Otherwise, it was quite nice here. Further Q&S Transportation Service offered transfers to the ships.

Mit einem Taxi geht es in das Hotel. Wir haben im
Hilton Fort Lauderdale Marina
gebucht. Wir haben vorher die Hoteldirektion angeschrieben, damit ich ein Shipspotter geeignetes Zimmer zu bekommen. Wir haben vorher online eingecheckt, damit wir nicht mehr anstehen müssen. Aber der Dienst, dass man einfach sich die Schlüsselkarte schnappt, geht nicht mehr um die Zeit, wenn wir eintreffen. Unser gebuchtes Zimmer ist belegt. So bekommen wir 428, aber das ist nicht Shipspotting geeignet, weil genau diesem Niveau die Brücke verläuft. Für den Ärger, dass wir nochmals umziehen müssen (für die nächste Nacht wird uns ein Zimmer mit passendem Ausblick gewährt), erhalten wir ein paar Hilton Zusatzpunkte, kostenlos Frühstück, kostenlos High-Speed-Internet. Ansonsten ist es ganz nett hier. Außerdem bietet
Q&S Transportation Service
Transfers zu den Schiffen an.
Mein persönlicher Held ist Eric, der in der Nachtschicht, mich als Gast erwischt hatte und ganz toll alles gelöst hat. Wir konnten ja schlecht mitten in der Nacht den anderen Gast aus dem Zimmer rauswerfen.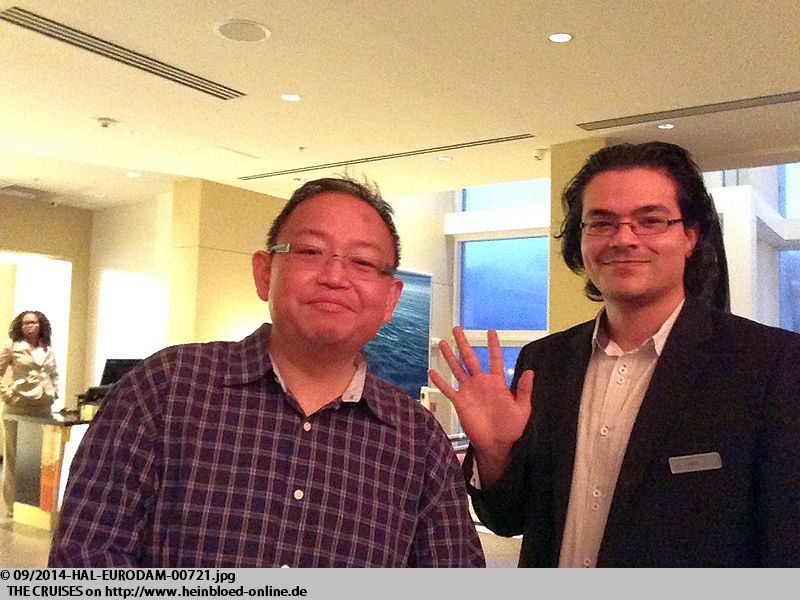 My personal hero was Eric who had the night shift and got me as a guest and who solved it very well. We could not move out another guest out of the room in the middle of the night.

I had jet lag. So I was very early awake and went at 04.30 hrs under the bridge. There I was not alone.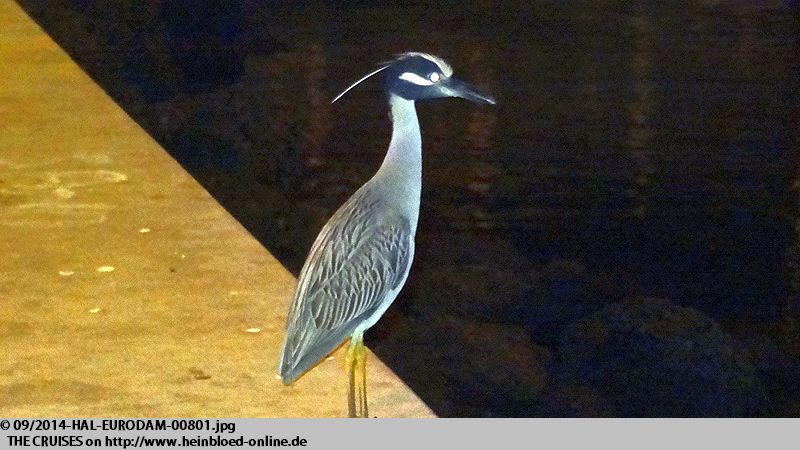 Ich habe ja Jet Lag. Also bin ich eh früh wach und gehe ab 04.30 Uhr unter die Brücke. Dort bin ich nicht alleine.
Ein Reiher - keine Ahnung was für einer beobachtet mich.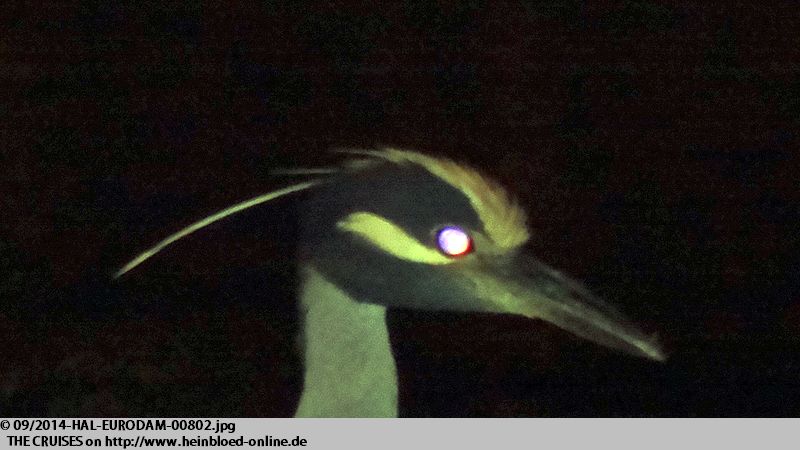 A heron - no idea which one observed me.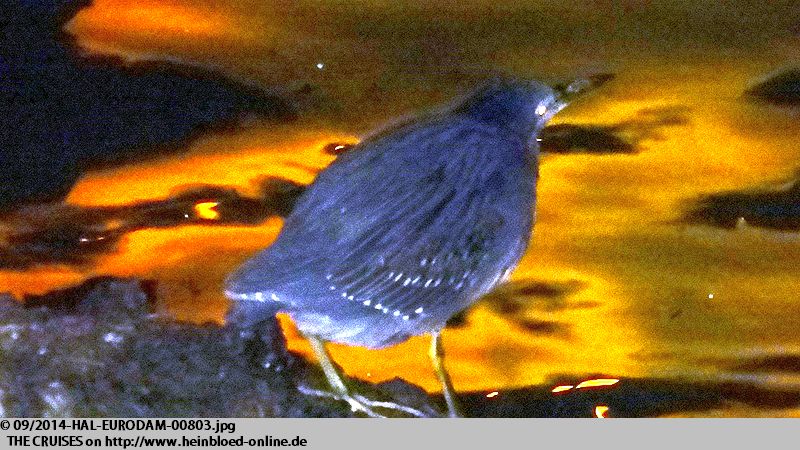 Als erstes Schiff kommt an diesem Morgen die CARNIVAL FREEDOM in den Hafen.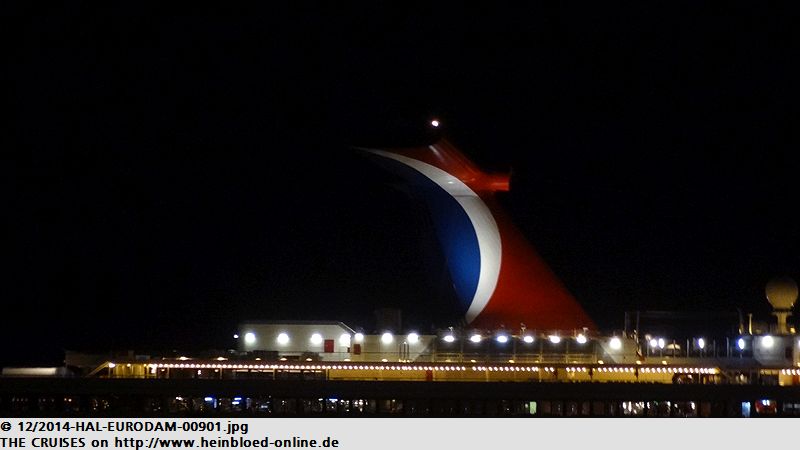 The first ship of the morning in port was CARNIVAL FREEDOM.

Unfortunately, I had no chance to get any closer.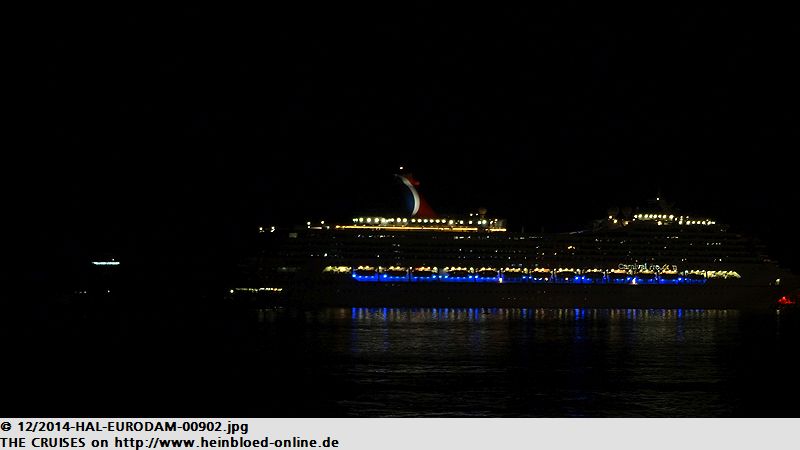 Leider komme ich nicht näher rein.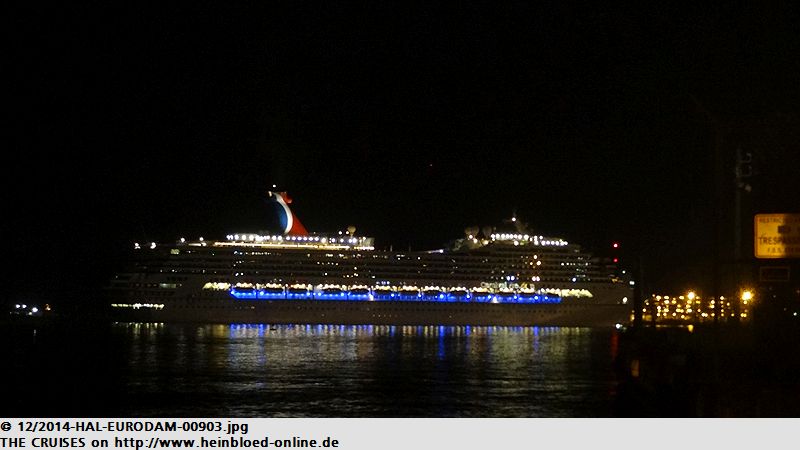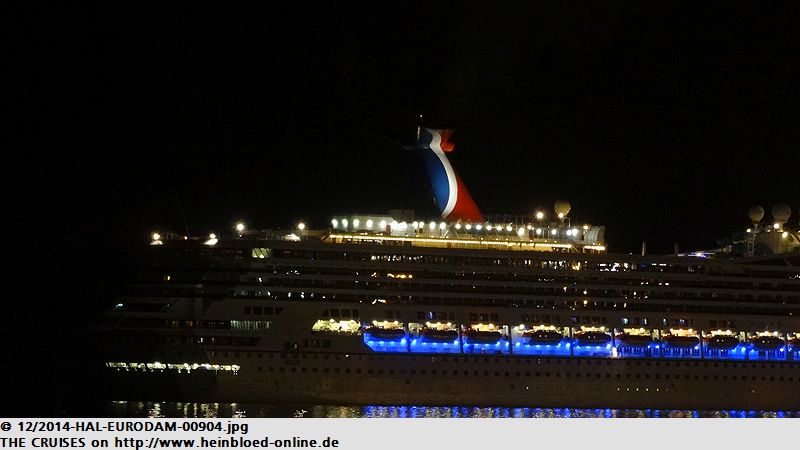 Als nächstes kommt die OASIS OF THE SEAS.

Next was OASIS OF THE SEAS.

Later RUBY PRINCESS followed. She could have come the last because docking at Pier 2 means obstructed the view for me.

Danach folgt die RUBY PRINCESS. Sie hätte gerne als letzte Kommen können, weil sie am Pier 2 mir den guten Blick verschließt.
MEINE
WESTERDAM kommt! 2010 waren wir mit ihr nach Norwegen unterwegs. Eine tolle Zeit hatten wir wohl, so wie ich selbst im
eigenen Blog
nachlesen kann.

MY WESTERDAM came. 2010 we were with her in Norway. We had a great time and I could easily read in my own blog.

Then CARIBBEAN PRINCESS followed.

Es folgt danach CARIBBEAN PRINCESS.
Last, not least CELEBRITY CONSTELLATION.

Last not least CELEBRITY CONSTELLATION.

We headed for breakfast. Our vouchers were good for Continental Breakfast. We could upgrade. But having so many ships in town means chaos in the breakfast room. But that day we had no stress, and so we could take the time for the nicely arranged omelet-station. We went with Sigi whom we went on NORWEGIAN JADE. She was the stranger in our room. I booked the rooms and informed the hotel on how to allocate the rooms. I got a written confirmation. But they forgot to add this information to the booking. We did not change with her because Sigi was in a room which was fine with the height but it was not close enough at the canal.
Es geht zum Frühstück. Unsere Gutscheine gelten nur für Continental Breakfast (ohne warme Sachen). Wir zahlen etwas drauf. Allerdings bei vielen Schiffen in der Stadt bedeutet das Chaos im Frühstücksraum. Aber wir sind heute nicht im Stress und so nehmen wir uns die Zeit für die schön arrangierte Omelette-Station. Mit uns reist Sigi, die schon mit uns auf der NORWEGIAN JADE mit war. Sie war übrigens auch die Fremde in unserem Zimmer. Ich hatte die Zimmer gebucht und auch das Hotel angeschrieben, wie die Zimmer aufgeteilt werden sollten. Und das wurde mir auch schriftlich bestätigt. Nur allerdings stand nichts davon in der Buchung. Wir tauschen nicht, weil Sigi in einem Zimmer ist, das von der Höhe her in Ordnung wäre, aber nicht nah genug am Kanal ist.
Die anderen Reisen in diesem Blog/
The other voyages in this blog: