Willkommen im neuen Terminal 3 in Wien. Unglaublich aber wahr: diese versteckte Rolltreppe ist aber tatsächlich der Weg zum Hauptausgang.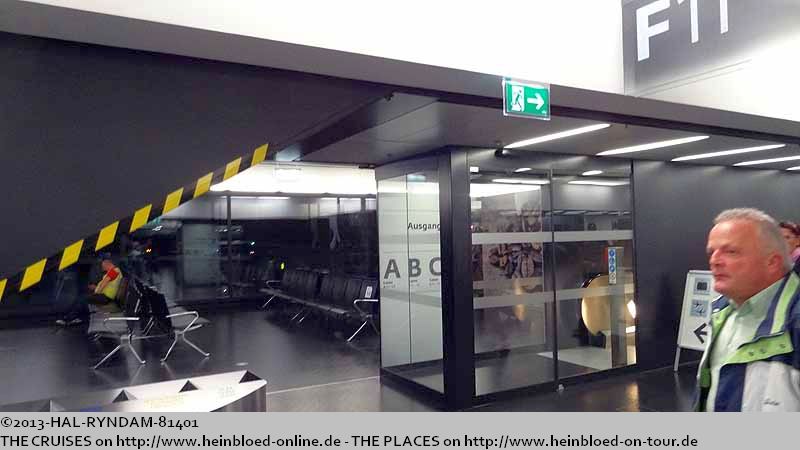 Welcome to the new Terminal 3 in Vienna. Unbelievable but true: this hidden escelator was really the way to the main exit.

Outside a giant display.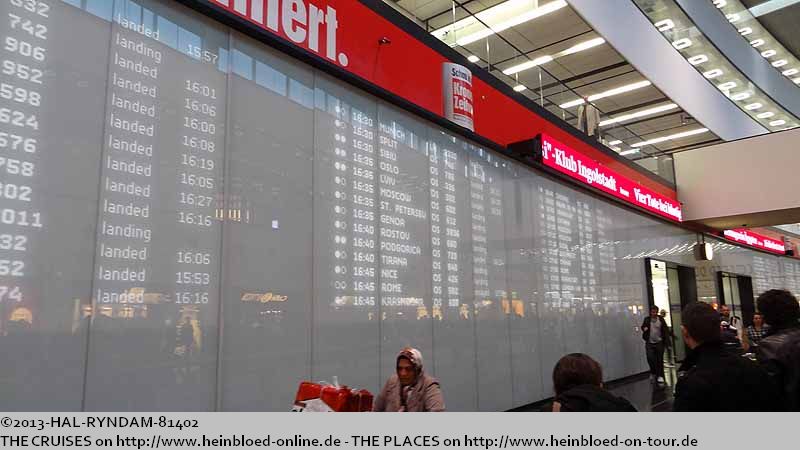 Draußen eine Riesenanzeigetafel.
Es waren auf uns Richard und Carmen, die wir von der CELEBRITY EQUINOX 2010 her kennen.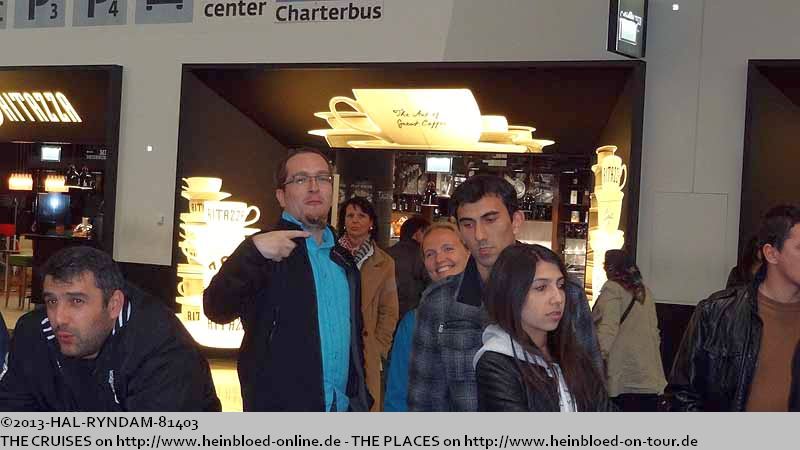 Richard and Carmen were waiting for us whom we knew from CELEBRITY EQUINOX 2010.

As our time was limited we stayed in the town of Schwechat and went to Landeplatzl.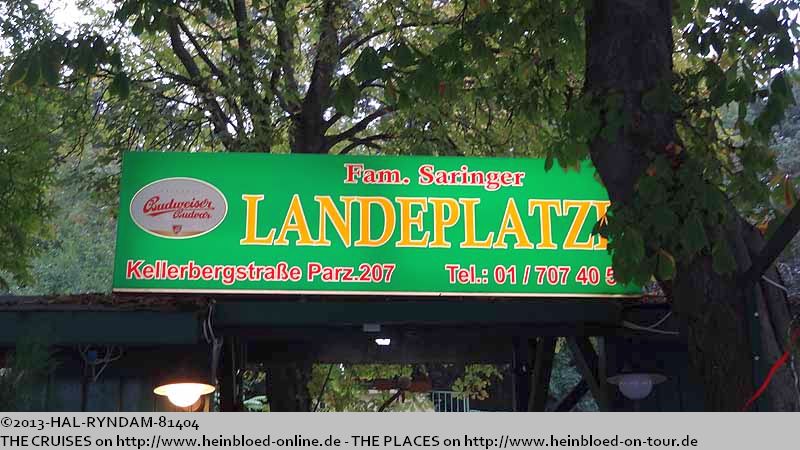 Da wir nicht allzuviel Zeit haben, bleiben wir in Schwechat und gehen ins
Landeplatzl
.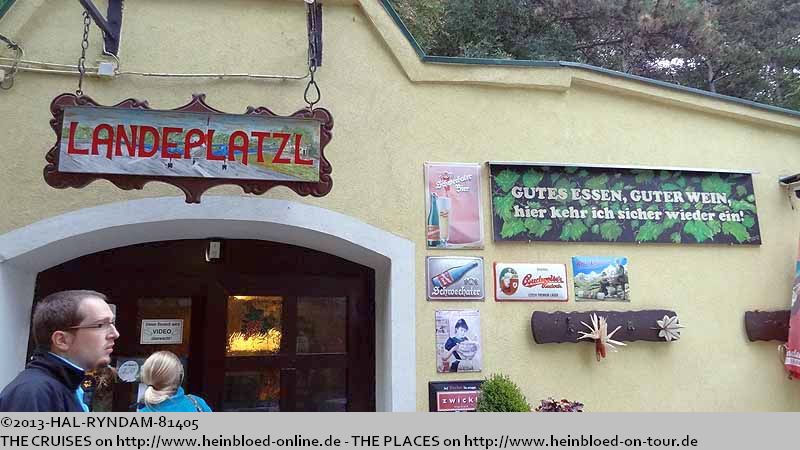 A nice menu card.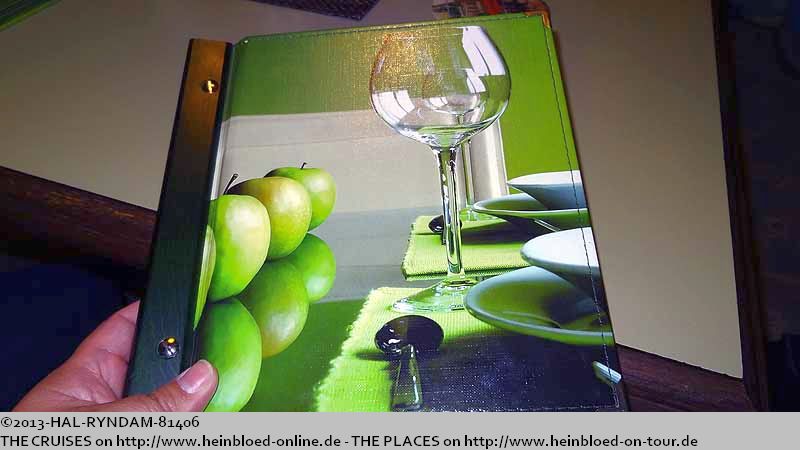 Schöne Speisekarte.
Almdudler
... leckere österreichische Kräuterlimonade... Erinnerungen an meine Kindheit.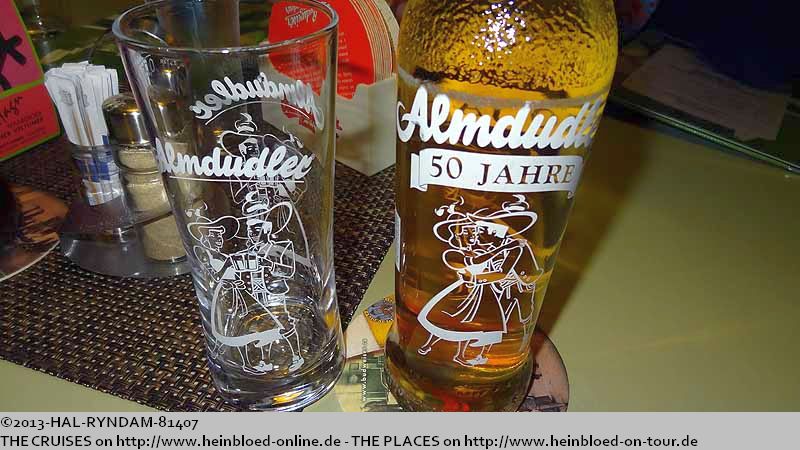 Almdudler... yummy Austrian herbal lemonade... memories from the childhood.

So we talked of past voyages (they like Holland America and NCL too) und future voyages. Maybe we find another common voyage.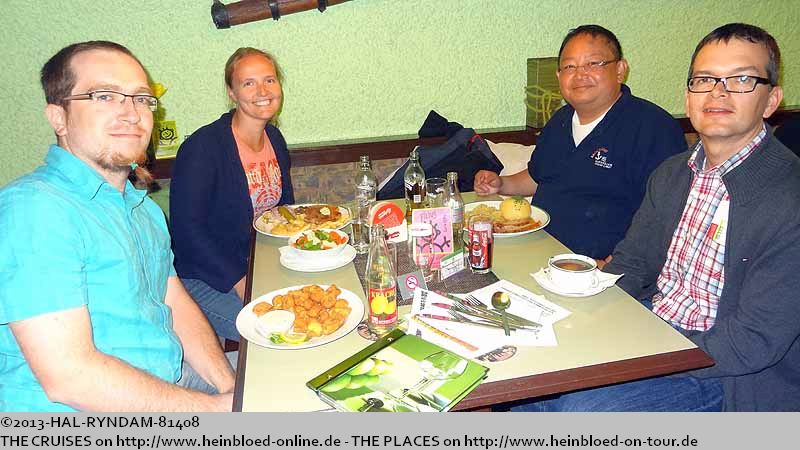 So reden wir über vergangene Fahrten (sie mögen jetzt auch Holland America und NCL) und zukünftige Fahrten. Vielleicht ergibt sich ja wieder eine gemeinsame Fahrt.
Grießknödelsuppe für Bruno.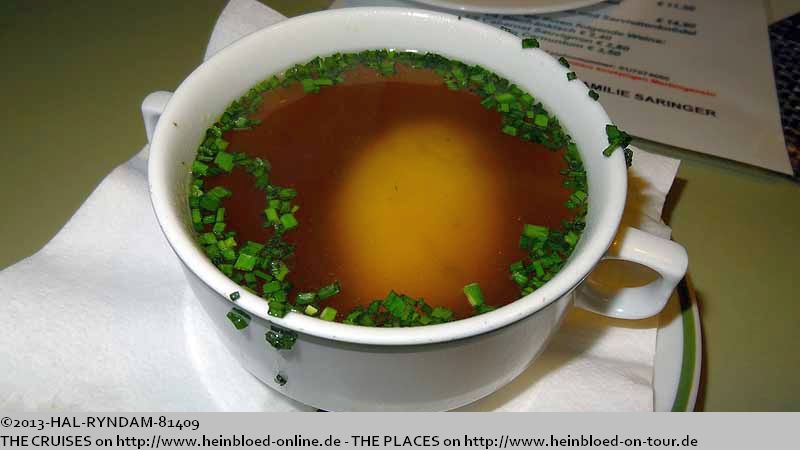 Semonlina dumpling soup for Bruno.

Careaway Pork Belly Roast for me! I should buy some more to go.

Kümmelbraten für mich! Ich hätte noch ein paar Portionen zum Mitnehmen bestellen sollen...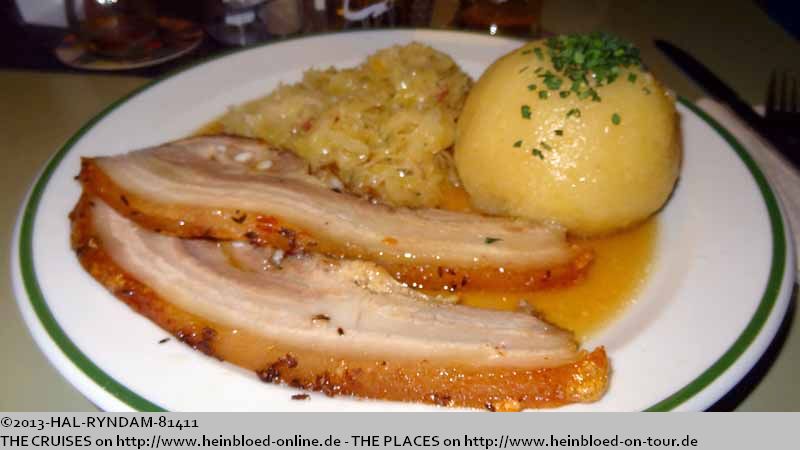 Soon we had to head back to the airport. But we will see Carmen and Richard soon again next month. A quick visit in the lounge.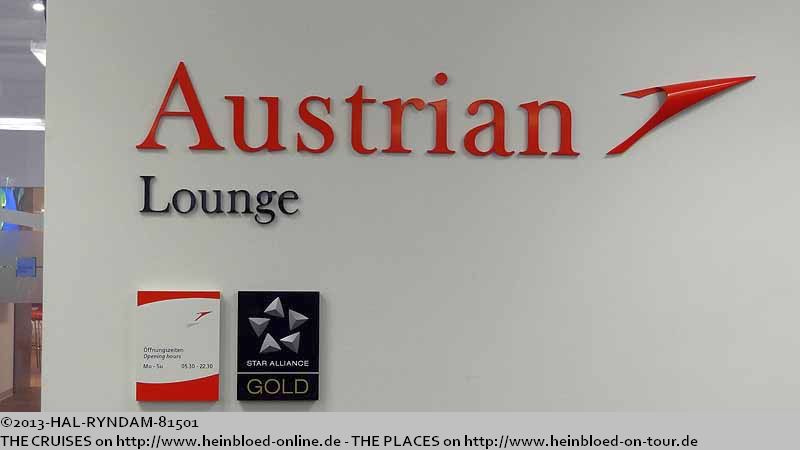 Bald müssen wir auch schon zurück zum Flughafen. Aber Carmen und Richard sehen wir bereits im kommenden Monat wieder. Schnell noch in die Lounge.
Nun hat Bruno doch Hunger...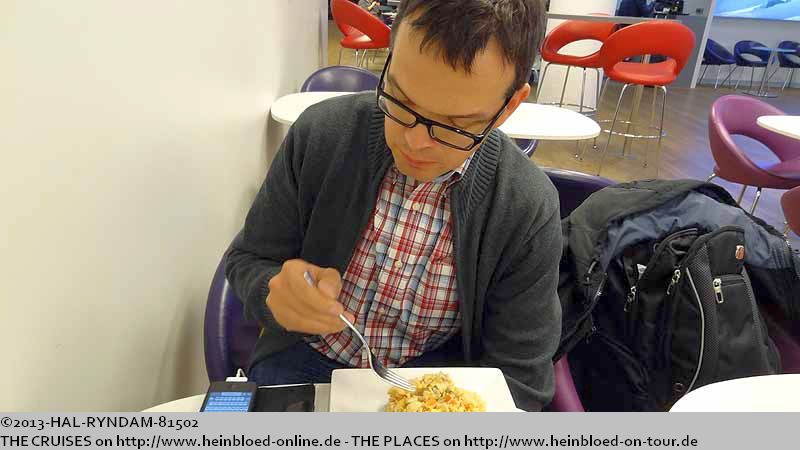 Now Bruno was hungry...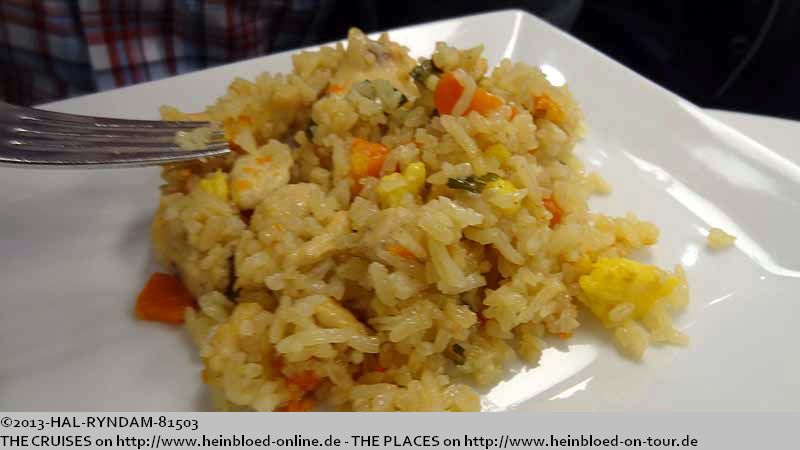 Schon kommt der Fragebogen von HAL rein. Leider haben wir nur zehn Tage Zeit, um ihn auszufüllen. Das schaffen leider weder Bruno noch ich. Allerdings bekommen sie ja eh unsere Meinung mit: egal ob sie wollen oder nicht.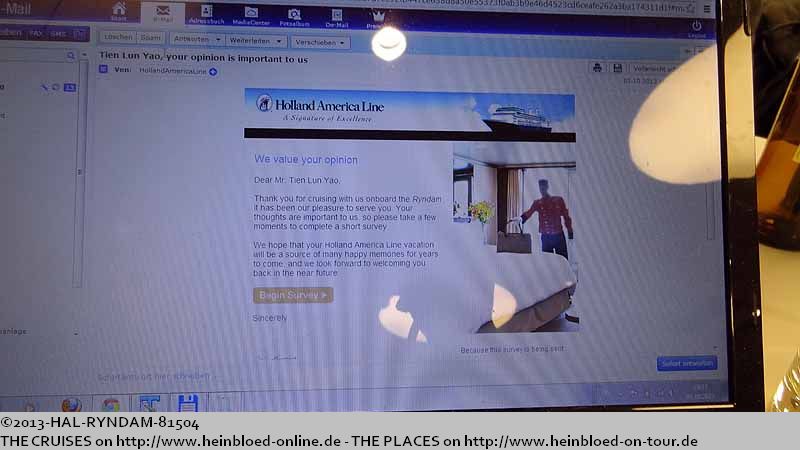 So quickly the questionnaire of HAL came. But we had only ten days time to fill it out. Unfortunately neither Bruno nor I were able to do it. But anyhow they can read here how we liked it - no matter if they want or do not want.

But we experienced something very nice. Debarkation was October 05, 2013. And already October 7, 2013 HAL wrote us to thank for my posts on HAL's Facebook-Site. Everyday I brought out the performance of the crew. No only HAL was glad to hear but also many family members of the crew members who were happy to see that and how a guest noticed what they were doing for us. Together with a very nice letter I got a book of the art which you can find on all Holland America Ships. Furthermore a small incentive that we are back soon with Holland America. I mean it honestly with the performance of the crew by writing on Facebook. It would be nice if HAL would act same like NCL and would be honored as well. The cruising activities of Facebook are my ideal world. So you will never find postings of things which went wrong of the actual sailing. It was not perfect. But the very minor details you found already here in the blog. The voyage itself was too beautiful. And again the request to all cruisers: please tell the whole world on Facebook how much you liked it. Do it the same way I did: with may great pictures.
The crew really deserves that the whole world knows about it.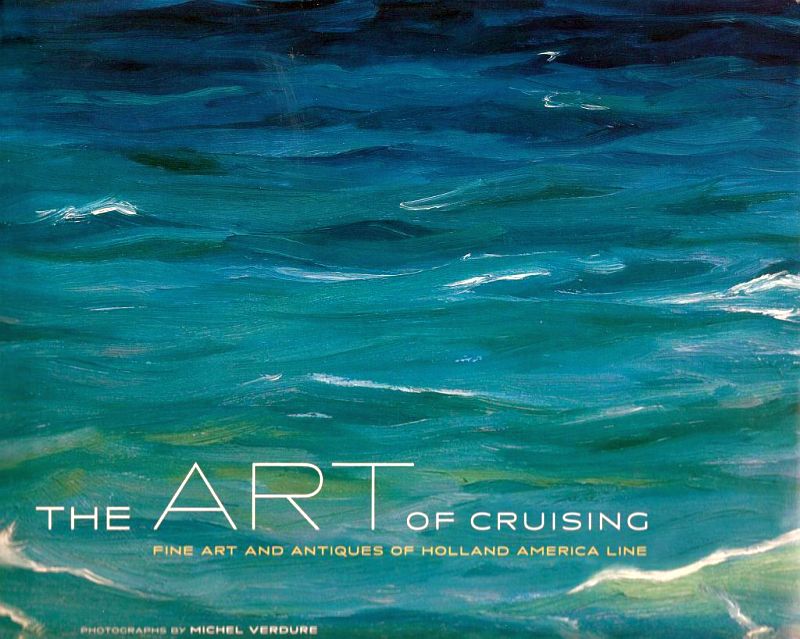 Allerdings erleben wir etwas ganz tolles. Ausschiffung war am 05.10.2013. Und bereits am 07.10.2013 schreibt uns HAL an und bedankt sich für meine Postings auf der HAL-Facebook-Seite. Ich habe jeden Tag die Leistungen der Crew hervorgehoben. Das hat dazu geführt, dass sich neben HAL auch viele Familienmitglieder der Crew-Mitglieder gefreut haben, dass und wie ein Gast einzelne Crew-Mitglieder wahrnimmt. Neben einem sehr netten Schreiben bekommen wir ein Buch über die Kunstgegenstände, die auf den HAL-Schiffen ist. Ferner noch ein kleiner Anreiz, damit wir auf jeden Fall bald wieder HAL fahren. Die Postings auf Facebook über die tollen Leistungen der Crew-Mitglieder sind aufrichtig gemeint. Es wäre daher auch schön, wenn wie bei NCL auch die Crew-Mitglieder eine Anerkennung bekommen würden. Da Facebook für mich eine "heile" Kreuzfahrtwelt ist, gibt es keine negativen Postings über laufende Reisen. Aber da dieses Mal alles ziemlich gut lief, daher wird es nur sehr wenige Einzelpunkte im Blog geben. Die Fahrt war einfach zu schön.
Und daher nochmals die Bitte an alle Kreuzfahrer: erzählt es der ganzen Welt auf Facebook, wie gut es euch gefallen hat. Macht es so wie ich - mit vielen schönen Bildern von der Reise.
Die Crew hat es wirklich verdient, dass man es jedem erzählt.
Auf dem Weg zum Ausgang kommen wir an den Sachertorten vorbei. Die sehen aber nicht Original aus. So nehme ich keine mit.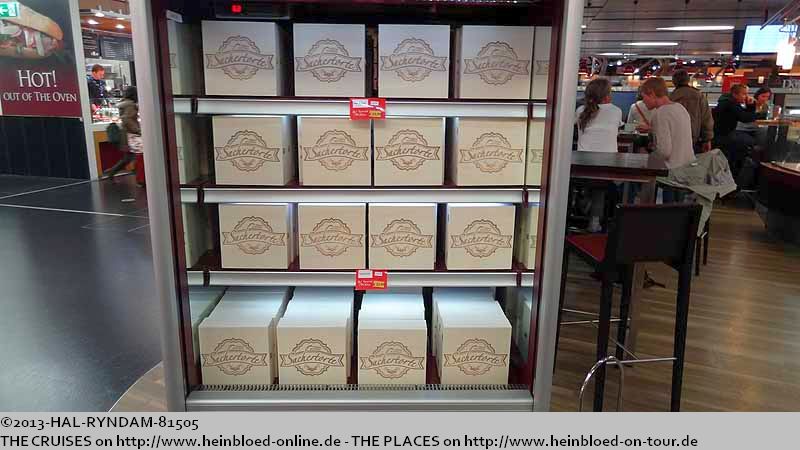 On the way to our gate we passed some Sacher Cake (Vienna Chocolate Cake with apricot jam from Vienna's famous Sacher Hotel). But that did not look like the original. So I did not take one.

Our flight was overbooked. They were looking for volunteers. We should knew this before - maybe we would have done it.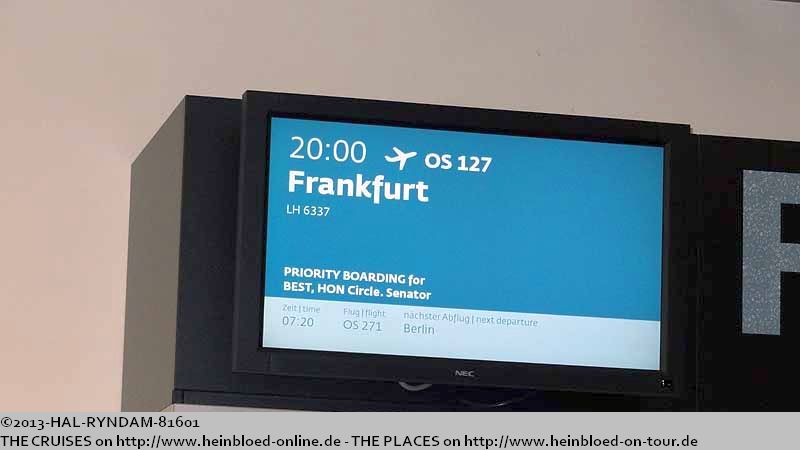 Unser Flug ist überbucht. Es werden Freiwillige gesucht. Hätten wir gemacht, wenn wir es vorher schon gewusst hätten.
Auf dem kurzen Flug gibt es nur Getränke und Snacks.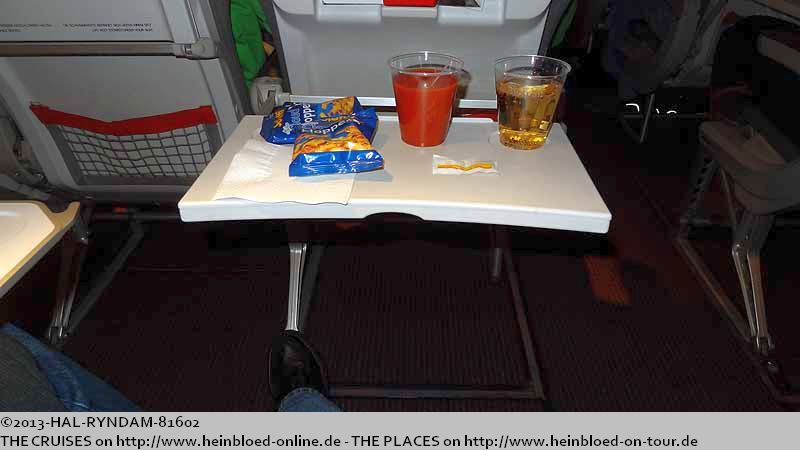 On this short flight we had only snacks and beverages.

In Frankfurt it was raining. I only wanted to return back and be on RYNDAM.
That was one of the nicest voyage we ever had.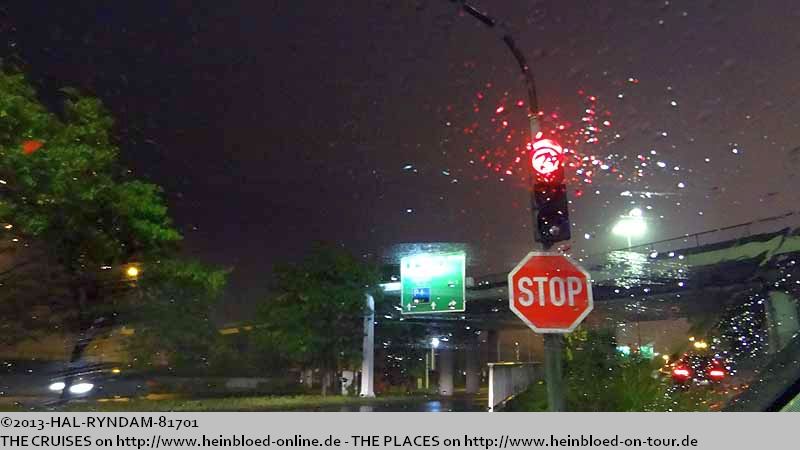 In Frankfurt regnet es. Ich möchte eigentlich bloß wieder zurück auf die RYNDAM.
Das war eine der schönsten Reisen insgesamt.
Und in Darmstadt müssen wir von der Autobahn runter. Die komplette A5 ist gesperrt. So müssen wir quer durch Darmstadt fahren, um nach Hause zu kommen.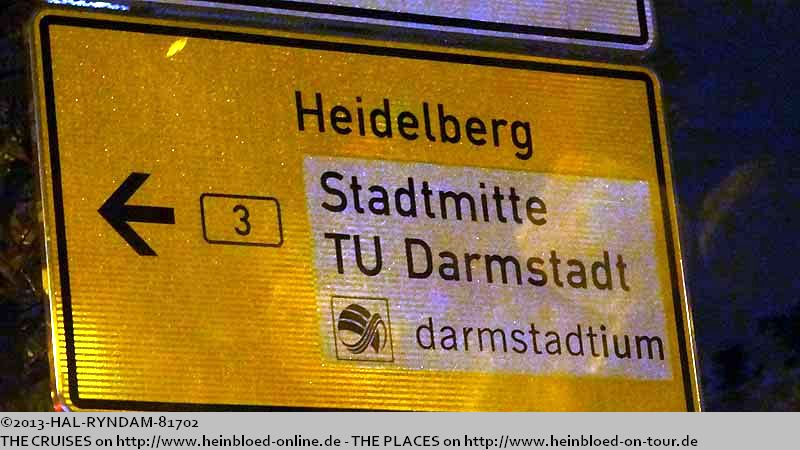 And in Darmstadt we need to leave the highway. Our highway home was closed. So we need cross-city in Darmstadt to get back home.