Auf zum Mittagspause nach Thirassia.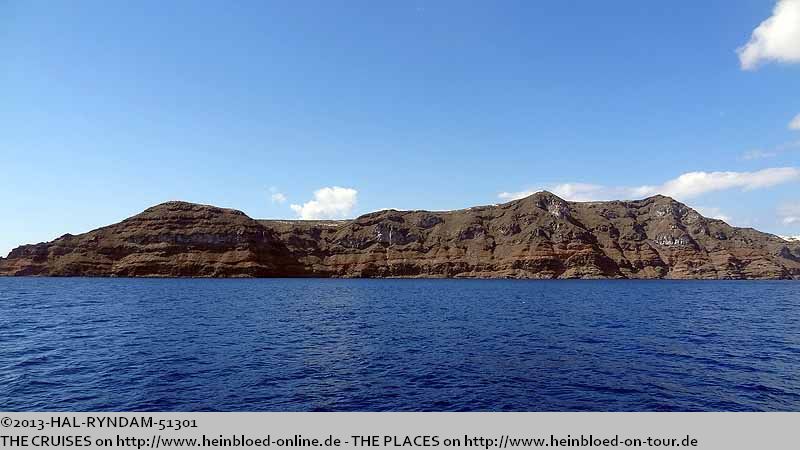 Let us head for a lunch brak to Thirassia.

Our guide Sofoklis was obviously from this island which was adjustant to Santorini.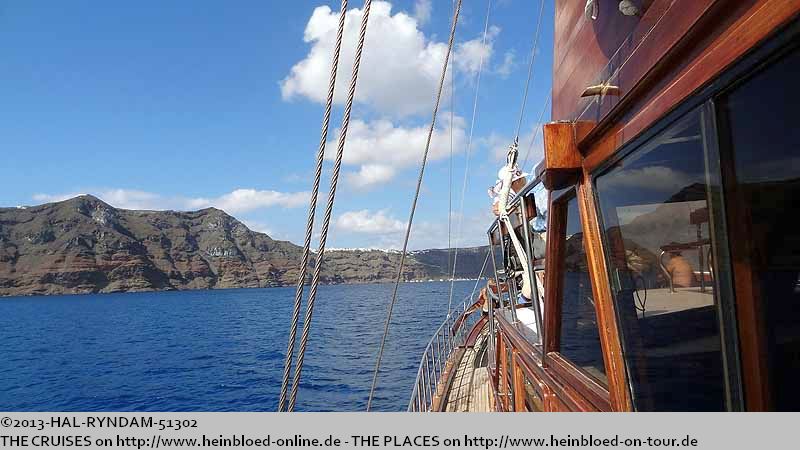 Unser Führer Sofoklis stammt wohl von dieser Insel, die gegenüber von Santorini liegt.
Er macht uns darauf aufmerksam, dass unten alles touristisch ist und das Dorf oben mitfinanzieren muss.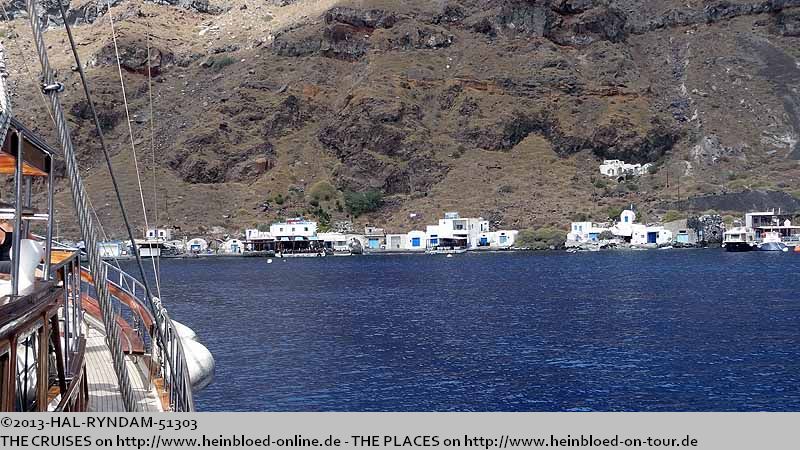 He told us that at the bottom everything was very touristic and they need to finance the village at the top.

We were instructed to see Captain John... and not to see Captain Nick which was just in front.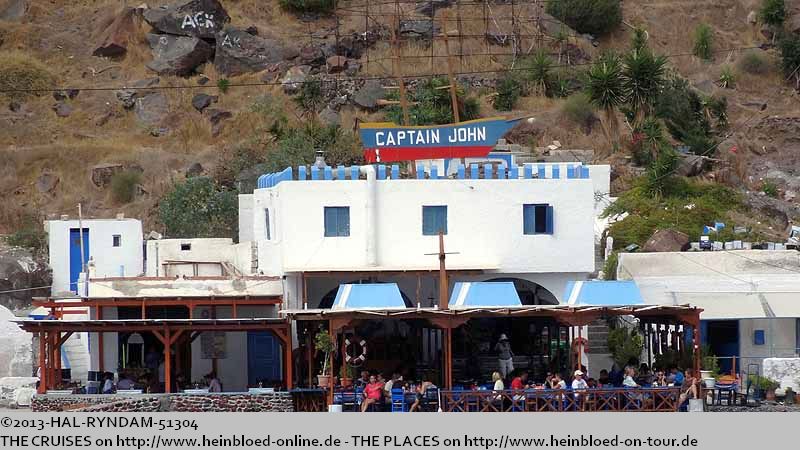 Wir sollten aber unbedingt zu Captain John... und keinesfalls zu Captain Nick, der direkt davor ist.
Alternativ eben 20 Minuten lang hochlaufen und uns oben was suchen. Dafür war es zwischenzeitlich zu heiß.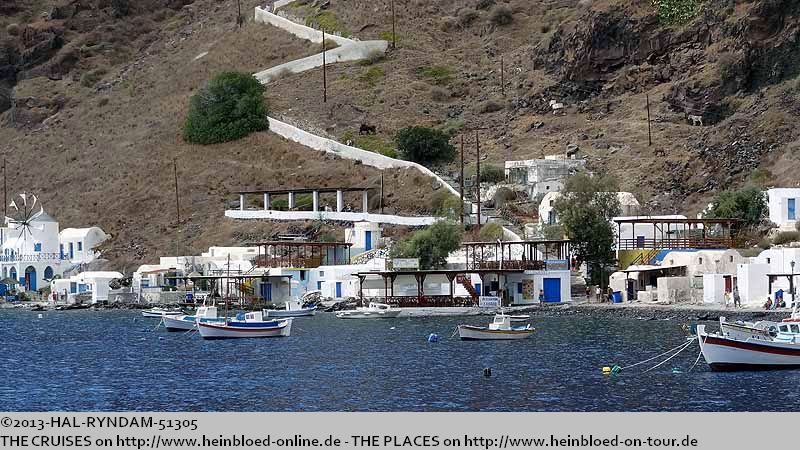 Alternatively we might walk 20 minutes to the top and find something there. But that was meanwhile too hot.

I had the plan to have one souvlaki in each port but I was unable to keep this resolution alive... Next time.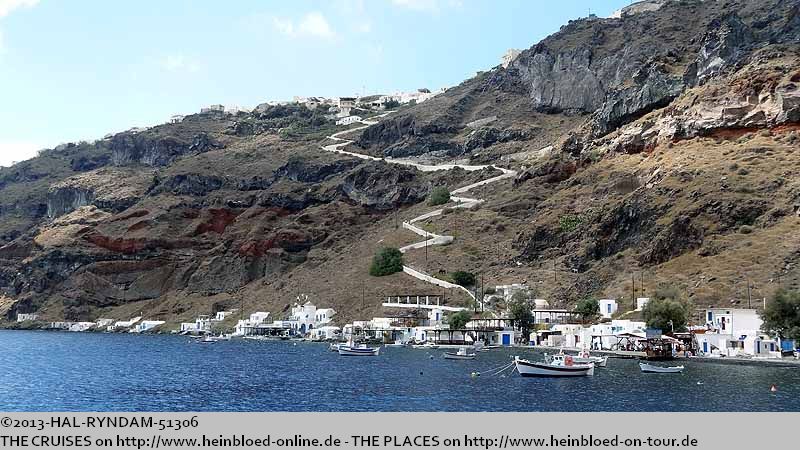 Eigentlich hatte ich mir vorgenommen in jedem Hafen ein Souvlaki zu essen, aber ich habe diesen Vorsatz nicht geschafft umzusetzen... Nächstes Mal.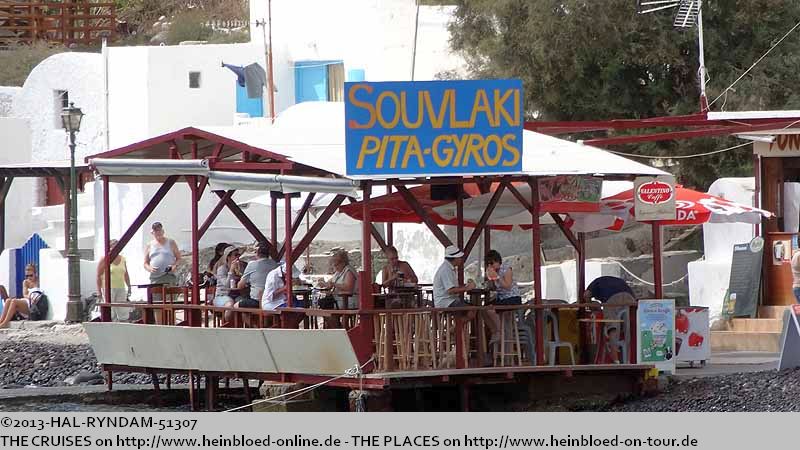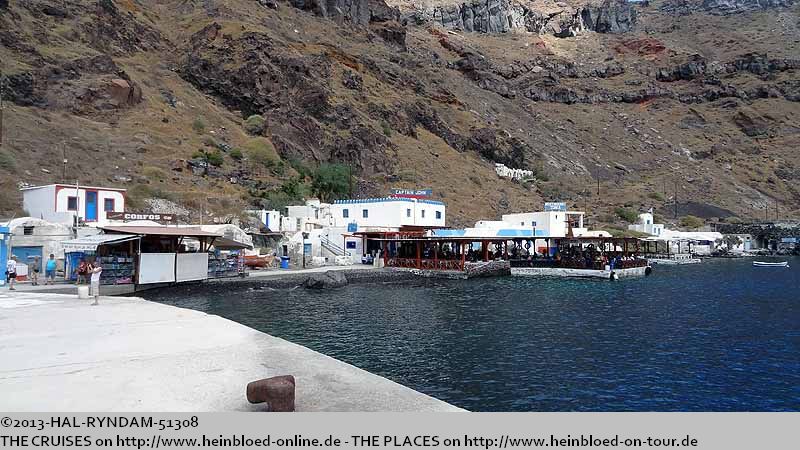 Also laufen wir bei Captain Nick durch.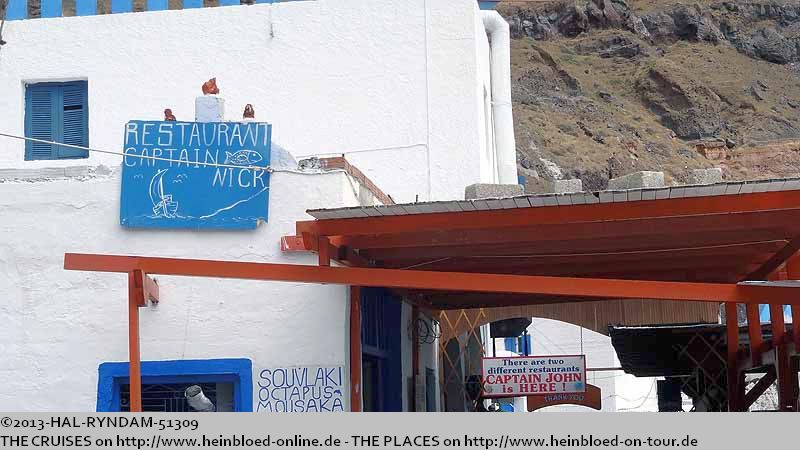 So we walked trough Captain Nick.

Straight to Captain John.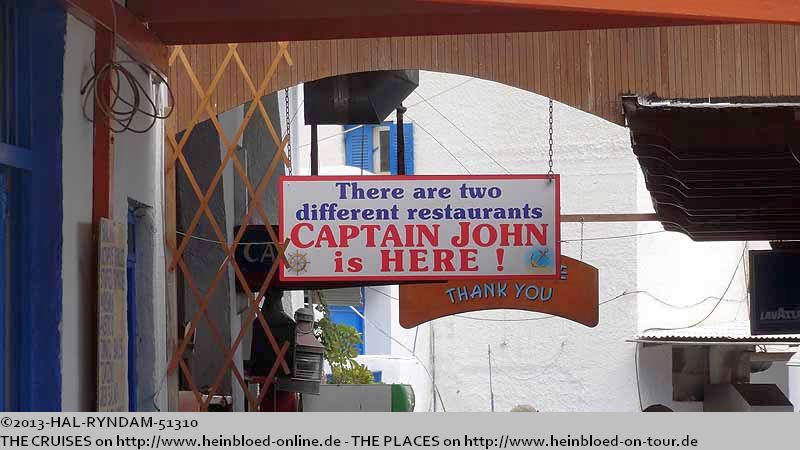 Und dann zu Captain John.
Eigentlich frage ich mich, warum ich mir das angetan habe. Ich gehe ja nicht mal ins Lido Café.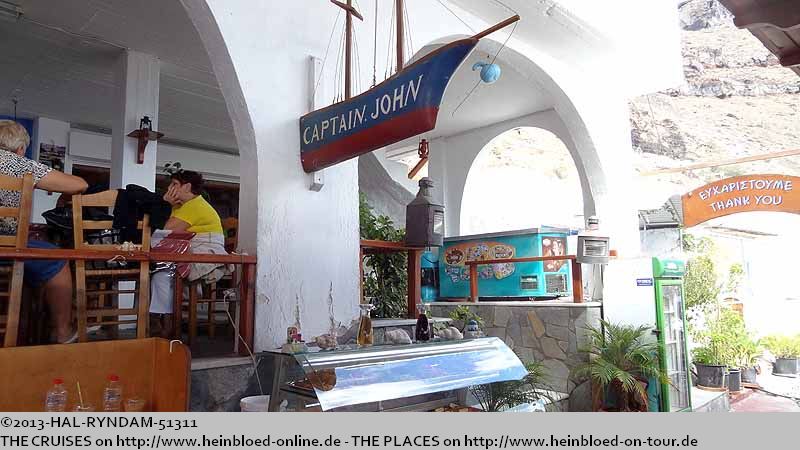 No idea why I did it since I normally would not see the Lido Café.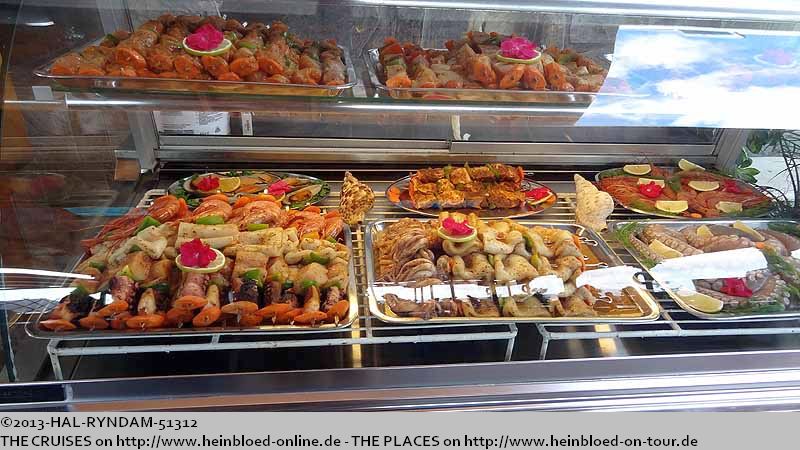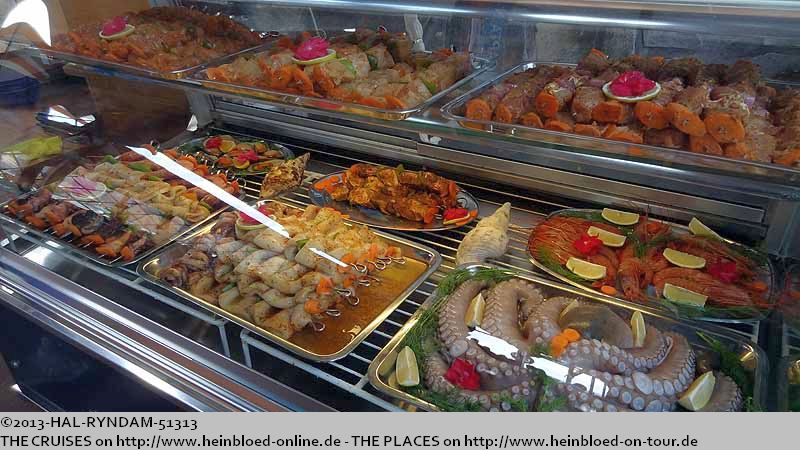 And this should be a self-service restaurant.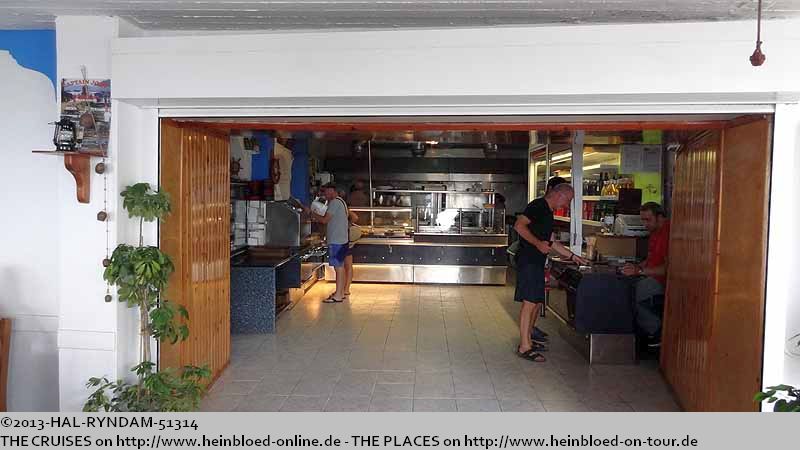 Und soll hier in ein SB-Restaurant sein.
Also es fiel schon auf, dass hier nirgendst Preise hingen. Aber Essen in Griechenland ist normalerweise bezahlbar, wenn man sich an das Souvlaki-Pita orientiert...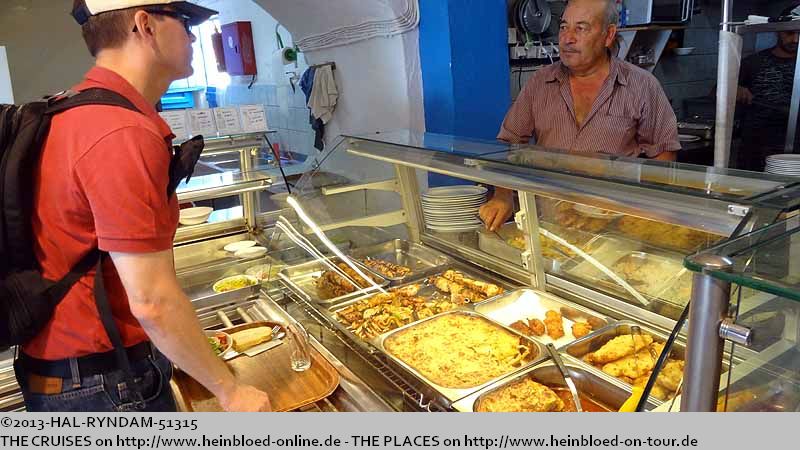 Ok it was somehow conspicuous that there were no prices displayed. But normally dining is very affordable in Greece if you see the prices of a souvlaki-pita...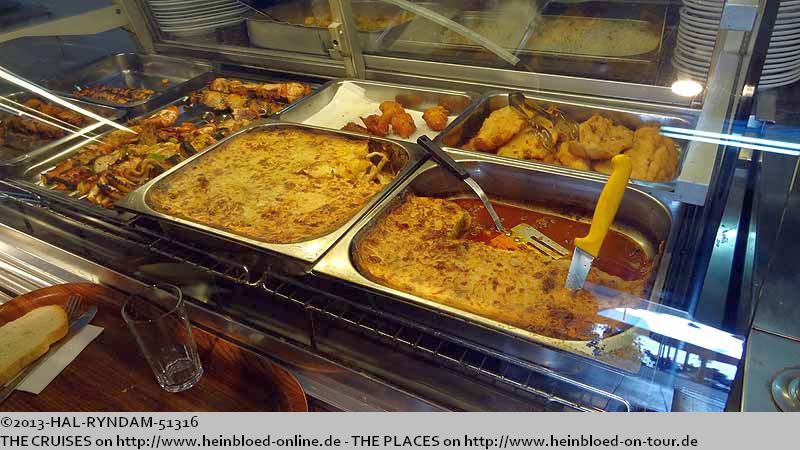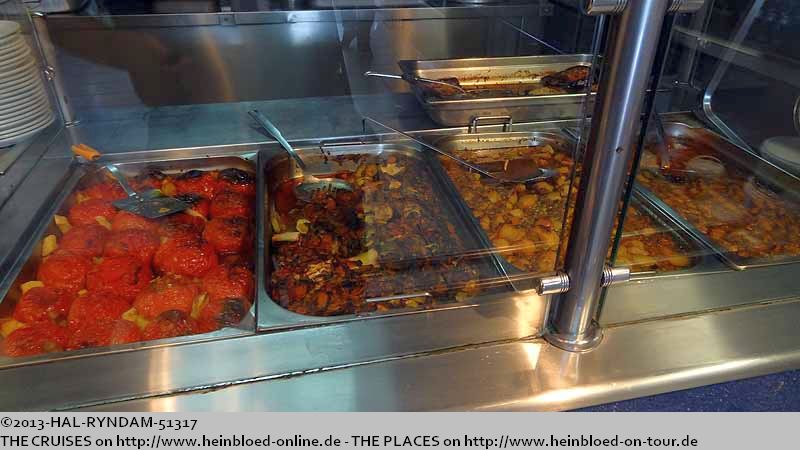 And salad was always good there.

Und Salat hier ist hier immer lecker.
Die zwei Tabletts haben zusammen 35,00 EUR (2013) gekostet! Genauso viel bezahle ich bei meinem Griechen in Wolfenbüttel und bekomme auch noch alles an den Tisch gebracht...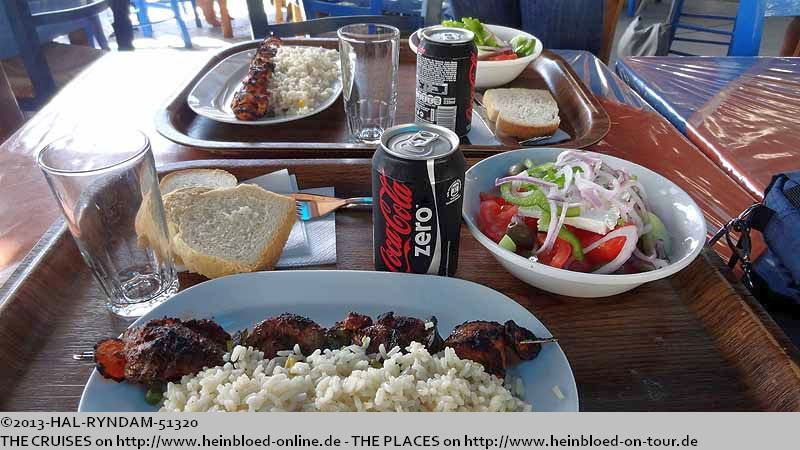 These two trays were 35.00 EUR (2013) together! I pay same level with my local Greek restaurant in Germany and got everything served to the table...

Next time when I am in Thirassia I will see Captain Nick and try his food. With him you had full service.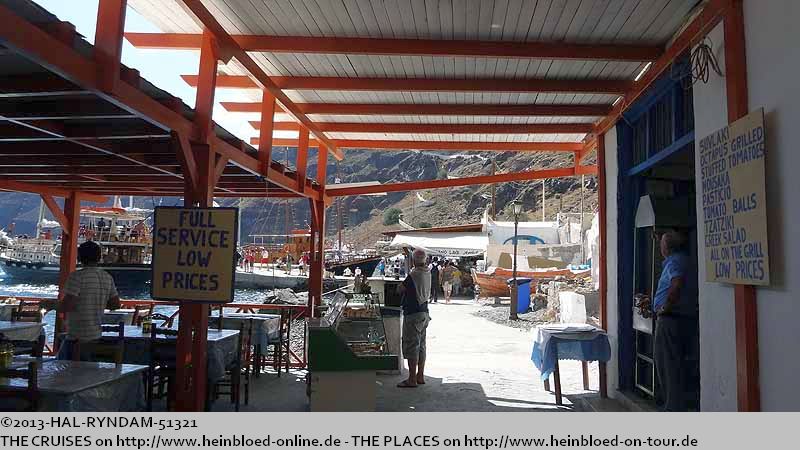 Das nächste Mal in Thirassia habe ich mir fest vorgenommen, mal Captain Nick zu probieren. Bei ihm gibt es Bedienung.
Und seine Spieße sehen auch nicht schlecht aus.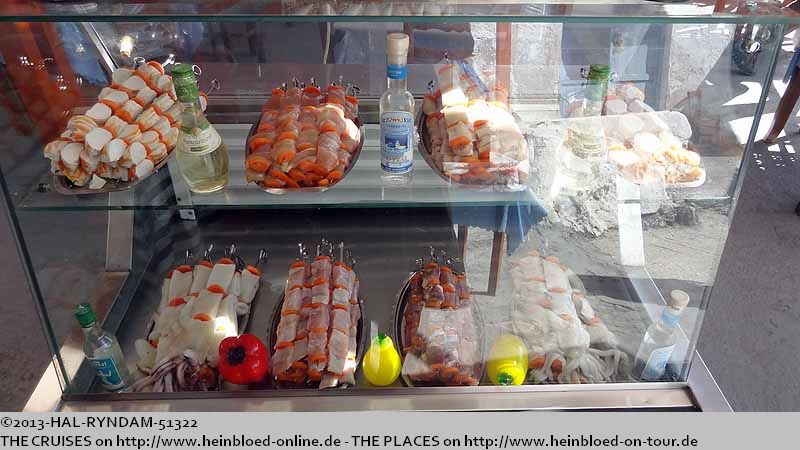 His skewers did not look so bad.

Especially his prices did not look bad either. Next time! Somehow it must be worth that we spent a lot of money in vaccinations.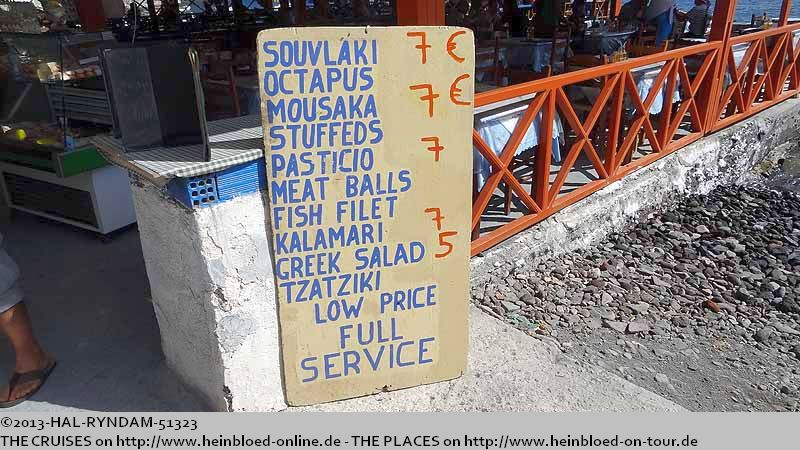 Vor allem finde ich seine Preise nicht schlecht. Das nächste Mal! Irgendwie müssen sich ja mal die Impfungen rechnen, die man so im Laufe der Zeit mitmacht...
Bruno will als Verdauungsspaziergang den Berg hoch. Ich bleibe unten und versuche es mir an Bord gemütlich zu machen. Das mißlingt: 1. Es sind Transitgäste wieder da, die durchlaufen, 2. Als andere erkennen, dass ich es mir gemütlich gemacht habe, meinen sie es auch machen zu müssen und 3. vor dem Boot ist ein CD-Händler, der in einer Endlos-Schleife abwechselnd "Die Kinder von Piräus" und "Sorbas Tanz" spielt.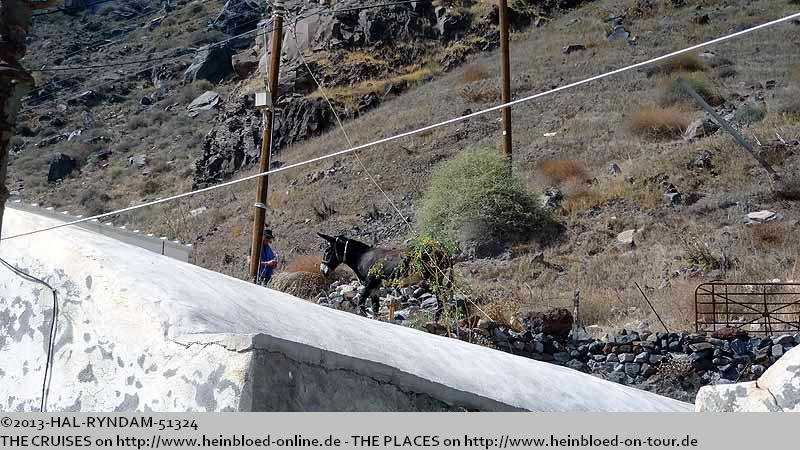 Bruno wanted to walk the meal off from the stroll. I stayed down and tried to make myself comfortable onboard. That was impossible: 1. There were many transit guests again, 2. when other saw that I made myself comfortable they wanted to do the same and 3. just in front of the boat there was a CD-seller who played an endless-loop of "The Children of Athens" (Music from "Never on Sunday") and "Zorba's Dance" (Music from "Zorba The Greek").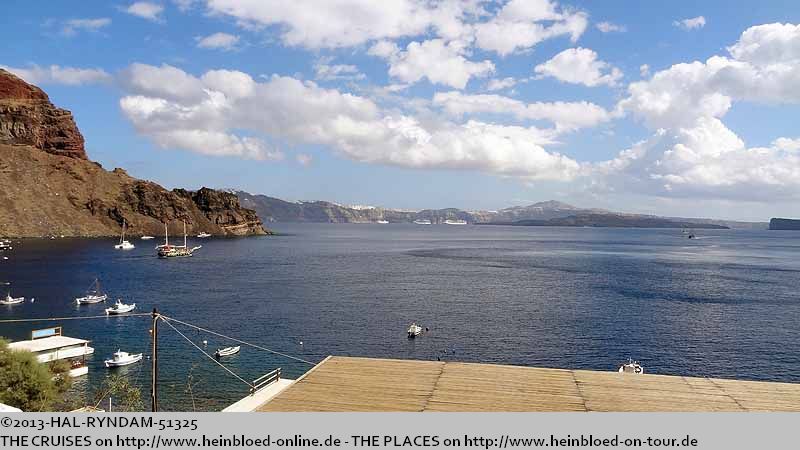 3 von 4 - bloß die RYNDAM versteckt sich wieder.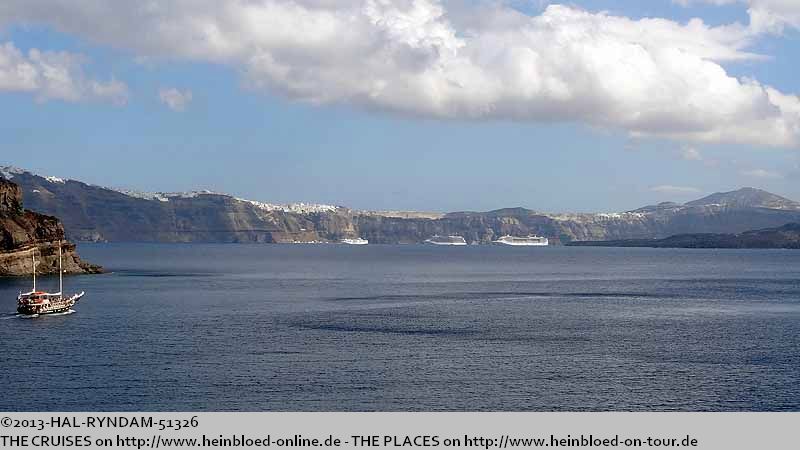 3 of 4 - only RYNDAM was hiding herself.

Wieso muss sich RYNDAM eigentlich verstecken?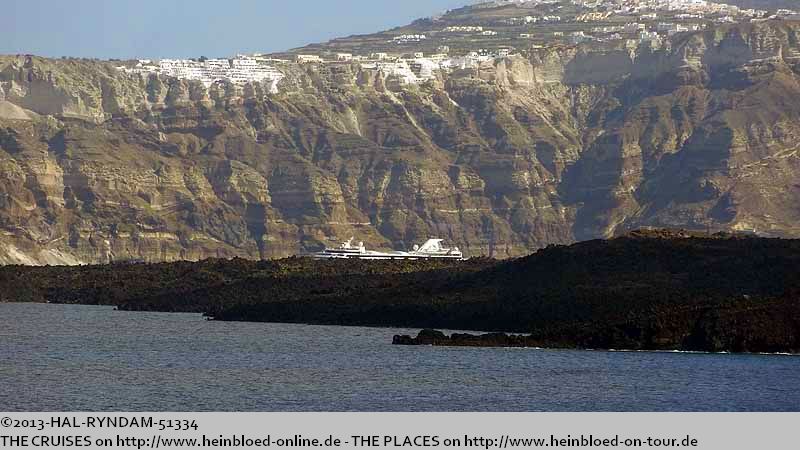 Why was it necessary that RYNDAM was hiding herself?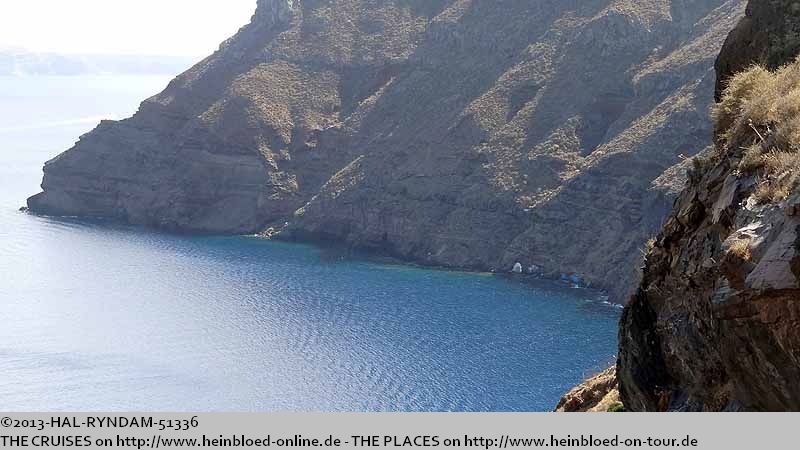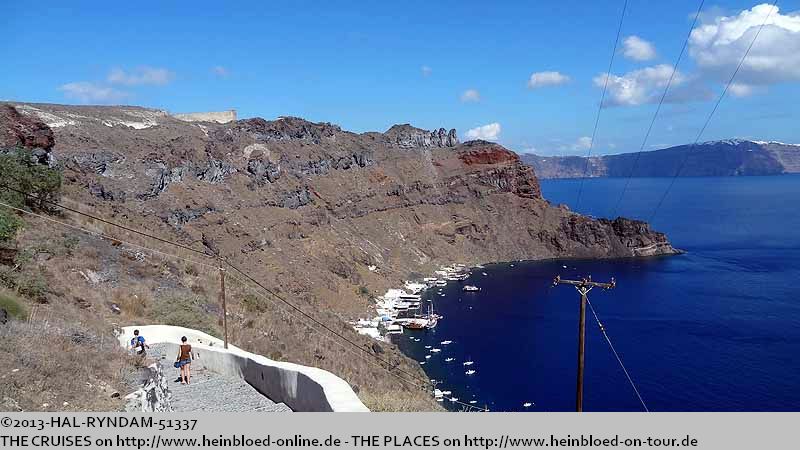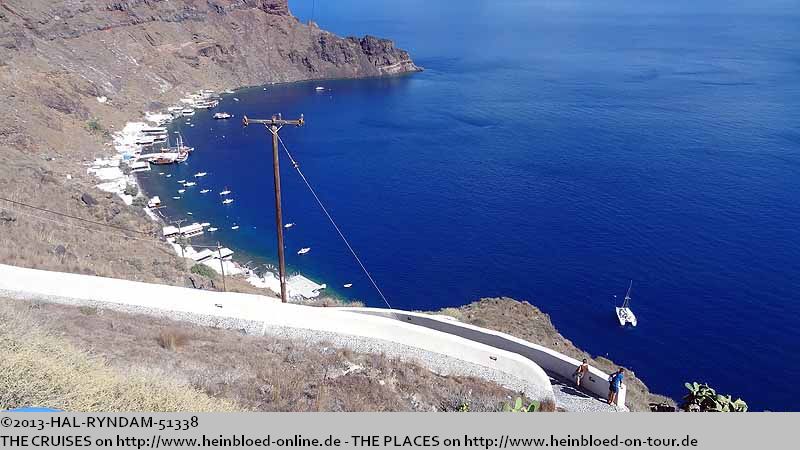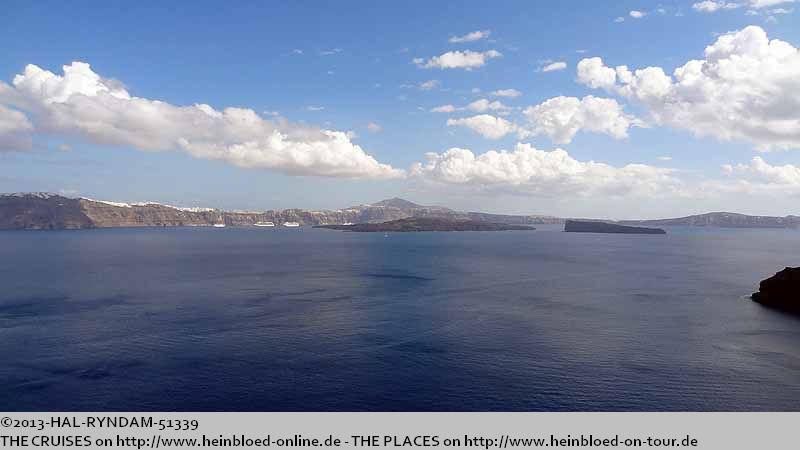 Bruno made it up to the hotel on the hill. But then he decided to return.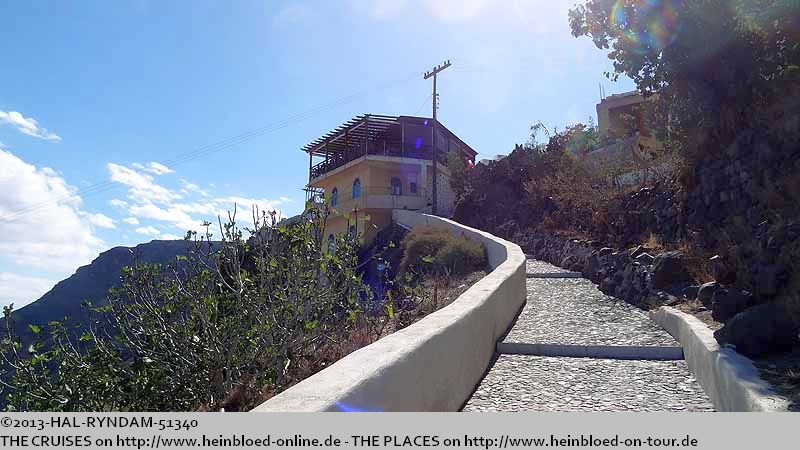 Bruno hat es bis zum Hotel oben geschafft. Dann kehrt er aber doch um.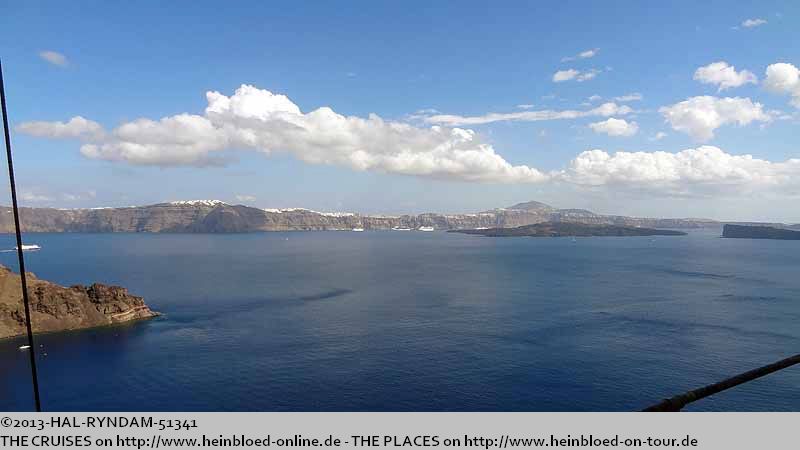 Now you could see 3 1/2.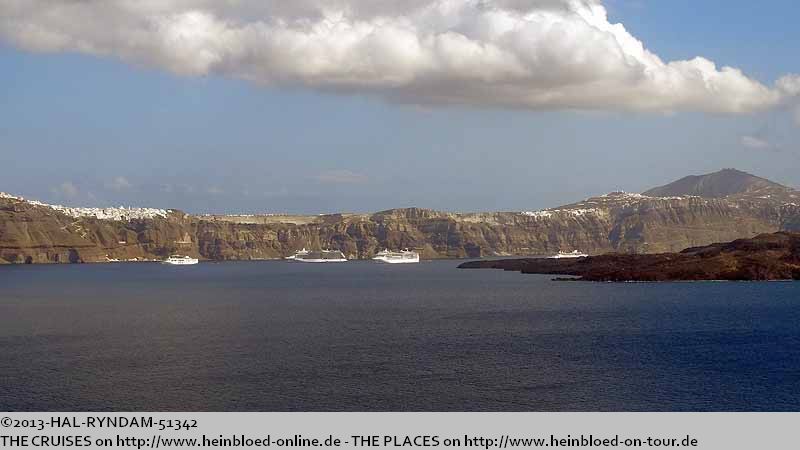 Hier sieht man doch 3 1/2.
1/2 = RYNDAM.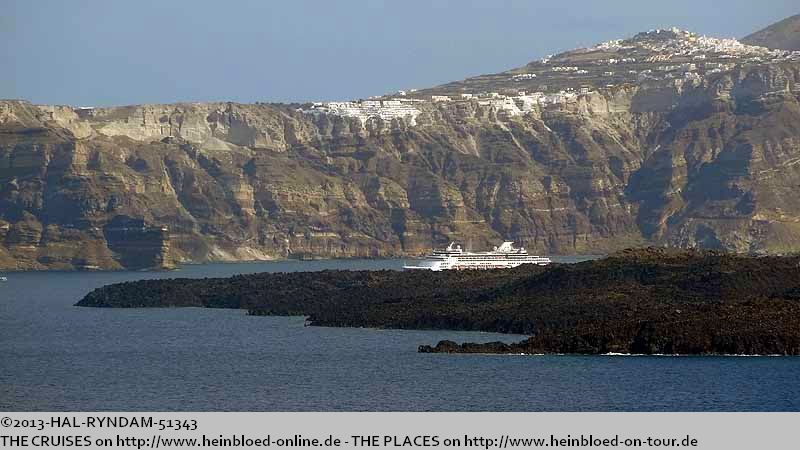 1/2 = RYNDAM.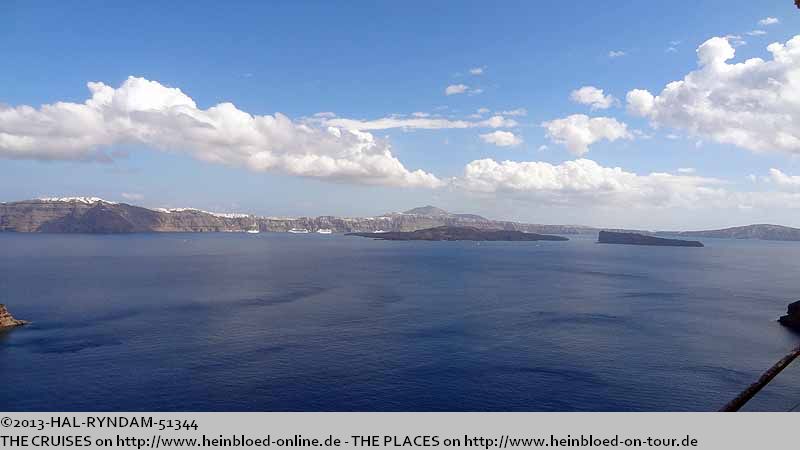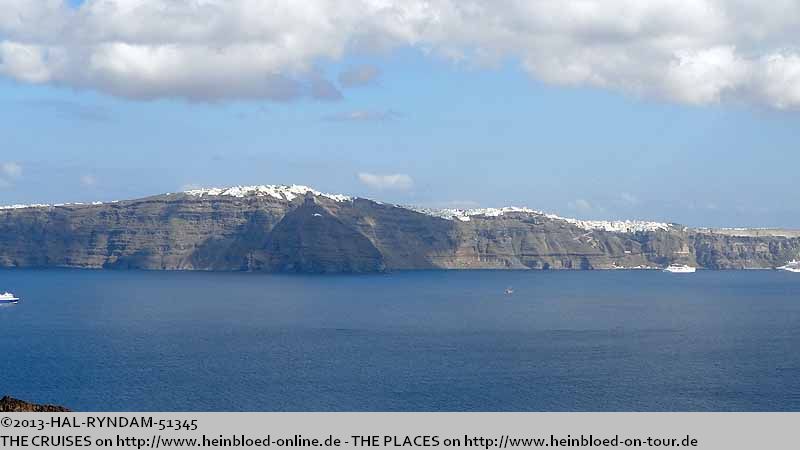 Emerald-Green.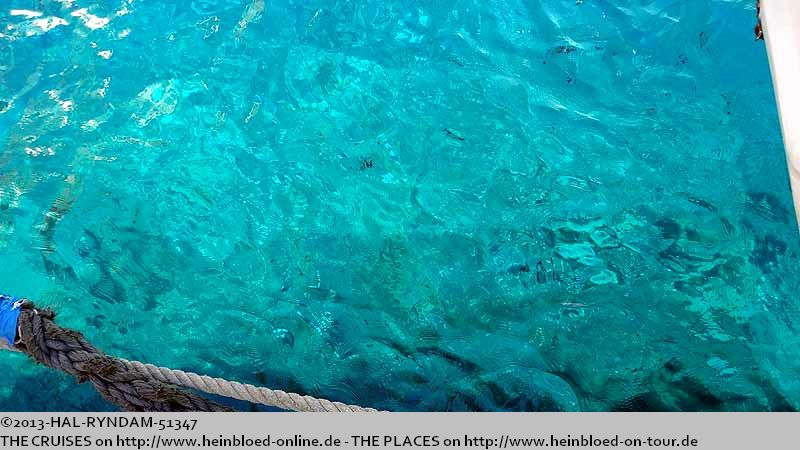 Smaragd-Grün.
Nur für das Protokoll: er hat nur sich ein Eis geholt. Ich habe es nur gehalten, während ich fotografiert wurde.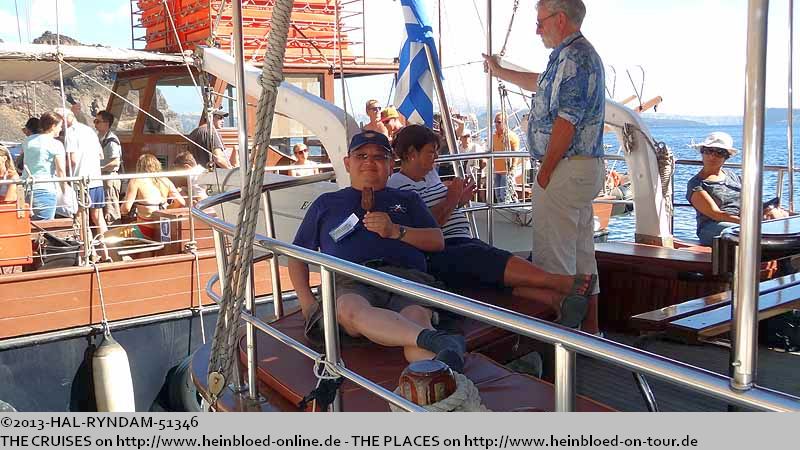 Only for the records: he got himself an ice-cream. I kept it only in my hand while he was taking a picture of me.

Then he ate his ice-cream. I had none.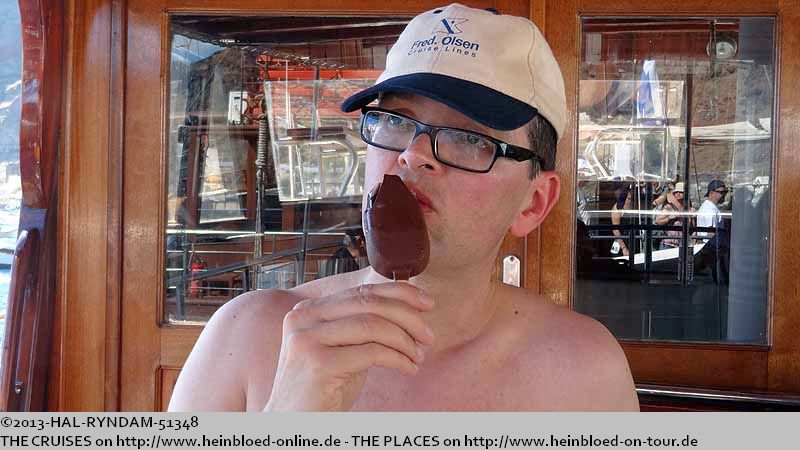 Dann ißt er sein Eis. Ich hatte keins.
Und dann geht es auch schon wieder ins Internet... Seine Familie sollte die Schönheit von Santorini sehen.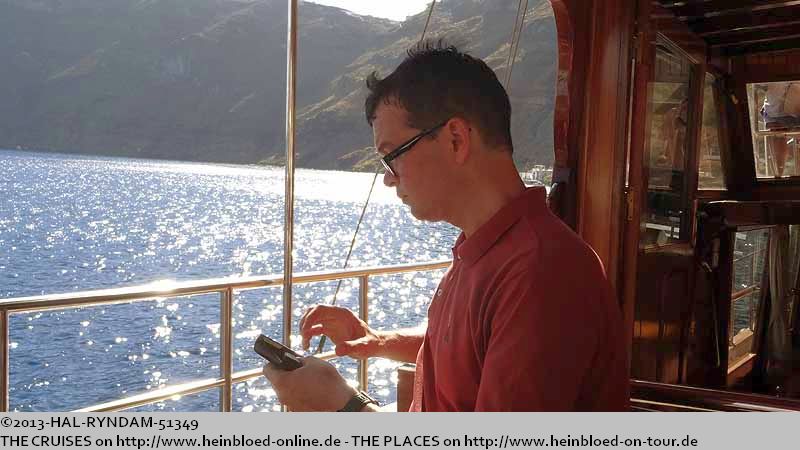 And then he went back to the internet... His family should see the beauty of Santorini.