Auf dem Weg zurück in die Stadt, können wir schön auf die NAVIGATOR OF THE SEAS sehen.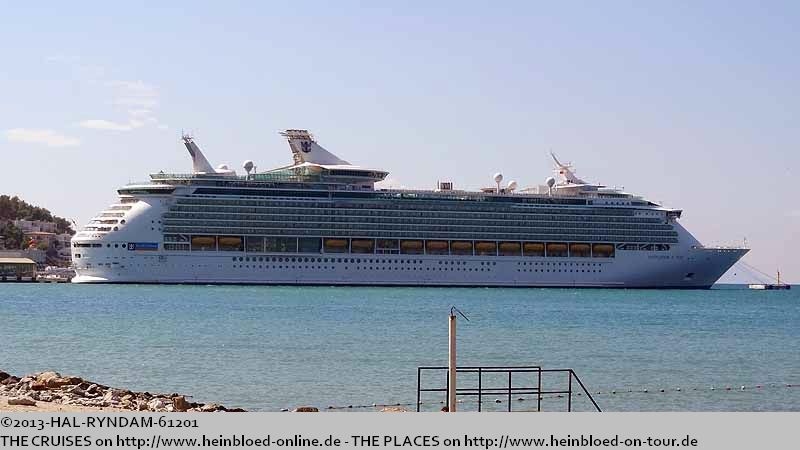 On our way back to the town we had a great view on NAVIGATOR OF THE SEAS.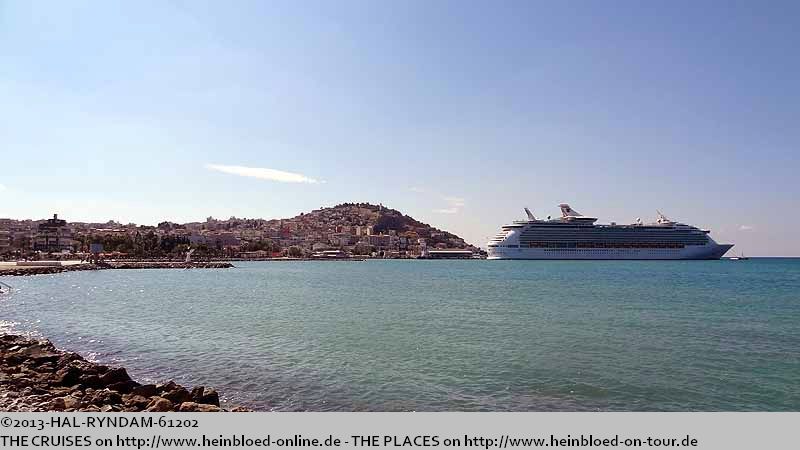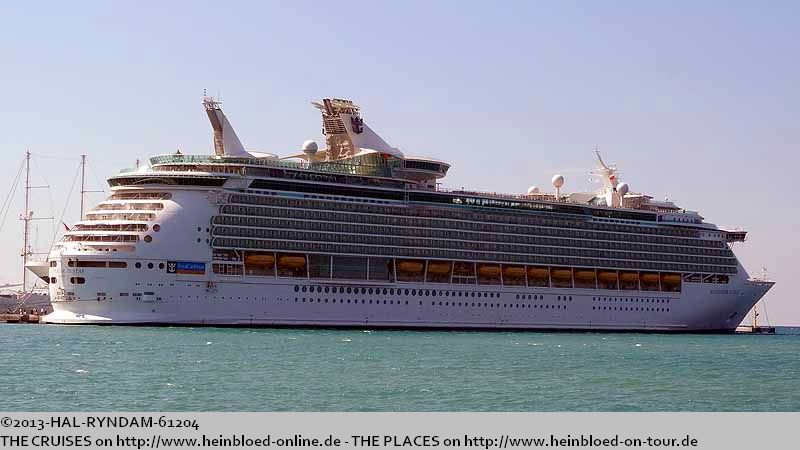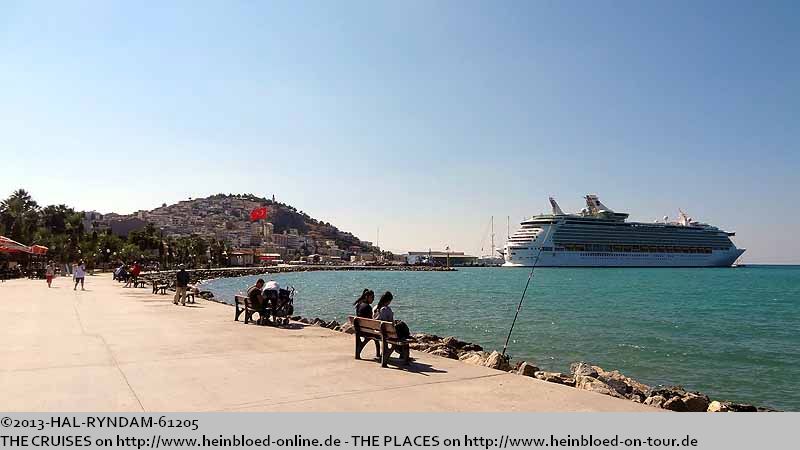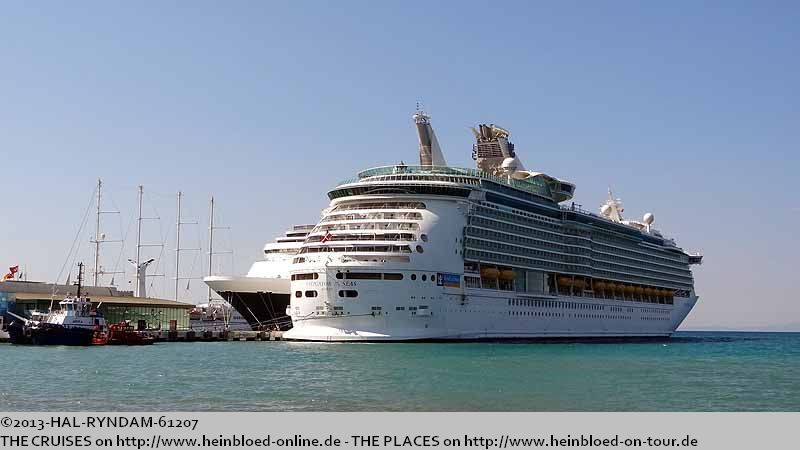 Sie kam nach uns rein und fuhr vor uns ab. So konnten wir später uns von den Gästen verabschieden. Vielleicht erkennt sich jemand darauf wieder.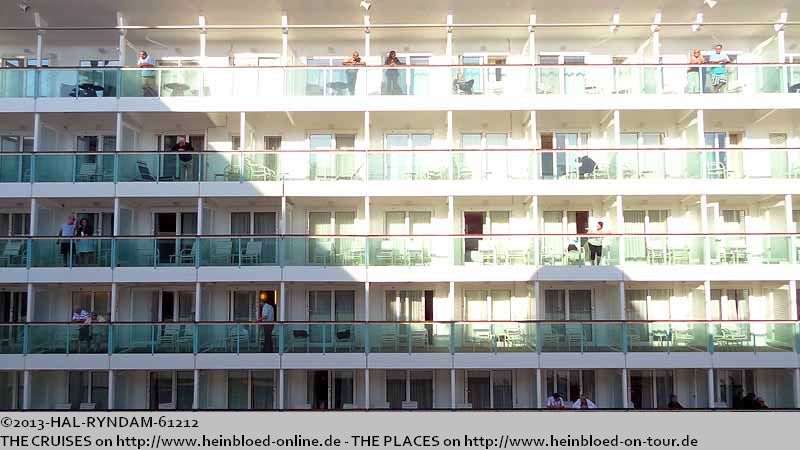 She arrived after we had arrived and had left before we left. So we could bid farewell to the their guests. Maybe someone identify himself on the pictures.

You cannot make any pictures of this kind if you are on the ship yourself.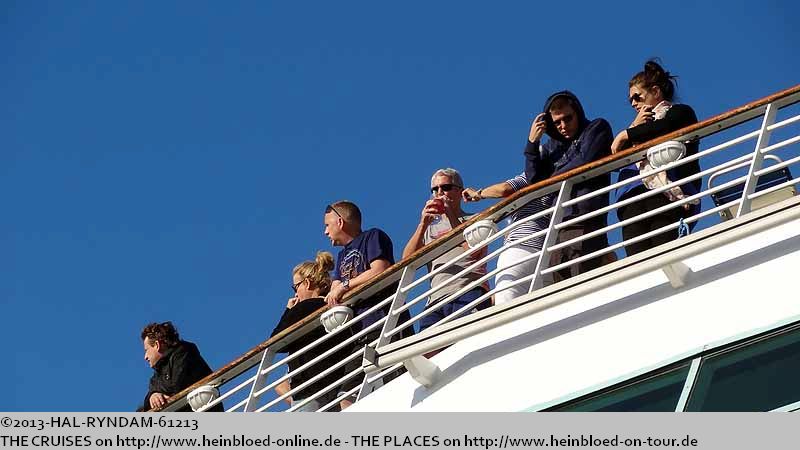 Man kann von sich selbst eben keine Bilder dieser Art machen, wenn man selbst auf dem Schiff ist.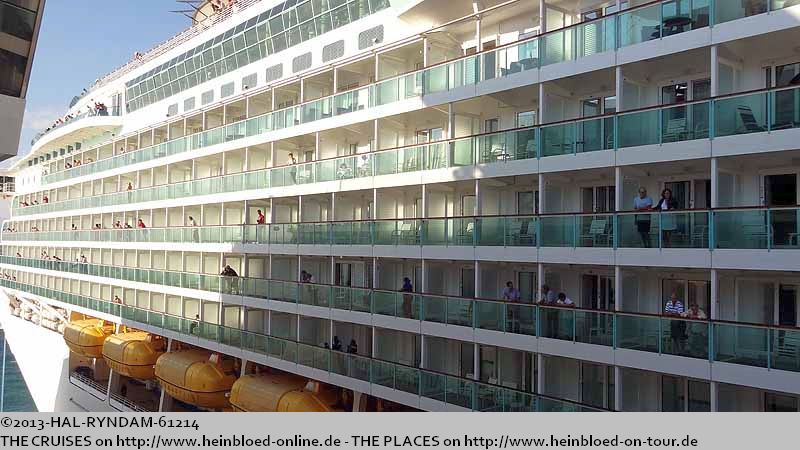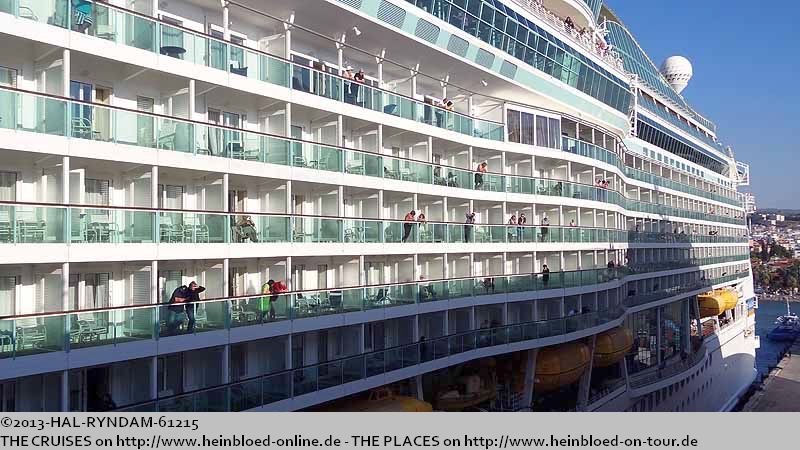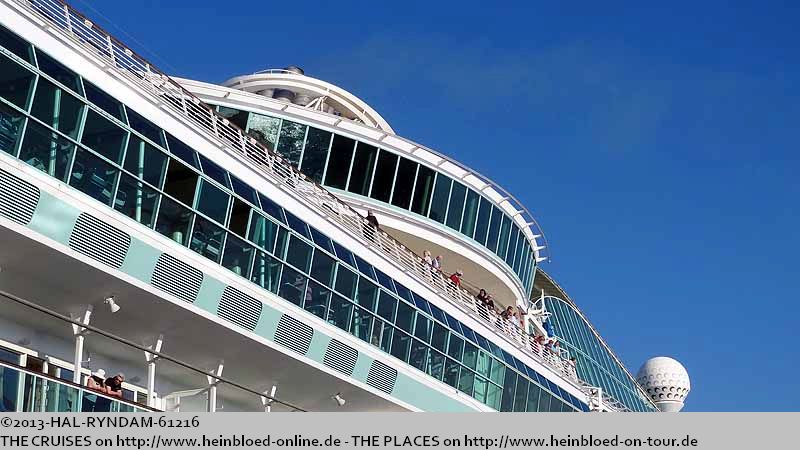 That was a larger balcony... but nothing compared to our XXL-balcony.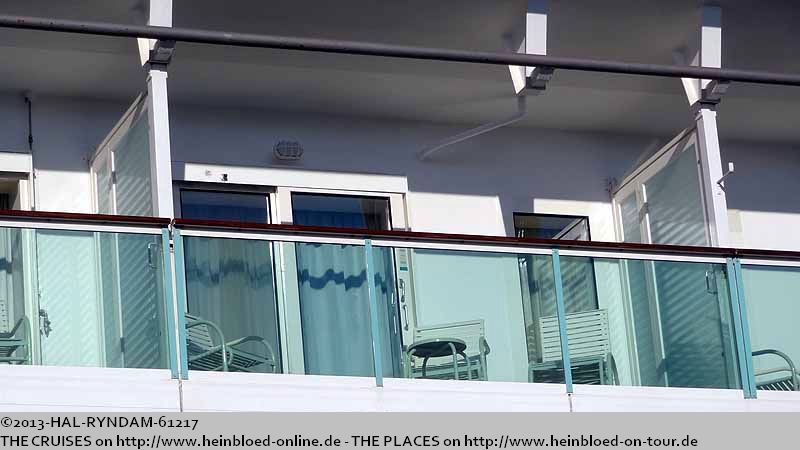 Da war aber schon ein größerer Balkon... kein Vergleich zu unserem XXL-Balkon.

I posted the picture only for one reason on Royal Caribbean's Facebook chronicle: just in case someone would like to download the picture for his own album.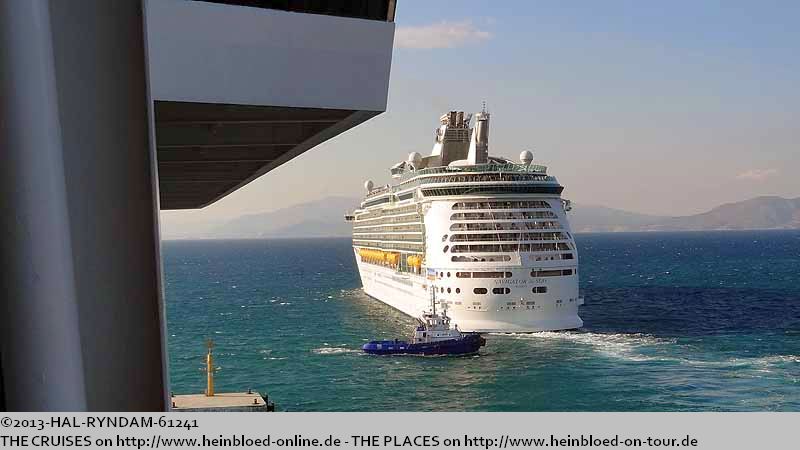 Diese Bilder hatte ich auf Royal Carirbbeans Facebook-Chronik gepostet. Eigentlich zum gleichen Zweck: damit sich jemand die Bilder selbst für sein eigenes Fotoalbum runterladen kann.
Nun war aber einer der Meinung, dass ich unbedingt auf die NAVIGATOR OF THE SEAS müsste, um ein ECHTES Schiff kennenzulernen. Was ist bitte ECHTES Schiff? Wenn es eine bestimmte Bruttoraumzahl hat? Wenn man eine Eislaufen kann? Das ist für mich kein ECHTES Schiff! Ein ECHTES Schiff ist das Schiff, auf dem ich mich wohlfühle. Und ich fühle mich auf der RYNDAM echt sauwohl. Die NAVIGATOR OF THE SEAS kenne ich zufällig. 2009 sind wir mal mitgefahren, deswegen kann ich schon unterscheiden, ob es ein ECHTES Schiff ist oder nicht. Das war ja ganz nett: die Eislaufshow.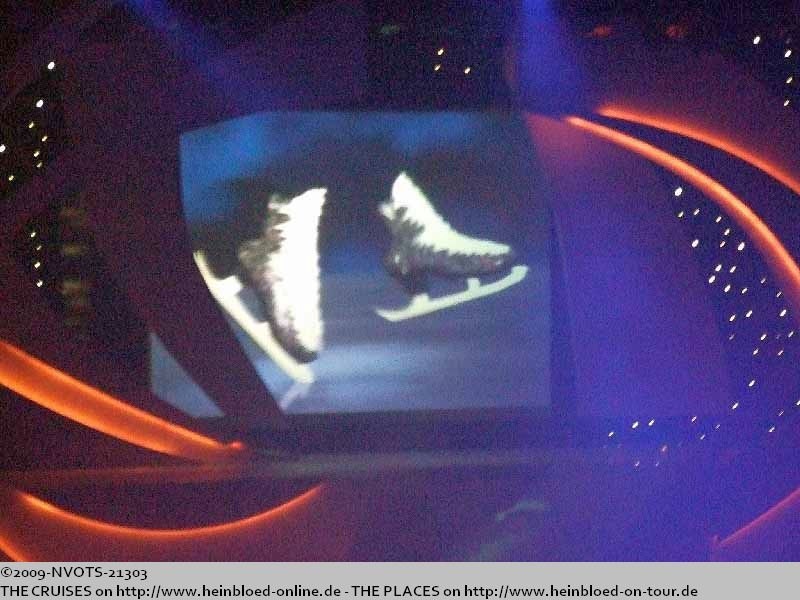 But there was one who had the opinion that I must go on NAVIGATOR OF THE SEAS to learn what a REAL ship is. What is a REAL ship please? If it exceeds a certain number of tonnage? If you can do ice-skating? That would not be a REAL ship for me! A REAL ship is the ship I am feeling comfortable when I am onboard. And I felt bloody good on RYNDAM. I was familiar with NAVIGATOR OF THE SEAS. We sailed 2009 on and therefore I can see the differences if this is a REAL ship or not. The ice-skating show was very nice.

The Royal Promenade: Nice to see, but no more. I am quite happy that we had not nightly parades and other events on RYNDAM.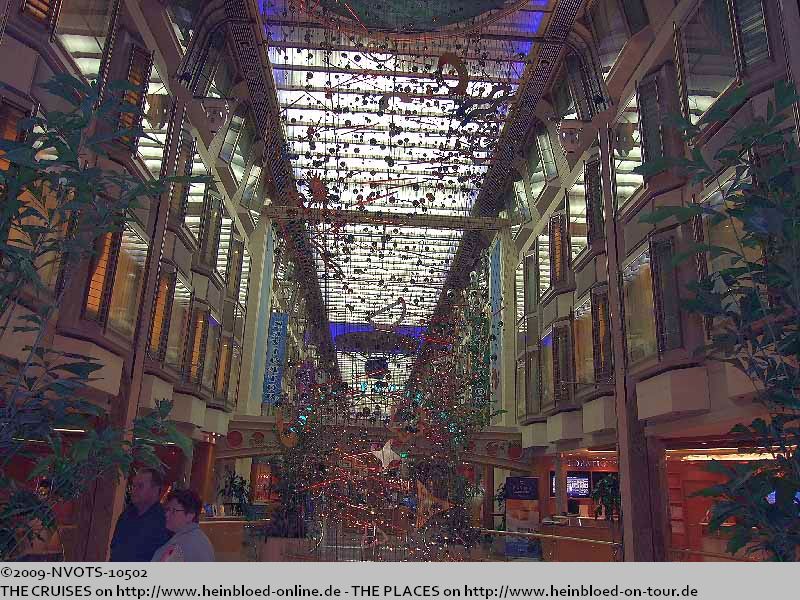 Die Royal Promenade: Hübsch zum Gucken, aber mehr auch nicht. Ich bin eigentlich ganz glücklich, dass hier auf der RYNDAM keine nächtliche Paraden u. ä. stattfinden.
Eine Kletterwand... sicherlich nicht mein Hauptzweck, um auf eine Kreuzfahrt zu gehen.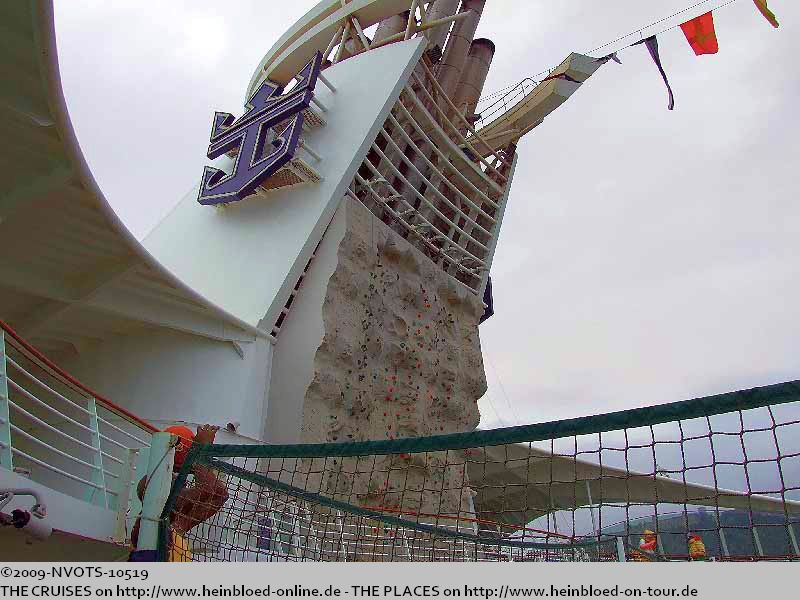 A climbing wall... definately not the main reason for me to book a cruise.

Either I book a cruise to do roller-skating onboard.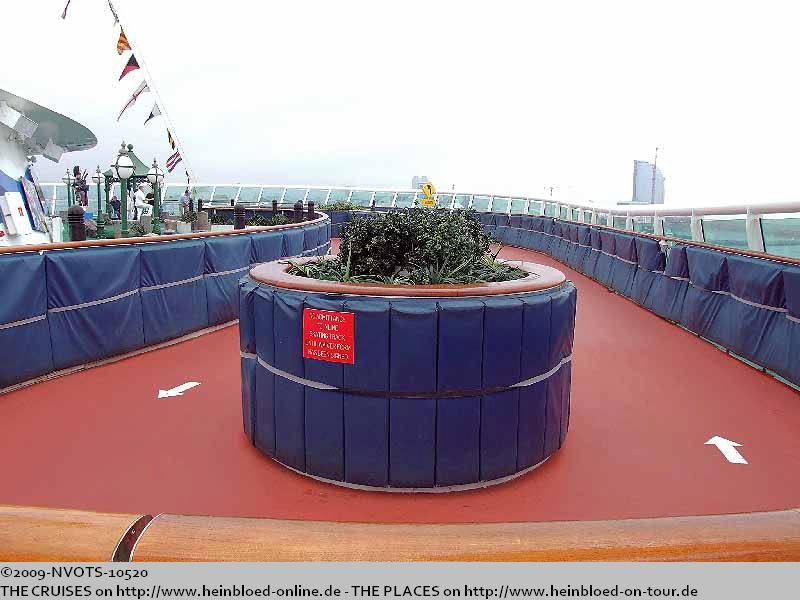 Auch geh ich auf kein Schiff, um dann hinterher mit Roller Blades herumzufahren.
Es ist auch eine Frage des Stils, ob man "Putzeimer" für Sekt verwendet.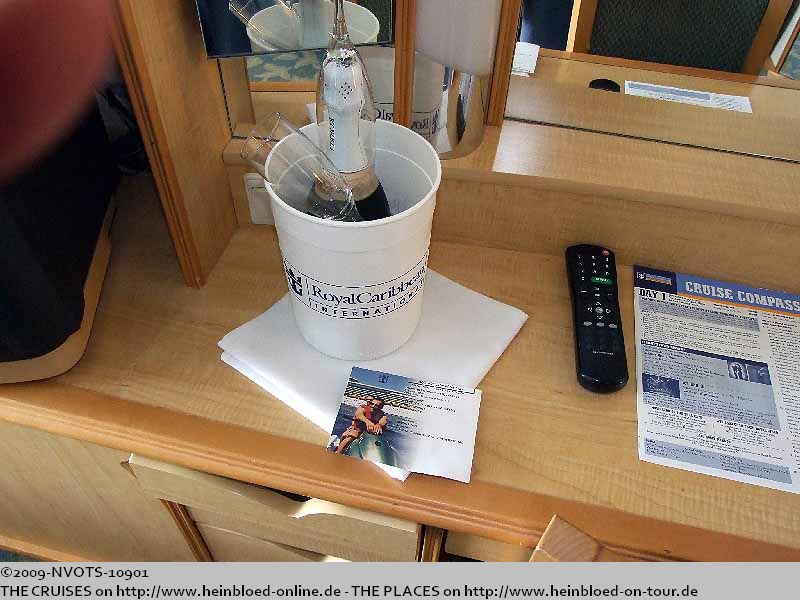 It's also a question of style if champagne must be served in a "cleaning bucket".

Self-Service or Full Service Restaurant. A breakfast in a serviced restaurant where you need to help yourself is nothing for me.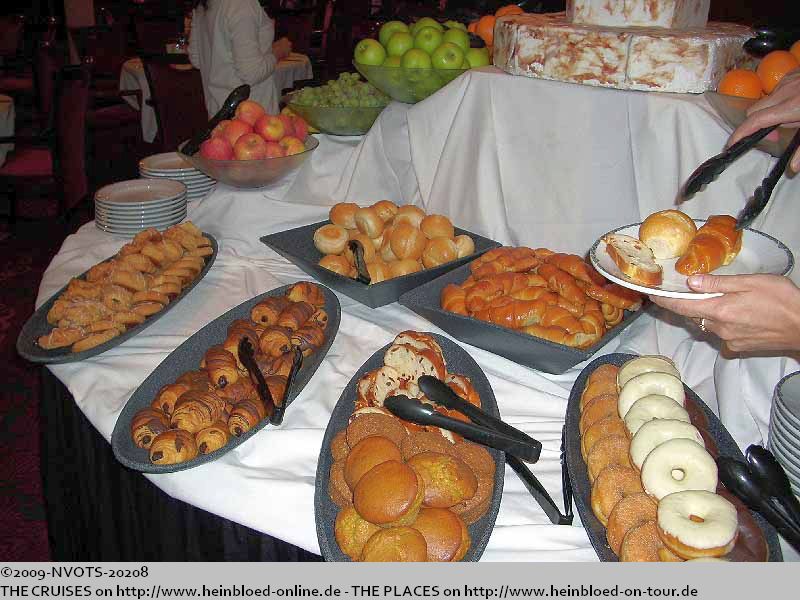 Entweder SB oder Restaurant mit vollem Service. Ein Frühstück im Bedienrestaurant, an dem ich mich selbst bedienen muss, ist leider nichts für mich.
Und ich will nicht jeden Morgen diskutieren, ob ich einen eigenen Tisch haben kann oder nicht und dann nach Laune des Maîtres an einen 10-er Tisch gesetzt zu werden, an dem mit dem Service begonnen wird, wenn alle zehn beisammen sind. Außerdem halte ich Cranberry-Saft und grünen Tee für einen absoluten Standard, der bei Royal Caribbean nicht selbstverständlich ist.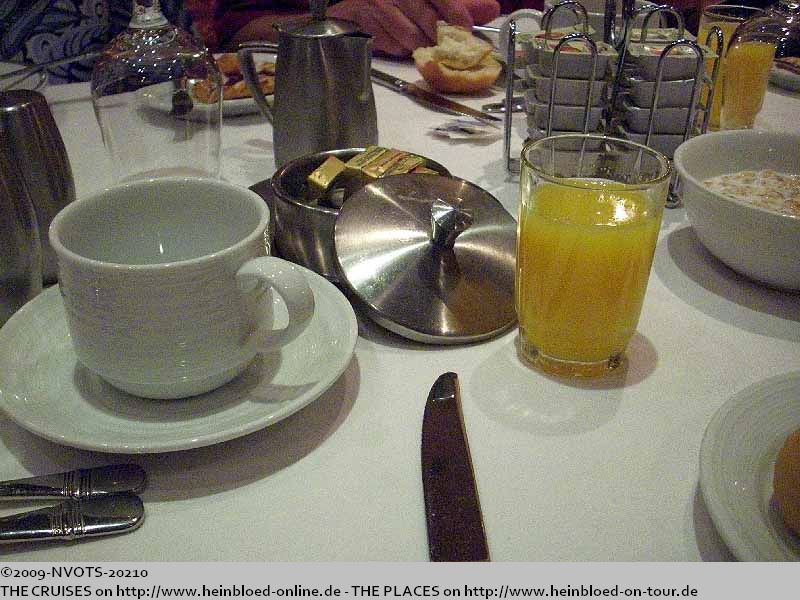 And I do not want to discuss every morning if I could have a table by myself or not and depending how the Maître slept you had to sit at table for 10 and they do not start service before all ten are together. Furthermore I think that Cranberry Juice and Green Tea should be a standard which was not availabe with Royal Caribbean.

Same with the lunch: Self Service or Full Service. Sorry but Brasserie 30 was not my world.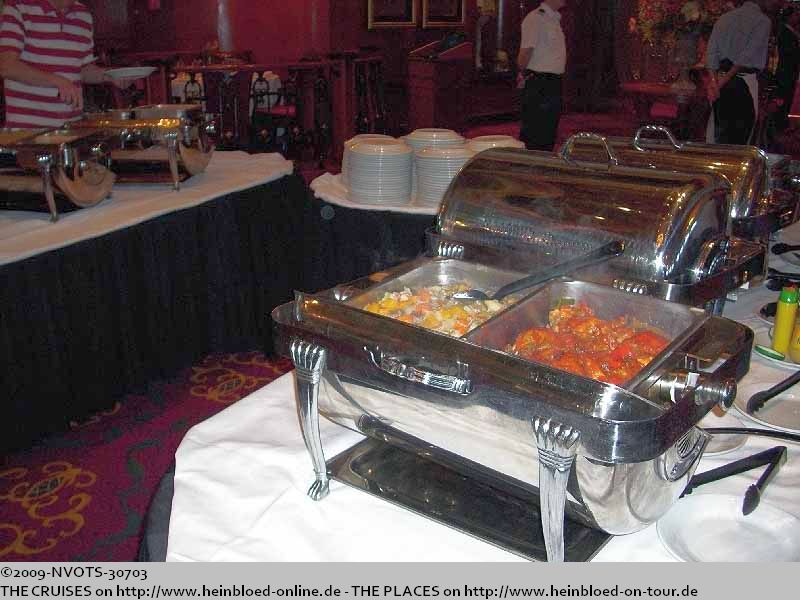 Das gleiche beim Mittagessen: entweder SB oder Bedienrestaurant. Sorry, aber ich konnte mit Brasserie 30 nichts anfangen.
Was ich bei HAL vermisse: ein Wasserpaket, wie bei RCI.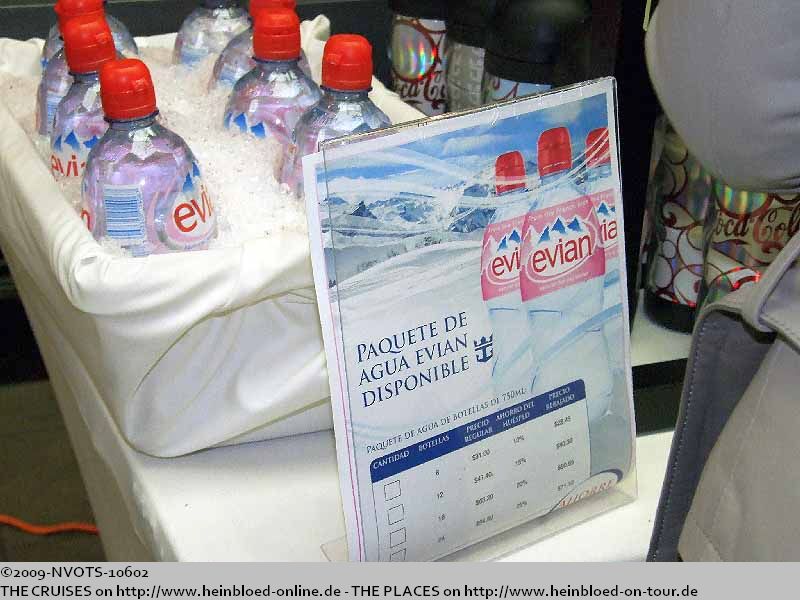 What I missed with HAL: A Water package like with RCI.

I missed also the shower cabins with door but those with curtains.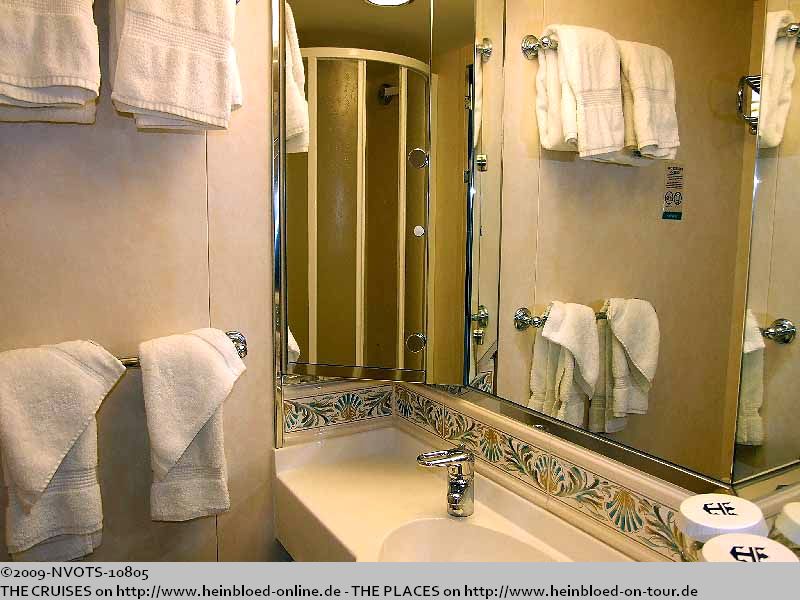 Ich vermisse auch, dass nur Duschvorhänge und keine Duschkabinen gibt.
Und ich ärgere mich im Pinnacle Grill, dass die Anzahl der Spieße wohl deutlich reduziert haben. Wenn sich an der Karte vom Portofino nichts geändert hat, wäre es ein guter Grund wieder mitzufahren.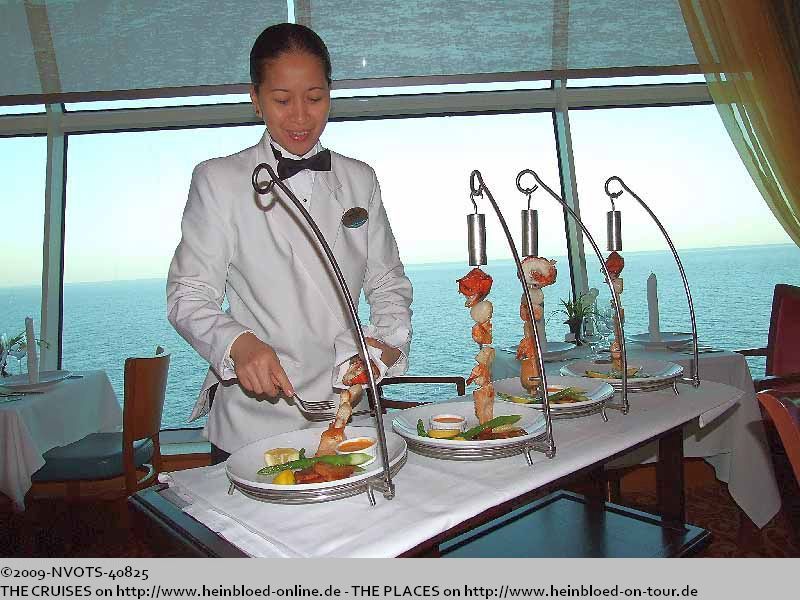 And I am upset that Pinnacle Grill reduced the number of skewers. If they have not changed anything in the menu of Portofino I would have a good reason to go again.

NAVIGATOR OF THE SEAS is of 2002 and this picture was taken 2009. At this time the ship was 7 years old. RYNDAM is now 19 years old and was in a great condition! I am always surprised how Royal Caribbean (incl. subsidiaries) always run their ships to wear. I am not sure if I really want to go under these circumstandes on the last voyage of the OASIS OF THE SEAS before she goes to drydock. Maybe it would be safer to have your own camping equipment with you. By the way both ship are rated by Douglas Ward in 2014 as 3*+. 1,362 points vs. 1,358 points for the favor of NAVIGATOR OF THE SEAS.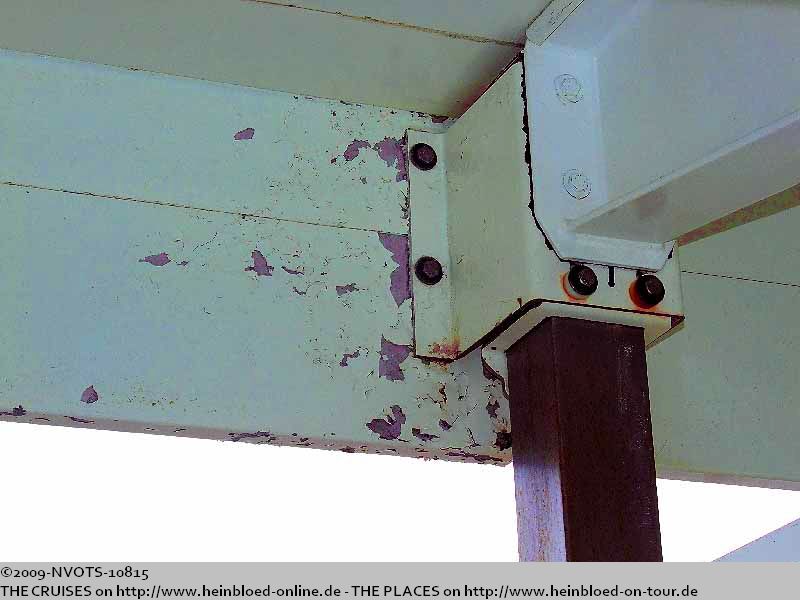 Die NAVIGATOR OF THE SEAS von 2002 und das Bild ist von 2009. Zu diesem Zeitpunkt war das Schiff 7 Jahre alt. Die RYNDAM ist nun 19 Jahre alt und in was für einem tollen Zustand! Wie Royal Caribbean (inkl. Tochtergesellschaften) immer seine Schiffe auf Verschleiß fährt, wundert mich schon. Ob ich unter diesen Umständen wirklich auf die OASIS OF THE SEAS mit will, wenn sie die letzte Reise vor dem Trockendockaufenthalt hat, weiß ich nicht. Vielleicht sollte ich besser einen eigene Campingausrüstung mitnehmen. Übrigens haben beide Schiffe lt. Douglas Ward 2014, 3*+. 1.362 Punkte zu 1.358 Punkte zu Gunsten der NAVIGATOR OF THE SEAS.
Vielleicht haben Veränderungen seit 2009 stattgefunden. Spielt auch keine Rolle. Die Reaktion aus Miami dafür war dafür ausschlaggebend, dass wir dann nur noch zwei Mal mit RCI-Gesellschaften gefahren sind: 2010 mit CELEBRITY EQUINOX und 2012 mit MEIN SCHIFF 2 unterwegs waren. Zwischen NAVIGATOR OF THE SES und RYNDAM liegen 30 Fahrten und davon nur zwei mit der RCI-Gruppe. Die Aktien habe ich mit Gewinn verkauft. Und ganz ehrlich: 253,42 USD (ohne Tax) pro Nacht in einer BV-Außenkabine auf der OASIS OF THE SEAS halte ich für ganz schön happig. Eigentlich kann ich billiger nach Miami fliegen und dann ab 749,00 USD (ohne Tax) auch eine Woche lang in der Karibik fahren und hätte sogar eine Balkonkabine, wenn auch nicht mit Ausblick auf das Meer. Ich warte mal ab, wie es auf der CELEBRITY MILLENIUM im April 2014 in Asien wird: vielleicht kommen wir wieder und buchen um: RYNDAM Istanbul - Piräus - Istanbul oder eine Kombination aus RYNDAM und OCEAN PRINCESS oder mit der OCEAN PRINCESS ins Schwarze Meer. Deswegen Sorry! Die NAVIGATOR OF THE SEAS ist ein Schiff von vielen anderen. Nur ein ECHTES Schiff ist sie lange nicht, wenn man es so darstellt, als ob die RYNDAM kein echtes Schiff sei. Da kann die RYNDAM mit ihren Qualitäten locker mithalten. Und für 228,29 USD (ohne Tax) pro Nacht habe ich meine Neptune Suite bekommen und ich habe vieles bekommen, was ich persönlich sehr schätze und deswegen ist das MEIN ECHTES Schiff. Dass ich an dem Tag das Royal Caribbean Polo-Shirt anhatte war reiner Zufall und sagt nichts über meine Beziehung zu der Gesellschaft aus.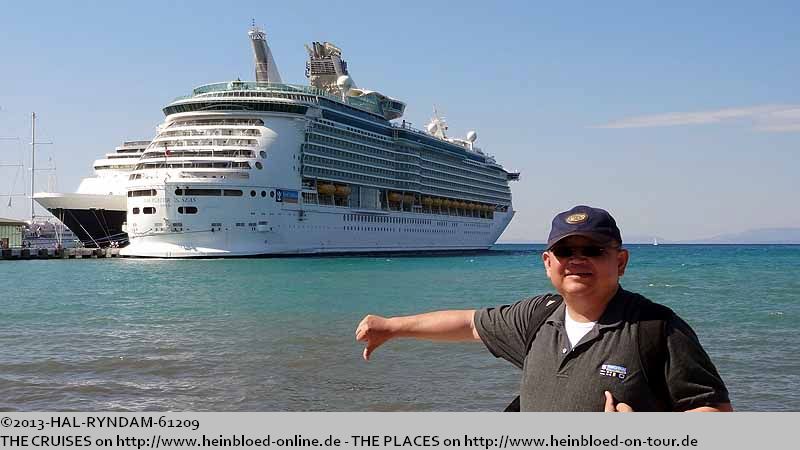 Maybe there were changes since 2009. No matter. The reaction from Miami was most reason that we went only 2 more times with RCI-Companies: 2010 on CELEBRITY EQUINOX and 2012 on MEIN SCHIFF 2. Between NAVIGATOR OF THE SEAS and RYNDAM there were 30 voyages and only 2 of them with RCI-Companies. I sold the shares with a lot of profit. Honestly 253.42 USD (without tax) per night on OASIS OF THE SEAS in a BV-oceanview (which ocean?) is quite high. I think it might be cheaper to get a 7-nighter in the Caribbean for 749.00 USD (without tax) and pay for the fleight to Miami which would allow me to have a balcony. I just wait now how it would be on CELEBRITY MILLENIUM in April 2014 in Asia: maybe we will come back or we rebook: RYNDAM Istanbul - Piraeus - Istanbul or a combination of OCEAN PRINCESS and RYNDAM or just OCEAN PRINCESS in Black Sea. Therefore Sorry! NAVIGATOR OF THE SEAS is one ship of many ships alike. But she is for sure not a REAL ship if you think that RYNDAM is not a real ship. RYNDAM quality features can easily compete with others. And for 228.29 USD (without tax) per night I got a Neptune Suite and everything what I appreciate and that is why she is MY REAL ship. The fact that I weared that day a polo-shirt of Royal Caribbean was an accident and does not say anything about my relationship to this company.