Nachdem ja alles etwas zeitlich hinterher hinkte, haben wir auf den Ausstieg in Oia verzichtet.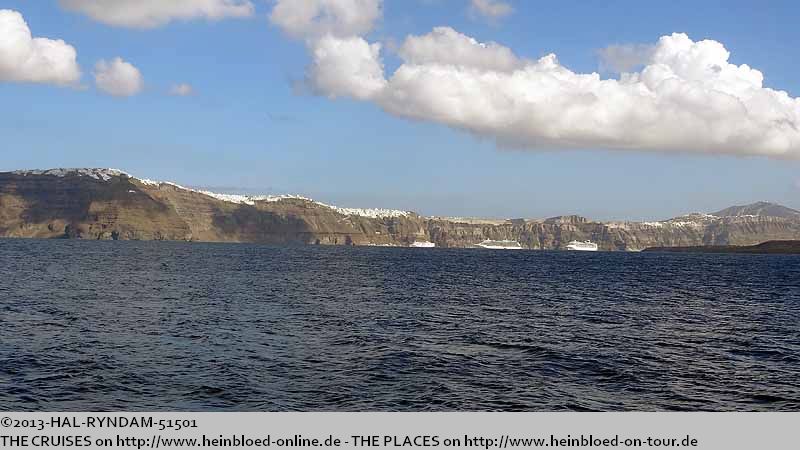 After we were behind schedule we decided to withdraw to allign in Oia.

Here you could see all four ships.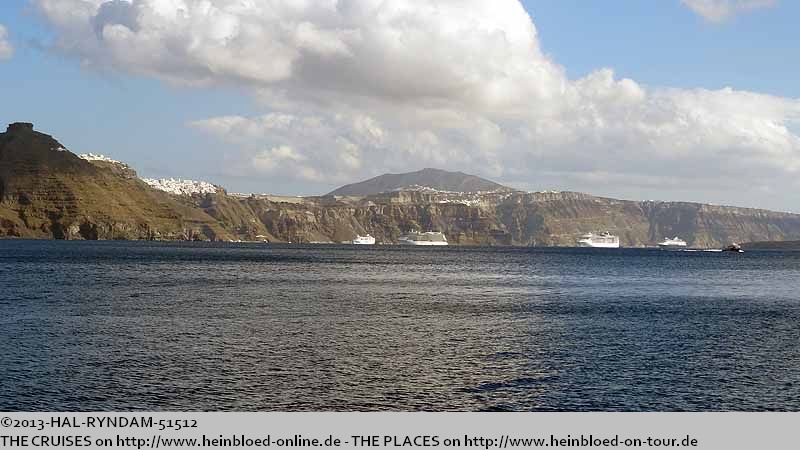 Hier sieht man alle vier Schiffe.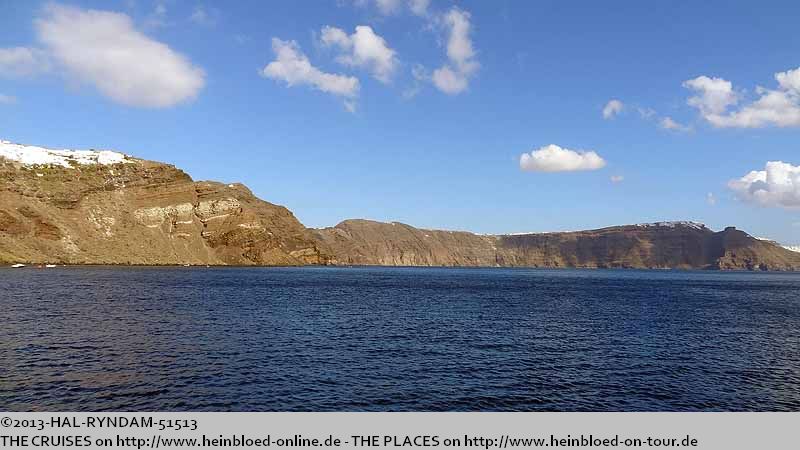 Also in Oia you had a chance to use the donkeys to get to the place up.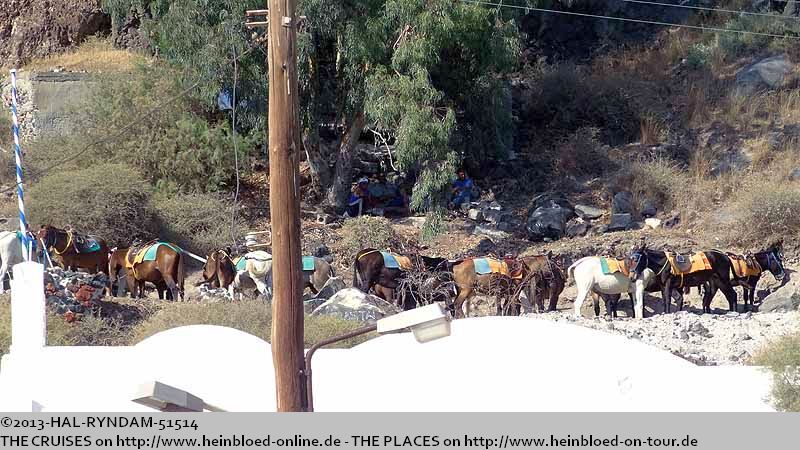 Auch in Oia gibt es eine Möglichkeit mit dem Esel in den Ort hinaufzukommen.
Einige nutzen die Chance, die Oia auszusteigen und so müssen wir anlegen.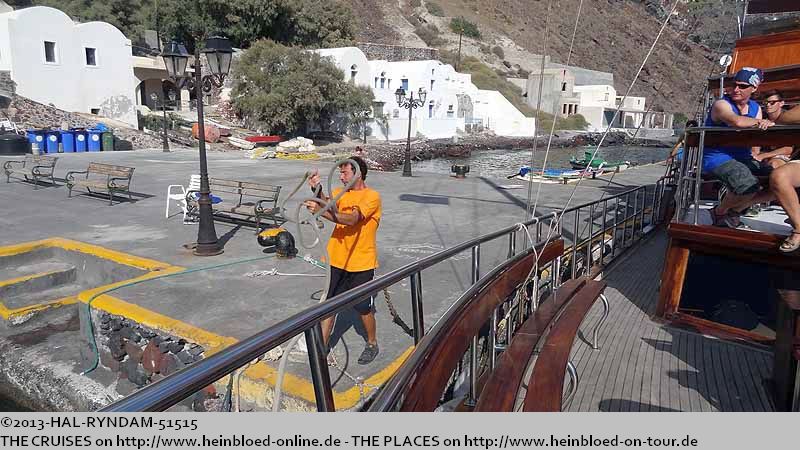 Some used the chance to leave in Oia and so we had to call the port.

For the MSC Yacht Club they had a tender access of their own. For us suite-guests of Holland America we had no extra access which was marked accordingly. But it was so calm that we did not need any priority access. My Celebrity t-shirt occured some confusions on board. Few went down again and wanted to make sure that this was the tenderboat for RYNDAM and they came back to tell me that I might be on the wrong tender boat and this was the RYNDAM-bound boat.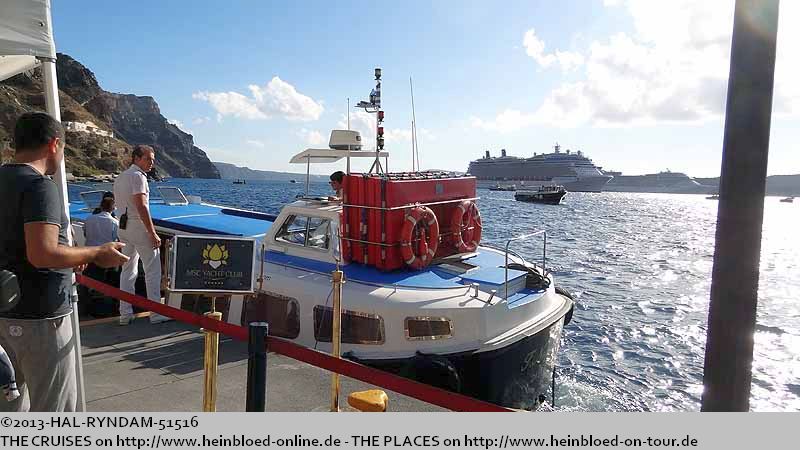 Für den MSC Yacht Club gibt es an der Tenderboot Station einen eigenen Zugang. Für uns Suiten-Gäste bei Holland America gibt es keinen extra markierten. Es war jedoch so wenig los, dass wir keinen Priority-Zugang benötigen. Auf dem Boot sorgt mein Celebrity T-Shirt für Irrititation. Viele gehen wieder runter und fragen nach, ob es das Tenderboot zur RYNDAM sei und kommen zurück und machen mich dann aufmerksam, dass es das Boot zur RYNDAM sei.

Eine intensive Grundreinigung wird angekündigt.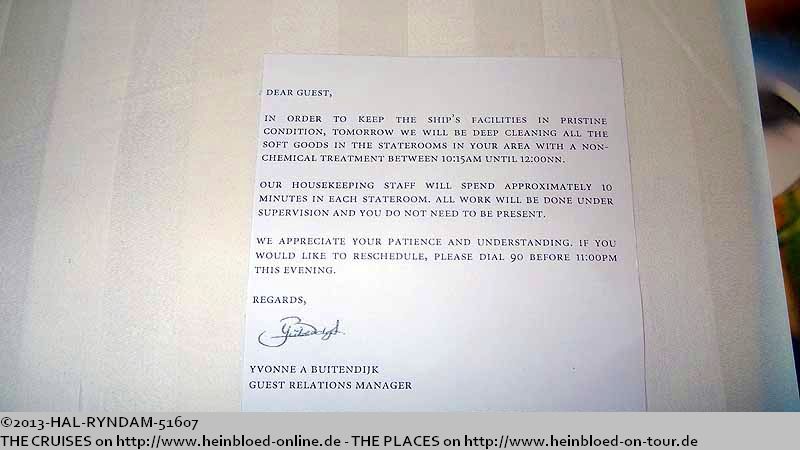 They announced an intensive general cleaning.

Two more times we should have the yummy canapés. We will miss them very much.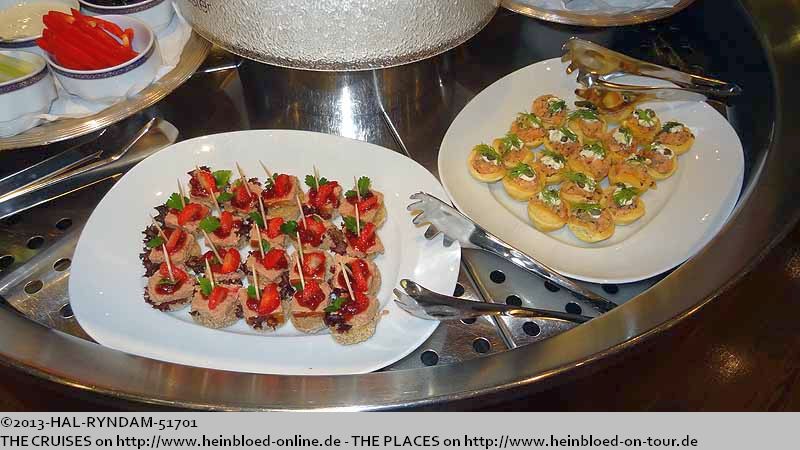 Noch zweimal gibt es die leckeren Canapés. Diese werde ich schmerzlich vermissen.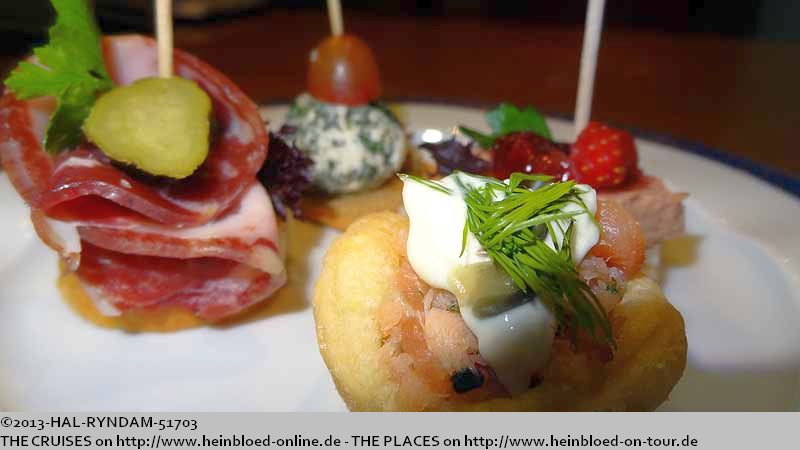 Im Crow's Nest kann man schön nach vorne gucken. Ich liebe diese Lounge.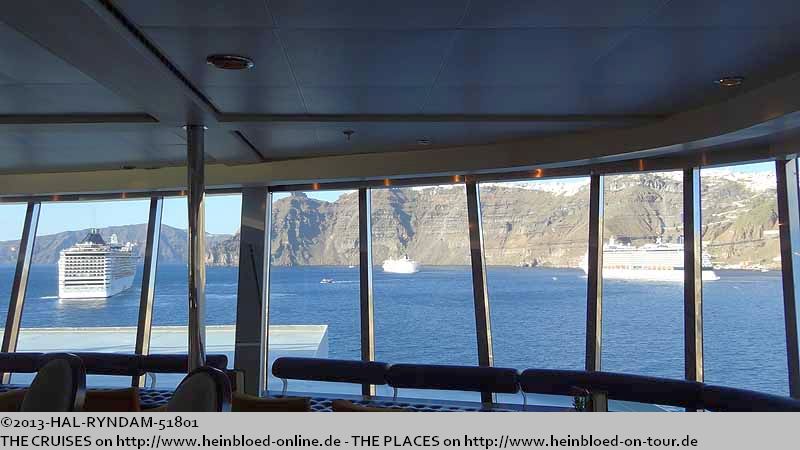 In the Crow's Nest you could really have a nice view forward. I loved that lounge.


The last tenderboat.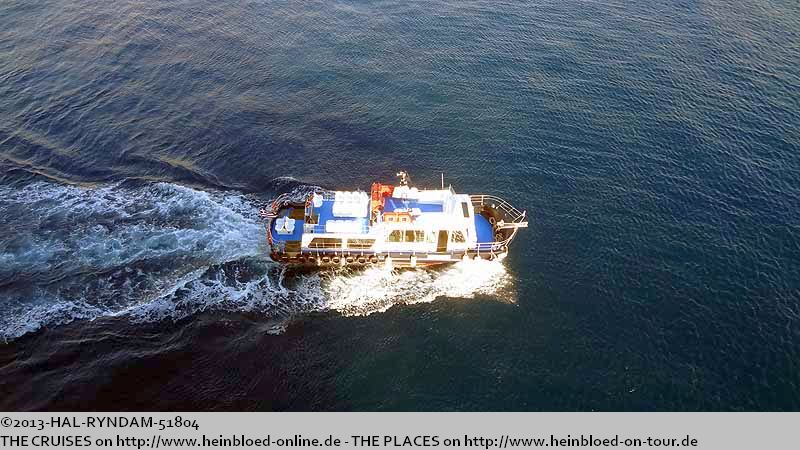 Das letzte Tenderboot.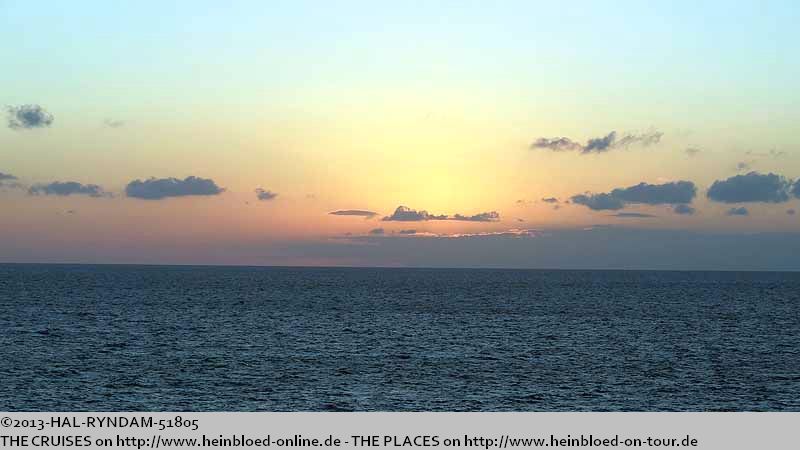 Everywhere on the ship they did something. Our table mates told us the day before that they sat on Deck 11 and they were painting at Deck 12... without securing the area... You could imagine yourselves what happened when he had some paint on this body...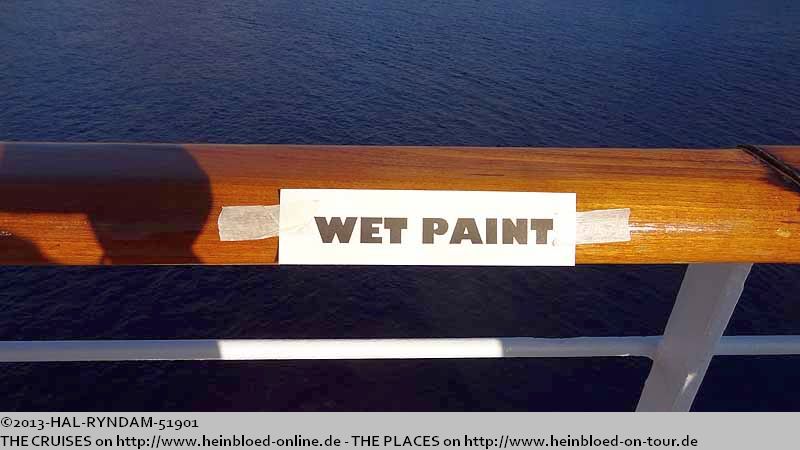 Überall an Bord wird etwas getan. Unsere Tischnachbarn hatten uns gestern erzählt, dass sie zuvor auf Deck 11 saßen und auf Deck 12 wohl gepinselt wurde... ohne Absicherung... den Rest, was passiert, als er Farbe abbekommen hat, darf jeder sich selbst ausmalen...
Überall wird saubergemacht: Nyoman und Moh reinigen die Decke. Ich fand, dass das Schiff für Jahrgang 1994 in einem sehr guten Zustand war. Und ich habe schon jüngere Schiffe in einem schlechteren Zugang gesehen. Ich habe mich sehr wohl gefühlt.

They cleaned everywhere. Nyoman and Moh were cleaning the ceiling. I found that the ship was in a very good condition for one of the year 1994. I saw much younger ships in a worse condition. I felt very comfortable on that ship.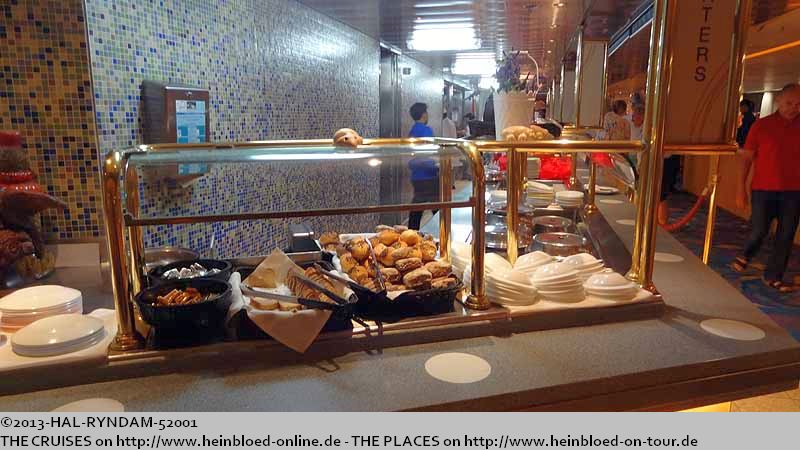 Im Lido Café gibt es anscheinend das gleiche wie unten im Rotterdam Hauptrestaurant.

In the Lido Café they had the same food like the Rotterdam MDR.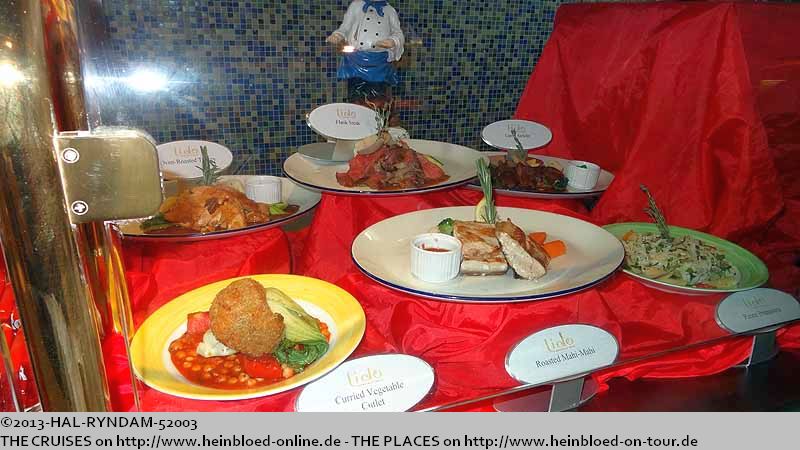 Immer ein Lächeln für meine Kamera: Loreto Alfredo III, Jonathan, Ronaldo und Yohan.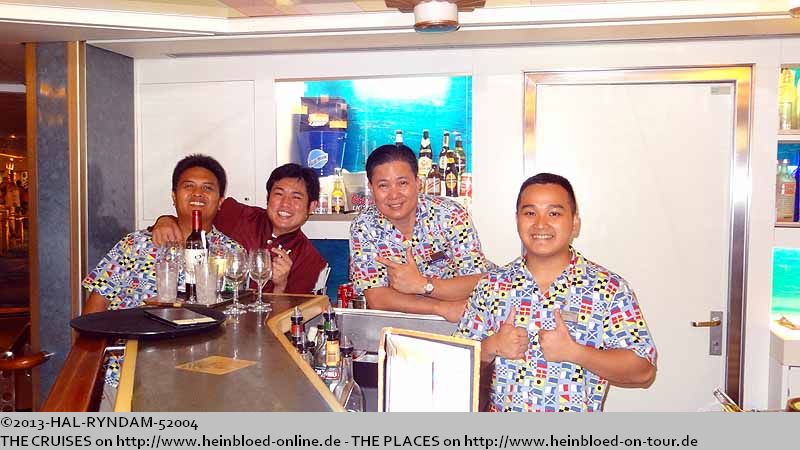 They had always a smile for my camera: Loreto Alfredo III, Jonathan, Ronaldo and Yohan.

And at the reception you had every day Robby and Yopi in the Rotterdam MDR.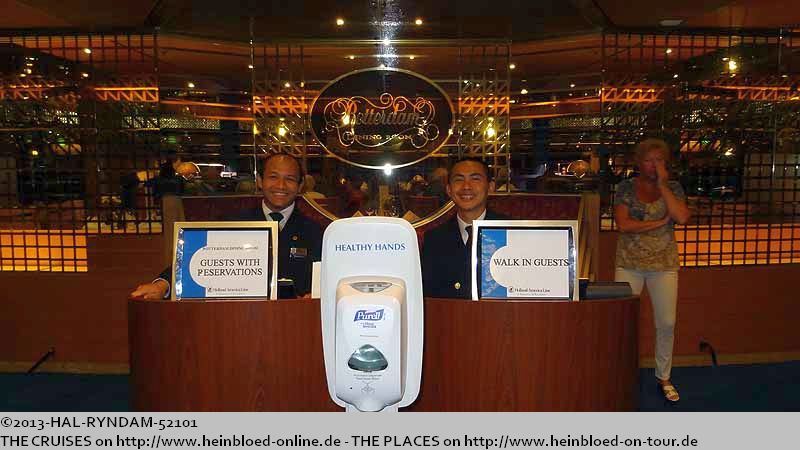 Und am Empfang stehen jeden Tag Robby and Yopi im Rotterdam Hauptrestaurant.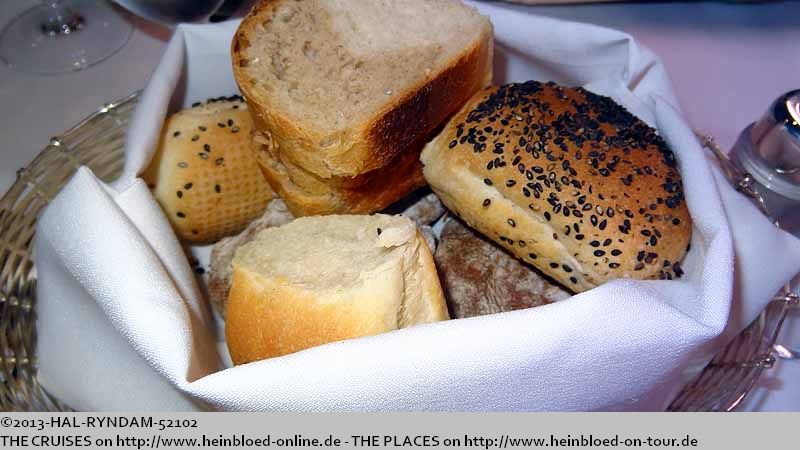 I am a big fan of tuna-tartare. I love tuna-suhsi and sashima... but this tuna appeared a little strange to me. Maybe it should be cut another way.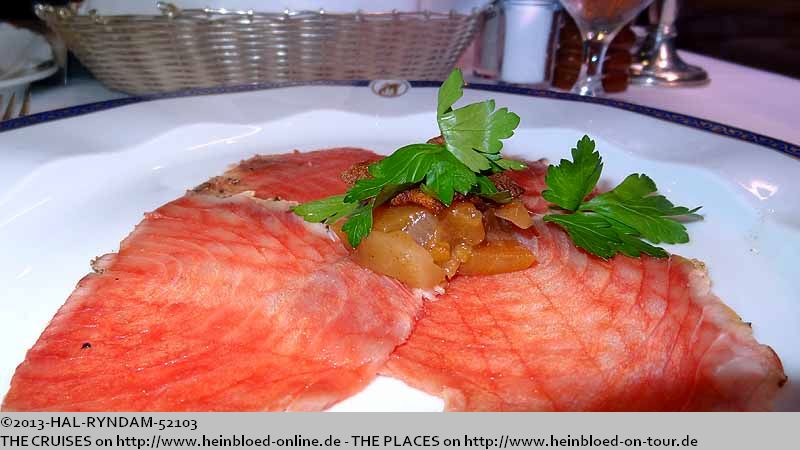 Ich bin ein Fan von Thunfisch-Tartar. Ich esse gerne Thunfisch-Sushi und Sashima... aber dieser Thunfisch wirkt ein wenig befremdlich auf mich. Vielleicht hätte er anders geschnitten werden müssen.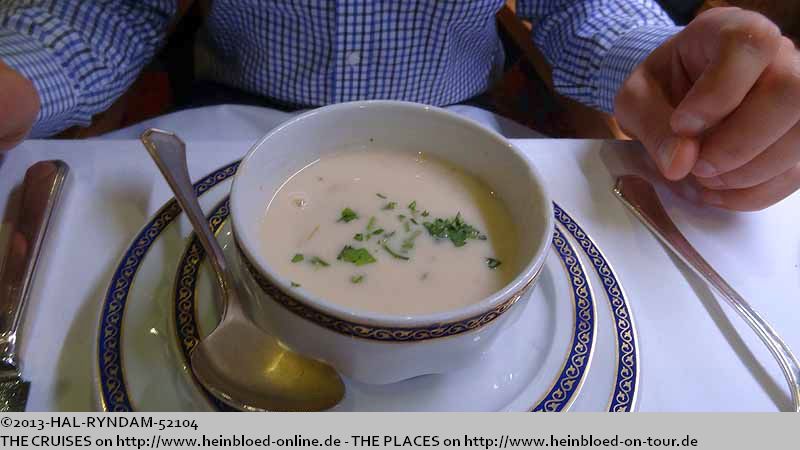 Unfortunately it was not everything perfect with Holland America. What they did well they did very well. But dealing with problems occur a problem with them because they did not know it. That is why mostly it would terminate in a desaster. To say it at the beginning: we love Holland America so much that we can forgive them. But there is always space for improvements. That is the reason why it is mentioned here. This table was just ice-cold.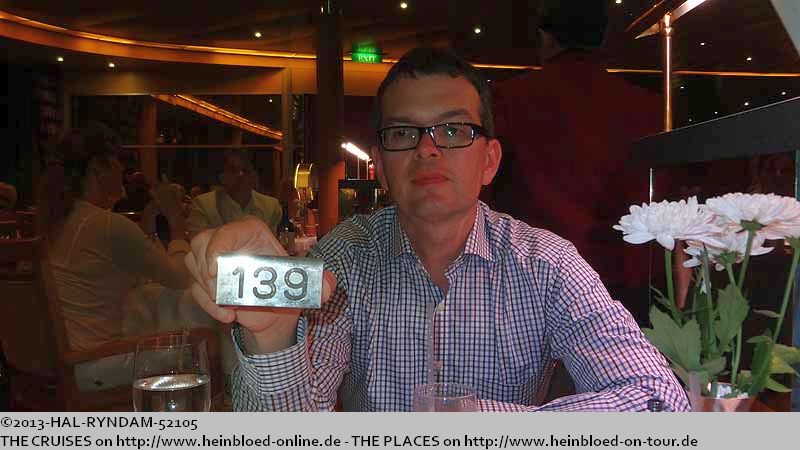 Leider ist bei Holland America nicht alles perfekt. Was sie gut machen, machen sie sehr gut. Nur mit Problemen können sie nicht so richtig umgehen, weil sie das nicht kennen. Deswegen entwickelt sich das meistens in eine Katastrophe. Um es vorab zu sagen: wir lieben Holland America so sehr, dass wir das am Schluß verzeihen. Nur ist ja immer Platz für Verbesserungen. Deswegen findet es auch Erwähnung. Dieser Tisch ist einfach eiskalt.
Jedes warme Essen wird sofort kalt geblasen, weil direkt über uns die Lüftungsschlitze sind. Am Nachbartisch beschwert man sich auch. Es wird hier hilflos zur Kenntnis genommen. Eine Lösung wird nicht gesucht. Hier hätte es zwei Möglichkeiten gegeben: 1. "Wir rufen sofort einen Techniker. Vielleicht können wir etwas anders einstellen, dass Sie sich wohlfühlen" und 2. "Bitte warten Sie einen Moment vorne am Empfang. Wir werden nach einem Tisch für Sie Ausschau halten, der für Sie angenehmer ist.". Aber nichts passiert.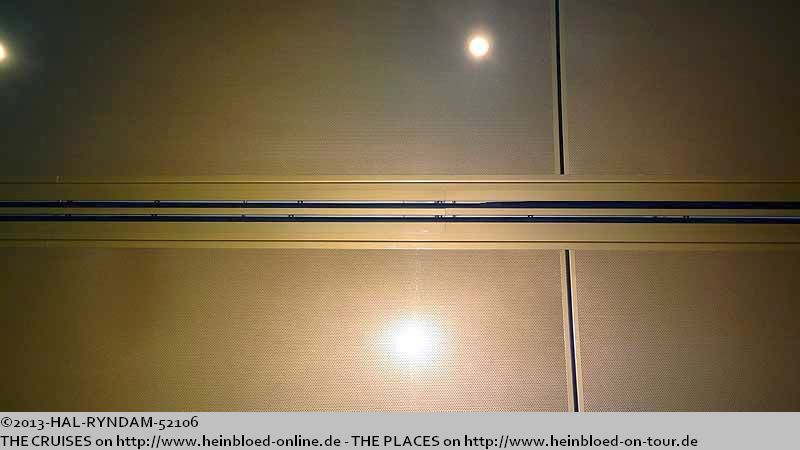 Each hot meal was blown immediately cold becuase just above us you had the air outlets. Also the table next to us they complainted. They waiters just noticed but without any further reaction. No solution was offered. They had two options: 1. "We call a technician. Maybe we can adjust something that you feel comfortable here" and 2. "Please kindly wait a moment at the front desk. We will look for another table for you which might be more comfortable." But nothing happened.

NCL would noticed it if Bruno wear a cardigan and asked for any background information. But here the Maître were not in charge for the guests. We see our only how he set or clear the tables. Obviously he was the only one he was allowed to carry napkins and glasses.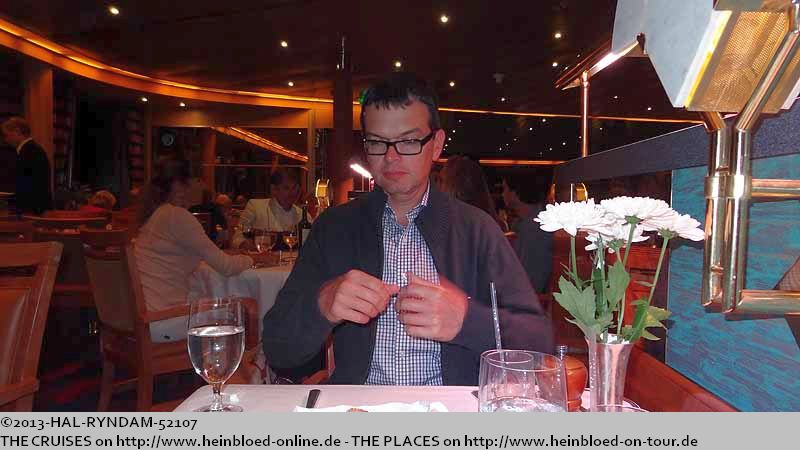 Dass Bruno eine Strickjacke trägt, wäre bei NCL aufgefallen und hätte zu Rückfragen geführt. Hier ist es nur so, dass die Maitre für die Gäste nicht zuständig sind. Unseren sehen wir nur, wie er eindeckt oder Tische räumt. Anscheinend ist er der einzige, der Servietten und Gläser tragen darf.
Meine Gulaschsuppe, die mehr nach Tomatensuppe mit ein Rindfleischstückchen schmeckt.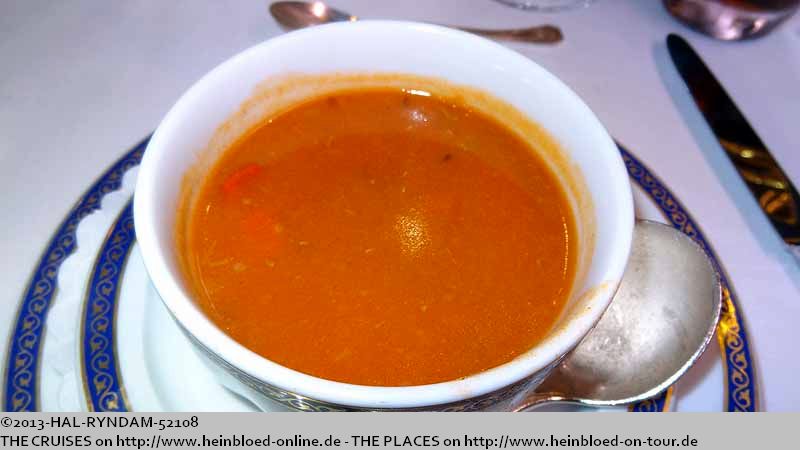 My goulash soup tasted more like a tomato soup with few pieces of beef.

When you return a soup with the level with NCL a Maître would show up and ask what was wrong with the soup. He would ask a way that you can easily explain why you did not like it and not to say something polite what you normally would not like to say. The waiters here with Holland America were not interested to know and just cleared immediately.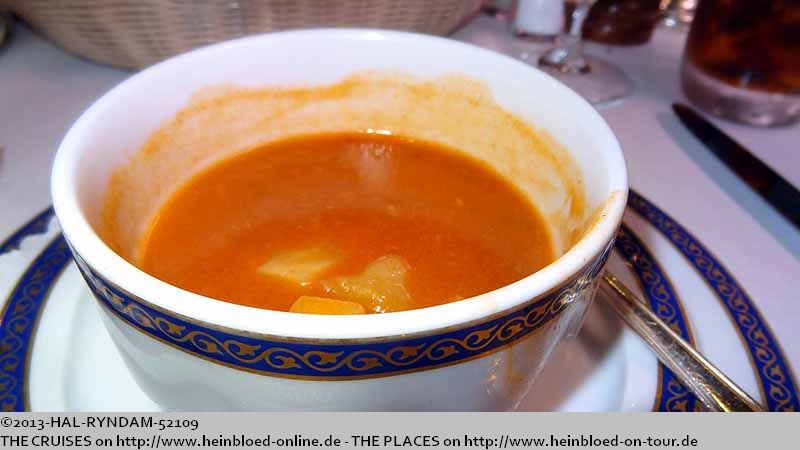 Bei Rückgabe mit diesem Höhenstand wäre bei NCL sofort ein Maître gekommen, der nachgefragt hätte, was mit der Suppe nicht in Ordnung wäre. Und zwar so, dass man sein Herz ausschütten kann und nicht aus Höflichkeit etwas sagt, was man gar nicht sagen wollte. Die Kellner interessieren sich bei Holland America auch nicht dafür und räumen sofort ab.
Bruno mag nicht zu Ende essen, weil es einfach sofort kalt ist.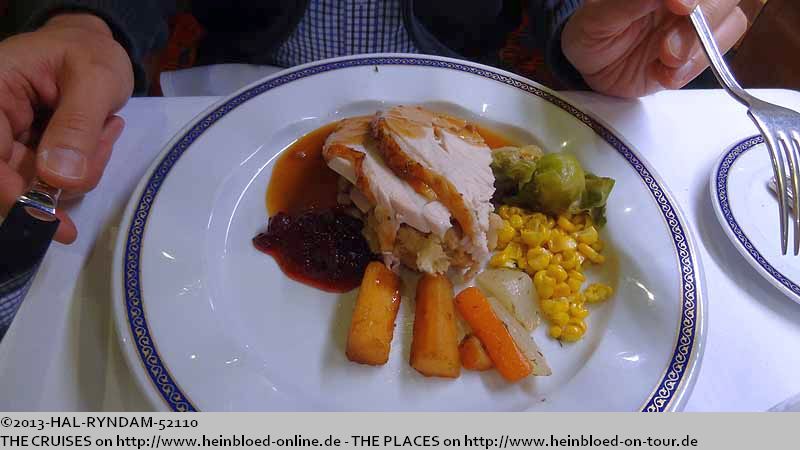 Bruno did not eat it all because it was immediately cold.

And I had some problems with the black and white precipitates on my tuna-steak.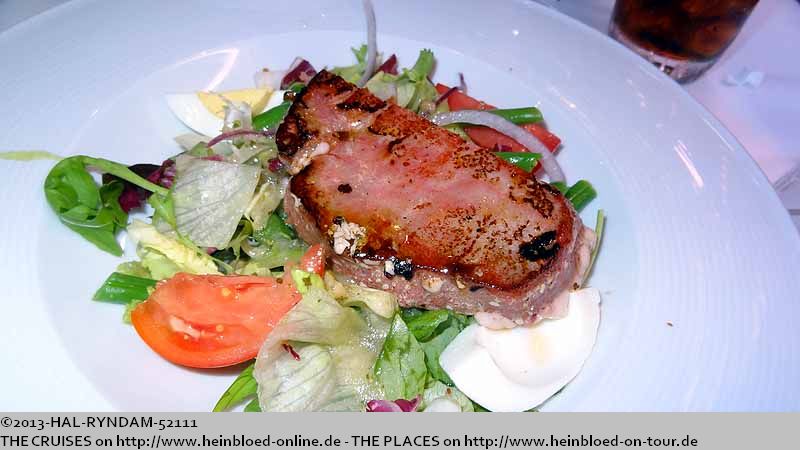 Und ich habe mit den schwarzen und weißen Ablagerungen auf dem Thunfisch-Steak auch Probleme.
Es schmeckte merkwürdig und ich kenne es eigentlich nur, wenn man ein EU-Magerschwein brät, bei dem das Eiweiß austritt. Wir haben das Bild später einem Koch gezeigt, der meint, dass es Blut sein könnte. Könnte man so etwas nicht einem Küchenpinsel entfernen bevor man so etwas serviert.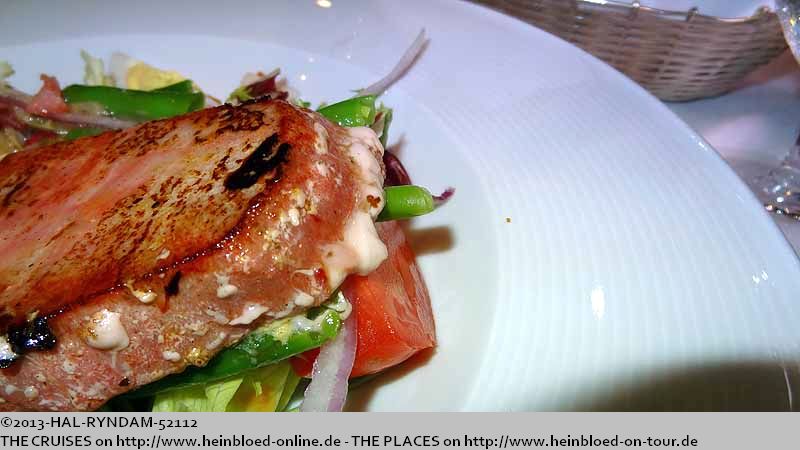 It tasted strange and I knew that only if you fry an EU-lean-pork and you had protein precipitate. We showed the picture one chef we met and he said it might be blood. Why was not it possible to use a kitchen brush and move it away before you serve it.

I suspended to eat it. But none showed up that you culd tell.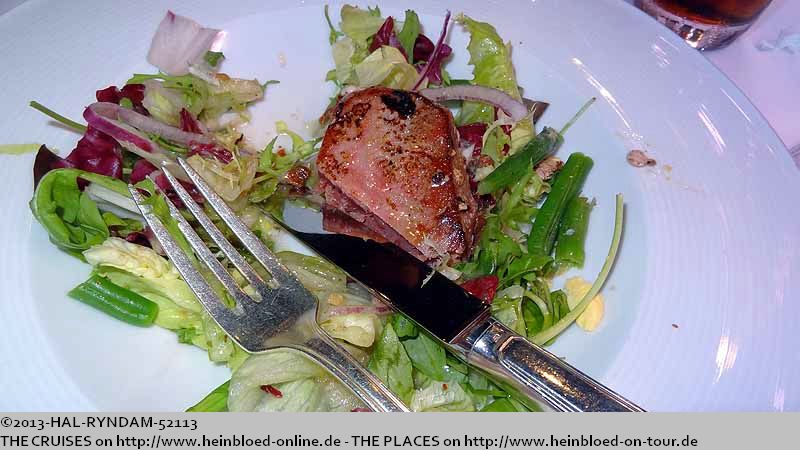 Ich lasse es kurzerhand stehen. Aber es kommt niemand, bei dem man reklamieren könnte.
So verlassen wir so den Tisch. Bei NCL hatte ich mal mittags den Tisch so verlassen und ich bin abends direkt angesprochen worden, was nicht in Ordnung war. Und als Bruno und ich mal ganz kurz vom Teppanyaki rausgerannt sind, um Freunde zu verabschieden, folgte uns eine Restaurant Hostess, die sofort nachfragte, ob wir nicht zufrieden seien.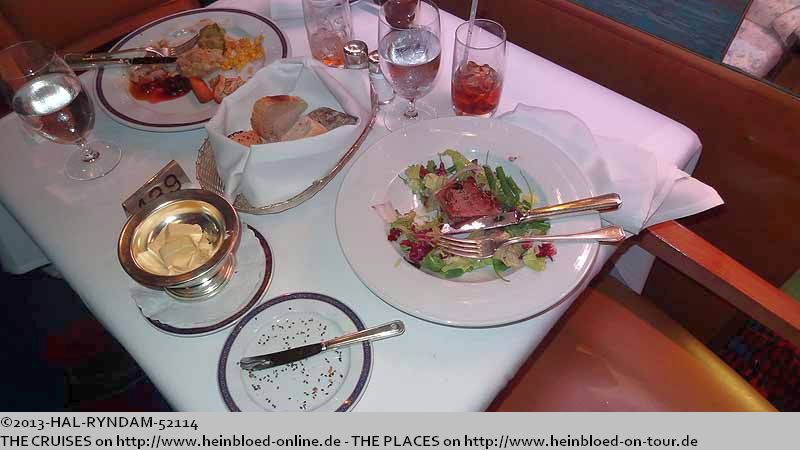 So we left the table. With NCL I left once the table the same way and when we came for dinner they asked us what was not o.k. And when Bruno and I left for a short moment the Teppanyaki to say good-bye to friends the Restaurant Hostess followed us and asked if there was nny reason to complain.

At 20.05 hrs the Lido Café was already closed - so we went to Caneletto. When they registered our card nobody asked why we come again for dinner. Once with NCL I wanted to test two restaurants on a mini-cruise. So I went at 17.00 hrs and again at 22.30 hrs. When I came the second time I was asked if there was anything wrong the first time.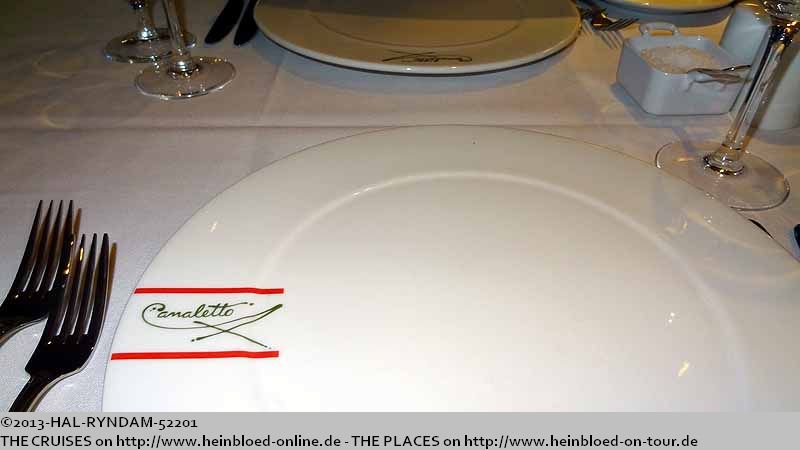 Da um 20.05 Uhr das Lido Café bereits geschlossen war, gehen wir kurzerhand ins Caneletto. Beim Einlesen der Karte werden wir nicht angesprochen, warum wir nochmals heute Abend essen. Einmal wollte ich auf einer Kurzkreuzfahrt bei NCL einmal um 17.00 Uhr gegessen und nochmals um 22.30 Uhr. Beim zweiten Mal wurde ich schon darauf angesprochen.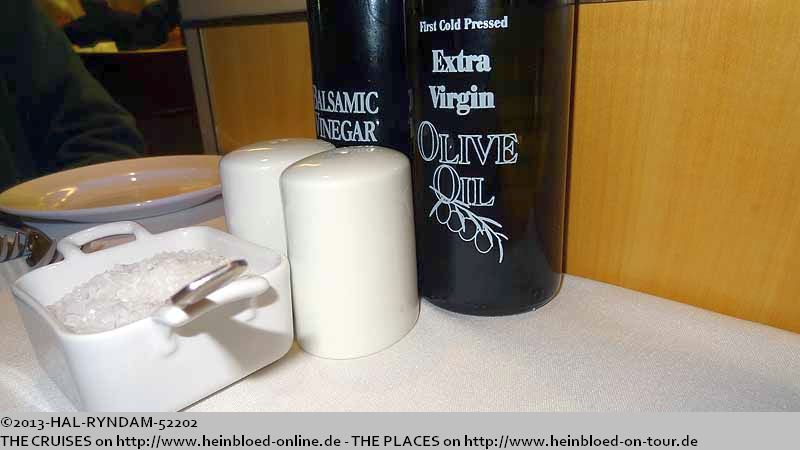 The bread was very yummy.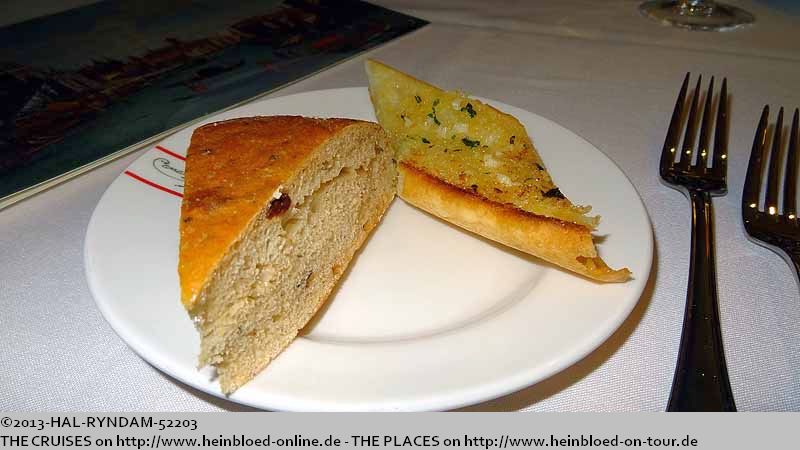 Das Brot ist sehr lecker.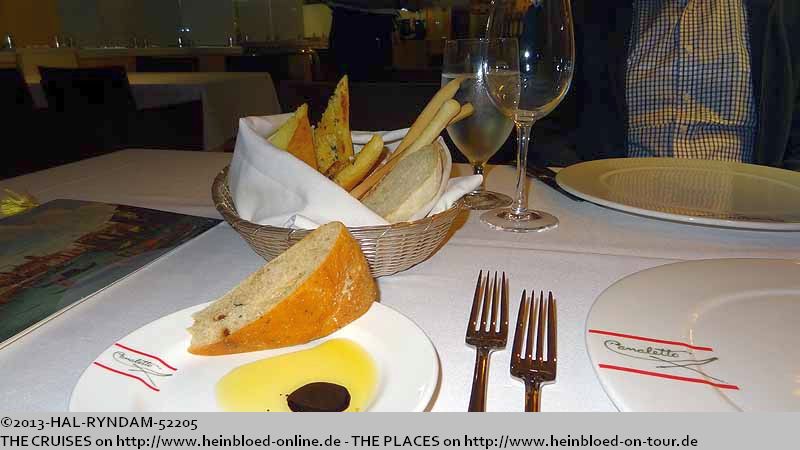 Nebenan wird wieder Geburtstag gefeiert.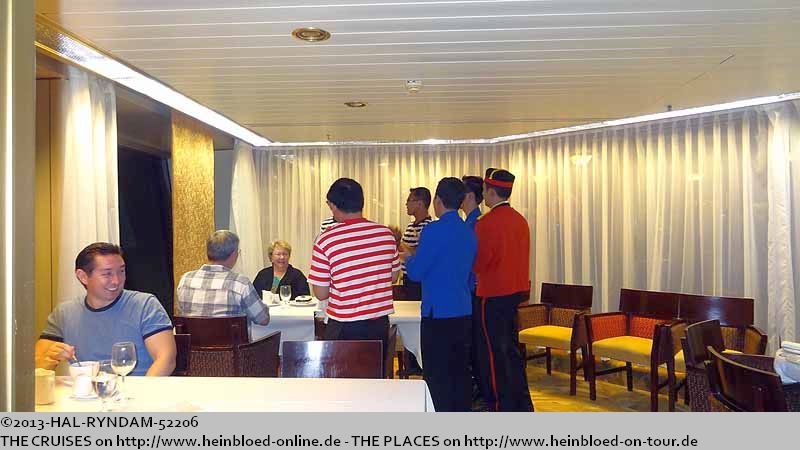 Next to us they celebrated birthday again.

Antipasti was always good. But I was upset anyway. We arrived in the restaurant earliar than an officer and his company and they served him first. For him and two other officers they had friendly small-talks - but not for us.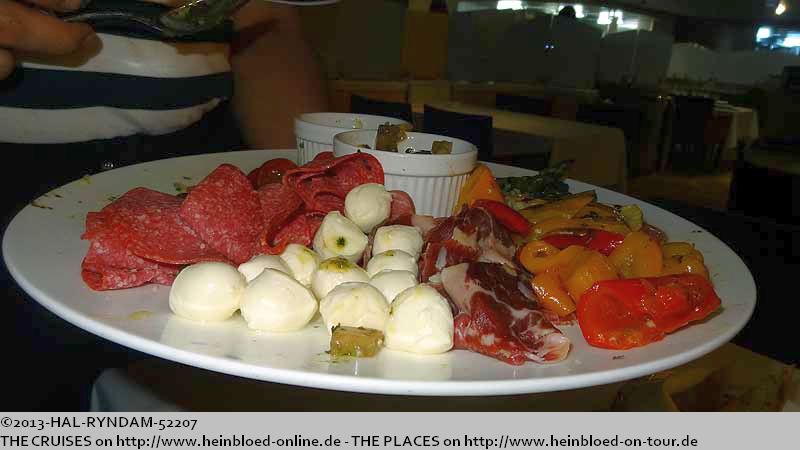 Antipasti ist immer gut. Trotzdem habe ich mich sehr geärgert. Wir waren vor einem Offizier im Restaurant und er und seine Begleiterin werden vor uns bedient. Für ihn und zwei weitere Offiziere im Caneletto gibt es Tischgespräche - für uns nicht.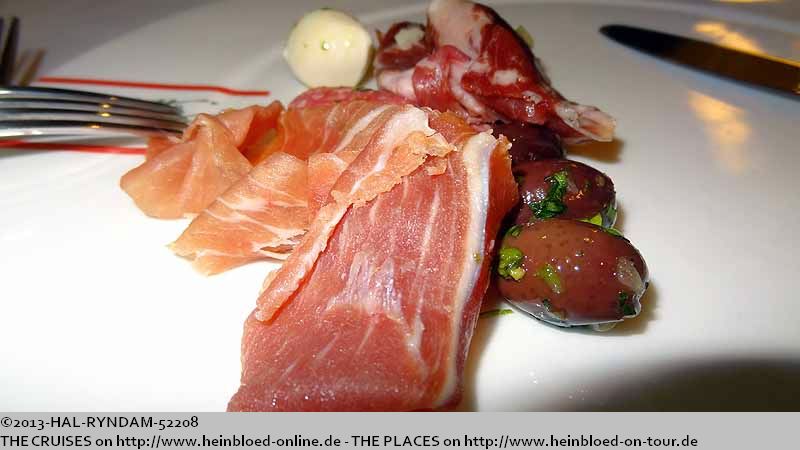 Bruno only ordered a dessert. That normally should occur questions but nothing happened. I wanted to try all courses.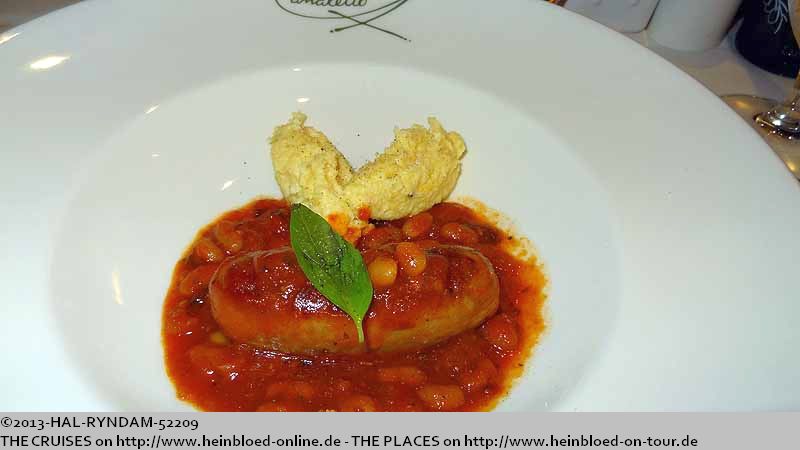 Bruno bestellt nur einen Nachtisch. Das hätte eigentlich zu Rückfragen führen müssen, aber nichts passiert. Ich will schon alle Gänge probieren.
Aber hier war ich nur auf das Würstchen scharf.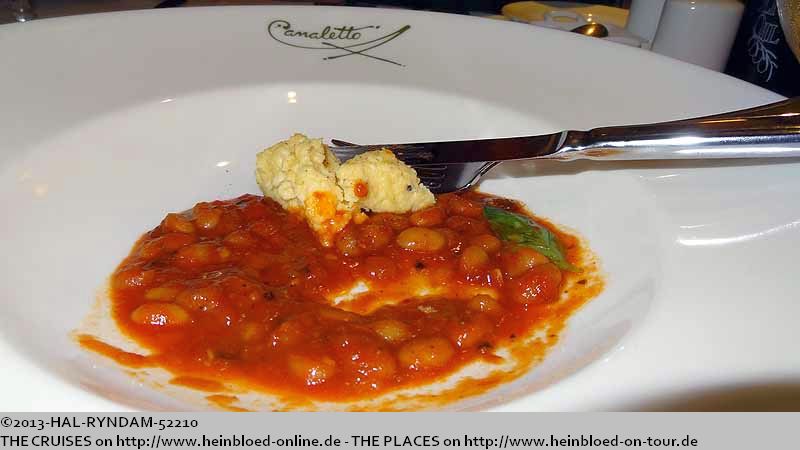 But here I was only interested to have the sausage.

After I got great Spaghetti with Meatballs with Princess I wanted to try them with Holland America too.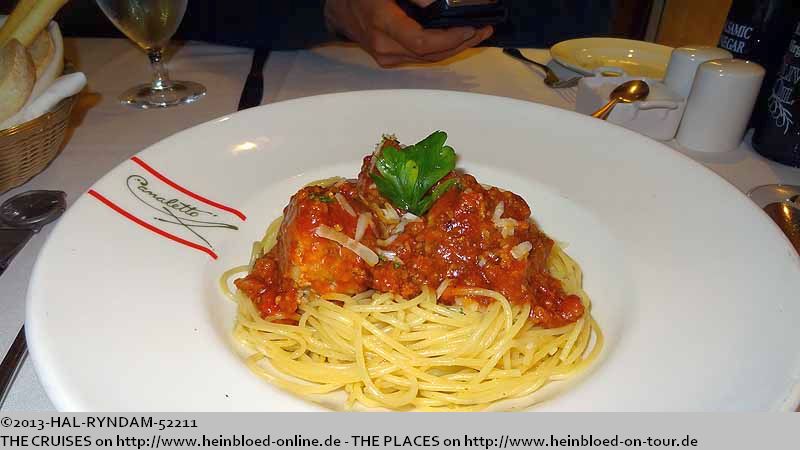 Nach dem ich bei Princess ganz tolle Spaghetti mit Fleischklößchen gegessen haben, wollte ich sie bei Holland America auch mal probieren.
Frisch geriebener Käse.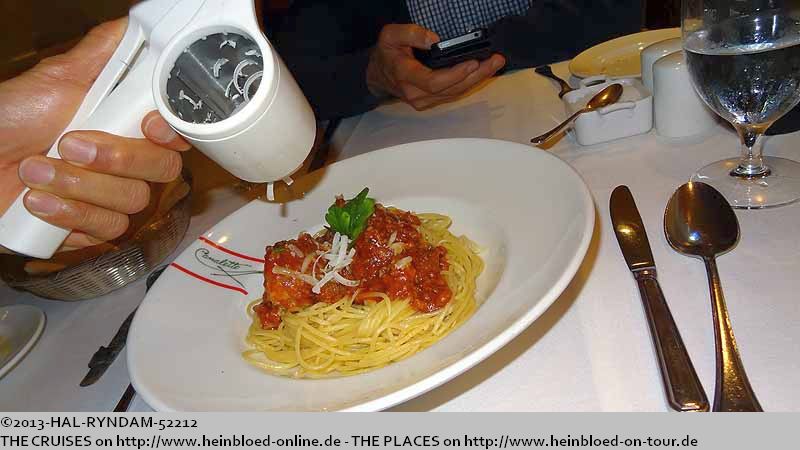 Freshly grounded cheese.

I did not like them. Due to following reasons: as I was told now they made the meat balls with veal. They tasted very flat. Furthermore they took very lean meat so you there was not so much fat as flavor enhancer. Furthermore I had the impression that they used for the meat mincer a disk with a wrong diameter that you missed a certain structure of the meat ball. There were four crew memebers (incl. one chef) coming to the table and asking how I liked it within five minutes. They could not deal with the information that I did not like it. Everyone was helpless how handle such a situation. I remember on NORWEGIAN DREAM how they offered us our favorite dishes.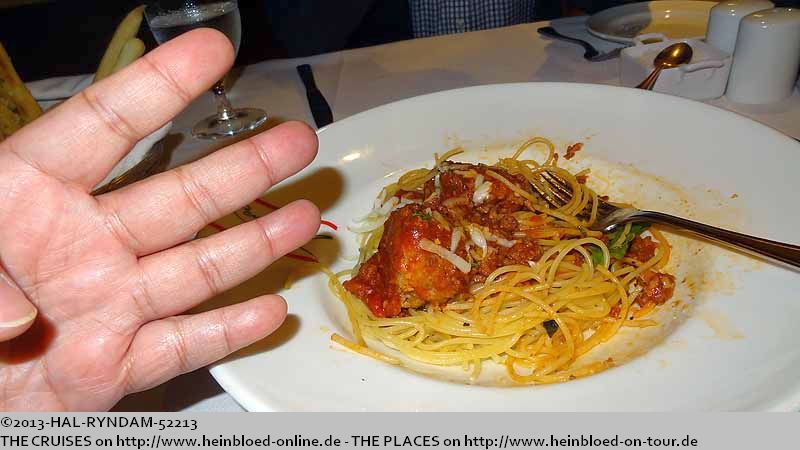 Mir schmecken sie nicht. Das hat folgende Gründe: wie sich jetzt herausstellt, machen sie die Fleischklößchen aus Kalb. Daher schmecken sie sehr flach. Außerdem nehmen sie wohl nur sehr mageres Fleisch, so dass der Fettanteil als Geschmacksträger fehlt. Und außerdem habe ich den Eindruck, dass sie eine viel zu feine Scheibe im Fleischwolf einsetzen, weswegen irgendwie eine gewisse Struktur in den Fleischklößchen fehlt. Insgesamt kommen vier Personen (inkl. einem Koch) innerhalb von fünf Minuten vorbei, um mich zu fragen, wie ich sie finde. Mit der Aussage, dass sie mir nicht schmecken, können sie nichts anfangen. Alle sind hilflos, wie sie mit so einer Situation umgehen. Ich erinnere mich noch an die NORWEGIAN DREAM als sie uns angeboten haben, das zu kochen, was wir gerne mögen.
Da sie "nur" einen Jura-Kaffeevollautomaten haben, können sie keinen Milchschaum produzieren. So bekommen wir zumindest eine Kännchen heiße Milch.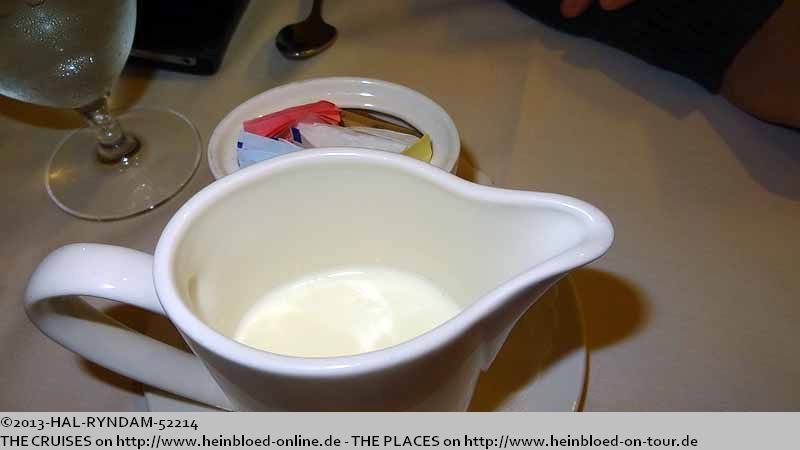 As they had "only" a Jura bean-to-cup-automated-coffee-maker which cannot make any milk foam. So we got some hot milk.

The espresso was very good. But normally you associate an Italian Barista-coffee machine with the Caneletto but a Swiss Jura bean-to-cup-automated-coffee-maker.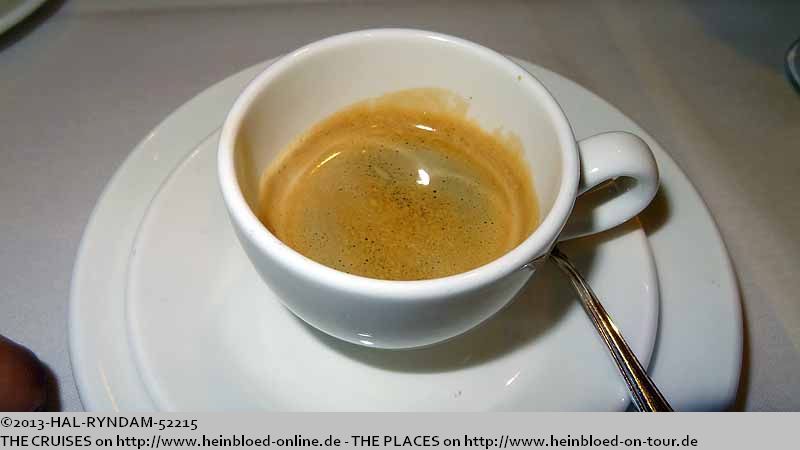 Der Espresso ist gut. Nur verbindet man eher eine italienische Barista-Maschine mit dem Caneletto statt mit einen schweizerischen Jura-Kaffeevollautomat.
Brunos Dessert kommt. Dafür werden die vollen 10,00 USD (2013) abgerechnet. Ich glaube bei NCL hätten sie auf Brunos Zuzahlung verzichtet oder auf den Kindersatz runtergesetzt. Speziell weil wir ja erzählt haben, dass wir ja schon essen war und nicht zufrieden waren, weswegen wir nochmals hier essen.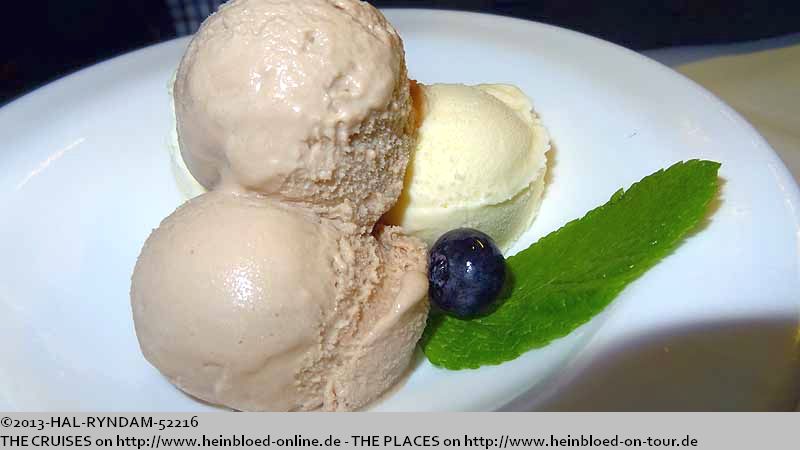 Bruno's dessert arrived. They charged the full 10.00 USD (2013). I think that NCL would cancel Bruno's cover charge or just the rate for kids. Especially as we told that we were dining before and were not satisfied. Therefore we came here again.

I liked the dessert.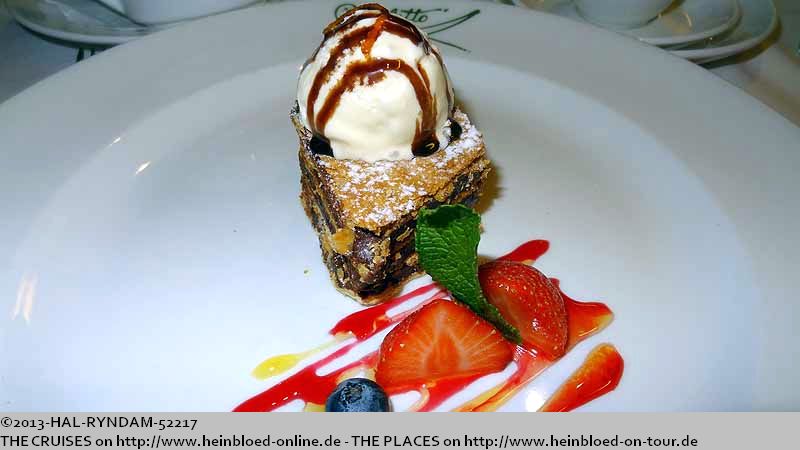 Das Dessert mag ich.
Und habe es komplett aufgegessen. Zum Glück war es die einzige "Katastrophe", die während unserer Reise passiert ist.

And I ate it all. We could be lucky that this was the only "desaster" we experienced during our voyage.