Wir hatten versprochen bis 12.45 Uhr wieder zurück zu sein und heute Mittag im Pinnacle Grill zu Mittag zu essen. Es war dieses Mal mehrfach während der Woche geöffnet.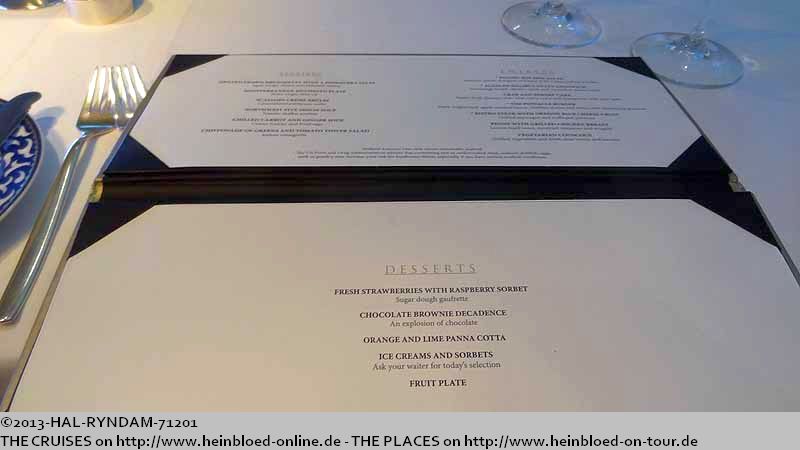 We promised to tbe back by 12.45 hrs and having lunch in the Pinnacle Grill. This time it was open several times during the week.

Brown bread...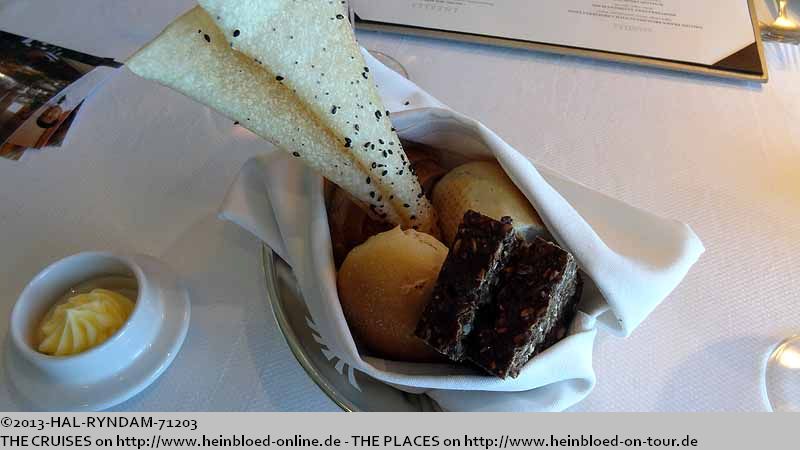 Schwarzbrot...
Wir bitten um einen großen Tisch: wir bereiten Umschläge mit den Fotos vor. Lilis freut sich, dass wir für sie und ihre Kollegen Bilder haben.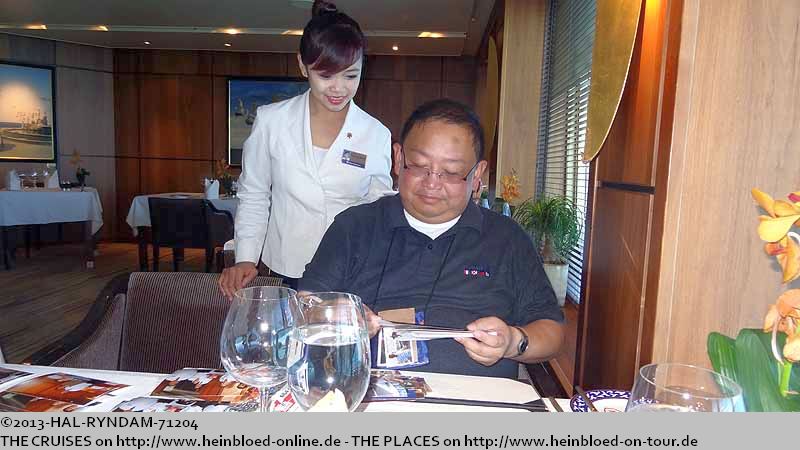 We asked for a larger table to prepare the pictures for the envelops. Lilis was happy to see that had the pictures for her and her co-workers.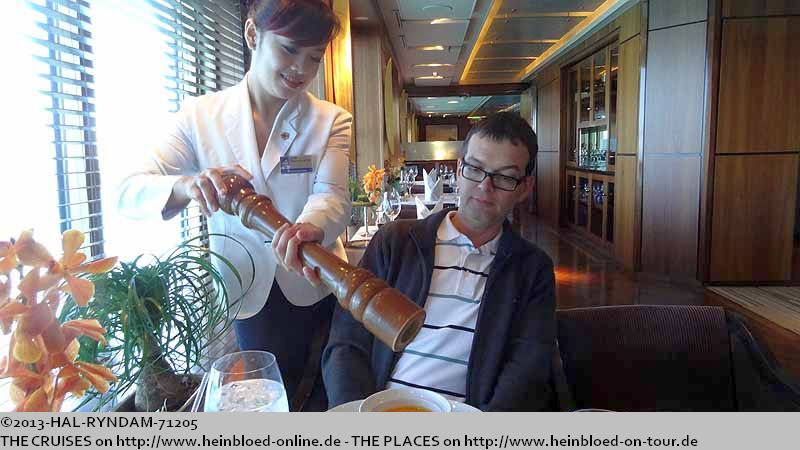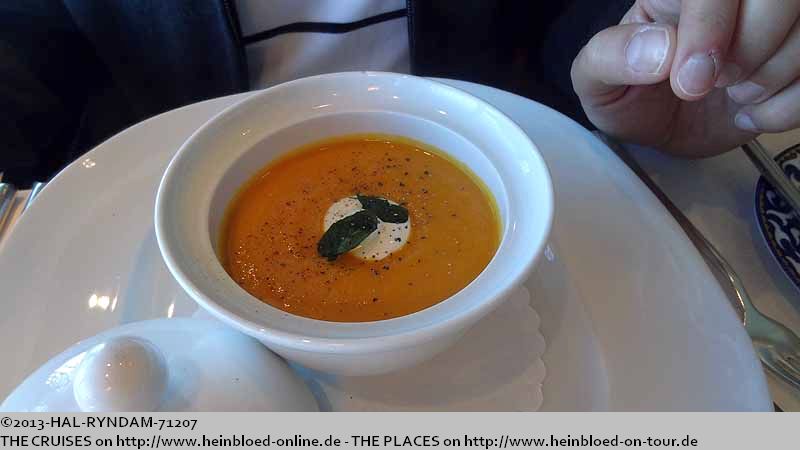 I could swear that I had the Bruschettas in a different memories.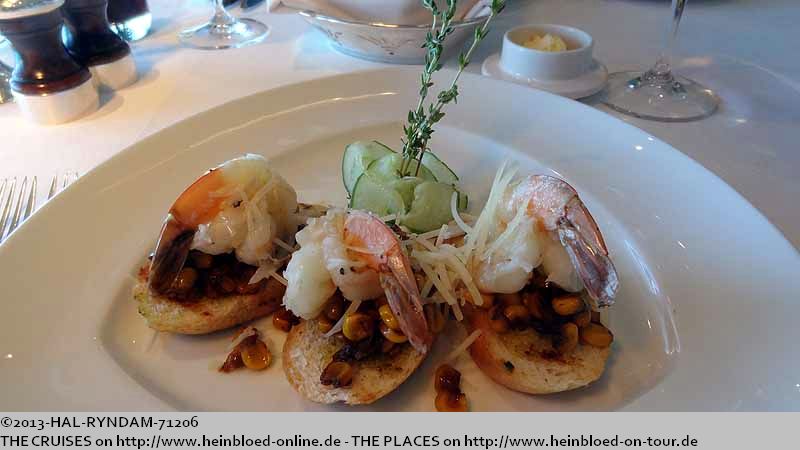 Ich hätte schwören können, dass ich diese Bruschettas anders in Erinnerung habe.
Und ich habe Recht. Damals auf der ZAANDAM.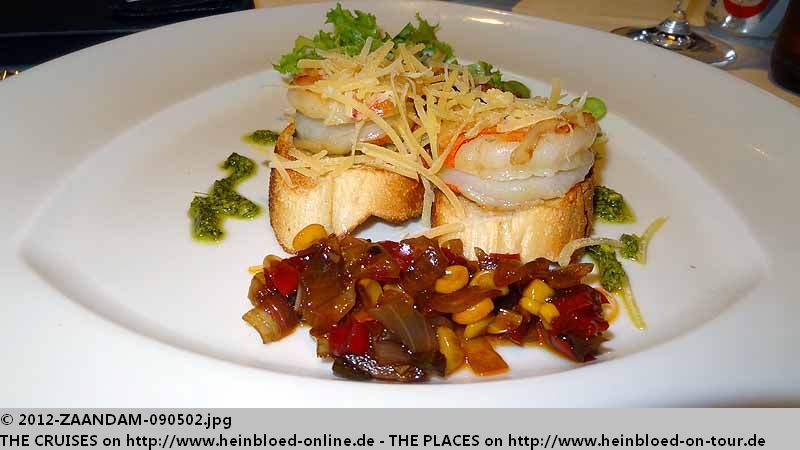 And I am right. Then on ZAANDAM.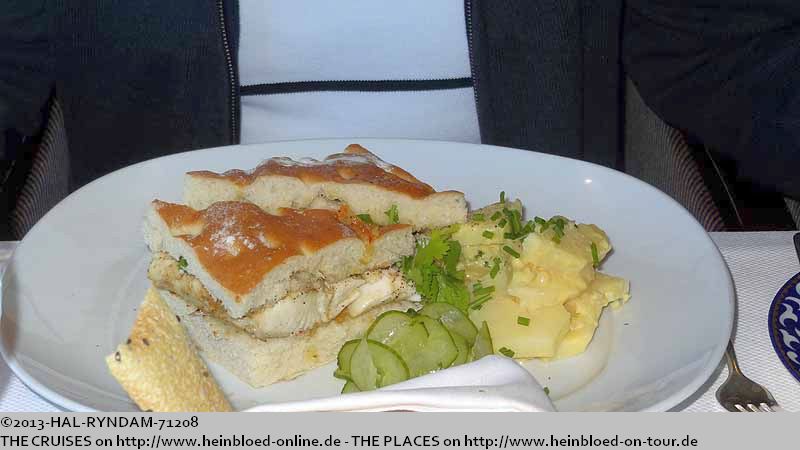 Das war mein Burger auf der ZAANDAM, den ich geliebt habe...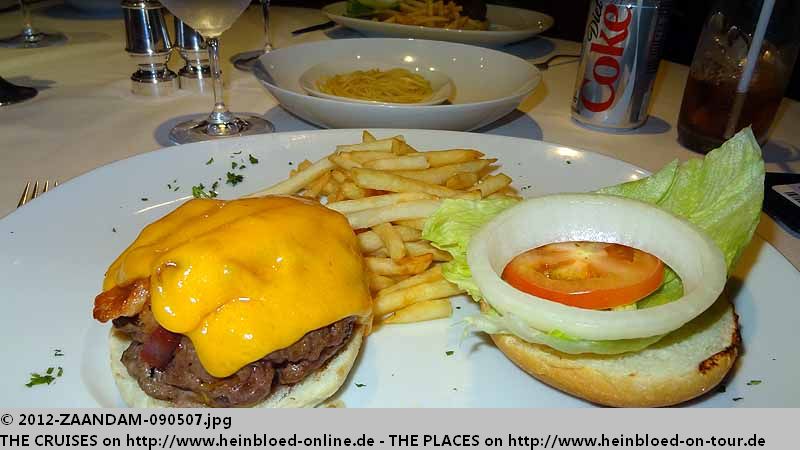 That was my burger which I loved on ZAANDAM...

And that was my burger this time on RYNDAM....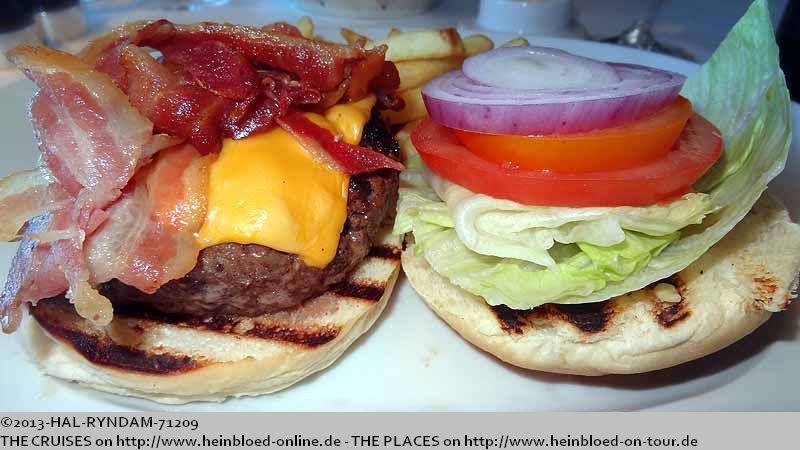 Nun das der Burger dieses Mal auf der RYNDAM...
Lieber Roger - bitte nicht böse sein: Ich habe immer eine große Klappe, bei Ihnen haben ich es einfach nicht über das Herz gebracht folgendes zu sagen: Bitte schmeißt die feine Scheibe für den Fleischwolf über Bord... das Kobe-Rind war leider wieder zu mager, zu trocken und zu fein... und vor allem kurz vor der Reise habe ich in Zürich einen Angus-Burger gegessen... Daher war es im direkten Vergleich leider nicht mehr ganz so toll - Bitte nicht böse sein!!! Ich habe den Burger von der ZAANDAM echt in toller Erinnerung, aber lasst bitte endlich den Fleischwolf reparieren!!!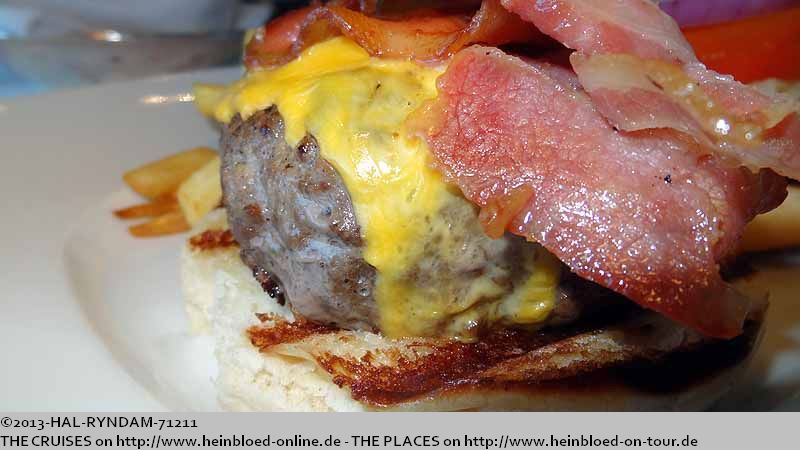 Dear Roger - please be do not upset. You know how loud I could be but I have not had the heart to tell you something: Please throw the fine disk of the your meat mincer overboard... the Wagyu-Beef was unfortunately too lean, too dry and too fine... and I had just before this voyage an Angus-Burger in Zurich... Compared to this I must say that this was not so nice anymore - Please do not be angry!!! I have great memories of the burger on ZAANDAM but please let your meat mincer get repaired!!!

The dessert looked much more better than on ZAANDAM.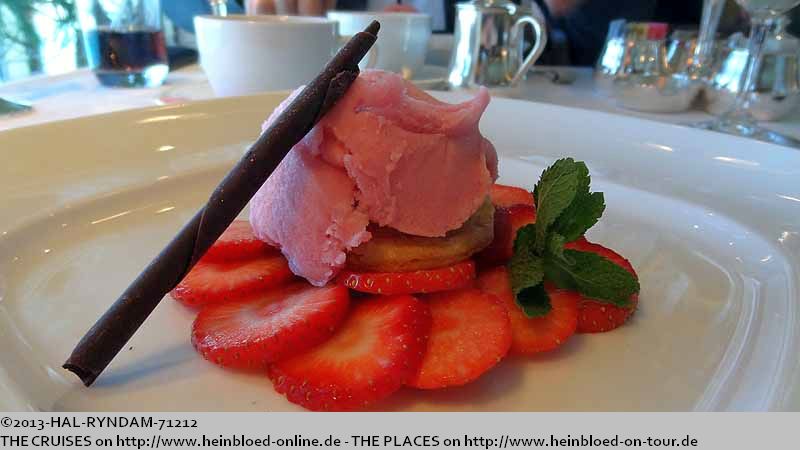 Der Nachtisch sah aber besser aus als auf der ZAANDAM.
Übrigens habe ich erst zu Hause beim Blog-Schreiben festgestellt, dass ich das identische Menü auf der ZAANDAM damals an meinem Geburtstag hatte.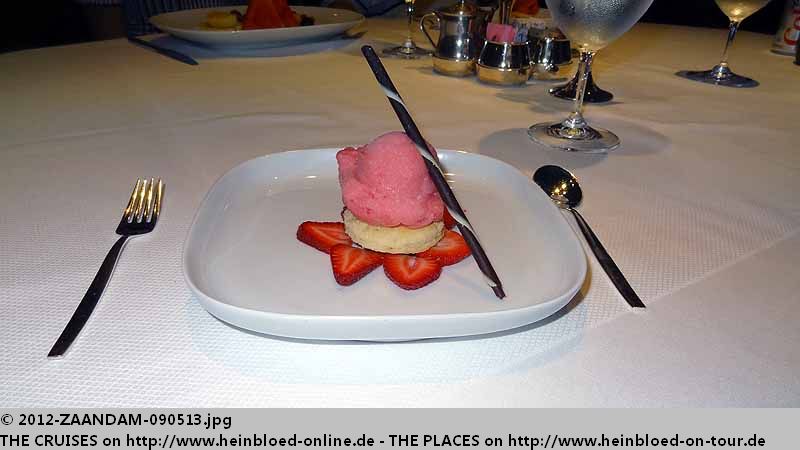 By the way I found out at home when I wrote the blog that I ordered the same menu like on ZAANDAM when I celebrated my birthday.

For 10.00 USD (2013) at lunch no goodies were served.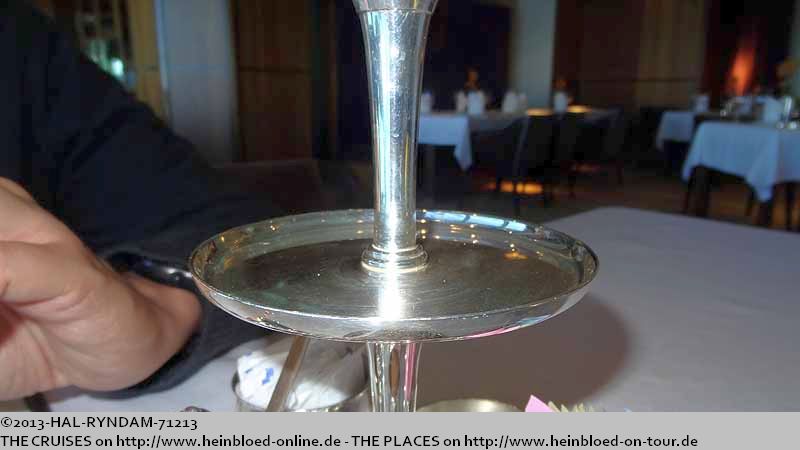 Für 10,00 USD (2013) mittags gibt es keine Leckerlis....
Wir protestieren und drohen mit Sitzstreik... und sie brauchen den Pinnacle Grill für 14.00 Uhr für eine Weinprobe...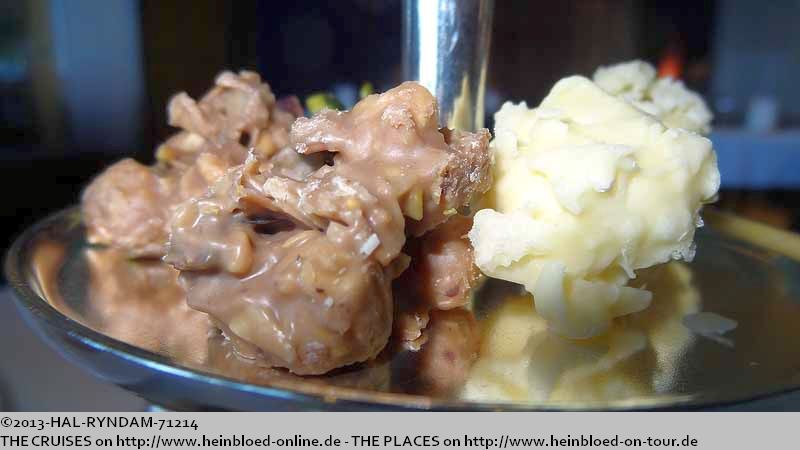 We protested and threatened them with a sit-in... and they need the Pinnacle Grill for a wine-tasting event at 14.00 hrs...

We blackmailed them. I admit. I loved to do it. It was for a good cause. My palate felt very well after the goodies. So they got back their Pinnacle Grill before 14.00 hrs...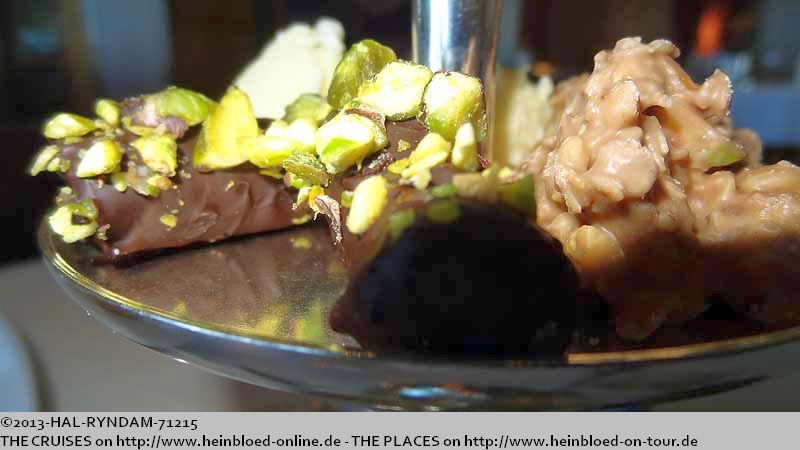 Wir haben sie erpresst. Ich gebe es zu. Und ich habe es auch noch gerne getan. Es war für einen guten Zweck. Mein Gaumen fühlte sich nach den Leckerlis besser. Und daher haben sie auch ihren Pinnacle Grill vor 14.00 Uhr wiederbekommen.
Wir gucken mal, was man draußen auf dem Pooldeck bekommen hätte.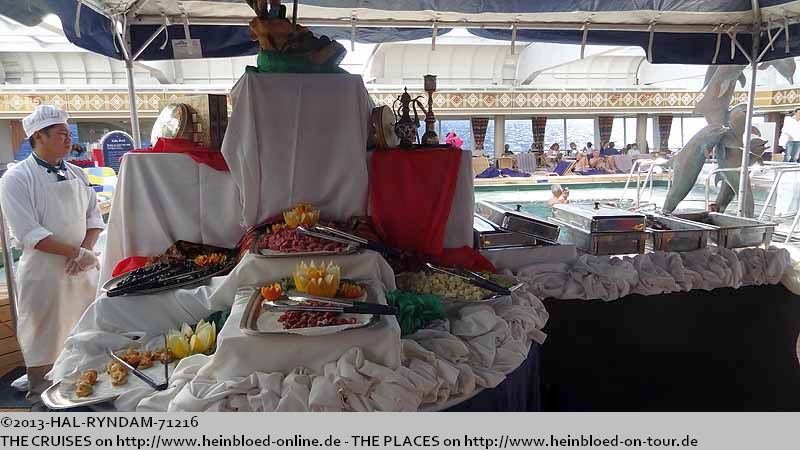 We looked around that they had on the pool deck.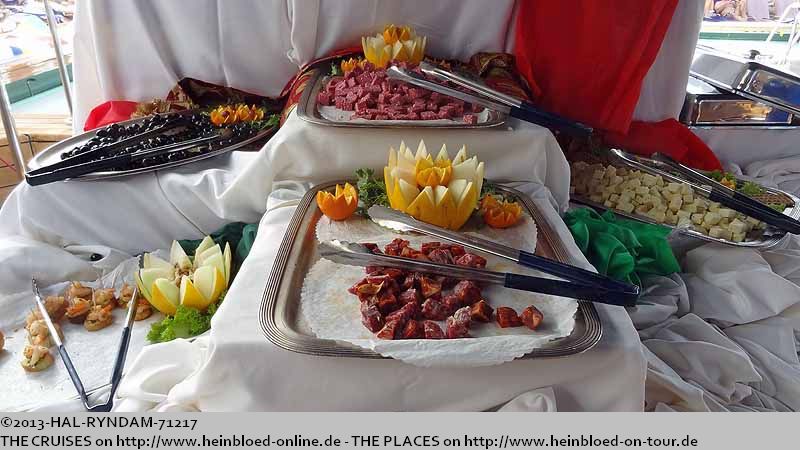 Muster der Burger.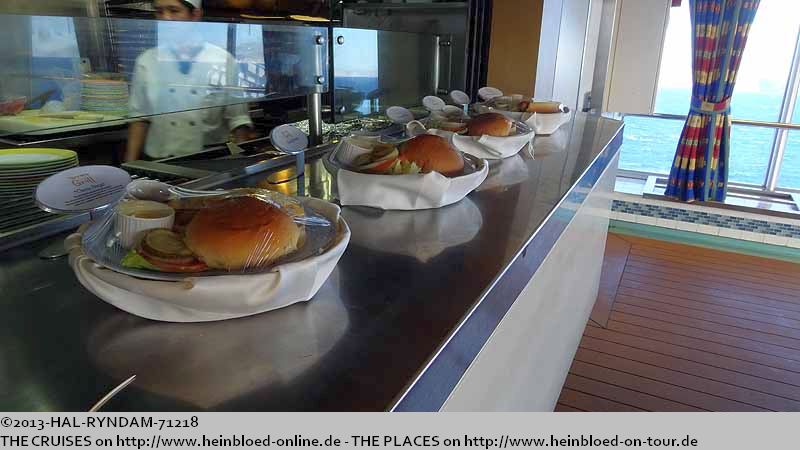 Samples of the burgers.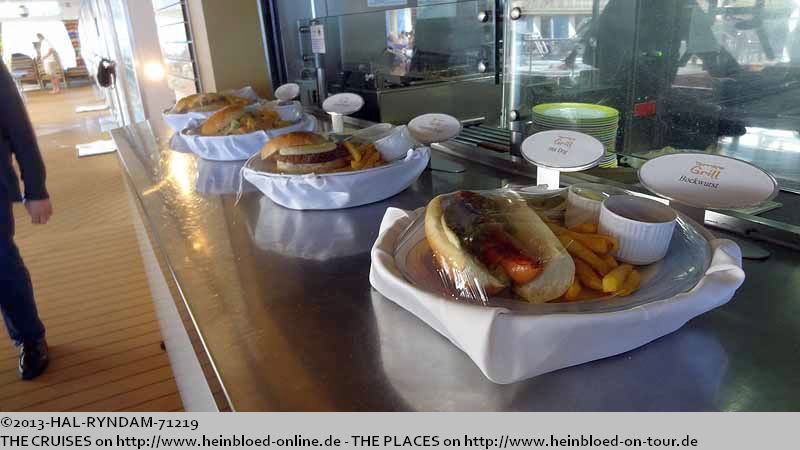 Unsere letzten Canapés... Schnief... Ich hoffe, dass auch Holland America nach Hause liefert...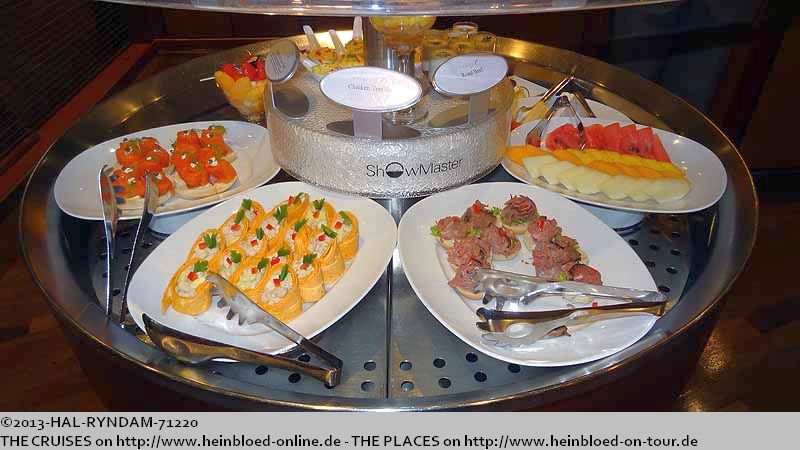 Our last canapés... Sniff... I hope that Holland America also arrange home deliveries...

The service was so phantastic that we had to change more money... So we got a 2-Dollar-bill in our hand which is very rare.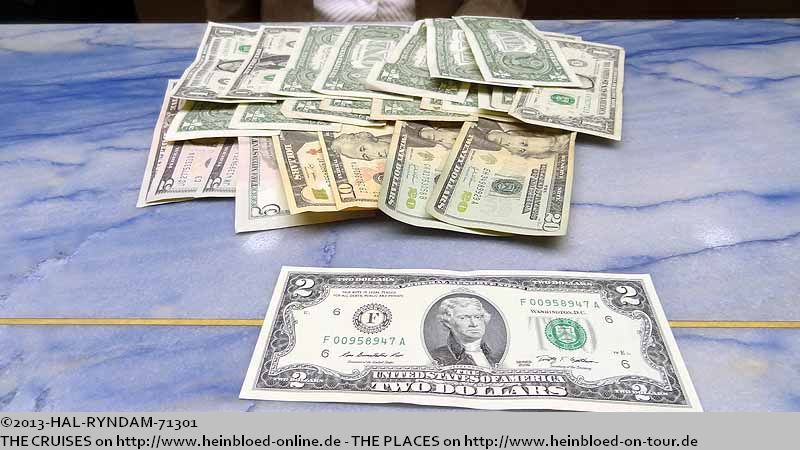 Der Service ist so gut, dass wir mehr Geld wechseln müssen... Dabei fällt uns eine 2-Dollar-Note in die Hände, die selten ist.
Wir versuchen die CosmOTE-Karte zum Laufen zu bringen. Wir schaffen es, aber was wir nicht wussten: Von den 5,00 EUR Guthaben werden nur 4,46 EUR gutgeschrieben (12% Steuer werden einbehalten). So erreichen wir niemals 5,00 EUR, die wir brauchen, um 500 MB gutzuschreiben. So surfen wir sehr schnell, allerdings zum teuersten Tarif und so ist schnell unser Guthaben wieder aufgebraucht...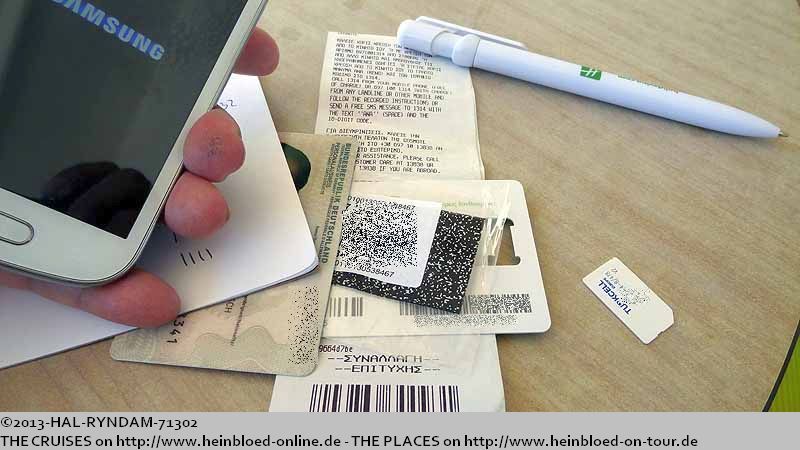 We tried to make our CosmOTE-card ruuning. We managed it but there was something that we did not know: from 5.00 EUR credit on a voucher only 4.46 EUR were credited to your phone account (12% tax was just taken away). So we never reached the 5.00 EUR we need to get a credit of 500 MB. So we browesed very fast but at the most expensive rate that our credit was gone very quickly...

They had music.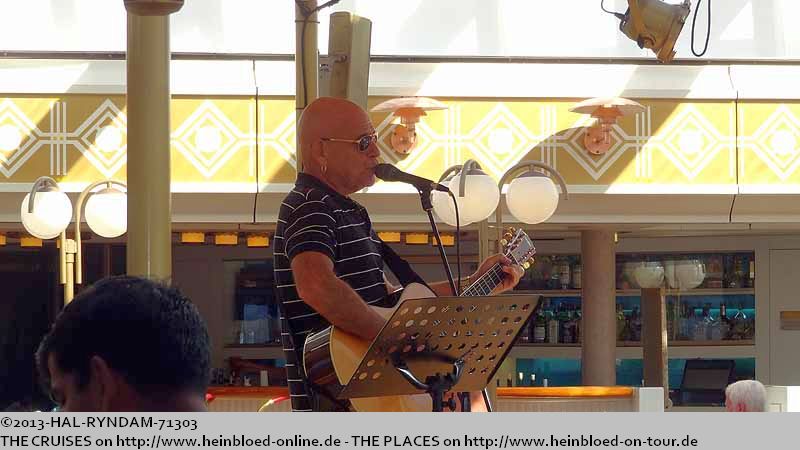 Es gibt Musik.
Es gibt wieder die Handtuchtier-Demo.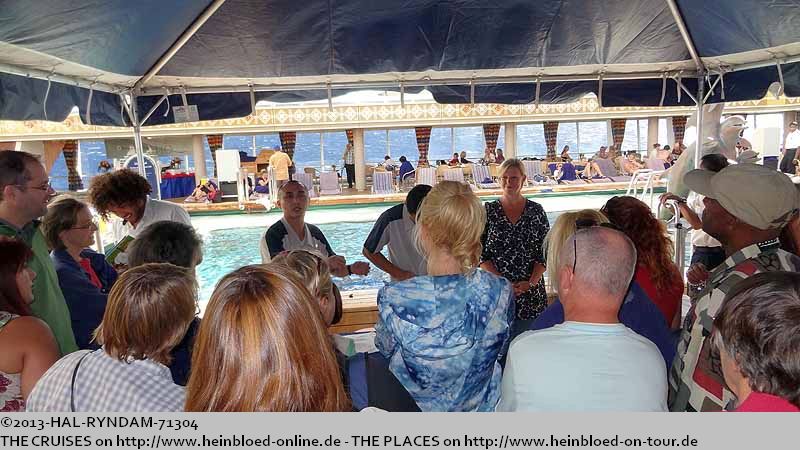 They had again a towel-animal demonstration.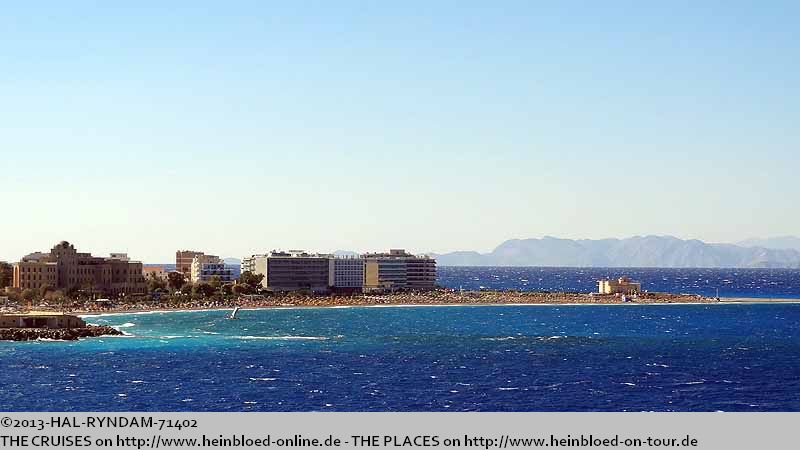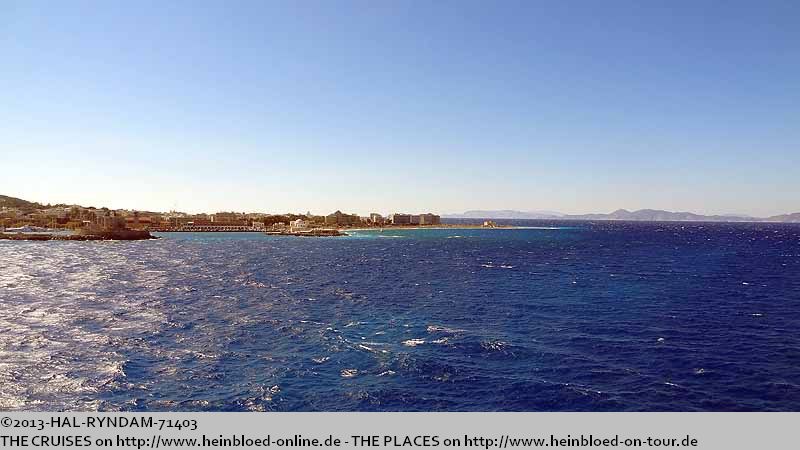 It was cold when we set sail.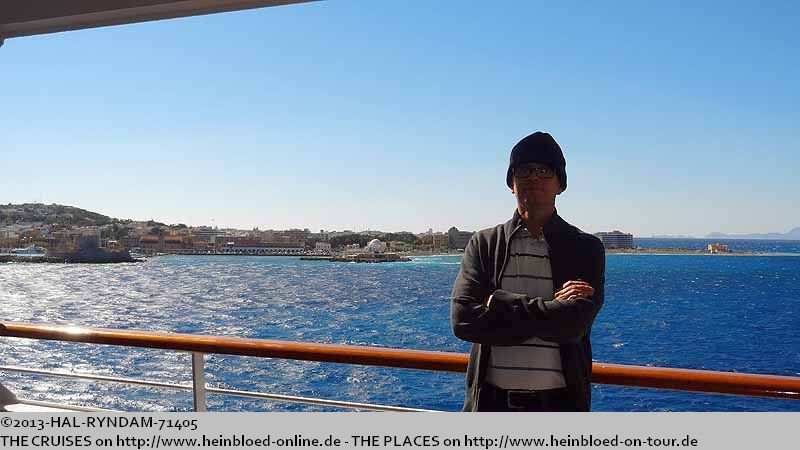 Es ist kalt, als wir auslaufen.
Und als wir auf dem offenen Meer sind, wird es immer windiger.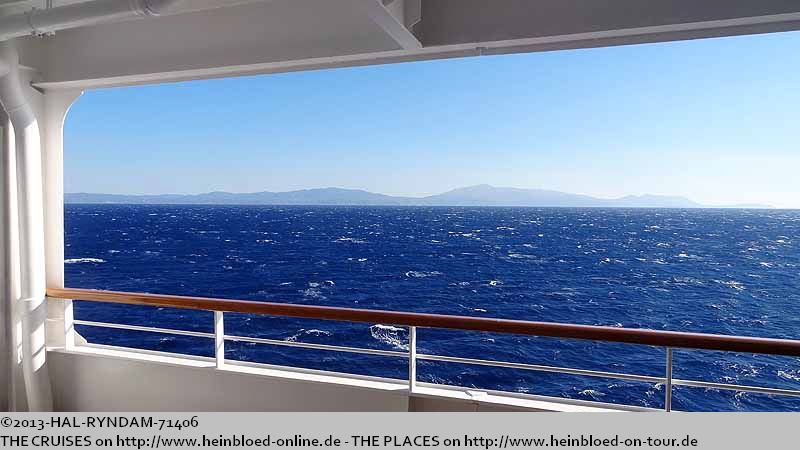 And when we arrived at the open sea it became more windy.

We went to the Indonesia tea-time. This guy we had the very first time.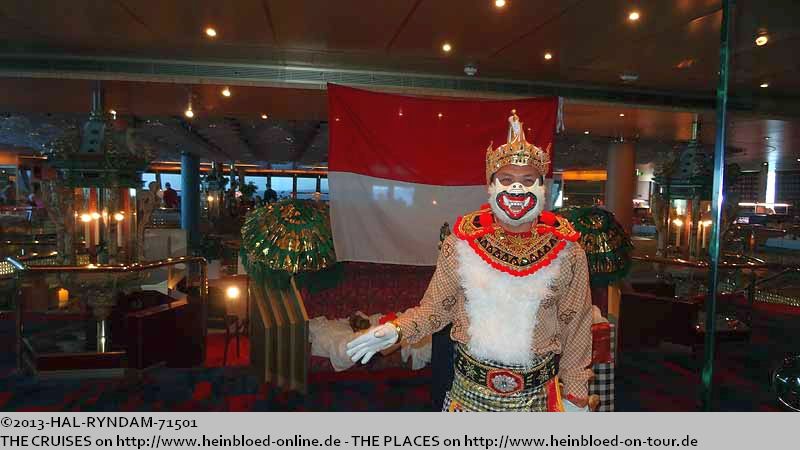 Wir gehen zur Indonesischen Tea-Time. Den Kerl erleben wir das erste Mal.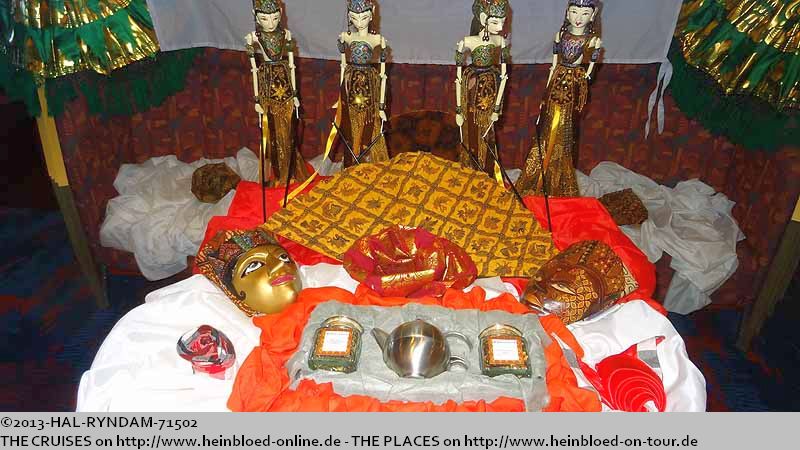 We wanted to have coffee. Unfortunately they had no Java-coffee but Sumatra-coffee. They had to get it just for us from the closet.

Wir wollen aber Kaffee. Leider ist gar kein Java-Kaffee sondern nur Sumatra-Kaffee. Für uns wurde er extra aus dem Schrank geholt.
Er wird in einer Bodum-Kanne aufgebrüht.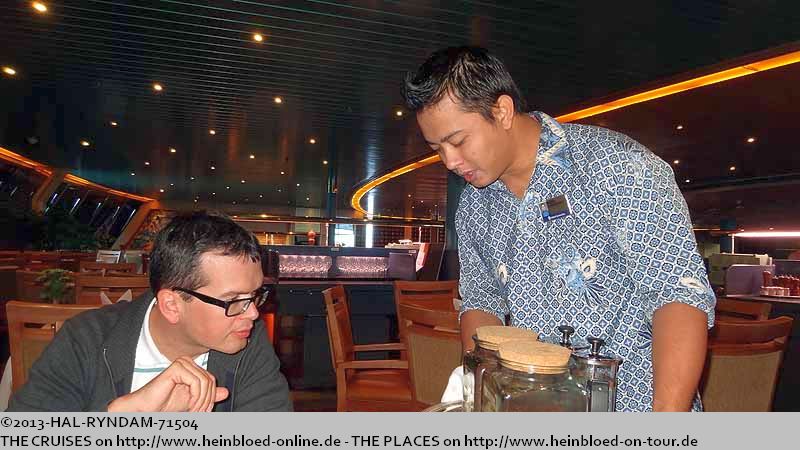 It was served in a French press.

We did not want anything.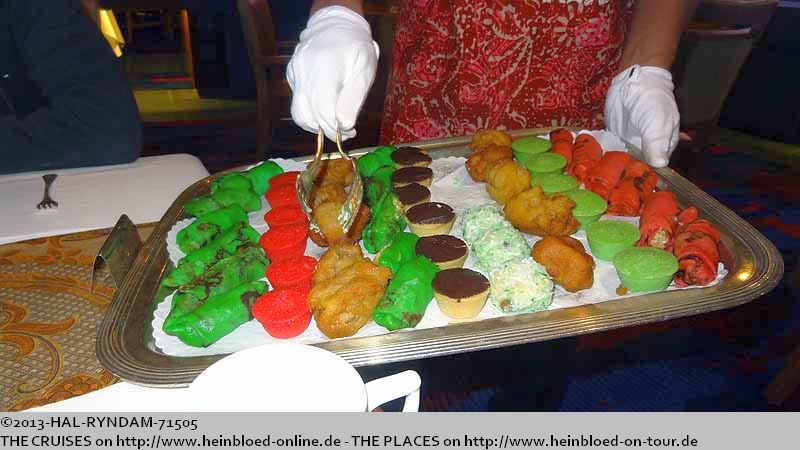 Wir wollten nichts.
Beim Stichwort Schaumkuchen kann ich jedoch nicht nein sagen... Dafür muss ich in Deutschland nach Düsseldorf oder Berlin fahren, um den zu kriegen.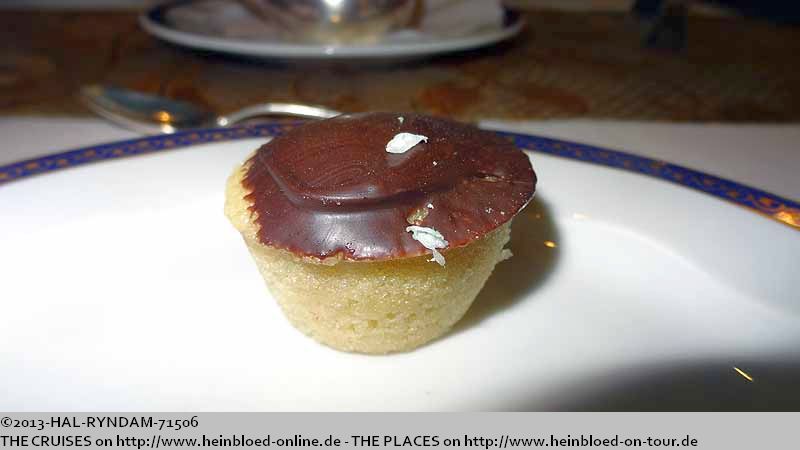 But when they said sponge cake I could not say no... In Germany I had to go to Dusseldorf or to Berlin to get it.

Looked more like English tea-time... Somehow I remember the cucumber-sandwiches.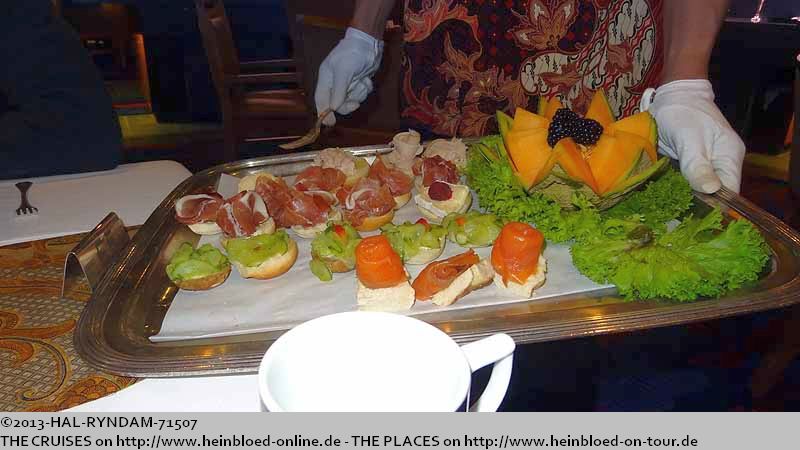 Sieht aus wie englische Tea-Time... Die Gurken-Sandwiches kenne ich doch.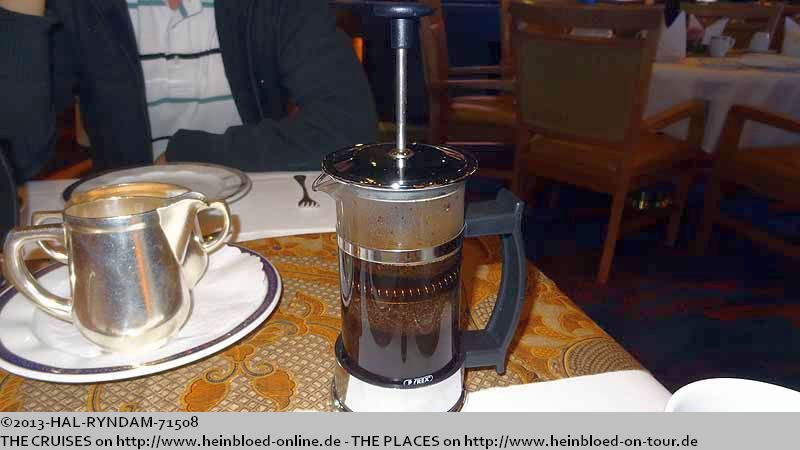 Did not look very Indonesian...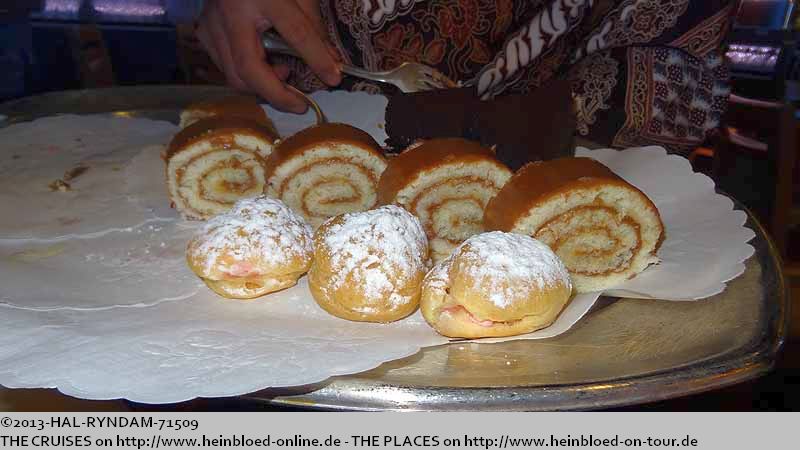 Sieht nicht sehr indonesisch aus...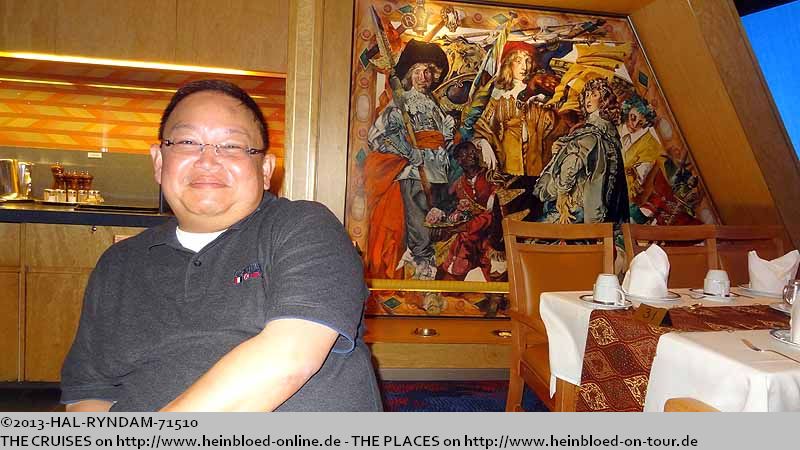 Our favorite waiters thought that we had to try the scones...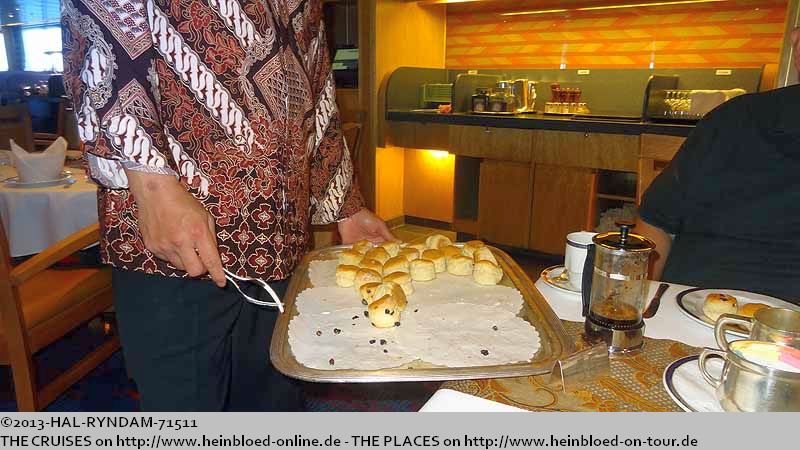 Und dann meinten unsere Stammkellner, dass wir unbedingt die Scones probieren müssen...
Bevor wir nein sagen konnten, lag alles auf unserem Teller. O.K. einen für Frances und einen für Eddie...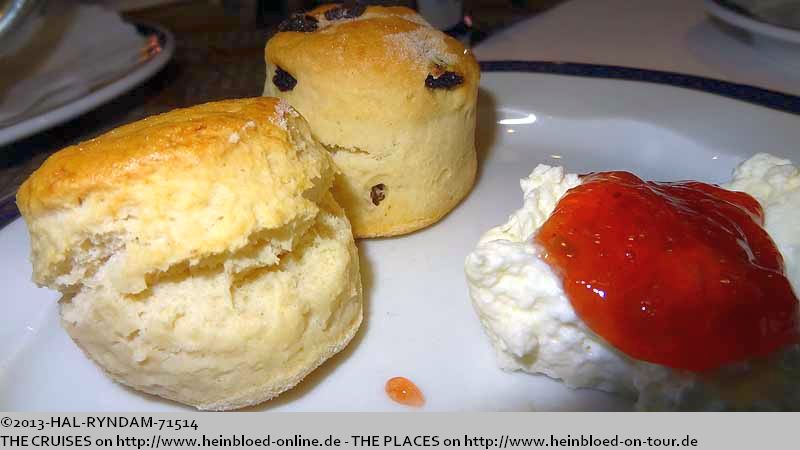 Before we could say no we had them already on our plate. O.K. one for Frances and one for Eddie...

That was the variation of tea.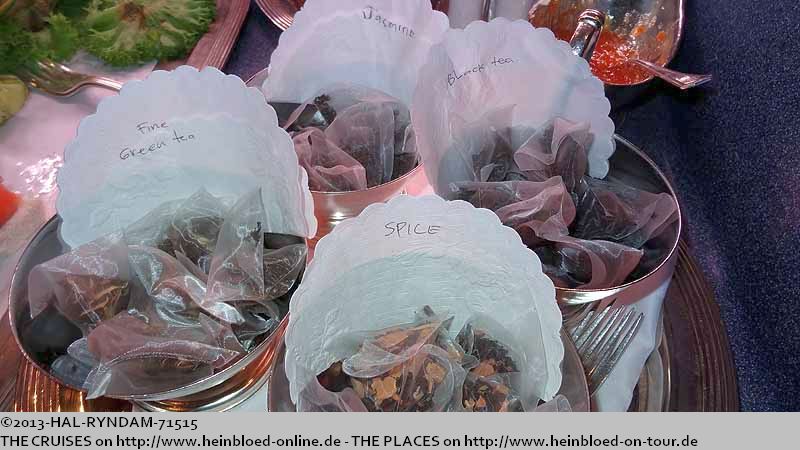 Das wären die Teesorten gewesen.
Zurück in der Kabine - ausnahmsweise schalten wir mal den Fernseher ein: 61 Knoten Wind = 113 km/h = 11 Beaufort... empfand ich gar nicht so...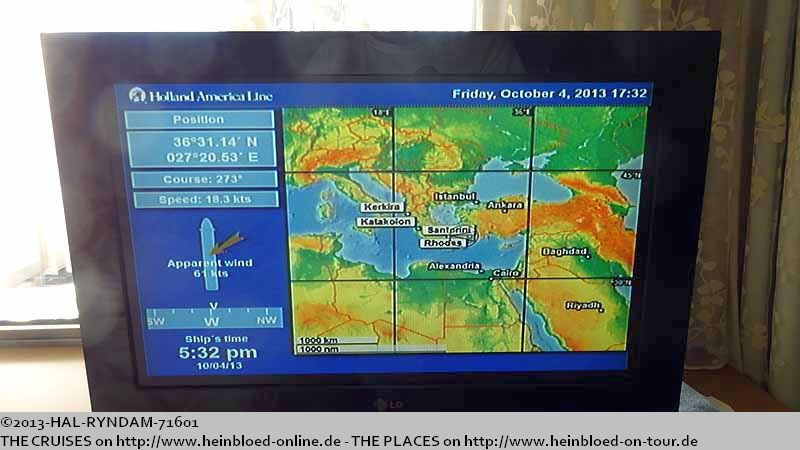 Back in the cabin - by exception we turned on the TV: 61 knots wind = 70 m/h = 11 Beaufort... I did not have the impression like it should be...

The water glass was a little lean...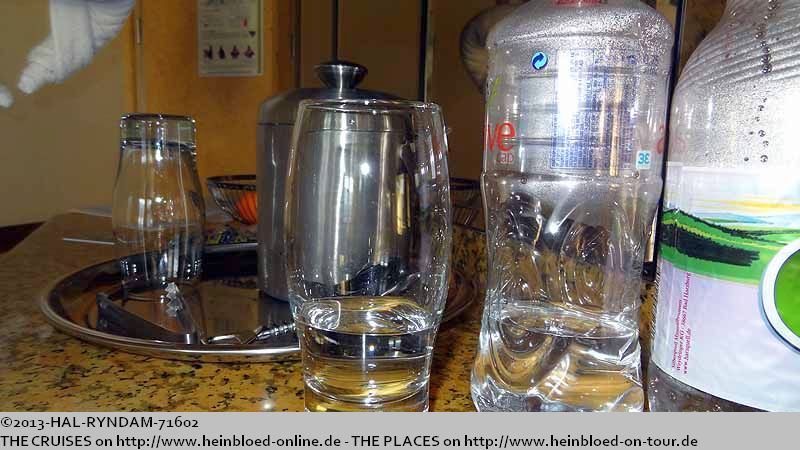 Das Wasserglas ist etwas schief...
Und die See ist etwas weiß... aber 61 Knoten...was wurde da bloß angezeigt? Diese Indizien finde ich nicht unbedingt: brüllende See, Wasser wird waagerecht weggeweht, starke Sichtverminderung - oder doch?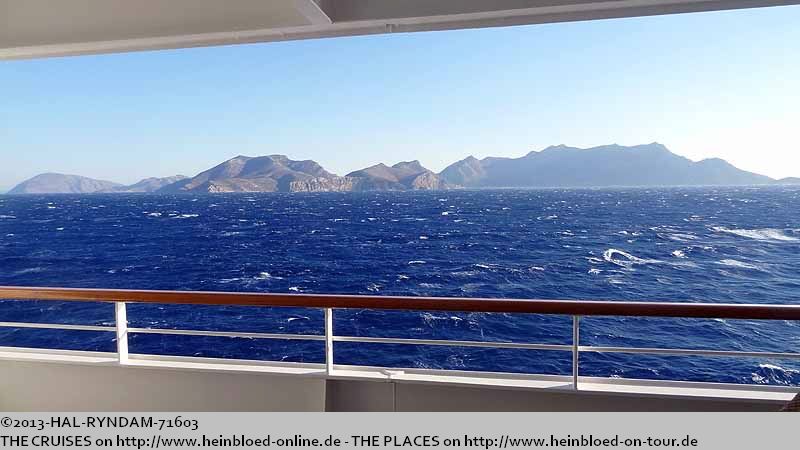 And the sea was a little with... but 61 knots... what was displayed? I could not find any evidence like exceptionally high waves, the sea is completely covered with foam patches lying downwind, poor visibility - or was there any?