Obwohl ich keinen Kaffee hatte, und jede Menge Transitgäste durchgelaufen sind: ich hatte eine gute Zeit.

Although I had no coffee and lot of guests in transit: I had a good time.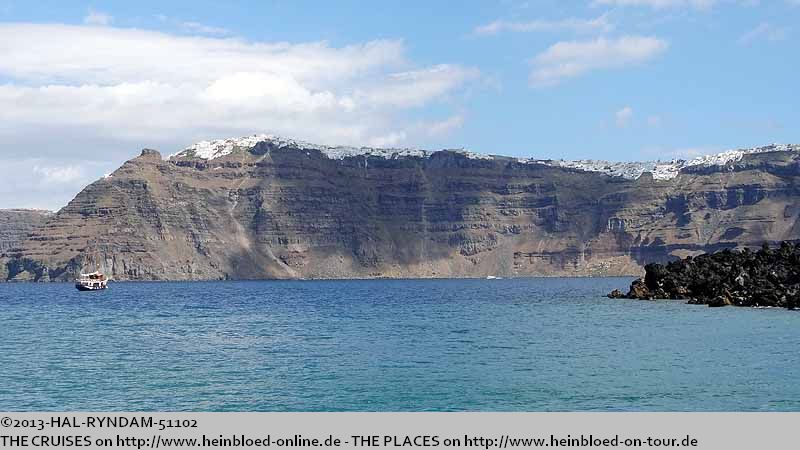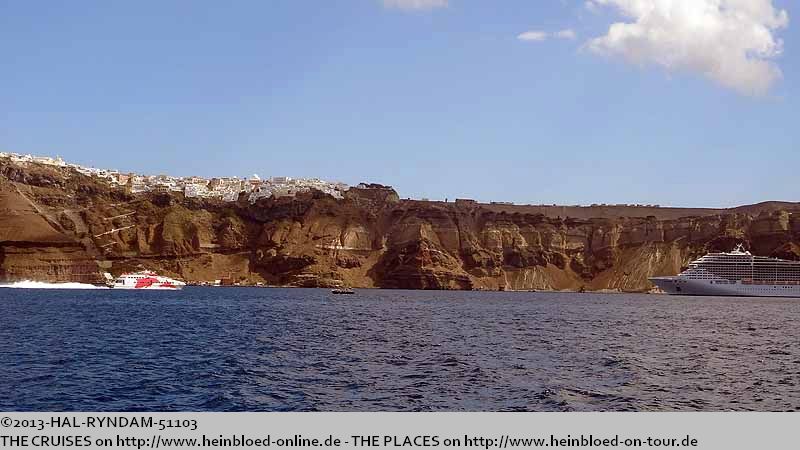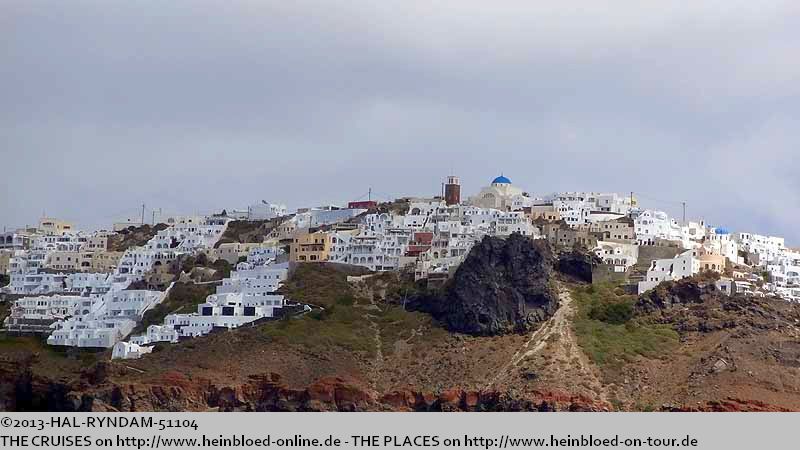 Auf dem Weg zu den heißen Quellen gelingen uns diese Bilder von Oia! Deswegen steht der Hafen Santorini ganz weit oben auf unserer Liste der Häfen, die wir unbedingt wieder bald anlaufen müssen.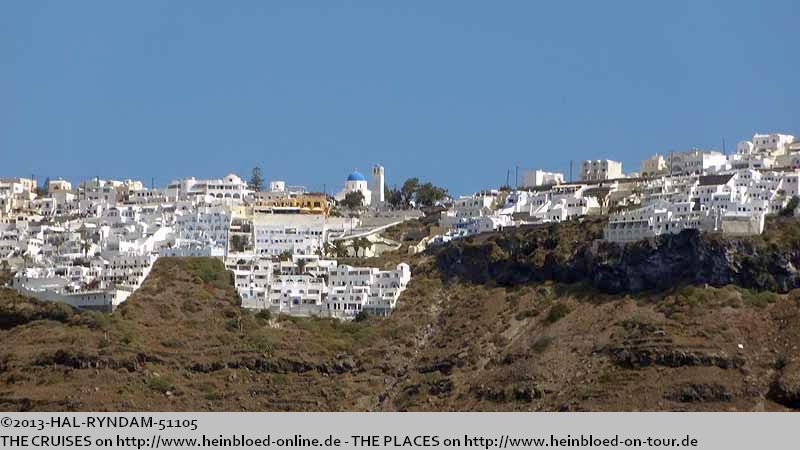 On the way to the Hot Springs we had a chance to take those pictures of Oia! That was why the port of Santorini is listed at the top of the ports we like to visit again very soon.

It did not look like a public swimming bath in the style of the Blue Lagoons in Iceland.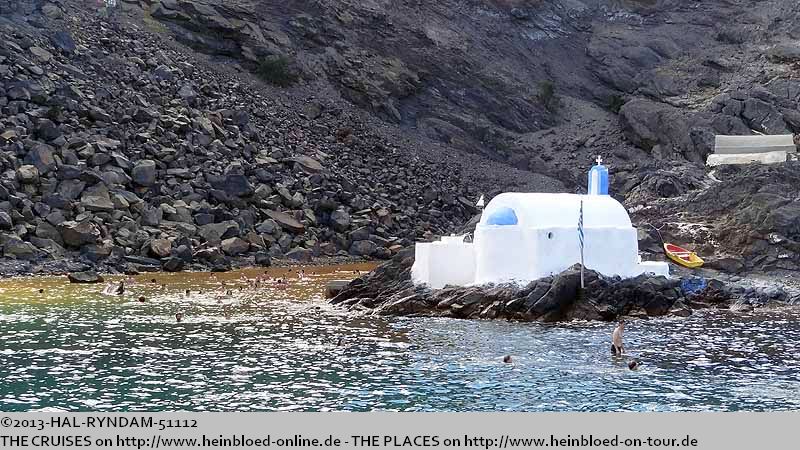 Soll das eine Badeanstalt wie die Blue Lagoon auf Island sein?
Nun die Leute springen von Bord und schwimmen zum Strand rüber...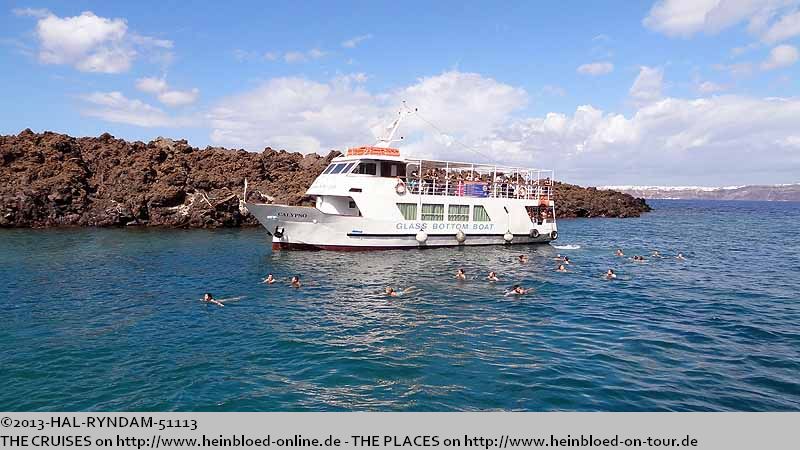 So they guests need to jump overboard and swim to the beach...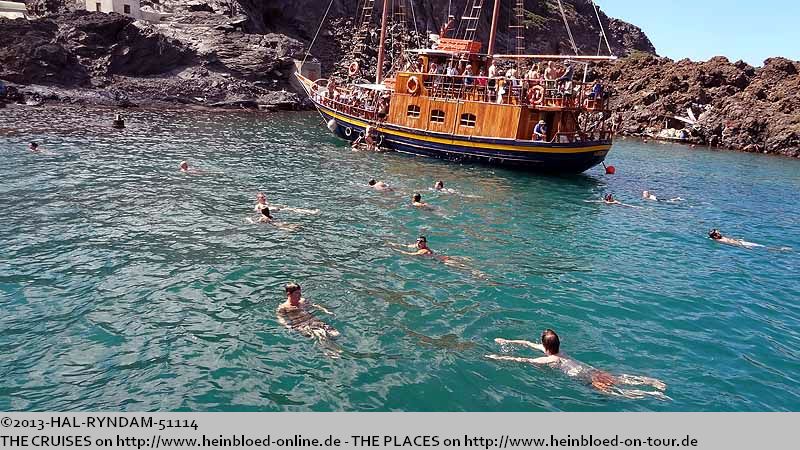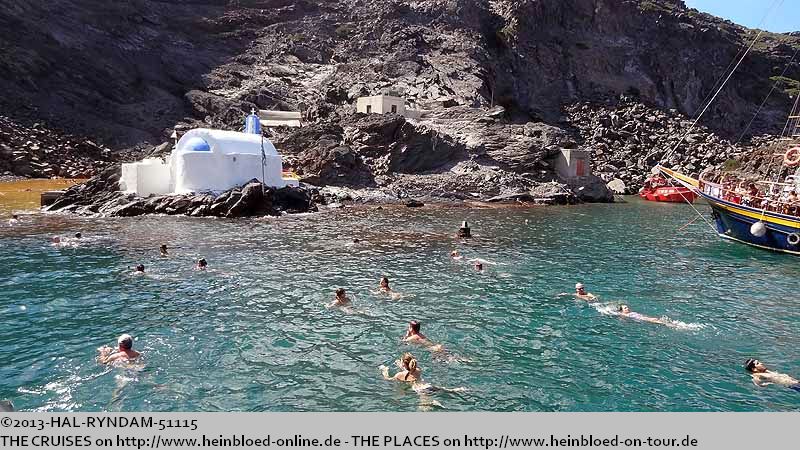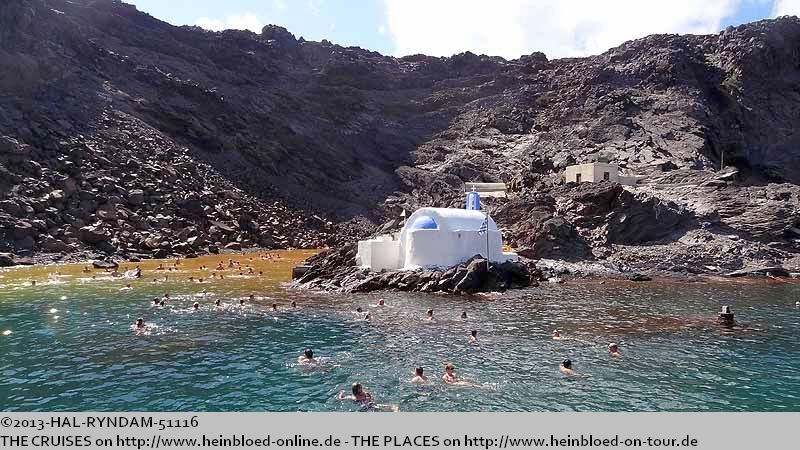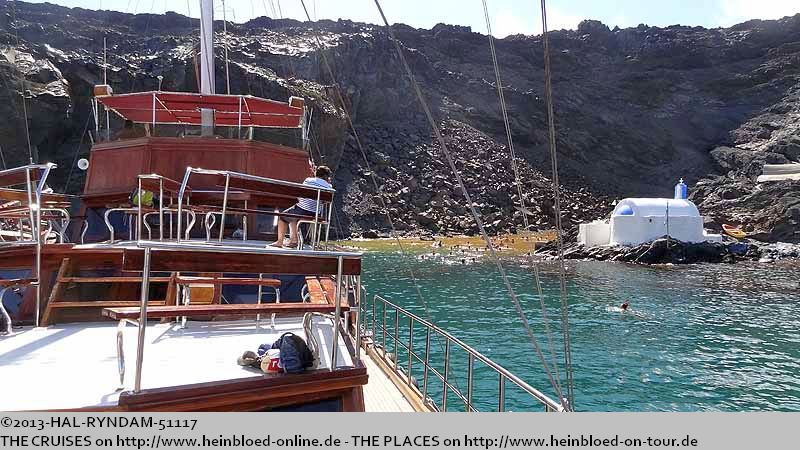 This looked like the pool attendant's house...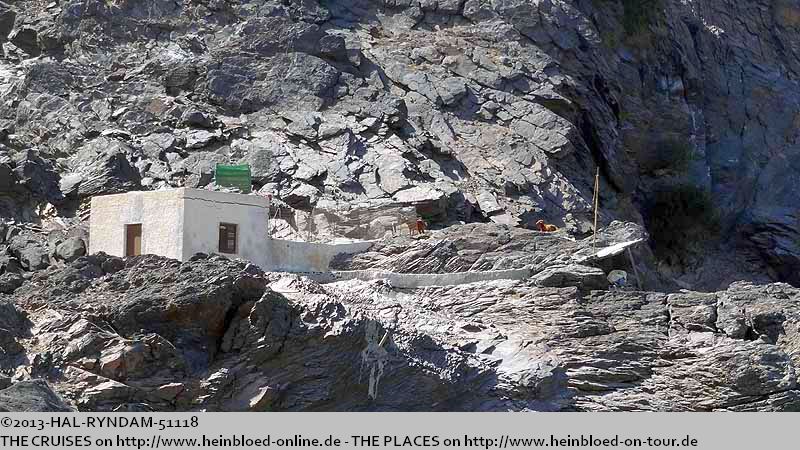 Da oben scheint die Wohnung vom Bademeister zu sein...
Der macht wohl zwischenzeitlich Käse und verkauft noch Ziegenmilch...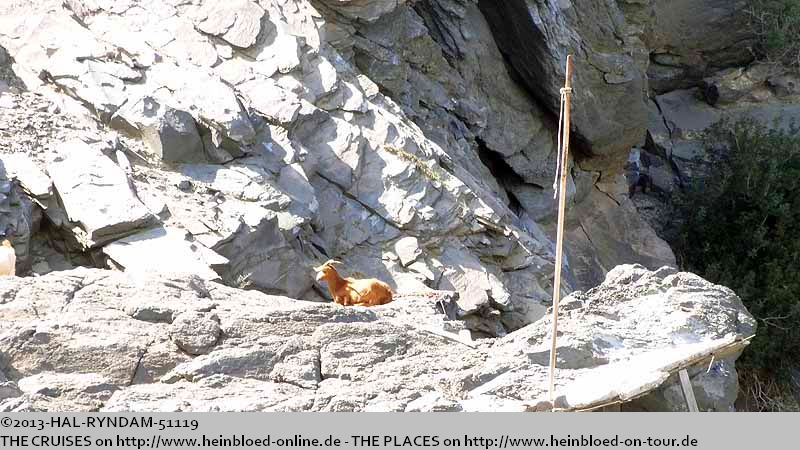 During the day he was obviously doing some cheese and sold goat milk.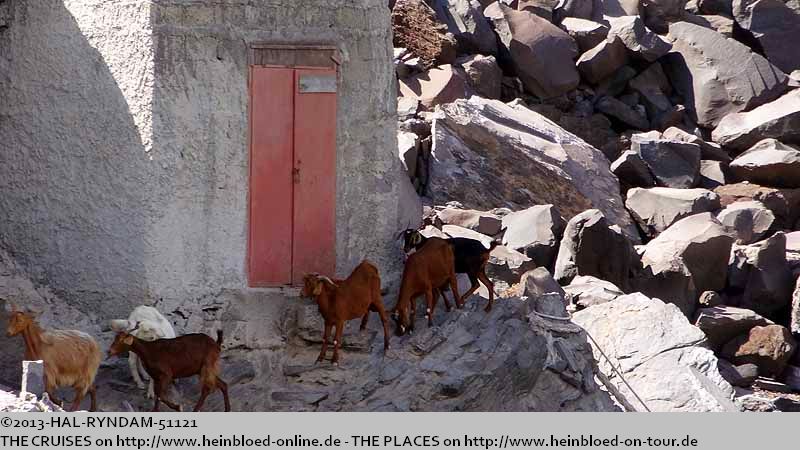 Und wenn man vorher ein Sanifair-Ticket gezogen hat, darf man auch das Klohäuschen benutzen.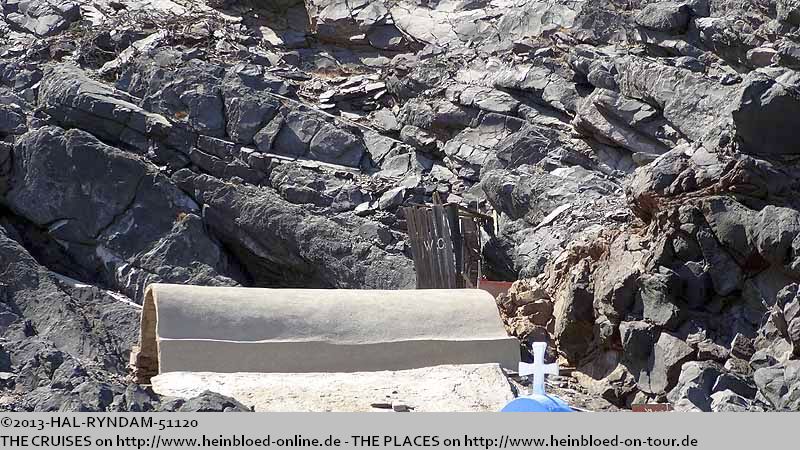 And if you bought a token you may use the toilet... (If you see in toilet in Germany at the highways you must buy a token and you can present this token for comsuption in the restaurants or for purchaes and you get a partial refund).

All onboard - men and women... You could change your clothes in a separate room but there was no shower fascilities on board.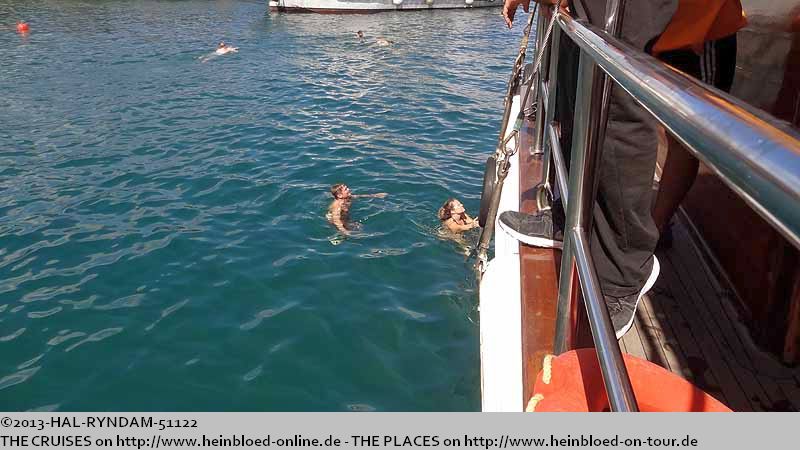 Alle Mann und Frau an Bord... Man konnte sich an Bord ungestört umziehen, bloß Duschen gab es nicht.
Eine alte Freundin kommt rein. Leider nicht mehr als DELPHIN VOYAGER und leider im Uhrzeigersinn...

An old friend arrived. Unfortunately not anymore as DELPHIN VOYAGER and unfortunately clockwise... Before bancruptcy of the tour operator she was deployed for the German cruise market.

Looked a little different and the new name: AEGEAN PARADISE. Today they sell cruises out of Izmir, Turkey with ETSTur. I am afraid that my secretary with Turkish roots need to make all translations for me. I really like to go on this itinerary.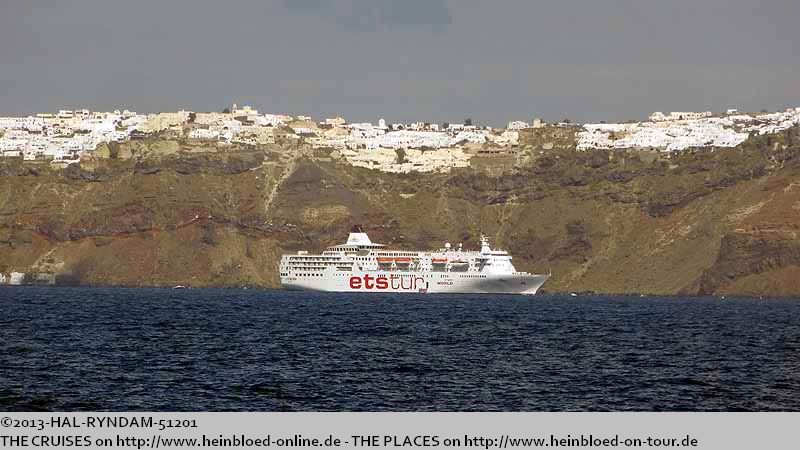 Sieht heute etwas anders aus und heißt heute AEGEAN PARADISE. Heute werden Kreuzfahrten ab Izmir mit
ETSTur
angeboten. Ich fürchte, dass meine Sektretärin mit türkischen Wurzeln das für mich übersetzen muss. Lust hätte schon nochmals dahin zu fahren.