Wir haben alle Schiffe gleich lieb... mehr oder minder... auch die MSC-Schiffe... man muss sagen: vom Design her wunderschön. Vom Essen her: kein Vergleich mit Holland America... nur mit dem Unterschied, bei Holland America nehmen wir ab, weil die Zutaten so gut sind und bei MSC nehmen wir auch ab, aber aus anderen Gründen, z. B. weil das Schiff so groß ist, dass wir wieder alles abtrainiert haben, bevor wir unsere Kabine erreicht haben. MSC FANTASIA ist nun eine alte Freundin, auch wenn die Fahrt bereits ein paar Jahre her ist. Aber bevor im Rentenalter im Winter die Heizung anschmeiße und Schnee schippen muss, fahre ich lieber für 299,00 EUR die Woche im Mittelmeer herum. Das ist billiger als jedes Pflegeheim. Und bis dahin werde ich einen Italienisch-Kurs belegt haben, um den italienischen Maîtres dann auf Italienisch gründlich die Meinung zu sagen. Wir hören von vielen Seiten, dass das besser geworden sei. Es wird sich sicherlich eine Gelegenheit finden, um das mal wieder zu testen. Mal gucken, wann die flexible Tischzeit eingeführt wird. Dann würden die Chancen steigen, dass wir mal wieder mitfahren. Auf die möchten wir keinesfalls mehr verzichten.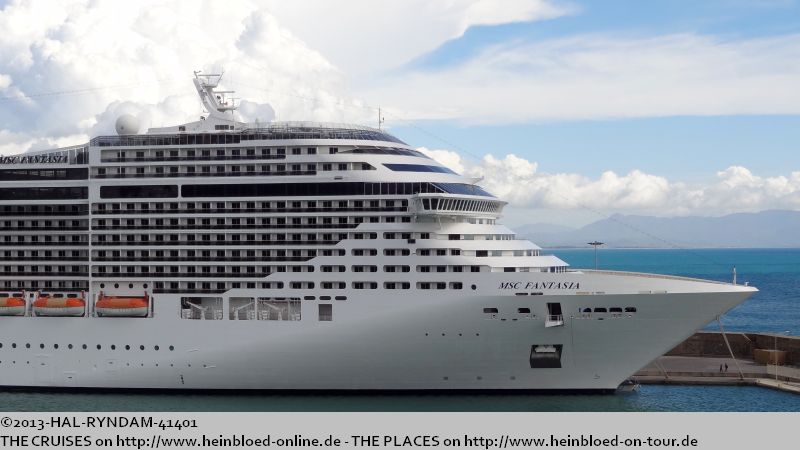 We love all ships the same way... more or less... but also the MSC-ships... you must say: the design is just brilliant. From the food: you cannot compare with Holland America... the only difference: we loose weight with Holland America because the ingredients were so good while with MSC we lost weight too but due to different reasons like the ways were so long that we exercised all way back to our cabin. MSC FANTASIA is a good old friend even the last voyage was long time ago. But when I am retired I would not start to heat the house or to shovel snow if I have a chance to go for roughly 400.00 USD per week to the Med Sea. It would be cheaper than any nursery home. Until then I would have some Italian language lessons so I would able to argue with the Italian Maîtres in Italian. We heared from many friends that it became much better. There will be one day an occassion to find out ourselves. Let us see when they will introduce flexible dining. The chance that we would go with them again would increase. Something we do not want to miss anymore.

A lot of guests were waving good-bye. So I had the idea to post these pictures on Facebook and the cruisers boards: maybe someone could identify themselves... and you cannot take pictures of yourself waving on your own balcony. Maybe they are glad to get those pictures.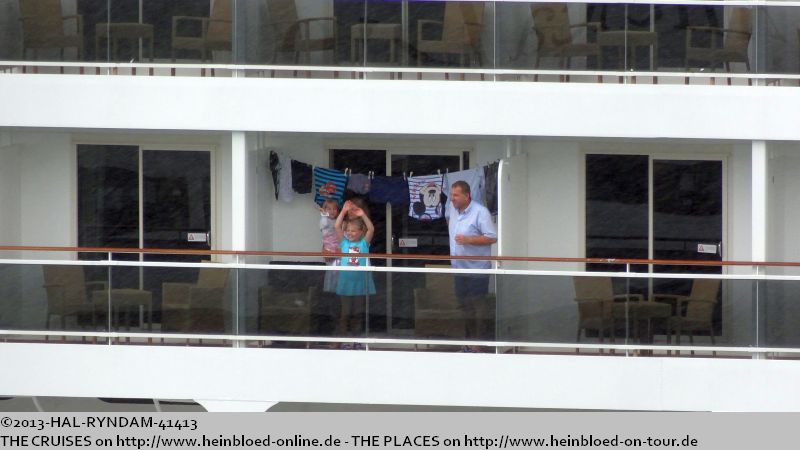 Winkend werden wir verabschiedet. Das bringt mich auf die Idee diese Bilder auf Facebook und in die Foren reinzusetzen: vielleicht erkennt sich jemand wieder... und man kann ja schlecht auf seinem Balkon winken und sich dabei selbst fotografieren. Vielleicht freut sich ja jemand, dass es diese Bilder gibt.

Oben rechts in der Ecke haben wir mal gewohnt. Mit dem Berliner Balkon zum Preis einer Außenkabine.

Above to the right we lived before. With a French Balcony for a price of an oceanview.

Someone on one of the boards asked for the furniture of the aft cabins. So let us have a look into.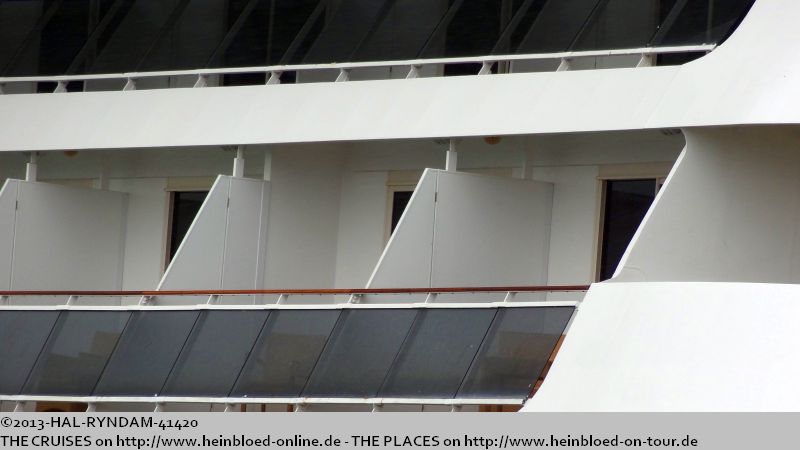 Irgendjemand fragte doch im Netz wegen der Möblierung der Heckkabine. Also gucken wir einfach mal bei denen rein.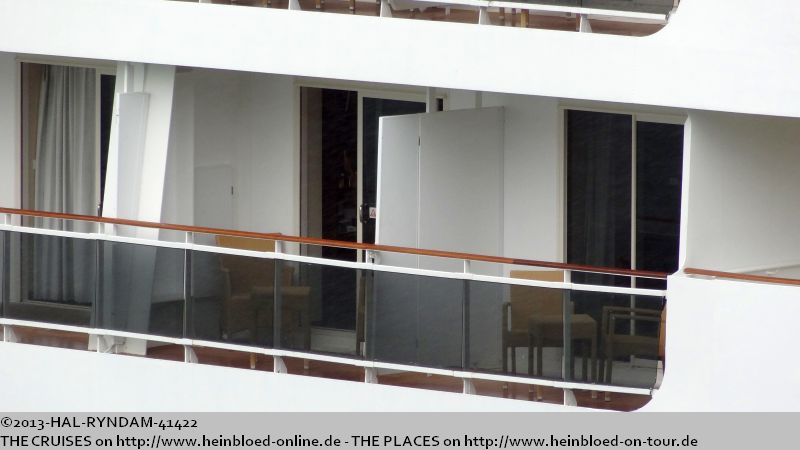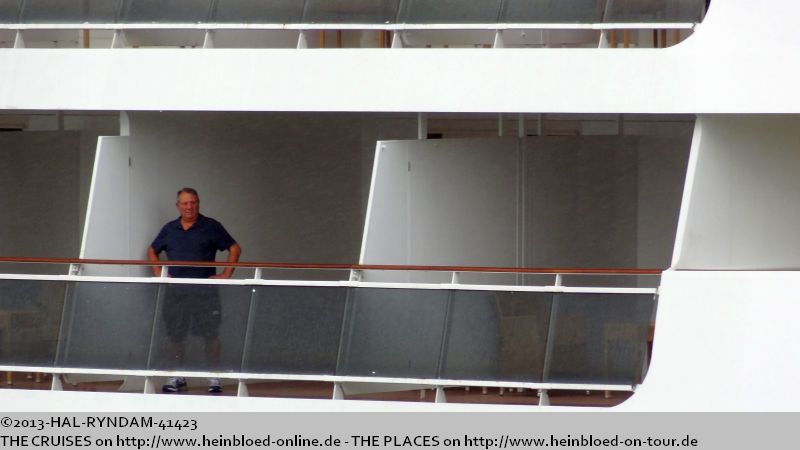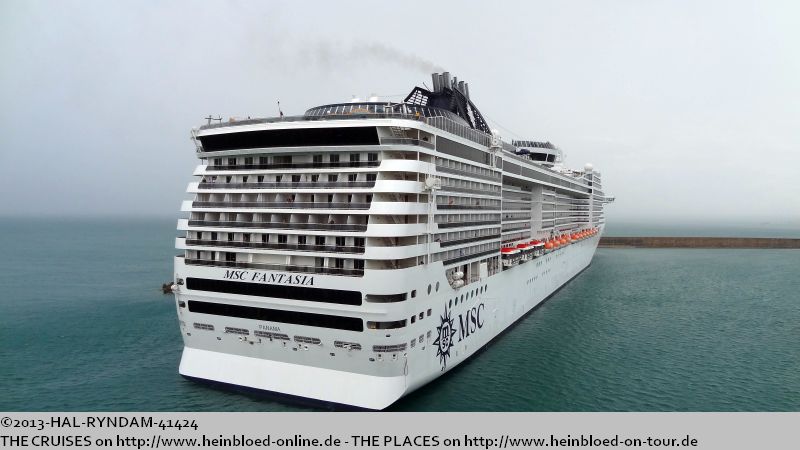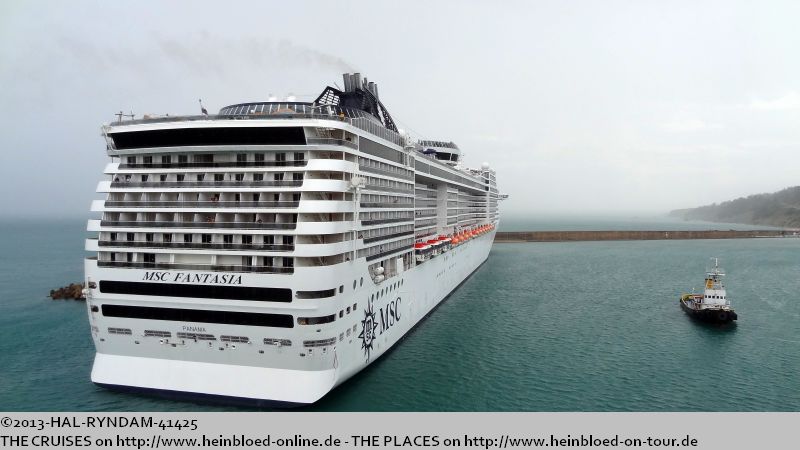 Und auch am Heck stehen einige, die uns zuwinken.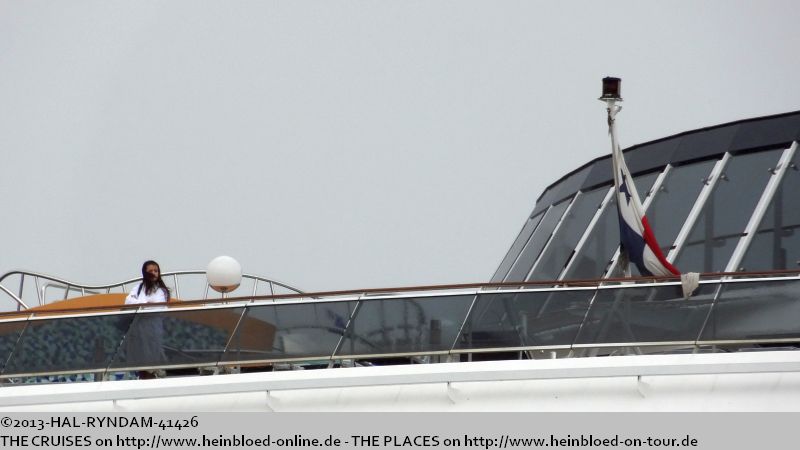 Also at the aft there were few who waved us.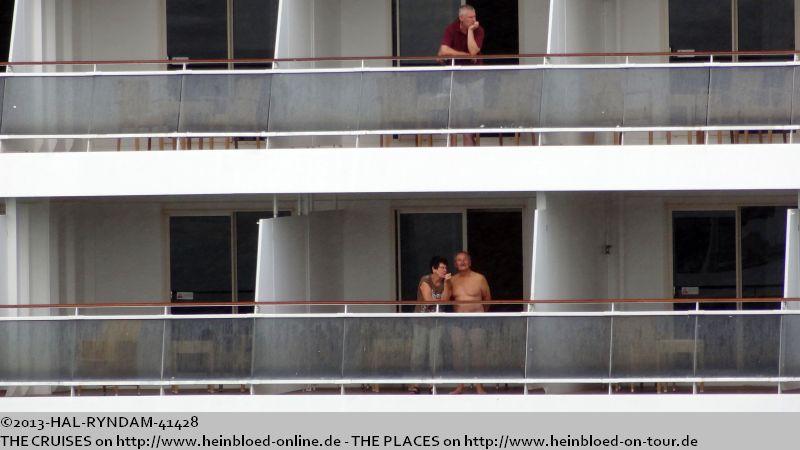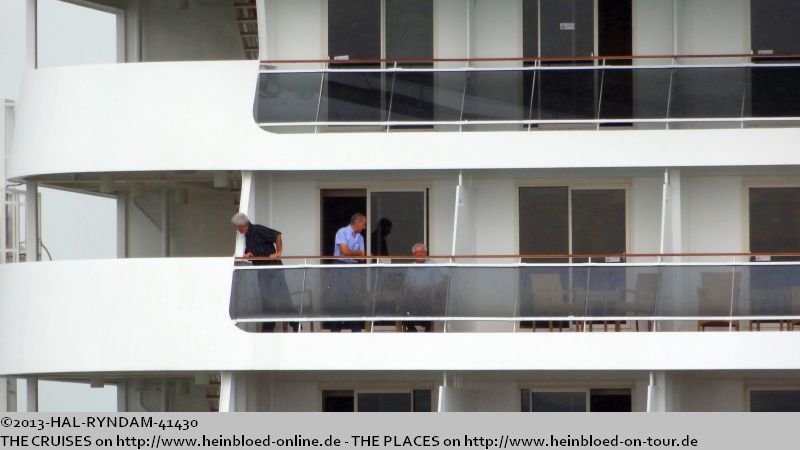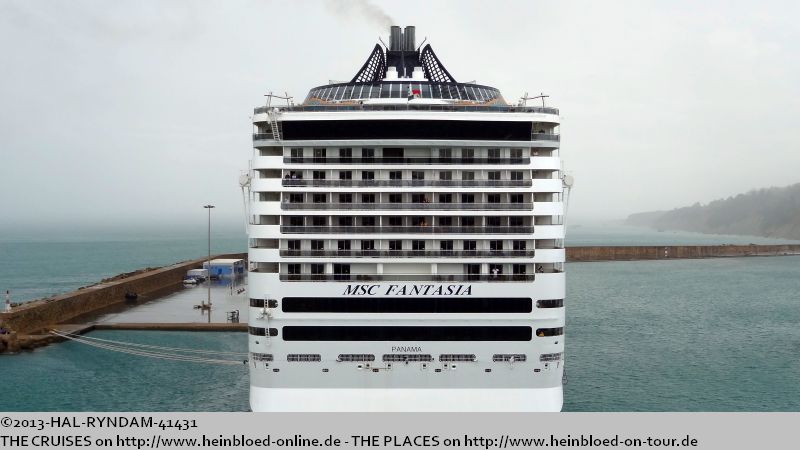 We just set sail at the right moment.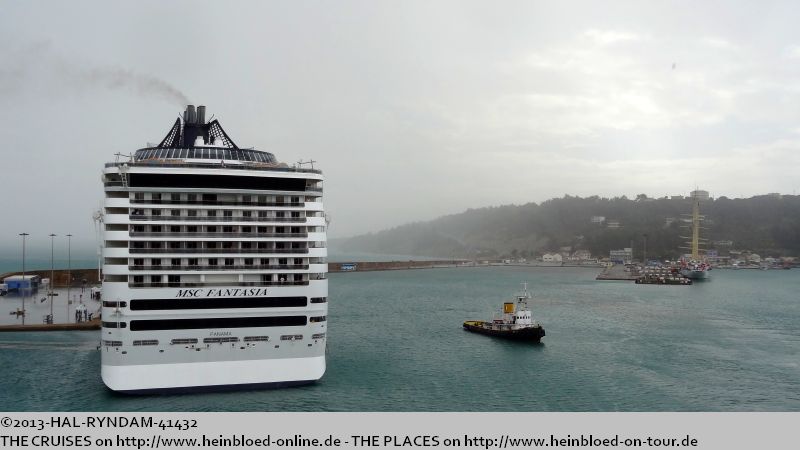 Wir fahren im richtigen Moment los.
Es schüttet nämlich aus Eimern.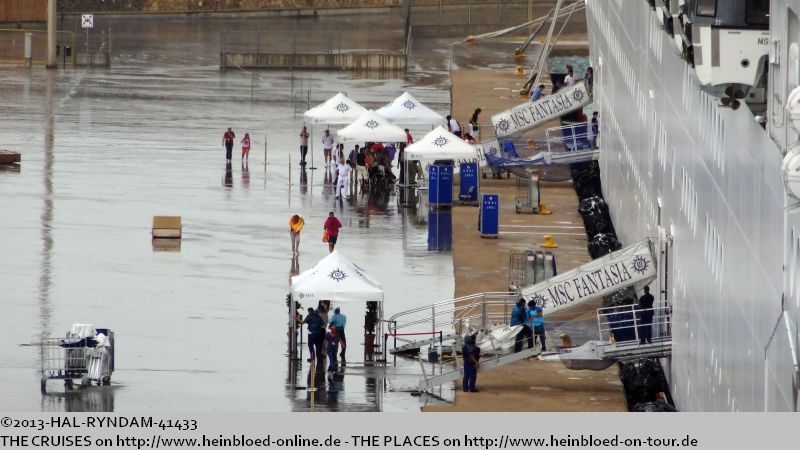 It was raining dogs and cats.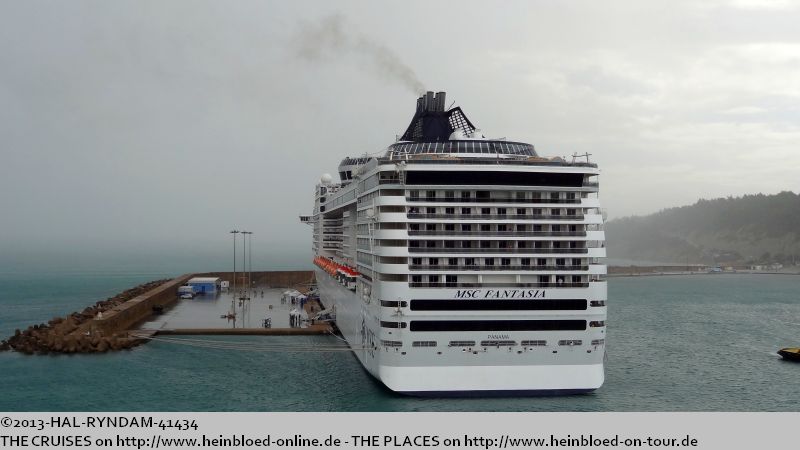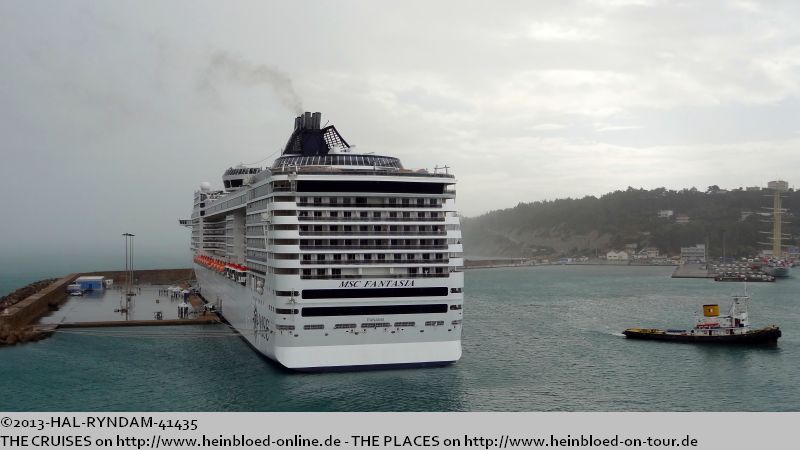 Even we personally were not so lucky: it is still a beautiful ship and you can do great voyages. Especially if you have kids when other lines charge you a lot of money for.

Auch wenn wir ein bisschen Pech hatten: es bleibt ein schönes Schiff und darauf kann man tolle Fahrten machen. Speziell wenn man Kinder hat, für die andere viel Geld berechnen.
Und quasi beim Ablegen kommt noch die STAR CLIPPER rein.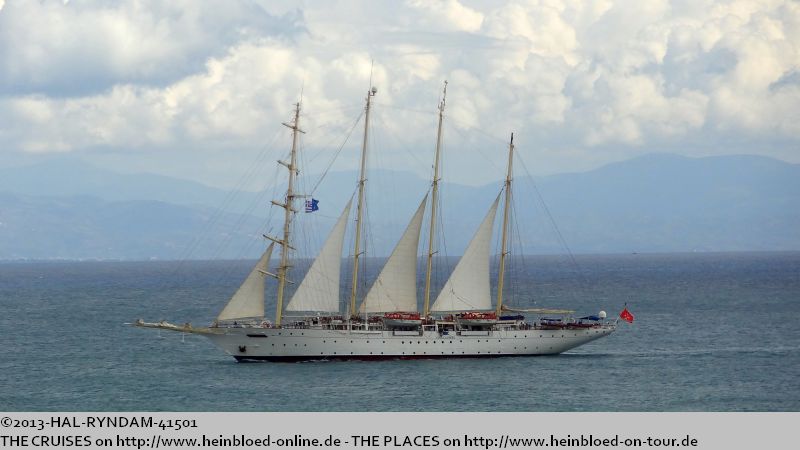 More or less while we were setting sail STAR CLIPPER arrived.