Scroll down for English explanations - alternates with German explanations.

Es ist der zweite formelle Abend. Frau und Herr Pannen sitzen seit 18.00 Uhr im Canaletto und müssen daher nicht im Lido Café sich selbst bedienen. Es lief wohl alles gut. Oft stehen ja 2-er Tisch sehr nah beieinander, so dass man sich gut mit den Tischnachbarn unterhalten kann. Wir haben allerdings erst um 20.00 Uhr im Vista Restaurant einen Tisch bestellt, um noch die Ausfahrt zu genießen. Ich habe mir allerdings nichts mehr angeguckt, nach dem wir heute schon so viel gesehen haben.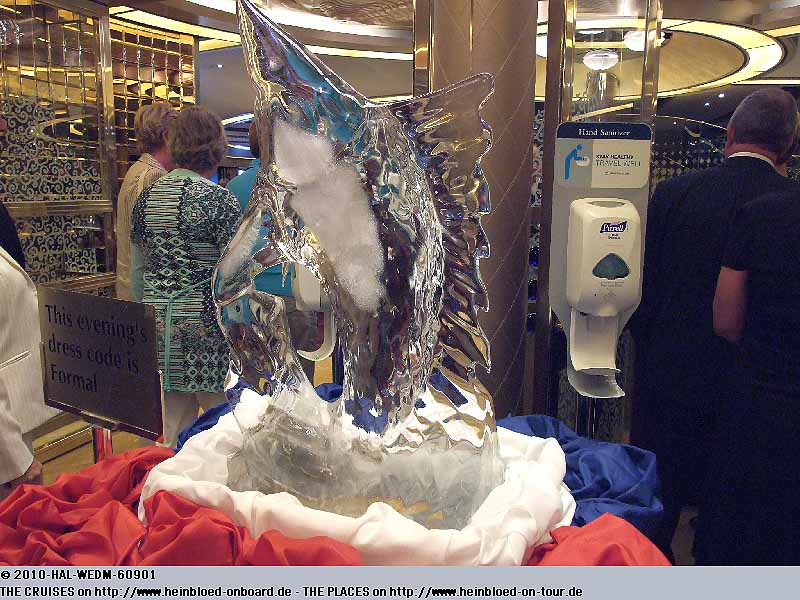 It was the second formal night. Mrs and Mr Pannen were since 18.00 hrs in the Canaletto and so they did not need to help themselves in the Lido Café. It worked all well. Frequently you find tables for 2 very close to each other so you can have some nice conversation with your next table. We booked for 20.00 hrs a table in the Vista Dining Room to enjoy the scenery. I did not look at all as I saw so much the day.

Finally escargots (snails)...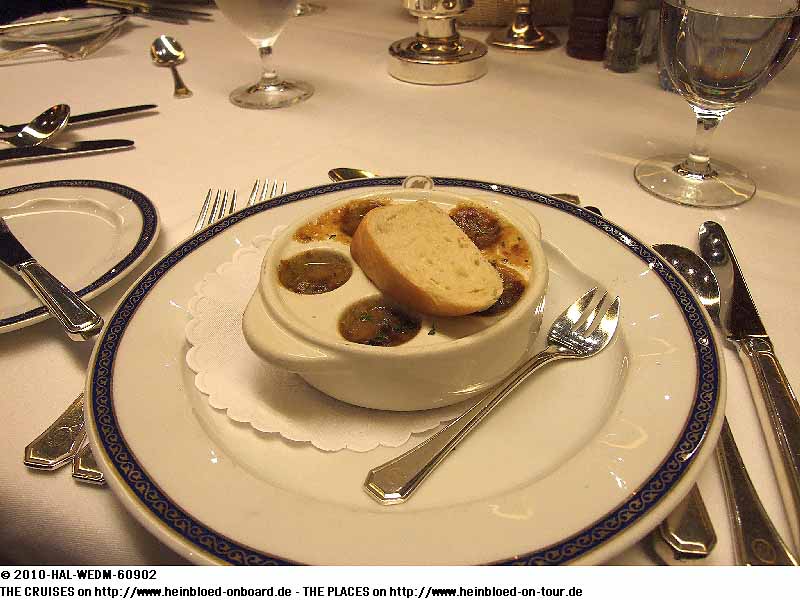 Endlich mal Schnecken...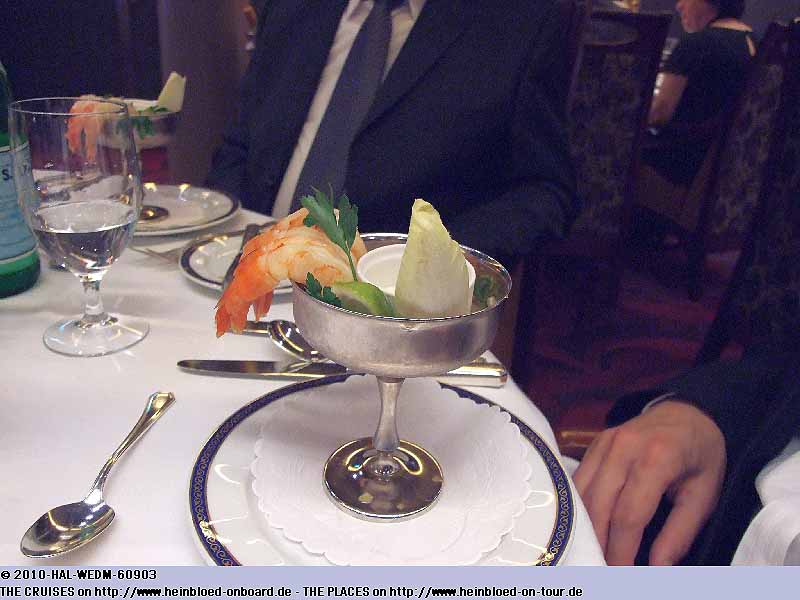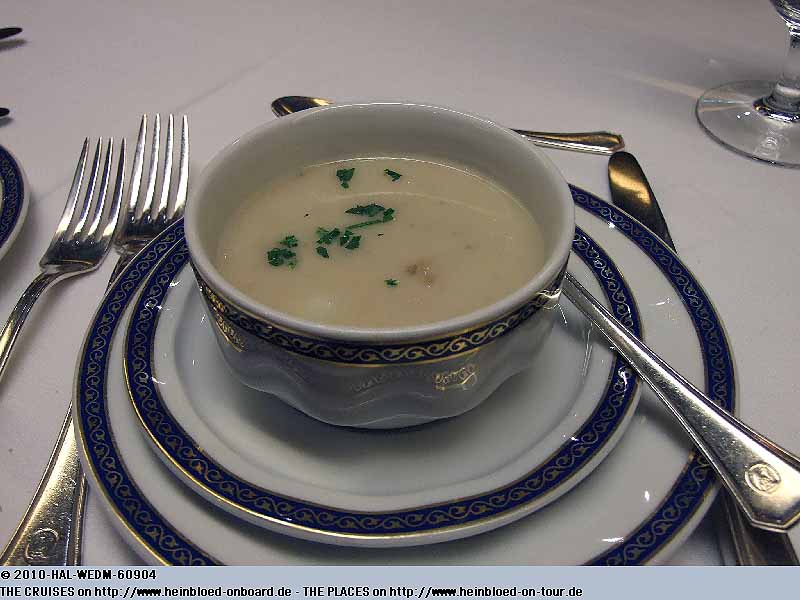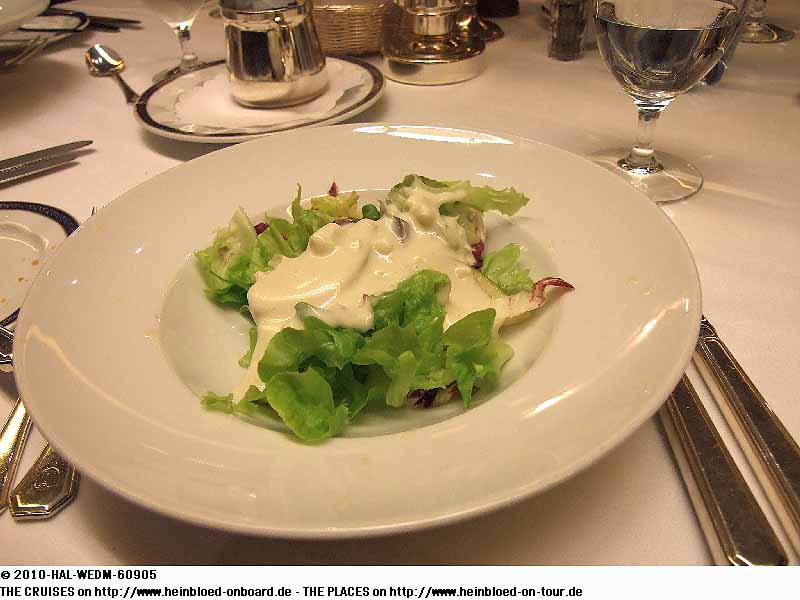 Lasst uns eine weitere gute Idee von Celebrity "klauen": Die Salatsaucen auf einem Tablett servieren statt schon bei der Bestellung zu entscheiden.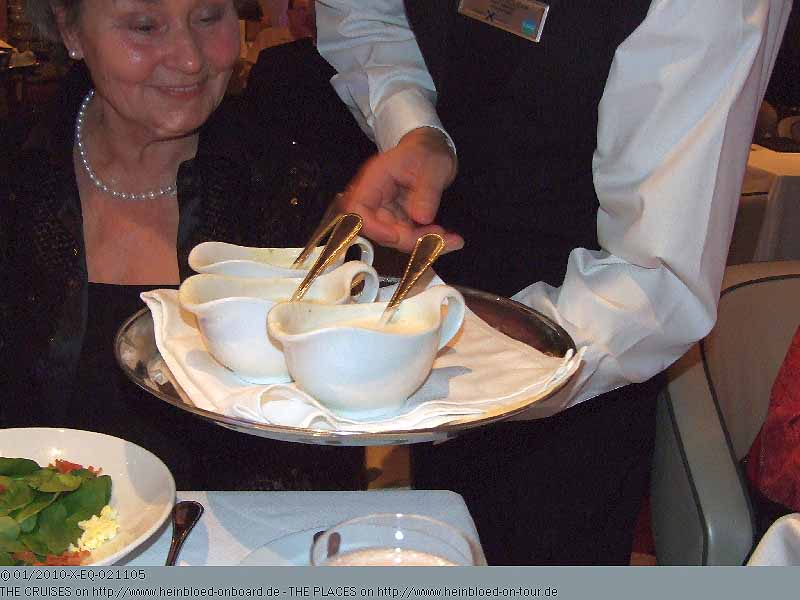 Let us "steal" one more good idea from Celebrity: Serving all salad dressings from one tray and you do not need to decide when you order.

Finally I tried the iced tea.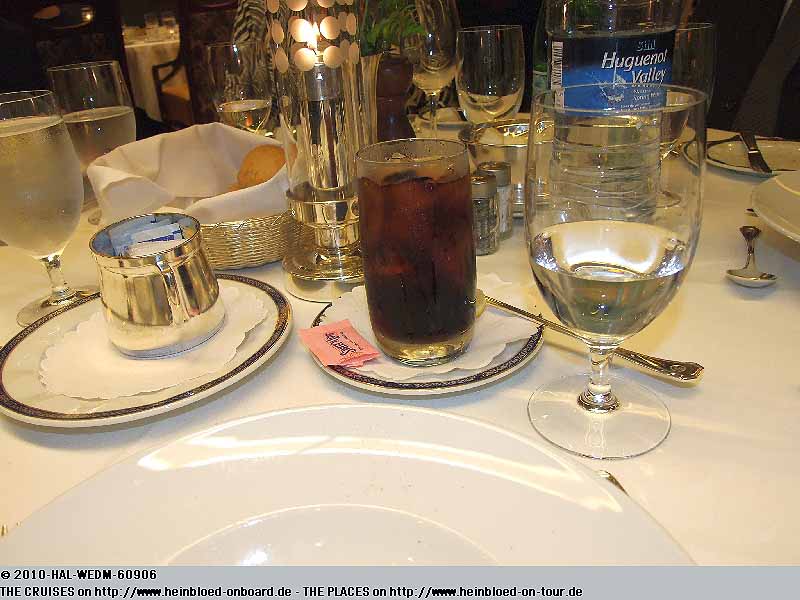 Auch probiere ich mal einen Iced Tea (ist nicht gleich Eistee, da er noch nachgesüßt werden muss, da es sich um echten aufgebrühten erkalteten Tee handelt).
Sahdan kennen wir bereits und er freut sich, dass wir in seinen Bereich zugeteilt wurden. Dementsprechend genießen wir seinen aufmerksamen und liebenswürdigen Service.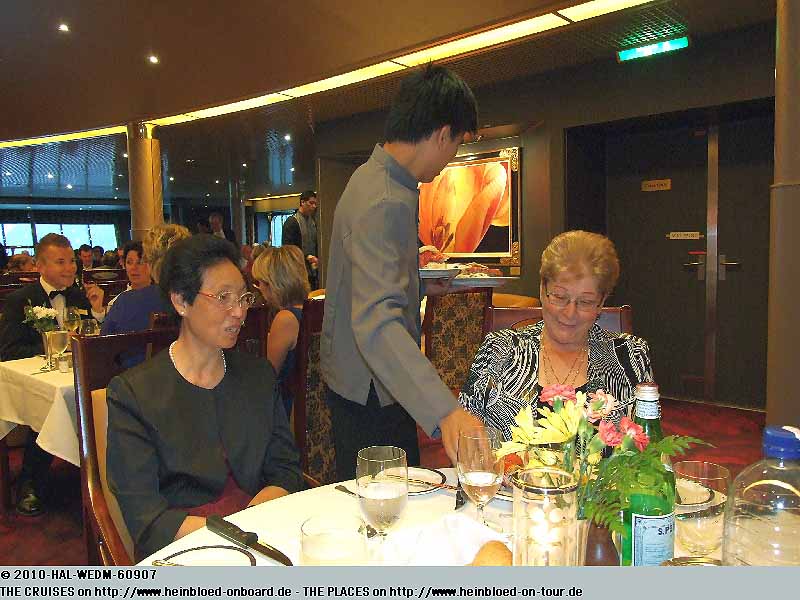 We knew Sahdan already and he was happy to have us again as his guests. So we enjoyed a lovely and attentive service.

Once more we had Surf and Turf - but this time it was named accordingly.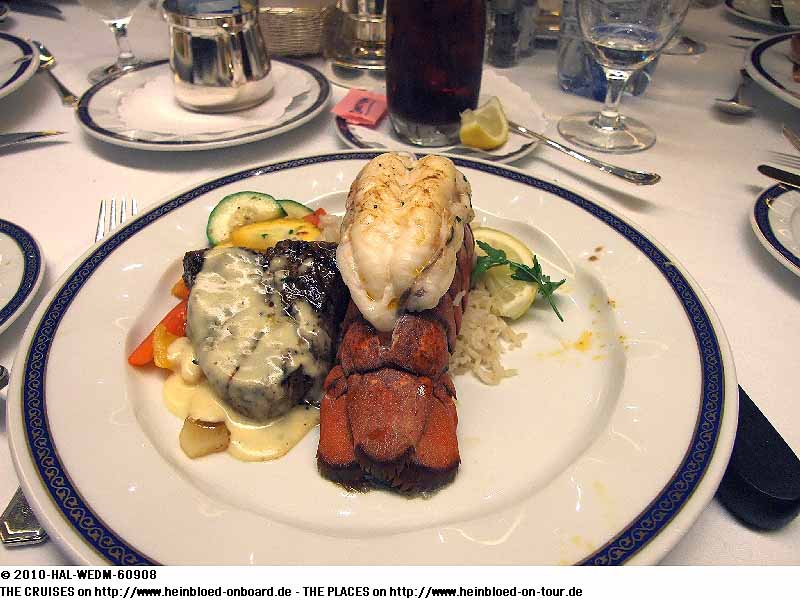 Noch einmal gibt es Surf und Turf - nur heute heisst es auch so...
Auch heute löst Sahdan uns wieder das Hummerfleisch aus der Hummerschale.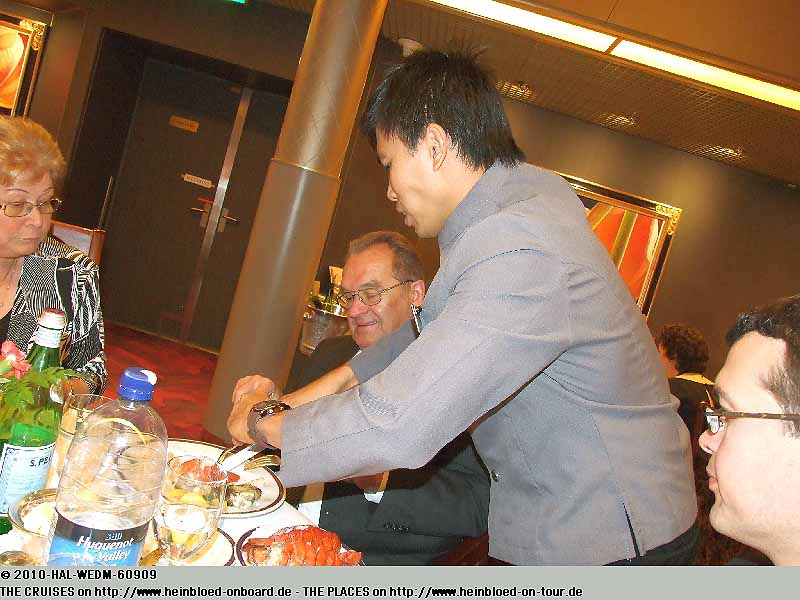 Sahdan took out again the lobster meat from the lobster shell.

What I saw as a problem: the missing explanations for dishes like "Master Chef Rudi's Premiere" or you need to have a cooking encyclopedia with them. I knew what Savarin was but did any other guest knew it???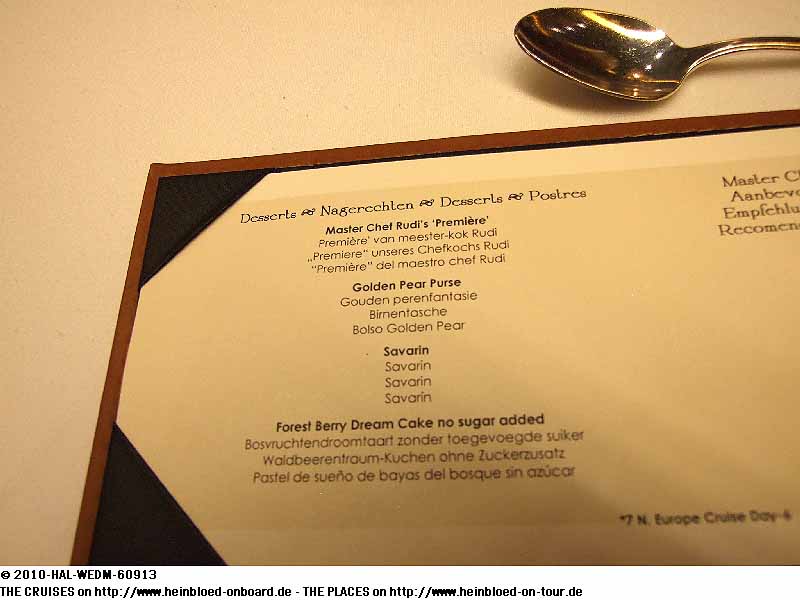 Was ich problematisch finde: die fehlenden Erläuterungen zu Gerichten wie "Master Chef Rudi's Premiere" oder dass man ein Küchenlexikon mitführen muss. Ich weiss zwar, was Savarin ist, aber weisst es auch jeder andere Gast???
Schöner war es damals auf der CENTURY (damals noch nicht CELEBRITY CENTURY...): Ein Tablett mit den Desserts sagt mehr als tausend Worte. Gute Ideen sollte man durchaus erfolgreich kopieren...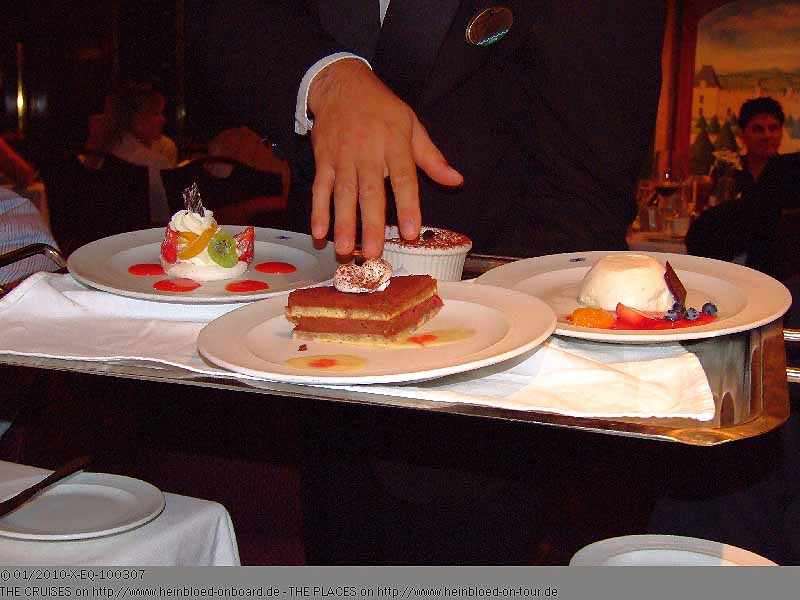 It was much more nicer on CENTURY (at this time not CELEBRITY CENTURY...): A tray showing the desserts was more than thousand words. You should copy successful ideas from others...

Maybe I would not expected this behind "Master Chef Rudi's Premiere". And the explanations of the waiter were only available in English and not as precisely to picture this dish here.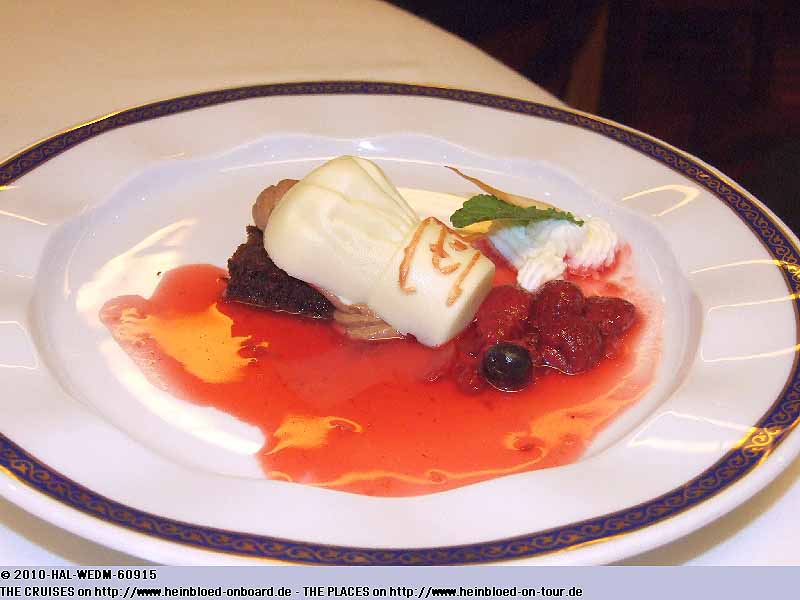 Ich hätte das vielleicht nicht hinter der "Master Chef Rudi's Premiere" vermutet. Und die Erläuterungen des Kellners war natürlich nur in Englisch verfügbar und nicht so präzise, um sich so etwas darunter vorstellen zu können.
Das war meine Birnentasche mit einer Kugel Kaffeeeis, die ich unbedingt probieren wollte. Auch heute gibt es keinen Espresso, aber die Art wie es Sahkan sagt, machte den großen Unterschied: es hätte trockenes Brot und Wasser geben können. Hauptsache: er hätte uns bedient.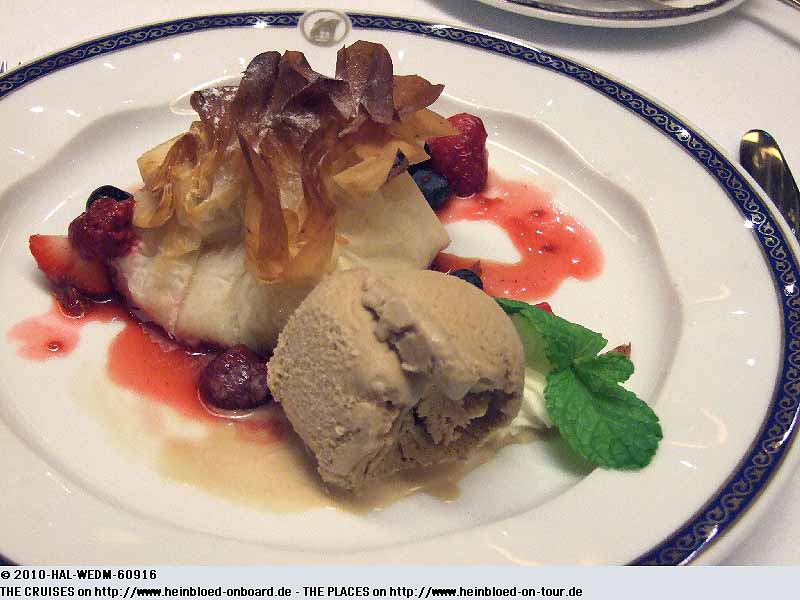 This was my Golden Pear Purse which a scope of coffee ice cream which I wanted to try for sure. There was no espresso available either, but the way Sahkan told me made the big difference: you could have dry bread and tap water (like in a jail...) only - as long as he served us.

It was right - it was formal night... she was guest and no member of the entertainment cast...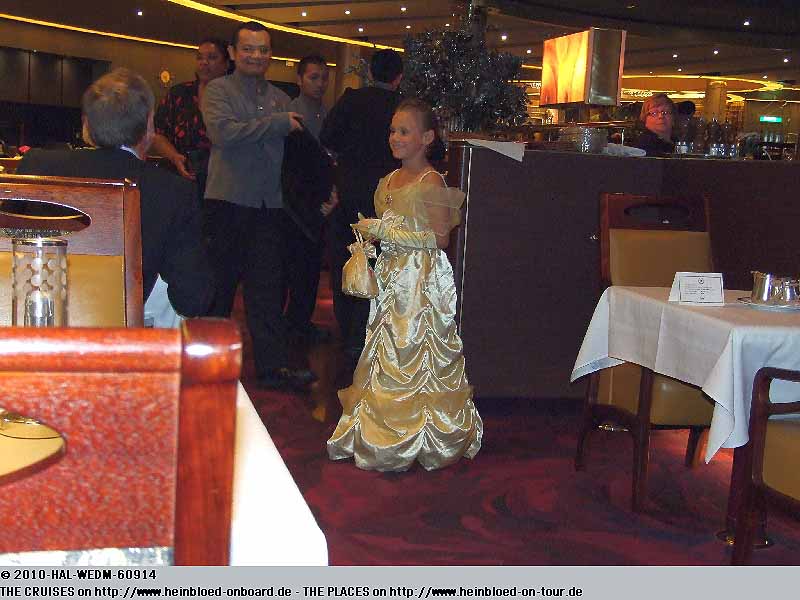 Stimmt... es war ja formelle Nacht... sie war Gast und kein Mitglied des Showensembles...
Hier fehlt uns etwas...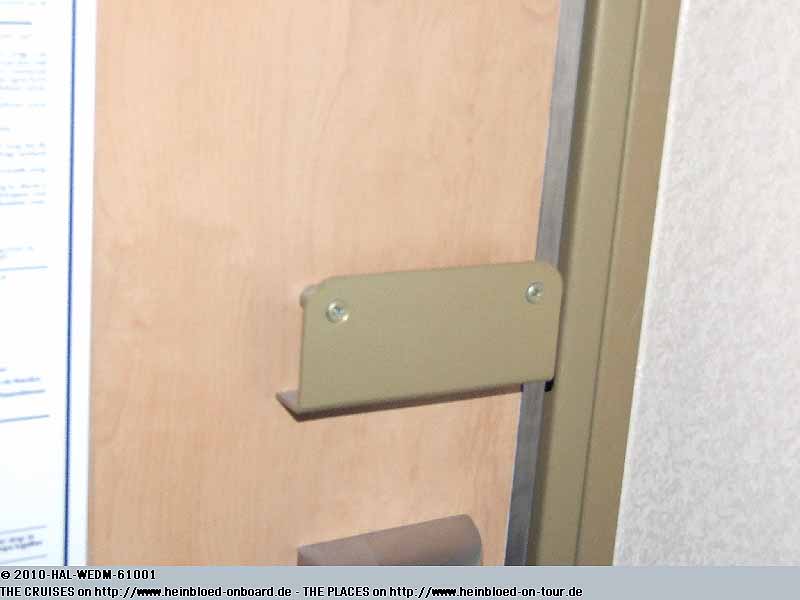 Something was missing here...

So we were unable to tell our stewards to give us service...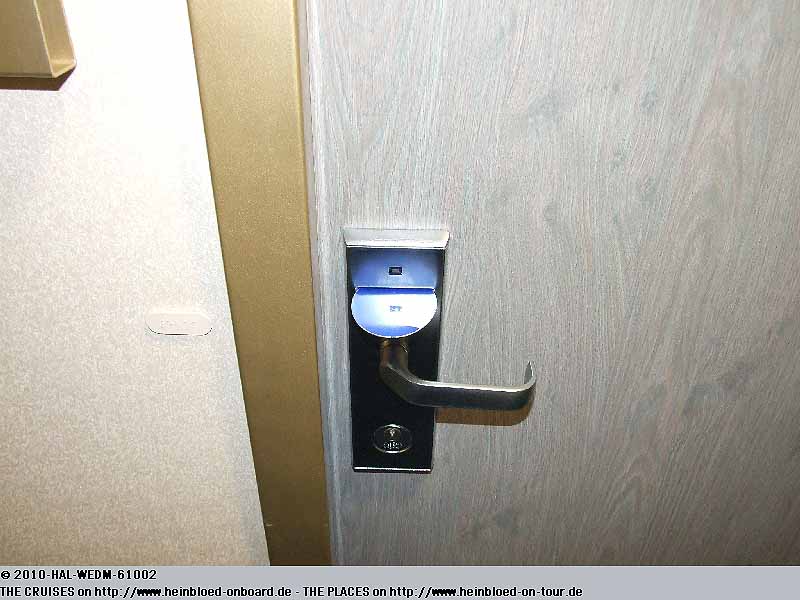 Weder können wir unseren Stewards signalisieren, dass wir gerne jetzt den Service hätten,
noch, dass wir gerne ungestört sein möchten...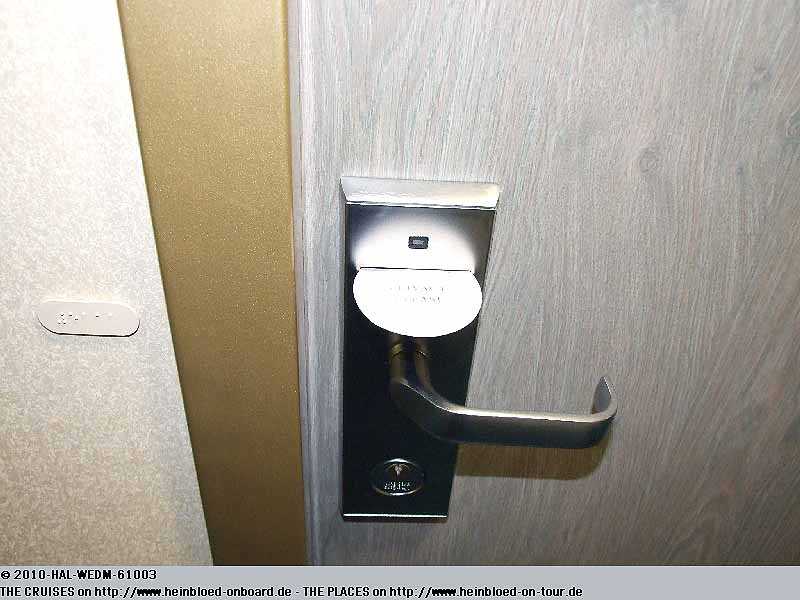 ... nor that we did not like to be disturbed.

Vlatka sent us the booking confirmation for our ZAANDAM-voyage. New is the deposit can be transfered before the day of final payment to a domestic travel agent. Without further action the booking remains now with HAL Rotterdam. From Europeans 65.00 EUR were taken instead of 100.00 USD.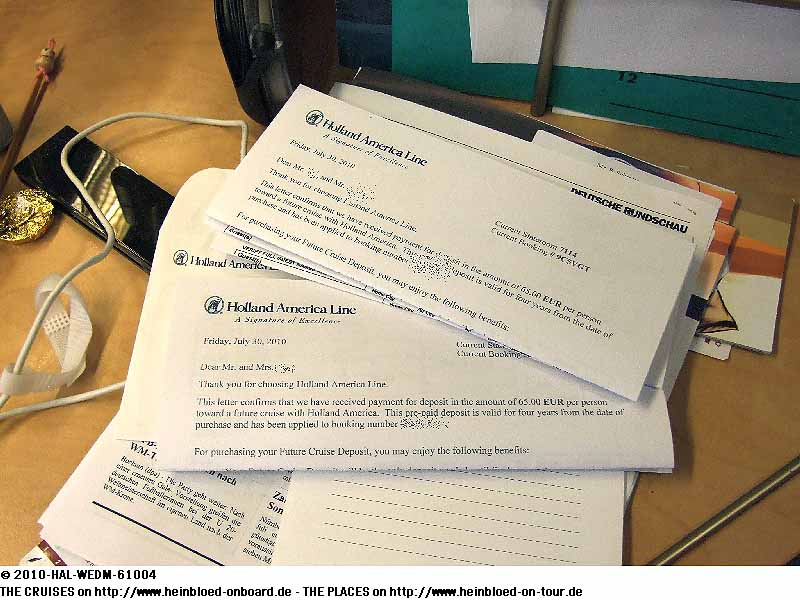 Von Vlatka bekommen wir die Buchungsbestätigungen für die ZAANDAM-Reise. Neu ist, dass die Anzahlung auf ein heimisches Reisebüro übertragen werden darf, solange die Schlussabrechnung noch nicht beglichen ist. Ohne weiteres Zutun verbleibt die Buchung bei HAL Rotterdam. Von europäischen Kunden werden 65.00 EUR statt 100.00 USD eingezogen.
Und Yvonne händigt mir den Douglas Ward unterschrieben zurück.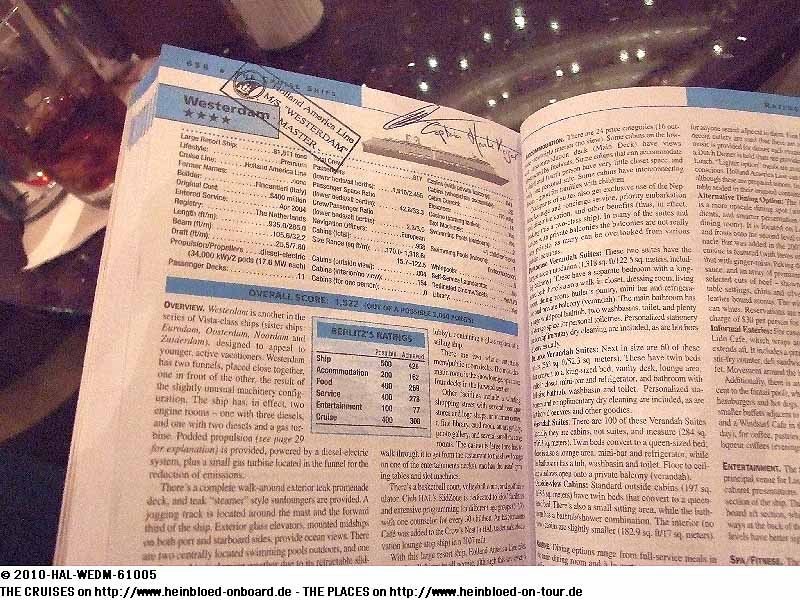 And Yvonne got me back my signed Douglas Ward.

And we asked for print-outs of our bills to check the on-board-credits and charges. But everything was fine... The money from P&O was now on the credit card account.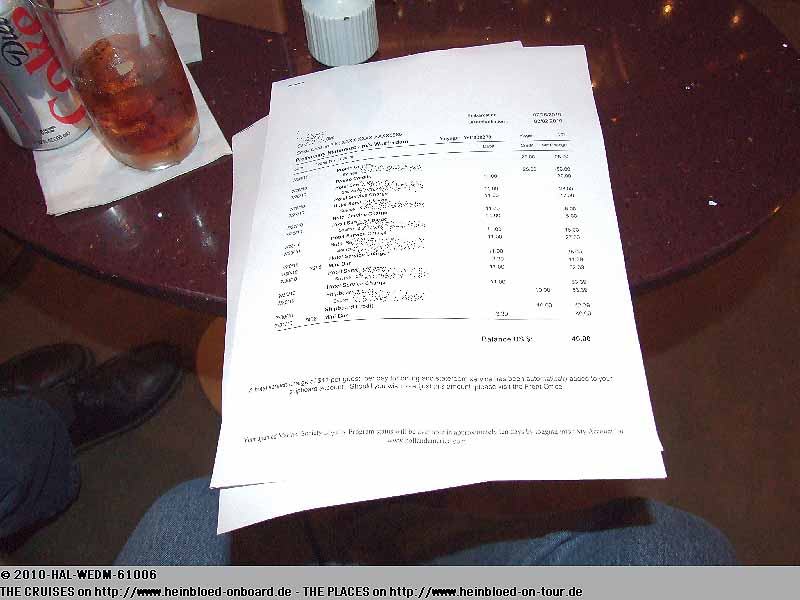 Und wir lassen uns mal Ausdrucke der Rechnungen geben, um die ganzen On-Board-Kredite und Belastungen überprüfen zu können. Aber dieses Mal stimmt alles... Das Geld von P&O haben wir zwischenzeitlich auf dem Kreditkartenkonto zurück.
Irgendjemand fragte im cruisecritic.com-Forum, ob man seine Kamera an den Fernseher anschließen kann: ja, man kann...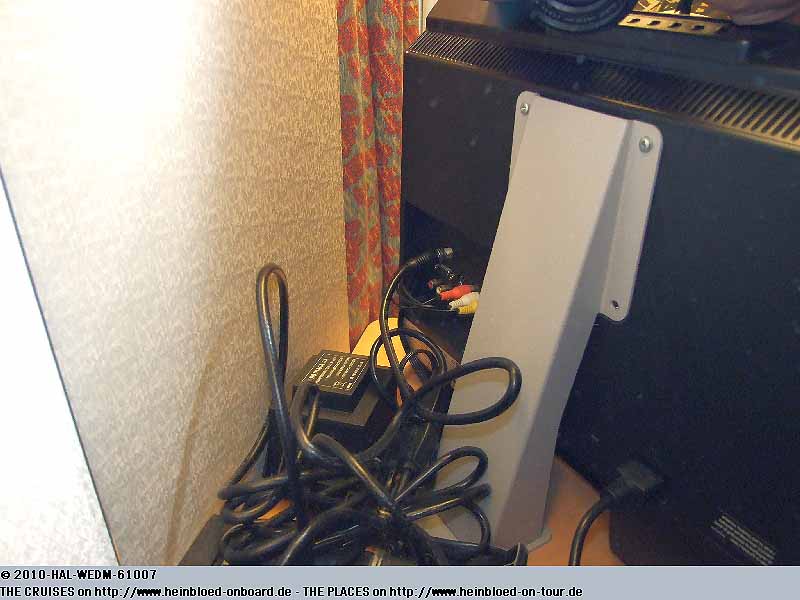 Someone in crusiecritic.com asked if you can connect your camera with the TV: yes, you can....

And they invited us for the debarkation information and the crew fare-well. But we did not go.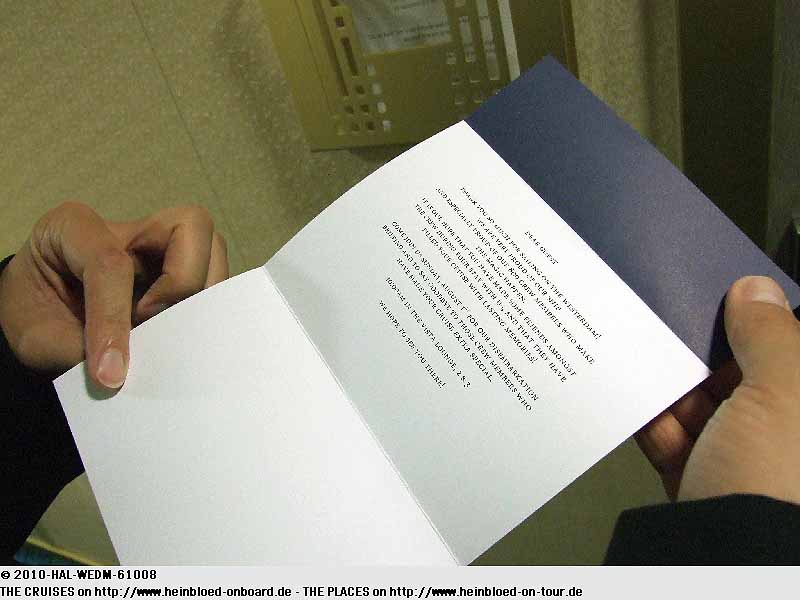 Und wir werden zu den Ausschiffungsinformationen und Crewverabschiedung eingeladen. Aber da gehen wir nicht hin.
Unser letztes Handtuchtier...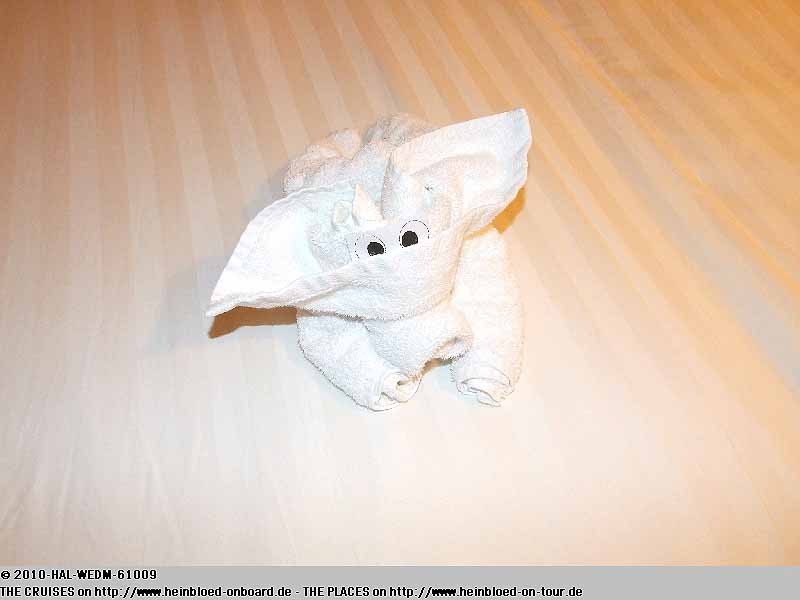 Our last towel animal.

And the sweet treat for my parents because they returned the comment card which we filled out for them. We did not anything for returning the card.

Und die Leckereien für meine Eltern, weil sie die Postkarte mit den Kommentaren, die wir für sie ausgefüllt haben übergeben haben. Wir haben übrigens dafür nichts bekommen...
2008 gab es noch die Pralines zum Abschied. Gibt es das grundsätzlich nicht mehr oder wurde es nur vergessen??? Man sollte nicht alles wegrationalisieren, weil es ja noch die feinen Unterschiede zwischen HAL und anderen geben muss und damit man weiss, warum man mehr zahlen sollte, als mit anderen Gesellschaften.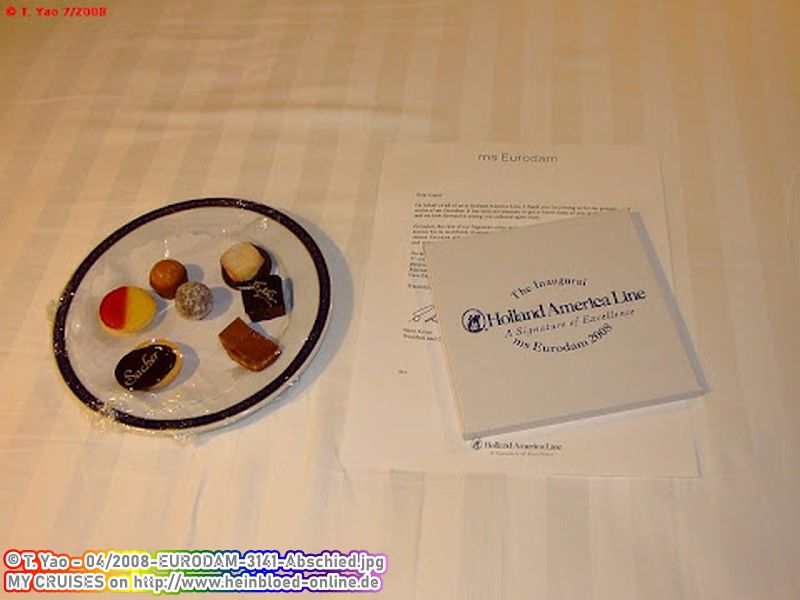 2008 there were still chocolate available for fare-well. Were it generally no more available or were it just forgotton??? You should not cut everything because you need to feel the small differences between HAL and others and to know why you should pay more than with others.