Scroll down for English explanations - alternates with German explanations.

Simply Broadway - nur Gesang - kein Tanz. Klasse.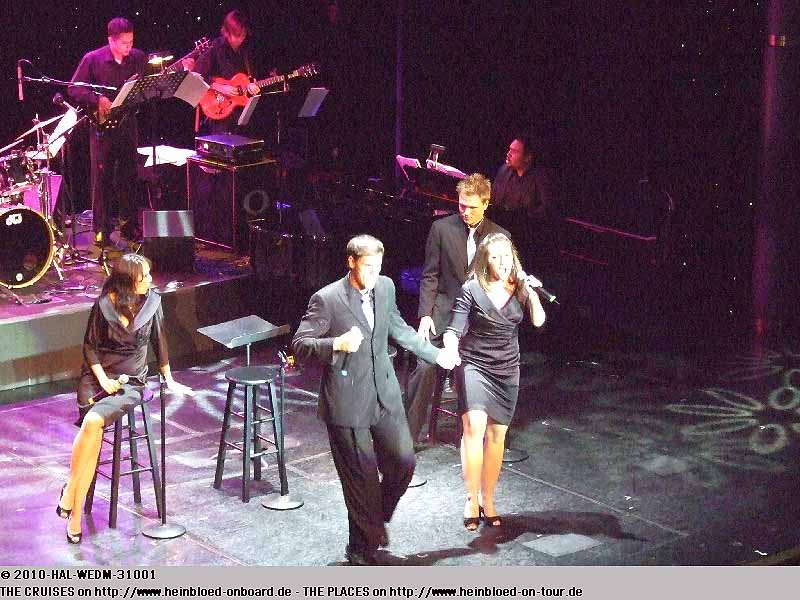 Simply Broadway - just singing - no dancing. Terrific.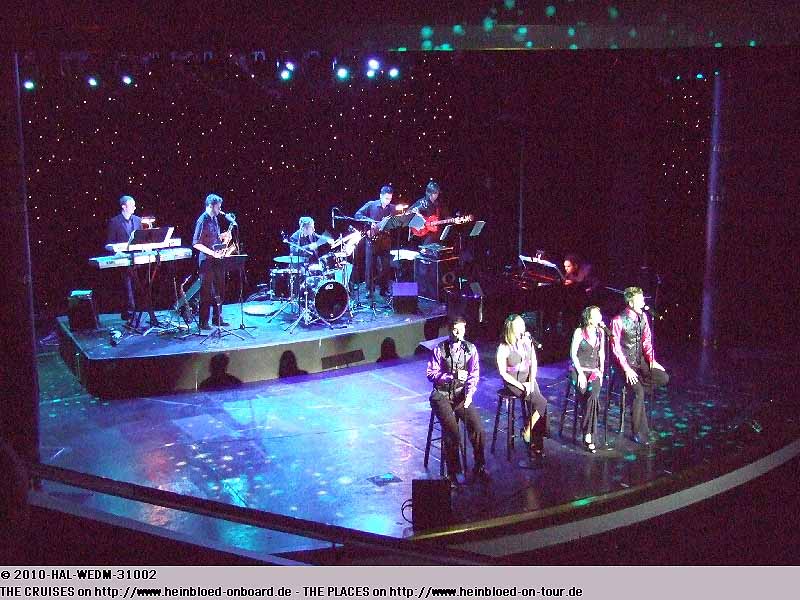 Some impressions more from our ship. What a shame that the port placards were on Deck A (one lower than Deck 1).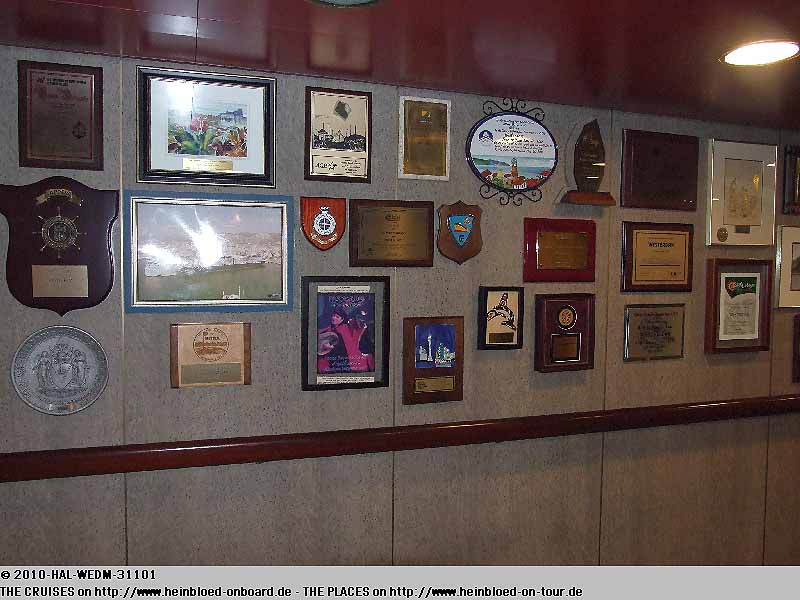 Noch ein paar Eindrücke vom Schiff: schade, dass die Plaketten auf dem Deck A (eines unter Deck 1) hängen.
Auch den Anker sieht man ja nicht immer so frei, aber heute wurde er gestrichen und hing deswegen in Augenhöhe.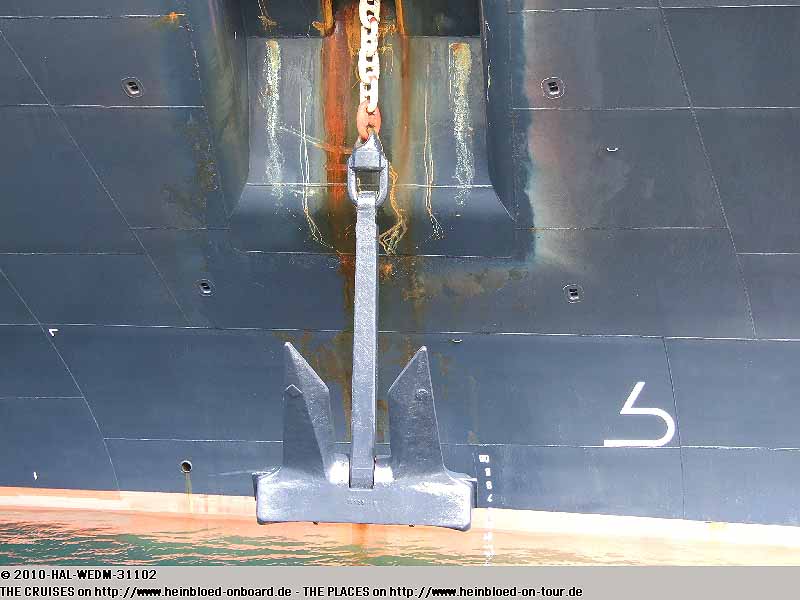 Normally the anchor is never so accessible that you see it this way. As they wanted to start to paint it it was lifted to the eye-level.

I felt sorry for guests who did not know that this was no place to place their dirty plates...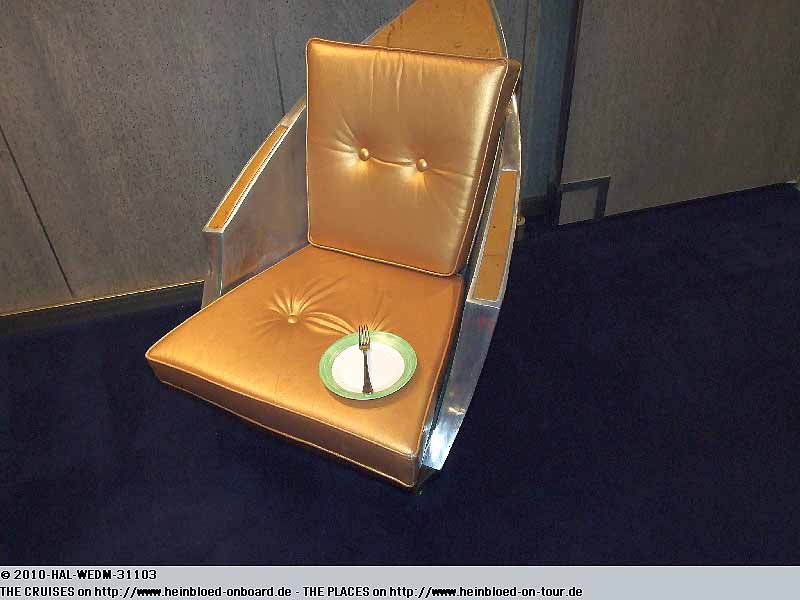 Schade, dass manche Gäste nicht wissen, dass das keine Ablage für dreckiges Geschirr ist...
Nach der NORWEGIAN EPIC haben wir uns auch mal wieder über eine Promenade gefreut, von der man etwas sieht und um das Schiff herum laufen kann.

After NORWEGIAN EPIC we were glad to have again a true promenade where you can walk around the ship.

If Mrs Pannen tought me correctly we should have good weather the next when we had afterglow.

Wenn Frau Pannen mir das in der Grundschule richtig beigebracht hat, sollten wir bei Abendrot morgen schönes Wetter haben.
Falls mal die WESTERDAM außer Dienst gestellt wird: ich möchte schon mal auf eine Warteliste, um diese Bank zu kaufen.

In case WESTERDAM will be retired: can I get on a waitlist to buy one of the benches.

Does not it look great??? Feeling to be on a ship...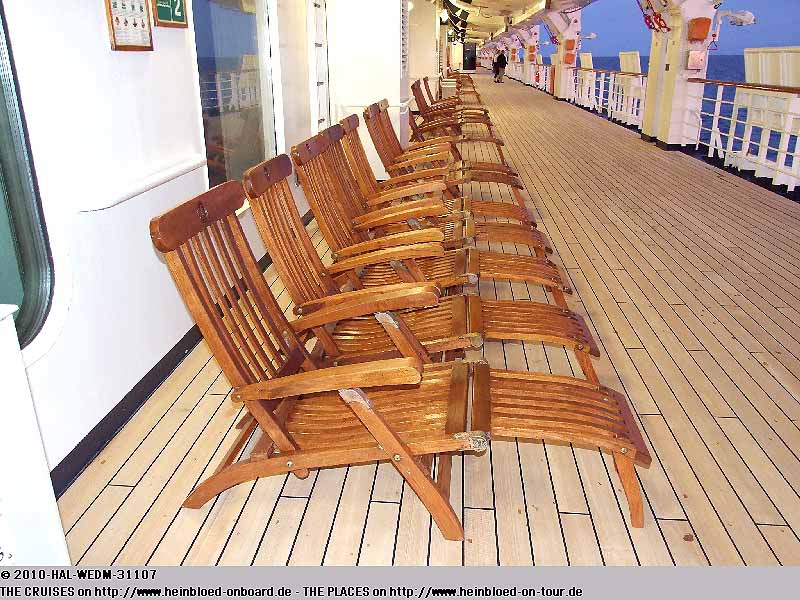 Sieht das nicht schön aus??? Das Gefühl, auf einem Schiff zu sein...
... und nicht wie hier auf der NORWEGIAN EPIC...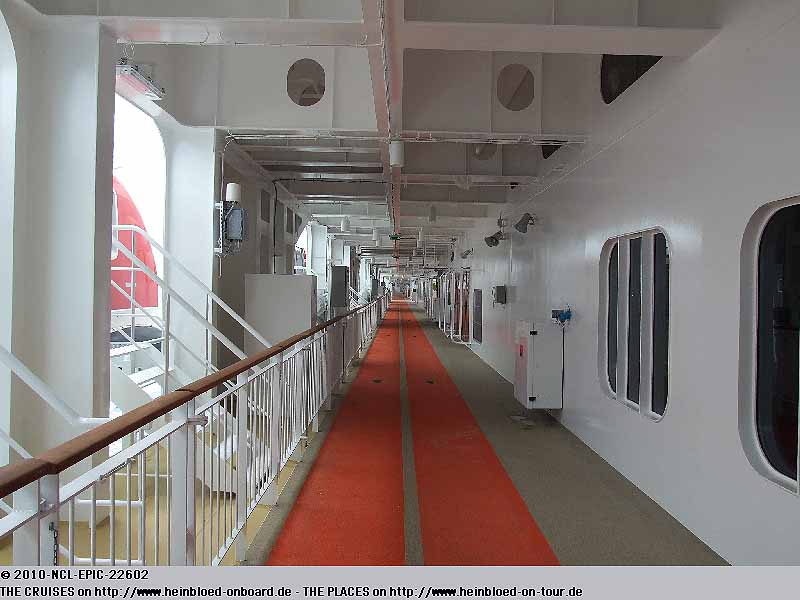 ... not like here on NORWEGIAN EPIC...

Now we knew where the wool blanket was from which we found in the cabin of Mrs and Mr Pannen.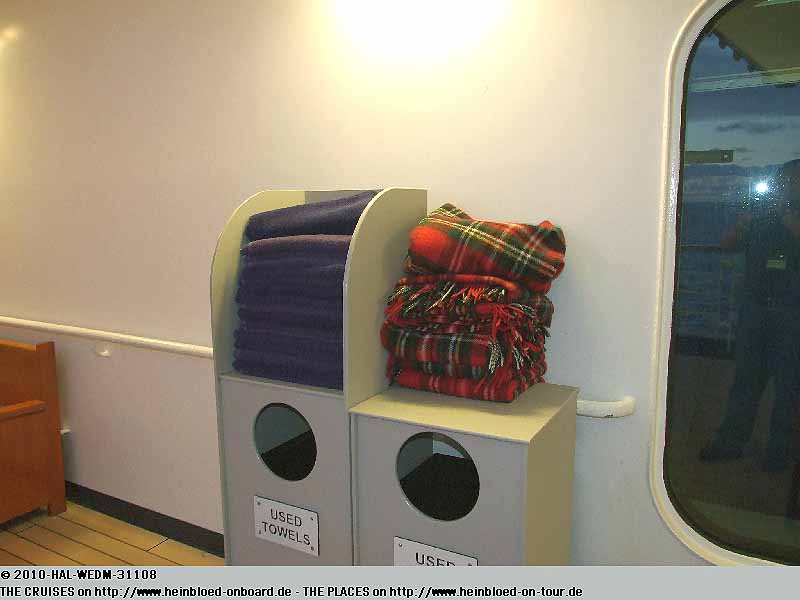 Daher ist also die Wolldecke, die wir bei Frau und Herrn Pannen in der Kabine gefunden haben...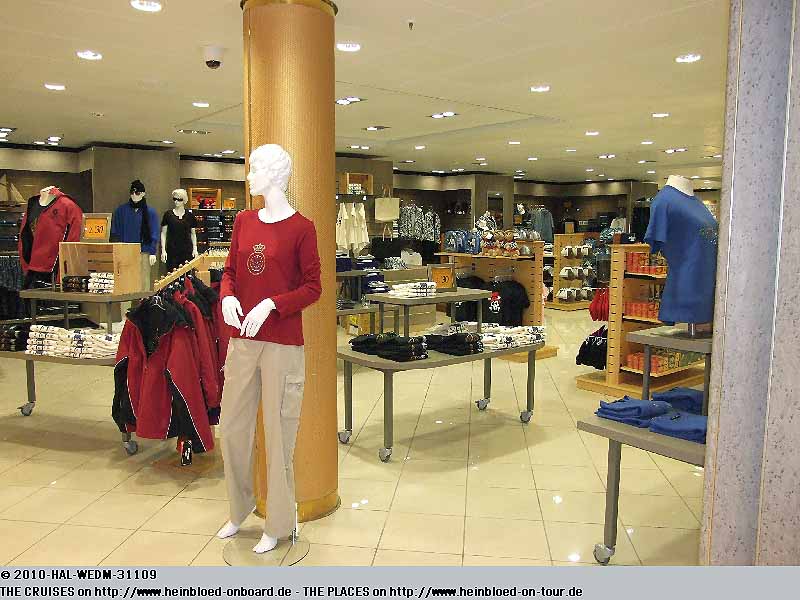 The night entertainment just for adults... just great... Swing-Music...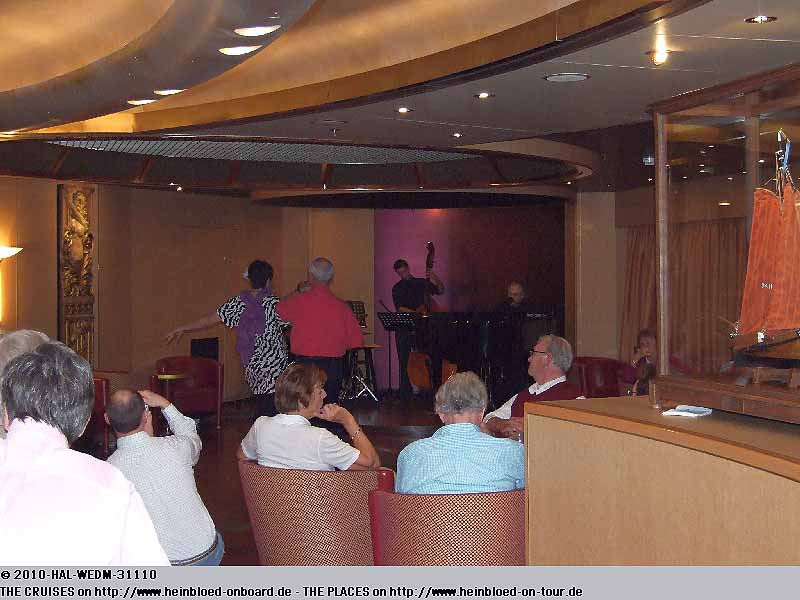 Abends überall Angebote für Erwachsene... einfach großartig. Swing-Musik...
Bislang habe ich noch nie im Northern Lights irgendwelche Aktivitäten gesehen...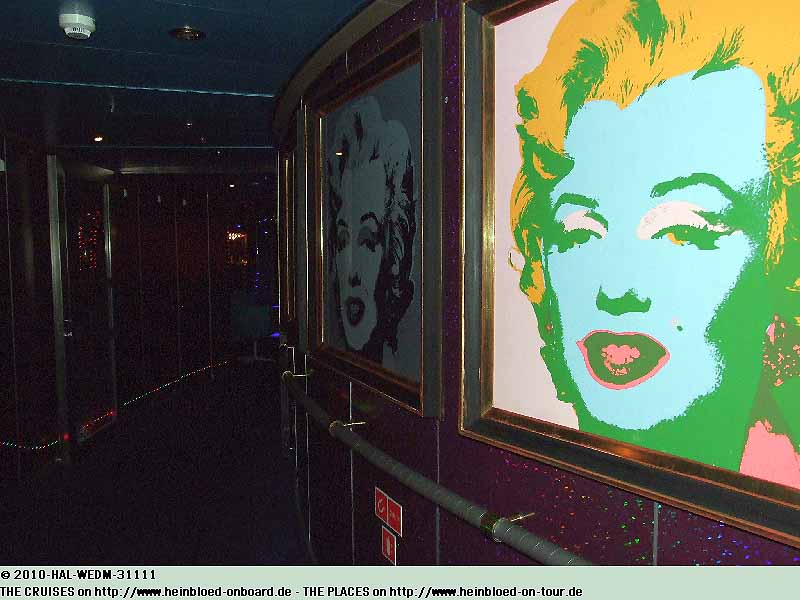 So far I never saw any kind of activities in Northern Lights.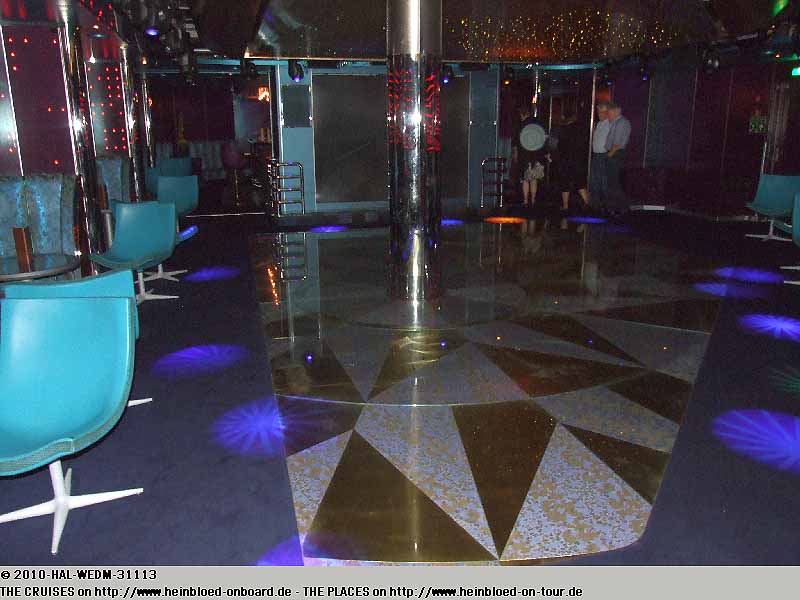 I really liked to join the sing-a-long in the Piano Bar. Everytime I came it was full or he announced his break.

Beim Sing-a-long in der Piano Bar hätte ich gerne mal mitgemacht. Es hat nie geklappt: entweder es war voll oder er kündigte gerade seine Pause an.
Oder alternativ beim Karaoke in der Queen's Lounge, die sehr gut besucht war.

Or alternatively the Karaoke-event in Queen's Lounge which was attended very well.