Scroll down for English explanations - alternates with German explanations.

Wir waren dieses Mal eine sehr kleine Runde. Das lag daran, dass 2/3 des Schiffes in Hand von Niederländern sind, die mit mehreren Großreisegruppen hier an Bord sind. 2/3 niederländische Gäste auf einem HAL-Schiff nehme ich jedoch anders wahr als 2/3 italienische Gäste auf einem MSC-Schiff... Nicht gelistet sind die Kreuzfahrer, die 19 Tage an Bord bleiben. Ich bin der Meinung, dass ich nicht alles lesen muss, was sie schreiben. Wenn man als back-to-back-Passagier nichts verpassen will, dann sollte man sich einfach in beide Einzelkreuzfahrten einschreiben. Zumindest hatte das Treffen in deren Roll-Call bekanntgegeben.

We were a very small round. It was as 2/3 of the ship was in the hand of Dutch XXL-travel groups. But you experience 2/3 Dutch guests on an HAL-ship other way than you would experience 2/3 Italian guests on an MSC-ship... Not listed are the 19-days-cruisers. I thought that I do not need to read all they write. If you do not like to miss as back-to-back-passenger you should register for both single cruises. But at least I published the meeting in their roll-call.

They reserved the Captain's Corner in Crow's Nest for us.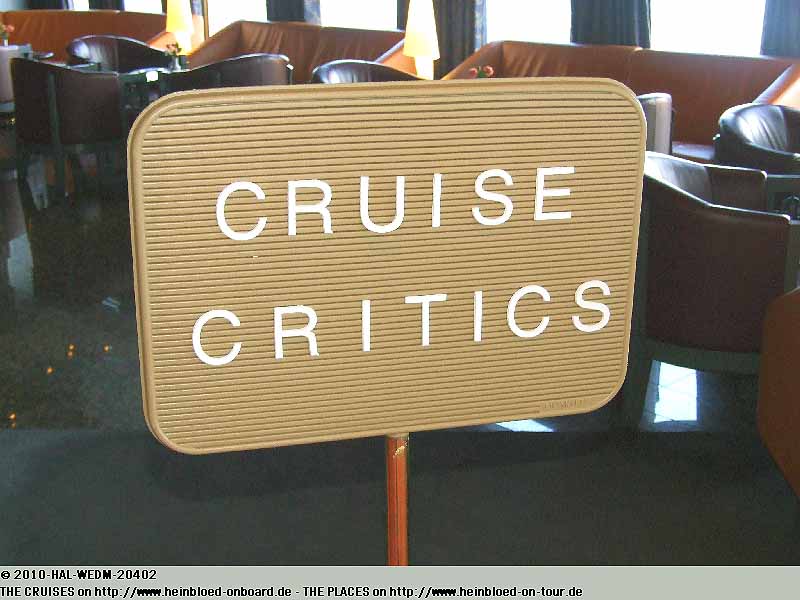 Für uns war der Captain's Corner im Crow's Nest reserviert.
Wie üblich ein paar Getränke und Kekse.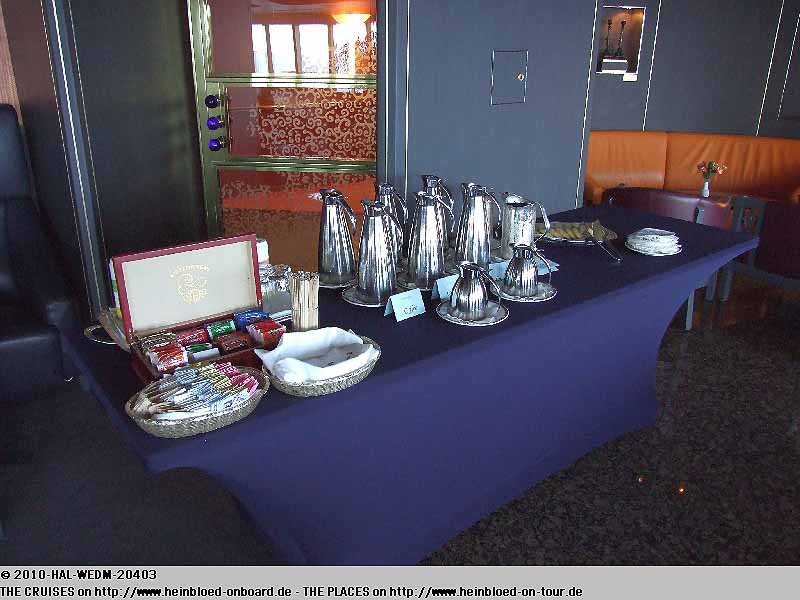 As ususal some beverages and cookies.

Due to the guest structure our group was very small. There were only single occassion to have private tours together.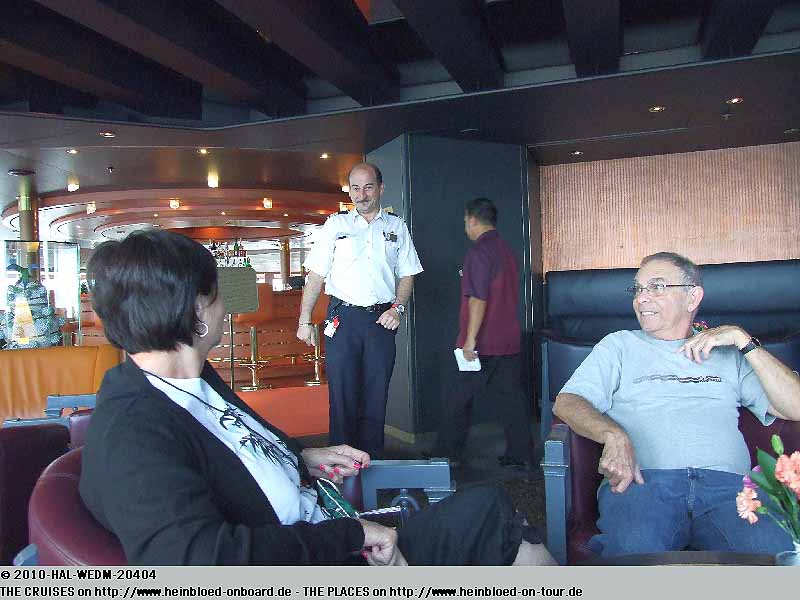 Durch die Zusammensetzung der Gäste war die Gruppe sehr klein. Daher gab es auch nur wenige Ansätze für gemeinsame private Touren.
Walter Schmuckenschlag (Österreicher) ist Beverage Manager und immer für einen Spaß aufgelegt.

Walter Schmuckenschlag (Austrian) is the Beverage Manager and always ready for some fun.

Ron is the Hotel Manager. I would have some words with him the first day because I had the impression that his front desk did not rate and react the situation appropiately. For sure they did not let me speak with him. He thought that he cannot talk with every guest if he had to lead a department of 700 crew members. But I did not want to discuss with him that the eyes of my towel animal was not on the right position but the reaction of his front desk was too slow and hoped to get with his support the wheelchair faster than four reports and eight hours waiting.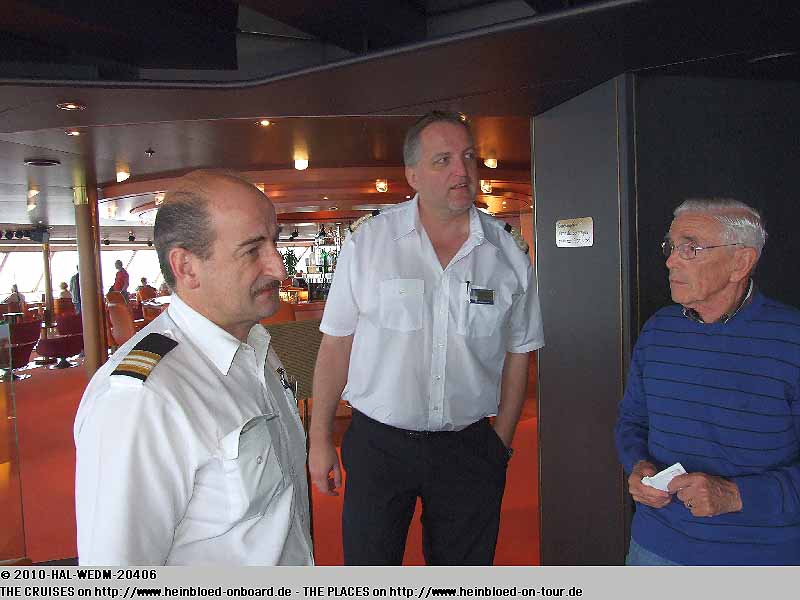 Ron ist Hotel Manager. Ich hätte ihn gerne am 1. Tag mal gesprochen, weil ich nicht den Eindruck hatte, dass sein Front Desk die Problemsituation richtig bewertet und reagiert hat. Man wird partout nicht vorgelassen. Er meint, dass er nicht jeden Gast empfangen könne, wenn er eine Abteilung mit 700 Personen zu führen hat. Nun ging es ja nicht darum, dass die Augen meines Handtuchtier nicht korrekt angebracht wurden, sondern dass die Reaktion seines Front Desks einfach so schleppend war und dass ich mir mit seiner Hilfe versprochen hätte, dass der Rollstuhl vielleicht nicht erst nach viermaliger Vorsprache nach acht Stunden erst zugestellt wird.
Wahrscheinlich sind wir nur von NCL zu sehr verwöhnt. Klaus Lugmeier und Sven/Sean Wurmhöringer von der NORWEGIAN EPIC waren nicht nur für ihre Crew da, sondern auch für ihre Gäste. Sie waren sich nicht zu schade, sich für eine Tasse Cappucino für ihre Gäste einzusetzen. Und Richard Janicki auf der NORWEGIAN GEM hat sich damals beim cruisecritic.com-Treffen mit Telefonnummer vorgestellt und uns allen gesagt, dass wir uns beim ihm melden sollen, wenn wir irgendwelche Anliegen haben. Vermutlich treffen zwei Philosophien aufeinander: Während ich bei NCL immer eine offene Tür gefunden habe, wenn ein Problem eskaliert, ist es wohl hier nicht üblich die Tür für Gäste zu öffnen, auch wenn sie sich in einer Notsituation befinden. Ein zukünftiges Problem, dass ich am Sonntag haben werde, bespreche ich direkt mit ihm, ohne dass ich am Front Desk vorspreche. Es wird in meinem Sinne von Ron gelöst.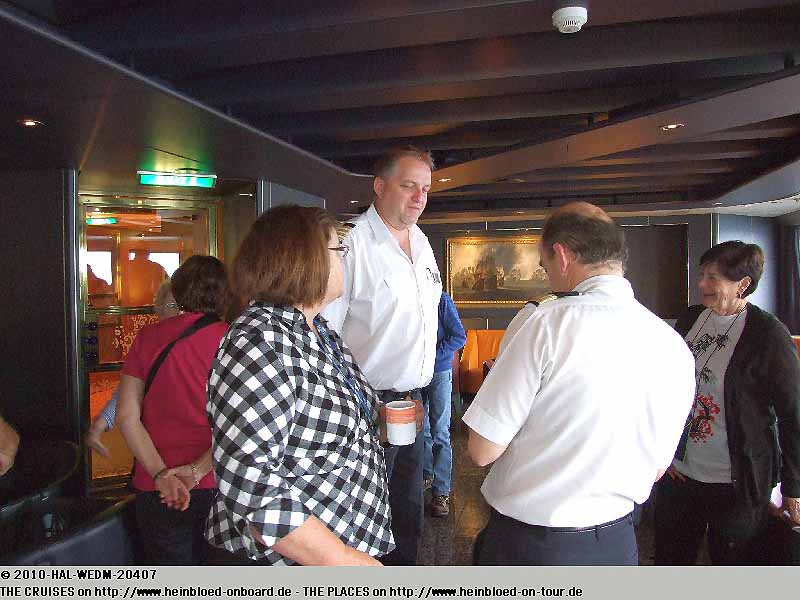 Maybe we are pampered too well by NCL. Klaus Lugmeier and Sven/Sean Wurmhöringer from NORWEGIAN EPIC were not only available for their crew but also for their guests. They never were in such an high position and not even helped their guests to get a cup of cappucino. And Richard Janicki from NORWEGIAN GEM introduced himself with his phone number and told us all to contact him in case we had any request. I think maybe two different philosophies met to each other: while I always found an open door with NCL when the problem escalated it seems to be that there is no door open for guests even you are in an emergency. I used the occasion to discuss with him a future problem without discussing at the front desk. Ron gave me solution which I can handle with.

Cruise Director Michael came by. But unfortunately he was unable to fly-in Justin Miller whom we know from EURODAM before debarkation. He shared my exitement for him. The next guest may look forward.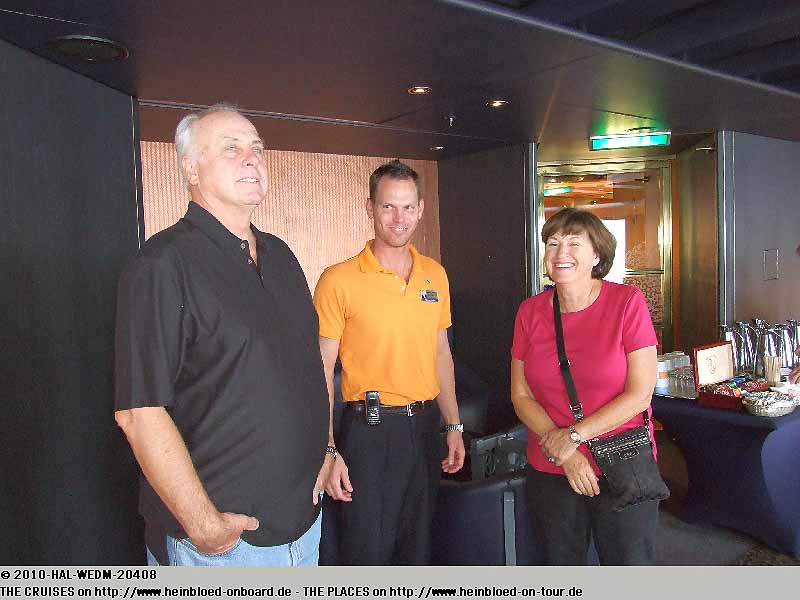 Auch Cruise Director Michael kommt vorbei. Leider war es ihm nicht möglich, Justin Miller, den wir von der EURODAM kennen, vor meiner Ausschiffung einfliegen zu lassen. Meine Begeisterung für ihn teilt er. Die nächsten Gäste können sich freuen.
Insgesamt war es eine sehr nette Runde.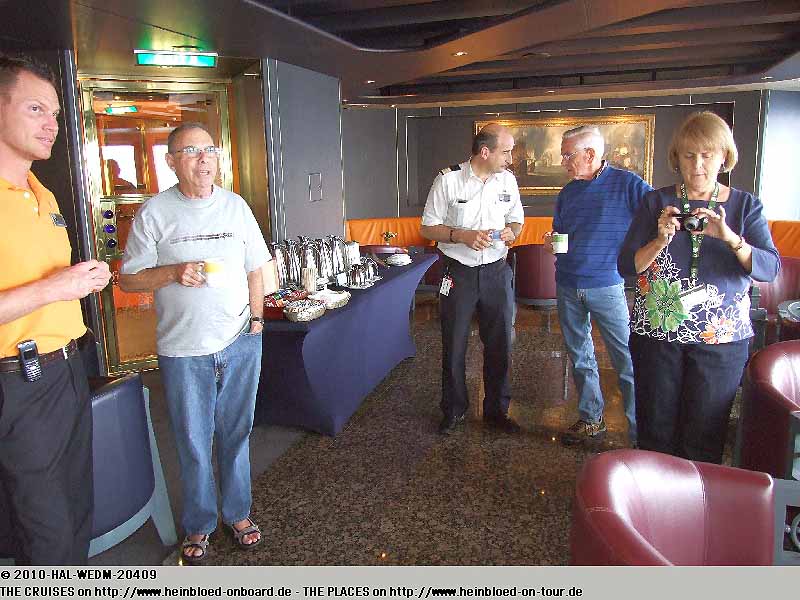 It was a very nice round.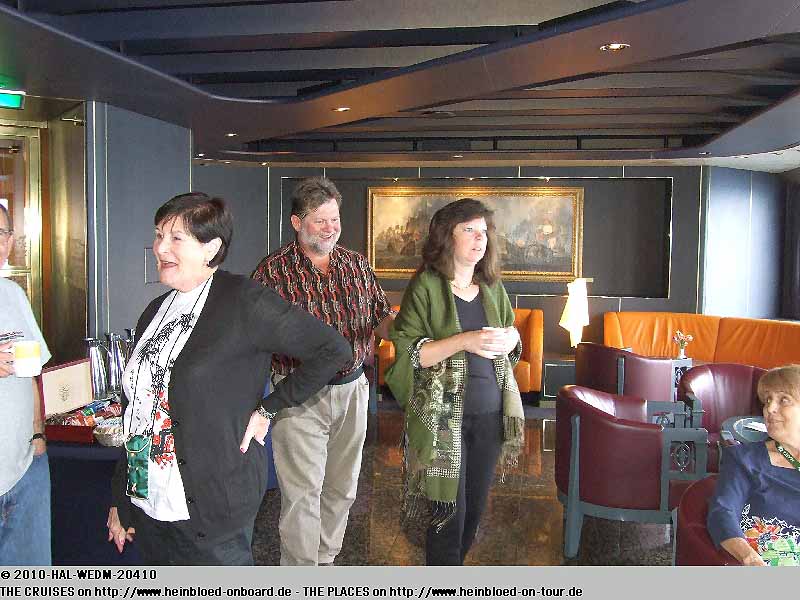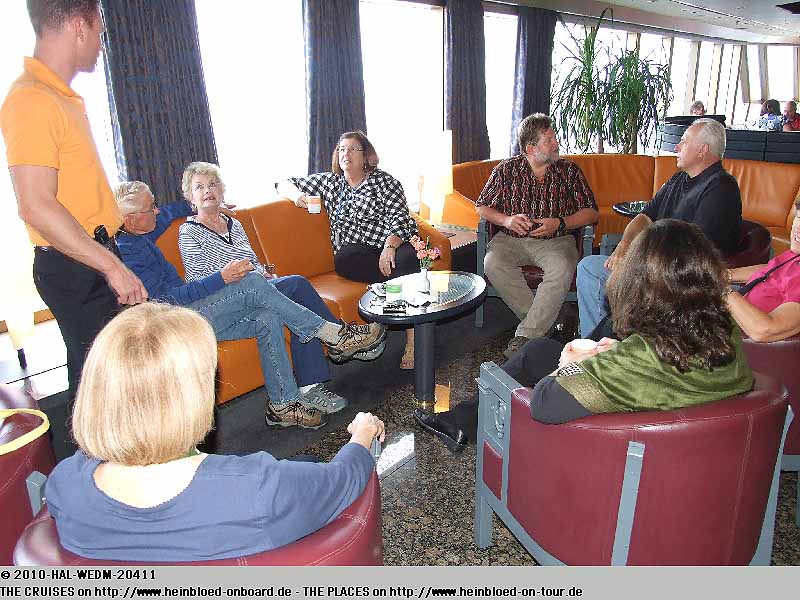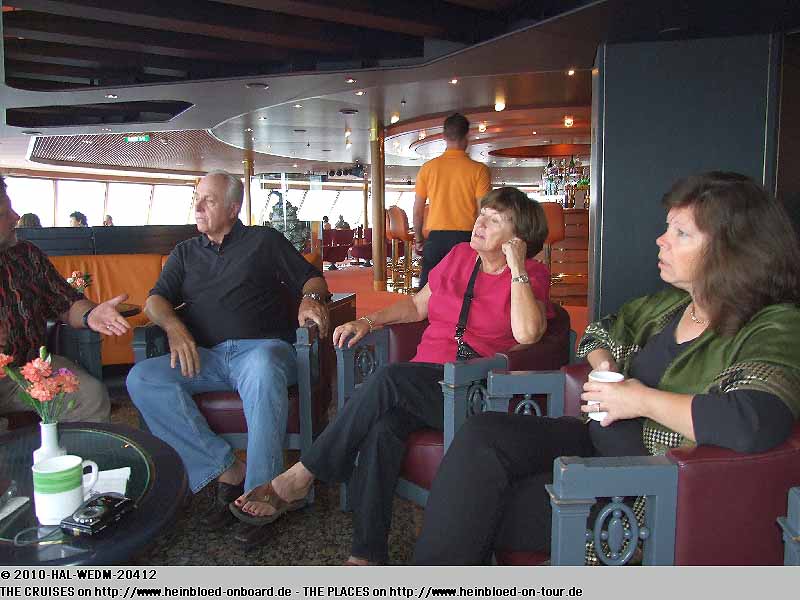 The same time there was a galley tour. But only in English. My parents and Mrs and Mr Pannen did not want to go as my parents knew it from MSC MUSICA and Mrs and Mr Pannen just want to enjoy their verandah cabin and rest. Bruno joined his parents to translate.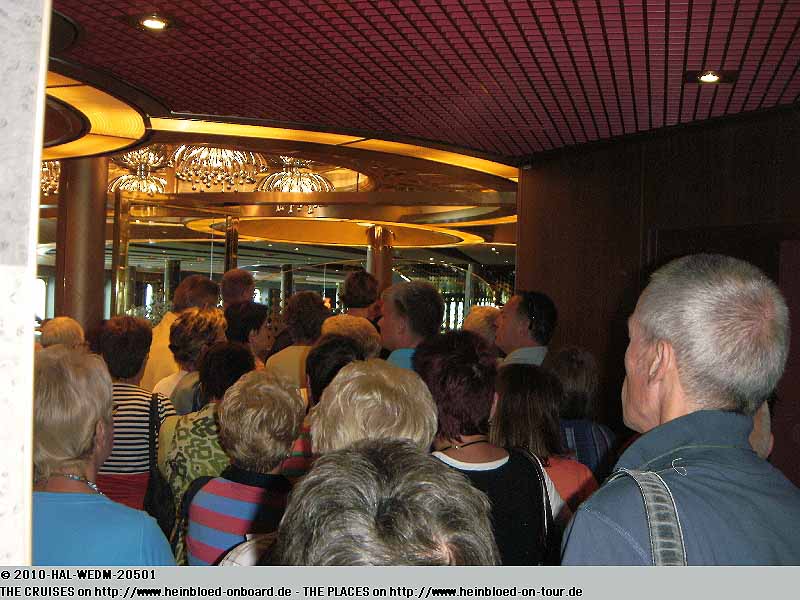 Gleichzeitig fand eine Küchentour statt. Allerdings nur in Englisch. Meine Eltern und Frau und Herr Pannen hatten kein Interesse, da meine Eltern es schon von der MSC MUSICA es schon kannten und Frau und Herr Pannen wollten einfach ihre schöne Balkonkabine genießen und sich ausruhen. Bruno hat daher seine Eltern begleitet, um zu übersetzen.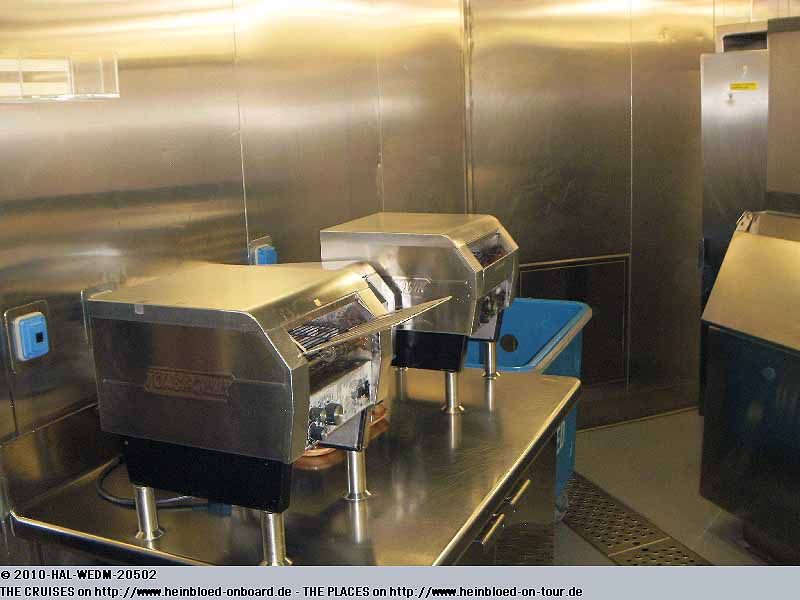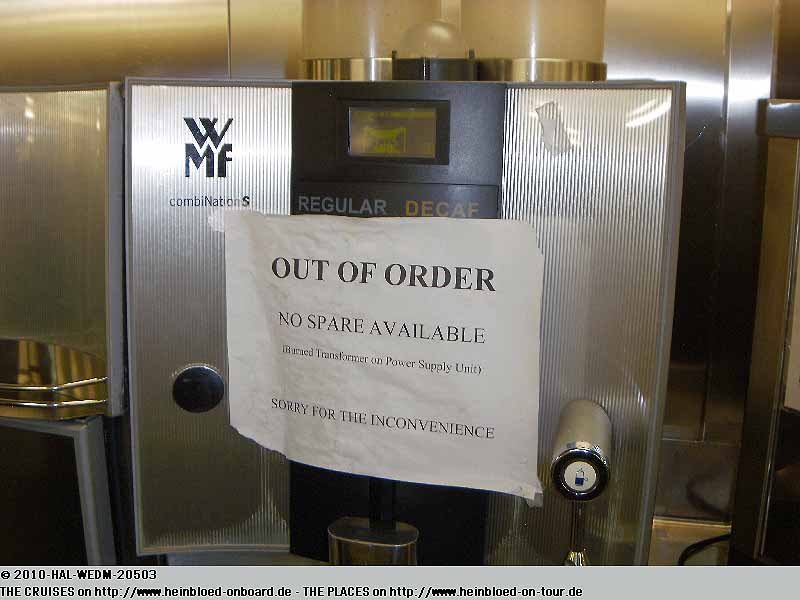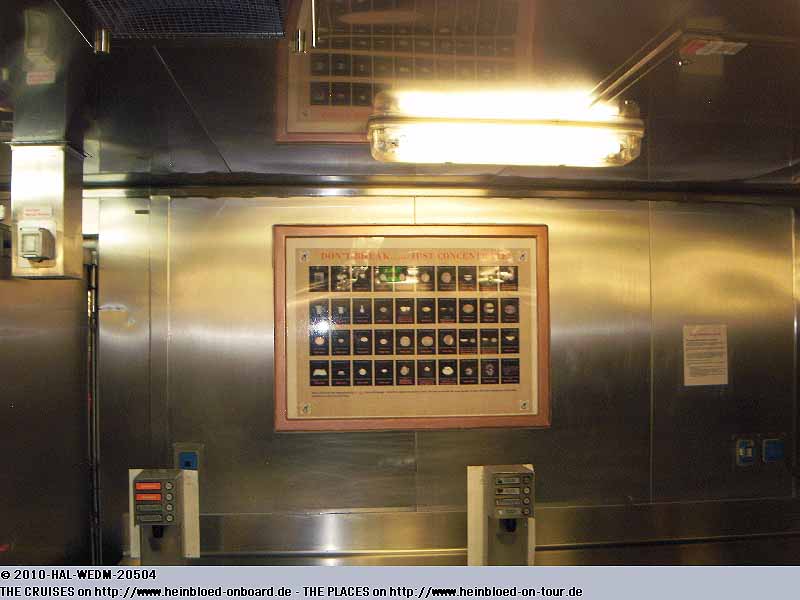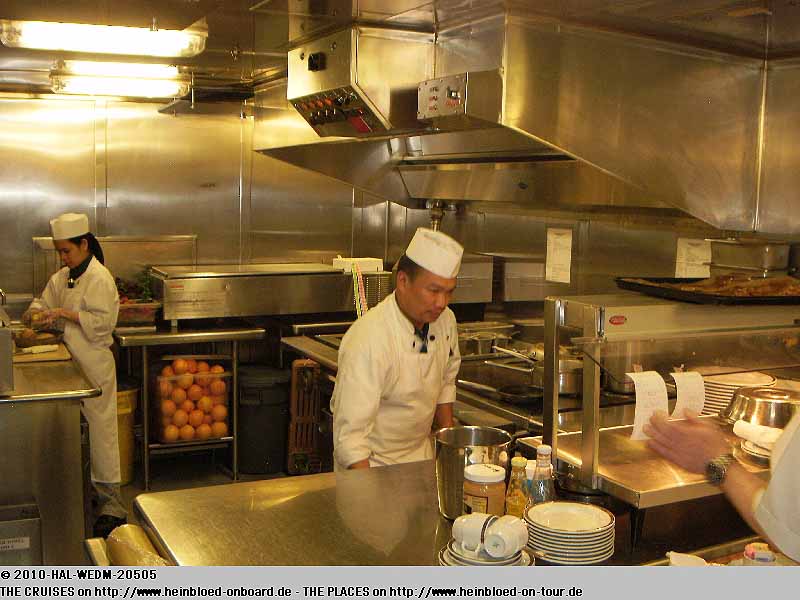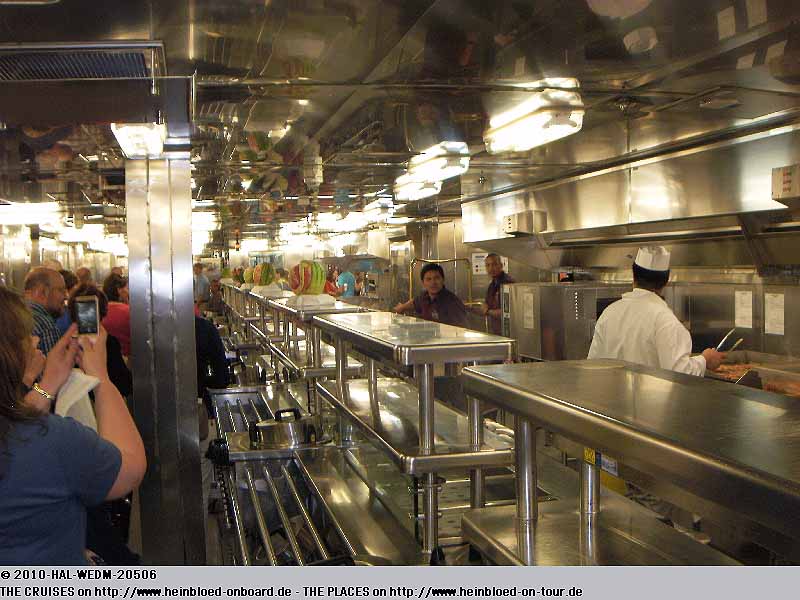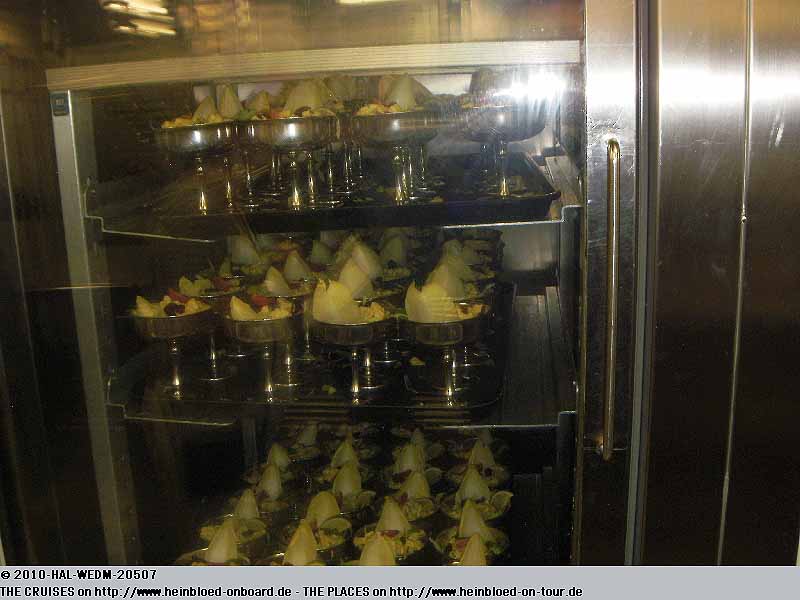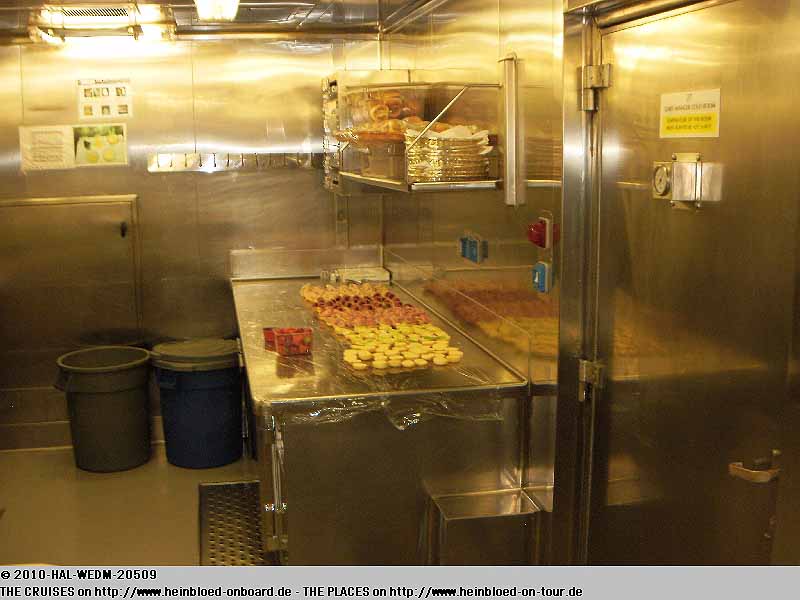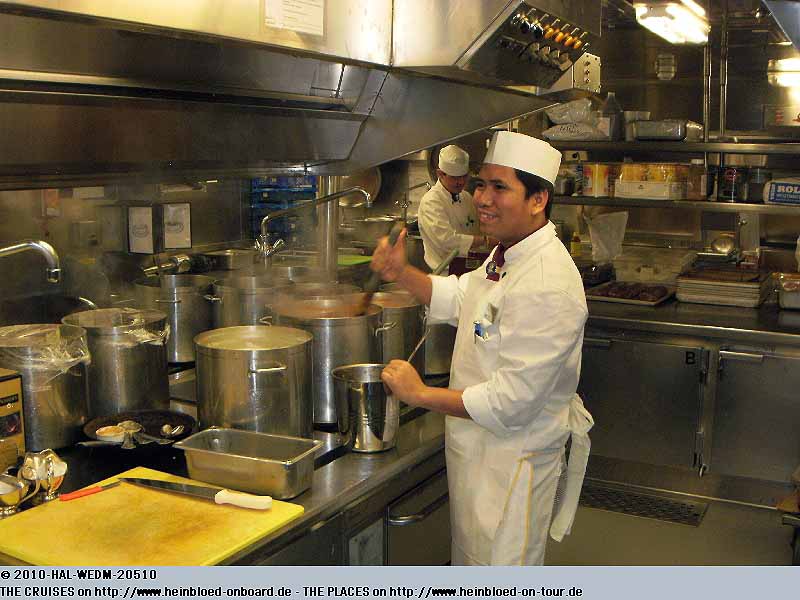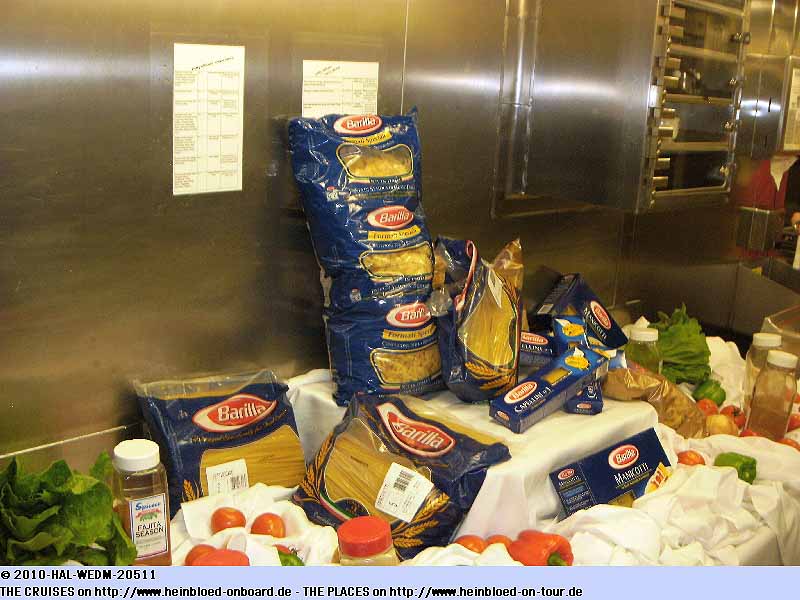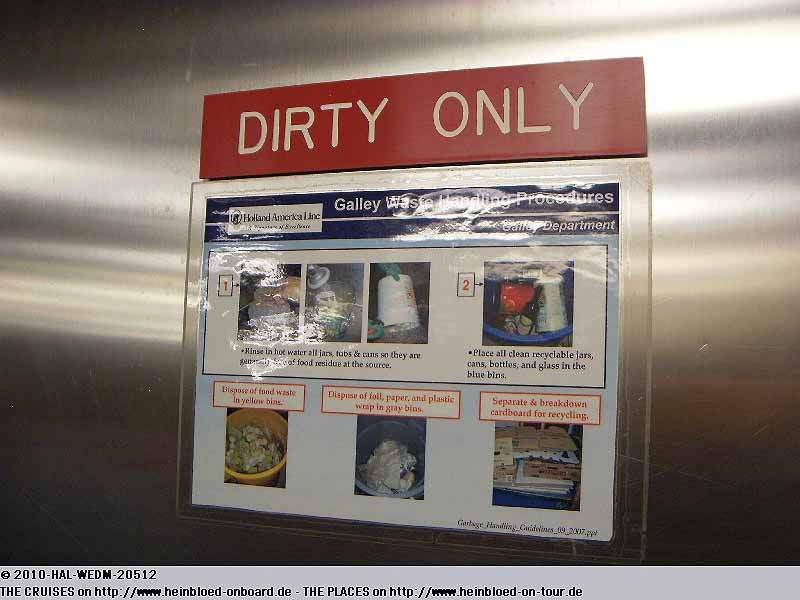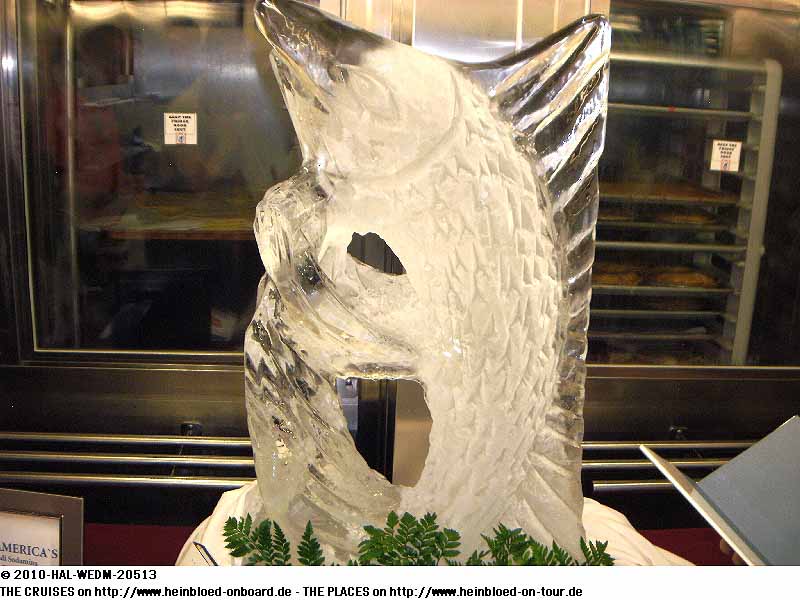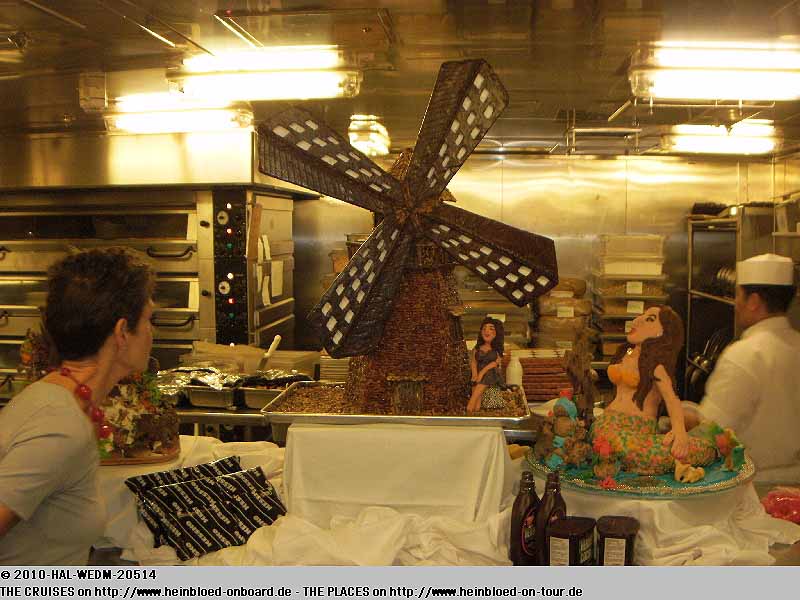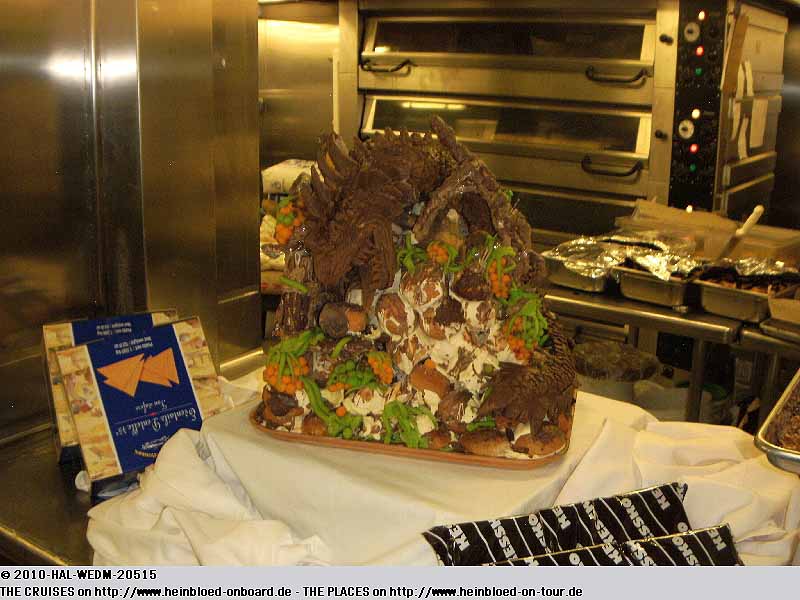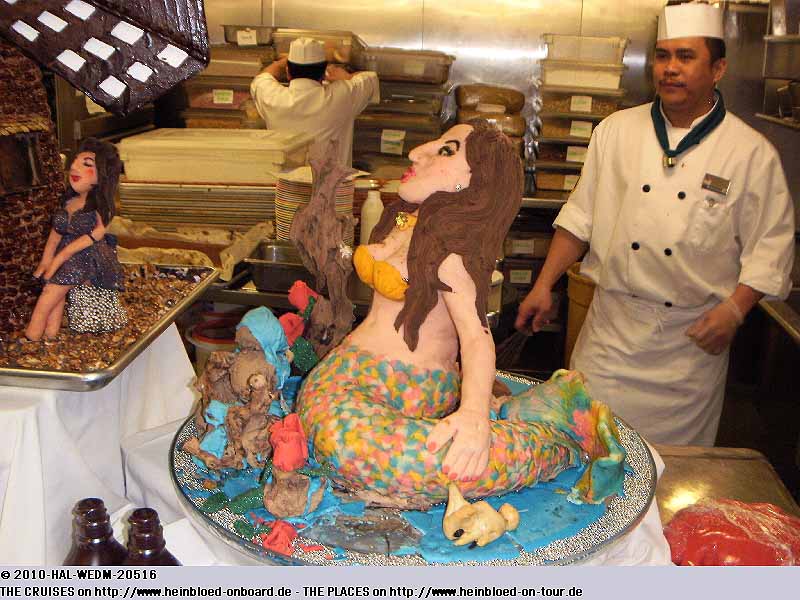 Promotion für den Pinnacle Grill gehört mit dazu.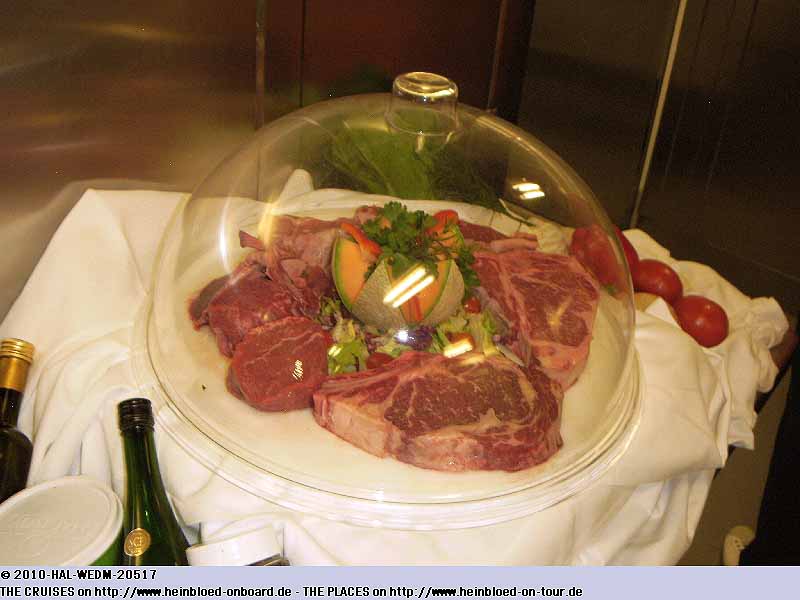 Promotion for the Pinnacle Grill is a must.

Natürlich muss man auch probieren, ob es genau gut schmeckt, wie es zubereitet wurde...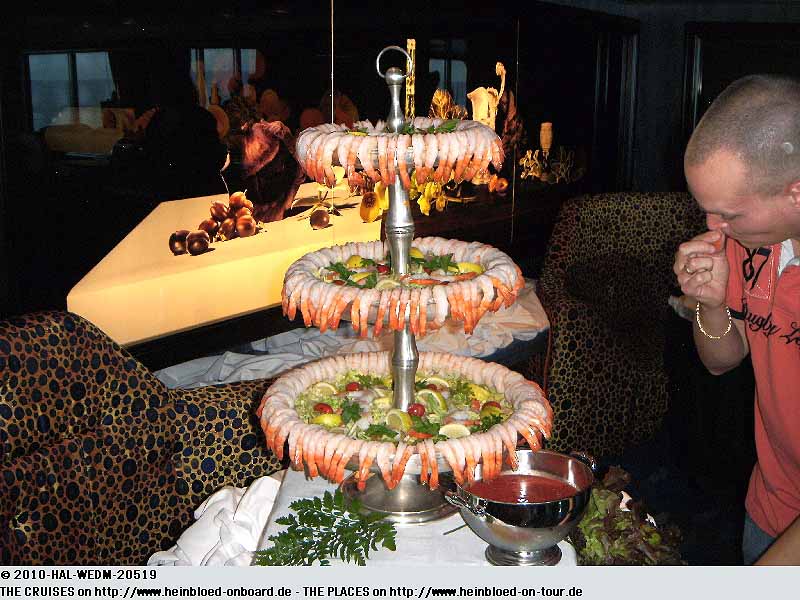 Of course you need to try if it tasted as good as it was prepared.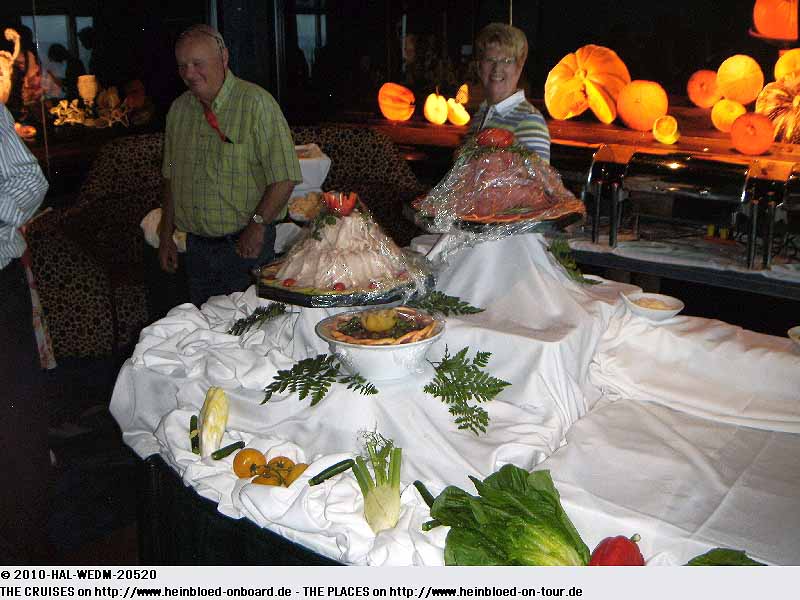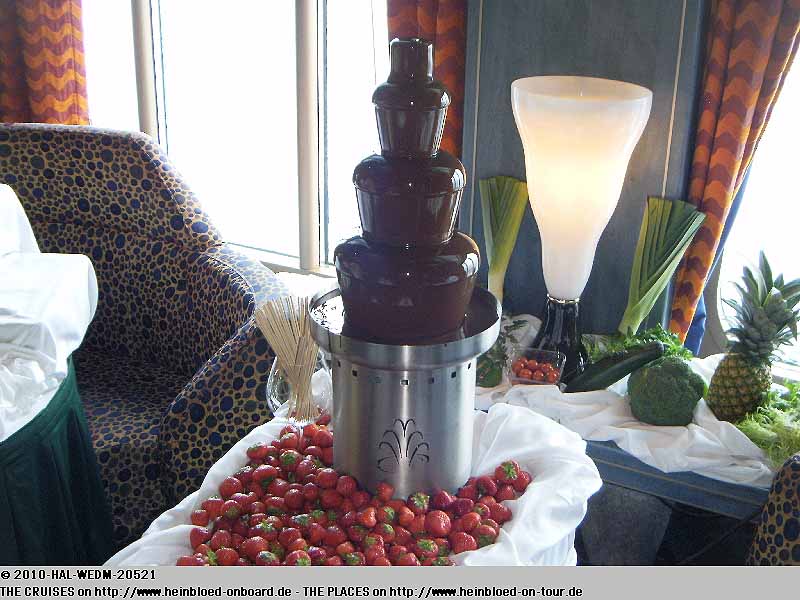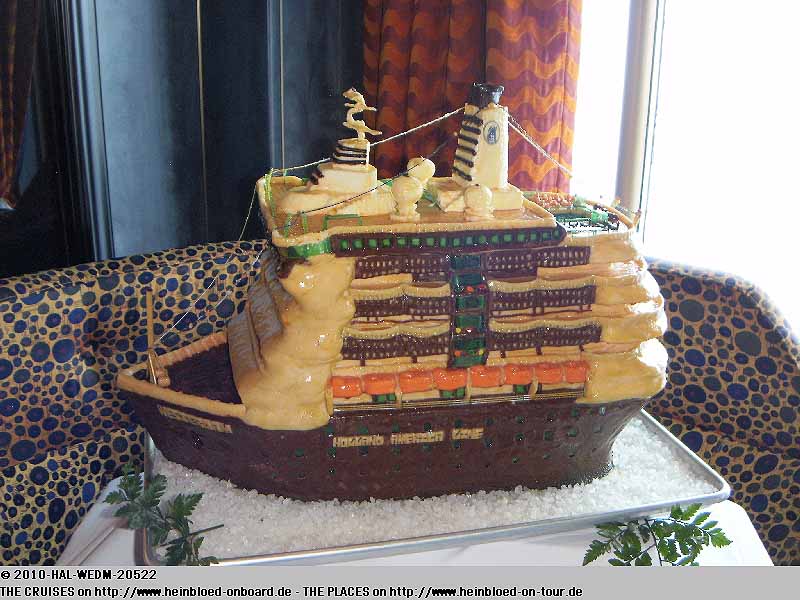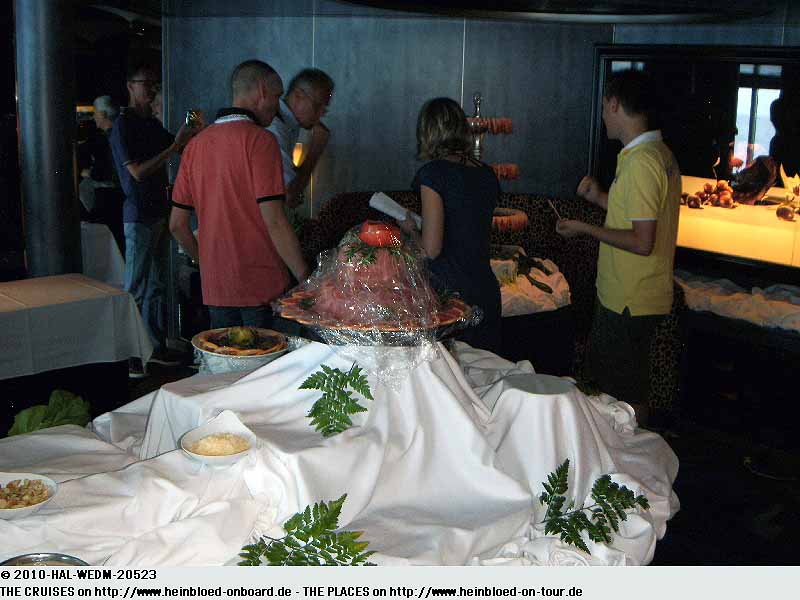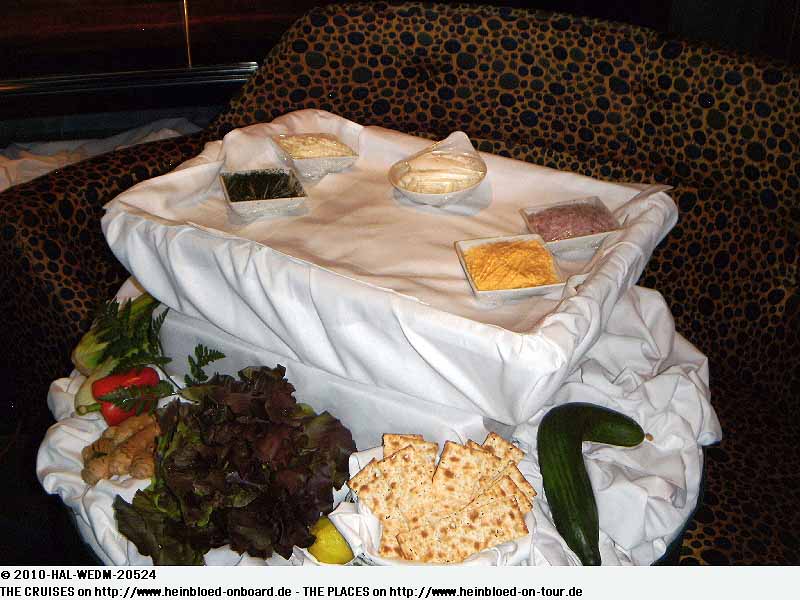 As written before: as we had four cabins we can see the fine differences. My parents were glad to enjoy their towel animals all day long and not just in the night.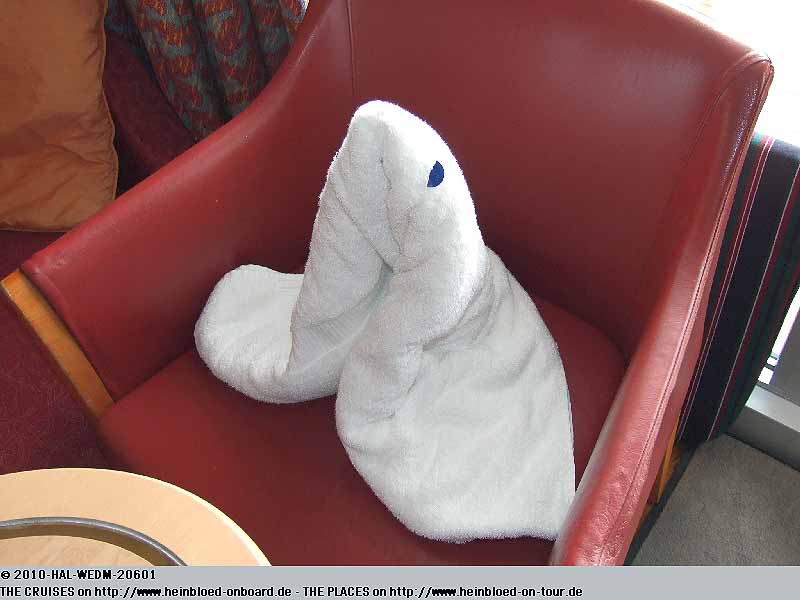 Wie bereits geschrieben: da wir vier Kabinen haben, können wir immer die feinen Unterschiede sehen. Mein Eltern können sich den ganzen Tag an den Handtuchtieren erfreuen und nicht nur abends wie wir.
Auch die Frotteepantoffeln können nur Brunos und meine Eltern genießen. Beide sind übrigens sehr begeistert über ihre Stewards und meinen, dass sie auf Händen getragen werden. Wie heißt es so schön: so lange es unseren Eltern gut geht, geht es uns Kindern auch gut... auch wenn wir anscheinend nicht den gleichen Standard genießen können. Vielleicht liegt es ja auch nur daran, dass wir nichts für unser Upgrade bezahlt haben. Wir haben uns dafür "gerächt": auf der ZAANDAM haben wir uns eine Heckkabine gegönnt und die Eltern dürfen nur eine Seite genießen.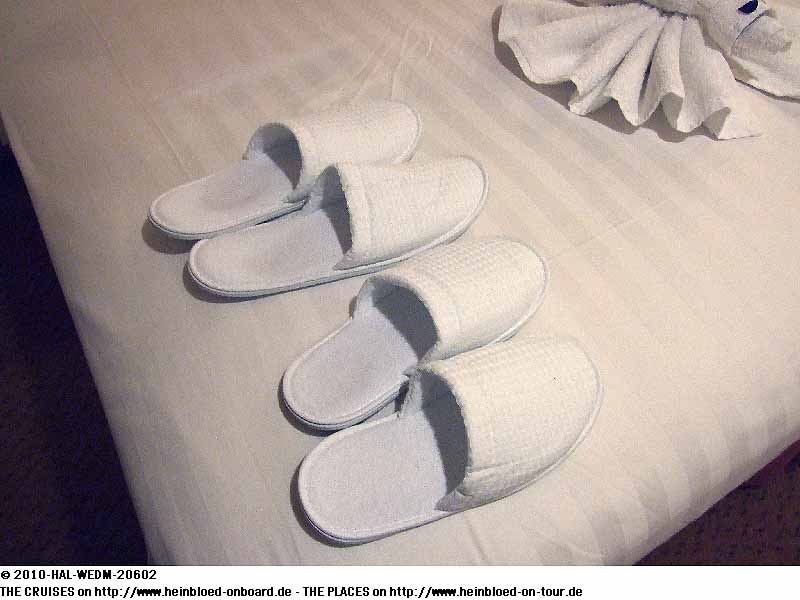 Only my and Bruno's parents can enjoy the frettee-slippers. Both like very much their stewards because they were taking great care of them. How do you say it: if the parents are happy you are as child as well... even do you not get the same standards. Maybe it was because we did not pay for our upgrade. We took "revenge" and book us on ZAANDAM a true aft cabin while they get a side cabin only.