Scroll down for English explanations - alternates with German explanations.

Ich besuche meine Eltern. Schönes Handtuchtier...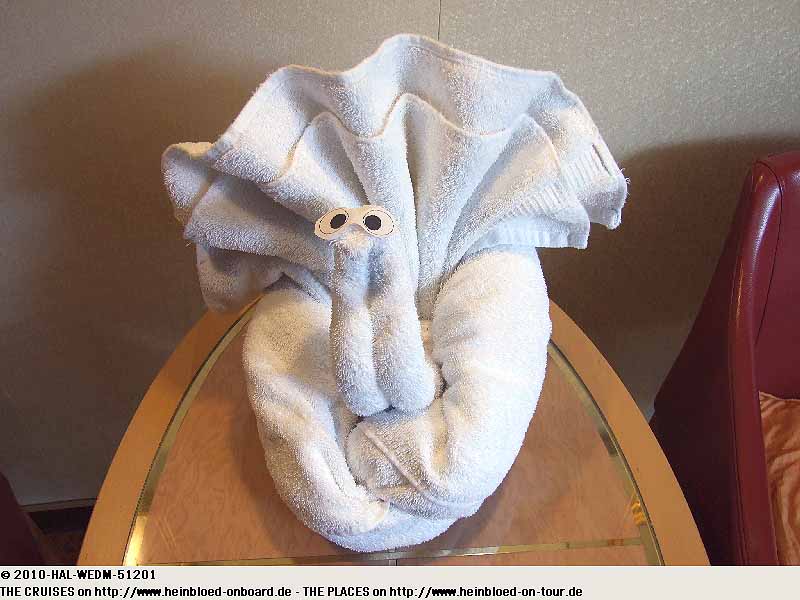 I visited my parents: Nice towel animal...

My parents got a bottle of water someone delivered to the room. But after days there was the refill control of the mini-bar. As my parents said that they never have taken out something from the mini-bar they canceled the bottle of water. Curious to see if we get charged after we debarked...

Meine Eltern freuen sich über eine Flasche Wasser, die ihnen jemand reingestellt hat. Aber erst nach einigen Tagen findet wohl eine Mini-Bar-Kontrolle statt. Da meine Eltern sagen, dass sie nichts entnommen haben, wird die Flasche wieder von der Rechnung genommen. Mal gucken, ob sie nach unserer Ausschiffung nachbelastet wird...
Yvonne hält ihr Versprechen und ich bekomme statt eines T-Shirts nun ein Polo-Shirt in meiner Größe in unsere Kabine gebracht. Es kommt im richtigen Moment. Da ich mich bekleckert hatte, trage ich nun das und werde prompt für einen Mitarbeiter von HAL gehalten, aber allerdings vom Personal, die mich nun ständig fragen, von welcher Abteilung ich sei...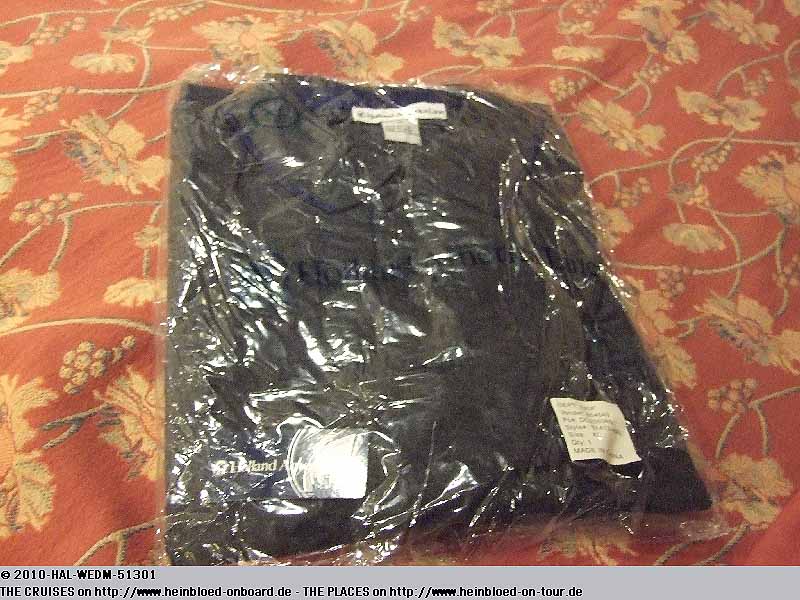 Yvonne kept her promise and I got a polo-shirt in my size instead of a t-shirt delivered to our cabin. It came the right moment because I got blotted. When I started to wear it everybody thought I was from HAL. But not the fellow-guests but the crew member asked me from which department I was.

Another reason to have a word with the Hotel Manager... Why were the towel animals Bruno's and my parents got every night more sophisticated than the animals we got every night... was it because we did not pay for our upgrade???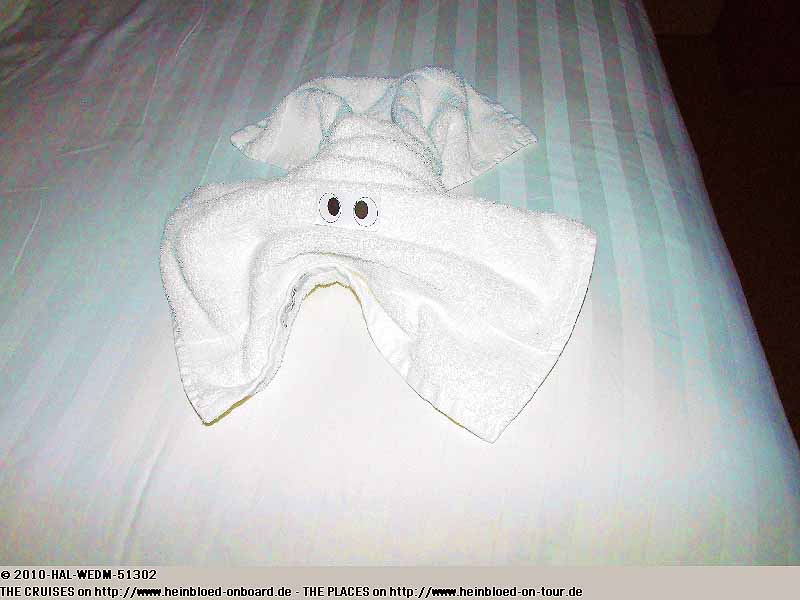 Wieder ein Grund, den Hotel Manager aufzusuchen... wieso sind eigentlich die Handtuchtiere, die meine Eltern und Brunos Eltern bekommen, sehr viel anspruchsvoller als unsere... Liegt es an unserem kostenlosen Upgrade???
Bevor ihr schon lange Romane schreibt: der offizielle Fragebogen folgt noch später. Hier kann man sich frei von der Seele schreiben. Aber mein Blog passt da wohl nicht rein... also schreibe ich für mich nur den Link rein, während Bruno ein paar Kommentare reinschreibt. Brunos und meine Eltern weisen uns ausdrücklich an, dass in deren Namen keine negativen Kommentare reinschreiben dürfen, weil sie ihre Stewards wohl ins Herz geschlossen haben und ernsthaft überlegen, wie sie uns enterben können und die Stewards stattdessen adoptieren könnten. Schließlich würden sie mehr machen, als wir... Nehmt bloß niemals eure Eltern mit auf eine Kreuzfahrt...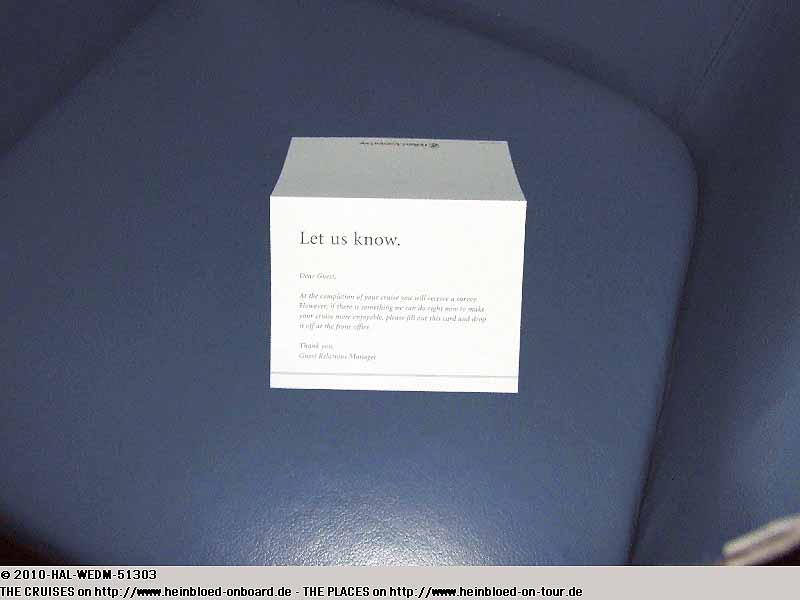 Before you write long stories: the official questionaire should follow later. You can write whatever you like to write. But my blog will not fit into this card... so I just noted my link to the blog while Bruno took the time to write few lines. Bruno's and my parents instructed us not to write any bad comments on their behalf regarding their cabin stewards. They took them to their hearts and there were serious thoughts to take us out of their last will and to adopt the stewards. They would do more for them than us... I can tell you: never take your parents on a cruise ship...

When I went to the theater I did not expect to see a show but just pure singing like we had two days ago. Last day there was "only" movie available: Avatar.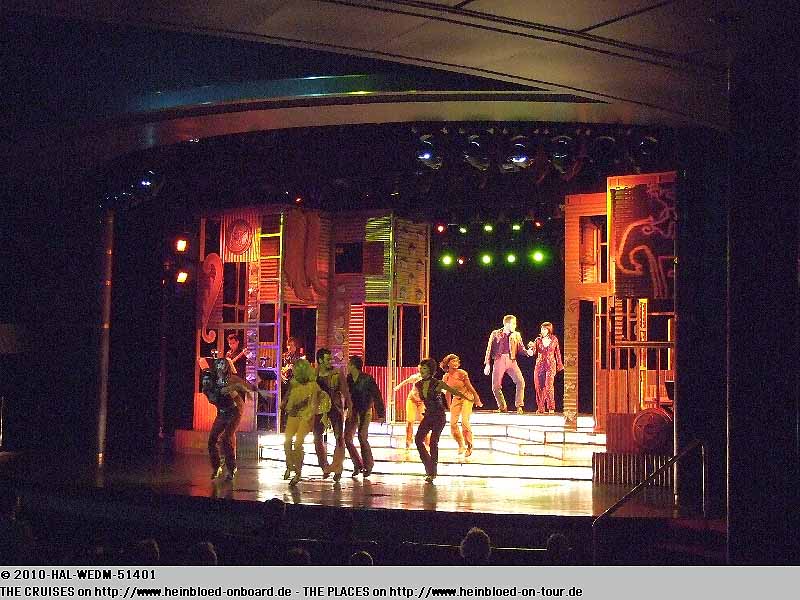 Als ich ins Theater ging hatte ich mit keiner Show gerechnet, sondern mit reinem Gesang wie vor zwei Tagen. Gestern gab es "nur" Kino: Avatar.
Rock'n Roll ist ja meine Welt - Country etwas weniger. Aber es war eine gelunge Mischung.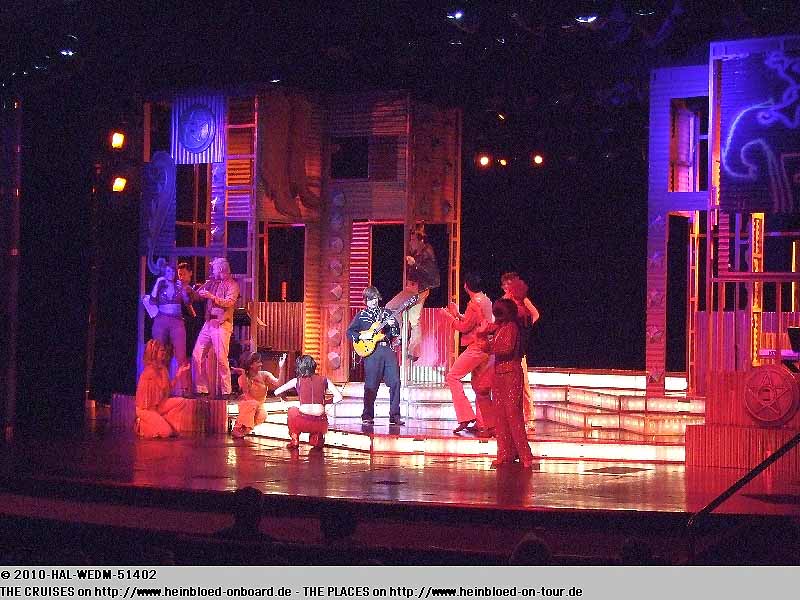 Rock'n Roll is my world - Country a little less. But it was a perfect mixture.

The nicest scene was Drift Away - originally from John Henry Kurtz - but more popular by Dobie Gray.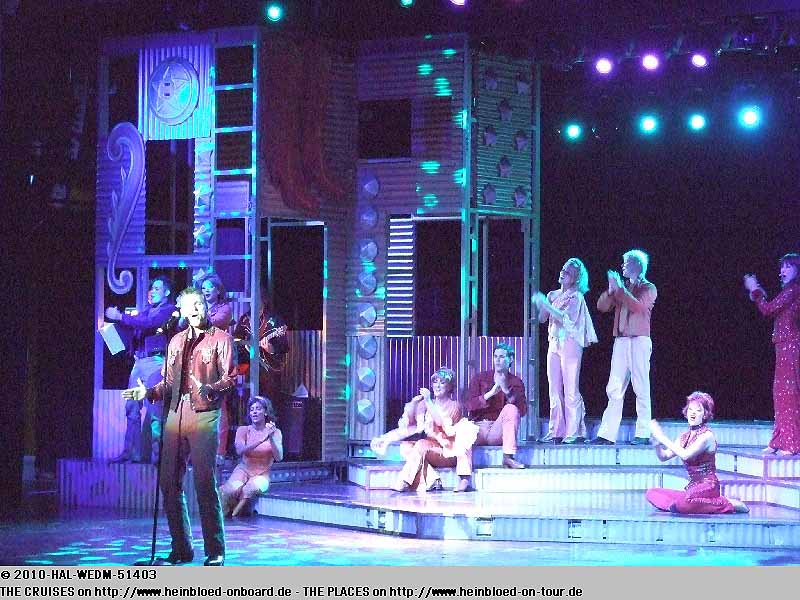 Für mich die schönste Szene: Drift away - im Original von John Henry Kurtz - am bekanntesten jedoch von Dobie Gray.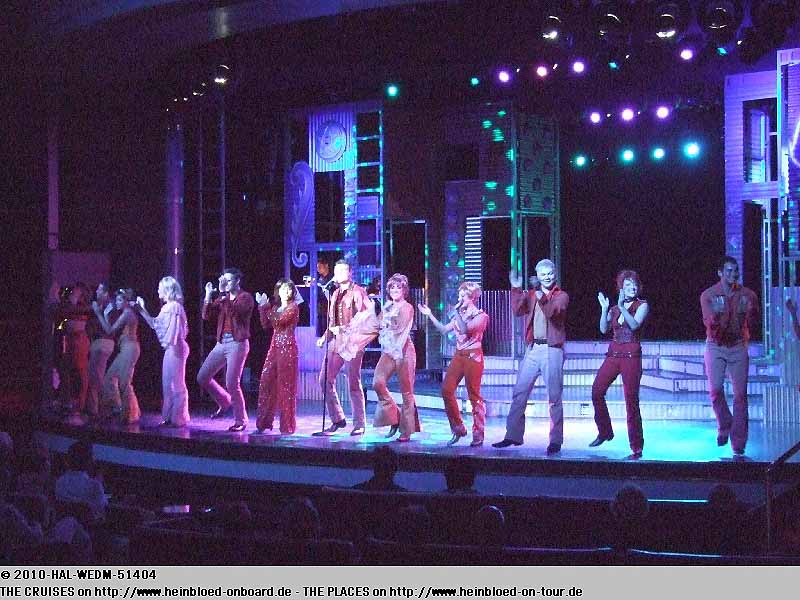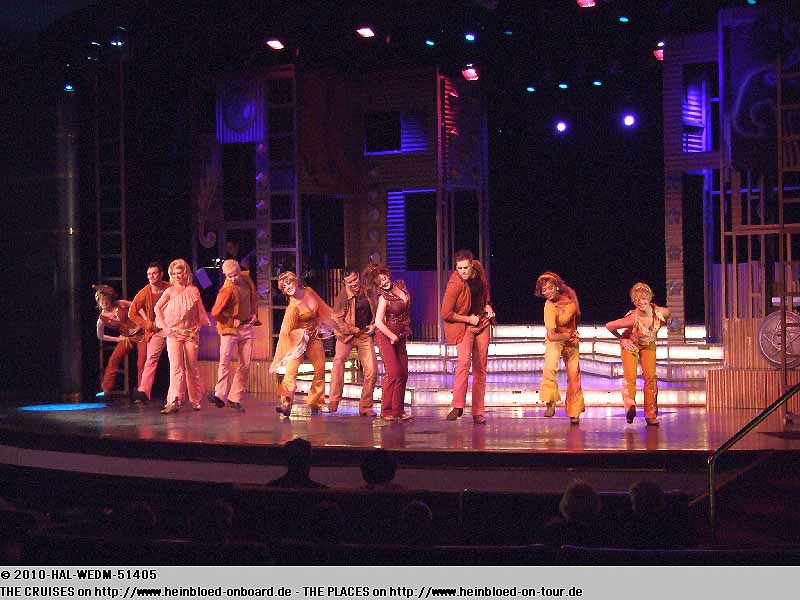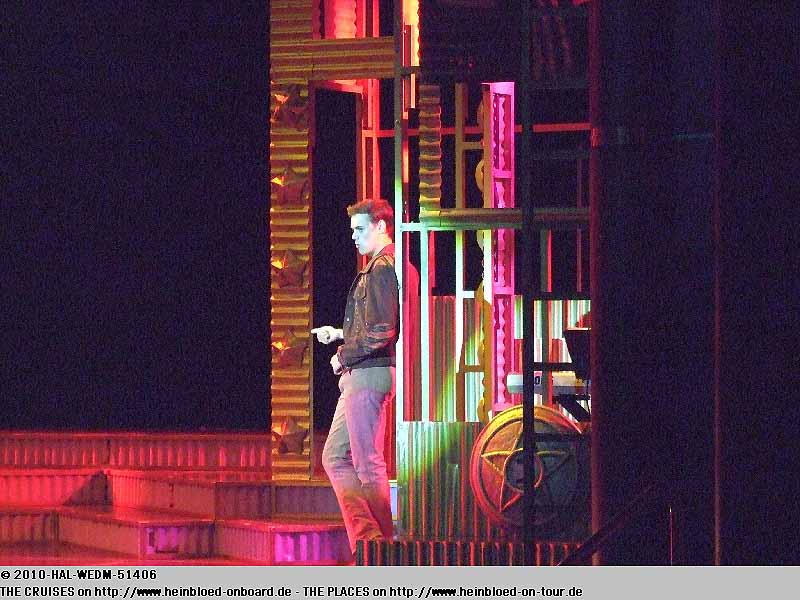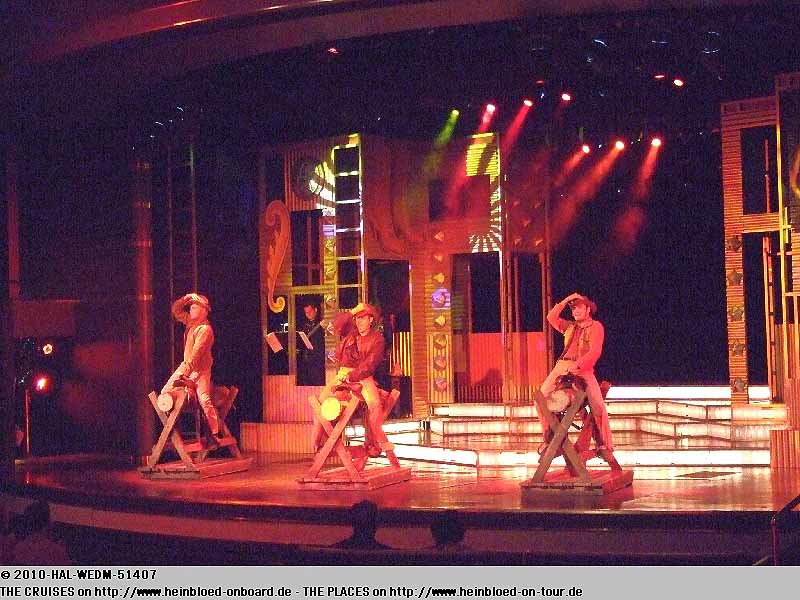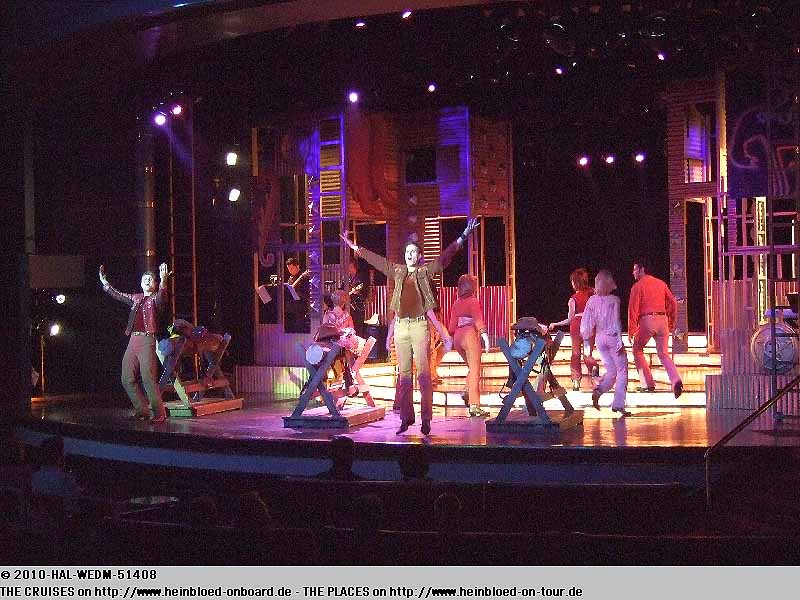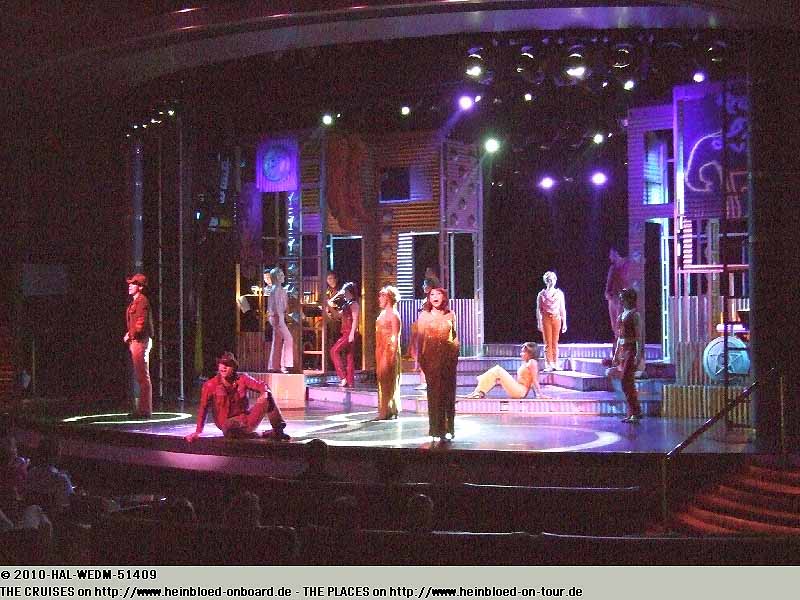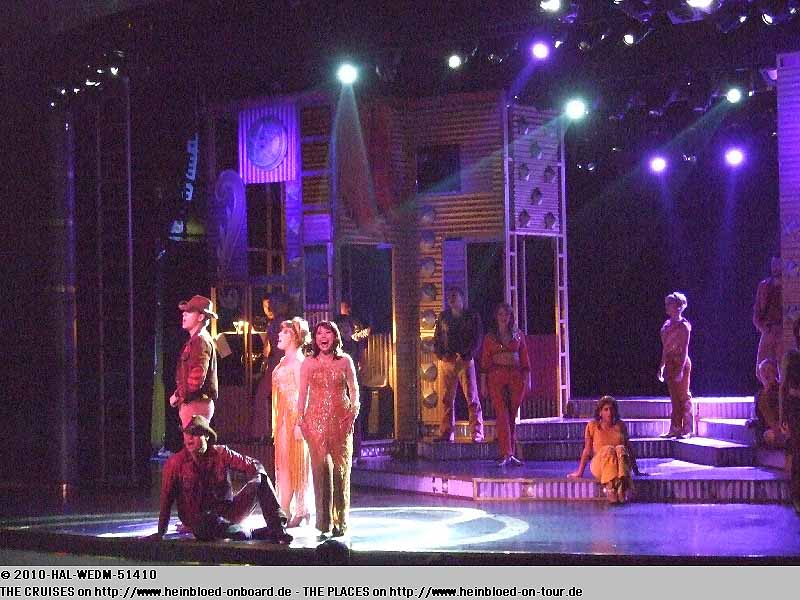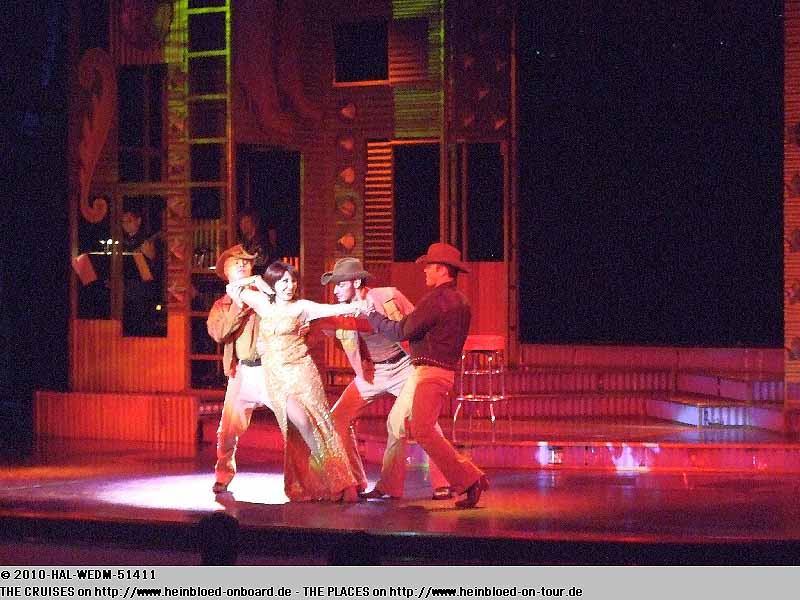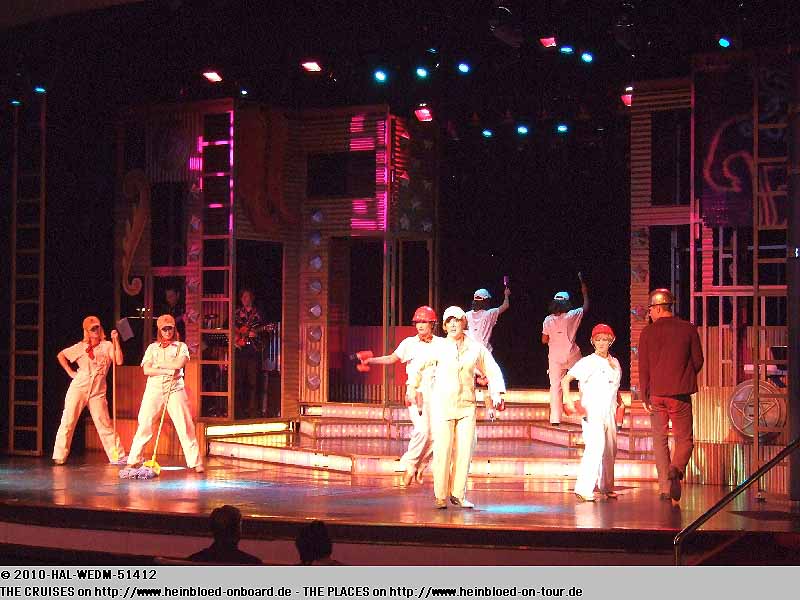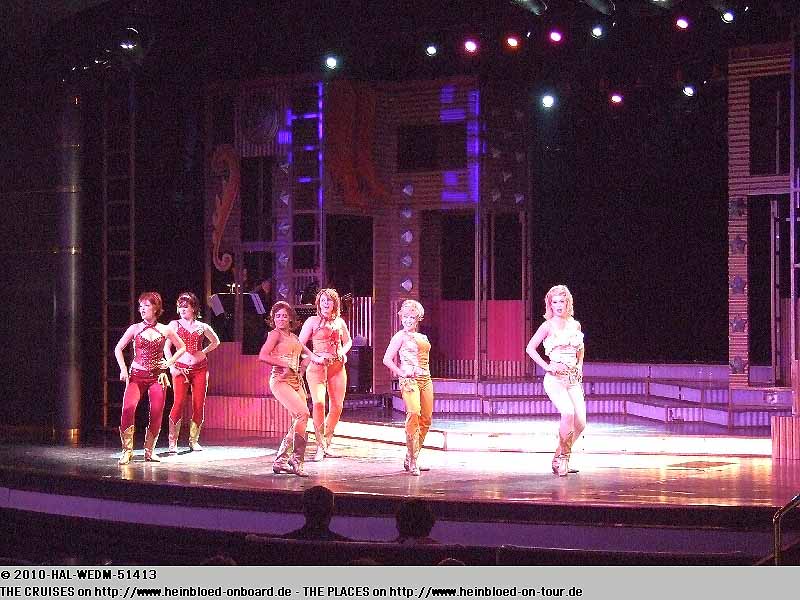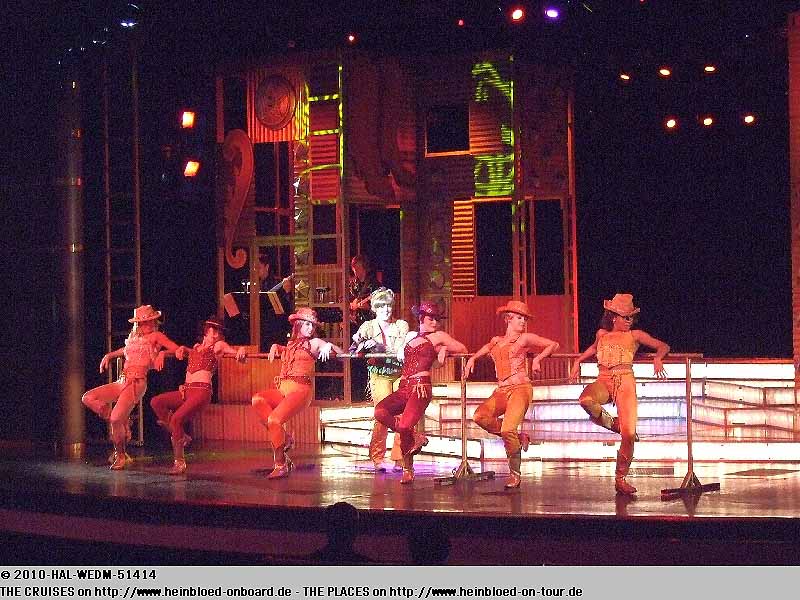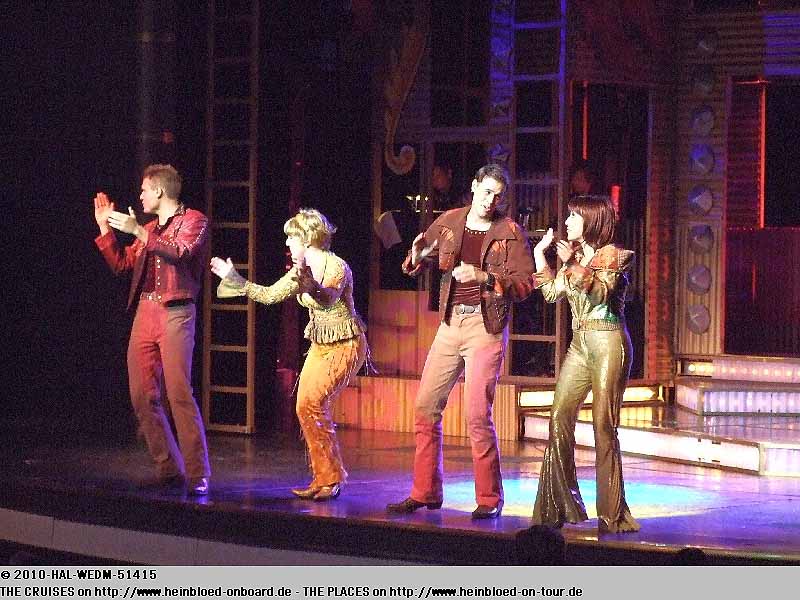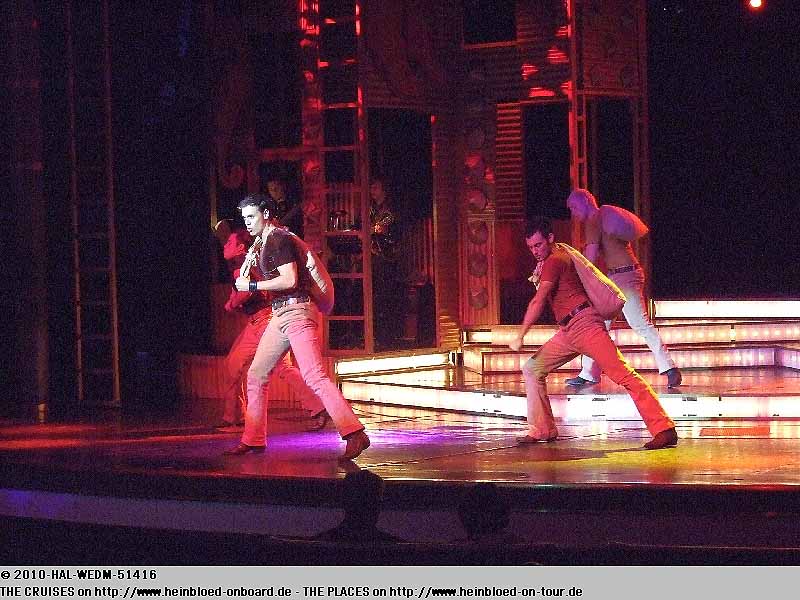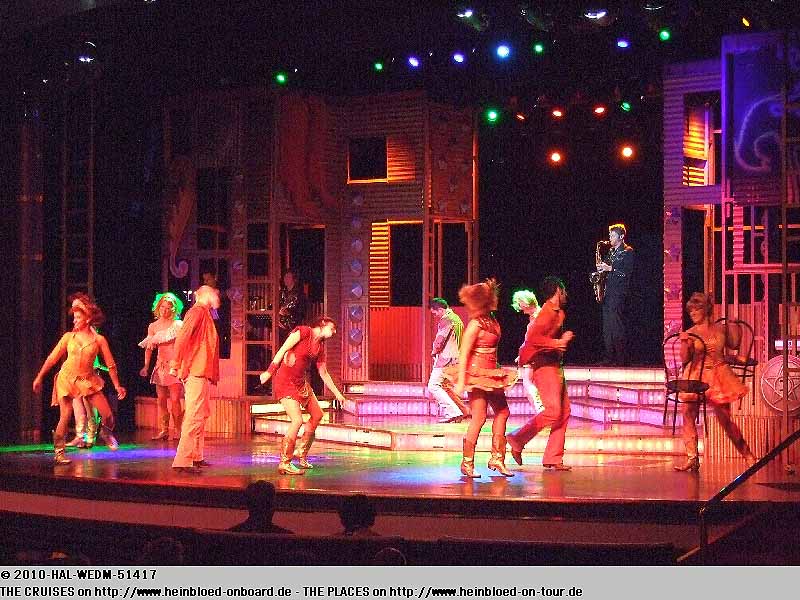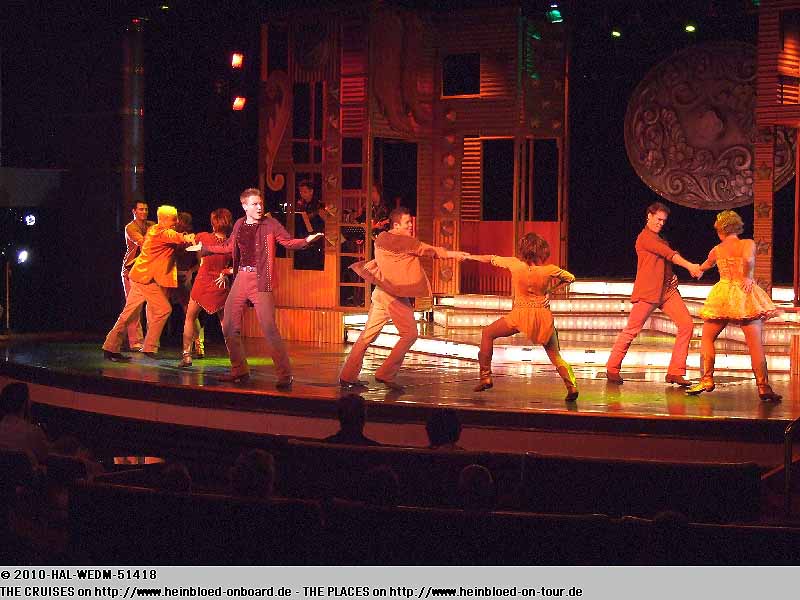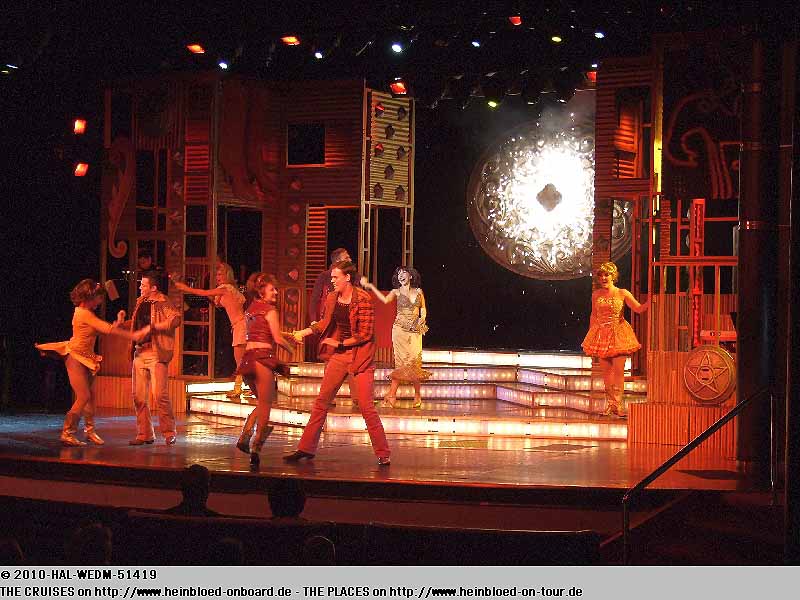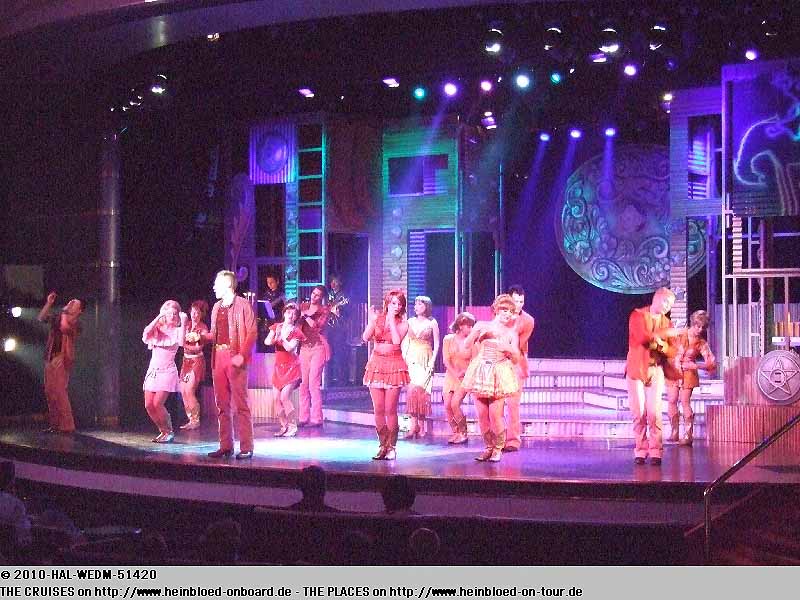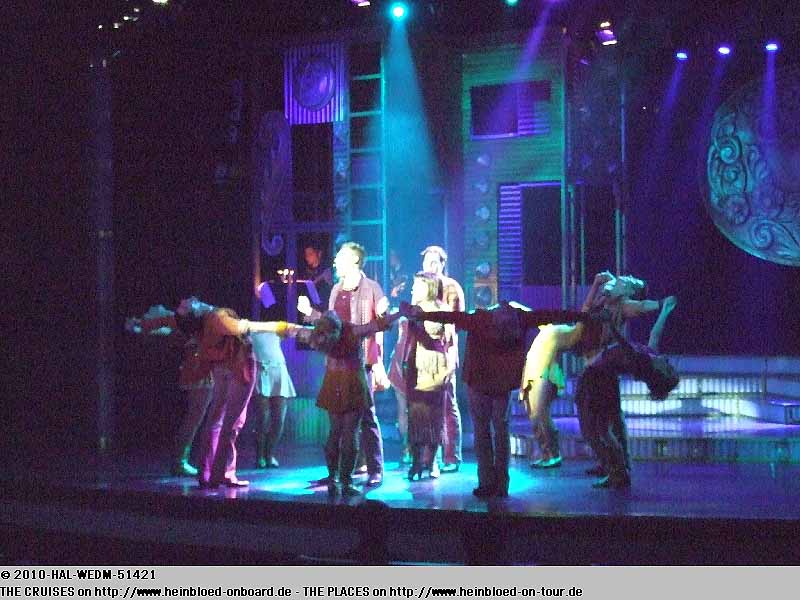 The night terminated with an encore: Simon and Garfunkel's "Bridge over troubled Water". Thin skin was included.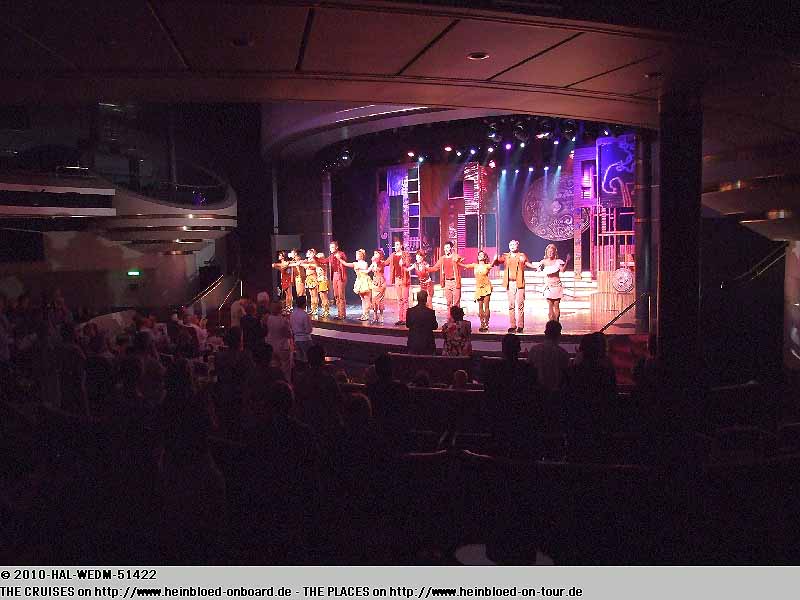 Der Abend endet mit einer Zugabe: Simon und Garfunkels "Bridge over troubled Water". Gänsehaut inklusive.
Bruno war zu diesem Zeitpunkt bereits zu Bett. Seine Eltern haben einen besonderen Cognac bestellt, der nicht nur serviert sondern von drei Stewards wohl zelebriert wurde. Auf jeden Fall blieben wohl alle Passanten, die an der Bar vorbeigehen wollten, wohl stehen, um sich diese Zeremonie anzugucken. Ich hätte gerne, dass Brunos Eltern sich das nochmals bestellt hätten, um ein paar Bilder davon zu machen, aber Bruno war im Hinblick auf sein Erbe, das gerade bei Carnival Corp. investiert wird, dagegen. Bestellt also nicht irgend einen Cognac und euch erwartet wohl ein schönes Spektakel...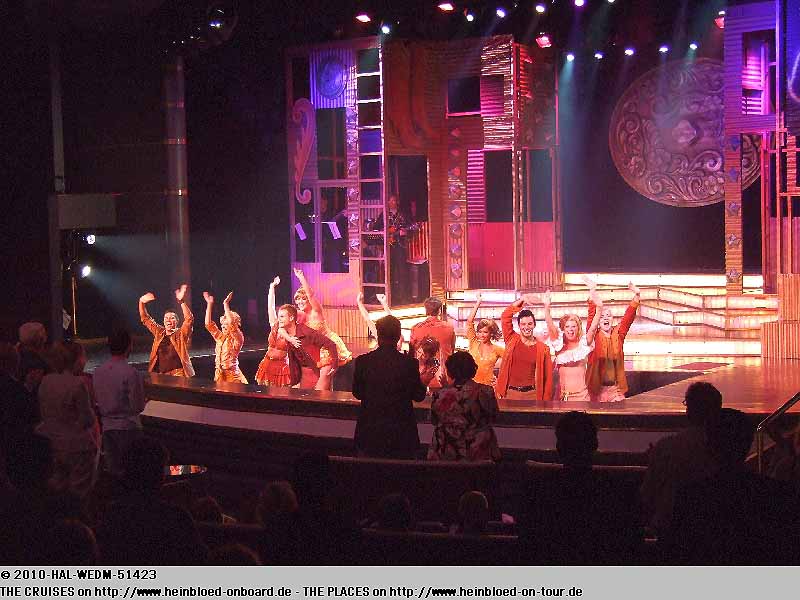 At this time Bruno went already to bed. His parents ordered a special Cognac which was not just served but well celebrated by three stewards. Everybody who wanted just to pass the bar stopped by and follow the ceremony. I would like Bruno's parents ordered it again to take some pictures but Bruno denied and watend to secure his heritage his parents spent with Carnival Corp. So do not order just any ordinary Cognac and a great spectacle will expect you.