Scroll down for English explanations - alternates with German explanations.

Wir wollten nicht im Hotel frühstücken, daher habe ich mir ein Lokal aus dem Smart-Travelling-Führer herausgesucht. Von Dam geht es durch schmale Gassen Richtung Anne-Frank-Haus.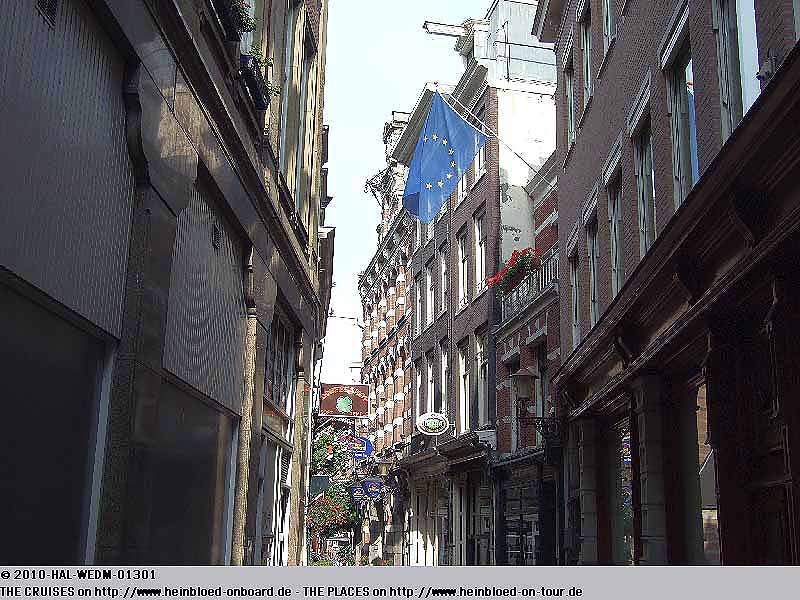 We did not like to have breakfast in the hotel so I picked a place from my Smart-Travelling-Guide. From Dam Square you need to go through narrow lanes towards Anne-Frank-House.

Obviously you pass shops which are adult-only... What might be hidden here behind???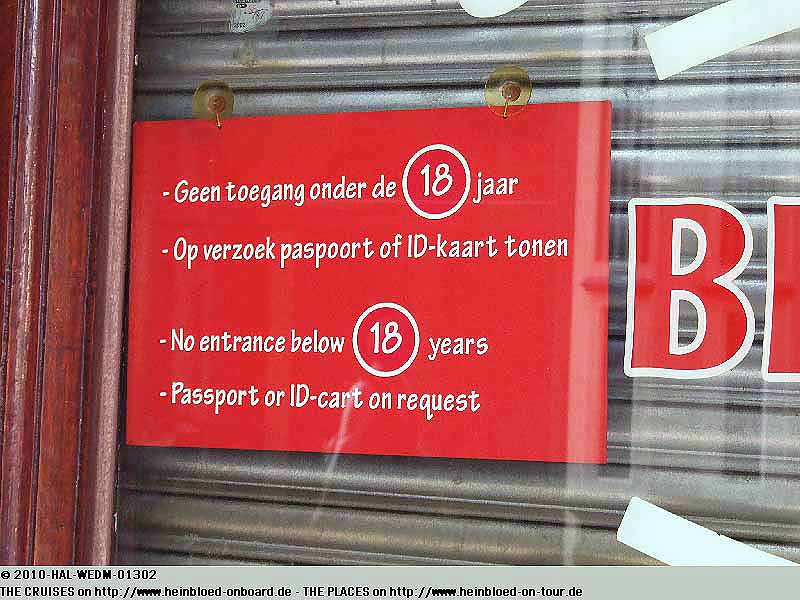 Hier kommt man anscheinend an Geschäften vorbei, die nicht jugendfrei sind... Was mag sich hinter den Rollläden verbergen???
Links ist das Magna Kaufhaus.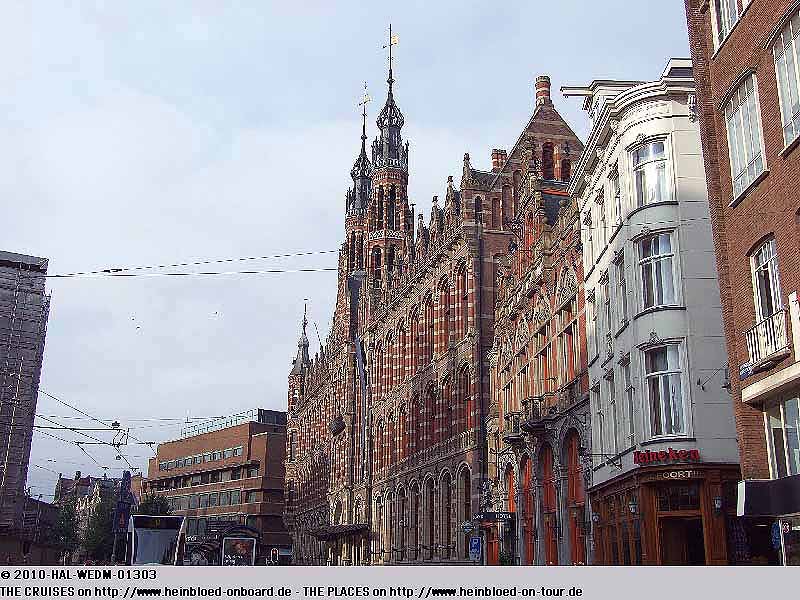 Left you see the Magna Department Store.

If you walk through the Torensteeg...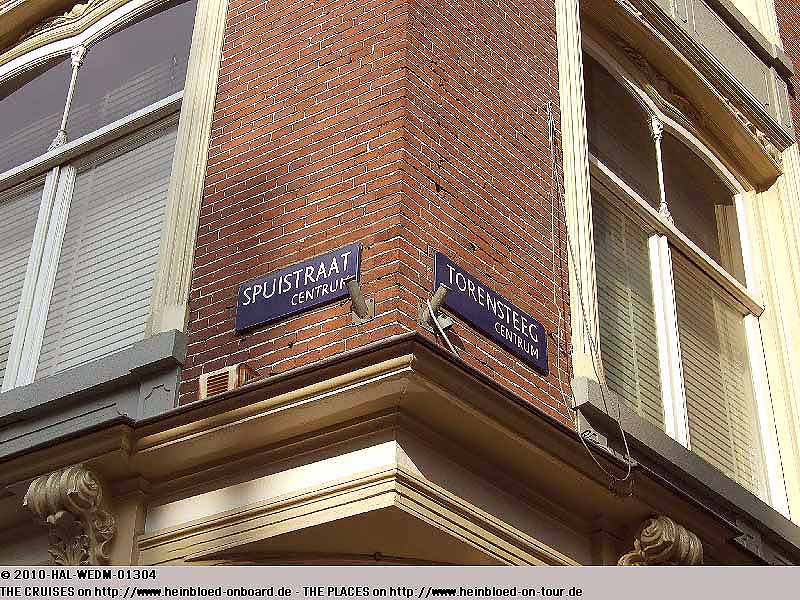 Wenn man den Torensteeg...
Richtung Singel weiterläuft,...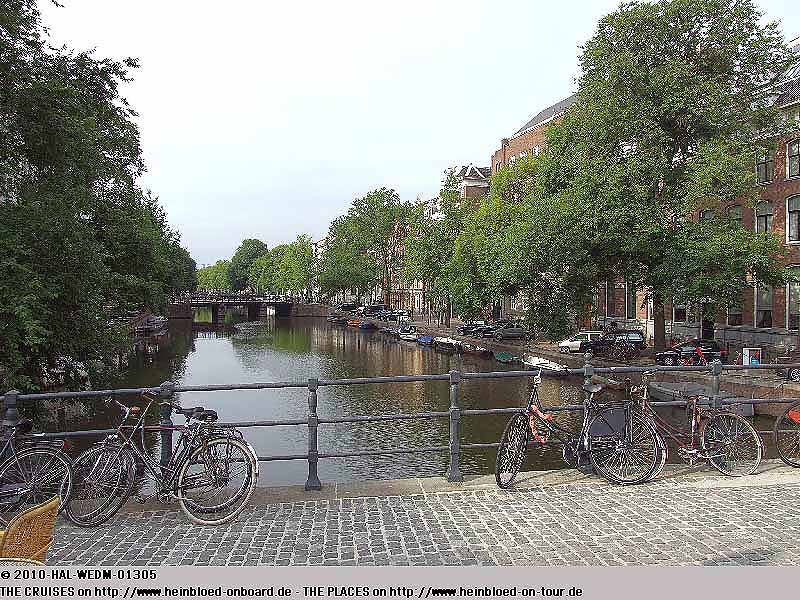 towards Singel....

my tour guide said that you get here the very best apple tarte in whole Amsterdam, in whole province of Noord-Holland or in the whole Netherlands. But it also says that they are open from 07.30 hrs which does not apply for a Sunday. Today they opened at 09.00 hrs. But so we sat on the canal bridge and waited for their opening.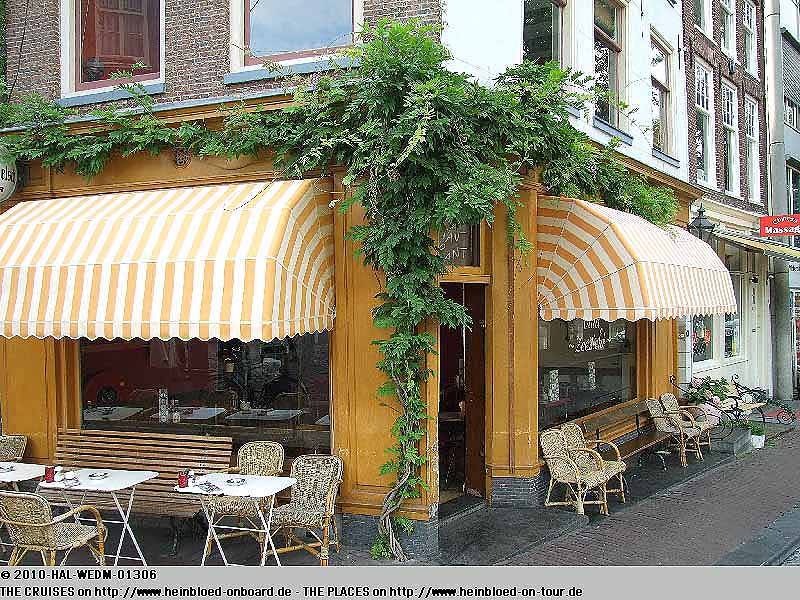 meint mein Reiseführer, dass es hier den allerbesten Apfelkuchen in ganz Amsterdam, ganz Noord-Holland (Provinz) oder in den Niederlanden geben soll. Allerdings meint er auch, dass es bereits um 07.30 Uhr offen ist, was für den Sonntag nicht zutrifft. Hier öffnet es erst am 09.00 Uhr. Aber wir haben schön hier auf der Kanalbrücke gesessen und auf die Öffnung gewartet.
Sehr gemütlich. Nur die Köchin scheint versackt zu sein und taucht erst um 09.00 Uhr auf. Bis dass die Brötchen aufgebacken sind, dauert es nochmals 30 Minuten, aber wir sind ja nicht in Eile...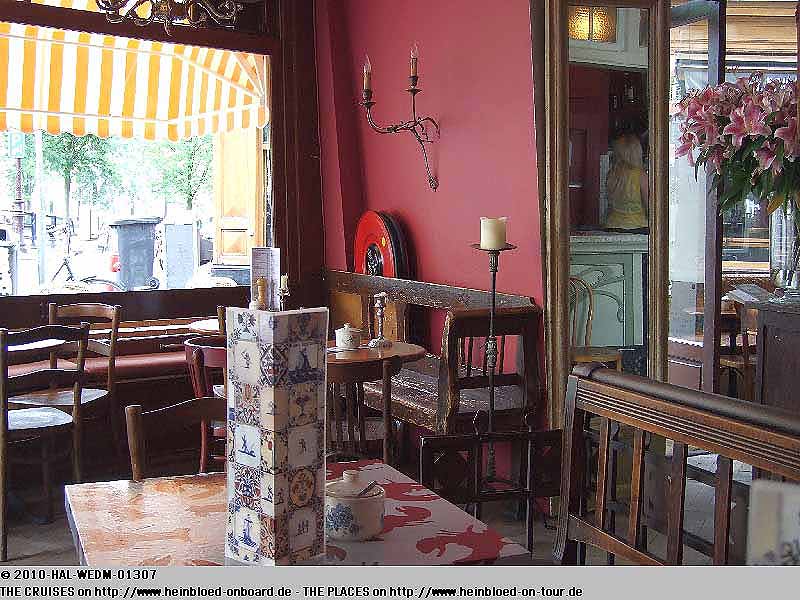 Very nice and charming. But the cook was somehow missed and appeared at 09.00 hrs. Before she finished to bake the rolls it took another 30 minutes but we were not under time pressure...

Cheaper than the hotel but still Amsterdam price level... It went up when we were later at the Flower Market. You get English menus on request.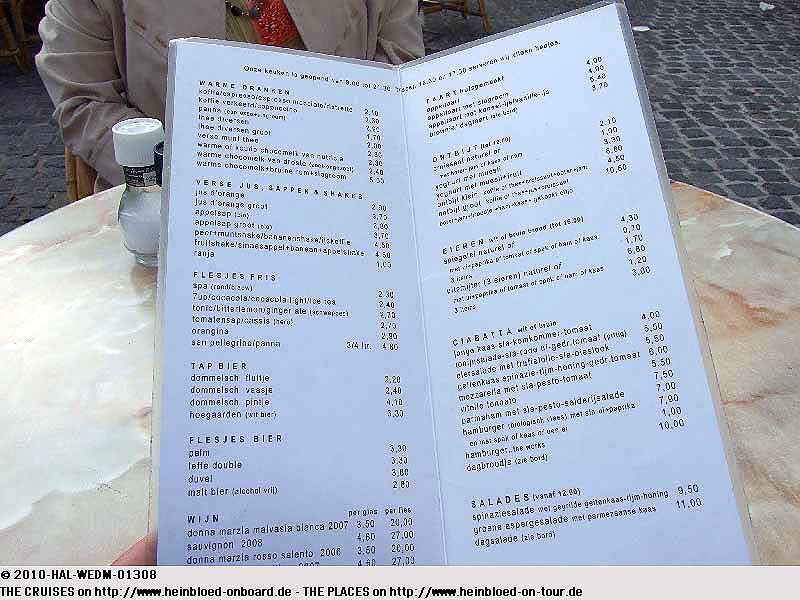 Billiger als im Hotel, aber trotzdem Amsterdamer Preise... Es geht allerdings noch höher, wie wir später am Blumenmarkt feststellen. Englische Karten gibt es auf Anfrage.
Das ist nun die Apfeltorte, die ich mir ausnahmsweise zum Frühstück nehme. "Lekker !!!"

That was the apple tarte which I took as execption for breakfast. Just "lekker !!!" (Dutch expression for yummy).

Bruno was very happy to get a Muesli with so many fresh fruits which did not came from a can.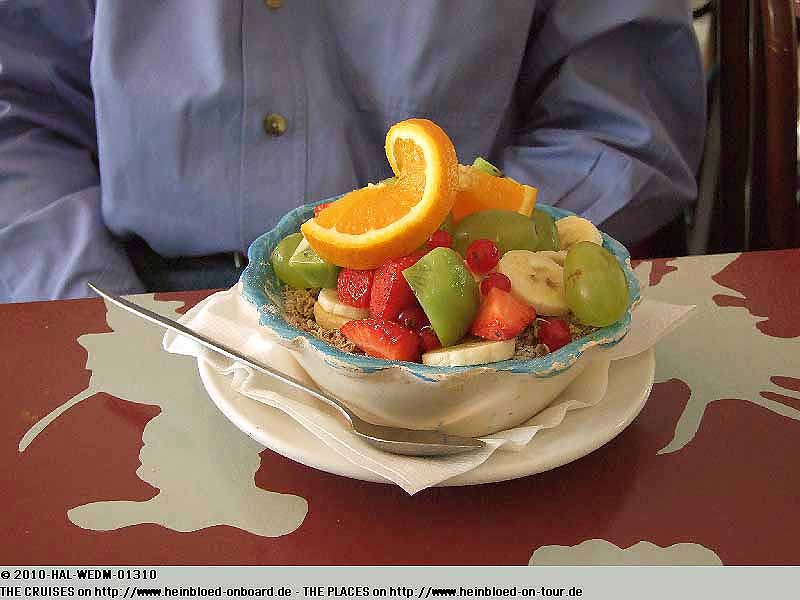 Bruno freut sich über sein Müsli mit tollen frischen Früchten, die offensichtlich nicht aus der Dose kommen.
Brunos Vater bekommt hier sein großes Frühstück.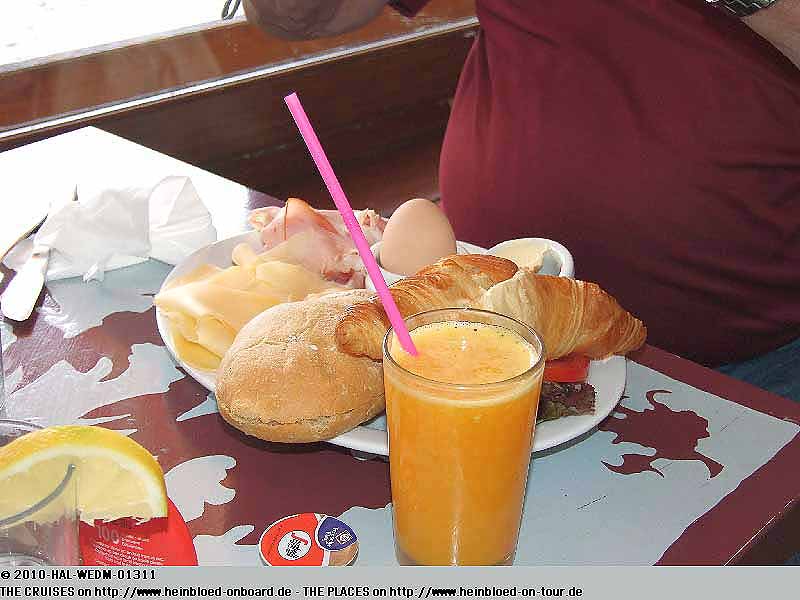 Bruno's Dad got his big breakfast.

Sightseeing on bike. I am sure that this is a good alternative.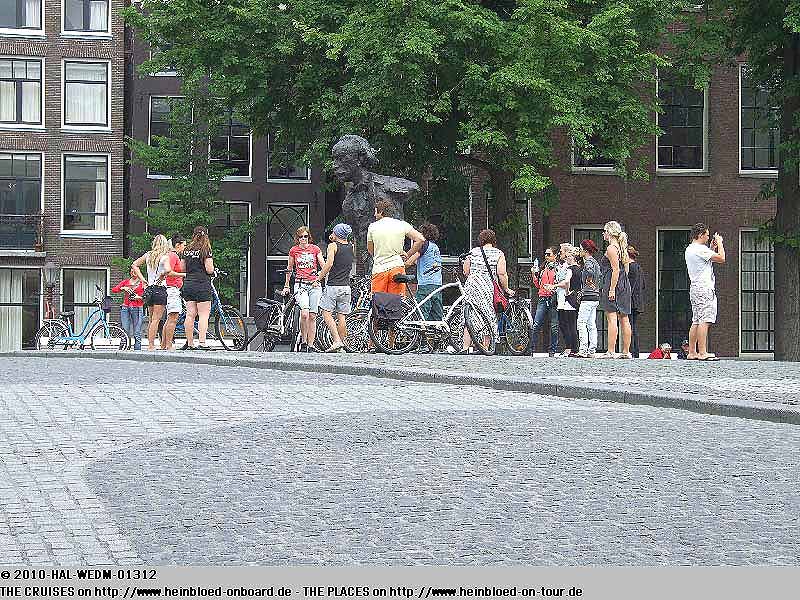 Stadtführung auf Fahrrädern. Sicherlich eine gute Alternative.
Auf der Webseite https://www.amsterdam.info habe ich eine schönen Spaziergang für Anfänger in Amsterdam gefunden. Mit zwei kleinen Variationen, so dass wir die Tour erst an der Westerkerk einsetzen. Leider ist die Tour nur auf Englisch beschrieben, aber es ist wirklich eine schöne Zusammenstellung.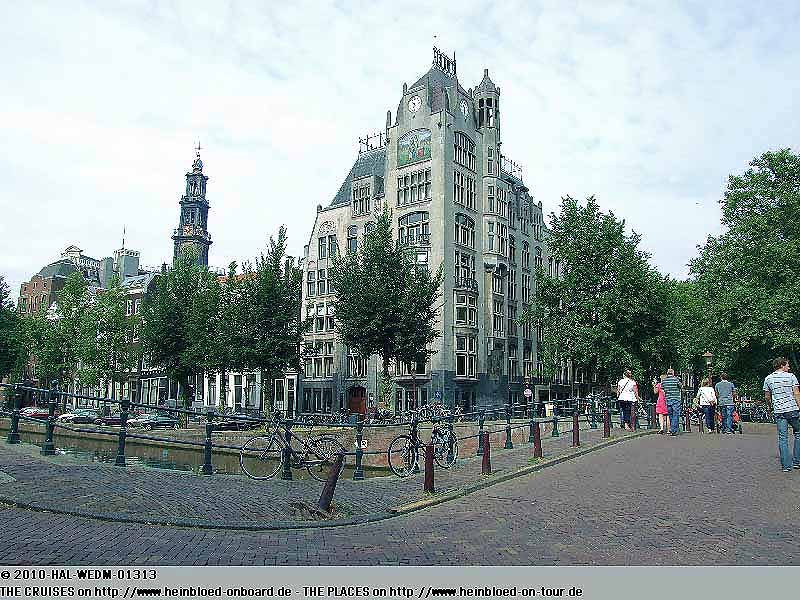 On the website https://www.amsterdam.info I found a nice walk for beginners in Amsterdam. With two little variations like we started up at Westerkerk.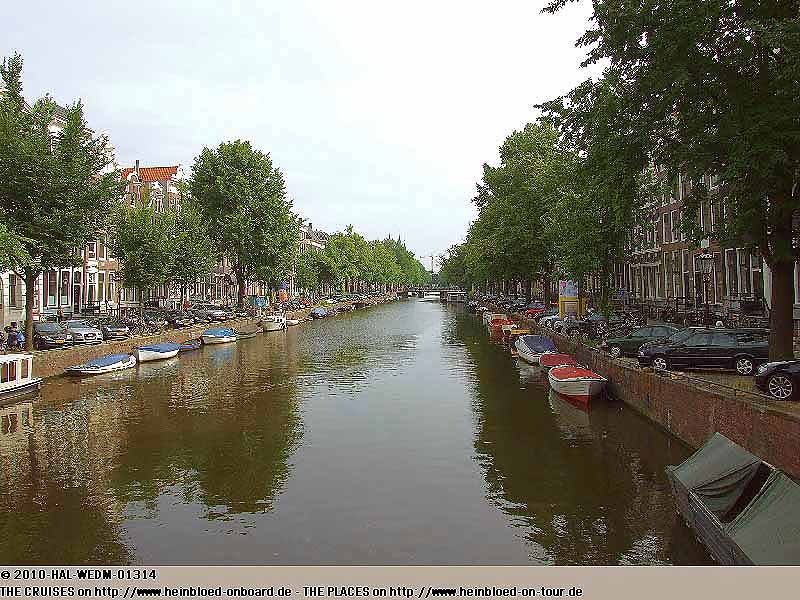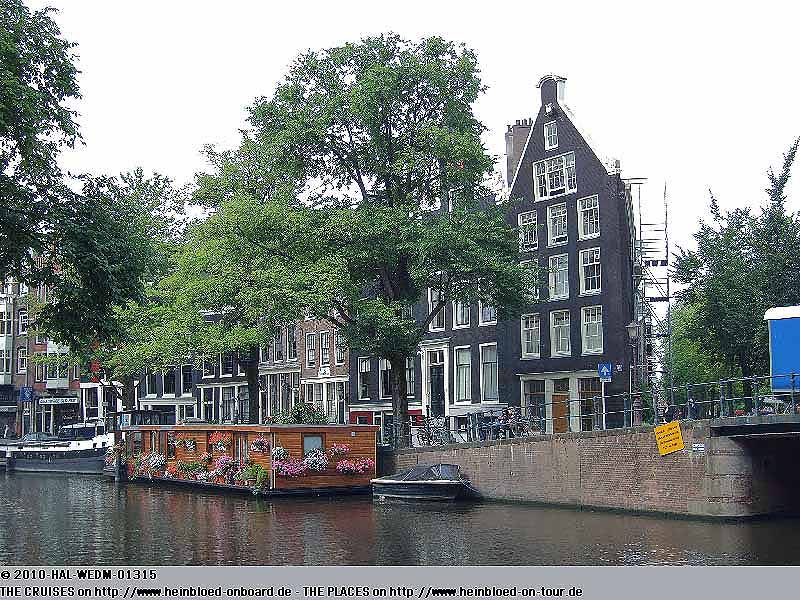 At Anne-Frank-House the queues went around the corners...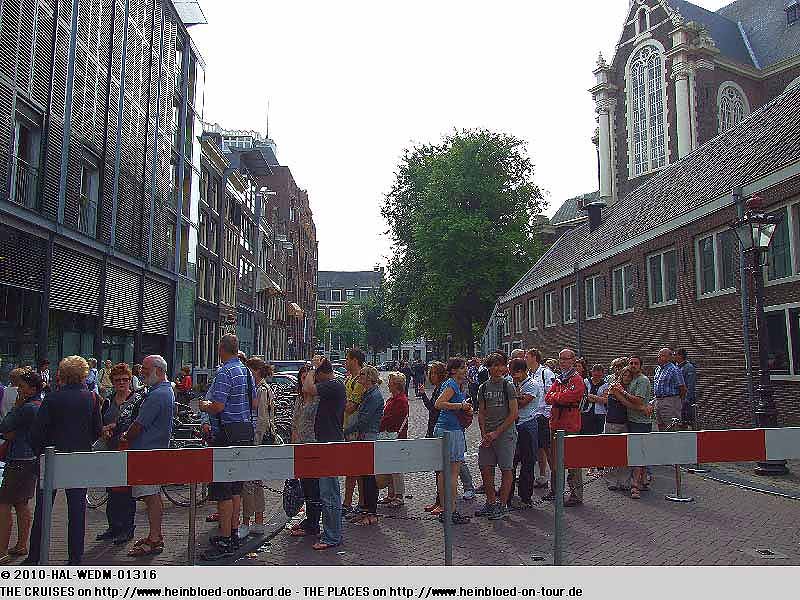 Nun am Anne-Frank-Haus geht die Schlange um die Ecken weiter...
Der Vorteil eines Ho-Ho-Bootes gegenüber einer klassischen Grachten-Fahrt: man kann an den Attraktionen aus- und wieder einsteigen und zur nächsten Attraktion weiterfahren.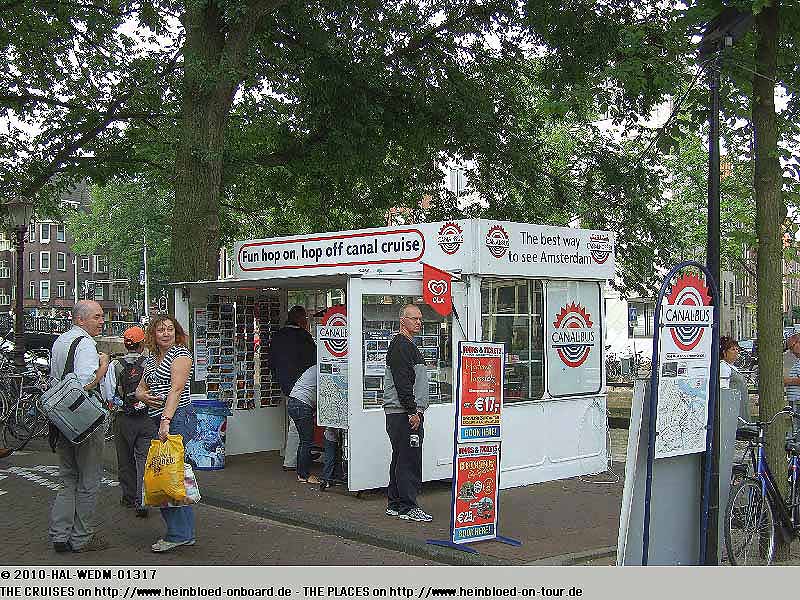 The advantage of the Ho-Ho-Boat against the classical canal tours: you can leave and board and continue for the next attractions at the single attractions.

Just in front of Westerkerk...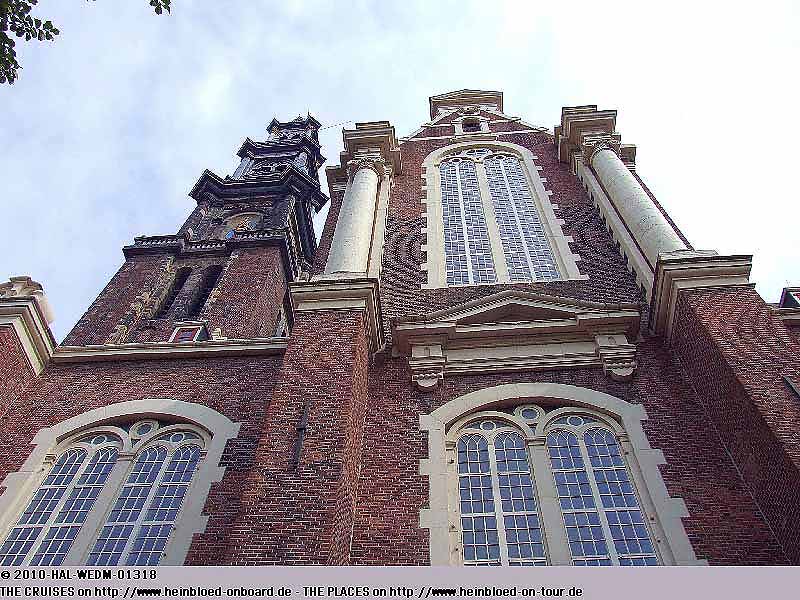 Direkt vor der Westerkerk...
gibt es für uns Freunde von Dorothy,...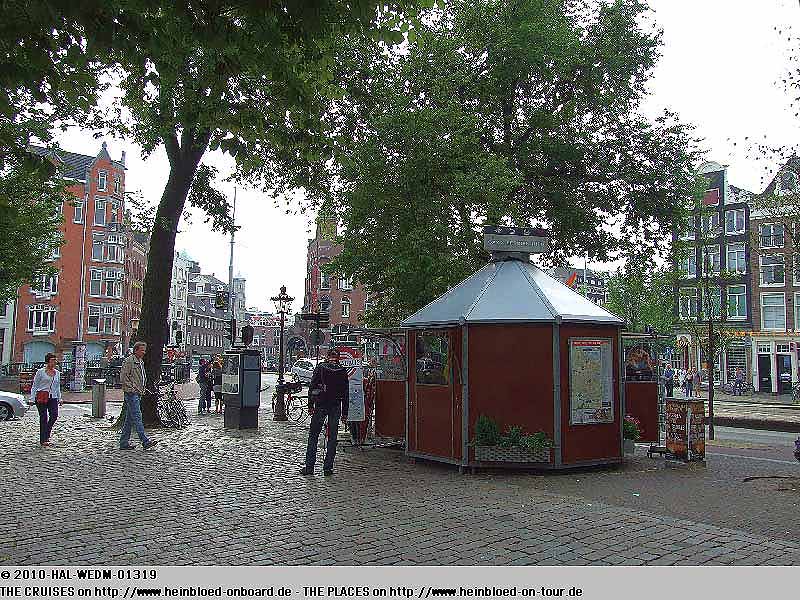 ... there is or us Friends of Dorothy...

an information booth for our own.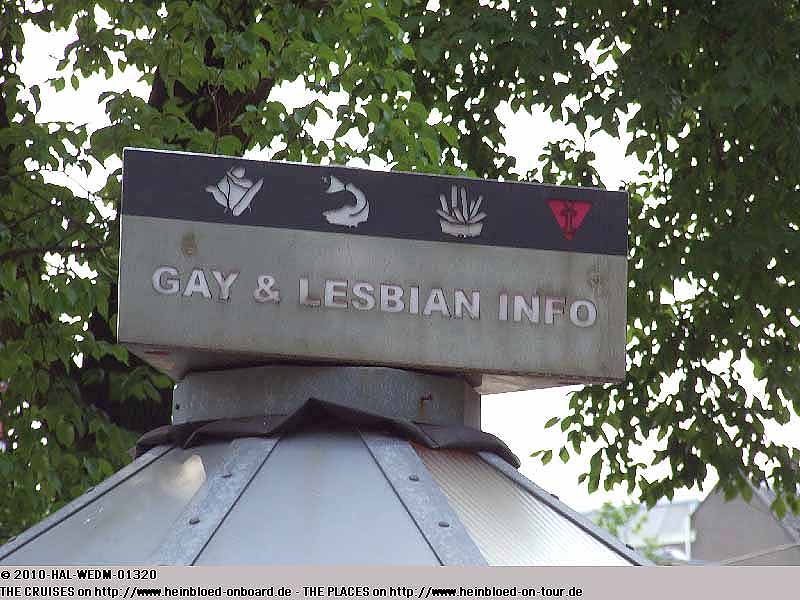 einen eigenen Informationsstand.
Der Vorteil einer Straßenbahn: umweltfreundlich - der Nachteil für Fotografen: immer ist die Oberleitung im Weg. Besser bekomme ich heute die Westerkerk nicht auf das Bild.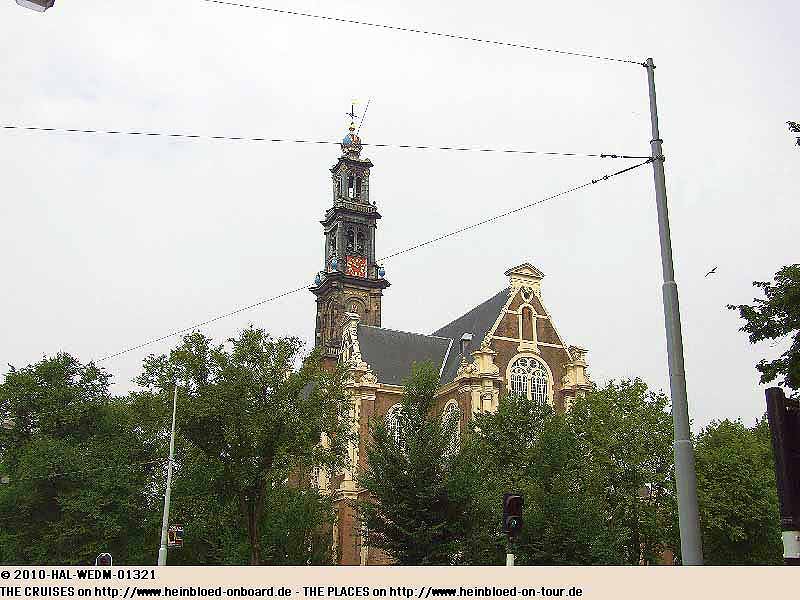 The advantage of trams: environmental friendly - the disadvantage for photographers: you have always the powersupply-line in the pictures. I could not get a better shot of the Westerkerk.

In the background the Royal Palace at Dam which was wrapped due to construction works.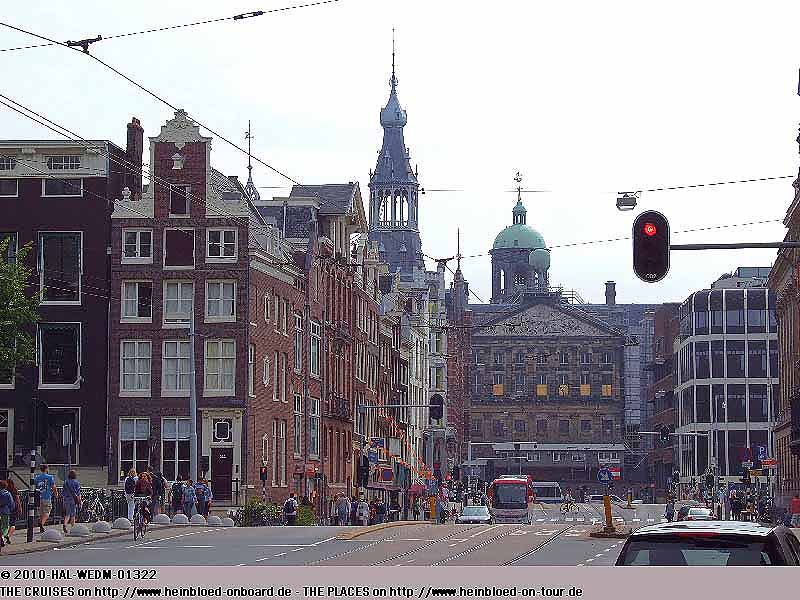 Im Hintergrund der Königspalast am Dam, der jedoch wegen Bauarbeiten eingezäunt ist.
In der Herengracht 359-367 stehen verschiedene Häuser, die alle unterschiedliche Giebel haben.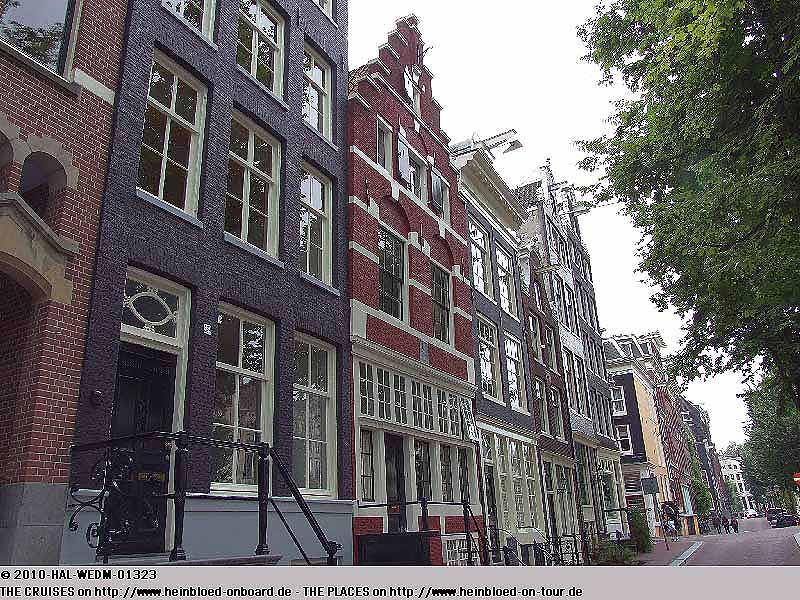 Around Herengracht 359-367 you should see the different roof shapes of the single houses.

We went over the Spui which we remember from last night's dinner to the Flower Market which is also open on Sunday.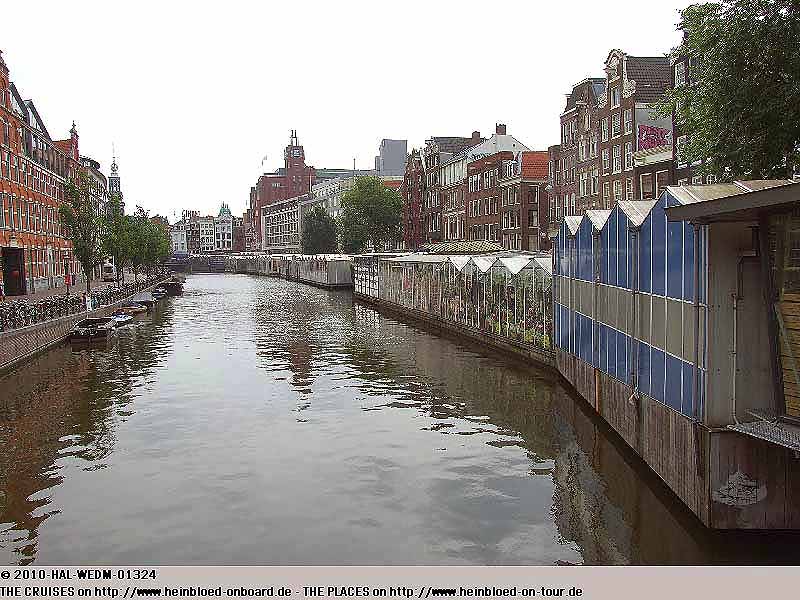 Es geht über den Spui, den wir gestern Abend vom Essen her schon kennen, wieder zum Blumenmarkt, der auch sonntags auf hat.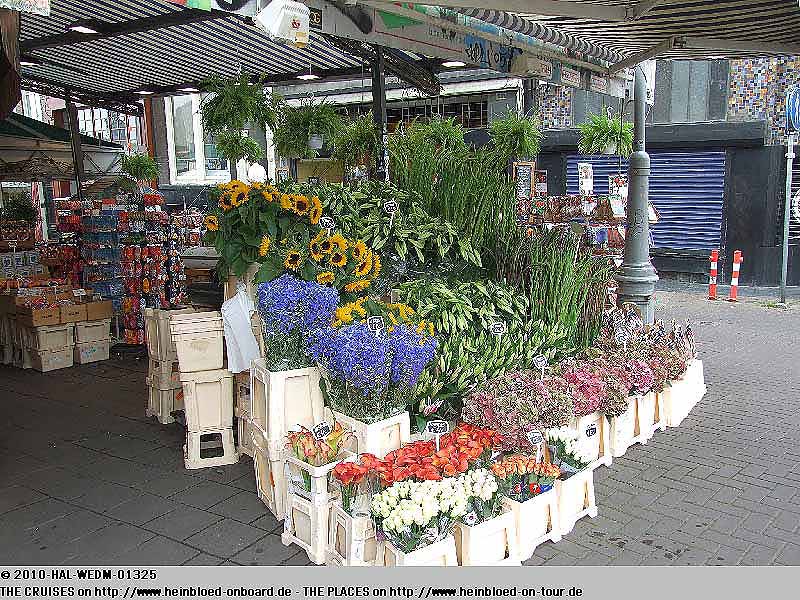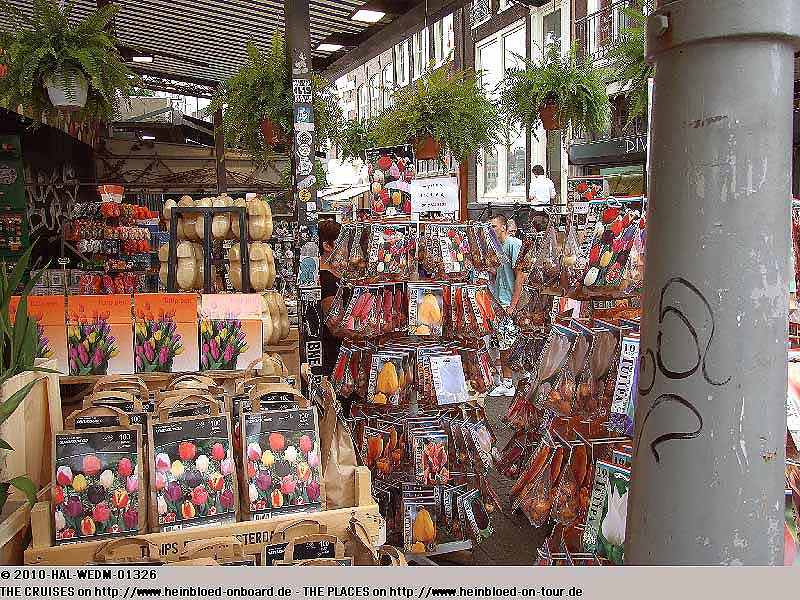 Do not go and buy at the first stand before you have not walked through and compare all prices. There were tulip bulbs which meet the requirements of US- and Canadian authorities.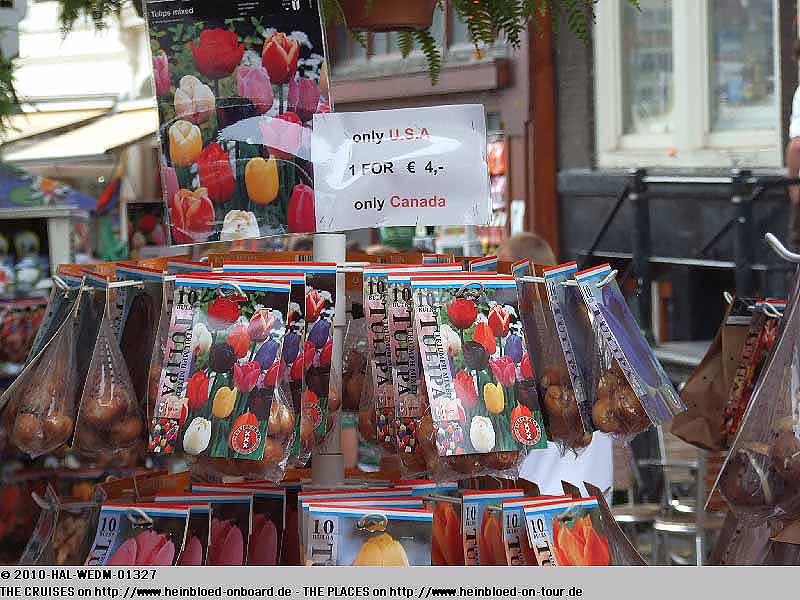 Keinesfalls sofort am 1. Stand kaufen, sondern erst mal durchlaufen und vergleichen. Es gibt auch Blumenzwiebeln, die den Anforderungen der US- und kanadischen Behörden entspricht.
Und sie werden auch verschickt.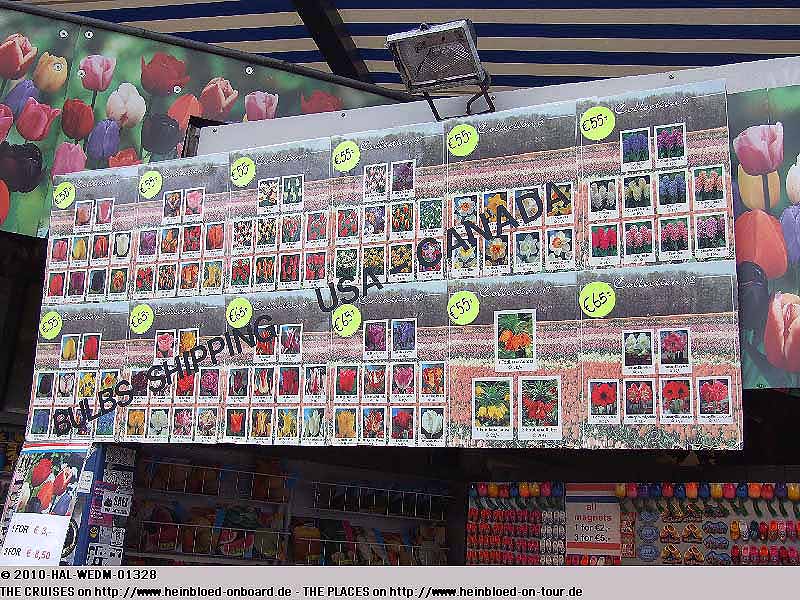 And they arrange shipping.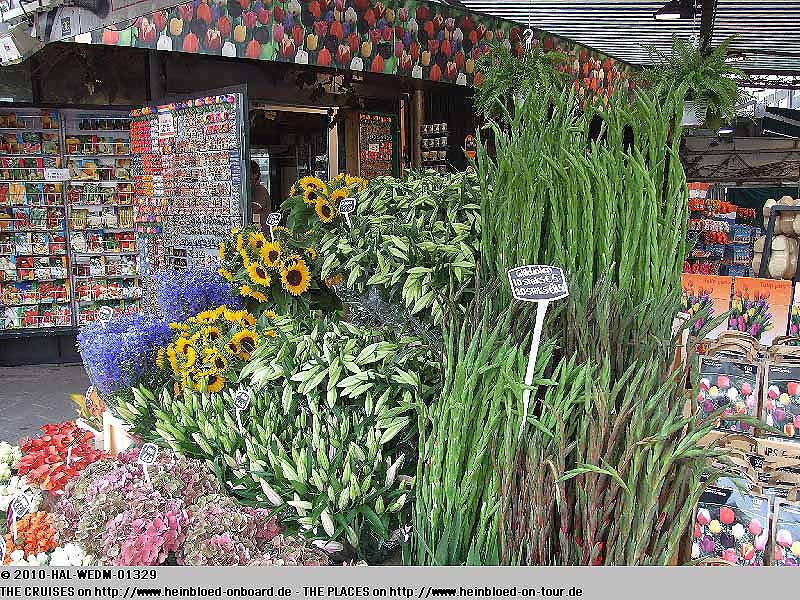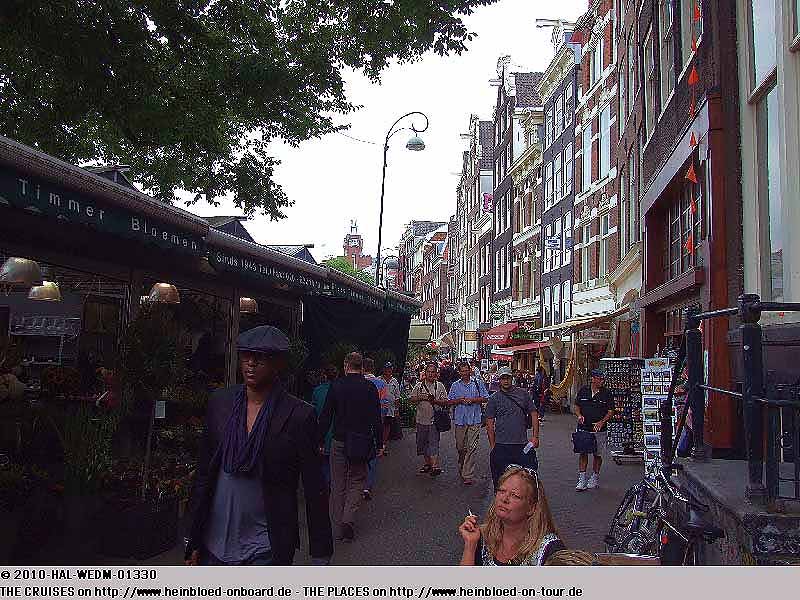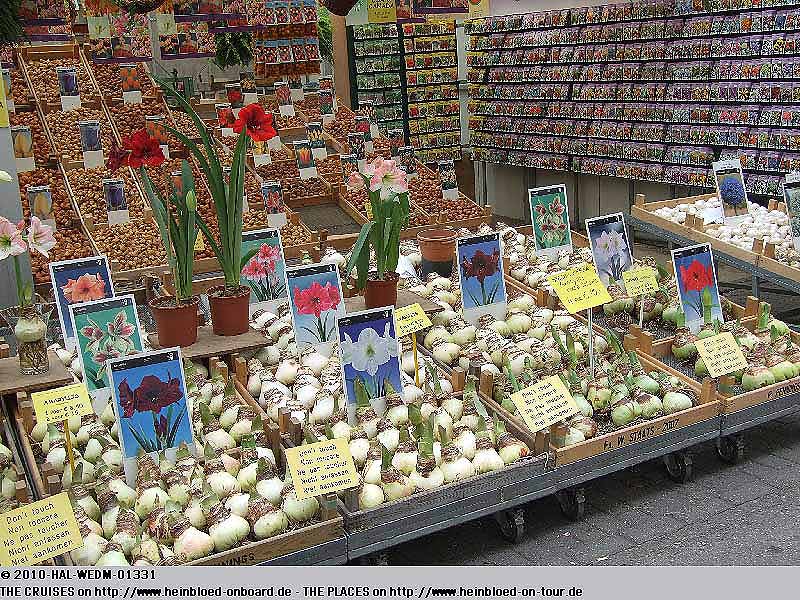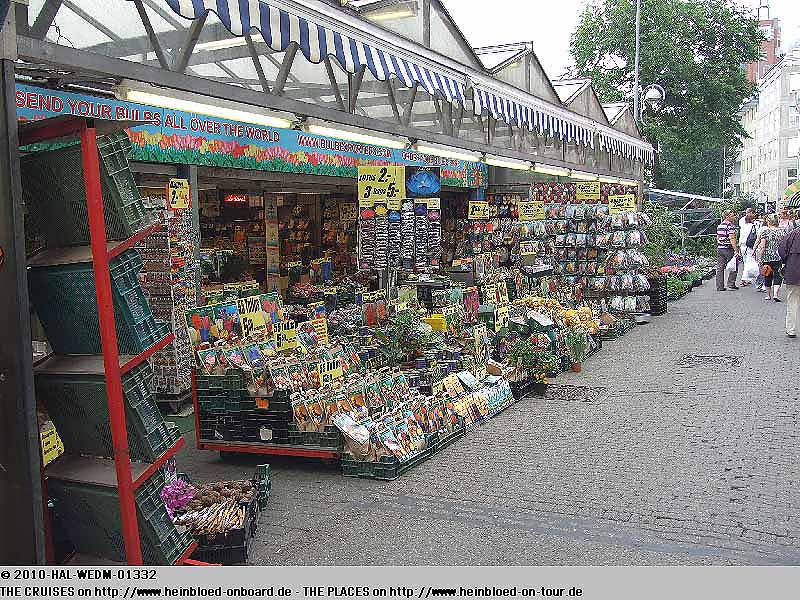 If I would have known by know how the first two days on WESTERDAM will become I would have bought some of that staff.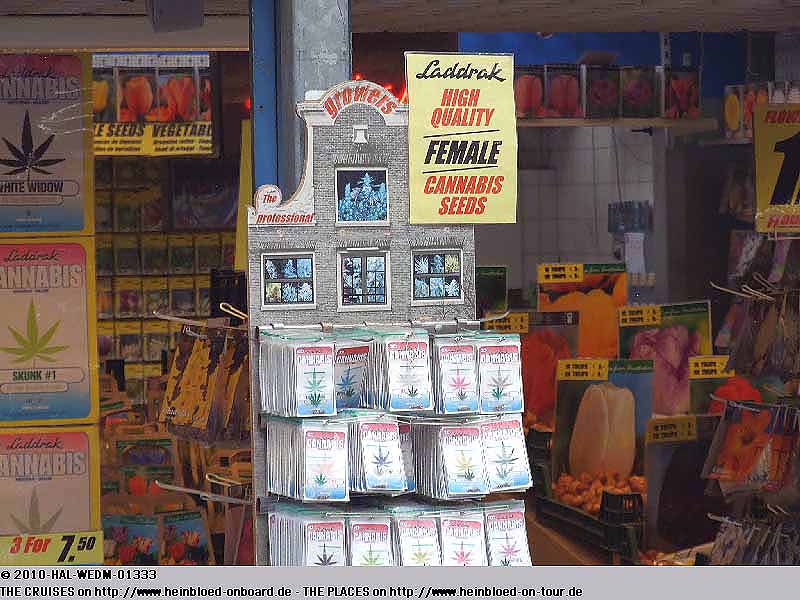 Wenn ich schon vorher gewusst hätte, wie sich die ersten zwei Tage auf der WESTERDAM entwickeln, hätte ich mir davon etwas mitgenommen...
Und wer es nicht zu Käthe Wohlfahrt in Deutschland schafft. In Amsterdam gibt es auch eine Alternative.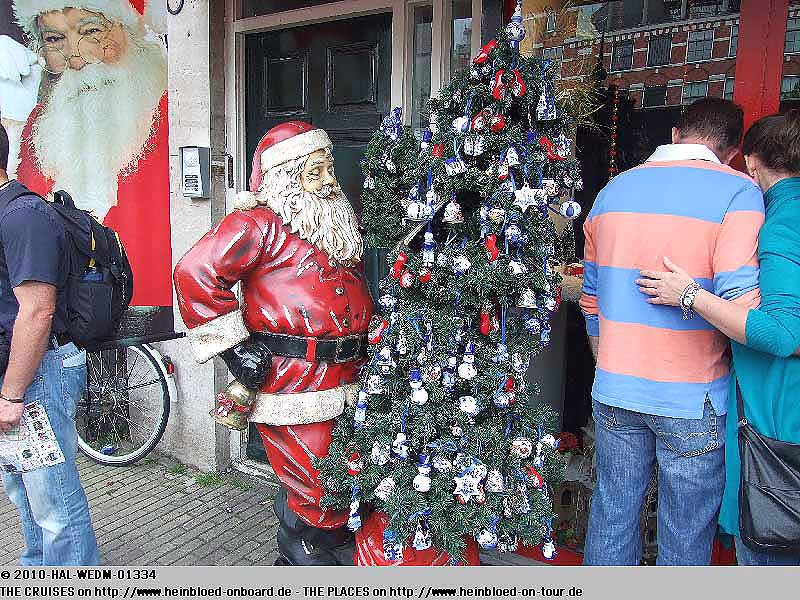 And who cannot make it to the all-year Christmas Wonderland Käthe Wohlfahrt: There is an alternative in Amsterdam.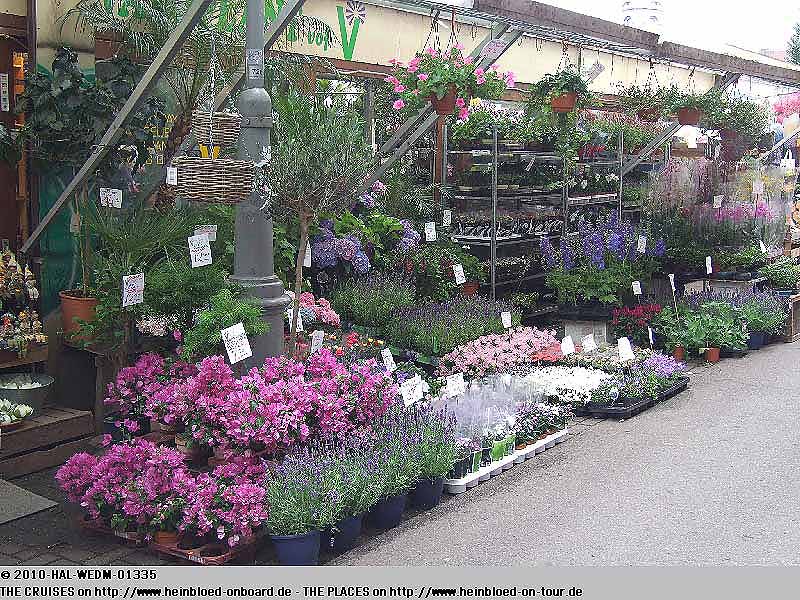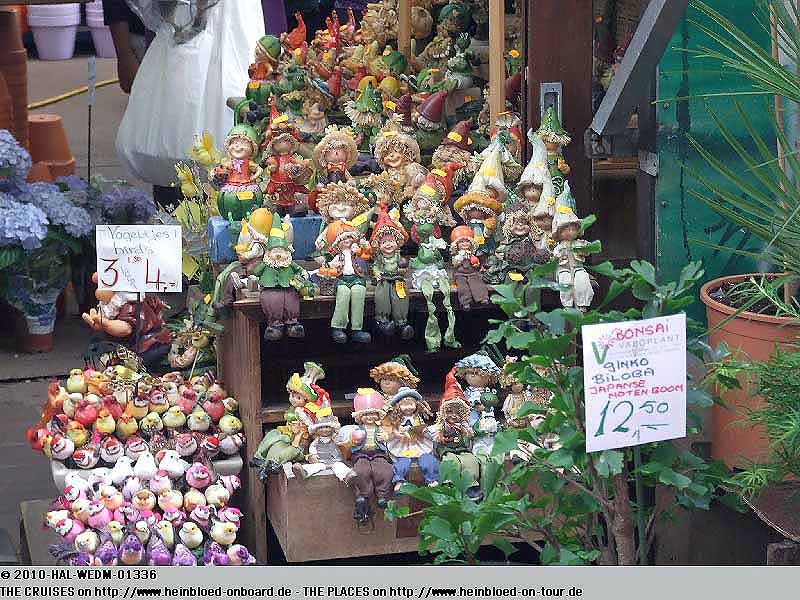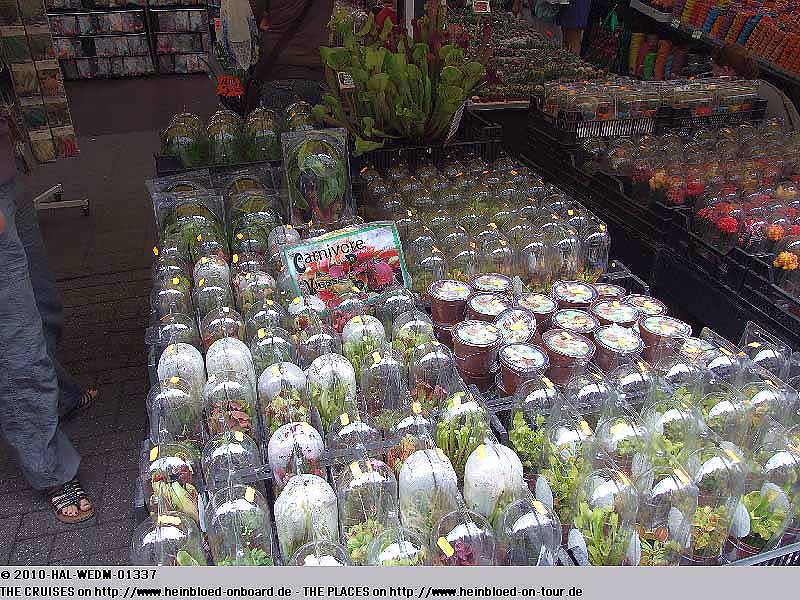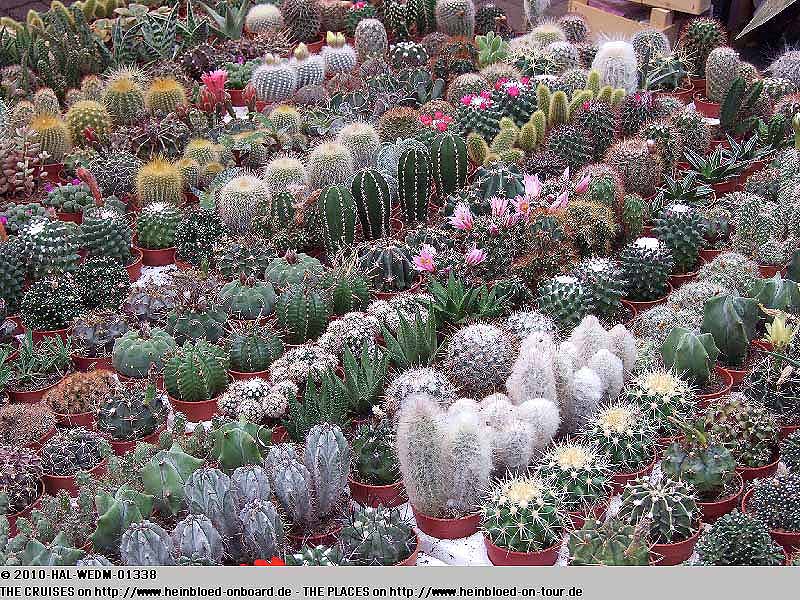 No - that was no shop for Friends of Dorothy and I do not buy here - not for my nieces either.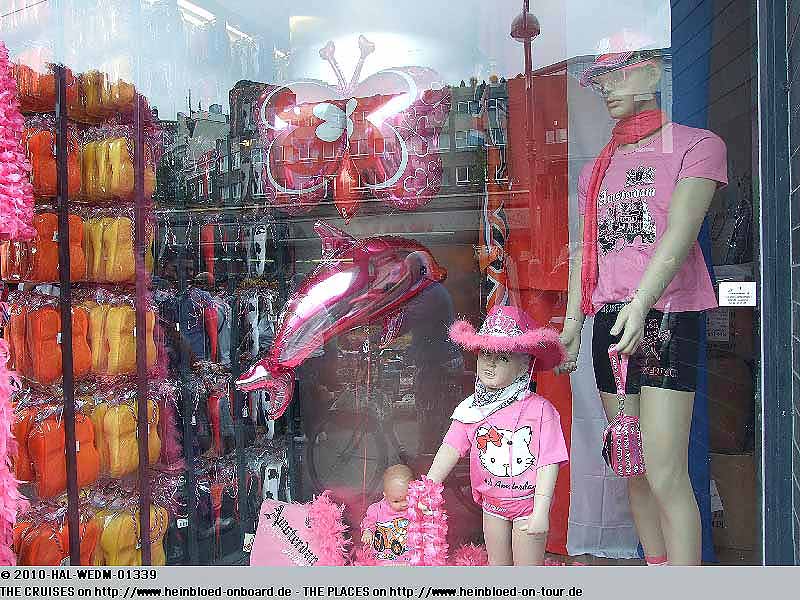 Nein - das ist kein Laden für Freunde von Dorothy und ich kaufe hier auch nichts - auch nichts für meine Nichten.
Wenn keine Oberleitung im Weg war, dann eben eine andere Leitung.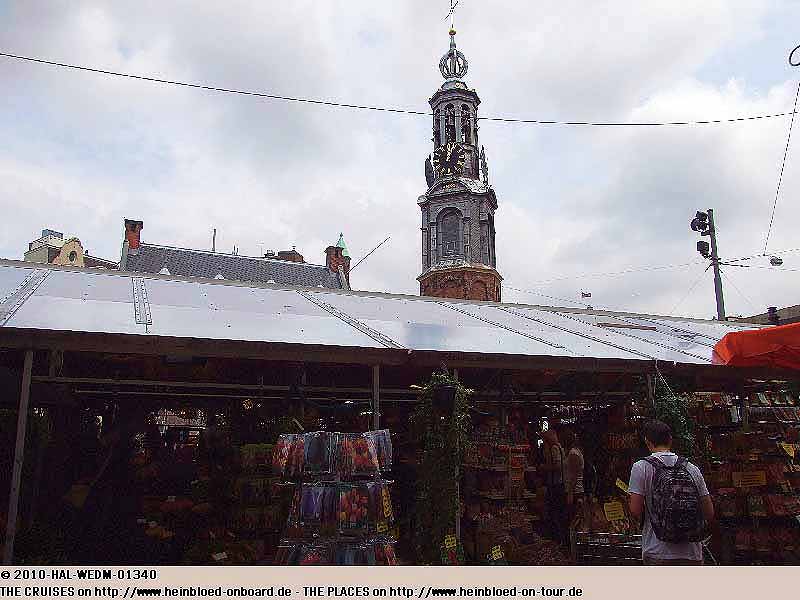 If you do not have the power supply for the trams you have something else.

This house was called "Golden Blend"...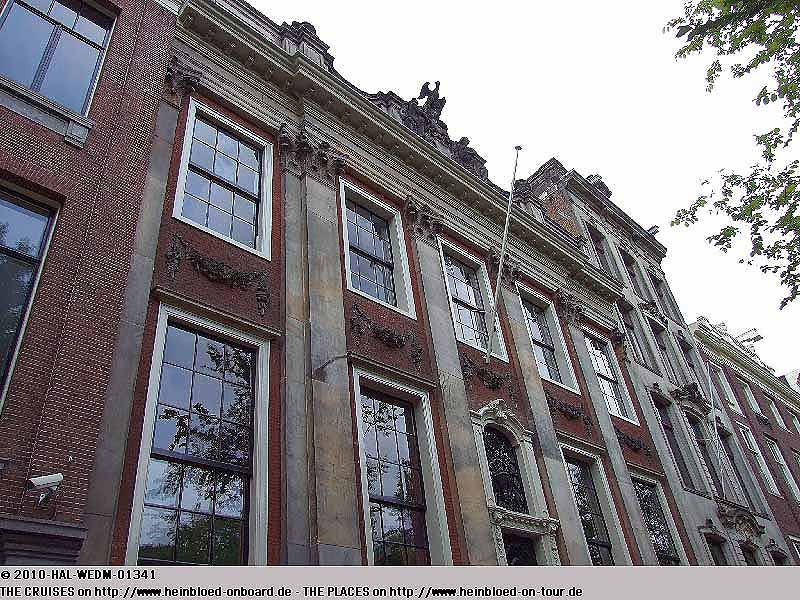 Das Haus hieß "Golden Bend"...
und hier sollte der Adler auf dem Dach, den Reichtum des Eigentümers demonstrieren.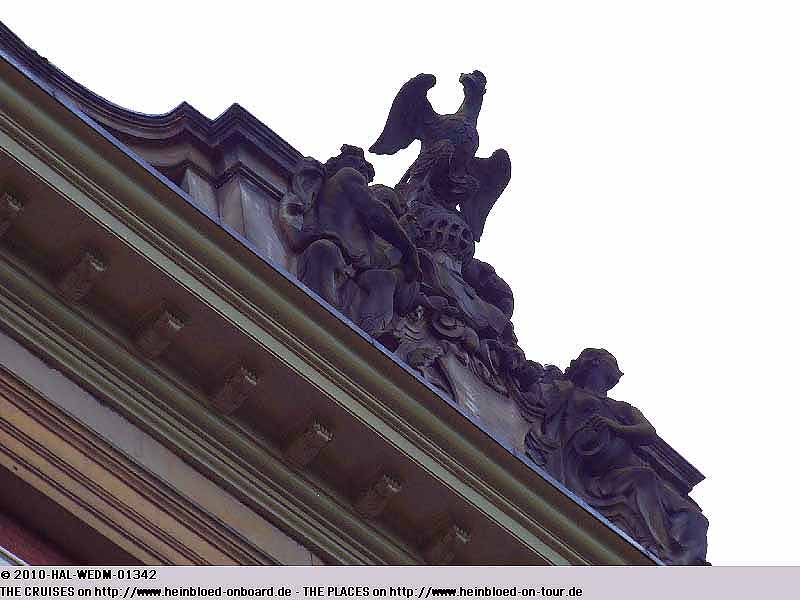 ... and the eagle on the roof should show how rich the owner was.

We returned by tram back to Dam as it became more and more overcast and we did not like to walk to the Museums Square. The Rijksmuseum was anyway wrapped as well. Here you see the main shopping street Damrak.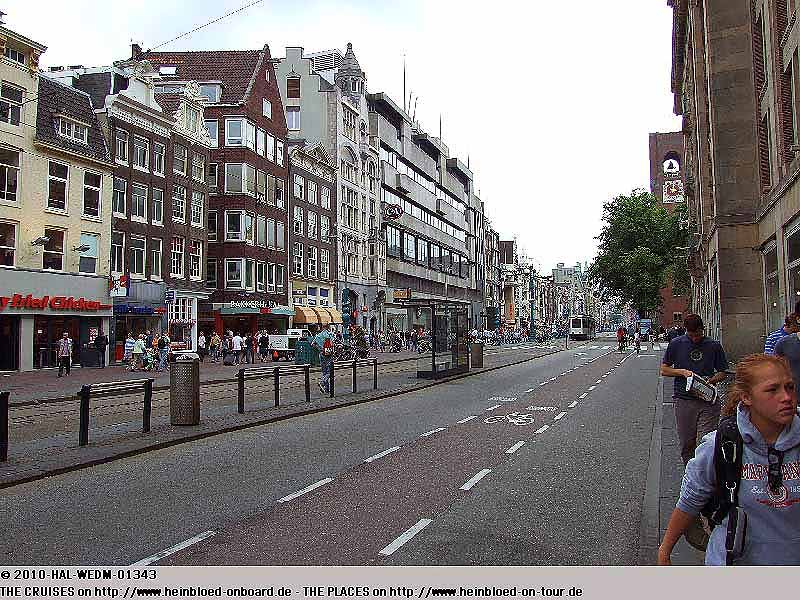 Mit der Straßenbahn fahren wir zum Dam zurück, weil es sich zuzieht und wir keine Lust mehr haben zum Museumsplatz zu laufen. Das Reichsmusuem war auch eingehüllt. Hier die Haupteinkaufsstraße Damrak.
Hier das Denkmal für die Opfer des 2. Weltkrieges und dahinter das NH Grand Hotel Krasnapolsky, das letztens bei cruisecritic.com diskutiert wurde.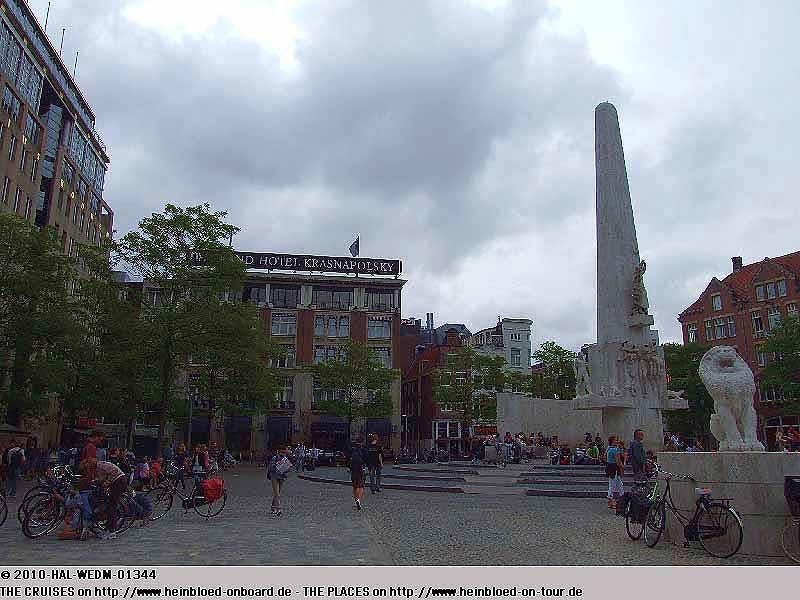 Here you find the memorial for the victims of World War II and behind you see the NH Grand Hotel Krasnapolsky which was discussed recently in cruisecritic.com.

Madame Tussaud in the Peek&Cloppenburg-Building.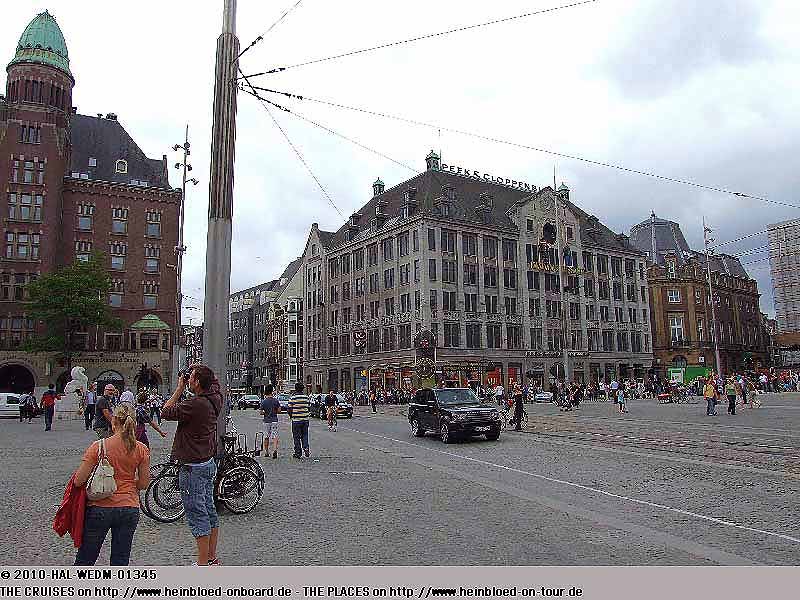 Madame Tussaud im Peek&Cloppenburg-Gebäude.
Leider eine Baustelle: Das Königsschloß. Innen ist die Besichtigung weiterhin möglich.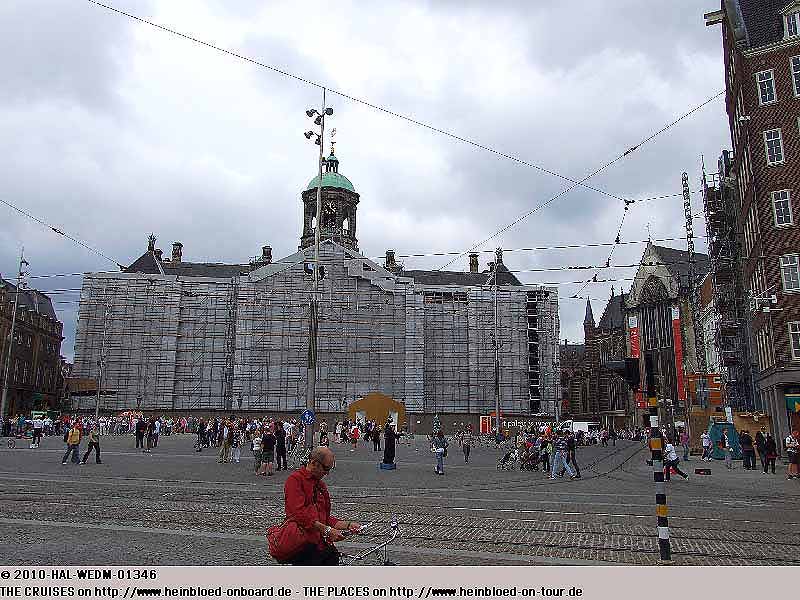 Unfortunately a construction site: the Royal Palace. Inside you can still visit.

Who likes to stay at the Dam Square. Here you find the swissotel and Hotel Amsterdam.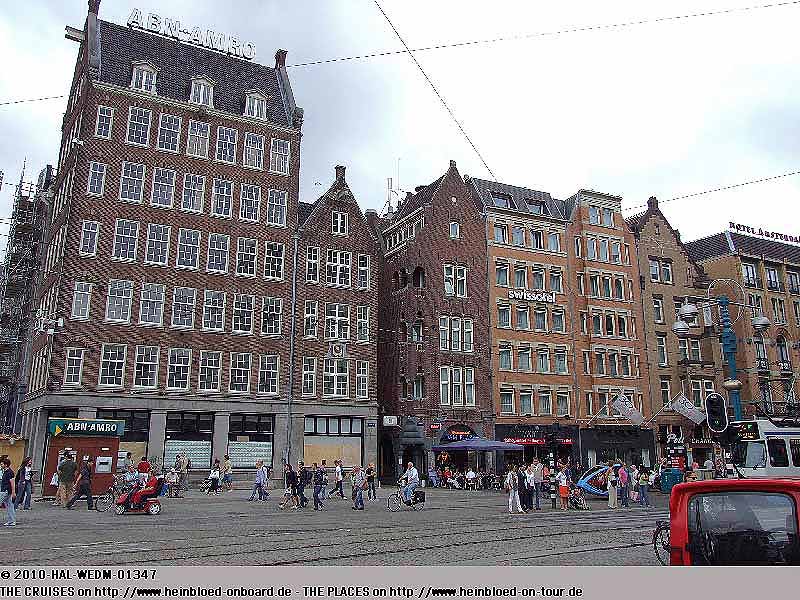 Wer unbedingt direkt hier am Dam übernachten will: Hier wäre noch das swissotel und das Hotel Amsterdam.
Ziemlich voll für sonntags Mittag.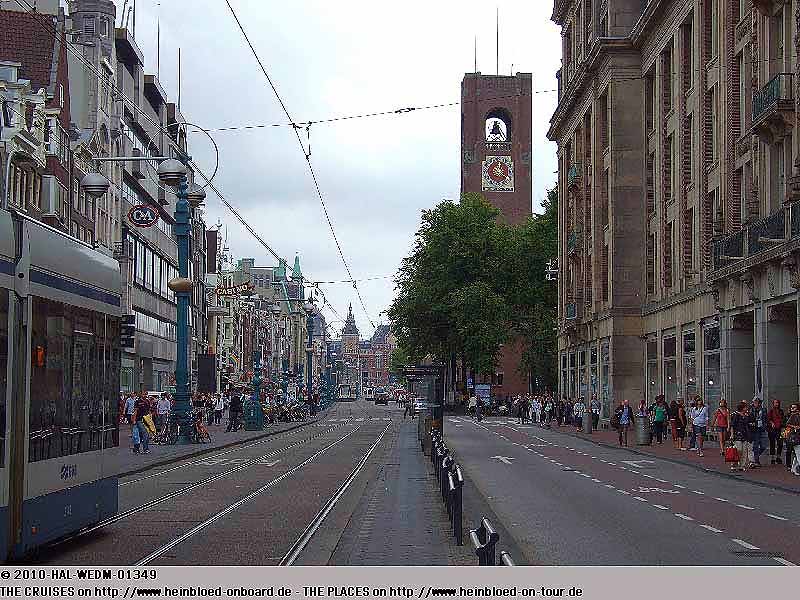 Very crowd for a Sunday noon.

No wonder: Shops and department stores like De Bijenkorf...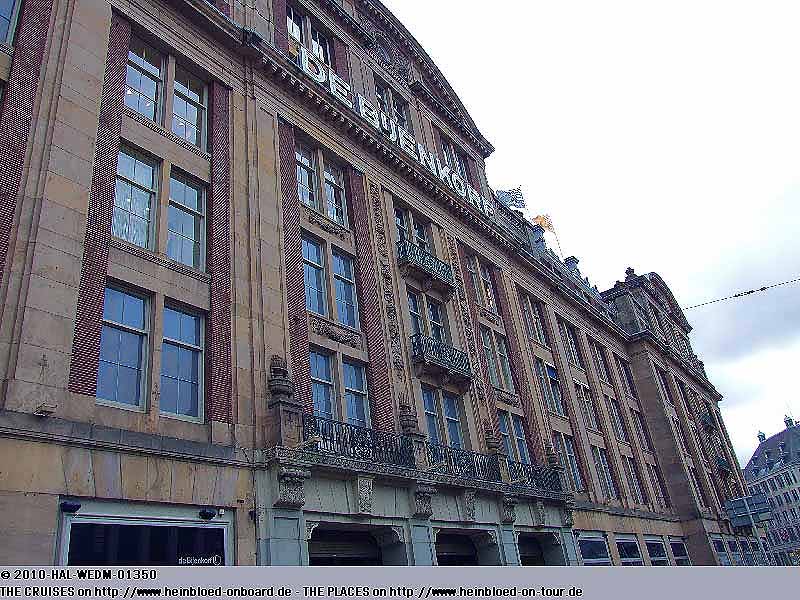 Kein Wunder: Geschäfte und Kaufhäuser wie De Bijenkorf...
haben auch sonntags von 12.00 Uhr bis 19.00 Uhr geöffnet.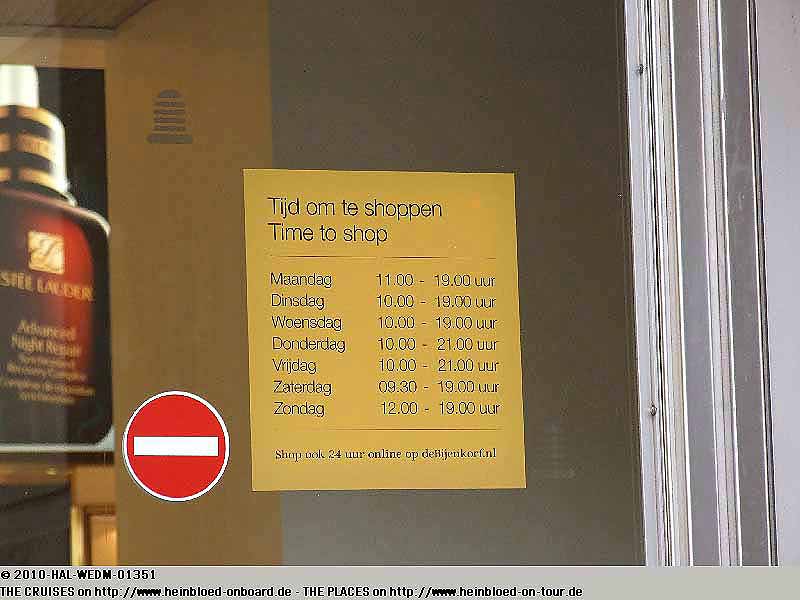 are open on Sunday from 12.00 hrs until 19.00 hrs.

Tram 25 takes you directly from the cruise terminal to here.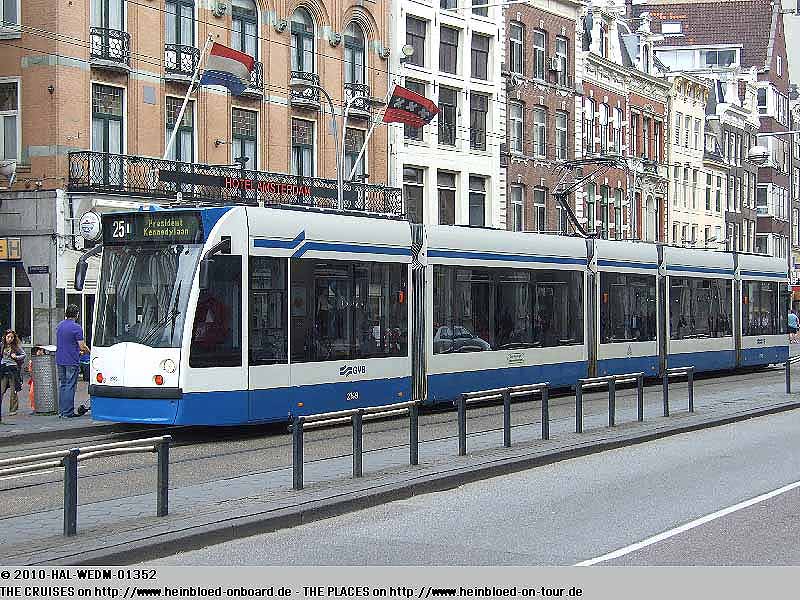 Die Straßenbahn 25 kommt direkt vom Cruise Terminal hierher.
Und zurück zum Cruise Terminal geht es von hier.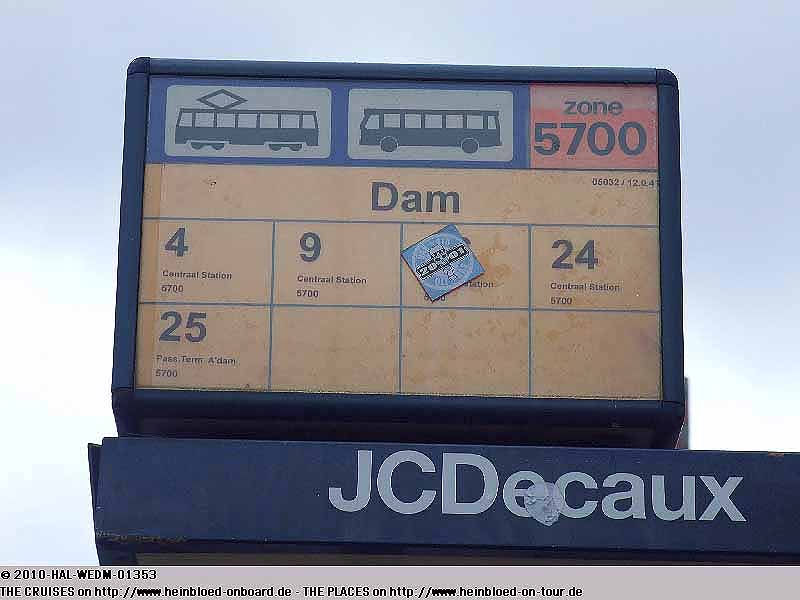 And back to the cruise terminal from here.

And who likes to walk to central station: that was not so far away.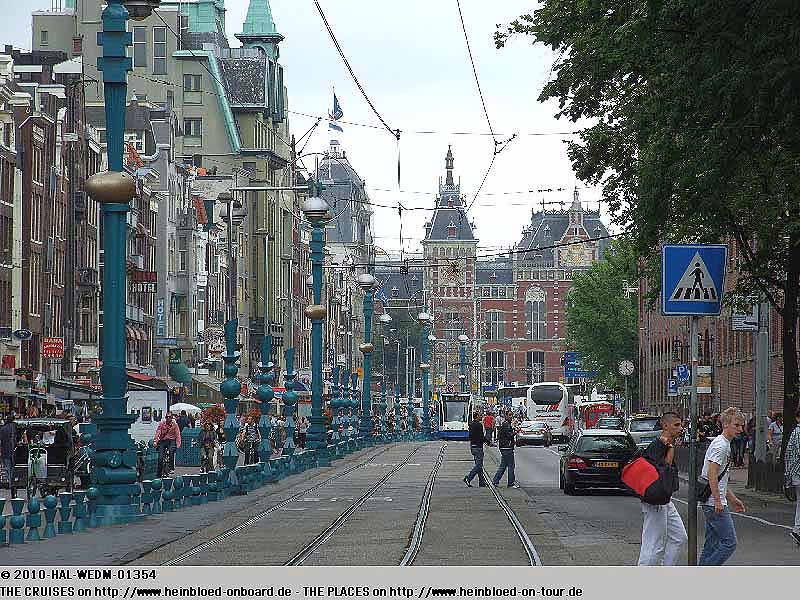 Und wer zum Hauptbahnhof laufen mag: das ist nicht weit.