Scroll down for English explanations - alternates with German explanations.

Für 09.00 Uhr habe ich ein Großraumtaxi bestellt. Die Jungs waren einfach klasse. Immer haben sie Hand angelegt, um Herrn Pannen von und an Bord zu bekommen.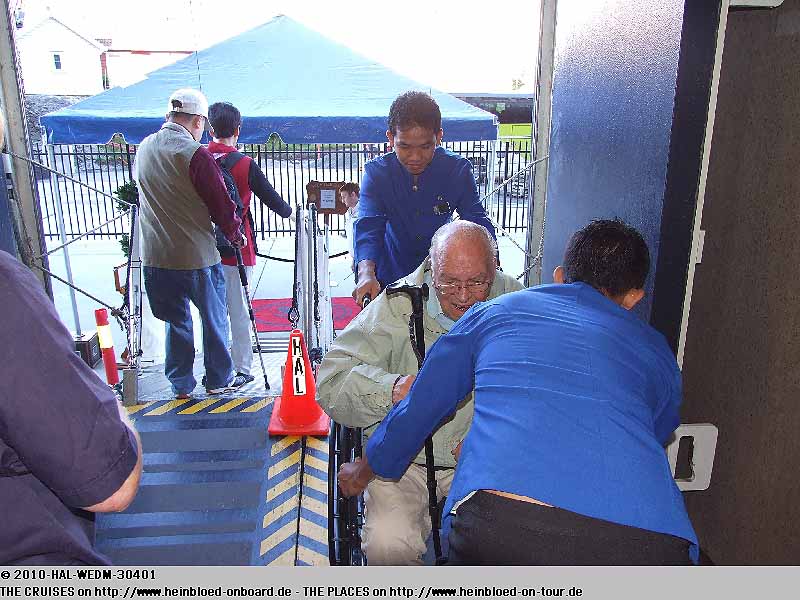 For 09.00 hrs we ordered a van-taxi. The guys were great. They always assisted when we need to get Mr Pannen from or on the ship.

Due to safety reason we never was allowed to push the wheelchair over the bridge.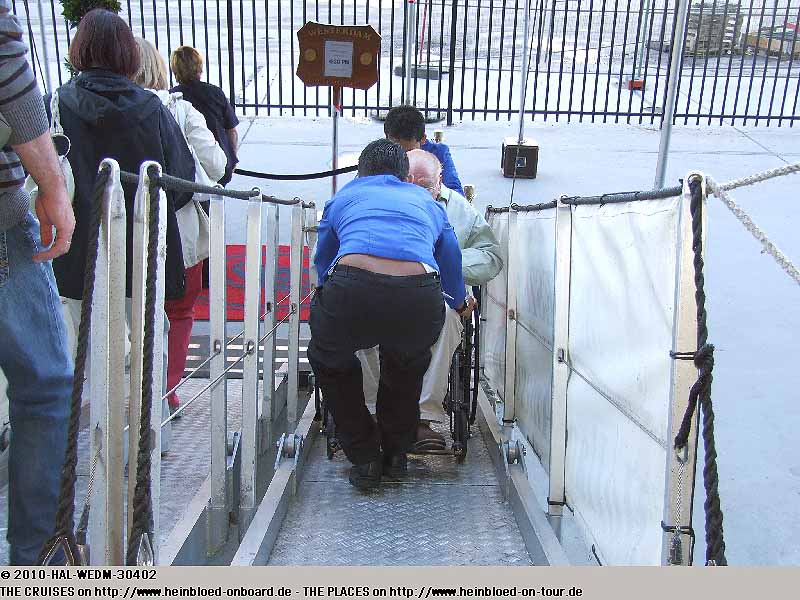 Aus Sicherheitsgründen, durften wir nicht selbst die Rollstühle über die Brücke fahren.
Über
Rogaland-Taxi
haben wir einen Wagen bestellt. Bis 12.30 Uhr wollten wir wieder da sein, um an Bord Mittag zu essen.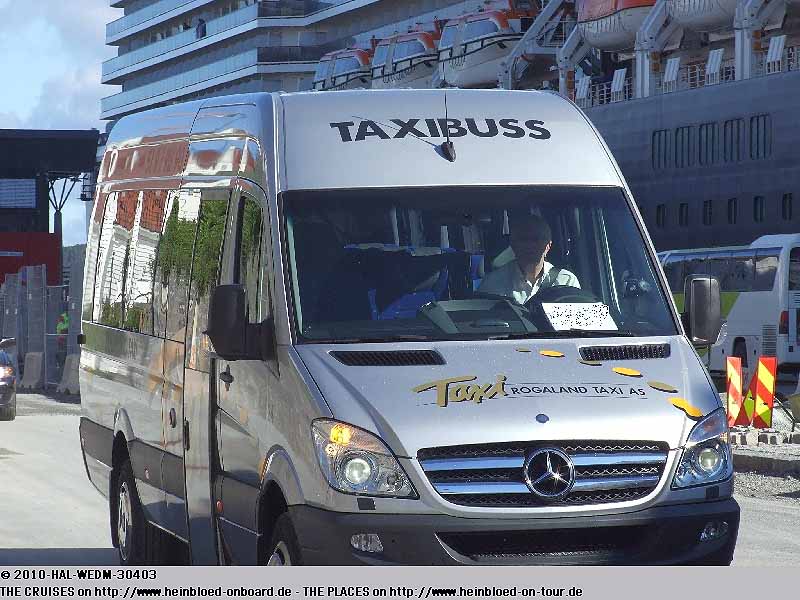 We booked a car through Rogaland-Taxi. Until 12.30 hrs we wanted to be back to have lunch onboard.

The vehicle had fascilities to accomodate wheelchairs which was very practical in our case.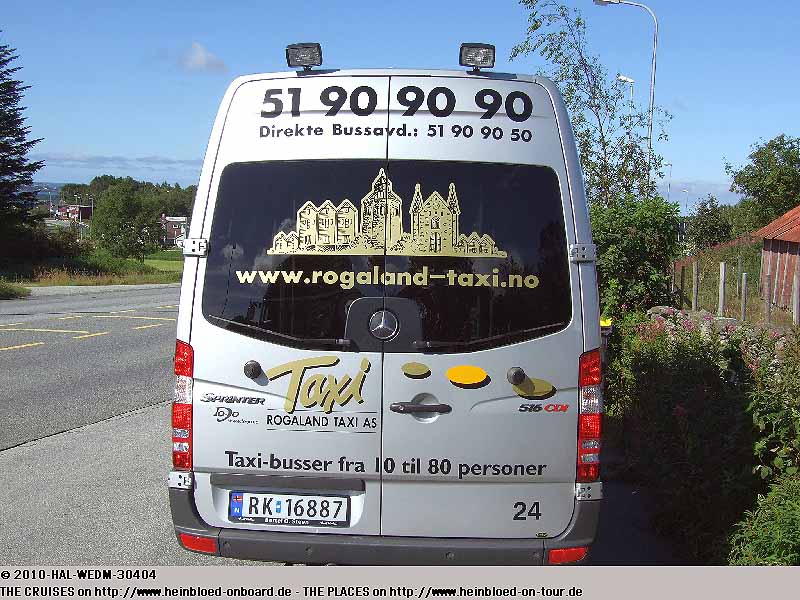 Das Fahrzeug hatte eine Vorrichtung für Rollstühle, was in unserem Fall sehr praktisch war.
Unser Fahrer Dagfinn Rimestad sprach auch ein wenig Deutsch, so dass ich dann nicht übersetzen musste.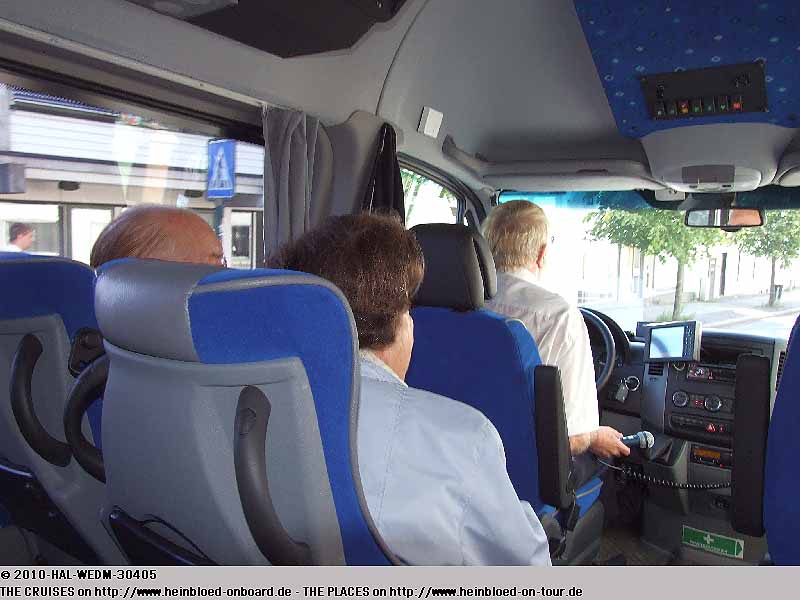 Our driver Dagfinn Rimestad also spoke a little German so that I did not need to translate.

First we got an overview from the Ullanghaug Tower.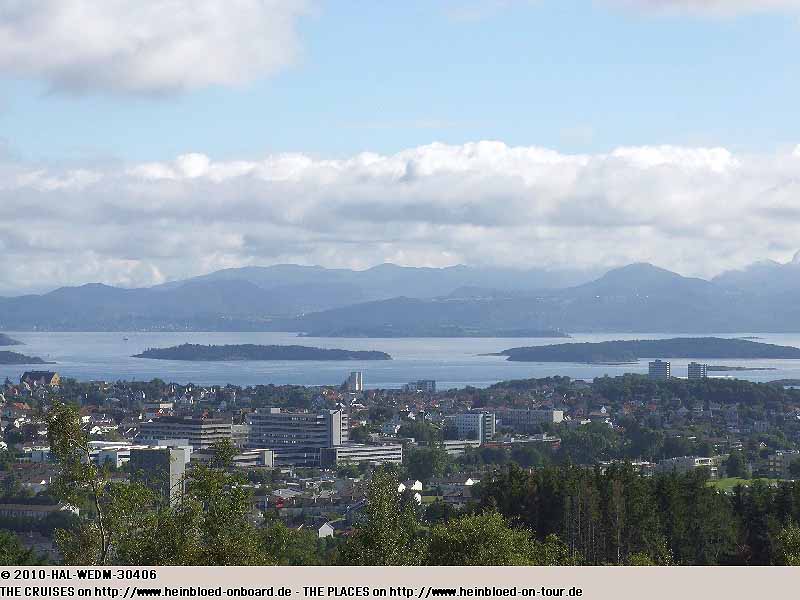 Zunächst verschaffen wir uns einen Überblick vom Ullandhaug Turm.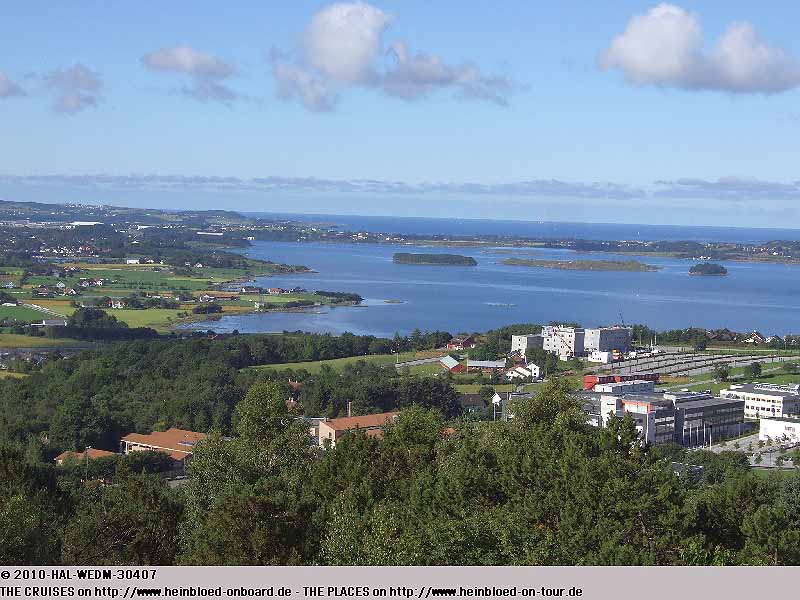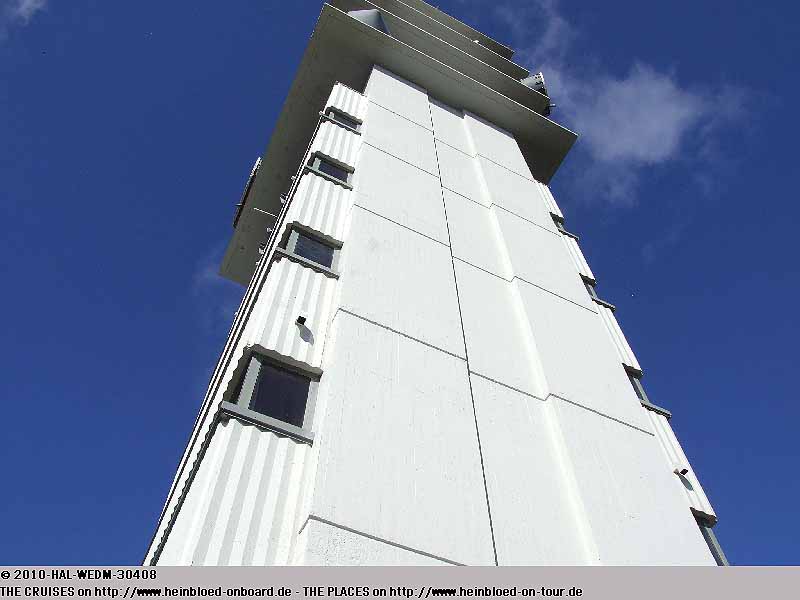 Weiter geht es zum Eisenzeithof.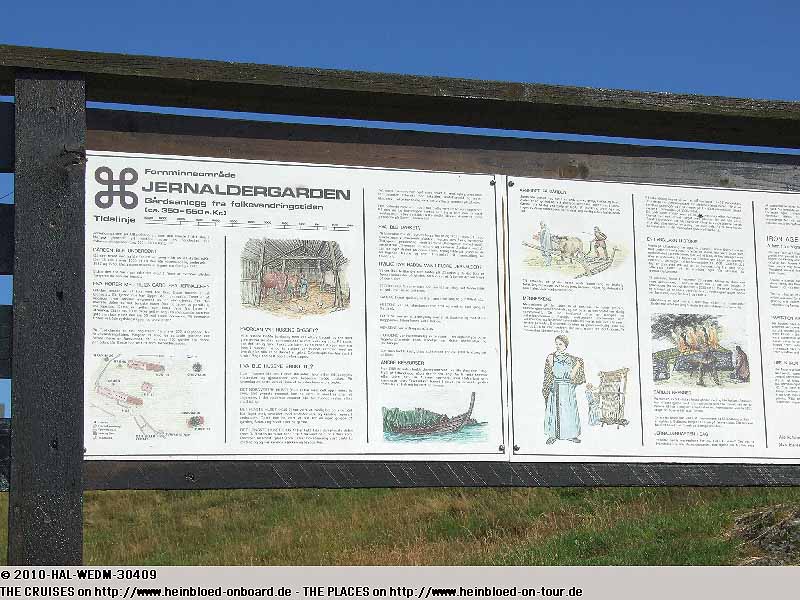 We continued to the Iron Age Court.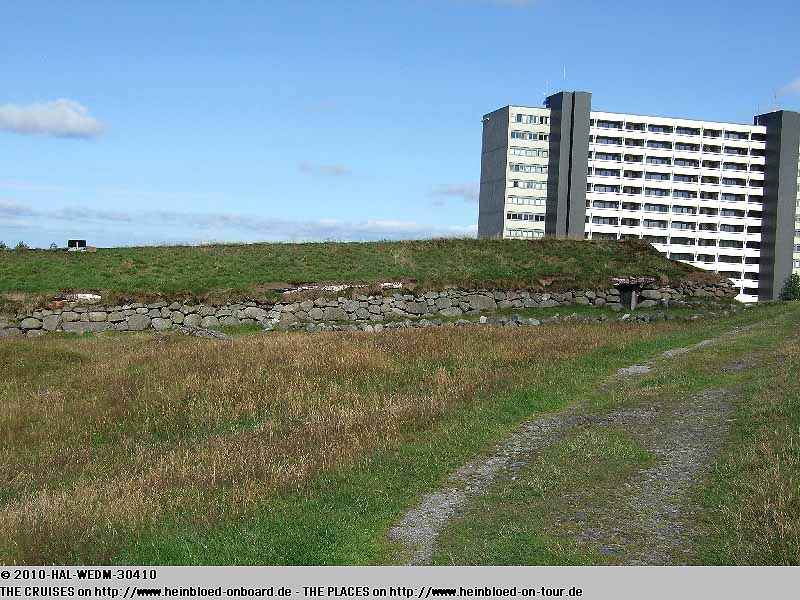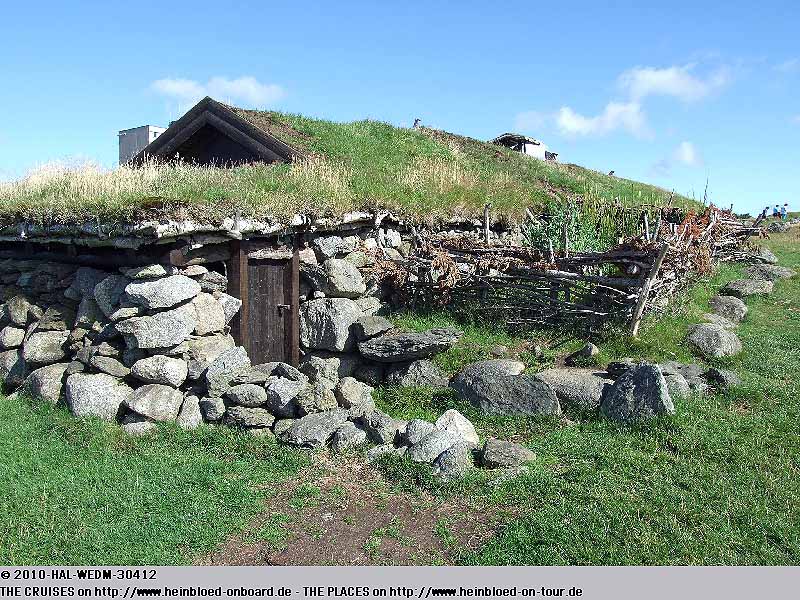 Then we head to Hafrsfjord.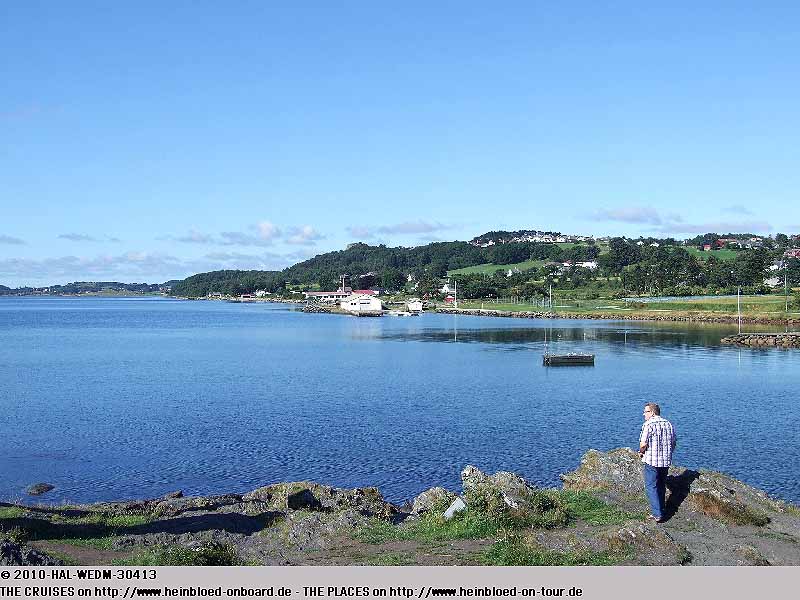 Weiter geht es zum Hafrsfjord.
Die drei Schwerter erinnern an die Reichseinigung nach einer Schlacht im 9. Jahrhundert.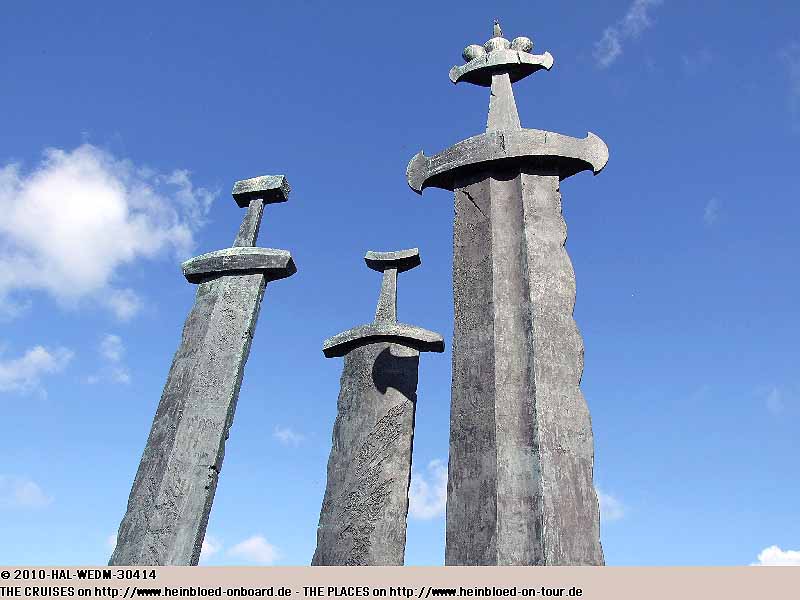 The three swords remembered the unification of the empire after a battle in the 9th century.

A very innovative way to discover the sights. Just call on your cell phone and listen what they recorded and tell you about the sight.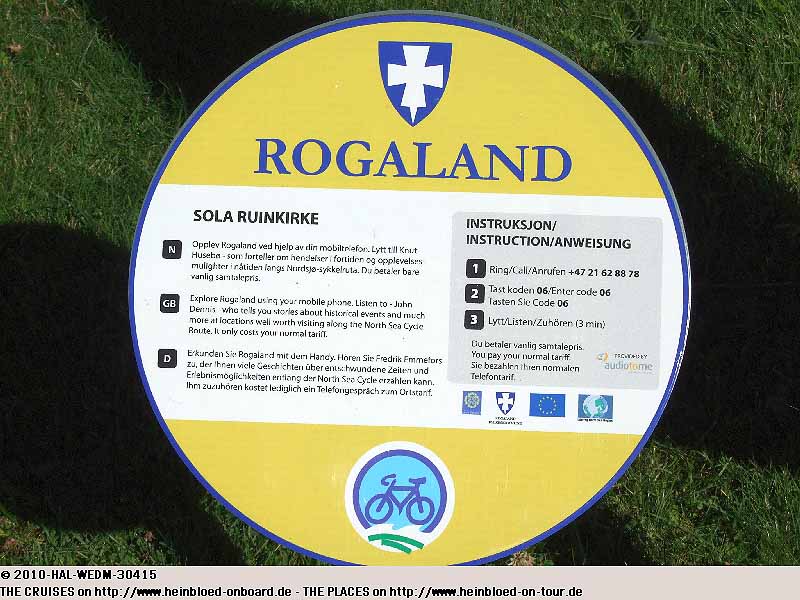 Eine innovative Art sich über eine Sehenswürdigkeit zu entdecken. Einfach vom Mobiltelefon anhören und hören, was zu einer Sehenswürdigkeit hinterlegt wurde.
Hier sind wir an der Sola Ruinenkirche.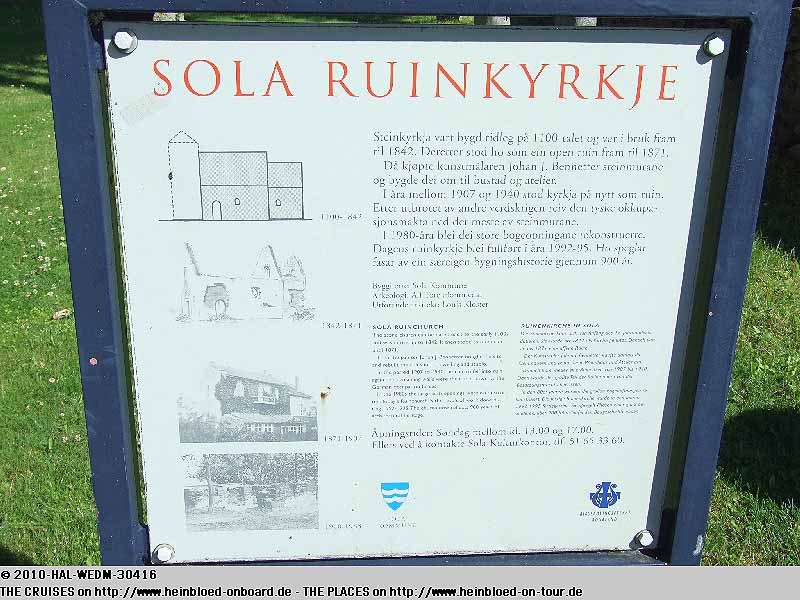 Here we were at the Sola Ruin Church.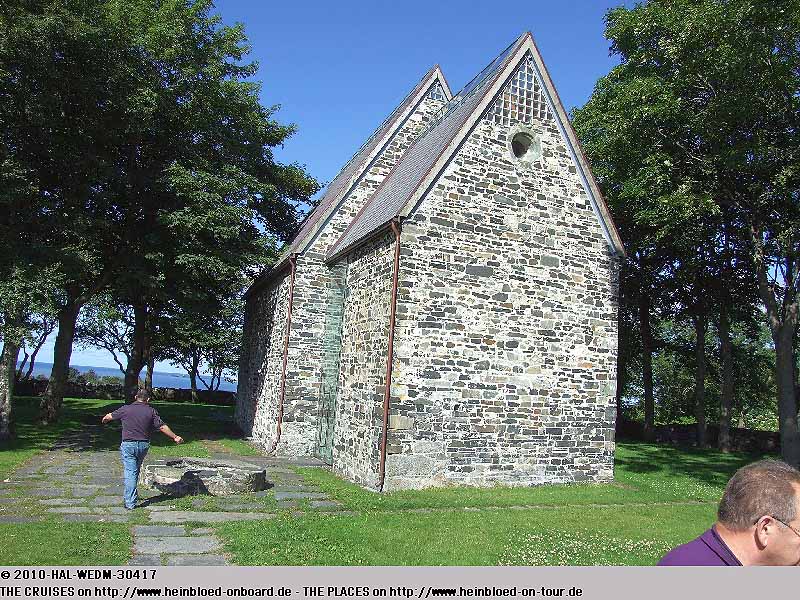 The church should be closed at this time. Because the window washer was just there he locked up the door and let us browse in the inside of the church and explained everything to us.

Eigentlich ist die Kirche um diese Zeit geschlossen. Weil aber gerade der Fensterputzer da ist, schließt er uns auf, und lässt uns auch innen alles angucken und erklärt uns alles.
Bei dem Blick das Ja-Wort geben, fällt bestimmt keinem schwer...

It will not be very difficult to say "yes" if you have view like this.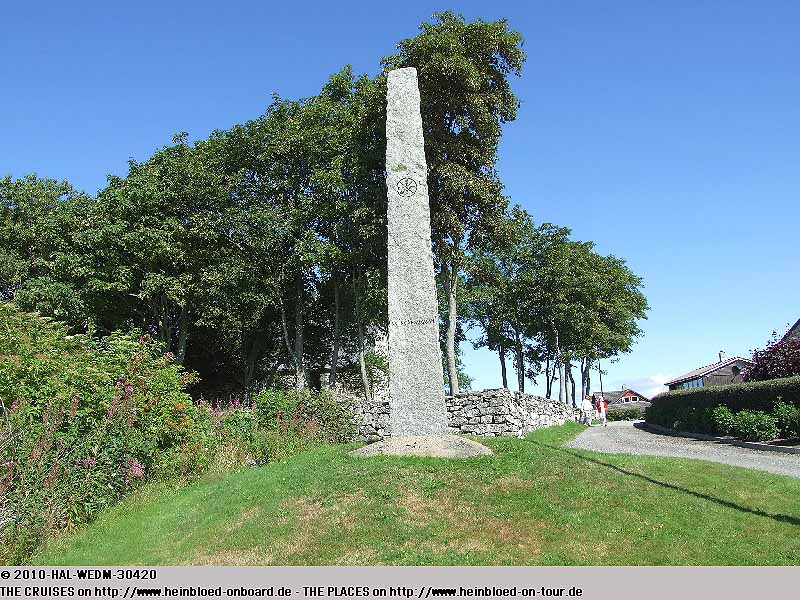 We continued for Sola Beach. Water temperatur 15°C.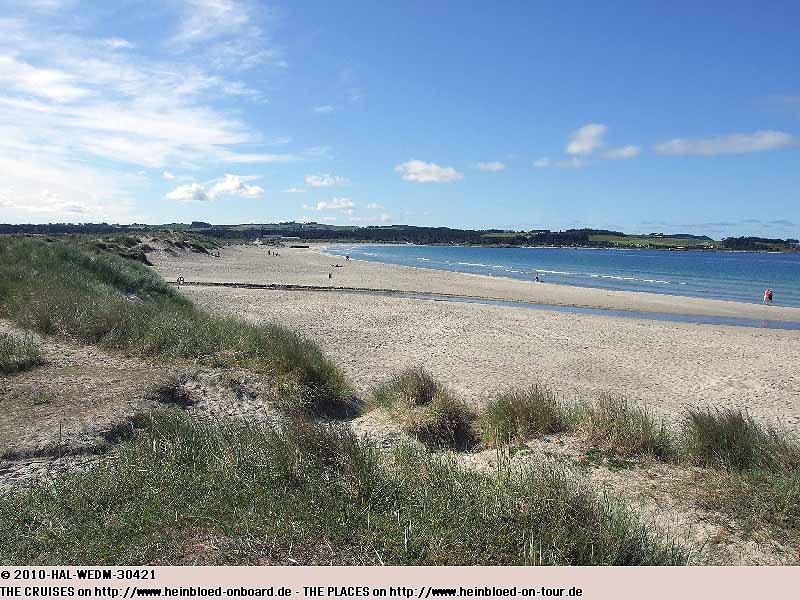 Weiter fahren wir zum Strand von Sola. Wassertemperatur 15°C.
Im Strandhotel trinken wir etwas.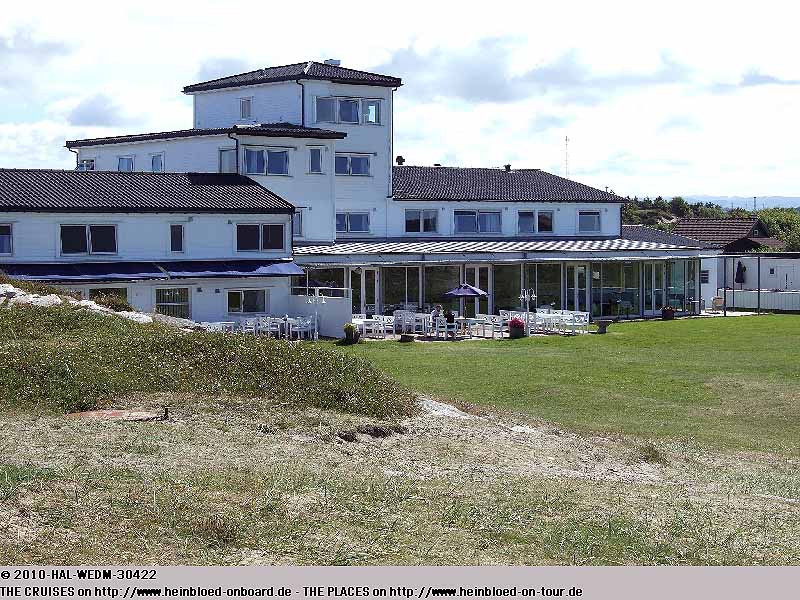 In the beach hotel we had something to drink.

We need a new mortgage for our house: for two coffees, one cappucino and one small beer we need to pay 161.00 NOK = 25.00 USD... but I was surprised that the cappucino was more expensive than the beer... may they meant small really small...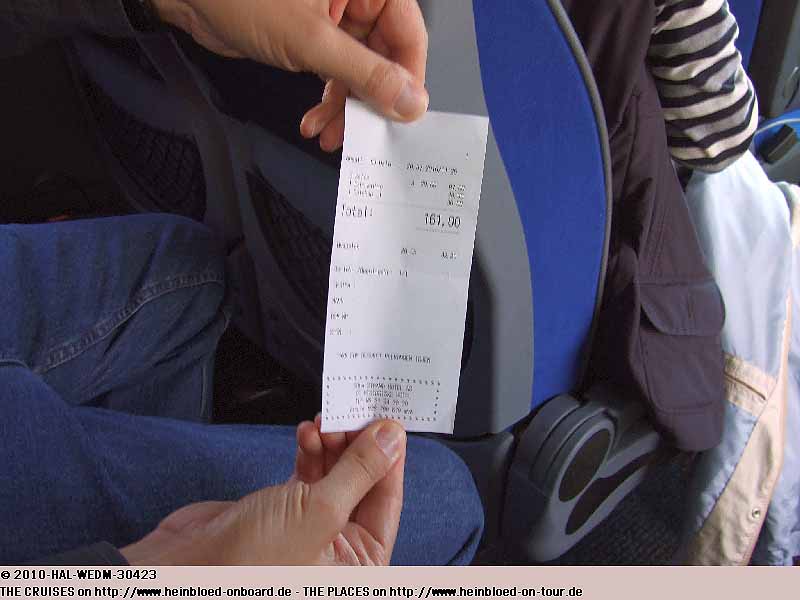 Für zwei Kaffee, ein Cappucino und ein kleines Bier muss ich eine neue Hypothek auf unser Haus aufnehmen: 161,00 NOK = 20,00 EUR... wobei ich überrascht bin: der Cappucino ist teurer als das kleine Bier, das im wahrsten Sinne des Wortes klein war.
Wir halten nochmals kurz in der Altstadt von Stavanger, damit Herr Pannen auch etwas davon sieht. Wegen der Steilheit und der vielen Stufen, wird er es nicht mit dem Rollstuhl schaffen, obwohl wir direkt mit dem Schiff davor liegen. Insgesamt ein schöner erster Eindruck von Norwegen.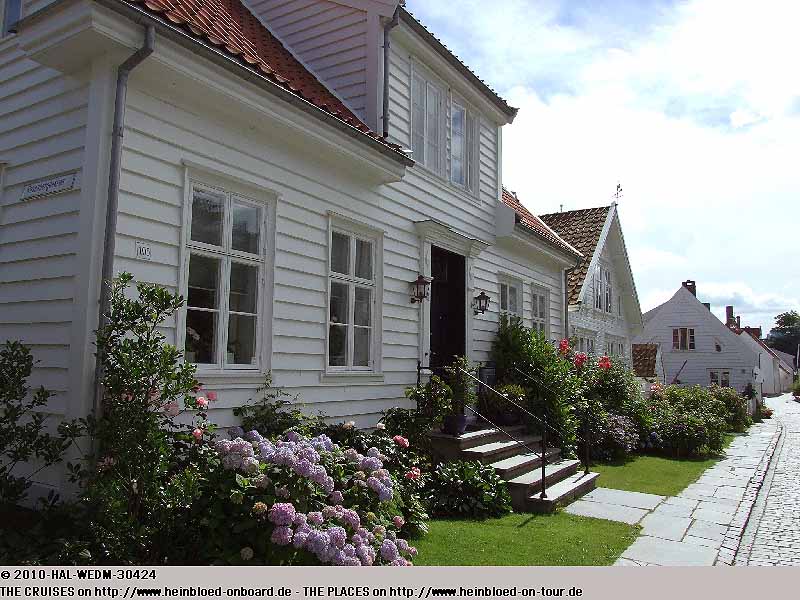 We had a brief stop in the old town of Stavanger to give Mr Pannen also a chance to see it. As it was too steep and there were too many stairs he would not have it in his wheelchair otherwise although the ship berthed just in front. It was a very nice first impression what we got from Norway.