Scroll down for English explanations - alternates with German explanations.

Die Reservierung war etwas holprig: ich hatte mitten im Winter die Firma
Geiranger Turbil & Taxi
kontaktiert. Nun weiss ich ja, dass im Geiranger Winterschlaf gehalten wird und es auch mal mehrere Wochen dauern kann, bis dass man eine Antwort bekommt.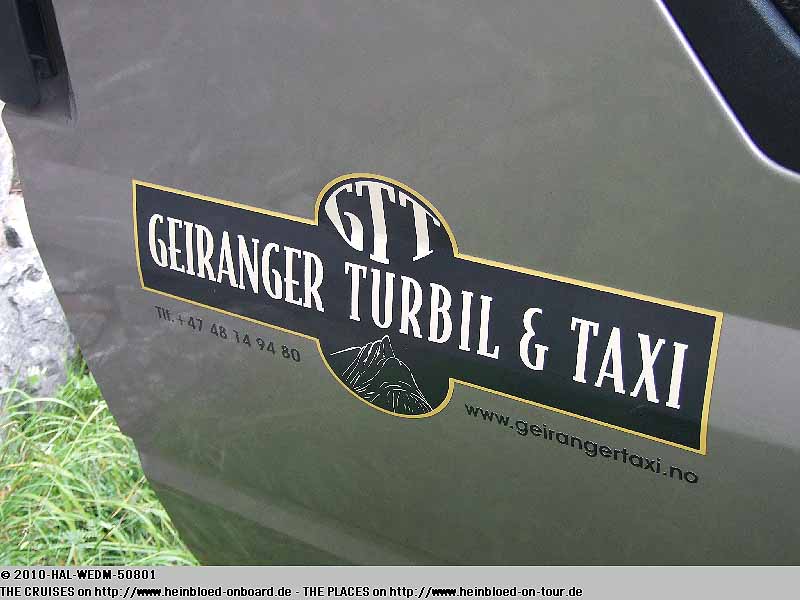 The reservation was somehow bumpy: I contactem Geiranger Turbil & Taxi in the winter. Now I know that Geiranger holds hibernation and it could take few weeks before you get an answer.

Here you find the kiosk you need to see if you book a car.

Hier findet sich der Kiosk, in dem man sich einfinden soll, wenn man ein Fahrzeug gebucht hat.
Das sieht doch schon mal ganz vielversprechend aus.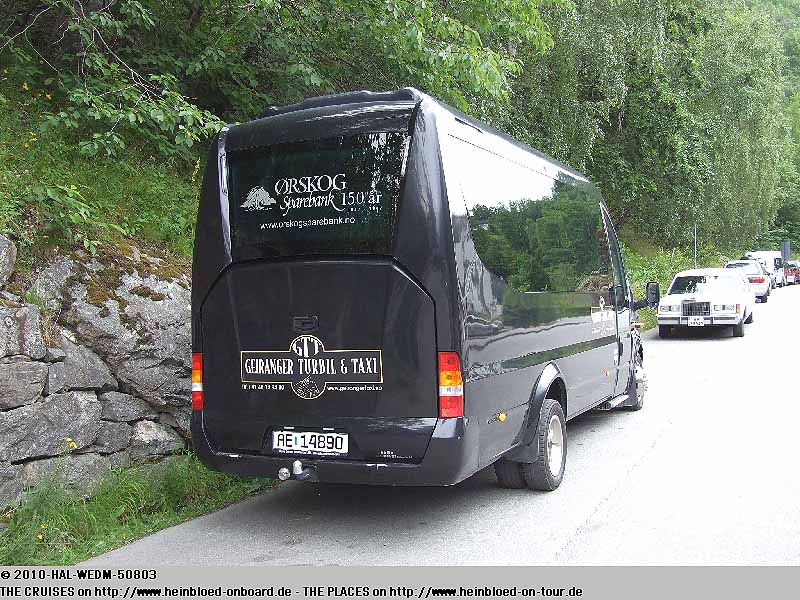 That looked very promising.

By the way the owner Torbjørn "TOBBEN" Arntsen whom I discussed the tour with and booked the car.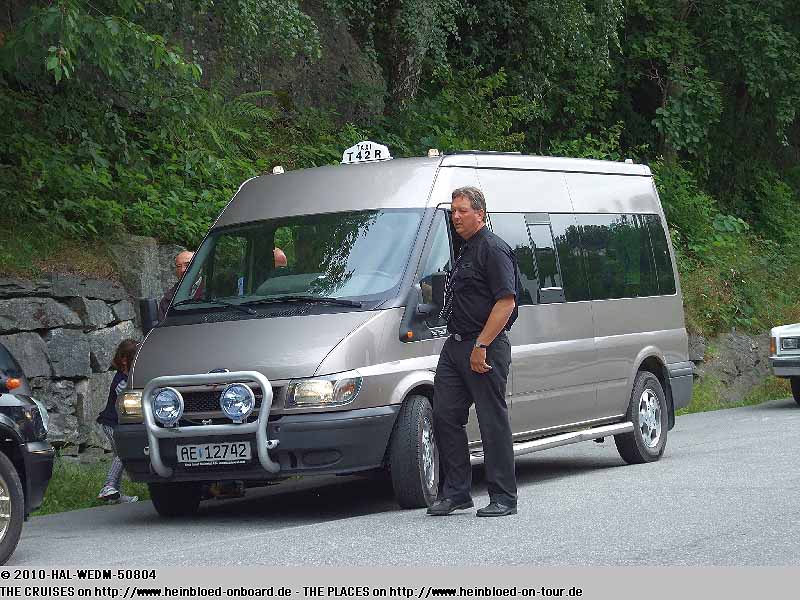 Das ist übrigens der Besitzer Torbjørn "TOBBEN" Arntsen, mit dem wir im Vorwege die Touren besprochen und gebucht hat.
Als er sieht, dass wir einen Rollstuhl dabei haben, disponiert er um, damit Herr Pannen im Rollstuhl bleiben kann, dafür müssen wir allerdings einen nicht-deutschsprechenden Fahrer akzeptieren.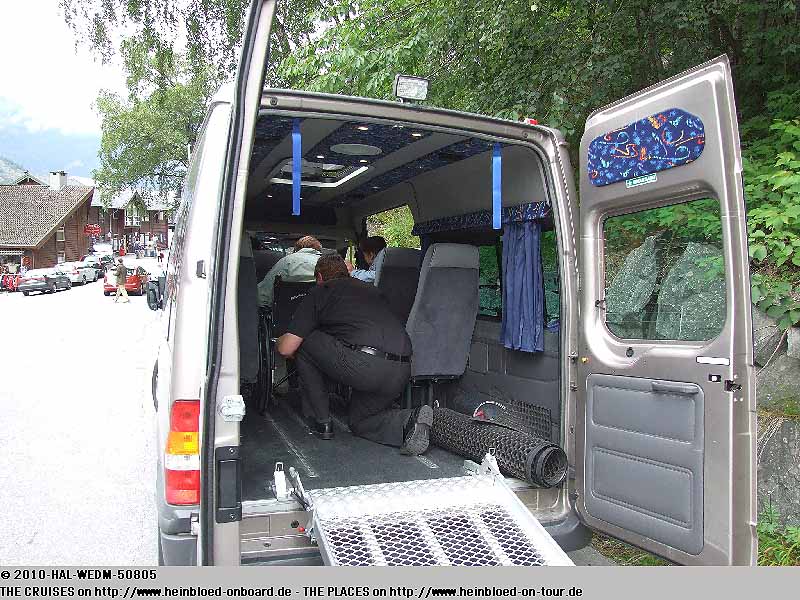 When he saw that we had a wheelchair with us he redirected the cars so Mr Pannen could stay in his wheelchair so we had to accept a non-German speaking driver.

I did not expect it would be so beautiful.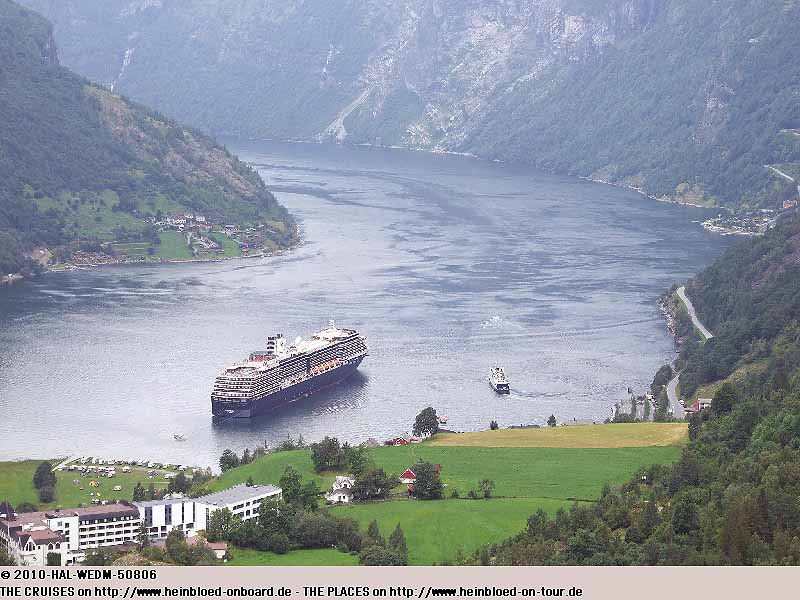 So schön hätte ich es mir nicht vorgestellt.
Hier steht das Herz und der Atem still, wenn man den Anblick hier sieht.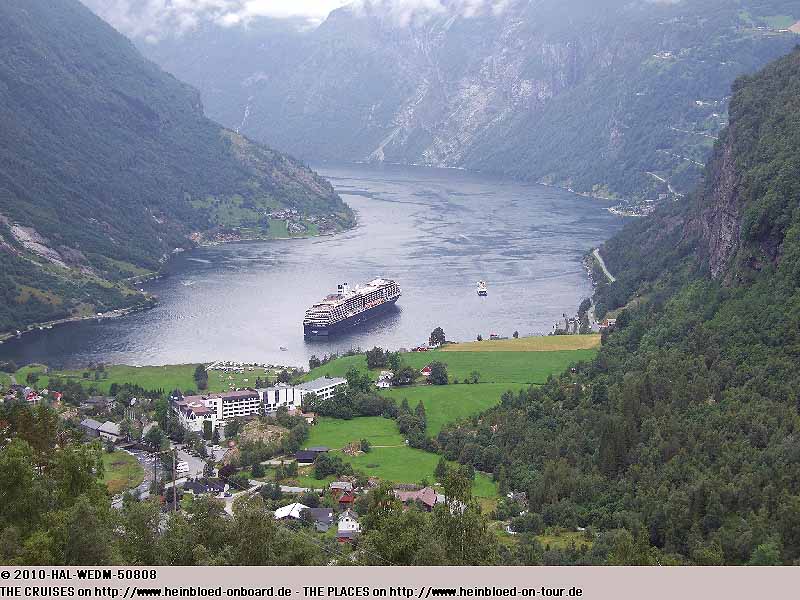 If you see this here your heart stand still and it takes your breath.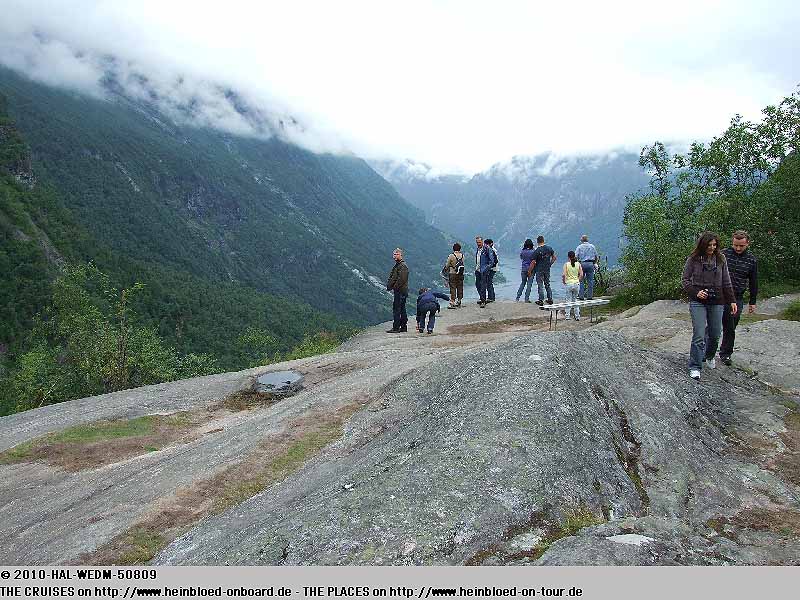 By the way that was the Queen's Chair which was erected for Queen Sonja because this is one of her most favourite places in Norway.

Das ist der sog. Königin-Stuhl, der extra für Königin Sonja errichtet wurde, weil es einer ihrer Lieblingsorte in Norwegen ist.
Aber auch beliebt bei vielen Touristen, die ihn besetzen und nicht so schnell wieder freigeben...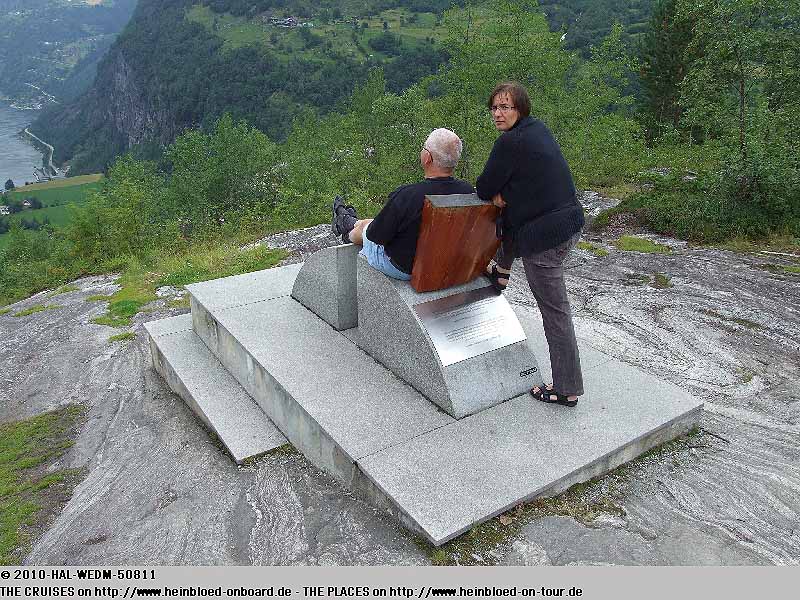 Also very popular with tourist who occupied the chair and do not release it so fast.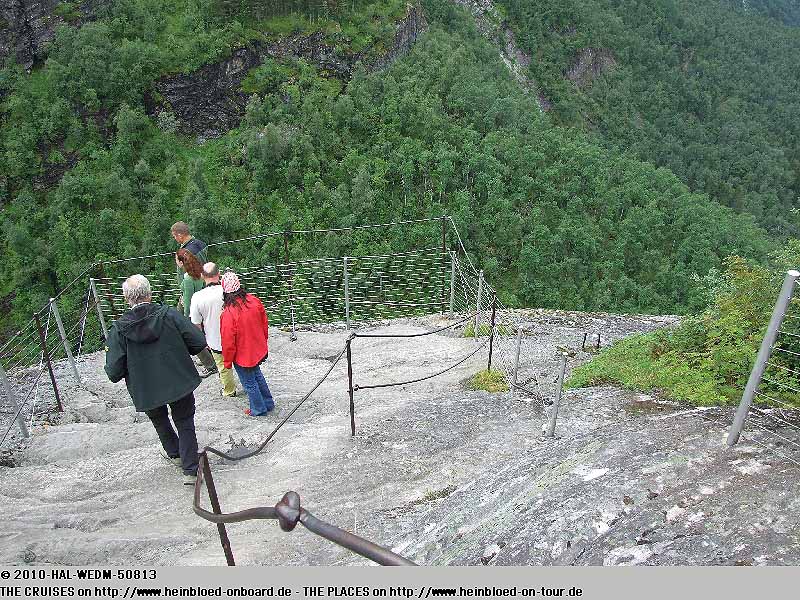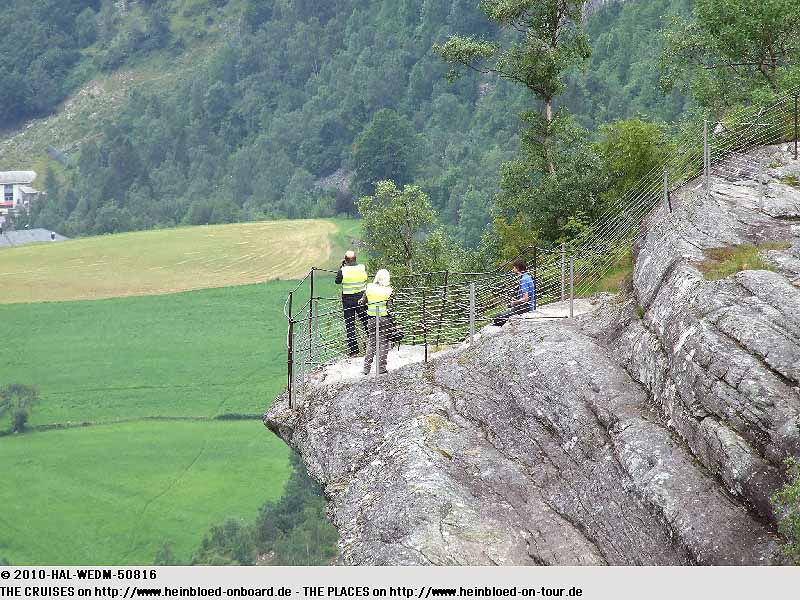 Our driver Angel (from Romania) normally drives tour buses and remembered all the things the tour guides explained. So it was not too bothering to translate everything. Furthermore Angel had a great feeling how to do great pictures.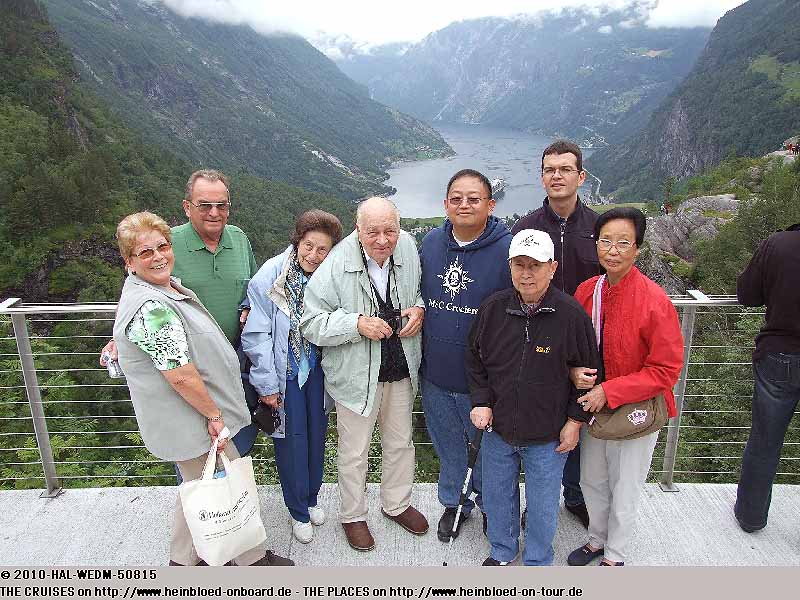 Unser Fahrer Angel (aus Rumänien) fährt sonst die Tourenbusse und hat sich alles gemerkt, was die Fremdenführer den Businsassen erzählt haben. So macht es mir nicht allzu viel aus, alles noch zu übersetzen. Außerdem hat Angel ein tolles Gefühl, wie man tolle Bilder macht.
Dank der Hilfe von Angel konnte Herr Pannen überall mit.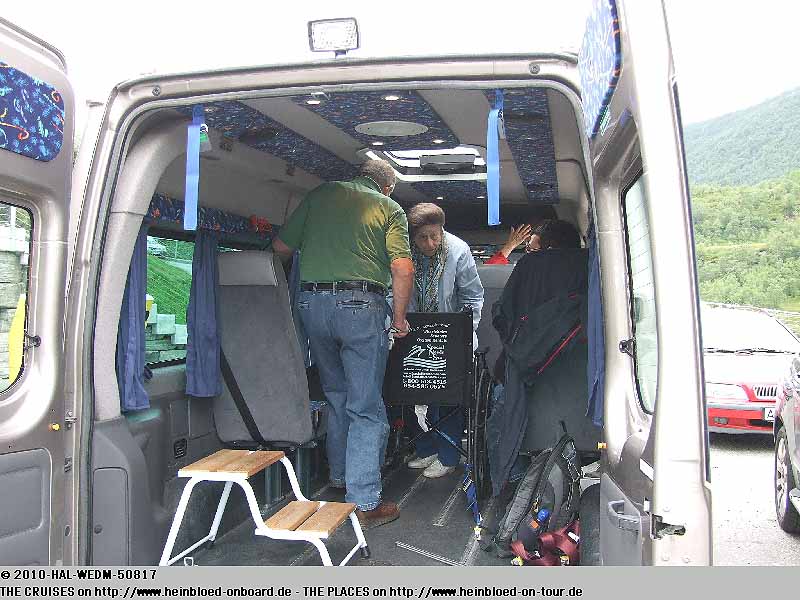 With the help of Angel Mr Pannen can come with us to every place.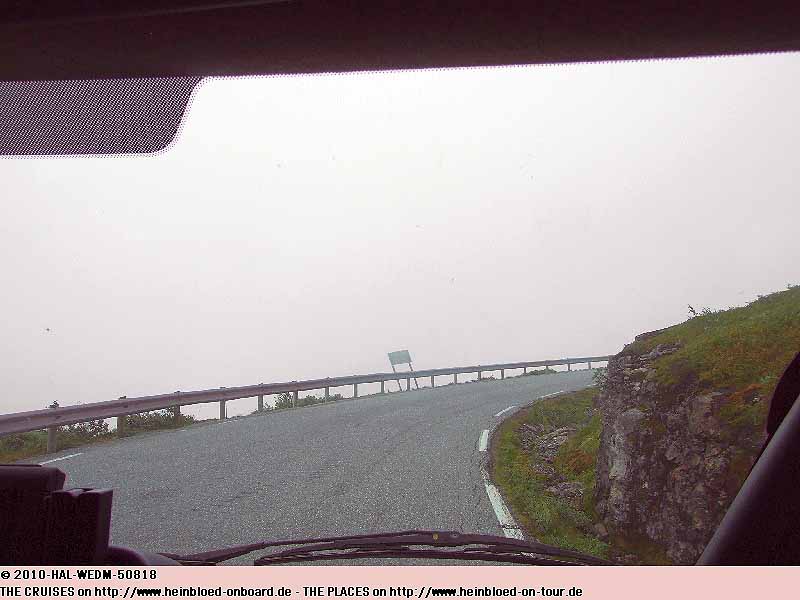 The buses who were there in the morning returned.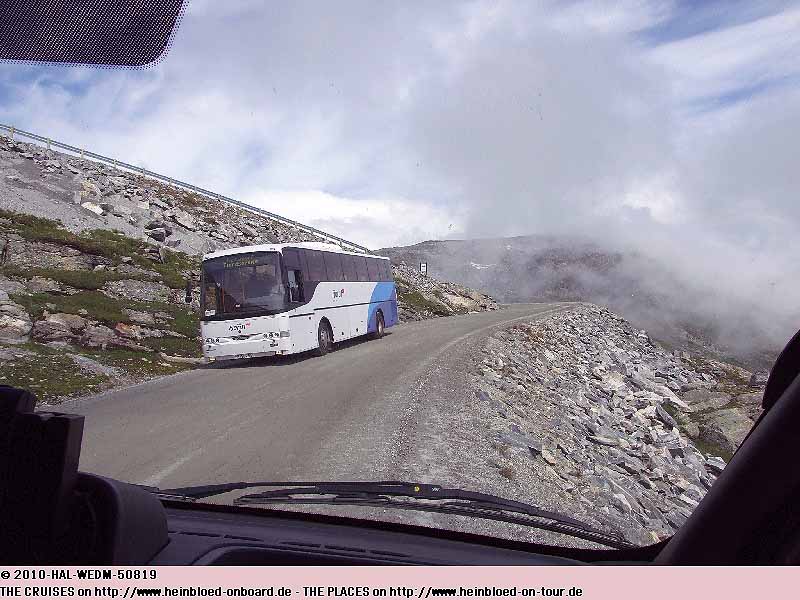 Die Busse, die vormittags dort waren, kommen zurück.
Und überall wurden die Trolle aus den Steinen gebaut. Man darf sich übrigens nicht an fremden Trollen vergreifen, um seinen eigenen Troll zu bauen.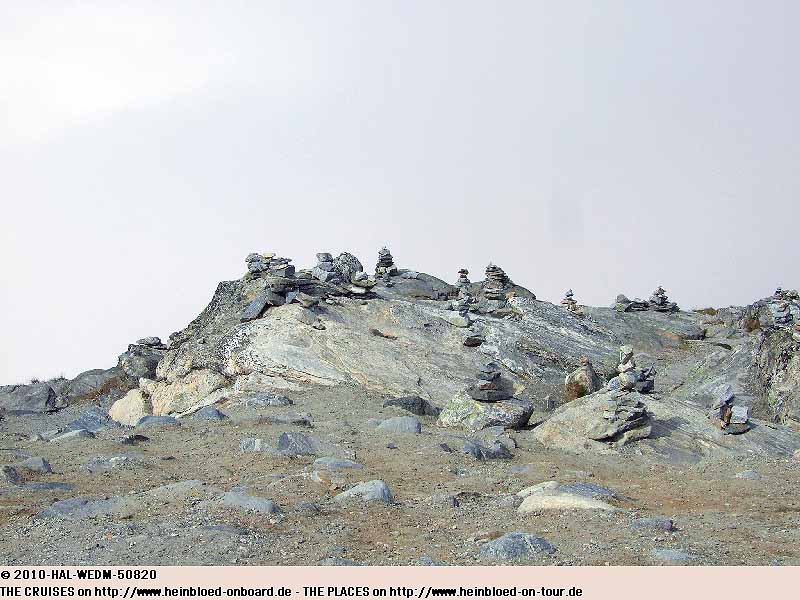 And every where the stone-made trolls were erected. You may not use parts of existing trolls to set up your own troll.

Nothing to see from the fjord but we were above the clouds and it was 70 F here above.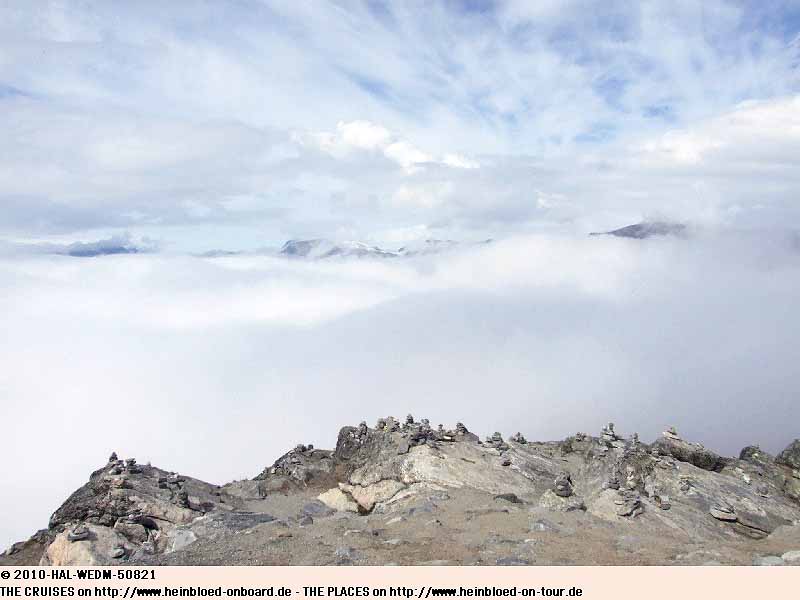 Nichts vom Fjord zu sehen, aber wir waren über den Wolken und es waren 20°C hier oben.
Aber auch der Ausblick auf die Wolken war einfach atemberaubend.

But also the view over the clouds as just breathtaking.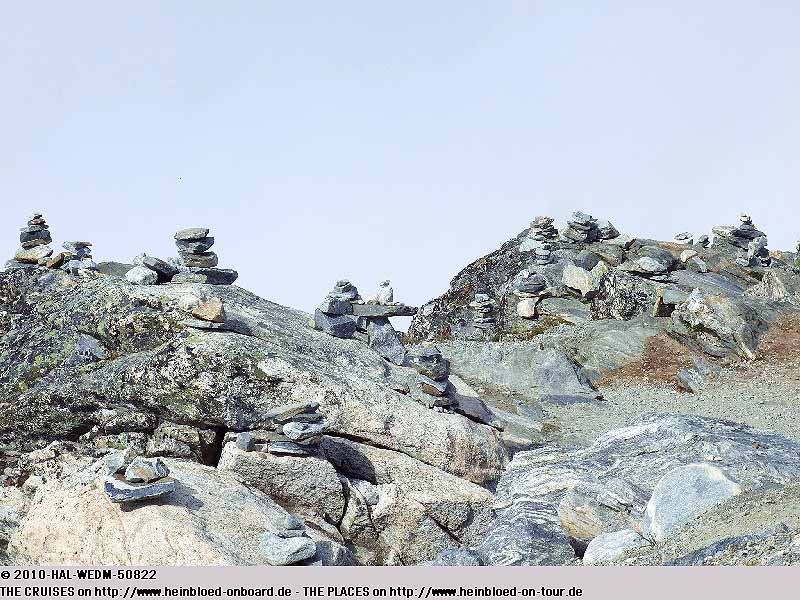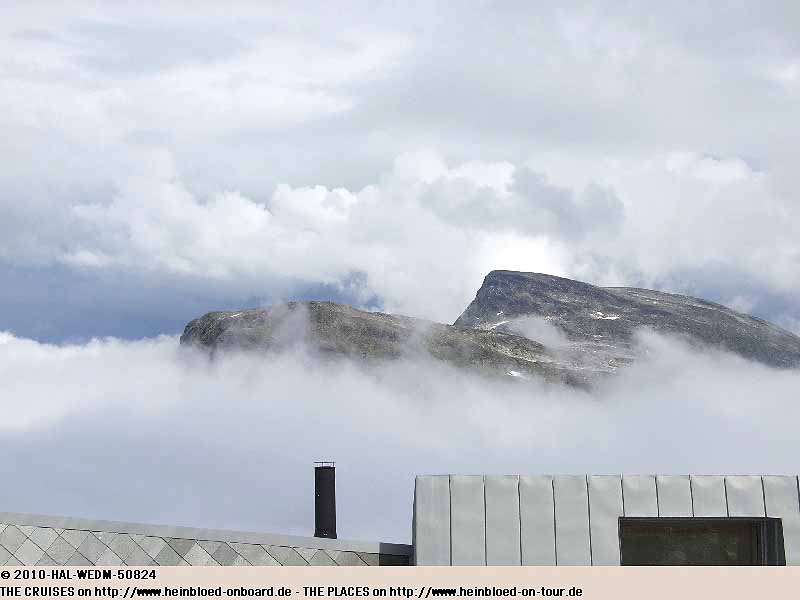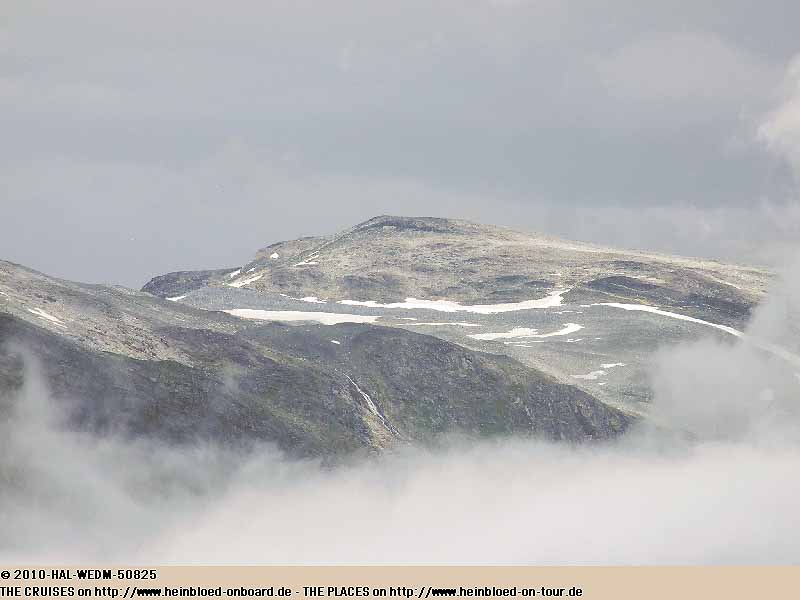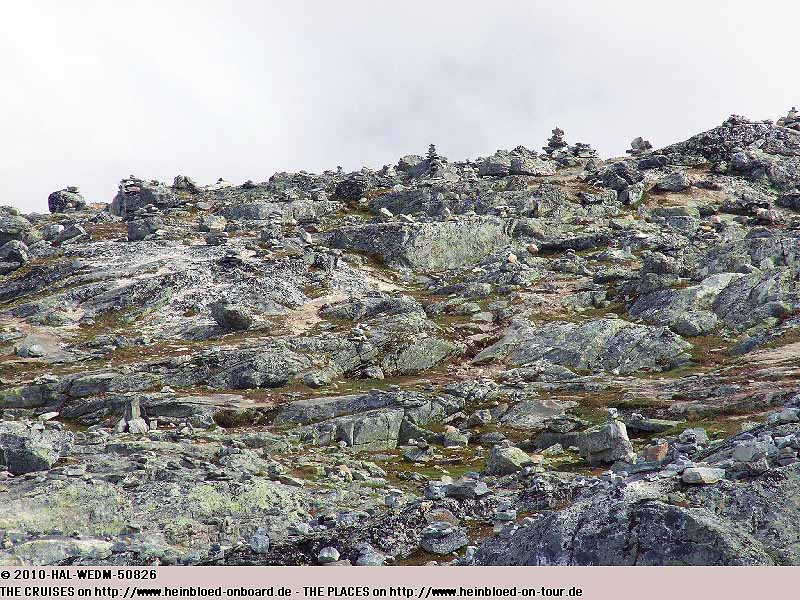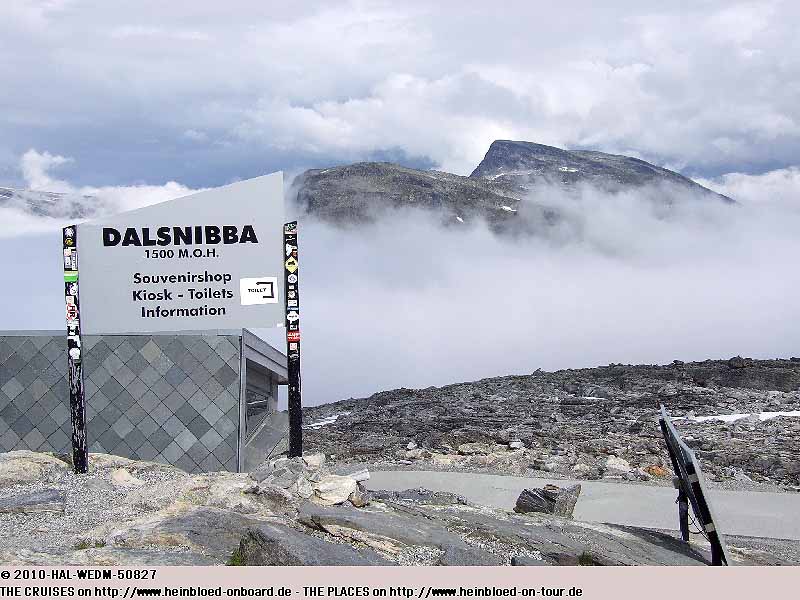 When we wanted to leave to catch the last tender my mother was missed. She wanted to have a troll set of her own and leave it here for the future world. But it was not so bad: at the time the last tender should leave two tour buses were still missing.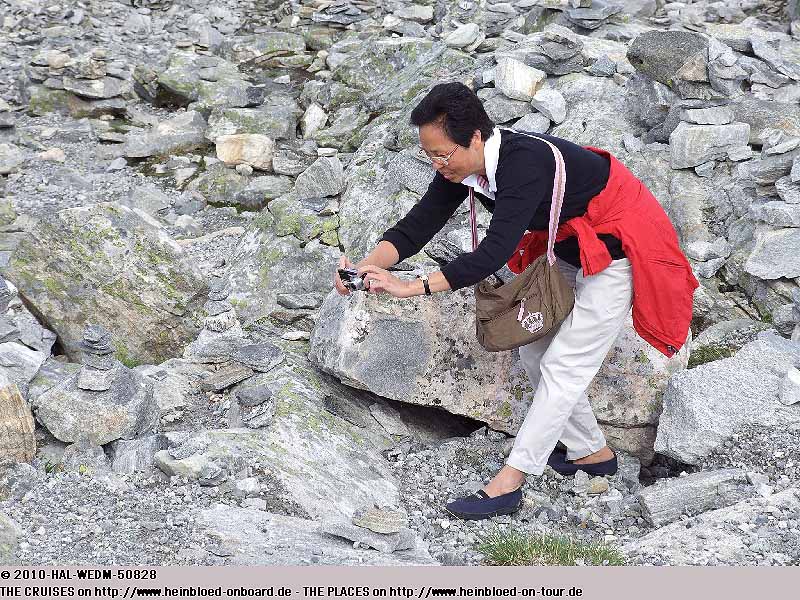 Als wir abfahren wollten, um sicherzustellen, dass wir den letzten Tender bekommen, waren wir auf der Suche nach meiner Mutter. Sie wollte unbedingt auch einen Troll bauen und der Nachwelt hinterlassen. Aber es war eigentlich nicht so schlimm: zwei Ausflugsbusse fehlten noch zum Zeitpunkt als der letzte Tender fahren sollte.
Einer von denen wird der von meiner Mutter sein.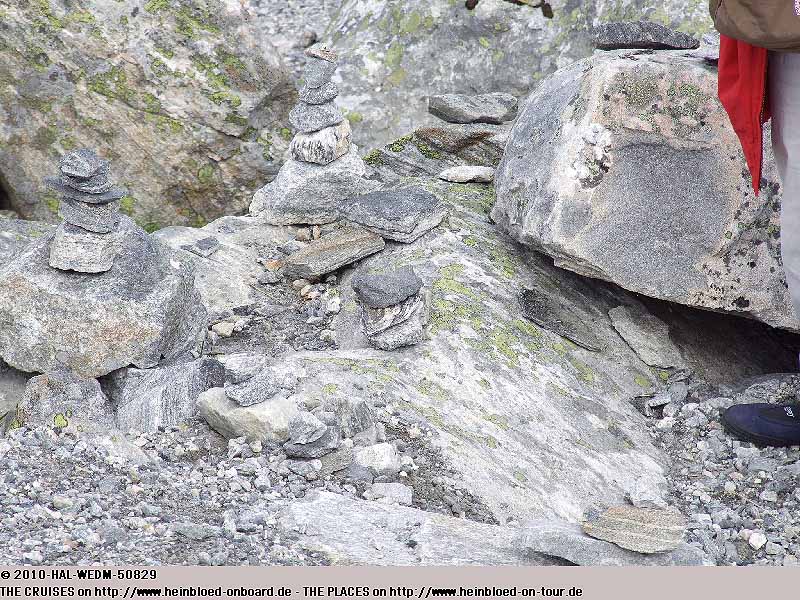 One of them is the troll of my mother.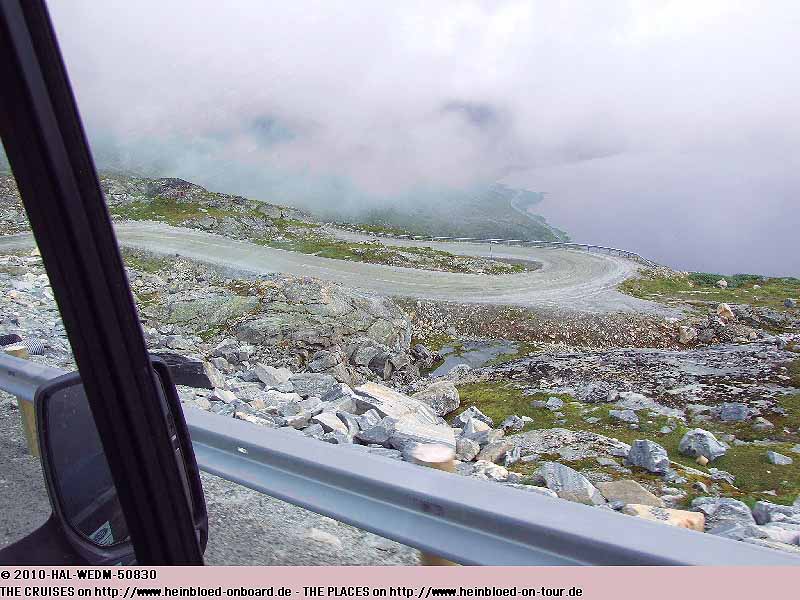 The last mile to Mount Dalsnibba is subject to toll. That was why the tours seemed to be more expensive. But paying money for such an earth road...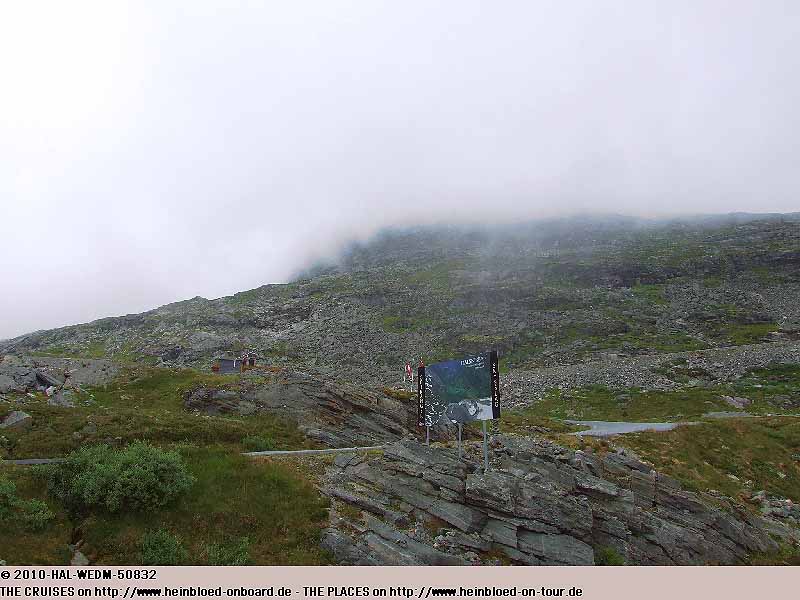 Die letzten Meter bis zum Dalsnibba hoch sind mautpflichtig. Deswegen erscheinen die Kosten für die Touren auch höher. Aber für so eine Buckelpiste Geld zu zahlen...
Wir halten kurz an der Djupvasshytta, damit wir nochmals die Toilette aufsuchen können und den Anblick des Bergsees genießen können.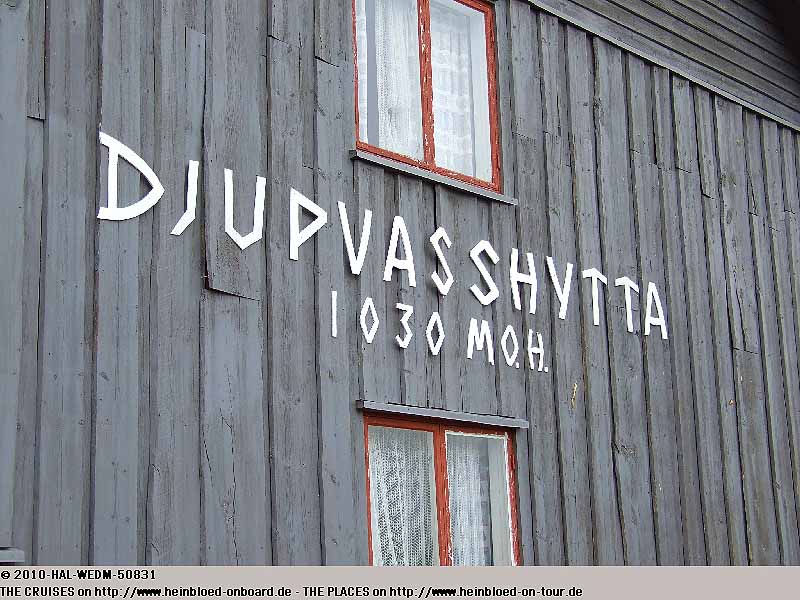 We stopped short at Djupvasshytta to see the restrooms and to enjoy the view of the lake in the mountain.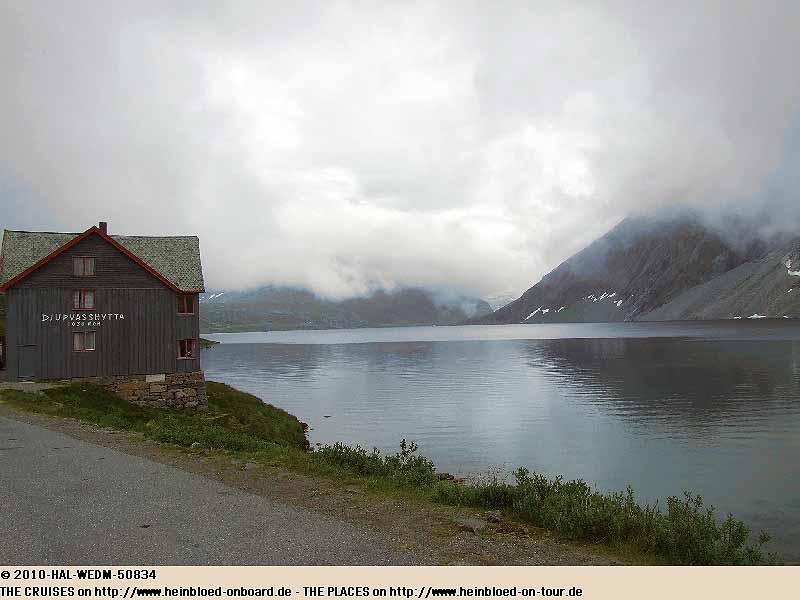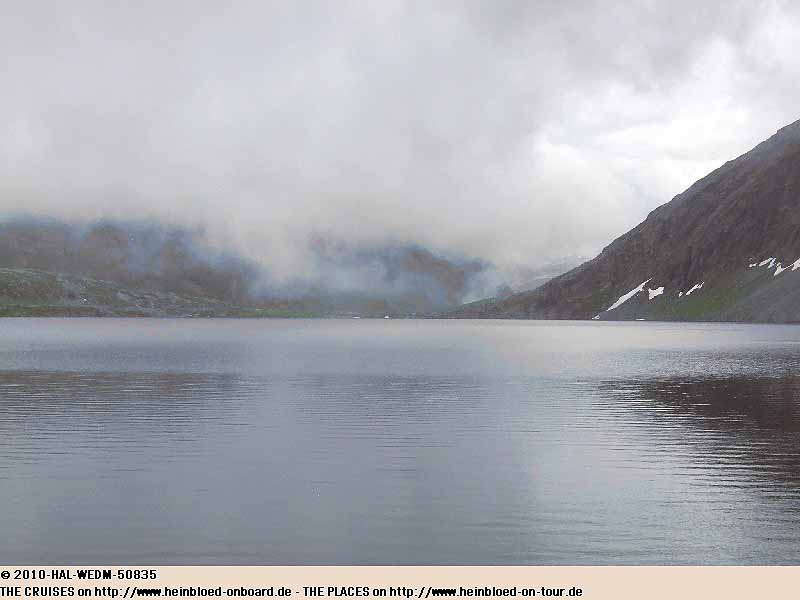 Zurück fährt uns Angel z. T. über den alten Weg nach Dalsnibba. Die Mädels hier wollten gerade im Busch sich zurückziehen und es ist denen peinlich, dass ausgerechnet Angel uns an ihnen vorbeifährt. Ein wunderschöner Ausflug geht zu Ende. Der einzige bittere Beigeschmack: Geiranger ist ein sehr touristischer Ort. Euro wird nicht im Verhältnis 1:8 von den Unternehmen wie in den anderen Orten wie Flåm oder Ålesund angenommen, sondern 1:7,5.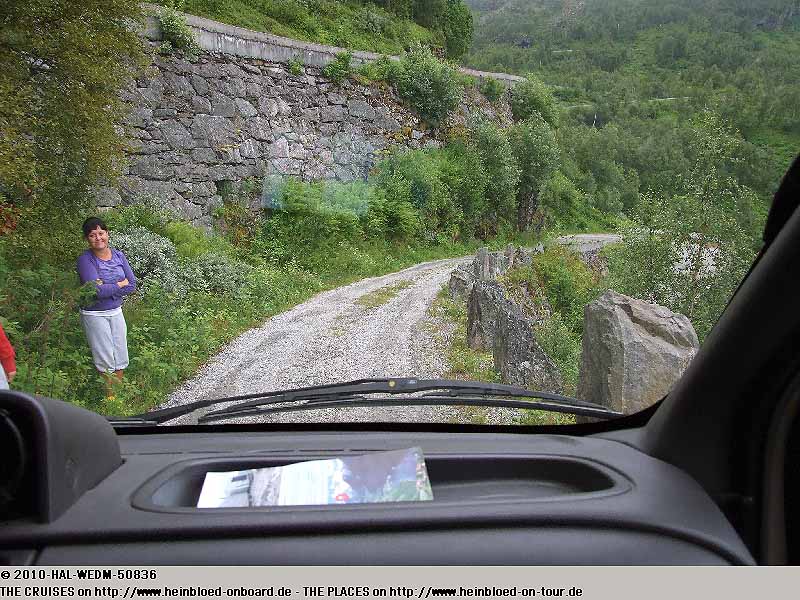 On the return Angel took us on the old ways for carriages to Dalsnibba. The girls wanted to retreat themselves into the bush and they were embarrassed that Angel passed their ways. A wonderful tour terminated. The only bittersweet: Geiranger is a very touristic place. Euro will not be accepted 1:8 by the entrepeneurs like in other places like Flåm or Ålesund but 1:7.5.