Scroll down for English explanations - alternates with German explanations.

Als wir vor zwei Jahren während unseres Amsterdam-Aufenthaltes mit der NORWEGIAN JEWEL nicht in Zaanse Schans waren, weil unser Taxiführer Marius von Dagtoertaxi meinte, dass man wegen der Windmühlen doch lieber andere Orte besuchen sollte und auf den Charakter von Zaanse Schans hingewiesen war, waren wir sehr froh über seinen Vorschlag. Es gab ziemlich Proteste von einigen in cruisecritic.com, die offensichtlich Zaanse Schans für den Nabel der Niederlande halten, das man unbedingt gesehen haben muss. Deswegen sind wir dieses Mal selbst hingefahren, um uns selbst ein Bild zu machen.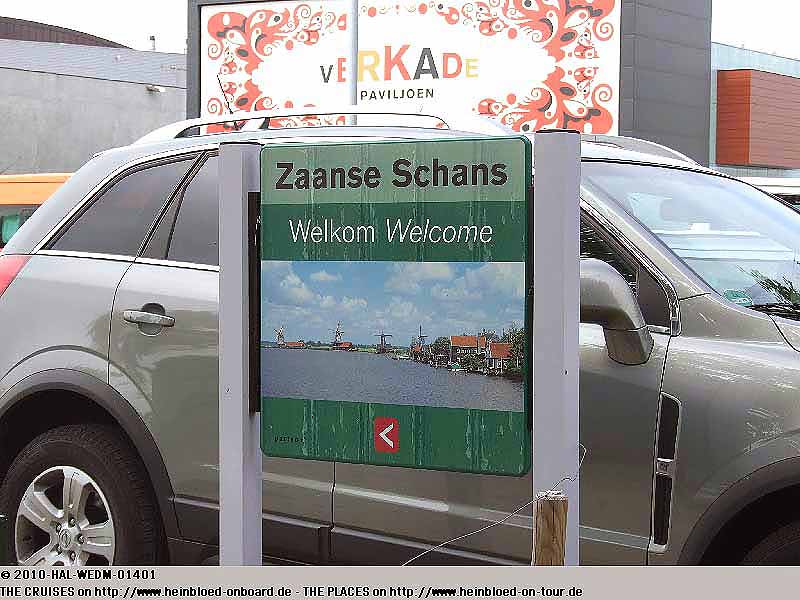 Two years ago during our Amsterdam-Stay on NORWEGIAN JEWEL we did not go to Zaanse Schans because our taxi-guide Marius from Dagtoertaxi said that we should see windmills on other places and gave us his impressions of the character of Zaanse Schans. We were quite happy that we followed his suggestion. Some of cruisecritic.com thought that Zaanse Schans should be the capital of Holland and attacked me and the driver in a very radical way and think that it is a must to see. To make a picture of our own we went to this place to see what is going on there.

The first thing which attracted my attention were the high parking fees: 1.00 EUR for 30 minutes (you cannot made it to see the toilet and coming back as far as we had to park to walk back to our car.) or 7.00 EUR for the whole day. Nothing in between. And you cannot pay your parking at this tourist place with Visa. Who came by public transport: Bus 91 from Amsterdam Central Station.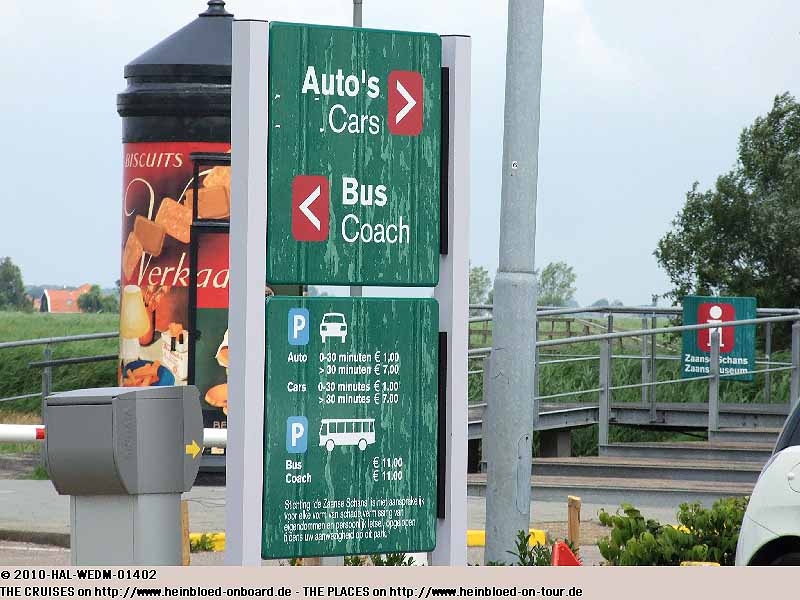 Nun fallen zunächst mal die hohen Parkgebühren auf: 1,00 EUR für 30 Minuten (in denen man nicht mal schafft einmal zur Toilette zu gehen und wieder zurück auf den Parkplatz zu laufen, so weit wie wir parken mussten) oder 7,00 EUR für den Tag. Dazwischen gibt es nichts. Und man kann an diesem Touristenort nicht mit Visa seinen Parkplatz bezahlen. Wer mit öffentlichen Verkehrsmitteln kommt: Bus 91 vom Hauptbahnhof Amsterdam.
Zu einem Museumsbesuch hatten wir keine Lust, so dass ich auch nicht sagen kann, ob die Ausstellungen die 7,00 EUR Parkgebühren wert sind.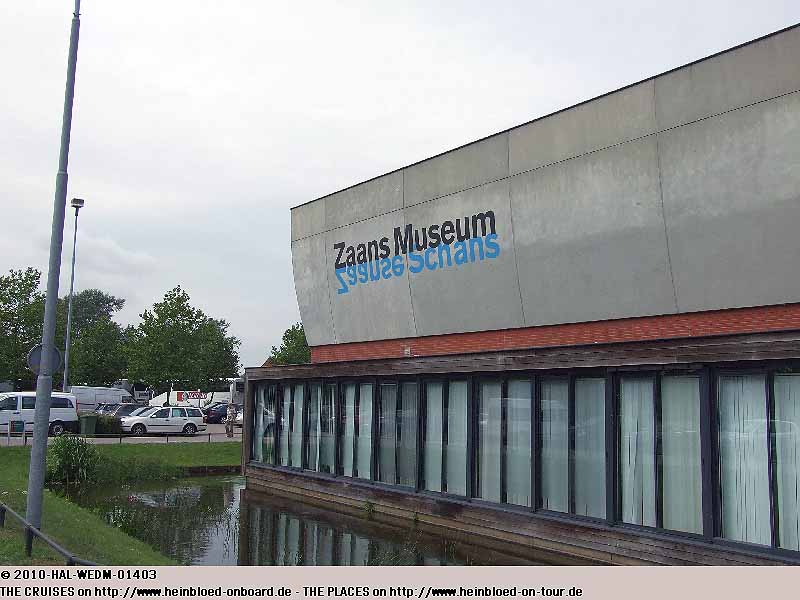 We did not like to see a museum so I cannot say if the exhibitions were worth to spend 7.00 EUR for parking.

We can understand that other cruisers felt comfortable here because they take pictures like with your embarkation. A "Nijn" was not accepted. The cost were 10.00 EUR. This and the life around reminded more to a fair.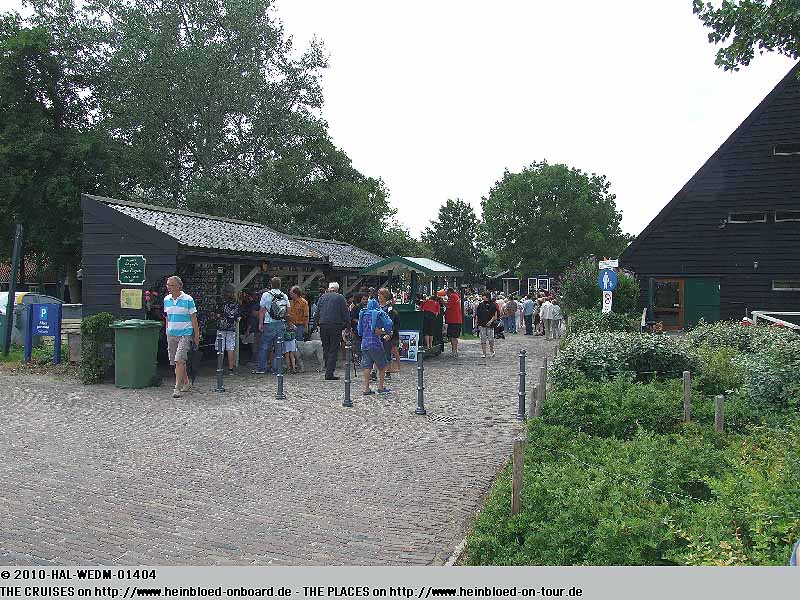 Dass andere Kreuzfahrer sich wohlfühlen, könnte daran liegen, dass man am Eingang direkt fotografiert wird, wie bei der EInschiffung. Ein "Nijn" kennen die Fotografen nicht. Die Bilder kosten 10,00 EUR. Das ganze drum herum erinnert jedoch an einen Rummel.
Die ganzen historischen Häuser werden Unternehmen genutzt, die klassisches holländisches Handwerk zeigen und natürlich auch verkaufen wollen.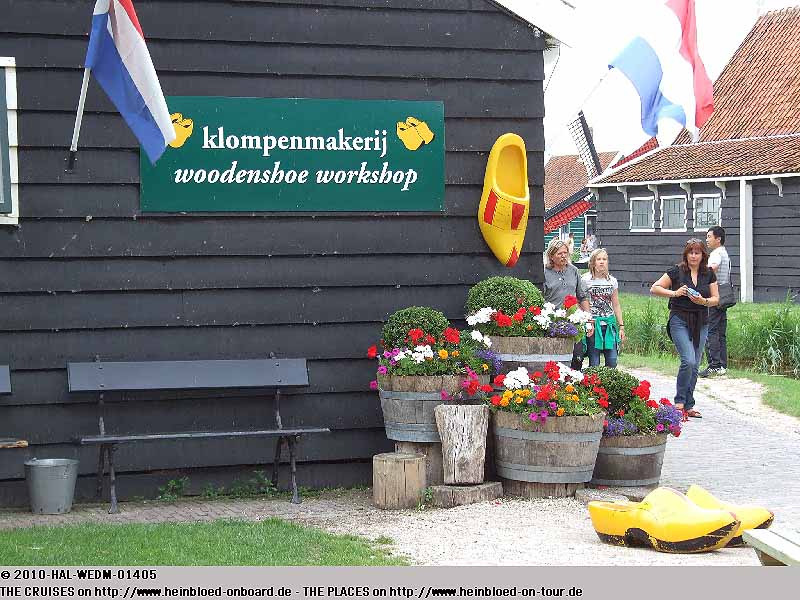 All the historical houses were used by companies to show traditional Dutch handicraft and of course to sell their goods.

Diamonds might not find in a Dutch village but never mind: as long as you can sell.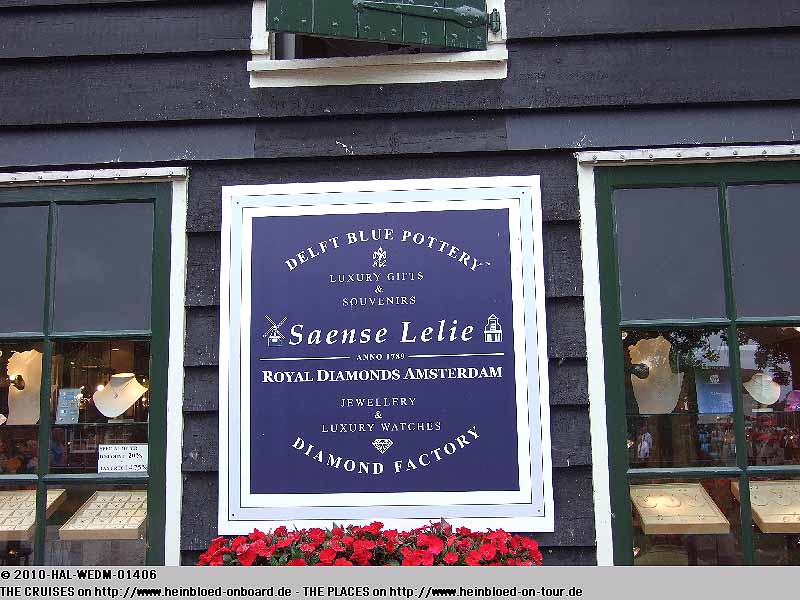 Dass Diamanten aber nicht in ein holländisches Dorf gehören, macht aber nichts, Hauptsache verkaufen.
Wir waren an einem Sonntag da. Könnte sein, dass das ein Fehler war.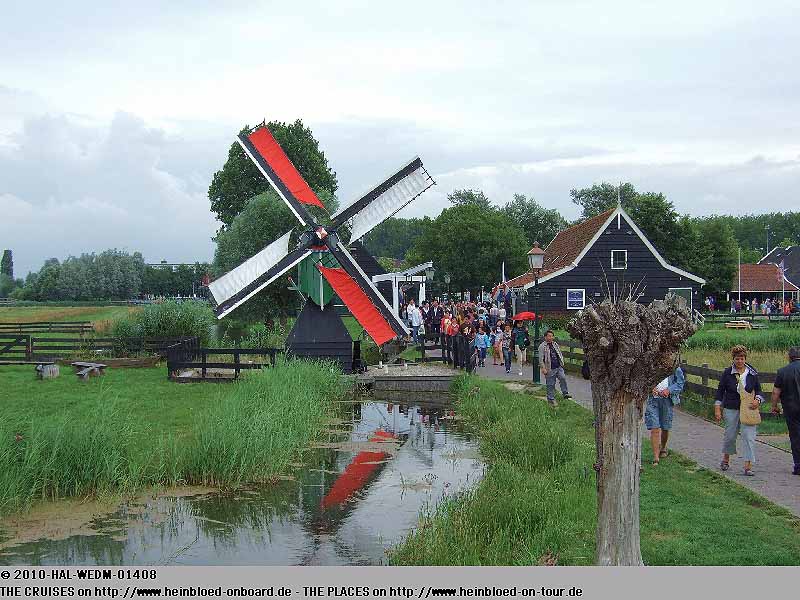 We were there on a Sunday. That might be our mistake.

Looking or buying???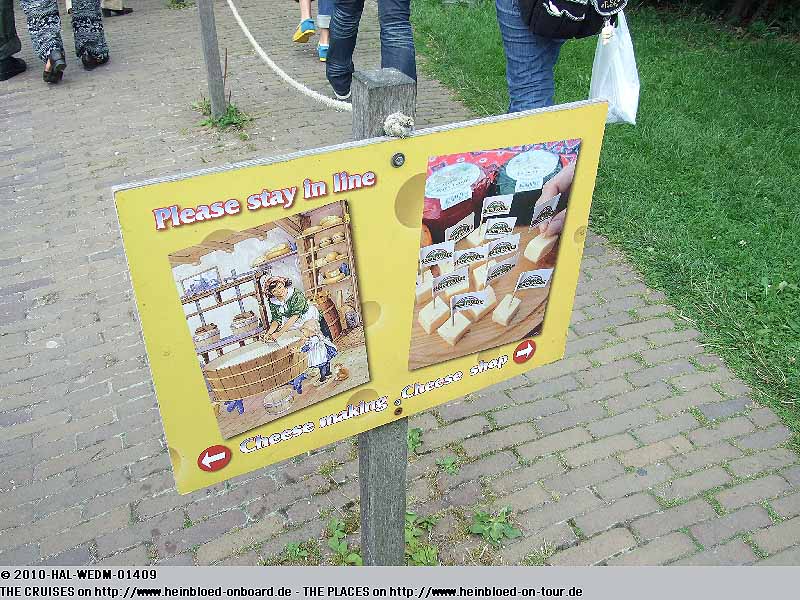 Gucken oder Kaufen???
Gucken sah dann so.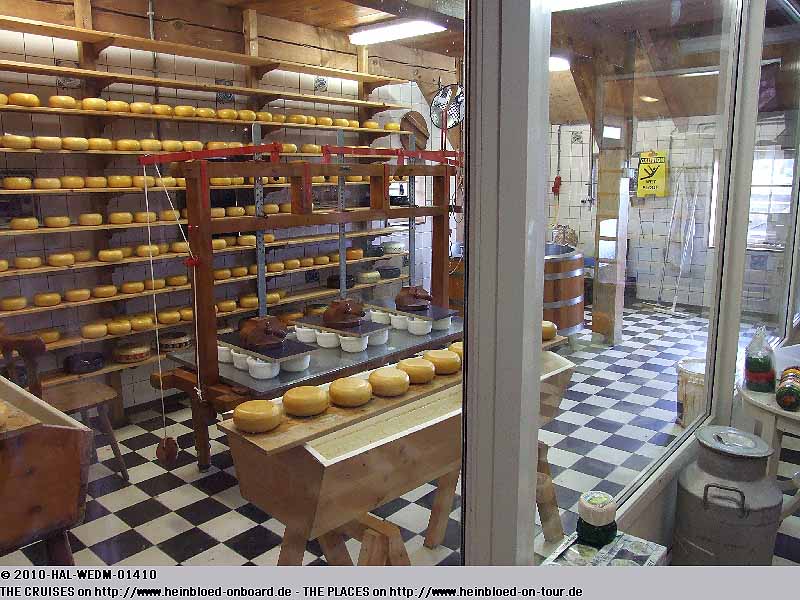 That was what was behind looking only.

Have 50 Euro-Cent change with you to see a toilet.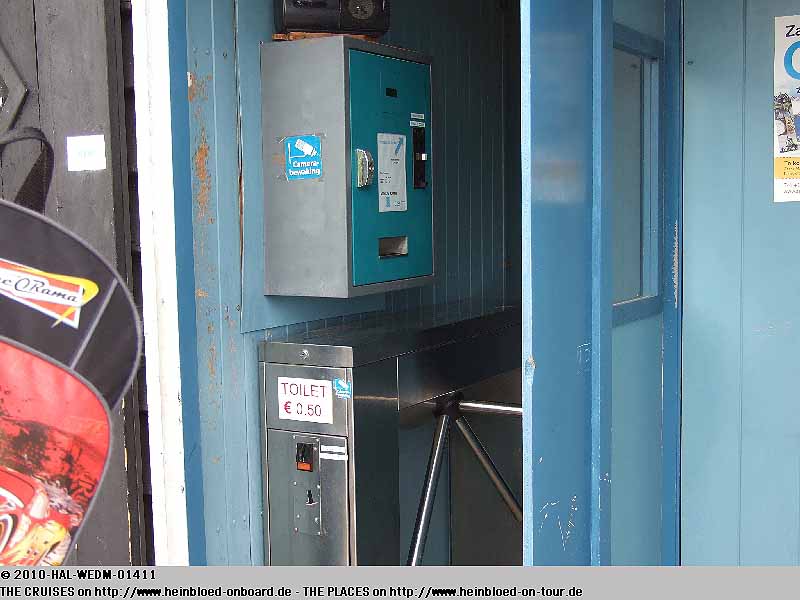 Unbedingt 50 Cent-Stücke mitnehmen, für den Fall, dass man auf Toilette muss.
Sieht nett aus.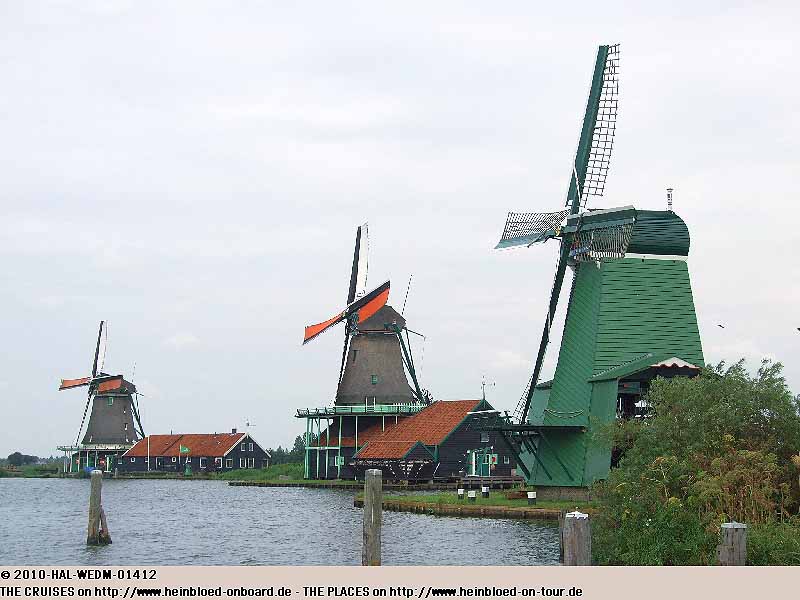 It looked nice.

Also tours by canal boats were available.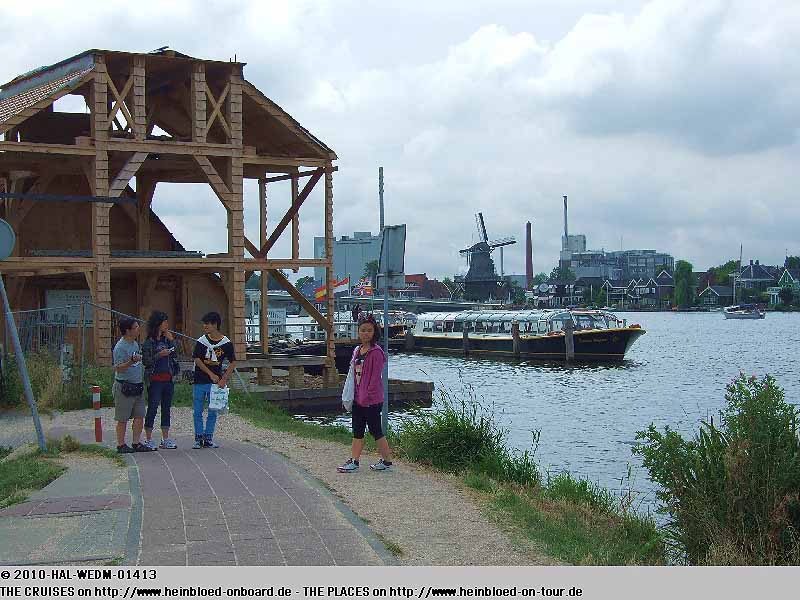 Auch Rundfahrten mit Grachtenrundfahrtbooten sind möglich.
Uns war es zu voll. Für denjenigen, der auf einer Kreuzfahrt Holland in wenigen Stunden "erleben" und Souvenirs kaufen möchte, bestimmt perfekt. Wir mögen lieber das echte Leben und fahren weiter.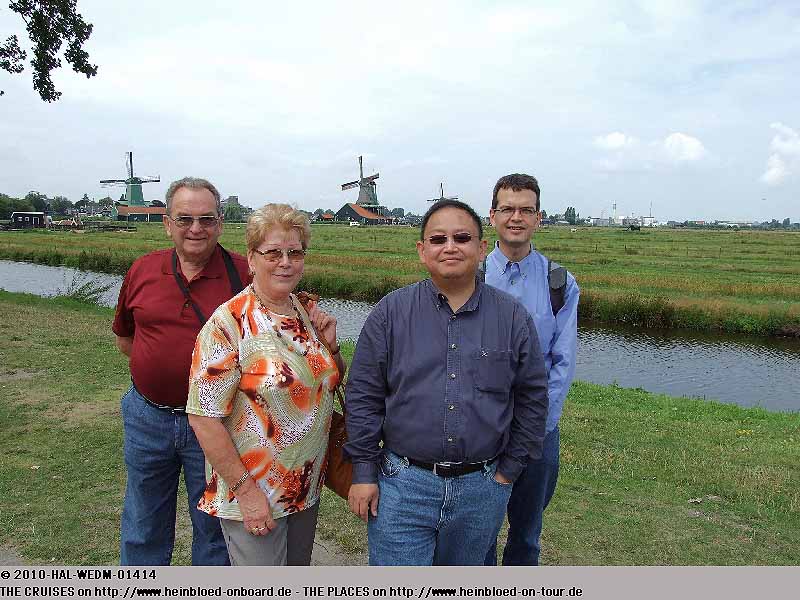 We did not like it as it was so crowded. For those who need to "experience" Holland during a cruise ship stop in few hours and to buy souvenirs it might be the most perfect place. We prefer more the real life and went further.

On Zaanse Schans area you find the restaurant De Kraaij.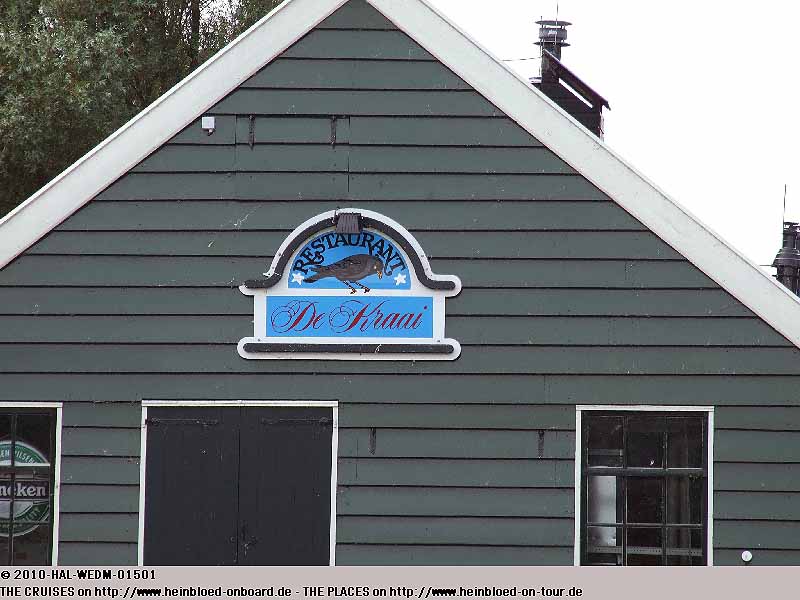 Auf dem Gelände von Zaanse Schans befindet sich das Restaurant De Kraaij.
Es sollte ein klassisches holländisches Pfannkuchen-Haus sein.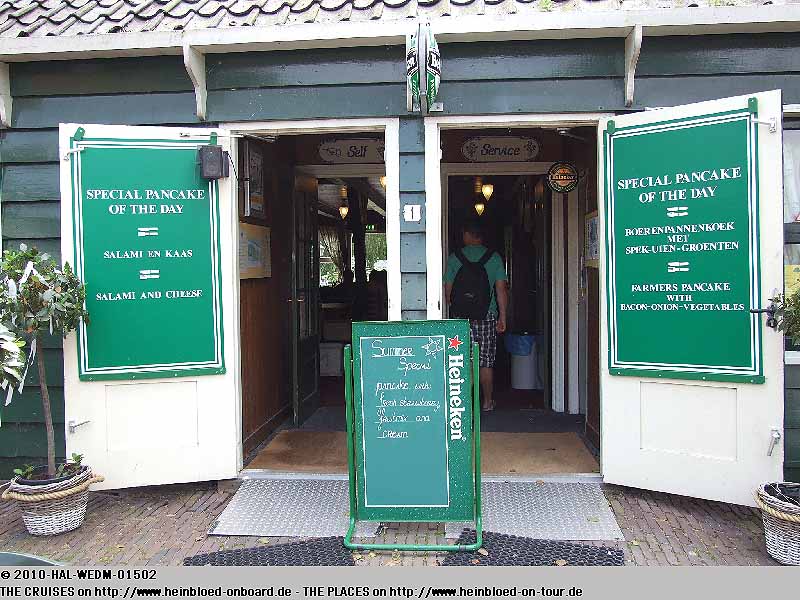 It should be a classical Dutch pancake-house.

But with a charme of the tourist feeding place with self-service.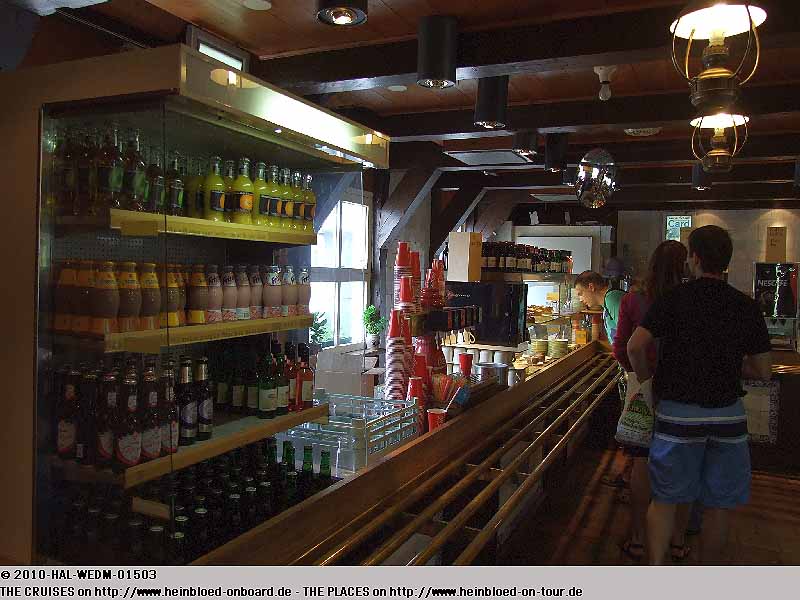 Allerdings mit dem Charme einer Touristenabfütterungsstätte mit Selbstbedienung.
Man bestellt den Pfannkuchen und bezahlt ihn und holt ihn dann nach Aufruf der Nummer (wie beim Arzt) ab. Allerdings wird weder die aktuelle Nummer angezeigt noch aufgerufen. Am Besten man bleibt in der Nähe der Ausgabe stehen.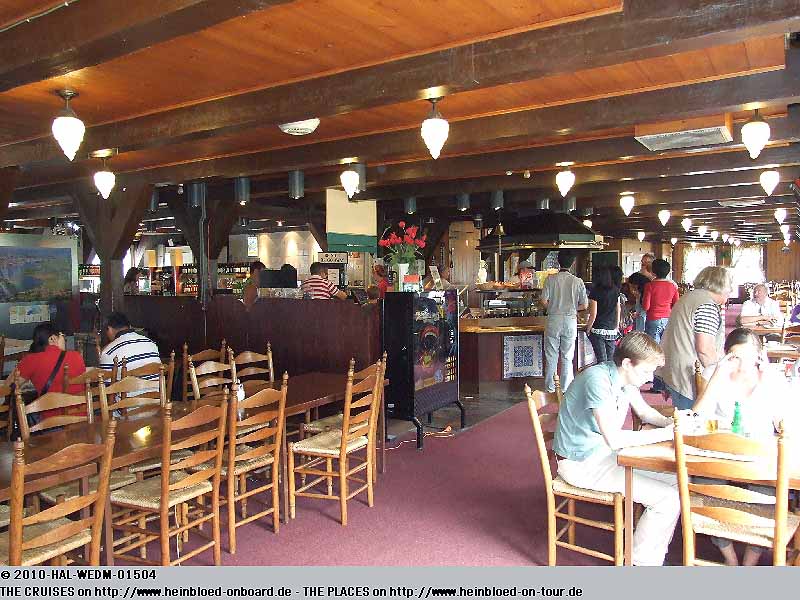 You order the pancake at the cashier and pay them and should collect it after call of your number (like with the doctor). But they did not update the display nor did they announce the number. The best would be to stay next to the food release.

Be nice or go away. It should read: Be nice and have Euros with you or go away if you do not have a Dutch credit card. And this happened at a tourist place like Zaanse Schans.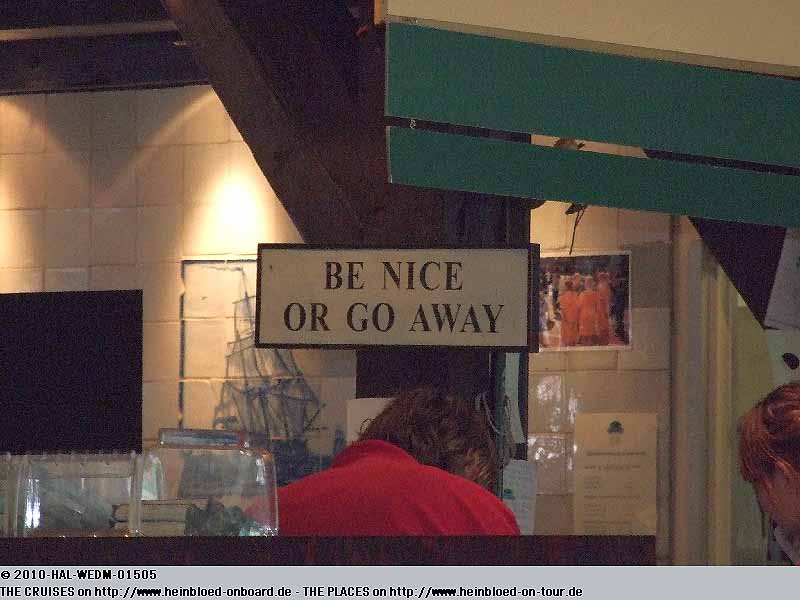 Be nice or go away - Sei nett oder geh weg - Es hätte aber heißen müssen: Sei nett und führe Euros mit dir oder geh weg, wenn du keine niederländische Kreditkarte hast. Und das an einem Touristenort wie Zaanse Schans.
Mit liebevoller Zubereitung wie bei Mutter hatte es nichts zu tun.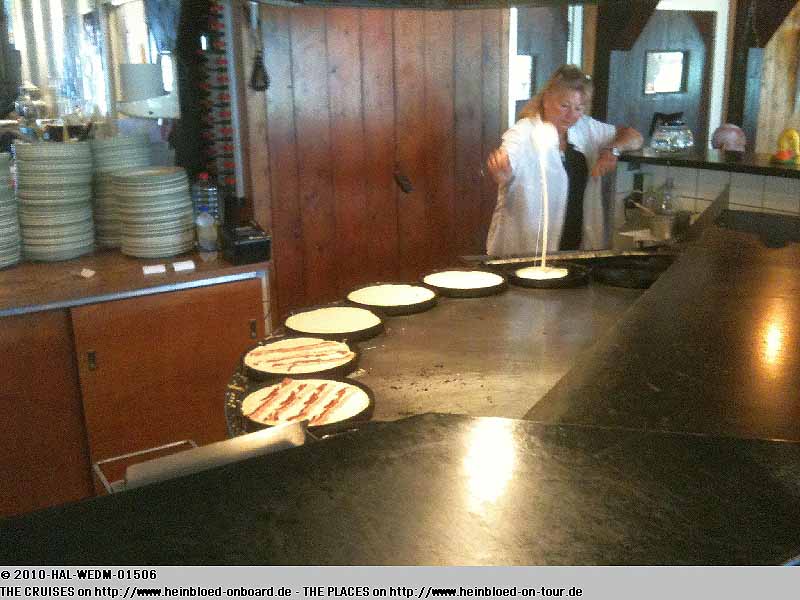 Nothing to do with baking with passion by your mother.

Especially few get more than others. You see at the production there were four slices on the pancake. If three were left once they turned around you are a lucky man. It could be worse. No chance to claim. Marius was right and once we are back in the Netherlands for one whole day then I hope that he has the time to show us more of authentic Holland.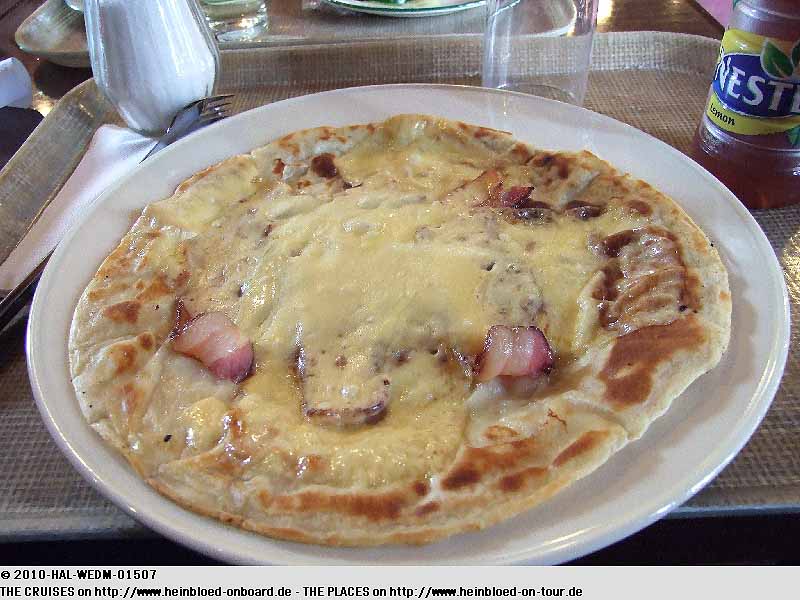 Vor allem, manchen bekommen mehr als die anderen. Bei der Produktion waren noch vier Scheiben aufgelegt worden. Wenn beim Wenden noch drei übrig bleiben, hat man Glück gehabt. Es hätte auch schlimmer kommen können. Reklamationen ausgeschlossen. Marius hatte Recht gehabt und wenn wir wieder mal in den Niederlanden einen ganzen Tag haben, dann hoffe ich, dass er die Zeit hat, uns noch mehr authentisches Holland zu zeigen.