Scroll down for English explanations - alternates with German explanations.

Unter Deck 1 gibt es noch weitere Decks: Deck A (normaler Tenderausstieg und Klinik) und darunter noch Deck B, den wir mit dem Fahrstuhl erreichen.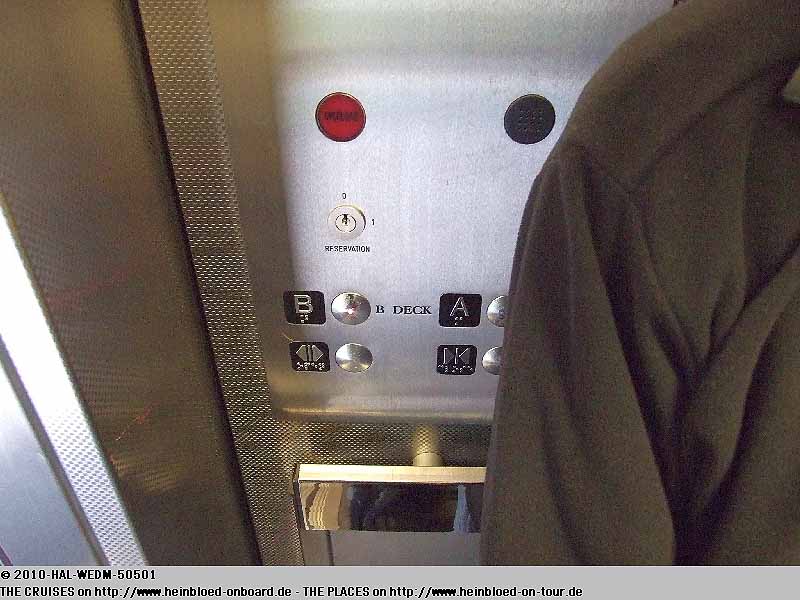 Below Deck 1 there were further decks: Deck A (regular tender exit and medical center) and below this you find Deck B which can be reached by elevator.

So the wheelchair can reach the tender without steps.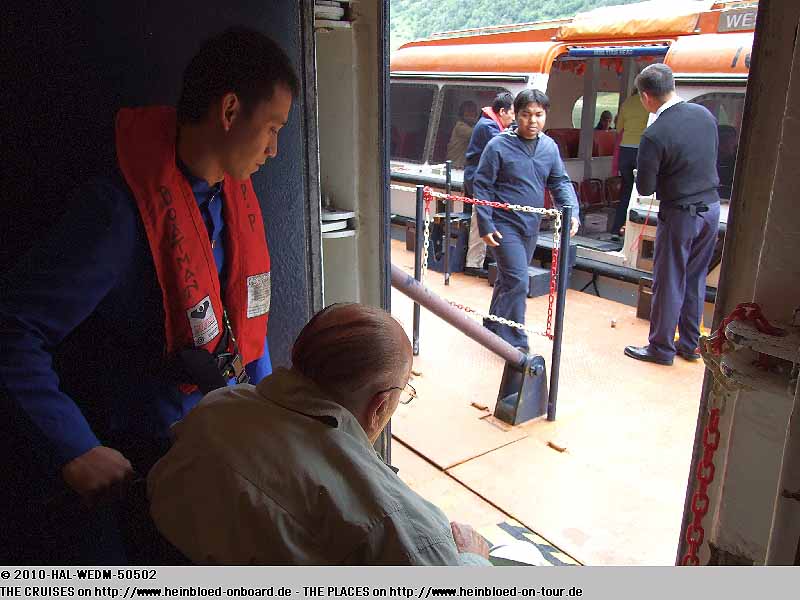 So kann der Rollstuhl stufenfrei den Tender erreichen.
Die Jungs waren wirklich ganz wunderbar: für sie ist der Dienst selbstverständlich und wollten kein Trinkgeld annehmen.

The guys were really wonderful: for them the service was normal and they did not accepted tips.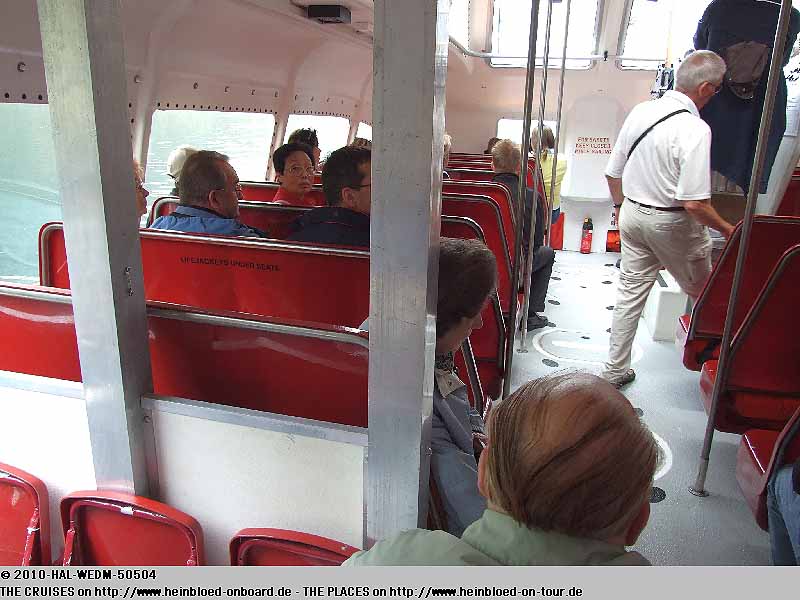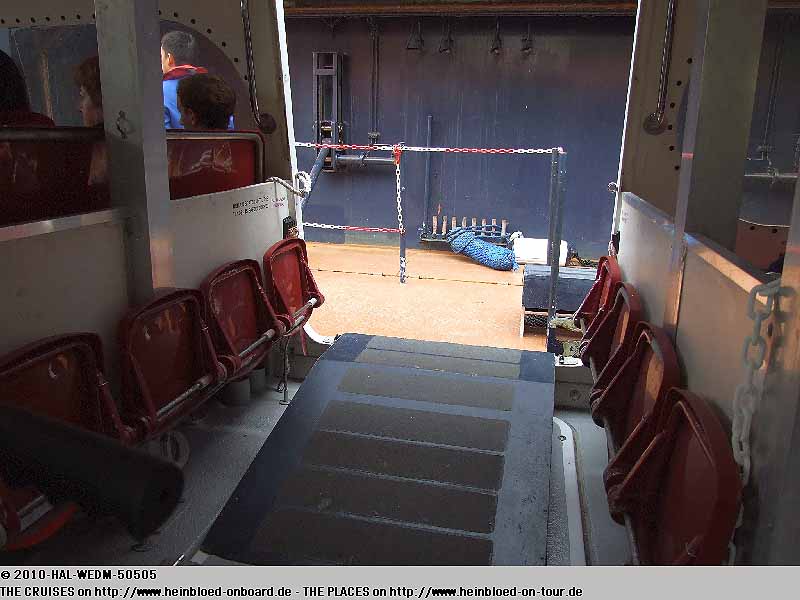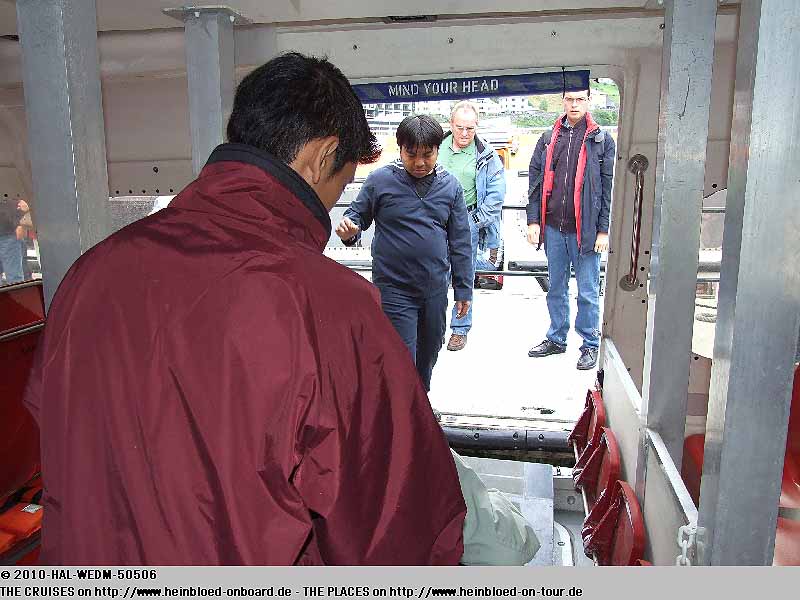 Great it worked so well.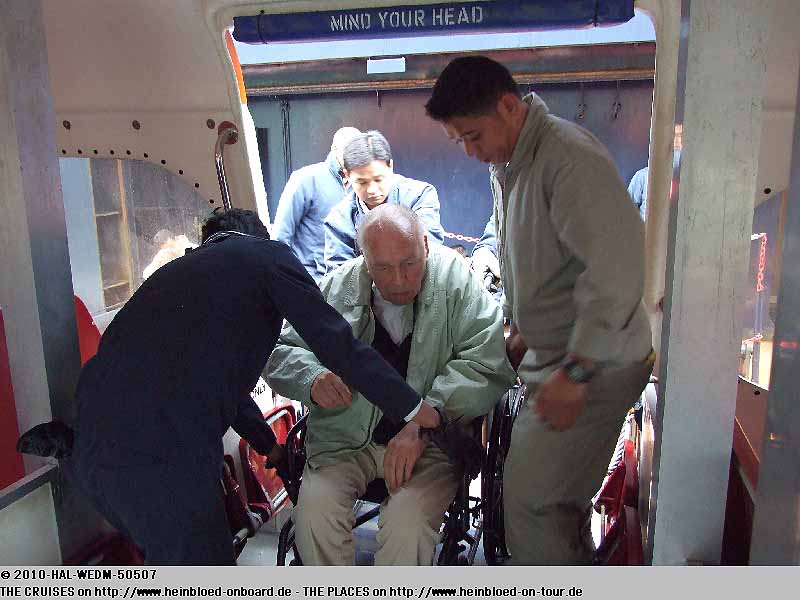 Schön, dass es toll geklappt hat.
Ein Schiff kündigt seine Ankunft mit dem Schiffshorn an: Hurtigrutens VESTERÅLEN. Das wäre aber wohl nicht mein Schiff. Sie hält bereits weit vor dem Ort. Ein lokaler Tender bringt Passagiere an Bord, die von hier weiter wollen und holt andere ab, die hier ihre Fahrt unterbrechen. Und nach wenigen Minuten ist sie wieder weg und zurück nach Ålesund.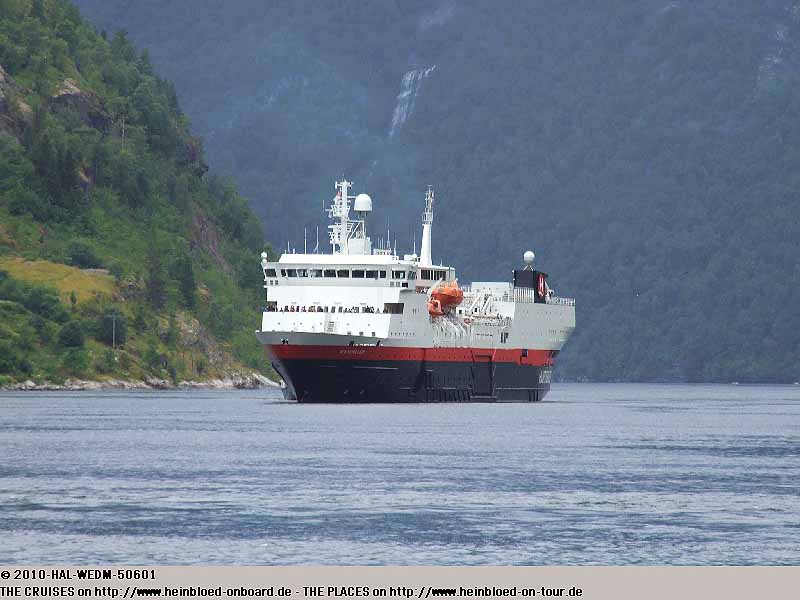 A ship announced its arrival with his horn: Norwegian Costal Line Hurtigruten's VESTERÅLEN. That would not be my ship. It stopped far away from the town. A local tender took the passengers to the ship which wanted to continue from here and collected others who interrupted their journey. After few minutes she was leaving and headed back to Ålesund.

Not closer than this.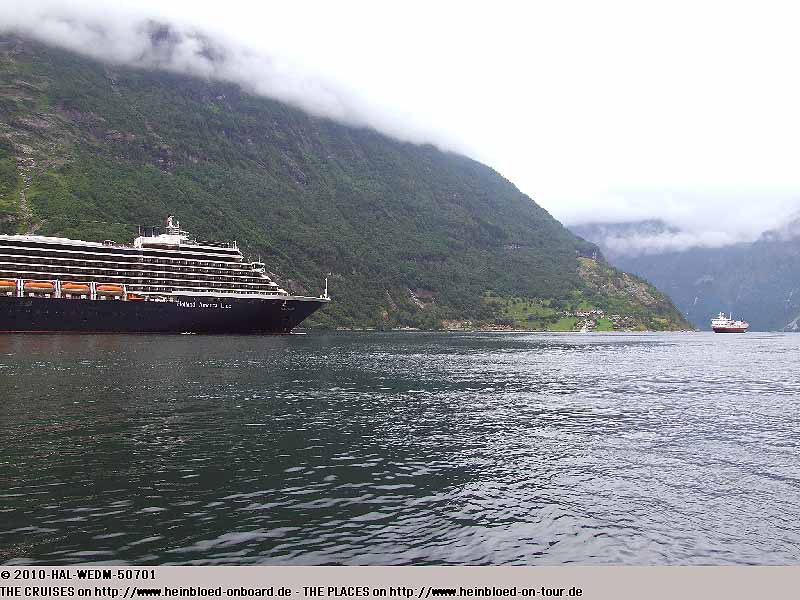 Näher zu uns kommt sie nicht.
Am Tenderanleger in Geiranger.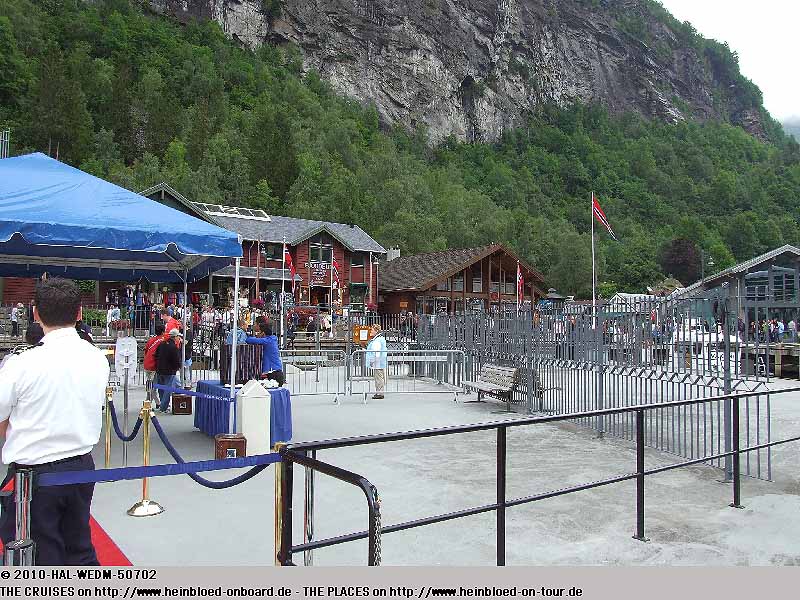 The tenderberth in Geiranger.

On the right hand you find the tourist information.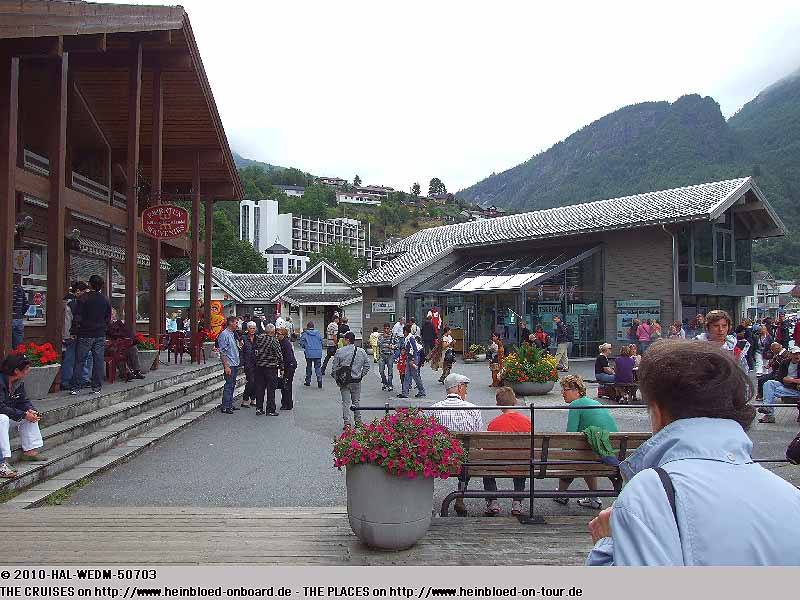 Rechts ist die Touristeninformation.
Hier finden sich die typischen Touristenläden.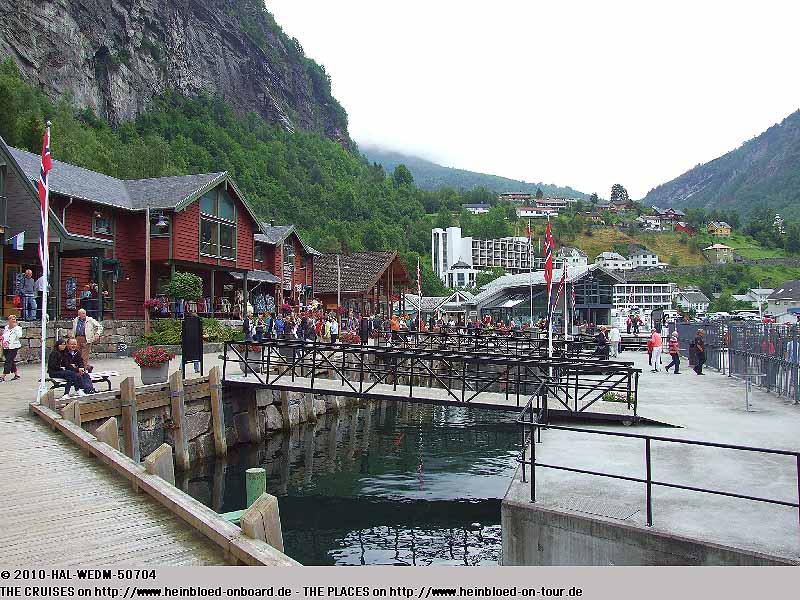 Here you find the typical tourist shops.

Very nice were the roofs with the plants on.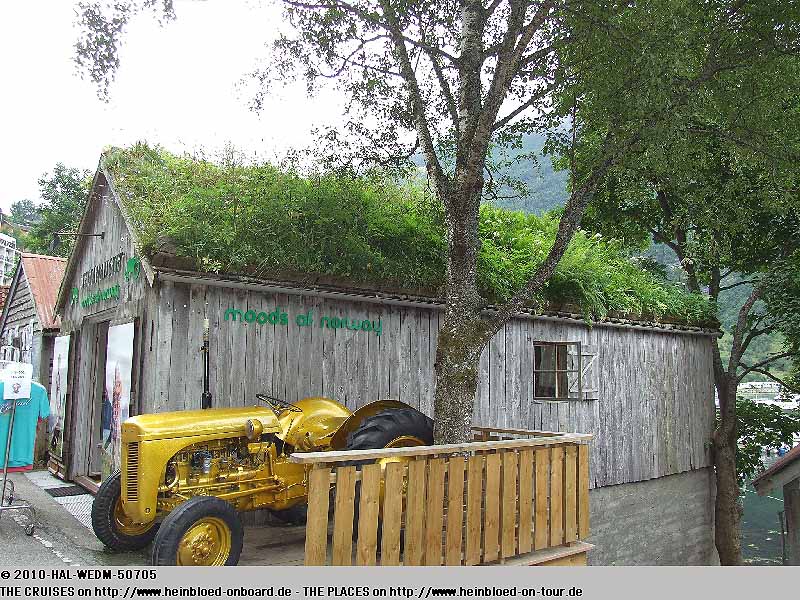 Schön sind diese bepflanzten Dächer.
Andere Möglichkeiten, wenn man nichts gebucht hat: Kajak-Fahren...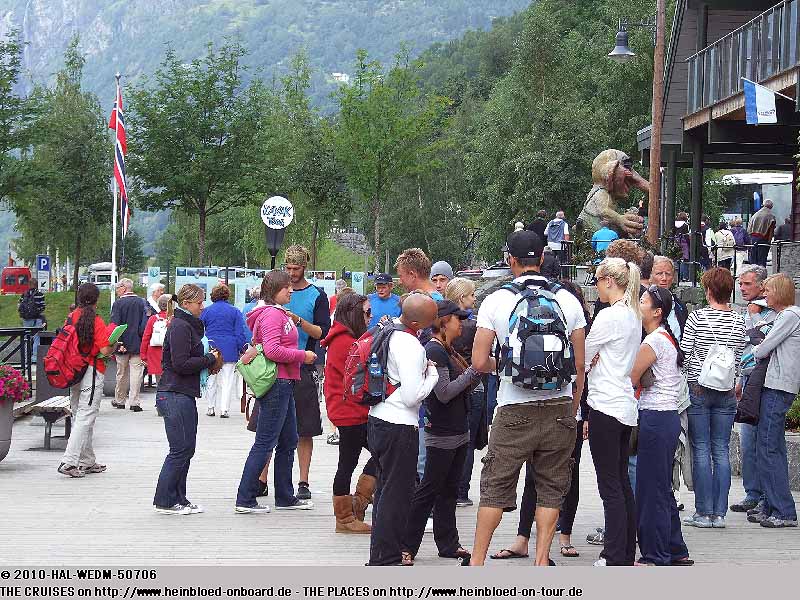 Other options for those who did not book anything: kayaking.

Looked very relaxing.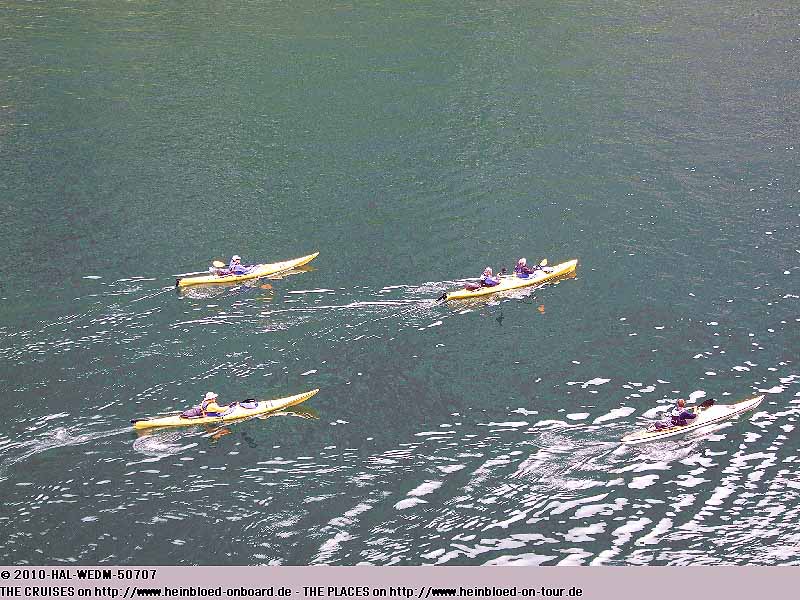 Wirkt sehr beruhigend.
Hier findet sich noch ein weiterer lokaler Autovermieter.

Here you find another local car rental company.

Maybe they would have a minibus for 8 persons what Hertz did not have. They need to get the vehicles from Ålesund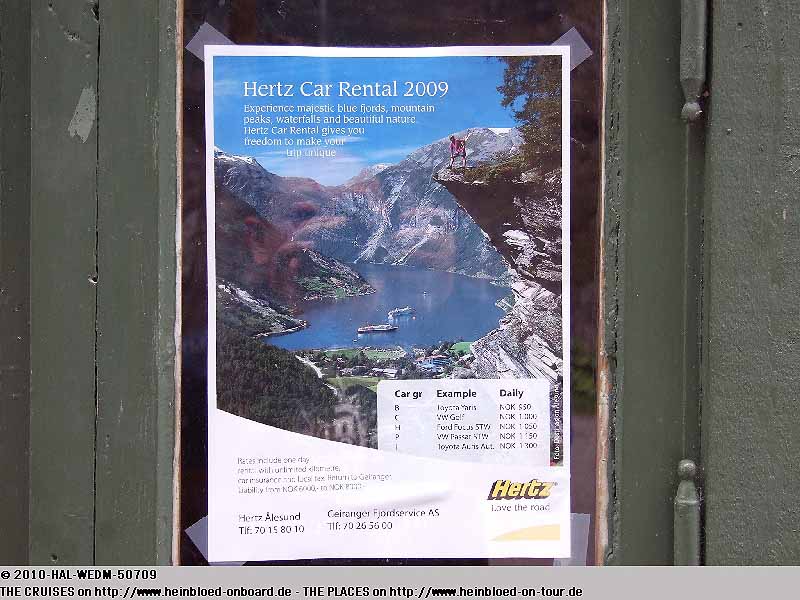 Vielleicht hätte er ja im Gegensatz zu Hertz einen Mini-Bus für 8 Personen gehabt. Die Fahrzeuge müssen von Ålesund gebracht werden.
Die Tankstelle ist direkt auf der Rückseite der Touristenläden am Tenderanleger.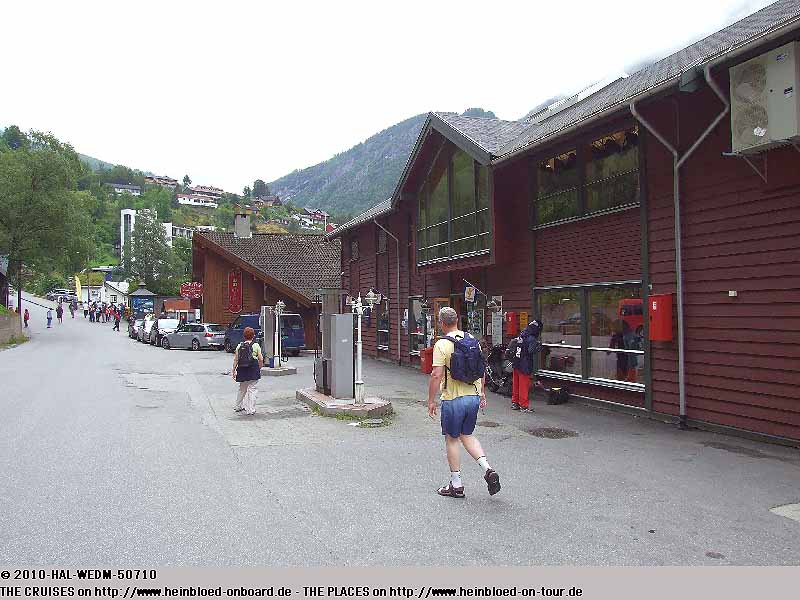 The fuel station is just direct at the back side of the tourist shops at the tender berthes.

13.09 NOK for one liter Premium... 2.18 USD per liter... wow...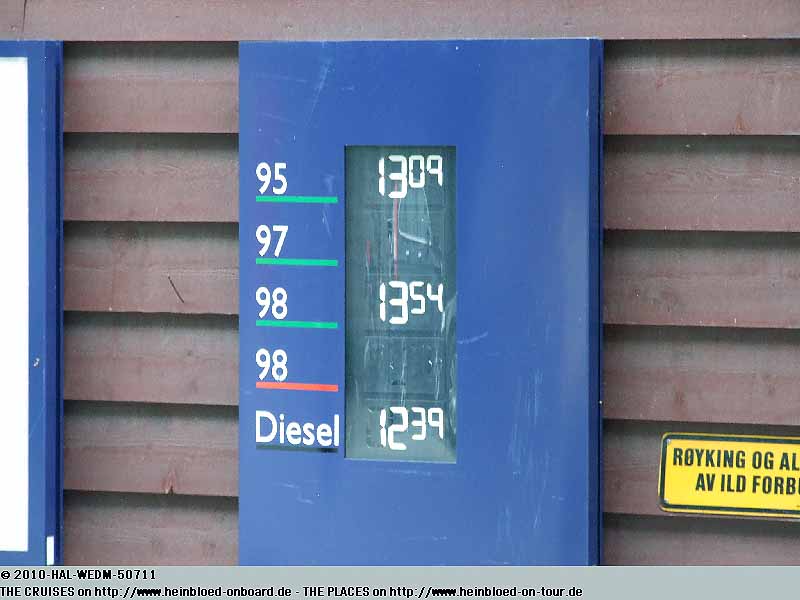 13,09 NOK für einen Liter Super... 1,66 EUR pro Liter... wow...
An der Bushaltestelle findet man diesen Plan.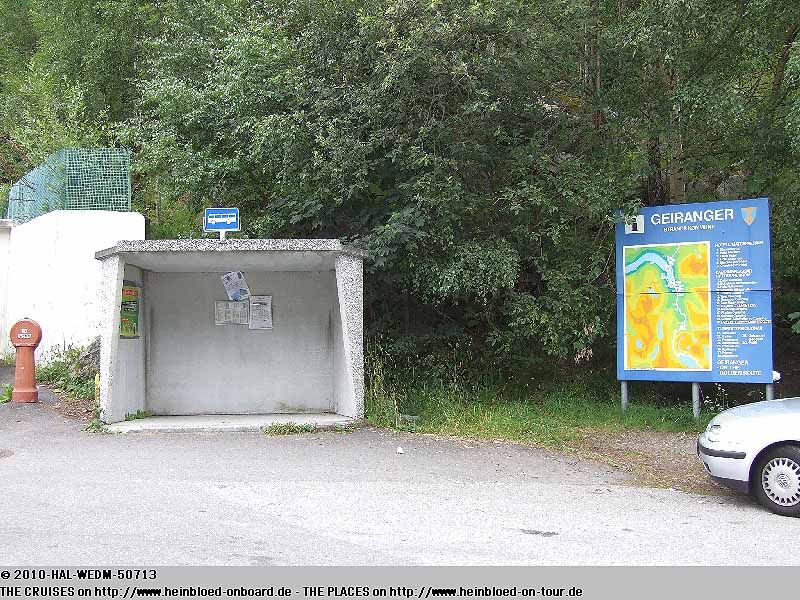 At the bus stop you find this plan.

Was more or less just behind the tourist shops at the tender berths.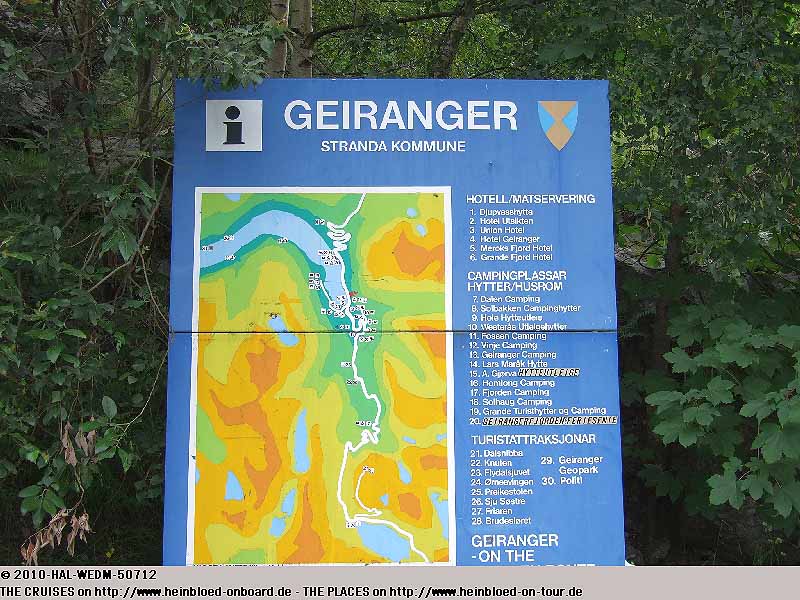 Liegt auch quasi hinter den Touristenläden am Tenderanleger.
Hier fahren aber nur die Linienbusse ab. Die Ausflugsbusse halten am Fähranleger.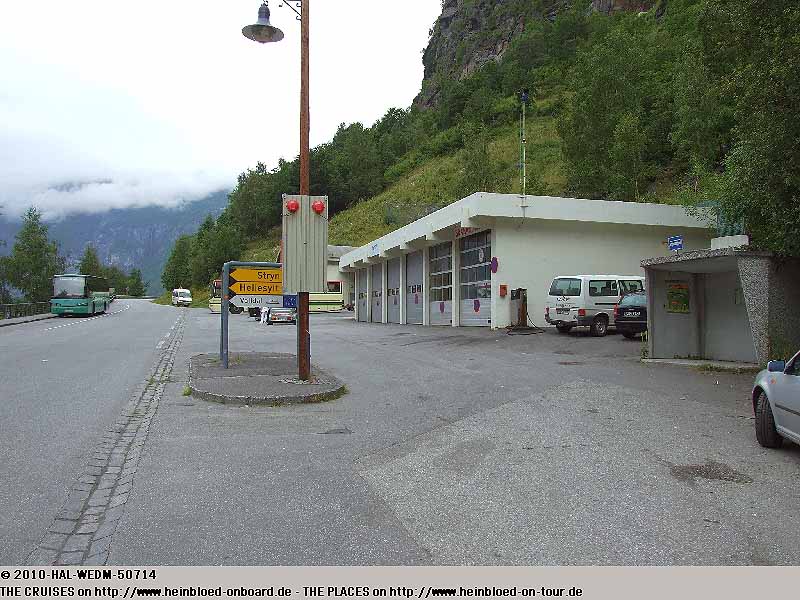 Here only scheduled services were departing. The tour buses stopped at the ferry pier.

Here you can inform yourself on all offers.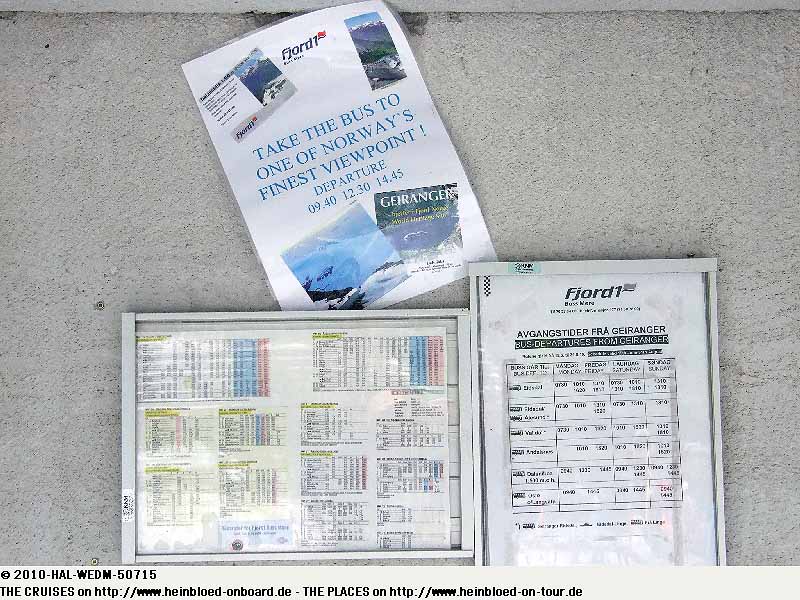 Hier kann man sich auch über die Angebote informieren.
Der Bus nach Dalsnibba fährt also nur drei Mal am Tag.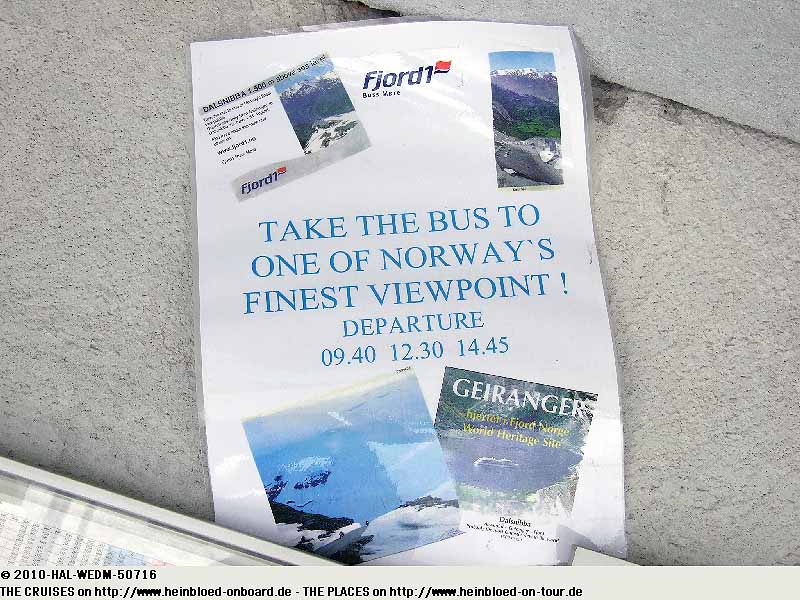 There are only three departures a day for Mount Dalsnibba.

There were further connections to Mount Dalsnibba on the Oslo-Route.

Ferner gibt es noch den Linienbus nach Oslo, der auch zum Dalsnibba hält.
Dann wäre dort noch die Fähre nach Hellesylt.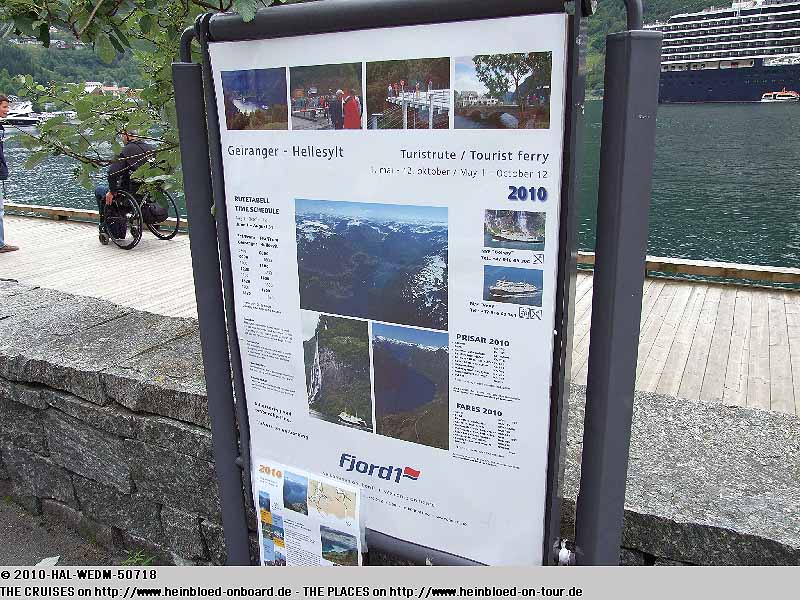 There was also the ferry to Hellesylt.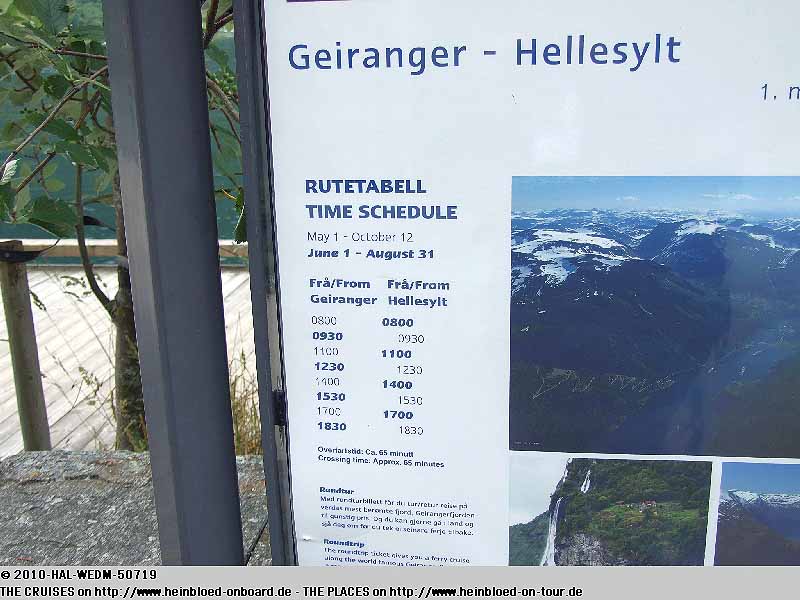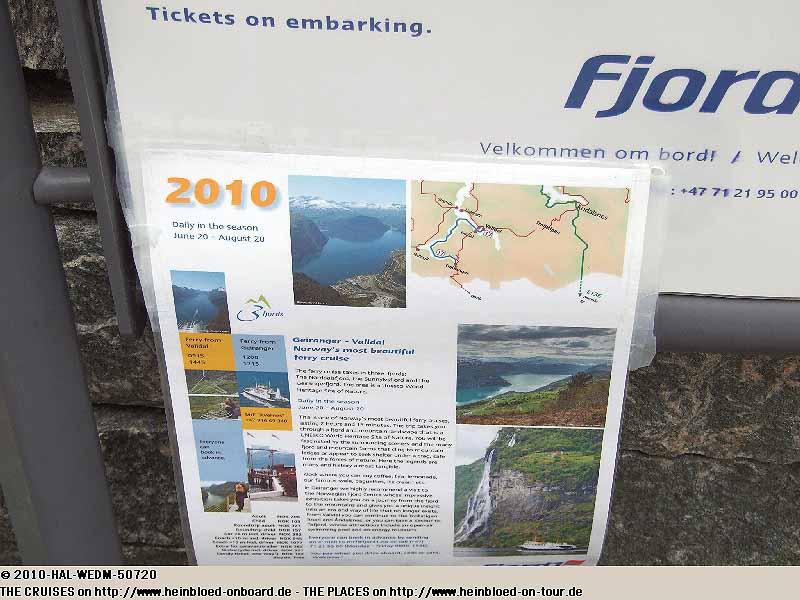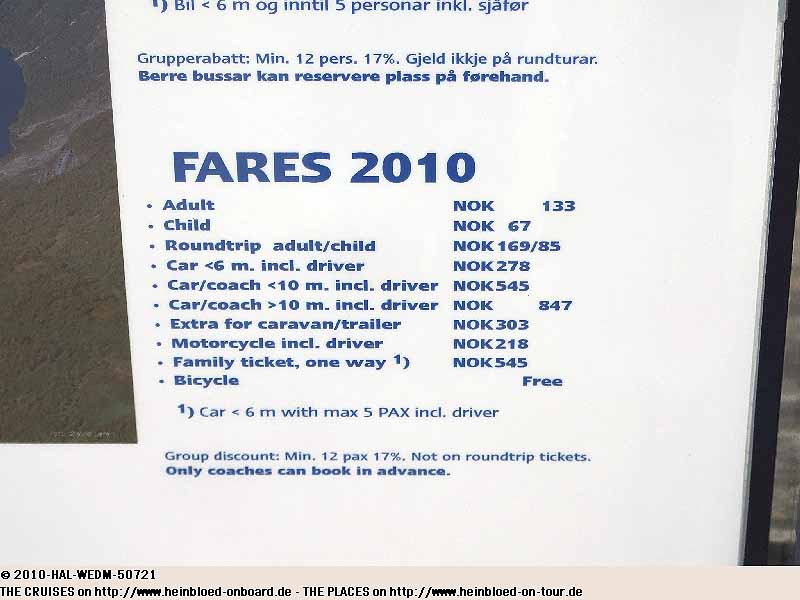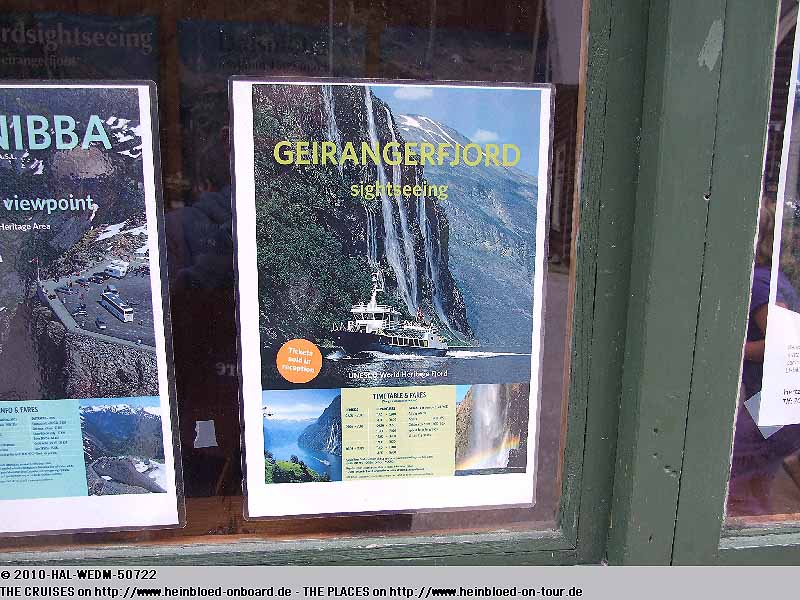 But we wanted to get to Mount Dalsnibba.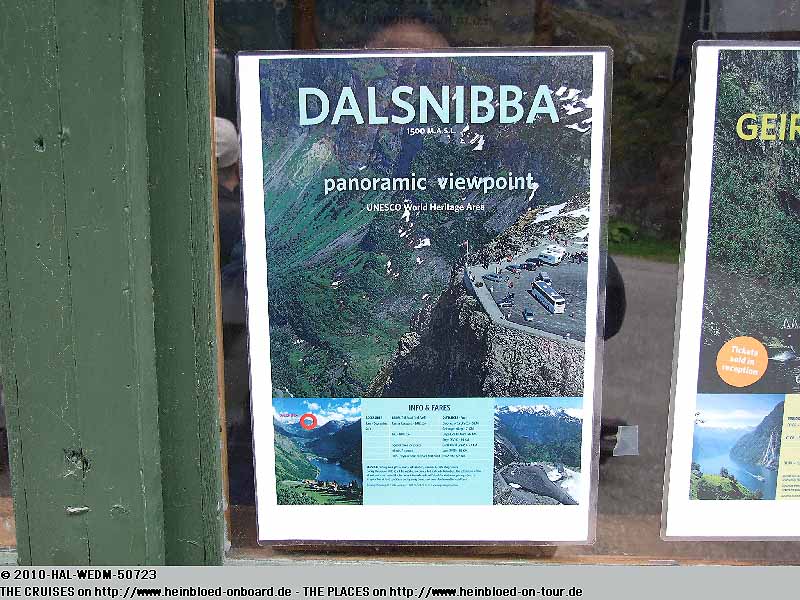 Aber wir wollen ja zum Dalsnibba hoch.