Scroll down for English explanations - alternates with German explanations.

Weiter ging es zum Maritime Hotel. Zuletzt haben wir hier übernachtet, als wir auf die NORWEGIAN EPIC wollten. In Rotterdam schließen viele Parkhäuser zum Reinfahren bereits am frühen Abend. So sollen wir ruhig an einer Parkuhr parken. Da wir keine niederländische Bankkarte haben, fragen wir an der Rezeption nach, wie wir bezahlen sollen. Hier werden wir hingewiesen, dass jeder 2. Automat auch internationale Kreditkarten annimmt... (Falls jemand mal wieder Schiffe am Cruise Terminal fotografieren will und nicht sich wieder ein Knöllchen einhandeln will: der Parkplatz zur Landseite hat einen solchen Automaten...)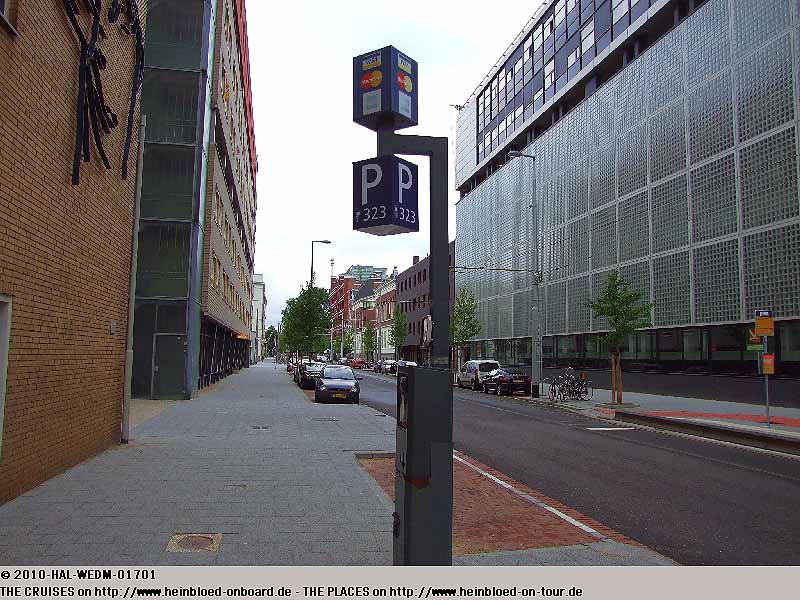 We continued to our Maritime Hotel. We stayed here when we went for NORWEGIAN EPIC. In Rotterdam many garages close at early evening. So we should park at a meter. As we had no Dutch bankcard we asked the reception desk how to pay. They told us that every 2nd meter accepts international credit cards as well... (In case someone wants to take pictures again but does not want to get a parking ticket again: the parking at the shoreside had such a meter...)

0.50 EUR for 13 minutes. As you must not pay from 23.00 hrs to 09.00 hrs...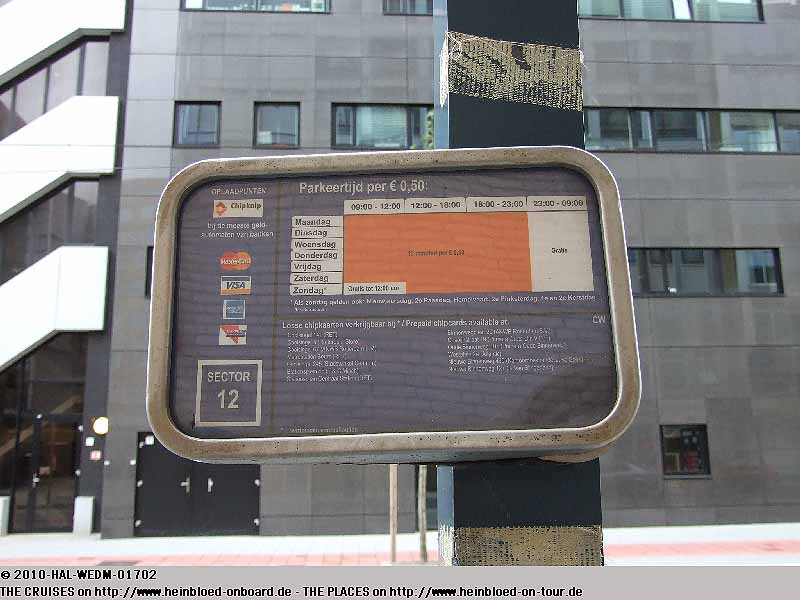 0,50 EUR für 13 Minuten. Da jedoch zwischen 23.00 Uhr und 09.00 Uhr nichts berechnet wird,
kostet uns das Übernacht-Parken nur 10,00 EUR.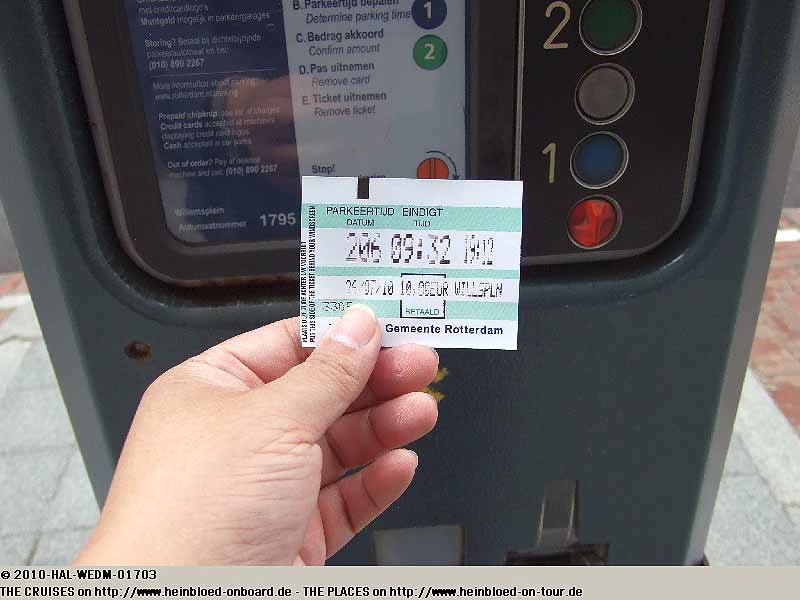 ... you just need to pay 10.00 EUR for an overnight stay.

On the river maas there was a sports event so it was a little more noisy when you kept your windows open. We were very happy to see an improvement after our last stay: they installed a new rainforrest shower in our bathrooms.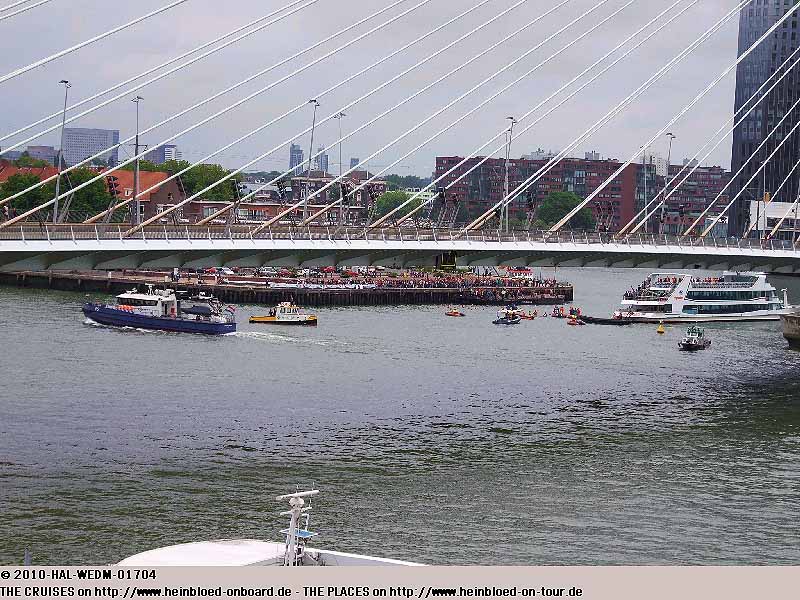 Auf der Maas findet wohl noch eine Sportveranstaltung statt, daher ist es etwas lauter, wenn wir das Fenster offen halten. Ansonsten freuen wir uns über die neue Regenwalddusche in den Badezimmern, die wir vor vier Wochen noch nicht hatten.
Übrigens die Bar ist ein Paradies für Schiffsliebhaber.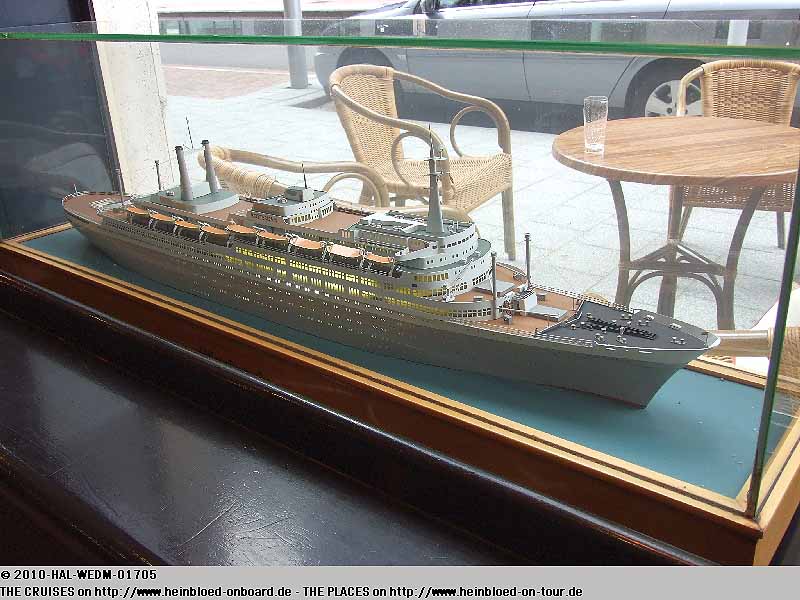 By the way the bar is a paradise for shiplovers.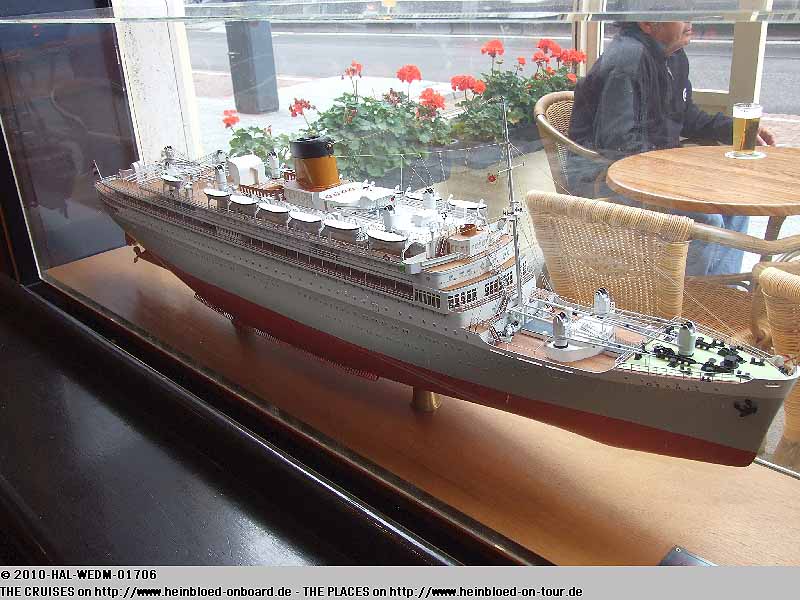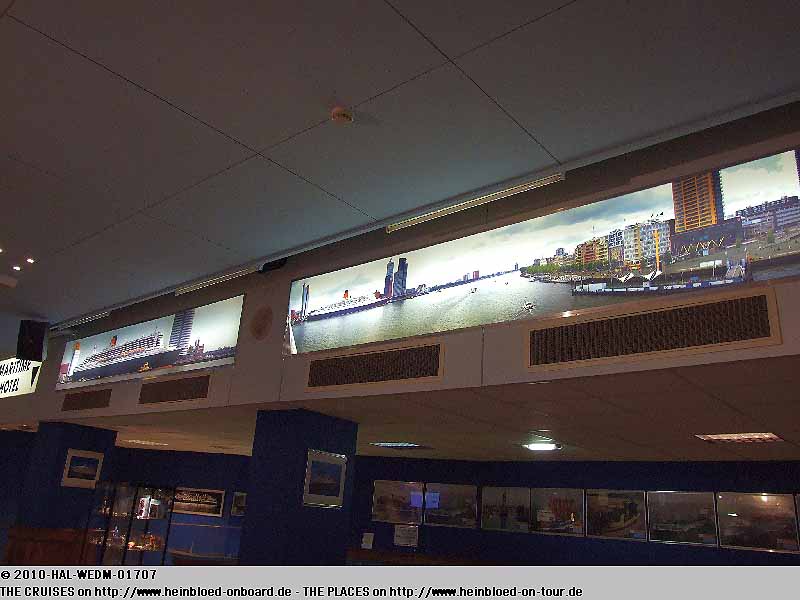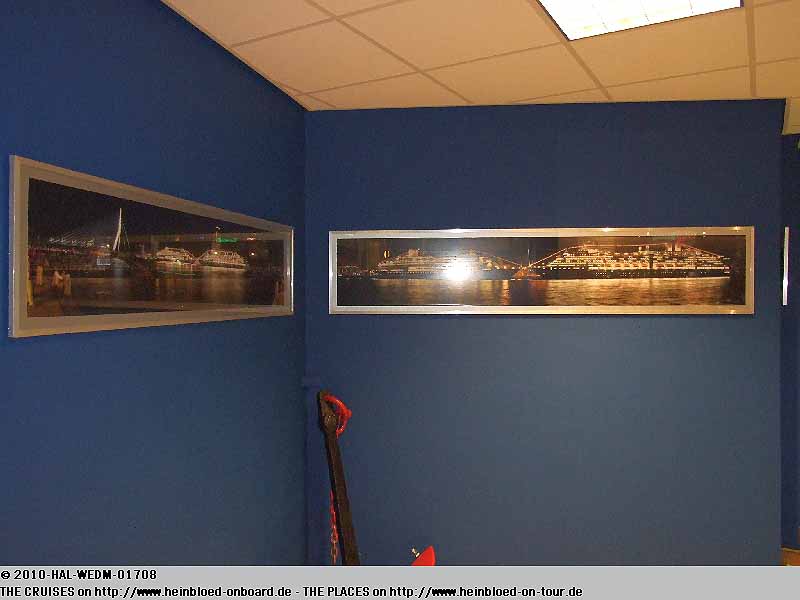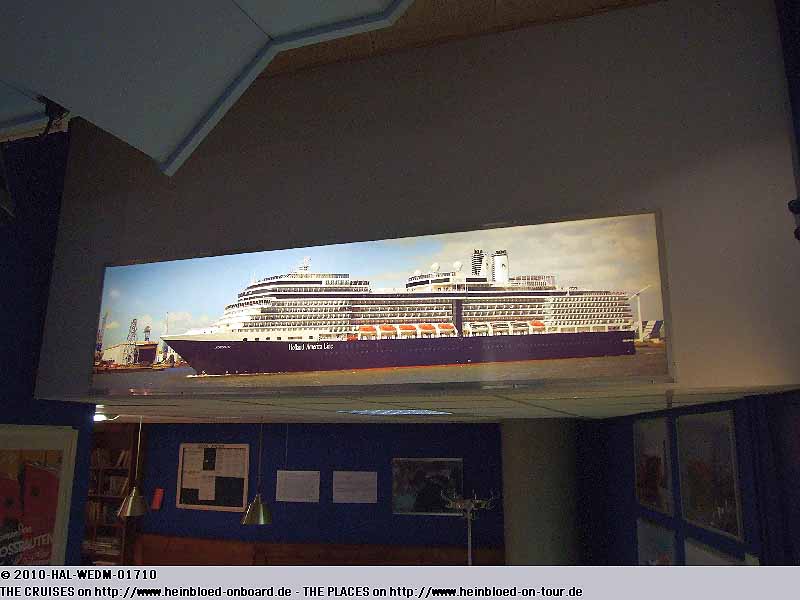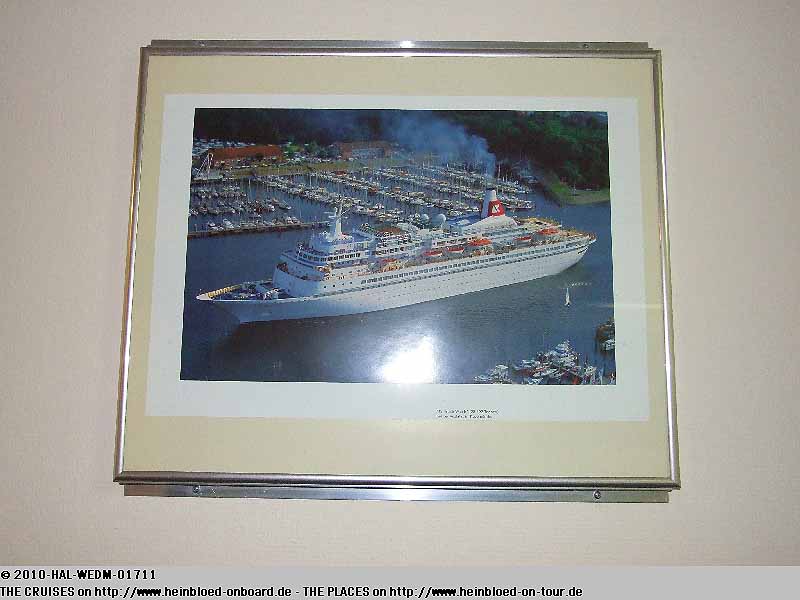 They introduce MY WESTERDAM as forthcoming call.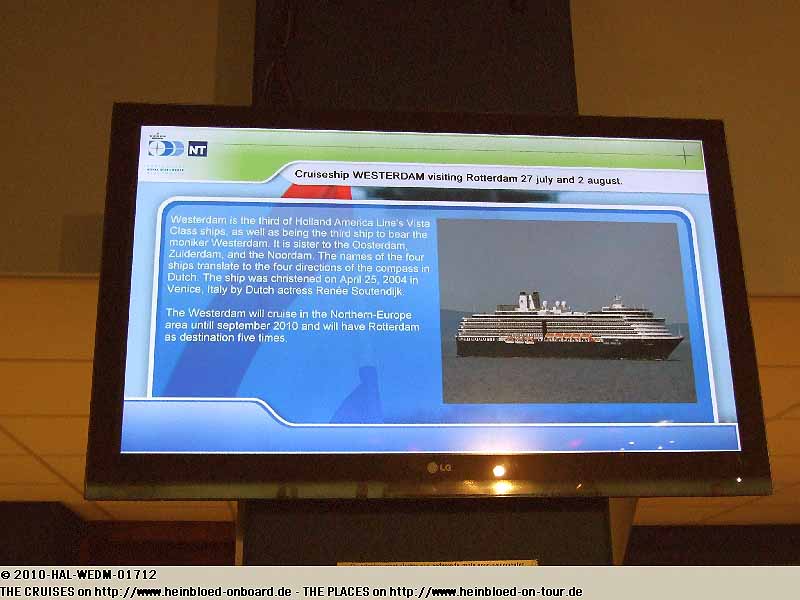 Auch MEINE WESTERDAM wird hier als Anlauf vorgestellt.
Als wir nach dem Essen wiederkommen, gucken wir mal nach ob unsere Mitreisenden aus cruisecritic.com schon schlafen...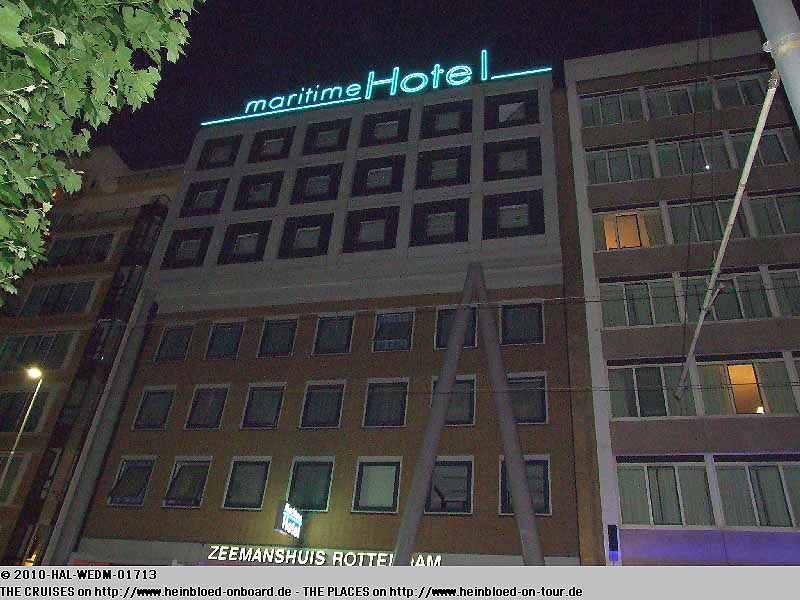 When we returned after dinner I need to check if our travel-mates from cruisecritic.com were sleeping...

Yes - estebofarr (Janis and Marti from Florida) were sleeping...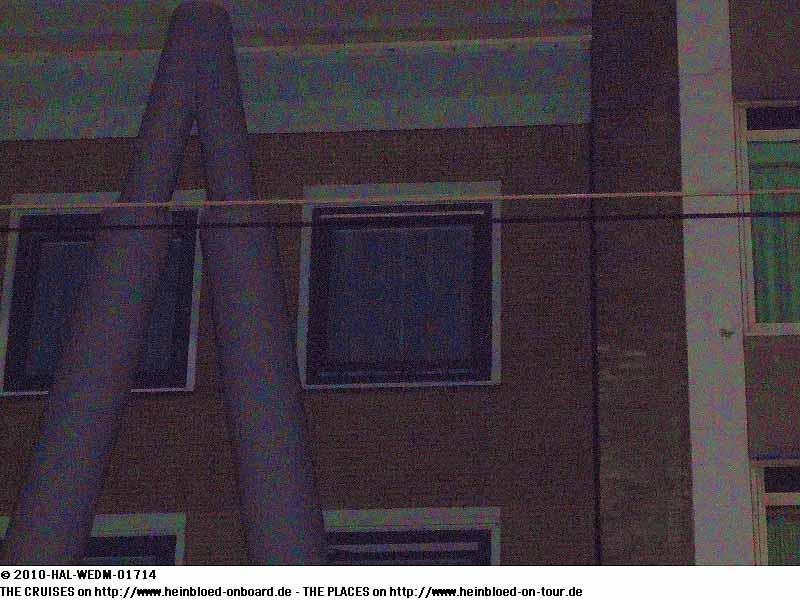 estebofarr (Janis und Marti aus Florida) schlafen wohl schon...
Als wir zum Abendessen fahren wollen, stellen wir fest, dass die Linie 7 bis zum 30.07.2010 gar nicht fährt, weil der Hauptknotenpunkt derzeit umgebaut wird. Das Cruise Terminal wird durch die Linien 20, 23 und 25 bedient. Nur unser Hotel wird im Moment durch die Linie 4 ersatzweise bedient.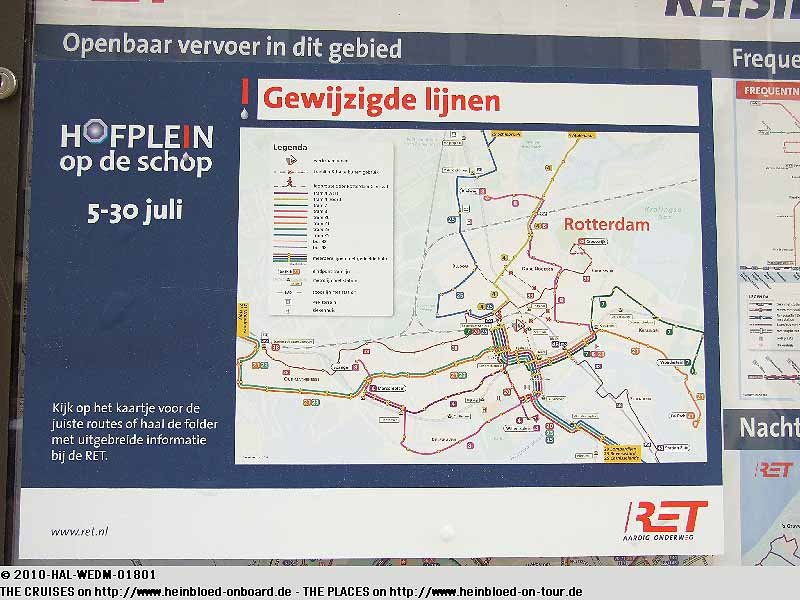 When we went to the dinner we found out that currently Tram 7 was not running until July 30, 2010 due to construction work on their main transfer point. The Cruise Terminal is still served by tram 20, 23 and 25. But just hour hotel was served temporary by tram 4.

I knew this Tai-Wu-Restaurang in China-Town before from a business dinner. As good as in New York, San Francisco, London and Toronto.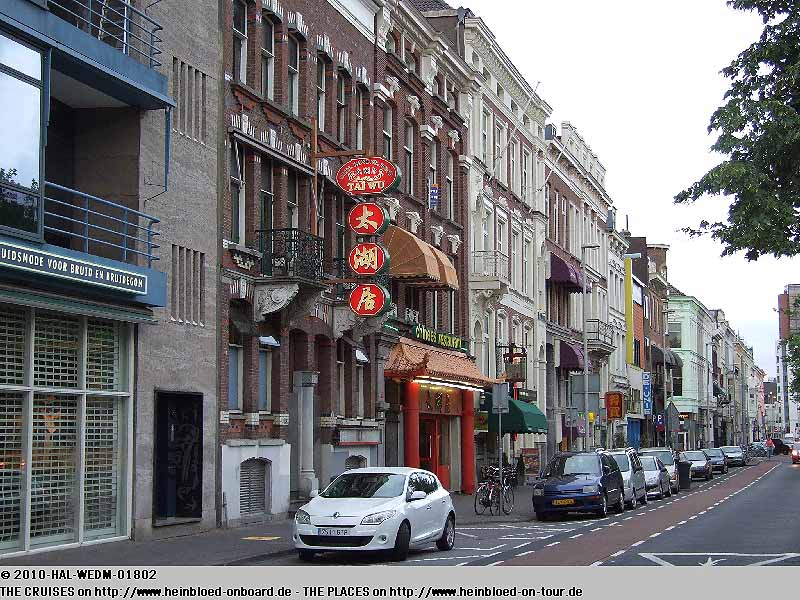 Durch ein Geschätfsessen kannte ich bereits das Tai-Wu-Restaurant in Rotterdams China-Town. So gut wie in New York, San Francisco, London und Toronto.
Hier kann man sicher sein: Bruno und seine Eltern werden auffallen, weil 90% der Gäste Chinesen sind. Einfach nur hmmm....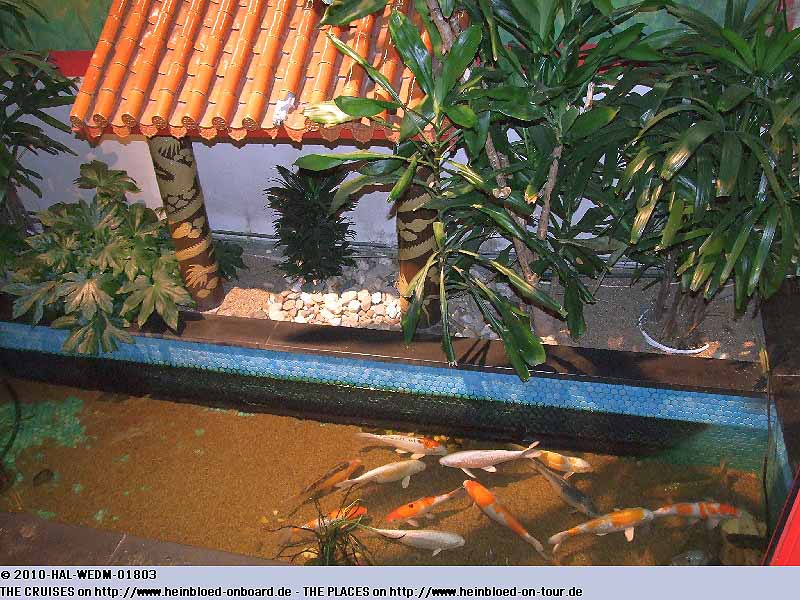 Bruno and his parents attracted the attention of the other guests as 90% of them are Chinese origin. Just yummy....