Scroll down for English explanations - alternates with German explanations.

Zum Mittagessen finden wir uns im Vista Restaurant ein. Heute ist geöffnet, genauso wie es im Tagesprogramm steht. Es ist so wunderbar, wenn Cristian (ohne h - er ist aus Rumänien...) vorbeikommt und mit seinen Adleraugen merkt, was gebraucht hier. Hier greift er sofort ein, um Herrn Pannen aus seiner Jacke zu helfen.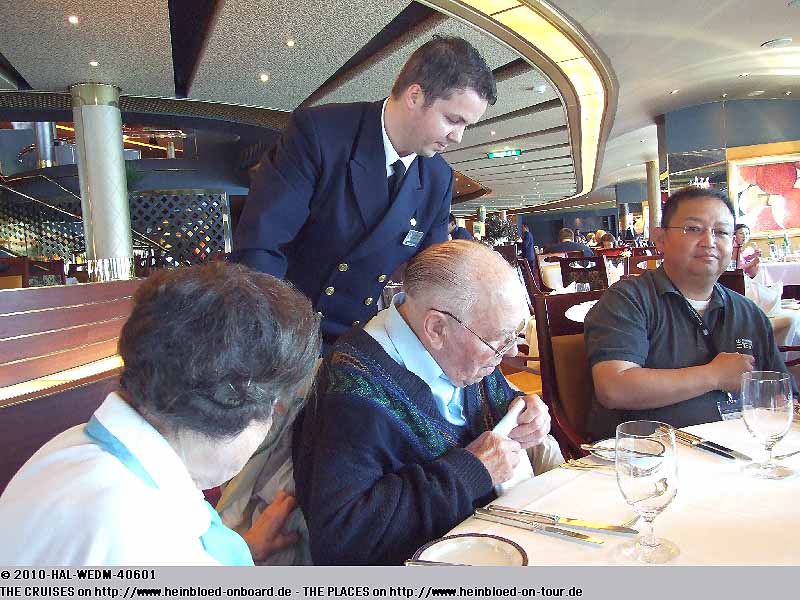 We went to the Vista Restaurant to have lunch. This day it was open as stated in the daily programme. It was always so wonderful when Cristian (no h - he is from Romania...) came by and saw with his eyes of a eagle what was need. Here he gave his hand to help Mr Pannen out fo this jacket.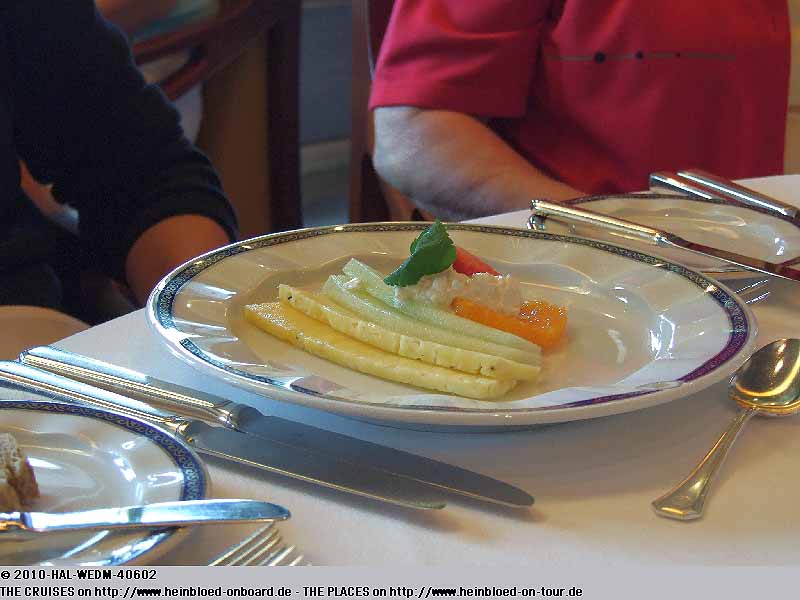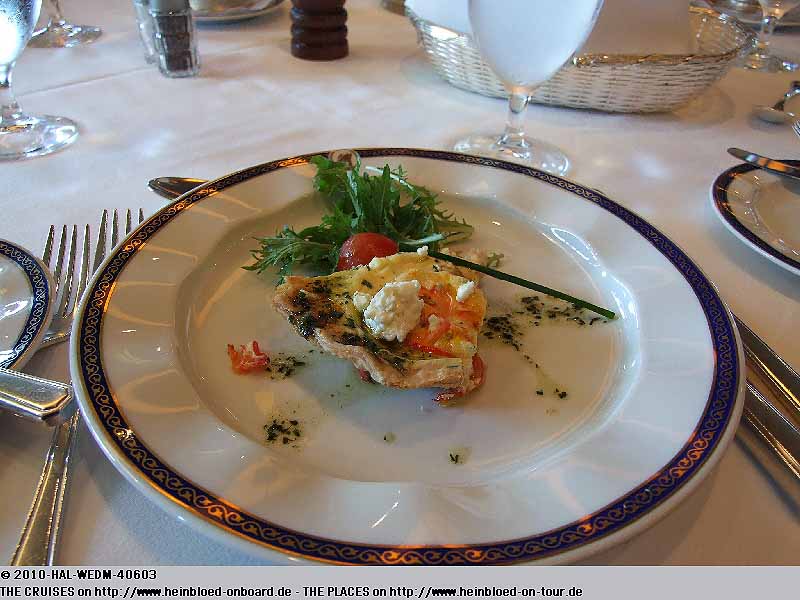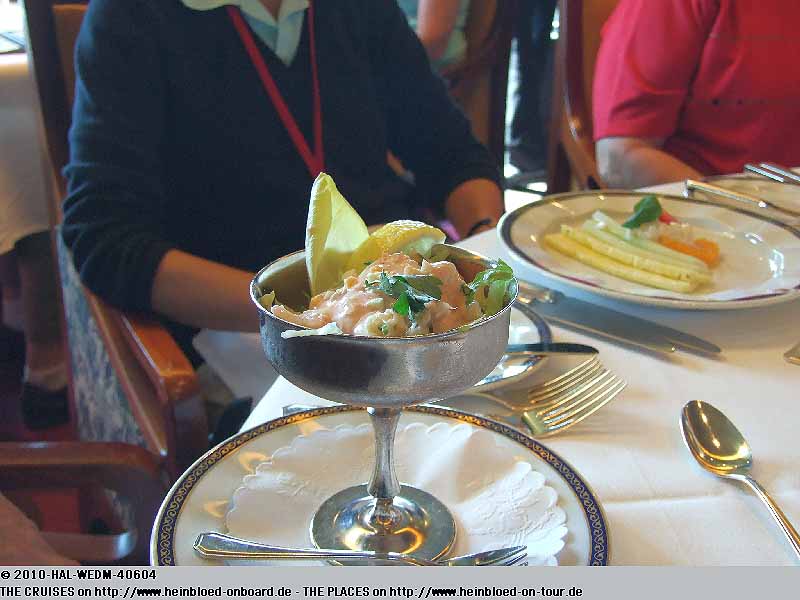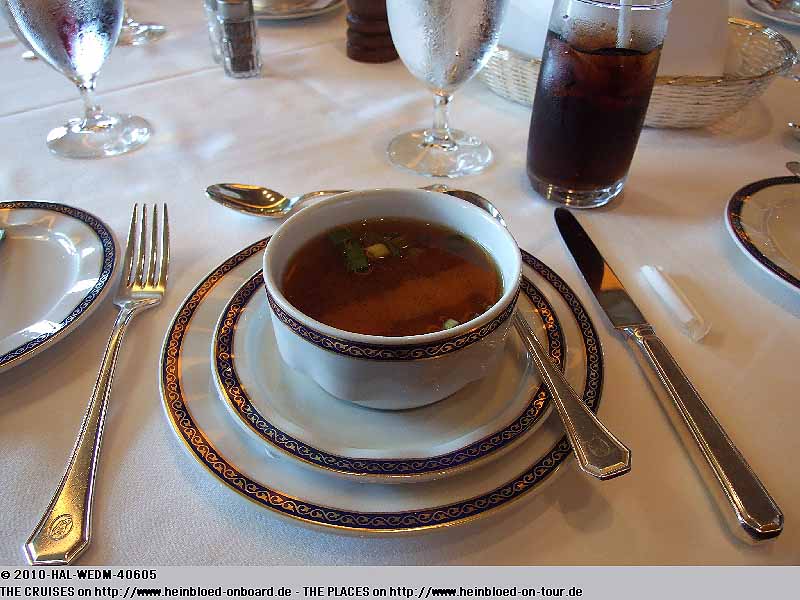 With the Indian food they should send someone to P&O.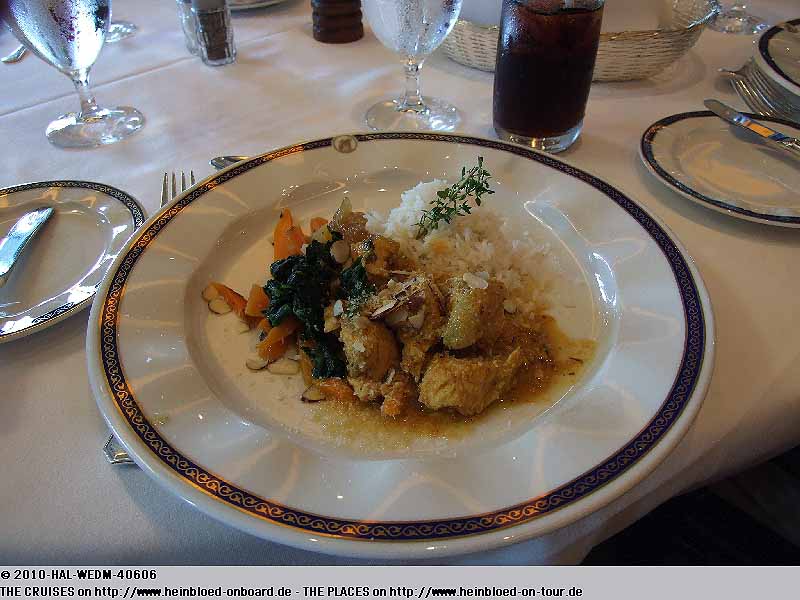 Beim indischen Essen, müssen sie mal jemanden zu P&O schicken.
Irgendwie fehlten die Fladenbrote und auch die diversen Chutneys, die als Auswahl serviert werden. Bei HAL gibt es nur einen kleinen Kleks vom Chutney.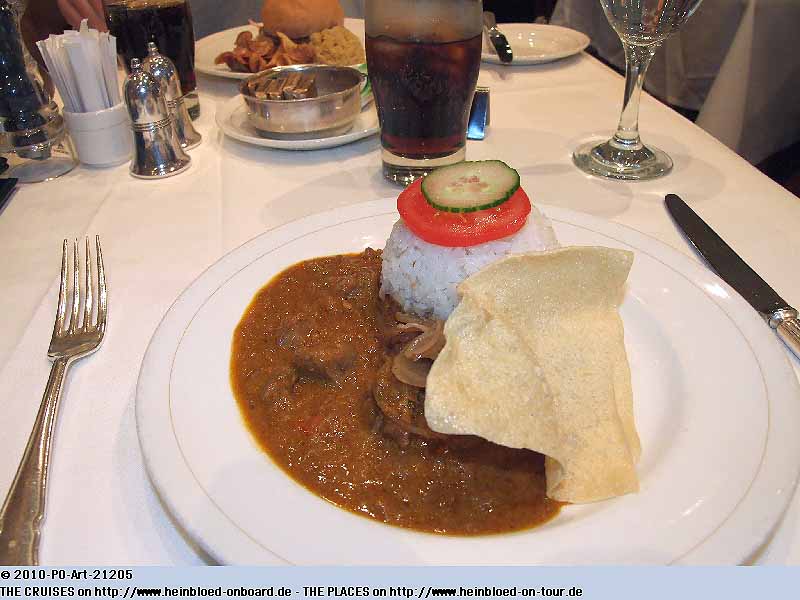 Somehow I missed the Indian flat breads and chutneys which they serve with a large variety. With HAL you get only a very little of chutney.

The fish & chips was nice...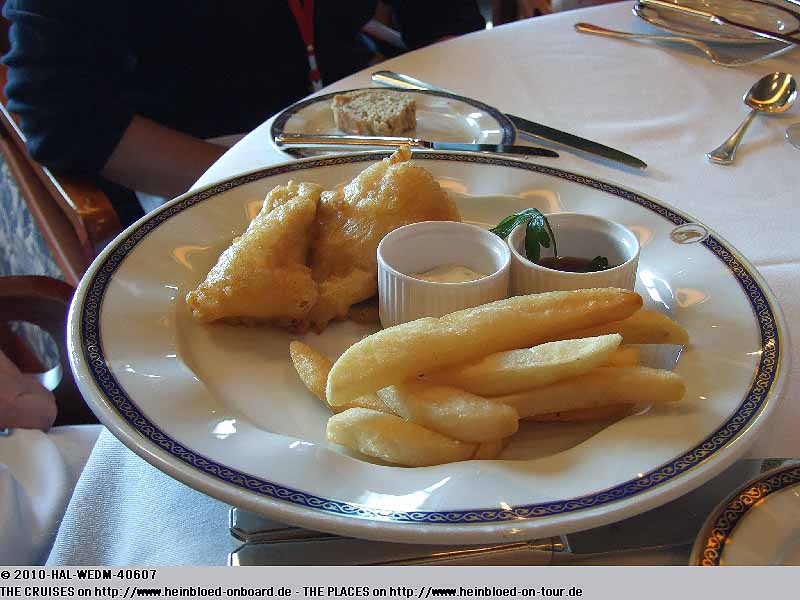 So lecker wie der Fish &Chips war...
aber so in Zeitungspapier eingewickelt wie hier bei Celebrity, wäre es doch absolut genial.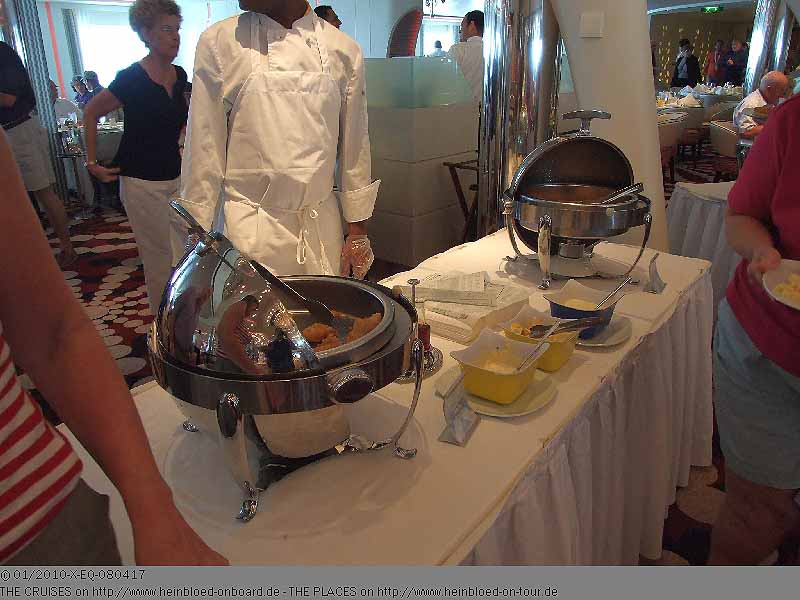 but wrapped in newspaper like here with Celebrity it would be totally brilliant.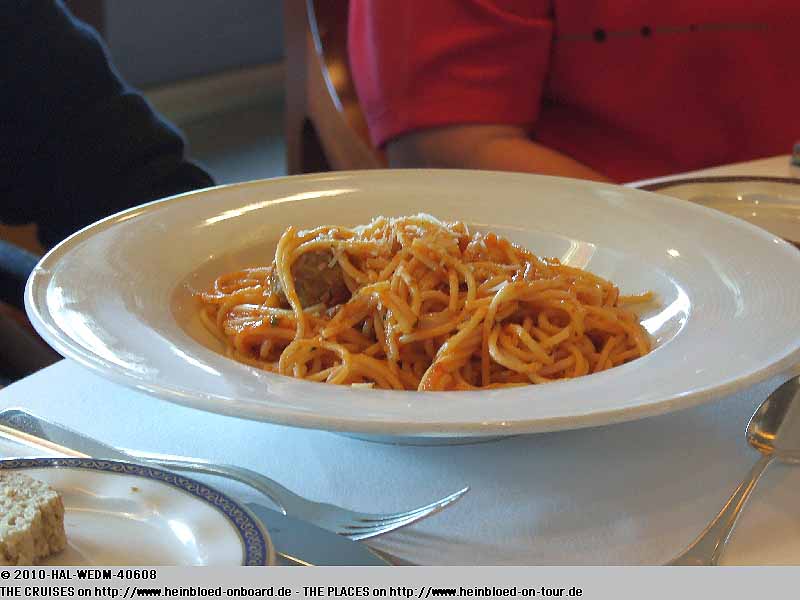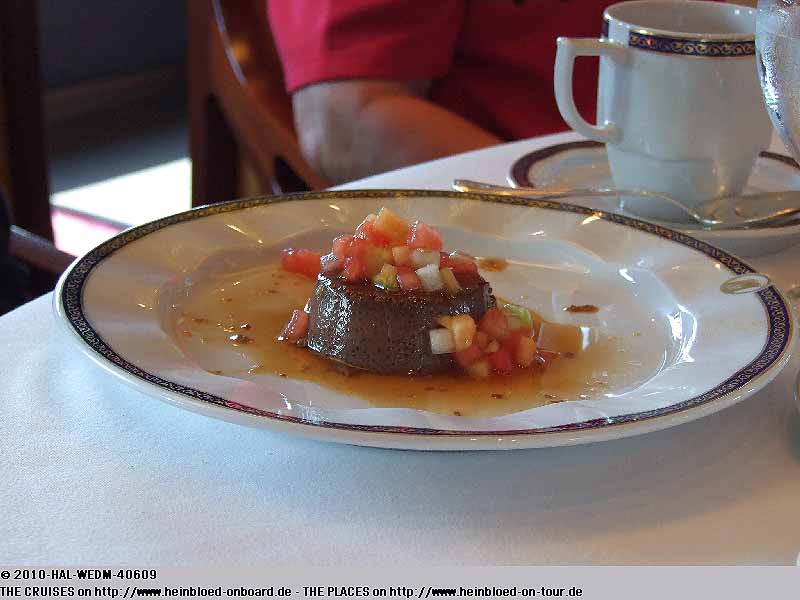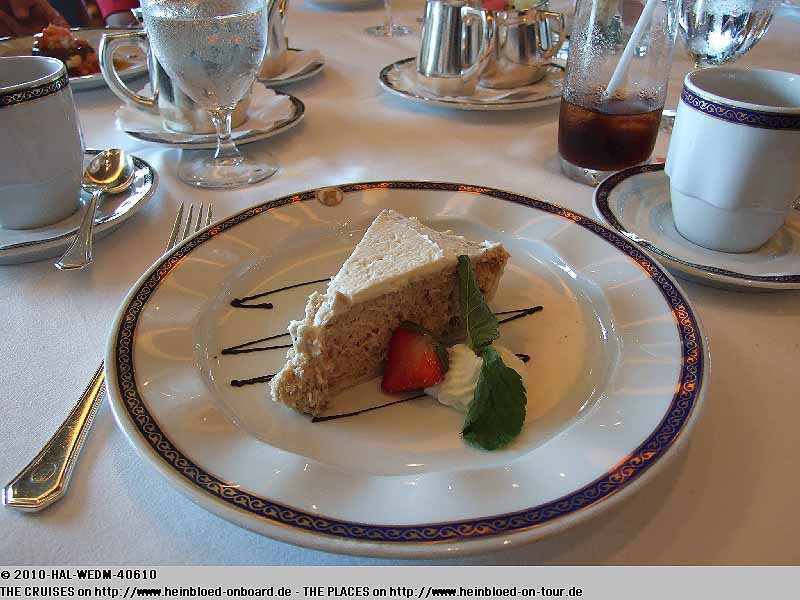 My coupon was not accepted and was returned. For sure they gave another new coupon with has a larger value: 30 minutes bonus if you buy a new package. I prefered to get me a new Norwegian SIM-card. It worked as well in some places in the Fjords with 3G HSDPA/HSUPA-standard. So they can keep their offer with them.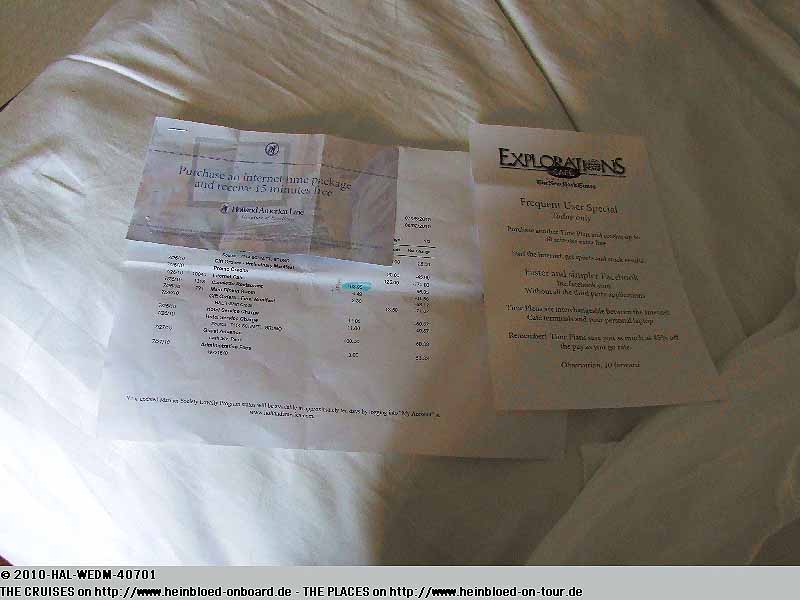 Mein eingereichter Coupon wird nicht akzeptiert und kommt zurück. Sicherheitshalber legt man mir einen neuen Coupon bei, der noch mehr wert ist: 30 Minuten Bonus bei einem neuen Paket. Ich habe mir lieber einen norwegische SIM-Karte besorgt. Sogar in den Fjorden funktioniert es in manchen Orten mit HSUPA/HSDPA. Also können sie ihr Angebot behalten.
Weil die gute Dame beim Check-in in Rotterdam neu war, kannte sie es nicht, dass man auch die Kosten anderer an Bord übernehmen kann. Weil Frau und Herr Pannen keine Kreditkarte haben, rechnet Bruno die Kosten über seine Kreditkarte ab und lässt sich das Geld zurücküberweisen. Nur wenn die Dame vergisst Brunos Name zu vermerken, und die Anfrage mit falschem Namen erfolgt, gibt es einen Brief von HAL. Aber Yvonne nimmt sich der Sache an und später muss Bruno nur nochmals ein Formular unterschreiben und Frau und Herr Pannen werden nicht in Geirganger von Bord geworfen.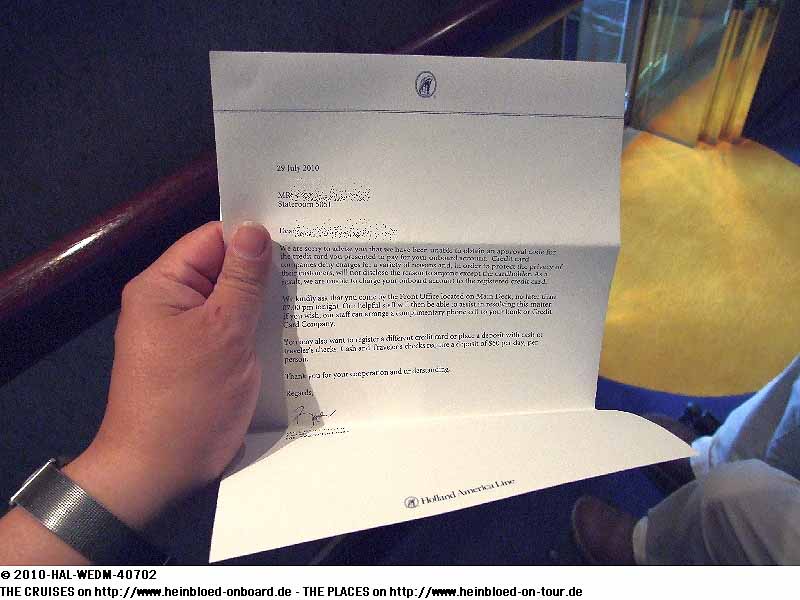 Because the lady at the check-in in Rotterdam was new she did not know that a guest can cover the costs of another guest. Because Mrs and Mr Pannen had no credit card Bruno covered the charges and get refunded later. But when the lady forgot to add Bruno's name to the records and the hold-request was not made with the correct name you get a letter from HAL. But Yvonne took tare of the issue and later Bruno only need to sign a form and Mrs and Mr Pannen were not released from the ship in Geiranger.

We got our German news and again a city map for tomorrow.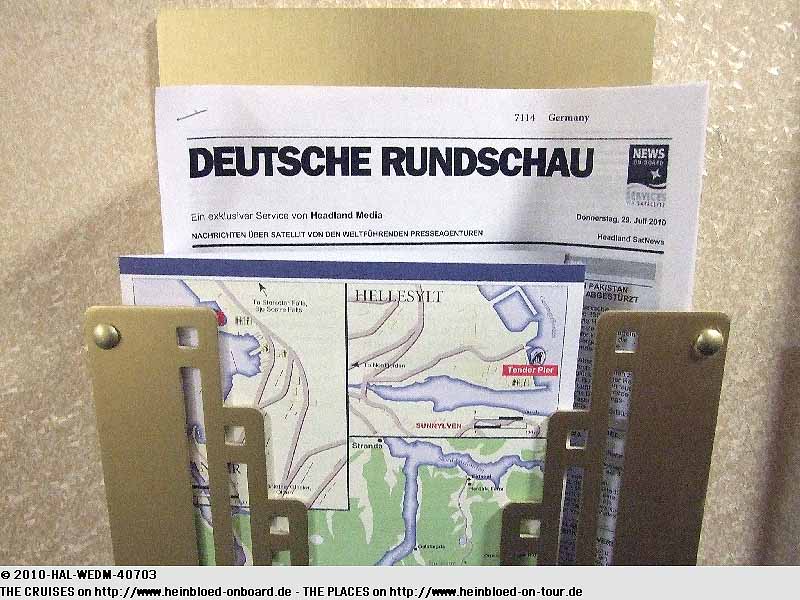 Wir bekommen deutschsprachige Nachrichten und wieder den Stadtplan für morgen.
Unsere Stewards machen gerade unseren Balkon sauber.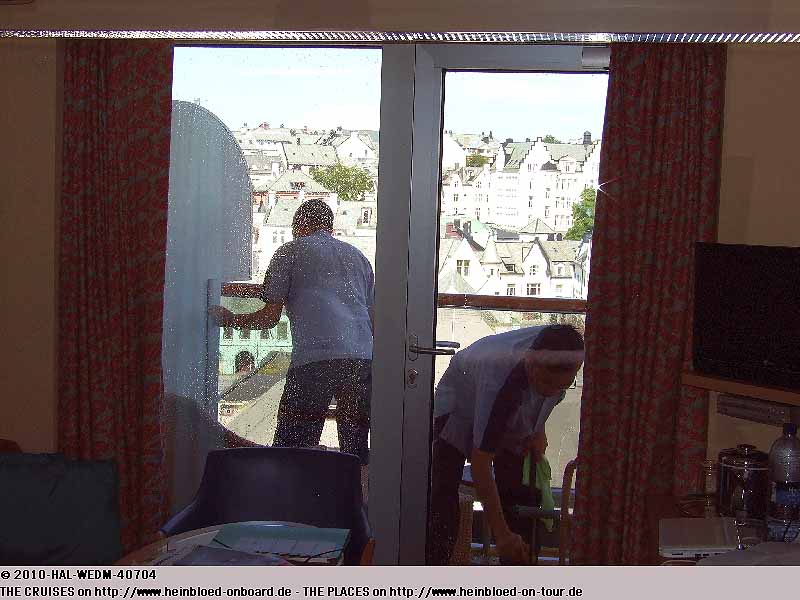 Our stewards were cleaning our verandah.

When they saw the flashes of our camera they were a little irritated... but waved friendly into the cabin even they had no idea who was in the cabin...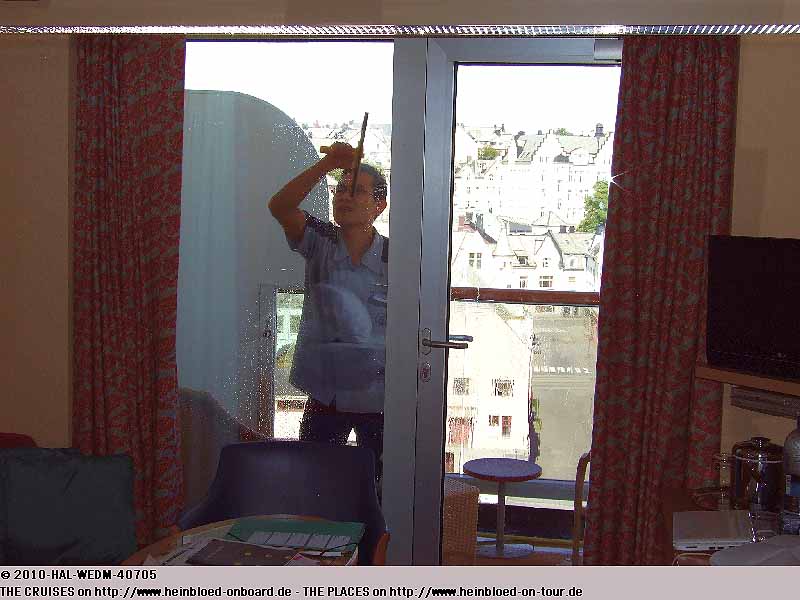 Als sie die Blitze unserer Kamera sehen, sind sie etwas irritiert... winken aber freundlich rein, auch wenn sie gar nicht sehen, wer in der Kabine steht...
Unser Handtuchtier...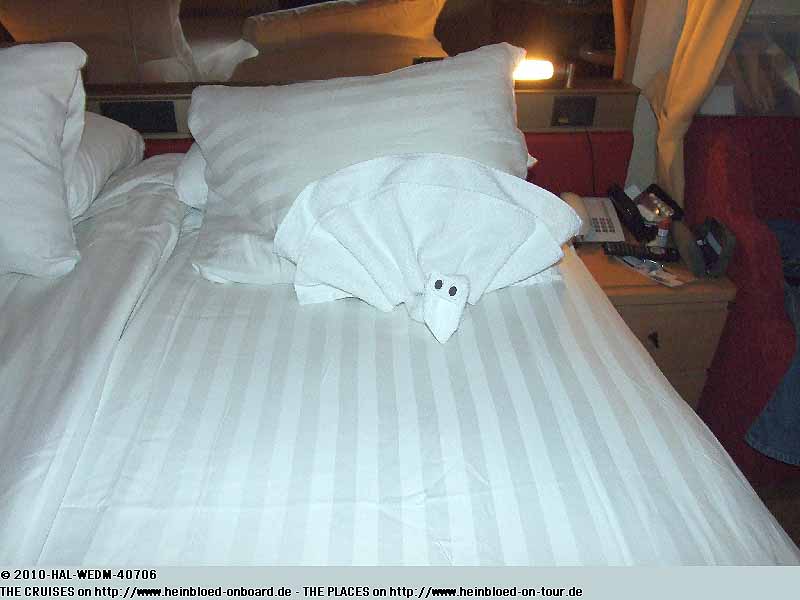 Our towel animal.

By this way: this is Yvonne... I think that HAL has the most individualized service. They must have it from my NCL-blogs that I only repeat to book NCL to get a personal made Cesar's Salad which she owes me since I met her on NORWEGIAN SPIRIT, NORWEGIAN JADE, NORWEGIAN GEM and NORWEGIAN EPIC. That why the HAL-T-Shirt was not available on board although it was confirmed by Seattle and ordered and paid since January 28, 2010. They made it. We booked ZAANDAM for March 2012 and will order and pay a T-shirt again... Now they have nearly two years time to get it to the ship. I am sure it will not be available on ZAANDAM again so I need to book another cruise to try it again to get my T-Shirt. To take out the bittersweet Yvonne offered me as alternative a HAL-Polo-Shirt. She is a professional and knows how to treat a customer and keeps him loyal.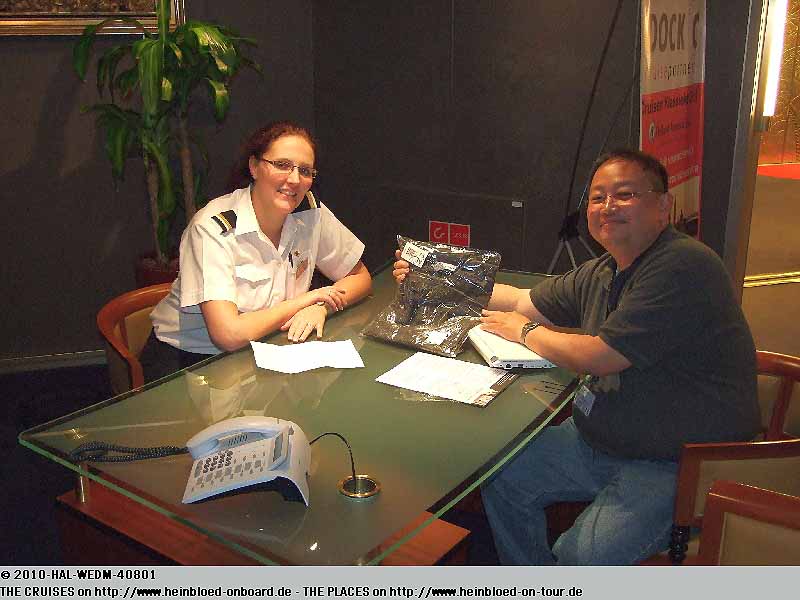 Das ist übrigens Yvonne... Ich denke mal, dass HAL den persönlichsten Kundendienst haben, den es gibt. Sie haben das ja in meinen NCL-Blogs gelesen, dass ich ja nur wiederholt NCL buche, damit Luiza mir endlich persönlich den Cesar's Salad macht, den sie mir seit der NORWEGIAN SPIRIT, NORWEGIAN JADE, NORWEGIAN GEM und NORWEGIAN EPIC schuldet. Deswegen ist das HAL-T-Shirt auch mal wieder nicht da, obwohl zuvor von Seattle bestätigt und bereits am 28.01.2010 bestellt und bezahlt habe. Sie haben es geschafft... wir haben ja die ZAANDAM für 2012 gebucht und ich werde mal das T-Shirt bestellen und bezahlen... Sie haben ja fast zwei Jahre Zeit, um das T-Shirt zu besorgen... Wahrscheinlich ist es auf der ZAANDAM wieder nicht da, damit ich eine weitere HAL-Reise buche, und es wieder versuche... Damit aber ich nicht verbittert die nächste Reise buche, bietet mir Yvonne als Alternative dieses schöne HAL-Polo-Shirt an. Sie ist ein Profi und weiss, wie man Gäste beruhigt und ihre Loyalität gewinnt.
Bruno in seinem Lieblings-Café: Exploirations-Café. Hierfür hat er eine Kaffeekarte. Die Auslieferung der Getränkekarten hat bislang auf allen drei Abfahrten geklappt. Ein Kompliment für den jeweiligen Getränke-Manager - auf diesem Schiff: Walter...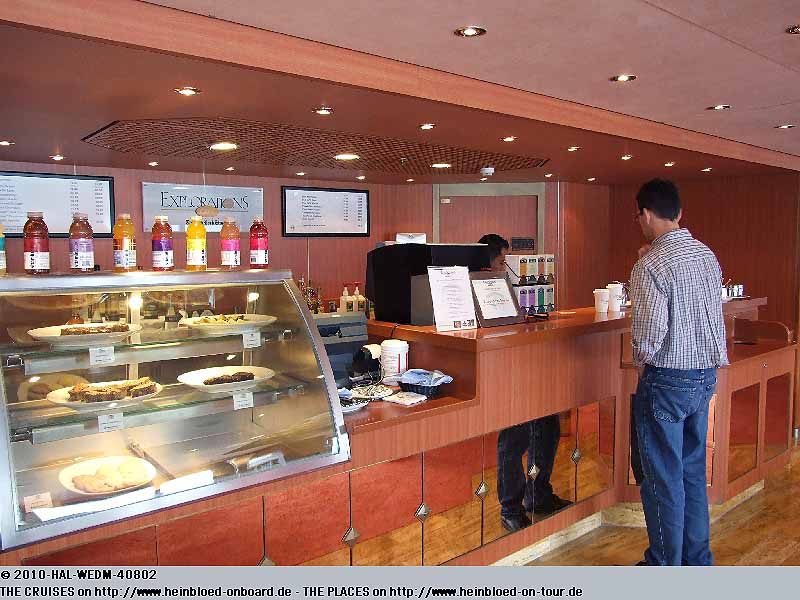 Bruno in his favorite coffee store: Exploirations-Café. We had a coffee-card. De delivery of the beverage-cards worked very well so far on all three sailings. A compliment to the Beverage Manager on duty - on our ship: Walter...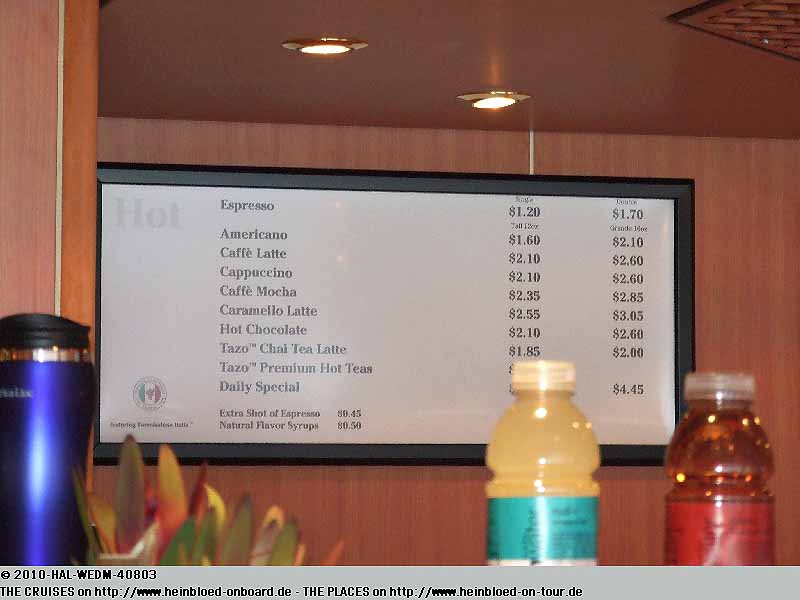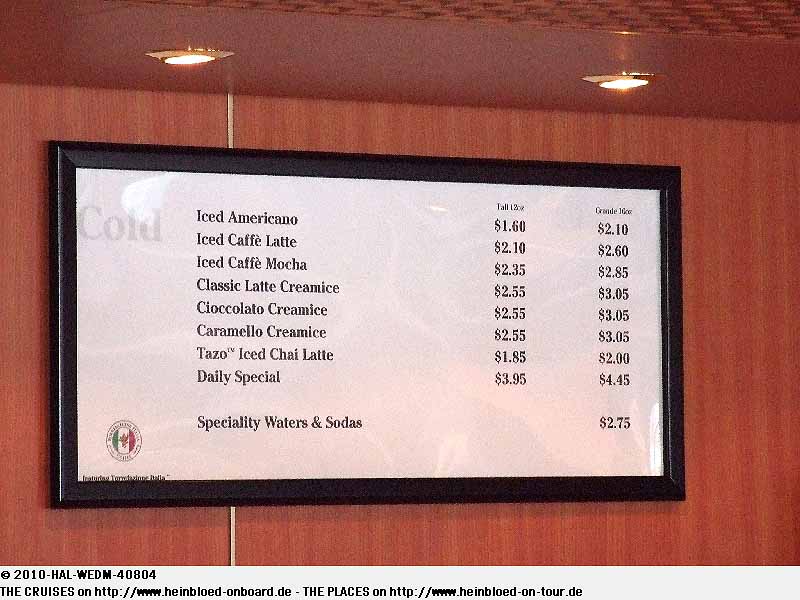 The Crow's Nest is just a wonderful place to relax.

Das Crow's Nest ist einfach ein wunderschöner Ort zum Entspannen...
... und zum Gucken... Schade, dass es so etwas auf der MSC FANTASIA nur für Yacht-Club-Gäste gibt und auf der NORWEGIAN EPIC nur für SB-Gäste bzw. Gäste des Il Cucina-Restaurants oder Gäste des Courtyards. Aber hier bei HAL gibt es diesen Blick ohne Verzehrszwang für alle. Der Blick zum Horizont gehört einfach zu einer Kreuzfahrt dazu.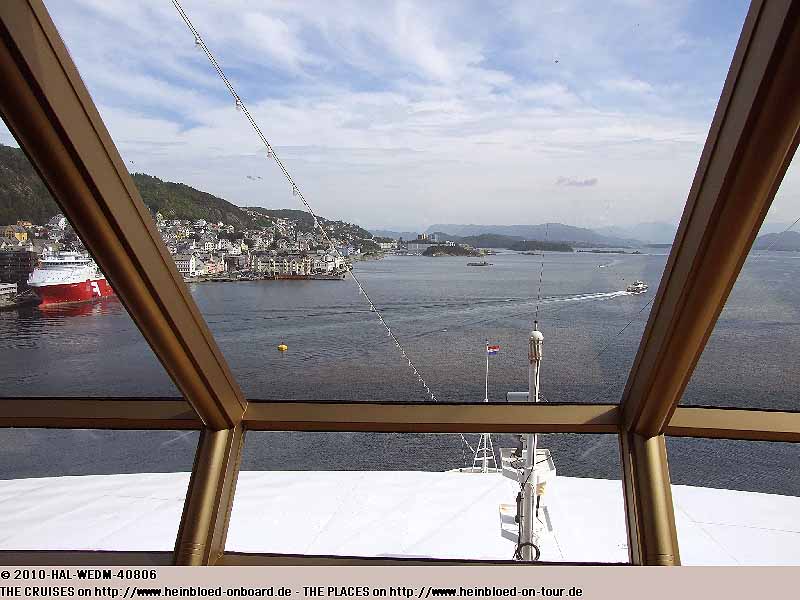 ... and to watch... What a shame: on MSC FANTASIA it's only limited to their Yacht-Club-guests and on NORWEGIAN EPIC only for guests of the Self-Service-Restaurant or Il Cucina-Restaurant. But like here with HAL everybody can have this view without constraint of consumption. The view of the horizon is part of a cruise.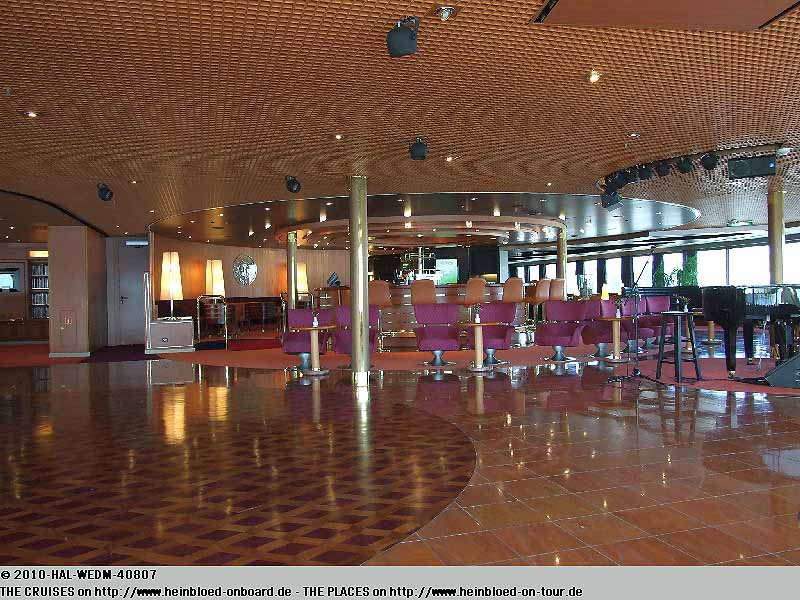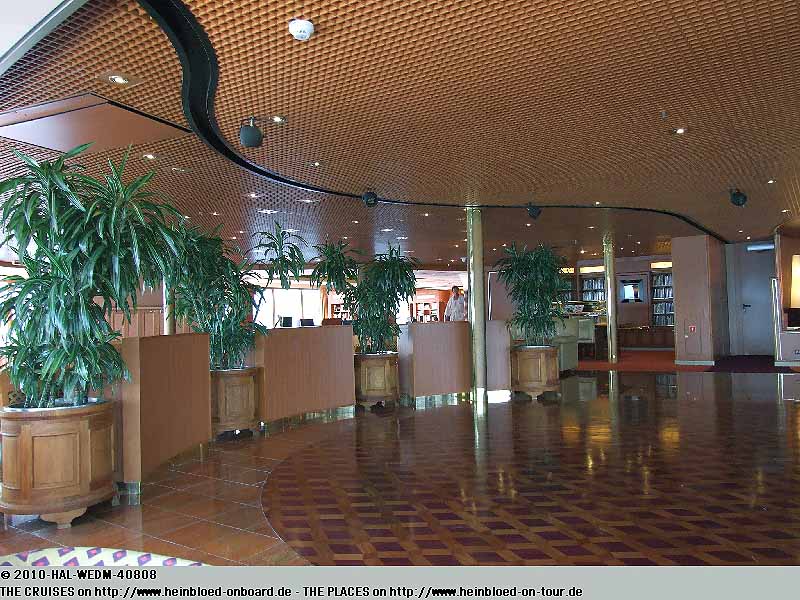 You can get here DVDs. We had an DVD-player in our cabin as well. But only guests of the higher categories can get the DVDs free of charge.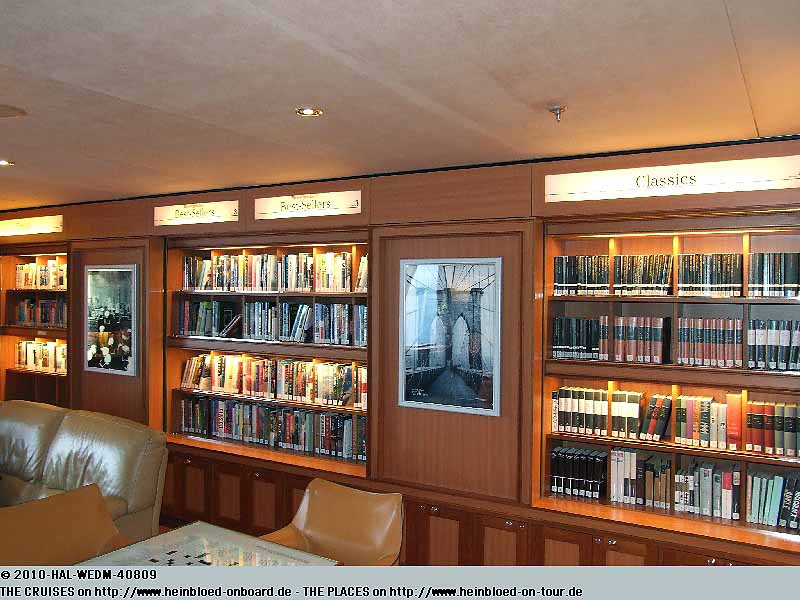 Hier kann man sich DVDs ausleihen. Auch wir haben einen DVD-Spieler in der Kabine. Allerdings nur Gäste der höheren Kategorien dürfen kostenlos DVDs ausleihen.
Auf unserem Deck 7 befindet sich ebenfalls die Neptune Lounge.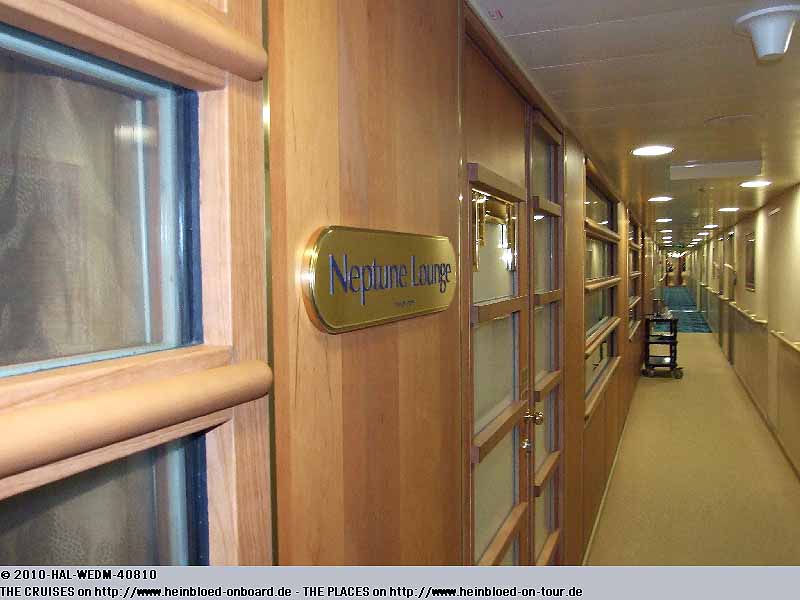 Our our deck 7 you find also the Neptune Lounge.

It was exclusively for Deluxe Suites and Penthouse guests.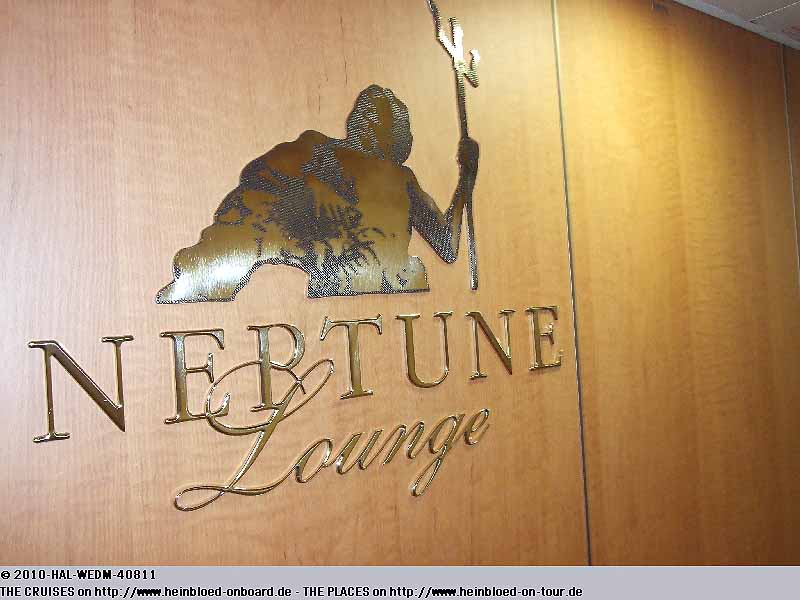 Sie ist den Deluxe Suiten und Penthouse-Gästen vorbehalten.
Es gibt kostenlos Getränke und Kleinigkeiten zu essen.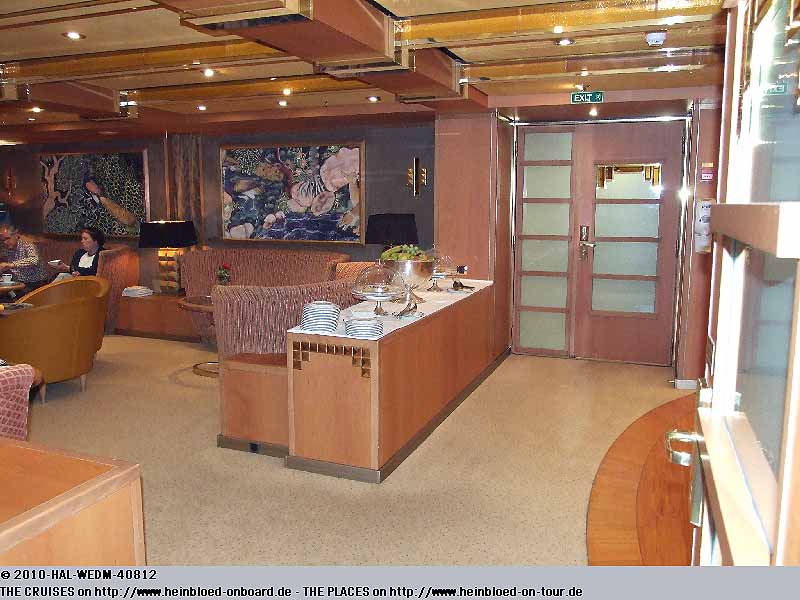 You can get some complimentary beverages and small snacks to eat.

You can also book shore excursions here at the terminals.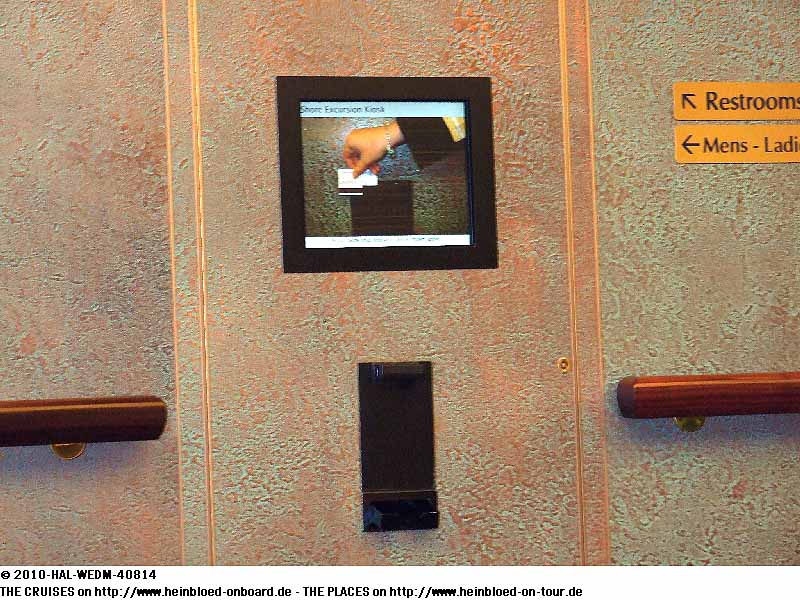 Auch an diesen Terminals kann man Ausflüge buchen.
Nach dem Yvonne eine tolle Vorarbeitet geleistet hat, und ich endlich die Reise genießen kann, buche ich bei Vlatka unsere ZAANDAM Reise.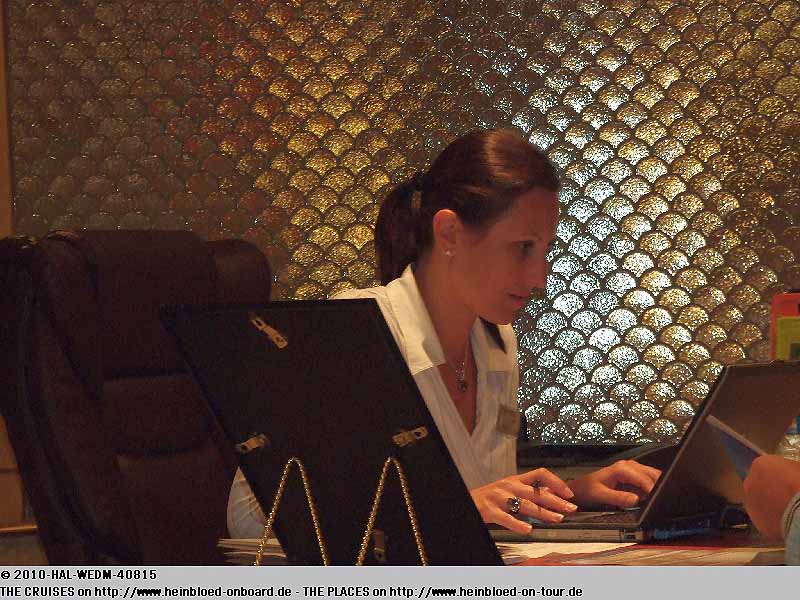 After Yvonne made a great preparation and I can started to enjoy the voyage I booked with Vlatka our ZAANDAM-voyage.

I know only one company HAL who is using "Sex, Drugs and Rock'n Roll" to make their customers loyal: Beautiful women, great food and first-class entertainment. I am sure that many older men just book a cruise because they want to have a talk with the attractive women... Before it was Leslie on EURODAM... What a pity that Leslie is no more with HAL...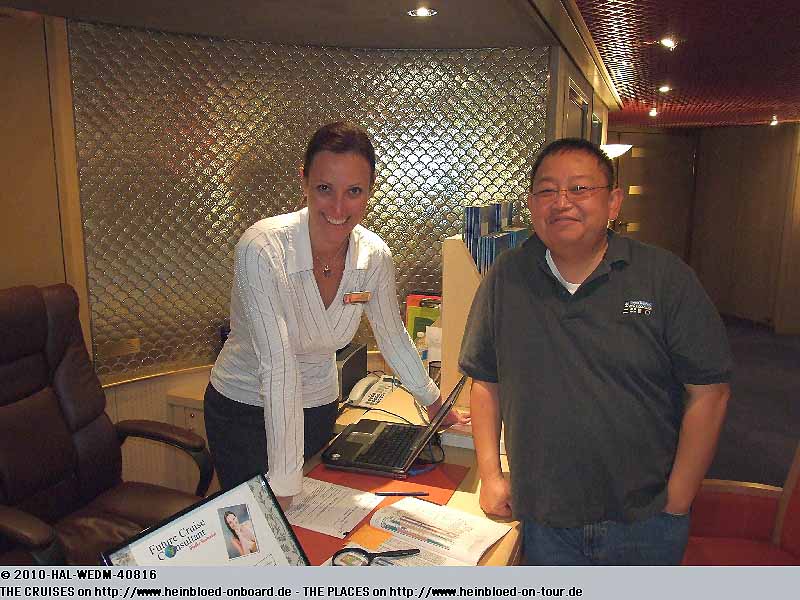 HAL ist die einzige Gesellschaft, die ich kenne und die zu "Sex, Drugs und Rock'n Roll" greift, um ihre Kunden zu binden: Schöne Frauen, großartiges Essen und erstklassige Unterhaltung. Ich bin sicher, dass viele ältere Männer schon alleine, um mal mit einer so attraktiven Frau zu sprechen, eine Reise buchen. Zuvor auf der EURODAM war es ja Leslie... Schade, dass Leslie nicht mehr bei HAL ist...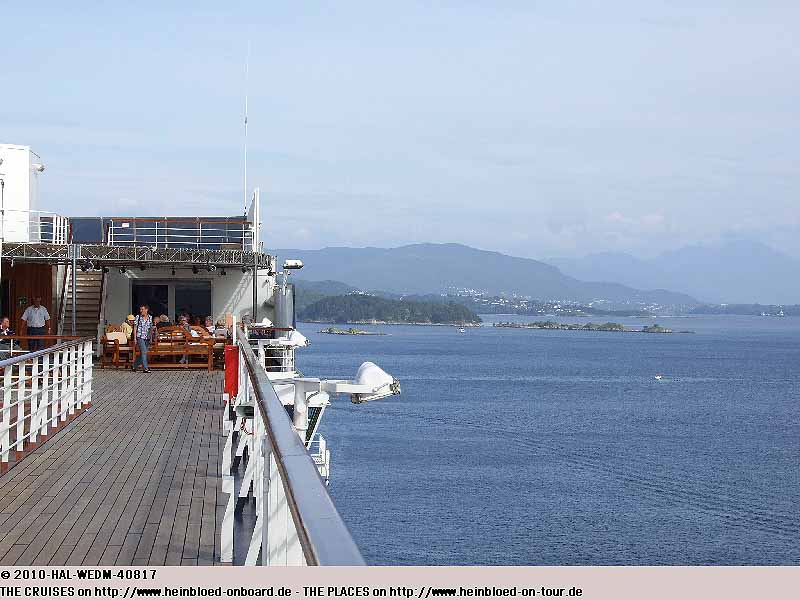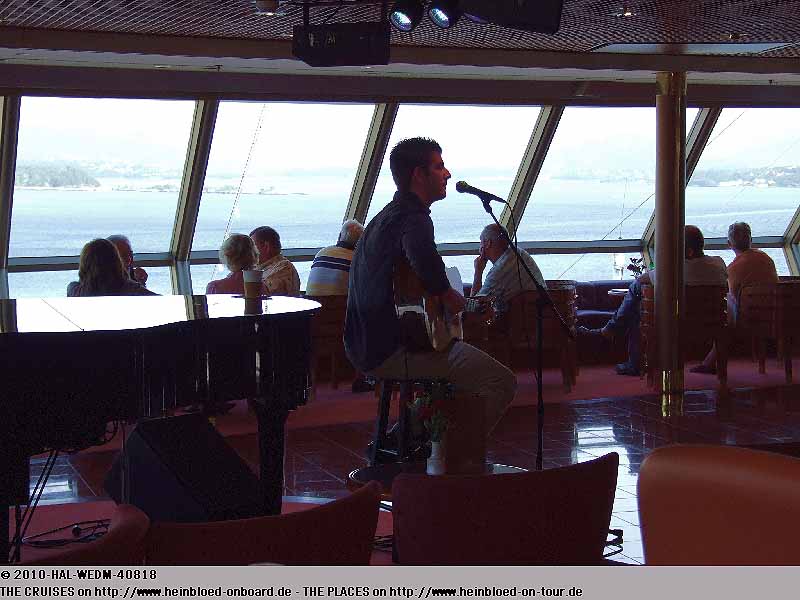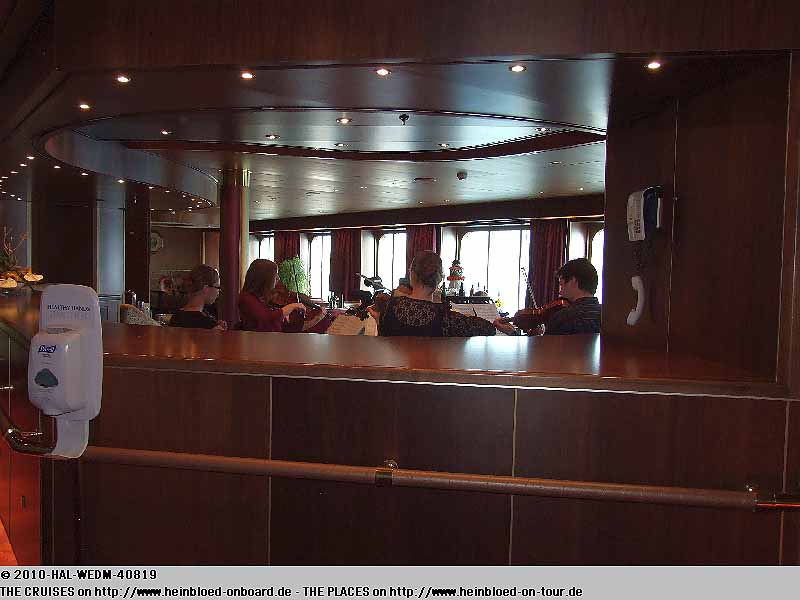 Something for an adult's palate: anticipation for your dinner.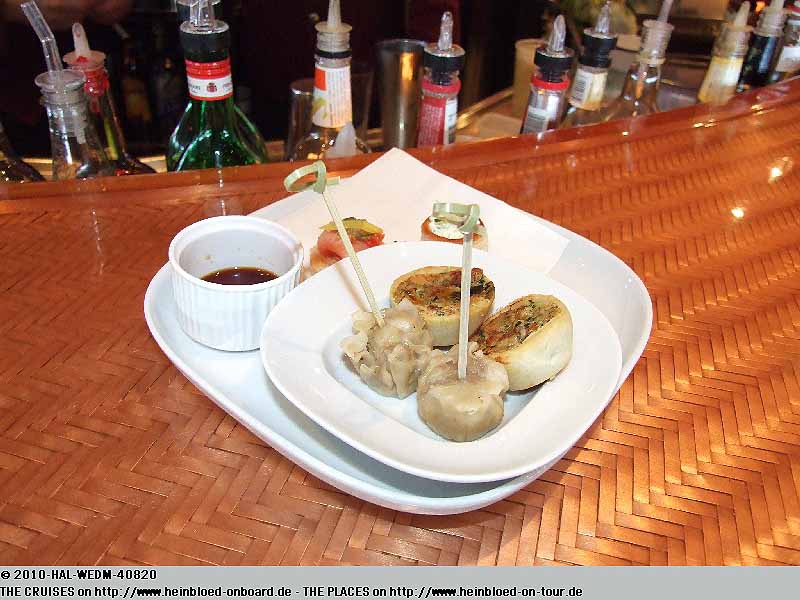 Und wieder für den Gaumen eines Erwachsenen: die Vorfreude auf das Abendessen.
Jemand von der Crew sagte mir, dass man auch bei dem Umgang untereinander eine andere Kultur pflegt und das sieht man hier auch. Vielleicht ist es das Geheimnis, warum man sich als Gast bei HAL so wohl fühlt: die Crew... wenn ich das Verhältnis bei NCL zwischen guter Crew und Ausnahmen mit 99:1 beschreibe, so fühlt es sich für mich bei HAL eher wie 99,9 : 0,1 an.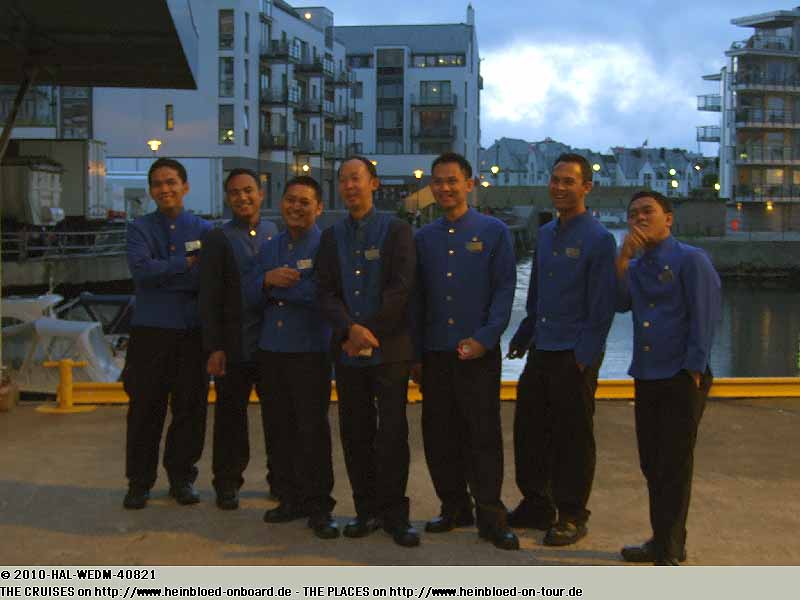 Someone from the crew told me that the treatment within the crew follows another culture and you can see and feel it. Maybe it is the secret why you feel so well as guests of HAL: the crew... if I describe the ratio of good crew and expections on NCL 99:1 I had the feeling that it was more 99.9 : 0.1 with HAL.