Scroll down for English explanations - alternates with German explanations.

Nun das erste AIS-Signal zeigte eine Ankunft um 04.00 Uhr an. Um 03.00 Uhr bin ich aufgestanden: da zeigte es 06.00 Uhr. Als ich morgens aufwache, steht aber schon mal das Zelt für das Gepäck da.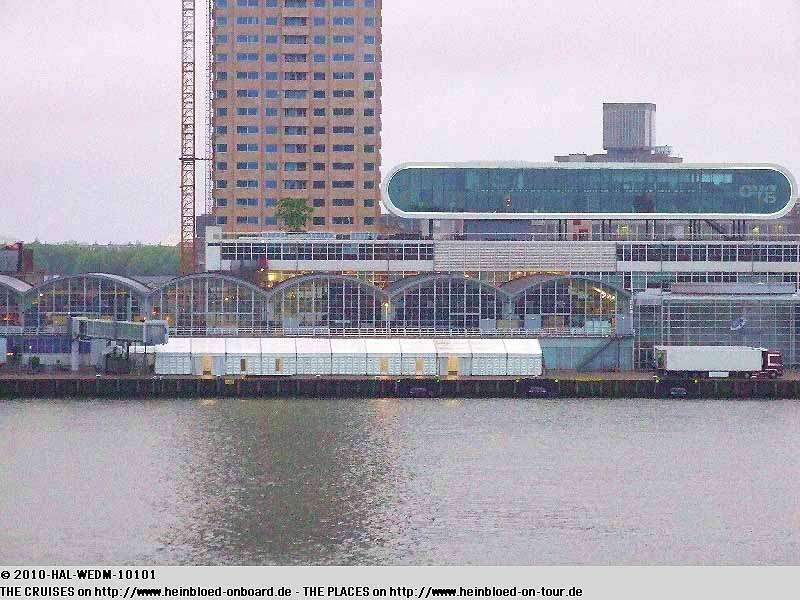 The first AIS-signal showed eta of 04.00 hrs. At 03.00 hrs I woke up to see that it was changed to 06.00 hrs. When I woke up later the morning I saw already the tents for the baggage handling.

Good to know: there was no strike of bus drivers so the arriving guests from South Africa had no reasons to stay longer on MY WESTERDAM.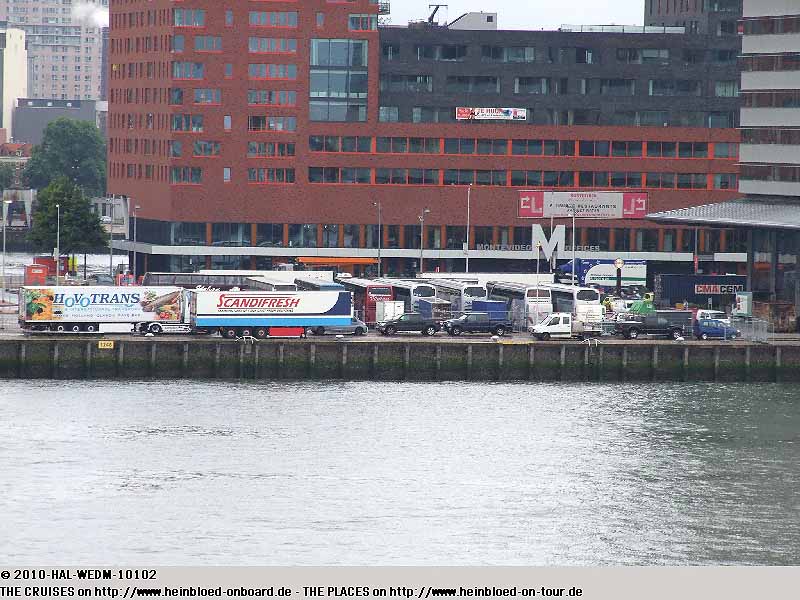 Schon mal gut zu wissen: die aus Südafrika kommen, müssen von Bord. Nicht dass es einen Streik der Busfahrer gegeben hätte, uns sie hätten einen Grund gehabt, länger auf MEINER WESTERDAM zu bleiben...
Gegen 08.30 Uhr wecke ich estebofarr, weil ich versprochen habe, dass ich deren Gepäck zum Cruise Terminal mit meinem Auto mitnehme. So können wir alle nachher über die Brücke laufen. Aber es kam auch schon die Vorhut.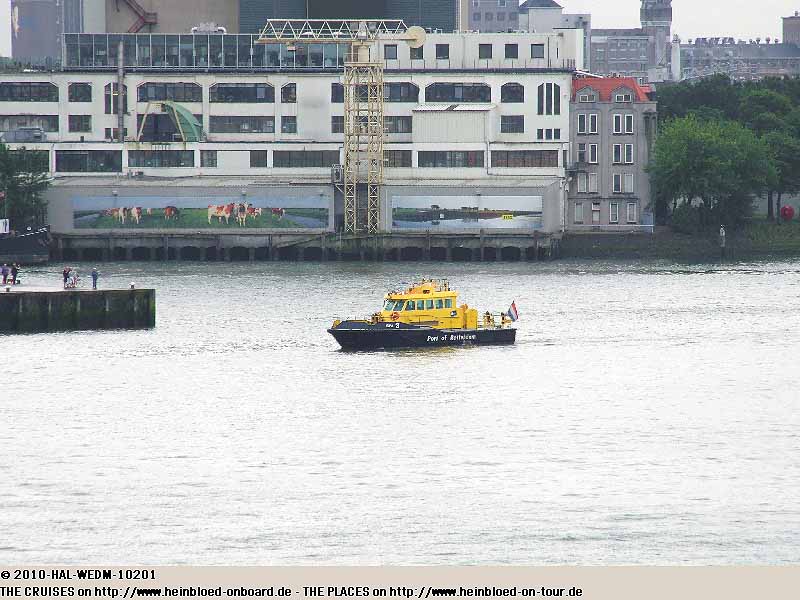 Around 08.30 hrs I woke up estebofarr because I wanted to keep my promise to get her bags to the cruise terminal with my car. So we can just walk over the bridge easily. But the first escort arrived.

Then the fire brigade.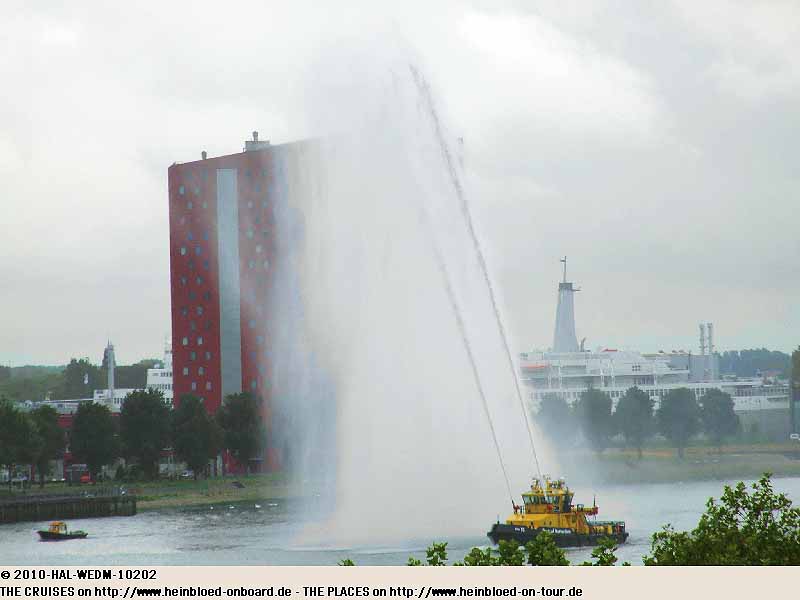 Dann kam die Feuerwehr.
Und da ist sie: MEINE WESTERDAM.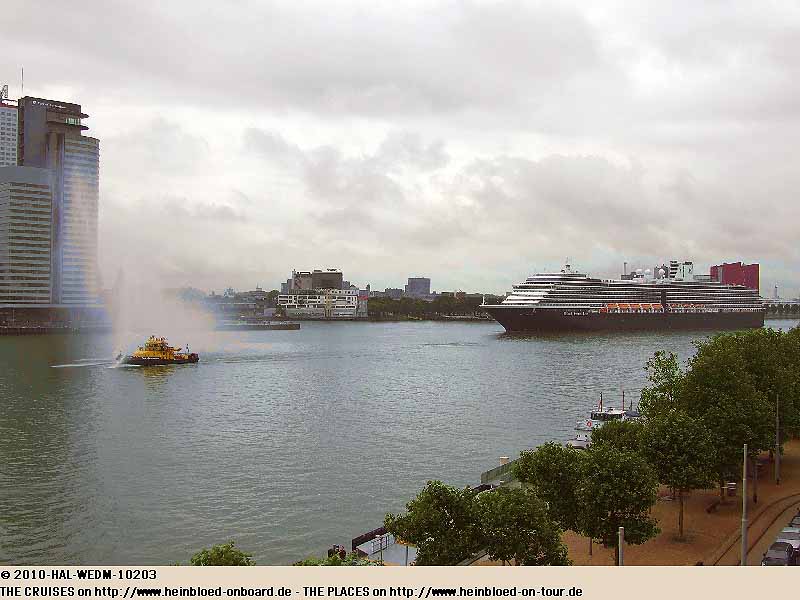 And then she was there: MY WESTERDAM

I was not sure if there might be some from the German forum forengruppe.de whom I might know from internet and they wave.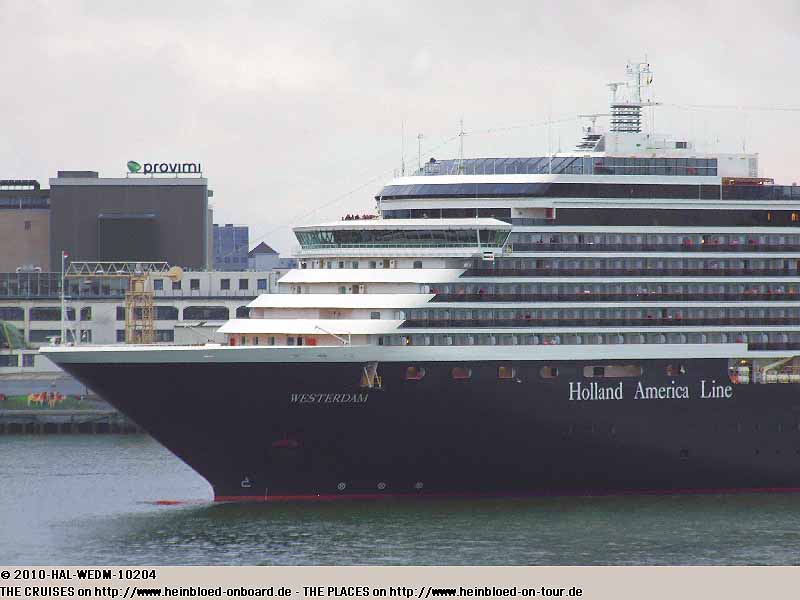 Ob da welche sind, die ich aus der forengruppe.de sind, die ich vom Internet her kenne und zuwinken??? Ich stelle nach meiner Reise noch ein paar Bilder im Original-Format ins Netz. Dann könnt ihr gucken, ob ihr zu sehen seid.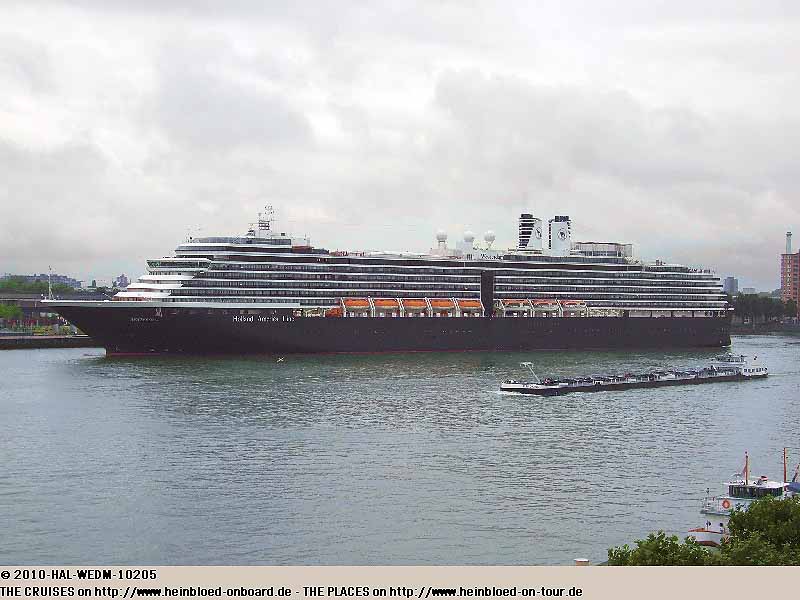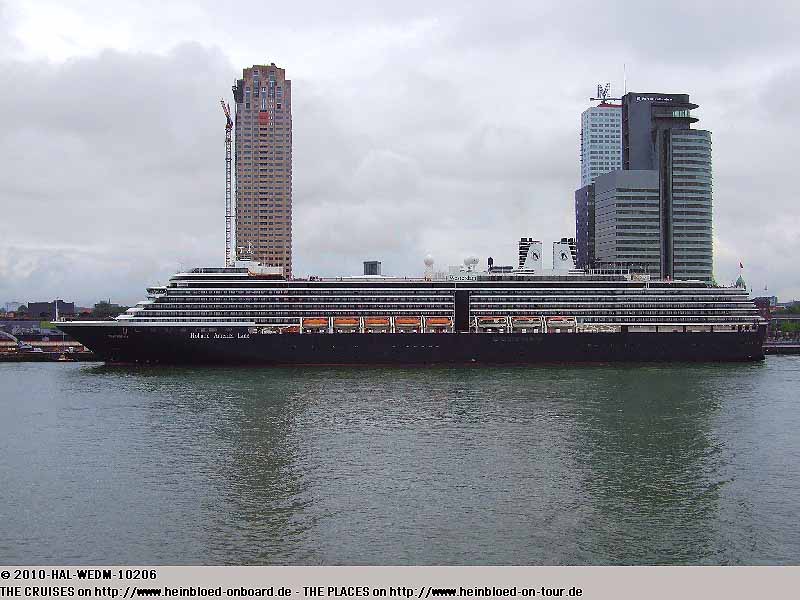 I need to remember the company TVB in case I need to have a mini-bus.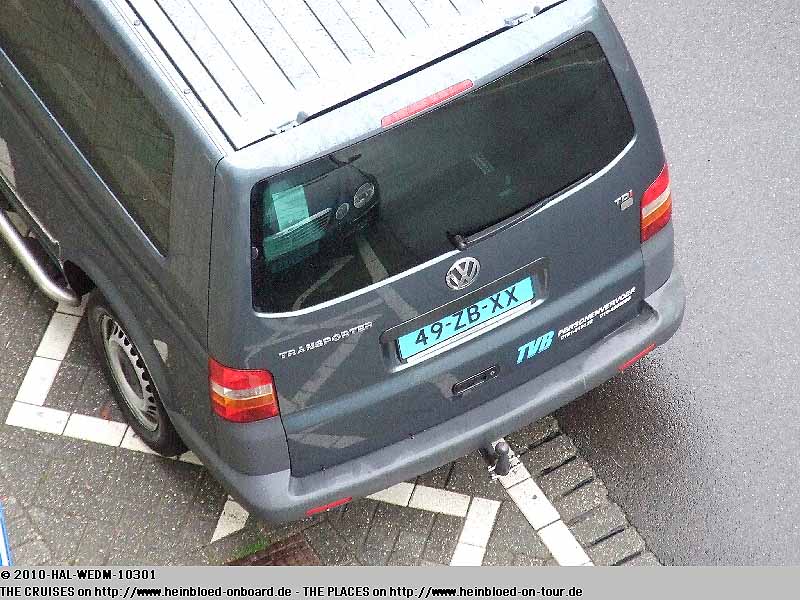 Die Firma TVB muss ich mir mal merken, falls ich mal einen Mini-Bus brauchen sollte.
Gegen 09.30 Uhr fahre ich das Gepäck zum Cruise Terminal. Ich bin der erste, der das Gepäck los wird. Es wird zunächst in einem Container gesammelt. Nach dem leider in Seattle natürlich niemand wusste, wie es sich mit dem Parken in Rotterdam verhält (Man bekommt immer den Textbaustein, dass man sich an den Hafenagenten Holland International wenden soll, der aber auch nichts weiß), bekam ich dann freundliche Unterstützung durch Port of Rotterdam, die geschrieben haben, dass es einen Shuttle zwischen dem Parkhaus Schiecentrale und dem Cruise Terminal gibt. Das Parkhaus ist Teil dieses Gebäudes.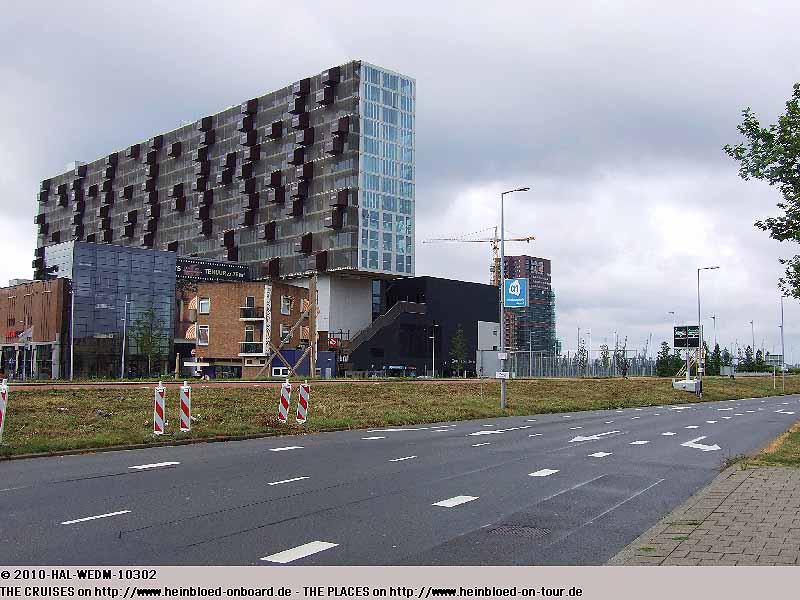 Around 09.30 hrs I took all our bags to the cruise terminal. I was the first whose bags were accepted. It was collected in a container. After none in Seattle was familiar with the parking situation in Rotterdam (you get always the same text module that you should contact the local port agent Holland International who had no clue either.), I got very good and friendly support by Port of Rotterdam, who wrote that there will be a shuttle available between the parking garage in Schiecentrale and the cruise terminal. The garage is part of the this building.

The entry is a little hidden and so easy to find as the signpost on the last mile was not so well.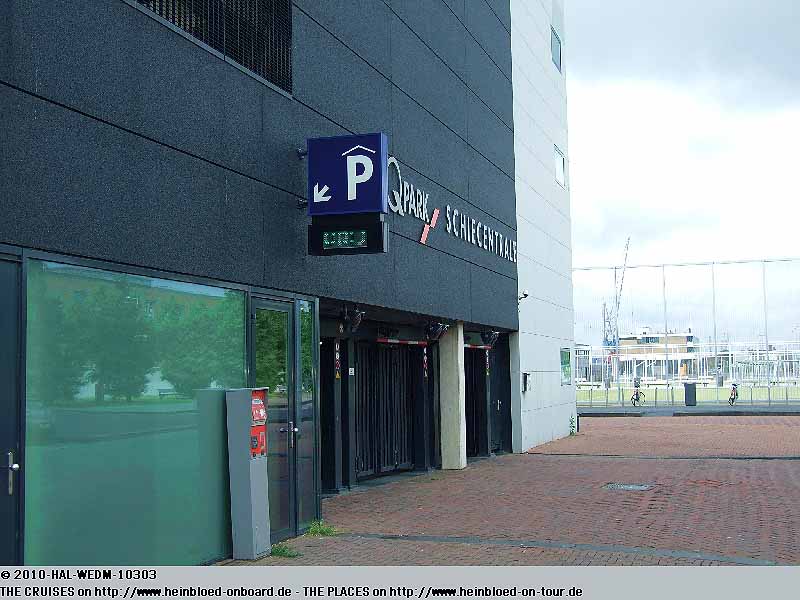 Die Einfahrt ist gar nicht so einfach zu finden, weil die letzte Meile nicht so gut ausgeschildert ist.
Wichtig: Bezahlung nur mit Kreditkarte möglich.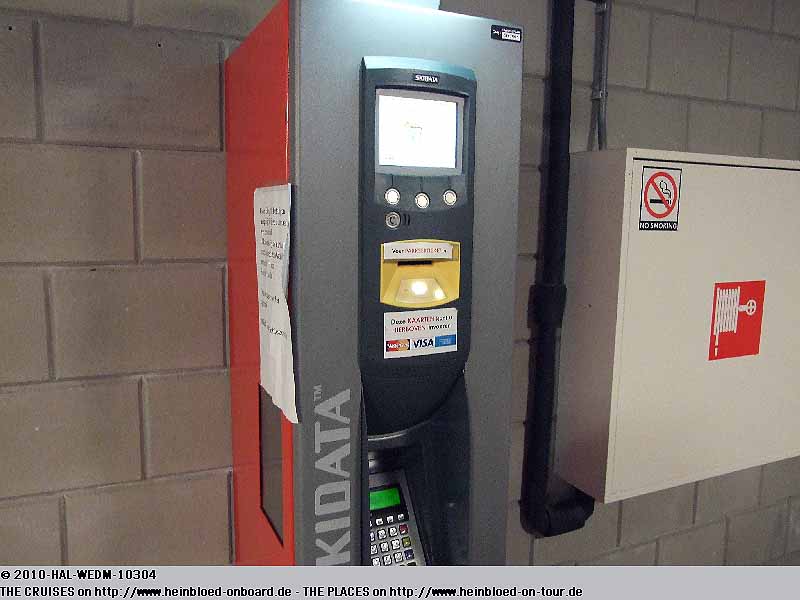 Important: Only payment by credit card possible.

16.00 EUR per day what was a bargain for Rotterdam. Closer to the cruise terminal it would be 25.00 EUR and more per day.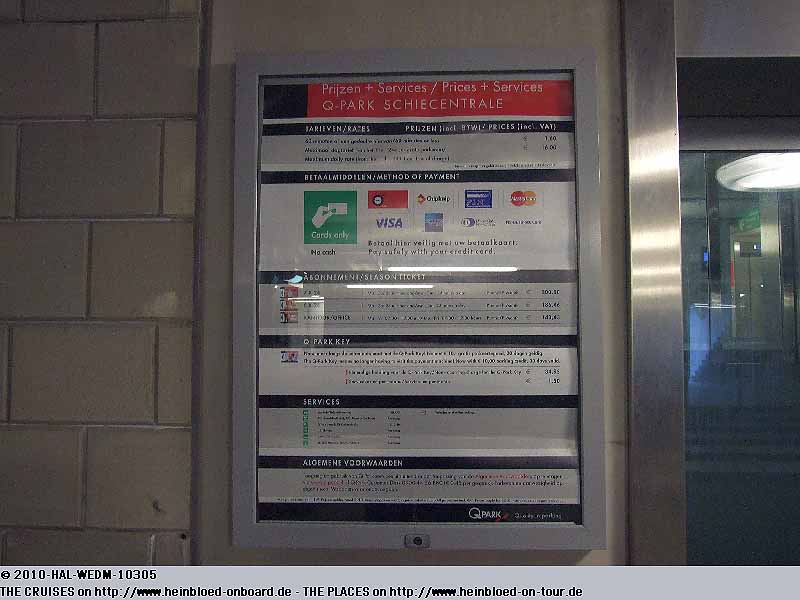 16.00 EUR pro Tag, was für Rotterdamer Verhältnisse ein Schnäppchen ist. Näher am Cruise Terminal hätte es mich 25,00 EUR und mehr pro Tag gekostet.
Von hier aus kann man mit Tram 8 zum Hotel zurückfahren. Ist nur fünf Minuten zu Fuß von der Haltestelle entfernt. Da es jedoch anfängt zu regnen und es noch recht schwül und drückend war, habe ich Bruno gebeten, dass das Hotel für uns sechs ein Taxi arrangieren soll. Es kommen jedoch zwei Taxen, die uns für 10,00 EUR inkl. Trinkgeld zum Cruise Terminal bringen.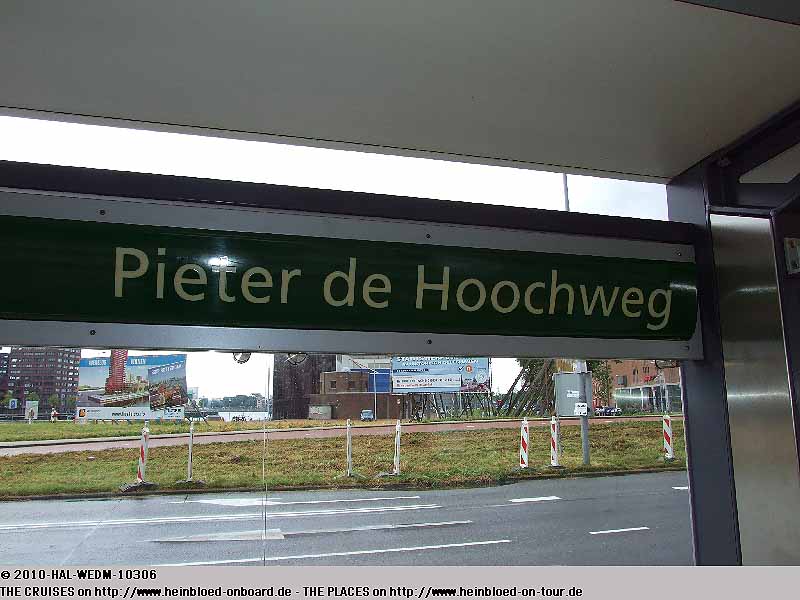 From here I was able to return by tram 8 back to our hotel. It was just from the tram stop a 5-minutes walk. As it started to rain and it was pressing and humid I asked Bruno to ask the hotel to arrange a car for 6. But we got two cars. Each of the car was 10.00 UER incl. tips for the Cruise Terminal.

When you arrive around 11.00 hrs at the cruise terminal you had the advantage to get quickly an embarkation color but also the disadvantage that your bags are stored in the container and arrive last on the ship.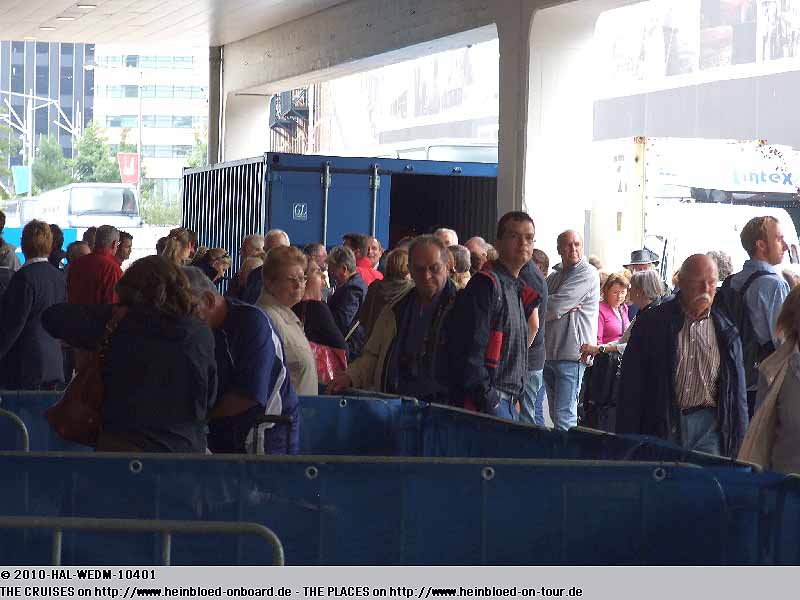 Wenn man um 11.00 Uhr am Cruise Terminal ankommt hat man den Vorteil, dass man schnell eine Einschiffungsfarbe bekommt, allerdings auch den Nachteil, dass das Gepäck in den Container zwischengelagert wird: es kommt ganz am Schluss.
Marius von Dagtoertaxi, den wir schon mehrfach engagiert haben, kommt gegen 11.30 Uhr und bringt meine Eltern und meine Grundschullehrerin Frau Pannen und ihren Mann.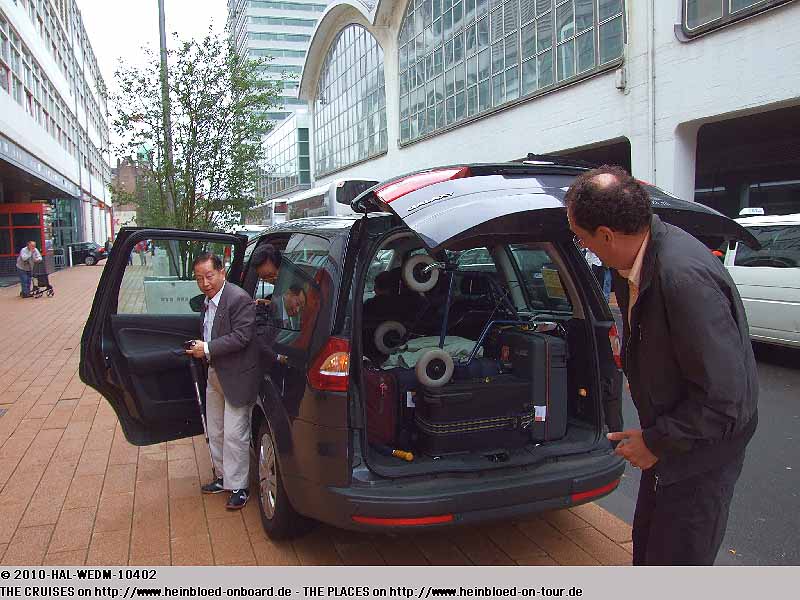 We used Marius from Dagtoertaxi many times and bring my parents and my elementary school teacher Mrs Pannen and her husband.

Until we got a wheelchair for embarkation it took a while. So we were lucky to asked already since 11.10 hrs for the wheelchair until we got it finally at 11.30 hrs. It's a good time to get an "early" embarkation color.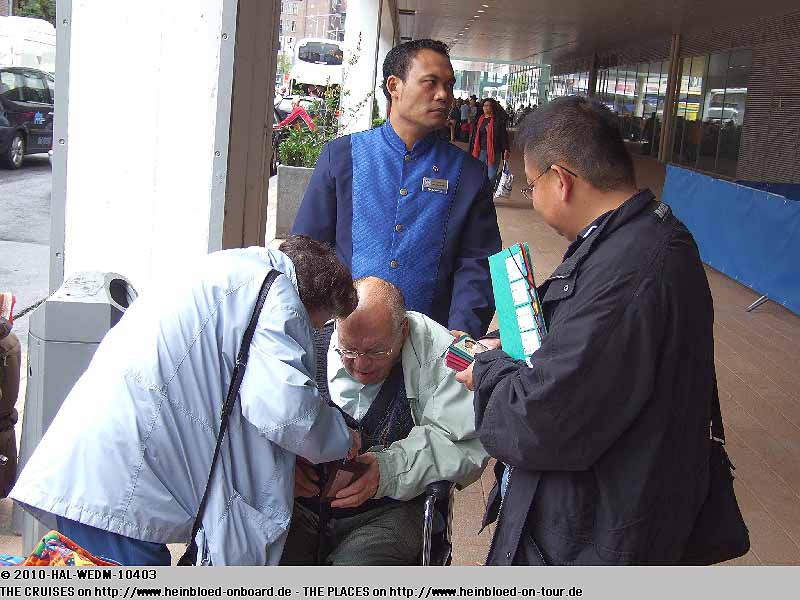 Bis dass ein Rollstuhl zur Verfügung steht, dauert es etwas. Zum Glück haben wir schon um 11.10 Uhr angefangen nachzufragen, damit er um 11.30 Uhr tatsächlich zur Verfügung steht. Man bekommt eine recht "niedrige" Einschiffungsfarbe um diese Zeit...
Hier muss ich erst mal die Gesundheitsfragen für acht Personen ausfüllen.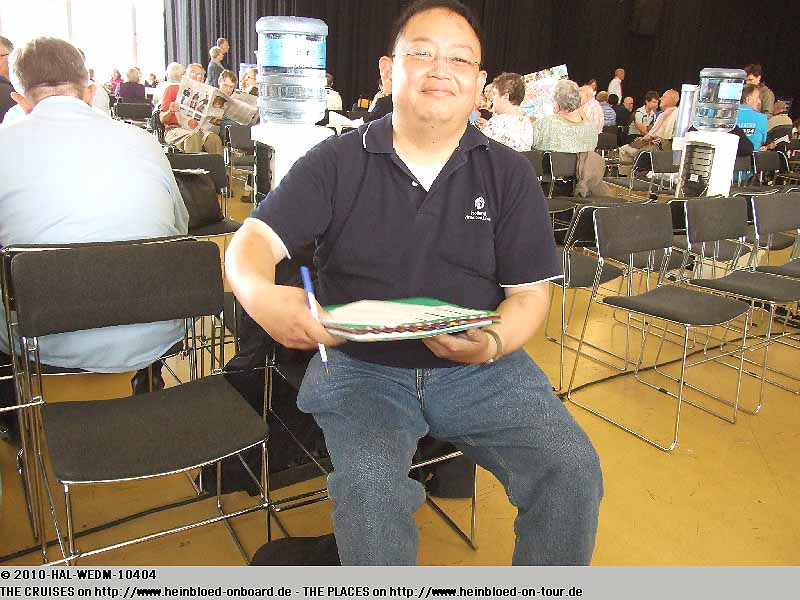 I need to fill out the answers for eight persons for the health questions.

Nothing happened. On the right there was a counter for mobility reduced so our grounp can use this check-in.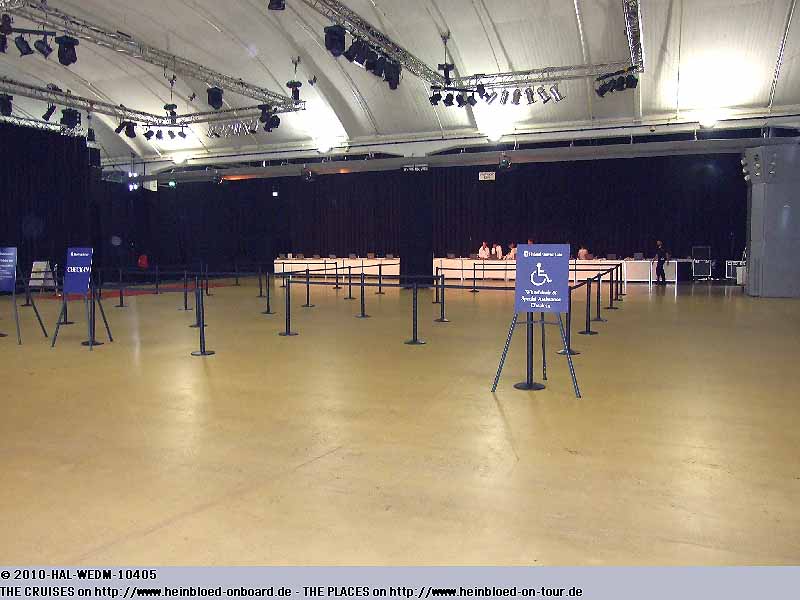 Hier tut sich noch nichts. Rechts gibt es zum Glück einen Schalter für Schwerbehinderte, so dass wir unsere Gruppe dort einchecken können.
Bis dass wir hier uns anstellen dürfen, dauert es noch etwas...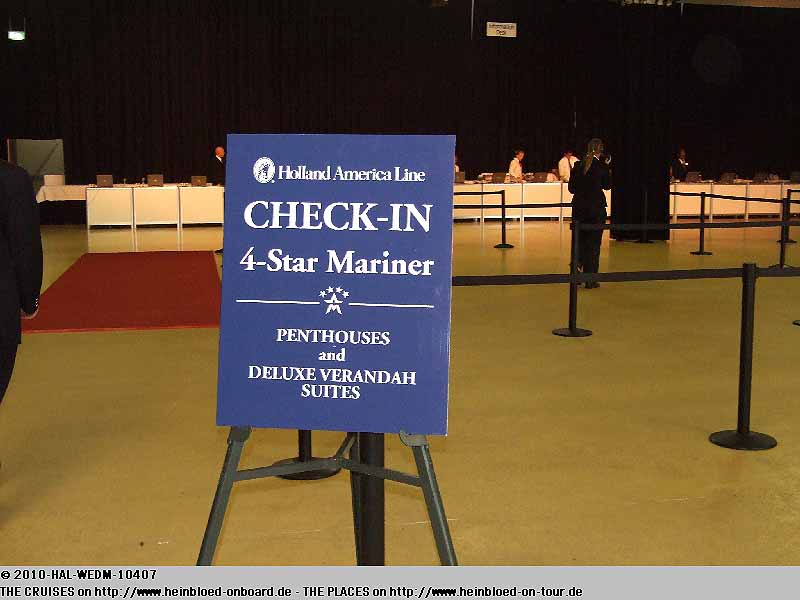 Until we will be allowed to queue up here it would take a while.

But nobody was welcome because nobody was allowed to go on board.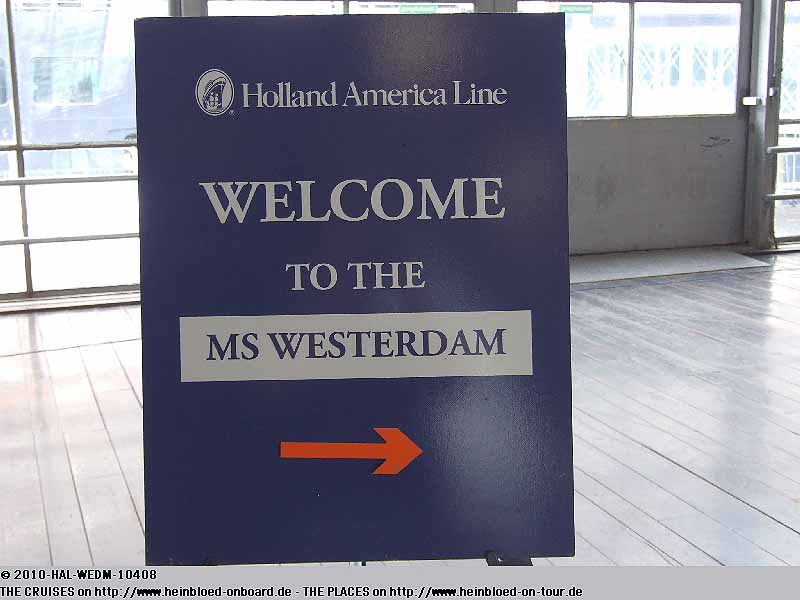 Aber noch ist niemand willkommen, weil wir noch nicht an Bord dürfen.
Gegen 12.20 Uhr holt uns wieder unser Steward ab.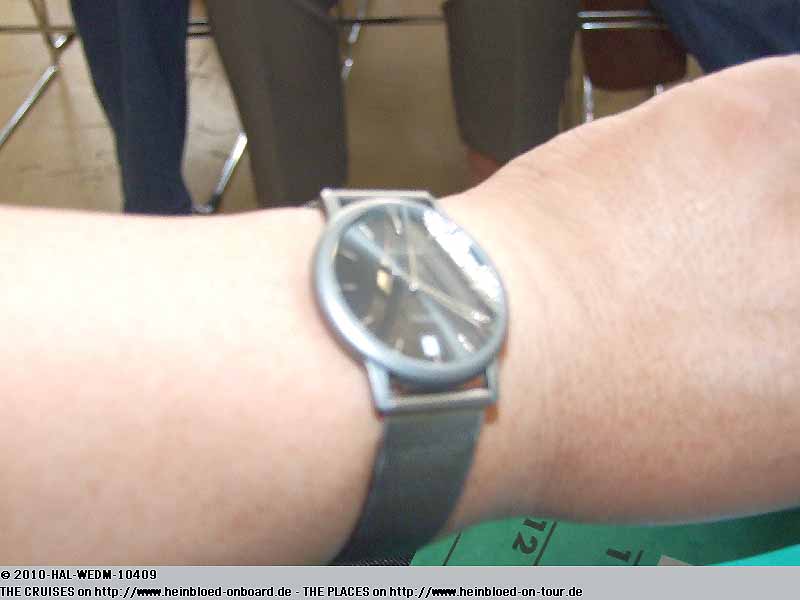 Around 12.20 hrs our steward returned and collect us.

Although we were the very first guests with a wheelchair: other guests with wheelchairs who came later were directed directly to queue up. One of the stewards did not want our group to queue up with Mr Pannen. It was the way he was asking which made me quite upset. The appropiate question should be: "Are you all travelling with this gentleman?" and the answer would be no then he was right to send us away.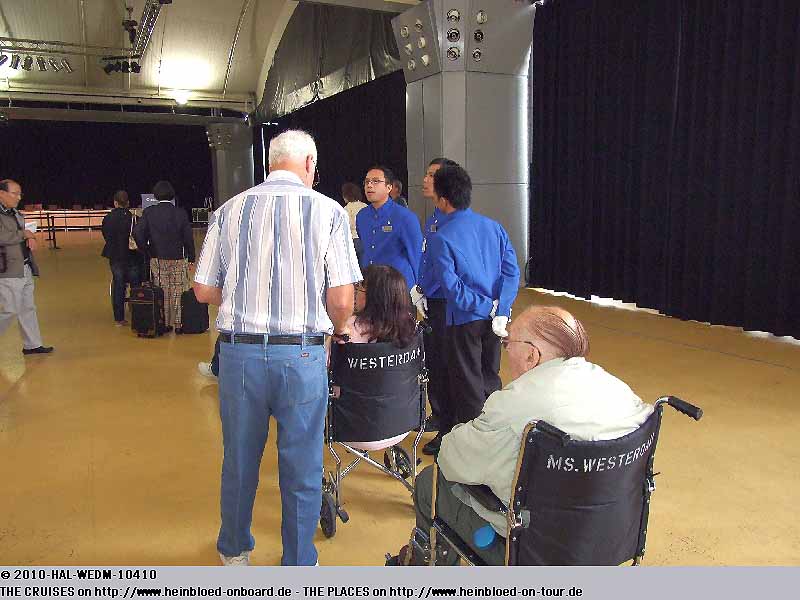 Obwohl wir die allerersten Gäste mit einem Rollstuhl sind: andere Gäste in Rollstühlen, die nach uns kamen, werden direkt in die Schlange geführt. Einer der Stewards wollte nicht, dass unsere Gruppe mit Herrn Pannen eincheckt. Es war die Art, wie er gefragt hat, die mich ziemlich gestört hat. Die korrekte Frage hätte lauten müssen: "Reisen Sie alle gemeinsam mit dem Herrn?" und wenn wir dann nein sagen, dann kann er uns immer noch fortschicken.
Es wird immer laufend informiert, was man tun sollen, damit alles ein wenig schneller geht.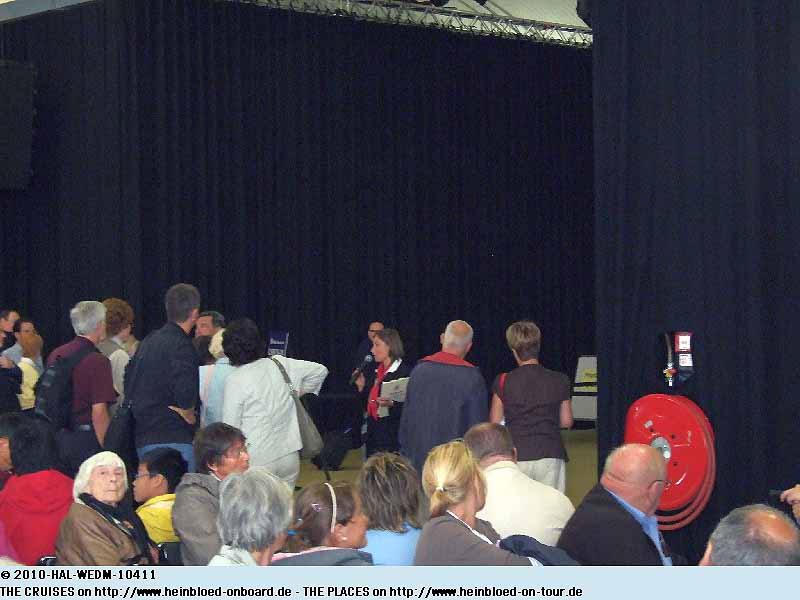 They always kept us informed what we should do to make check-in smoother.

Very full but nothing had started so far.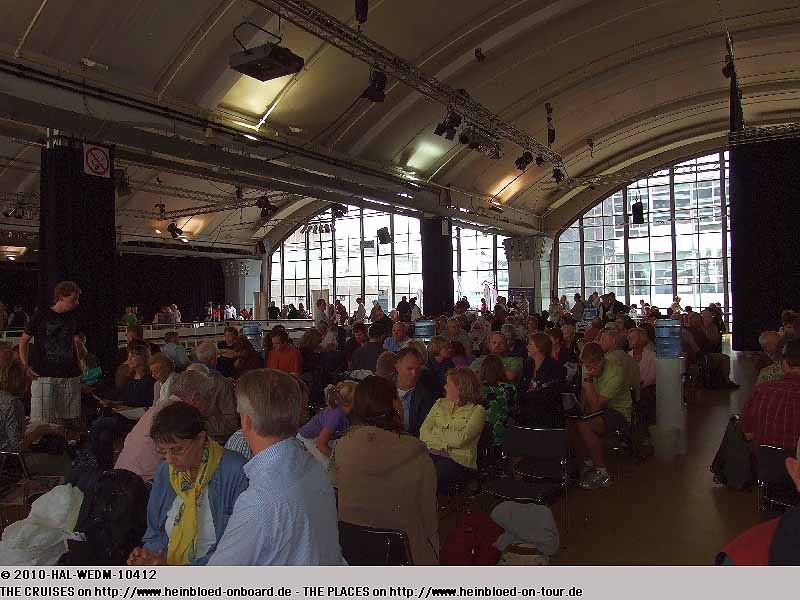 Schon ziemlich gut gefüllt und es geht immer noch nicht los.
Chaos pur beim Einchecken: die Lesegeräte sind nicht richtig angeschlossen: alles muss manuell eingegeben werden und die Fotos werden nicht richtig aufgenommen, so dass später die Rezeption neue Bilder von uns machen muss. Auf die Frage, ob sie sicher ist, ob jetzt ein Bild von mir gebraucht wird, reagiert sie ziemlich allergisch. Obwohl wir mit die ersten am Schalter waren: wir hatten Pech, dass es jemand war, der jeden Schritt sich beim Supervisor absichern wollte, der allerdings keine Zeit hatte, die ganze Zeit bei ihr stehen zu bleiben. Übrigens Frau und Herr Pannen hatten nur Personalausweise dabei. Da es sich jedoch um eine Kreuzfahrt handelt, deren Häfen nur im Schengen-Raum liegen, wurde dieses ohne weitere Nachfrage akzeptiert. Wir hatten aber vorher bei HAL in Rotterdam angefragt und sicherheitshalber die Antwort ausgedruckt mit.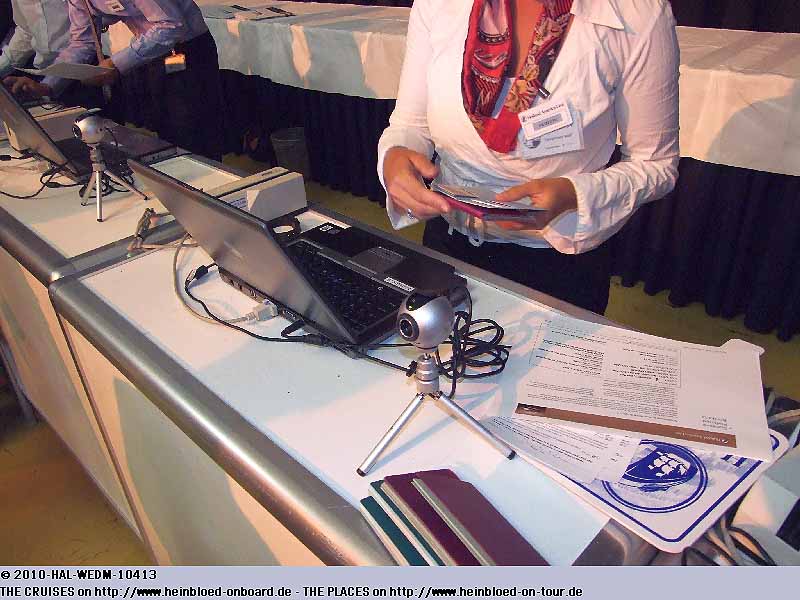 Pure chaos when we had our check-in: our card readers were not connected properly everything need to entered manually and the photos were not taken properly so we were asked to renew our pictures at the reception desk. When we asked if she was sure if she really wanted now my picture she reacted very upset. Although we were the first at the couner we had the unluck to have someone who need to re-assure every little step with the supervisor who could not stay with her all the time. By the way as this cruise only calls ports in the Schengen-area the national ID-cards of Mrs and Mr Pannen were accepted without any problems. But for sure we asked before HAL Rotterdam and we made a print-out of the answer.