Scroll down for English explanations - alternates with German explanations.

Wer das normale Log-In auf den anderen Schiffen kennt, erkennt den Unterschied: Großschrift und keine Kombination mit InitialNachnameKabinennummer. Nur das normale HAL-Klientel nicht unnötig überfordern.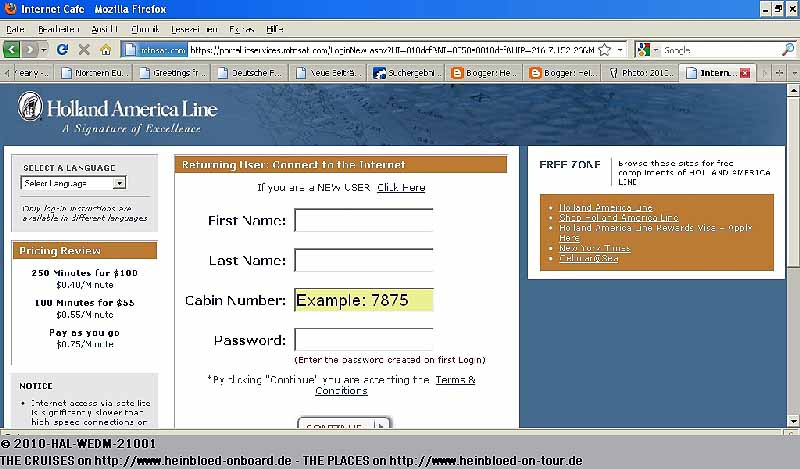 Who knows the regular log-in on other ship might the difference: Large print and no combination of InitialLastNameCabineNumber. Just to make sure that the regular HAL-guests can handle it.

I wanted to use the Internet-Coupon which I got from mate from the German forum NCL-Fans. Due to lack of ATM on the ship I withdraw some cash: There is no extra tipping line on the bills as you do not sign anything. There is a 3% charge on the withdrawal.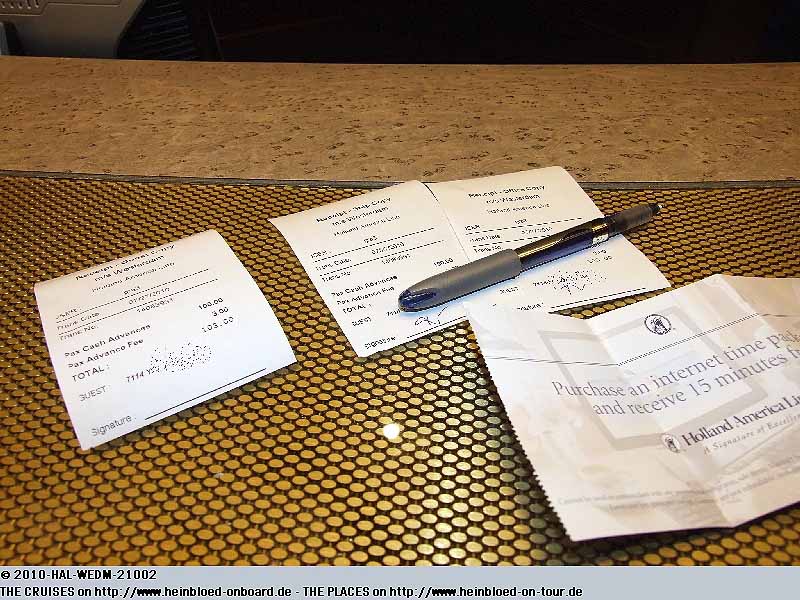 Bei der Gelegenheit löse ich den Internet-Coupon ein, den ich aus dem Couponbuch von mate aus dem NCL-Fans-Forum habe. Mangels Geldautomat an Bord, lasse ich mir etwas Bargeld auszahlen: Es gibt nämlich kein Extra-Feld für Trinkgelder auf den Abrechnungen, weil man nichts unterschreiben muss. 3% Gebühren fallen für die Barabhebung an.
Es geht zum 1. Gala-Abend. Links ist der Eingang für sog. Walk-In Gäste vorgesehen, d. h. Gäste mit flexibler Tischzeit, aber ohne Reservierung.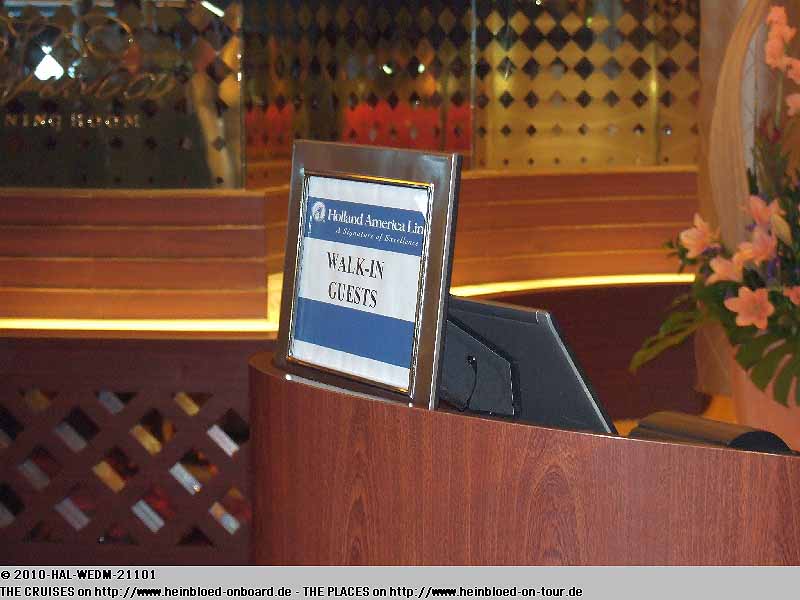 Now it was the 1st gala-night. Left is the entrance for walk-in guests without reservation but with open seating.

For guests without jackets they the jackets to use during the stay in the restaurant.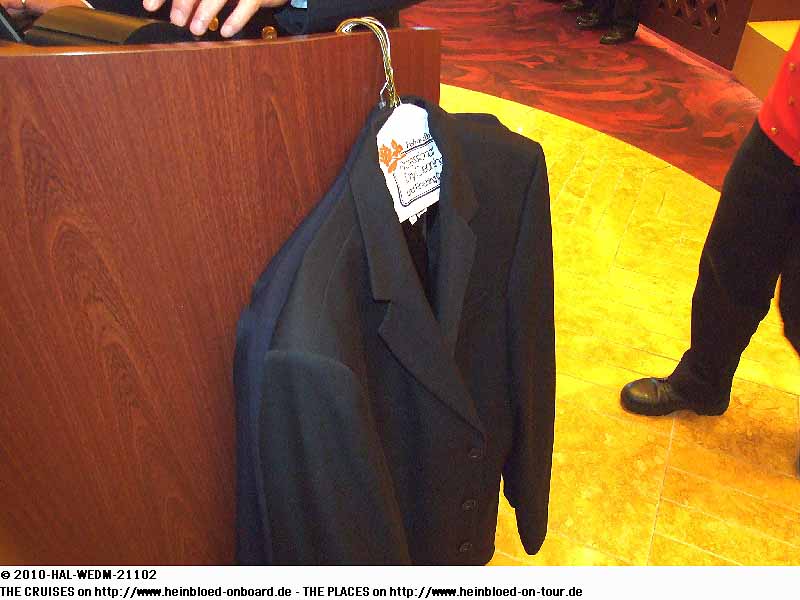 Für Gäste ohne Jackets werden Leihstücke bereitgehalten.
Wir bekommen den besten 6-er Tisch am Heck.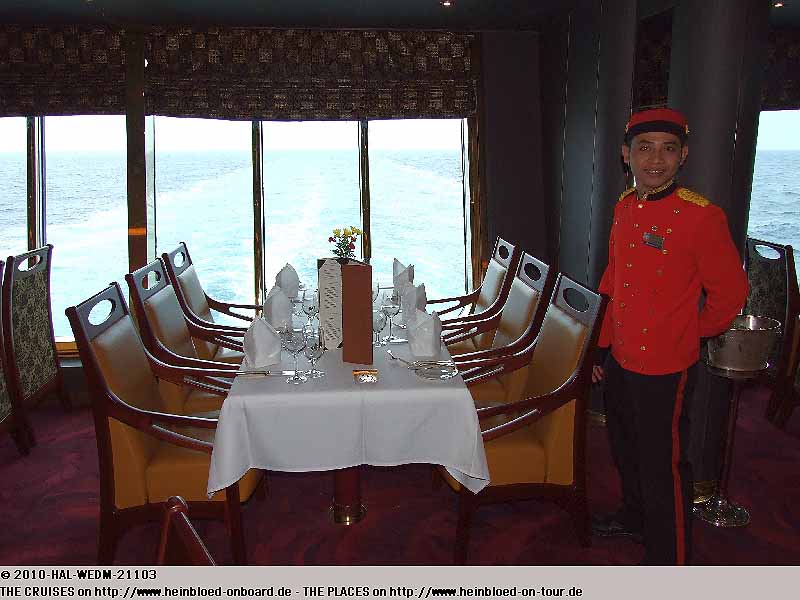 We got the very best table for 6 at the aft.

You see how excited we were. Mrs and Mr Pannen did not want to join us for the formal night. They had dinner in the Lido Café and got the impression that at 19.00 hrs everything felt so empty at the buffet and no refill anymore.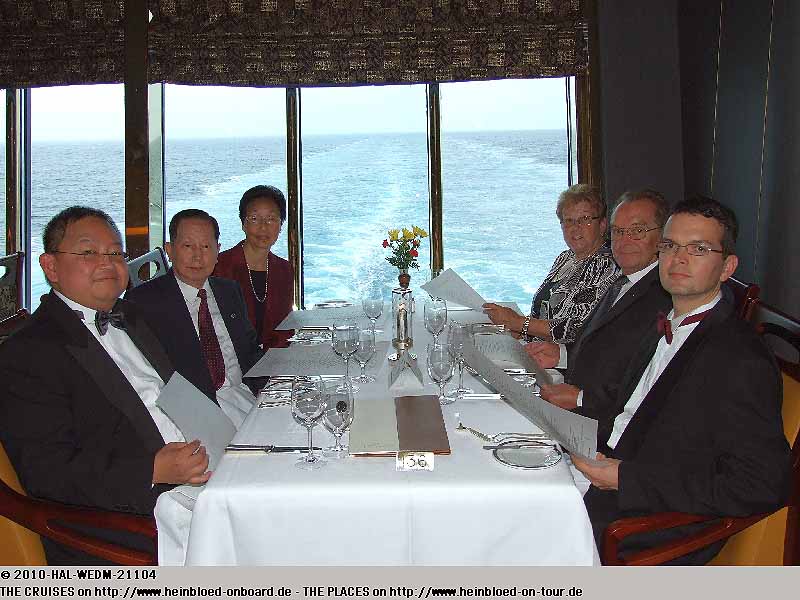 Unsere Freude hierüber sieht man uns an. Frau und Herr Pannen möchten nicht am formellen Abend teilnehmen. Sie essen im Lido-Café und haben allerdings den Eindruck, dass um 19.00 Uhr schon alles ziemlich leer ist und nichts mehr aufgefüllt wird.
Wir haben wirklich ein Super-Team an Stewards.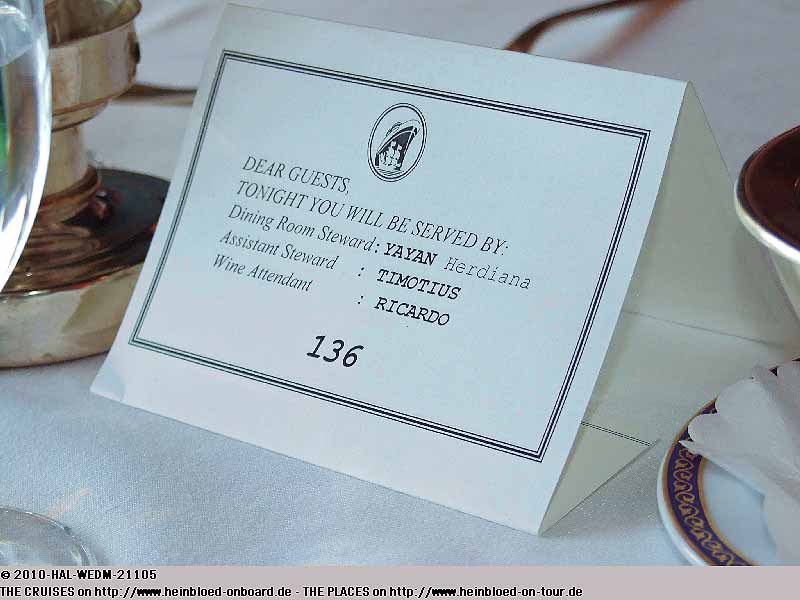 We really got a great time this night who served us.

Also the options were fantastic. No idea what you should eat.

Auch die Zusammenstellung ist fantastisch. Man weiss gar nicht, was man essen soll.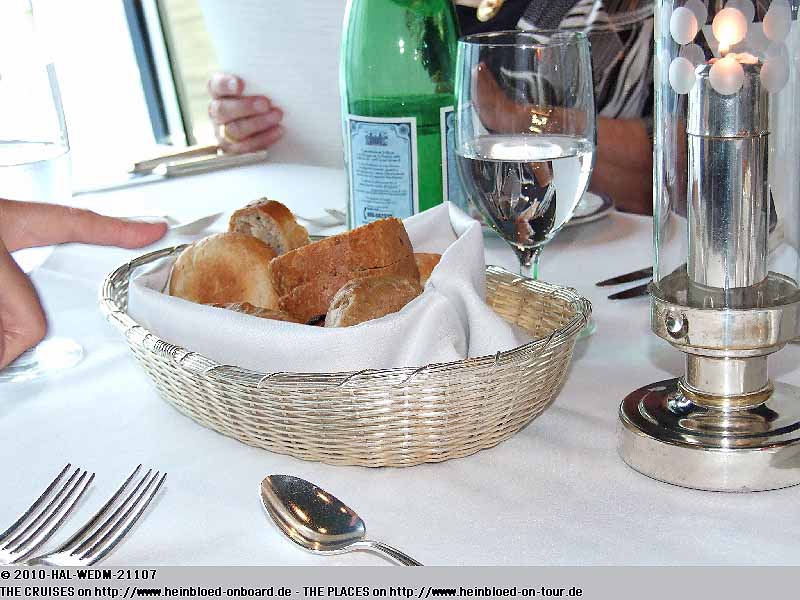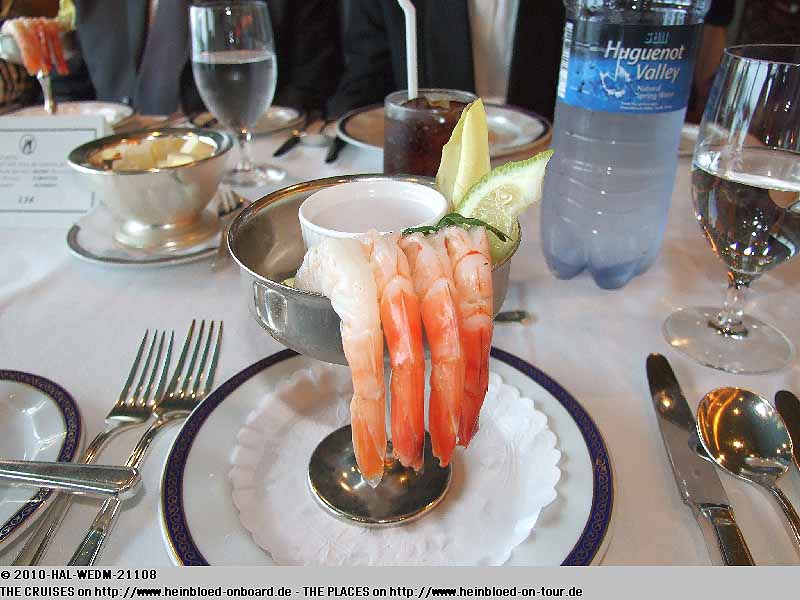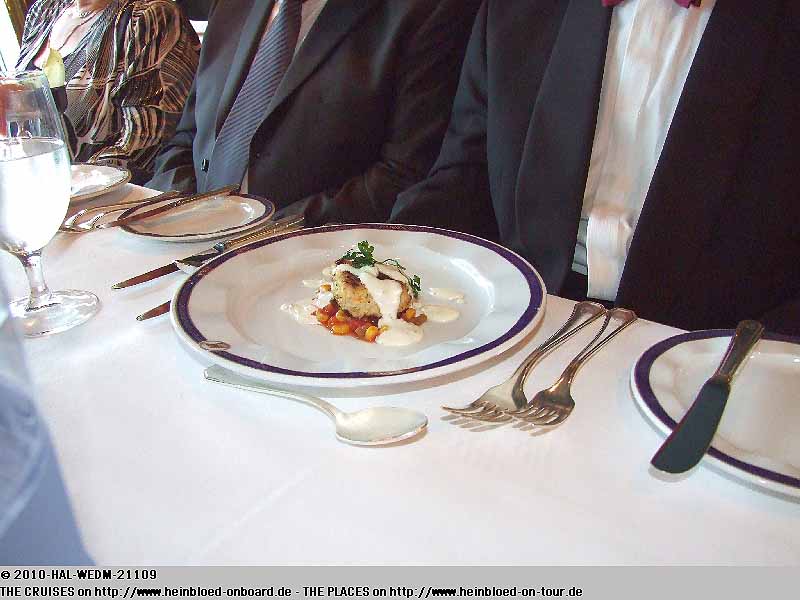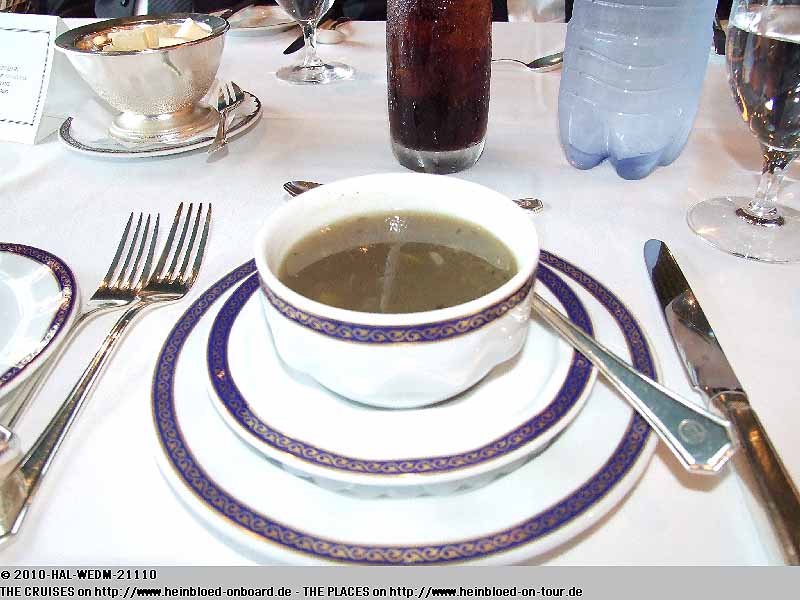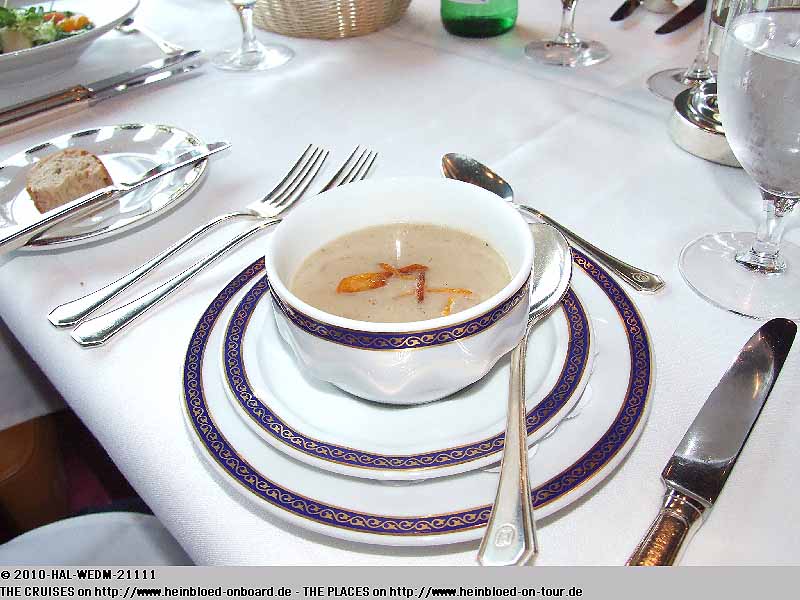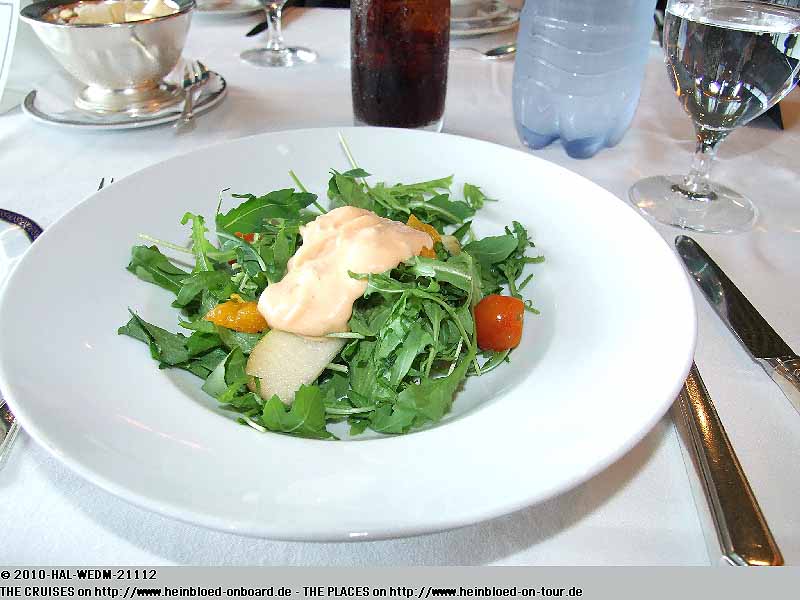 Alaska King Crabs - kann bei anderen Gesellschaften passieren, dass sie nur gegen Zuzahlung auf die Zuzahlung verfügbar sind.

Alaska King Crabs - you can be with other cruise lines and you need pay a cover charge on the cover charge to get them.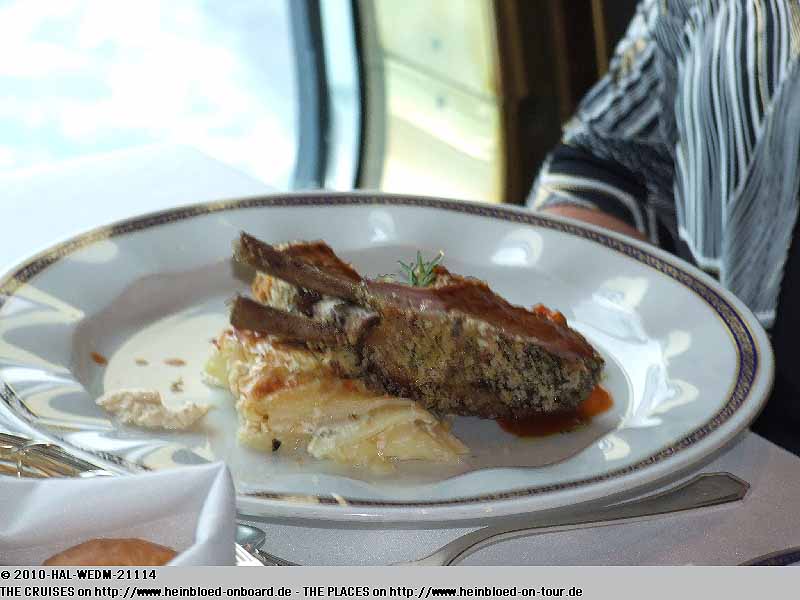 Who might expected Surf and Turf behind the Lobster Royale??? If I would have known this before I would ordered my medium-rare.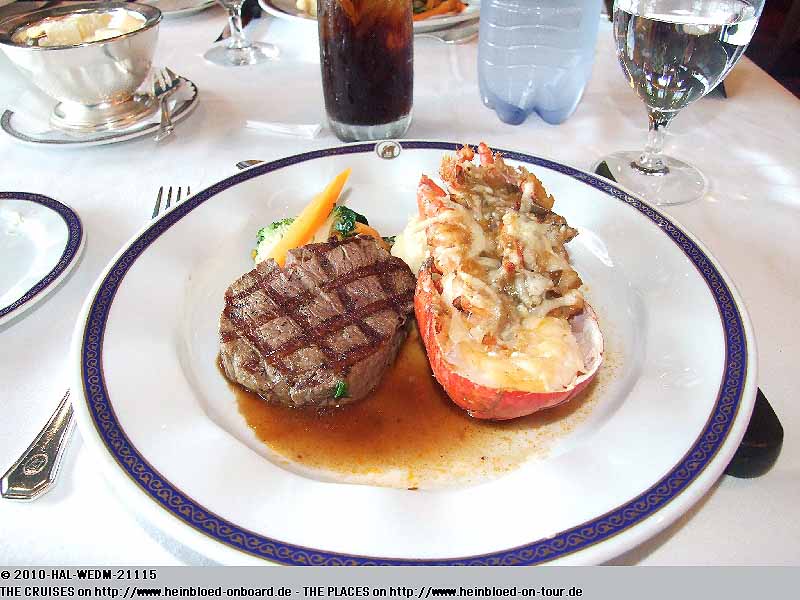 Wer hätte Surf and Turf hinter Hummer Royale vermutet??? Wenn ich es gewusst hätte, hätte ich mir meines medium-rare bestellt.
Ich brauche unbedingt A1 für mein Steak... und bekomme es auch.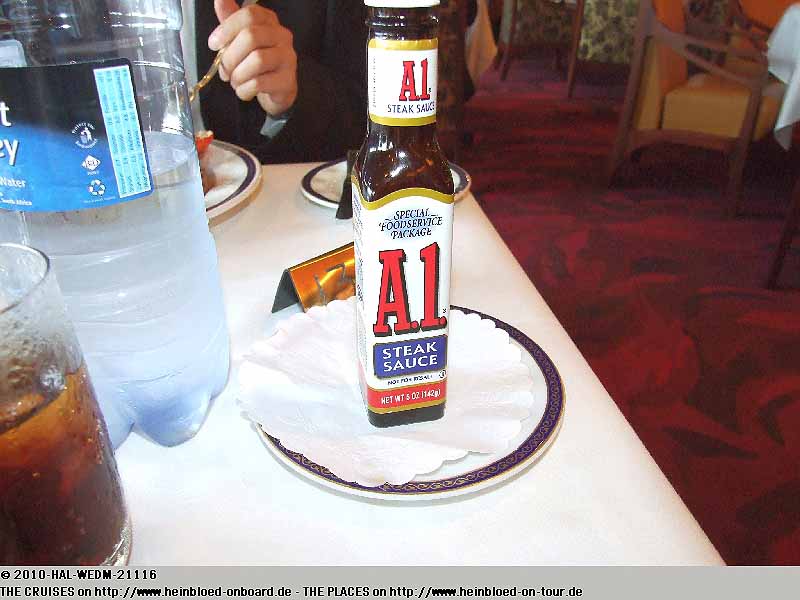 I need A1 sauce for my steak... and I got it.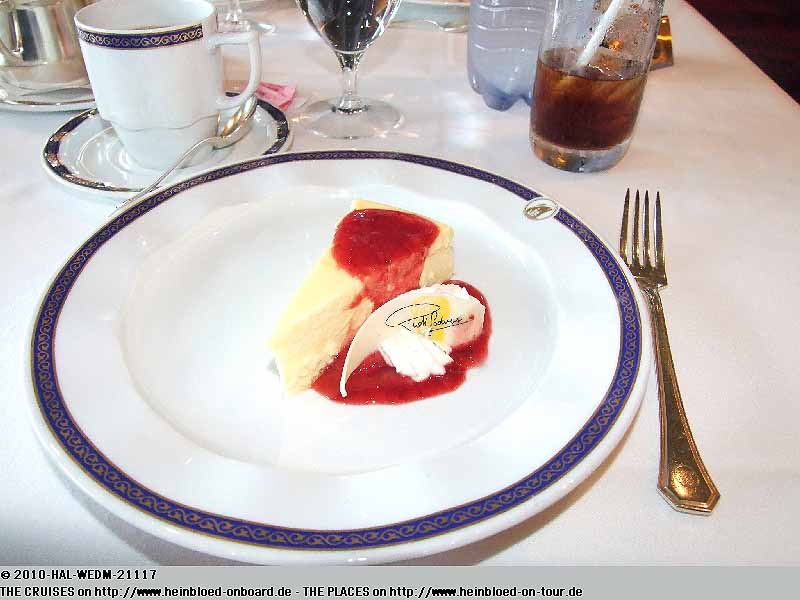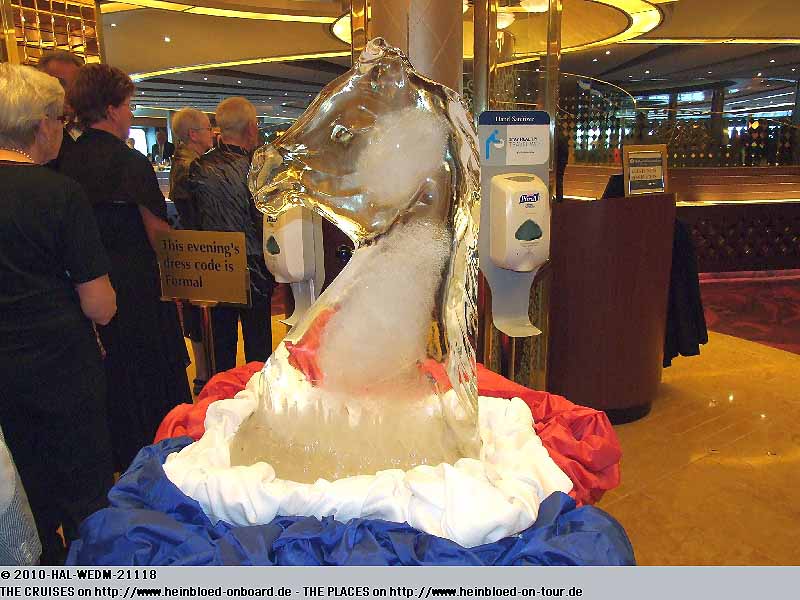 If I am talking about "Cruising for adults" I am talking about that: More than just peanuts for your drink (occassionally I have drink like here a Limoncello): Liver paté, Balsamico cream and Harings canapé.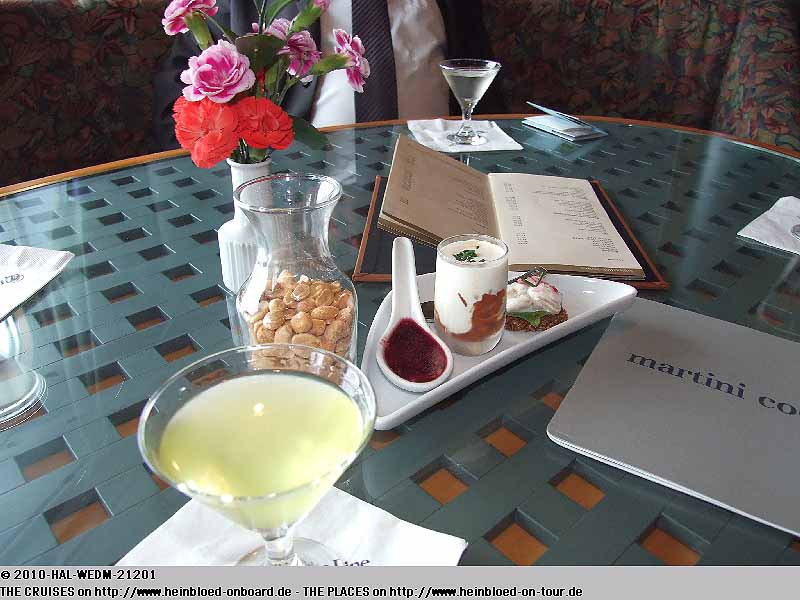 Das meine ich mit "Kreuzfahrt für Erwachsene": Mehr als nur Erdnüsse zum Drink (ja - ich trinke ausnahmsweise einen Limoncello...): Leberpaté, Balsamico-Creme, Heringscanapé.
Unverständlich: welches Fotostudio kommt eigentlich auf die Idee das Fotostudio an einem Seetag, wenn man Zeit hat, sich etwas anzugucken und zu kaufen, unbesetzt zu lassen.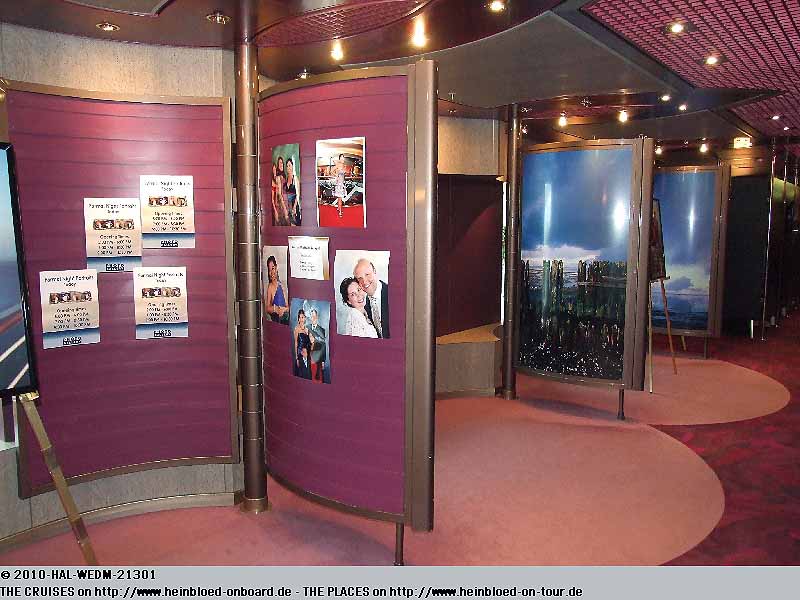 Something I do not understand: How can it be that the photo gallery was closed on day on sea when everybody had the time to browse and buy.