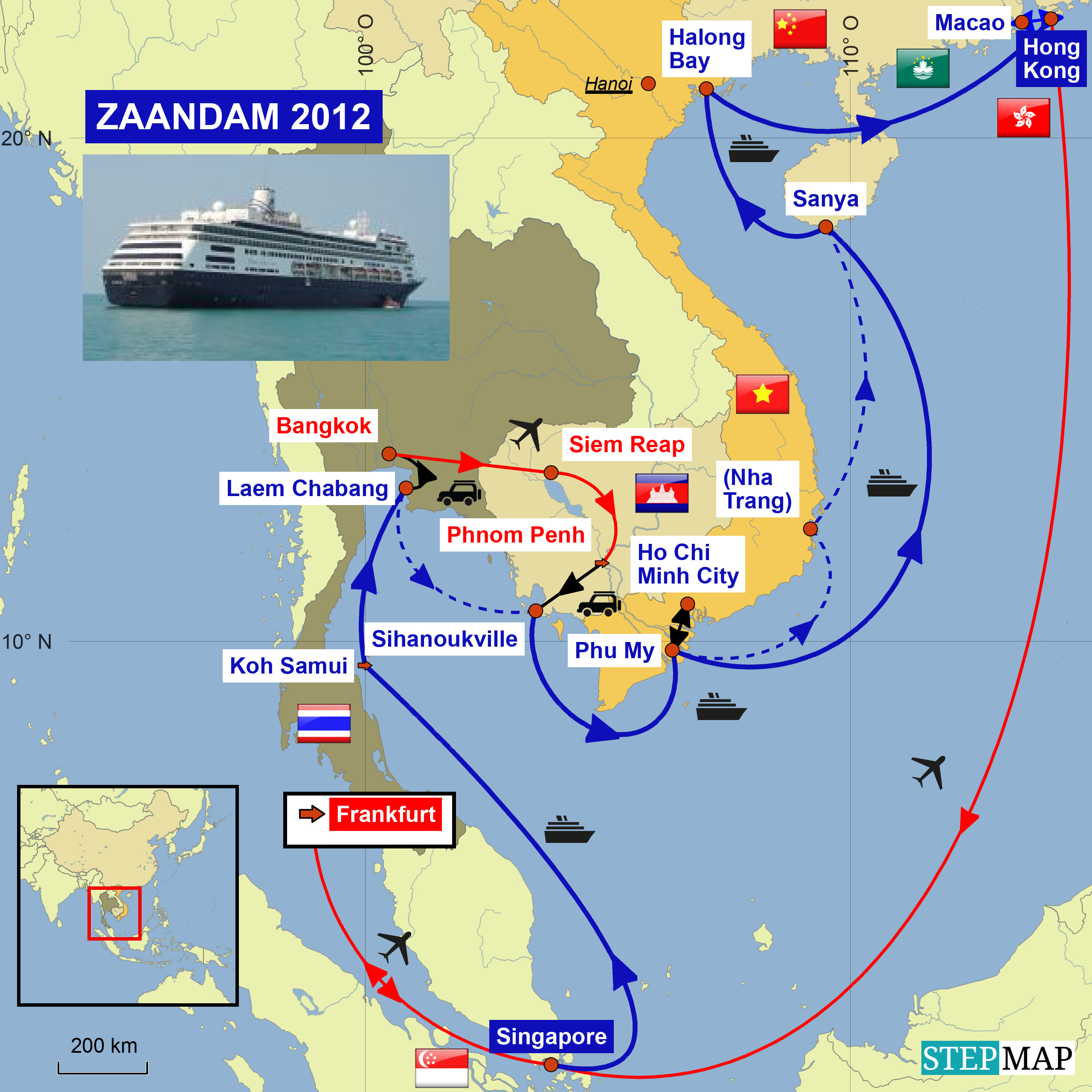 Über das
AIS-Signal
kann ich verfolgen, dass ZAANDAM und AMSTERDAM auf dem Weg nach Singapur sind. Der Taxifahrer hält mich für einen Verrückten und hätte mich wohl lieber zu einer Heilungsanstalt gefahren, als mitten in der Nacht nach Sentosa und einen Aussichtsberg. Für die AMSTERDAM kann er mir leider keine Lösung anbieten, da sie im Containerhafen anlegen wird.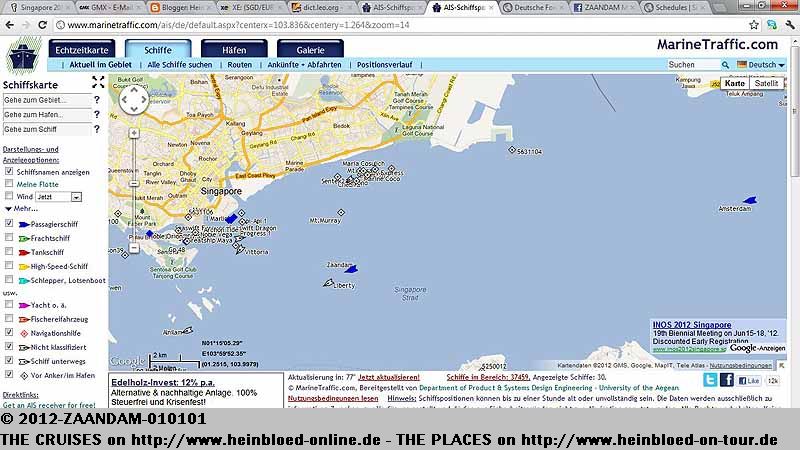 I could see on the AIS-Signal that ZAANDAM and AMSTERDAM were on the way to Singapore. The taxi driver had the impression that I was mad and would really take me more to a hospital but to Sentosa and an observation point in the middle of the night. For AMSTERDAM he cannot offer me a soloution as she should berth in a container port.

Meanwhile I could calculate very well where I need to be. The taxi driver laughed when I said that ZAANDAM will be around 06.00 hrs at the parking of Fort Siloso on Sentosa and just from second to the next she was there.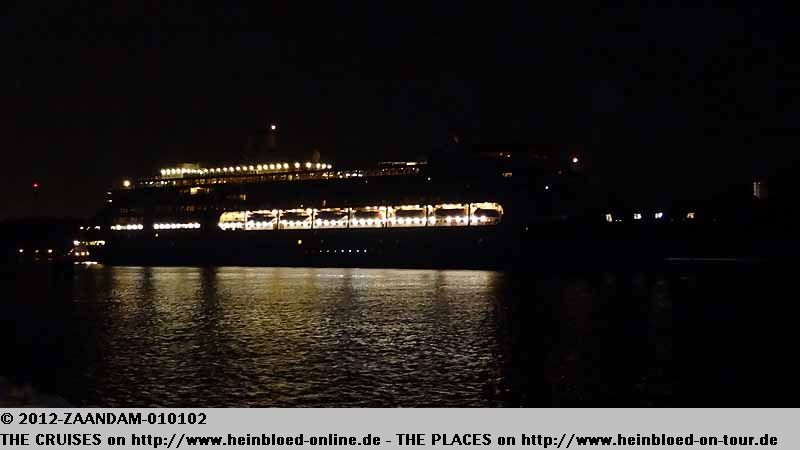 Mitlerweile kann ich aber ganz gut kalkulieren, wann ich wo sein muss. Der Taxifahrer hat mich belächelt, als ich meinte, dass die ZAANDAM um 06.00 Uhr am Parkplatz von
Fort Siloso
auf
Sentosa
vorbeifahren müsste und prompt war sie da.
Leider hat bloß unser Kapitän vergessen für mich das Licht einzuschalten...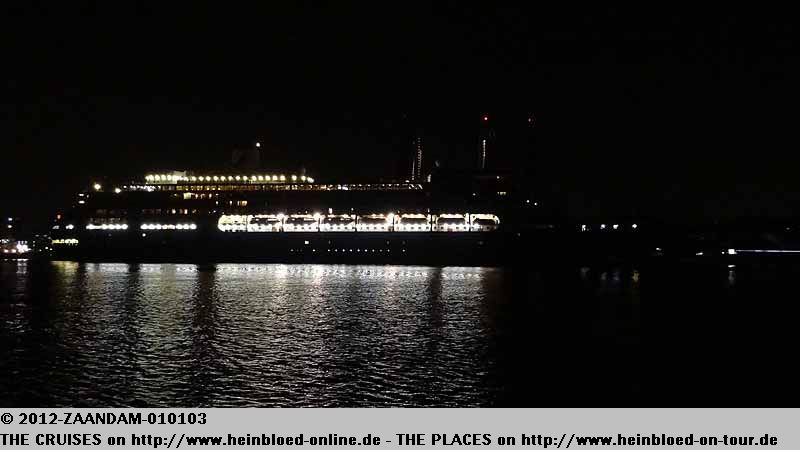 But our Captain forgot to switch on the light...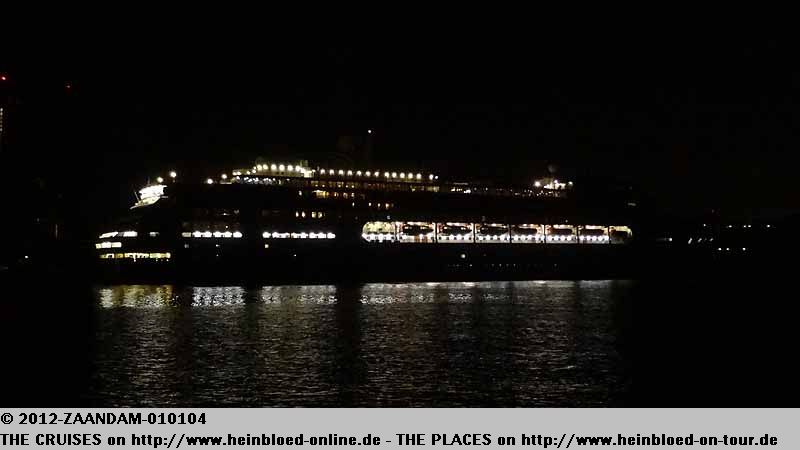 Trotzdem für mich atemberaubend, zumal ich schon unsere Kabine sehe.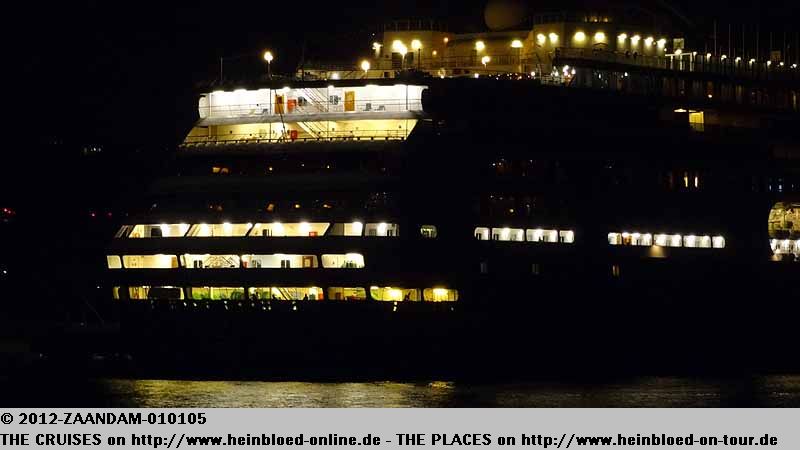 It was still breathtaking especially to see our cabin.

The taxi driver took me quickly back to the cruise terminal so I could take these shots before she docked and I had the fences between her and me.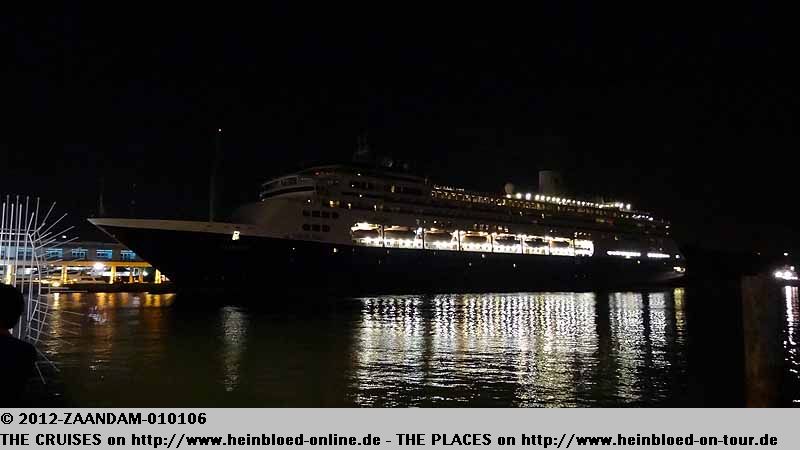 Der Taxifahrer bringt mich schnell zurück zum Cruise Terminal, wo es mir noch so gerade gelingt die Aufnahmen zu machen, bevor sie anlegt, weil sonst der Zaun dazwischen liegt.
Dass ich sogar das Parckdeck 5 und sämtliche Fotomöglichkeiten kannte, hatte wohl den Taxifahrer überzeugt, dass er mich besser nicht in die Heilanstalt bringen sollte, wenn er ein gutes Geschäft machen kann.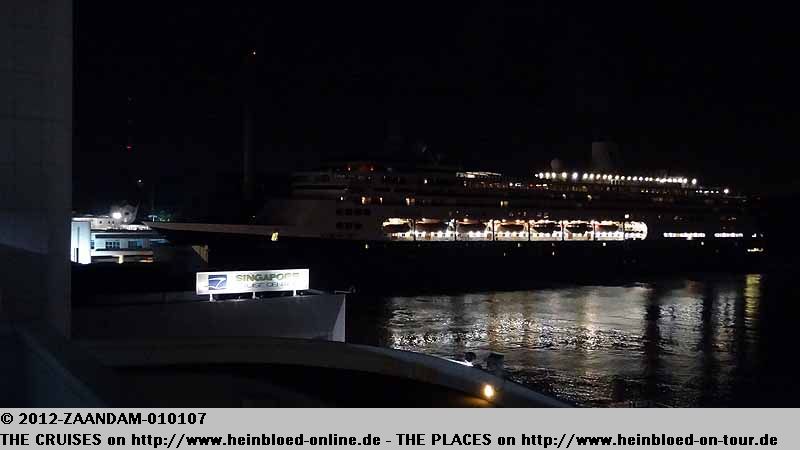 The taxi-driver was quite impressed that I knew Parkdeck 5 and all photo possibilities and so I could convince him that there was no need to find me an hospital but to make his first great business of the day.

When the festive illumination was turned on I had no chance anymore to take shots without the fence.

Als die Festtagsbeleuchtung an ist, habe ich jedoch keine Möglichkeit mehr noch Bilder ohne Zaun zu machen.
Ich nutze aber die Gelegenheit mit am alten
Singapore Cruise Center
zu orientieren. Ein neues wird gerade an der Marina Bay gebaut und in Herbst in Betrieb genommen.

I took the chance to navigate around the old Singapore Cruise Center. They just were builing a new one at Marina Bay which will be opened in fall.

Here we need to drop off the bags later the day.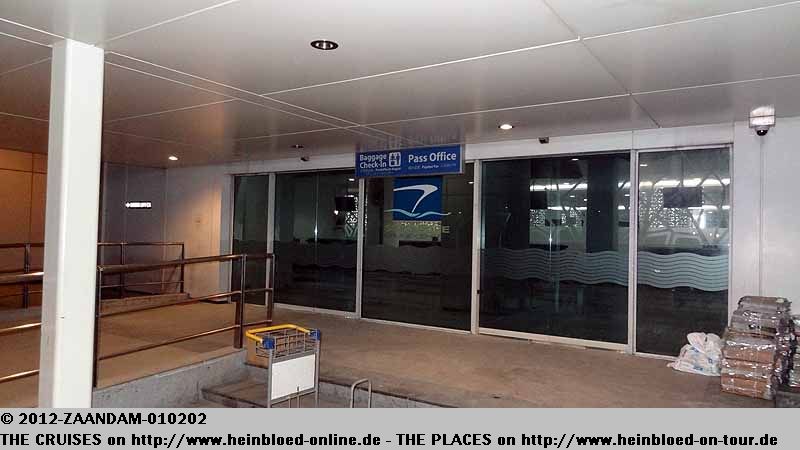 Hier werden wir wohl später das Gepäck abgeben.
Hier scheint es lang zu gehen.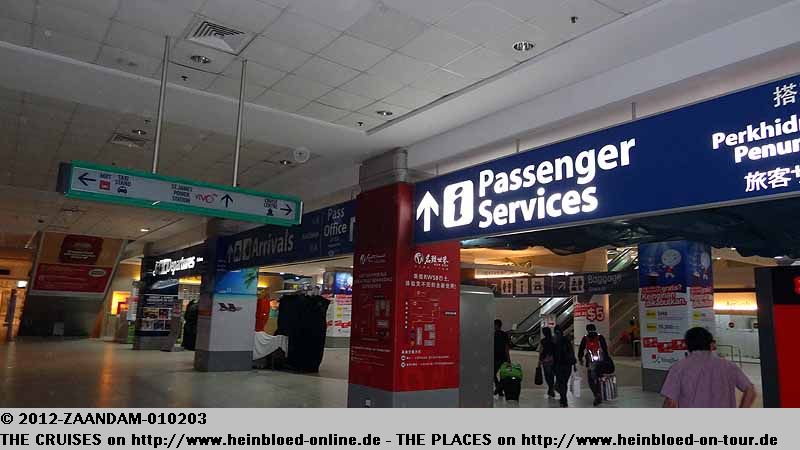 Looks like that we need to walk here.

I was so humid that you can see it on the objective.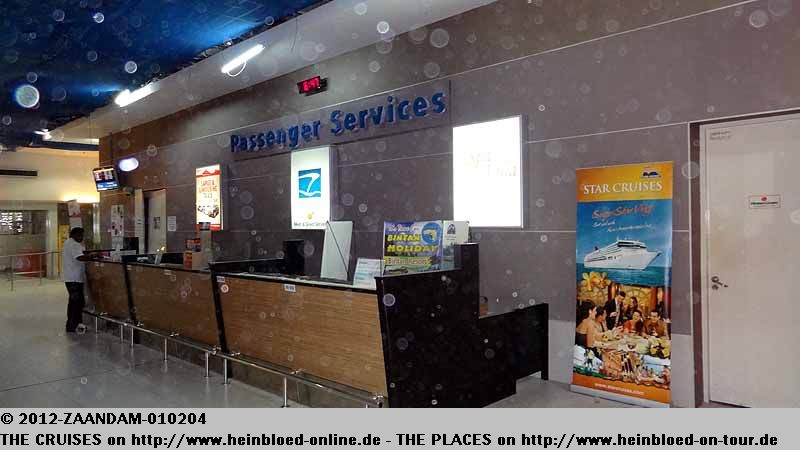 Es ist auch um diese Zeit so schwül, dass sich das auf dem Objektiv bemerkbar macht.
Das müssen wir uns einfach mal merken, dass
SMRT
nicht nur für die U-Bahn und die Busse zuständig sind.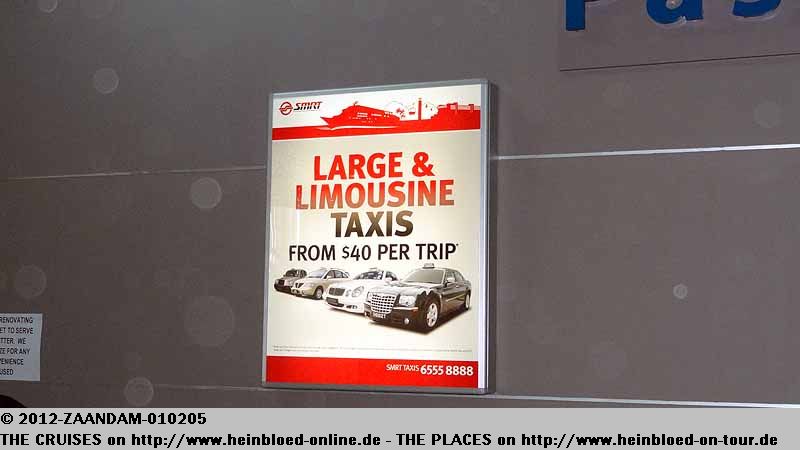 Good to know that SMRT is not only in charge for busses and subways.

But it looks like that they suspended all investments. Not even for a proper signpost.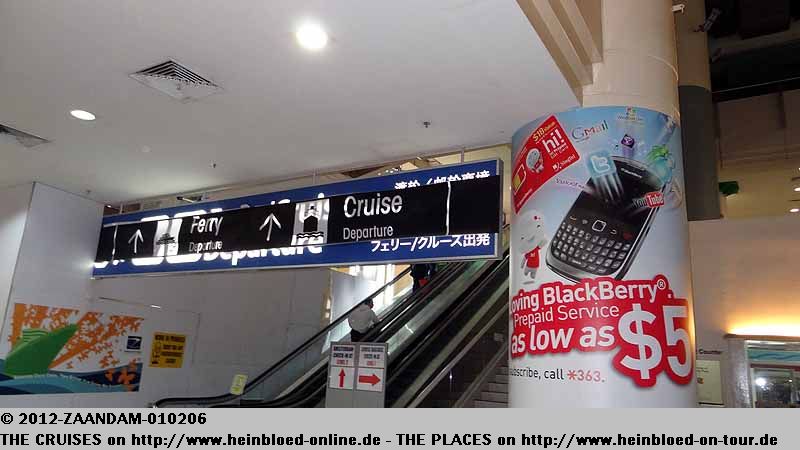 Anscheinend wird hier gar nicht mehr investiert. Nicht mal mehr in richtige Schilder.
Wo ist denn die Abfertigung für die ZAANDAM?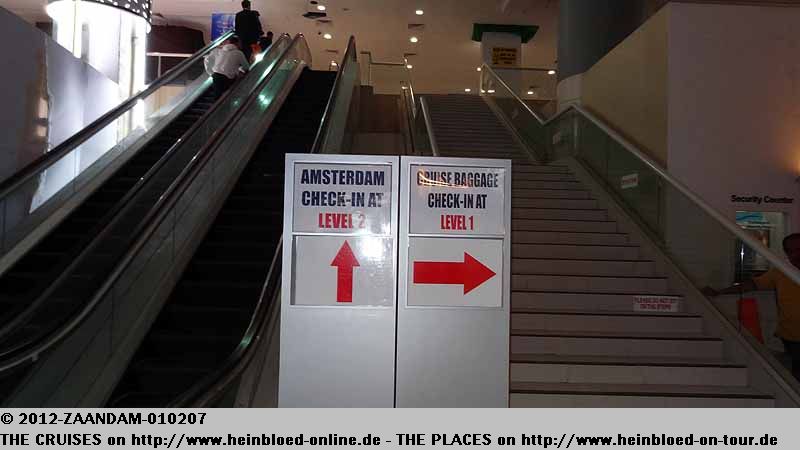 Where would be the check-in for ZAANDAM?

I took the subway (in Singapore MRT - Link for 2012) back to the hotel as it is connected to the building.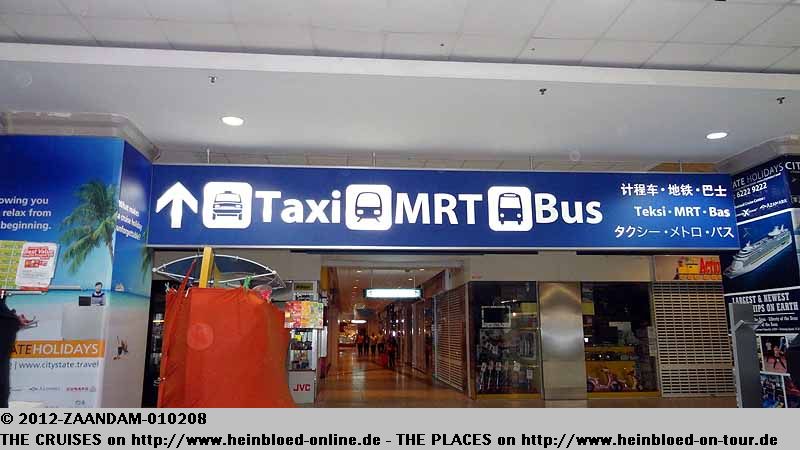 Ich nehme jedoch die
U-Bahn
(in Singapur MRT - Link für 2012) zurück, die direkt mit dem Gebäudekomplex verbunden ist.
Mein Weg führt mich zunächst nur Nort-Ost-Linie (violett).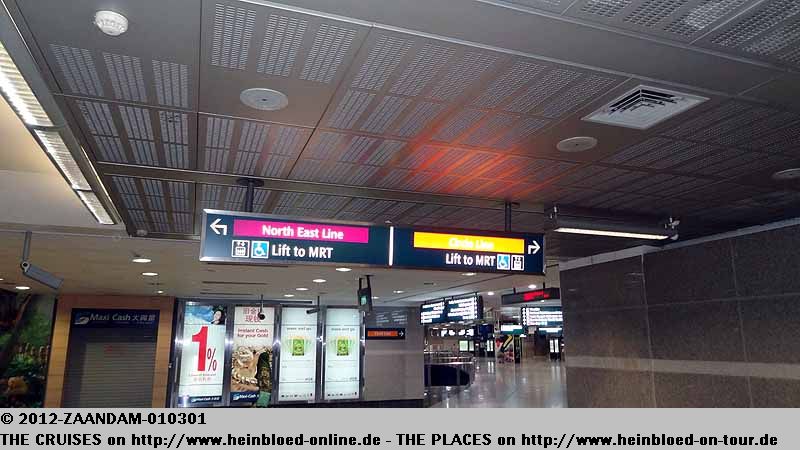 My way took me first to the North-East-Line (purple).

And if you arrive from the airport you need to find the HarbourFront Centre and get to the check-in of the ships.

Und wenn man vom Flughafen ankommt, muss man sich an dem HarbourFront Centre orientieren, um die Abfertigung für die Schiffe zu finden.
Am Automaten tippt man einfach auf seinen Zielbahnhof.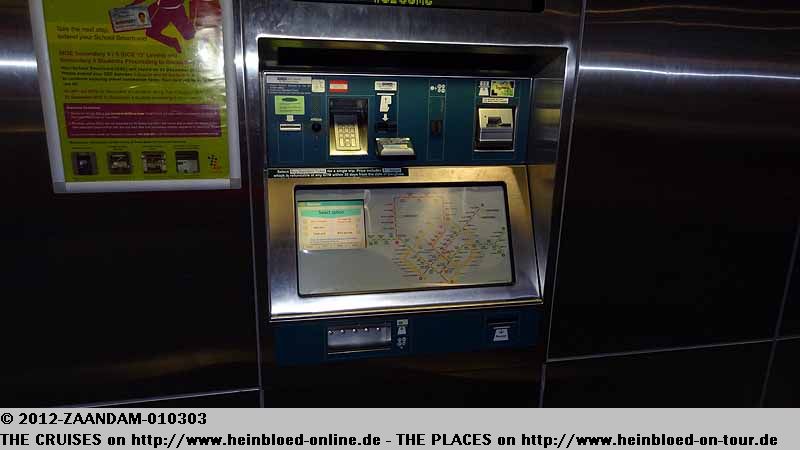 At the machines you just select your destination.

And if you made it correctly you just need to put your ticket somewhere around. When you enter the station and when you leave the station.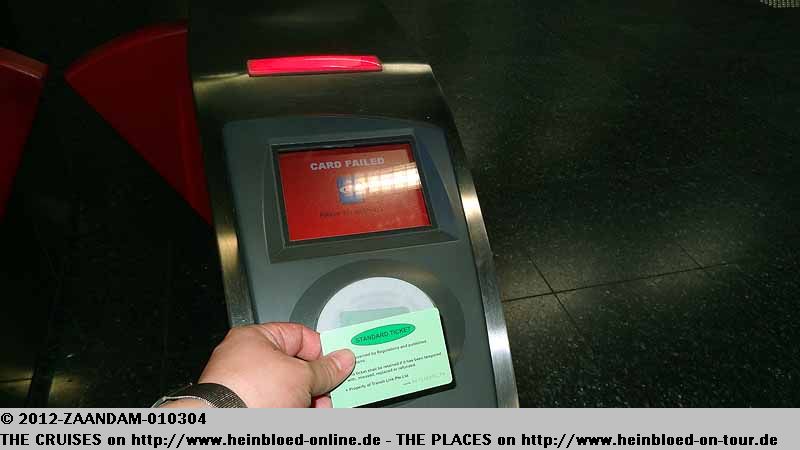 Und wenn man es richtig macht, dann muss man sein Ticket einfach hier ranhalten. Beim Rein- und Rausgehen.
Mein Ziel liegt an der grünen Linie, also muss ich gleich umsteigen.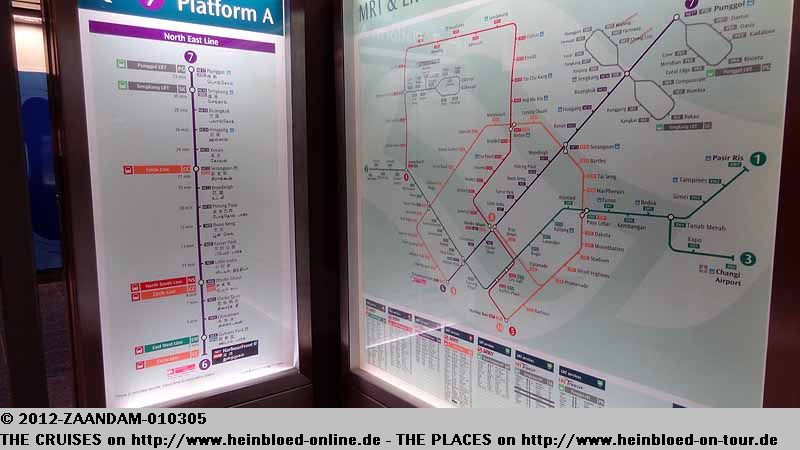 My destination was along the green line so I need to transfer.

All stops are numbered serially: Line (= NE) and Number so you only need to know your number if you do not understand the rest. All Signposts are in English, Indian...(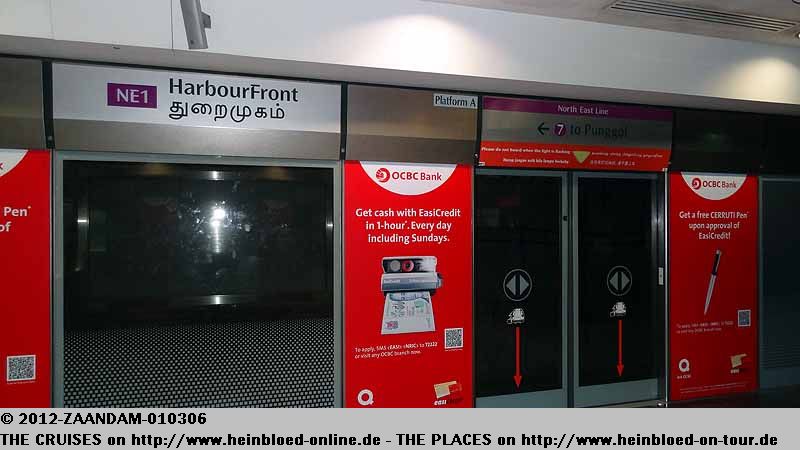 Alle Haltestellen sind durch nummeriert: Linie (= NE) und Nummer (= 1), so dass man nur diese Nummer wissen muss, wenn man den Rest nicht versteht. Aber alle Schilder sind in Englisch, Indisch...
... und Chinesisch.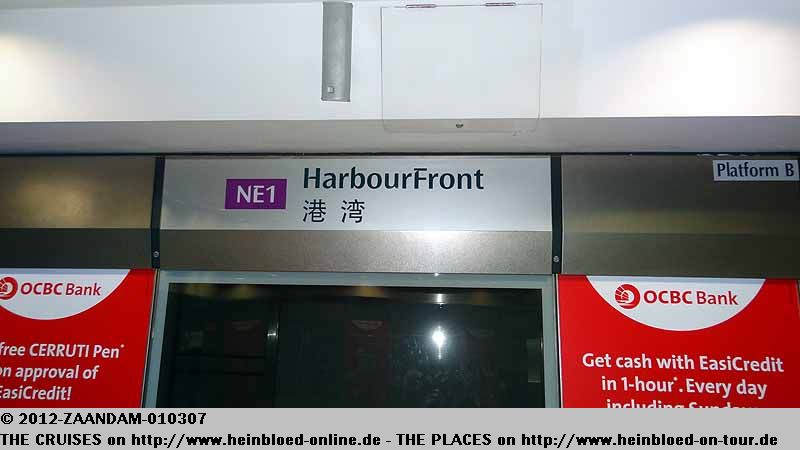 ... and Chinese.

Even in the train it was quite easy to find around.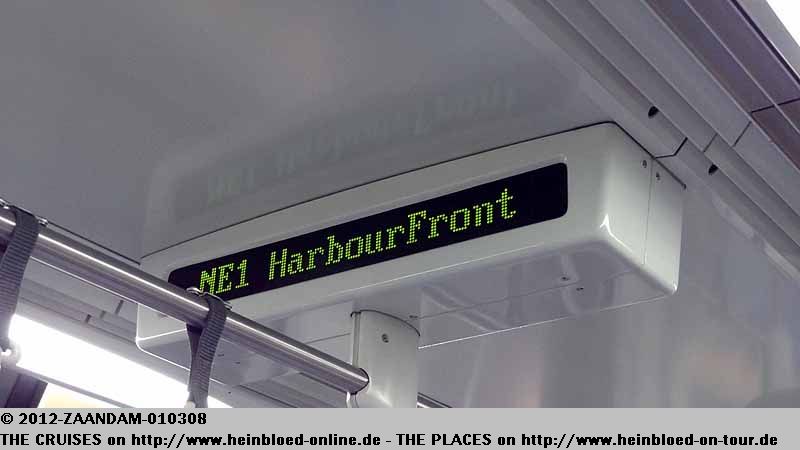 Auch in der Bahn kann man sich prima orientieren.
Ich muss also nur zwei Stationen fahren, bevor ich dort umsteige.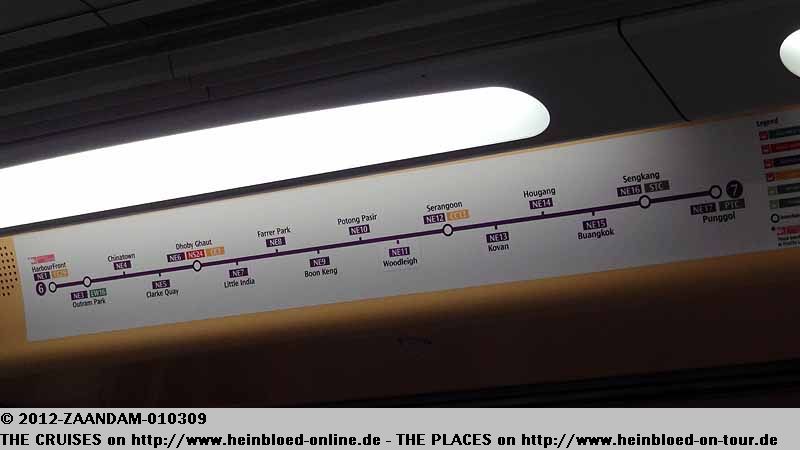 So I only needed to go for two stops before I had to transit.

From NE1 to NE3 Outram Park.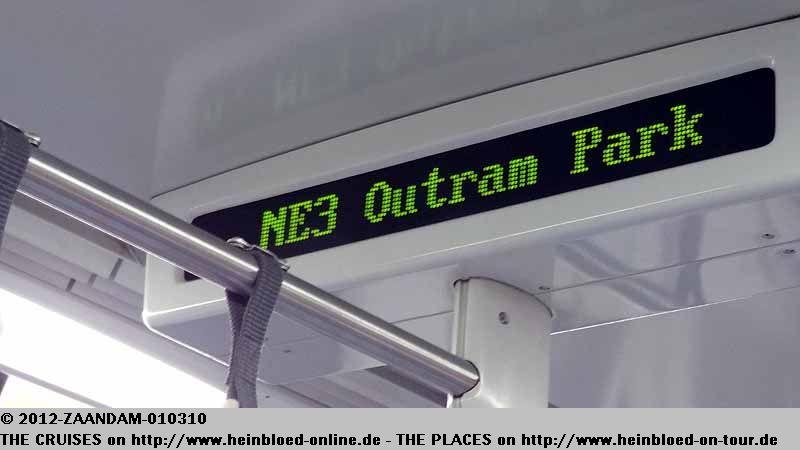 Von NE1 nach NE3 Outram Park.
Dort suche ich die grüne Ost-West-Linie.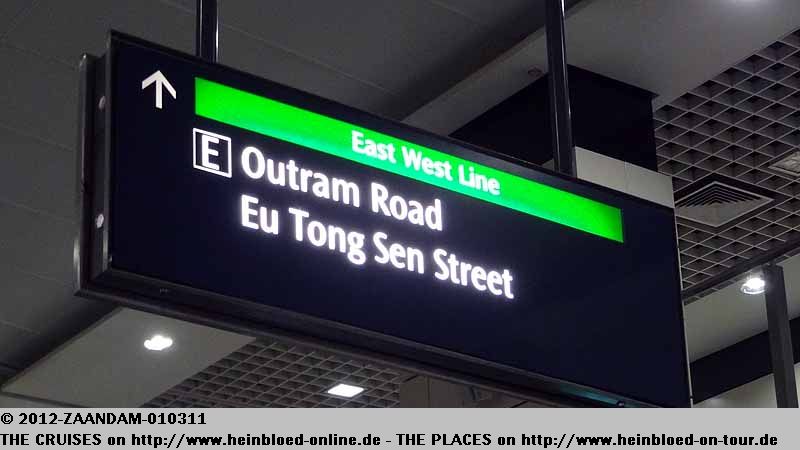 Here I looked for the green East-West-Line.

As said before: just remember NE3.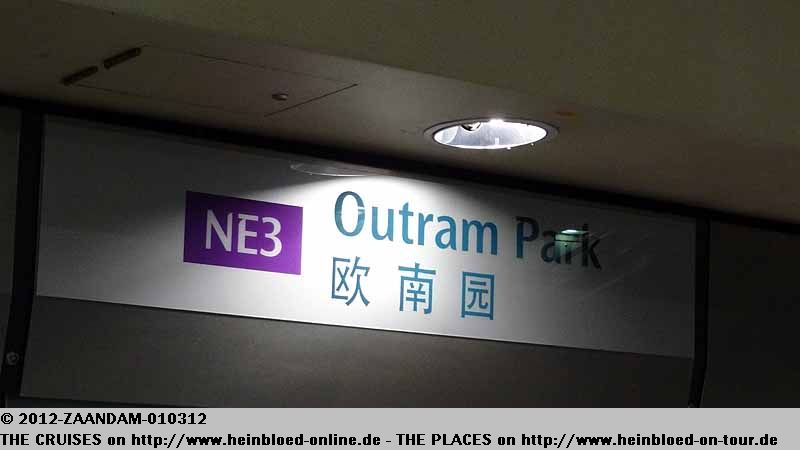 Wie gesagt einfach NE3 merken.
Ich muss grob Richtung Flughafen.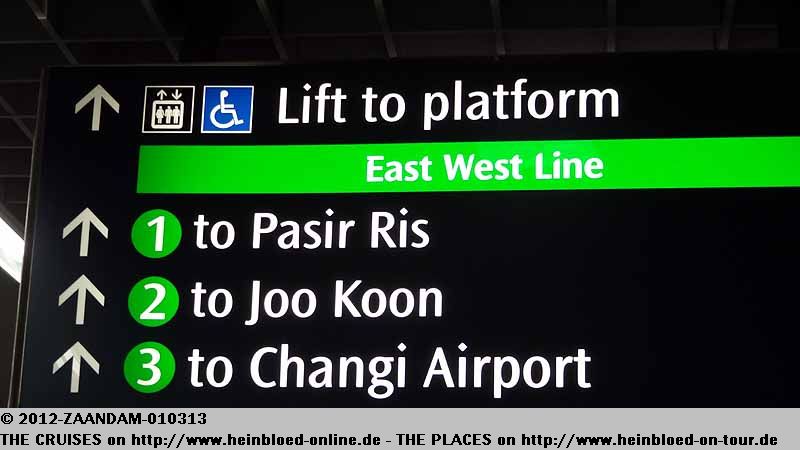 Roughly I needed to go towards the airport.

Same station was named on the East-West-Line EW16.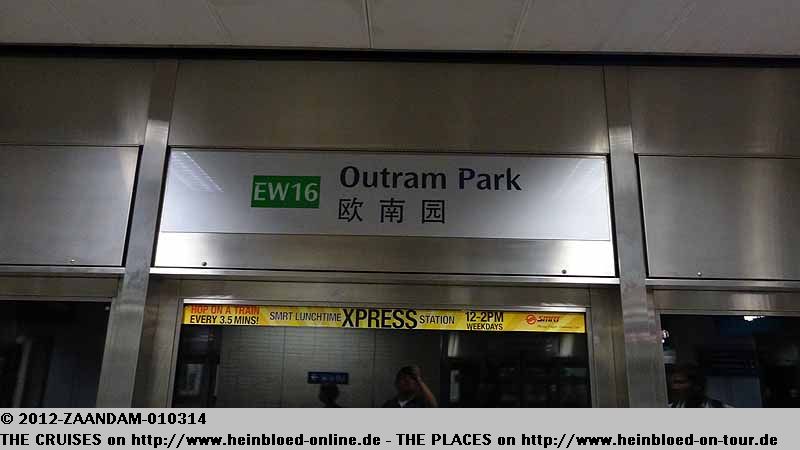 Die gleiche Station heißt auf der Ost-West-Linie dann EW16.
Sie zweigt allerdings Richtung Flughafen ab.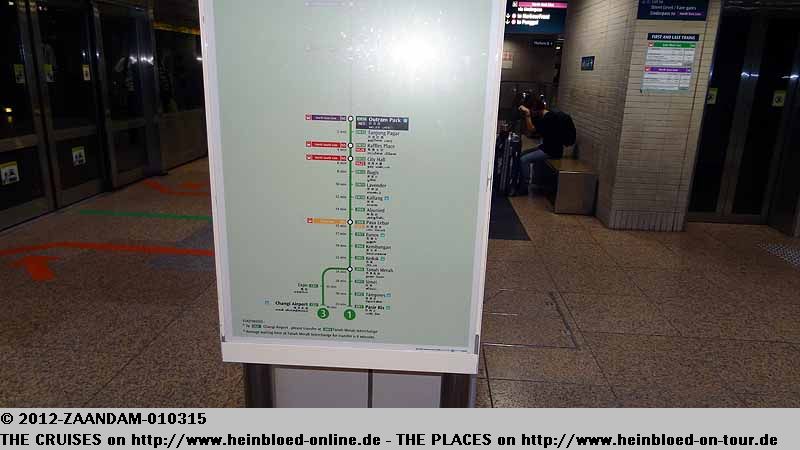 They had branches towards the airport.

As the next stop is always flashing and announced: who made the wrong way had a serious problem.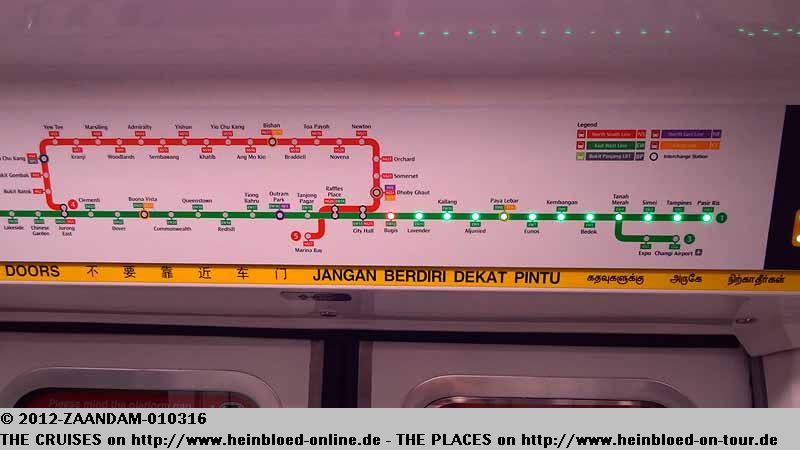 Da die nächste Haltestelle immer blinkt und ausgerufen wird: wer sich hier verfährt ist selbst Schuld.