Scroll down for English explanations - alternates with German explanations.

Morgens um 04.30 Uhr (neue Ortszeit). Nicht nur dieses Essen soll es hier geben (Man konnte sich daher sehr gut vorab informieren, damit man sich darauf einstellen konnte, ggfls. eben hier oben statt unten im Rotterdam Hauptrestaurant zu essen), sondern auch WLAN.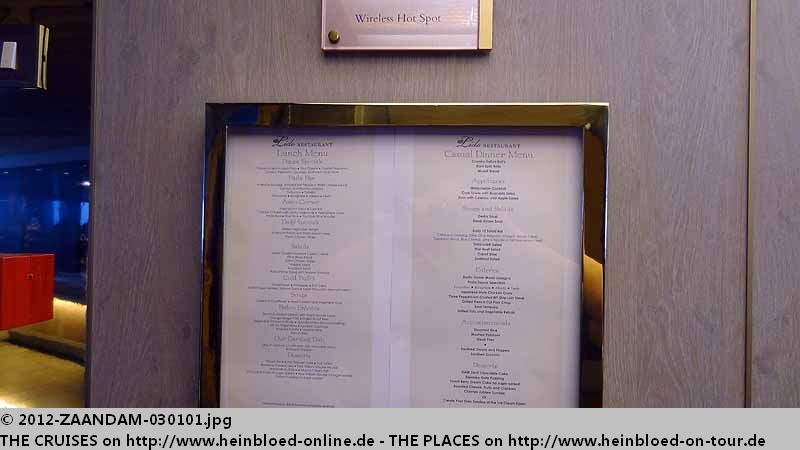 04.30 hrs in the morning (new local time). You cannot get just the food here (You could check what they offer so that you can plan to eat here or in the Rotterdam Main Dining Room) but also WiFi.

But I gave up to stay here any longer because you could not get a good signal here around.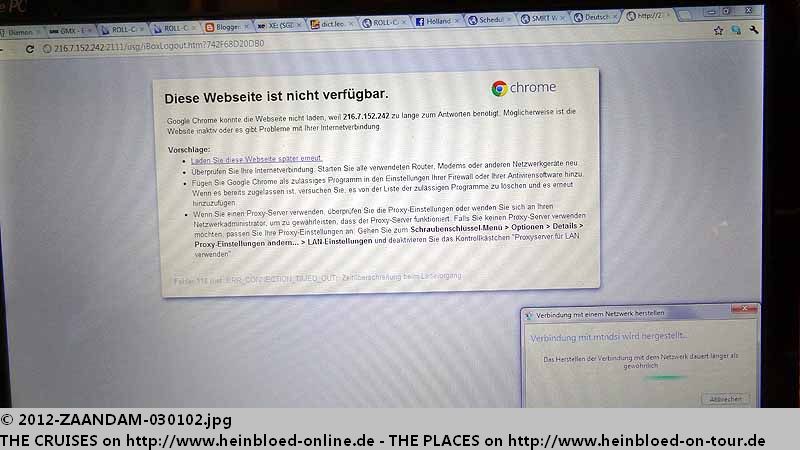 Nun gebe ich es auf, weiter hier zu bleiben, weil es hier schlicht und einfach kein vernünftiges Signal gibt.
Meine Eltern haben nicht bekommen, dass wir eine Zeitumstellung hatten und sind daher zu früh zum Frühstück erschienen. Ich nutze die Chance meiner Mutter zum Geburtstag zu gratulieren.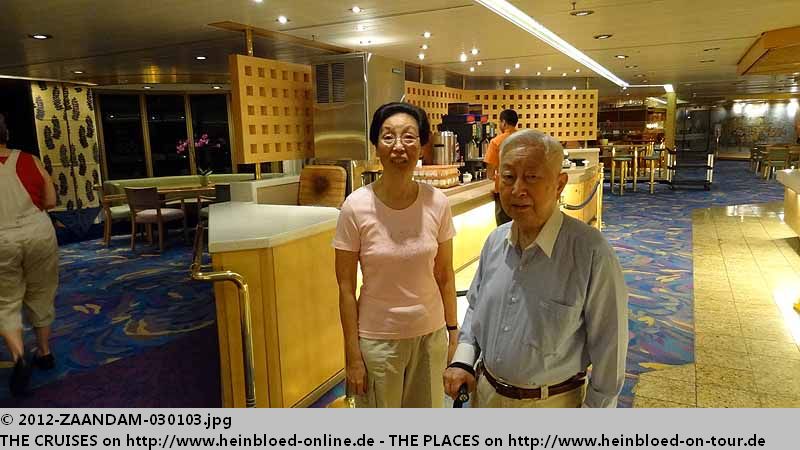 My parents missed the information that we had a time change so they came too early for breakfast. I used the chance to congratulate my Mother for her birthday.

They even had fresh papayas at the self-service buffet... (not every day but you should know why you pay more to get such little extras but just melons... melons... melons...)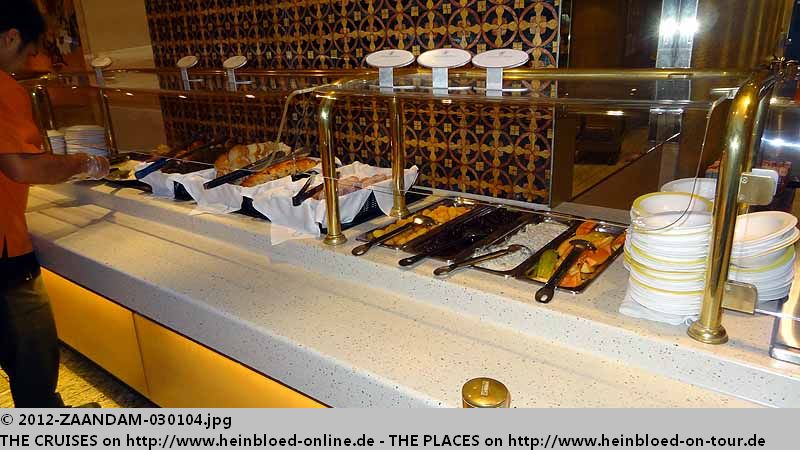 Es gab sogar frische Papaya am SB-Büffet.... (nicht jeden Tag aber man sollte einfach wissen wofür man bezahlt: z. B. um solche kleinen Extras zu bekommen und nicht Melonen... Melonen... Melonen...)
Und HAL ist nun mal sehr gut auf Gäste mit entsprechenden Alterskrankheiten eingerichtet. Schon alleine die Auswahl an Diät-Konfitüren findet man woanders nicht.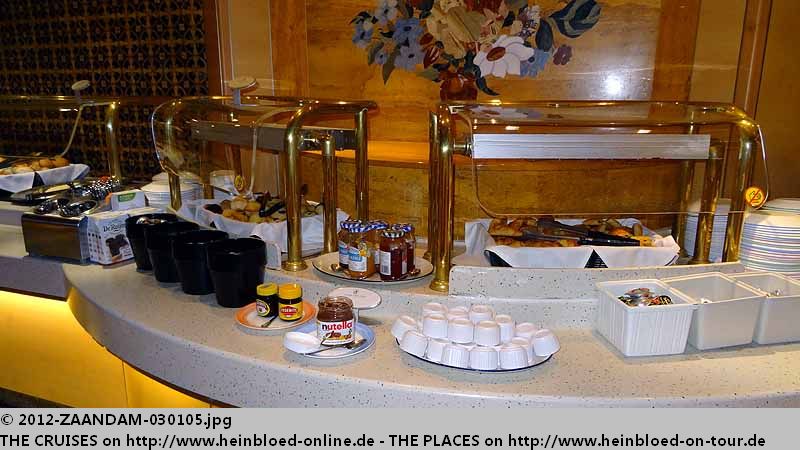 And HAL ist the company who can accomate their older guests with all their deseases. Just the selection of Diet-preservatives you cannot find with other lines.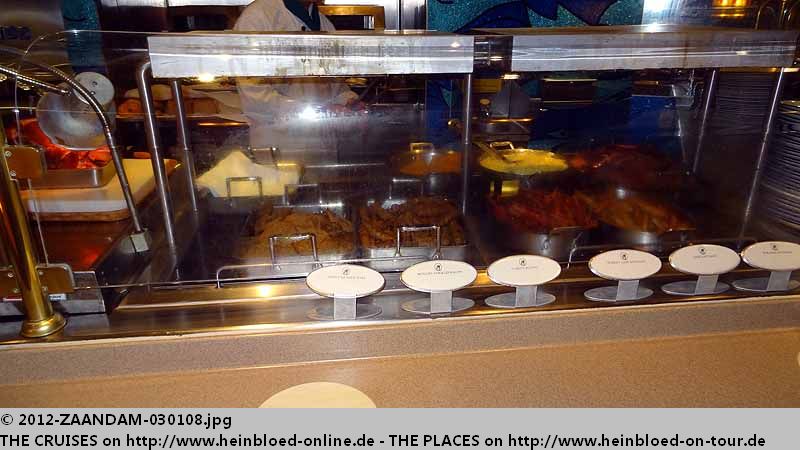 Da habe ich ein echtes Problem: meine linke Hälfte sagt: hier ist das Paradies für Fleischliebhaber und das schon zum Frühstück. Meine rechte Hälfte sagt: du bleibst unten im Rotterdam Hauptrestaurant, weil du den Service magst...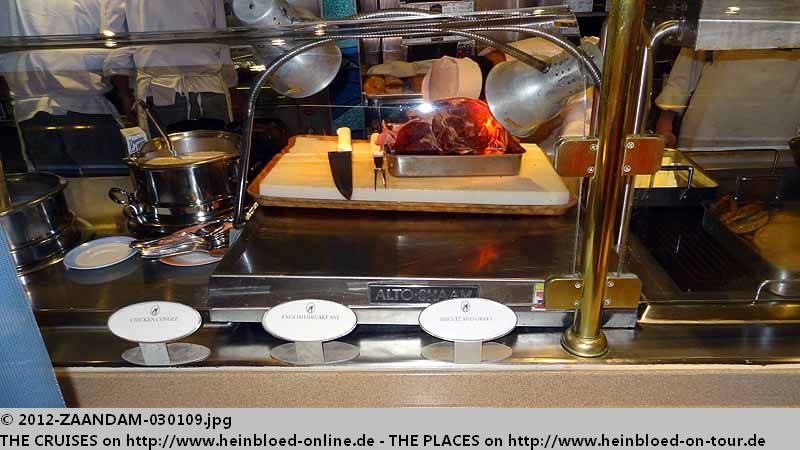 Now I am in serious trouble: my left part of my body said that I was here in paradise for meat-lovers from the beginning of the day with my breakfast. My right part said that I should better stay in Rotterdam Main Dining Room because you love the service...

They even had Congee (Chinese rice soup/porridge) even it was every day with chicken.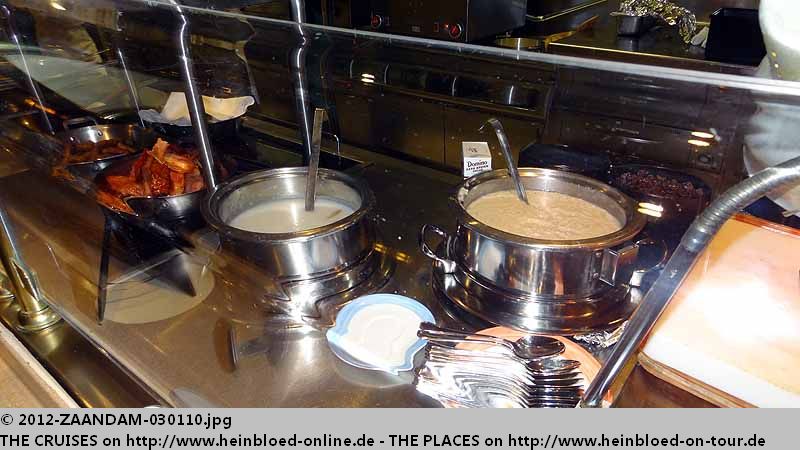 Es gab hier sogar Congee (chinesischer Reisbrei), wenn auch jeden Tag immer nur mit Hühnchen...
Hier wurde mir nun gezeigt, wie man sieben Variationen von Egg Benedict zubereitet. Auf dem getoasteten English Muffin zunächst die Nebengrundlagen, wie Lachs, Schinken usw. usw.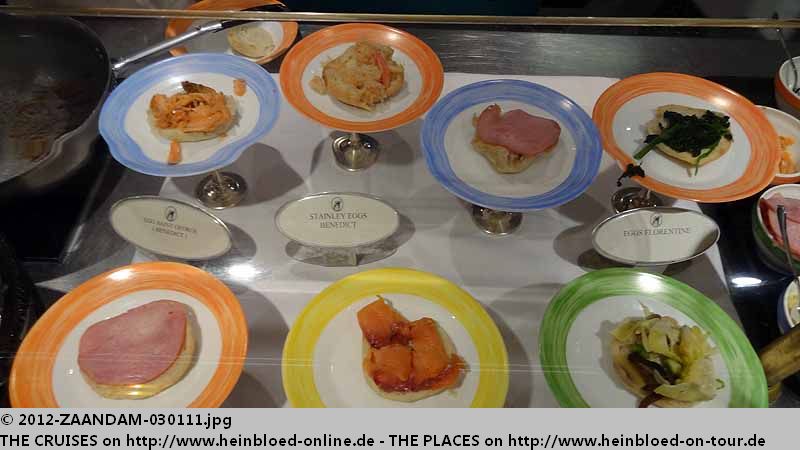 Now they showed me how to prepare seven different variations of Egg Benedict. On the toasted English Muffin you place the side like salmon, ham etc. etc.

Then the poached egg.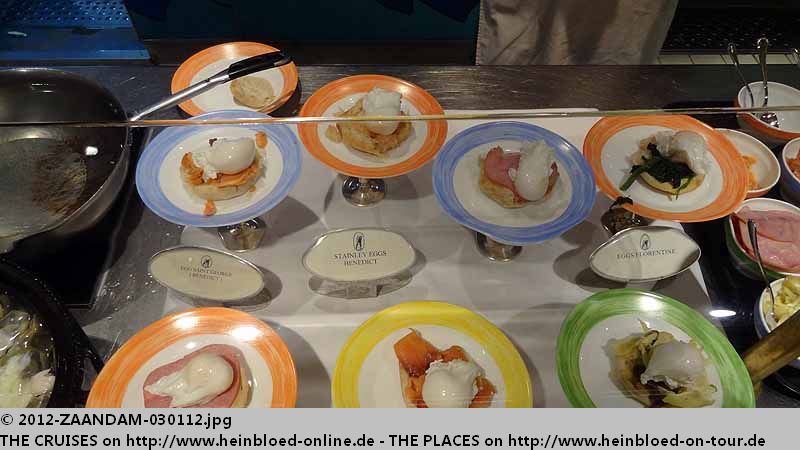 Dann das pochierte Ei.
Und dann die diversen Saucen.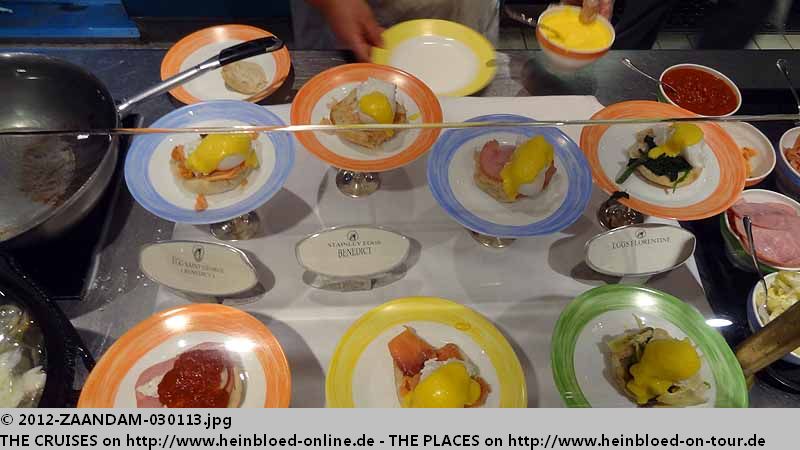 And then the various sauces.

By the way this is Clyde who explained to me step by step and long time before the buffet was officially opened. Another gentleman who as waiting behind me claimed why I could already get 7 Egg Benedicts before the buffet was opened officially...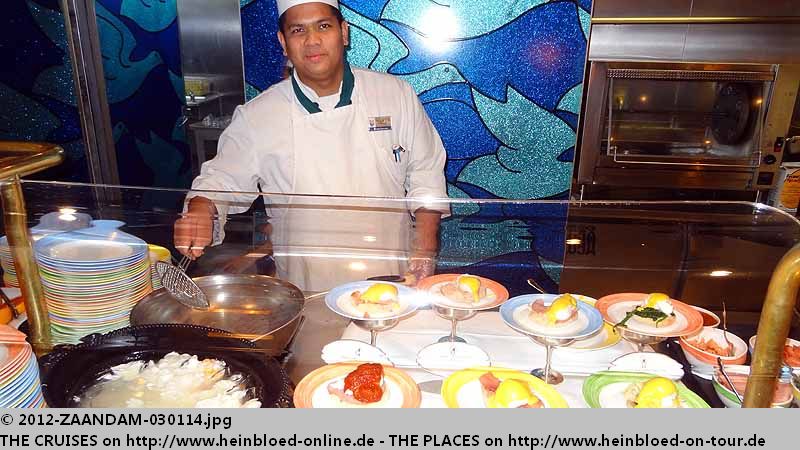 Das ist übrigens Clyde, der mir Schritt für Schritt alles erklärt hat und das bevor das Büffet offiziell öffnete. Ein Herr, der hinter mir stand, beschwerte sich darüber, warum ich schon 7 Egg Benedicst vor Öffnung des Büffets bekäme...
Nun für eine gute Freundin, die mir erklärt hat, dass man ein gutes von einem weniger gutem Kreuzfahrtschiff auseinanderhalten kann: Es gibt nur auf guten Kreuzfahrtschiffen pochierte Eier, die à la minute zubereitet werden, weil man sie nicht vorproduzieren kann. Clyde hat mir gezeigt, wie man für den Familienbrunch auch pochierte Eier in großen Mengen vorproduzieren kann... Nun brauche ich einen neuen Tipp, wie man gute von weniger guten Schiffen auseinanderhalten kann. Ich hatte es ein paar Tage später mit gekochten Eiern probiert, aber das ging gewaltig daneben...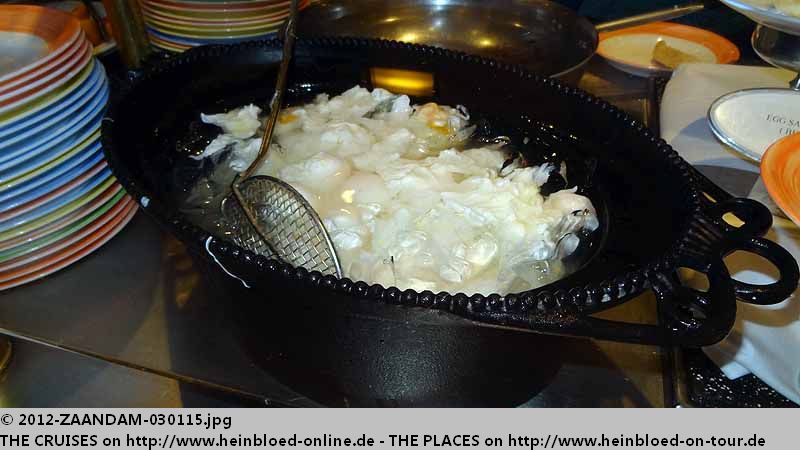 A very good friend of mice explained how to differ between and good cruise ship and a less good one: you only can get poached eggs on better cruise ships as you can only prepare them à la minute and cannot prepare them in advance in larger quantities. Clyde showed me how to prepare poached eggs in larger quantities for the family brunch... Now I need a new tip how to differ better ships from worse. I tried it a couple of days later with some boiled eggs but this did not work...

Due to birthday of my mother I did not want to let them have their breakfast alone and had a bowl of congee.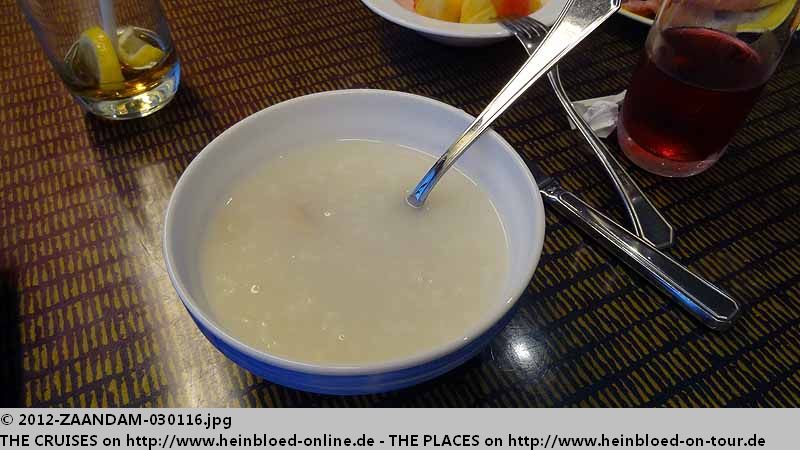 Ich wollte meine Mutter doch nicht an ihrem Geburtstag alleine frühstücken lassen und esse eine Schale Congee mit.
Noch ist es leer, auch um diese Zeit.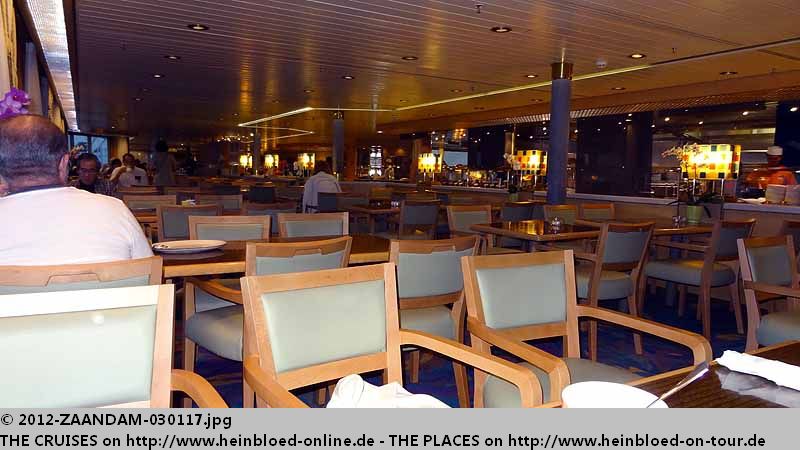 Still empty at this time.

But it was that everybody was queueing up already 15 minutes ahead of opening at the omelette station.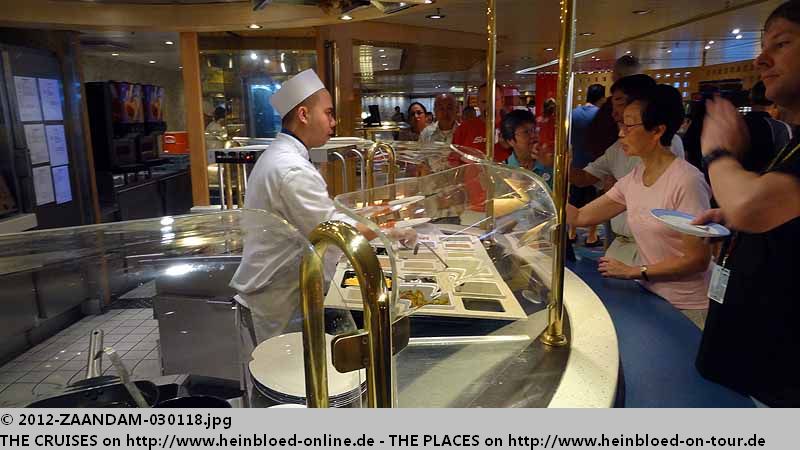 Das liegt aber daran, dass sich die Schlange für das Omelette sich schon 15 Minuten vor Öffnung bildet.
AIDA lässt grüßen.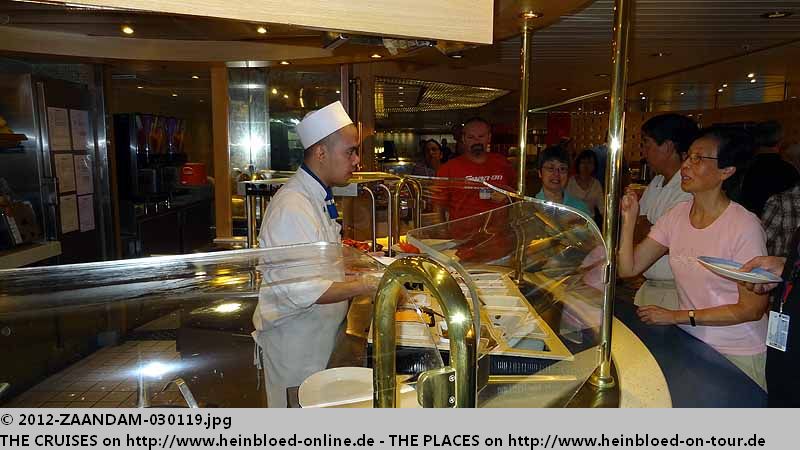 Greetings from AIDA (all self-service incl. all appearances...)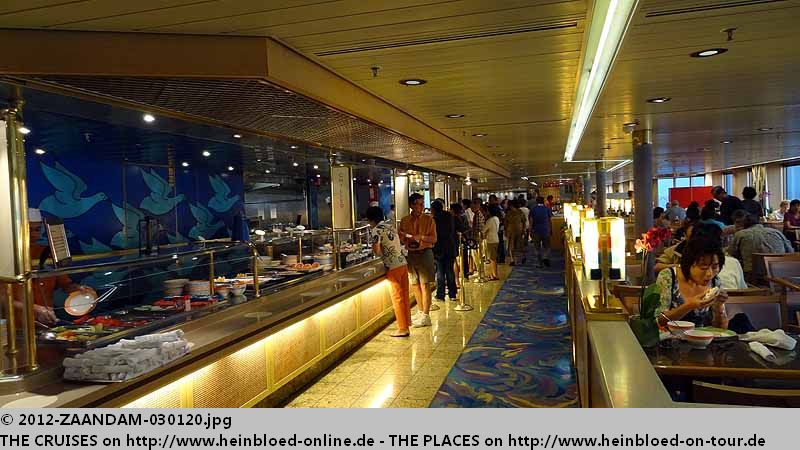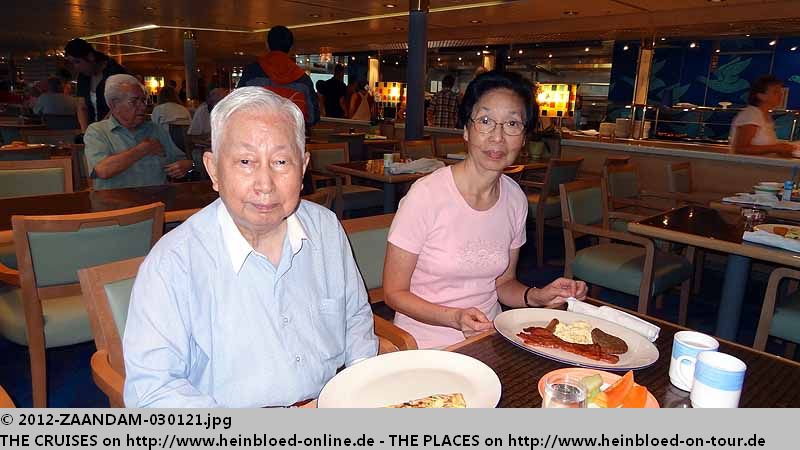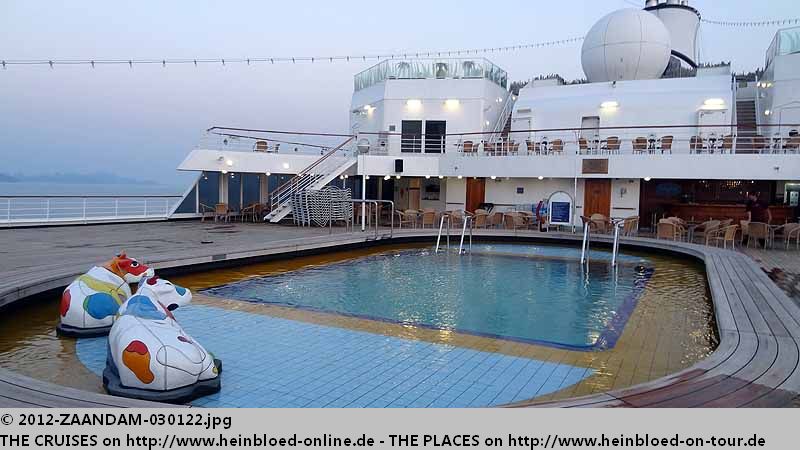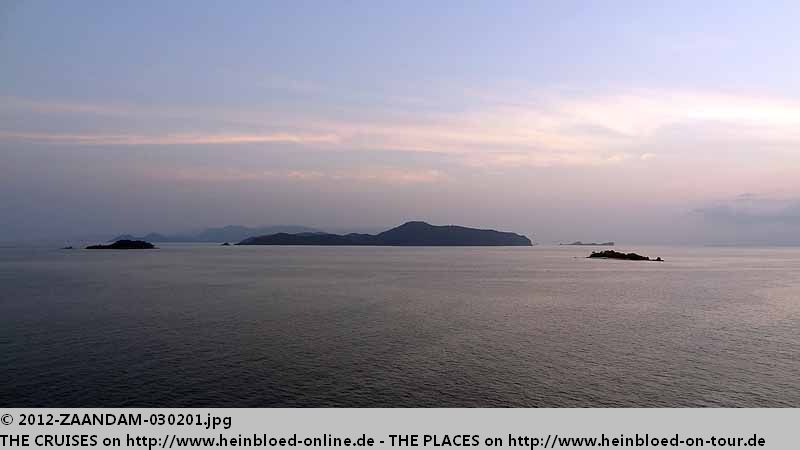 I went out to see how we approach Koh Samui.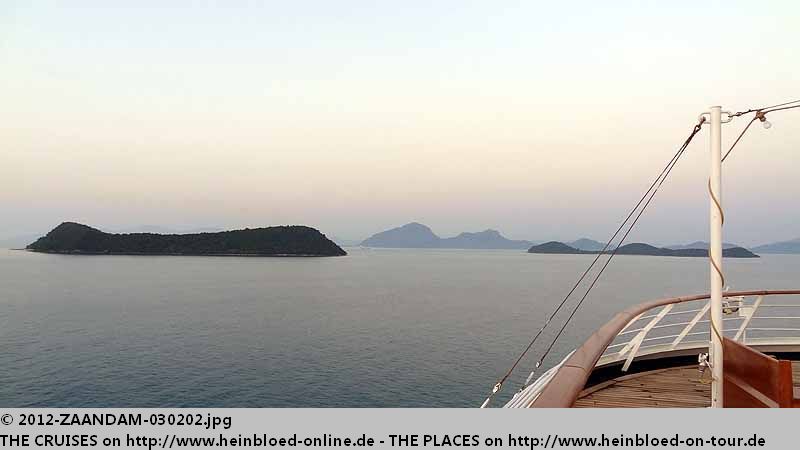 Ich gehe kurz nach draußen, um die Einfahrt nach Koh Samui mir anzusehen.
Und ich freue mich für meine Mutter, dass es wohl ein schöner Tag werden sollte.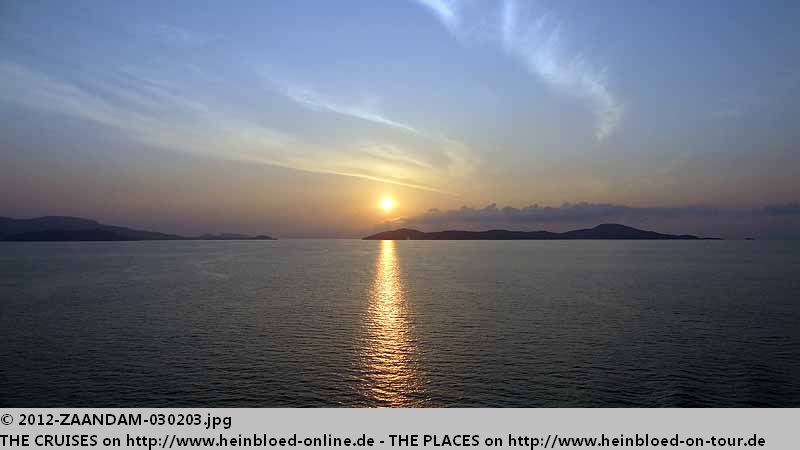 And I am glad to see for my Mother that it looked a wonderful day it should become.