Scroll down for English explanations - alternates with German explanations.

Ich will rüber mit der Star Ferry... Immer noch für ein Appel und ein Ei. Unterdeck 2,00 HKD (= ca. 0,20 EUR)... Aber heute ist ja Wochenende... da ist es richtig teuer: 2,40 HKD (= ca. 0,24 EUR).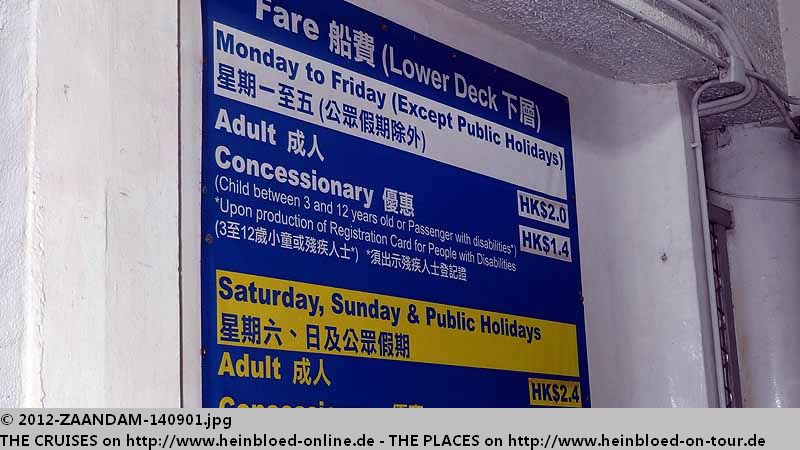 I wanted to get over by Star Ferry... Still for some peanuts. Lower Deck 2.00 HKD (= about 0.26 USD)... but it was a weekend day... so it was quite expensive: 2.40 HKD = (= about 0.31 USD)...

In the past you need to pay exact fare at all turnstiles.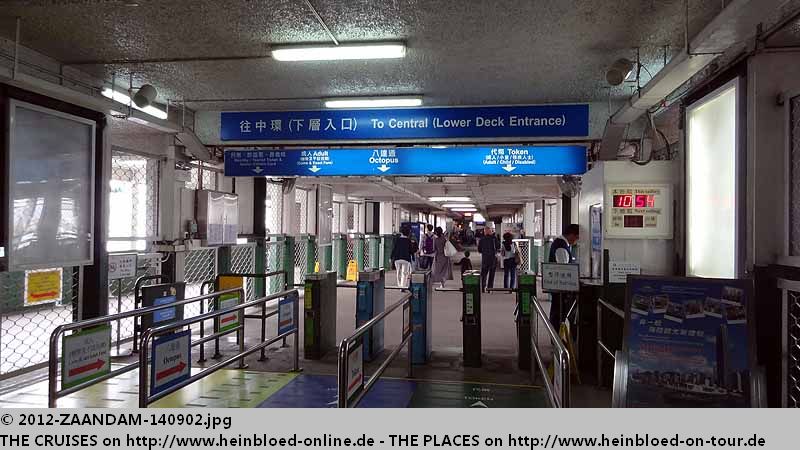 Früher musste man alle Drehkreuze mit Münzen in bar zahlen...
Aber heute gibt es nur noch ein Drehkreuz mit dem abgezählten Betrag. RFID-Technik hat auch hier Einzug gehalten.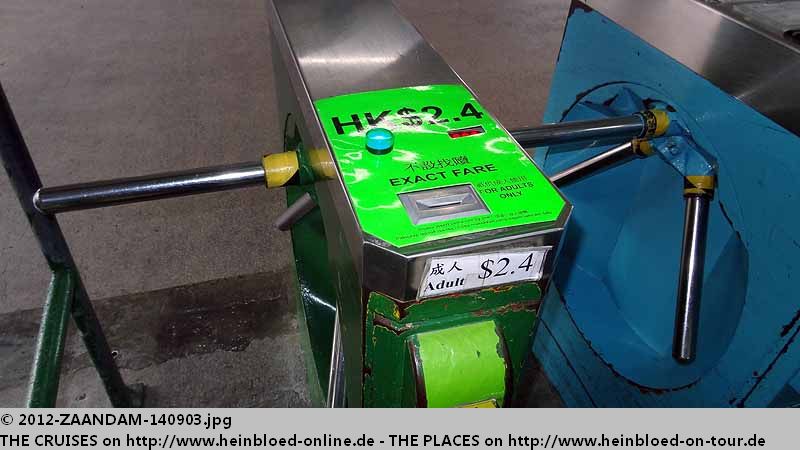 But today there was only one turnstile left with exact change. RFID technology arrived here.

When it changed to green you could walk.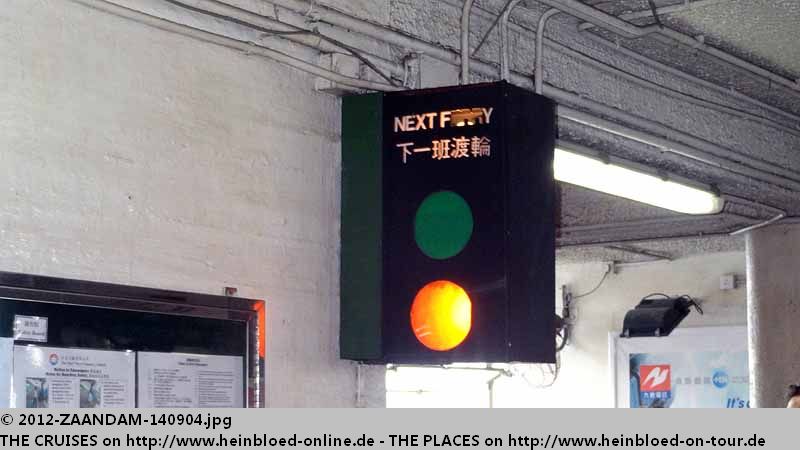 Sobald es grün wird, kann man einsteigen.
Und so sieht es unten aus.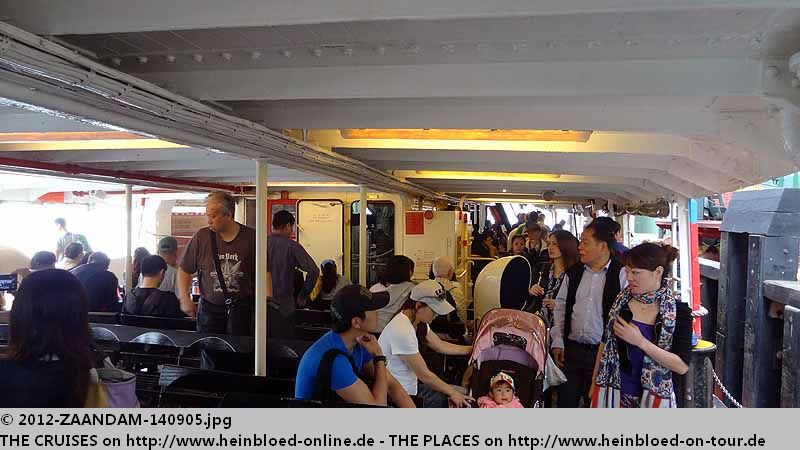 At the lower deck it looked like this.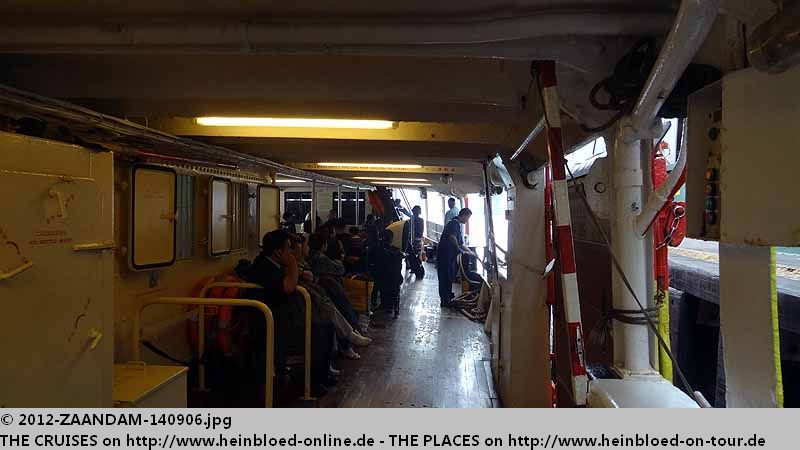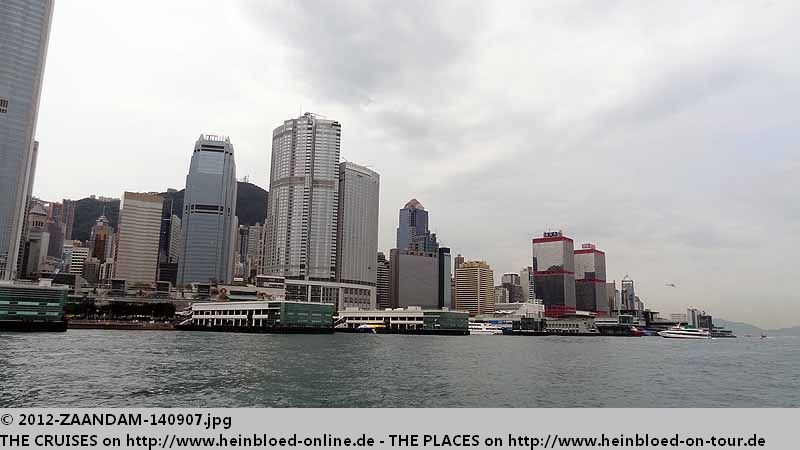 On the other side in Hong Kong... always under construction.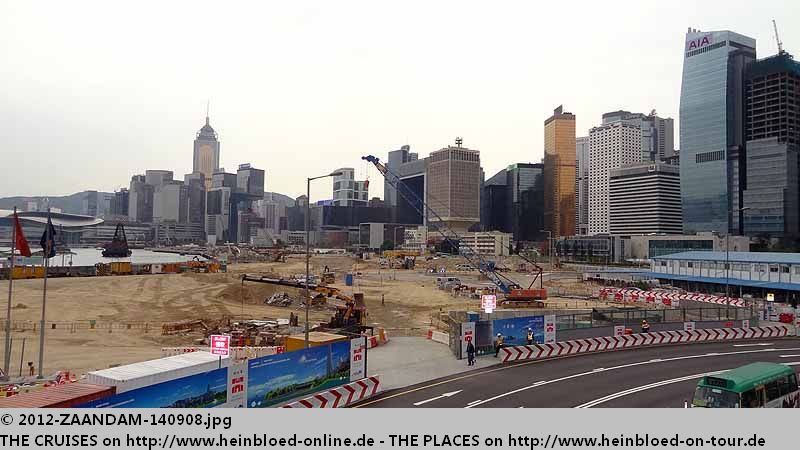 Drüben in Hongkong... immer wird gebaut.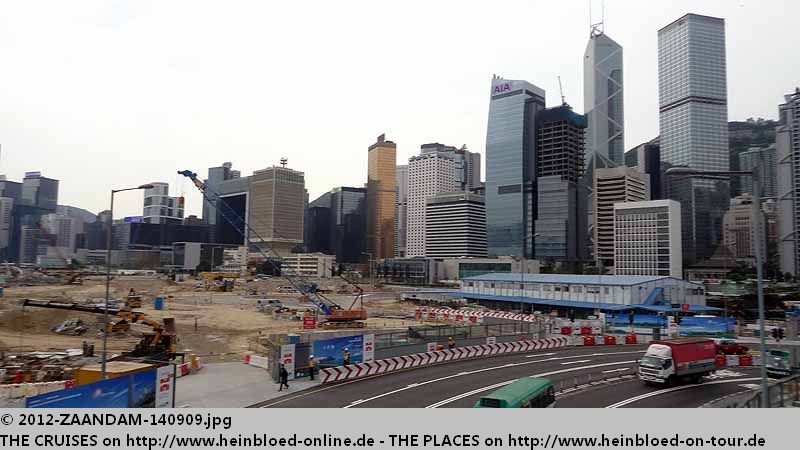 I checked with Apple for a new iPhone. My preferred iPhone was not available. So bad because it was about 200.00 USD cheaper than in Germany. But I had no German SIM-card anymore. German Telekom wanted to me to identify myself by telling them my SIM-card number (should be on iPhone or on the reverse side of the SIM-card. But both were stolen...) or by telling them my customer account number (should be on my bill but unfortunately I had no bill copy with me...). To help me they sent a copy of bill to my home address so I could tell them my customer account number... At a certain point I became nuts so they sent me finally a new SIM-card to my home address.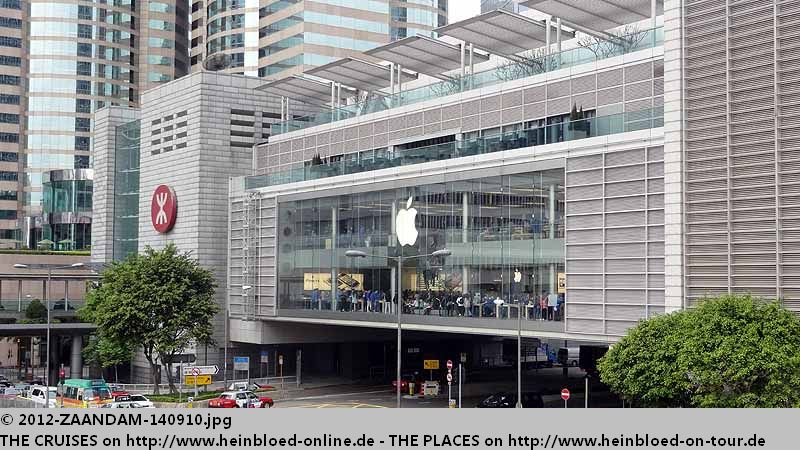 Ich gehe bei Apple vorbei um mich nach einem neuen iPhone zu erkundigen. Mein Wunsch-iPhone ist nicht verfügbar. Schade: wäre 150,00 EUR günstiger als in Deutschland. Nur eine Telekom-SIM-Karte habe ich auch nicht. Die wollten von der Telekom, dass ich mich mit der SIM-Kartennummer (steht im iPhone oder auf der Rückseite der SIM-Karte aber beides gestohlen) oder mit meiner Kundenkontonummer (steht auf der Telekom-Rechnung aber ich hatte gerade keine bei...) ausweise. Um mir zu helfen, haben sie eine Kopie der Telefonrechnung nach Hause geschickt, damit ich mich dann mit der Kundenkontonummer ausweisen kann... Irgendwann als ich durchgedreht bin, haben sie mir eine SIM-Karte nach Hause geschickt.
Das sieht jetzt alles wieder westlich aus...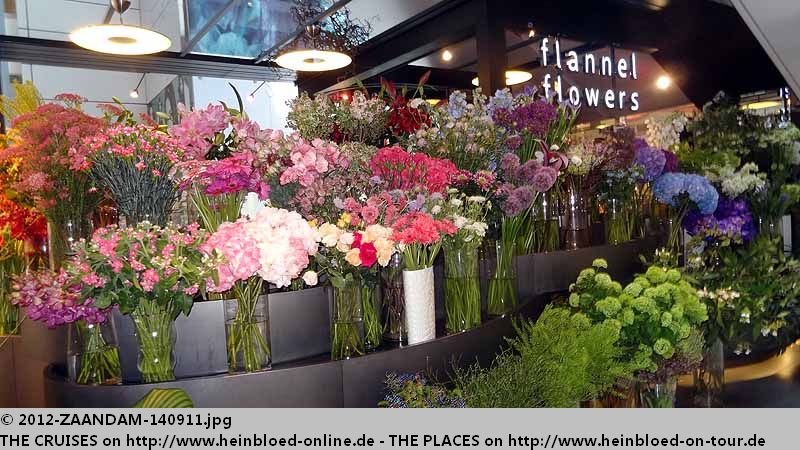 Looked very Western style...

I went on the bridges to the Ferry Terminal.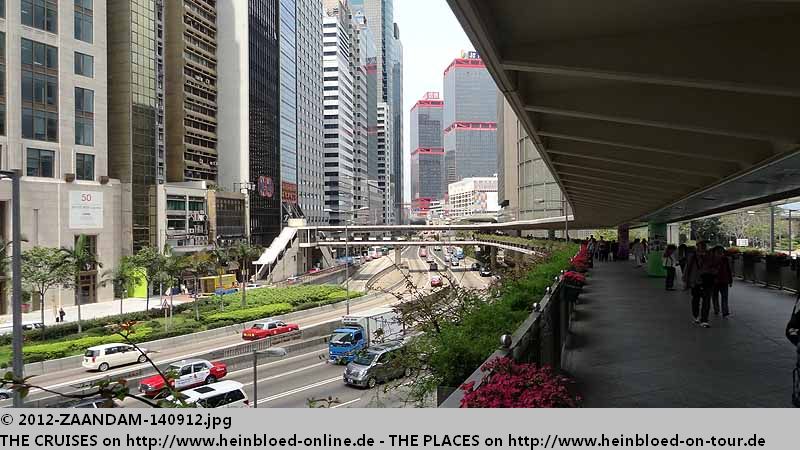 Ich laufe über diese Brücken zum Fährterminal.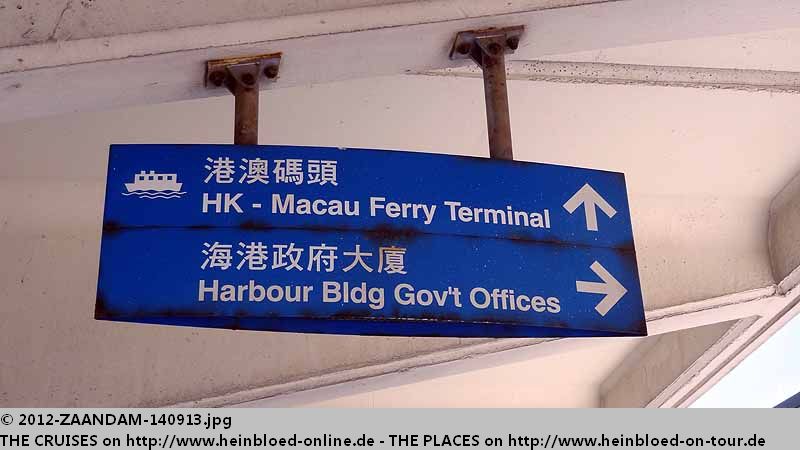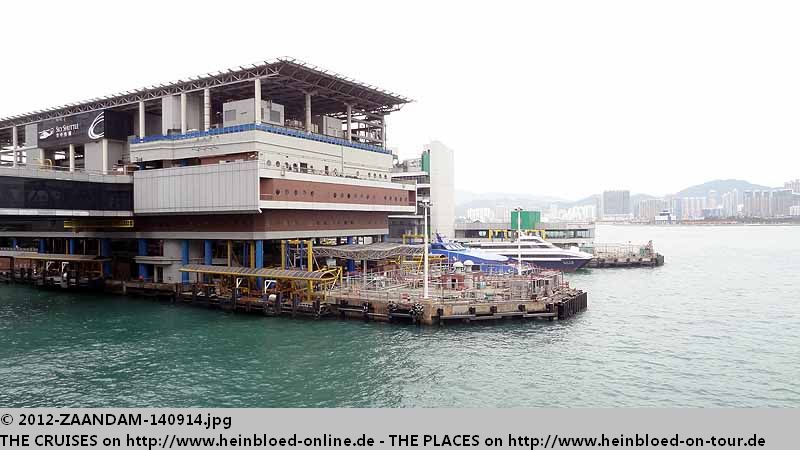 Im Fährterminal gibt es so meine Lieblingsketten, aber gleich an Bord gibt es etwas zu essen.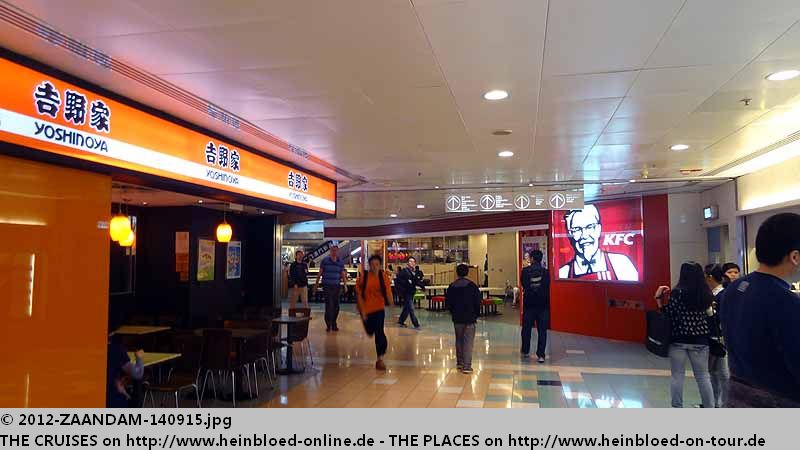 In the Ferry Terminal they had all my favorite chains but I will have food onboard soon.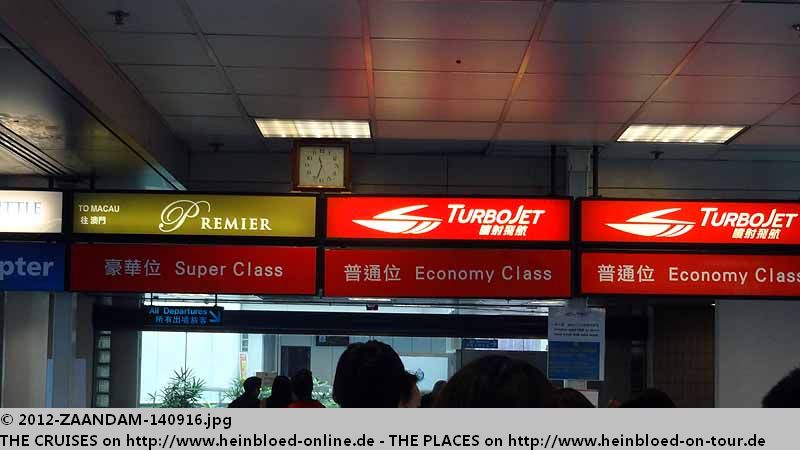 Die Tickets für Bruno konnte ich nicht zurückgeben. Da das Essen inbegriffen ist und schon bezahlt ist, bestehe ich auf alle vier Tickets und will auch Brunos Essen.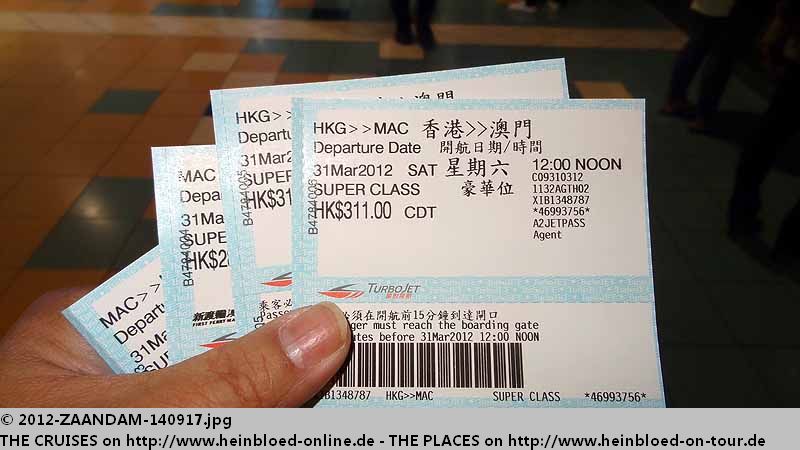 I could not return the tickets for Bruno. As the food was included and it was paid I insited to use all four tickets to have Bruno's food too.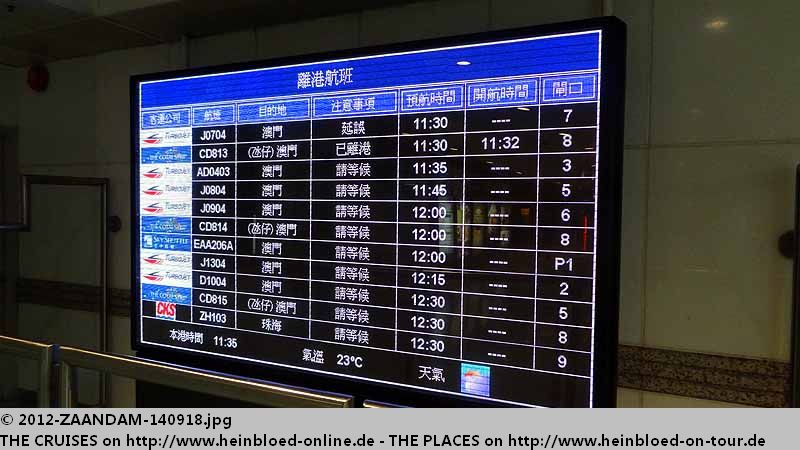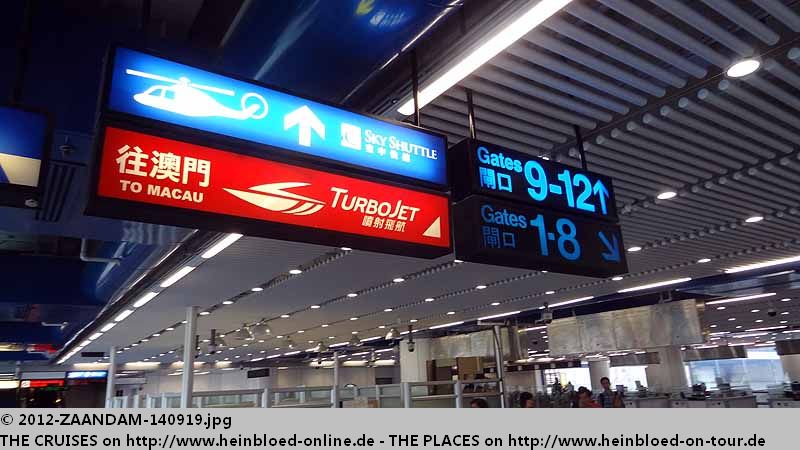 As I booked Super Class I was allowed to use the lounge.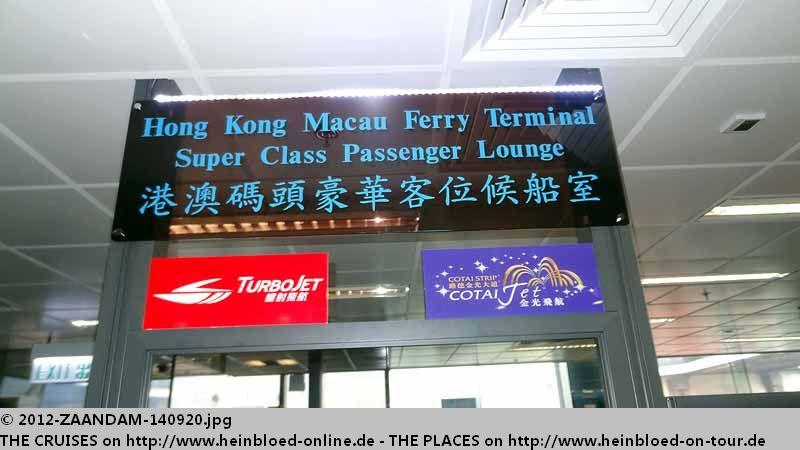 Da ich Super Class gebucht hatte, darf ich in der Lounge warten.
Das war die Lounge für die Super Super Kunden...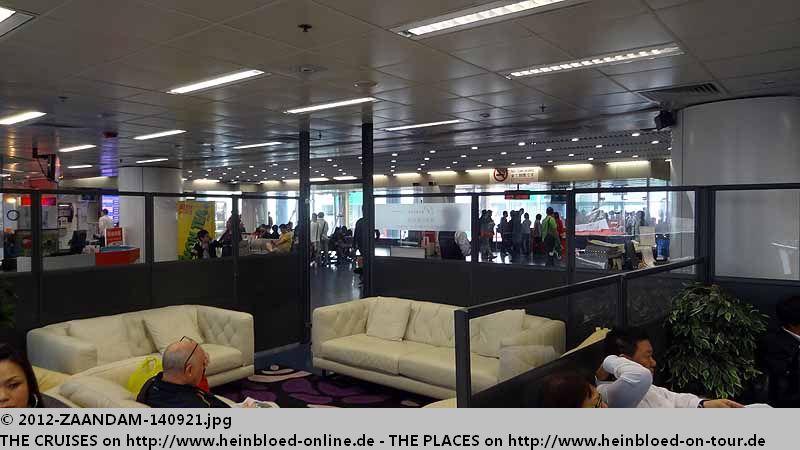 That was the lounge for the Super Super guests.

As Super Class guests I had some water.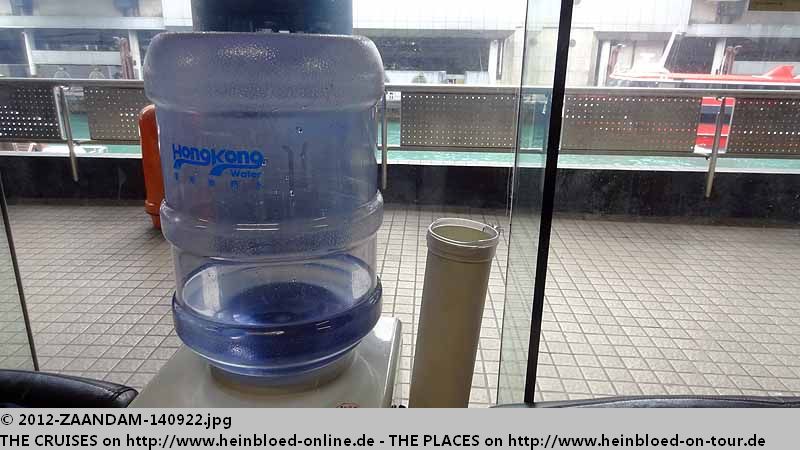 Als Super Class Kunde gibt es nur etwas Wasser.
Und ein paar Zeitschriften auf ein paar alten Sofas.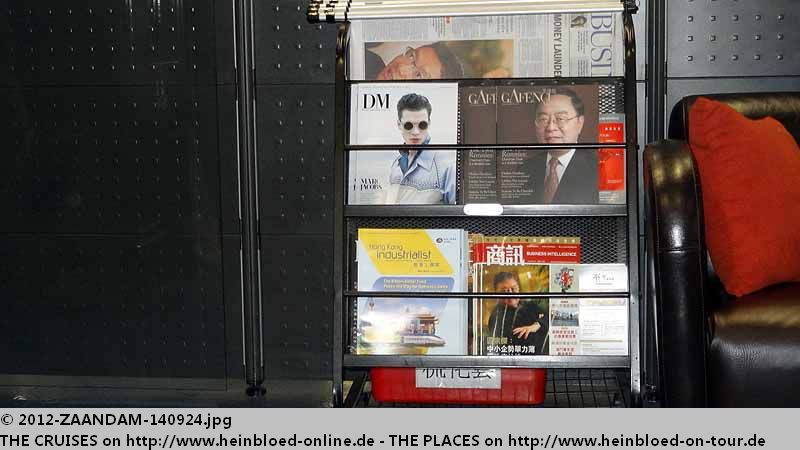 And few magazines on few old sofas.

You need to have a seat number. His announcements were nice to hear for this action... and for boarding etc.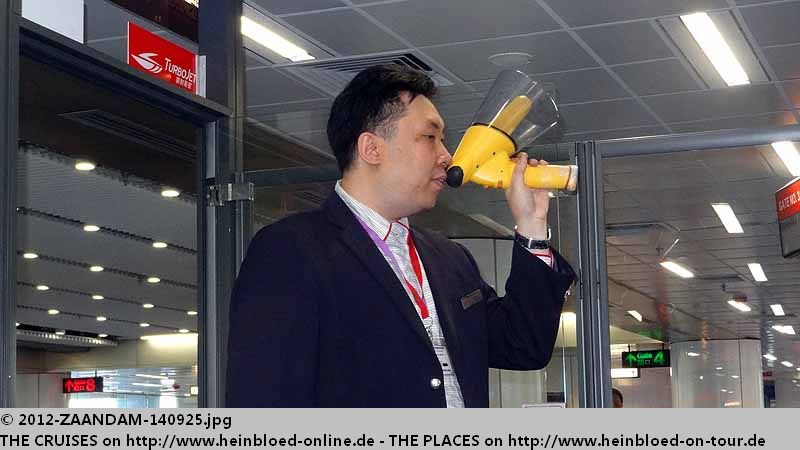 Man muss sich dann eine Sitznummer zuteilen lassen. Schön waren seine Ansagen hierzu... und zum Boarding usw.