Scroll down for English explanations - alternates with German explanations.

Übrigens unsere Führerin Aom und unser Fahrer Lak waren ganz reizend zu meinen Eltern.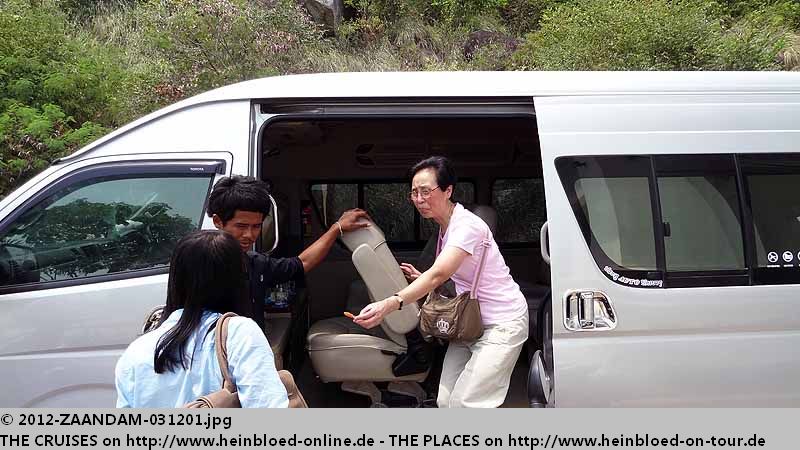 By the way our guide Aom and our driver Lak were very nice to my parents.

Everywhere they helped my father to get in and out the car.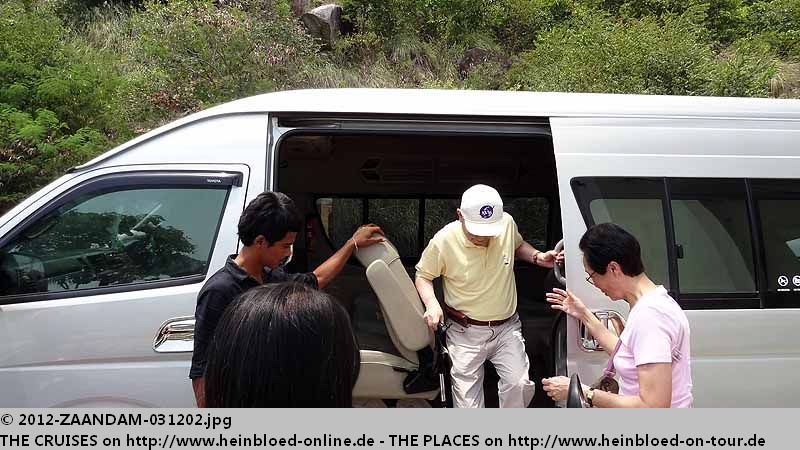 Überall haben sie meinen Vater unterstützt, um aus dem Wagen raus und reinzukommen.
Hier ging es einfach mal zu einem Aussichtspunkt, um die Sicht zu genießen.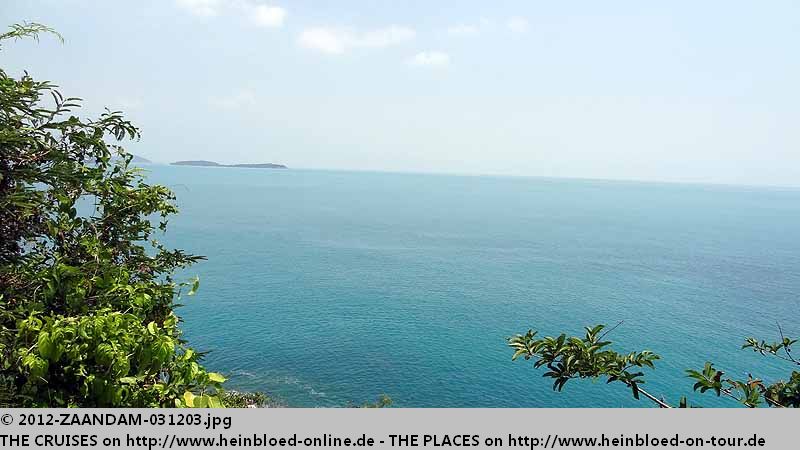 Here we arrived at an obeservation point just just to enjoy the view.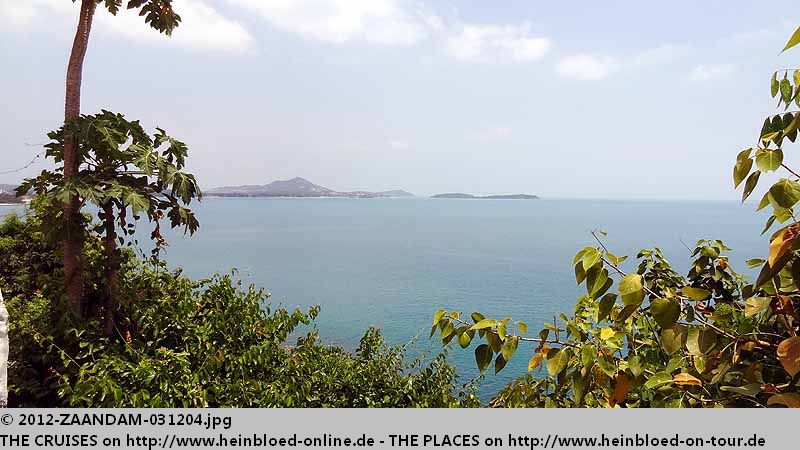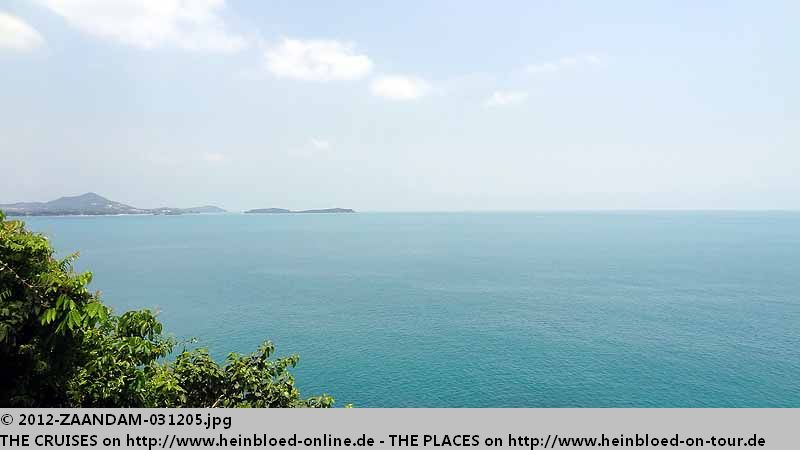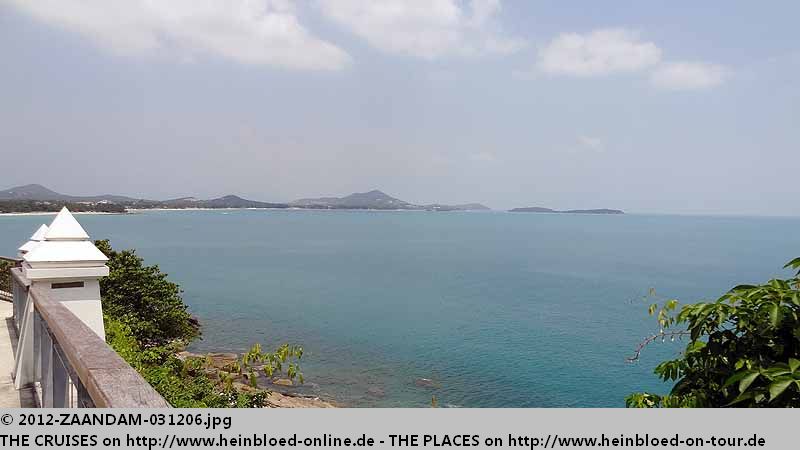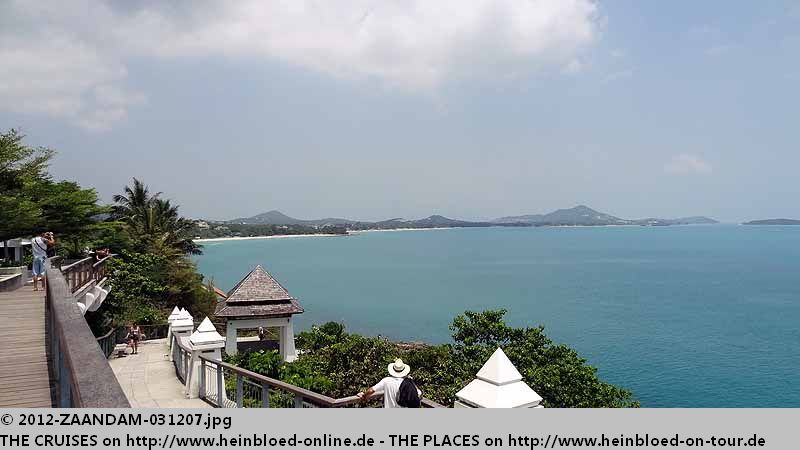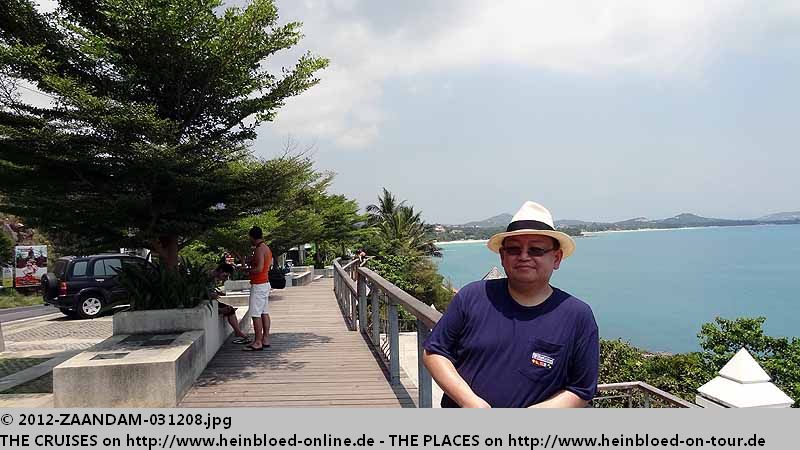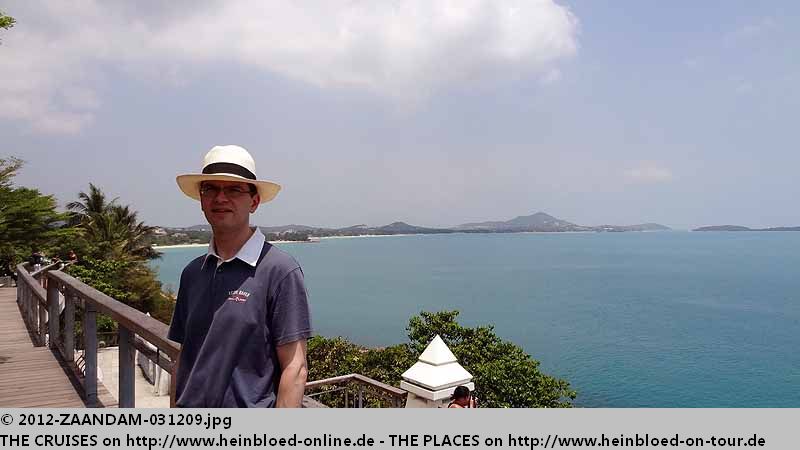 Difficult to say where it was nicer: Carribean, Hawai'i or here in Thailand. But the overland power lines destroyed somehow all nice impressions you made so far.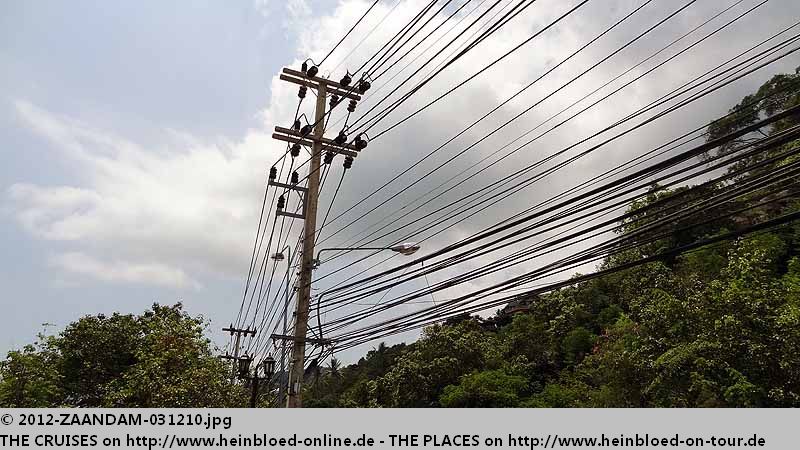 Schwer zu sagen, ob nun die Karibik, Hawai'i oder hier Thailand schöner ist. Aber die oberirdischen Strommasten haben eh den positiven Gesamteindruck zerstört.
Hier gab es Original Kokosnuss-Eiscreme.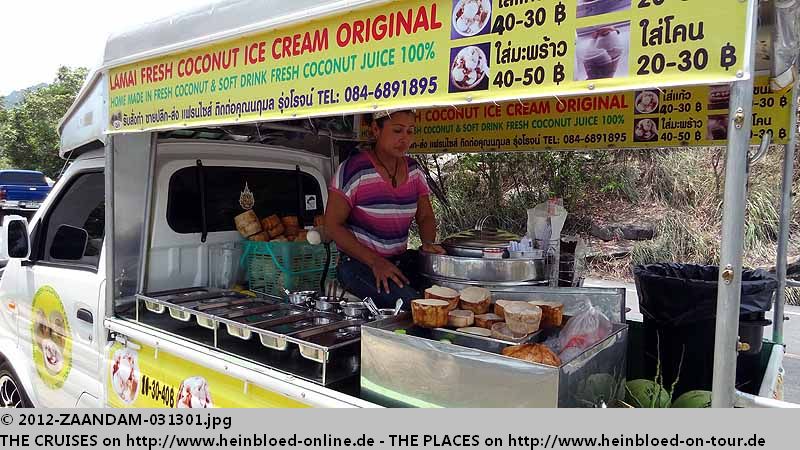 Here we got original coconut-ice cream.

Everything was freshly made.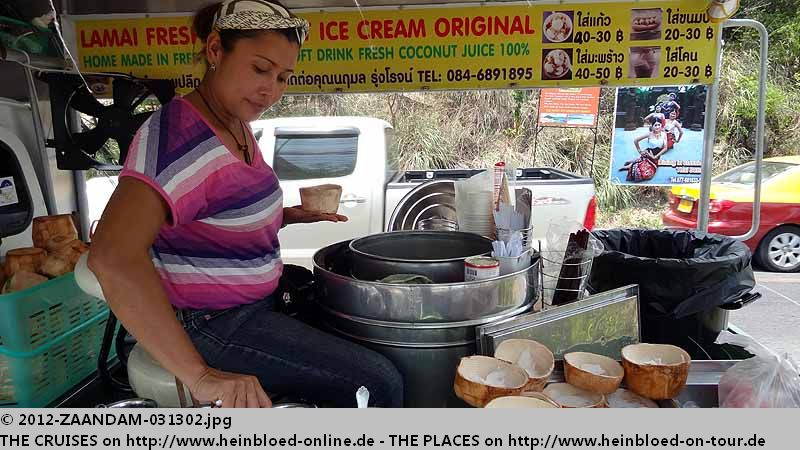 Alles frisch hergestellt.
Und in einer Kokosnussschale serviert.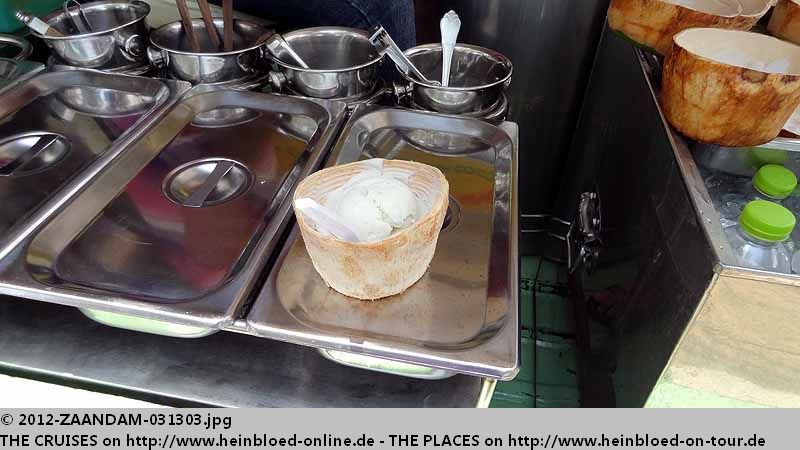 And served in a coconut-bowl.

You could choose your toppings you liked.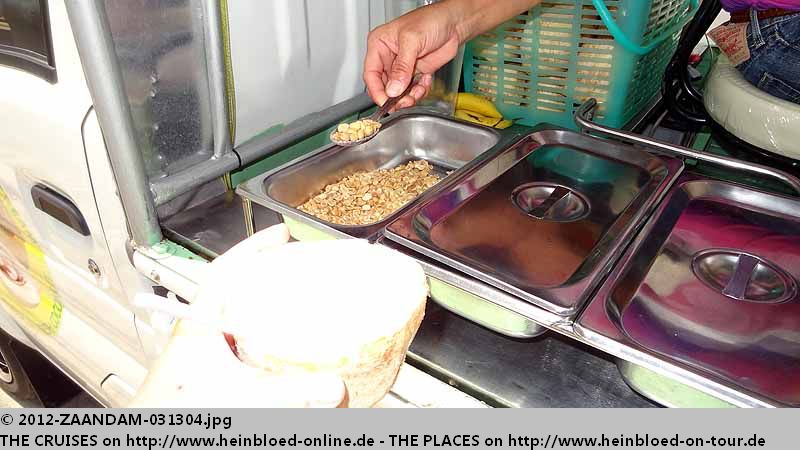 Man konnte sich auch die Toppings (Beilagen) selbst aussuchen.
Mein Vater war natürlich begeistert: ein schattiger Sitzplatz und frisches Eis.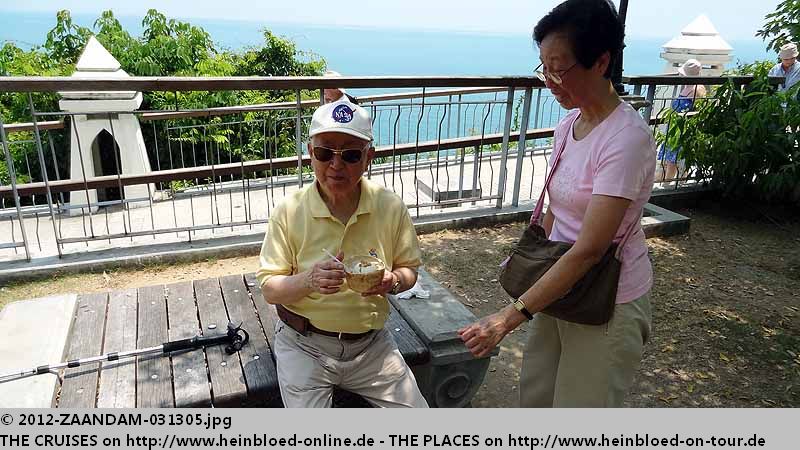 My father was more than happy: sitting on a shady place and enjoying fresh ice-cream.

And everybody waited until he finished his ice-cream...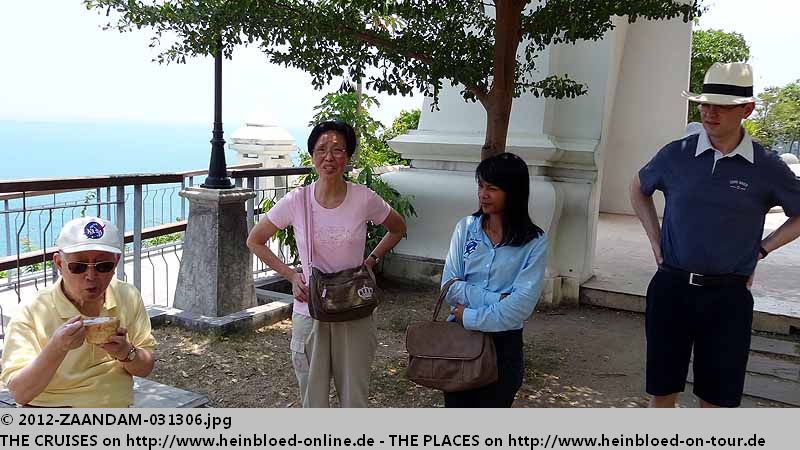 Und alles wartet...
Ich probiere frische Kokosnussmilch. Weil die Kokosnussschalen für das Eis gebraucht wurden, wurde keine frische Kokosnuss für mich aufgeschlagen: Ich bekam das einfach einen Beutel. Lecker, aber viel zu kalt...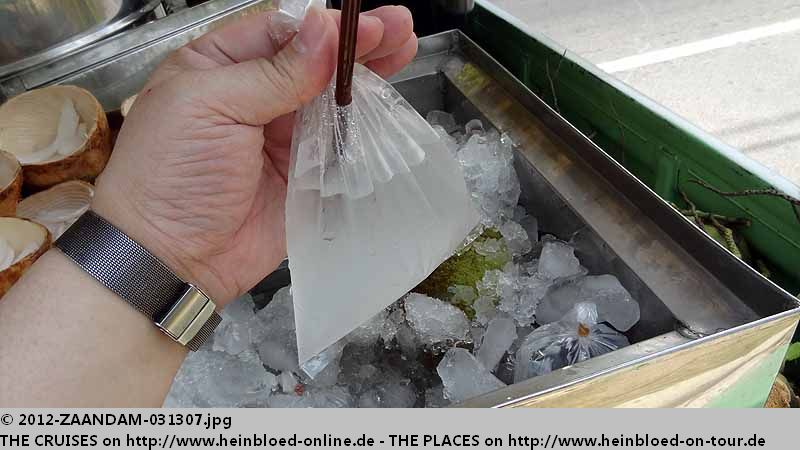 I tried the fresh coconut-milk. As they need the coconut shells for the ice-cream they offered me the coconut-milk in the bag. It was nice but toooooo cold for me.

As said: all made fresh.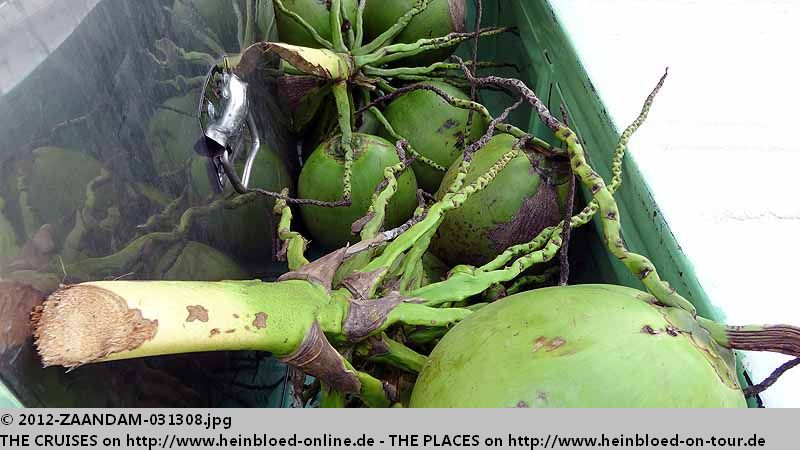 Wie gesagt: alles frisch gemacht.
Durch die vielen Anzeigen, dass 3G/4G verfügbar sei, haben wir eine SIM-Karte uns gekauft.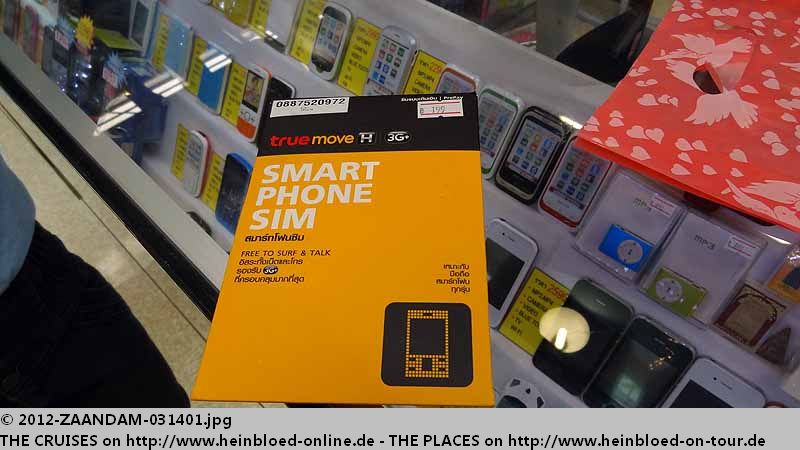 As we saw many many ads for 3G/4G services we decided to buy a SIM-card.

After the purchase we were told that we can only buy phone credit at 7Eleven. But we need to see three before one knew what we need. But as they did not know the tariff they did not know which value of phone credits to sell.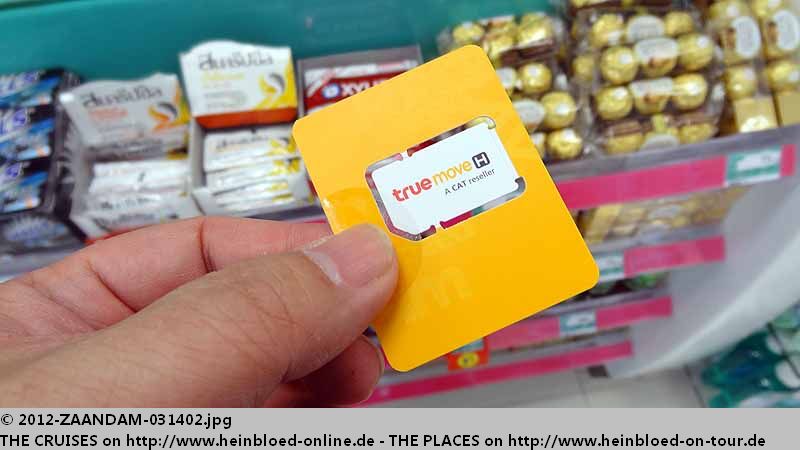 Nach dem wir die SIM-Karte gekauft haben, erklärte man uns, dass es Guthaben nur bei 7Eleven gibt. Hier mussten wir aber drei aufsuchen, bevor einer wusste was wir brauchten und selbst dieser konnte uns aber auch nicht die Tarife nennen, damit wir überhaupt wussten, wieviel wir kaufen sollten.
In dem Shopping-Center selbst erinnerte alles an die USA: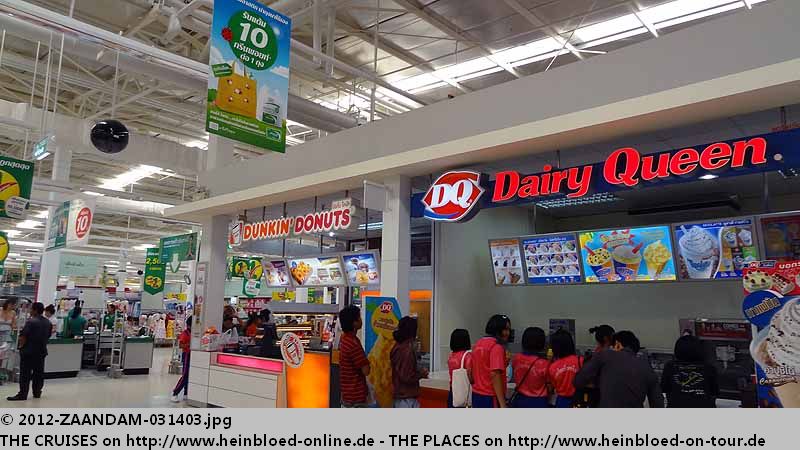 In the Shopping Center it looked more like in the US.

When there was avian flu it was interesting to see what KFC offered locally.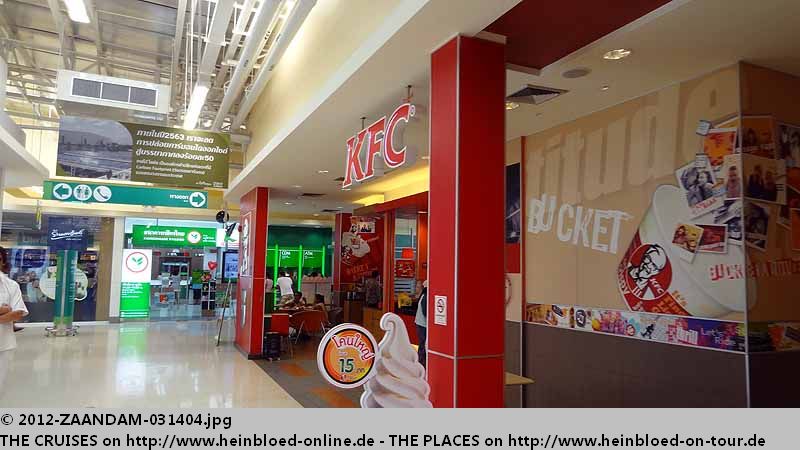 Seit Vogelgrippe in Schanghai interessiert mich ja immer das lokale Angebot von KFC.
Das hätte mich auch interessiert.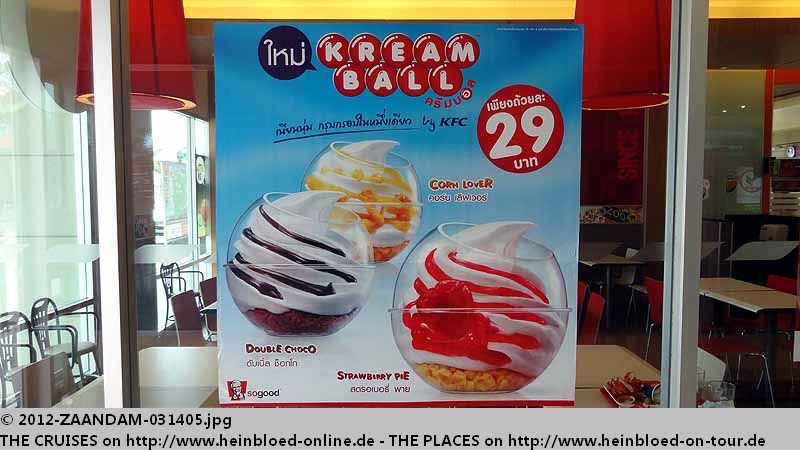 Would be quite interesting to try.

The next point we should see we met a local way to move around which we might includ in our suggestions the next time but I appreciated too much the air-condition we had in the car.

Beim nächsten Punkt, den wir besichtigen treffen wir auf lokale Fortbewegungsmöglichkeiten, die wir vielleicht bei der nächsten Tour berücksichtigen sollten, aber dazu liebe ich viel zu sehr die Klimaanlage im Auto.
Nun das folgende Kapitel sollten alle überspringen, die schon Probleme hätten, sich in der Blaue Lagune in Island öffentlich umzuziehen.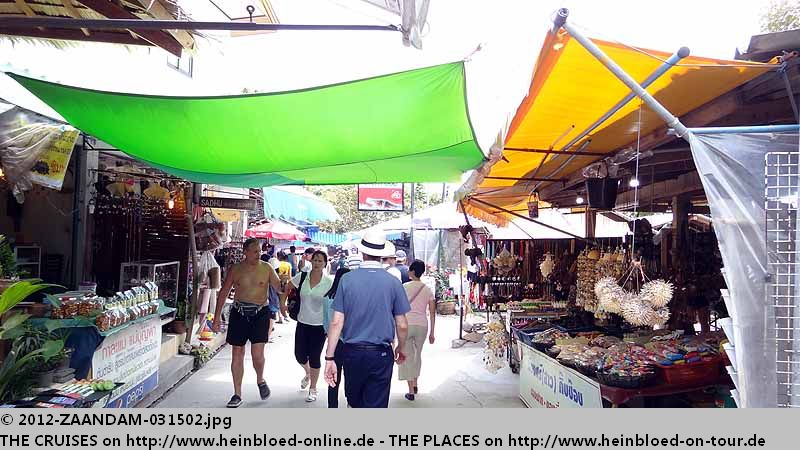 The following place everybody should skip who has problems to use the public changing room in the Blue Lagoon on Iceland.

We were at the nature monument Hin Ya and Hin Ta. Or Grandfather and Grandmother...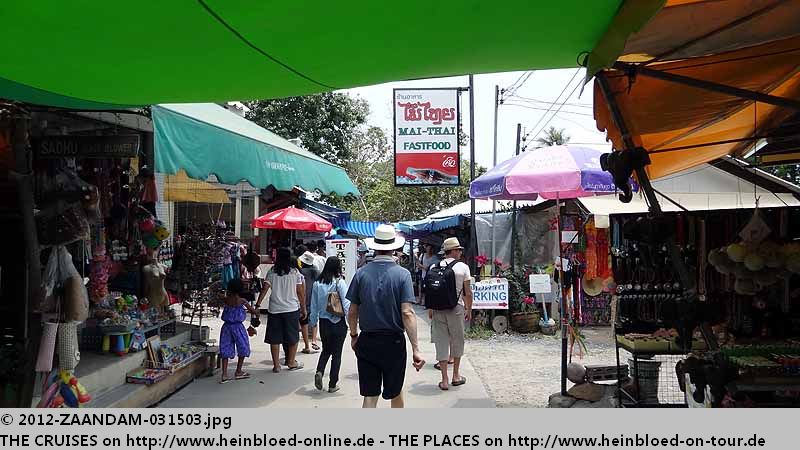 Wir sind am Naturmonument Hin Ya und Hin Ta. Oder Großvater und Großmutter...
Bis hierher können wie gesagt unsere US-Freunde gucken...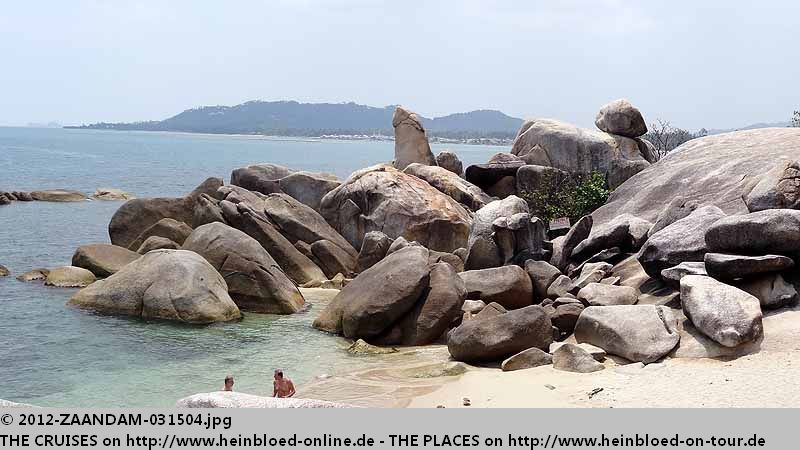 Until here our US-friends can just see...

But all others should keep their eyes shut if they cannot stand it...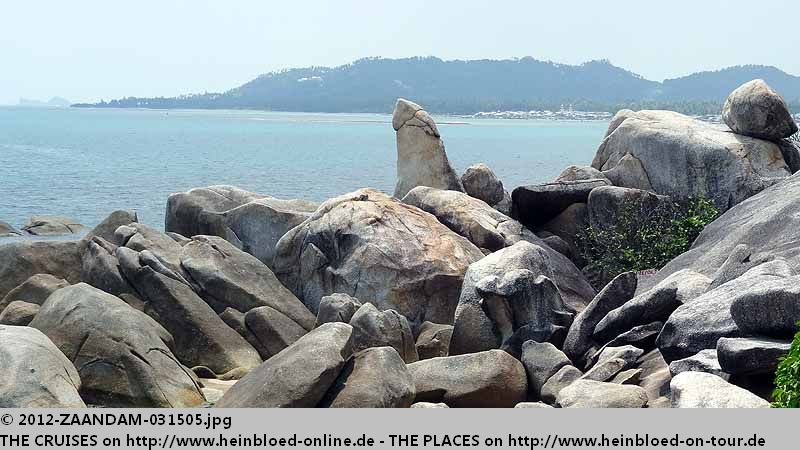 Augen zu für alle, die möglicherweise den Anblick nicht ertragen...
Hier hätten wir den Großvater...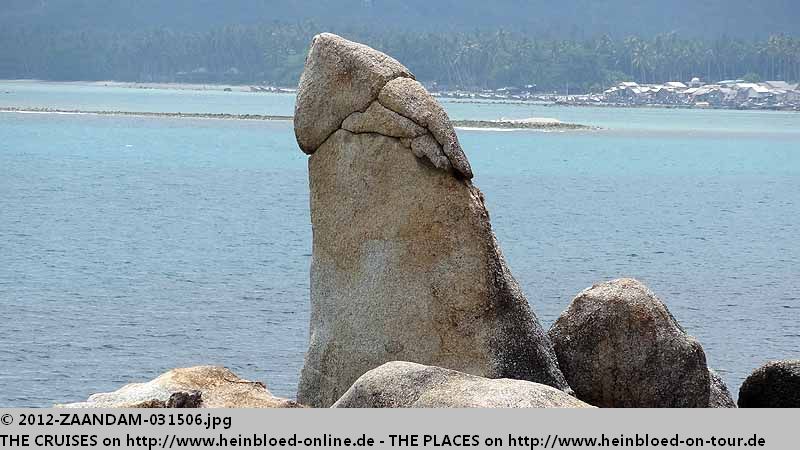 Here we had the Grandfather...

And here Bruno and my mother were on the way to see Grandmother...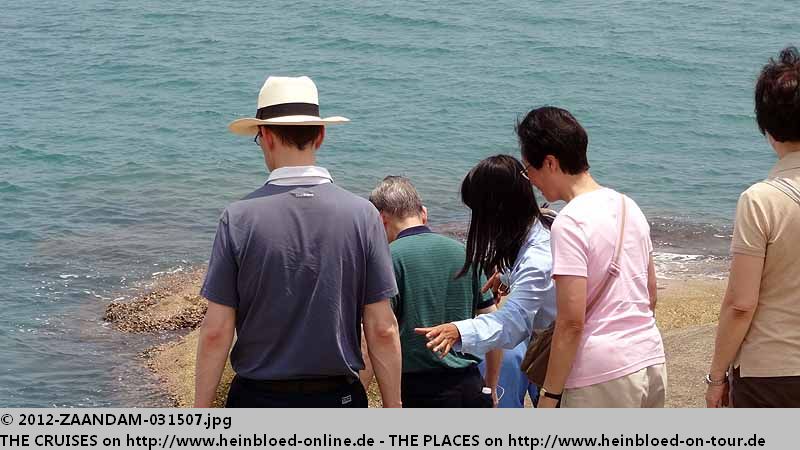 Und hier sind Bruno und meine Mutter auf dem Weg zur Großmutter...
Ich habe gesagt: AUGEN ZU...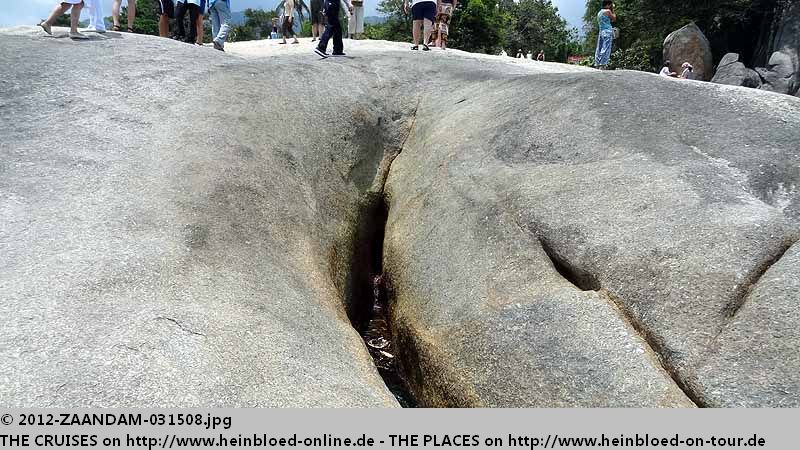 I said KEEP YOUR EYES SHUT.

Many Thai couples came to this place to pray of a soon pregnancy.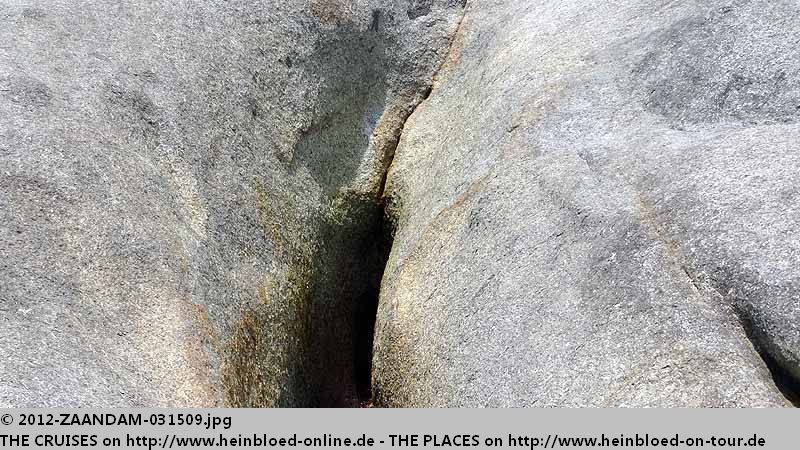 Nun viele Thai-Paare kommen hierher, um für eine baldige Schwangerschaft zu beten.
Es sind Steine und ein Naturmonument. Punkt. Aus.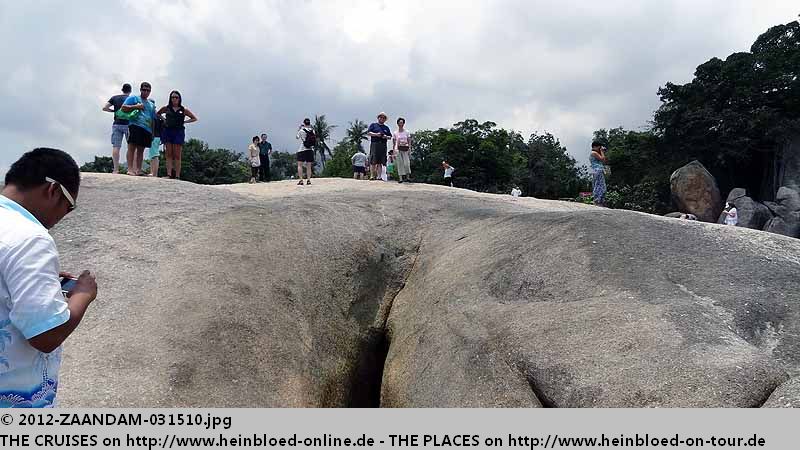 These are stones and a nature monument. Dot. End.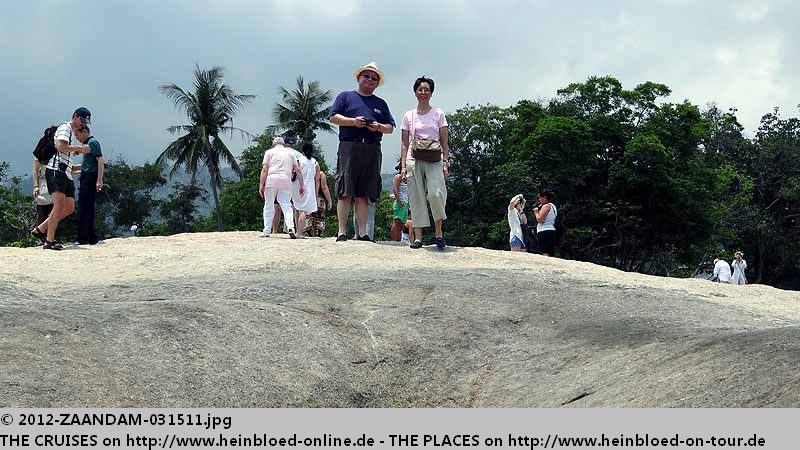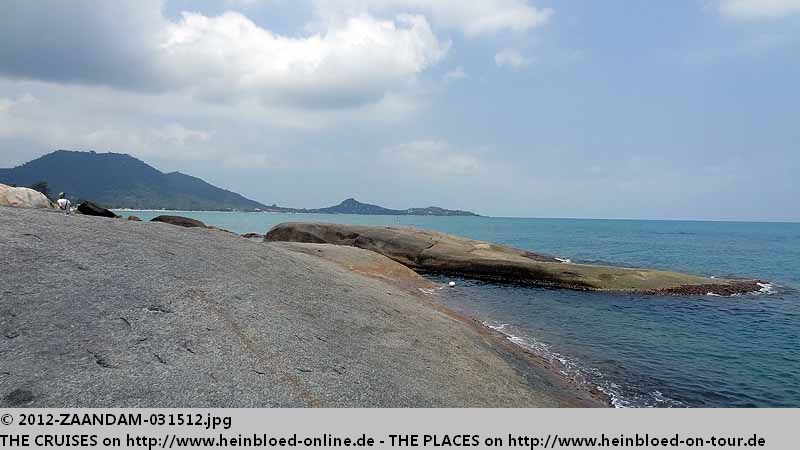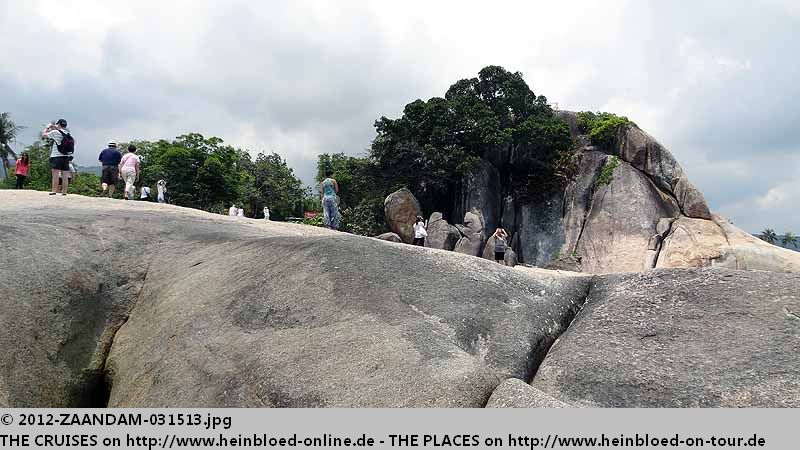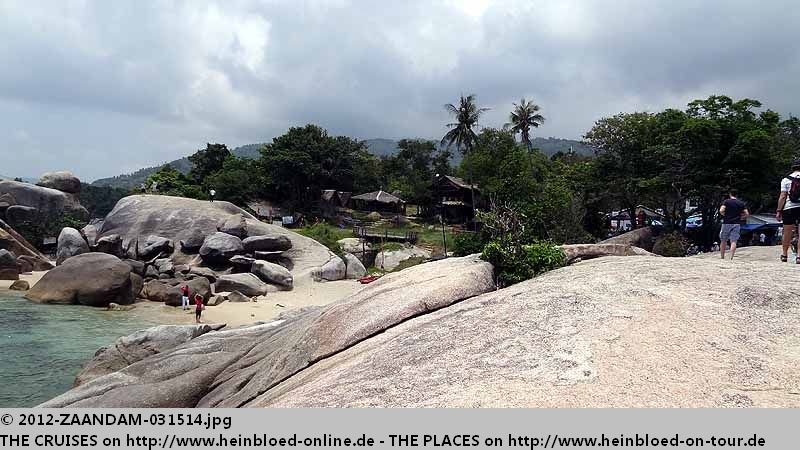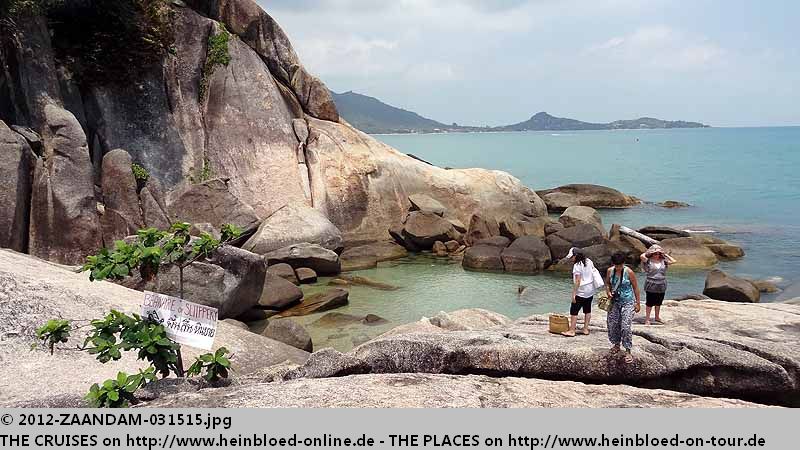 I was angry on myself because I missed the chance to buy a new hat. My 13 USD-Panama-Hat made in Equador got some holes.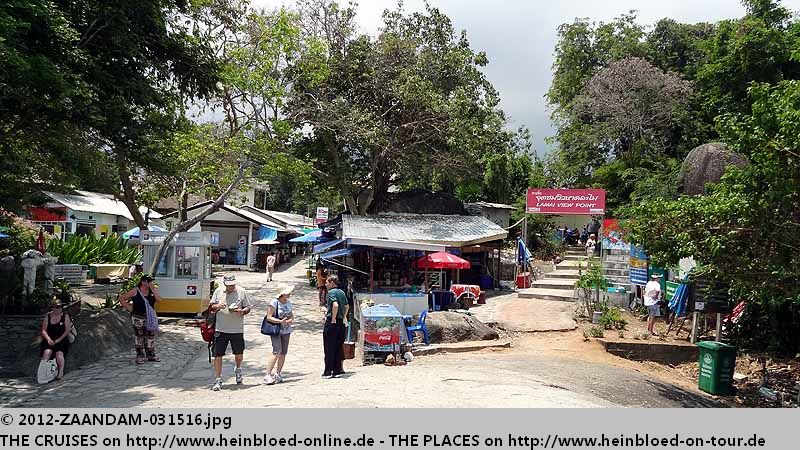 Eigentlich ärgere ich mich, dass ich die Chance versäumt habe, mir einen neuen Hut zu kaufen. Mein 13 USD-Panama-Hut made in Equador hat nämlich Löcher...
Pfannkuchen auf Deutsch... Koh Samui hat eine gute deutsche Infrastruktur. Wäre es des letzte Hafen auf der Route nach 12 Tagen gewesen... ich häte mir eine Leberwurst oder Blutwurststulle irgendwo gesucht und bestimmt auch gefunden...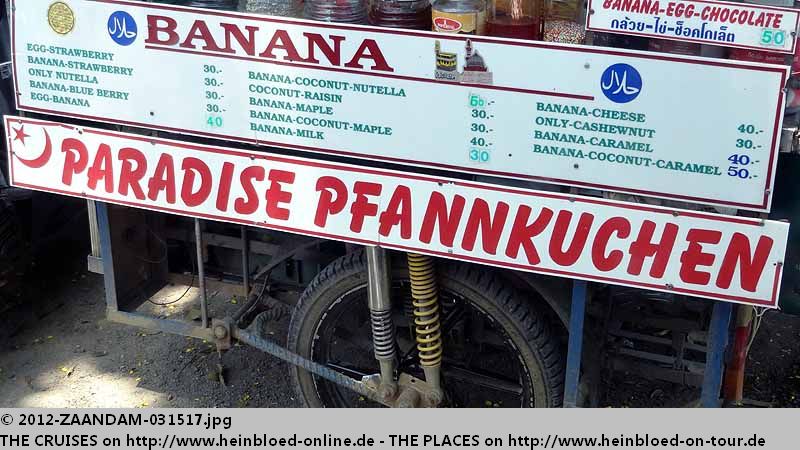 Pancakes in German... Koh Samui has a good German infrastructure. Would this port be the last port after a 12 days... I would looked for a "Leberwurst" or "Blutwurst" (Liver or blood sausage)-bread and might have found it.