Scroll down for English explanations - alternates with German explanations.

Wir gehen zur Show und erfahren dort etwas zum Thema Schiffszeit morgen auf Sanya.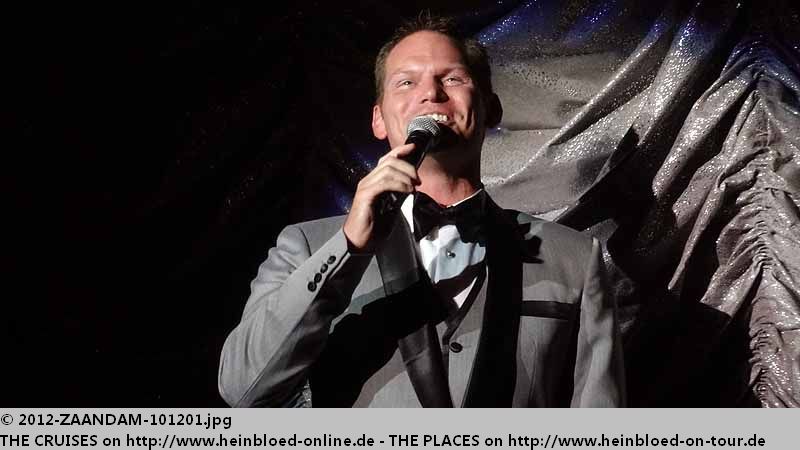 We went to the show and learned there something about ship's time in Sanya the next day.

We had the show "Unforgettable". I mixed up something with the show on the 2nd day which was the Broadway-Show with music of the 50s and 60s..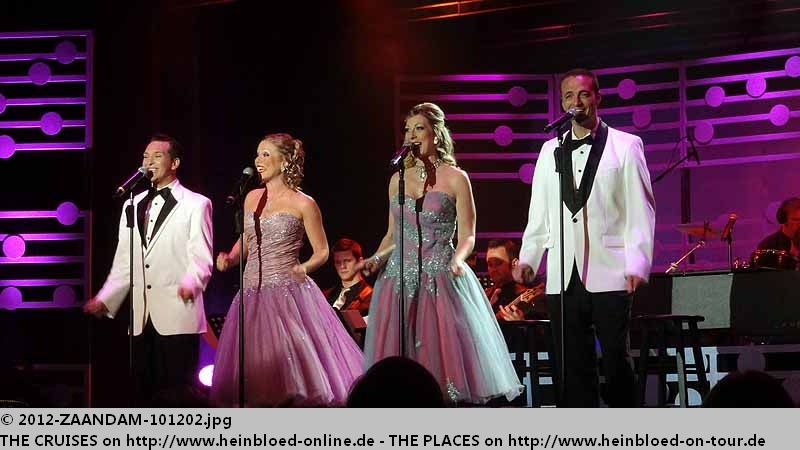 Es gibt die Show "Unforgettable". Ich habe da etwas mit der Show am 2. Tag verwechselt, die die Broadway Show der 50er und 60er Jahre war.
Gilt aber wieder das gleiche: Fantastische Sänger, fantastische Tänzer und fantastische Musiker.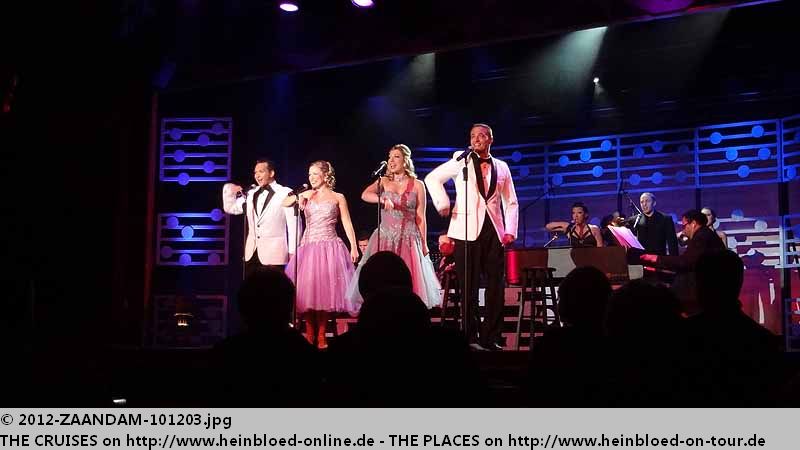 Same again: fantastic vocalists, fantastic dancers and fantastic musicians.

But it was more addressed to Guenther's generation and his parents and grandparents instead of mine. Single songs were quite nice but it was very very calm on the stage - especially for your eyes. On the stage nothing happened more or less. So to the right you had the head of the musicians. It was fun to watch him how he played the piano full of passion.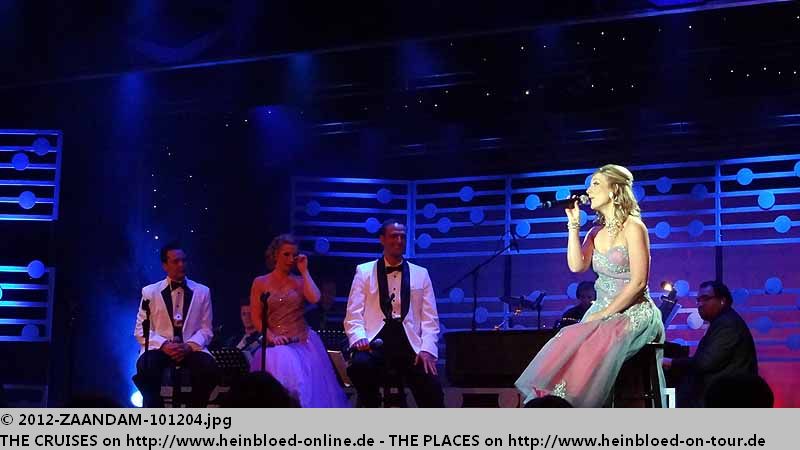 Bloß irgendwie war mehr wohl mehr Guenthers Generation und seine Eltern und Großeltern angesprochen statt meine. Einzelne Stücke waren ganz nett, aber insgesamt ist wenig Action in der Show, also weniger für das Auge. Auf der Bühne passierte nämlich so gut wie gar nichts. Deswegen rechts sitzt der musikalische Leiter der Band. Es hatte Spaß gemacht, ihm zuzugucken, mit welcher Leidenschaft er sein Klavier spielt.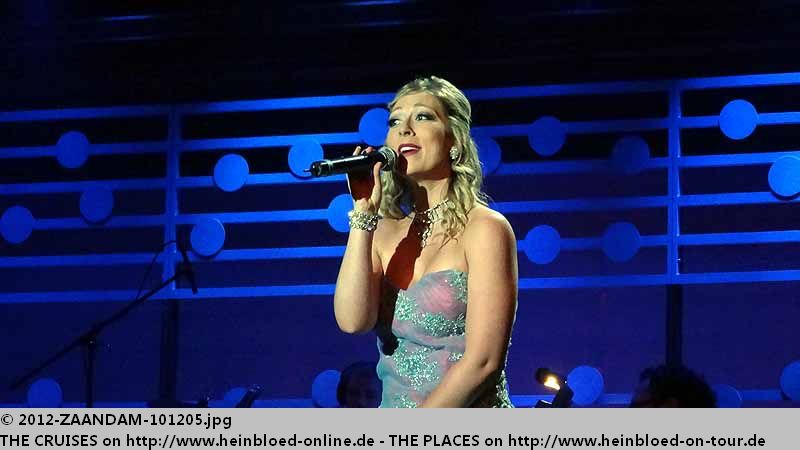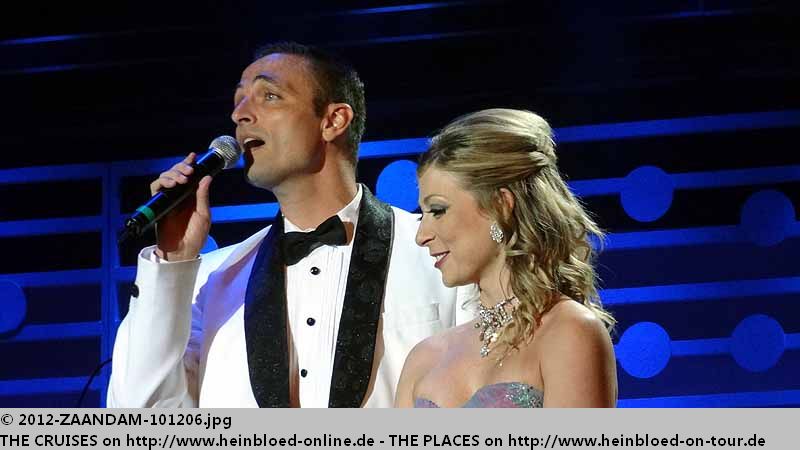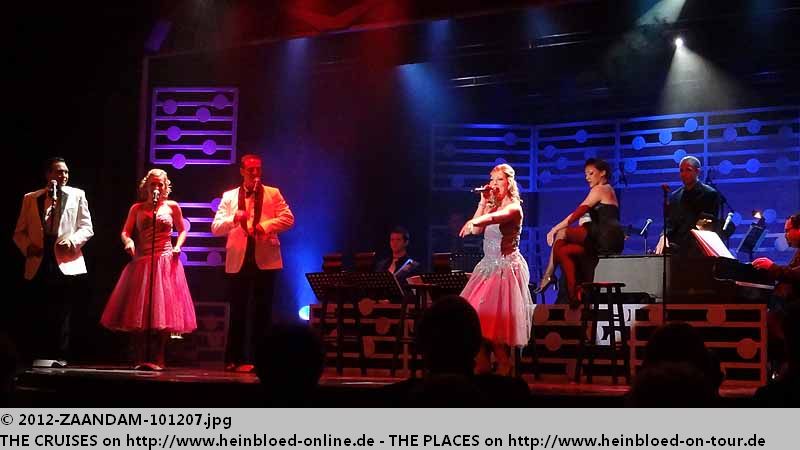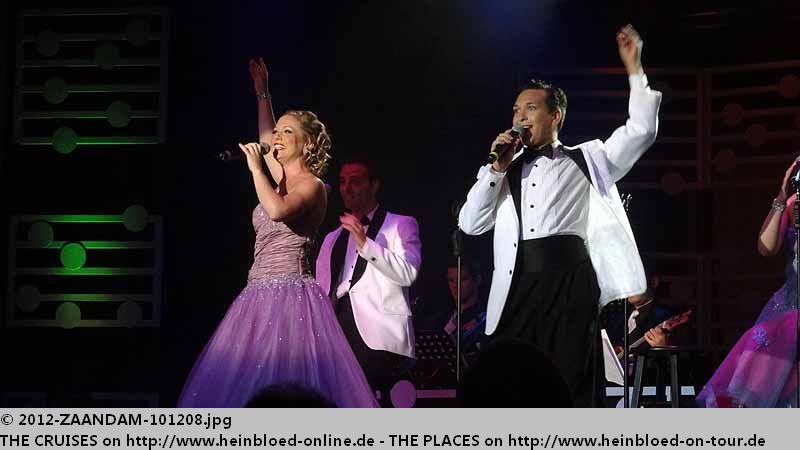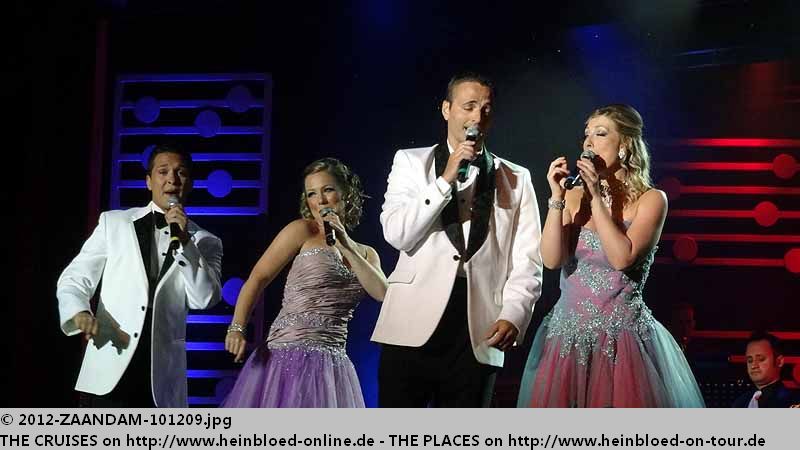 No - this and the next three pictures were not from a public aerobic-lesson - it was just the maximum of movements you could see on the stage.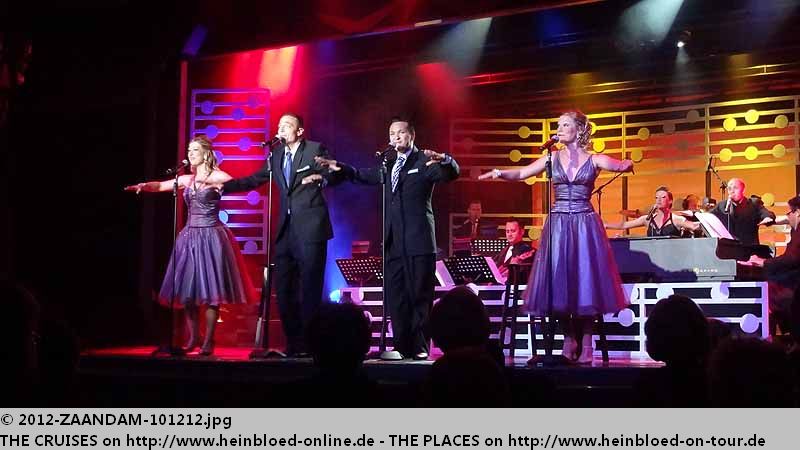 Nein - dieses und die nächsten drei Bilder waren keine Aerobic-Übung für alle - sondern das Maximum an Bewegung, was auf der Bühne stattfand.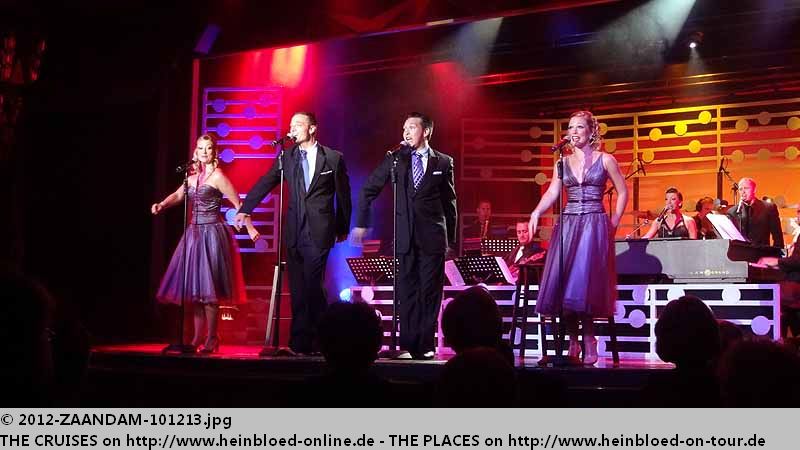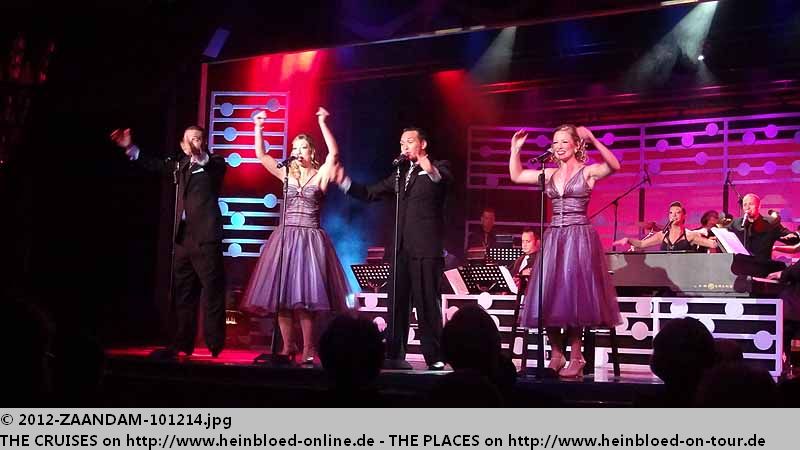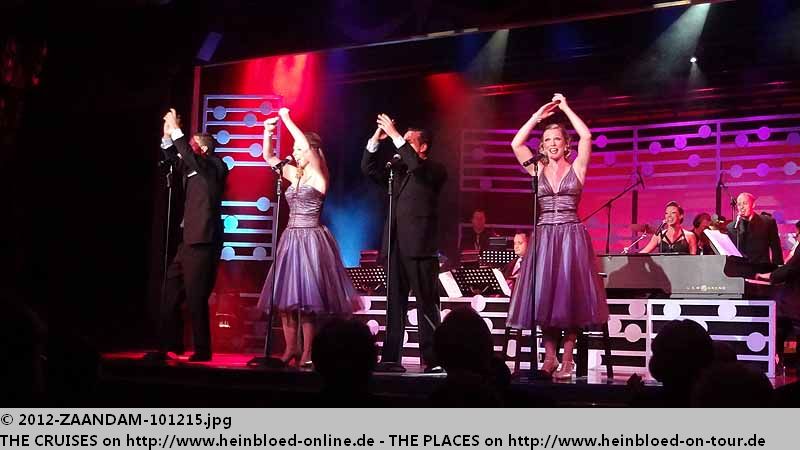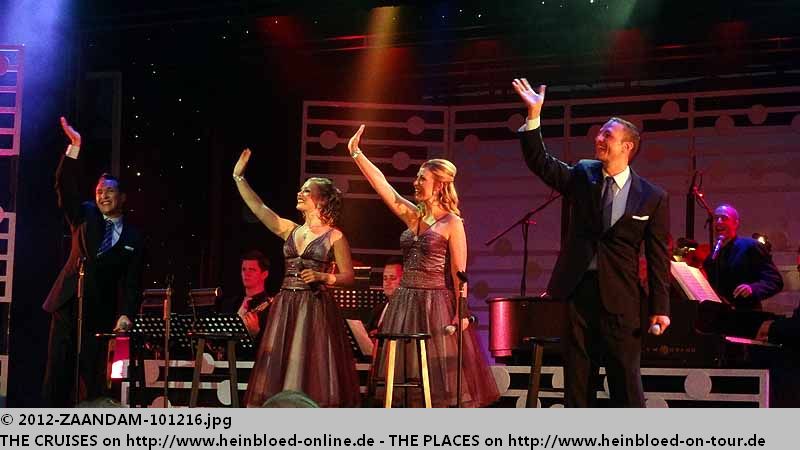 Wir gehen noch eine Runde zu den Adagio Strings.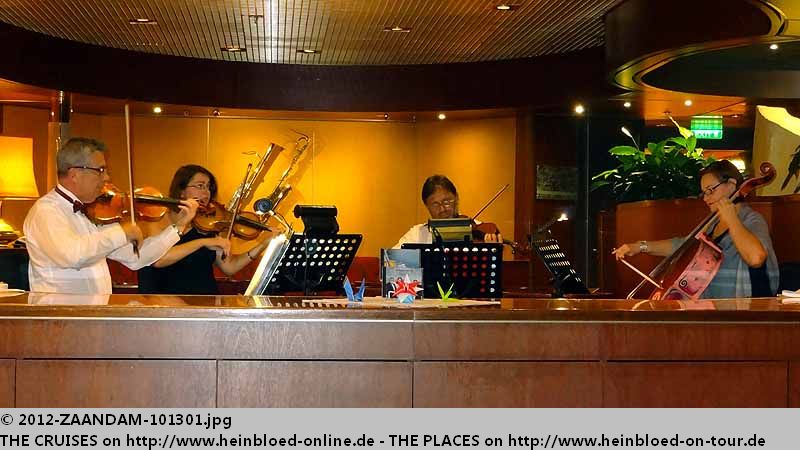 We went for another round to the Adagio Strings.

They played for me another request: "Jesu Man of Joy's Desiring" by Johann Sebastian Bach (BV 147).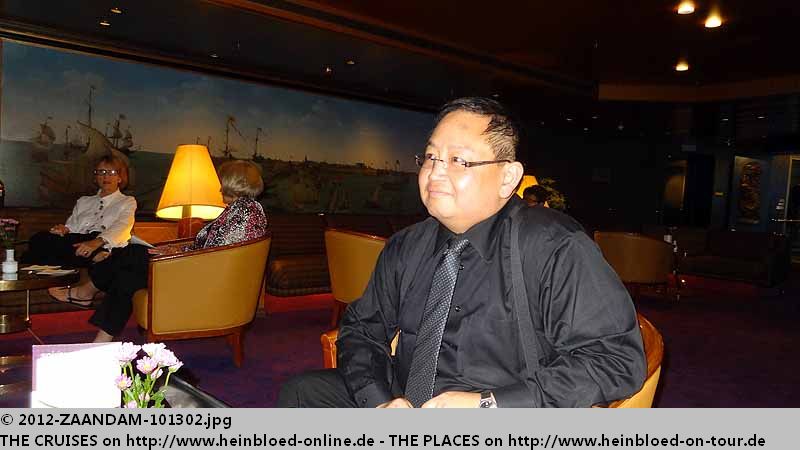 Sie spielen für mich noch einen Wunsch: "Jesu bleibet meine Freude" von Johann Sebastian Bach (BV 147).
Und Bruno begeistert sich mehr an Jonathans Leckerlis.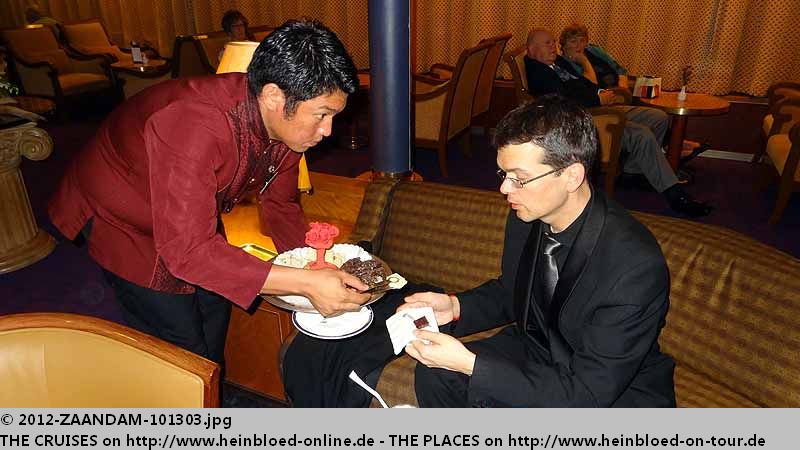 Bruno was very exited of the sweet treats Jonathan offered to him.

When they played Alexis Sorbas' dance you see what happened...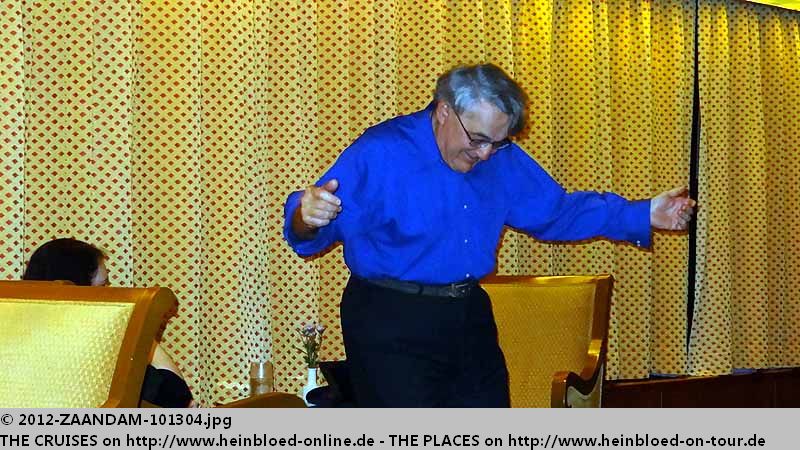 Irgendwann spielen sie den Tanz von Alexis Sorbas mit diesen Folgen...
Als ich nochmals später wieder komme haben sich diese australischen Gäste zum Kammerkonzert aufgebaut...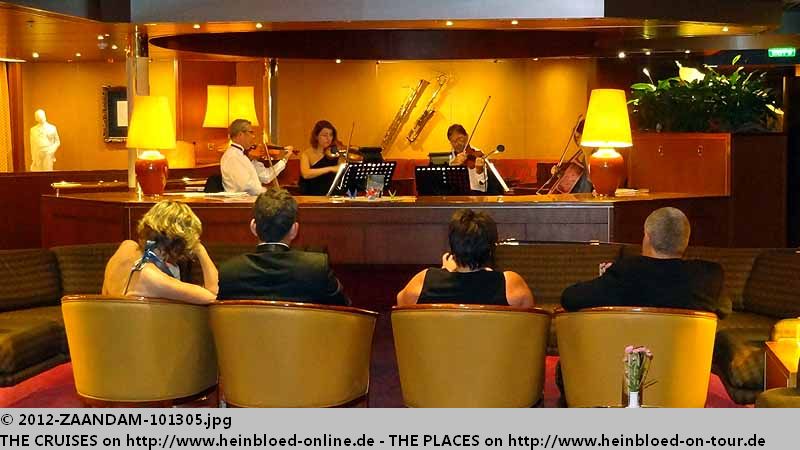 When I came later one more time the four Australian guests set up the chairs like in a chamber concert...

Later the musicians told me what happened - but I better do not repeat.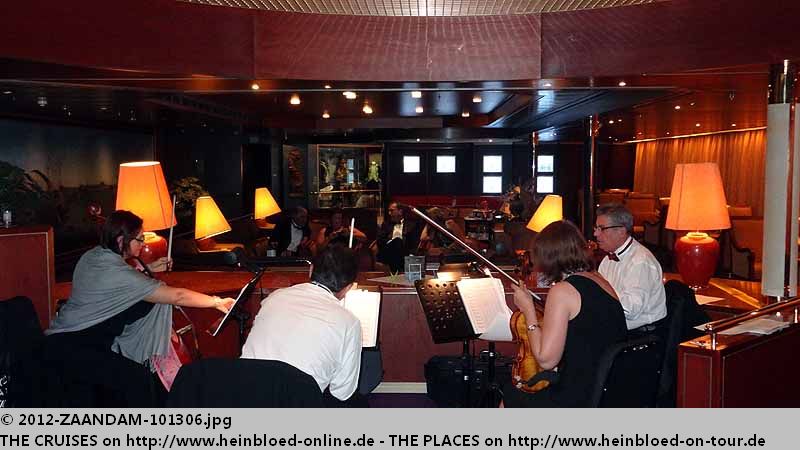 Später erzählten mir die Musiker, was da abgelaufen ist - aber das gebe ich mal besser jetzt nicht wieder.
Zurück in unserer Kabine.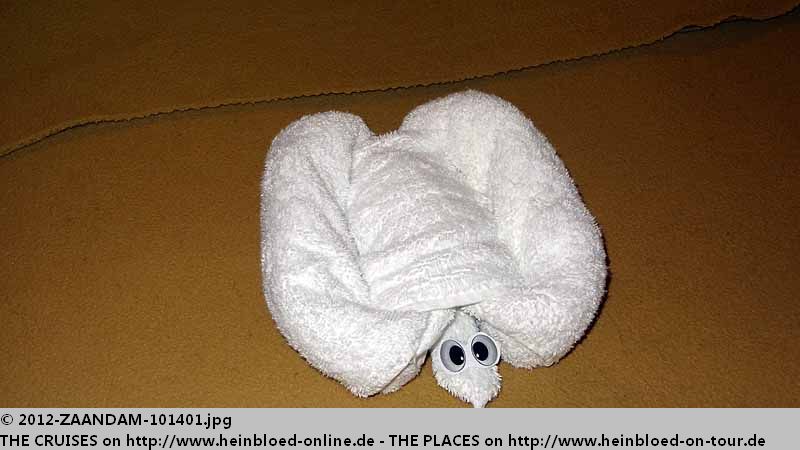 Back to our cabin.

Now we read too... Ship's time... i. e. in Sanya local time is one hour later than on the ship.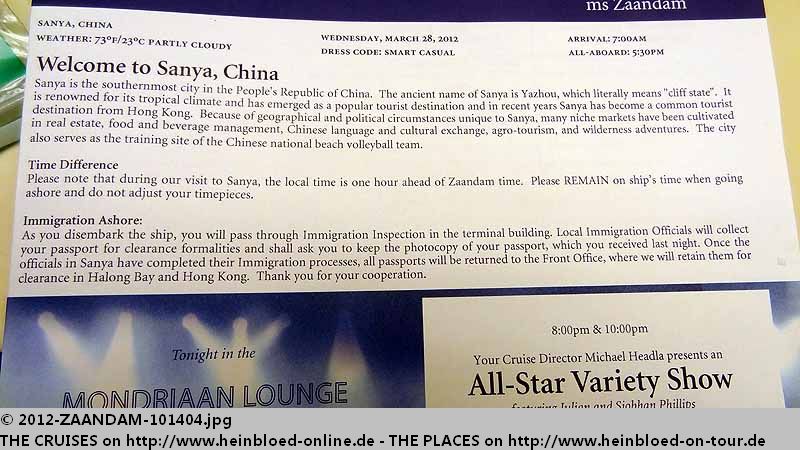 Nun lesen wir nach... Schiffszeit... d. h. es ist in Sanya eine Stunde später als auf dem Schiff.
Wir kommen um 07.00 Uhr Schiffszeit an, d. h. 08.00 Uhr Ortszeit Sanya.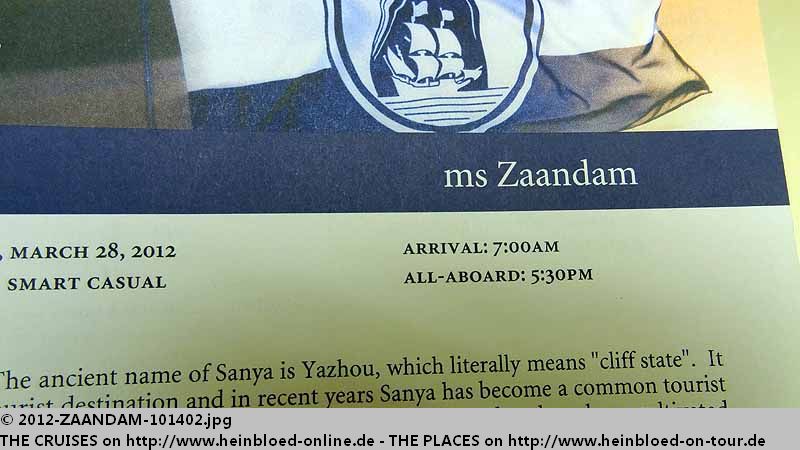 So we should arrive at 07.00 hrs ship's time while it was 08.00 hrs local time Sanya.

And Rotterdam MDR should open 08.00 hrs ship's time while it was 09.00 hrs local time Sanya.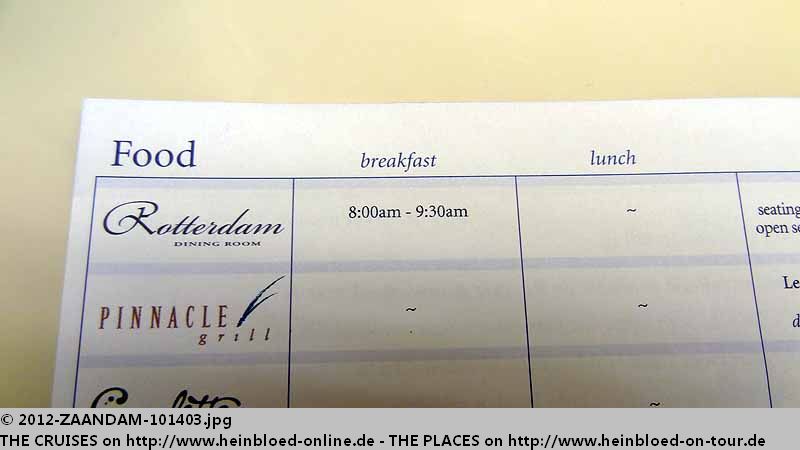 Um 08.00 Uhr Schiffszeit öffnet das Rotterdam Restaurant, sprich 09.00 Uhr Ortszeit Sanya.
Für unsere Ausflugsplanung halte ich mich natürlich an die Reiseunterlagen, die wir erhalten haben: dort steht, dass wir von 07.00 Uhr bis 18.00 Uhr in Sanya sind. Also denke ich zunächst an Ortszeit und habe den Fahrer für 09.00 Uhr Ortszeit Sanya bestellt, damit wir nicht so früh von Bord müssen. Nun müssen wir doch früh von Bord und wenn unser Fahrer auf uns wartet, öffnet erst das Restaurant zum Frühstück. Uns haben sie damit in Schwierigkeiten gebracht. Sie hätten uns das Leben sehr viel einfacher machen können, in dem sie die drei vietnamesischen Häfen hintereinander angefahren hätten. Das hätte uns ein Visum weniger gekostet. Und wir hätten nicht wieder einen Zeitsprung zurück in die andere Zeitzone, um dann die Uhren später wieder umzustellen, weil in Hongkong die gleiche Zeit wie in Sanya gilt.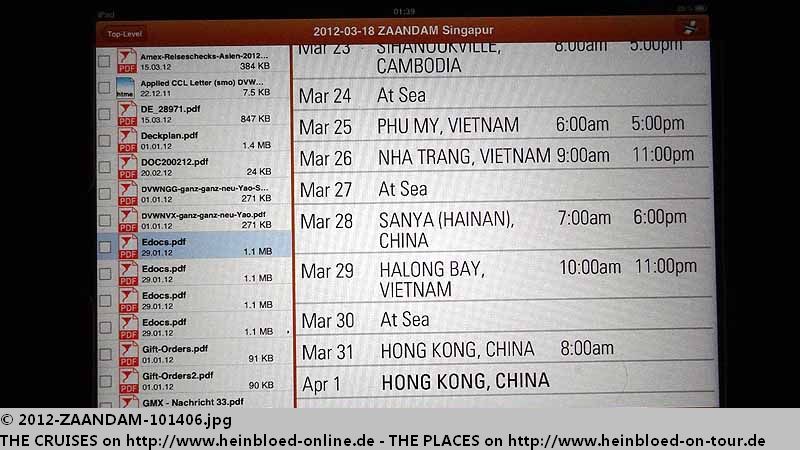 For our tour planning I counted on the travel documents which we got: there it was written 07.00 hrs to 18.00 hrs in Sanya. So for me it was normal to think about local time and I booked our driver for 09.00 hrs local time Sanya so we must get so early from the ship. Now we need to go so early from the ship and when the driver would wait for the restaurant would be open for breakfast. They brought us in troube. They could made our life much more easier by having all three Vietnamese port in consequetive calls. So we would have need an additional visa for Vietnam. And we would not had an additional time jump back to a different time zone to change later the clock again as Hong Kong had the same time like Sanya.

Ship's time has one advantage... Who arrived on board 17.30 hrs local time Sanya because he thinks that we set sail at 18.00 hrs might wonder that it was still 16.30 hrs on board... So the next day it would be only chance for the Captain to set sail most schedules...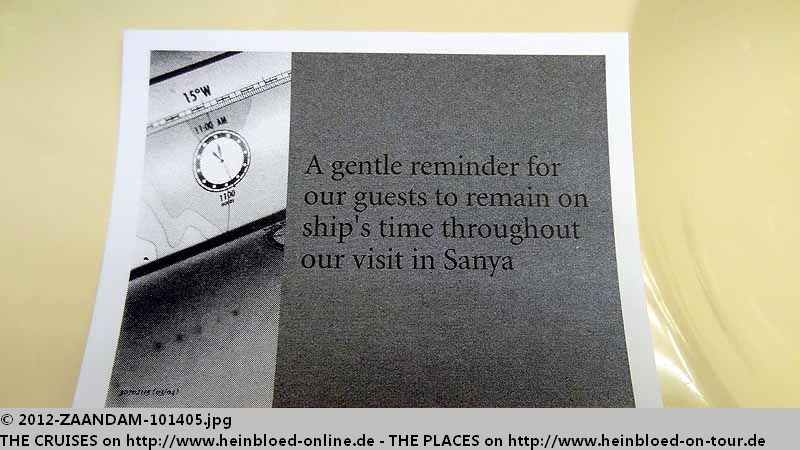 Einen Vorteil hat Schiffszeit ja auch... Wer um 17.30 Uhr Ortszeit Sanya an Bord kommt, weil er denkt, dass wir um 18.00 Uhr auslaufen, wird sich wundern, dass es erst 16.30 Uhr an Bord ist... So püntklich wird der Kapitän wohl sonst nicht ablegen können, wie morgen....