Scroll down for English explanations - alternates with German explanations.

Wir fahren weiter und so viele Dschunken waren ein besonderer Anblick.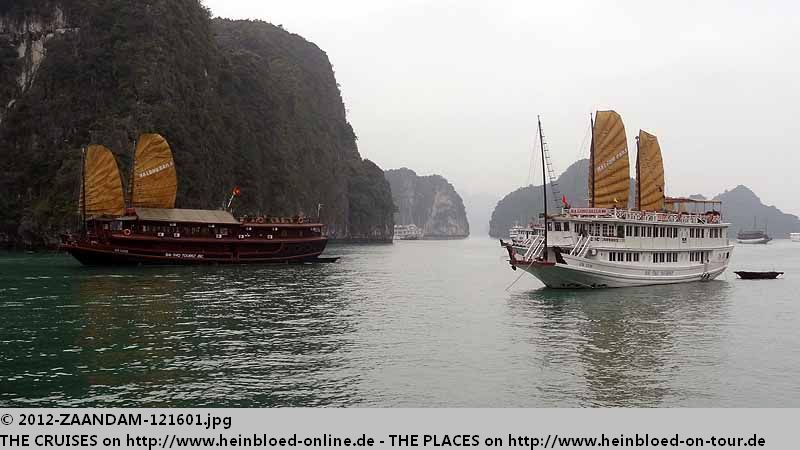 We headed on and so many junks were a very special sight.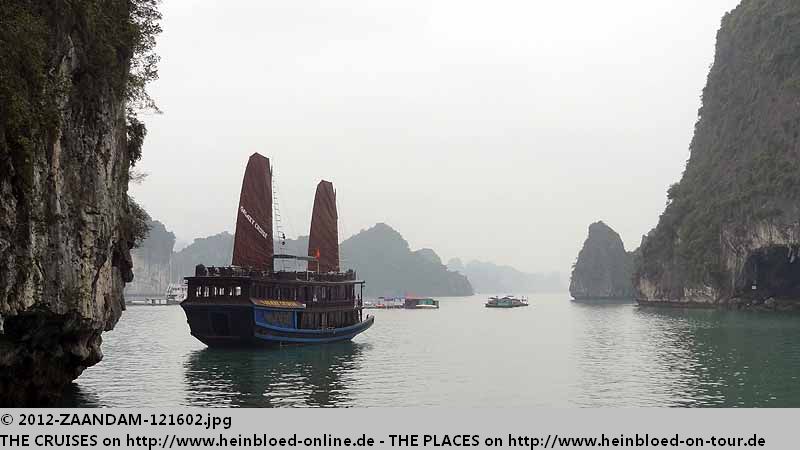 Die EMERAUDE. Kann man sogar in Deutschland buchen. Soll das eleganteste Schiff in der Halong Bay sein. Es ist allerdings kein Raddampfer, wenn man sich deren
Homepage
ansieht.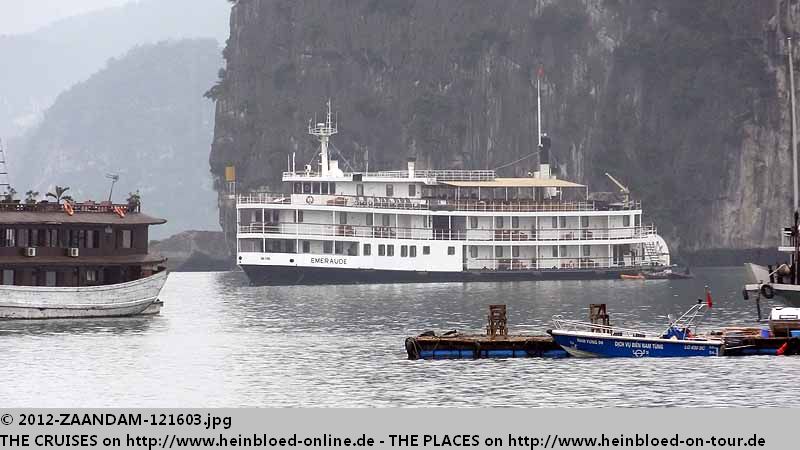 The EMERAUDE. You can also book her in Germany. Should be the most elegant ship which cruises Halong Bay. But it was no wheel steam ship if you have closer look to their website.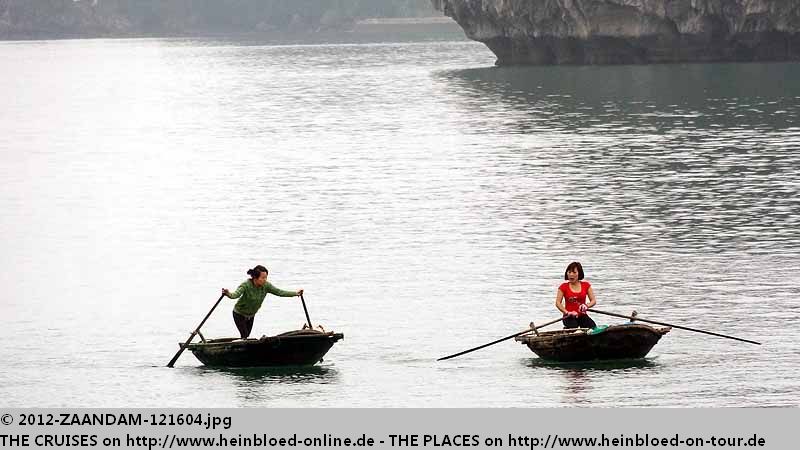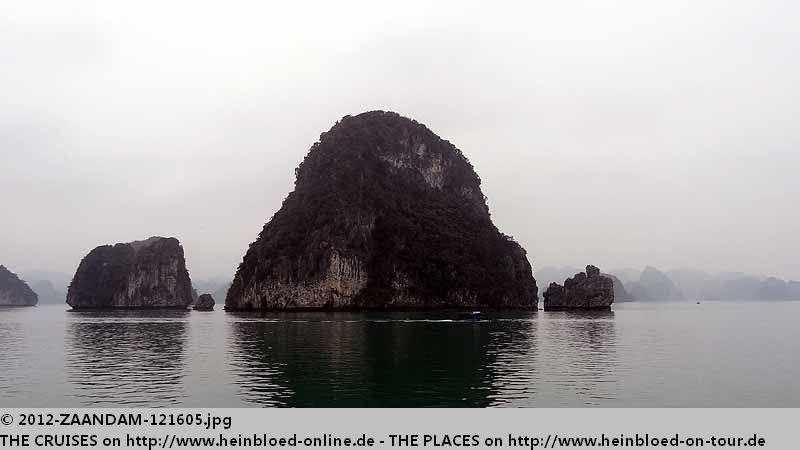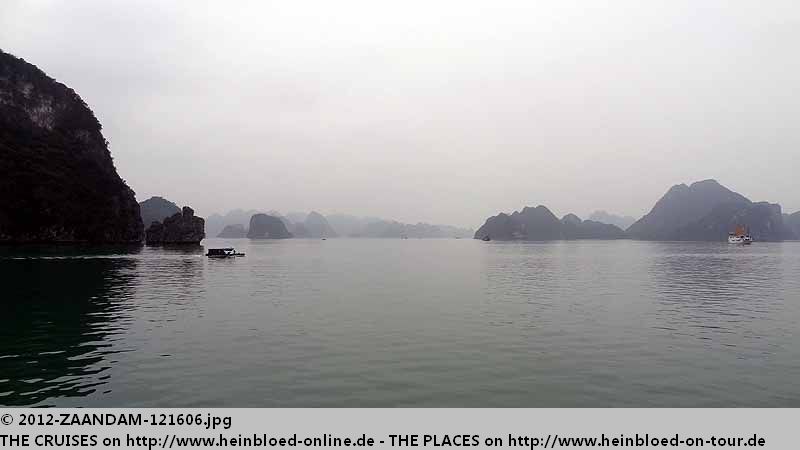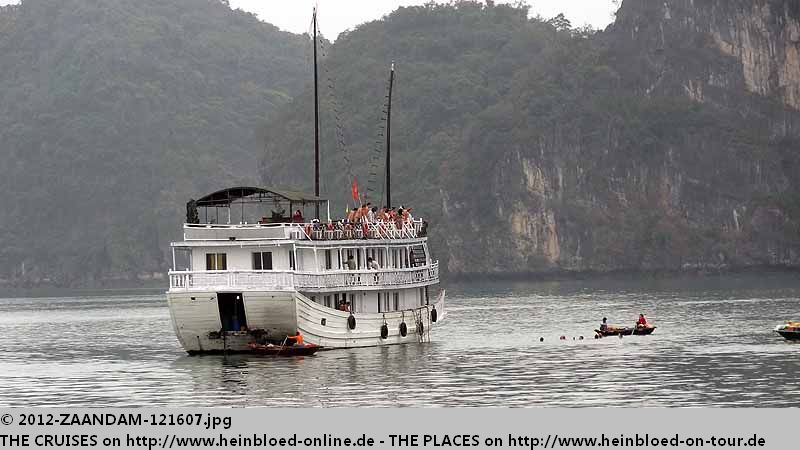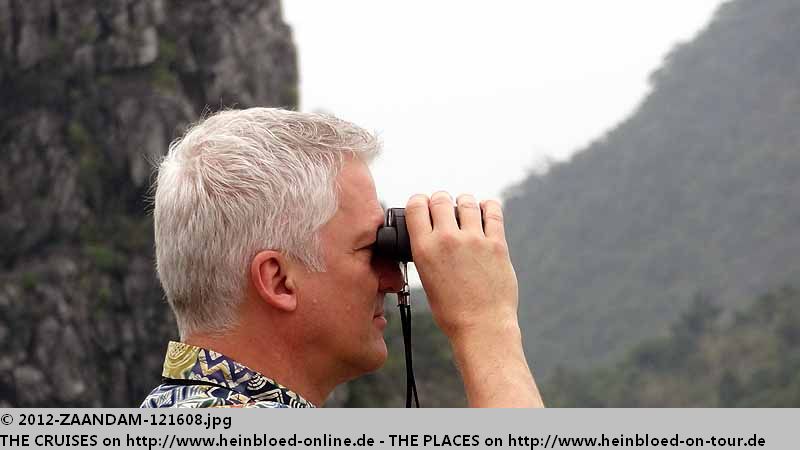 Weiter geht es zur Hon Tip Top Insel. Einer Badeinsel mit Sandstrand mit einer Pagode auf der Spitze.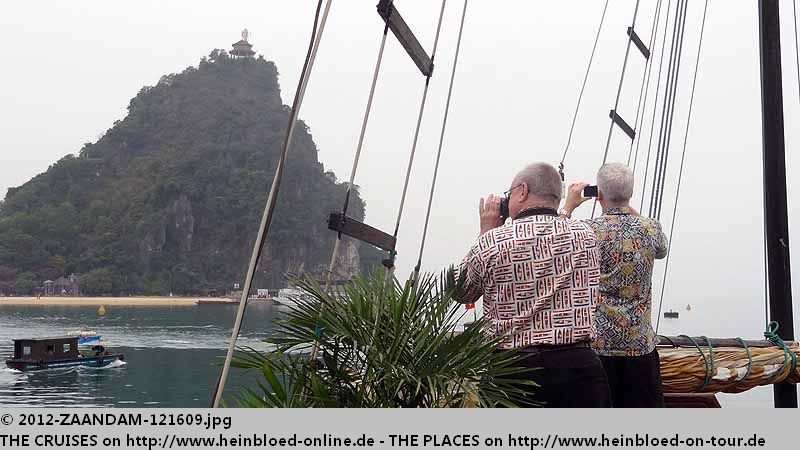 We continued for Hon Tip Top Island. A beach island with a sandy beach and a pagode on the top.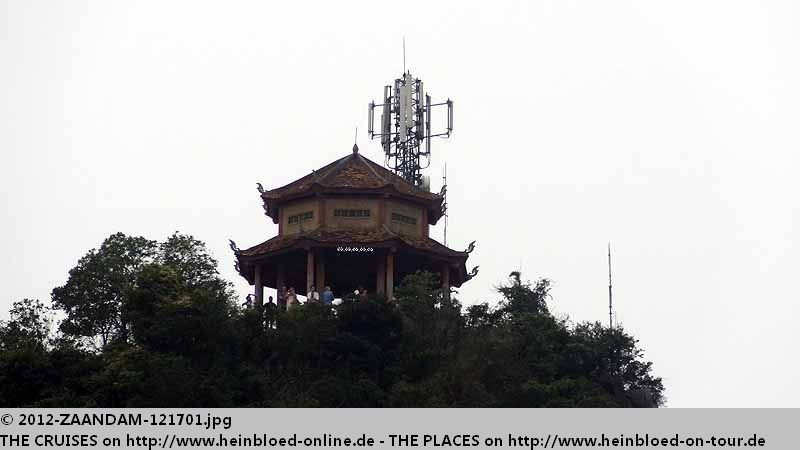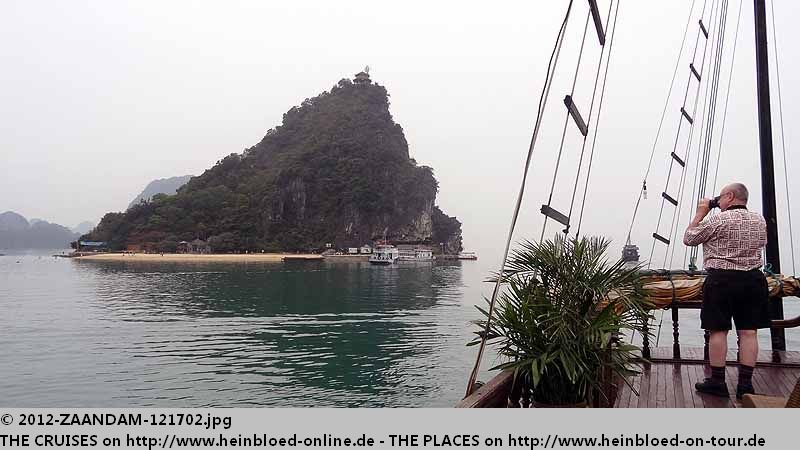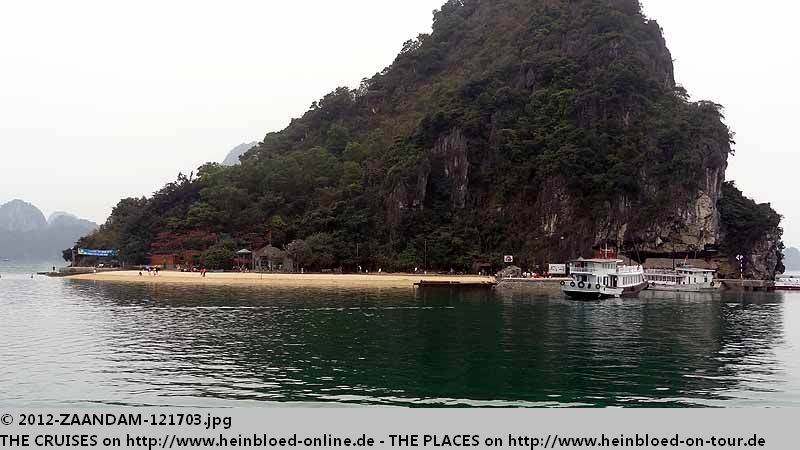 Alternativ könnten wir auch am Strand sonnen, aber dafür ist es nicht schön genug.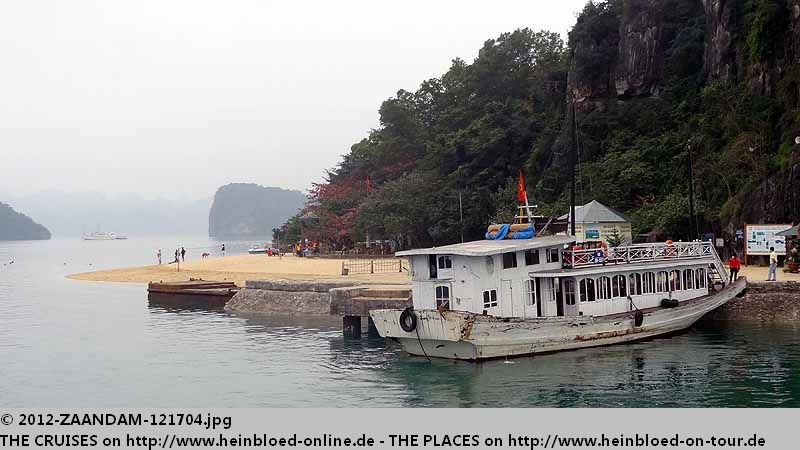 Alternative we could take a sunbath at the beach but it was not nice enough.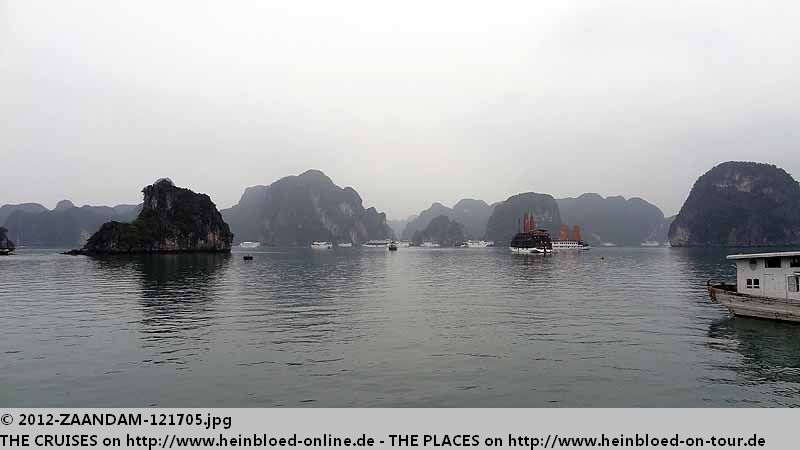 Auch hier können wir wieder direkt anlegen, während andere getendert werden müssen. Ich bin aber sehr froh, dass wir nirgendst tendern müssen, was sicherlich für meine Eltern nicht so einfach gewesen wäre.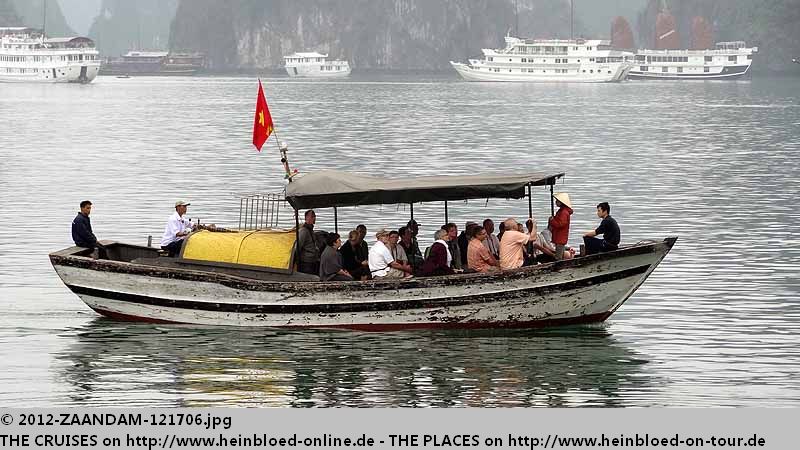 Here we could again berth directly while other need to tender. I was glad that there was no need to tender anywhere

We docked next to a ship which carried a Chinese tour group... Did not look like a cruise ship.. Finally they came with a big waste bag and a big cleaning cloth... and nobody need to laundry a table cloth.

Wir legen direkt neben einem Schiff, in dem eine chinesische Reisegruppe gegessen hat... Das sieht aber nicht so aus, wie auf einem Kreuzfahrtschiff... Anschließend kam der große Müllsack und der große Lappen... und niemand musste eine Tischdecke waschen...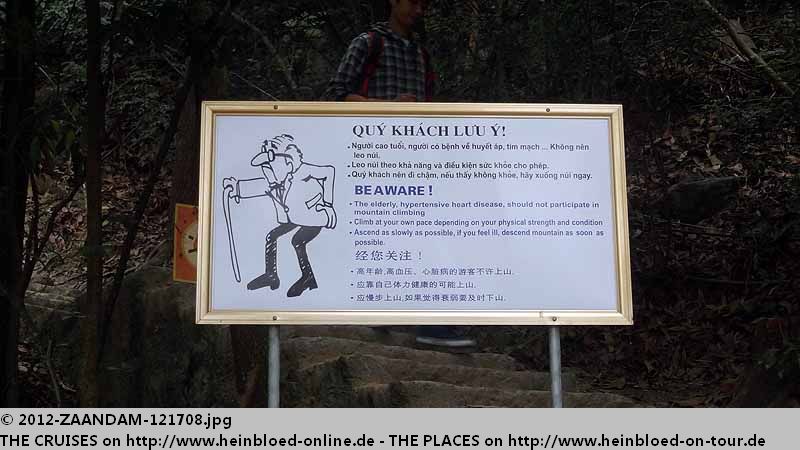 Was the ladies' room already everybody could have a look into...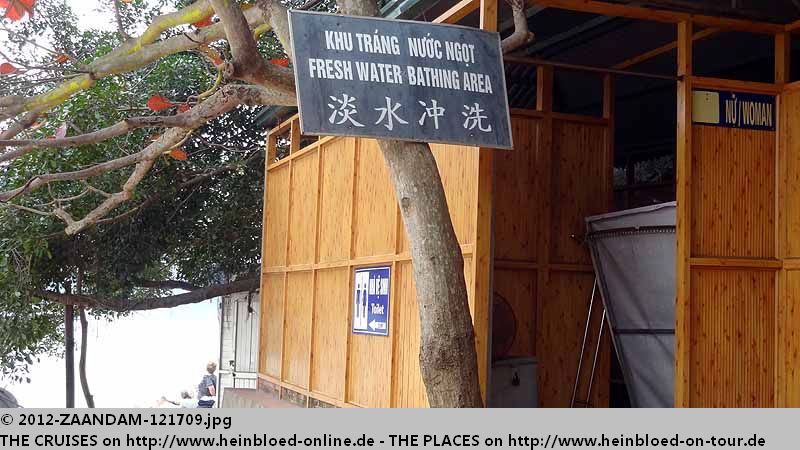 Das wird doch nicht die Damentoilette schon sein, wo jeder reingucken kann...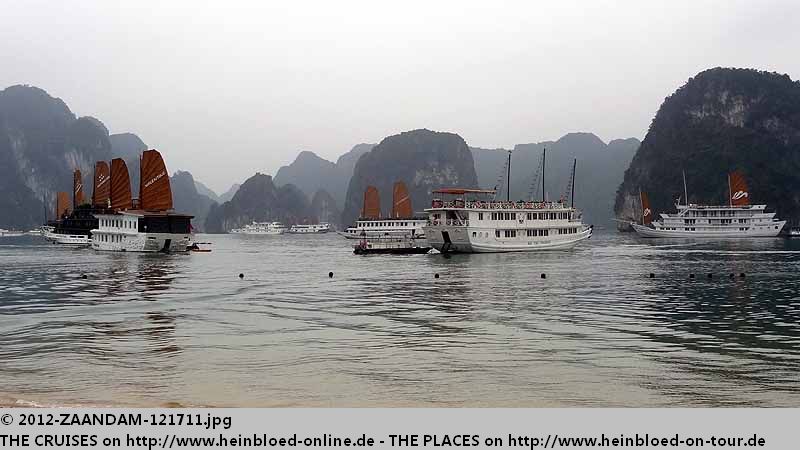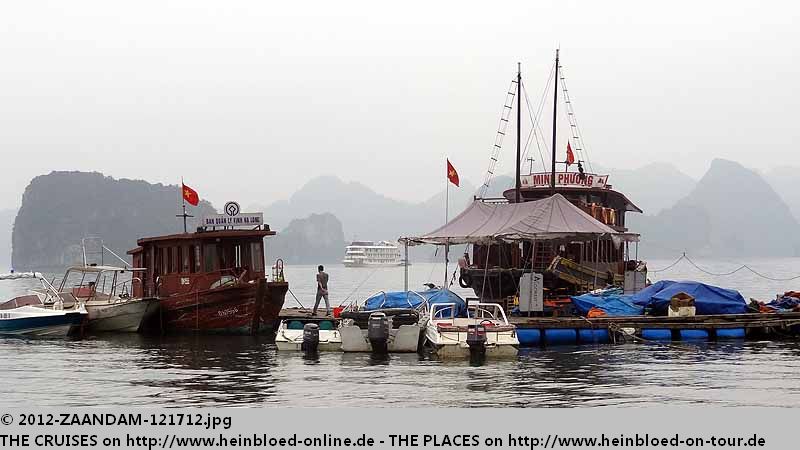 Guenther also stayed with us while BJ climed upwards by himself.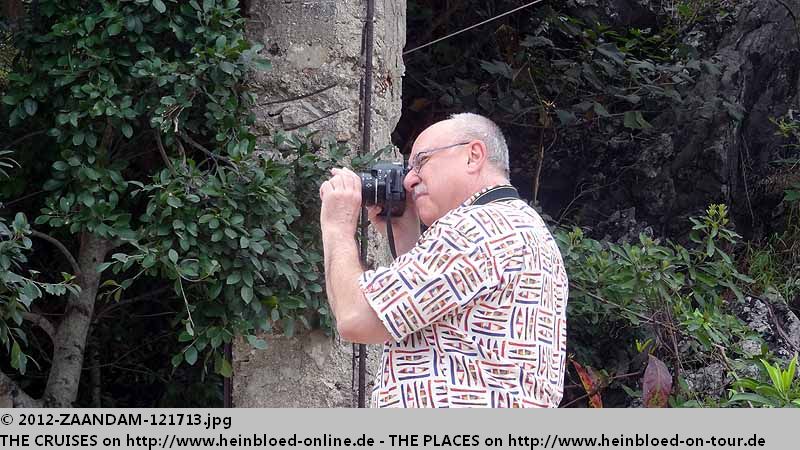 Guenther bleibt auch hier, während BJ alleine hoch klettert.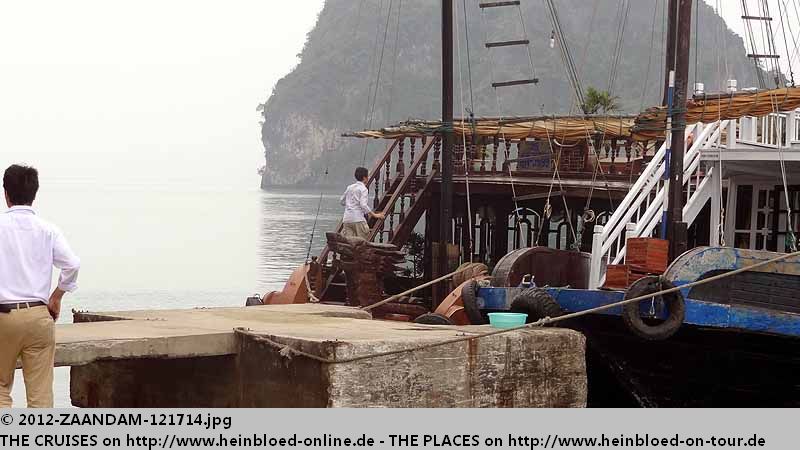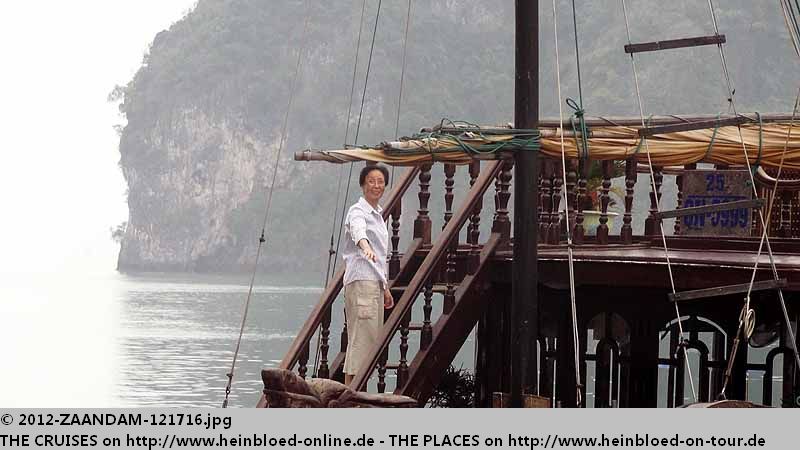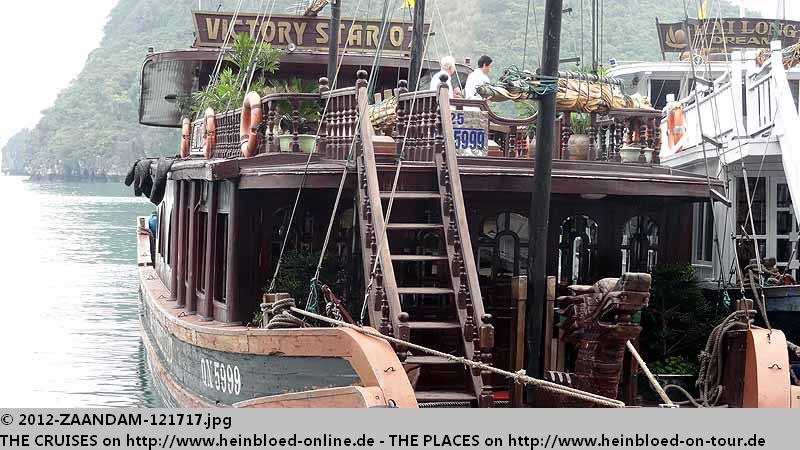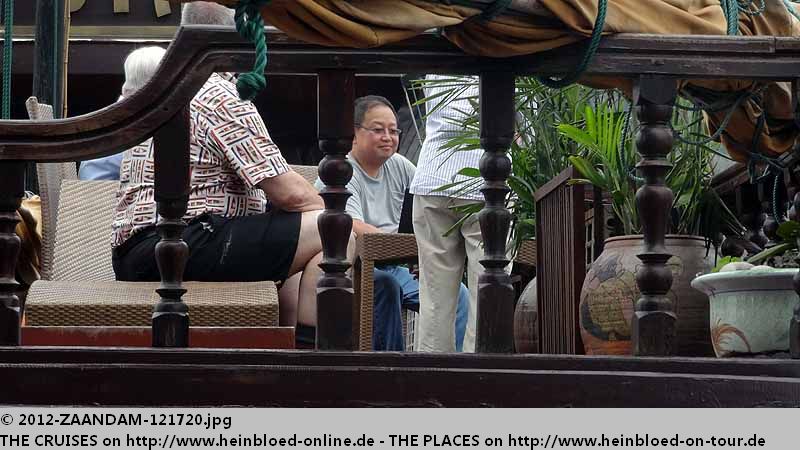 Später nutzt Guenther die Wartezeit für die Mittagsruhe. Schade bloß, dass keine Sonne schien... Da ich selbst auf dem Bild bin: ich habe das alles nicht fotografiert...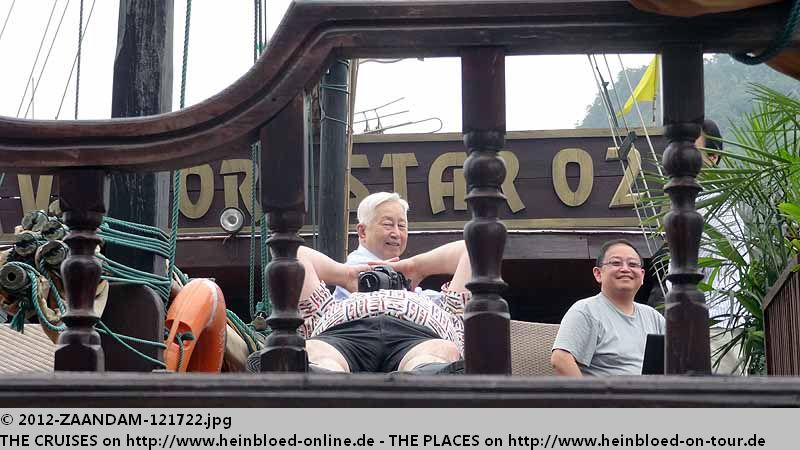 Later Guenther used the waiting time for a little nap. It was so sad that we had no sun... As I am on the picture by myself I could not be the one who took the picutres...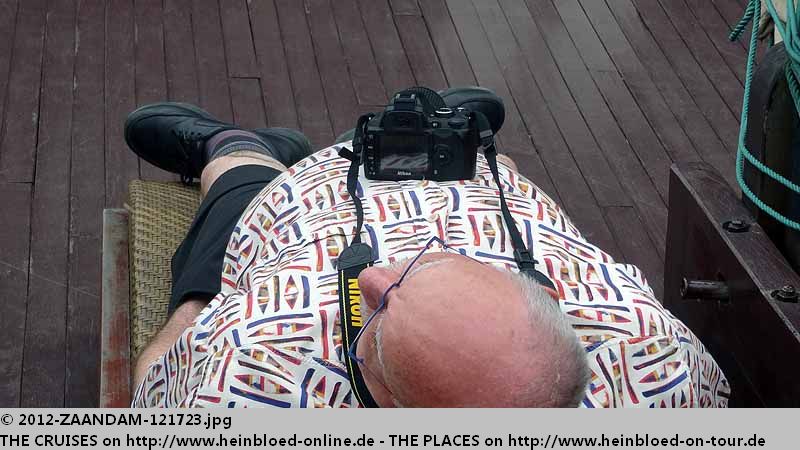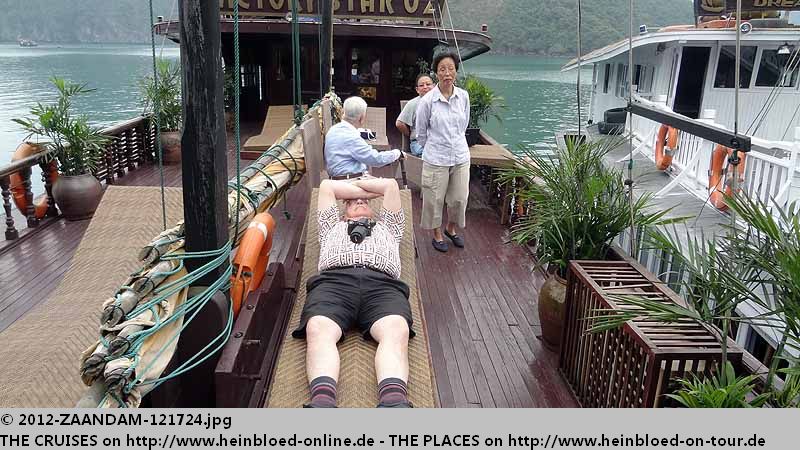 BJ and our tour guide came back.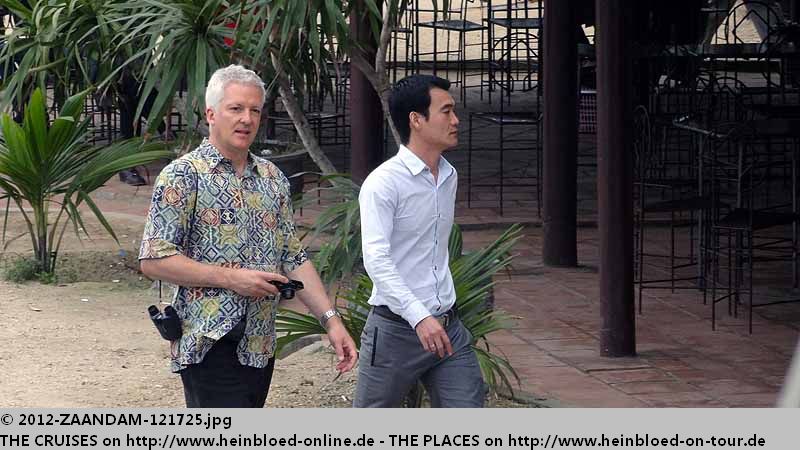 BJ und unser Führer kommen zurück.
Er muss sich allerdings die Füße waschen, damit er keinen Sand mit an Bord bringt.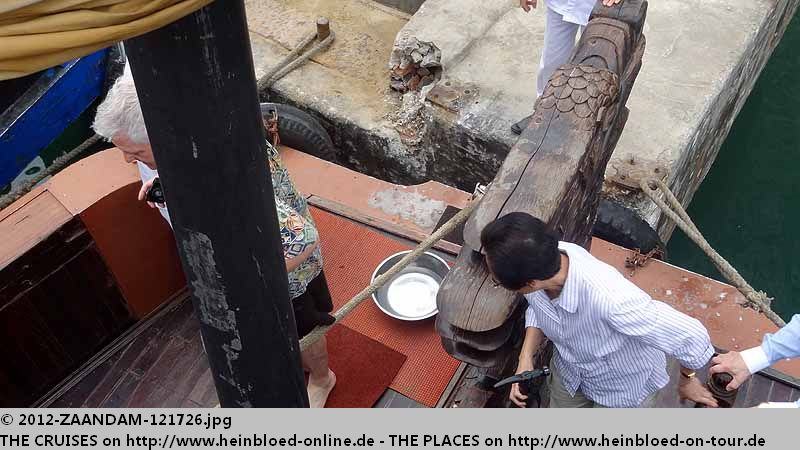 But he need to wash his feet to avoid carrying any sand on board.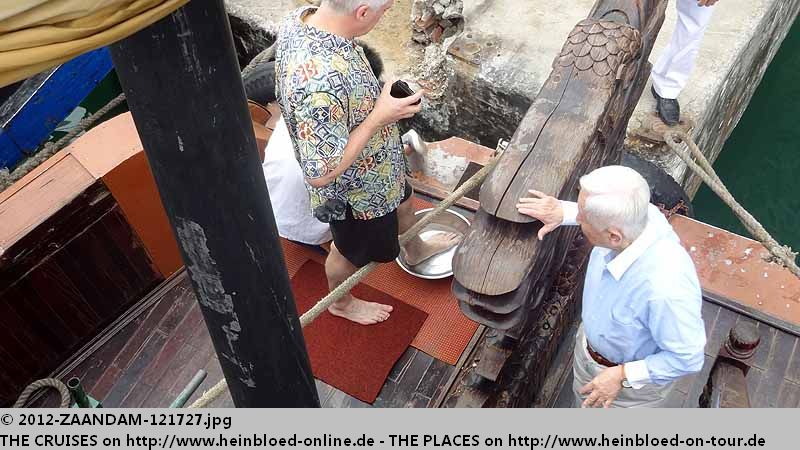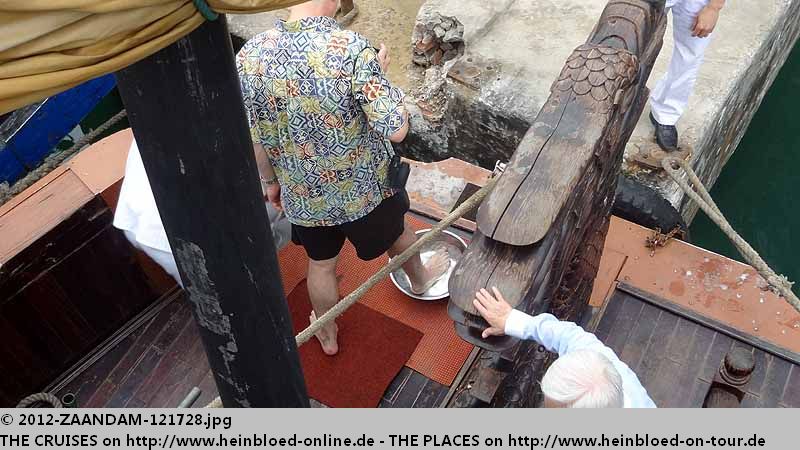 The ship next to us stated at the aft (= outside kitchen) with the preparation for the dinner.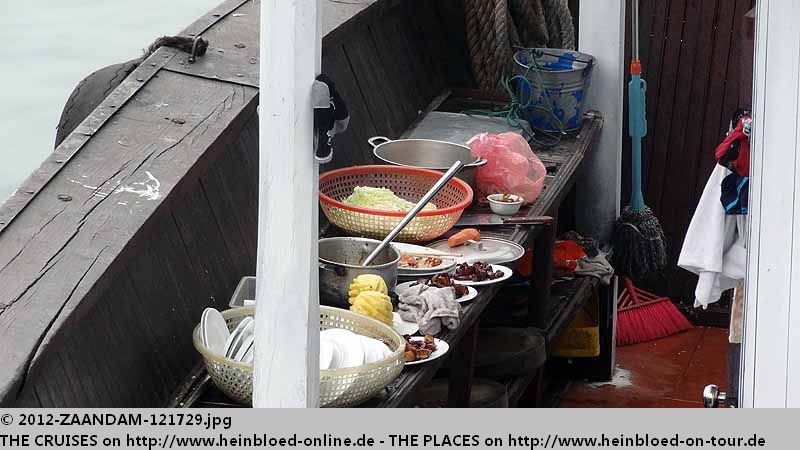 Auf dem Nachbarschiff beginnen bereits am Heck (= Außenküche) die Vorbereitungen für das Abendessen.