Scroll down for English explanations - alternates with German explanations.

Als ich morgens aufwache, war bereits der E-Mail-Briefkasten vollgelaufen. Dank des Facebook-Erinnerungsdienstes kommen die meisten Glückwünsche auch über Facebook.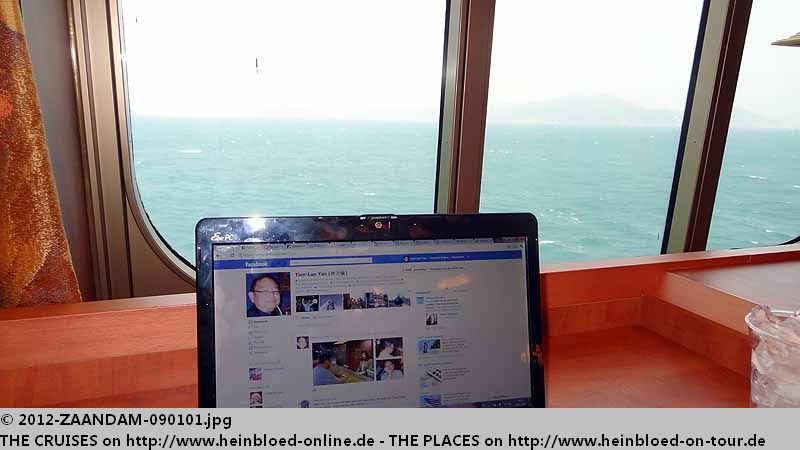 When I woke up the morning the mailbox was quite full. Due to the Facebook reminders most greetings arrived on Facebook.

Well... Princess was the faster than the ship's mail...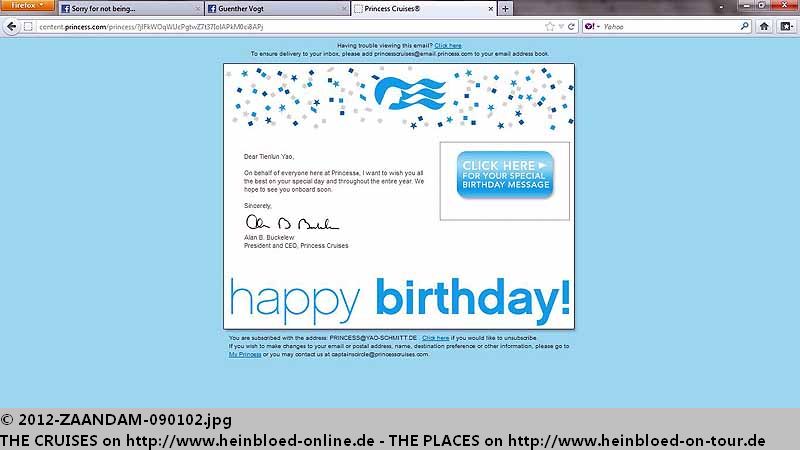 Tja... Princess war schneller als die Bordpost...
Sie kam dann auch...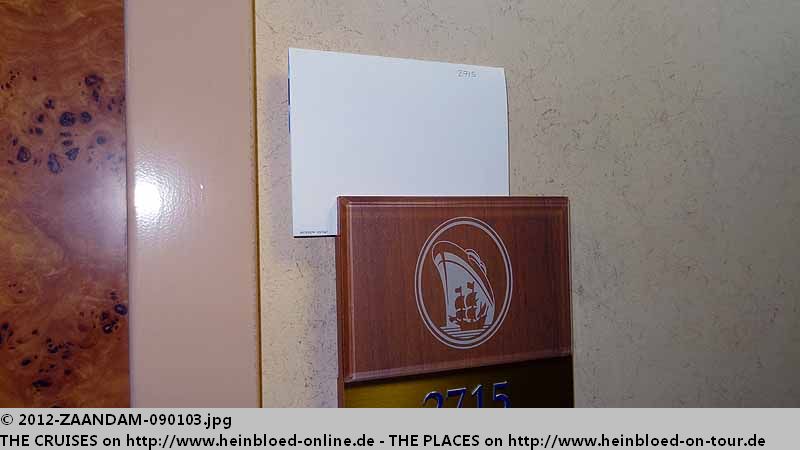 It arrived...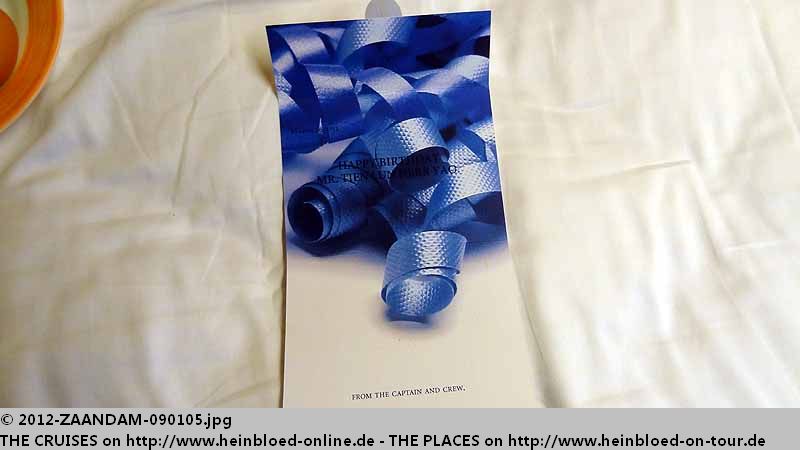 Then Cunard arrived.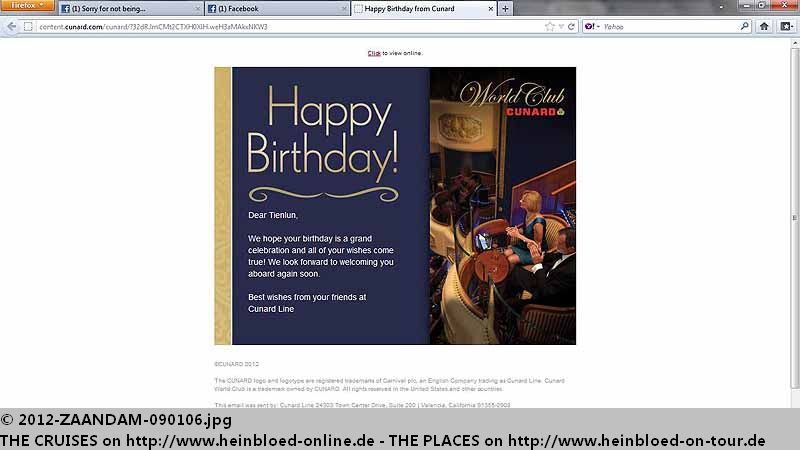 Dann kam Cunard,
Seattle (Holland America Zentrale),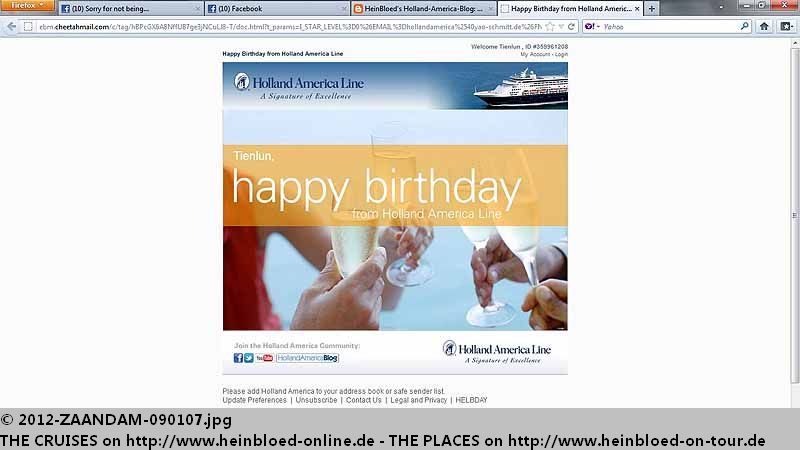 Seattle (Holland America Corporate Office),

and last not least Carnival. But no word from NCL.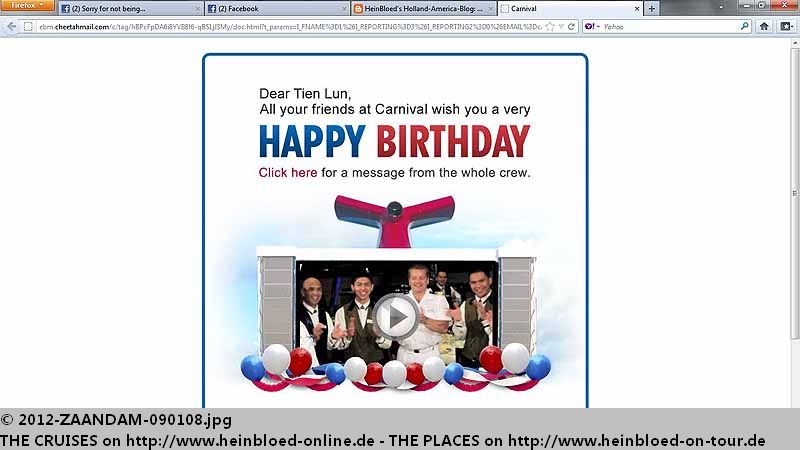 und last not least Carnival. Nur NCL lässt nichts von sich hören.
Ich gönne mir die Pittahaya, die meine Mutter mir vorgestern gebracht hatte.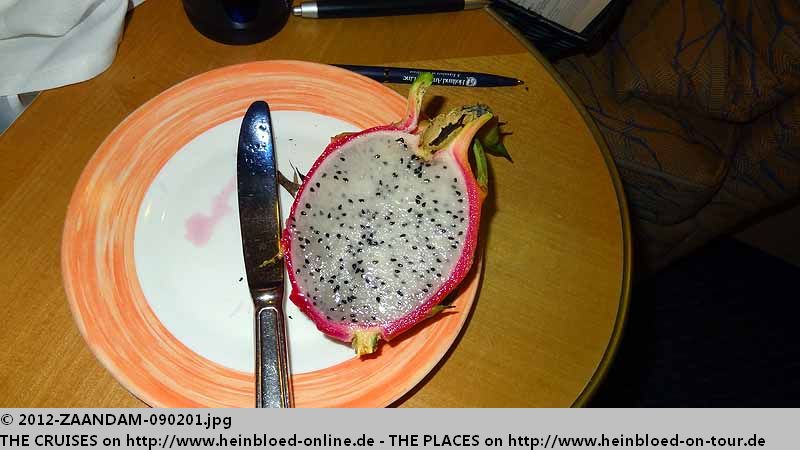 I took the dragonfruit my mother got me two days ago.

Somehow I wanted to have some snacks...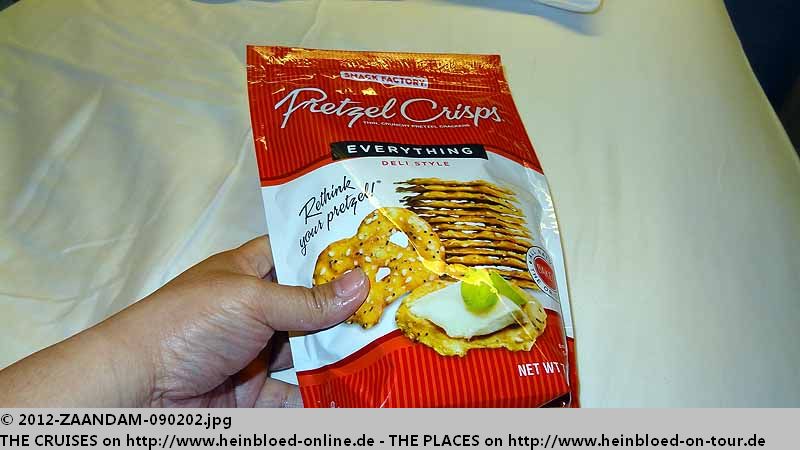 Irgendwie hatte ich Lust auf Snacks gehabt...
Und ohne schlechtes Gewissen: 0g Fett... (egal ob Trans Fat oder Saturated Fat...) - aber warum eigentlich "g" für das metrische Gramm?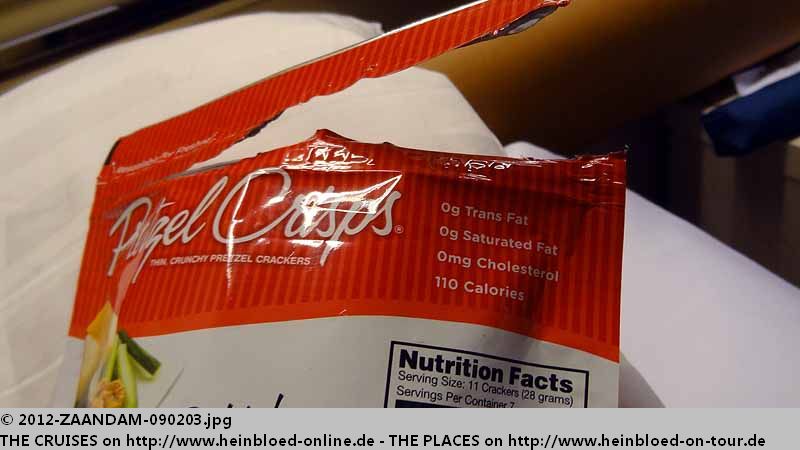 Without bad concious: 0g fat (no matter trans fat or staurated fat) - but why "g" for the metric Gramm?

A beef jerk stick.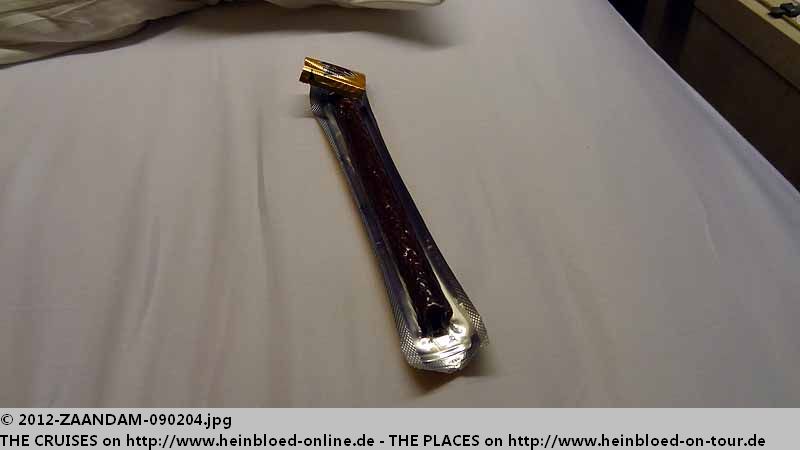 Eine Beef Jerk Stange.
Nun gemäß chinesischer Tradition: Hartgekochte Eier zum Drehen... und weniger chinesisch die Muffins... Meine Mutter hatte schon fast alles besorgt... Nur an die Nudeln ist sie nicht gekommen. Aber das können wir später an Land nachholen.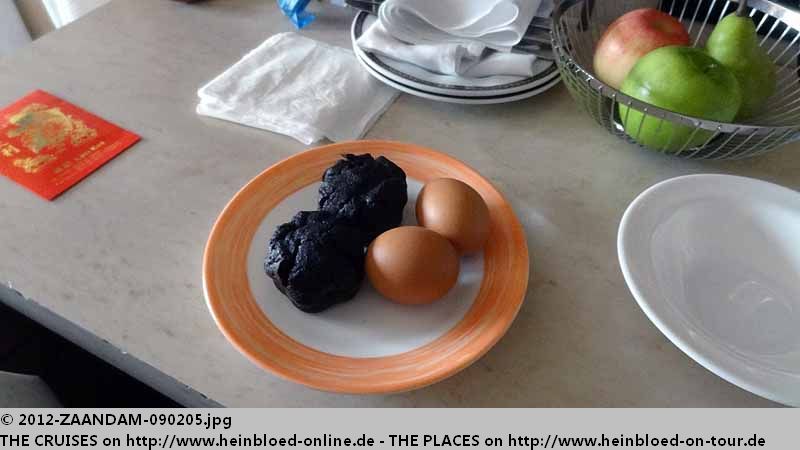 According to Chinese tradition: hard boiled eggs to turn around... and less Chinese the muffins... My mother got me everything I need for the day... But she had no access to noodles. Something we might have later ashore.

Day 9 of our cruise and we got a German breakfast menu.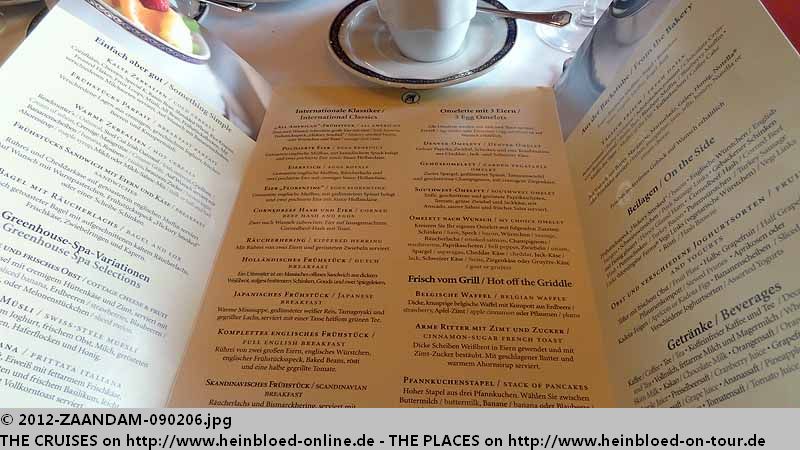 Tag 9 und wir bekommen jetzt sogar eine deutsche Frühstückskarte...
Egal: es ist Geburtstag und noch einer mehr macht auch nichts.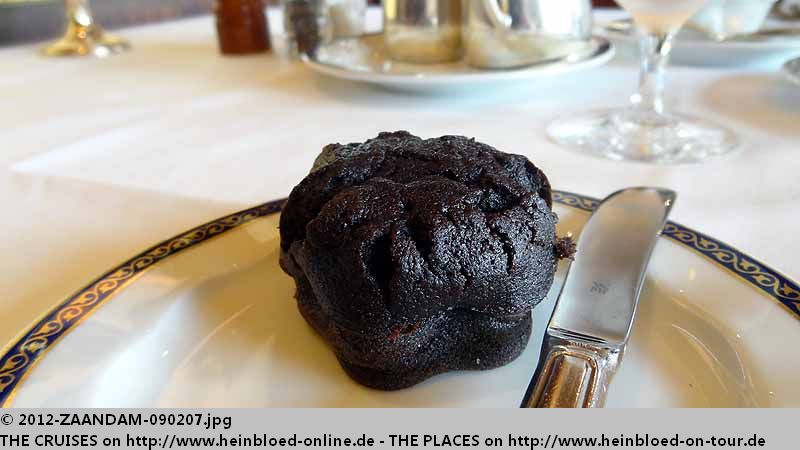 No matter: it was my birthday and one more would not be bad.

We already complained that the butter had a sour flavour but as we learned later we were not the only guests who noted this.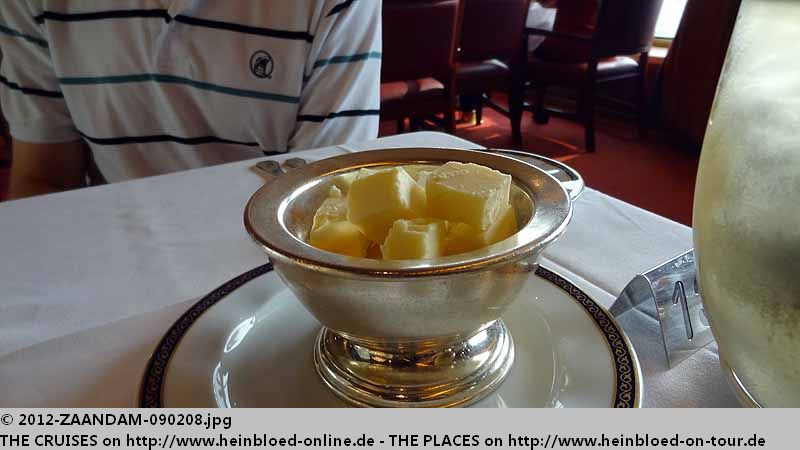 Wir hatten mal reklamiert, dass die Butter einen sauren Stich hat, aber wie wir hören, waren wir nicht die einzigen, die es festgestellt haben.
Franz... er hat eine Verbindung mit Franz Beckenbauer. Er trägt ständig ein Bild von ihm bei.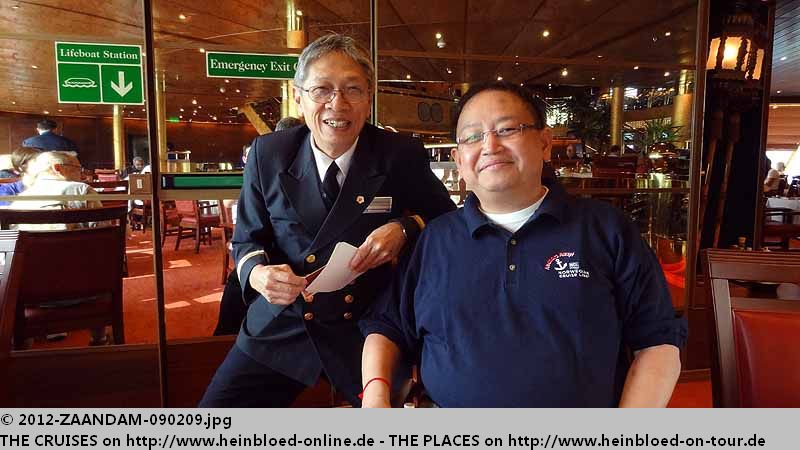 Franz... somehow he had a connection with Franz Beckenbauer (former German socker star). He had always a picture of hm with him.

Bruno got his kiwi.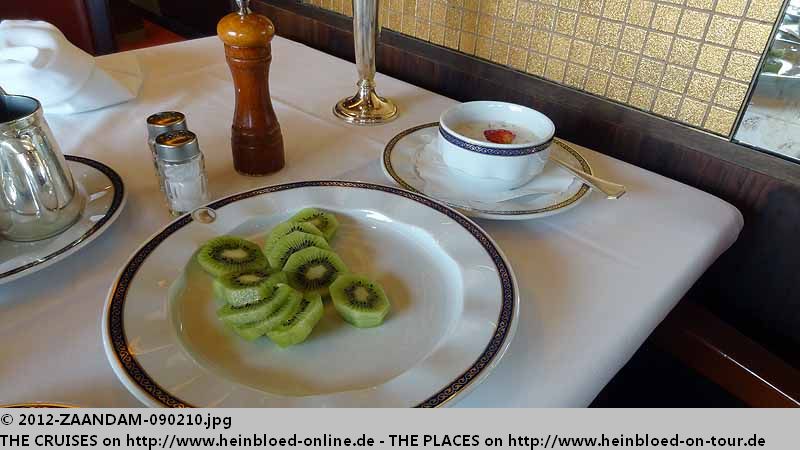 Bruno bekommt seine Kiwi.
Ich meine zwei hartgekochten Eier...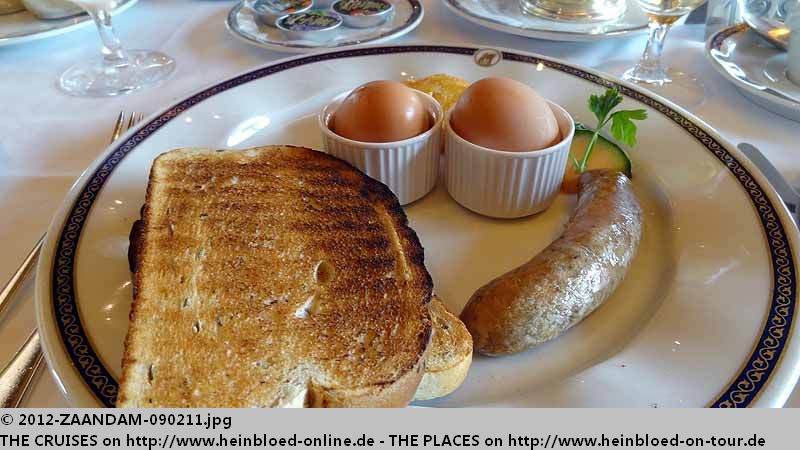 I got my two hard boiled eggs...

I need to turn around the eggs to request a long life...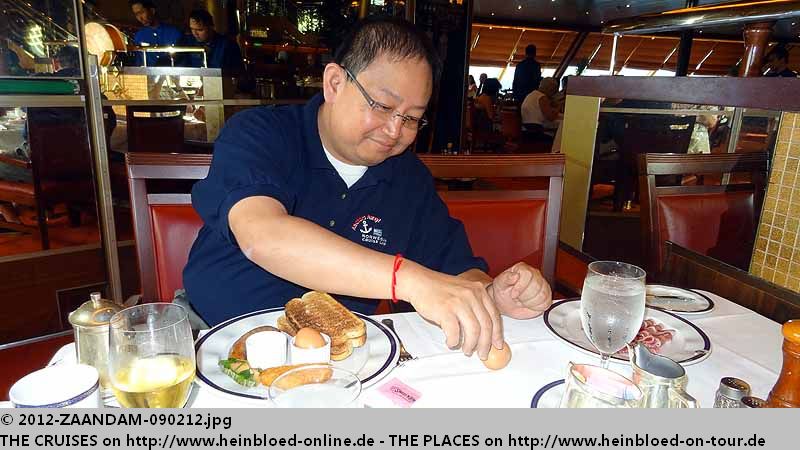 Ich muss die Eier drehen, um mir ein langes Leben noch zu wünschen...
Aber meine Eier sind weich... ganz weich... so werde ich nie 4* Mariner bei Holland America...

But my eggs were soft... very very soft... so I would not have any chance to become 4* Mariner with Holland America...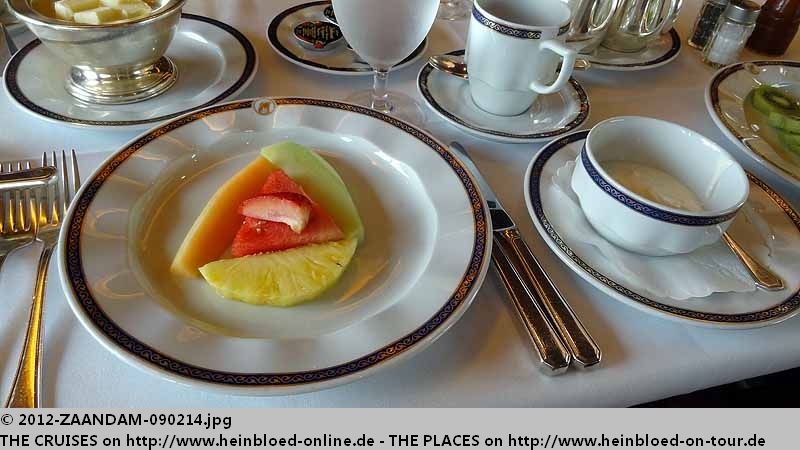 Ich bekomme wieder eine Aufschnittplatte.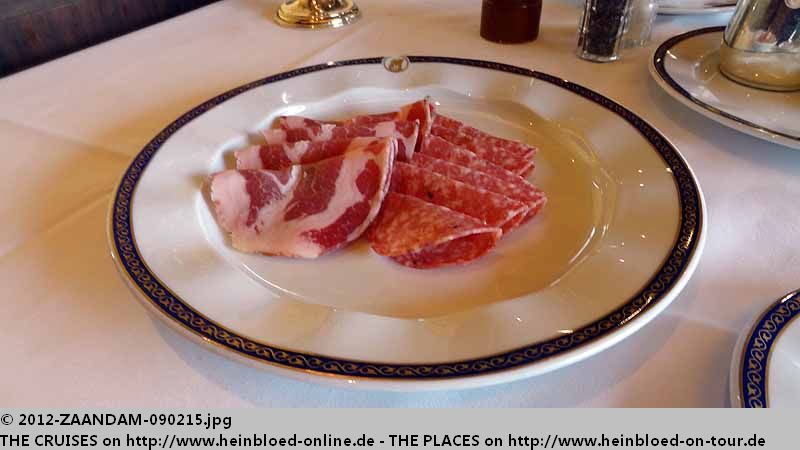 I got my cold cut plate.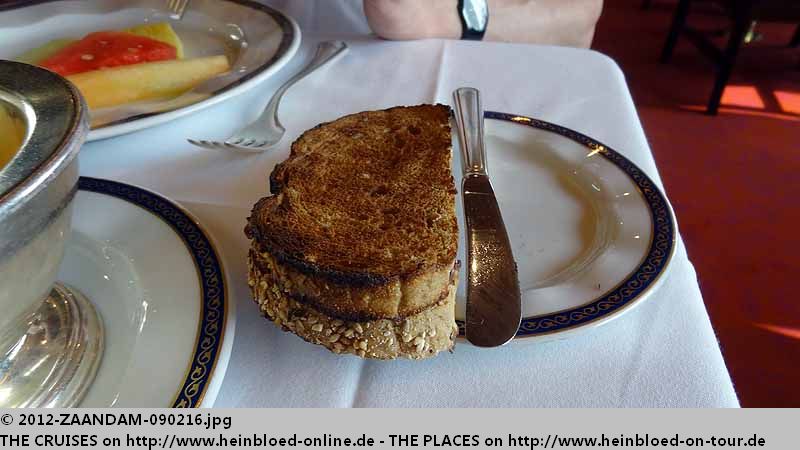 Und da es sich schon rumgesprochen hat, dass wir Pittahaya schätzen, bekommen wir eine.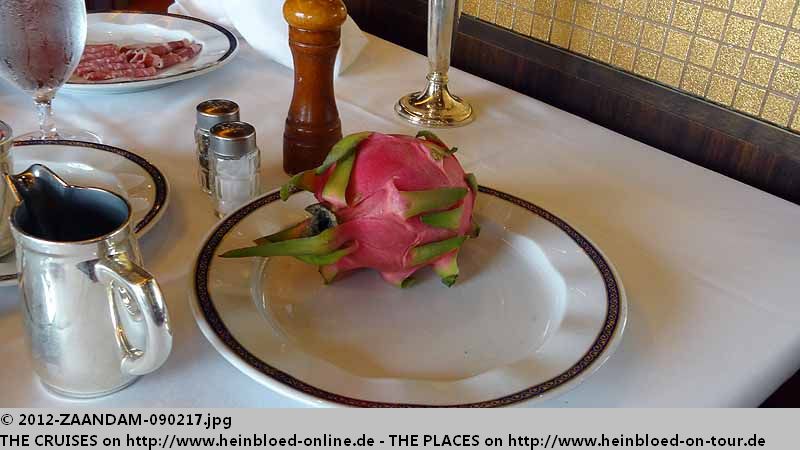 And obviously the information went around that we appreciated very much dragonfruits. So we got one.

Boubon and Hadi made sure that I really had a great birthday morning.

Boubon und Hadi haben wirklich für einen schönen Geburtstagmorgen besorgt.
Und noch Alexander ist der Maître vom Pinnacle Grill kommt auch bei uns vorbei um uns zu begrüßen und uns auch zu sagen, dass sie leider keinen Tisch mehr für mittags an den Seetagen hätten.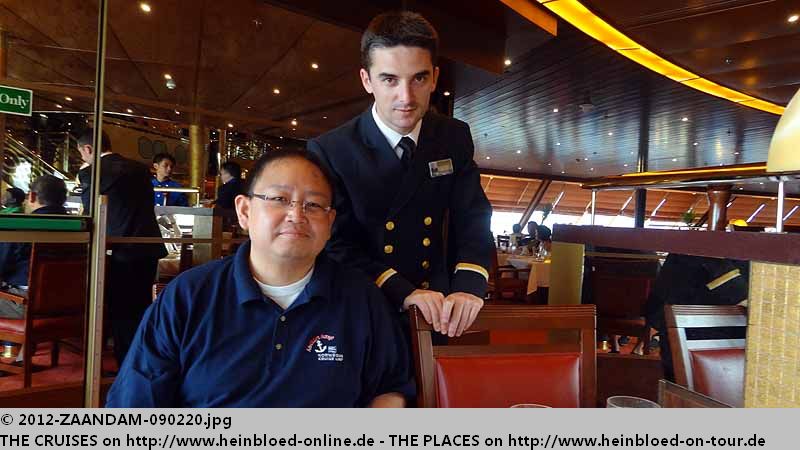 Then the Maître of the Pinnacle Grill came to say good morning and to tell us that had no more table for lunch on days at sea.

And after breakfast we mostly went to Exploiration Café to see Rudy. I got my iced tea and Bruno got his Cappucino.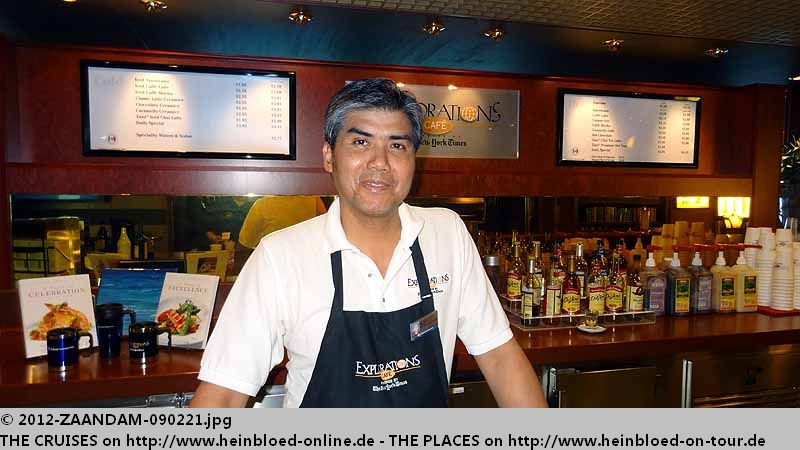 Und nach dem Frühstück geht es meistens ins Exploiration Café zu Rudy. Ich hole mir meinen Eistee und Bruno seinen Cappucino.