Scroll down for English explanations - alternates with German explanations.

Die kleinen Details machen die großen Unterschiede. Bei 35°C finde ich es schön, wenn man mit einem Erfrischungstuch wieder im Auto begrüßt wird.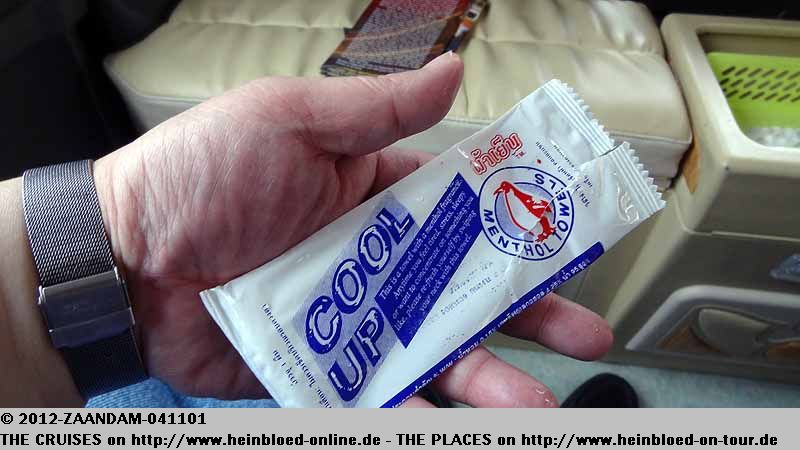 The small details made the big differences. With 90F you find it very nice to get a wet towel when you were back in the car again.

On the way to our lunch we saw a typical Thai street coffee shop...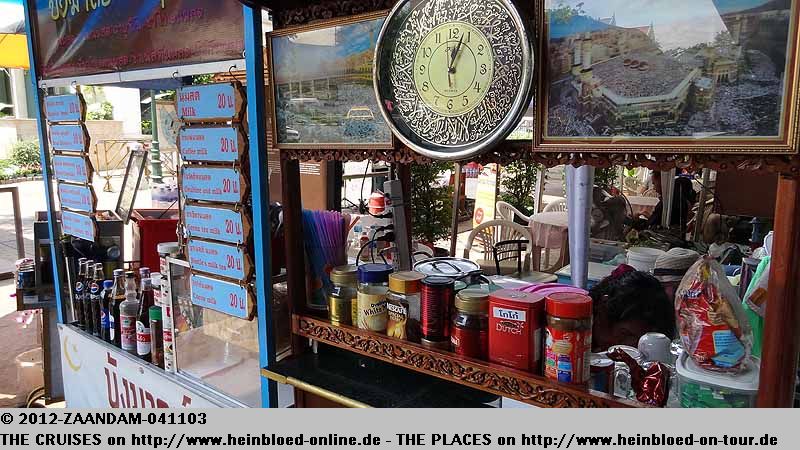 Auf dem Weg zum Mittagessen kommen wir einem typischen thailändischen Straßencafé vorbei...
Und wieder der leckere Orangensaft...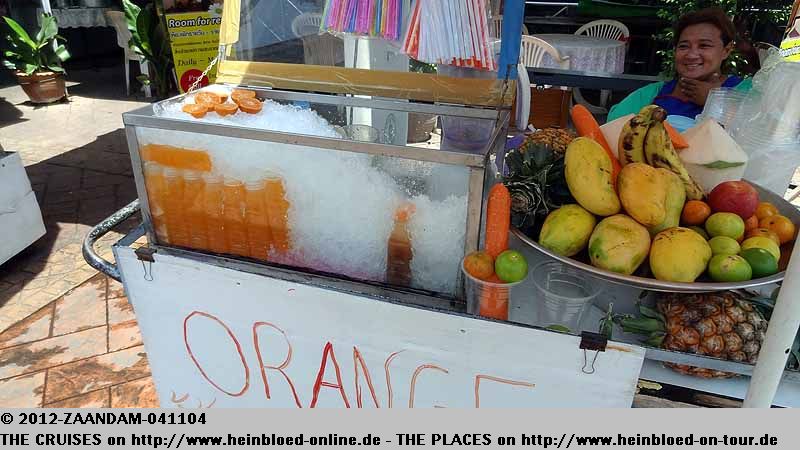 And again the nice orange juice.

Here on this boat we should have our lunch: The Riverside.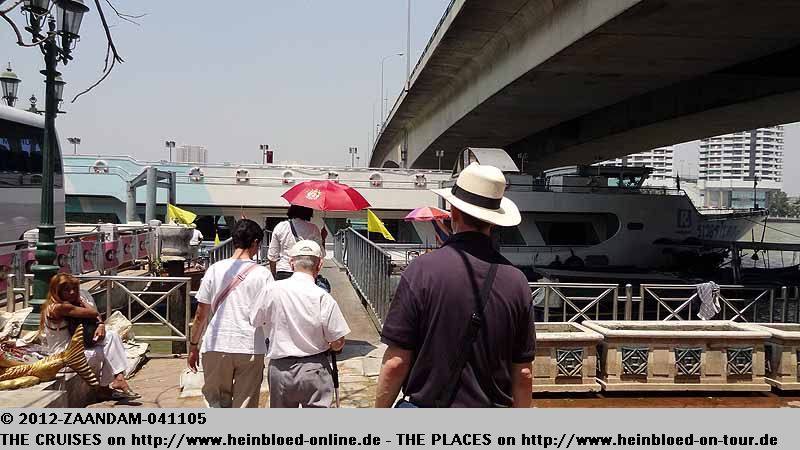 Hier auf dem Boot sollen wir zu Mittag essen: Das Riverside.
Oh weia: das sieht nach einer Touristenfalle aus. Aber das Essen war ja im Tourpreis inbegriffen. Nur die Getränke mussten wir selbst zahlen.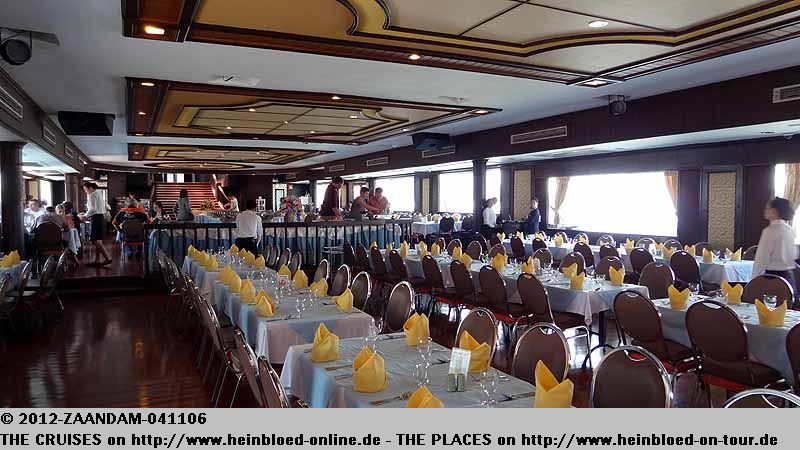 Oops: that looked like a typical tourist trap. But the lunch was included in the tour. Only beverages need to be paid ourselves.
They had a direct access to the canal boats.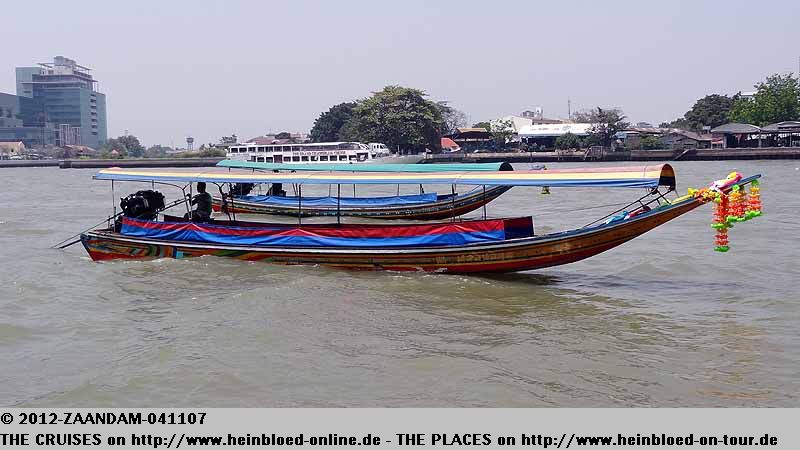 Es hat einen direkten Zugang zu den Kanalbooten.
Es gab vieles, das nach einem typischen Thai-Mittagsbüffet wie in Deutschland aussah.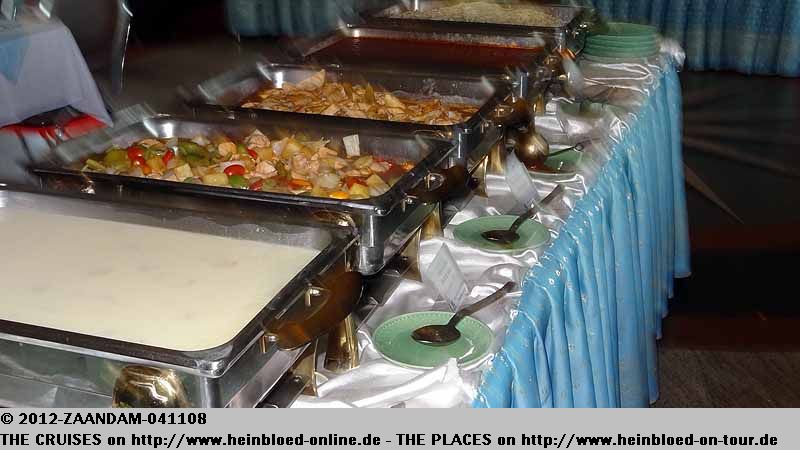 There were many things which looked like a typical Thai-Lunch Buffet you find in Germany.

So you would not find such wonderful fruit plates in Germany.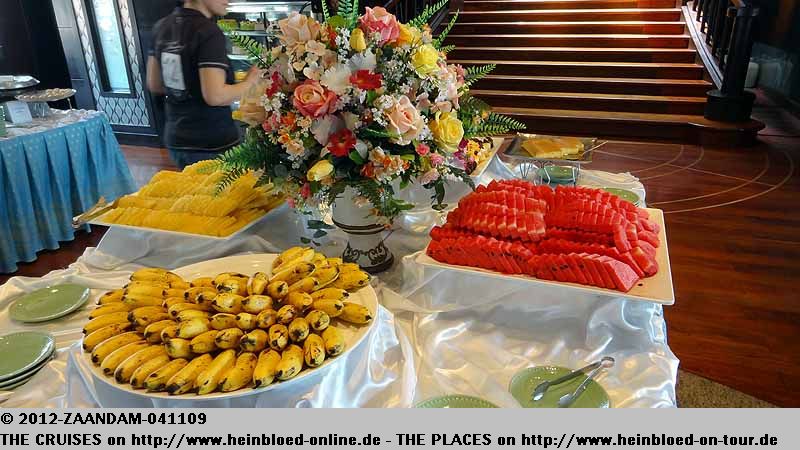 Aber diese schönen Früchteplatten findet man so in Deutschland nicht.
Auch nicht diese Blumen.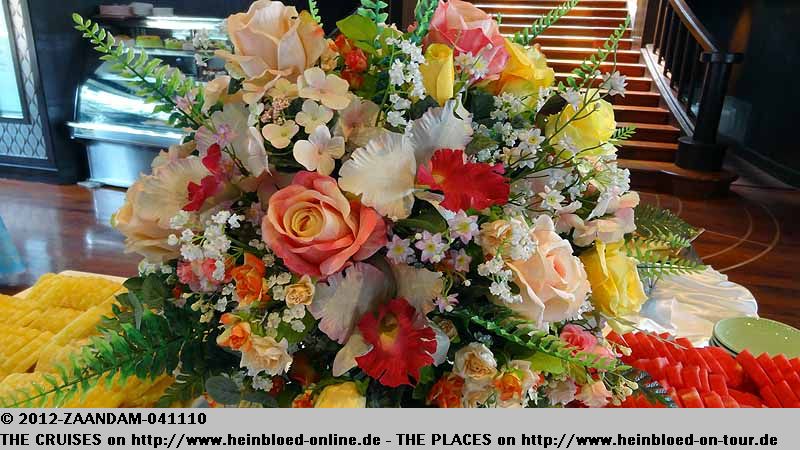 And these flowers either.
And here you could also find the good things you will not get in Germany.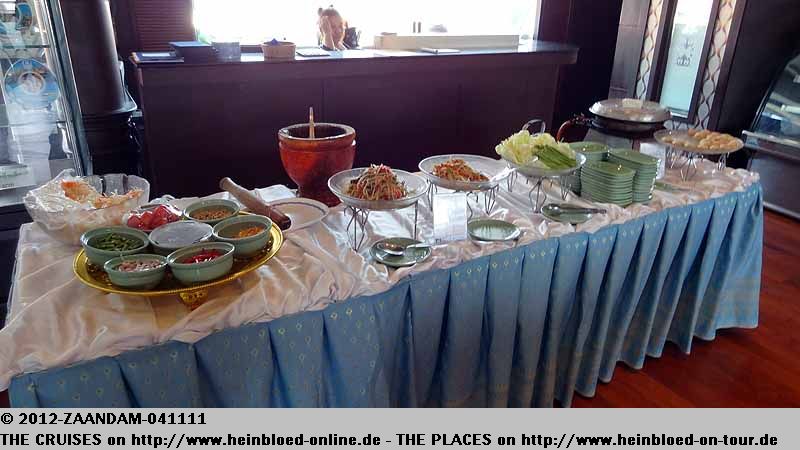 Hier gab es auch Sachen, die man in Deutschland nicht findet.
Und leckere Nudelsuppen.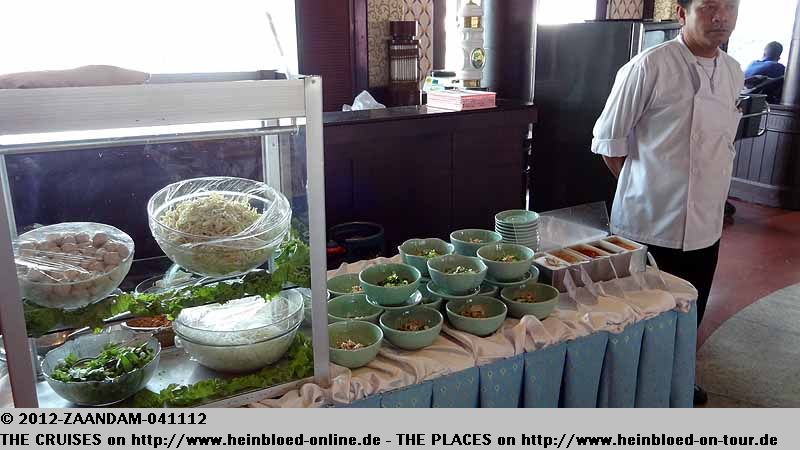 And the nice noodle soups.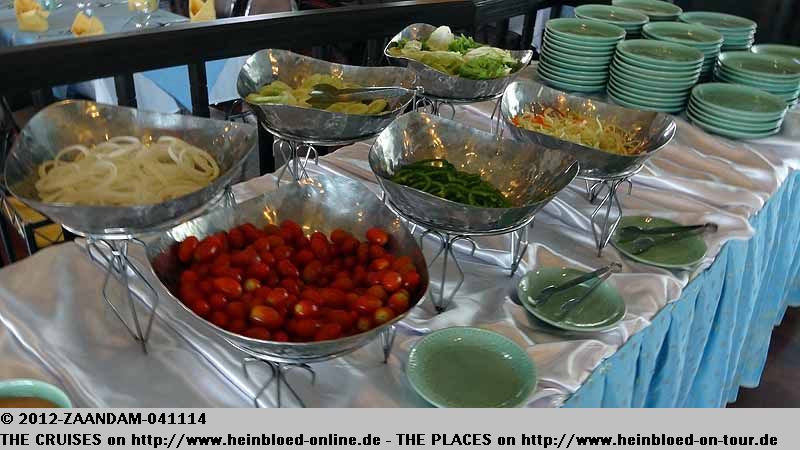 We stayed with the very good noodle soups.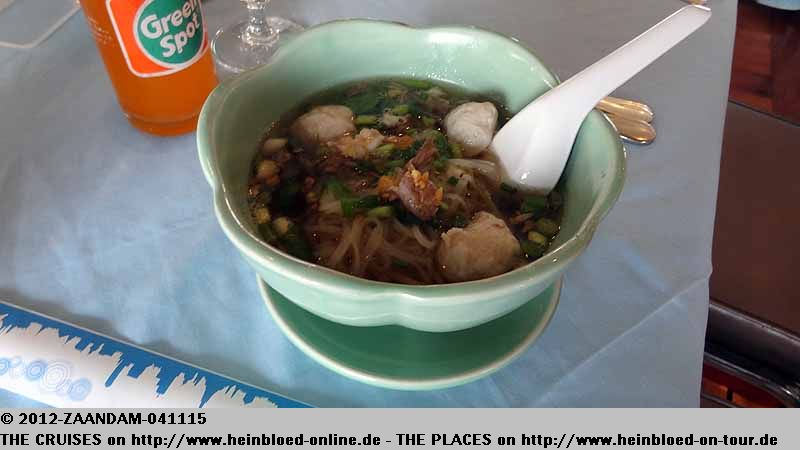 Ich habe mich an die leckere Nudelsuppe gehalten.
Und an den Papaya-Salat.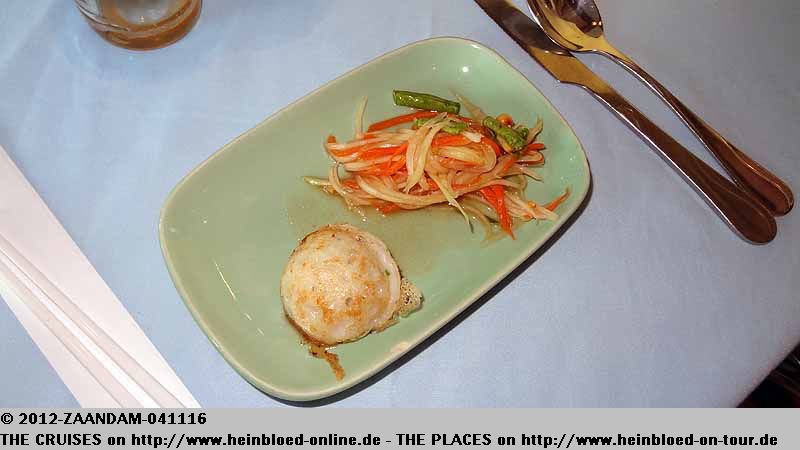 And the Papaya-Salad.

That was the very best: the Coconut-"Poffertjes" (Mini-Pancakes Dutch Style... Yummy...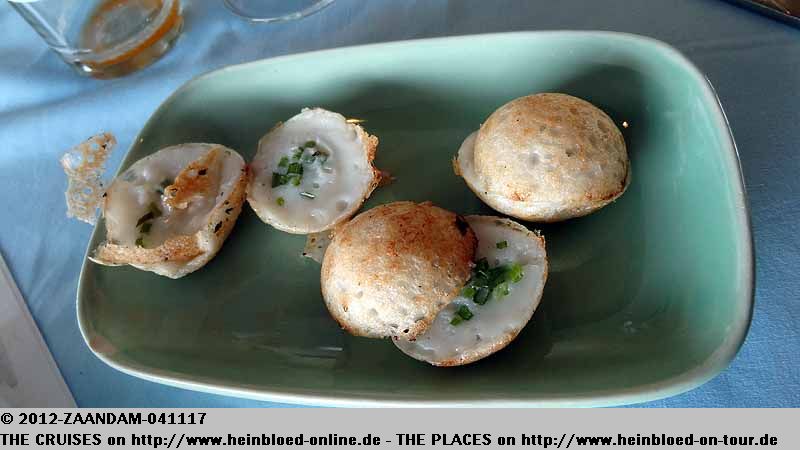 Das war das Beste: die Kokusnuss-"Poffertjes"... Lecker...
Und dann kamen die Touristengruppen reingestürmt. Aber da waren wir so gut wie fertig eigentlich... wenn nicht mein Vater noch die Eistruhe für sich entdeckt hätte...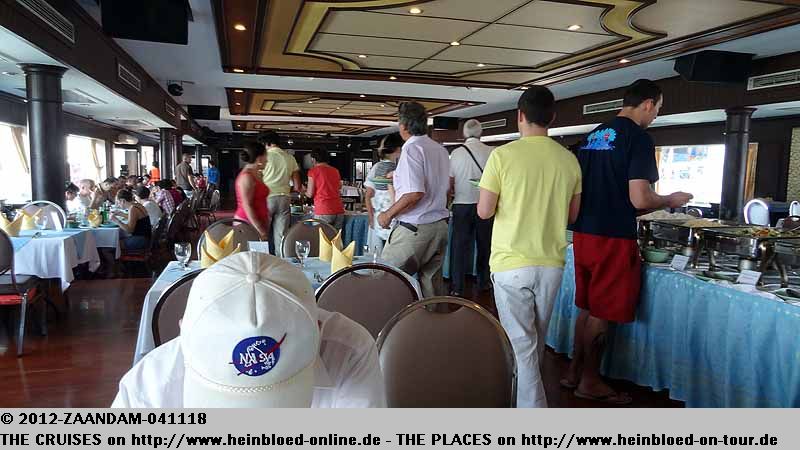 But then all big tourist groups arrived. But we were more or less finished... subject my father would not have discovered the ice assortment they offered.