Als wir am Rotterdam Restaurant ankommen, steht BJ bereits für uns an.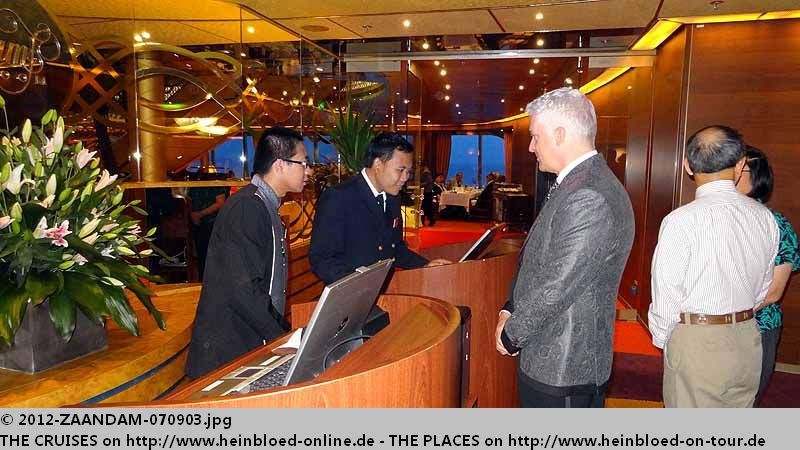 When we arrived at the Rotterdam Main Dining Room BJ was already queueing up for our party.

This time we asked for a table not at the aft so we sat directly under the Adagio Strings who played for us on the balcony.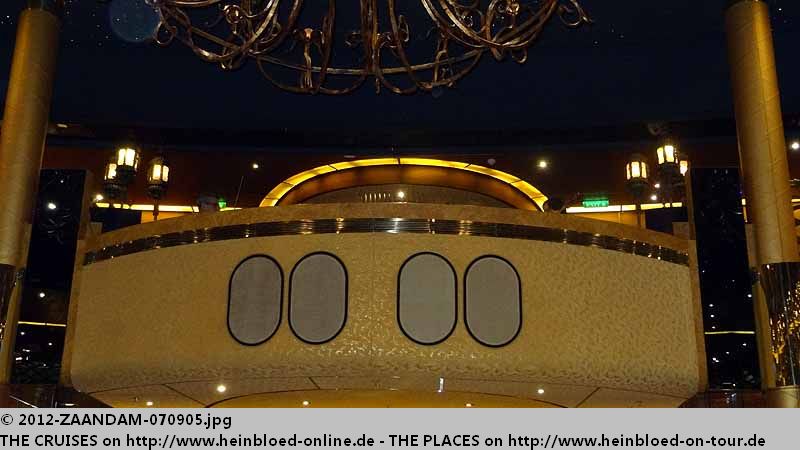 Da wir dieses Mal darum gebeten hatten, keinen Platz mehr hinten am Heck zu bekommen, sitzen wir direkt unter den Adagio Strings, die oben auf dem Balkon für uns spielen.
Wir sitzen direkt unterm Sternenhimmel. Ich finde es hier schön.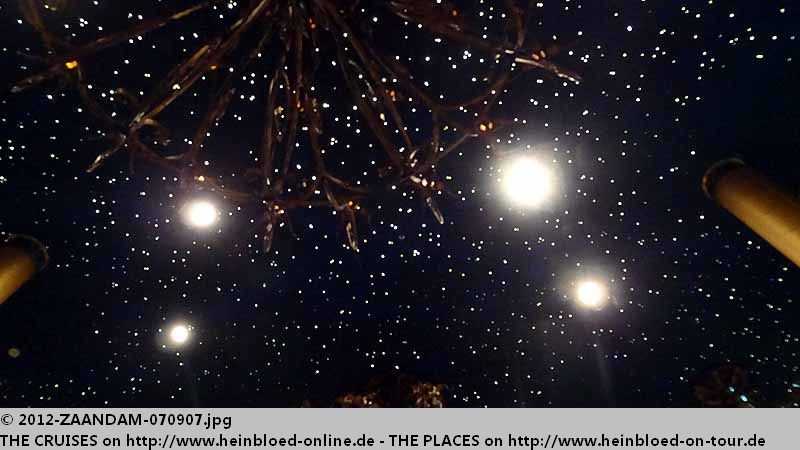 We were sitting under the sky of stars. I liked it very much.

BJ took my gift with him: the fan which I bought in Angkor Wat. But as it was always too warm to him it fit perfectly to his tuxedo no. 2.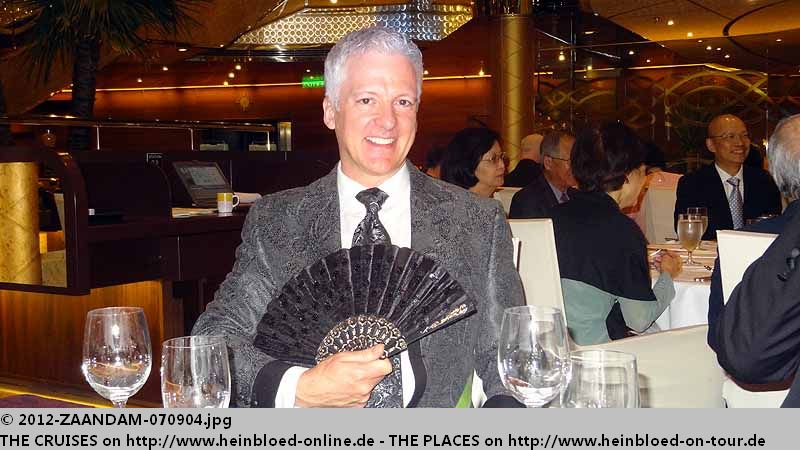 BJ bringt mein Geschenk mit: den Fächer, den ich in Angkor Wat gekauft habe. Aber da es ihm immer zu warm ist, passt es sehr gut zum Smoking Nr. 2.
Man achte auf den Kragen.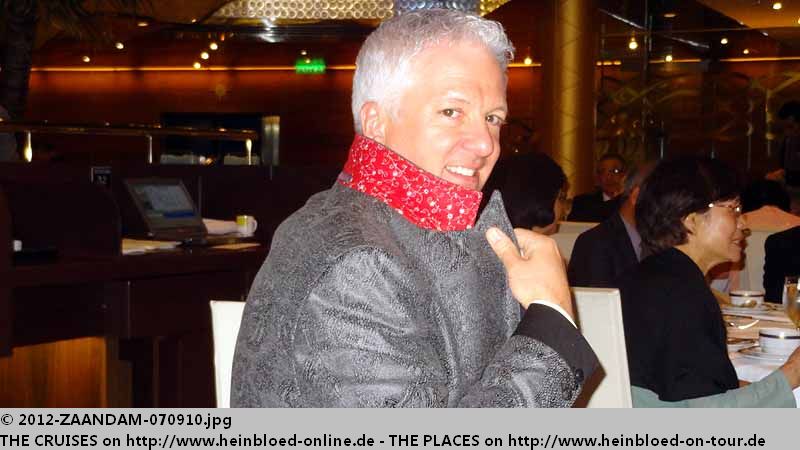 See the collar.

See the lining.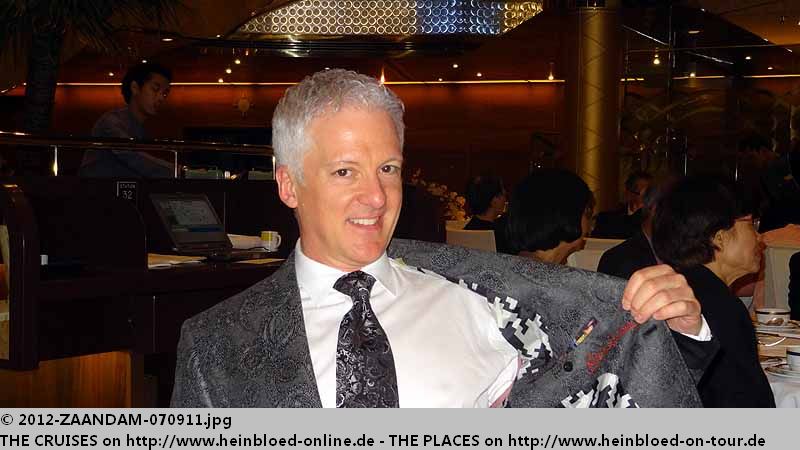 Man achte auf das Innenfutter.
Meine Mutter ist imponiert. Meinen Vater konnte man mit so etwas nicht so beeindrucken. Übrigens hatte ich ihm vergessen zu sagen, dass Holland America kein Freestyle anbietet wie NCL und er doch einen dunklen Anzug gebraucht hätte.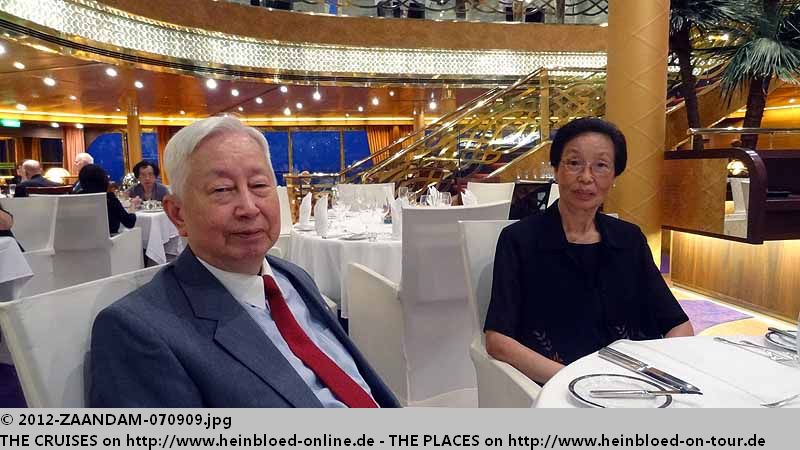 My mother was impressed. You could not easily impress my father. By the way it was me who forgot to tell him that Holland America does not offer Freestyle like NCL and that he need a dark suit.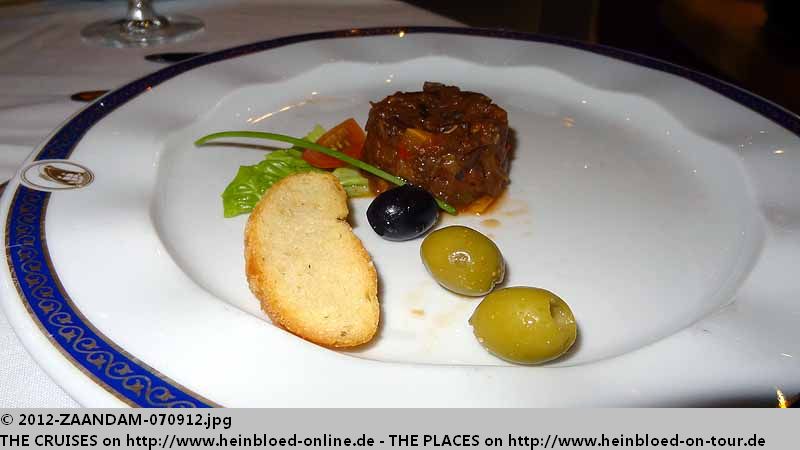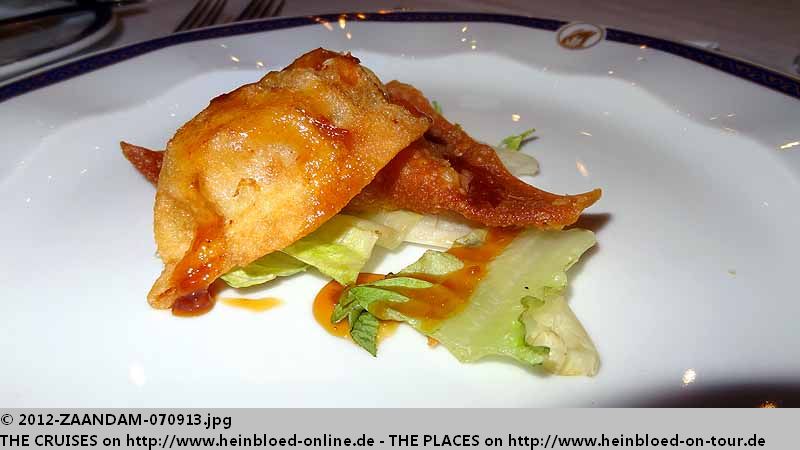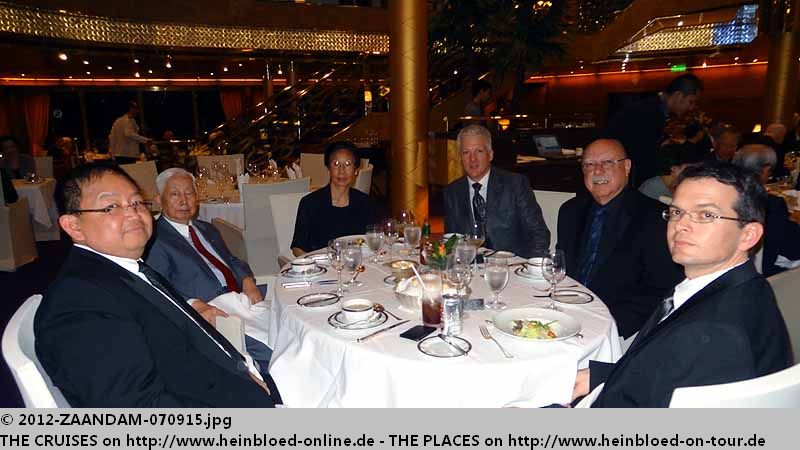 Silverservice - at least at the formal nights.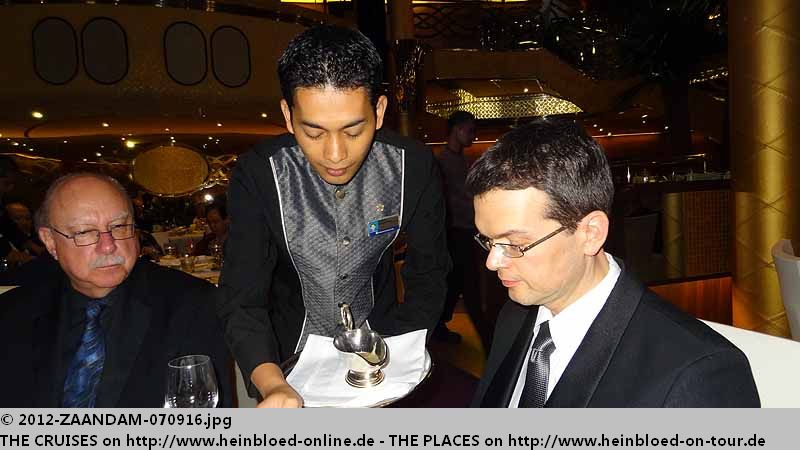 Silverservice - zumindest an formellen Nächten.
Der Salatdressing kam nicht in den Eierbechern wie sonst.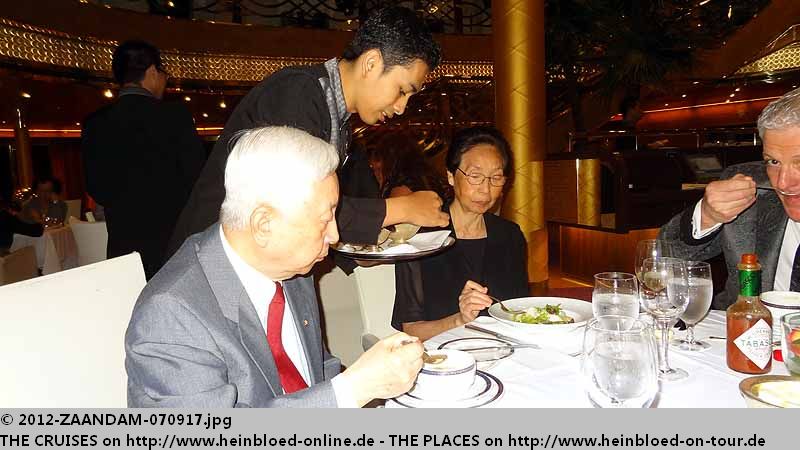 The salad dressing was not served in egg cups like usually.

Lobster with full service.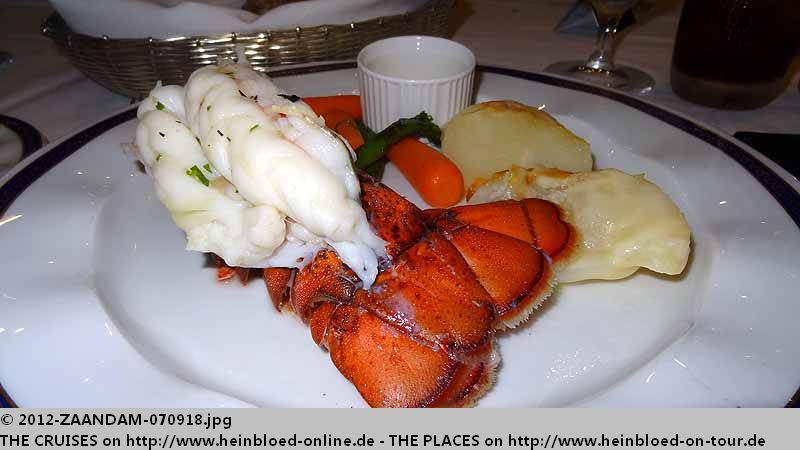 Hummer mit Full Service.
Sogar die Schale wird entfernt.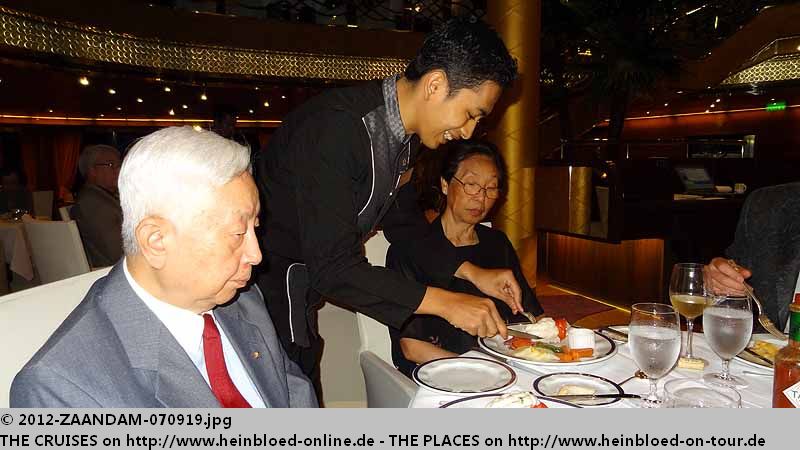 Even the shell was taken away.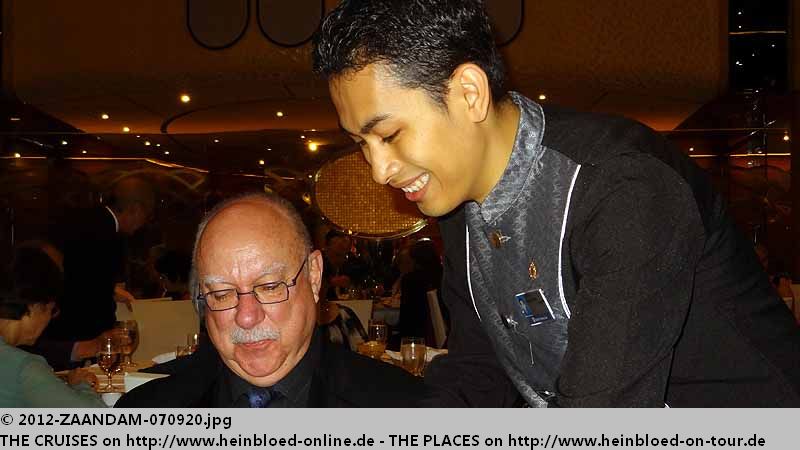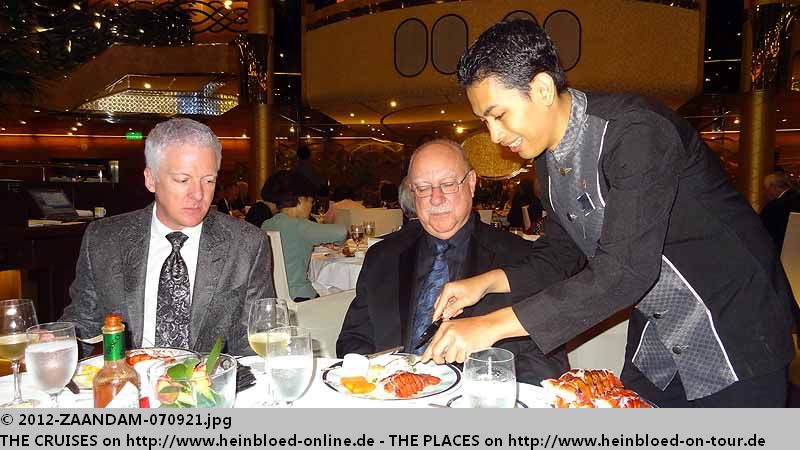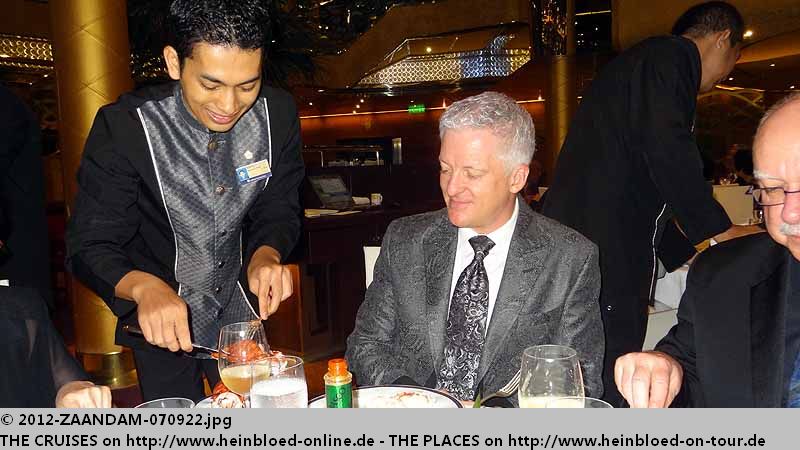 Nur Bruno hat einen Grund zur Beschwerde: der rohe Spargel ist denen wohl durchgerutscht... Aber das war sein Erlebnis: Ich hasse grünen Spargel.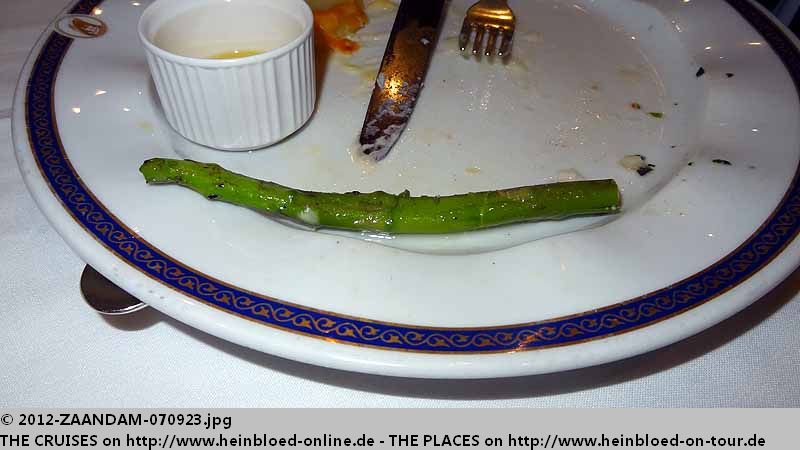 Only Bruno had a reason to complain: one raw aspargus which skipped through... But that was his experience: I hate green aspargus.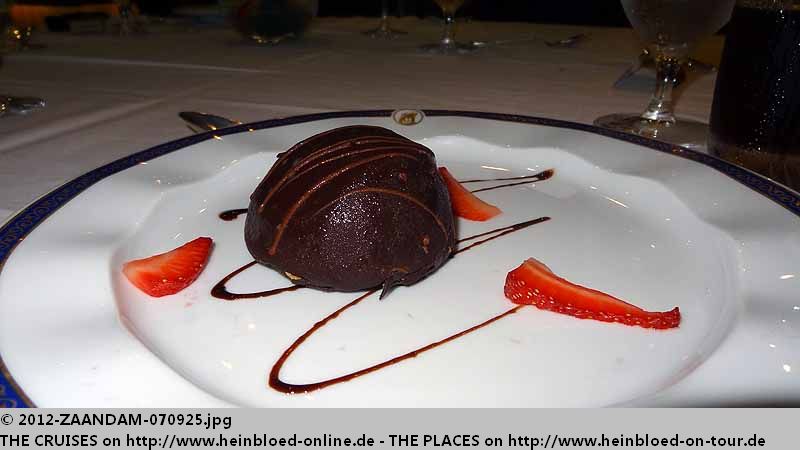 BJ nutzt doch intensiv den Fächer. Der neue Platz ist besser, aber es könnte schon kühler sein, wenn man den ganzen Abend Anzug tragen muss. Das Essen und ohne formellen Abend... das wäre doch was... HAL-Essen mit NCL-Freestyle... Wo bekomme ich so etwas, ohne Preise von Oceania, Azamara und höher zu zahlen...
BJ used very intensively the fan. The new table was better but it could be a little cooler if you have to sit all night in a suit. This food and no formal nights... that would be the best... HAL-food with NCL-freestyle... Where I can get this without paying the prices of Oceania, Azamara and more...

BJ asked to come and see my mother to water the orchard but she already did it... My father was not impressed of a gentleman's visit with my mother. By the way after publishing pictures on Facebook we got several requests from ladies who were interested in BJ: Yes - he delivers flower worldwide... No further statement from our side...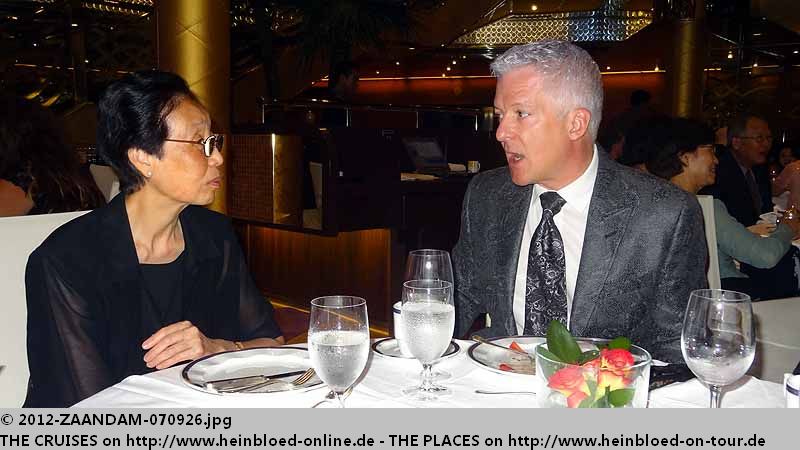 BJ meldet sich bei meiner Mutter an, um die Orchideen zu wässern, aber sie hat es bereits erledigt... Mein Vater war vom angekündigten Herrenbesuch nicht so begeistert. Übrigens hatten wir mehrere Anfragen von Damen, die sich für BJ interessierten, nachdem wir seine Bilder im Facebook-Album veröffentlicht haben. Ja - er liefert Blumen weltweit... Weitere Aussagen gibt es von uns nicht...
Guenter und BJ waren zum ersten Mal mit dem Service im Rotterdam Restaurant heute Abend voll zufrienden. Offensichtlich hatten sie nicht so viel Glück wie wir.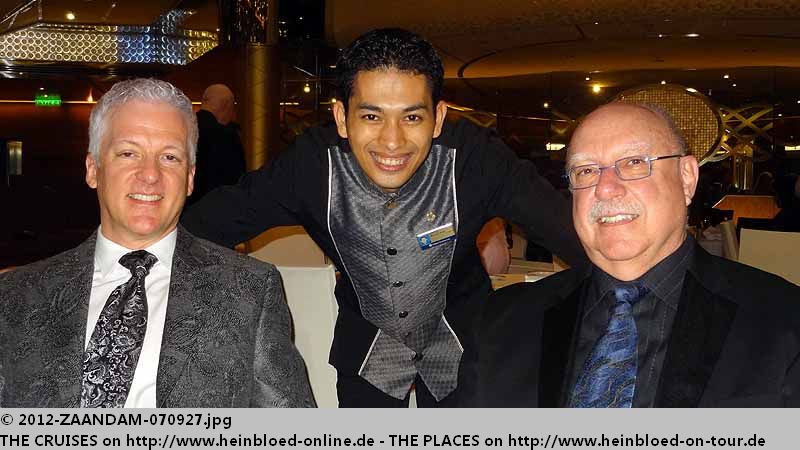 Guenther and BJ were the first time fully satisfied with the service in Rotterdam Main Dining Room. Obviously they did not have so much luck like us so far.

And BJ would like to communicate with the Assistant Maître that Guenther and BJ were satisfied with the service tonight.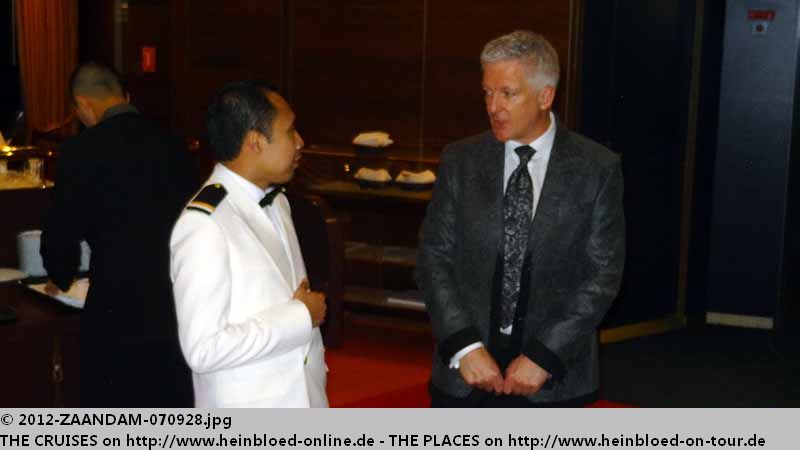 Und auch BJ lässt es den Assistent Maître wissen, dass Guenther und BJ mit dem Service zufrieden waren.