Scroll down for English explanations - alternates with German explanations.

Drei Stunden Autofahrt bedeutet Mittagessen dort wo es eine westliche saubere Toilette gibt. Rechts sieht man ein Schild... KFC... aber es war nur Werbung...

Three hours car ride meant lunch where you had some clean Western toilets. To the right you see a sign... KFC... but this was only advertising.

But few yards more we could find one. More or less they had acceptable toilets. Because of the prices in Germany we ordered too much food.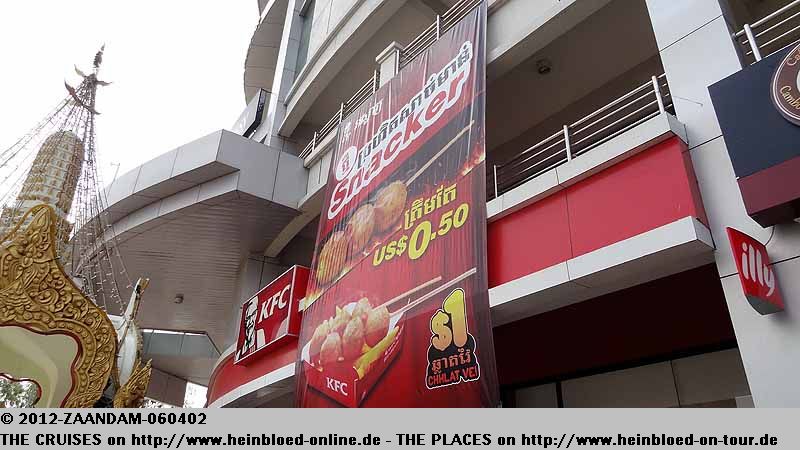 Wenige Meter später haben wir es aber doch gefunden. Zumindest gab es akzeptable Toiletten. Durch die Preise in Deutschland verdorben, habe ich viel zu viel bestellt.
So lassen wir alle Reste einpacken und geben es unserem Fahrer mit, damit er es seiner Familie mitnehmen soll. Darüber freut er sich sehr.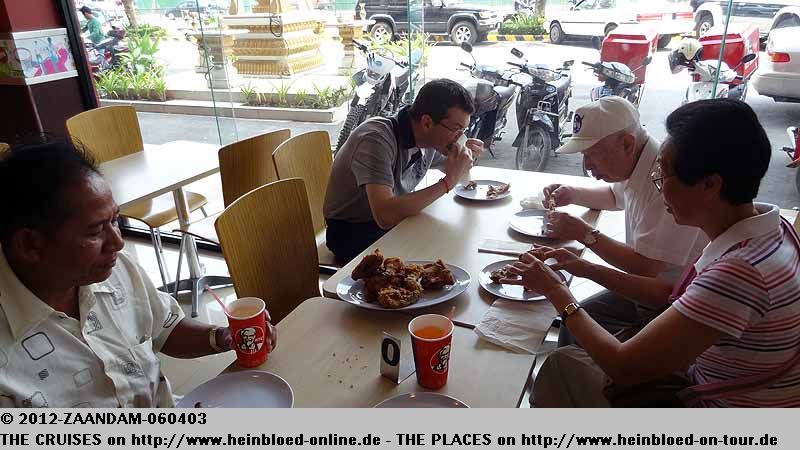 So we let them prepare a doggy-bag and gave this to our driver for his family. He was very happe of this idea.

The strange little balls... The 2nd time with KFC (after avian flu in Shanghai) that I had no idea what I was eating.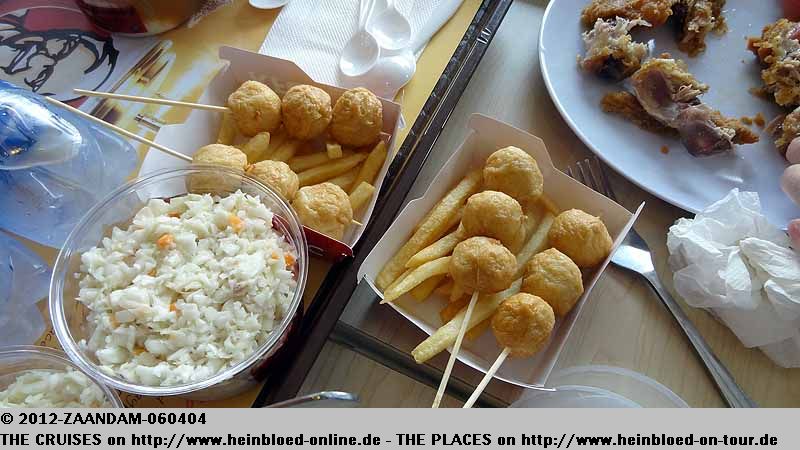 Diese komischen Bällchen... Der 2. Fall bei KFC (nach Schanghai während der Vogelgrippe) bei dem ich nicht rausbekommen habe, was ich eigentlich gegessen habe...
Auf geht's. Da Sihanoukville der Haupthafen des Landes ist, müssen wir alle Container überholen, falls wir nicht morgen erst ankommen wollen. So gesehen fahren wir absolut komfortabel, weil wir alle Türen schließen können, ohne dass etwas bzw. niemand rausguckt.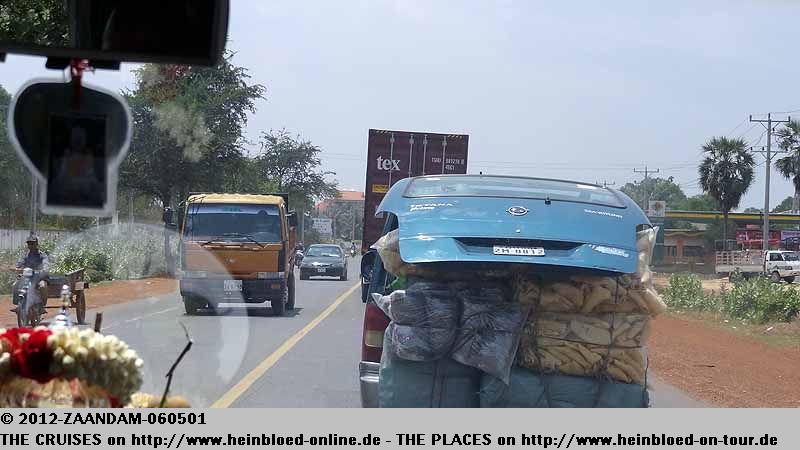 Let's start. As Sihanoukville is the main port of the country we had to pass all containers if we did not want to arrive the next day. Seeing these pictures we had really a comfortable ride as long as we could close all doors and nothing or nobody sticked out the vehicle.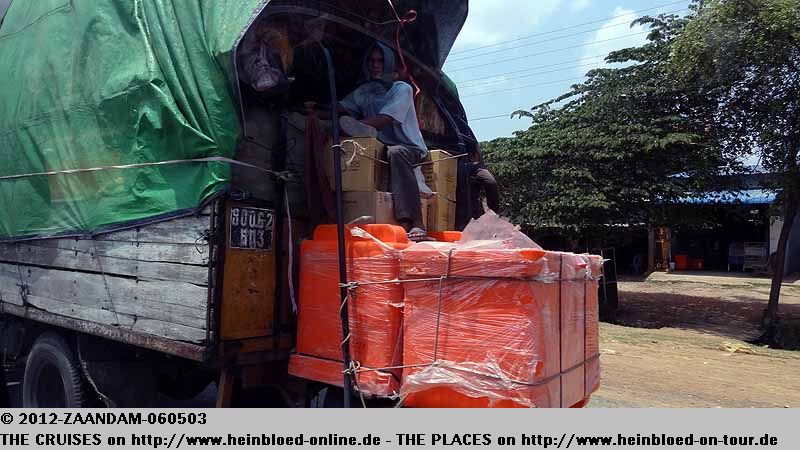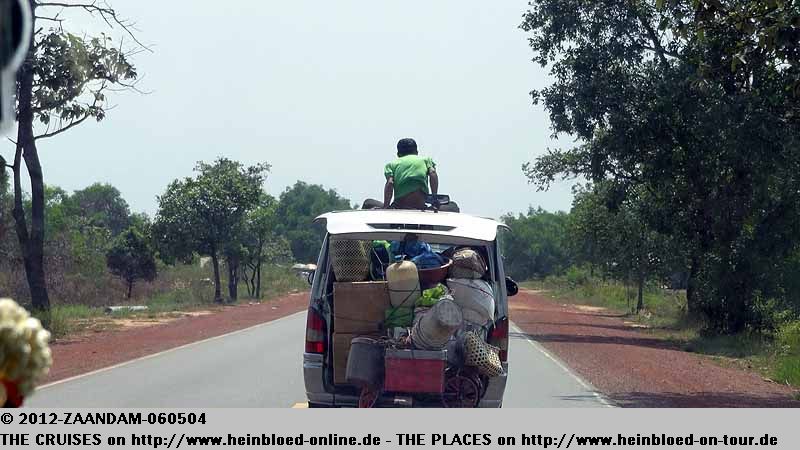 We were calm when we had a 3-lane-section which eased passing very much.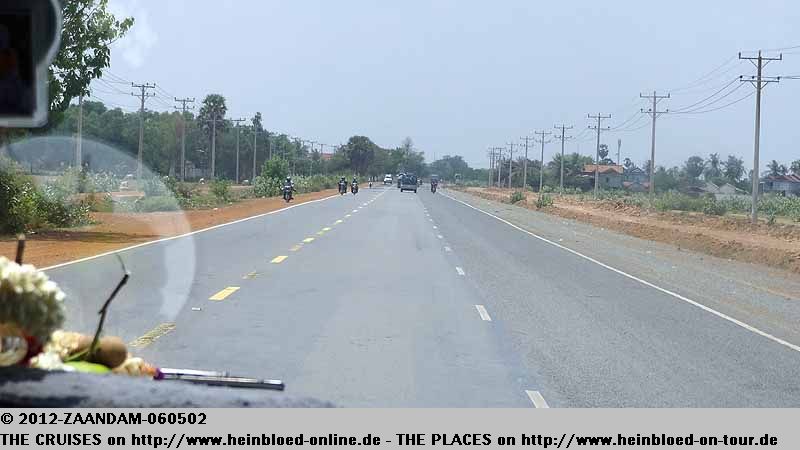 Wir sind beruhigt, wenn es mal 3-streifig wird, weil es das Überholen doch sehr erleichtert.
Und so etwas hasse ich ja, wenn man einfach einem LKW beim Überholen hinterher fährt... An Schlaf war für mich nicht zu denken...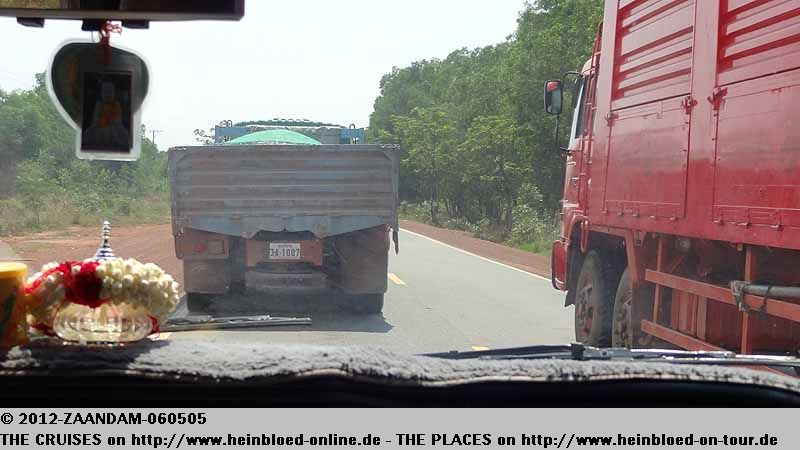 And if I hated something it was passing by following another truck... I was unable to think of sleeping...

Sometimes you saw some slim white cows...

Zwischendurch die mageren weißen Kühe...
Und ein paar Farmen.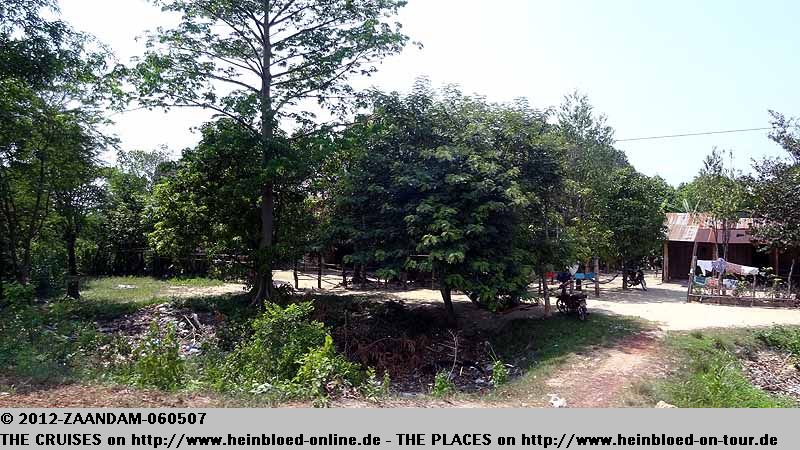 and few farms.

Even the buses passed. The ride would be 7-8 USD only and lasts 4 hours. They plan to resume the passenger train service in 2013. How much I would love to use the high-speed-boat from Siem Reap to Phnom Penh and than take the train.... But just the boat ride would have been six hours.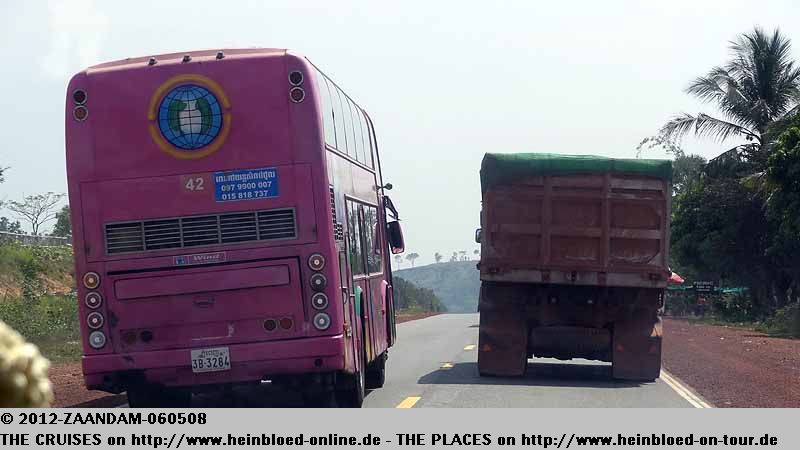 Sogar der Bus überholt. Die Fahrt hätte übrigens nur 7-8 USD gekostet und vier Stunden gedauert. Ein Personenverkehr auf der Eisenbahn wird vsl. 2013 wieder aufgenommen. Wie gerne hätte ich das Schnellboot von Siem Reap nach Phnom Penh genommen und ... aber das hätte leider sechs Stunden alleine auf dem Boot gedauert.
Und überall die Verkaufsstände für den Moped-Treibstoff. Flaschenweise. Wenn da mal ein Auto reinkracht.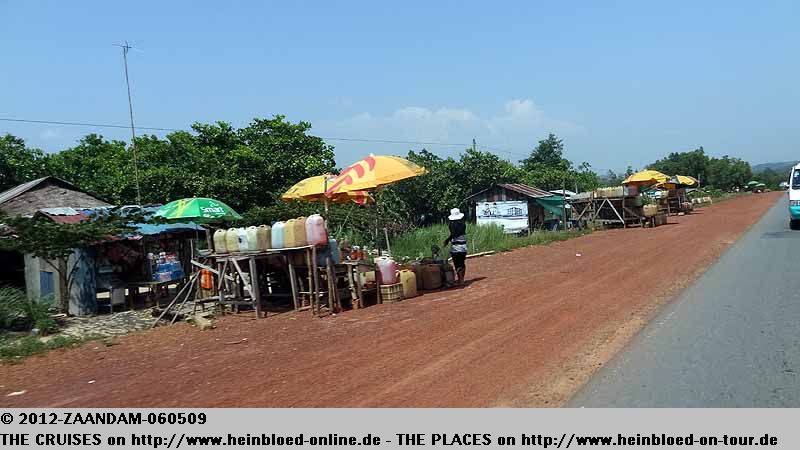 And everywhere the sales outlets for the moped-fuel. By bottle. Wondering what happens if a car crashes into.

Improvisation was all.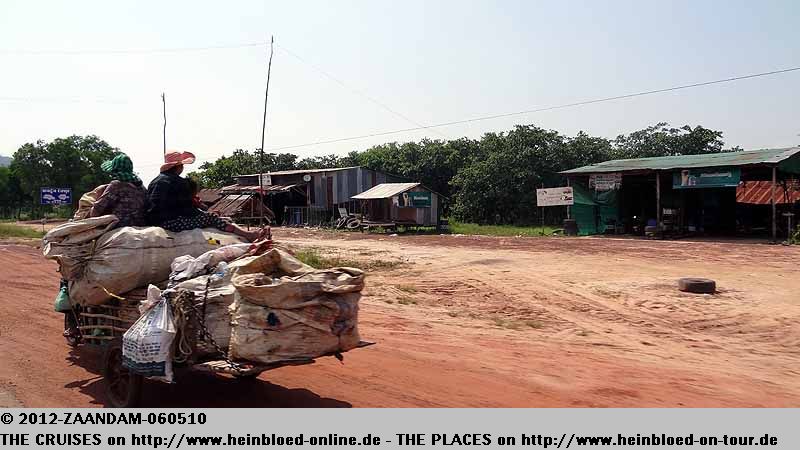 Improvisation ist alles.
Gelegentlich auch mal ein Schild, dass wir wissen, dass wir richtig sind.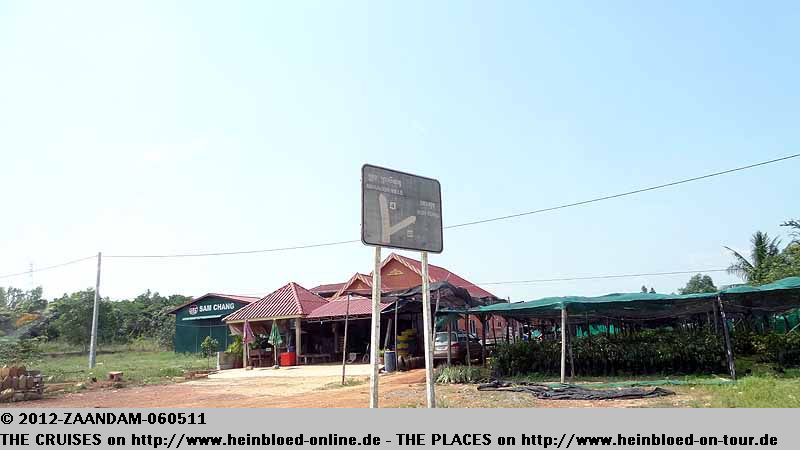 Occasionally a sign that you knew that you were on the right way.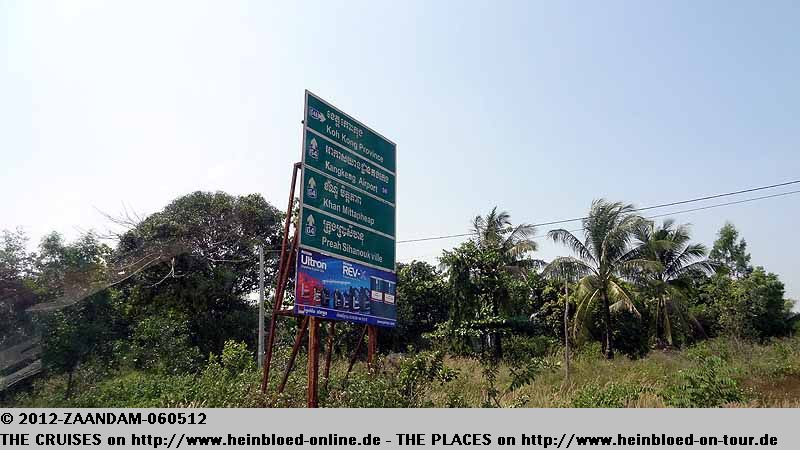 Meine Mutter nutzt die Zeit Bruno ein paar Massagetechniken beizubringen.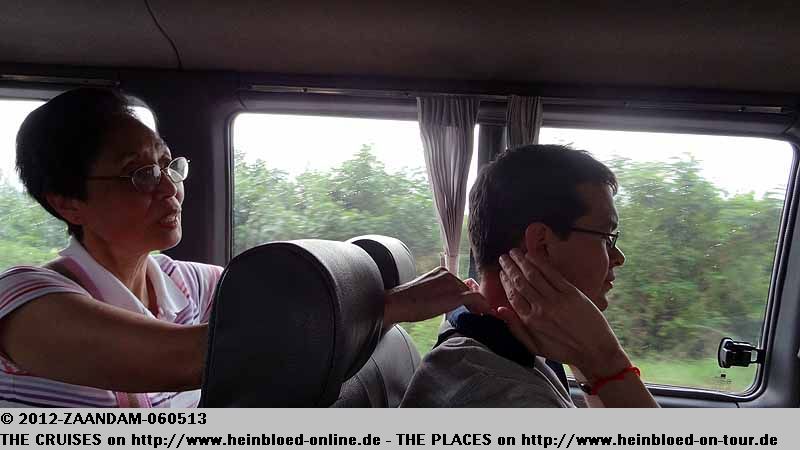 My mother use the time to show Bruno some massage techniques.

He tried to use them immediately.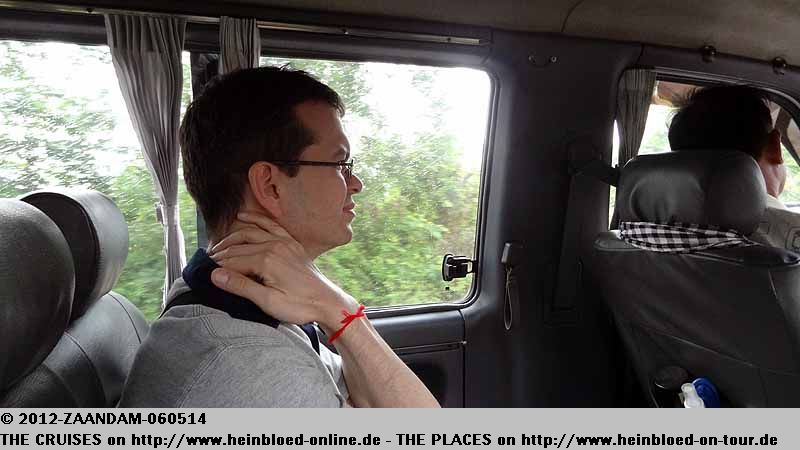 Er versucht sie sofort anzuwenden.
Zwischendurch gibt es auch einen Regenschauer.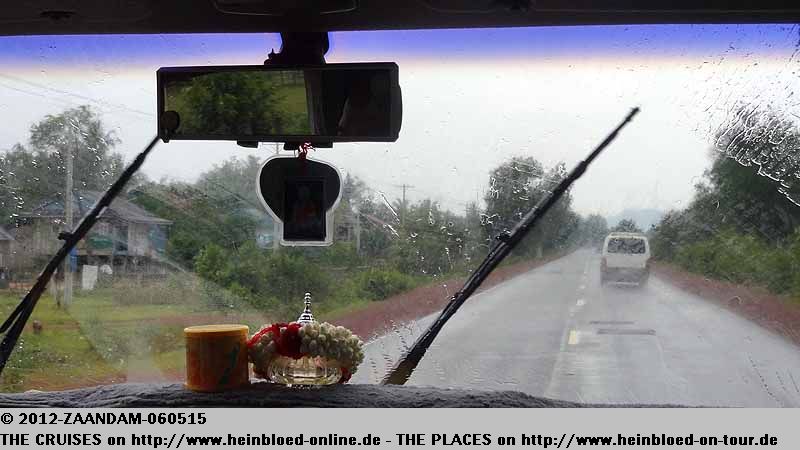 We also had a rain shower.

When it was over everything was mud.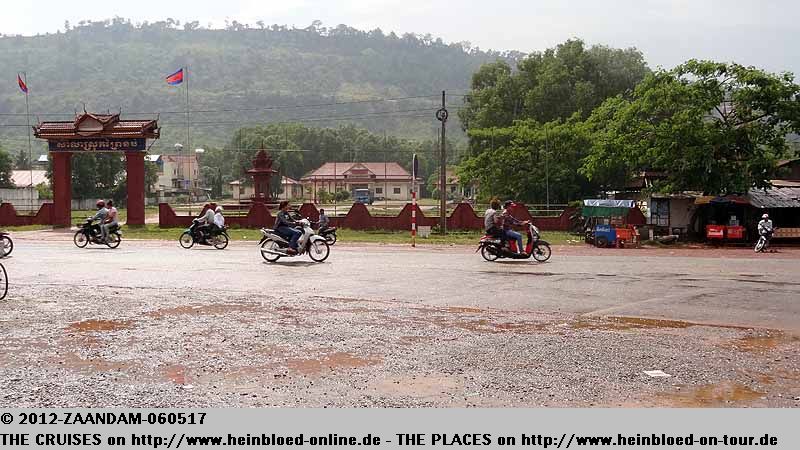 Und als es vorbei ist, ist alles Match.
Nach 2/3 hält unser Fahrer kurz an einer Tankstelle wohl mit der akzeptabelsten Toilette zwischen Phnom Penh und Sihanoukville. Besser war jedoch meine Strategie: nichts zu trinken und somit nicht zu müssen. So bleibe ich im Auto und gucke mir den Ort an. Bauern als Stauen...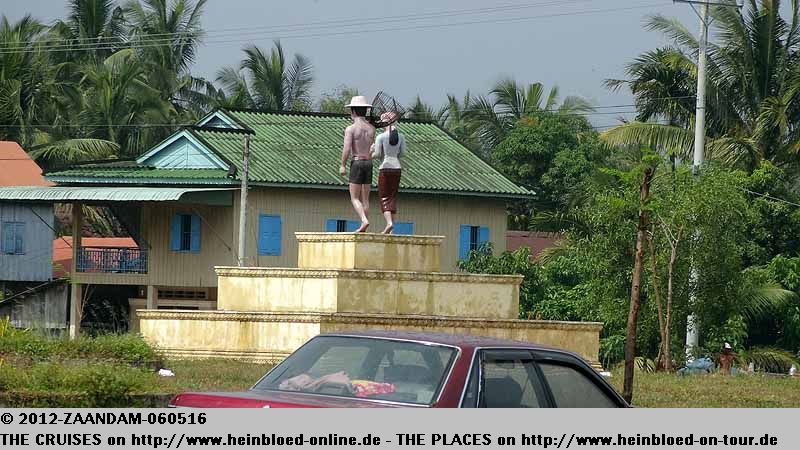 After 2/3 our driver stopped at a gas station with some acceptable toilets on the way from Phnom Penh to Sihanoukville. I thought that my strategy was much better: do not drink so you must not pee. So I stayed in the car and looked around in the village. Farmers at statues...

Cows as statues....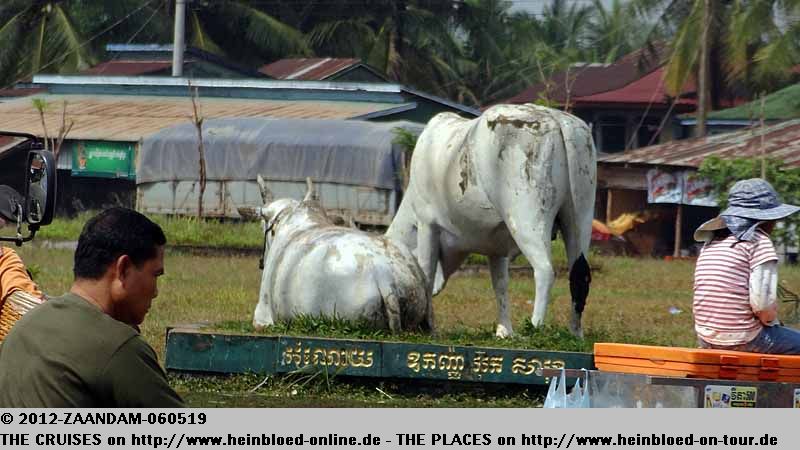 Kühe als Statuen...
Sobald ein Mini-Bus hält, kommen alle möglichen Straßenhändler, um etwas zu verkaufen.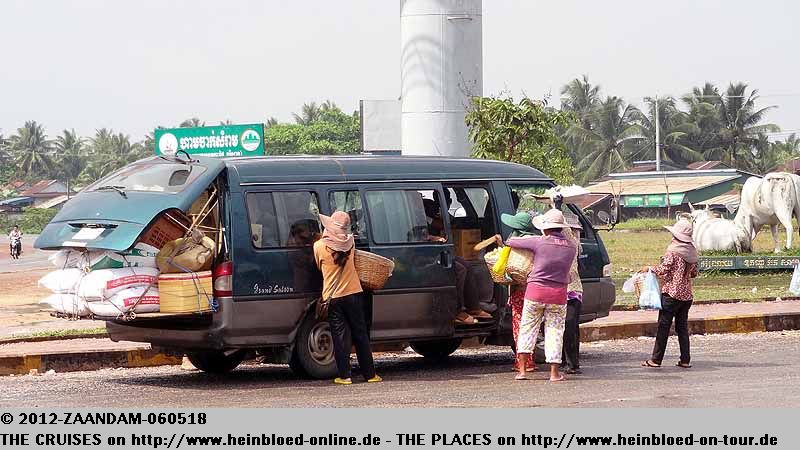 When a mini-bus stopped all the street-dealers appeared to sell something.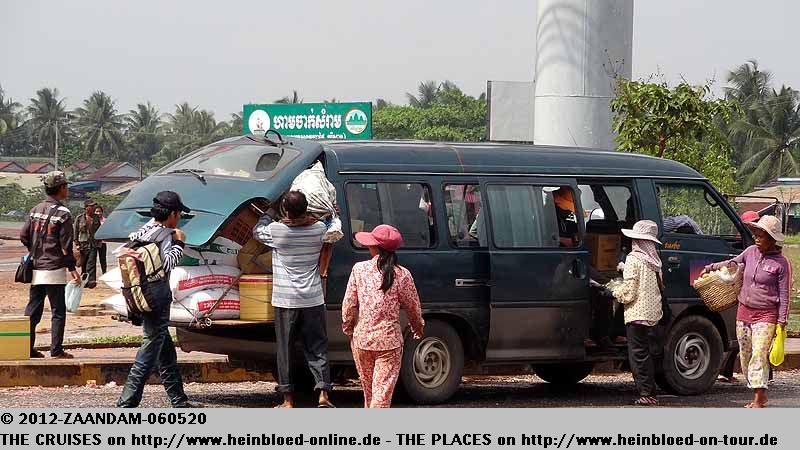 Nun müssen wir noch die Maut entrichten.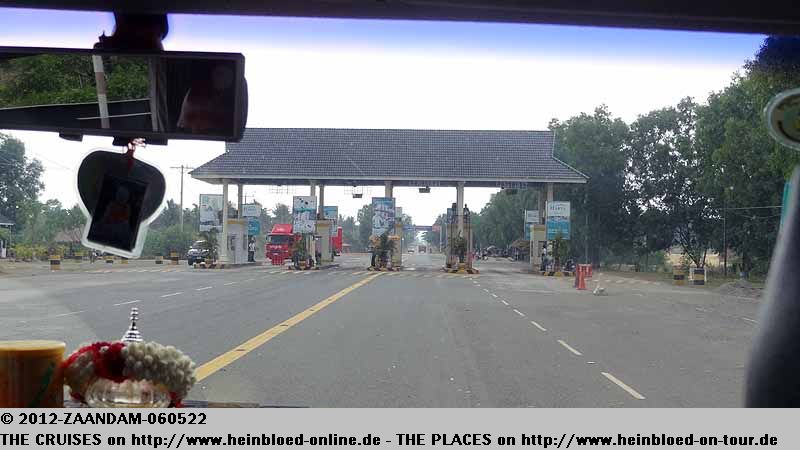 Now we have to pay the toll.

To wish us a safe trip was unnecessary: We were sailing Holland America Line.

Uns eine sichere Reise zu wünschen ist ja schon fast überflüssig: Wir fahren ja Holland America Line.
Die Landschaft hat sich verändert. Eine andere Vegetation und alles hügeliger.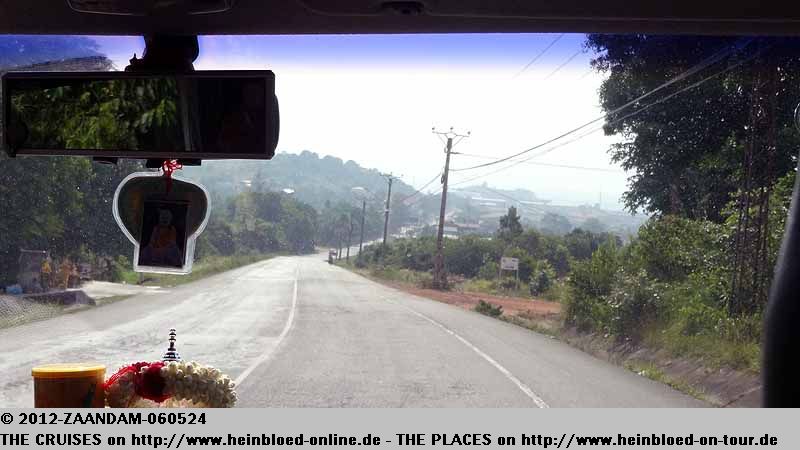 The landscape changed. Another kind of vegetation and more hilly.

And the silhouette of our ZAANDAM in the dust in the rear. Just before we passed the airport. The flight from Siem Reap just arrived and we would have made it but so we had a chance to see some of Phnom Penh and the landscape.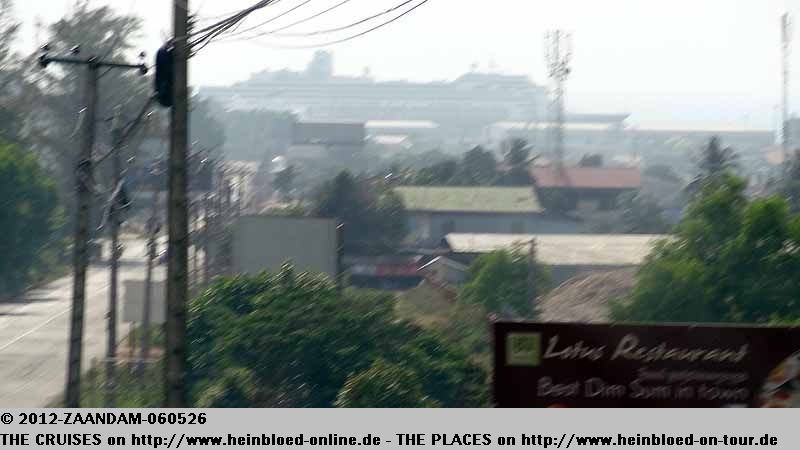 Und die Silhouettte unserer ZAANDAM ist im Dunst hinten zu erkennen. Kurz zuvor kamen wir am Flughafen vorbei. Die Maschine aus Siem Reap ist wohl gerade gelandet und wir hätten es geschafft, aber so haben wir etwas von Phnom Penh und der Landschaft gesehen.
Es geht noch durch den Ort bis zum Hafen.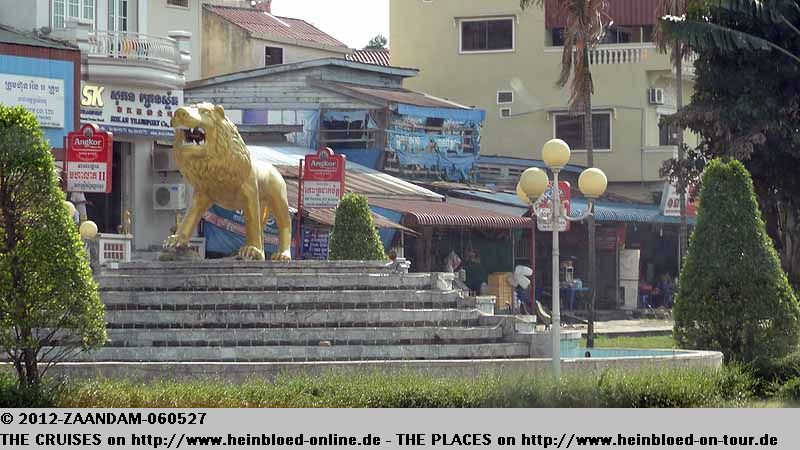 We went through the town to the port.

Our driver was not allowed to enter the port to the ship. But he tried it. Thank you for the ride with may new experiences.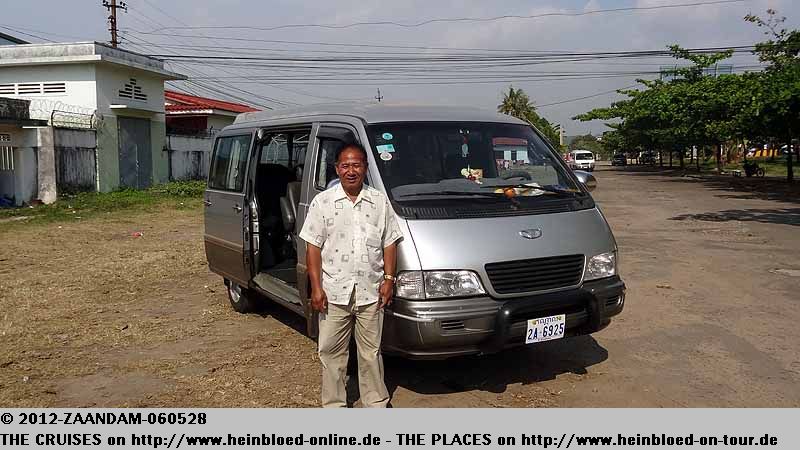 Unser Fahrer darf uns leider nicht bis zum Schiff fahren. Aber er hat es probiert. Vielen Dank für die erlebnisreiche Fahrt.