Scroll down for English explanations - alternates with German explanations.

Zunächst mal wieder ein paar Aufnahmen von meiner ZAANDAM, die im Laufe des Tages gemacht wurden.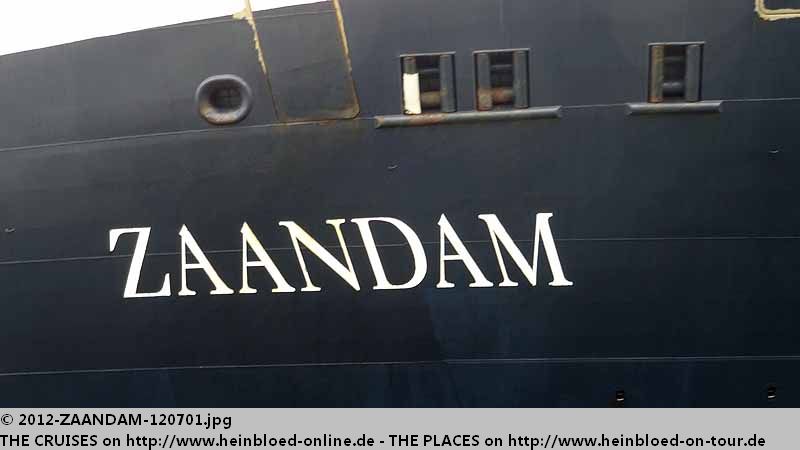 First of all again few pictures from my ZAANDAM which I took during the day.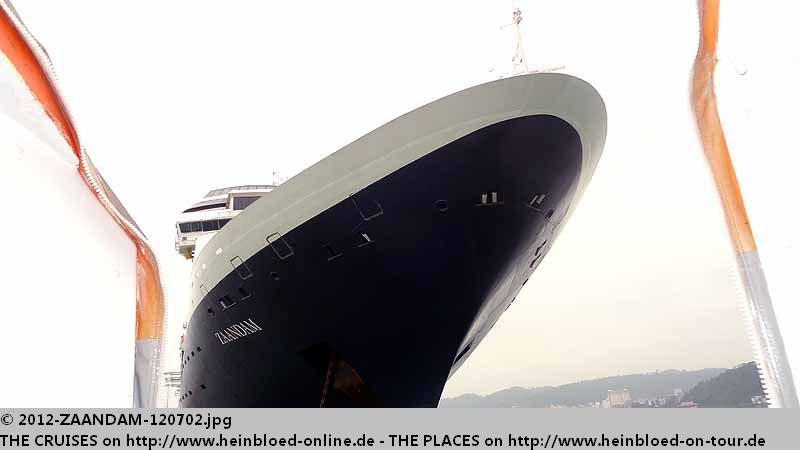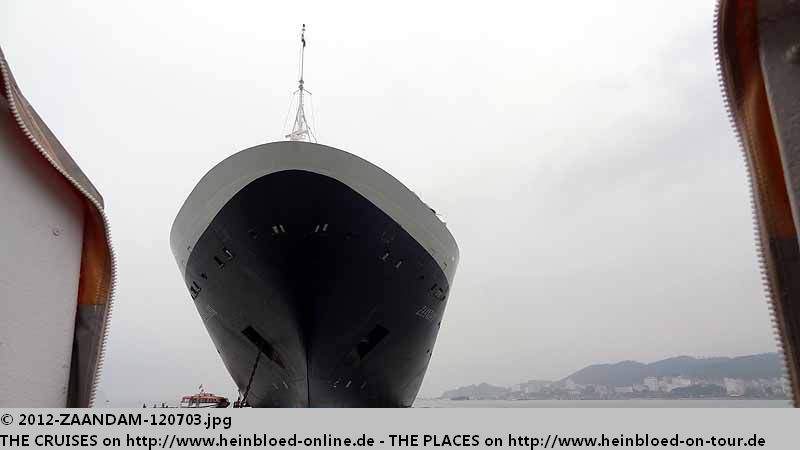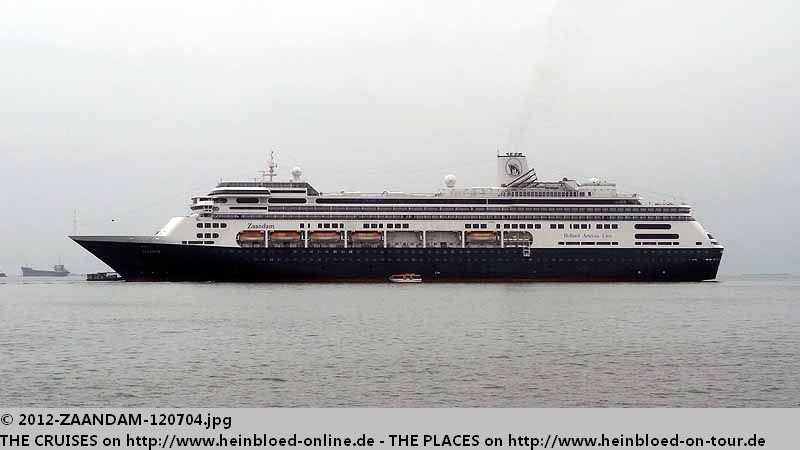 So so... alle anderen Dschunken dürfen direkt anlegen. Nur ich darf mit meiner mal wieder nicht. Die Schiffsausflügler dürfen nämlich direkt auf die Dschunken steigen.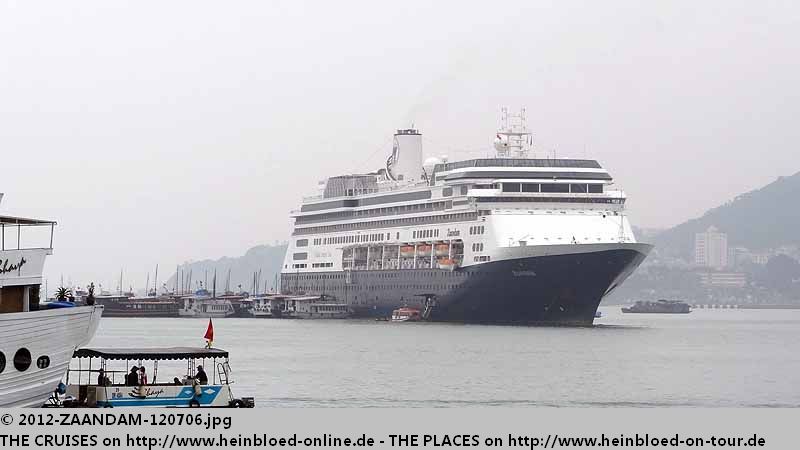 Well... all other Junks were allowed to board directly. Only I was not allowed with mine. The ship's tour guests could board directly the Junks.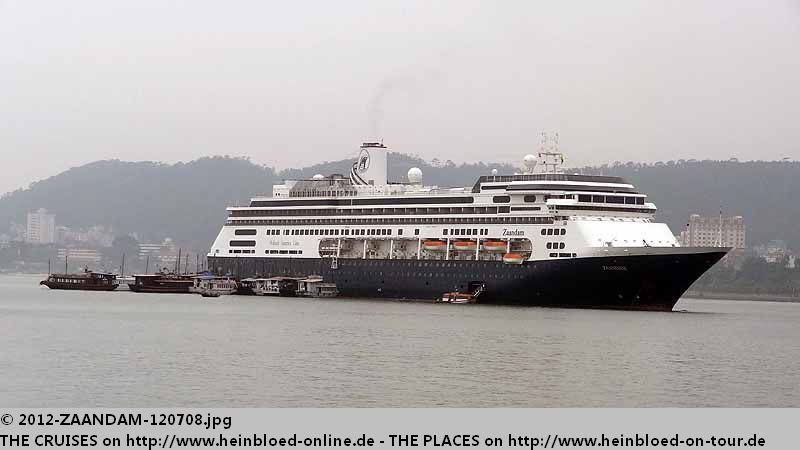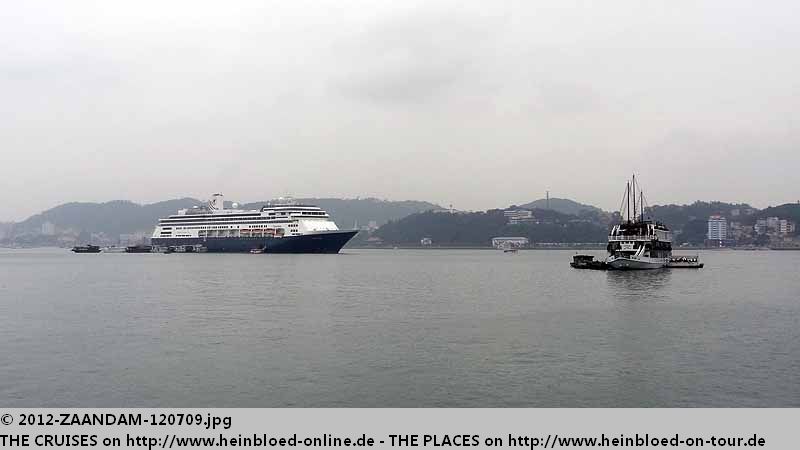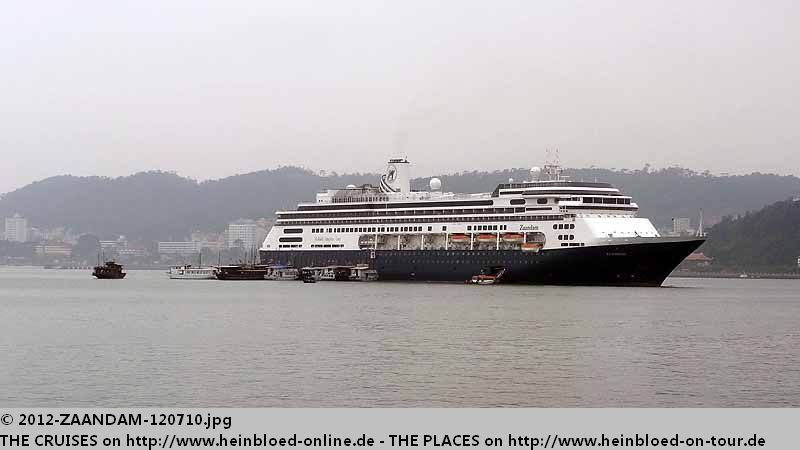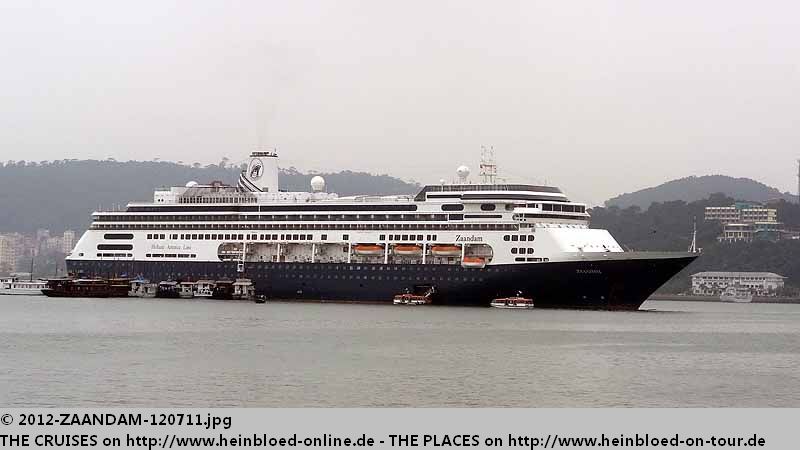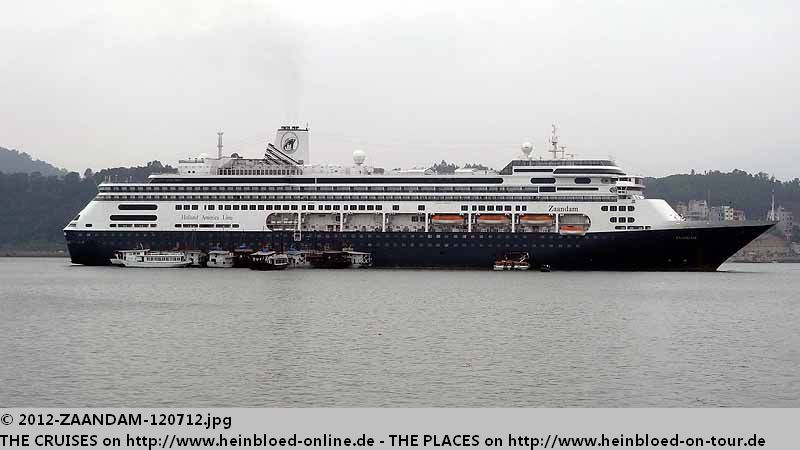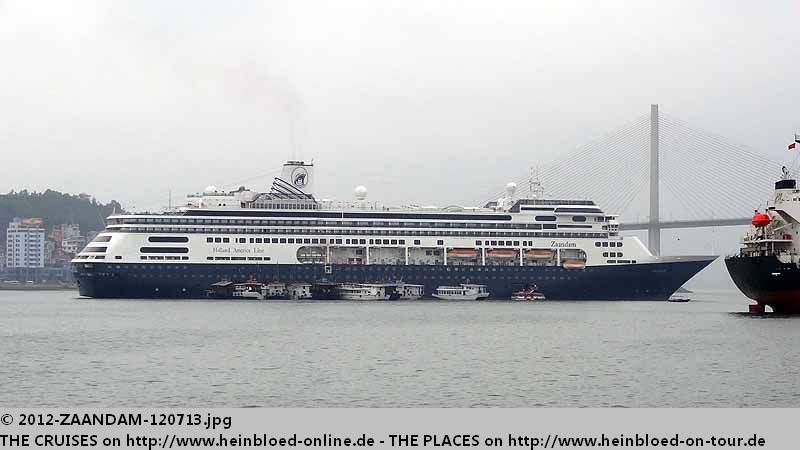 Later we saw why we were not allowed anymore to dock: As we returned to the port after it became dark we could not dock anymore because there was no more bridge at the aft. The ship's tour guests were already back the afternoon. The Captain was right: it was too dangerous to dock in the darkness.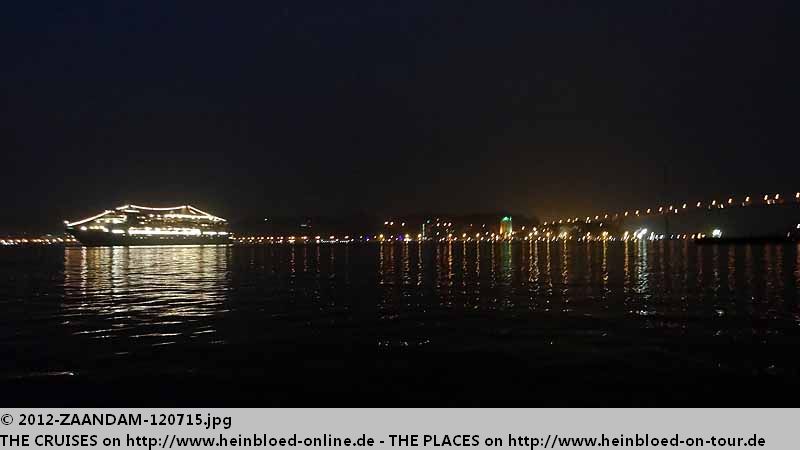 Später sehen wir auch warum wir nicht mehr durften: Da wir erst nach Einbruch der Dunkelheit in den Hafen zurückfahren, dürfen wir nicht mehr anlegen, weil die hintere Brücke wieder abgebaut wurde. Die Schiffsausflügler waren nämlich schon nachmittags wieder zurück. Der Kapitän hatte also Recht: im Dunkeln wäre das Anlegemanöver zu gefährlich geworden.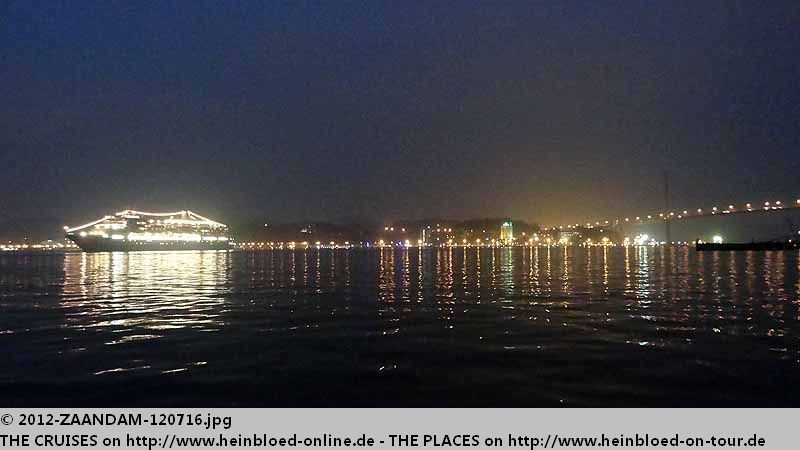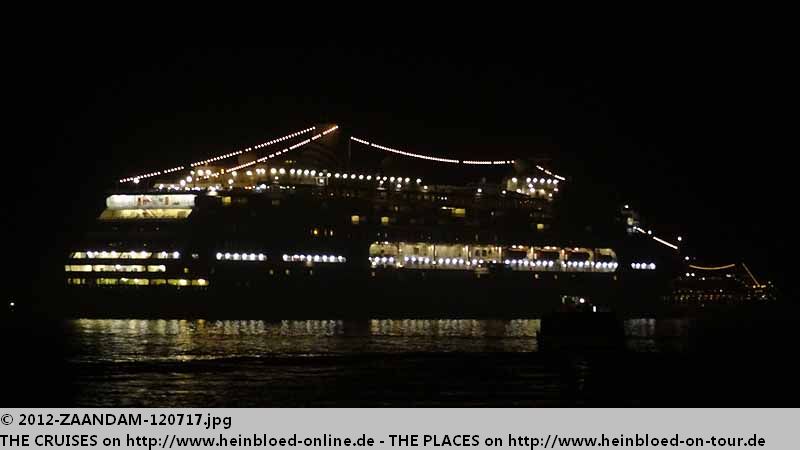 Eine alte Autofähre diente als Anleger für die Tenderboote.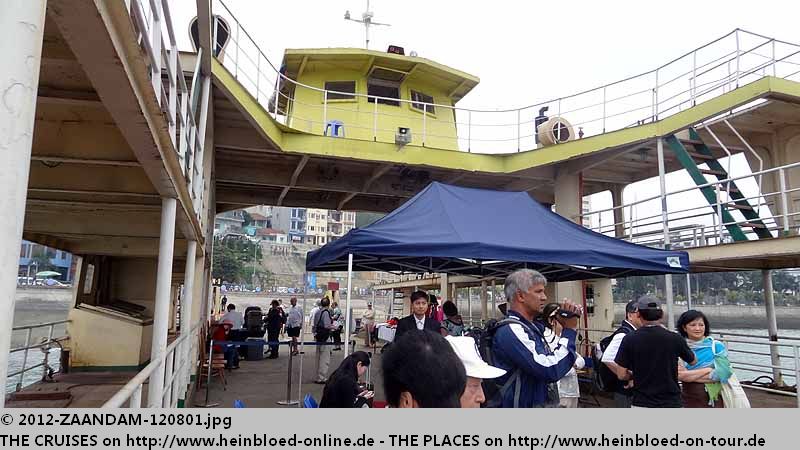 An old car ferry was used as pier for the tender boats.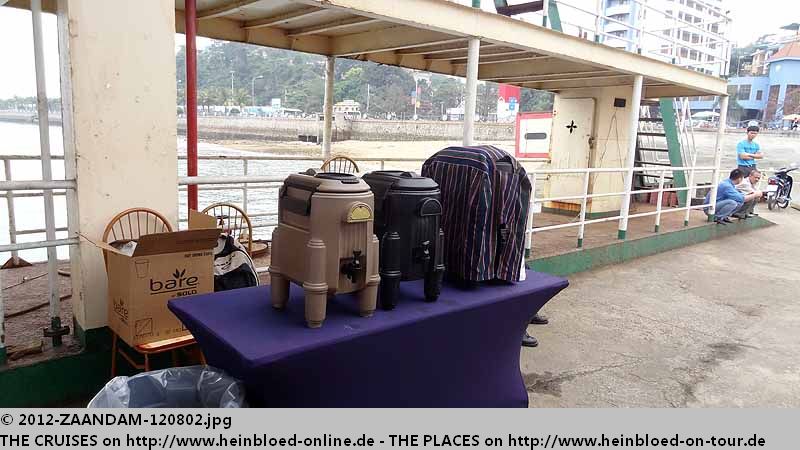 Es gab einen Verkaufsstand, an dem mein Vater etwas für Bruno entdeckt hatte und das er sofort für ihn kauft: ein besonderes Heilöl, das wir leider sonst nirgendst auf der ganzen Reise entdeckt haben.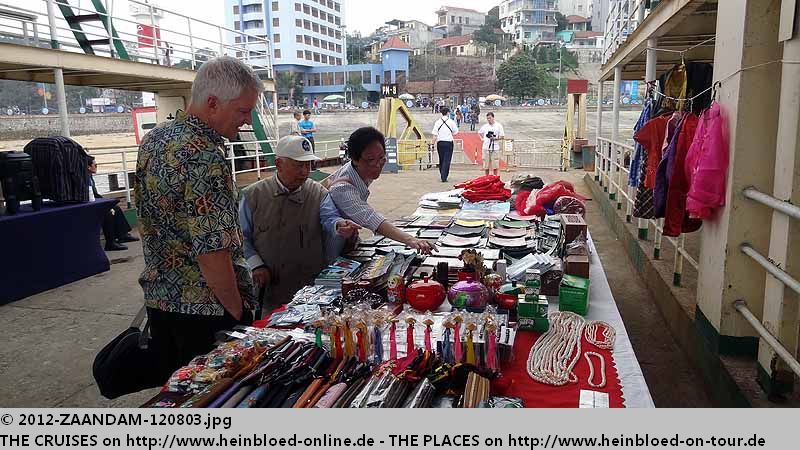 There was one sales point at which my father discovered something for Bruno and he bought him immediately: a special healing oil which we never found again on the voyage.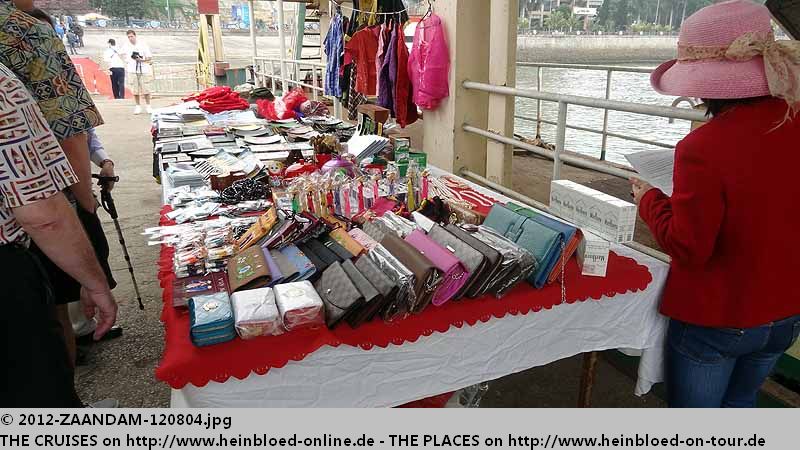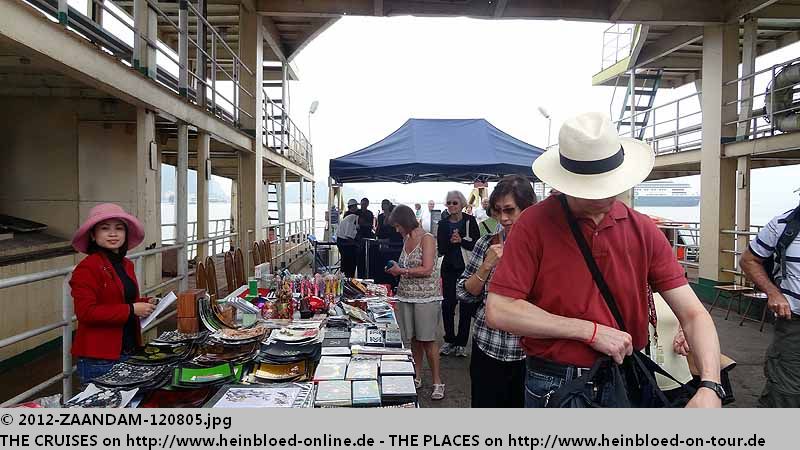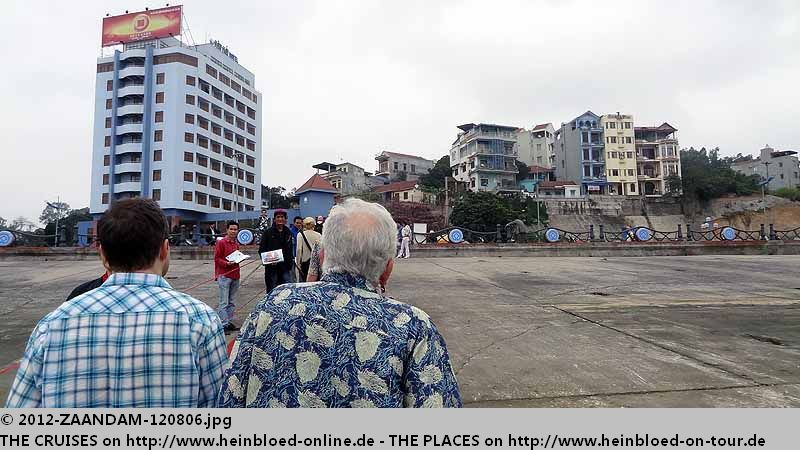 Wenigstens wurde für uns ein roter Teppich ausgelegt.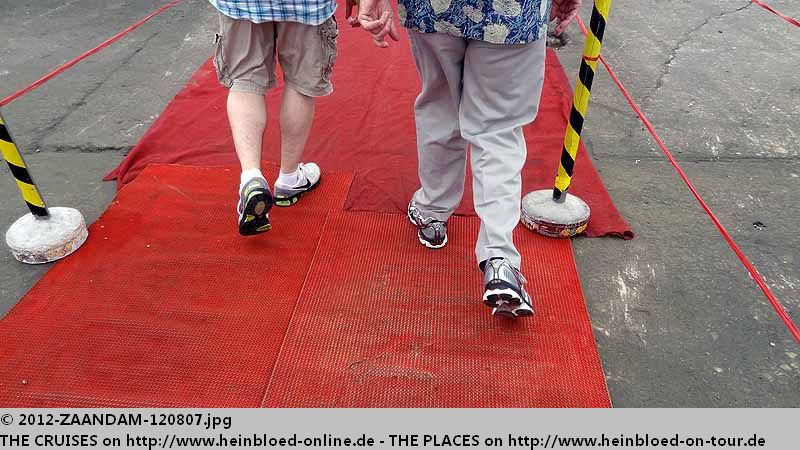 But they placed a red carpet for us.

When we prepared for the excursion we had to decide to use the smaller Princess bag or the larger Holland America bag. But he had to use the larger one.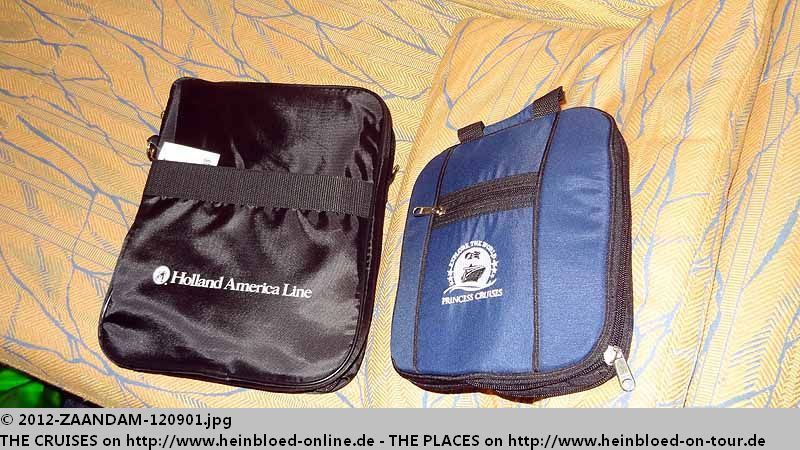 Für den Ausflug hatten wir uns entsprechend vorbereitet. Die kleine Princess-Tasche war doch zu klein, so dass wir die größere Holland America Tasche genommen haben.
22.30 Uhr müssen wir erst zurück sein.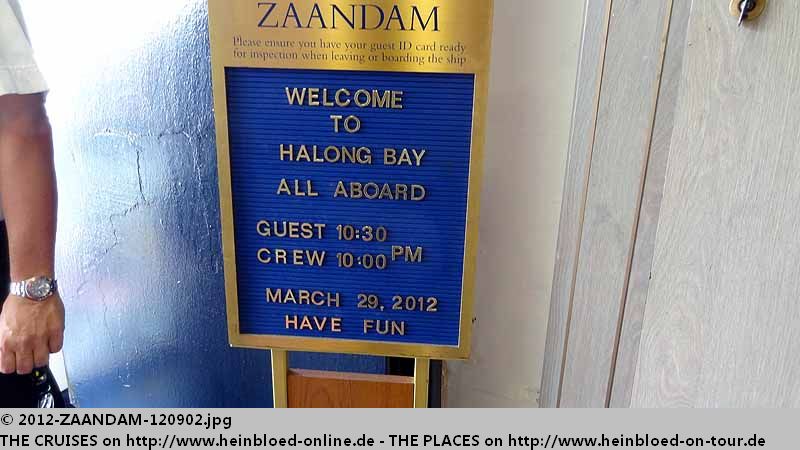 22.30 hrs we need to be back.

There was only one van for 25 USD available who could take us from one part of the town Bai Chai (where our tender boat docked) to the other part of town Hon Gai which is connected by the bridge. The ride was about 20 minutes.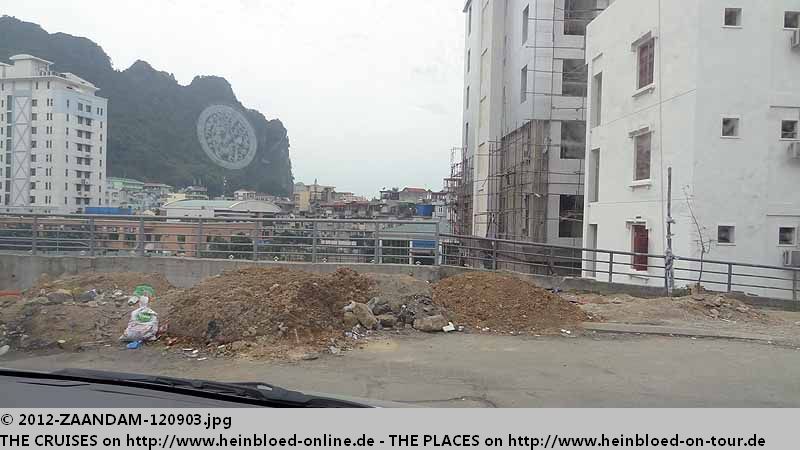 Es gab bloß einen Van vor Ort, der 25 USD verlangte, um uns von einer Seite der Stadt Bai Chai (dort legten die Tenderboote an) auf die andere Seite Hon Gai zu bringen, die mit einer Brücke miteinander verbunden waren. Die Fahrt dauerte ca. 20 Minuten.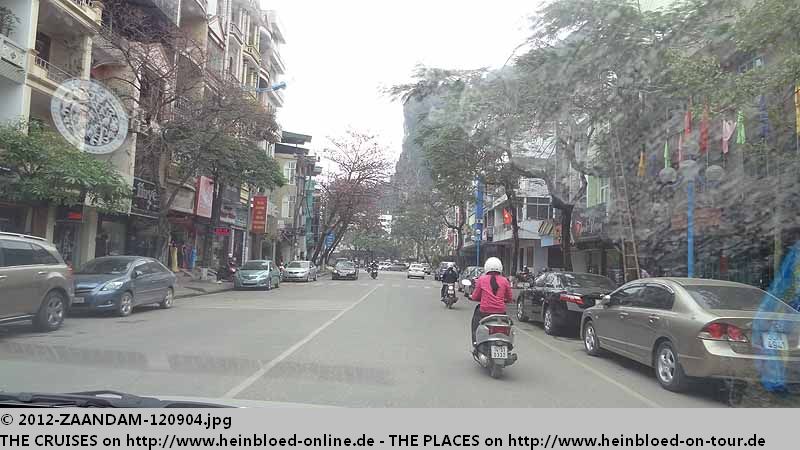 We would also book him for the return journey. Small problem: the broker wrote an unvalid phone number on the bill.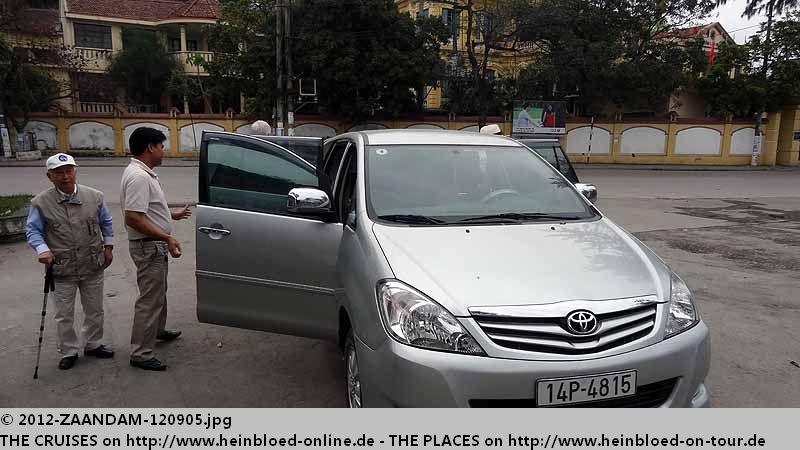 Wir hätten ihn ja sogar für die Rückfahrt gebucht. Kleines Problem: der Vermittlungsagent hatte leider eine ungültige Telefonnummer aufgeschrieben.
Nacheinander kamen mehrere Dschunken-Unternehmen.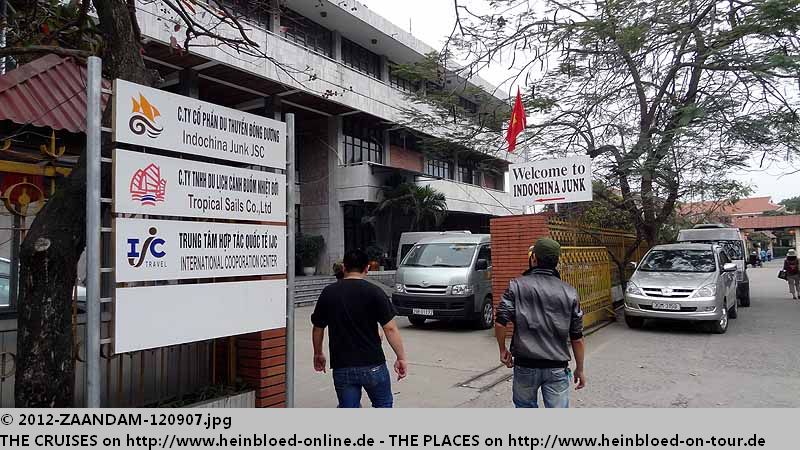 One junk-company followed the other.

At the end of the block: Victory Star Cruises.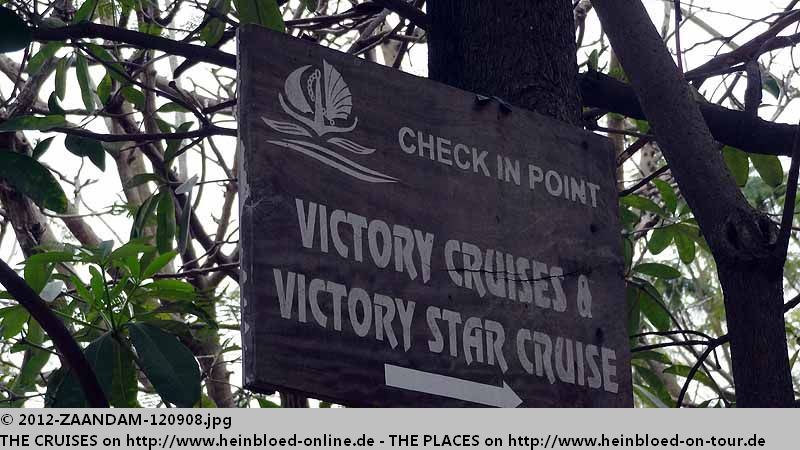 Am Ende des Blockes dann: Victory Star Cruises.
Bzw. Bai Tho, die quasi die Muttergesellschaft von Victory und Victory Star sind. Gebucht hatten wir bei
Cruises Halong Bay
, die als einziger auf meine Anforderungen eingegangen sind. Alle anderen haben meistens nicht mehr geantwortet, als ich den Schiffstyp beschrieben hatte, den ich wollte: An Bord sollten Kabinen sein, damit wir uns auch mal zurückziehen können.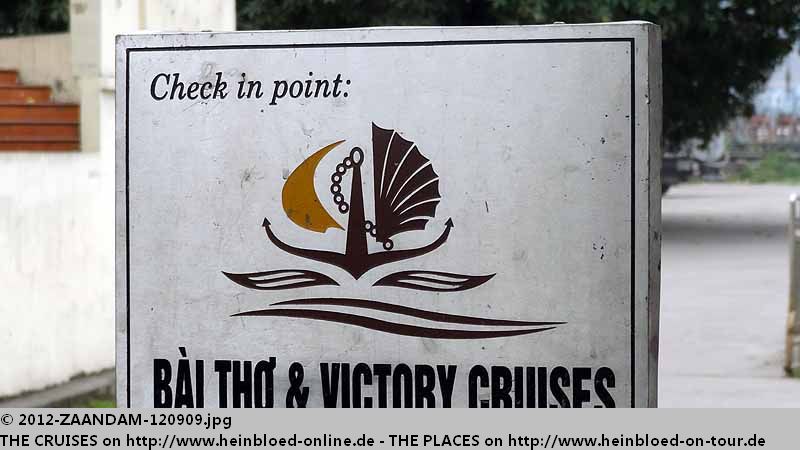 Respectively Bai Tho which was more or less the mother company of Victory and Victory Star. We booked with Cruises Halong Bay, who was the only one who accepted my demand. All others just did not answer anymore when I explained which kind of boat I would like to have: On board we should have cabins that we have an option to retire and have a rest.

The reception was most friendly and you were asked to have a seat until someone would collect us. Meanwhile you could make the final payment for the boat. The deposit went to the agent we booked with. The main part was for the boat company and the onboard consumption you pay directly onboard. For the transfer and onboard consumption you need cash (USD). All other could also be paid by credit card with some extra charges.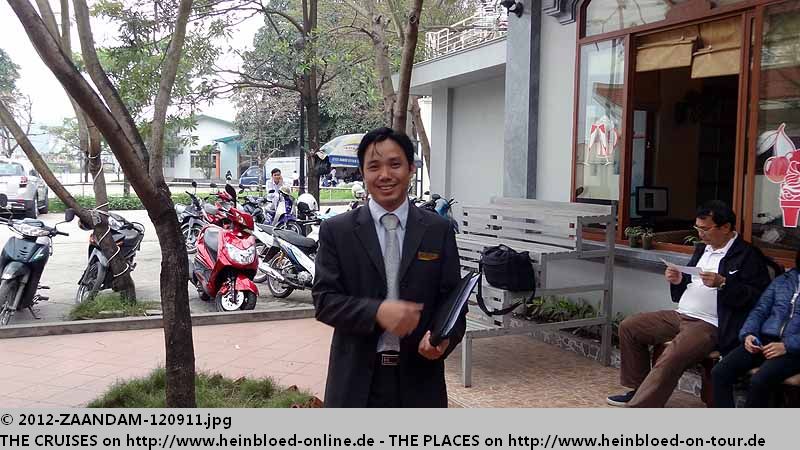 Man wurde freundlich empfangen und gebeten Platz zu nehmen, bis dass man abgeholt wird. Zwischenzeitlich konnten wir die Restzahlung für das Boot leisten. Die Anzahlung ging an die Agentur, über die wir gebucht hatten. Den Hauptanteil bekommt hier das Bootunternehmen und den Verzehr an Bord zahlt man auch direkt an Bord. Für die Transfers und den Verzehr an Bord zahlt man in bar (USD). Alle anderen Sachen konnte man mit der Kreditkarte mit einem Aufschlag zahlen.
Auf jeden Fall ist das rechts unser Führer, der auch Chinesisch sprach war, was daher gut für meine Eltern war. Er ist extra aus Hanoi gekommen, das ca. drei Stunden entfernt ist. Bis heute haben wir nicht herausbekommen, wie er eigentlich hieß.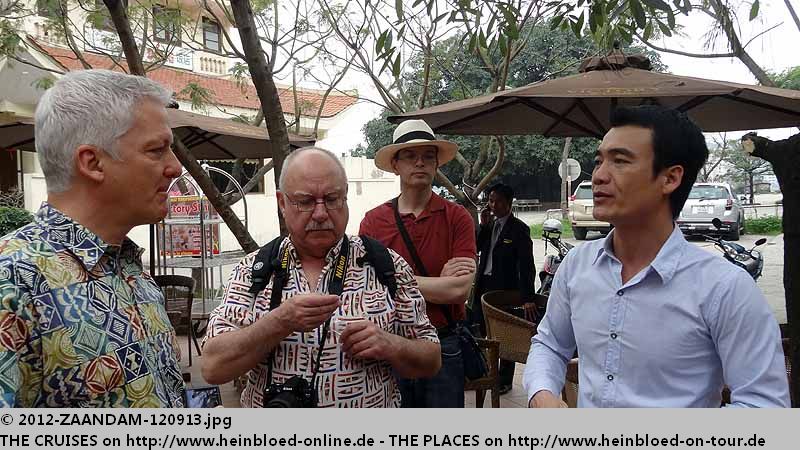 Anyhow to the right it was our tour-guide who also spoke some Chinese which was great for my parents. He came from Hanoi which was about 3 hours away. Until now we could not find out his name.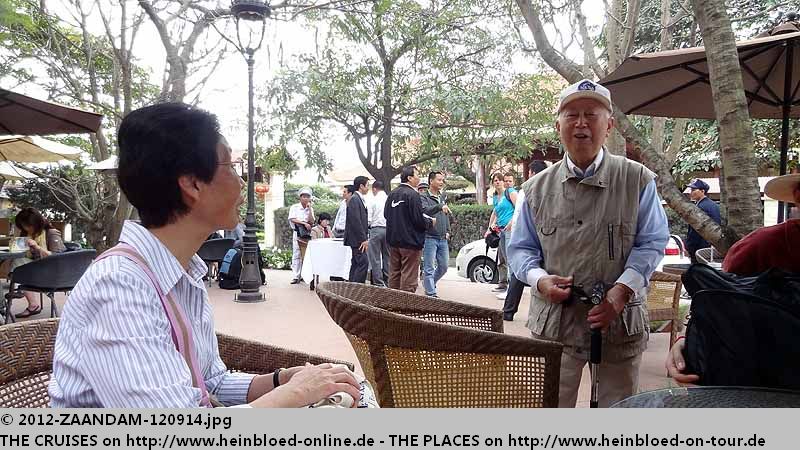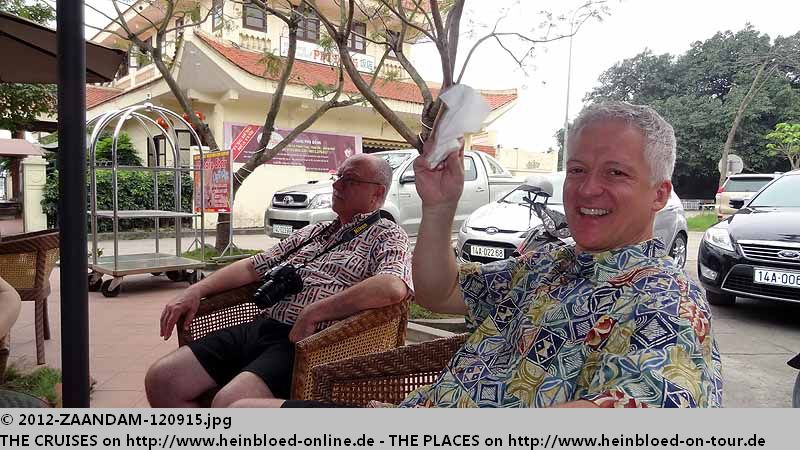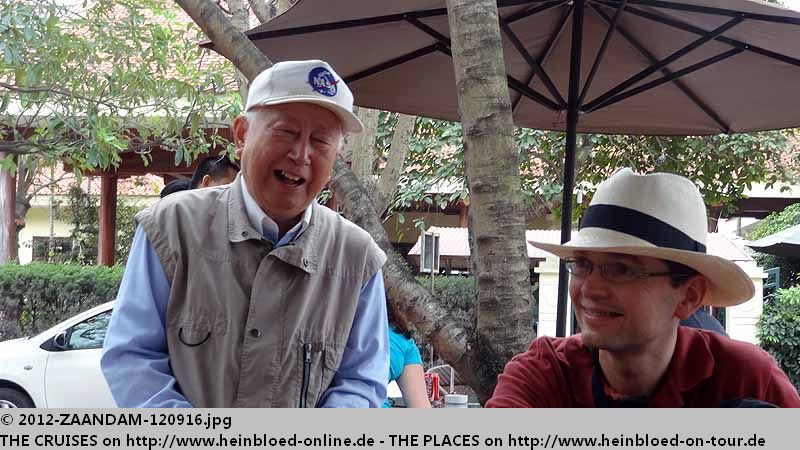 Our tour should started at 12.00 hrs. So we waited there until someone came to collect us.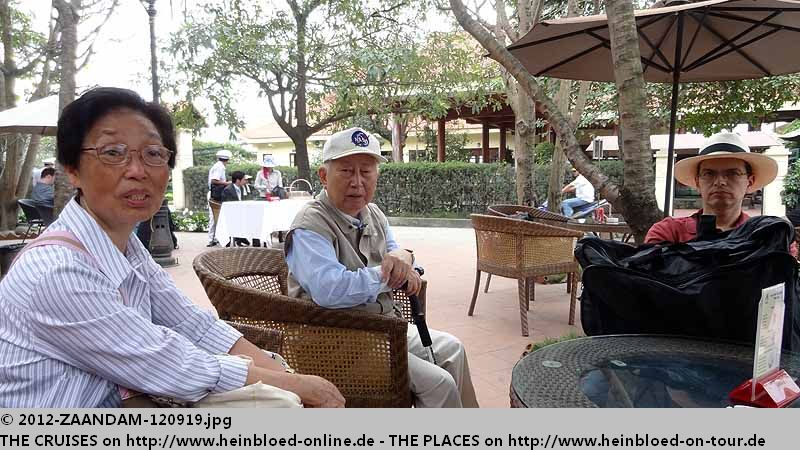 Die Fahrt beginnt erst um 12.00 Uhr. So warten wir geduldig, bis dass wir abgeholt werden.