Scroll down for English explanations - alternates with German explanations.

Ich erledige vieles nachts an der Rezeption. Hier liegen auch sieben Zeitungsversionen bereit.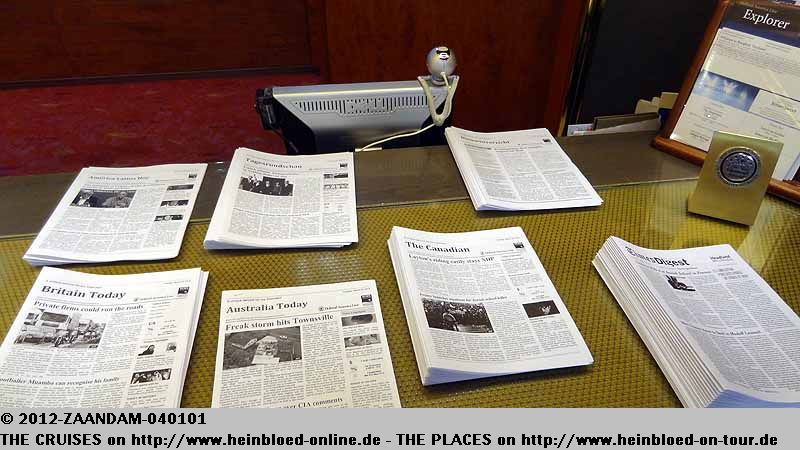 Many things I need to request I do it in the night time at the front desk. Here you find also all seven available newspaper versions.

Even a German. I got ahaed the port information for Sihanoukville as I wanted to be able to reach the port agent as well. Furthermore I need access to my cabin. When I declared that my regular card was in the cabin I got a card without imprint and for a single access to my cabin only.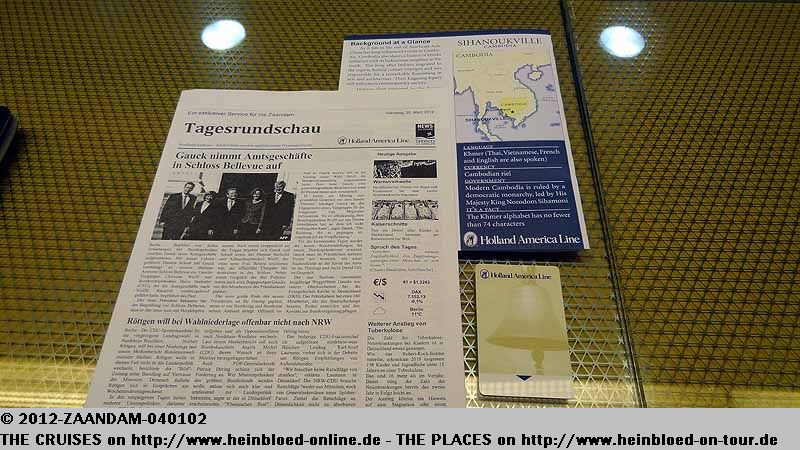 Sogar eine deutsche. Ich bekomme schon vorab die Hafeninformation für Sihanoukville. Schließlich will ich ja auch den Hafenagenten dort erreichen können. Außerdem brauchte ich eine Möglichkeit wieder in die Kabine zu kommen. Nach dem ich versichert habe, dass meine reguläre Karte in der Kabine ist, bekomme ich eine Karte ohne Aufdruck und nur einmal für unsere Tür gilt.
Das ist übrigens Shirley, die jede Nacht geduldig, freundlich und professionell alle Fragen aller Nachteulen inkl. mir, beantwortet.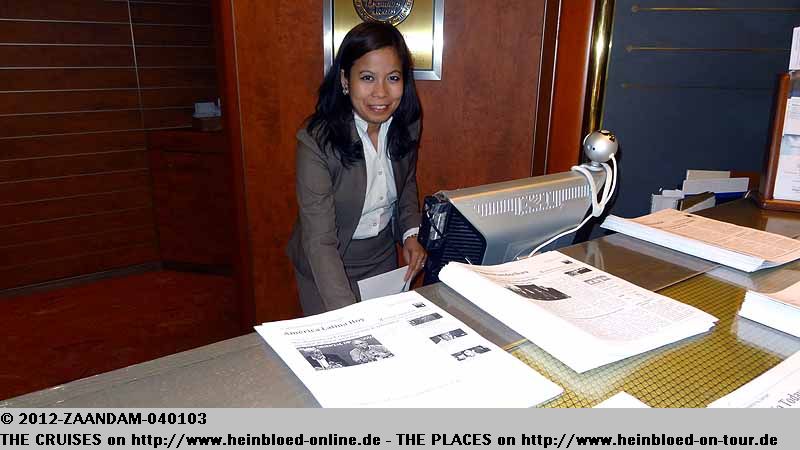 By the way I would like to introduce Shirley who was there night-by-night to answer with a lot of patience, friendliness and professionalism all questions such night-owls like me had.

As we will not be there for two days we asked for some major repairs in the cabin. The water pressure of our shower was extremely low.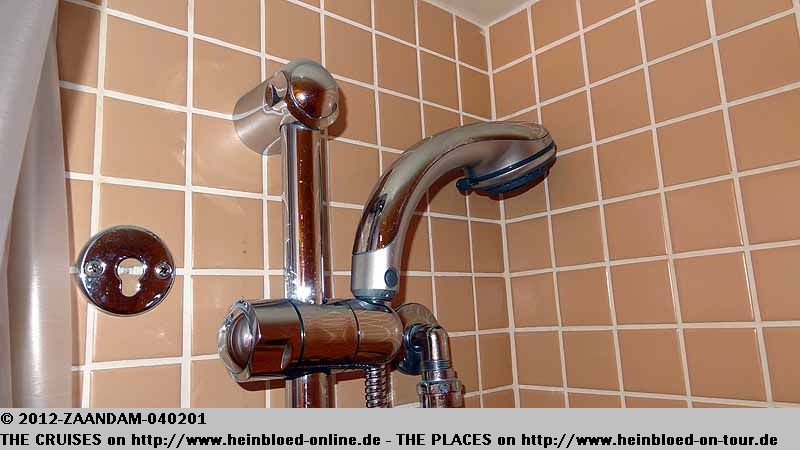 Da wir zwei Tage nicht da sind, lassen wir mal umfangreichere Reperaturarbeiten in der Kabine durchführen. Uns ist der Wasserdruck unserer Dusche zu schwach.
Dann stimmt der Wasserstand in der Toilette nicht. Man sieht den "schwarzen" Rand = Soll-Wasserstand. Aber anscheinend ist es so warm, dass das Wasser sehr schnell verdunstet. Daher ist unsere WC-Spülung besonders laut, weil ja nichts da ist, was abgezogen werden kann. Auch das lassen wir reparieren.

The water level in the toilet was not right. You see the "black" line = Should water level. But obviously it was too warm that the water evaporated so quickly. So our toilet-flush was extremely loud because there was nothing to flush. We requested the repair too.

Sorry: nothing to report.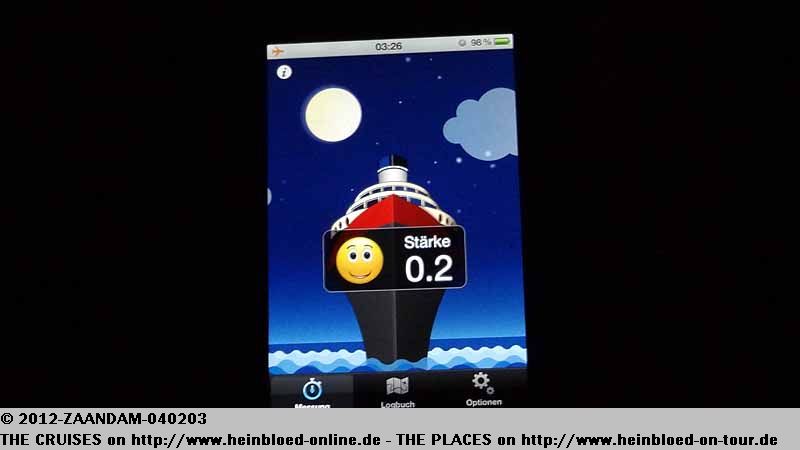 Tut mir leid: immer noch nichts zu melden.
Wir sind erstaunt, wie gut (derzeit) die Klimaanlage funktioniert.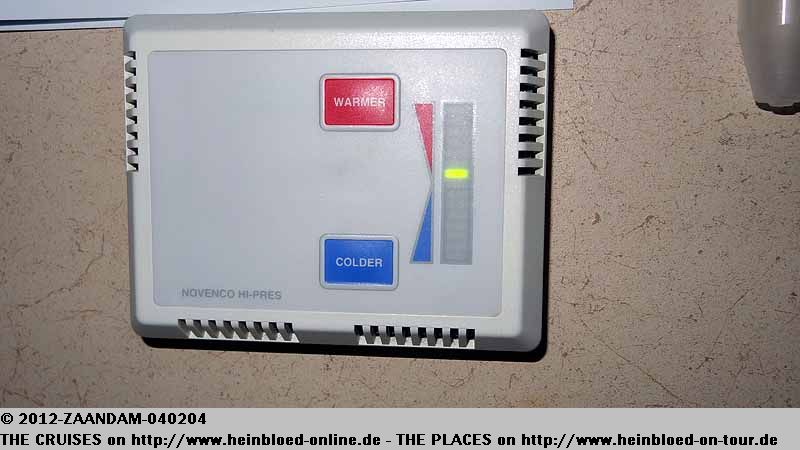 We were surprised how well (currently) the air-condition worked.

I took a picutre while the cabin was illuminated inside and with open curtains. If you look intensively you can see few things in the cabins. So all around the illuminated lamp.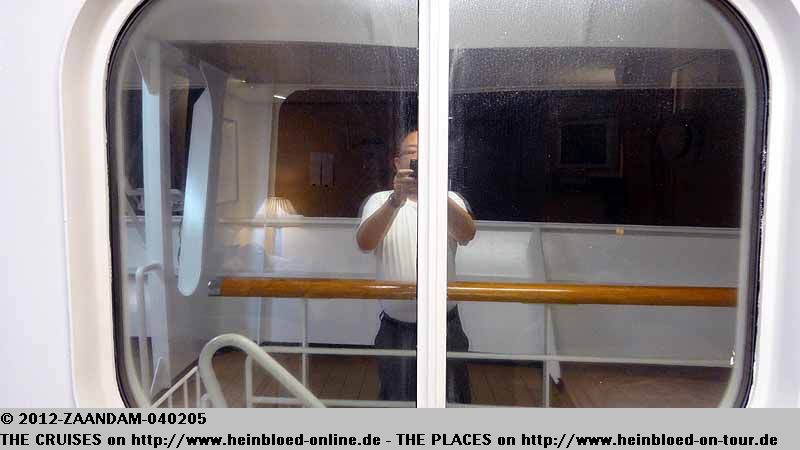 Ich fotografiere mal in die Kabine bei geöffneten Vorhängen und eingeschaltetem Licht: Man kann wenn man sich anstrengt doch einiges in der Kabine erkennen. So sieht man alles rund um die beleuchtete Lampe.
Es gibt keine Schuhschwämmchen in der Kabine. Stattdessen gibt es einen kostenlosen Schuhputzdienst.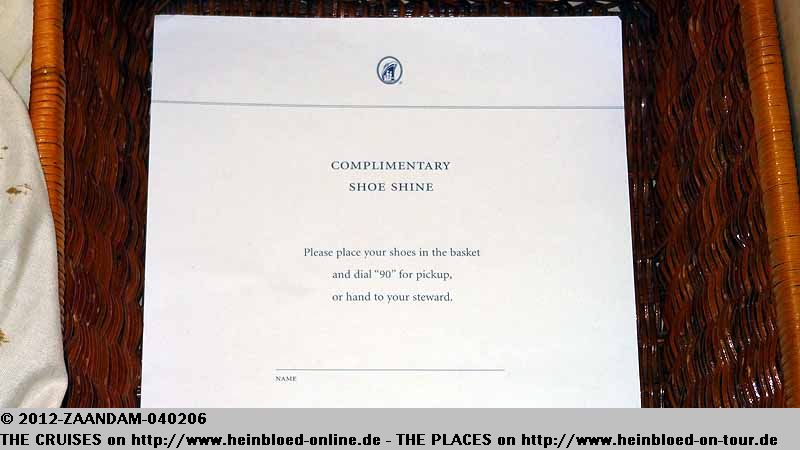 There was no shoe mint in the cabin. Instead we had a complimentary shoe shine service.

When I was clearing the table I also found our laundry offer in the cabin.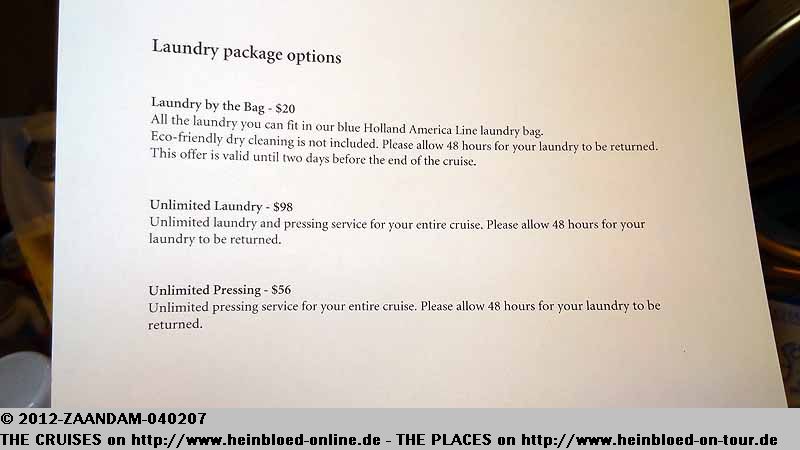 Beim Aufräumen stelle ich fest, dass wir doch das Wäscheangebot in der Kabine hatten.
Und sogar nochmals die wichtigsten Informationen an Bord in Deutsch.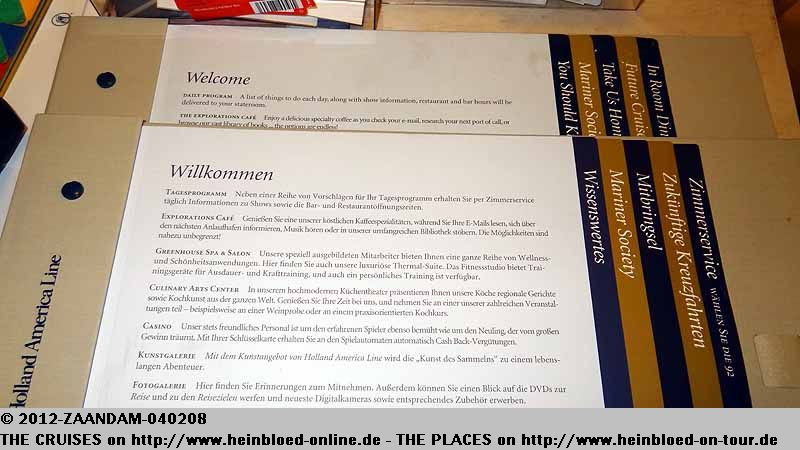 We even had the major information for the ship's life in German.

All necessary information for our stewards that we will not be for two days onboard. So they do need to provide all the two days turn-down and morning service. Further more we offered them to help themselves with our sweets. But the blue chicks obviously looked to strange to them as well.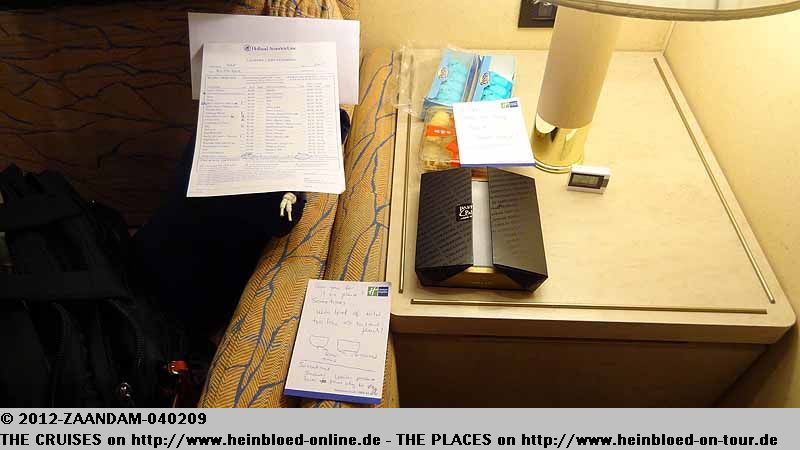 Alle notwendigen Informationen für unsere Stewards, dass wir zwei Tage nicht da sind. So brauchen sie nicht ständig morgens und abends bei uns die Betten zu machen. Außerdem bieten wir ihnen an, dass sie sich an unseren Süßigleiten bedienen können. Aber die blauen Küken sind ihnen auch zu suspekt.
Ich gehe hoch ins Lido. 48 Stunden nach Einschiffung wurden die Büffets zur Selbstbedienung freigegeben.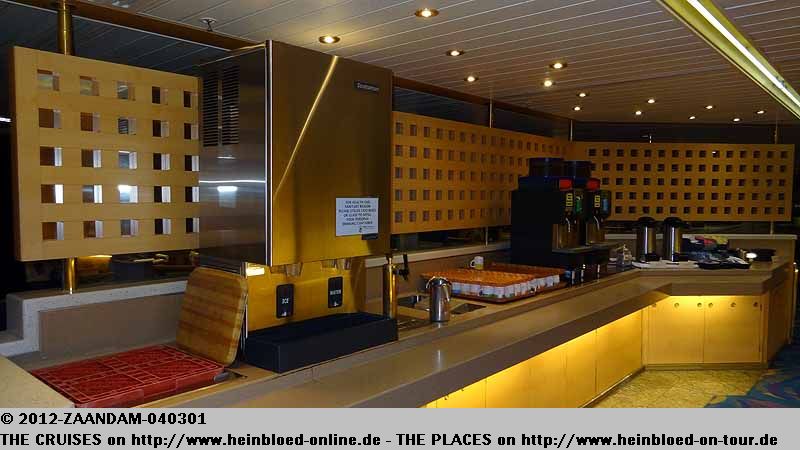 I went to the Lido. 48 hours after embarkation all buffets were opened for self-servies.

I got an iced tea. It did not taste. Not because I could not find a glass and had a cup instead.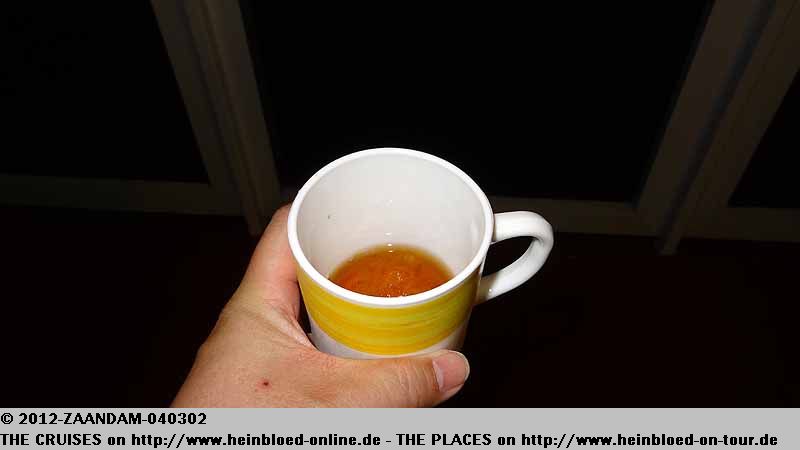 Ich hole mir einen Eistee. Er schmeckt nicht. Nicht weil ich kein Glas gefunden habe und eine Tasse benutzt genommen habe.
Sondern weil mir ein erstes Lächeln, ein freundliches "Good Morning Sir - How are you doing today? - What can I get for you?" (2. Tag: "Good Morning Mr Tien - Hope you are doing fine today? Can I get you an Iced Tea?") fehlte. Irgendwie war es schön in den letzten zwei Tagen schön, so morgens begrüßt zu werden. Das habe ich mal bei der Deutschen Bahn gelesen: Der kürzeste Weg zwischen zwei Menschen ist ein Lächeln. Für Alit stimmt es auf jeden Fall. Heute war es nur ein Iced Tea. Die letzten zwei Tage war es eher ein Energy Drink.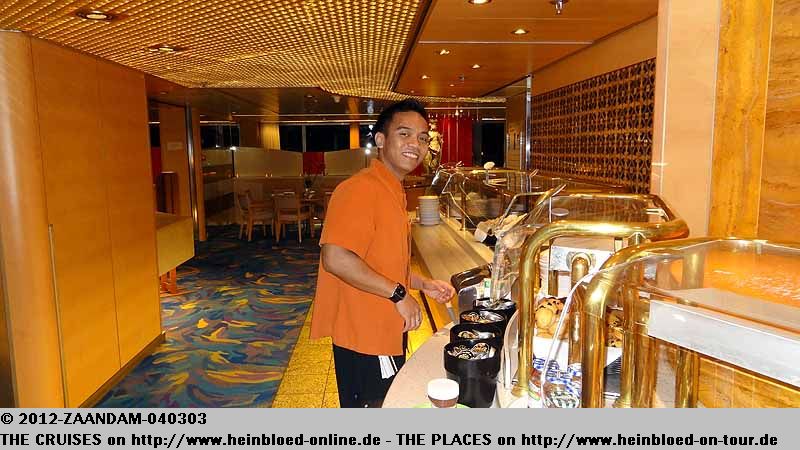 It was because a first smile, a friendly "Good Morning Sir - How are you doing today? - What can I get for you?" (2nd day: "Good Morning Mr Tien - Hope you are doing fine today? Can I get you an Iced Tea?") were missing. Somehow it was nice in the last two days to be greeted so nice in the morning. I read it somewhere with the German Railways: The shortest distance between two humans is a smile. You can say that it definately apply to Alit. Today it was only iced tea. The two days before it was more an energy drink.