Scroll down for English explanations - alternates with German explanations.

Der Fahrer kam dann aber: Xiao Ye. (Ye = Blatt... Xiao = Klein... Übliche Anrede, wenn jemand jünger ist, und nicht mit Herrn Ye angesprochen werden möchte, weil es ihm zu alt erscheint). In erster Linie hatten wir einen Fahrer bei
Sunny Sanya
bestellt. Sprachkenntnisse spielten ausnahmsweise eine untergeordnete Rolle, da ja drei von vier ja Chinesisch sprechen. Wir hätten aber einen englischsprachigen Reiseführer dazu bestellen können.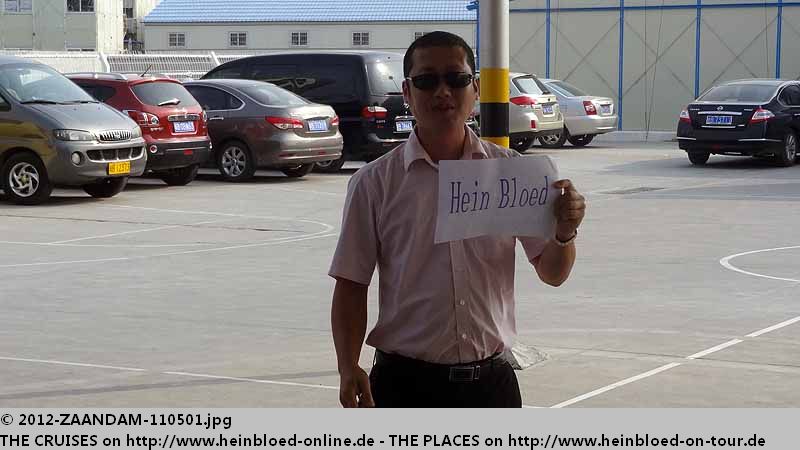 Finally the driver arrived: Xiao Ye. (Ye = leave... Xiao = Little... Popular address if you have someone younger and do not want to address Mr. Ye because it might make him too old). First of all we booked a driver with Sunny Sanya. Language skills was a minor request only as three of four speaks Chinese. But they offered us to book an English-speaking tour-guide additionally.

The ride was very diverting.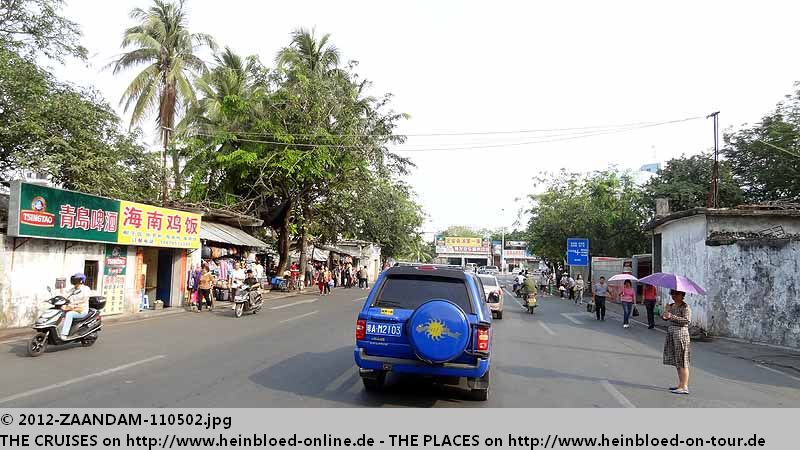 Die Fahrt war äußerst kurzweilig.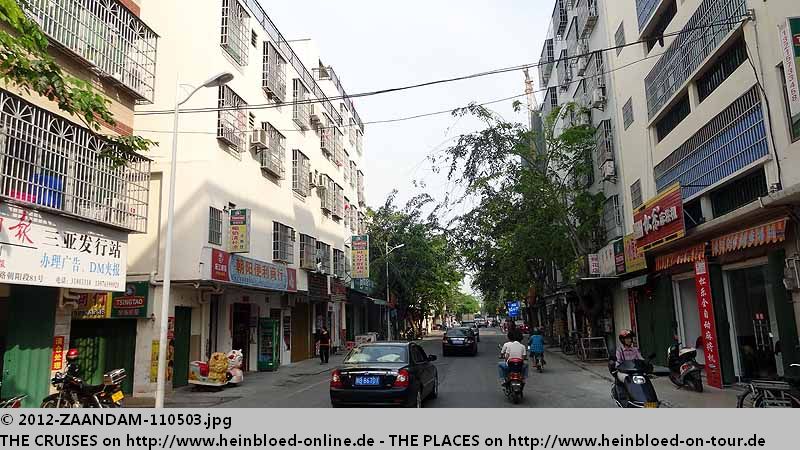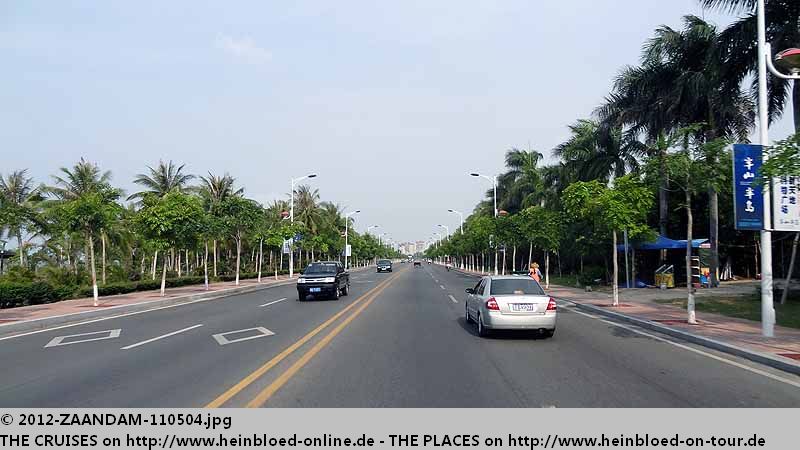 Da mein Vater und Xiao Ye sich auf Anhieb gut verstanden, wollte mein Vater unbedingt nach vorne, um sich mit ihm zu unterhalten. Meine Mutter tat die Pause mal gut...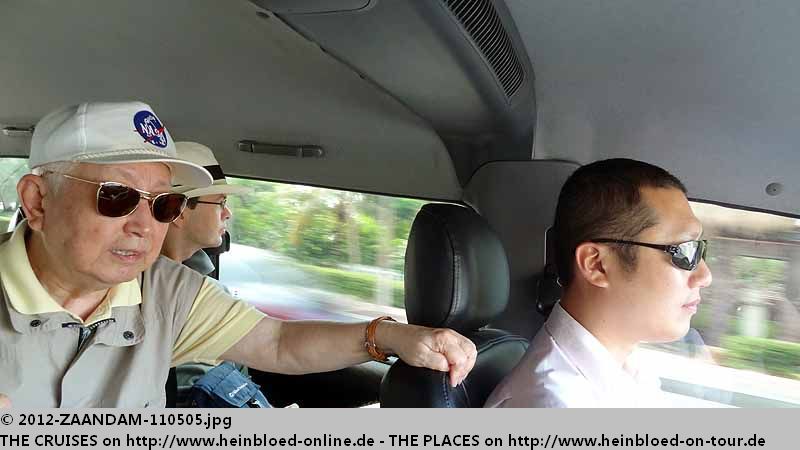 As my father and Xiao Ye had a good feeling and understanding my father wanted to get to the front and to talk with him. My father was glad to have a break...

We passed Sanya's Waikiki. Same nice hotel buildings and same nice beaches. Only it was not as crowded on the street.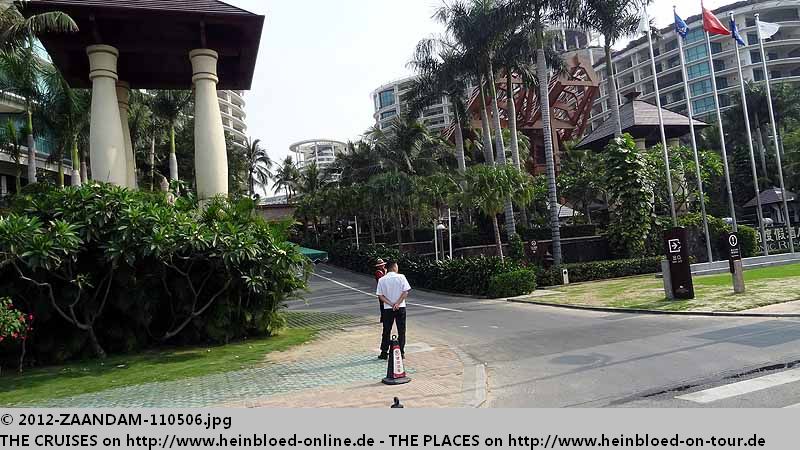 Es ging am Waikiki von Sanya vorbei. Genauso schöne Hotelburgen und genauso schöner Strand. Nur die Massen fehlten auf der Straße.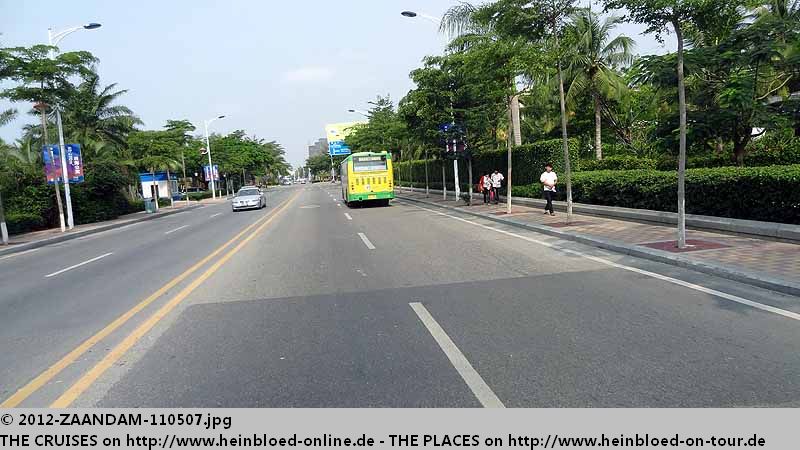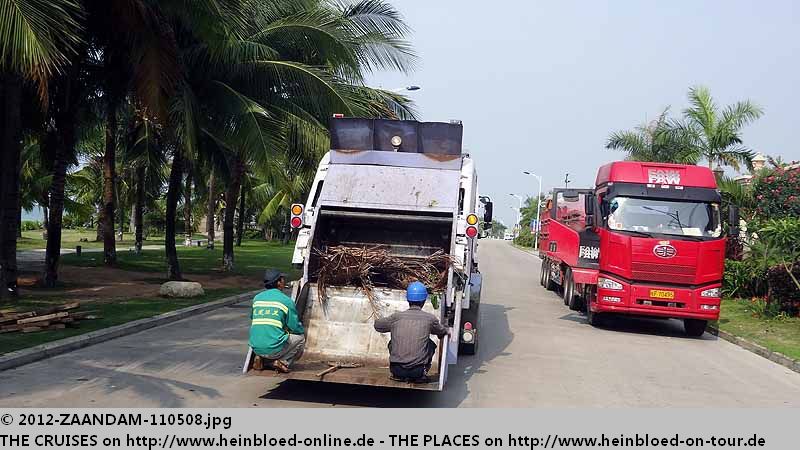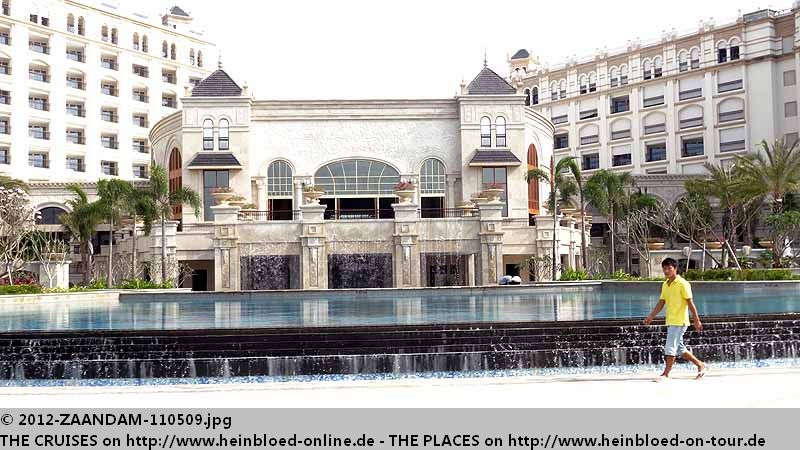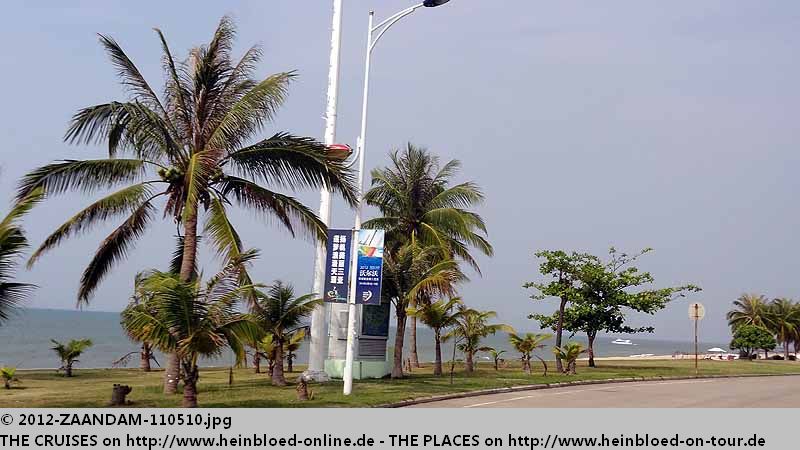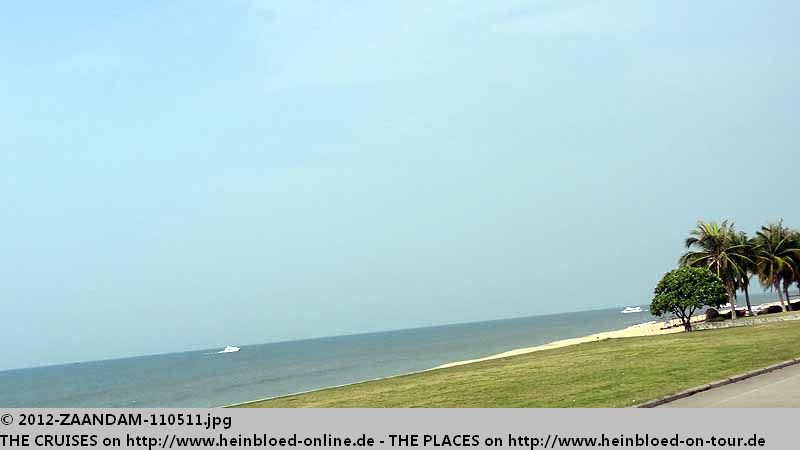 When we reached the end of the beach area it was exactly what you expected: more Chinese less Hawaii...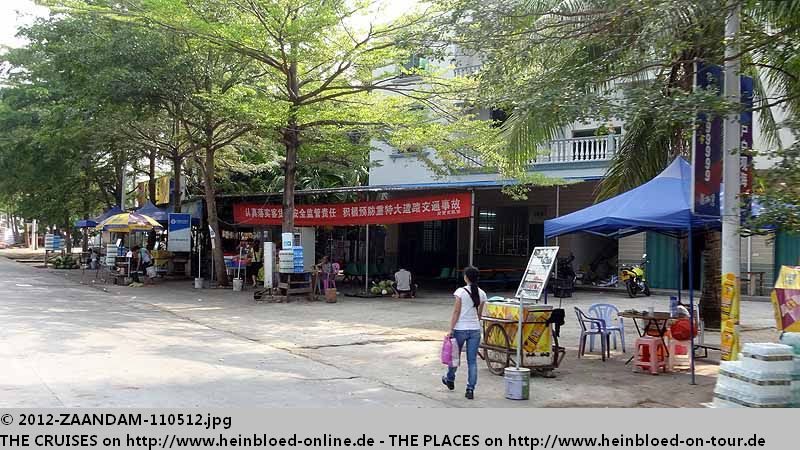 Als der schöne Strandabschnitt vorbei war, war es dann doch so, wie man sich es auch vorgestellt hat. Mehr China als Hawaii.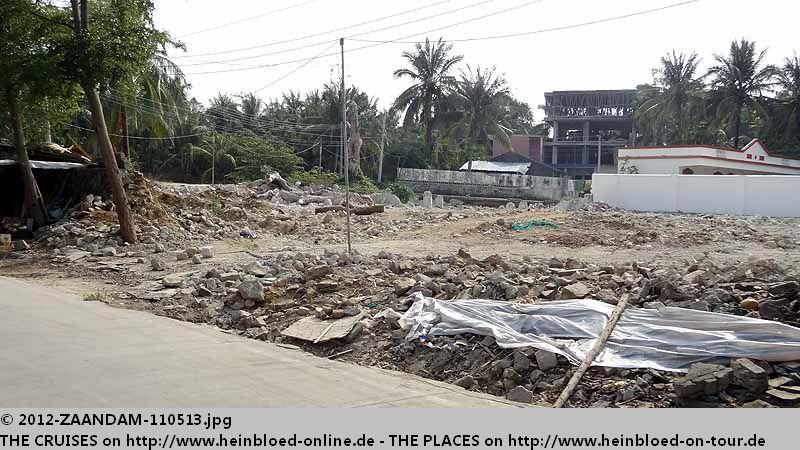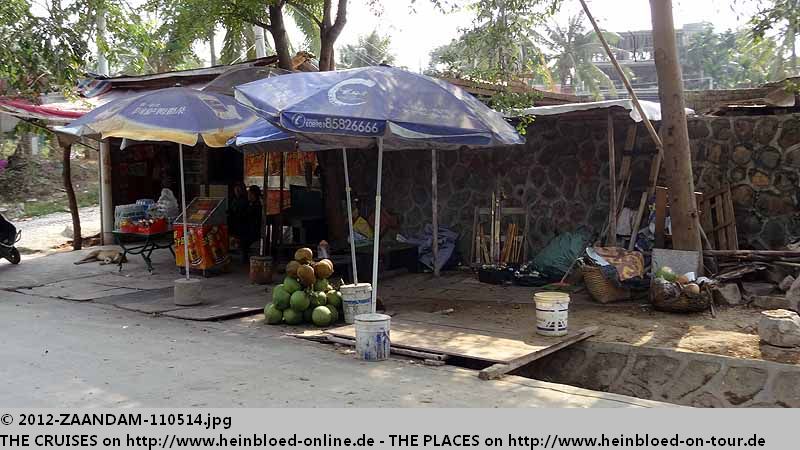 Rauf dann auf die Autobahn. Genauso gut, wie in Deutschland.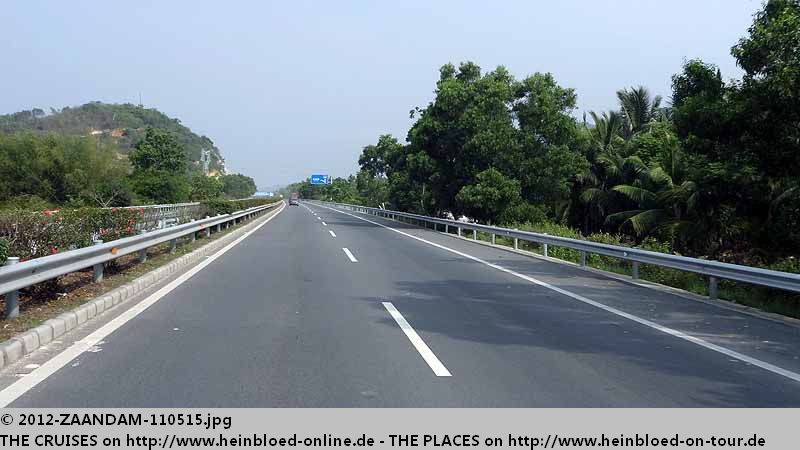 Entering the highway which was as good as in Germany.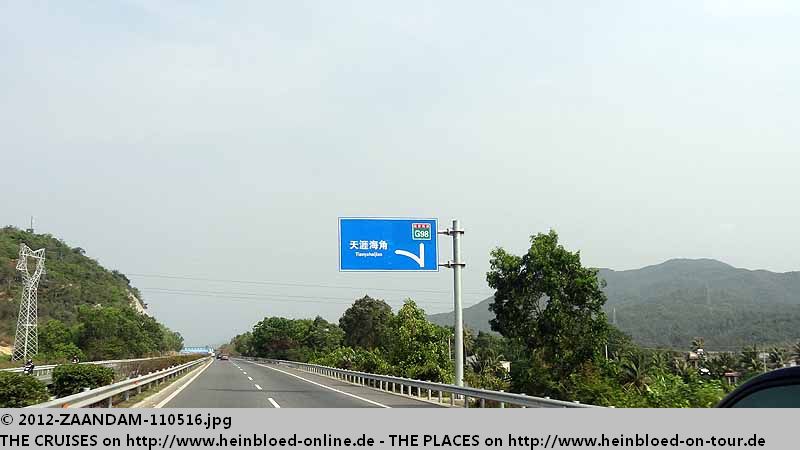 Und nach ca. 45 Minuten sind wir auch schon in
Nanshan Cultural Tourism Zone
, nach chinesischer Bewertung (= AAAAA) eine Top-Sehenswürdigkeit.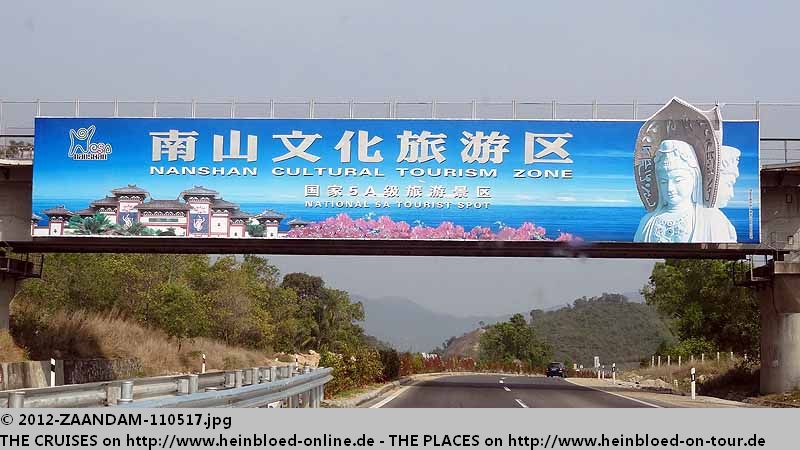 After about 45 minutes we arrived at Nanshan Cultural Tourism Zone. Rated as top-sight (= AAAAA) in China.

Alongside of the road you could buy incense sticks from street dealers.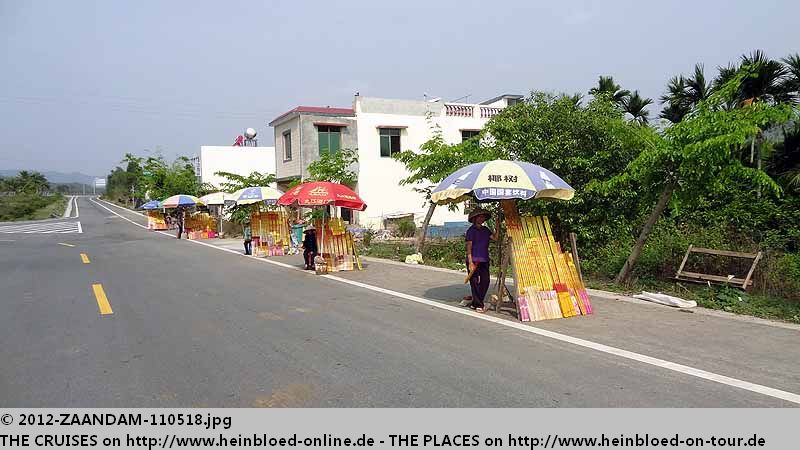 Entlang der Zufahrt kann man überall Räucherstäbchen von Straßenhändlern kaufen.
Vorbei noch an Reisfeldern, so wie man sich eben China vorstellt.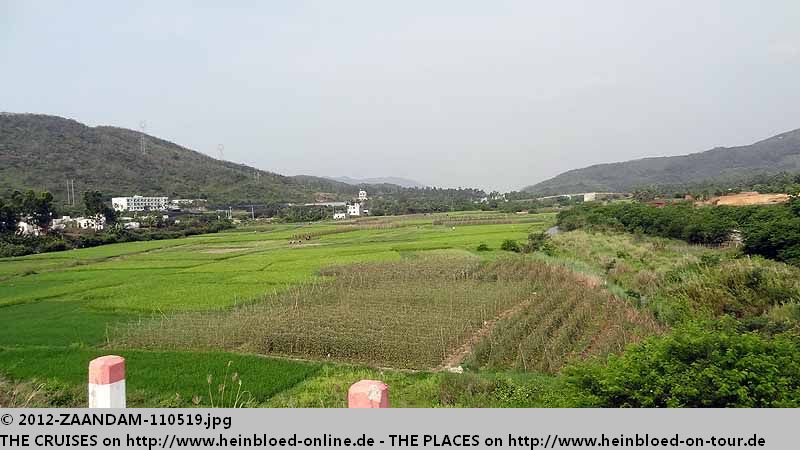 Passing fields of rice like you would expect in China.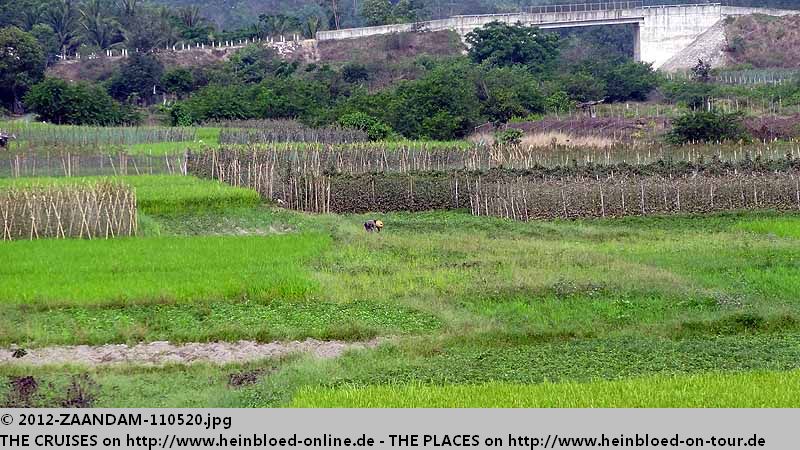 Zu unserer großen Überraschung fuhr Xiao Ye jedoch nicht zum Haupteingang sondern zu einem VIP-Eingang.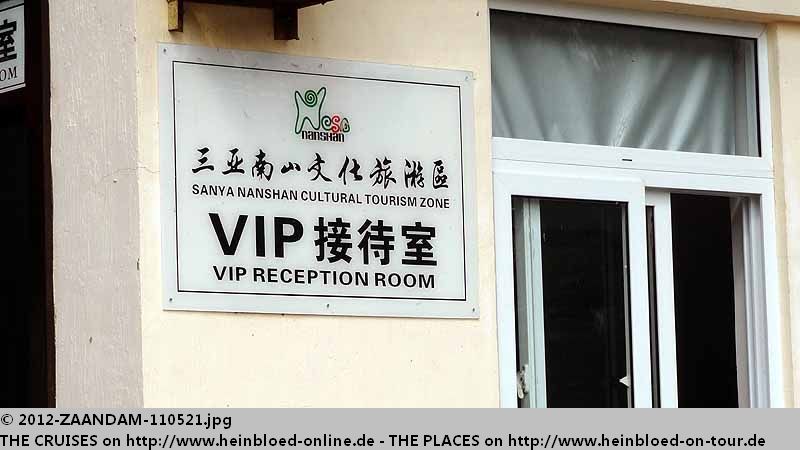 To our big surprise Xiao Ye did not go to the main gate but to the VIP gate.

Furthermore he offered us to accompany us which was accepted with high appreciation. As the company was not included in the offer we later honored it seperately.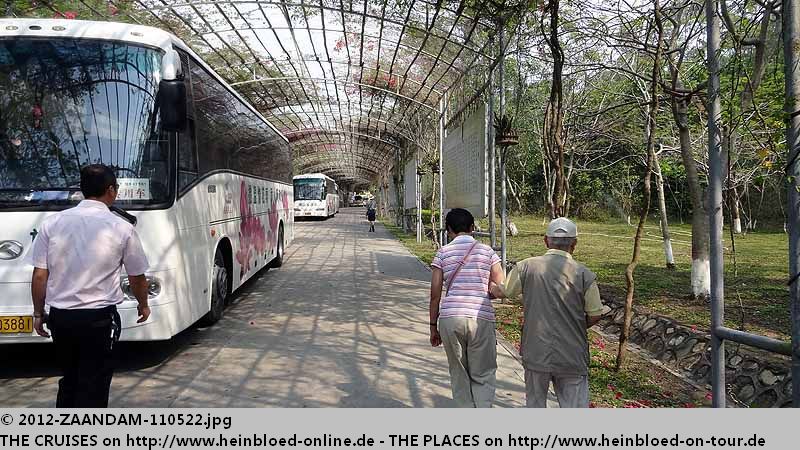 Außerdem bot er uns an, dass er uns gerne begleiten könnte, was wir gerne angenommen haben. Da die Begleitung im Angebot nicht inbegriffen war, haben wir hinterher es entsprechend honoriert.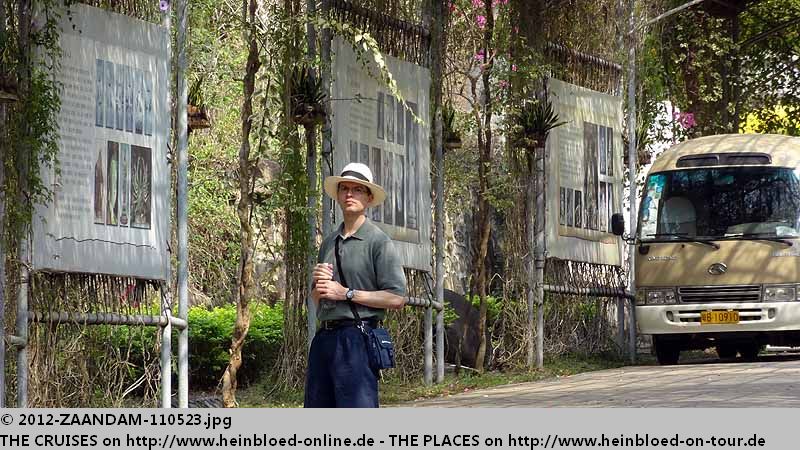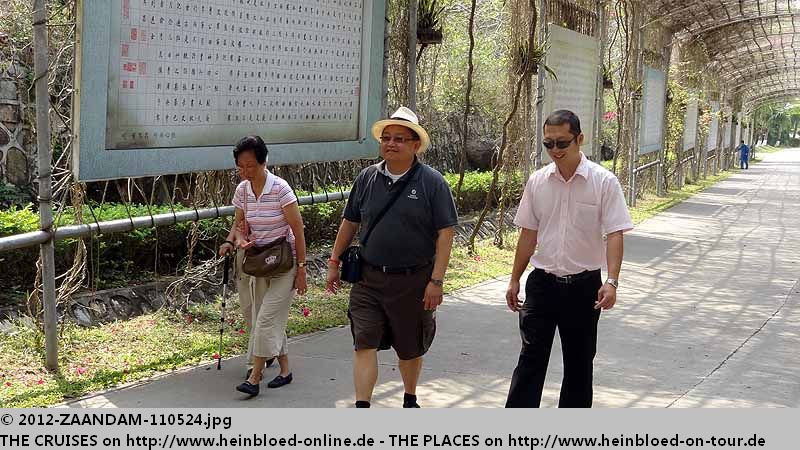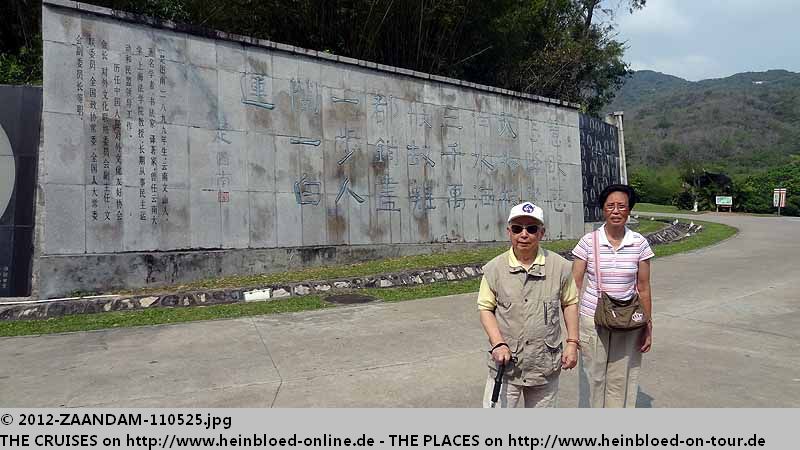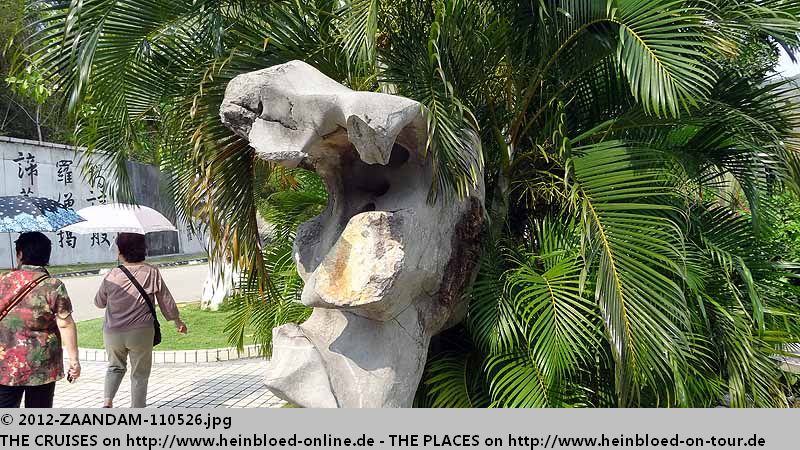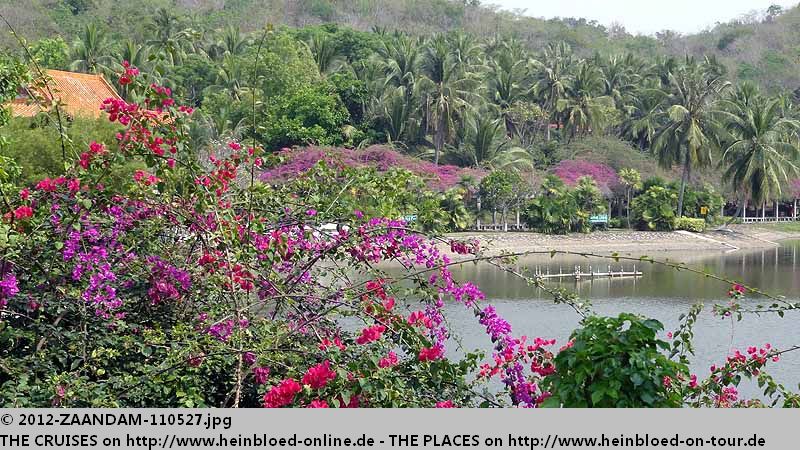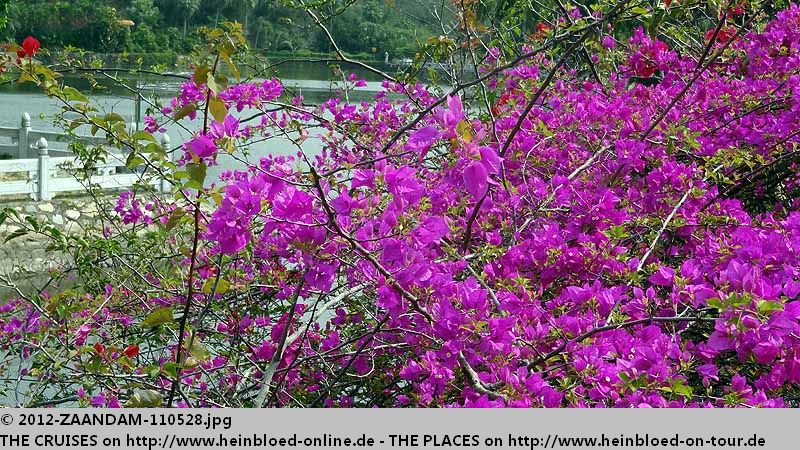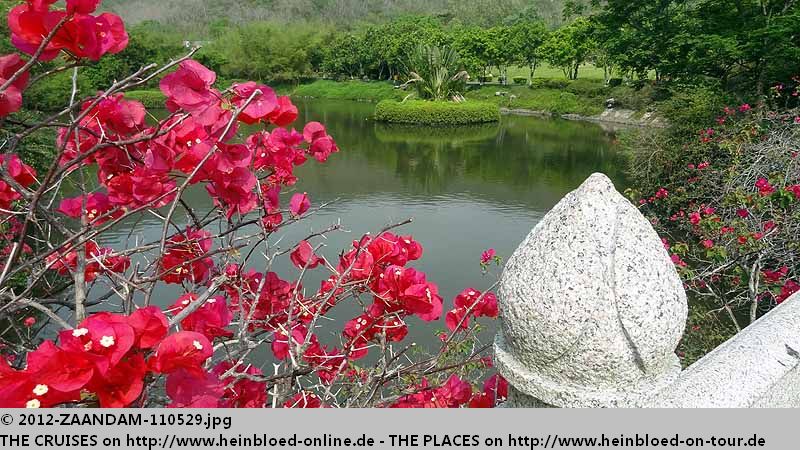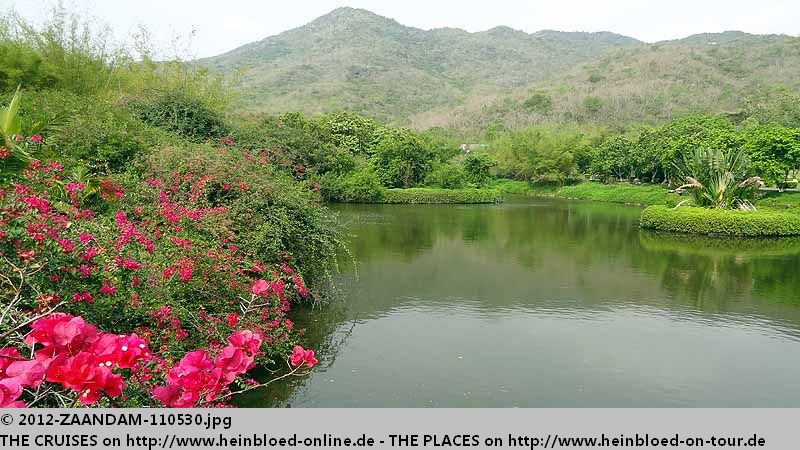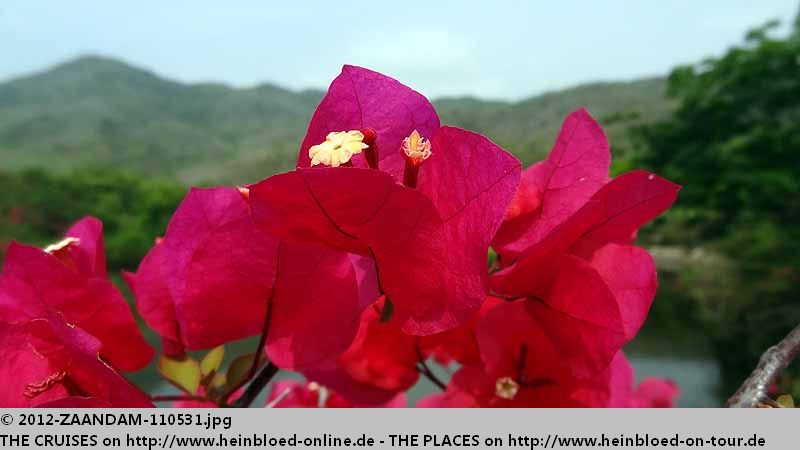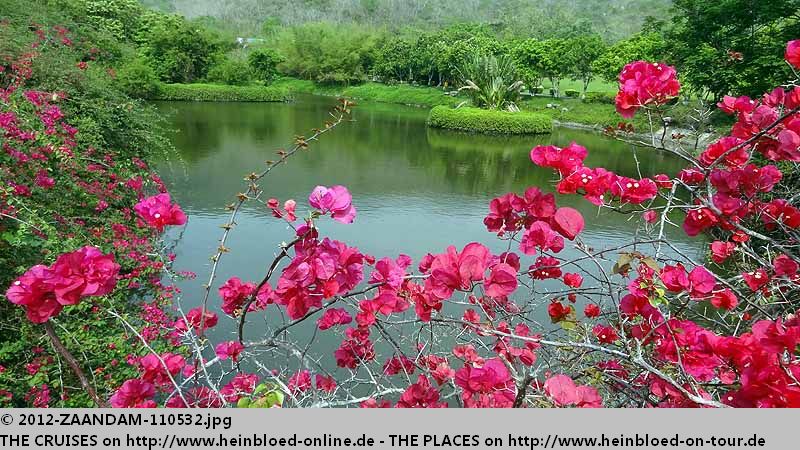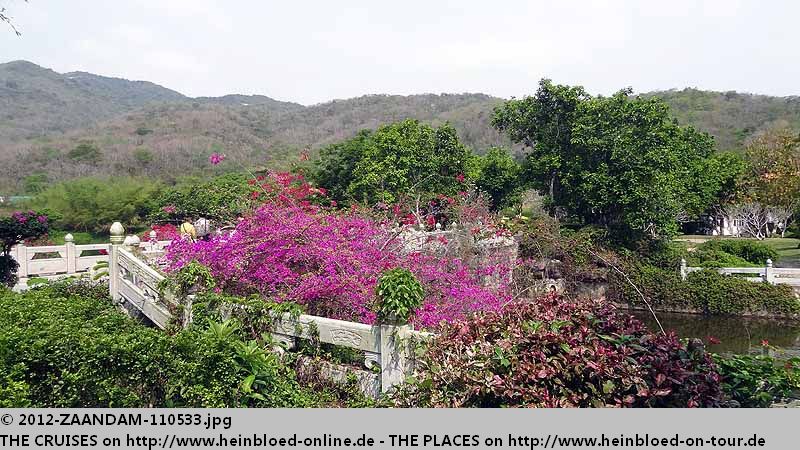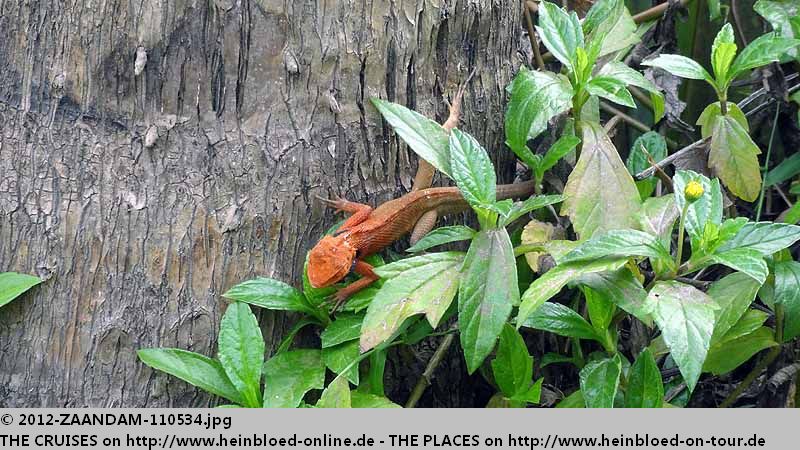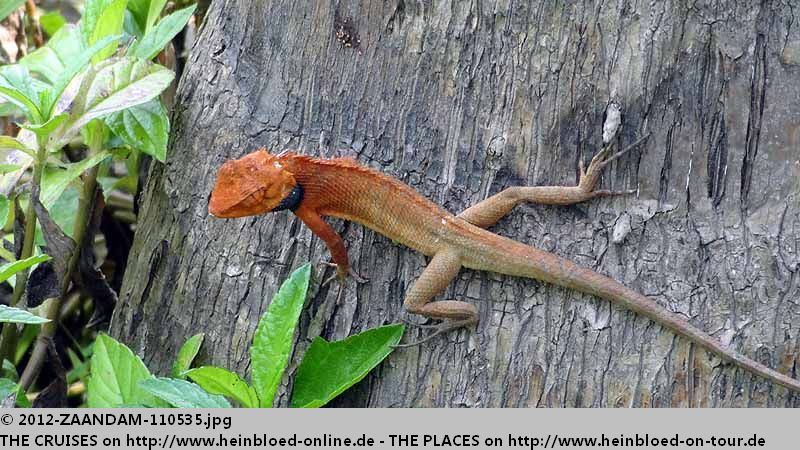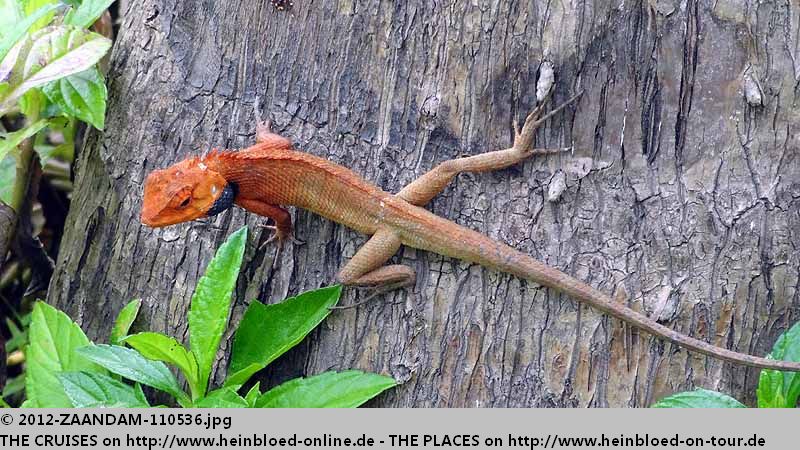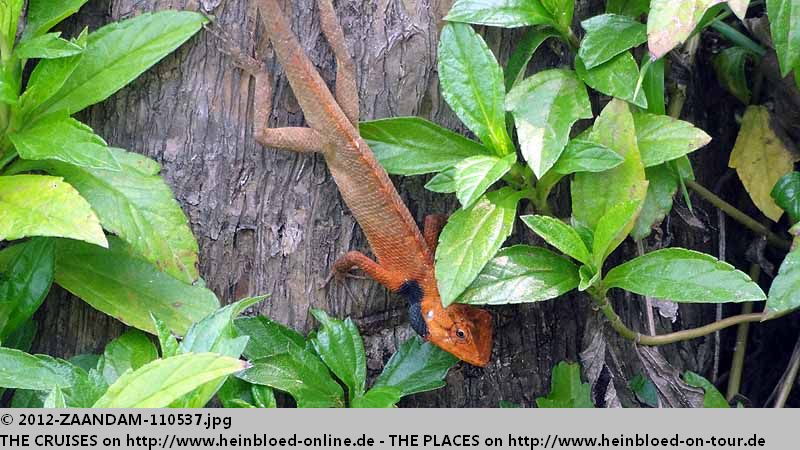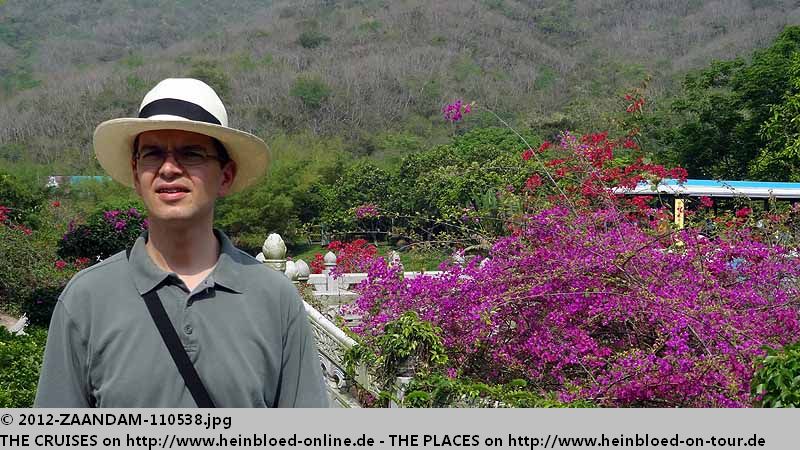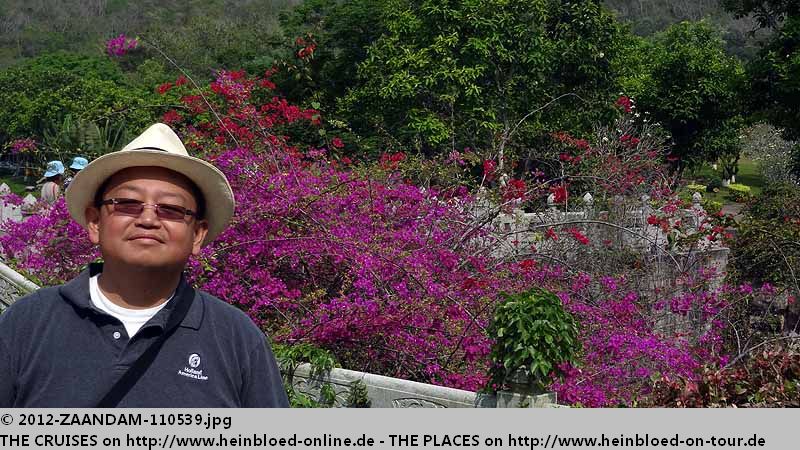 But any how the first impression was very good.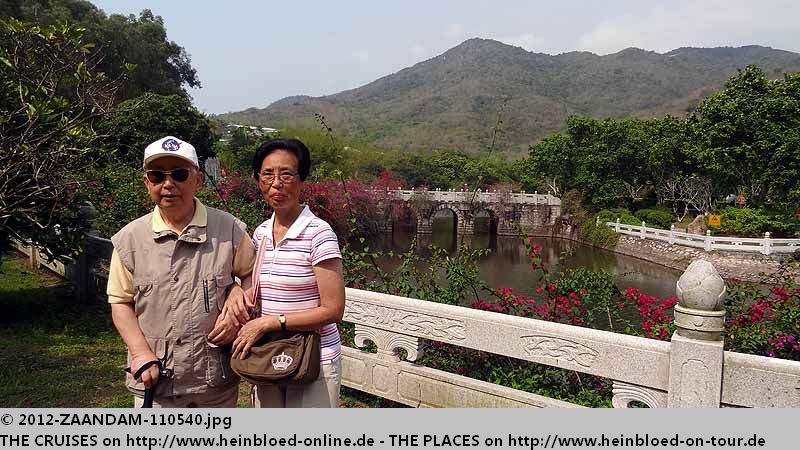 Auf jeden Fall, war der erste Eindruck schon mal sehr gut.
Und für Bruno gab es Kaffee... Nur ernten, rösten, mahlen und brühen muss er noch selbst.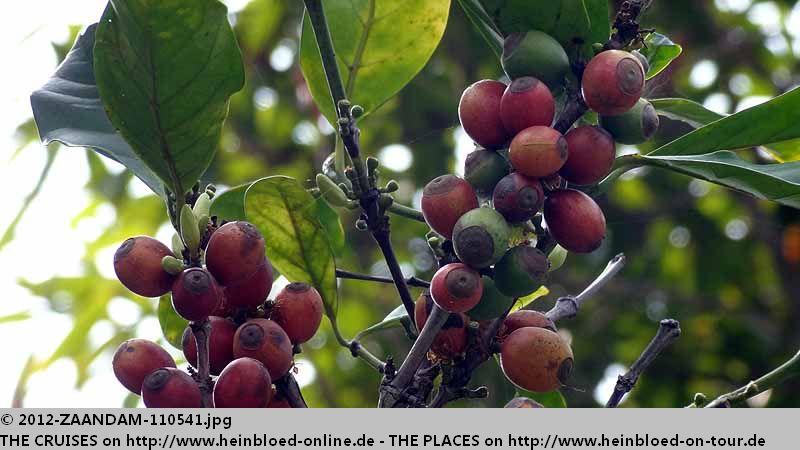 For Bruno we had coffee... but he only need himself to harvest, to roast, to grind and to brew...