Scroll down for English explanations - alternates with German explanations.

Den ganzen Tag wird man auf die Kleiderempfehlung für den Abend hingewiesen.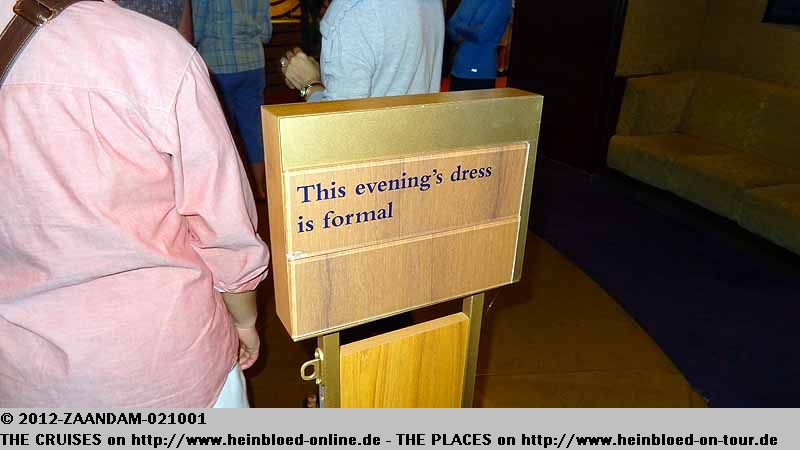 All the day you can already see that dress to wear for dinner.

But let us go first for lunch.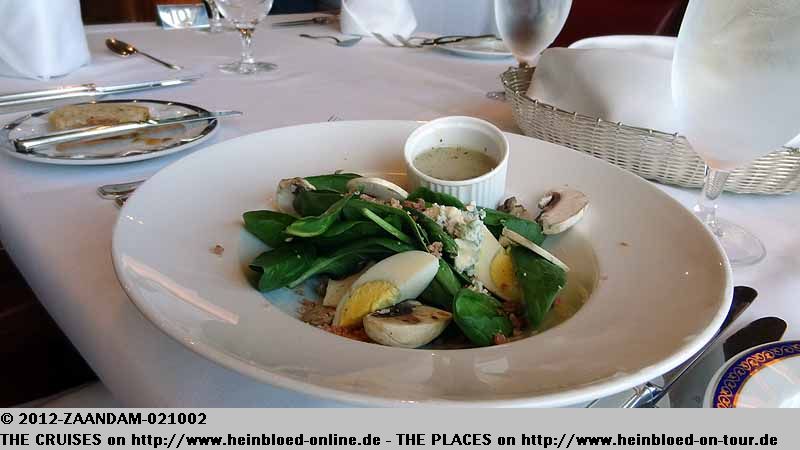 Aber zunächst geht es zum Mittagessen.
Und manchmal bekam man den Eindruck: das was bei Holland America bereits mittags gibt, gibt es bei anderen Gesellschaften erst abends.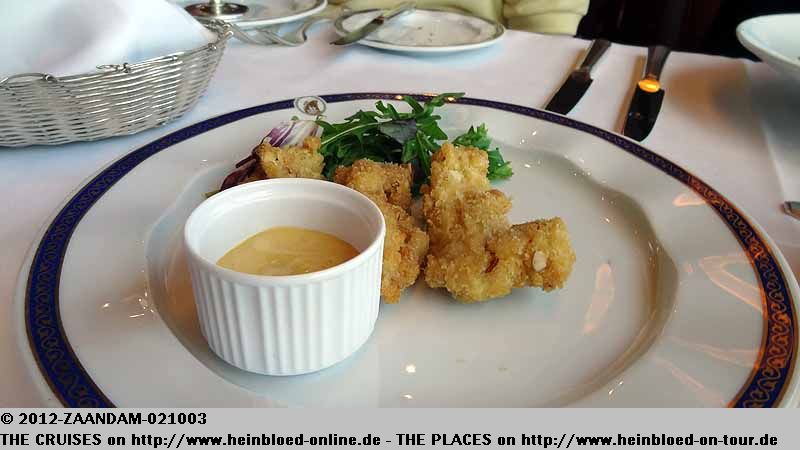 Sometimes you get the impression that you get something with Holland America for lunch what you get with others for dinner only.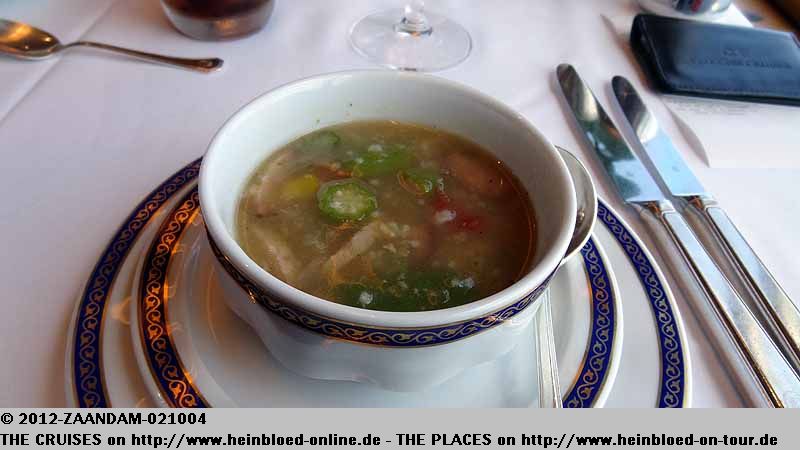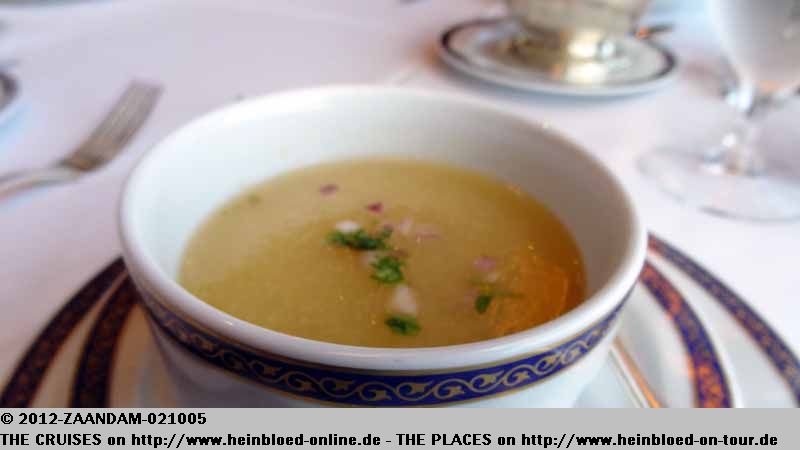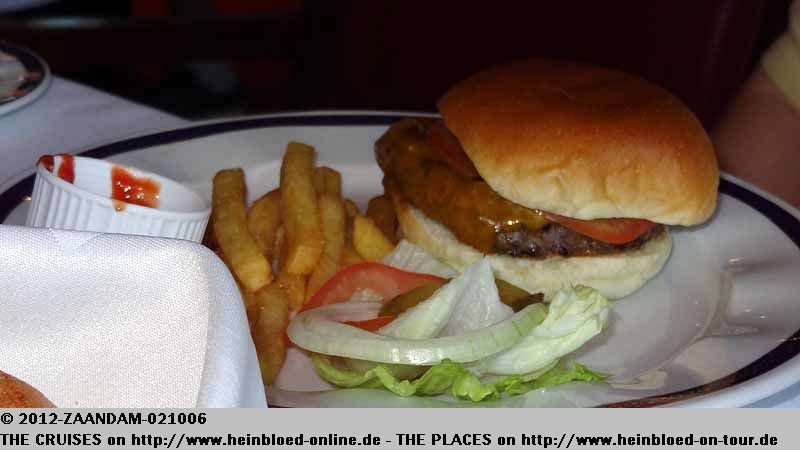 For my Steak-Sandwich I need something to add. It's was not like a Philly Cheese Steak Sandwich when the steak was cut to small slices.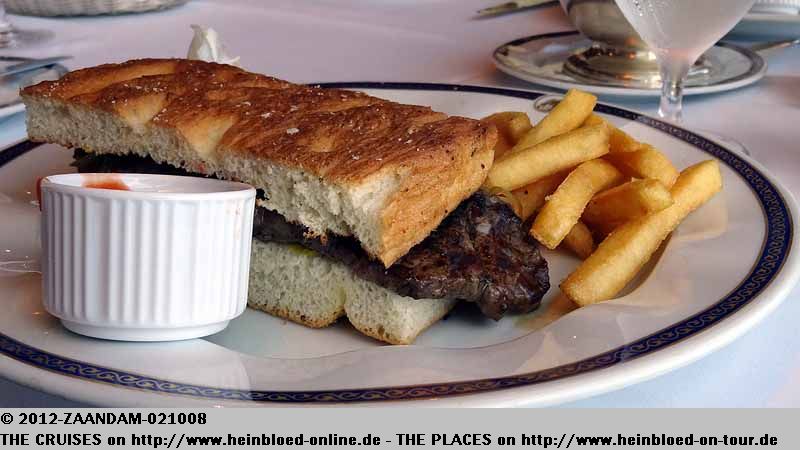 Für mein Steak-Sandwich - doch als ganzes und nicht wie beim Philly Cheese Steak Sandwich in Streifen, brauche ich etwas dazu.
A1-Sauce bedeutet noch nicht einmal eine Extra Meile. Dafür gibt es ein Tablett mit zig Saucen für jeden Geschmack und man fragt einfach.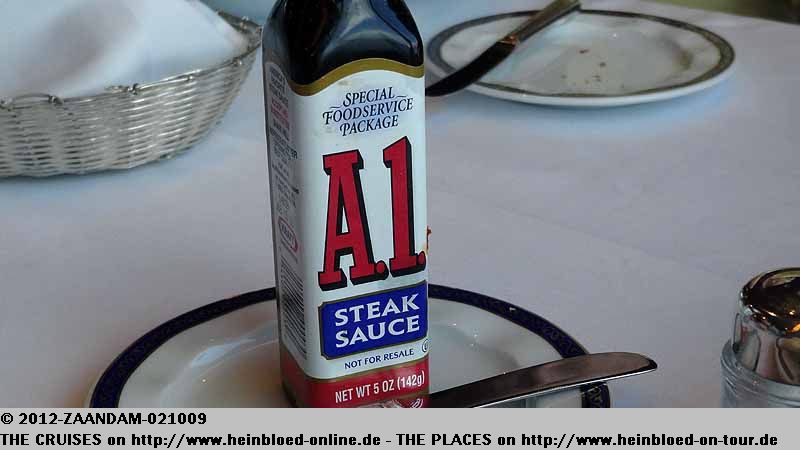 A1-Sauce did not mean an Extra Mile. There was tray with many many sauces for every flavour and you just ask.

The carrot cake was not Swiss style but yummy.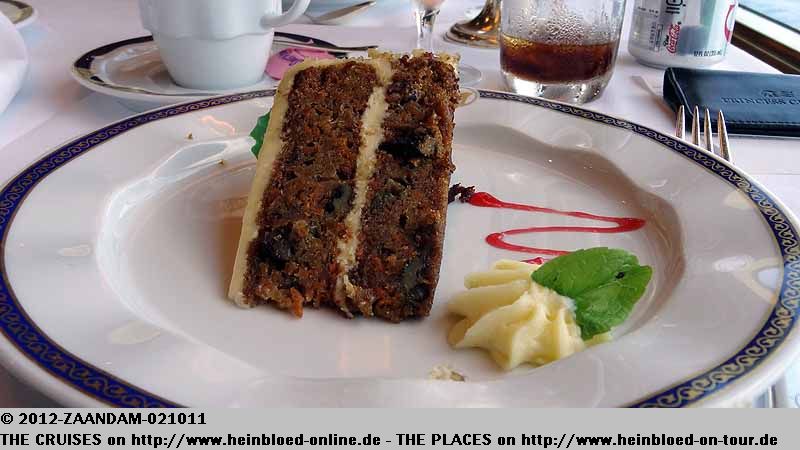 Die "Rübli-Torte" war nicht Schweizer Art, aber lecker.
Wenn es nach Bruno gegangen wäre, hätten wir eine feste Tischzeit mit diesem Kellner ausgemacht: Bruno erklärt, dass er gerne einen doppelten Espresso hätte und darauf gerne etwas Milchschaum. Der Kellner erwiderte lediglich: also einen doppelten Espresso Macchiato oder Cortado, wie die Spanier sagen... Wenn es nach Bruno gegangen wäre, hätte ich unser restliches Trinkgeld-Budget in diesen Kellner stecken müssen... Leider war er einer der wenigen Einzelfälle, die tatsächlich wussten, was wir wollten. Die nächsten Versuche wieder einen Doppelten Espresso Macchiato zu bestellen führten dann zur Kapitulation. Ein Abend endete mal damit, dass vier verschiedene Crew-Mitglieder vorbeikamen, um uns zu erklären, dass es Espresso Macchiato im Hauptrestaurant nicht gäbe. Blöderweise hatte ich jedoch bereits die Bilder vom Vortag überspielt bzw. arbeite mit zwei SD-Karten und konnte nicht "beweisen", dass wir in dem Hauptrestaurant schon mal einen bekommen haben. Ein anderes Mal brachte mir ein anderer Kellner einen Espresso und stellte sich neben mich, um mir zu erklären, dass ich noch meinen Macchiato bekäme. Er nahm das Milchkännchen vom Tisch und goß die Milch rein. Damit hatte ich ja meinen Macchiato. Nur weil wir wirklich einen sehr netten und freundlichen Kellner hatten, kommt diese Geschichte in die unvergesslichen und lustigen Anektoden dieser Reise. Sie versuchen ihr Bestes und das zählt. Das zählte 1:0 für den Kellner, da es nur wenige Personen auf der Erde gibt, die mich sprachlos machen.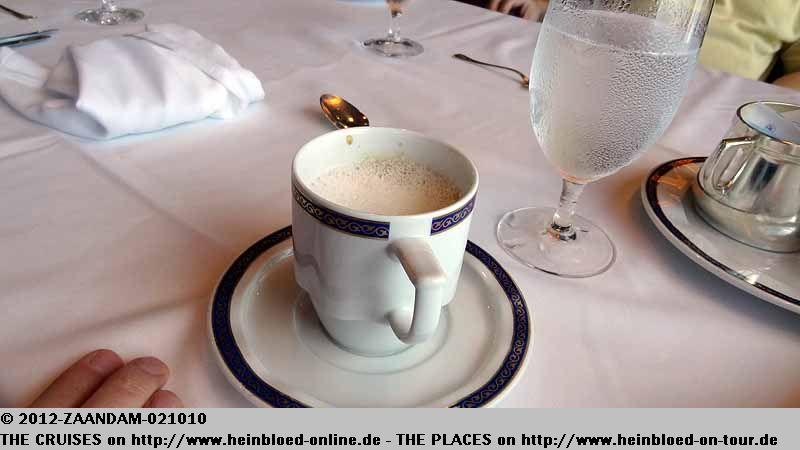 If I had to follow Bruno we would fixed the dining time with this waiter: Bruno asked that he would like to have a Double Espresso with some milk foam on top. The waiter only repeated that he would like to have a Double Espresso Macchiato or in Spanish Cortado... If I had to follow Bruno I had to spend our complete tipping-budget to this one waiter... But do not laugh: he was one of the few single waiters who really knew what we wanted. The next attempt to get a Double Espresso Macchiato ended that we declared our capitulation. One night ended that four different crew-members showed up to explain us that we cannot have a Espresso Macchiato in the Main Dining Room. Unfortunately I transfered the picture of the day before already on the PC or work with two different SD-cards so we could not "proof" anymore that we got one in this Main Dining Room. Another night another waiter just stand next to me and served a regular espresso and told me Sir: Do not worry: you'll get your Macchiato and took the milk from the table and added to my espresso. So I had my Macchiato. Only it was very friendly and nice waiter this story become of my unforgettable funny memories of the cruise. They tried their best and that counts. The score was 1:0 for the waiter as there are not so many persons on world who made me speechless.

And it was his "fault" that he put the level so high the 2nd day of our voyage: Irwin - as he knew what makes us guest happy who asked for a Macchiato or Cortado. You have few moments when you wish not to participate to flexible dining and having a waiter like Irvin who takes care of you for 14 nights. By the way: as we had the same question: his glasses are from a shop in Fort Lauderdale.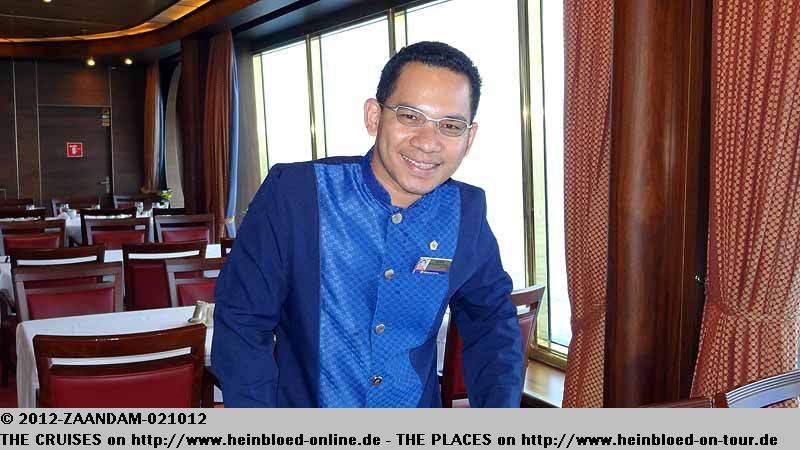 Und "Schuld" daran, dass die Messlatte bereits am 2. Tag so hoch gesetzt wurde, war Irwin, der eben wusste, wie man einen Gast glücklich macht, der nach einem Macchiato oder Cortado fragt. Das sind schon Momente, in denen man sich wünscht, nicht an der flexiblen Tischzeit teilzunehmen und sich einen Kellner wie Irwin wünscht, der dann einen 14 Tage verwöhnt. Übrigens: wir hatten die Frage auch: seine Brille stammt von einem Geschäft in Fort Lauderdale.
In der Kabine ist es so warm (draußen so 35°C), dass die Eiswürfel nicht von Service zu Service reichen und davon geschmolzen sind, wenn man nachmittags wieder kam.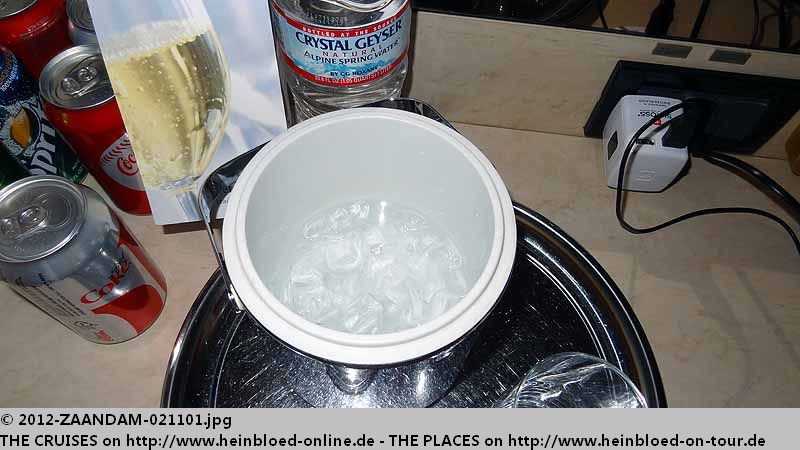 In the cabin it was so warm (outside 90F) that ice cubes did not survice from service to service and just melted when you returned to your cabin in the afternoon.

We asked to let the drain repair as the outflow was congested. It was done promptly. So no reason to go home and tell everyone that nothing works. You should ask if you see problems and giving them a chance to fix it. They are doing their best to make it as pleasureable as possible. But it does not make sense to keep your mouth shut and wondering that nothing happens.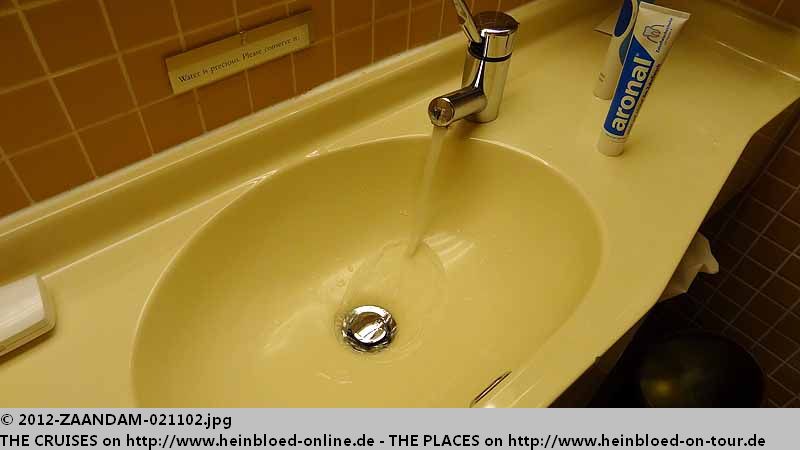 Wir hatten darum gebeten, dass man den Abfluss repariert, weil das Wasser nicht so schnell abfloss. Das wurde prompt erledigt. So gab es keine Gründe nach Hause zu fahren und jedem zu erzählen, dass nichts läuft. Man muss fragen, wenn man Probleme hat und ihnen die Möglichkeit geben das Problem zu beseitigen. Sie tun ihr bestes um das Leben an Bord so angenehm wie möglich zu machen. Aber es macht einfach keinen Sinn still zu halten und sich zu wundern, dass nichts passiert.
Hier sind die "blöden" Tresore eingebaut, die man mit Karten bedient. Die Karten, die man eigentlich im Safe "sicher" aufbewahren will, braucht man zum Öffnen und Schließen. So braucht man dann ein Versteck außerhalb des Safes für die Karte, mit der man den Safe öffnet und schließt. Die Schlüsselkarte ist zu empfindlich und führt dazu, dass beim Austausch der Schlüsselkarten der Safe vom Purser aufgemacht werden muss.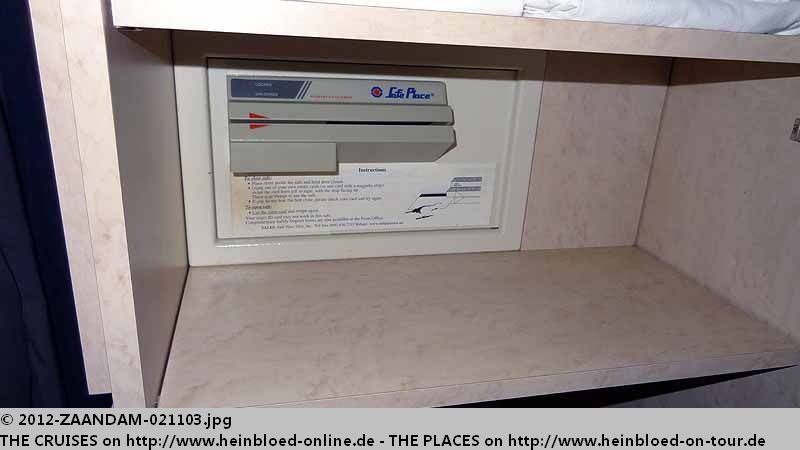 Here they used the "stupid" safes which you need a card to use. The cards you want to lock "safe" in the safe are need to lock and to open. So you need to hide your card outside the safe which you need to lock and to open. The key card is too sensitive and after exchange of the card you need a Purser to open the safe for you.

In the early evenings Larry played with his guitar Country Songs. He played very well. But it was not my time to hear him.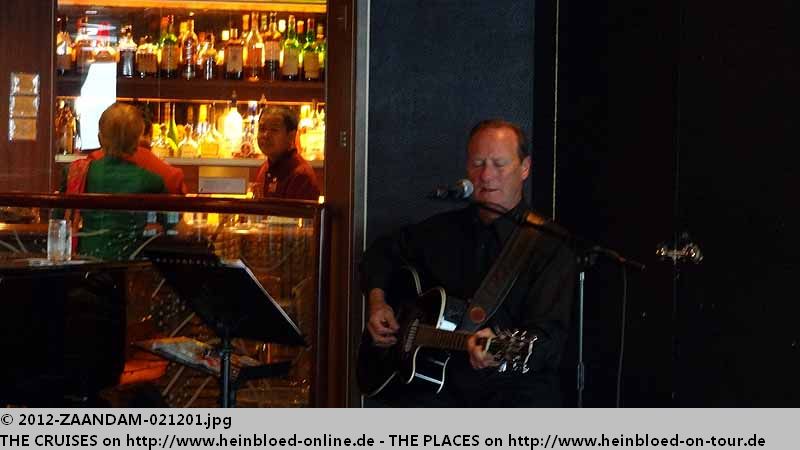 In der Piano Bar spielt am frühen Abend immer Larry an seiner Gitarre Country Songs. Er spielte gut. Nur leider war es nie meine Zeit.
Ich war auf der Suche nach der Tafel mit den Senior-Offizieren. Die gibt es aber auf der ZAANDAM nur noch elektronisch auf einem Bildschirm am Exploiration Café. Ich versuchte herauszubekommen, wer Mr. Judd (???) ist. Er rief bei meinem Vater an und erwartete ihn um 19.00 Uhr in seinem Büro. Zum Zeitpunkt des Anrufs schlief mein Vater und hatte daher nicht notiert, wie man ihn erreichen kann. Bis heute wissen wir nicht, wer eigentlich angerufen hat und weswegen. Mein Vater hatte bis dahin nichts gemeldet und daher vermute ich, dass der Anrufe eher für mich war. Man sollte schon wissen, mit welchem Mr. Yao man sich einlässt... Keiner kannte Mr. Judd. Und es war auch nicht wichtig genug, dass er nochmals es versucht hatte. Selbst wenn: wenig später fiel die Telefonanlage aus und es war fast niemand mehr erreichbar. Und eine schriftliche Nachricht kam nicht mehr.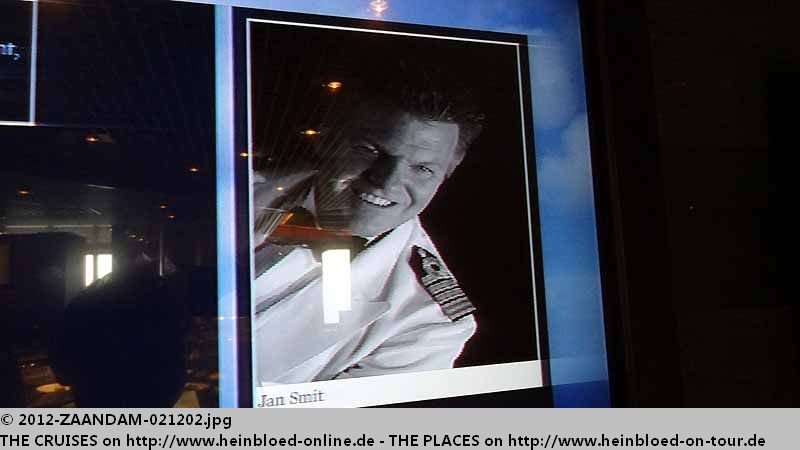 I was looking for the board with all senior-officers. But on ZAANDAM you have it only digital on a screen in front of Exploration Café. I tried to find out who was Mr. Judd (???). He called my father and would like to see him at 19.00 hrs in his office. When he called my father had his nap and did not notice how to reach him. So until today no idea who called and why.My father did not report anything and so I assume the call was more for me. You better should know with which Mr. Yao you were dealing... Nobody knew a Mr Judd. And obviously it was not important enough that he tried again. Even he did: a little later the telephone system did not work and you could not call anyone on the ship. And there was no written notice following.

All four formal nights will be hold on all four days at sea. For that they even used seat covers.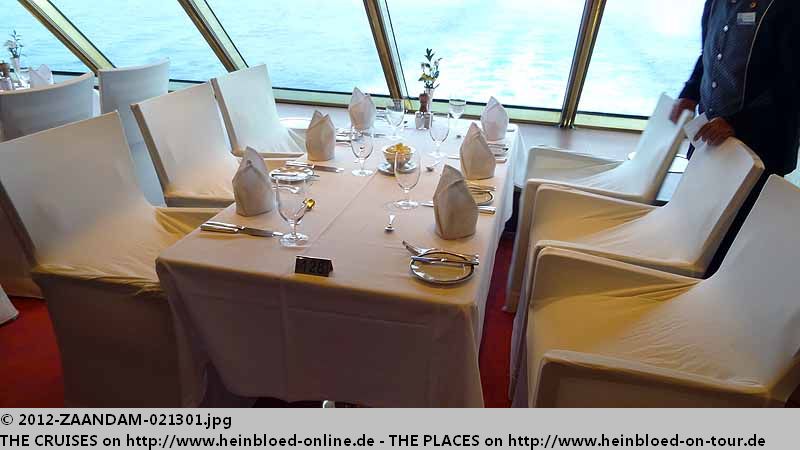 Die vier formellen Nächte finden an den vier Seetagen statt. Hierfür werden die Sitze mit Hussen überzogen.
Eigentlich der schönste Tisch am Heck mit schönem Ausblick, aber leider sind 4 von 6 Personen von der Luftzirkulation abgetrennt. Beim formellen Abend im Abendanzug nicht angenehm, weil man in Schwitzen kommt. Aber vielleicht kennen ja die Adagios Strings "Hey Big Spender" aus "Sweet Charity" und wir erleben hinten noch einen Männerstrip à la "Ganz oder gar nicht".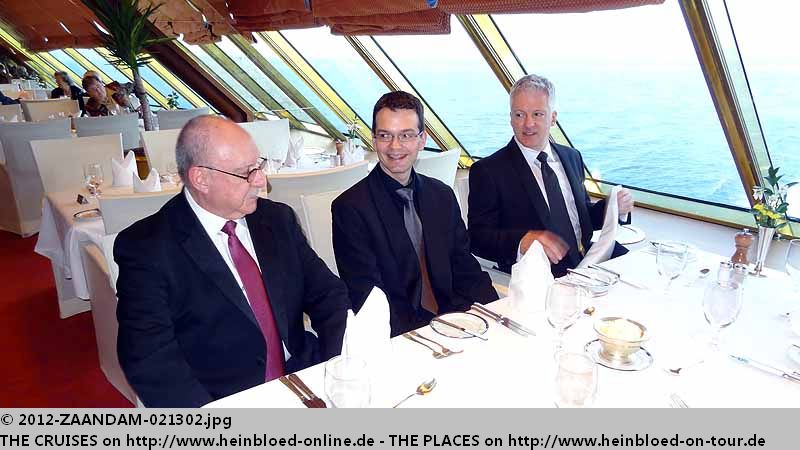 Normally it should be the nices table which you can get at the aft with a wonderful view, but unfortunately 4 of 6 are exluded from fresh-air-circulation. With a formal night in tuxedos it was not very comfortable because you start to sweat. But maybe Adagio Strings knew "Hey Big Spender" out of "Sweet Charity" and we will see a male strip like in "The full mounty".

A festive menu we even did not experienced on Cunard before.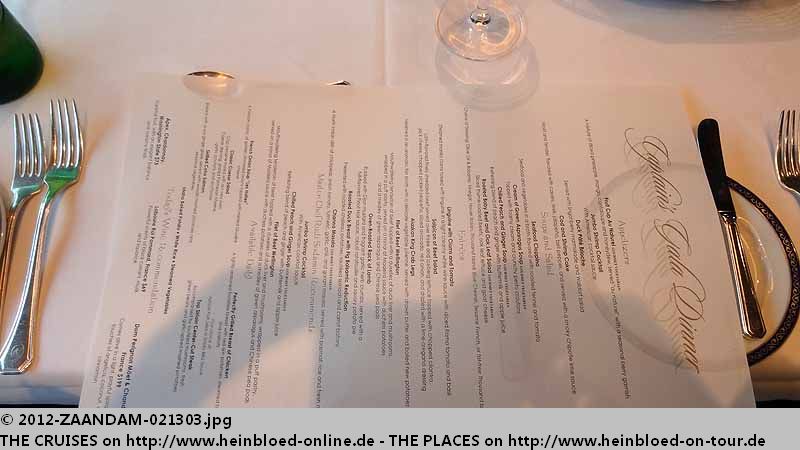 Ein festliches Menü, das ich in der Form ja nicht mal bei Cunard kennengelernt habe.
Die Auswahl ist auf jeden Fall fantastisch und es sogar Alaska King Crabs: etwas was ich bei anderen nicht mal mehr im Zuzahlrestaurant bekomme.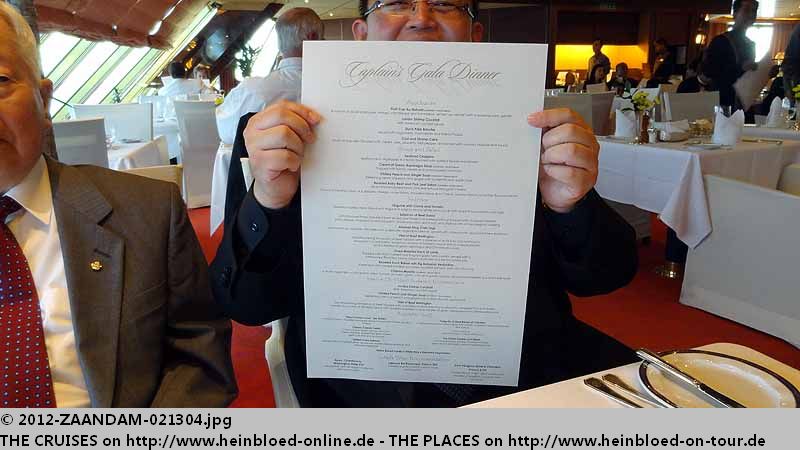 The selection was fantastic and you even get Alaska King Crabs: something you did not get with others even you are willing to pay for it in a cover-charge-restaurant.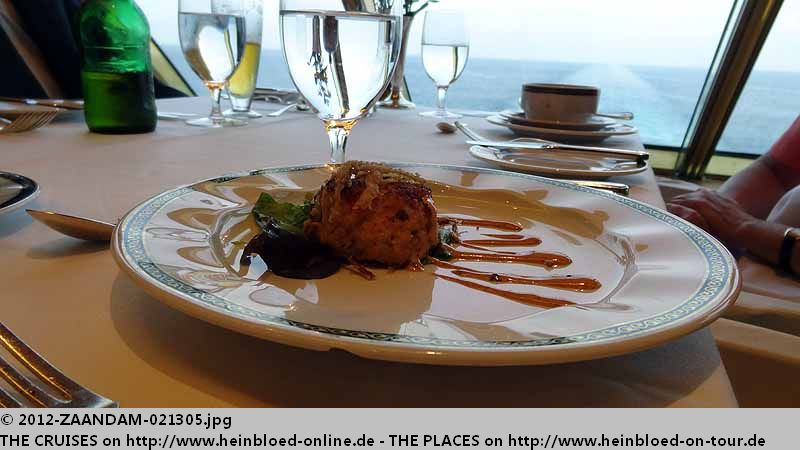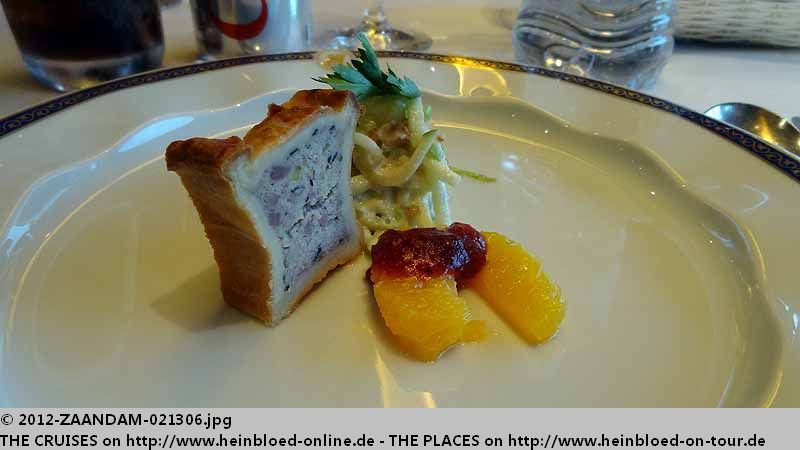 We got my beloved peppermill-service.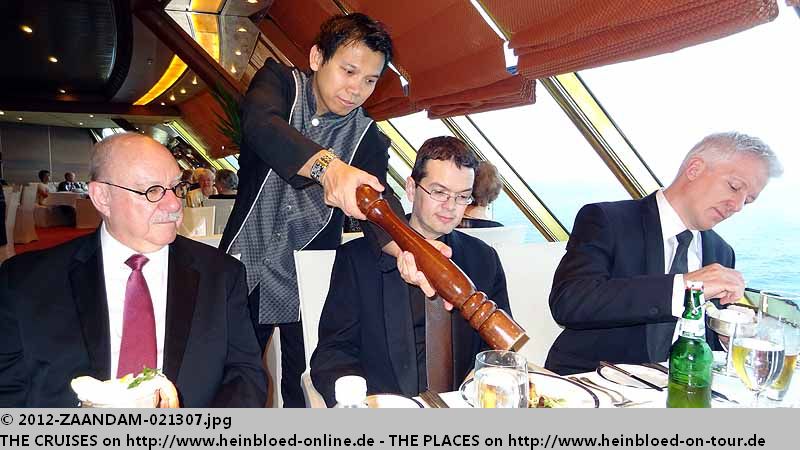 Es gibt meinen geliebten Pfeffermühlenservice.
Und das war etwas merkwürdig: an manchen Tischen gab es den Salatdressing extra, bei manchen als Silver-Service. D. h. auf einer Sauciere und am Tisch extra serviert.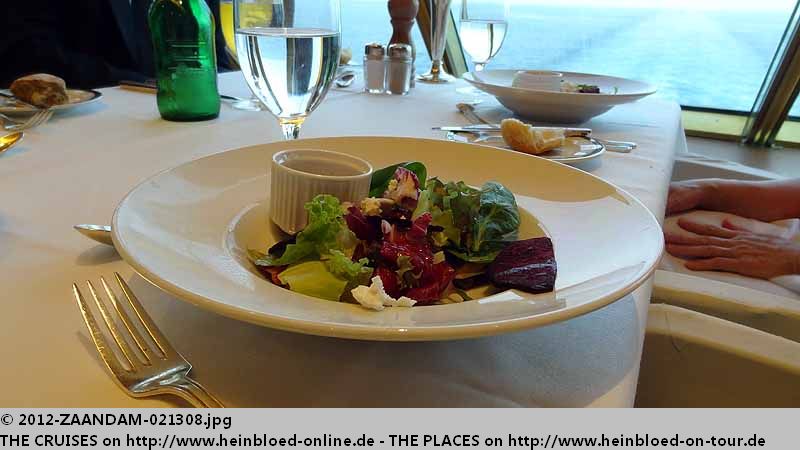 And this was somehow strange: on few tables you got the salad-dressing extra and with others you got silver-service, i. e. they served the salad dressing in a sauce boat at the table.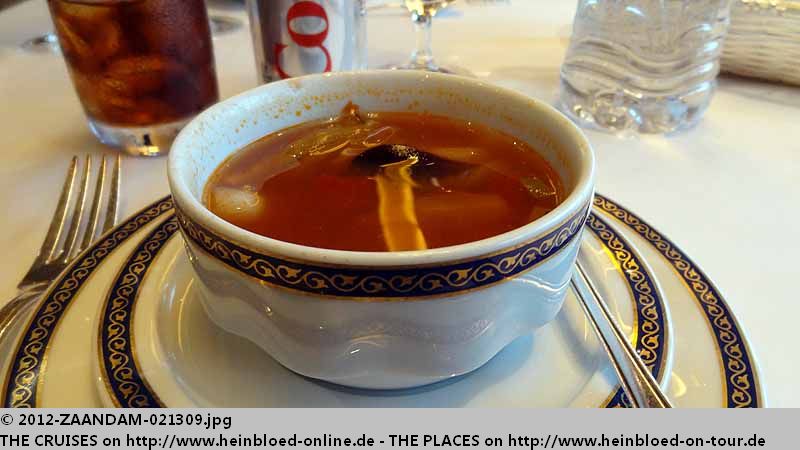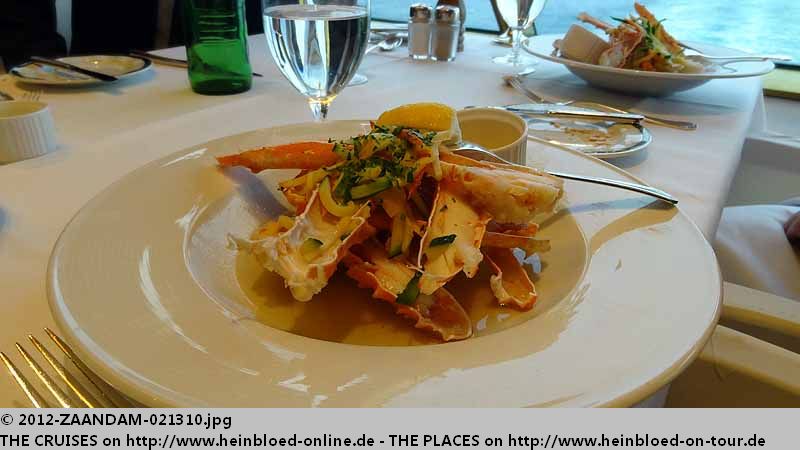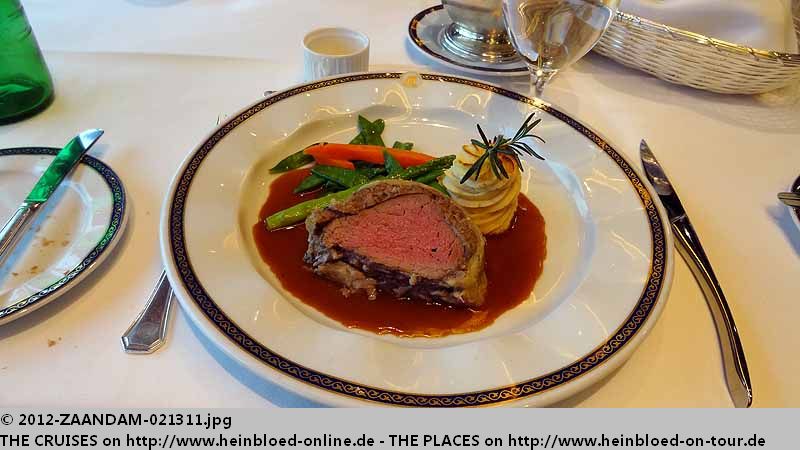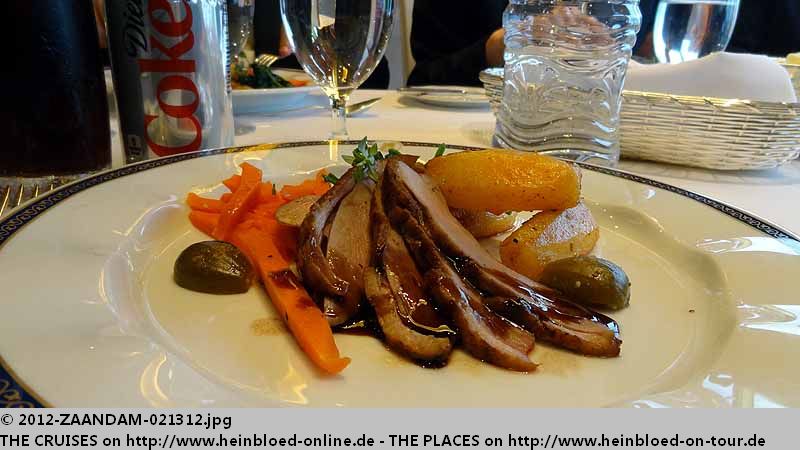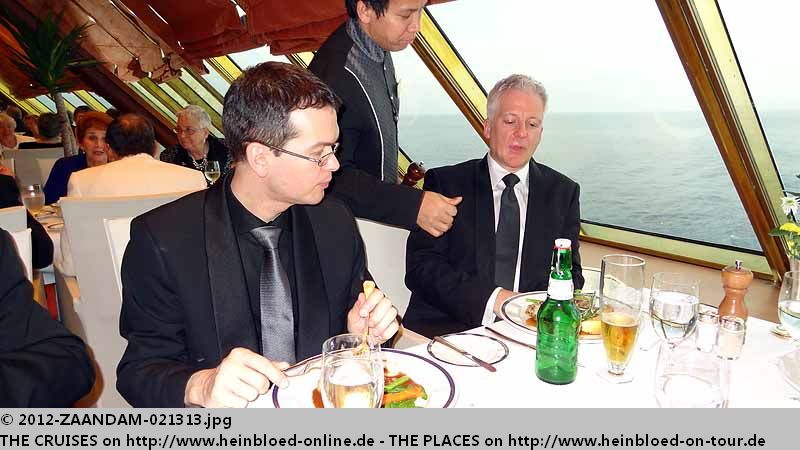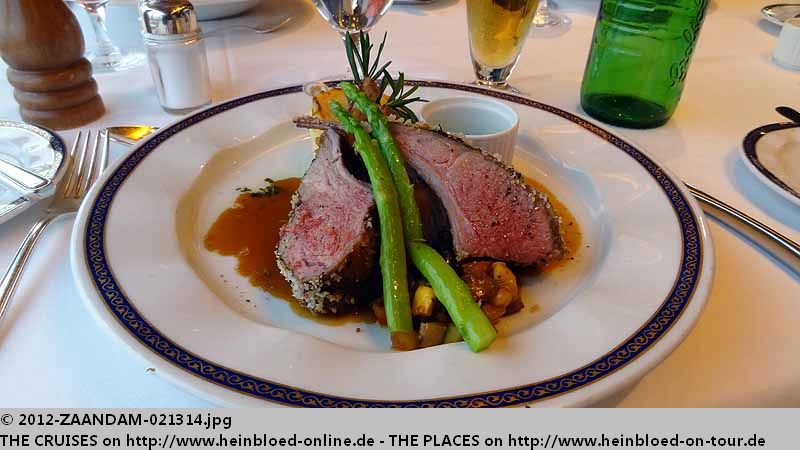 You cannot see it on this picture but 4 of 6 were sweating. Something for the drydock.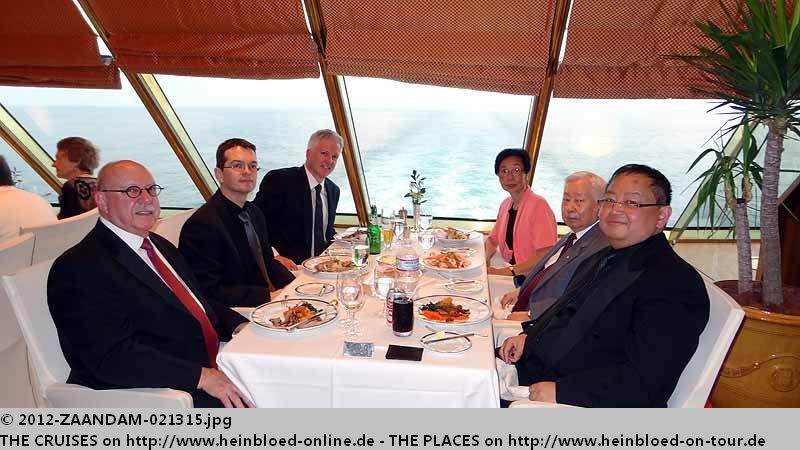 Das sieht man dem Bild nicht an, aber 4 von 6 sind am Schwitzen. Etwas für die Arbeiten im Trockendock.
Sogar die Brotkrümeln werden entfernt.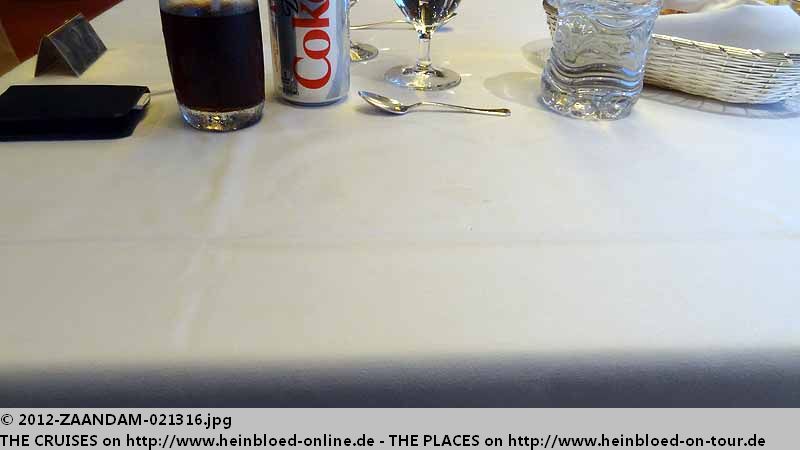 Even the bread crumbs were cleared.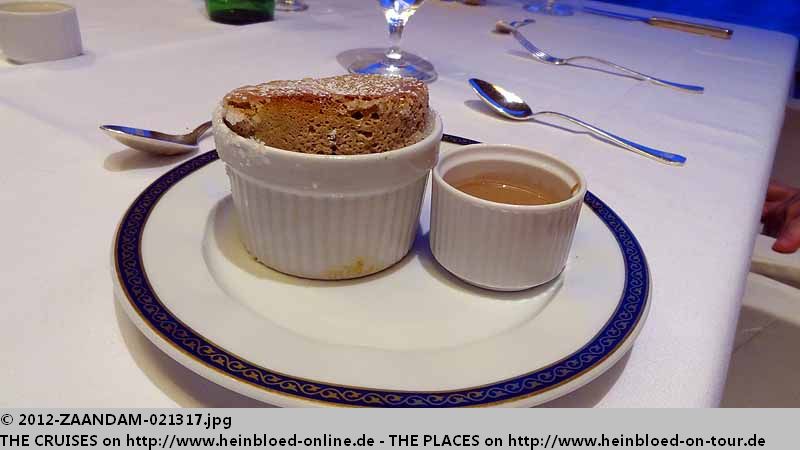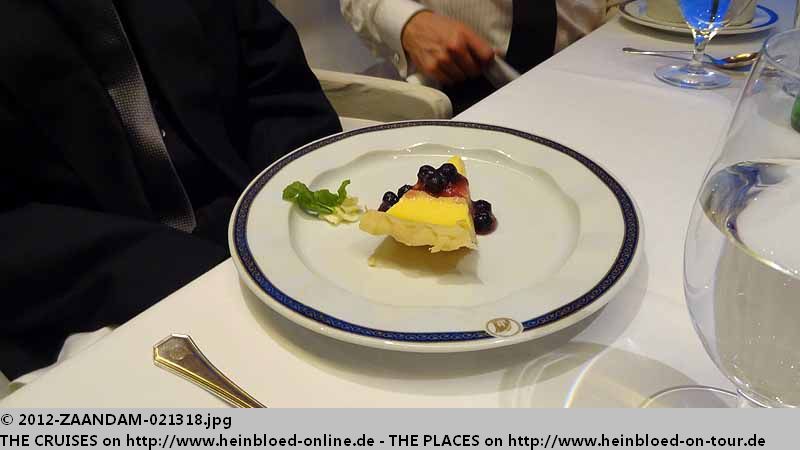 With other lines you could get regular coffee (or decaf) complimentary, but specialities like Cappucino or Espresso need to be paid extra.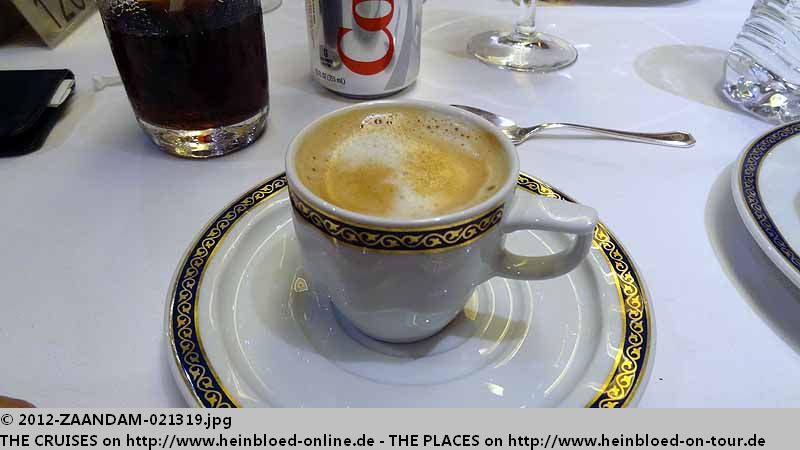 Bei anderen Gesellschaften bekämen wir den normalen Kaffee (auch entkoffeiniert) kostenlos, aber Spezialitäten wie Cappucino oder Espresso müssten extra gezahlt werden.
Am Ausgang noch etwas für die Verdauung: Getrocknete Früchte und Ingwer. In der Form bisher woanders noch nicht gesehen.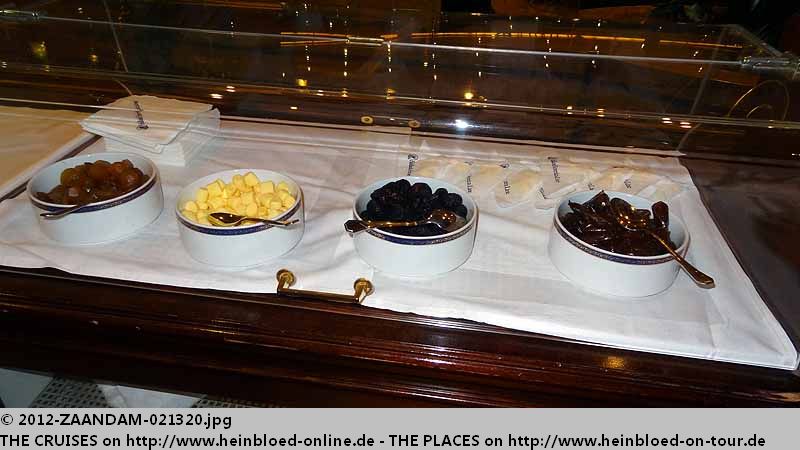 At the exit you got something for your digestion: dried fruits and ginger. A service like this we did not see with others.